For the current edition of ICYMI, click here.  
Each weekday, Dallas Innovates brings you up to date on what you may have missed in the region's innovation, technology, and impact news covering business, startups, education, creatives, and more.
Don't miss a thing: Sign up for Dallas Innovates Every Day to get the best of Dallas-Fort Worth innovation delivered to your inbox.
Have a tip? Let us know.
---
Thursday, September 30
THREE THINGS
⓵ CREDIT GIANT: Two local credit unions announced plans to merge today via a deal that will result in a single entity with assets totaling $1.7 billion. Dallas-based Texas Federal Credit Union is joining with Arlington's Texas Trust Credit Union, creating a credit union with 22 locations and more than 130,000 members. The three Texas Federal Credit Union locations will be rebranded under the Texas Trust name, according to the DMN, allowing Texas Trust to expand its footprint and add more service offerings for customers. It's Texas Trust's fourth combination in the last decade, the DMN notes of the sixth-largest credit union in North Texas and the 17th largest in Texas.
⓶ NOW THAT'S BIG: Big Design, a nonprofit that helps people grow in their research and design careers, is hosting its 17th annual Big Design Conference October 5-7. The theme of the virtual online conference this year is "Designing for Dignity." You can see authors and experts and hear new voices on everything from "You Have a Seat at the Table: Now What?" to "Designing a High-Power UX Team with Empathy" to "Zero to Hero: How to Build Your Value + Become an Asset in Your Career." Some of the funds collected from the conference will be used to fully fund a permanent design scholarship at UT Dallas this year, so your attendance can make a difference. Tickets range from $99 to $199. Find more info here and get tickets here.
⓷ AUTONOMOUS IMMERSION: Self-driving company Aurora hosted an immersive experience for investors and analysts this week at its South Dallas Terminal in Palmer, Texas. Attendees got to see how the Aurora Driver operates in the real world as they rode in an autonomous Peterbilt 579 on a stretch of I-45. The route allowed the Aurora Driver to demo how it navigates construction, emergency vehicles, and even someone walking a dog on a road adjacent to the interstate. The route was driven autonomously with safety drivers present. Also attending: government officials and Aurora's Safety Advisory Board.
PLUS
⟫ LISTEN UP: Today—on International Podcast Day—Dallas businesswoman and entrepreneur Lalanii Wilson Jones launched a new podcast that explores "how to take the reigns like a big Texas boss." Lalanii, who has developed more than 12 organizations from startup to success, plans to submerge listeners in a motivational world of wisdom, know-how, and navigating entrepreneurship with confidence. Each 60-minute episode will feature Lalanii's expertise, along with features from celebrity guests, business leaders, and experts in various fields. Big Texas Bossin' is available now on Apple Podcasts, Spotify, Google Podcasts, and YouTube.
---
Wednesday, September 29
THREE THINGS
⓵  M&A: Frisco's Elm Street Technology, which offers digital services to the residential real estate market, is on the way to completing its fifth deal of the year with the acquisition of Austin-based OutboundEngine, a marketing automation company for small businesses. Elm Street CEO Prem Luthra (above left) told the DBJ he and his team have used acquisitions to "help fuel growth," especially as proptech continues to rise. In all, they've completed around 10 transactions. With the addition of OutbandEngine, Elm Street will grow its employee base to 350, the DBJ reports, and help it create a "true one-stop-shop for all aspects of real estate marketing and productivity."
⓶ PUBLIC POTENTIAL: Dallas-based private markets solutions provider P10 is gearing up to go public. On Monday, P10 Inc, the holding company of investment firm P10 Holdings Inc, filed for an IPO, making it the "latest alternative asset manager exploring a public listing," according to Reuters. The publication notes that P10 could seek a valuation of more than $1B, but terms have not yet been set for the IPO. P10 offers a suite of private equity, venture capital, private credit, and impact investing strategies to its fund sponsors and limited partners across the globe. Founded in 1992, it reported $107 million in revenue for the 12 months ending June 30. It would list on the NYSE under the symbol PX.
⓷ FUND RAISERS: Fort Worth's Bios Partners is raising a new pooled investment fund, per TechFW. According to an SEC filing, Bios plans to raise $10 million in equity for BIOS SIRPant Co-Invest I LP.  The VC firm aims to identify advanced biotech in "overlooked and under-invested markets in the U.S." Its team, including co-founders Aaron Fletcher, Les Kreis, and Stella Robertson (above), touts years of experience in hedge funds, PE, clinical drug development and public pharma/biotech to fill a void in funding outside Silicon Valley and the Northeast. Their portfolio ranges from commercial-stage medical device company 410 Medical to clinical-stage pharma Actuate Therapeutics to clinical-stage Lantern Pharma and Taysha Gene Therapies.
PLUS
⟫  TOMORROW: Speaking of life science, we hope to see you at the BioNTX iC3 Summit, Dallas Innovators. It's the place to connect.
---
Tuesday, September 28
THREE THINGS
⓵ BANKING ON DIGITAL: Plano-based banking software company Alkami has released its new Digital Banking Market Pulse report based on a survey of 795 digital banking customers and members in the U.S. Key findings: Satisfaction with the digital banking experience is the highest correlated attribute to overall bank or credit union satisfaction. Consumers are three times more likely to cite the digital banking experience as the most important aspect of banking. When choosing a new financial institution, 80 percent say a quality online or mobile banking experience is a top requirement; 39 percent say it's their No. 1 criterion. Meanwhile, less than 40 percent of consumers are satisfied with their institution's understanding of their financial situation, needs, or goals—and less than 30 percent feel they've been provided with relevant product recommendations in the past year.
⓶ ONCOLOGY DEVELOPMENT: Dallas' Lantern Pharma, a clinical-stage biopharma focused on drug discovery for cancer treatment, is partnering with digital healthcare company Deep Lens to accelerate Lantern's planned Phase 2 clinical trial for never-smokers with non-small cell lung cancer. Lantern Pharma, which has a proprietary AI platform to improve the cost, pace, and timeline of oncology drug development, will use Deep Lens' artificial intelligence-based clinical trial matching solution to improve its end-to-end drug development pathway. Together, the companies want to address two of the most time-consuming parts of the process: "matching a novel molecule with a relevant indication and identifying the right patients to participate in clinical trials." Lantern President and CEO Panna Sharma (above) says the goal is to ultimately crush the cost of cancer therapy development through a combination of AI, machine learning, and large-scale biomarker analytics.
⓷ SAYING YES TO INCLUSION: With less than 20 percent representation of Black, Hispanic, and Native American employees combined, tech employers have a new opportunity to act on commitments to increase diversity. The Dallas Regional Chamber's Say Yes to Dallas initiative teamed up with Accenture to bring together the best resources and research for the Dallas region to meet this challenge. The goal: Help regional tech companies lead the way in increasing representation and advancement of people from underrepresented groups in technology jobs. You can access the Diversity in Tech Hiring Toolkit here. You'll find case studies from AT&T, McKesson, Corgan, Bottle Rocket, Accenture, and Hilti along with tips from Dallas region employers, pipeline partners, and job candidates.
---
Monday, September 27
THREE THINGS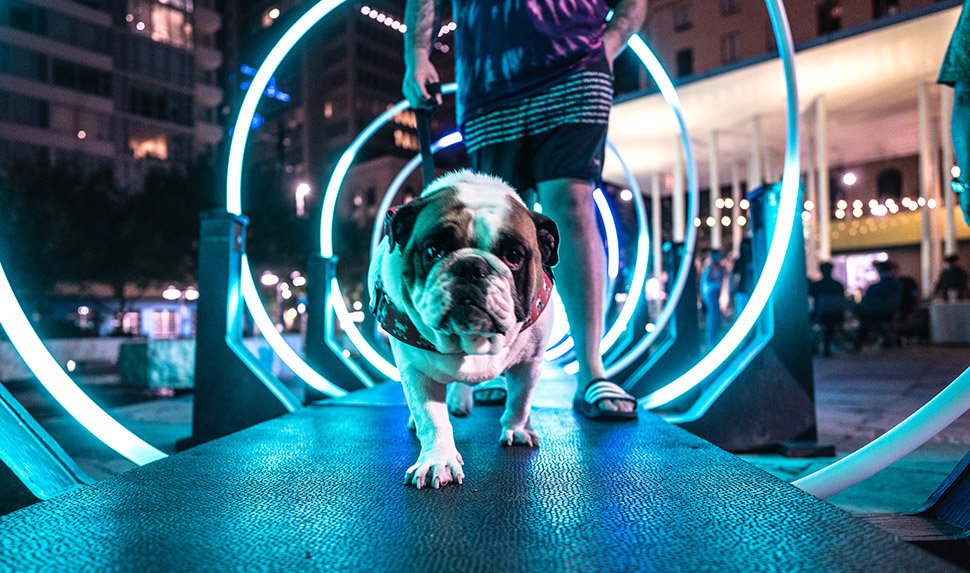 ⓵ ON DISPLAY: Since 2019, Downtown Dallas, Inc. has been working to bring a Montreal-based immersive art installation to the city. Now, it's finally here and open to the public at Downtown's Main Street Garden for six-week run. Called Passage, the interactive, minimalist, contemplative artwork uses light and sound to explore the emotional connections we develop. Visitors can expect to walk through 20 circles of light that form a tunnel activated with animations and ambiance. DDI President and CEO Kourtny Garrett hopes it will serve as the backdrop for family-friendly gatherings throughout the fall—this is the only time the piece has been in Texas and the fourth time it has been in a U.S. city. The exhibit, sponsored by VisitDallas, will act as a centerpiece to a series of free event until its closing on Nov. 3.
⓶ ON DEMAND: Dallas-based Alto, which has raised $45 million in venture funding, is expanding to Miami where it plans to hire 200 drivers—as employees, not contractors. "Alto's business model is what makes it a differentiated service in the rideshare ecosystem," Alto founder and CEO Will Coleman said in a statement. "Classifying the drivers as W-2 employees is at the core of our rideshare experience, allowing us to prioritize safety and consistency at a time when it's more important than ever."
⓷ VOTE NOW: The race is on for the PenFed Foundation Veteran Entrepreneur Investment Program (VEIP)—and a North Texas startup needs your help. The competition offers funding and mentorship to military entrepreneurs of color with a new company or idea for one. According to the org, veterans are perfectly poised to operate small businesses, as they have the resourcefulness, grit, and flexibility needed to succeed, but face challenges of building professional networks and accessing capital. In the finals now is Garland-based MilkSpace, which is run by Kelli Mumphrey, a former Unites States Navy reservist, that offers event planners a way to accommodate nursing women during events. On LinkedIn, Mumphrey gave a rundown of her business and urged locals to vote until it closes on Sept. 29. Earlier today, the founder said she's in 7th place. Go Kelli!
---
Friday, September 24
The Most Popular Stories on Dallas Innovates This Week
⓵  New Trio of Towers to Reshape Skyline at Richardson's CityLine
⓶  First Look: Drive Shack Opens Its Debut Puttery Location Friday at Grandscape in The Colony
⓷  'The Next Fintech Unicorn': Dallas-Based CollateralEdge Emerges From Stealth With $3.5M and a Stellar Investor Group
⓸  Nanoscope Awarded $1.5 Million Grant for Eyesight Gene Therapy as it 'Takes Steps to Go Public'
⓹  Dallas' Shavelogic Hones Its Edge With $100 Million in New Growth Capital
⓺  Tech Titans Unveils the 44 Finalists of Its 21st Annual Awards Gala
⓻  Aurora Will Test Its Fleet of Self-Driving, Ride-Hailing Toyota Robotaxis in Dallas
⓼  Goldman Sachs Launches 10,000 Small Businesses Fellows Internship Program in Dallas
⓽  'As the Industry Evolves, So Do We': McKesson Launches Rapid Returns Solution for Health Systems
⓾  Gov. Greg Abbott Meets With Small Business Owners at Dallas Farmers Market
MORE THINGS TO KNOW
⓵ INTELLIGENT SPACE: Raytheon Intelligence & Space (RI&S) has opened a new intelligent manufacturing center at its McKinney campus. The 178,000-square-foot facility is a result of a $100 million investment and collaboration with the McKinney Economic Development Corporation (MEDC)—which included a commitment to generate 500 skilled jobs. Raytheon says that commitment is already complete. The company also announced plans to build another new facility to help meet its real estate modernization and consolidation goals. "Our new advanced integration and manufacturing center and plans for greater expansion reflect a deliberate strategy to transform ourselves by investing in new digital capabilities," said Roy Azevedo, president of RI&S, in a statement. "We are laser focused on improving our agility as we develop and deliver the world's finest technologies to our valued customers." Read more here.
⓶ TRIVE TAKES OFF AGAIN: Trive Capital-backed Karman Missile & Space Systems has acquired Mukilteo, Washington-based Systima Technologies as part of Karman's aggressive push into the space and hypersonic markets. Financial terms were not disclosed. It was only last January that Trive Capital—a Dallas-based PE firm—formed Karman in a partnership with California-based AMRO Fabricating Corp. (above) and Aerospace Engineering Corp. The Systima acquisition is the fifth transaction Trive has completed in the last 12 months in building the Karman platform. Systima adds a key capability: It's one of the only companies on earth that can "integrate energetic and mechanical systems into the structural design of mission-critical space or hypersonic systems." Read more here.
⓷ EARTH-FRIENDLY: The crisps may be tasty, but the bags they're packed in have an environmental mission. Plano-based Frito-Lay has introduced an industrially compostable bag for its Off The Eaten Path brand. Producing the materials for the bags—made mostly of non-food, plant-based sources—creates around 60 percent lower GHG emissions than traditional packaging. Frito-Lay says tech may be licensed to other companies at no cost to further the use across the industry. Consumers can send the packaging to be composted or find local solutions by signing up here. The bags are currently available at Whole Foods Market and select retailers starting this month. Frito-Lay's goal is to design 100% of its packaging to be recyclable, compostable, biodegradable, or usable by 2025.
---
Thursday, September 23
THREE THINGS
⓵ SOMETHING TO CROW ABOUT: Dallas-based real estate investment and development giant Crow Holdings has raised its largest fund yet: $2.3 billion for "Crow Holdings Realty Partners IX." And, it was entirely raised during the COVID-19 pandemic. Managed by Crow Holdings' investment management company, Crow Holdings Capital, Fund IX focuses on diversified value-add real estate assets in multiple property types—primarily industrial, multifamily, and specialty sectors—across major U.S. markets. Currently, more than 63 percent of the Fund's capital has already been committed across 62 investments. Crow Holdings Capital CEO Bob McClain says the investment results being generated are strong, and he belives the fund's pipeline is going to continue providing attractive opportunities to drive results throughout its lifespan. It's the ninth U.S. Diversified Value-Add Real Estate Fund for 70-year-old Crow Holdings, which has $21 billion of assets under management. The team also recently purchased a 37-acre vacant property in the Design District, one of the largest undeveloped properties in the area northwest of downtown, per the DMN, and formed a partnership with Abu Dhabi-based Mubadala Investment Co. to build ~$1B in U.S. industrial projects.

⓶ FEDEX GOES AUTONOMOUS: A new, first-of-its-kind collaboration between transportation and logistics giant FedEx, self-driving technology developer Aurora, and truck designer and manufacturer PACCAR is putting autonomously enabled trucks on Texas roads. Configured with Aurora's tech and a backup driver for safety, PACCAR's Autonomous Vehicle Platform-equipped trucks will carry FedEx loads on the 500-mile run between Dallas and Houston on I-45. Rebecca Yeung, FedEx's vice president of advanced technology and innovation, sees the pilot program as a way to enhance the logistics industry through safer, more efficient transportation of goods. They're not the first autonomous vehicles to hit I-45, though—we previously told you about a partnership between Waymo, which has a driverless trucking hub in Dallas, and J.B. Hunt Transport Services to run robotically driven freight from Houston to Fort Worth on the same interstate.
⓷ TASKMASTERS: A $500 million Australian community services marketplace is making its debut in the U.S. today, starting with Dallas, Kansas City, and Miami. Founded in Sydney in 2021, Airtasker is a platform for the flex economy. It outsources everyday tasks (cleaning, delivery, furniture assembly) to verified local providers ready to work. It's available nationally, but is prioritizing investment in the initial market launches, according to Bo Fishback (above), CEO of Airtasker USA. The three cities were optimal locations, as they scored high in "population demographics, tech-savviness, and appetite for outsourcing tasks." The U.S. entrance follows Airtasker's recent IPO and acquisition of Zaarly.
PLUS
⟫ Dallas-based Krista Software has formed a new partnership with Tech Mahindra, a digital transformation provider, to deliver 'intelligent automation' at scale. Krista, which operates on a mission to "make technology that understands people," offers customers what it calls a nothing-like-code platform. The tech can automate business outcomes, build machine learning, and leverage existing IT assets in business processes. Think of it as a conversation between people and systems: The platform allows business process owners to quickly build new workflows and deliver on their automation roadmaps. The team calls it "the future of intelligent automation."
---
Wednesday, September 22
THREE THINGS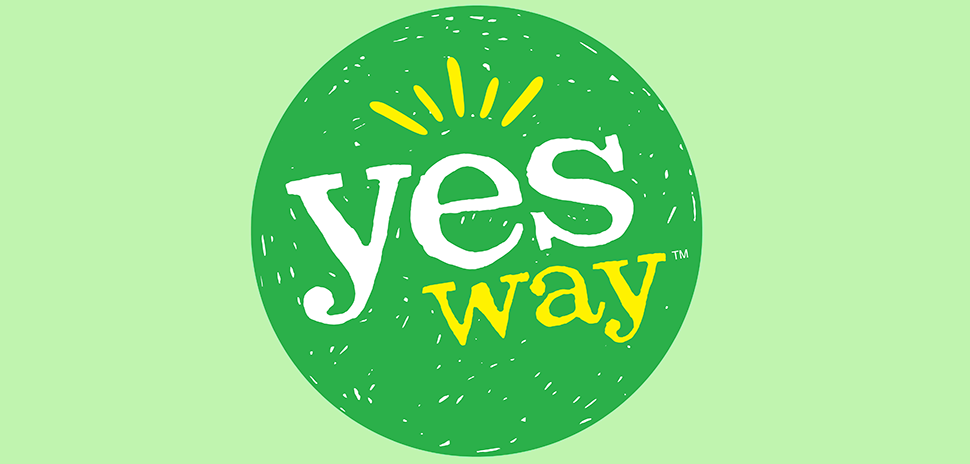 ⓵ GOING PUBLIC: Fast-growing convenience store operator Yesway, which moved its headquarters to Fort Worth last year, has filed a $100 million initial public offering with the U.S. Securites and Exchange Commission with the intent to list on the Nasdaq under the ticker YSWY. Currently, it's held by PE firm Brookwood Financial Partners LLC. The IPO follows a period of vast expansion for the company. Six-year-old Yesway's presence "catapulted" in 2019 when it acquired Allsup's Convenience Stores—its largest deal ever—a 304-store, 60-year-old chain based in New Mexico. Last year, it closed $235M in equity funding for a store remodel campaign across its portfolio. Chairman and CEO Tom Trkla was named an Entrepreneur Of The Year 2021 Southwest Award winner in August. 
⓶ MOBILE MOVE: California mobile network infrastructure firm MD7 will be moving its headquarters from San Diego to One Bethany West at Watters Creek in Allen, the Allen Economic Development Corporation announced. MD7 will lease 25,000 square feet of Class-A space and bring more than 200 tech jobs to the city, along with $6.8 million in capital investment. "We're excited to join the community of future-focused technology services companies in Texas as we open this important new location and continue to expand globally," Michael Gianni, CEO of MD7, said in a statement. The Texas Enterprise Fund awarded MD7 a grant of $773,000 for the move—the first time a company relocating to Allen has received these funds.
⓷ THRIVING GIFT: Amazon has invested $260,000 in the Dallas Regional Chamber (DRC) to help fund sustainable economic growth, education and workforce development, and building a more inclusive community. "We're committed to not only being a good employer in North Texas, but also a good neighbor," said Vickie Yakunin, Amazon's Dallas senior manager for external affairs, in a statement. More than half of the funds will focus on growing wages and talent in the region through the Dallas Thrives initiative, which seeks to increase the number of young adults earning a living wage. Amazon will also be a presenting sponsor for the DRC's HackDFW event, a weekend-long innovation marathon connecting 500 engineering and tech professionals, students, and enthusiasts to create new software and hardware products. Read about HackDFW here.
PLUS
⟫ Middle market PE firm Pharos Capital Group, which is based in Dallas and Nashville, has acquired Vantage Outsourcing to "build a new ophthalmology services platform." Vantage is a cataract surgical provider that helps hospitals, surgery centers, and physicians provide cost-effective services with state-of-the-art equipment and supplies needed for surgery. Typically, in areas that would otherwise go unserved. This marks the first investment from Pharos's latest flagship fund, which builds on its mission to lower costs, improve outcomes, and expand access to care in underserved communities.
---
Tuesday, September 21
THREE THINGS
⓵ TUITION? TOTALLY!: Frisco-based Dr Pepper's annual Tuition Giveaway program is now accepting entries—exclusively via TikTok. Students can win up to $100,000 in tuition during the 2021-2022 college football season. The #IDeserveTuitionContest hashtag challenge is designed to challenge students' creativity.  It will feature a custom sound build throughout the video and—when the beat drops—creators will record themselves saying why they deserve tuition, how it will impact their lives, and how it will help them achieve their goals. Creators will need to incorporate the #IDeserveTuitionContest hashtag into their videos.To date, Dr Pepper's annual giveaway has provided more than $12 million to deserving students nationwide. Additional "surprise" tuition dollars this year will be provided by Dr Pepper partners Mark Cuban; science educator Bill Nye; TikTok creator Alex Presley; TikTok comedian Adam W; sports content creators Dude Perfect and more.
⓶ TOPS AT TECH: HITEC, a leadership organization for business and IT, has released its annual compilation of the top Hispanic professionals in tech from across the U.S. The HITEC 100 celebrates awardees' leadership, accomplishments, mentoring, and professional development activities. This year, execs from a few Dallas-Fort Worth-based companies made the list: Lili Gil Valletta, co-founder and CEO of CIEN+ (above); AT&T's AVP of Consumer Transformation Execution, Melissa Bolden; McKesson's EVP/CIO/CTO Nancy Flores and SVP/CTO of Engineering, Infrastructure and Operations Maria Teresa Lensing; and Ryan Ramirez, VP of Enterprise IT at Lockheed Martin. All awardees from the 2021/2022 list will be recognized virtually during an Awards Celebration on Dec. 9.
⓷ TEN MILLION THREADS: ThredUP made it official today: The online resale platform for women's and kids' apparel will open a 10 million-item automated distribution center in Lancaster, just south of Dallas. ThredUP anticipates the $70 million facility will create 2,000 jobs. The new, nearly 600,000-square-foot center is located off I-35 and I-20 and will be thredUP's largest. The four-level facility will help the company further scale its operating platform. According to thredUP's 2021 Resale Report, 52.6 million Americans resold apparel in 2020—and 76 percent of people who've never resold clothes are "open to trying it."
PLUS
⟫ FUTURE-FORWARD: Dallas coworking pioneer Common Desk is expanding yet again. Common Desk has opened its latest flexible office location at the newly renovated Energy Square on Greenville Avenue in central Dallas. Leadership says opening in the iconic business campus has been a longtime goal for Common Desk, which first began pursuing the opportunity in 2017. The company has 25,000 square feet across two floors in Building 2, featuring 11 conference rooms, 62 offices, and three midsize suites. It's Common Desk's first partnership with Glenstar and one of its 20 locations, with several more coming soon to Houston and Wilmington and Raleigh, N.C.
⟫ CARDING A 66: Fast-growing Arcis Golf keeps linking up more links. The Dallas-based company acquired six Mickelson Golf properties in Arizona in August and purchased The Golf Club at Twin Creeks in Allen, Texas, in early September. Now it's added a 66th property to its collection—Gentle Creek Country Club in Prosper. READ MORE
⟫ HOME BASE: Real estate investment management and development firm Regent Properties is expanding into North Texas with the opening of a second corporate headquarters on McKinney Avenue. Regent's longtime HQ in Los Angeles will remain active, but some new and existing members of the corporate team will relocate to Dallas: Eric Fleiss, CEO; Colin Rosenbaum, SVP of Texas and Southeast Acquisitions; and additional senior investor relations and investment personnel. Fleiss said in a news release that the move into one of Regent's core historical markets made "perfect sense," especially as the team looks to "acquire a significant amount of high-quality office product across the Sun Belt over the next 24 months."
---
Monday, September 20
THREE THINGS
⓵ CLEAN COMMITMENT: Fort Worth-based American Airlines is one of several U.S. companies to join Bill Gates in his new initiative dedicated to achieving net-zero carbon emissions by 2050. AA—along with General Motors, Bank of America, Boston Consulting Group, Microsoft, and more—have become members of the Breakthrough Energy program, which aims to raise money from governments, philanthropists, and companies to invest in the development of cost-effective clean technology. AA invested $100 million. The initiative focuses on four areas, according to CNBC: direct air capture, green hydrogen, long-duration energy storage, and sustainable aviation fuel.
⓶ CLEANER FASTER: Dallas-based CBRE today announced a pledge of its own, committing to achieve net zero carbon emissions by 2040. Its Climate Pledge commitment encompasses carbon emissions from CBRE's own operations and the properties it manages for investors and occupiers, as well as indirect supply chain emissions."As the world's largest manager of commercial real estate, we have a special obligation to help the world address the many challenges posed by the warming planet," said Bob Sulentic, CBRE's president and CEO, in a statement. "This is an essential element of our commitment to the communities in which we operate."
⓷ HOLE IN ONE-POINT-FOUR-BILLION: Dallas-based AT&T and WarnerMedia have completed the sale of mobile game maker Playdemic to Electronic Arts for $1.4 billion in cash. Playdemic's Golf Clash (above), has won multiple industry honors including Game of the Year at the 2018 Mobile Games Awards. With 80+ million global downloads to date, it's one of the top mobile games in both the U.S. and U.K. EA says the acquisition is part of its mobile growth strategy to deliver new interactive entertainment to its network of nearly half a billion players worldwide.
PLUS
⟫ Dallas food blogger and creator Katie-Rose Watson of The Rose Table has become one of the first to have a book published by Houston-based HP. Fans might best recognize Watson and her site from her Disney-themed dinner party series, Disney Dinners. Through HP Custom Content, which helps creators and brands monetize their content and bring it to life through print, Watson is releasing her first cookbook of 70 "tried-and-true" recipes this weekend.
---
Friday, September 17
The Most Popular Stories on Dallas Innovates This Week
⓵ 'The Next Fintech Unicorn': Dallas-Based CollateralEdge Emerges From Stealth With $3.5M and a Stellar Investor Group
⓶ First Look: Drive Shack Opens Its Debut Puttery Location Friday at Grandscape in The Colony
⓷ Southwest Airlines President Tom Nealon Retires Immediately, COO Mike Van de Ven Named as Replacement
⓸ Amazon Is Investing $1.2B to Provide College Tuition and Skills Training for Its Employees
⓹ Nanoscope Awarded $1.5 Million Grant for Eyesight Gene Therapy as it 'Takes Steps to Go Public'
⓺ California Unicorn Tipalti to Open Global Office in Plano, Recruit Local Talent
⓻ Dallas Entrepreneur Plans to "De-Extinct" the Woolly Mammoth With His Colossal New Startup
⓼ Alkami Makes First Acquisition Since IPO With MK Decisioning Systems Deal
⓽ Plano-based Stacy's Pita Chips Partners with Reese Witherspoon to Amplify Female Founders and Announces the 2021 Stacy's Rise Project Finalists
⓾ Rural College Promise Program Launches with $3.1M Grant from the Greater Texas Foundation
MORE THINGS TO KNOW
⓵ RAZOR EDGES UP: Dallas-based Shavelogic has raised $100 million in growth capital from New York-based investment banking firm Jefferies Group. Aon's Intellectual Property Solutions helped secure collateral protection insurance to support the financing. Just three weeks ago, Shavelogic announced it was partnering with manufacturing solutions provider Jabil Inc. to advance its design and production goals and help it scale globally. "Breaking through in an industry like ours takes dedication and teamwork, so having a capital partner like Jefferies is an essential benefit that will help us accelerate market share growth and drive stakeholder value," Shavelogic Co-Founder Duwayne Miller said today in a statement. "We have the opportunity now to introduce our shaving system to consumers who simply don't know what they're missing," Shavelogic CEO Rob Wilson added, "while continuing to improve our product and business to meet our own high standards."  
⓶ ELECTRIC BOOST: Tesla has long claimed bragging rights for having the longest range of any production EV. No longer: Lucid Group, the California-based, all-EV automaker that aims to go public this year, says that one of its Lucid Air models will have an EPA range of 520+ miles. The Air's Dream Edition Range version is one of many that will range in price from $77,400 to $169,000. Lucid CEO and CTO Peter Rawlinson pegs the long range on Lucid's "race-proven 900V battery and BMS technology" and "our miniaturized drive units, coupled with our Wunderbox technology." You may be able to kick the Air's tires in Plano next year: The Dallas Morning News reports that Lucent Motors has filed documents with the city to open a showroom in Plano's Legacy West development.
⓷ CONNECTIVITY CONNECTION: Dallas-based Cytracom, a leading provider of unified communications solutions delivered through managed service providers, has acquired OmniNet, which delivers security and connectivity solutions to the SMB market, including what it calls "best-in-class SD-WAN routing and prioritization." Terms of the deal were not disclosed. "The big challenge facing our partners today lies in secure and reliable connectivity, regardless of where employees are physically working," Cytracom Co-founder and CEO Zane Conkle (above right, with COO John Tippett) said in a statement. "We're developing unique solutions to address this challenge, and the acquisition of OmniNet brings powerful technology to our product and engineering teams to accelerate this roadmap."
BREAKING GROUND
⟫ BREAKING GROUND: Fort Worth's Blackland Distillery is doing a 4,500-square-foot expansion of its Foundry District bottling line with a new barrel room and VIP event space. "Expanding our current space was a necessary step to keep up with the rising demand," said Blackland owner Markus Kypreos said in a statement, adding that Blackland has expanded its reach in Texas and will soon be distributed in Oklahoma via its partnership with Southern Glazer's Wine & Spirits. "We're thrilled to continue our legacy in the heart of Fort Worth's cultural district—which has been a key catalyst to our success—as our brand gains popularity in these exciting new markets." 
HEADLINE NEWS 
(and a recommended read)
⟫ Revolut Uses WeWork Space in Dallas, Pays in Bitcoin. The U.K. fintech unicorn will use the space as the hub its U.S. expansion. (Crowdfund Insider)
⟫  'Austin was becoming the new west coast': Why this firm reconsidered HQ shift, landed in DFW.  Trax, a logistics and transportation industry tech firm, moved its headquarters from to Irving from Austin earlier this year. (DBJ)
⟫ Work to Turn Concrete at Fair Park Into a Community Park Is on Schedule (D Magazine)
⟫ Researchers to Watch: Meet the top innovators inside North Texas' university halls (NTXInno)
FORCES FOR GOOD
Photo: SMU
⟫ SMU announced today that it's launching a $1.5 billion fundraising campaign to assist more underrepresented students, enrich research and teaching, and enhance both the SMU campus and the greater Dallas community. "This new campaign will enhance SMU's ability to be the cultural and economic catalyst for creativity in Dallas and beyond," said SMU Board of Trustees Chair Robert H. Dedman, Jr., in a statement. Read more in our roundup.
⟫ GOING UP: If you're like us, you like to stay on top of utility ladder design improvements. On top, get it? Check out the new line from Arlington-based All Pro Ladders. Designed for utility poles, towers, and other structures, it's based on key innovations to enable faster installation and safer climbing. Only two hex bolts are needed to secure the ladder in position. One innovation: a patent-pending gusset that delivers increased vertical load capacity. Other safety features include three-quarter-inch diameter step bolts for added strength, built-in clip-in attachment spots on ladder assembly frames, and knurled step bolts for slip resistance. Now let's get up there.
---
Thursday, September 16
THREE THINGS
⓵ THE DIGITAL DIVIDE: Millions of students struggle with virtual learning due to poor internet connections, lack of technology, or limited digital literacy—and that's only been heightened by the pandemic. AT&T announced today that it's taking a big step to combat that: The Dallas-based telecom giant is expanding its free-device programs, increasing access to educational tools, and opening more than 20 AT&T Connected Learning Centers in the U.S. Each center, which is part of AT&T's three-year $2 billion commitment to close the digital divide, will be located within local community organizations that support underserved populations. They will offer free access to high-speed internet, computers donated by Dell Technologies, educational content from Khan Academy and the Public Library Association, and other virtual learning resources. Orgs with a Learning Center will also get $50K in additional support from AT&T for operational expenses. The first center to open is located at Family Gateway in Dallas.
⓶ PET FRIENDLY: Arlington-headquartered Petmate, a provider of pet products to big box retailers and merchandisers, has been acquired by global investment firm Platinum Equity for an undisclosed amount. Petmate's generation began with safe pet transportation in 1959, resulting in the industry's first dog kennel. The company has since expanded to manufacture and source a line of dog houses, toys, food storage, bedding, treats and chews, and other accessories. Petmate CEO Alice Tillett will continue at the helm with the deal.
⓷ ANOTHER UNICORN: New Jersey-based Misfits Market is moving into North Texas by way of a future permanent warehouse site in Fort Worth that would be around 350,000 square feet. It's a big get for the region, as the online organic grocery company recently closed a $225 million Series C-1 round that put its valuation at $2 billion, making it a unicorn. A Misfits Market spokesperson told the DBJ the team currently has a temporary local facility that's around 115,000 square feet and employs 150, but upon expansion, it could grow to employ around 400 in the region. DFW is the company's "entry point into the South," the spokesperson said, as it's "one of the largest distribution and logistics hubs and food suppliers in the country."
PLUS
⟫ TOP OF ITS CLASS: In Engineering News-Record's annual survey of the Top 200 Environmental Firms, Jacobs came in as the Top Global Environmental Consulting Firm and No. 2 overall. The Dallas-based firm—one of the world's largest Environmental, Social and Governance solutions providers—employs more than 17,000 environmental professionals and reported $4.6 billion in environmental consulting engineering revenue for 2020. Its focus areas include clean energy, air quality, environmental management, water supply and treatment, environmental science, wastewater treatment, and hazardous and nuclear waste.
Wednesday, September 15
THREE THINGS
⓵ Dallas-based Align Capital Partners (ACP) is selling its portfolio company Pleatco Filtration to Pentair PLC for $255 million. Align Capital acquired the Louisville, Kentucky-based company—which makes clear air, pool, and spa water filtration technologies— four years ago. "Pleatco has been truly transformed through an aggressive series of investments in people, systems, facilities and products," said ACP managing partner Rob Langley (above) in a statement. It's the third exit this year for ACP. Earlier this month it sold Richardson-based Electronic Transaction Consultants (ETC) to Quarterhill Inc. for $120 million. In July it sold Decatur, Alabama-based environmental testing and compliance platform Alliance Technical Group to Morgan Stanley Capital Partners for an undisclosed amount.
⓶ HISPANIC HERITAGE: Dallas-based luxury retailer Neiman Marcus Group has unveiled a series of efforts—in partnership with Prospanica, a national association of Hispanic MBAs and businesspeople, and management consulting firm McKinsey—to grow its intracompany Hispanic talent and support a commitment to Environmental Social Governance and Belonging. As NMG's new diversity champion, Prospanica will help NMG recruit top Hispanic and Latino business professionals at its Conference and Career Expo. NMG will also donate to the Prospanica Foundation Scholarship. Additional talent will come from NMG piloting McKinsey's Connected Leader Academy this fall, helping participants strengthen skills to progress into leadership roles. Shoppers can see NMG's Hispanic initiative in person: It's curating displays of Hispanic and Latino-founded designers and brands at 14 select stores across the U.S. The announcement was timed to celebrate Hispanic Heritage Month, which kicks off today.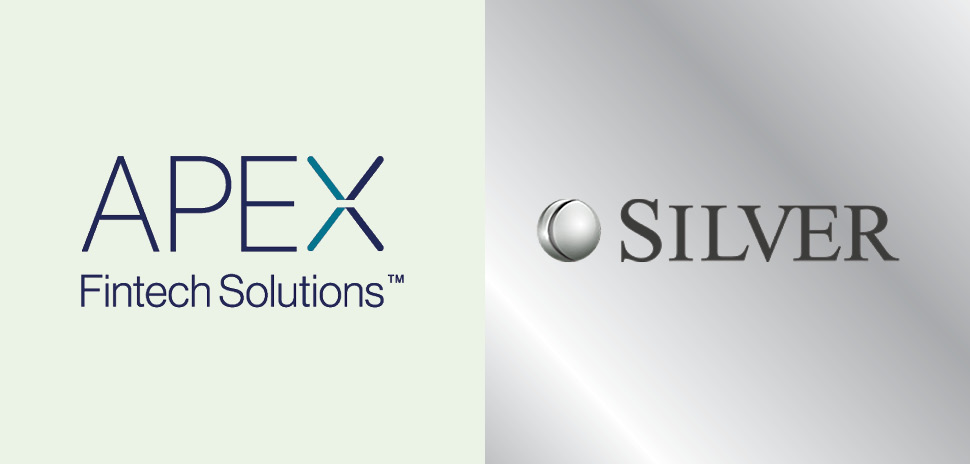 ⓷ CLOUD SOLUTIONS: Dallas-based Apex Fintech Solutions, the parent company of Apex Clearing Corporation and Apex Pro, has acquired the Silver Management Group of Companies, a provider of business and tech solutions for the investment services industry. The news comes on the heels of Apex—the "fintech for fintechs"—planning to go public via a merger with blank-check firm Northern Star Investment Corp. and unveiling plans for a new product that would give investors immediate access to funds when they sell U.S. equity securities. The acquisition adds Silver's cloud-based solutions in regulatory cost basis and tax reporting to the Apex platform.
PLUS
⟫ The Biden-Harris Administration has awarded United Way of Metropolitan Dallas (UWMD) $8.3 million over the next three years as part of a consortium to train and certify health care "navigators." The navigators will help people enroll in coverage through the Marketplace, Medicaid or the Children's Health Insurance Program (CHIP). Navigators will assist with enrollment applications and help people apply for financial assistance through HealthCare.gov. UWMD—which received the largest award in Texas—is one of 60 organizations in 30 states that will train and certify more than 1,500 navigators to help uninsured people find affordable, comprehensive health coverage. Other consortium members include CitySquare, Community Council of Greater Dallas, LBU Community Clinic, and Prism Health North Texas.
---
Tuesday, September 14
THREE THINGS
⓵ LOTS OF LOGISTICS: Amazon plans to hire 11,000 new logistics employees in North Texas—and 125,000 total across the U.S., it announced today. The full- and part-time jobs are in fulfillment and transportation, with an average starting wage of $18 per hour. Benefits offered from day one are worth an additional $3.50 an hour, the company says. To help job seekers, Amazon will host a Career Day tomorrow, September 15. The free virtual event is open to all and will offer 20,000 individual career-coaching sessions with Amazon recruiters. We wrote last month that Amazon has invested $15 billion in North Texas.
⓶ LOCAL BOY MAKES GOOD: Yesterday's $12 billion deal has DFW ties. Intuit announced it will buy Mailchimp for $12 billion in cash and stock. Dan Kurzius, one of Mailchimp's co-founders, is a 1990 graduate of Richardson High School. Entrepreneurship must run in the family: Dan's brother Rex Kurzius is the founder and president of Asset Panda, the Frisco-based asset management software company.
⓷ BRINGING MATH TO LIFE: The National Science Foundation has awarded a new $2.5 million grant to SMU math curriculum researcher Candace Walkington (above right). Throughout the five-year grant, Walkington is partnering with talkSTEM, a Dallas-based nonprofit that offers STEM learning resources for kids of all ages, to better understand how educators can offer a math education outside the classroom (its founder and CEO Koshi Dhingra is above left). The first year will be focused on developing Mathfinder, a gamified app that leverages augmented reality to turn a cell phone or tablet into an interpretive math tool. Learners can use their camera to view mathematical expressions layered over real-world objects, or explore short videos for STEM walks at nine local learning sites, including the Dallas Arboretum and Frontiers of Flight Museum. The talkSTEM team will gather data to correct roadblocks to learning.
FOLLOW THE MONEY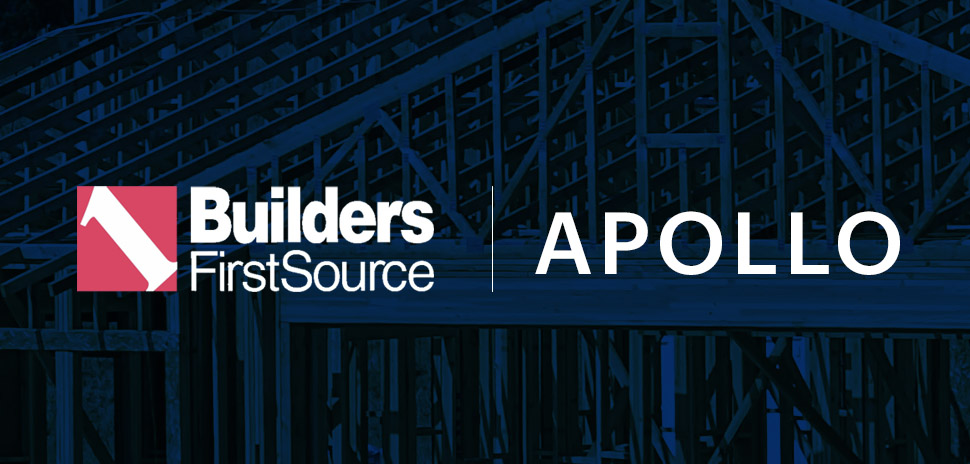 ⟫ THEY NAILED IT: Dallas-based Builders FirstSource, a leading U.S. manufacturer and supplier of building materials and services for repair and remodeling, has acquired Apollo Software Assets from construction tech startup Katerra for around $4.5 million. Builders FirstSource says Apollo fits its strategy to solve inefficiencies in the home building process and complements its $450 million cash acquisition of software solutions firm Paradigm last month. Apollo also acquired TrusFrame this month, and Cornerstone Building Alliance last May. President and CEO Dave Flitman says the company plans to continue leading the industry into a "new age of technological innovation and efficiency" by focusing on how to make "customers' businesses better by shortening project timelines and reducing waste."
⟫ DONE DEAL: Dallas-based digital life insurance company Bestow has closed its acquisition of Centurion Life Insurance Company, an insurer with licenses in 47 states and the District of Columbia. The deal will allow Bestow to further its mission of making coverage accessible to underserved families by launching a suite of financial protection products on its platform. It accelerates growth, too: Bestow has hired some 80 new team members in the past 90 days, signed new insurance and fintech partners, and doubled its year-to-date revenue. 
---
Monday, September 13
THREE THINGS
⓵ CAPITAL FOR A-PLAYERS: McKinney-based CourMed was selected as the first company to get access to Microsoft's $50 million capital fund that supports small businesses. The award furthers Microsoft's commitment to expanding opportunities for Black and African American-owned partners. Launched in 2018 as a pharmaceutical delivery company, the startup has since diversified its offerings to provide enterprise software and concierge delivery services for healthcare providers to patients at home or in the office. That includes prescriptions, vaccines, monoclonal antibodies, IV vitamin therapy, and more. Courmed says its revenue grew by 300 percent between 2019 and 2020, and the pandemic accelerated growth further. The new capital will help the company grow and scale, CourMed Founder and CEO Derrick L. Miles (above) said in a statement. "We look forward to recruiting A-players in sales, marketing and IT to execute on our aggressive growth plans," he said.
⓶ STROKE OF GENIUS: More than a decade ago, neuroscience professors from UT Dallas' Texas Biomedical Device Center (TxBDC) invented a therapy to rewire brain circuits involving vagus nerve stimulation (VNS). They have since refined the technique to treat a variety of disorders, like strokes. That led to the Vivistim Paired VNS System—a device produced and commercialized by MicroTransponder, a spinoff company started by UTD graduates. It uses VNS so stronger areas of the brain can help restore some degree of the lost brain functionality. Now UTD has announced that the U.S. Food and Drug Administration has approved this first-of-its-kind neurotechnology device to treat chronic ischemic stroke survivors, increasing the effectiveness of physical rehabilitation for the 7 million American survivors of stroke. UTD's TxBDC will continue to conduct clinical trials using VNS to treat other conditions.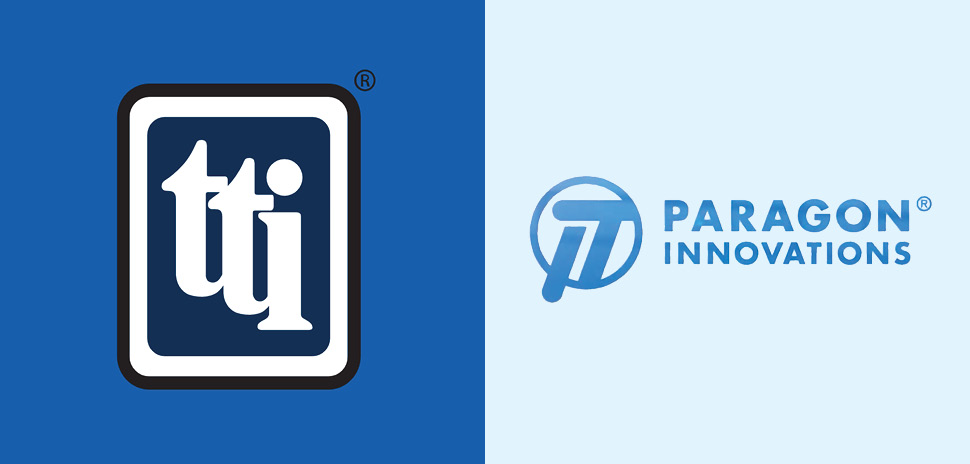 ⓷ HIGH-TECH EXIT: Richardson-based engineering design services firm Paragon Innovations has been acquired by TTI's Exponential Technology Group (XTG). TTI, a Berkshire Hathaway company, uses its XTG subsidiary to provide customers with a specialty semiconductor supply chain option. In joining XTG, 30-year-old Paragon will be able to serve a broader clientele, while helping to strengthen its design services offering. XTG President Michael Knight said Paragon "perfectly complements" Connected Development, a North Carolina-based IoT design services firm that was acquired by TTI last year. Paragon will continue to operate under its own brand name, and Founder Michael Wilkinson will remain in charge as vice president and general manager, reporting to Knight.
PLUS
⟫ Most teens who work say "You want fries with that?" Not Parisa Vaziri. This Richardson 18-year-old is tackling something a bit more important: She just won a $10,000 Davidson Fellows Scholarship for her gene therapy research. One of only 20 students nationwide to win a 2021 Davidson, Vaziri explored the connection between the FOXO gene and its potential to reduce neurodegeneration. Using fruit flies, she compared the results when the FOXO gene was overexpressed and found that the group of flies with the overexpressed FOXO gene had significantly healthier neurons, motor function, and increased lifespan, despite the fact that all of the fruit flies in the experiment were predisposed to neurodegeneration. Vaziri will attend Yale University this fall. She plans to study neuroscience and continue her research.
---
Friday, September 10
The Most Popular Stories on Dallas Innovates This Week
⓵ Here Are the Top 25 Companies to Work For in Dallas-Fort Worth, According to LinkedIn
⓶ Bank of America Set a Company Record for Patents Granted In the First Half of 2021. One Big Reason? Addison's Manu Kurian.
⓷ Drive Shack Is Bringing Its High-Tech Mini Golf Concept to Dallas This Summer
⓸ Galaxy Vets Is Launching an Employee Co-Owned Vet Healthcare System in North Texas
⓹ The Perfect Match: Shar Dubey Opens Up About Her Journey to the Top of Dallas-Based Match Group
⓺ Global EV Charging Firm Wallbox Selects Arlington for Its First North American Plant
⓻ If Rivian Builds Its $5 Billion Plant in Fort Worth, It Would Be "A Huge Economic Generator for the Region"
⓼ CarMax Is Boosting Its North Texas Footprint With a New Tech Innovation Center, Auction Facility, and 300 Hires
⓽ Fort Worth TV Star and Hotelier Jonathan Morris Is an Entrepreneur's Entrepreneur
⓾ Solo Stove Acquires Chubbies, Oru Kayak, and ISLE to Form Southlake-Based Solo Brands
MORE THINGS TO KNOW
⓵ PROJECT REX: California-based ThredUP, which went public earlier this year via an IPO, is eying a $50 million investment in Lancaster, the DBJ reports. The secondhand marketplace, which was honored as one of the World's Most Innovative Companies in Fast Company last year, could fulfill orders at a 600,000-square-foot site and employ 1.5K people, per a filing with the city. Former Match Group CEO  and Uber board member Mandy Ginsberg (above), joined ThredUp's board in February. The tech exec joined ThredUP in its mission "to inspire a new generation of consumers and brands to think secondhand first."
⓶ LEVELING UP DATA CENTERS: Plano-based TMGcore has raised $20M in debt funding and convertible promissory notes, according to a filing. The advanced data center infrastructure company, which launched in 2018 with a crypto mining facility, focuses on its liquid immersion cooling platform and high-efficiency power system design. CEO and Chairman John-David Enright helms TMGcore, collaborating with industry professionals to provide next-gen offerings. In 2019, TMGCore teamed up with architecture design firm Corgan to reenvision data centers—making them smaller and more efficient in a tenth of the size. TMGcore unveiled its robot-managed immersion data centers, dubbed OTTO, later that year. Corgan debuted the autonomous platform with a unique "five senses" product experience (above) at the SuperComputing 19 Conference.
⓷ A Southlake-based digital health platform founded by pediatric allergy specialist Dr. Nana Mireku will join Health Wildcatters ninth cohort, which was unveiled today per NTX Inno. AllergenIQ, the only local company in the group, will join 9 other startups from around the world in the Dallas-based accelerator program. The allergy testing and management company recently took part in the Think Lab accelerator at Pegasus Park, a non-seed startup accelerator from LaunchBio in partnership with TechFW. That cohort consisted of eight Dallas-based startups—"all first-time scientist entrepreneurs."
PLUS
⟫ GRAB THE WHEEL: The 180-foot tall Grandscape Wheel opens today, September 10, at the Grandscape complex in The Colony, just north of Dallas. Designed by Netherlands-based Dutch Wheels, it features 42 climate-controlled, music-playing gondolas that hold up to eight people each. It's not as tall as the Texas Star at Fair Park—the largest in Texas at 212 feet 6 inches—but it's a close second in all of Texas, offering views of The Colony, Frisco, and various skylines. If you dare, you can book the VIP glass-bottom floor gondola with Ferrari-style leather seats for four and front-of-line access. Tickets are $15.94 for age 12+, $12.01 for kids 4 to 11, free for kids 3 and younger, and $49.88 for the VIP ride. For more info or to buy tickets, click here. 
DISCOVERY
⟫ ALZHEIMER'S GRANT: Dr. Rachel Bailey of the Center for Alzheimer's and Neurodegenerative Diseases at UT Southwestern Medical Center in Dallas was awarded one of four CurePSP grants totaling $320,000 for her research on treatments for Alzheimer's disease. Dr. Bailey will use the funding to study gene replacement therapy to combat toxic accumulation of the tau protein. She'll test a way to use a virus to deliver two types of RNA: one to prevent the manufacture of abnormal tau, the other to encode an aggregation-resistant form of tau. Since the gene therapy she's developing targets the tau protein itself, "it has the potential to help fight Alzheimer's disease and a whole host of diseases in which tau is implicated, including some forms of frontotemporal dementias and Parkinson's disease," Dr. Bailey said in a UTSMC article. The researcher says we're "at an age where we have the technology to make meaningful impacts on these diseases."
---
Thursday, September 9
THREE THINGS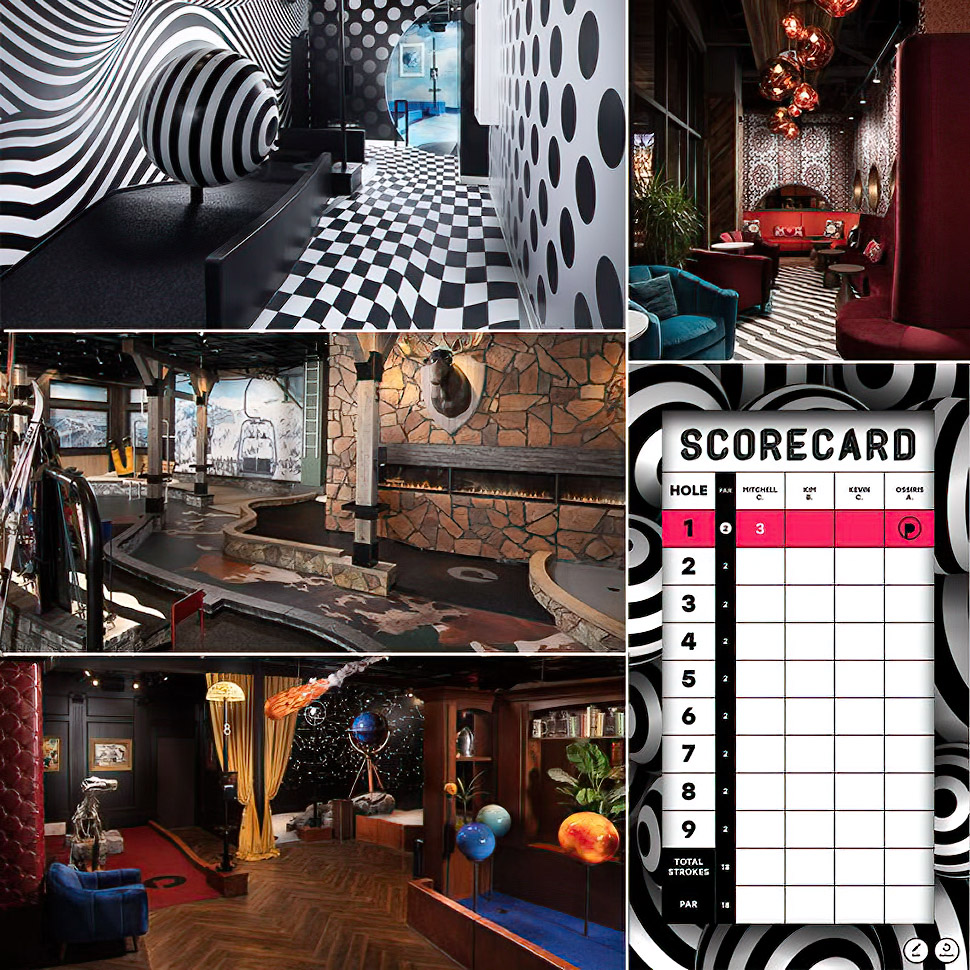 ⓵ PUTTERY PLAYER: We recently told you about the first-ever Puttery opening at Grandscape in The Colony, a 27,000-square-foot adults-only playground of cocktails, food, and four wildly creative tech-enabled miniature golf courses. Dallas' future-focused interactive design agency 900lbs was tasked with creating a one-of-a-kind immersive experience that's part high-tech gameplay and part chill lounge, according to the agency's founder, Steve Deitz. 900lbs was responsible for the interactive gameplay and scoring system, which eliminates the old golf pencil and paper scorecard, along with UX design and app development for processing reservations, guest check-in, and play. As Deitz says, "the vibes are immaculate."
⓶ PLANTS FOR PETS: Dallas' billionaire businessman and Mavs owner Mark Cuban was one of the investors in a more than $23 million round of funding for California-based Wild Earth. The alternative protein and biotech dog food company originally hit the mainstream market when CEO Ryan Bethencourt made a deal with Cuban on "Shark Tank" in 2019, $550K for 10 percent equity. Since, Wild Earth has rapidly expanded its product line, and has plans to build on its current plant- and cell-based meat products to launch new cat and dog foods in 2022. Additional investors include actor Paul Wesley; At One Ventures, founded by GoogleX co-founder Tom Chi; Veginvest, early investors in JUST foods and GOOD Meat, and more.
⓷ WILD FOR STEM: Today, the Dallas Zoo unveiled a new 333-foot-long mural featuring a mix of photography, hand-painted artistry, and interactive kiosks highlighting inspirational females in STEM. Located in the Wilds of Africa tunnel, the temporary attraction was funded by Lyda Hill Philanthropies' IF/THEN Fund at Texas Women's Foundation. IF/THEN is Lyda Hill's first-of-its-kind coalition built on the idea that 'IF we support a woman in STEM, THEN she can change the world.' The grant will allow the Zoo to use photo and video assets from the IF/THEN Collection, a free digital resource of IF/THEN Ambassadors, who are all female pioneers in STEM. Eight Ambassadors will be highlighted, along with Dallas Zoo STEM leaders. The news comes on the heels of IF/THEN opening its exhibit of the most statues of women ever assembled in one location at one time at NorthPark Center this summer.
PLUS
⟫ SMART CONTRACTS: Jamie Pebbles wants to reinvent the way businesses send engagement letters to their clients. As a former attorney with McKinnon Patten & Associates, the founder knows just how tedious contract writing can be. That's why he learned to code and launched Knuula, a company that's kicked off a $500,000 fundraising effort. With a focus on the public accounting industry, Pebbles sees the business as a "contract marketplace, where all those templates exist in one place, pretty much anything you can come up with that your business might need," the founder told NTX Inno. The Frisco-based startup launched in 2018 and counts one of the platform's first users among its biggest investors to date, according to the publication.
OPPORTUNITY WATCH
⟫ Do your products belong in a 7-Eleven? The Irving-headquartered convenience store chain is calling all unique sauce, snacks, and soft drinks for the chance to snag a spot on their shelves—but they must be created by a female entrepreneur with military experience. 7-Eleven is sponsoring the Dallas-based Veteran Women's Enterprise Center's 4th Annual National Business Women's Week Conference, and sending a senior merchandiser to conduct onsite product reviews. Entrepreneurs can sign up now for the Pre-Merchandising Selection Event on Sept. 22 for a product display to be reviewed by judges. Those chosen will participate in a live 7-Eleven Merchandising Review during the conference. Secure your spot now.
---
Wednesday, September 8
THREE THINGS
⓵ TRYING ON GENES: Recuro Health, which aims to transition the U.S. healthcare system to a population health outcomes approach, has acquired MyLifeIQ, an epigenetics platform that transitions healthcare to precision medicine. MyLifeIQ will integrate with Recuro's suite of digital health solutions to serve employers and their workforces, allowing the companies to capture the uniqueness of each person and pull together variables involved in health. This model promises to create an "intuitive health intelligence platform" which can unlock a person's full potential and improve quality of life. Recuro CEO and Founder Michael Gorton (above) says the company is taking genomics to the next level of utility to create a personalized medicine profile that's "truly a life picture of one person and his or her distinctive health portrait." The news comes on the heels of Recuro raising $15M in Series A financing.
⓶ WITTEN COLLISION: Yes, that's former Dallas Cowboys All-Pro Jason Witten detailing a car at Caliber Collision, the day before the Cowboys kick off the NFL season in Tampa Bay. No, this is not his day job. It's a video still from a commercial announcing his and the Cowboys' partnership with Caliber. Even Jerry Jones gets a cameo via a call asking Jason to come back to the 'Boys. The goal: Help fill auto body tech positions nationwide. You can see the spot here, and see our recent roundup of celebs who partner with North Texas brands here.
⓷ MONTHLY MAG: Dallas-based iDonate, a leading provider of digital giving systems, has launched the first issue of its new digital magazine, Connected Giving. Each monthly issue will focus on the success stories of iDonate's clients and the impact they're making in their communities. "We're thrilled to highlight some of our great customers, innovative ideas, fundraising techniques, and new things from iDonate each month," iDonate CEO Ray Gary said in a statement.
PLUS
⟫ If you think the Dallas home sales market got crazy in the last year, just wait for 2022. According to home services platform Porch, home prices in Dallas-Fort Worth are forecasted to rise a staggering +21.1 percent in the next year. That places DFW at No. 9 on Porch's list of red-hot real estate markets. Austin topped the list at No. 1 with a jaw-dropping +37.1 percent forecasted one-year price change, followed by Phoenix, San Diego, and San Jose, CA. Porch lists DFW's current median home price at $297,044, with a sale-to-list price ratio of 102 percent and median HH income of $72,265. To make its forecasts, it analyzed data from Zillow, Redfin, and the U.S. Census Bureau.
⟫ Got time for a virtual event tomorrow? The U.S. India Chamber of Commerce DFW is presenting its online Annual Small Business Forum tomorrow (Thursday, Sept. 9) from 9 a.m. to 1 p.m. EarthX founder Trammel S. Crow (above) will deliver a keynote at 9:30 a.m. about how sustainability is a key metric for future business growth. At noon the Department of Energy's Edward Rios will look at how public-private partnerships guide innovation from the lab to the marketplace. A corporate panel and procurement panel are also on tap. Registration is $50 right here.
APPLY
⟫ Dallas-based Veteran Women's Enterprise Center has extended the deadline to apply for its Inaugural 2021 Pitch Platform. Pitch applications are now due this Friday September 10th. The pitch is part of VWEC's 4BusinessRecovery Campaign and will be held during its fourth annual National Business Women's Week Conference. $40,000 in pitch investments will be awarded, including $20,000 for first place. The primary platform focus areas are retail stores, restaurants, and raves/event facilities. Secondary focus areas are online retail, food, beverages, and event services/product providers. A 3-minute "fast pitch" will be conducted online as part of the application; final pitches will happen October 20th at a virtual and live VIP event. For more info and to apply, click here. 
---
Tuesday, September 7
THREE THINGS
⓵ TRADABLE MATCH: Dallas-headquartered online dating giant Match Group has achieved its first major milestone since becoming a fully independent company: joining the S&P 500. Effective before trading begins on Sept. 20, Match will replace Perrigo Company on Standard & Poor's 500 Index, a group of 500 large enterprises that's considered the best single gauge of large-cap U.S. equities. The news follows Match completing its separation from IAC last year, and since seeing its shares rise by more than 50 percent. Currently, Match Group has a market cap valued at more than $40 billion. The S&P announcement also comes amidst CEO Shar Dubey's (above) strong opposition to—and action against—Senate Bill 8, Texas' new abortion law. She has set up a fund for employees affected by the law.
⓶ CALLING ON CONGRESS: Carlos Aguilar, CEO of Dallas-to-Houston bullet train builder Texas Central, says one key thing could help speed the project along: the $1.2 trillion bipartisan infrastructure deal slated for a House vote in late September. "I think whatever happens with the infrastructure [bill] is key to us. I believe that would be the final element that would bring us together," Aguilar said in the latest episode of WFAA's Y'all-itics political podcast. He estimates Texas Central will need to borrow around $12 billion from the federal government. A further $12 billion would be borrowed from sources including banks in Japan and Europe.
⓷ HIGH TECH-QUISITION: Addison-based Synetek Group, a recognized leader in managed services, has acquired Houston-based MSP SabinoCompTech, which serves the compliance vertical in the legal, accounting, and private healthcare spaces. Terms were not disclosed. "With SabinoCompTech joining, we have talented team members that I feel will fit right into our culture," said Mayron Herrera, CEO of The Synetek Group, in a statement. "They have a lot of experience in each of their areas and bring an equal customer experience mindset and standards that will complement Synetek's own."
PLUS
⟫ Last year we reported that S2A Modular, a maker of modern residential and commercial modular buildings, was making offers on land opportunities to build a state-of-the-art MegaFactory in Dallas and seven other markets. The company wanted to drive a "true paradigm shift" in how structures are built with its MegaFactory model. S2A now says its MegaFactory in Patterson, California, is currently being built. Up next: a MegaFactory at 1619 Exchange Parkway in Waco, Texas, slated to be in production by 2022, along with two other ones in Jacksonville, Florida, and Sheboygan, Wisconsin.  Dallas remains on S2A's MegaFactory target list marked as "open offering."
⟫ Seeking work-life balance? You'd better move to Taos. Texas is the No. 5 hardest-working state in America, according to WalletHub's 2021 Hardest-Working States in America study. Alaska tops the list, followed by North Dakota, Nebraska, and South Dakota. (Last year Texas ranked No. 4, so somebody out there is slacking off!) WalletHub compared all 50 states across 10 indicators, from hours worked, to share of workers with multiple jobs, to annual volunteer hours. At the very bottom at No. 50: New Mexico. The Land of Enchantment, indeed. 
---
Thursday, September 2
THREE THINGS
⓵ CAPITAL MOVES: A three-year, $1 million ADVANCE grant has been awarded to The University of Texas at Dallas by the National Science Foundation, which could enhance the university's efforts to recruit and retain more female tenure-track faculty members in STEM. UTD's project, called ASPIRE2, focuses on climate, identification and recruitment, and retention and advancement. It's meant to identify and recruit women who are ready to be part of the faculty—and create a climate where they're welcome. The capital will support the expansion of these efforts, putting processes in place to "increase the number of women and underrepresented minority groups in its applicant pools and to educate search committees about best practices in evaluating applications." As of last fall, only 13.5 percent of tenured and tenure-track faculty in STEM at UT Dallas were women.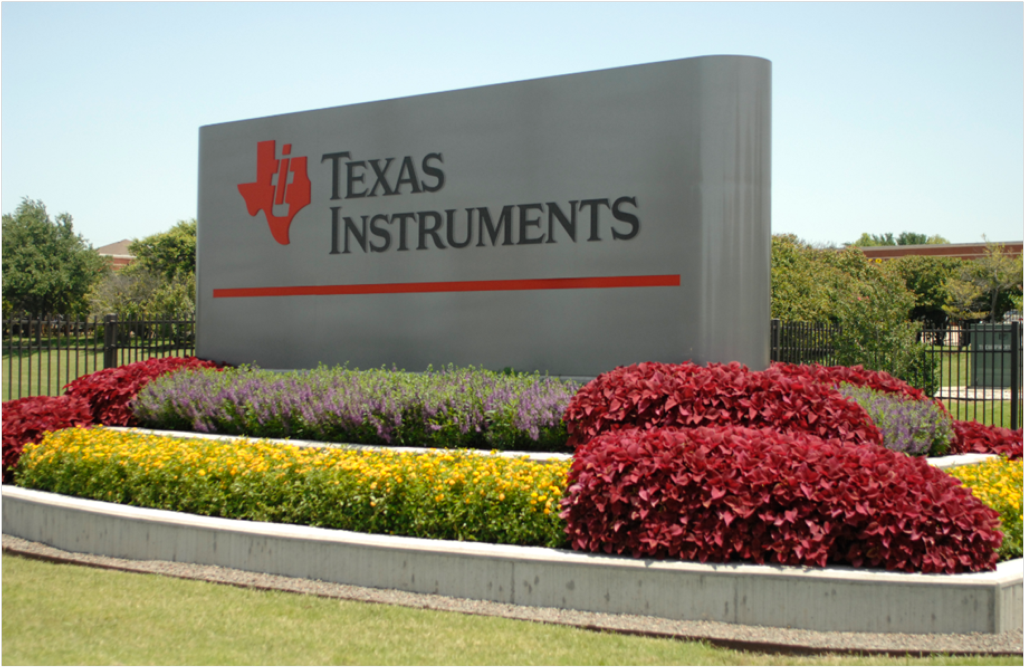 ⓶ SITE SELECTION: Dallas' semiconductor leader Texas Instruments is considering Sherman as a finalist site for its new chip plant that could employ 800 to 1,000 people—but it's in the midst of a competitive selection process. The potentially multi-billion dollar manufacturing project could be big news for Sherman, as TI announced last year that it was closing an existing factory there, the DBJ reports. And TI could potentially expand with more factories: A company spokesperson told the pub that "given the long-term trend of semiconductors growth in electronics, TI has a roadmap to continue to strengthen our manufacturing and technology competitive advantage for the next 10-15 years." 
⓷ BIO BOOM: The news is getting around: Texas has planted its flag as the next US biotech hub, declares industry publication BioSpace in a headline today. The state is expanding in the life science industry, "specifically in the Dallas-Fort Worth area," the publication writes. Here's their rundown, citing BioLabs new Dallas hub in Pegasus Park (above) and other market momentum. (Pair that with a look back at DRC economic development chief Mike Rosa's take on our bio boom: Biotech is indeed alive and growing in Dallas-Fort Worth.)
FOLLOW THE MONEY
⟫ Dallas- and Cleveland-based PE firm Align Capital Partners has sold Electronic Transaction Consultants, an intelligent transportation systems company focused on tolling and mobility systems, to Toronto-based Quarterhill Inc. for $120 million. Richardson-based ETC was originally acquired by ACP from Italian parent company Atlantia SpA last year. ACP Managing Partner Rob Langley (above, with Operating Partner Dave Perotti and Vice President Matt Iodice) ETC is positioned to build on its strong history with Quarterhill, given their synergistic technology solutions.
⟫ Middle-market private equity firm Trinity Hunt Partners has closed its sixth fund at its hard cap of $460 million in capital commitments, exceeding the initial target of $400 million. Fund VI will focus on partnering with small-cap companies in business, healthcare, and consumer services subsectors where the firm sees an opportunity for transformational growth.
⟫ Dallas-headquartered Builders FirstSource—the largest U.S. supplier of building products, prefabricated components, and value-added services—has acquired California TrusFrame in a $179.5 million deal. CTF is the largest independent producer of value-added building products in California, per a news release. Its president and CEO will join Builders FirstSource, along with the rest of its employees, on closing.
---
Wednesday, September 1
THREE THINGS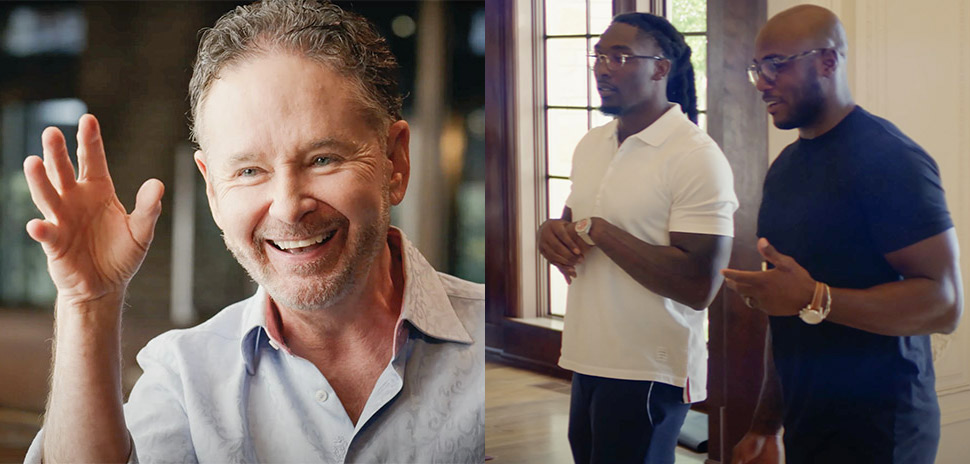 ⓵ TUNE IN: On Sept. 7, a new YouTube series called "Intersections" from Grapevine-based luxury dealership Avondale Group is set to make its debut. The professionally produced mini show, and its accompanying podcast, mirrors Jerry Seinfeld's "Comedians in Cars Getting Coffee": Guests will be paired up for titillating conversations next to high-end vehicles sold by Avondale at some of Dallas-Fort Worth's most iconic sites. Many guests will be local legends from athletes to entrepreneurs, business leaders, and creative visionaries. The DMN reports that the first episode will feature Cowboys legend DeMarcus Ware and current defensive end DeMarcus Lawrence. Viewers can also expect to see chef and restaurateur Stephan Pyles, co-owner of the former Flora Street Cafe. The series' YouTube page says that it pays homage to "the intersection of Oak Lawn and Avondale, where founder, Ken Schnitzer, created his first dealership." You can watch the trailer here.
⓶ A GROWING INVESTMENT: Fidelity Investments is increasing its North Texas workforce by around 2,000 in 2021, the Dallas Business Journal reports. This is in addition to the hundreds of new North Texas Fidelity jobs we wrote about earlier this year. The North Texas hires are just part of 9,000 total new Fidelity jobs nationwide announced by the company yesterday. "Fidelity continues to achieve strong growth and results for our 38 million customers because of the hard work and commitment of our associates," said Abigail P. Johnson, chairman and CEO of Fidelity Investments, in a statement. "Our financial strength and stability allow us to make significant investments in our businesses and create value for the people we are privileged to serve." The hiring is across all job functions, especially Fidelity's hiring is across all job functions, particularly client-facing positions (44 percent) and technology (9 percent).
⓷ IT'S PLAYTIME: Dallas ranks 18th on the list of America's 20 Most Playful Cities, based on sales data from online retailer Zulily and Google trend searches of toys and games. The most playful city of all? San Antonio, followed by Louisville, KY., Colorado Springs, Las Vegas, and Fort Worth. Austin came in 20th. Zulily also released its list of the Top 25 toys for the Holidays, in case you want to get ahead of the stampede. Coming in at No. 1: the Barbie Three-In-One Dreamcamper (above). 
PLUS
⟫ Through a new partnership with Beam Angel Network, Seven Seven Six Fund, and Golden Seeds, Capital Factory's Texas Fund has launched its next $100,000 Investment Challenge. On Oct. 4, at Capital Factory's 4th Annual Women In Tech Summit, five female-led tech startups will pitch to a panel of investors, entrepreneurs, and industry leaders for the chance to take home the cash and a fast-track into the Capital Factory portfolio. Any software, hardware, or CPG startup in Texas with a female founder or co-founder is invited to apply to participate. The deadline is Sept. 12.
---
Tuesday, August 31
THREE THINGS
⓵ HORSEMAN, SIP BY: Ryan Bingham, Grammy-winning singer and star of the TV series "Yellowstone," debuts today in the first national ad campaign from Dallas-based Lone River Beverage Company. Lone River makes the No. 1-selling Ranch Water in the U.S., part of the hard seltzer craze that's exploded in the last year. The campaign tracks Bingham through a working day on a ranch, with a cowboy poem-voiceover that ain't ashamed to rhyme. Texas native Ryan Booth of PULSE Films directed the spot, produced by ad agency Anomaly and shot near Alpine in West Texas—on Lone River Founder and CEO Katie Beal Brown's Calamity Creek working ranch. "West Texas is a vast, majestic place that's close to my heart," Bingham said in a statement. "I have roots here and so many great memories. I filmed my first music video in a Marfa bar." Lone River says its Ranch Water will be available nationwide by September. You can see the premiere spot here if you sign in to confirm you're 21+.
⓶ OH WAITER! La Duni has been serving up Latin American food for two decades on McKinney Avenue. But now, the restaraunt is taking a step into the future with Alexcita, Panchita, and Coqueta, its newest employees—who might look a little different that patrons' typical servers. The 'restaurant robots' come from Plano-based American Robotech, which has delivered 30 robots to businesses in the region since the start of this year. You can also find them at Bushi Bushi in Addison, Haidilao Hot Pot in Frisco, Taqueria Los Angeles in Richardson, and Layered in McKinney. They are programmed to not only quietly deliver food and drinks or sweep and collect dishes, but also to flirt with customers, sing "Happy Birthday," or speak different languages. They've been a "saving grace," according to Co-Owner Taco Borga, who told the DMN they offer drastic cost savings—each costs $8-10 a day—and are trained to do menial tasks so servers can make more money in tips. It's a necessity for La Duni, which had to close four locations in the on March 16 when lockdown initially began. But, Boga says they'll never fully replace the human compassion servers can deliver.
⓷ CUTTING IT CLOSER: Last fall we introduced you to Dallas-based Shavelogic and its S5 razor (above), which it calls "the best shave of your life, perfected by science." Now, with more than 150 patents secured worldwide, Shavelogic is partnering with manufacturing solutions provider Jabil Inc. to advance its design and production goals and help it scale globally. "In order to maintain the high level of quality needed for the product, we knew we needed to bring in an innovator and leader in consumer-packaged goods, robotics, and automation," said Shavelogic's co-founder Rob Wilson, in a statement. "Their global reach, scale, supply chain resiliency and technology access are unparalleled—particularly in our industry."
PLUS
⟫ InVeris Training Solutions, a provider of virtual and live-fire training systems for domestic and international law enforcement customers, has acquired Dallas-based SURVIVR, a public benefit corporation that touts a premier, patented virtual reality police training technology. Devoted to public safety, SURVIVR has been chosen by multiple law enforcement departments and the U.S. Air Force Security Forces to offer simulation training that mirrors real-life experiences. Georgia-based InVeris will add SURVIVR to its industry-leading readiness training solutions portfolio. InVeris said SURVIVR will complement its recent research and development as it continues to build on a long-standing commitment to delivering effective, reliable products and services that prepare professionals for split-second decisions. You can read more here.
---
Monday, August 30
THREE THINGS
⓵ CAPITAL NEWS: Joshua Baer, founder and CEO of Austin VC firm and startup accelerator Capital Factory, made news with a tweet yesterday: By April 2021, new Capital Factory locations are coming to Dallas, Austin, Houston, and San Antonio. The new Dallas location hasn't been revealed, but Bear expects to be "doing programming there before EOY" and offered a hint : "Think biotech." The pandemic forced Capital Factory to close its previous Dallas office at The Centrum in Uptown last November. Now the company, which calls itself "the center of gravity for entrepreneurs in Texas," aims to be back on track with a footprint in Texas' four largest cities. In the tweet comments, Baer said the new Austin location will be "a Center for Autonomous Robotics (Cars, Drones, Boats) under the 360 Bridge at Plaza on the Lake." The new San Antonio location will be "somewhere with lots of existing defense and federal innovation work happening," he added. Now Baer can really put his Texas Startup Manifesto 2.0 to the test.
⓶ Just months after launching in March with a $2.9M oversubscribed funding round, Dallas-based Recuro Health has brought in more capital to continue accelerating its growth. The digital health solutions company has raised $15M in Series A financing led by ARCH Venture Partners and including follow-on support from existing seed round investors OLSF Ventures, Cortado Ventures, 1843 Capital, and Sage Venture Partners. CEO and Founder Michael Gorton (above), who previously founded Dallas-based Teladoc, said the continued confidence of investors represents the team's dedication to solving some of the most pressing challenges in healthcare. Recuro's digital health model takes an integrated care team approach, addressing primary care and behavioral health issues with a unified group of primary care physicians, psychiatrists, and counselors. You can read more about the company and its funding round here. 
⓷ HIGH-PRICED: Dallas-based PE firm Highlander Partners LP is planning to sell Plano-based Bettera Holdings LLC, the parent company of Bettera Brands, in a $1 billion deal. The buyer is Catalent Inc., a multinational pharmaceuticals and consumer health products corporation that's based in New Jersey and wants to boost its consumer health business. Bettera is best known for manufacturing gummy, soft chew, and lozenge products in the nutritional supplements market. It was formed back in 2017 via Highlander making a series of four acquisitions. Today, it's a leader in high quality nutritional vitamins, minerals and supplements. The deal with Catalent is expected to close by the end of the year and, according to the DMN, Bettera will transfer its consumer health business to Catalent.
PLUS 
⟫  Dallas-based motorcycle e-commerce platform RumbleOn is closing its business combination with powersports retailer RideNow tomorrow, pricing its underwritten public offering of about 4.39 million shares of Class B stock at $33 a share. Rumbleon says it has secured all funds necessary to close. We wrote about the $575.4 million acquisition/merger last March. "We are only days away from becoming the first omnichannel consumer experience in powersports in North America and the first public company in this vehicle segment," said RumbleOn CEO Marshall Chesrown, in a statement.
⟫ Fort Worth telehealth startup TimelyMD, which raised $60 million in an investment from JMI Equity in January, just grew its leadership team. The higher ed-focused company delivers free virtual medical and mental health care support to students at more than 100 college and university partner schools, including Duke, Emory, Georgetown, and Johns Hopkins. Its new hires will support TimelyMD's growth as COVID cases rise. They include Becky Banasik, SVP of client success; Lauren McQuade, SVP of marketing; Zachary Fleming, VP of product; Todd Hegseth, VP of sales operations; Eric Knittel, associate VP of brand and creative; and Kristen Buglione, healthcare literacy lead.
---
Friday, August 27
The most popular stories on Dallas Innovates this week
⓵  If Rivian Builds Its $5 Billion Plant in Fort Worth, It Would Be "A Huge Economic Generator for the Region"
⓶  Infrastructure Giant AECOM Is Moving Its HQ From L.A. to Dallas
⓷  Here Are the Top 25 Companies to Work For in Dallas-Fort Worth, According to LinkedIn
⓸   Tech Protection Company Likewize Invests $100M in DFW, Creating 500 Local Jobs
⓹  UTA Joins Just Three Other Universities In Achieving the Prestigious 'Texas Tier One' Designation
⓺   UK's Quorn Grows Meatless Presence in U.S. with $335M Investment and a New Culinary Development Center in the Dallas Area
⓻  Rosy Continues Its Pandemic Momentum, Raising $1.3M of a $2M Seed Offering
⓼  Fort Worth's Jeff Bond Didn't Like What He Was Finding On Job Staffing Sites. So He Launched His Own
⓽  'Schitt's Creek' Stars Eugene and Sarah Levy Appear in Ad Campaign for Capital One Auto Navigator
⓾  DI People: Wingstop, Blue Cross and Blue Shield of Texas, Robin Autopilot, and More Make Moves
MORE THINGS TO KNOW
⓵ Former SMU Cox School of Business student François Reihani is on the cover of Entrepreneur magazine's September 2021 "Young Millionaires" issue. The magazine's cover calls Reihani "one of a kind," saying his "La La Land Kind Cafe improves its staff's lives and has driven $6 million in revenue." La La Land has three locations in Dallas—at 3330 Oak Lawn, 5600 W. Lovers Lane, and 5626 Bell Avenue—and one location in Santa Monica, California. Its mission: "Normalizing kindness" by hiring youths and young adults who've aged out of foster care. A flagship store in each of its cities runs an eight-week internship program for foster youth, teaching life skills, on-the-job training, and mentorship. La La Land then aids them in getting help with job placement, housing, schooling, and therapy as part of its We Are One project. With success like that, you may see Reihani on more covers soon.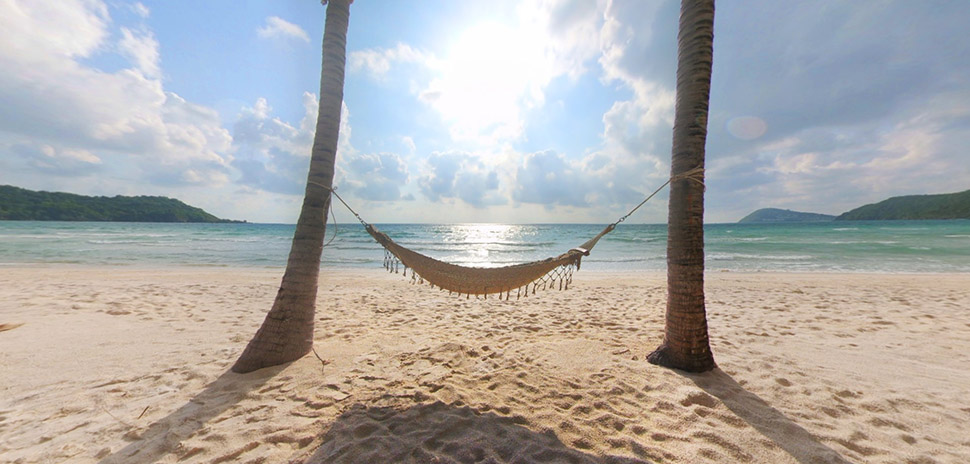 ⓶ LIFE'S A VIRTUAL BEACH: Dallas-based MyndVR, a leading provider of virtual reality solutions for seniors and "active agers," has partnered with Healing HealthCare Systems to offer Continuous Ambient Relaxation Environment VRx (C.A.R.E.) to residents who use the MyndVR system at senior and memory care communities, assisted living centers, hospice care, and in the home. Using gaze-based navigation with VR headsets, users can interact with the immersive C.A.R.E. VRx app, which blends voice-based, guided imagery with 360-degree visuals of forests, lakes, beaches, and more. Studies show that VR experiences like these can help patients heal, lower blood pressure, ward off depression, and more. In addition to providing headsets and content, MyndVR will also offer an array of aromatherapy oils matching the visual and musical content. READ MORE
⓷ Electric vehicle startup Rivian has submitted a confidential filing with the Securities and Exchange Commission to go public. The IPO won't take place until the SEC finishes its review, and the size and price of the offering haven't been revealed yet. Just two months ago, Rivian closed a $2.5 billion private funding round—and closer to home, Fort Worth has become the "front runner" to land Rivian's proposed new $5 billion EV factory. Amazon, whose Climate Pledge Fund helped lead the $2.5 billion funding round, has been testing custom Rivian delivery vans in Fort Worth. 
PLUS
⟫ The U.S. Postal Service has added 115 Dallas-Fort Worth sites to its new local delivery pilot program, USPS Connect Local. The pilot launched July 19 at seven Dallas and Houston sites, and has now expanded to 200 postal facility locations in Texas. USPS Connect Local offers direct access to U.S.P.S.'s last-mile delivery network—letting businesses provide local-to-local same-day and next-day package delivery at affordable rates. 
OUT-OF-STATE BANKS MOVE IN
⟫ Out-of-state banks have their eyes on the Dallas-Fort Worth market. Oklahoma City's InterBank has made more than a dozen new senior hires in DFW this year as it moves to increase its presence here and grow new business, reports the Dallas Business Journal. The positions include a new DFW regional president and a COO. The bank has $3.5 billion in assets. 
⟫ Meanwhile, Denver-based Sunflower Bank is ratcheting up its North Texas presence, the DBJ reports, adding a DFW market president and giving its Preston Road bank added capacity. A Collin County market president will join other senior leaders in supporting private equity firms, family offices, and owner-managed businesses, the DBJ says.
---
Thursday, August 26
THREE THINGS
⓵ TOP-LINE TRACKING: Polte, the Richardson-based innovator in accurate Cloud Location over Cellular technology, is partnering with trackables company Pebblebee on a new device that enables ultra long-lasting battery life, low cost, and high precision for asset recovery. Pebblebee's Found devices will use Powered by Polte technology, which touts "the most accurate global 4G/5G Massive IoT cellular location." Consumers and enterprises now have a way to track their items indoors and outdoors—using Polte's cloud-based cellular location technology—that goes beyond where BLE (Bluetooth Low Energy) and GPS can reach. CEO Ed Chao said the release enables "a new set of location insights through maximized power efficiency and greater visibility." It's what Polte does best: The company's tech has more than 75 secured or pending patents to deploy asset location in nearly every industry, including transportation, energy, and healthcare.
⓶ Digital life insurance pioneer Bestow is growing rapidly—and has a new space to show for it. The Dallas-based startup has signed a lease to move into a 42,000 square-foot office at The Stack Deep Ellum, a 16-story mixed-use building offering state-of-the-art space for the future workforce. The "touchless tower" claims a frictionless experience from garage to office, electric vehicle and scooter charging stations, and a 10th-floor terrace overlooking the Dallas skyline. The transition comes on the heels of Bestow's $70M Series C Funding round and its No. 2 ranking on Forbes' list of America's Best Startup Employers for 2021. Bestow has around 180 employees and is hiring for 70+ more positions by the end of the year.
⓷ FOLLOW THE MONEY: Dallas fintech Indyfin, which offers an online platform to pair independent financial advisers with new clients, is fueling new growth with a $2 million raise led by Leo Capita. CEO Akshay Singh told the DBJ his company plans to use the capital to hire engineers, operations staff, and product specialists as demand surges amidst the pandemic. People with money management skills are looking for new ways to find clients, the DBJ notes, especially as in-person connections are becoming more challenging. "We are like a Shopify, for lack of a better word, for financial advisors," Singh told the publication. "We help them win clients online and as you can imagine with COVID peaking—a lot of other channels are drying up, and we were getting a lot of inbound demand."
---
Wednesday, August 25
THREE THINGS
⓵ STEM TO THE STARS: The Dallas-based National Math and Science Initiative has joined Million Girls Moonshot with a goal of deeply engaging a million more girls in STEM learning over the next five years. The Moonshot is a project of the STEM Next Opportunity Fund and will leverage the 50 State Afterschool Network, which has access to more than 10 million kids and 100,000 after-school programs across the U.S. "The Million Girls Moonshot will allow girls to envision themselves as future innovators and increase the quality of out-of-school STEM learning opportunities for all young people," STEM Next Executive Director Ron Ottinger said in a statement. "Having NMSI as a partner will help ensure our success." 
⓶ BLOCK THAT VIRUS! The Houston Texans' Lane Taylor and Safe Shield Products CEO Evan Epstein (above) used to be fellow offensive guards for the Oklahoma State Cowboys. Now they're teaming up once again—to block the coronovirus and other pathogens with Virus Guard. Their website claims the disinfectant kills the COVID-19 virus in 60 seconds, along with most other harmful viruses and bacteria—and while it's 100% natural and non-toxic, it's still "100 times more effective than bleach." Their product line includes a travel-size hand sanitizer, a quart-sized spray bottle, and Locker Guard, a one-gallon jug that's "safe on athletic mats, equipment, and sports gear" but deadly for MRSA, staph, norovirus, streptococcus, and other nasty things.
⓷ MORE VIRUS BLOCKING: In May, we told you about the group behind Dallas management consulting company Collaborative Mind launching Nebula Mat: a smart door mat that automatically releases a medical-grade mist to minimize germs from the bottom of your shoes. It comes equipped with replaceable misting pods with an EPA-approved solution, a washable microfiber drying area, and automated sensors with touchless activation. Now the company has announced that its Kickstarter was successful, bringing in around $26K to develop a prototype for beta testing. The smart home device made its debut on TikTok, going viral and spreading brand awareness. Products are available for pre-order at $199 for a fall distribution.
DEALS, DEALS, DEALS
⟫ Dallas private equity firm Sole Source Capital has announced that its L.A.-based portfolio company Worldwide Produce has acquired Vision Produce, a leading importer and distributor of fresh produce to markets in the U.S. and Canada. Terms were not disclosed. 
⟫ Dallas' Lone Wolf Technologies, a leader in residential real estate software, has acquired Propertybase, a global real estate and mortgage software company. Terms were not disclosed. Lone Wolf serves over 1.5 million real estate professionals across the U.S. and Canada. Propertybase services more than 4,500 companies including Hawai'i Life, Forbes Global Properties, and ONE Sotheby's International Realty. 
⟫ New York private equity firm NexPhase Capital has made an investment in McKinney-based Selerix Systems, a leading provider of cloud-based benefits administration and employee engagement software. Terms of the transaction were not disclosed. Selerix has an active user base of over 8.3 million client employees who work for 18,000+ employer groups. 
⟫ Dallas-based healthcare workforce solutions firm ShiftKey has received a growth capital investment from Michigan-based Lorient Capital Management. Terms were not disclosed. The strategic partnership will support ShiftKey through its next phase of growth as it scales up nationally, extending beyond its core markets of post-acute and long-term care providers. 
⟫ Fort Worth's Higginbotham, America's 20th largest independent insurance, financial and HR services firm, has announced its partnership with Grace Hill, an innovator of talent and customer management solutions for real estate. 
---
Tuesday, August 24
THREE THINGS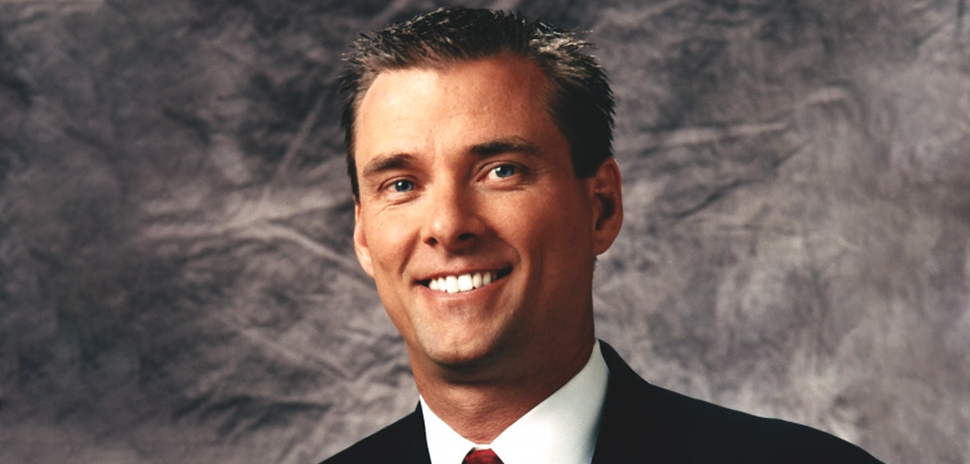 ⓵ SPAC SCENE: A new special purpose acquisition company called Direct Selling Acquisition has filed for a $200 million initial stock offering and plans to be listed on the NYSE under DSAQ.U. Like its name, the Plano-based blank check company is aiming help take direct selling businesses valued between $500M and $2B public. It is led by Dave Wentz (pictured above), the former CEO of Utah-based USANA Health Sciences, according to the DMN. Mike Lohner, co-founder of DOSH, which offers users a way to get automatic cash back from shopping and dining, will serve as chief financial officer. The DMN notes that Direct Selling joins a burgeoning scene: Last year, 248 SPAC deals totaled $83 billion. This year, it's already up to 413 deals and $121.8B.
⓶ BOSS WOMEN: Last week, more than 16,000 attendees tuned into Capital One and Boss Women Media's virtual Black Girl Magic Summit for two days of interactive programming on financial, physical, and emotional well-being. The event featured panels with thoughtleaders, workshops, networking, and a small business pitch competition, in which three startups founded by Black women were awarded grants from Capital One totaling $50K. The results were:
1st place: Kewanta Brooks of Elite Kids, which produces diverse media and educational content that features Black and brown characters for children up to 10 years old
2nd place: Courtney Caldwell of ShearShare, a tech platform that connects independent stylists with salons and barbershops so they can rent chairs by the day
3rd place: Tammy Bowser of Snag My Wedding, a user-friendly, sustainability-based platform for couples to resell their entire wedding online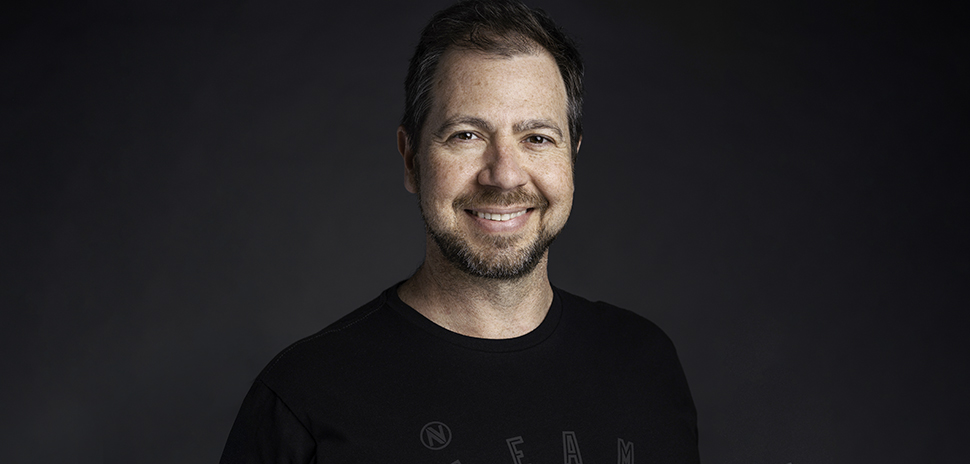 ⓷ ENVYING THOSE KIDS: When we went to school, all we had was gym class. Now kids get esports?! Dallas' Envy Foundation, a nonprofit created by Texas-based esports and entertainment company Envy Gaming, is offering multiple $5,000 to $15,000 Empowerment Grants to be awarded this fall to groups who want to launch or grow youth esports programs. The foundation is inviting high schools, middle schools, and clubs in Texas to apply for one of the grants. Predator, one of the world's leading PC gaming brands, is Envy's presenting partner. Applications will be accepted through September 24th at envy.gg/foundation. "Core to our mission for the Envy Foundation is the support of STEAM initiatives through gaming and providing more opportunities for students of all ages and backgrounds to have richer, healthier, rewarding experiences," said Adam Rymer, CEO of Envy Gaming (above), in a statement.
PLUS
⟫ A NEW DAILY BIZ VOICE: Dallas-based TexCorp Communications has launched a new digital daily news platform to complement its quarterly magazine, Minority Business News USA. The site's goal is to increase the support, promotion, and recognition of minority businesses and their corporate partners. The site was created by Qme Spotlight Ecosystem, a minority-owned business and TexCorp's agency of record. "Through our MBN USA daily news platform, minority communities and corporate America can read, watch, share, and interact with positive news about the success of minority business enterprises, minority business inclusion, and pursuits to strengthen our communities — locally, nationally and globally," said Don McKneely, founder and president of MBN USA (above), in a statement. "Our minority communities deserve to see more positive business news and imagery about our people, our successes, and the corporate partners who are truly committed to minority business inclusion and supplier diversity."
⟫ GOOD DAY TO GIVE: More than 1,300 Dallas County nonprofits have signed up for North Texas Giving Day scheduled for September 23, with early giving beginning September 1. Nonprofits like the pit bull rescue group The Love Pit (above) speak in this video about how much the day means, and donors share their passion for the day here. The 13th annual event from the Communities Foundation of Texas (CFT) will present in-person, hybrid, and virtual events across North Texas. Presenting sponsor Amazon will amplify the bonus and matching funds. READ MORE
---
Monday, August 23
THREE THINGS
⓵ TAKING THE HILL: Irving-based Nexstar Media has acquired The Hill, one of America's leading political digital media platforms, for $130 million. The Hill attracted 48 million average monthly users and 2.2 billion total pageviews in 2020, according to Comscore. It also had 914 million video views on Twitter.  More than 100 journalists work at The Hill, which will now complement Nexstar's cable news network, NewsNation, and its local news reporting platform featuring 5,500 journalists nationwide. The Hill and NewsNation rank as two of the most centrist leading news outlets in the U.S., according to the Ad Fontes Media Bias Chart. Nexstar President and COO Tom Carter (above) said in a statement that the acquisition "marks continued progress with Nexstar's 'content-first strategy' and reflects our organization-wide commitment to deliver trusted, unbiased, fact-based journalism that engages and informs our audiences across all screens and devices." READ MORE
⓶ CRE: Dallas proptech startup Dottid, which offers a software-as-a-service technology platform for the commercial real estate industry to facilitiate asset management and leasing transactions, has launched a new user interface and user experience on its platform to streamline access to its services. The UI/UX update will give property owners, brokers, and tenants a way to gain real-time insights into occupancy, deal activity, lease expirations, and vacant suites. It also "enables and promotes collaboration between users and third-party consumers" to generate joint-effort opportunities. The Dottid team honed in on data with the launch, providing its users with the ability to capture and harness a range of easily accessible, actionable information. CEO and Founder Kyle Waldrep said the new design is rich with visual tools that track everything from vacancy to offering, tour to deal signing, and build-out to move-in. "This is just the beginning," he says. The news comes on the heels of Dottid raising $4.5 million in funding in May.
⓷ INNOVATION INCUBATION: United Way of Metropolitan Dallas has launched the Social Innovation Incubator, a 12-week online learning program designed exclusively for early-stage social ventures that are led and staffed by women and people of color. Participants will be able to develop a business plan through the Bridge for Billions platform; get personalized leadership coaching; gain seed funding along with the chance to compete in a pitch competition for additional funding of up to $5,000; and get prioritization for future UWMD programs. "Not every social entrepreneur has access to the resources and opportunities they need to develop their venture and secure funding," said Alexis Snow, UWMD's senior manager of innovation. " This is something that will benefit all of North Texas, because we need innovative ideas and new voices, from more diverse places, to make sure this community works for everyone."
PLUS
⟫ Plano- and India-based global information technology company Wipro Limited has launched a new studio in North Texas to "support digital transformations for customers, increase innovation, and develop unique industry solutions." The @now Studio—located at Wipro's Technology Center in Plano, its hub for advanced analytics, cloud technologies, and cybersecurity—was launched in partnership with software company ServiceNow. It will develop customized solutions by using ServiceNow's digital workflows and simplified processes. It's Wipro's first @now Studio, but there are plans to launch more in Europe and APMEA soon.
---
Friday, August 20

The most popular stories on Dallas Innovates this week
⓵  Infrastructure Giant AECOM Is Moving Its HQ From L.A. to Dallas
⓶  SMU Announces All-New Business Accelerator to Support Next-Gen Entrepreneurs
⓷  Westlake's Virbac Announces New Dog Cancer Treatment Now Available Across the U.S.
⓸ 'Persistence, Perseverance, and Pluck': 182 North Texas Companies Rank on the 2021 Inc. 5000
⓹  Immersive Van Gogh Opens at Lighthouse Dallas, a New Arts Venue in Downtown's East Quarter
⓺  Here Are the Top 25 Companies to Work For in Dallas-Fort Worth, According to LinkedIn
⓻  Dallas Founder Wes Cummins Sells 272 Capital to B. Riley Financial, Secures Energy Source for His Crypto Hosting Business
⓼  Kainos Capital and Two Family Partners Acquire Innovative Pet Food Makers Muenster Milling
⓽  Dallas-Based Health Food Brand Rollin' n Bowlin' Launches Grant Program for College Entrepreneurs
⓾  'Schitt's Creek' Stars Eugene and Sarah Levy Appear in Ad Campaign for Capital One Auto Navigator
MORE THINGS TO KNOW
⓵ PLANT-BASED INVASION: Just last week, we reported that Sweden-based Oatly plans to open a big manufacturing center in Fort Worth to produce 150 million liters of oat milk annually. Now another plant-based food and beverage firm is muscling into Midlothian, just south of Dallas-Fort Worth. Minneapolis-based SunOpta will open a new production facility in the city that will expand from 285,000 to 400,000 square feet—and bring up to 185 new, "high-paying" manufacturing and management jobs to the city once it's operational in late 2022. The city of Midlothian and Ellis County have approved a $7.5 million incentives package including a grant from Midlothian Economic Development and an eight-year tax abatement. "As a sustainability-oriented food company, we're excited to share that this new facility is estimated to annually eliminate over 15 million freight miles from our supply chain," said Joe Ennen, SunOpta's CEO, in a statement.
⓶  CANCER FIGHTERS: Dallas-based biotech firm Dialectic Therapeutics has received a $14.4 million Texas Company Product Development Research Award from the Cancer Prevention & Research Institute of Texas (CPRIT). The grant adds to the initial $3 million Seed Award that Dialectic received from CPRIT last year. Dialectic will use the funding to advance the clinical development of its lead cancer-fighting product candidate, DT2216, a unique compound built using its proprietary and novel APTaD technology platform. "This financial support advances our primary goal of reaching cancer patients faster with a potential first-in-class anticancer agent targeting [B-cell lymphoma extra-large], the most commonly over-expressed antiapoptotic protein in cancer," said Dialectic's co-founder, president and CEO, Dr. David Genecov (above left, with co-founder John Harkey).
⓷ RIVETING RIVIAN: Last week Bloomberg News reported that Amazon-backed Rivian Automotive, the Irvine, CA-based electric vehicle startup, could potentially invest around $5 billion to build a factory near Fort Worth. The factory would produce 200,000 vehicles a year and create some 7,500 jobs by 2027. Bloomberg said the North Texas site "has become the front-runner for Rivian." The Fort Worth Star-Telegram spoke with economist Ray Perryman of the Perryman Group, who said the project would be "a huge economic generator for the region," leading to $6.2 billion in construction and development product alone. But Perryman cautioned that Fort Worth's $440 million tax incentives package wasn't without risk. READ MORE
PLUS
⟫ DALLAS COWBOYS ANALYTICS: Analytics began taking over baseball long ago (see Brad Pitt in "Moneyball" or better yet, read the Michael Lewis book). It's only recently been creeping into the NFL, with punting from the opponent's 40-yard-line looking dumber and dumber. So will the Dallas Cowboys embrace analytics and get with the 21st century? Fansided sees a good sign in former New York Jet cornerback Maurice Canady making the team as a free agent. Though he flew under the radar as a player, his actual stats jump off the page when viewed up close. "Dallas still has a long ways to go until they can be considered analytically minded. but the first seed they planted seems to be growing, and with that, so hopefully has their trust," Fansided says.
⟫ MASTERING MCKINNEY: Denver-based based Avanta Residential, the single-family rental affiliate of Hunt Companies Inc., has purchased 27 acres of land in McKinney's Painted Tree master-planned community. Avanta plans to develop a build-to-rent neighborhood at the site. The single-family rental community will feature 276 homes and townhomes—along with buzzy features like electric car charging stations, pocket parks, a fitness center, a yoga lawn, and a swimming pool with cabanas. Avanta was formed just last year to respond to the increasingly popular single-family rental industry. Its parent company, Hunt Companies, has completed more than $8.5 billion in real estate developments.
---
Thursday, August 19
THREE THINGS
⓵ AIDING INDIA: The COVID-19 Delta variant is devastating India, with 4.28 billion gallons of oxygen needed daily to fight the pandemic. A national shortage of ventilators there only makes it worse. Now Dallas software engineering company Qentelli is doing something about it. Its president and founder, Sanjay Jupudi (above), along with co-workers and friends, have been collecting old sleep apnea machines and transforming them into non-invasive ventilators for shipment to India. Qentelli's iCovidRelief team has set up donation sites around Dallas and, according to D Magazine, has refurbished 150 ventilators so far out of their goal of 1,000. They've also raised $48,155 so far out of their $50,000 goal on GoFundMe. You can donate and learn more here.
⓶ LIFE SCIENCE STARTERS: LaunchBio, UTSW Blackstone LaunchPad, BioLabs NTX, and TechFW have partnered up on a free ThinkLab startup accelerator. The fall cohort begins Sept. 14 for North Texas life science startups. Meetups will take place at the new Pegasus Park in Dallas, COVID permitting, of course. Applications are open: Register for the Aug. 23 info session and apply for the cohort here.
⓷ NEXT-GEN PUBLIC NETWORK: Dallas-based Hedera Hashgraph, which bills itself as a faster and more secure alternative to blockchain, announced The London School of Economics and Political Science via LSE Enterprise Ltd. will join its Hedera Governing Council. The council is governed by some of the world's largest organizations, including Avery Dennison, Boeing, Deutsche Telekom, DLA Piper, Google, IBM, LG Electronics, Tata Communications, and Wipro. Hedera CEO Mance Harmon (above), previously told us the governance model "includes a robust system of checks and balances, ensures power can't be consolidated, while at the same time providing a stable and scalable platform on which developers can build."
PLUS
⟫ HIGH-FLYING: "Private aviation isn't seeing the same dent in business as commercial airlines, and data shows Texas is one of the top locations in the country for the industry," writes Catherine Leffert in the DBJ. Private flights were up in June with the busiest month since October 2007, she reports. North Texas is a market that's benefitting: Airshare and JSX are expanding their services and products. A big slice of that is based in Dallas-Fort Worth.
⟫ DE-RISKING DEAL: Dalla-based First Foundation Bank has teamed up with Austin-based 360factors for high-tech risk and compliance management. The $7.1B bank, which moved its HQ to Dallas from California earlier this year, will use the company's AI-powered platform to "more proactively manage regulatory changes and bring additional efficiencies to our compliance monitoring and testing program," said Hugo Nuno, chief risk officer at the bank, in a statement. In May, First Foundation partnered with New York Digital Investment Group to give its clients access to Bitcoin-related financial services. 
---
Wednesday, August 18
THREE THINGS
⓵ ON THE ROAD AGAIN: In June, Waymo Via, the trucking unit of autonomous driving tech company Waymo, partnered with J.B. Hunt Transport Services, one of North America's largest supply chain solutions providers, to run robotically driven freight from Houston to Fort Worth on I-45. Now, Waymo Via is scaling up its operations across Texas, Arizona, and California. Locally, Waymo Via is establishing a new long-term dedicated trucking hub in Dallas-Fort Worth to serve as its primary operations center for the state. The 9-acre site in Lancaster, to be built from the ground up, will offer space for large autonomous truck testing needs, support long haul routes across the Southwest, and serve commercial uses with carrier partners, reports the Dallas Morning News. Waymo has also partnered with Ryder to act as its fleet management service provider across all Via hubs to scale operations in Dallas and beyond.
⓶ RURAL COLLEGE BOOST: The annual budget of UT Austin is roughly $3 billion. But many Texas students attend small rural colleges with nowhere near those resources. Now Dallas-based Economic Mobility Systems, the Rural Community College Alliance, and the Greater Texas Foundation (GTF) are launching a pioneering program to create more equitable college and workforce outcomes for rural Texas students. The GTF is backing the Rural College Promise Campaign with a $3.1 million grant. The program will involve three rural colleges: Gainesville's North Central Texas College; Denison's Grayson College; and Tyler Junior College. READ MORE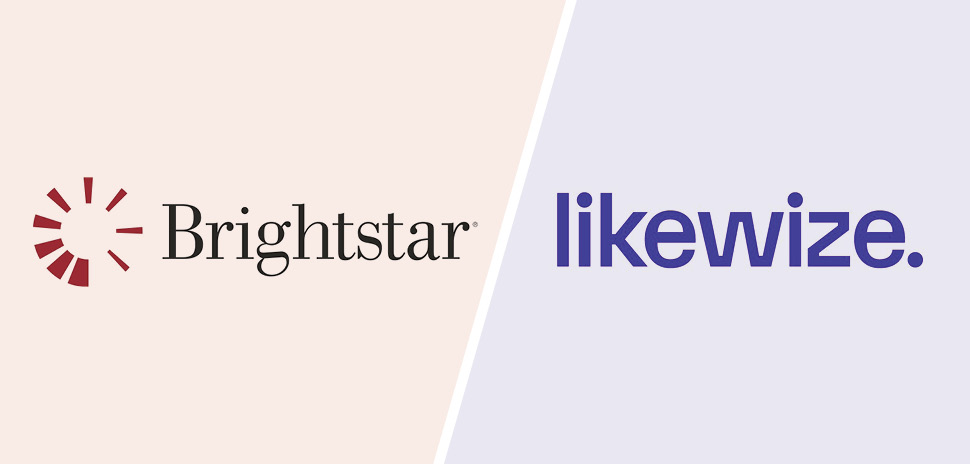 ⓷ REINTRODUCTION: Dallas-based Brightstar has unveiled a comprehensive rebrand to represent its transformation from a mobile phone distributor to complete tech protection and support provider. Now operating under the name Likewize, the company aims to make tech problems painless and resolve any disruptions. That includes providing solutions for lost, stolen, damaged, or malfunctioning devices. The announcement comes on the heels of a period in which Likewize invested ~$1B in systems and services. CEO Rod Millar says the new look will embody the team's expanded capabilities over the past decade to solve the evolving problems of the tech industry. He feels they "have been the industry's best-kept secret and now that's all about to change." Along with the rebrand, Likewize is opening a new state-of-the-art fulfillment center in Dallas-Fort Worth.
PLUS
⟫ Dallas-based digital life insurance provider Bestow, which aims to be a new breed of life insurer built for future generations, is one of 26 winners of Real Simple's 2021 Smart Money Awards. The annual list—chosen by a panel of money experts—recognizes game-changing apps and services that help consumers keep their finances in order.
⟫ LEMONADE ENTREPRENEURS: Friday is National Lemonade Stand Day. It's more than a chance to wet your whistle: It's a way millions of kids can learn financial literacy—and start up their first business. The Dallas-based National Financial Educators Council is offering an online toolkit to help these sidewalk businesses get launched. The NFEC says lemonade stands teach kids key entrepreneurial skills—from supply and demand to teamwork, budgeting, sales tactics, branding, and more. If you see a stand this weekend, be sure and stop. You might be buying a cup from the next Elon Musk or Sheryl Sandberg. 
---
Tuesday, August 17
THREE THINGS
⓵ CAPITAL MARKETS: Pittsburgh-based PNC Financial Services Group Inc. has chosen to set up its sixth debt capital markets hub in Dallas, according to the Dallas Business Journal. The outlet is geared toward middle market and large corporate clients in Texas and other nearby states, offering corporate debt advisory, capital raising, and transaction execution services. The DBJ reports that the team will emphasize "PNC's already rapidly growing market share in North Texas". According to Divyang Shah, managing director of the local debt capital markets hub, the region was attractive because of PNC's existing (and expanding) footprint here. The company also sees a lot of M&A advisory in Dallas, along with the migration of companies and people moving to Texas. Shah told the DBJ that "talent acquisition could be a potential headwind in the future" as the hub builds its momentum. PNC recently bought BBVA USA in an $11.6 billion deal.
⓶ MISSION CRITICAL: Dallas-based technical professional services firm Jacobs has been awarded a five-year, $235 million contract to provide counterintelligence, counterterrorism, and human intelligence support to the 902nd Military Intelligence Group in Fort Meade, Maryland. The task order contract was awarded by the U.S. Army Intelligence and Security Command (INSCOM), which conducts intelligence, security, and information operations for Army commanders, the intelligence community, and national decision-makers. Jacobs will perform work that "enables critical sensitive activities," mainly in cyber intrusion damage assessment, geospatial intelligence, language-enabled socio-cultural analysis, digital media forensics, and human intelligence targeting. The contract expands Jacobs' cyber and intelligence portfolio and builds on its longstanding relationship with the U.S. Army.
⓷ A "TOP 10 INVESTABLE CITY": Dallas Innovates has spent years reporting on our region as a hub for entrepreneurs, corporations, capital, real estate, and more. Now the world's taking notice. American Urban Institute, in partnership with Lansion Media, has released its first global Best City Awards in 12 categories, ranging from most beautiful and safest to cultural and sustainable. The surveys gathered data from people's votes for the top 10 cities in each category. Dallas made the list of the Top 10 Most Investable Cities, along with Shanghai, Seattle, Singapore, Hong Kong, Guangzhou, Beijing, Sydney, San Francisco, and Tokyo. (PS: Dallas beat out Tokyo to snag the #9 spot.)
PLUS
⟫ 7-Eleven is joining the alcohol delivery bandwagon. Now, you (if you're 21 and older, of course) can get beer and wine delivered to your door from the Irving-based convenience store retailer through its new partnership with Minibar Delivery, an online alcohol service based in New York. Customers just need the Minibar app or access to its website. The pilot is kicking off in Dallas, Fort Worth, San Antonio, Austin, and select cities in Florida and Virginia. The move comes at a time when 7-Eleven has more than doubled its delivery footprint in the past year.
Monday, August 16
THREE THINGS
⓵ PRICY GENES: Dallas-based Taysha Gene Therapies has secured up to $100 million in non-dilutive term loan financing from Silcon Valley Bank (SVB). The startup develops and commercializes AAV-based gene therapies for the treatment of monogenic diseases of the central nervous system in both rare and large patient populations. Taysha's CEO, RA Session II, said access to the financing, along with cash on hand, "will provide Taysha with operational and financial flexibility to achieve numerous value-generating milestones including a potential regulatory approval for TSHA-120 in giant axonal neuropathy, or GAN." The financing provides Taysha up to $100 million with $40 million available at closing, of which Taysha has drawn $30.0 million. The interest rate is the greater of 7.0% or the WSJ Prime Rate plus 3.75%. 
⓶ SETTING UP SHOP: Last month we told you how Chicago-based @properties, one of the country's largest residential brokerage firms, plans to set up a new franchise in Dallas—its third and largest metro market. Now the tech-focused brokerage has announced it's chosen to headquarter at Braniff Centre, a multi-use facility at Dallas' Love Field Airport with 200K SF of private hangar space accompanied by retail, restaurants, and entertainment venues. A symbol of the airport's history and growth, Braniff Centre was previously used by the Dallas Cowboys. That makes it a fitting spot for @properties: The local franchise was set up with backing from the Jerry Jones family, and it will be run by Jerry Mooty, Jr., an entrepreneur and real estate agent who's the nephew of Cowboys owner Jerry Jones. He recently brought on one of Dallas' top luxury realtors, Piper Young.
⓷ LEARNING FUN: Family-focused entertainment brand Main Event is launching a new standard-based educational program for students and teachers at all of its locations across the country. Called Play Academy, the in-center experience will be based on a STEAM curriculum that aligns with national learning standards. To ensure the academy will enhance arts, social, and emotional learning, Main Event brought on two leading learning consultants as partners: STEM.org and Big Thought Institute, the consulting division from Big Thought. Students will be able to enjoy learning labs co-designed by the team at Big Thought, the Dallas-based nonprofit that's dedicated to educating and motivating the city's youth. President and CEO Byron Sanders said it's paving the way for 21st century education by enabling "learning by doing" and "developing by creating."
PLUS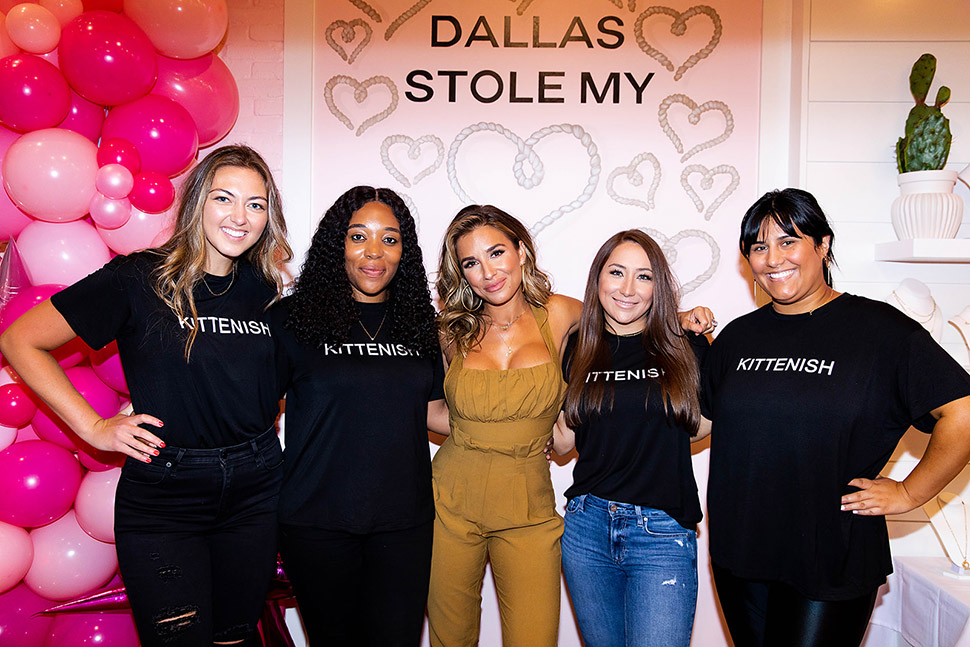 ⟫ It's not just a look, it's a vibe. The new Kittenish boutique in West Village is the first in Texas. Founded by country singer Jessie James Decker in 2019, the Nashville brand has expanded to Dallas with a star and influencer-studded opening in Uptown. Next up: Tampa.
⟫ Dallas-based business advisory firm Riveron has acquired GBI Consulting, a service provider specializing in enterprise performance management solutions. GBI Consulting will become part of Riveron's tech enablement team, enabling it to serve clients on their financial transformation journey.
⟫ Maison Reserve & Co., a Dallas-based manufacturer of everyday household products, has launched what it says is "the world's first cryptocurrency tethered to the supply and demand of real products." Investors are calling it a massively interconnected industrial smart contract secured and powered by blockchain.
---
Friday, August 13
The Most Popular Stories
on Dallas Innovates This Week
⓵  Smart Solution: Jacobs Launches Cloud‑Based App to Help Maximize Infrastructure Planning
⓶  SMU Announces All-New Business Accelerator to Support Next-Gen Entrepreneurs
⓷  Mobile Infrastructure Consultancy MD7 Relocates Its Headquarters From San Diego to Allen
⓸  Celina's Housing Boom Heats Up With a Planned 11,000-Home Development
⓹  UT Dallas and Fullstack Academy Launch Four Bootcamps for Tech Professionals
⓺  Immersive Van Gogh Opens at Lighthouse Dallas, a New Arts Venue in Downtown's East Quarter
⓻  Dallas Is the No. 2 Metro for Tech Job Postings, Per a New CompTIA Report
⓼  Meet the Unstoppables: Here are the Winners of EY's Entrepreneur Of The Year 2021 Southwest Award
⓽  Robot Grocery Delivery Is Coming to Dallas Via Vroom Delivery, Tortoise, and Urban Value Corner Store
⓾  'Built for the People': Republic and Dallas‑based Nada Launch Real Estate Index Investing
PLUS: MORE TO KNOW
⓵ GAME ON: Get your slice ready. Dallas companies Flite Golf and Century Golf have teamed up to bring gamification tech to golf ranges and golf entertainment venues—with help from Senior Advisor Ken May, former CEO of Topgolf, Drive Shack, and FedEx Office. Century Golf owns and operates nearly 50 golf courses across the U.S., including Walt Disney World Golf in Orlando. By partnering with Flite Golf and its turnkey tech platform, it plans to drive change. "Flite's technology is distinctive and extraordinary," said Jim Hinckley, Century Golf's founding partner and CEO in a statement. "By working together, we're able to combine best-in-class design and technology implementation with all-inclusive management services." READ MORE
⓶ HEALTHCARE HELP: Dallas-based Academic Partnerships (AP) and Texas A&M International University (TAMIU) have teamed up to offer affordable online short courses and certificates in healthcare. Developed for working nurses and other health pros, three short courses and certificates offer opportunities to advance their careers with new business-related skills. A fourth provides state-approved training for sexual-assault examiner certification. Developed by TAMIU's College of Nursing and Health Sciences, the courses join more than 19 AP-supported online programs at TAMIU in business, education, and healthcare. AP's website offers more info and an intro video about its services.
⓷ SOMETHING BORROWED: Fort Worth's Payix, a nationwide leader in borrower-facing collections and communications tools, has partnered with LoanPro, a SaaS-based loan servicing, management, and collections software firm that delivers automation and data visibility to tech-forward lenders. Founded in 2014, Utah-based LoanPro secured a $100 million Series A round just last month. Payix COO Preston Cecil (above) said in a statement that LoanPro's highly configurable loan management system "has unique synergies with our white-labeled, borrower-facing software and payment processing platform." Cecil says the integration brings a complete, end-to-end product offering to the lender market.
ALSO
⟫ Fort Worth whiskey maker Oak & Eden is re-releasing its summer seasonal whiskey, Rye & Rumba. Oak & Eden pioneered its patented "in-bottle finishing" process, where a five-inch spiral-cut piece of wood—"the spire"—is placed in a fully aged bottle of whiskey. That leads to flavors and characteristics a single barrel would be unable to achieve. For Rye & Rumba, Oak & Eden steeped a spire of American Oak into a craft Caribbean rum for two weeks, before placing the spire  into a bottle of rye whiskey. Oak & Eden has used the technique to launch 10 unique products from beer-infused whiskeys to bourbon infused with Cabernet wine or cold-brewed coffee. The company has won 30+ platinum, double gold, and gold medals since 2019 and made Top 10 whiskey lists in Forbes, Brobible, UPROXX, and many more.
⟫ Dallas-based DIMONT & Associates, a leading provider of specialty insurance claims and loan administration services to the residential mortgage industry, has been acquired by Pennsylvania-based Metro Public Adjustment. Terms were not disclosed. "DIMONT is an industry leader in hazard claims and has developed a robust technology solution and service delivering significant value to its clients," said Metro's President Steven McCaffrey in a statement, saying Metro will bring additional resources and investment to continue DIMONT's growth.
⟫ Dallas' Evolon Technology has raised almost $10.5 million from 128 investors toward its proposed new $16 million tech fund, reports the Dallas Morning News, citing a public filing. Evolon develops security software for industries ranging from construction to airports, retail, utilities, law enforcement, and more.
---
Thursday, August 12
THREE THINGS
⓵ NETWORKING PRIVACY: Global tech and business solutions provider NTT, whose North American headquarters are in Plano, has launched what it's calling the first globally available private LTE/5G Network-as-a-Service platform. Dubbed the Private 5G platform (P5G for short), the tech assists chief information and digital officers in obtaining the full benefits of a private 5G network. NTT says it can solve business problems and enable innovation across industries—ultimately helping to "keep pace with the future of enterprise." NTT P5G runs on a cloud-native architecture and integrates security, control, and privacy, providing performance and cost benefits with a clear ROI, NTT says. EVP of New Ventures and Innovation Shahid Ahmed says having one truly private network, point of accountability, management platform, and solution partner can eliminate any friction points across an enterprise's global footprint. "5G will enable enterprises to reinvent business operations," added Eric Clark, NTT Data Services North America chief digital and strategy officer. "With faster speeds and more data, 5G will facilitate advances in artificial intelligence, automation, and IoT."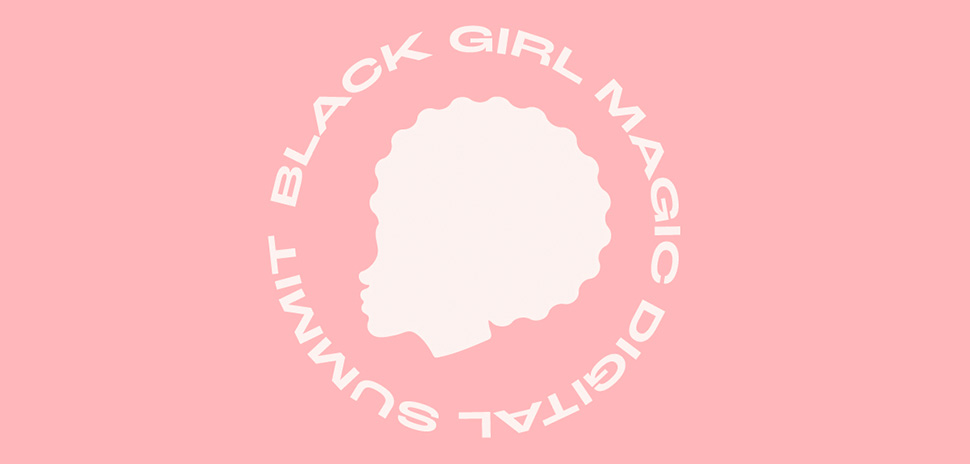 ⓶ BELIEVE IN MAGIC: Applications are due tomorrow for the Black Girl Magic Pitch Competition at the 3rd annual Black Girl Magic Summit. The contest is offering $25K, $15K, and $10K grants to three women-owned small businesses who present at the event. Hosted by Capital One in partnership with Boss Women Media—and with the support of Amazon—the event, set to be held on Aug. 21-22, celebrates women who are corporate professionals, founders, or student pioneers at Historically Black Colleges and Universities. It plans to gather a network of female executives, financial experts, and career coaches to explore topics on financial wellbeing, generational wealth, small businesses, career development, and more. Keynote speakers will include former White House Senior Advisor Valerie Jarrett and actor and activist Yara Shahidi. Details are here.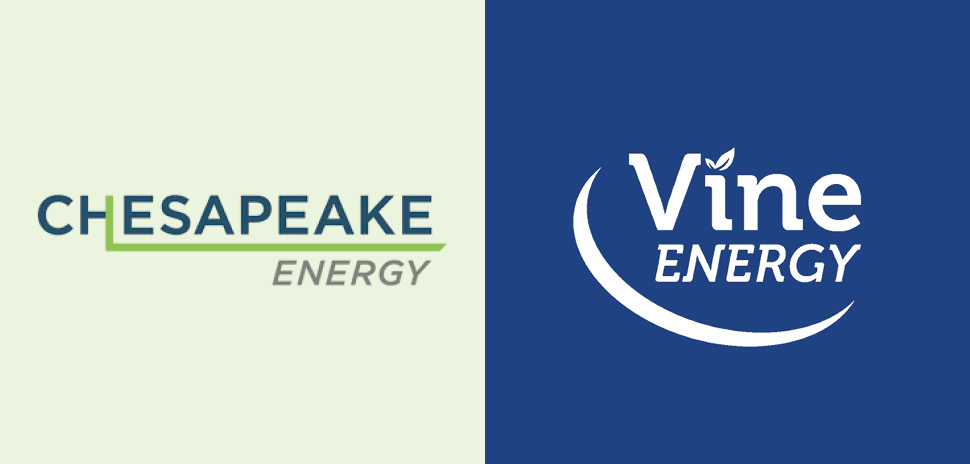 ⓷ FOLLOW THE MONEY: Oklahoma City-based energy company Chesapeake is planning to acquire Plano's Vine Energy, a natural gas exploration and production company that began to trade on the NYSE earlier this year, for around $2.2 billion. Vine is the result of Blackstone Energy Partners, along with funds managed by Blackstone Group Inc., looking to "create a significant shale developer," the DBJ reports. Chesapeake is interested in Vine's existing adjacent rigs and over-pressured stacked gas opportunities, according to an investor presentation. Vine owns around $1.2 billion in Haynesville assets, which it acquried from affiliates of Shell. The DBJ notes that it could market "another strategic consolidation among players based in the area."
PLUS
⟫ Sweden-based Oatly, the world's first and largest oat drink company, has chosen Fort Worth as the site of its next North American production facility. The Fort Worth Chamber of Commerce says Oatly's 280,000-square-foot, state-of-the-art manufacturing center will be located at 7550 Oak Grove Road and completed in 2023. The company expects to create more than 100 jobs at the facility. Oatly's racing to keep up with oat milk demand: the category more than doubled in the U.S. in 2020 from the prior year. The new Fort Worth facility will produce 150 million liters of oat milk annually, with the largest footprint of the company's three North American facilities. READ MORE
⟫ Dallas is one of the hottest real estate markets in the country, but Dallas-based ScoreSense thinks homebuyers are overpaying. The experts at ScoreSense—credit monitoring tech from One Technologies that offers credit reports and scores from all three bureaus—are seeing financial implications arising from people who pay more than they can afford. That's why they're warning locals to beware of the market and working to assist clients in avoiding serious financial consequences. Carlos Medina, SVP and head of strategic partnerships, operations, and business development at One Technologies,  understands that home buying can be overwhelming, especially for first timers. He talked with Dallas Innovates on some trends in the market buyers can avoid—and how ScoreSense's technology can make a big impact. READ MORE
---
Wednesday, August 11
THREE THINGS
⓵ ELECTRIFYING POTENTIAL: Amazon-backed Rivian Automotive, the Irvine, CA-based electric vehicle startup, could potentially invest around $5 billion to build a factory near Fort Worth, according to Bloomberg News. The Walsh Ranch site sits on 2,000 acres 12 miles southwest of downtown Fort Worth. An Aug. 10 presentation made by Fort Worth's Economic Development Department proposed incentives including grants and city tax abatements of as much as $440 million, and a nomination for the Texas Enterprise Zone Project. The factory, which Bloomberg reports is codenamed "Project Tera," would produce 200,000 vehicles a year and create some 7,500 jobs by 2027. Bloomberg says the North Texas site "has become the front-runner for Rivian," but no final decision has been made. Rivian has a deal to build 100,000 EV vans for Amazon by the end of the decade, per Bloomberg, and has raised $10.5B+ from investors like Ford Motor Co. and T. Rowe Price.
⓶ BREAKTHROUGH: Dallas-based Lantern Pharma, a clinical stage biopharma that uses its AI platform for the development of precision therapeutics in oncology, has been granted an Orphan Drug Designation by the U.S. FDA for its treatment of pancreatic cancer. The designation is for Lantern's LP-184, a small-molecule drug candidate that can preferentially damage DNA in cancer cells that "over-express certain biomarkers or that harbor mutations in DNA repair pathways." Currently, Lantern is using LP-184 for several targeted indications in cancer, including pancreatic, the fourth-leading cause of cancer deaths in the U.S. The FDA's ophan status is reserved for drugs meant for the safe and effective treatment, diagnosis, or prevention of rare diseases/conditions that affect less than 200,000 people in the country. It also gives drug developers market exclusivity for seven years upon FDA approval. It's an imporant accomplishment, Lantern CEO Panna Sharma says, further validating the team's data-driven approach to oncology drug development.
⓷ SECOND SIGHT: Members of the blind and low-vision community now have access to some 2,200 volunteers that can assist them with daily tasks that need visual assistance via a new partnership between Eyemart Express and the Be My Eyes app. Farmers Branch-based optical retailer Eyemart Express is encouraging all of its store, lab, distribution center, and home office associates to participate in the virtual volunteering. Through the Be My Eyes app, visually impaired users can activate their smartphone's camera to give on-demand volunteers access to a live feed that helps them "see"—to aid in simple tasks like choosing a tie color to more vital life concerns.The first to respond in the app is immediately connected to solve the visual dilemma. The Eyemart Express partnership widens the number of worldwide volunteers available to help. 
PLUS
⟫ SLURPEE SPACE ODYSSEY: In 1969, man landed on the moon. In 1971, the first probe reached Mars. Now Irving-based 7-Eleven has truly conquered the cosmos: A Slurpee has reached space. The semi-frozen drink lifted off at 11 a.m. EDT yesterday from a parking spot at a Saginaw, Michigan 7-Eleven. The official goal was marketing the last-mile benefits of 7-Eleven Delivery. But more importantly, brain freeze has now slipped the surly bonds of Earth. Since its payload was far lighter than Blue Horizon's 165,000-pound New Shepard spacecraft, no rocket was needed for the launch. Instead, 7-Eleven's aeronautics team filled a weather balloon with helium and attached it to a Slurpee with a selfie camera. Then the space adventure began. READ AND SEE MORE
⟫ Dallas-based Hotels.com has sent out an inventive casting call to showcase its no-drama booking prowess: giving people a chance to win a Labor Day Weekend stay at "Destination Drama"—a jaw-dropping 9-bedroom estate rental in Palm Desert, California. In an ode to Hotels.com's "Can't Go Wrong" ad campaign, people are asked to submit screenshots of their hectic attempts to organize a group vacation, the more dramatic and reality-show-taglined the better. One group of up to six will be chosen to star in this epic vacation, which includes a "confessional booth" to spill your Labor Day adventures on camera. The casting call offers a $1,000 stipend for each person's flight and expenses. Details are here. 
⟫ Three horizontal wells are coming to the Permian Basin, one of the oldest oil and gas producing regions in North America, through a joint venture from the U.S. Energy Development Corporation and Atlantic Energy Partners. The partnership combines Arlington-based U.S. Energy's strength as an operator with Midland-based Atlantic's technical expertise as an E&P firm. The three wells, which carry a total development cost of ~$28M, will target oil producing zones in the Wolfcamp Shale.
---
Tuesday, August 10
THREE THINGS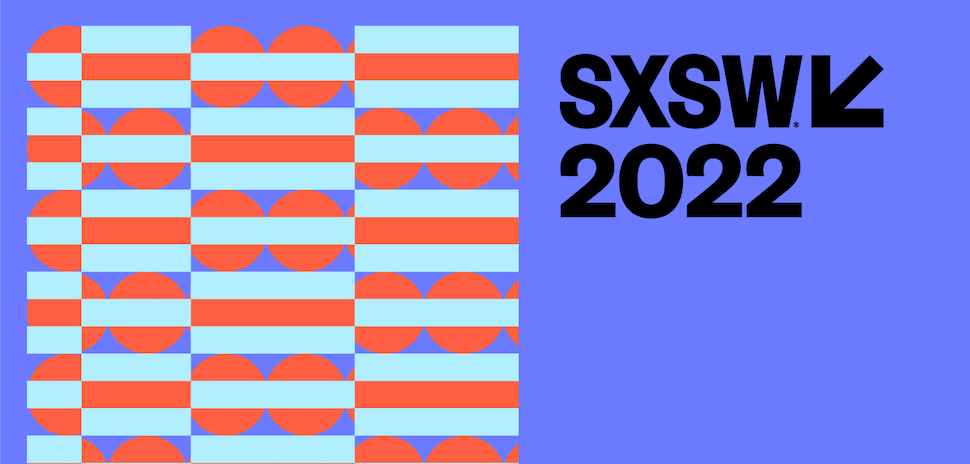 ⓵ South By Southwest has opened its 2022 "panel picker" to community voting. Today through Aug. 26, SXSW account holders can vote for the panels they want—or don't want—to see, with community voting making up 30% of the decision. Of the 3,292 (!) proposed panels on the list, we've spied two from Dallas so far: Dennis Cail, CEO of Zirtue, wants to present on Re-Inventing and Re-Wiring the Financial Ecosystem. And Match Group's Jonathan Kirkland and Julia Estacolchic are teaming with Talib Visram of Fast Company to pitch Standing Up for Social Justice as a Brand.
⓶ TECH TRAINING: With Dallas ranked No. 2 in CompTIA's list of hottest Tech Towns, a lot of good-paying tech jobs are out there. Now UT Dallas and New York-based Fullstack Academy have launched four skills training bootcamps focused on coding, cybersecurity, data analytics, and DevOps. "These bootcamps will not only develop qualified tech talent for prominent companies, but also connect students with local major tech players through networking opportunities and other career services available through the University and Fullstack Academy," said UT Dallas' Dr. Lawrence Overzet, in a statement. READ MORE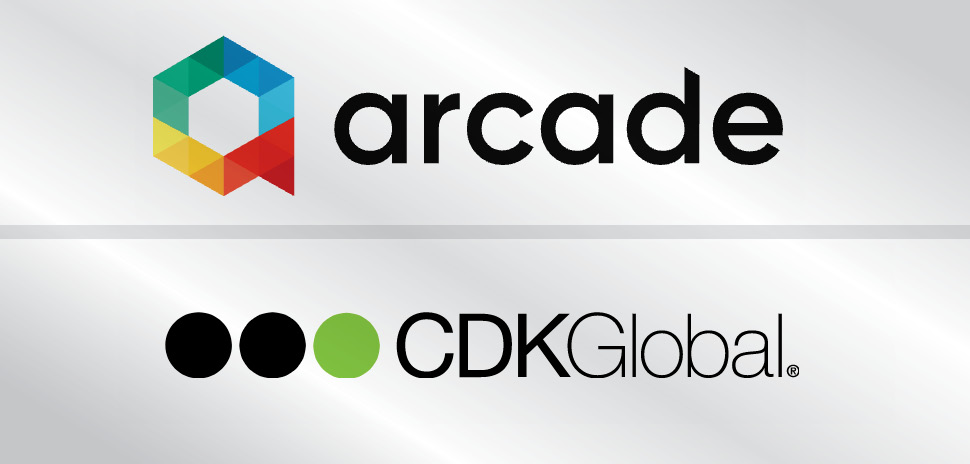 ⓷ Dallas-based Arcade, which uses gamified micro-incentives to boost the productivity of sales teams, has become a member of the CDK Global Partner Program—bringing Arcade's workforce engagement solution to thousands of automotive dealers. CDK is a leading enabler of end-to-end automotive commerce, serving nearly 15,000 retail locations in North America. Last month Arcade closed on a $4.5 million growth seed round. 
PLUS
⟫ Red Oak-based Qarbon Aerospace is participating in a thermoplastic composite repair project with the National Center for Defense Manufacturing and Machining. The U.S. Army's DEVCOM AvMC at Redstone Arsenal will provide the funding. The project focuses on field repair of thermoplastic structures for aerospace, including the evaluation of various repair methods, as well as environmental conditions. "This research is important to the Army as thermoplastics continue to play a role in future aviation and missiles Systems," said U.S. Army spokesperson Jessica Kelley in a statement. "Understanding how these materials can be repaired in the field will lead to future sustainability of these systems."
FOLLOW THE MONEY
⟫ Dallas-based logistics and transportation provider MODE Global has completed its acquisition of New Jersey-based RR&F Logistics, one of the nation's leading third-party logistics providers. With the acquisition, MODE Global will now facilitate more than 1.5 million annual customer shipments, generating almost $3 billion of revenue. Terms of the acquisition were not disclosed. READ MORE
⟫ Irving-based Twenty20 Solutions, a provider of security and automation services for critical infrastructure and remote environments, has merged with Skyhawk—an on-grid tech provider of solutions in security, managed services, and surveillance. "Together Twenty20 Solutions and Skyhawk offer the industry's most powerful technology platform enabled by AI, leading-edge software solutions, and business intelligence," said Dan Vertachnik, CEO of Twenty20 Solutions, in a statement. READ MORE
⟫ Dallas-based Integrity Marketing Group, America's largest independent distributor of life and health insurance, has expanded its Medicare offerings in the Midwest by acquiring Star Benefit Associates, a fast-growing field marketing organization based in Indianapolis, IN. As part of the acquisition, Pam Evans, president of Star Benefit, will become a managing partner in Integrity. Financial terms were not disclosed. READ MORE
---
Monday, August 9
THREE THINGS
⓵ IN THE HOLE: Dallas-based Drive Shack is expanding its Puttery entertainment concept to downtown Houston's Sawyer Yards arts & entertainment district. The two-story 23,000-square-foot venue will be an adults-only, cocktail- and food-infused playland with four nine-hole putting courses, multiple bars, and DJs pumping out tracks. It's Puttery's second location in Texas; the first opens later this summer just north of Dallas  in The Colony's Grandscape destination. Its other three markets are Miami; Charlotte, N.C.; and Washington, D.C. We wrote last month about golf star Rory McIlroy and his team investing at least $10 million in Puttery. Today Drive Shack (NYSE: DS) announced total revenue of $73.9 million for Q2 2021 and operating income of $1.1 million—its first quarterly operating income in three years. "2021 is a pivotal year for our company and we remain centered on executing the successful launch and expansion of Puttery," said Drive Shack CEO and President Hana Khouri in a statement.
⓶ THE GREAT OUTDOORS: Frisco-based outdoor home services provider OneNeighbor has deployed its AI platform after successful trials in its Dallas, Houston, and Tampa markets. The startup offers a wide range of recurring, on-demand services from lawn mowing to pool cleaning to pest control to more than 10,000 neighborhood communities. its new AI solution ensures that the right jobs are routed to the right service providers. Homeowners can join their neighborhood group on OneNeighbor's platform to save money and manage all their outdoor services via one app. Since launching in 2019, OneNeighbor has grown fast—tripling in size in 2021 alone. It plans further expansion in its current markets and in new cities soon.
⓷ HOME TEST DRIVE: Dallas-Fort Worth Kia dealers are offering an innovative way to sink in the seats of the all-new 2022 Kia Carnival minivan: an on-demand test drive service will bring one right to your home. Minivans usually get nowhere near cool, but a writer at Carscoops thinks the Carnival comes close. (Kia's Niro EV is inarguably even cooler, but for now those don't get the home test drive treatment in DFW.) Kia@Home appointments for the Carnival can be made here. 
ALSO
⟫ Plano-based European Wax Center raised $180 million in its U.S. initial public offering, Bloomberg reported on Friday. Shares began trading on the Nasdaq Global Select Market under  the ticker symbol "EWCZ." The company and some of its shareholders offered 10.6 million shares at $17.
⟫ Sony's Funimation Global Group, based in Dallas and Culver City, bought Crunchyroll from AT&T for $1.175 billion. Sony Chairman and CEO Tony Vinciquerra says the "goal is to create a unified anime subscription experience as soon as possible."
PEOPLE
Here are two DalLas innovators to know today.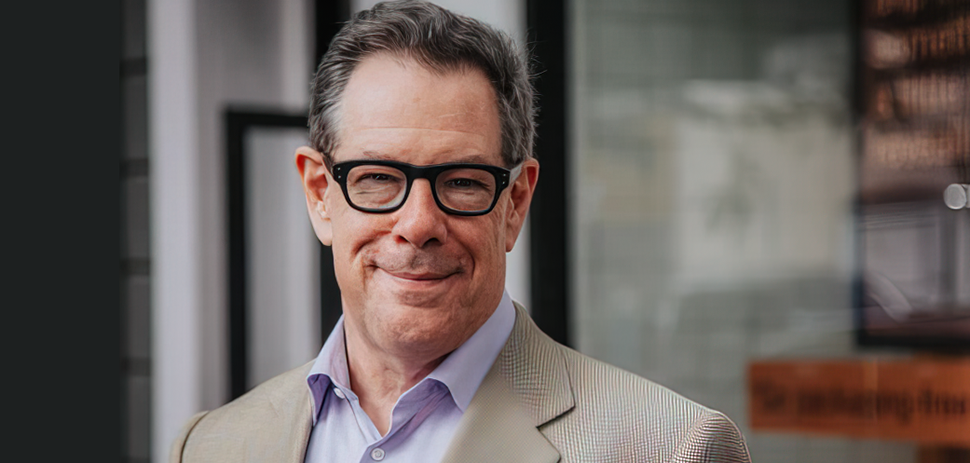 Steve Dennis [Courtesy image]
⟫ Dallas' Steve Dennis, author of "Remarkable Retail: How to Win & Keep Customers in the Age of Disruption," has been named one of the top five influencers in retail tech by the Retail Insight Network. A Forbes contributor and the president and founder of SageBerry Consulting, Dennis' Remarkable Retail Podcast was also recently named one of retail's top podcasts. Want to know even more about retail? You bet you do. You can check out his podcast's YouTube channel here. 
⟫ Skye Dakota Turner was a 9-year-old unknown in Oak Cliff in early 2019 when her rendition of Patti LaBelle's "If Only You Knew" went viral. Before that year was out, she was starring on Broadway as a young Tina Turner in "TINA: The Tina Turner Musical." Skye will hit the silver screen on August 13th when "Respect," the Aretha Franklin biopic, opens in theaters nationwide—playing Aretha as a girl. You can see her talk about her upcoming role in this episode of "Kickback and Chat with Amber Perkins," produced at The Black Academy of Arts & Letters in downtown Dallas. (Amber herself is an entertainer, author, and Juilliard graduate who's featured Spike Lee, Michael B. Jordan, Cynthia Erivo, Lena Waithe, Lynn Whitfield, and others on her digital talk show.) 
---
Friday, August 6

The Most Popular Stories on Dallas Innovates This Week
⓵ Dallas Digital Real Estate Startup Nada Closes $2.5M Seed Round
⓶ Dallas Cryptocurrency Startup Zabo Acquired by Coinbase
⓷ Here Are the Top 25 Companies to Work For in Dallas-Fort Worth, According to LinkedIn
⓸ Former Topgolf COO Craig Kessler Named New CEO of Dallas' Buff City Soap
⓹ Age of Empires' Legend Wants to Make Dallas the Center of the Gaming Universe
⓺ Immersive Van Gogh Opens at Lighthouse Dallas, a New Arts Venue in Downtown's East Quarter
⓻ Topgolf Names 3 Execs: New COO of U.S. Venues, New CMO, and New Chief People Officer
⓼  Dallas' Shokworks Co-Launches International, Tech-Enabled Co-Living Properties for Digital Nomads
⓽  Watch Out Wyoming: Could the Texas Blockchain Council Turn Texas Into America's Blockchain and Crypto Capital?
⓾  Get a Grip: Two State-of-the-Art Climbing Gyms Are Opening in Dallas
THREE NEW THINGS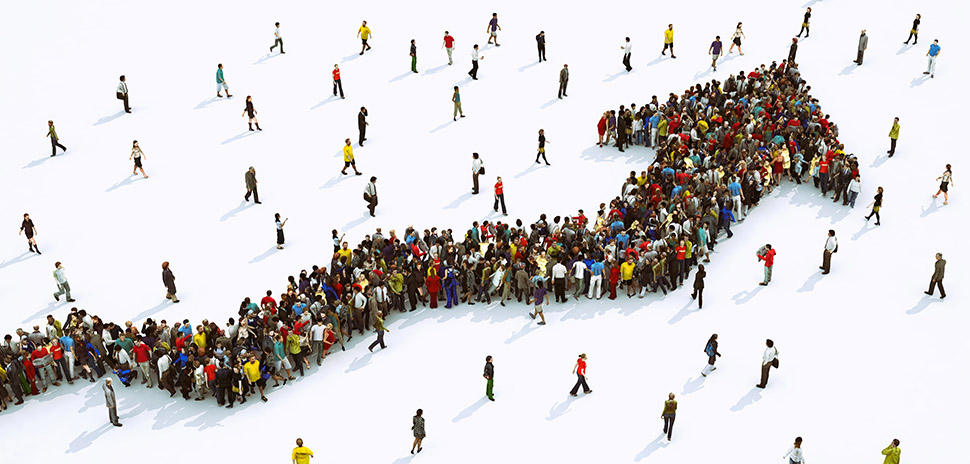 Photo: alphaspirit/iStock
⟫ WE'RE NO. 1: Today's upbeat jobs report says the U.S. economy added 943,000 jobs in July. Dallas-Fort Worth-Arlington played a big part, ranking No. 1 on the list of the Top 10 Best-Performing Labor Markets in July, as reported by the LaborIQ Index from Dallas-based ThinkWhy. The SaaS company, focused on AI-driven labor market solutions, used its proprietary talent intelligence software to track 10 key performance indicators for all U.S. metro areas. It found that DFW not only ranked No. 1 in overall performance, it also ranked No. 1 for net migration. Phoenix and Austin-Round Rock placed No. 2 and No. 3 in both categories, respectively. 
⟫ FLIGHT CHECK: Delta Airlines is using Dallas-based AT&T's IoT Global SIM and AT&T Control Center to gives its pilots a "seamless device experience" as they manage and troubleshoot their devices in 200+ countries. Those devices will now include something new in all pilot electronic flight bags (EFB)—a key tool that pilots use in pre-flight processes: Apple's new iPad Pro, powered by the M1 chip and 5G. AT&T's 5G network can help pilots download critical flight data and aircraft load info at speeds comparable to Wi-Fi, even while traveling to the airport or at the gate. Using 5G also increases security by reducing the need to use public Wi-Fi between flights. The moves follow Delta's recent commitment to equip all its flight attendants with the iPhone 12 and 5G. AT&T plans to bring 5G+ to 25 airports across the U.S. by the end of 2022. 
⟫ CAPITAL & CRYPTO: Wes Cummins made moves this week with two of his Dallas-based companies. First he sold his investment advisory business 272 Capital to L.A.-based B. Riley Financial, an investment firm for which he earlier had served as president for several years. Cummins launched 272 just last year; with its sale to B. Riley, Cummins will continue to manage 272 while taking on the role of president of B. Riley Asset Management and helping it oversee investment strategies for its private BRC Partners Opportunity Fund. Altogether, 272 Capital will now manage over $270 million in assets. Meanwhile, Cummins' Applied Blockchain business announced today it has struck an Energy Service Agreement with a utility partner in the upper Midwest to support its crypto hosting operation. READ MORE
QUICK HITS
⟫  "Country super couple" Tim McGraw and Faith Hill, along with Oscar nominee Sam Elliott, are coming to DFW to shoot a prequel to the hit TV series Yellowstone.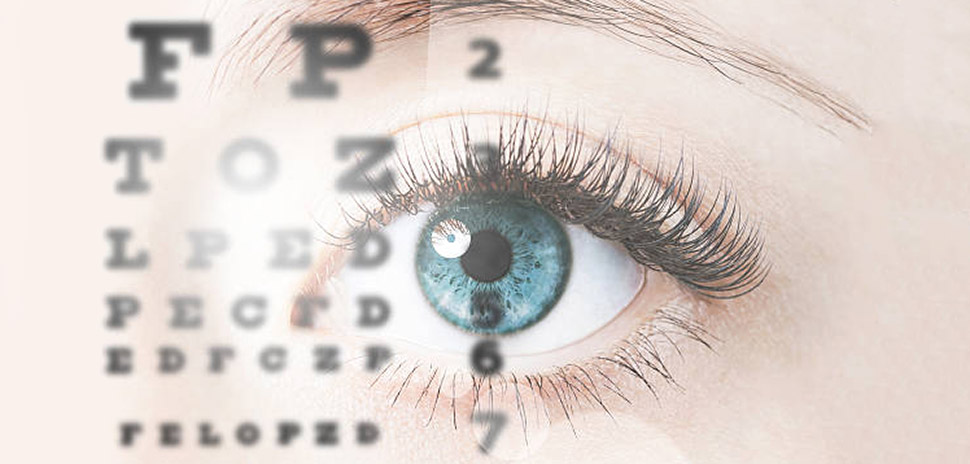 ⟫  The first patient has received an innovative gene therapy eye treatment from Bedford-based Nanoscope Therapeutics. In June, we told you that the biotech has restored "meaningful vision" in blind patients using a single-shot gene therapy—and may soon go public.
⟫  Dallas entrepreneurs Dawn Maire, formerly president at Rockfish and Poo-Pouri, and Jamie Coulter, co-owner of La Vie Style House, have created an innovative line of non-alcoholic wines called Starla Wines. Cheers!
⟫  University of North Texas in Denton has won a NASA grant for a proposal titled "Developing a Cylindrical-type Wireless High Temperature Pressure Sensor for Rocket Propulsion System Test." NASA picked 11 proposals, including six from Historically Black Colleges and Universities (HBCUs) and five from Hispanic Serving Institutions (HSIs), to receive M-STTR planning grants.
---
Thursday, August 5
THREE THINGS
⓵ ROBO DISHONOR ROLL: Dallas gets the second-most robocalls of any city in the U.S., according to the YouMail Robocall Index. Big D residents got 146.2 million robocalls in July alone—second only to Atlanta, which logged 154 million. That's despite both seeing a 5 percent drop in robocalls last month. Texas led the entire country with 482.8 million robocalls in July, beating California's 383.2 million. Dallas-based AT&T is battling the spammers with STIR/SHAKEN call authentication tech, Call Protect, and Active Armor—blocking or labeling more than 1 billion spam calls a month. Until recently, you could've been like this guy and made $3,100 suing telemarketers for violating a 1991 federal robocall law. But the Supreme Court gutted that law in April. Oh heck, let's just mute our phones.
⓶ FRISCO'S FRISKY NEIGHBOR: Celina, the once-sleepy little town just north of Frisco and Prosper, is about to boom like crazy—and get a lot bigger. Farmers Branch-based Centurion American Development Group has announced a 3,200-acre development called Legacy Hills near Legacy Drive and Celina Parkway. Breaking ground later this year, it will feature 7,000 homes, 4,100 apartments, a championship golf course, and 100 acres of retail and commercial buildings. Rex Glendenning, CEO of Austin's Rex Real Estate, brokered the land deal, according to CultureMap. It's just one of many ways Celina is shaking things up—and even surpassing Frisco. READ MORE
⓷ HOT DESKS IN HARWOOD: Nomads used to pitch tents on dust-blown landscapes. Now there's a swankier option: Nomad Suites, the new co-working space at Harwood No. 1, a 1984 landmark celebrated as the first office building in Uptown Dallas. Nomad Suites offer "all the perks of officing in the Harwood District, and the flexibility to match." Hot desks for individuals start at $250 a month, with dedicated desks at $300 a month. Private offices and "enterprise suites" are also available. Developed by global real estate firm Harwood International, Nomad's perks include a fitness center, in-house catering, concierge services, gardens, outdoor spaces, and more. Taking a client to lunch? Over 100 restaurants are within a 10-minute walk.
PLUS
⟫ Dallas-Fort Worth-Arlington ranks No. 1 in homes sold in Texas metro areas in the last decade, with 923,528 domiciles dealt for a total sales dollar volume of $260.5 billion. That's according to A Decade in Texas Real Estate, a new report from Texas Realtors. Median home prices in DFW almost doubled in the decade, spiking 94 percent from $149,000 in 2011 to $291,000 at the end of 2020. Average price per foot leapt 85 percent from $80 to $148. Homes have been selling faster, too, with an average of 45 days on the market in 2020 compared to 86 days in 2011. Real estate sales that occurred outside of an MLS weren't included in the report.
⟫ Flexential is more than doubling its state-of-the-art Plano data center with a 130,000-square-foot expansion, bringing its Dallas market capacity to over 432,000 square feet. The Charlotte, N.C.-based data center services company struck a leaseback agreement with Legacy Investing and Invesco Real Estate to enable the expansion. 
FOLLOW THE MONEY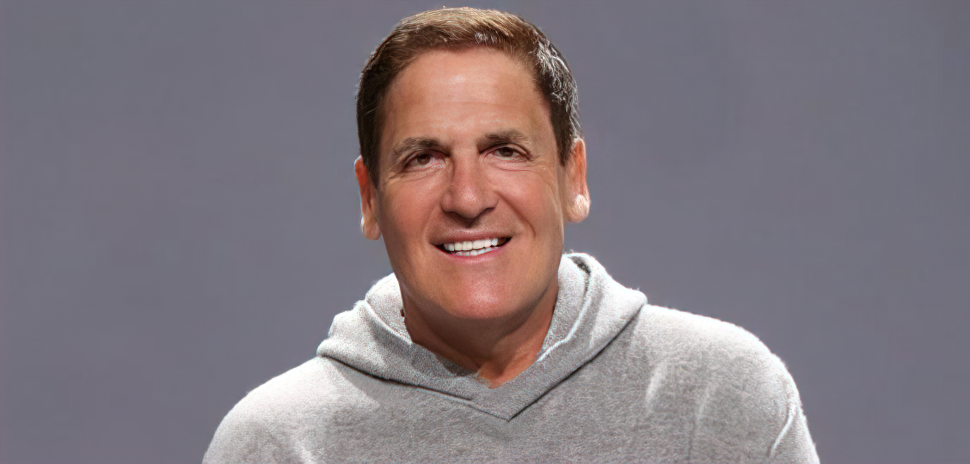 ⟫ CRYPTO CAPITAL Mark Cuban's Radical Ventures has invested in crypto tax software and analytics firm ZenLedger. "I see blockchain, crypto, DeFi, and NFTs all creating tremendous value," Cuban said in Ledger Insights, adding that the core accounting and reporting infrastructure that Washington-based startup provides "will be critical" to making it easier for people to earn, transact, and invest in crypto. The $6 million Series A funding round was led by Bloccelerate VC.  
⟫ FINANCIAL FUTURES: Fort Worth- and San Francisco-based TPG's impact-focused The Rise Fund led a $200 million Series D round for small business 401(k) provider Human Interest. The company, founded in 2015 and valued at $1 billion, aims to help American workers build retirement savings. The raise is on the heels of a $105 million Series C round for the California startup in February, valuing the company at $1 billion. Human Interest, which plans to hire 200 employees nationwide this year, added new CFO Mike Armsby, who brings "public company experience as Human Interest prepares for its IPO," per a release.
⟫ Plano-based Improving has made its 11th acquisition. The tech consulting firm acquired Chicago-based Tahoe Partners, adding digital transformation and deep cloud technology expertise. Fast-growing Improving, which launched in 2007 and landed on the Inc. 5000 list for the 11th time last year, has a focus on merging aligned technology service companies. Its latest merger opens up an important new market for the company, Curtis Hite, CEO of Improving said in a statement. The company made two strategic acquisitions last year.
---
Wednesday, August 4
THREE THINGS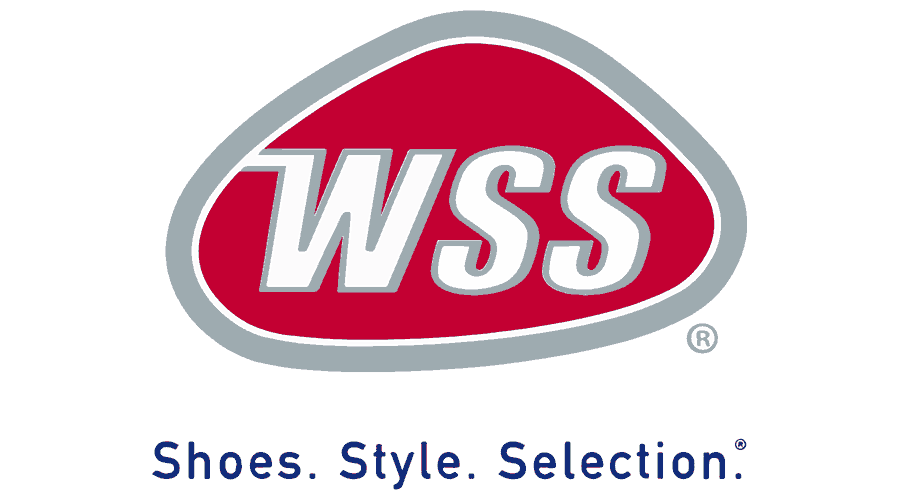 ⓵ $750M SHOE NEWS: Dallas' Riata Capital Group has sold Eurostar Inc., the parent company of the Hispanic-focused WSS shoe store chain, to FootLocker for $750 million. L.A.-headquartered WSS, formerly known as Warehouse Shoe Sale, has 93 retail outlets across California, Texas, Arizona, and Nevada. The chain's success with Hispanic consumers was a key attraction of the deal for FootLocker. Since Riata completed the recapitalization of WSS in late 2016, the private equity firm says it has "contributed considerable resources" to help build and scale the WSS platform, resulting in significant growth in revenue and profitability. "WSS's authentic, socially conscious and community-oriented approach has resulted in rewarding outcomes for all stakeholders involved," said Riata's Co-Managing Partner Barron Fletcher, in a statement. 
⓶ VET GOES TO THE PET: Dallas-based mobile vet startup ReadiVet has raised $2.5 million in Series A funding. ReadiVet currently serves most of Dallas and Collin Counties with vets in vans offering at-home pet care. CEO and Founder Landon Lawson says ReadiVet's benefits include "no longer schlepping furry friends to and from appointments, and repeating these steps for multi-visit." He estimates that 80 percent of veterinary care can be done in the home—easing stress on pets while delivering convenience to pet owners. The funding round was led by Atlanta Seed Company, along with Martin Ventures, Jemison Capital, and others. READ MORE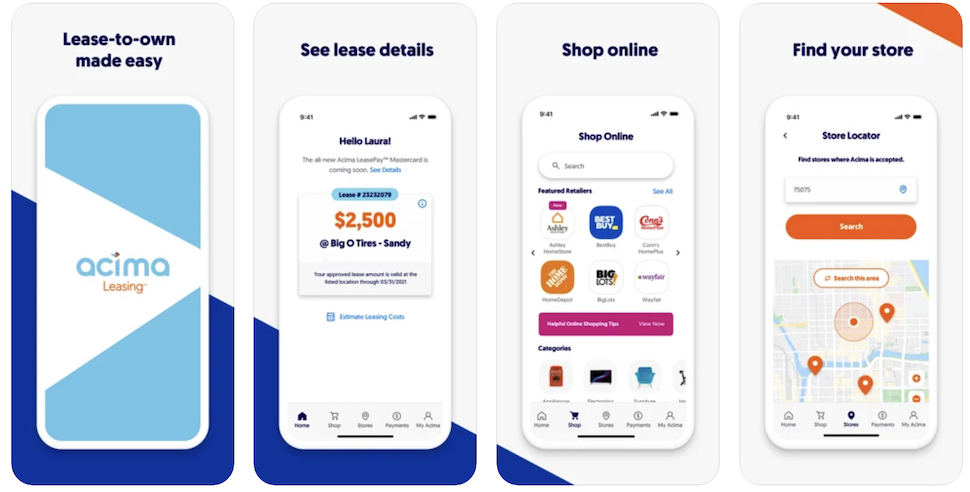 ⓷ CLICK 'N' RENT: Acima, the virtual lease-to-own (LTO) fintech arm of Plano-based Rent-A-Center, has released a "game changing" digital platform to help remove transaction barriers between underserved customers and retailers. The new Acima mobile app puts Acima's entire LTO network in a consumer's hands via their handheld device. The Acima Marketplace is an online shopping platform that connects shoppers to a long list of retailers. And Acima says its new browser extension is the first to allow LTO transactions to select retailers with no need for tech integration. Consumers will be able to connect the Acima app to the Acima LeasePay Card being released this summer. All together, this allows cash- and credit-constrained consumers to have easy access to a broad selection of goods at flexible LTO terms. The recent releases follow Rent-A-Center's acquisition of Acima last December for more than $1.6 billion in cash and stock. READ MORE
PLUS
⟫ L.A.-based Backstage Capital, which was founded by Dallas native and Lake Highlands High School graduate Arlan Hamilton, is raising $30 million for its newest fund—one aimed at more than doubling its investments in minority-led startups. Hamilton announced the fund on the Backstage website with an introductory video. "We're coming back to the crowd to talk to you about our latest fund," she says. Called Opportunity Fund I, it will target most of the companies Backstage has invested in already. The fund is for accredited investors who make $200K a year or more, or $300K with their spouse, or have a net worth of $1 million. The investment tiers range from $50,000 to $100,000 to upwards of $1 million. Pointing to past Backstage success, Hamilton said the firm's smaller Flex Fund from 2020 invested in 20 companies during the pandemic. "Two or three of those companies have already in the last few months raised upwards of $20 million each in follow-up funding," Hamilton said. "So every single year it feels like we're getting better and better and better at choosing and honing in what is going to be successful." Why crowd funding? "We have found that no matter what we try, the crowd is really where it's at," she said. "So we wanted to open up the opportunity."
Tuesday, August 3
THREE THINGS
⓵ GAMING GODDESS: Dallas-based esports company Envy Gaming has signed "Athena" to its growing creator network. Athena is one of the most popular content creators focused on the video game Rocket League. The streamer is also a musician and accomplished Rocket League competitor, with over 1.5 million followers across her TikTok, Twitch, YouTube, and Twitter channels. Athena placed first in the last three Twitch Rivals Rocket League tournaments, and has appeared regularly as an esports commentator and analyst for Rocket League Esports' "The Grid." Here's her cool Envy intro video.
⓶ SHOP & SHARE: Dallas influencer innovator LTK has launched a self-serve marketing platform. The expansion gives brands of all sizes and budgets hands-on access to LTK's proprietary retail performance data for influencer campaigns. LTK—formerly known as rewardStyle & LIKEtoKNOW.it—expects to open the platform to all its 5,000 brands this year. The fast-growing company has innovated creator commerce for a decade. Operating on five continents to connect brands, influencers, and consumers, the company drives more than $2.9 billion in annual retail sales. READ MORE
⓷ YOUR LOGO HERE: Frisco-based Tijoh has launched Auto Brander, a web-based platform offering on-demand custom printing for 30+ products and growing. If a company sends its logo to Auto Brander, a free custom portal is created just for that business. The brand can then order everything from business cards to stationery to T-shirts and more. Tijoh itself was launched in May 2020 by co-founders Johnathan Chen and Tiffany Zhang. Tijoh has launched four other digital businesses:  5&5 Restaurant Consulting (May 2020), TwoPlayer (Nov 2019), Balanwork (July 2020), and Design All Things, which gets its official release at the end of August. READ MORE
FOLLOW THE MONEY
Three acquisitions you need to know today.


⟫ The wealth management arm of Dallas-based Blucora has entered an agreement to acquire Headquarters Advisory Group, which manages $1.1 billion in assets, according to the DMN. Blucora's business arms include Avantax Wealth Management and Avantax Planning Partners, which touts software that is "one of the most popular do-it-yourself programs for filing federal tax returns," the DMN notes. Upon completion of the transaction, some Headquarters Advisory partners will become financial planning consultants with Avantax Planning Partners.
⟫ Plano-based Dynata, which offers one of the largest first-party data platforms, has acquired a people-based insights and survey platform called inBrain.ai. The deal is meant to boost Dynata's mission to invest in UX to collect the highest quality data from real consumers. The company said . inBrain.ai's mobile platform will engage consumers—especially those hard-to-reach—more directly.
⟫ Surgical Notes, a portfolio company of middle-market PE firm The CapStreet Group, has acquired LA-based revenue cycle management provider Zulu Health. As a provider of revenue cycle services for the ambulatory surgery center (ASC) and surgical hospital markets, Dallas-based Surgical Notes aligns well with Zulu, which focuses on the ASC market. Surgical Notes leadership says the combination adds to its position as "one of the leading RCM services organizations in the industry."
Monday, August 2
THREE THINGS
⓵ TOPPING DFW: The Dallas Morning News just teamed up with Bloomberg data analysts to rank the top 150 public companies in Dallas-Fort Worth based on annual revenue. The findings: Dallas boasts the most corporate HQs by being the home of 73 of the 150 companies. Irving came in second with 18 (but some of those count extra, since 14 of them topped $1 billion in revenue last year). Plano (13) and Fort Worth (10) came in next. Topping the companies list with the most revenue? Irving-based McKesson Corp., which ranked No. 1 with $231 billion. Irving's Exxon Mobil came in second at $178.5 billion, and Dallas' AT&T third at $171.7 billion. The DMN says four companies will fall off the list next year by going private (At Home, Michaels, RealPage, and U.S. Concrete). But thanks to a parade of SPACs and IPOs, get ready for newbies when next year's ranking arrives.
⓶ LOTS MORE LAWYERS: Dallas-based law firm Thompson & Knight LLP has completed its merger with Miami-based law firm Holland & Knight LLP, creating one of the largest legal firms in Texas. The combined firm has around 1,600 lawyers and other professionals in 30 offices, serving industries including technology, energy, financial services, and real estate and hospitality. The firm has more than 300 attorneys in Texas alone in Dallas, Fort Worth, Houston, and Austin. The combined firm will be known as Holland & Knight and will be led by Holland & Knight managing partner Steven Sonberg (above). Thompson & Knight managing partner Mark Sloan will serve as a vice chair of the practice & operations committee, the firm's senior management group. Both firms have won recognition for their efforts at diversity, including a "Mansfield Certified Plus" designation by the Diversity Lab, a place on Seramont's 2021 "Best Law Firms for Women" List, and a 2020 "Tipping the Scales Award" from the Diversity & Flexibility Alliance.
⓷ AND THE FINALISTS ARE… Entrepreneurs know what it's like to hustle. But they say it's worth it: In times of sink or swim—like most experienced during COVID—"It takes a determined and resilient self-starter to rise above the waters." These founders, all familiar with the grind, are each year recognized in EY's annual Entrepreneur Of The Year program. You can meet 47 innovators chosen as Southwest region finalists in D CEO's recent profile, with all set to be honored on Aug. 4 during a virtual event. At that time, the winners will also be revealed and compete for national recognition in November. From retailers (Matt Alexander of Neighborhood Goods) to insurance gurus (Melbourne O'Banion and Jonathan Abelmann) to food connoisseurs (Theresa Motter of Van's Kitchen) to workforce pioneers (Aakash Kumar and Patrick Brandt of ShiftSmart), each entrepreneur featured have experienced finding funding, pandemic pivots, and sudden success. Read about them here.
WHAT ELSE?
⟫ Residents of Fort Worth can now find out what local issues leadership has on the agenda with a new podcast called 'Go Time in Fort Worth.' Featuring new Mayor Mattie Parker, the podcast will touch on what's happening at City Hall, along with interviews from prominent locals. Parker said in "episode zero" it's named for Fort Worth's current state of innovation: She believes it's at "the pinnacle of a lot of possibility." You can tune in on Spotify, Amazon Music, Apple Podcasts, Google Podcasts, and learn more about the launch on Fort Worth Magazine here.
⟫ In the last seven months, Legacy Knight has nearly doubled its assets under management. The locally based multifamily office, which manages the portfolios of high net worth families, was launched two years ago by former Mark Cuban Companies exec Abe Minkara and former Crow Holdings lead Matt Ogle. Since, the founders told the DBJ they've been in steady "growth mode." The venture is entrepreneurial, as both its leaders had to start from scratch to build a portfolio. Now, they have almost $300M in managed assets, per the DBJ, splitting investments into two groups: general partner 'Legacy' families and 'Knight' families that invest on a deal-by-deal basis. Investments are done with PE funds, VC funds, private credit funds, real estate, and sometimes, directly.
Read more and get our week's Top 10 here.
---
Friday, July 30
The Most Popular Stories on Dallas Innovates This Week
⓵  Dallas' Shokworks Co-Launches International, Tech-Enabled Co-Living Properties for Digital Nomads
⓶  Here Are the Top 25 Companies to Work For in Dallas-Fort Worth, According to LinkedIn
⓷  Dallas Health Solutions Startup MediBookr Acquired by Plano's Catalyst Health Network
⓸  Nastia Liukin on Why Becoming an Entrepreneur is Just Like Training for the Olympics 
⓹  Dallas' Granite Properties and Other Local Firms Make the List of "2021 Best Workplaces for Millennials"
⓺  RedBird Capital's Andrew Lauck On Recent Deals, the Firm's Deep Texas Footprint, and Playing the Long Game
⓻  Watch Out Wyoming: Could the Texas Blockchain Council Turn Texas Into America's Blockchain and Crypto Capital?
⓼  Amazon Goes Electric in Fort Worth, Delivering With Rivian EVs
⓽  'Schitt's Creek' Stars Eugene and Sarah Levy Appear in Ad Campaign for Capital One Auto Navigator
⓾  Dallas-Based Preston Hollow Community Capital Launches $200M IPO
THREE THINGS
⓵  DRIVING TOWARD SOAP: Former Topgolf COO Craig Kessler has been named the new CEO of Dallas' Buff City Soap, a plant-based home and personal care brand franchise, effective August 2nd. Dallas-based Topgolf tripled in size to nearly $1 billion in revenue during his tenure there. Wayne Moore, managing partner at Crux Capital and co-chairman of Buff City Soap, said in a statement that Kessler's "proven leadership, visionary thinking and strong operational experience will be invaluable to the company as we continue to redefine a category of retail." The new CEO sees lots of promise in the Buff City brand. "This one-of-a-kind business is building a loyal fanbase across the country and the opportunities for growth are remarkable," Kessler said in the statement. READ MORE
⓶ CRYPTO HOST: Dallas-based Applied Blockchain is entering the crypto hosting business. Today the company closed a $32.5 million private placement led by Bitmain, a producer of blockchain and AI application products. The proceeds will help Applied Blockchain acquire land, construct facilities, procure components, and other project costs related to the hosting business. The facility's North American site was not disclosed. With the deal, Bitmain joins SparkPool and GMR as strategic partners of Applied Blockchain, which has secured long-term hosting agreements with both Bitmain and GMR. "The crackdown on mining operations in China created a unique opportunity for us to launch our own hosting operations with our current partners as well as add another blue-chip partner," said Wes Cummins, Applied Blockchain's CEO and chairman, in a statement. The new venture will complement his company's existing mining business, he added, while servicing a growing demand for hosting capacity.
⓷ AIR RESCUE: When a fire strikes a high-rise or large building, firefighters often have to form "bottle brigades," hand-carrying fresh air bottles up dozens of flights of stairs or deep inside structures. The North Central Texas Council of Governments (NCTCOG) wants that to stop. It's recommending that its 25+ member cities adopt Appendix L of the International Fire Code, mandating the installation of firefighter air replenishment systems (FARS) in the construction of new high-rises, big-box structures, and other large buildings. FARS deliver a safe, instant supply of air to firefighters so they can survive in a toxic, smoky fire. With FARS, firefighters can refill their air bottles in two minutes or less under full respiration, at fill stations throughout a building. Plano and Frisco already require FARS, along with 23 other Texas cities. Frisco firefighters successfully used a FARS system while working a fire in a 12-story residential high-rise. There were no injuries.
PLUS
⟫ Frisco-based Snapple and rapper A$AP Ferg—both born in New York City—have partnered to pay homage to Snapple's heritage. Snapple got its start being sold in New York's countless corner stores or "bodegas," which have been vital lifelines during the pandemic. A$AP Ferg directed a short film (above) that shows why corner stores are so critical to the fabric of New Yorkers' lives. "A Snapple Corner Story" website showcases the film and offers branded merchandise along with the project's mission. 100% of sales will be donated to the Bodega and Small Business Group, which supports small businesses and corner stores in New York that were adversely impacted by the pandemic. (P.S.—Lots of celebs are working with Dallas-area businesses, as you can see in our story here.)
⟫ Fort Worth metals and mining SPAC Metals Acquisition Corp. announced a $250 million IPO today. The blank check firm expects to be listed on the New York Stock Exchange under the ticker symbol MTAL.U. The SPAC, which plans to raise $250 million by offering 25 million units at $10, is headed by CEO Mick McMullen, who previously served as CEO of Detour Gold and Stillwater Mining. 
⟫ Velex, a Frisco-based telecom field services company, has been recognized as one of the Best Companies for Career Growth in 2021 by career-monitoring site Comparably. Founded in 2013 and operating nationwide, the tower construction and tech services firm focuses on deploying 5G networks.
Thursday, July 29
THREE THINGS
⓵ THE MAN FACTOR: Dallas- and Lubbock-based Reproductive Services Inc. (RSI) is offering "the first at-home solution" for the in-vitro fertilization process that begins at the beginning—the semen collection. Typically the collection is done in a medical office in awkward, high-pressure circumstances, using a simple plastic urine cup. The specimen can begin to degrade in these cups in less than an hour. RSI's solution: ProteX, a patented, FDA-listed, insulated container that funnels the sample into a small holding well, protecting the specimen for up to 48 hours from shifts in temperature and PH, osmotic stress, and decreases in motility. This time window allows the sample to be collected privately in the prospective father's home, without the need to race it instantly to the lab.  READ MORE
⓶ CYBER ATTRACTS $: Dallas cybersecurity startup SolCyber launched from stealth today, announcing it has raised $20 million in Series A funding. The funding round was led by San Francisco-based ForgePoint Capital. SolCyber will use the investment to extend its tech offerings, build market awareness, and aggressively hire staff. The firm calls itself the first modern managed security service provider (MSSP) for the mid-market. Its goal: helping organizations prevent, monitor, and respond to cyber threats and ransomware attacks like the recent Colonial Pipeline and Kaseya REvil attacks. "With attacks being ever more sophisticated we want to help simplify the challenge of securing an organization," said Scott McCrady, SolCyber's CEO, in a statement. "We founded SolCyber to help companies significantly increase the probability of stopping attackers well before they wreak havoc."
⓷ CALLING FEMALE FOUNDERS: The 4th Annual Women In Tech Summit is featuring a $100,000 Investment Challenge, offering female founders the chance to win big for their startup—and get a fast-track into Austin's Capital Factory. It's all sponsored by Capital Factory's Texas Fund, in partnership with Beam Angel Network, Seven Seven Six Fund, and Houston's Golden Seeds. On October 4th, five tech startup finalists will pitch to a panel of advisors and judges featuring top investors, entrepreneurs, and industry leaders. One winner will walk away with $100K and the Capital Factory fast-track. All finalists will get other great perks. The challenge is open to any software, hardware, or CPG startup in Texas with a female founder or co-founder. To apply for the challenge or get more info, go here. READ MORE
---
Wednesday, July 28
THREE THINGS
⓵ BILLION-DOLLAR DEAL: Dallas-based commercial real estate giant CBRE just made one of its biggest acquisitions ever, paying $1.3 billion in cash to acquire a 60 percent stake in Turner & Townsend Holdings, a U.K.-based global leader in program, project, and cost management. CBRE will pay 55 percent of the sum upon closing. The deal values Turner & Townsend at approximately $2.2 billion. The U.K. company provides management and consulting services for clients in 46 countries across three key segments: real estate, infrastructure, and natural resources. T&T had $923 million in revenue for the 12 months ending last April 30. "This is a transformational transaction for our project management business in terms of both breadth and scale of capabilities," said Bob Sulentic, CBRE's president and CEO, in a statement. "We see sizable secular growth opportunities in project management, which are being propelled by rising public and private infrastructure investment and the drive to a low-carbon global economy. Turner & Townsend is by far the best firm to help us realize our ambitions for this business." 
⓶ BOND. SCHOOL BOND.: We wrote recently about engineering giant Jacobs signing on with DISD to help with its $3.5 billion 2020 Bond Program. Today Dallas infrastructure consulting firm AECOM announced it has been selected to provide program management services for Phase 1 of the program. AECOM will provide oversight and coordination of designers, consultants, contractors, and vendors. It will also help with new construction and upgrade projects through estimating, scheduling, and program control services. AECOM goes way back with DISD, helping it oversee nearly 200 projects exceeding $1 billion in work managed since 2002. "Large programs like these require rigorous management, coordination, and integration of multiple, concurrent assignments from concept through completion," said Rigo Salinas, vice president, U.S. West Region Program & Project Management Business Line Leader at AECOM. 
⓷ CRYPTO CONDUCTING: The Dallas Symphony Orchestra has made a classical movement to the NFT world. The DSO has created non-fungible tokens (NFTs) and is offering them on Rarible, an NFT marketplace. The NFTs feature DSO music director Fabio Luisi and Metropolitan Opera Orchestra musicians performing Mahler's First Symphony in front of a live audience at the Meyerson in May—one of the first times many non-DSO musicians had performed live since the COVID shutdowns. Bidding opens at $50,000 for an NFT including video of the whole concert, plus BTS footage and a VIP experience at the 2022 reunion concert. Proceeds benefit a charity aiding MET musicians impacted by the pandemic. Too pricy for you? Fifteen shorter video NFTs with a 2022 ticket are priced at $1,000, and 25 audio-and-photo NFTs at $100 are also available. Get your Ethereum ready!
PLUS 
⟫ Mouser Electronics, a leading global electronic parts distributor based in the Dallas area, is a Berkshire Hathaway company with momentum. In just the first half of 2021, it's expanded its line card by adding 62 new manufacturers. The company specializes in the distribution of new product introductions (NPIs), now serving more than 1,100 manufacturer brands from 27 support locations worldwide—including its 1 million-square-foot facility in Mansfield, south of Arlington. (You can see how the facility was expanded in our 2019 story here.) 
FOLLOW THE MONEY
⟫ Frisco-based Health & Safety Institute is continuing to boost its growth plan in the health, safety, compliance and employee skills development space. Its sixth acquisition in the last 18 months is Solv Solutions, an Australian injury, safety, and health management software provider. The recent deal adds injury management and occupational health solutions to HSI's workplace safety and compliance capabilities.
⟫ Direct Healthcare, a Dallas-based provider of cost-efficient solutions for self-funded employers and their members, has received a growth capital investment led by healthcare investment firm Redmile Group. The capital allows EDH to accelerate efforts in facilitating access to quality, affordable care, specifically in the oncology space.
⟫ Westcott Investment Group is boosting a company said to be competing with Elon Musk's neurotech company, Neuralink. Austin-based Paradromics has raised $20 million in seed funding for its brain-computer interface tech, per the DMN. Co-Managing Partner Court Westcott, son of local entrepreneur Carl Westcott, said he believes the device is "the ideal investment to help a lot of sick people in this decade."
Tuesday, July 27
THREE THINGS
⓵ FRENCH-QUISITIONS: Paris, France-based Atos, a global leader in digital transformation with 105,000 employees, annual revenue of $13+ billion, and a North American HQ in Irving, has acquired two Dallas-area companies: Richardson-based Nimbix, a global high-performance computing (HPC) cloud platform provider, and Plano-based data analytics and business intelligence firm Visual BI. Terms of the deals were not disclosed. Nimbix was co-founded in 2010 by Steve Hebert, who'd previously worked for Texas Instruments and chip maker Altera; and Rob Sherrard, who worked earlier in his career at AudioNet, which became Broadcast.com, the Mark Cuban venture. Visual BI was founded in 2010 by CEO Gopal Krishnamurthy, who has since led it to become the industry's leading all-in-one BI enablement firm, relentlessly pushing companies to be an early adopter of modern BI stack and analytics frameworks.
⓶ SLICE O' FASHION: Someone at Plano-based Pizza Hut is about to get a big raise—if they aren't moved to a dark basement with their stapler swiped. Yep, those photos are real: Pizza Hut just dropped its first-ever Tastewear line. They innovated pizza, so why not innovate consumer fashion? Now you can wear the pepperoni-slice necklace of your dreams ($19.99), impress friends poolside in Pizza Hut slides ($24.99), get full-on crusty with a Pizza Hut tracksuit ($99.99), and more. If every brand did this, it'd be a lot easier to dress for your next Zoom meeting. Now excuse us while we slip on our Pizza Hut Tiffany Lamp T-shirt ($15.99)—we've got a Tinder date to go to. READ MORE
⓷ CLASSY FOUNDATION: The Dallas Foundation, the first community foundation in Texas, has awarded more than 300 scholarships totaling more than $1 million in support to area students who needed assistance to pursue their college dreams. "The Dallas Foundation is committed to advancing education access and equity for individuals to reach their full potential, and we're proud to award these scholarships to truly outstanding students in our community," said Matthew Randazzo, President & CEO of The Dallas Foundation. In 2019, the foundation, in partnership with more than 400 fundholders, invested over $70 million into the community. Its next round of scholarships will open in early 2022.
PLUS
⟫ DISTRACTION-FREE DIGITS: You may not speak Python, but programmers do—it's one of the fastest-growing programming languages in the world. Now Dallas-based Texas Instruments has put it in a graphing calculator just in time for the fall school semester, to help students explore the mysteries and wonders of math and science. The TI-84 Plus CE Python has a full-color screen, a battery that lasts up to a month per charge, and features that make programming more accessible and approachable. It's approved for high-stakes exams like the SAT, ACT, and PSAT/NMSQT. One key detail: It's distraction-free. No Bluetooth. No Wi-Fi. No funny business. Just code on the go, virtually or in person, and become the next tech superstar.
⟫ FRESH FROM JAPAN: Southlake-based Rancher's Prime, an e-commerce platform that partners with some of the world's most elite ranchers, has secured a new import channel with Japan's Pursuit Farms for award-winning Kobe Wagyu and Olive Wagyu beef. The twist: Most companies import elite steaks from Japan frozen. The deal Rancher's Prime struck will have the beef flown in directly to the U.S., fresh. Fire up that grill!
⟫ HIGH-TECH JAVA: Frisco- and Burlington, MA.-based Keurig Dr Pepper wants your next cup of coffee to up its digital game. The maker of Keurig coffee pod brewing systems just introduced BrewID, a next-gen tech platform designed to give you a perfectly customized fistful of go juice. The first brewer to feature this technology, the K_Supreme Plus SMART brewer with Brew ID, is now available online. The platform lets you brew a cup from anywhere with the tap of a mobile app, schedule brews in advance, save your coffee preferences, and more.
---
Monday, July 26
THREE THINGS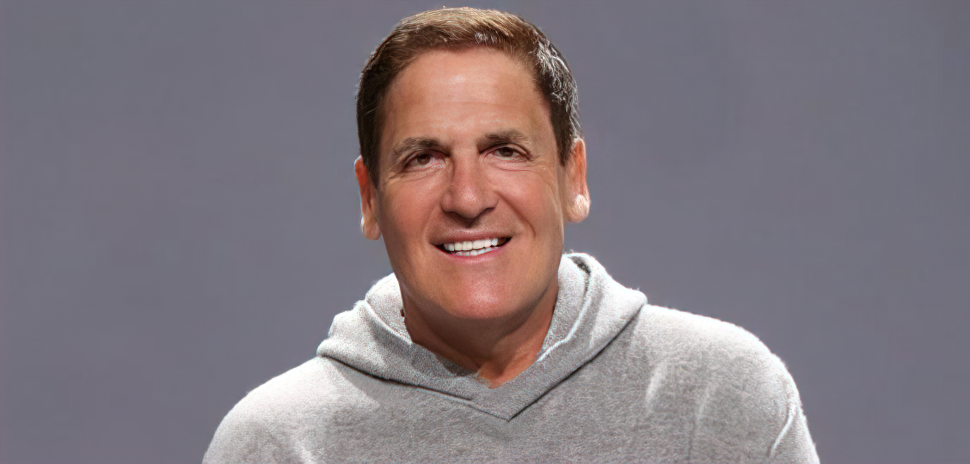 ⓵ SHARK BAIT: A company that memorializes loved ones by turning cremated ashes or hair into diamonds is continuing its momentum with a $10M Series A round. Austin-based Eterneva, which TechCrunch calls a "highly unusal business but one that seems to be resonating with people," has seen triple-digit growth in sales since its founding four years ago. It's also garnered big backers—one of whom is Dallas Mavs owner Mark Cuban, who participated in the recent funding round after originally taking a 9 percent stake in exchange for a $600,000 investment on an episode of "Shark Tank." TechCrunch notes that Cuban has since firmly stood behind the science of the company, despite claims that it was a scam. Since its founding, Eterneva has created around 1,500 diamonds, with pets comprising around 40 percent of its business.
⓶  SPOTTING THE PROBLEM:  Arlington-based FlexXray, which provides X-ray food inspection and and metal detection services, has been acquired by Warburg Pincus and Tilia Holdings for an undisclosed amount. The company was sold by Levine Leichtman Capital Partners, a middle market PE firm that first made an investment in 2017, according to the DBJ. FlexXray helps food companies minimize risk and avoid recalls and lawsuits by finding and removing any foreign contaminants (metal, glass particles, bone, plastic, container defects, wood, etc.) that might turn up in the manufacturing process. Out of a 60,000-square-foot, temperature-controlled facility in Arlington—and additional locations in Connecticut and Illinois—the team offers USDA- and FDA-registered inspection services that keep products and customers safe.
⓷ POWER MOVE: The demand for EV lithium-ion battery recycling is growing. It's a market expected to be worth $4.7 billion worldwide in a decade, says Irving-based Ecobat. The company's acquisition of Germany-based Promesa expands its position as a leader in recycling batteries. The European battery recycling operator's location puts it in the vehicle manufacturing and lithium battery center of Germany. The acquisition is a "crucial entry point in one of the most critical markets for battery access and OEM factory scrap," Ecobat says. The company notes EV Li-ion battery recycling is growing at a compound annual growth rate of 31.6% in Europe.
---
Friday, July 23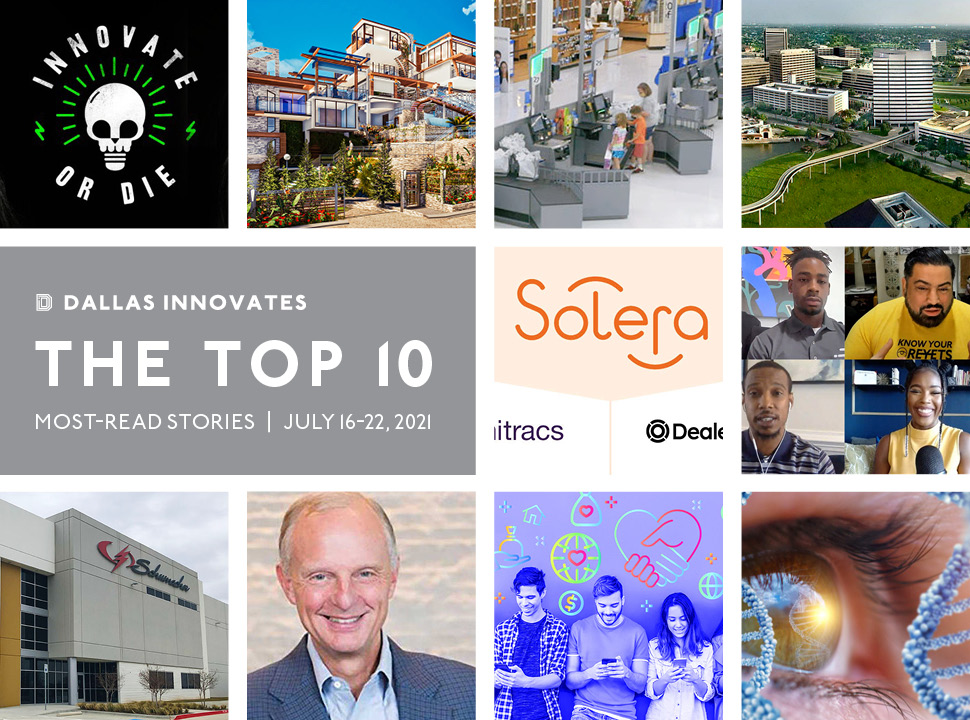 ⓵  Frito-Lay CMO Tells Brands to "Innovate or Die" With 10 Tips for Making Innovation Your Secret Weapon
⓶  Dallas' Shokworks Co-Launches International, Tech-Enabled Co-Living Properties for Digital Nomads
⓷  Check This Out: Walmart Tests All-Self-Checkout Supercenter in Plano
⓸  Smart City: Irving Wins 'What Works Cities' Silver Certification
⓹  Solera Acquires DealerSocket and Omnitracs, Fueling Public Offering Rumors
⓺  Meet the Entrepreneurs Who Took Home Funding at Impact Ventures' Startup Showcase
⓻  Electrifying Move: Schumacher Electric Corporation Relocates its HQ to Fort Worth to Expand its Vision
⓼  Dallas-Based Preston Hollow Community Capital Launches $200M IPO
⓽  Why We Need to Value Younger, Everyday Philanthropists
⓾  Bedford Biotech Restores "Meaningful Vision" in Blind Patients With Gene Therapy—and May Soon Go Public
THREE THINGS
⓵ RENTING REALTY: The hot home sellers' market is heating up something else in North Texas: rental home communities. Several builders have announced plans to build new rental communities in and around Dallas-Fort Worth, reports the Dallas Morning News. A new survey by Yardi Systems places Dallas #5 in the country, with more than 550 rental houses currently being built. Houston came in #2 with a round thousand rental homes being sheetrocked as we speak. Across the U.S., more than 12,000 single-family rental homes are being built, the DMN says. Tennessee-based Kinloch Partners just expanded to North Texas in a bid to build 500 rental houses in the next year and a half. Other top rental home builders include Arlington-based D.R. Horton and Arizona-based NexMetro, which the DMN says has constructed multiple projects in North Texas.
⓶ SOLID AS A ROCK: Dallas-based Granite Properties, a commercial real estate firm, leads the list of local companies named one of the 2021 Best Workplaces for Millennials. Granite placed #22 on the list of small and medium workplaces, as honored by Great Place to Work and Fortune magazine. The award is based on an analysis of survey responses from more than 5.3 million current U.S. employees. 99 percent of Granite's employees called it a great place to work—40 percent higher than the average U.S. company. Three other local companies made the small/medium list: Addison consulting firm Credera at #36; Dallas' Pariveda Solutions, an employee-owned strategic services and IT consulting firm, at #76; and Dallas' Embark LLC, a financial services and insurance firm, at #97. In the large companies list, Dallas' PrimeLending came in at #29 and Dallas tax, software, and tech firm Ryan LLC at #35. READ MORE
⓷ THREE AMIGOS: Dallas-based Dalfen Industrial has acquired a newly developed, three-building industrial park in Tacoma, Washington. Acquired off market, the 711,855-square-foot Tacoma Supply Chain Center is sited within Seattle's Pierce County industrial submarket. Terms were not disclosed. Dalfen says it has acquired and developed "well over $1.5 billion" of industrial properties across the U.S. in the last 12 months. "Dalfen is focused on expanding our west coast portfolio, with this asset being the third acquisition in two months," said Sean Dalfen, the company's president and chief Investment officer, in a statement. "The last mile fundamentals of this project are outstanding with close proximity to the Port of Tacoma and major thoroughfares, as well as a large workforce and customer base."
PLUS
⟫ BETA TIME: Ronnie Green, co-founder and CEO of Dallas fintech AlgoPear, has released a beta version of his company's app, an AI trading marketplace for retail stock traders.  "Let's break the exclusivity in finance together," he announced on LinkedIn. "Perfection comes with many iterations, and we will depend on our early adopters to help us work out our flaws and fine-tune our engines. To our early adopters who join us now, we look forward to your honest feedback. We'll make you proud over these next years." AlgoPear won Impact Ventures' pitch competition in February.
⟫ SENIOR PLAY: Dallas-based Integrity Marketing Group, the nation's largest independent distributor of life and health insurance products, announced an agreement to acquire Fort Worth-based Senior Security Benefits, a leading independent marketing organization. As part of the deal, three Senior Security Benefits execs will become managing partners in Integrity: CEO Gaylan Hendricks, President Dan Hendricks, and CMO Taylor Martin. Financial terms of the transaction were not disclosed. 
⟫ AY YI YI: Tomorrow is National Tequila Day. (If you're like us, every day is tequila day, but then who's counting.) Since Dallas is where frozen margaritas were first "innovated," the Dallas Observer has a salty rundown of where you can get your tequila on all Saturday long.
---
Thursday, July 22
THREE THINGS
⓵ VIDEO STAR: When Bart Weiss launched the first Dallas VideoFest in 1986, fuzzy low-res videos required huge shoulder-mounted cameras. Today you can slip a movie studio in your pocket. Weiss has championed video arts for the whole long, crazy ride with 35 years of VideoFests—but they will soon be no more. Earlier this week, Weiss announced that the festival beginning Sept. 20th will be the last. We reached out to Weiss to see how his announcement landed; how video has changed since the days of Devo and the Pet Shop Boys; the moments he'll never forget; and the legacy he leaves behind. His biggest message: "There are more choices than you think to watch," he said. "Most people settle when turning on the remote. Video should inspire, not kill time." READ MORE
⓶ HOME RUN: A new private partnership investment fund focused on sports has just launched out of Houston—and it has some local experts behind it. Neil Leibman, co-owner, COO, and president of business operations for the Texas Rangers, is teaming up with Bill Yates, who leads the Fort Worth branch of Sports Advisory Group, to launch Top Tier Sports, which will acquire professional sports teams and sports-related companies in the U.S. Leibman will manage the fund with David Rawlinson, new CEO of Qurate Retail Group. One of their first acquisitions is close to home: the Cleburne Railroaders of the American Association of Professional Baseball, a North Texas-based professional baseball team. They also acquired the Buffalo Beauts and the Minnesota Whitecaps of the National Women's Hockey League, according to the DBJ, with more to come in the next few months. The group is an expansion of Top Tier Rugby, which Leibman, Yates, and investors started last year.
⓷ FOLLOW THE MONEY: Dallas' Cariloop, which was one of the first to pair families with a healthcare professional on a HIPAA-compliant, cloud-based app, has raised $15 million in new funding led by Atlanta-based Noro-Moseley Partners. Additional participation came from the KCRise Fund, Revolution's Rise of the Rest Seed Fund, Patterson Thoma Family Office, MPK Equity Partners, and 1843 Capital, per the DMN. Cariloop plans to use the capital to triple in size and "address the COVID-era caregiving crisis." The deal brings its total funding to $24.1 million, the paper reported. Last year, Cariloop completed a $6 million Series A round to start growing its team. That was a big jump from graduating from the Health Wildcatters accelerator program in 2013. The startup's platform helps families plan for the short- and long-term care of a loved one with care coaching services and cloud-based tools. Families are able to manage important health, financial, and legal documents, while at the same time getting on-demand access to a professional throughout the caregiving journey. From here, CEO Michael Walsh expects to grow Cariloop's half a million members fivefold.
---
Wednesday, July 21
THREE THINGS
⓵ BACKSEAT BAGS: Uber users in Dallas, Austin, and Houston can now get their favorite Costco goods delivered straight to their door via a new pilot between the rideshare giant and members-only big-box retail chain. There's one catch: though you don't have to be a Costco member to order groceries through Uber and Uber Eats, a service fee will apply non-members, as stated in the app). The delivery pilot kicked off today in 25 locations across Texas only, with seven Costco warehouses expected to be added in the coming weeks. This is Uber's first pilot with a food wholesaler, and follows its recent partnership with Albertson's Co. to expand its grocery offering. Orders require a $35 minimum.
⓶ SNAX TIME: Plano-based Stryve—the snack food company behind biltong, a better, healthier alternative to beef jerky—is trading on Nasdaq under the ticker SNAX following a merger with SPAC Andina Acquisition Corp. The deal closed yesterday, per the DMN, in a deal that valued the local brand at $170 million and resulted in the combined company being renamed Stryve Foods Inc. Stryve now expects to reach $51 million in sales this year. The company is best known for its biltong, a form of air-dried cured meat that was first popularized in Southern African countries. The company describes it as "what jerky wants to be": 100 percent beef but with no sugar, MSG, gluten, nitrates, or preservatives.
⓷ OMNI-DELIVERY: Dallas-based last-mile delivery solution provider PICKUP is introducing a new solution for the retail, commercial, and industrial businesses that use its services: PICKUP Fusion. The end-to-end omni-delivery platform is meant for partners that have big, heavy, or high-value items. Its two implementations, Fusion Formula and Fusion Theory, enable PICKUP to handle full-assortment delivery, meet delivery windows, and take care of inventory traditionally unavailable via e-commerce transactions. With Theory, partners can launch same-day and scheduled last-mile deliveries at a national level. With Formula, they get instant access to real-time visibility and reporting of all deliveries. CEO and Chief Good Guy Brenda Stoner says this helps meet the ever-increasing expectations for fast and convenient delivery services. The launch comes on the heels of a $15M Series B round PICKUP raised in March to expand its geographic footprint and suite of services.
PLUS
⟫ Think Dallas real estate is a hot seller's market? You're not alone. According to a new Opendoor survey, 78 percent of people in Dallas believe now is a good time to sell a home. Only 46 percent believe it's a good time to buy one. The wrinkle: Most weren't sure what the future will bring. Of those surveyed, 38 percent predict the housing market will remain strong for a few more months. Only 40 percent think it will remain strong for a year. (The latest RE/MAX National Housing Report bears out that caution, showing that DFW home sales are down 5.8 percent compared to last year, the third-largest drop in the U.S.) Still, 76 percent of Dallasites surveyed think buying a house today is a good investment. "Whether you're walking the streets of downtown, uptown, or Lower Greenville, the real estate buzz in Dallas-Fort Worth is incredible," said Sharon Brown, Opendoor's Dallas-Fort Worth GM, in a statement. "Homeowners are curious if they can capitalize on the recent but hefty appreciation of the market and our data validates that." READ MORE
⟫ Southlake-based Gauge Capital has invested in NINJIO. The California cybersecurity training company produces "3- to 4-minute Hollywood-style micro-learning videos that teach organizations, employees and families about cybersecurity, breaches and easily avoidable threats." This year, the company launched NINJIO PHISH, a simulator that lets customers to test for vulnerabilities safely and proactively.
⟫ More new tenants are headed to the Billingsley Co.'s hot Cypress Waters development northwest of Dallas. General Motors, international cybersecurity firm Island Technology Inc., and Houston-based residential mortgage firm Selene Finance are the latest to take space, reports the DMN.
 
⟫ Dallas- and Cleveland-based Align Capital Partners has marked its first exit. ACP completed the sale of Alliance Technical Group, a leading provider testing, emissions monitoring, and analytical services, it announced yesterday. The private equity firm has been active since closing its inaugural fund in 2016. ACP has completed 13 platform investments and 38 add-on acquisitions of growth-oriented business services, tech-enabled services, and specialty manufacturing and distribution companies.
⟫ Capital One, which has about 5,000 associates locally, is hiring hundreds of tech workers in Plano, the DBJ reports. Earlier this month, Fortune reported the company is on a hiring spree for AI talent. The bank plans to add 3,000 additional technologists by year end. In June, Capital One announced it would become a hybrid work company, letting most of its 52,000 associates split their work time between virtual and office settings
---
Tuesday, July 20
THREE THINGS
⓵ SOLAR IN THE HOOD: Hood County is going solar. Austin-based Yellow Viking Development One is developing a solar farm to be located in and around Granbury, 35 miles southwest of Fort Worth.  The solar farm will generate an estimated $69 million in capital investment and create 250 jobs in a year-long construction phase. The 285-megawatt project will involve about 1,187 acres, with part of the solar farm sucking down rays in Somervell and Johnson Counties as well.  The area is located near an electricity grid interconnection point and is within an hour of Dallas-Fort Worth, "enabling us to supply cost-effective, green power to a densely populated area of Texas," said European Energy, Yellow Viking's parent company, in a statement. Shea Hopkins, economic development director of the Granbury Chamber, says the project will set up Hood County for future solar projects.
⓶ ROUTINE TRIUMPH: Dallas-area tech firm ASD.ai developed Rootines, a mobile app that supports the care of people with autism by offering a digital diary to chart their daily routines—from hydration to mood, meltdowns, and more. Today the company announced it's been selected for a grant from Microsoft for Startups, a global program aimed at accelerating the trajectory of high-potential startups. As a program member, ASD.ai gains access to Microsoft tech, mentorship, and business support. The Red Oak-based startup already relies heavily on Microsoft Teams to connect with its team members across the country and around the globe. "The services and support that Microsoft provides will enable us to scale our application in order to help more parents, caregivers, and individuals with greater speed to market," said Tamera Jackson, ASD.ai's CEO and co-founder, in a statement. 
⓷ FUN WITH FINTECHS: Prodded by the pandemic, Dallas-area bank leaders have used fintechs to push their companies forward, reports the Dallas Business Journal. "As a bank, I need to and want to be involved in the fintech space," Veritex Community Bank Chairman and CEO Malcolm Holland told the DBJ. "If I don't get involved, I'll probably get left behind." The global fintech market is projected to reach $324 billion in value by 2026. Part of that growth will be thanks to smaller banks and community banks across North Texas. Unlike JPMorgan Chase, which the DBJ says has more than 3,000 technologists in its North Texas hub, smaller banks must lean on fintechs to operate their technology. Vista Bank President and CEO John Steinmetz told the DBJ that instead of seeing fintechs as a threat, they can create opportunities, like offering robot-assisted loan processing. But Liberty Capital Bank CEO Alan Morris thinks consumers will always want a human touch, not just a digital one: "We continue to hear from our customers that while they want a good digital customer experience, they realize that can never replace personal potential."
PLUS
⟫ CLASS ENHANCEMENT: Dallas-based engineering giant Jacobs has been selected as one of the program management firms for the $3.47 billion Dallas Independent School District (DISD) 2020 Bond Program. The largest ISD project in Texas history, the program will deliver improvements to more than 200 of DISD's 230 schools. Dallas voters approved the program via two bond propositions last year to fund school repairs and upgrades—and update DISD technology, which has become even more vital in the wake of COVID. "Dallas ISD is considered to be one of the fastest-improving urban school districts in the country and by collaborating we can continue to create better environments for students to learn and grow," said Tom Meinhart, Jacobs' People & Places SVP, in a statement. Jacobs has worked with the DISD for 18 years and counting. READ MORE
⟫ Westlake-based Solera has a deal to acquire Australian insurance tech provider ENData, the company announced on Monday. Through an intelligent platform, ENData can simplify and automate the fulfillment of insurance claims. That's on the heels of Solera's May announcement of its acquisition of two Dallas-area companies, DealerSocket and Ominitracs. That deal combined three Vista Equity Partners companies into a one-stop shop. Darko Dejanovic, CEO of Solera, says the company's most recent acquisition of ENData expands its position not only in Australia, but globally, as "the leading provider of innovative solutions across the entire insurance claims ecosystem." READ MORE
⟫ VR TOKYO TOUR: Dallas-based Cosm, a global experimental media and immersive tech company, is producing an eight-part, 360-degree VR series called Tokyo Origami. Just in time for the Tokyo Olympics, the Oculus series will be released on July 28, featuring stories of temples, skyscrapers, high-tech, counterculture, and more from Japanese storytellers. 
⟫ PASSING THE TEST: Dallas- and Cleveland-based Alliance Capital Partners (ACP) has sold its environmental testing and compliance platform, Alliance Technical Group, to Morgan Stanley Capital Partners. Terms were not disclosed. The transaction marks the first exit for ACP since closing its inaugural fund in 2016. Since then, ACP has completed 13 platform investments and 38 add-on acquisitions of growth-oriented business services, tech-enabled services, and specialty manufacturing and distribution firms.
---
Monday, July 19
THREE THINGS
⓵ RING SILVER BELLS: The City of Irving has won silver certification from Bloomberg Philanthropies' What Works Cities—the national standard of well-managed cities recognizing the most effective use of data to inform policy and funding decisions. The honor comes in a year that's tested the mettle of municipalities nationwide. Since 2018, 40 cities have achieved the certification. This year 16 new cities were recognized, including gold-winning Austin and silver-winning San Antonio. Read more.
⓶ PERFECT SPOT: A local pioneer in parking technology has made another acquisition to bolster its portfolio of enterprise solutions—and further optimize parking payments. ParkHub has acquired CurbTrac, a Philadelphia-based parking payment management solution that centralizes data from parking applications into a single platform. The tech allows cities, universities, and parking operators to offer drivers multiple payment options, which complements ParkHub's goal to increase operational efficiency with efficient and profitable parking operations. CurbTrac CEO Charley DeBow will join the ParkHub team to direct the platform's growth. The news follows ParkHub's March acquisition of Bonfire, a campground management platform, to optimize the outdoor recreational industry. 
⓷ GOLD SHIFT: Dallas-based Shiftsmart, an online marketplace for workforce management, has been named as a gold award winner in the 2021 North American Inspiring Workplaces Awards. The award recognizes Shiftsmart for the hunger relief efforts of its initiative Get Shift Done. In its first 12 months, Get Shift Done provided, packaged, distributed, and delivered or served 60 million meals across the U.S. More than 28,000 people who lost paychecks due to the pandemic registered with the program on the Shiftsmart platform. They then completed nearly one million shifts for 110 hunger relief non-profits across America. Overall, unemployed people were paid nearly $15 million from the Get Shift Done initiative. "It's a great honor to be recognized as an inspiring place to work for our employees and for their service to the community," said Aakash Kumar, CEO and co-founder of Shiftsmart, said in a statement. "We're proud to have served as a resource to displaced workers during the past year."
PLUS
⟫ LANDING MORE LOGISTICS: The supply chain and logistics industry in Dallas-Fort Worth keeps scaling up. Atlanta-based Dematic is planning a new $2.5 million site in Plano, according to the Dallas Business Journal. The 45,000-square-foot Plano digs could house up to 400 workers in the next four years. Dematic marked its 200th anniversary in 2019 and has engineering centers, manufacturing facilities, and service centers in more than 25 countries. Calling itself a pioneer of intralogistics, the automated solution provider is ensuring it's ready for the next 200 years to come.
⟫ CHARGING TOWARD DALLAS:  Three major EV companies are among the "substantial prospects" considering an expansion or HQ relocation to the Dallas region, the same publication reports. The Dallas Regional Chamber is "tracking 109 projects," Mike Rosa, SVP of Economic Development at the DRC, told the DBJ. That's about twice as many as usual, he noted.
⟫ WAX ON: Plano-based European Wax Center, a fast-growing franchised chain of hair removal salons, has filed for an IPO, per WWD. The share price and other details are to be determined. The brand, which moved to the Dallas region in 2019, was founded in 2004 and now has more than 800 centers across the country. "Innovation occurs on the "shop floor" by those associates who are directly serving the customer," CEO David Berg told us at the time. "My role is to break down barriers to implement innovative ideas."
---
Friday, July 16
THREE THINGS
⓵ CHECK THIS OUT: Store cashiers may soon go the way of 8-track cassettes, land lines, and dodo birds. Walmart is now testing an all-self-checkout Supercenter in Plano, reports the Dallas Morning News, after successfully rolling the service out at a Walmart in Fayetteville, Arkansas. According to Matt Smith of Walmart Corporate Affairs, the goal of the new service is to eliminate lines that stack up behind conventional checkout lanes. In the Plano store, all the lanes are gone, replaced by 34 registers that line the edge of a wide-open area.  Cashiers have turned into "hosts" who greet and assist customers at the self-checkout area. If you can't stand hearing "unidentified item in baggage area," don't worry—a host will still check you out if you prefer. The DMN quotes a customer who worries about the store's employees, but likes the new checkout routine: "Now there's never a line, and there used to always be lines here." READ MORE
⓶ CLASSIC COLLEGE RAILWAY: Dallas-based engineering giant Jacobs has been awarded a $50 million three-year contract to be the program partner of the East West Rail link between Oxford and Cambridge in England. Jacobs will take on a significant integration role across a diverse supply chain in the development phase of the railway's construction.  
⓷ SKYLINE MAKEOVER: Don't get used to that view of downtown Dallas just yet. Developer and investor Scott Rohrman has put forth a plan for a 42-story high rise project on the east side of downtown, reports the Dallas Morning News. The proposed two-tower structure would be sited at Elm and South Pearl near the I-345 connector, holding 250 hotel rooms, 224 apartments, and 200,000 square feet of office space. Dallas commercial construction and architecture firm The Beck Group did the skyscraper design. The DMN quotes Rohrman as saying, "What we want to do is build something iconic—something that anchors the area…We really believe in the east side of downtown Dallas." Want to hear more? Rohrman spoke about the project with KRLD's CEO Spotlight with David Johnson. Listen to the podcast here.
PLUS
⟫ DID YOU SAY BILLION? Swedish telecom giant Ericsson, whose North American headquarters are in Plano, has signed an $8.3 billion deal with Verizon to build out a next-gen 5G network in the U.S. The five-year contract is the largest deal in the history of Ericsson. The company will deliver 5G solutions including Massive MIMO, Street, Macro, Ericsson Cloud RAN, and software with a goal of strengthening and expanding Verizon's 5G network. "What we're most excited about is bringing the benefits of 5G to U.S. consumers, enterprises, and the public sector," said Niklas Heuveldop, president and head of Ericsson North America, in a statement. "We're looking forward to working with Verizon to leverage solutions like Cloud RAN and our Street Macro, adding depth and versatility to 5G network rollouts across the U.S." Ericsson employs nearly 2,500 people in Plano and close to 10,000 across North America.
⟫ ANTENNAS ARE UP (FOR SALE): Dallas-based COMSovereign Holding Corp., a developer of 4G LTE Advanced and 5G systems and solutions, has acquired RF Engineering & Energy Resource (RFEQ), a specialist in ultra-high performance microwave antennas and other wireless and wireline solutions in the U.S. and Latin America. Terms included approximately $2.2 million in stock and $550,000 in cash. ComSovereign will use the acquisition to enhance its in-house capabilities, including the use of RFEQ's "fully developed" sales and distribution channel serving tier-one customers.
---
Thursday, July 15
THREE THINGS
⓵ JOBS, JOBS, JOBS: Dallas nearly tops the list of U.S. cities whose companies plan to add new jobs in the second half of 2021. According to the State of U.S. Hiring survey of more than 2,800 senior managers, cities with the highest percentages of employers who expect to add positions are San Diego (62%), Dallas (61%), Atlanta and Los Angeles (58% each). Among the 28 U.S. cities in the survey, 51% of respondents plan to add new permanent positions in the second half of 2021. Another 48% plan to fill vacated positions or bring back furloughed workers.
⓶ WHAT'LL YOU HAVE? Dallas- and Miami-based beverage alcohol distributor Southern Glazer's Wine & Spirits has signed a national distribution agreement with Santo Spirits, whose co-founders are Guy Fieri and Sammy Hagar. Santo's spirit lineup includes the world's first Mezquila, an old-world style tequila Blanco, and a Reposado. Southern Glazer's says its track record with building brands—from route-to-market capabilities to its Proof e-commerce platform—will help Santo Spirits break out, driving efficiencies and growth in the business. Cheers!
⓷ FUTURISTIC FITNESS: Tenants of the new Pegasus Park will now have the ability to improve their health and reach their fitness goals with a world-class fitness space that will occupy 5,000 square feet in Building 3 of the development. Opening in late September is Hidden Gym, an Allen-based brand that operates facilities with state-of-the-art fitness equipment, training classes (yoga, HIIT, boot camp), and a fully-equipped weight room. Tenants can purchase memberships for private classes, but classes will be open to the public. There's also customized training available: Trainers can perform a 3D body scan on clients to then offer a custom nutrition program, plan for sports nutritional supplementation, and more, all from a mobile app. Pegasus Park is a 23-acre, future-focused redevelopment from Lyda Hill Philanthropies and J. Small Investments that aims to accelerate life science and healthcare discoveries and boost nonprofit resiliency.
---
Wednesday, July 14
THREE THINGS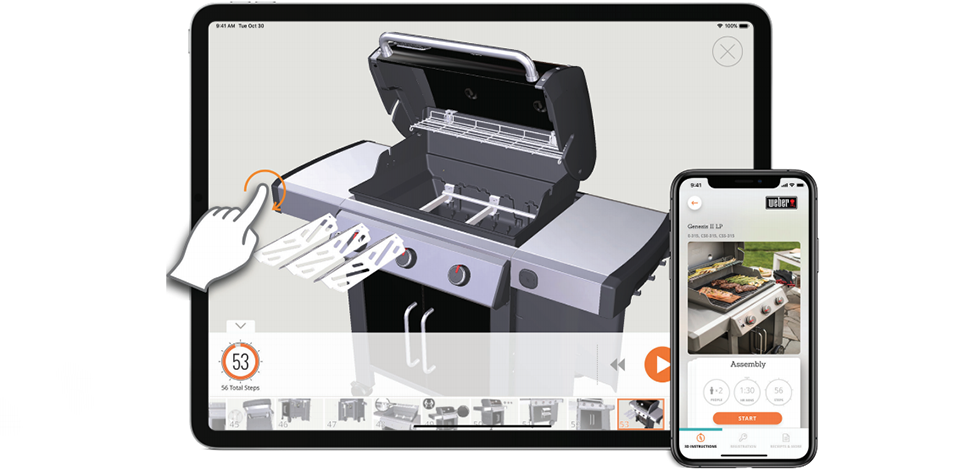 ⓵ Grapevine-based Bilt, which saw increased demand last year during the stay-at-home orders, has raised $4 million to back its expansion plans, CEO Nate Henderson told the DBJ. Bilt created a smartphone app that assists users in assembling things—TV stands, swing sets, flooring—on their own at home. The app uses interactive 3D animated images, voice, and text to replace paper instructions. While that's helpful when you're stuck indoors, Henderson says long-term factors will help the company continue to grow, like consumers shopping more online and shipments coming in smaller packages.
⓶  SPANISH ACCENT: Dallas-based Texas Central, developers of the high-speed train between Dallas and Houston, has signed a contract making Spain-based Renfe the Early Operator for the project. We wrote last year that Texas Central had awarded a $5.9 billion contract to Renfe to develop and operate the service. Today's step moves things further down the track. Renfe, which already runs 5,000 trains daily on 7,500 miles of track—much of that in Spain—served 510 million passengers in 2019. As the Early Operator of the Dallas-Houston line, Renfe will help Texas Central design and develop commercial aspects of the system and advise and consult on final design, execution, construction, testing, and the commissioning of everything from station and buildings to core systems and O&M tech. The news comes one month after Texas Central signed a $16 billion contract with Italian industrial group Webuild as the design-build lead on the railway. READ MORE
⓷  DUDE, NICE BOAT: Dallas-based Safe Harbor Marinas owns and operates more than 115 marinas in 22 states. Today it launched its latest app, Safe Harbor Water, designed and developed by Dallas agency Tegan Digital. Available for iOS and Android, the app will act as a platform for Safe Harbor's 40,000+ members. Its newest feature: the Safe Harbor Marketplace, an exclusive, members-only way to buy and sell boats. Land ho!
PLUS
⟫ UP CLOSE AND IN PERSON: A new survey from Dallas-based Parks Associates reveals 91 percent of business executives in the connected home space are ready and willing to travel for in-person conferences and meetings, once their workplace allows them to travel. The survey's results will be presented tomorrow at 1 p.m. in an industry webinar, Transforming B2B Marketing: Expanding Your Reach. Other survey revelations: 67 percent of executives feel that virtual events aren't as valuable as being there in person. And 79 percent think the best format in the future will be a hybrid of in-person and virtual. 
⟫  ALUMINUM FOILED: Dallas-based Highlander Partners, a private investment firm managing more than $2 billion in assets, has sold Profile Custom Extrusions, a U.S. manufacturer of custom, extruded aluminum profiles and services, to KPS Capital Partners. KPS also closed its acquisition of Metra Holding S.p.A. and Metra S.p.A., a global extruded aluminum manufacturer. Profile and Metra will now be combined as a leading global extruded aluminum profile platform across both North America and Europe. "Our return on the investment highlights Highlander's unique approach and patient capital contributing to a very successful outcome," said Jeff L. Hull, president and CEO of Highlander and a director of Profile. Terms of the deals were not disclosed. 
---
Tuesday, July 13
THREE THINGS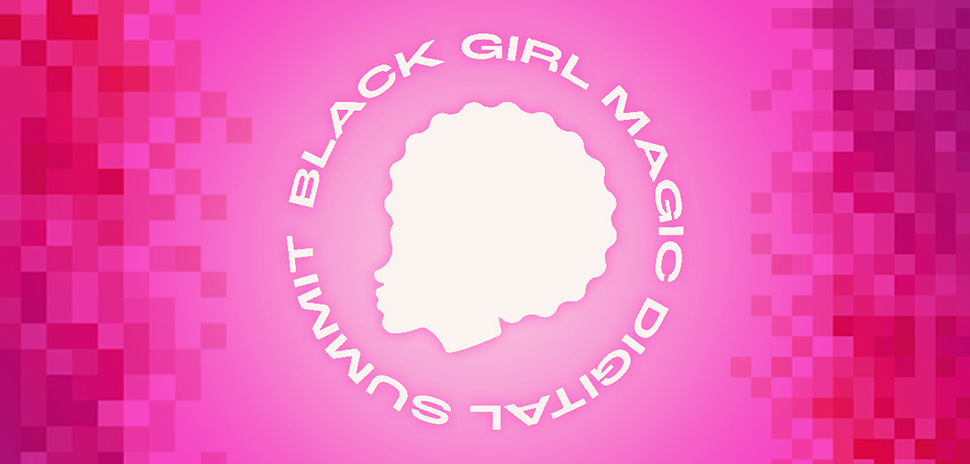 ⓵ MAKING MAGIC: A two-day digital summit is coming to Dallas on Aug. 21-22 to celebrate and support a network Black female corporate professionals, entrepreneurs, and student changemakers at HBCUs. Organized by Boss Women Media, which is dedicated to empowering and educating Black women, and Capital One, the lead corporate sponsor, the Black Girl Magic Digital Summit is meant to create a space for Black women and empower them as leaders in communities across the country. Timed to Black Women's Equal Pay Day, the event will host keynote speakers like former White House Senior Advisor Valerie Jarrett and actor and activist Yara Shahidi. Capital One Business will sponsor a pitch competition offering $25K, $15K, and $10K in grants to three women-owned small businesses. (Applications for that are due Aug. 13). For the first year, Amazon is joining the summit as a sponsor to develop content, panels, and opportunities that are meant to teach and inspire Black women entrepreneurs, as well as equip attendees with the tools needed to thrive. The ecommerce giant will also host on-campus watch parties at various HBCUs.
⓶ CHECKING OUT: Shoppers in an additional 2,500 locations across the U.S. can now use a contactless solution to pay thanks to Irving-headquartered 7-Eleven expanding its Mobile Checkout. Using the convenience chain retailer's app, customers can quickly scan items and complete their purchases without ever waiting in line. 7-Eleven says it was the first convenience store chain to develop proprietary technology that provides for a "full frictionless shopping experience from start to finish." The expansion is a response to the COVID-19 pandemic, 7-Eleven Digital Senior Vice President Raghu Mahadevan says: "Americans have a new perception of what convenience looks like." 7-Eleven plans to expand Mobile Checkout to all U.S. stores by the end of 2022. The in-store experience is part of 7-its 7Rewards loyalty program, in which members can redeem points for products bought. As an incentive to try it, for a limited time, 7-Eleven is offering 10-times the rewards points for every purchase made using the new feature.
⓷ BOOMING: According to experts, there's a "mushrooming demand for mission critical IT infrastructure in the Dallas/Fort Worth market." In reponse, DataBank, a Dallas-based provider of enterprise-class colocation, connectivity, and managed services, is expanding its local—and flagship—data center to offer what it calls a game-changing option for companies in Plano. Called DFW3, the data center offers 24×7 network availability, carrier neutrality, and unparalleled performance, according to DataBank. As part of the expansion, DFW3, located in Legacy Park, will be getting an additional 12,000 square feet of raised flooring and an additional 1.5MW of power online in its new Data Hall 3. VP of Engineering Danny Allen said it will meet the needs of current and potential customers in search of reliable, first-class IT infrastructure to handle colocation, connectivity, and cloud services. The DMN notes that DFW3 is a 144,000-square-foot facility that's one of six data centers DataBank has in North Texas.
FOLLOW THE MONEY
⟫ A new strategic buiness combination between Connecticut-based clean electrification company Altus Power and CBRE Acquisition Holdings (CBAH) is set to be the first SPAC business combination led by a publicly-traded U.S. corporate, according to a news release. Per the definitive agreement, Altus Power would become a public company listed on the NYSE. CBAH is a vehicle sponsored by Dallas-headquartered commercial real estate services giant CBRE Group. Altus Power offers solar generation, energy storage, and EV-charging stations across the U.S. The deal will advance its mission to become a "category-defining clean electrification company positioned to deliver savings and sustainability benefits to its customers," the company said. It's expected to generate generate gross proceeds of up to $678 million.
⟫ Elm Street Technology, a provider of residential real estate technology and marketing solutions that's based in Frisco, has acquired Morris Real Estate Marketing Group and IXACT Contact Solutions to expand its Elevate platform. Elm Street's offering gives customers an end-to-end suite of real estate technology and marketing services. Its intent is to maximize real estate professionals' business efficiency with one vendor and one point of contact. Both acquisitions represent "specialists in marketing solutions," along with "repeat and referral lead generation conversion technology across the Canadian real estate sector," Elm Street said. In May, the company announced that it had adopted an "aggressive growth acquisition strategy" in partnership with private investment firm Aquiline Capital Partners. Elm Street's acquisition-based approach allows it to continue growing Elevate's capabilities to offer a more robust solution to the real estate community.
⟫ There's another acquisition update for Dallas-based Integrity Marketing Group. The independent distributor of life and health insurance products, which is on a journey to innovate the health insurance industry via a slew of strategic acquisitions, has acquired independent marketing organization the Michael O'Brien Insurance Agency for an undisclosed amount. The deal will boost Integrity's vision of "helping more seniors obtain and fully utilize their benefits," as Michael O'Brien Insurance's agents offer health, life, critical illness, property, and casualty insurance, with a focus on the senior market. Integrity has grown aggressively recently—mostly from acquisitions—swelling from 1,700 to 5,500 employees just since the start of 2021. The firm made 40 acquisitions in 2020 alone. Last month, it also bucked the suburban office trend by moving hundreds of employees from Coppell to downtown Dallas. Integrity works through more than 370,000 agents nationwide, and expects to help insurance carriers place over $7 billion in new sales in 2021.
---
Monday, July 12
THREE THINGS
⓵ FOLLOW THE MONEY: Plano-based app development consulting firm Tridius Technologies has received a majority investment from San Jose, California-based Terralogic Solutions Inc., a leading global technology consulting firm backed by Paxion Capital, to expand its portfolio of tech services. Tridius is a Microsoft Gold Partner that delivers Microsoft cloud services, application development solutions, and managed services to clients across the globe. Its team—comprised of experienced technologists, cloud architects, and business strategists—aims to combine strategy and technology to help businesses grow. With the deal, Tridius CEO Matthew Ramsey, CTO David Clark, and EVP Kevin Wheat will retain a significant equity ownership in the company and remain on the board. Terralogic CEO Renil Komitla and Paxion Capital CFO Duncan Robertson will also join the Tridius board. Together, the two companies aim to strengthen Tridius' global outreach and add-on acquisition strategy, as well as its execution in the fast-growing segment of Microsoft cloud services and application development.
⓶ SIGN UP: On July 17, Dallas-based Impact Ventures will present its bi-annual flagship event that celebrates its accelerator program and creates generational wealth through inclusive entrepreneurship and integrated capital. A live virtual event—called "Equity in Motion" and sponsored by JPMorgan Chase, Jabian Consulting, and Capital One—will feature 20 women, Black, and Latinx-led tech startups and small businesses from North Texas and beyond. Startups will pitch to a live audience in a "Shark Tank"-style competition for $50,000 and attendees can participate in live virtual networking and breakout sessions led by experts. It's the second such event of the year. In January, Dallas-based AlgoPear, an automated stock trading marketplace founded by Ronnie Green (above), took the top prize among 13 other startups and small businesses. Find more information or sign up here. 
⓷ LEADING THE (RUN)WAY: A recent feature in CNN Style introduces readers to Daniel Roseberry, a couturier who creates designs for Maison Schiaparelli. A pioneer in his field, Roseberry hails from Plano. "At first glance, it's hard to imagine these designs coming from an understated, born-and-raised Texan," Fiona Sinclair Scott writes, but "sketching is one of his secret powers." Roseberry is both an artist and innovator in the world of fashion: He dreams up things that are "not cookie-cutter," and are instead "far more extraordinary." He's earned the honor of being the first—and only—American to lead a French couture house to date. You might have also seen one of his designs on Lady Gaga at the US presidential inauguration, Michelle Obama, Cardi B, Kim Kardashian, or Beyoncé. Read more about the young local native who is "creating Surrealist fashion for the modern era" here.
WHAT ELSE?
⟫  PARISIAN PROGRESS: The Dallas-based Women's Entrepreneurship Accelerator (WEA), a leading driver for increased women's economic participation, joined the Generation Equality Forum in Paris earlier this month through the "Drivers of Change" program. The Accelerator hosted a panel titled "Building a Transformative Strategy for Gender-Responsive Procurement," aimed at creating awareness of the barriers on women's entrepreneurship and promoting gender-responsive procurement strategies. One-third of businesses worldwide are owned by women. Yet women win only one percent of the procurement spend of governments and big corporations, according to the World Bank. The Accelerator is working to change that. Two of its panelists featured in the Paris forum are pictured above: Julia Simon, chief legal and diversity officer at Mary Kay, and Elizabeth Vazquez, CEO and co-founder of WEConnect International.
---
Friday, July 9
THREE THINGS
⓵ SPECIALTY LAUNCH: North Texas is welcoming a new special purpose acquisition company by the name of Parsec Capital Acquisitions Corp.—and its team has big plans in the space economy, transport, and technology industries. The DBJ reported that the new Lewisville-based blank check company, incorporated in March, will be led by a six-person board that includes former federal aviation official Daniel Elwell, who was appointed by then-President Donald Trump. Parsec is looking for up to $50M to acquire a "mid-cap target with enterprise value between $100 million and $300 million," the article notes. The SPAC is already sponsored by EV take-off and landing developer Astro Aerospace, its fellow Lewisville neighbor, and its SEC registration was filed using Astro's HQ address. The article reports that the companies say the sponsorship is "a huge development in driving Astro's mission to introduce greater environmentally and economically sustainable solutions to the aerial vehicle industry." Parsec CEO Patricia Trompeter, who is the current co-founder and managing partner of Ceres Capital Ventures, now has a spot on Astro's Board of Directors.
⓶ FOLLOW THE MONEY: A growing leader in nutrition technology, L-Nutra, has received a significant growth investment from middle market PE firm Brentwood Associates. The amount of the funding was not disclosed. The Plano-based company, founded 13 years ago by Dr. Valter Longo, director of USC's Longevity Institute, says it offers several solutions "designed to promote longevity and healthy aging." Its flagship product, ProLon, is a five-day program that's been scientifically tested to provide the health benefits of periodic fasting, the company says. L-Nutra is also behind what it calls the first nutrition bar "specifically formulated to keep the body in a fasted state" and the "first meal delivery company to provide clean food based on the Centenarian diet." Chairman and CEO Joseph Antoun says by partnering with the Brentwood team, the company is one step closer to achieving its mission of making "food as medicine" a reality. The capital will go toward rapid expansion, stronger infrastructure, and what Antoun says will "activate a longevity-based revolution."
⓷ TALENT PREP: As the price of higher education continues to skyrocket, corporations are taking note that there's a lack of equitable opportunities in the U.S. This leads to a nationwide skills gap—one that has only continued to widen amidst the COVID-19 pandemic. In response to this, Verizon is teaming up with Multiverse to launch an apprenticeship for young professionals. The companies told us that the partnership launched last week out of Verizon's Dallas office. Multiverse considers itself a "true alternative" to a one-track university route or corporate training. The tech startup, backed by Google Ventures, empowers young students to "create their own realities as they journey through a fulfilling career." The program will be geared toward aspiring local software engineers, which Verizon says will create "more equitable work opportunities in tech for young, diverse workers," while "making a real impact in the Dallas business community." It will be led by Multiverse Founder and CEO Euan Blair, and feature one-on-one in-work job training to a post-pandemic job market, specifically for high demand digital and technology careers.
Thursday, July 8
THREE THINGS
⓵ RING MY BELL: The Nasdaq bell was rung this morning by Orlando Zayas, CEO of Plano-based Katapult Holdings, a leading e-commerce-focused fintech company. Katapult team members were alongside to help start the trading day. Katapult went public on June 10, trading under the ticker KPLT. Katapult works with hundreds of retailers across the United States, providing merchant support teams, marketing insights, and business advice. "We're excited about the opportunity to celebrate this accomplishment and ring the opening bell on Nasdaq," Zayas said in a statement.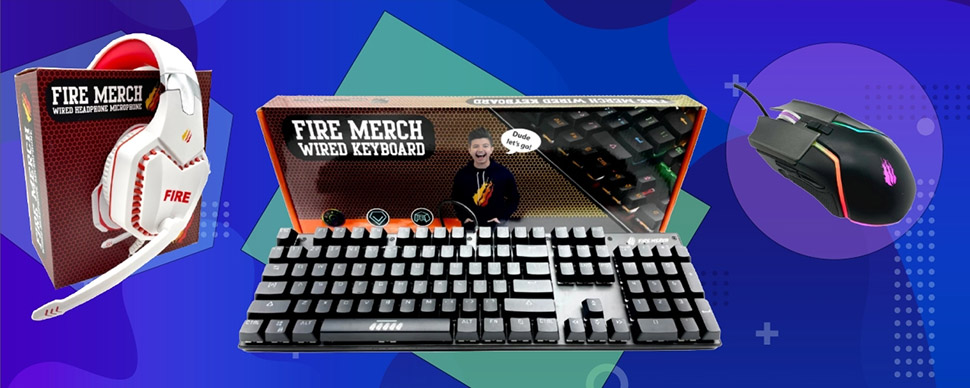 ⓶ PRESTON'S NEW ROAD: The young YouTuber and Twitch streamer that's best known online as PrestonPlayz is moving into the electronics market with the launch of a new line of custom gaming equipment. PrestonPlayz—aka Preston Blaine Arsement—is a Dallas local who's been widely hailed as a trailblazer in the movement of streaming video games. The content creator rose to fame with his family-friendly, lighthearted videos of gaming, vlogs, pranks, and sketches that entertain a younger audience. On his main channel, he ammasses 10.5 million subscribers. FW Promo, the wholly owned subsidiary of Fort Worth-based ADM Endeavors, designed and produced the new custom electronics for Arsement's Fire Merch line. ADM Endeavors CEO Marc Johnson says the product line will "increase FW Promo's sales in the near term and in the future with reorders."
⓷ ON TOP: Dallas-Fort Worth is one of the best places in the world to go for innovation, according to a new ranking published by 2thinknow, an agency in Melbourne, Australia that shares insights in data science and analysis. Published since 2007, the Innovation Cities Index 2021 is what 2thinknow calls the "largest and longest-running city ranking for innovation." The DFW region nabbed the sixth spot on the list, jumping seven spots since 2019. Chris Hire, 2thinknow's director of data, credits that success to local factors. He told the DBJ it's important to note that DFW "went out of pattern" and beat much larger U.S. cities, mainly because of its economic policy, migration, growth, input costs, trade, etc. The most important key to retaining that is "entrepreneurial zeal," which enables innovation, he says. In the top five before DFW: Tokyo, Boston, New York, Sydney, and Singapore.
---
Wednesday, July 7
THREE THINGS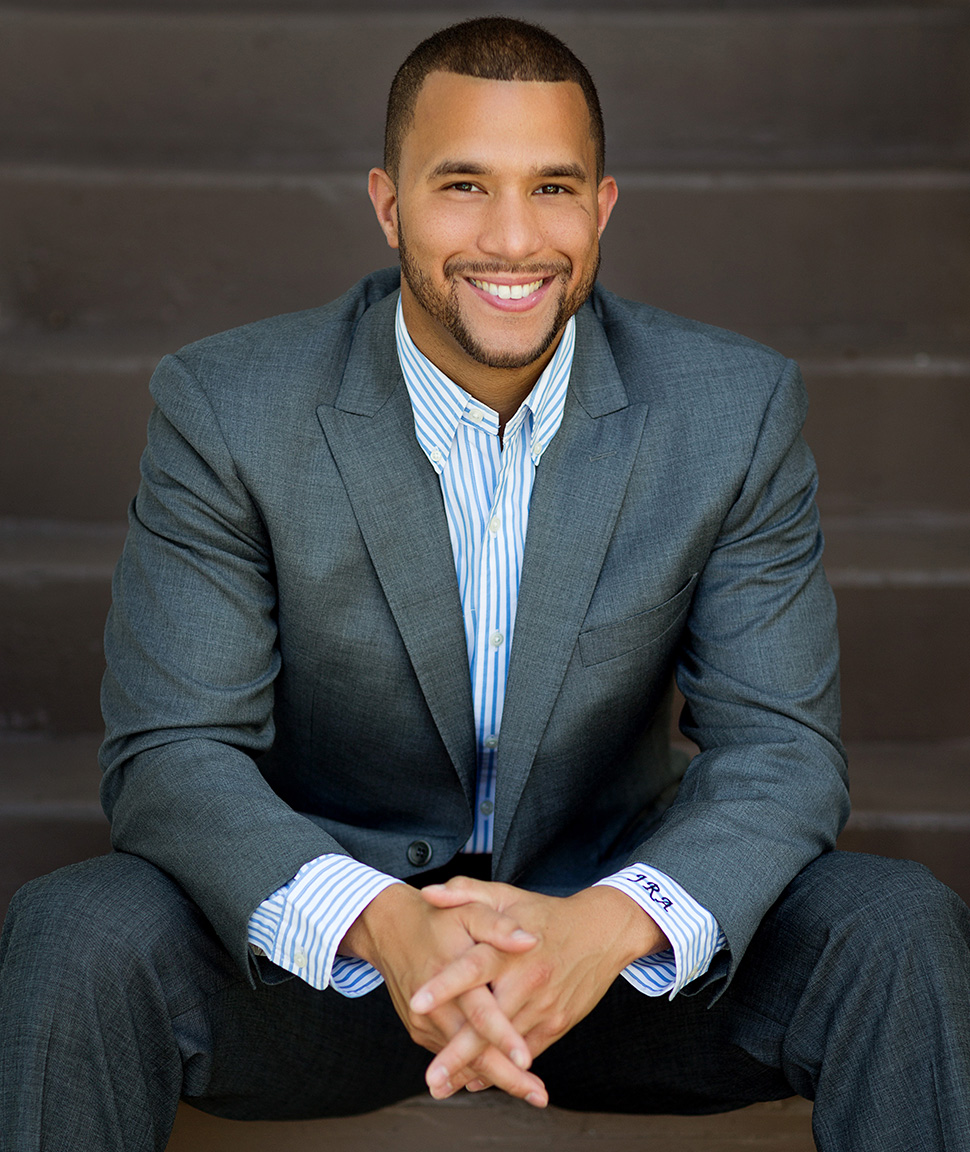 ⓵ FLEXING PARTNERS: As companies invite their employees back to the workplace, flexibility is in great demand. To meet the growing trend of coworking spaces, shared workspace company Venture X has formed a new partnership with Dallas-based standing desk pioneer Vari to offer flexible solutions to its franchisees. Vari will furnish all new properties for Venture X, acting as the single point of contact for design, ordering, and installation so locations can be quickly operational. This comes at a time when Venture X is planning to rapidly expand its footprint with more locations that offer private offices, meeting rooms, hot desks, event space, and more. Venture X President Jason Anderson (above) says the company was already growing so fast, it needed a partner that could keep up. Check out our gallery of the company's design at its HQ.
⓶ INSURTECH EXPANSION: Dallas-based Integrity Marketing Group, which recently began moving into six floors of Fountain Place tower downtown, just keeps on growing. Now it's acquiring The Leazer Group, an independent insurance marketing organization headquartered in Raleigh, N.C., that's placed more than $60 million in life insurance premiums since 2015, combining a "turnkey" insurance sales method with a robust lead generation program. The Leazer Group will now offer its employees a piece of the action through Integrity's Employee Ownership Plan. As part of the acquisition, Leazer Group CEO Art Leazer will become a managing partner of Integrity. Financial terms weren't disclosed.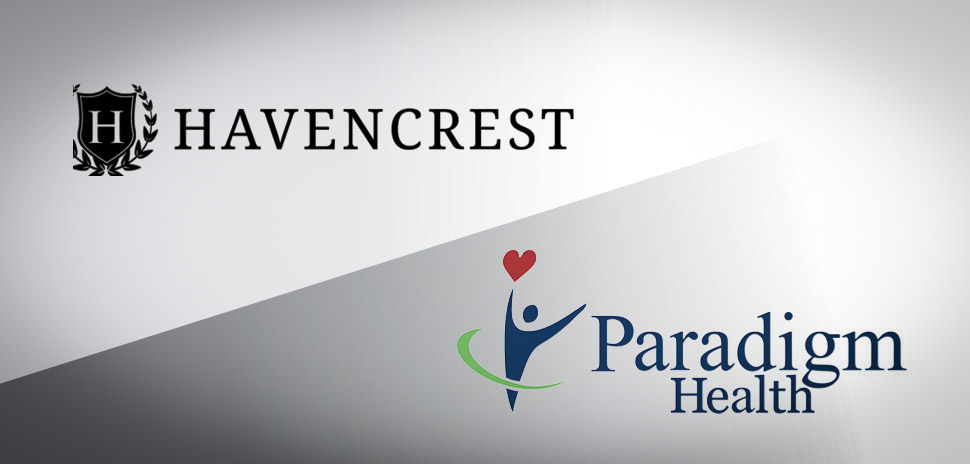 ⓷ INDY INVESTMENT: Havencrest Capital Management, a Dallas-based healthcare private equity firm, has made an investment in Paradigm Health, a leading provider of hospice and palliative care throughout Indiana. "This relationship with Paradigm represents a tremendous opportunity to partner with an exceptional team to further establish market leadership and expand access to quality care," Havencrest's founding managing partner, Christopher Kersey, said in a statement. Jeff Jarecki, CEO and founder of Paradigm, said the companies will work together to expand Paradigm's geographic footprint. Terms of the transaction were not disclosed. 
PLUS
⟫ POURING INTO PUBLIX: Dallas-based Mooala, a leading maker of organic, dairy-free beverages, just got on a lot more shelves. The company began piloting its products in Publix supermarkets in February. Today it announced its products are now available in more than 1,200 Publix stores across the Southeast. (Publix is an employee-owned supermarket chain headquartered in Lakeland, Florida.) The rock star of the Publix launch is Mooala's Chocolate Bananamilk, made from organic bananas, organic sunflower seeds, and organic fair-trade Dutch process cocoa. Mooala packaging is getting a refresh at the same time—its signature koala logo is more prominent against brighter bottle colors. Mooala is now available in more than 6,000 retailers nationwide.
---
Tuesday, July 6
THREE THINGS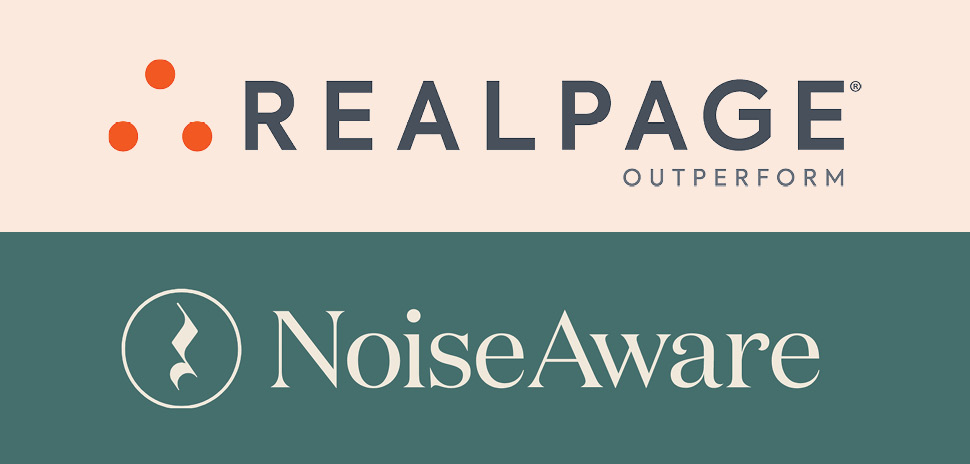 ⓵ PSSST…PARTNERSHIP! Two North Texas-based industry innovators—NoiseAware and RealPage—have teamed up to offer solutions for property owners and managers that maximize revenue and minimize friction among residents, guests, and management. NoiseAware, a provider of smart noise monitoring solutions, has been selected as the "exclusive noise monitoring service" for RealPage's new apartment home sharing solution, Migo. The turnkey solution for short-term rentals in multifamily communities was created in partnership with Airbnb. Property management software provider RealPage wanted to streamline the home sharing process for apartment residents by equipping property managers with a suite of services that enable smart access control, cleaning services, automate noise monitoring, and more. NoiseAware's privacy-safe, decibel measuring service will be integrated with Migo, so residents can ensure their property is protected against noise disturbances and parties. In April, NoiseAware raised $8 million in a Series A funding round to accelerate its product innovation and market expansion. The investment was meant to go toward new partnerships, an international launch, and additional hires. 
⓶ DATA-DRIVEN DEALS: Global commerce services company PFSweb announced today that it's selling its customer experience and commerce agency, LiveArea, to Merkle in a $250 million deal. LiveArea—a business unit of Allen-based PFSweb, which manages the online consumer shopping experience on behalf of manufacturers and retailers—helps brands create more meaningful and lasting customer connections with its commerce technology. LiveArea customers include Adidas, Maggiano's, Pandora, Vari, and Yeti, according to its website. It generated around $85 million in revenue for the 12-month period ending March 31. PFSweb CEO Mike Willoughby said the transaction will allow LiveArea to more fully realize its growth potential, create value for partners, and better serve world-class clients. Merkle is a tech-enabled, data-driven customer experience management company within Dentsu International of Dentsu Group. The company works with brands to implement performance marketing solutions that offer unique customer experiences on a global scale. According to the company, acquiring LiveArea will give the team a competitive advantage in the delivery of scaled, efficient customer experience management services and integrated solutions.
⓷ KEEP ON TRUCKING: Global supply chain operator GEODIS is acquiring "substantially all of the assets" of Plano-based Velocity Freight Transport from McLane Company Inc., a subsidiary of Berkshire Hathaway. "This new chapter with GEODIS will allow us to build upon our success and enable further growth opportunities," said John Lower, vice president at Velocity, in a statement. "By combining our resources with GEODIS' truly expansive reach, we'll ultimately be able to provide our clients a broader range of services across the Americas and globe." Velocity offers freight brokerage services including refrigerated and temperature-controlled freight, flatbed and less-than-load (LTL) trucking, intermodal, van, and more. Velocity's team will remain in Plano, expanding Brentwood, Tennessee-based GEODIS's operations across DFW, where it currently employs up to 3,500 people. Terms of the deal were not disclosed.
PLUS
⟫ EMERGING ESPORTS: Local nonprofit For Oak Cliff has formed a new partnership with Esposure, a platform for gamers, students, and entrepreneurs to learn about the business of esports, for its E2E Esports Immersion summer program. The intent is to introduce "underserved youth to the budding business of esports," according to the DMN. That's Esposure's bread and butter: The startup pivoted when COVID hit to focus more on supporting all aspects of esports education, while still providing support for professionals. Its "learn-and-earn" model includes master classes, enrichment programs, and resources for gamers of any level, allowing students to follow their own curriculum in a self-learning or instructor-led format. For Oak Cliff will sponsor 10 kids from the area to attend the Esposure's E2E Esports Immersion, a four-week virtual program kicking off July 12 that explores esports career opportunities. Attendees will receive resources to create their own portfolio, brand, and content strategy, then simulate how to run an organization in tandem with a live esports league, the DMN reports.
---
Thursday, July 1
THREE THINGS
⓵ THIN IS IN: Dallas' global semiconductor company Texas Instruments has signed an agreement to acquire a semiconductor factory from Micron Technology, a producer of computer memory and computer data storage, for $900 million. It's the fourth 300-millimeter wafer facility for TI, and will be used for 65-nanometer and 45-nm production for its analog and embedded processing products. It's located in Lehi, Utah. TI Chairman, President, and CEO Rich Templeton said the investment continues to strengthen the company's competitive advantage in manufacturing and technology.
⓶ POTENTIALLY PUBLIC: Fort Worth- and San Francisco-headquartered global alternative asset firm TPG is eyeing a public listing, according to a report in the Wall Street Journal. Sources told the WSJ the deal could be valued at around $10 billion, but TPG could opt out, since it's in early stages. The firm is considering a straightforward IPO and a merger with a SPAC.  TPG, founded in 1992, has investment platforms across a wide range of asset classes, including private equity, growth equity, impact investing, real estate, secondaries, and public equity. It has some $100 billion in managed assets. Most recently, TPG made a major move by transitioning to a sole CEO leadership model. Jim Coulter, co-founder and co-CEO, transitioned to the role of executive chairman, while Jon Winkelried, Coulter's fellow co-CEO, became the sole chief executive officer. The change streamlined the executive function, allowing the firm to focus on extending its impact investing franchise to launch more new businesses and strategies.
⓷ OVERACHIEVING UNDERWRITER: Dallas-based Scion Underwriting Services has been acquired by New York-based Amynta Group, a leading insurance services provider. Amynta acquired the company from Brit Insurance, a global specialty insurer. Scion operates as an MGA offering specialty casualty insurance solutions to the excess and surplus lines market, writing total premiums of over $65 million. It specializes in excess liability with a focus on the transportation market, and primary general liability. "We're excited to be joining Amynta, which will accelerate our expansion plans and continue delivering creative solutions and superior service to our broker partners and clients with the continued support of Brit," said Scott Brock, president of Scion, in a statement.
PLUS
⟫ HITTING REVERSE: In 2019, Uber announced plans to establish a major office at The Epic in Deep Ellum, its second largest outside of the ridesharing giant's headquarters in San Francisco. The U.S. General and Administrative Hub would bring with it at least 3,000 new jobs, more than $75 million in capital investment, and a place to house Uber's various corporate functions. A $36 million economic incentive package was signed by Uber in grants and tax abatements. But post-pandemic, those plans are being shaken up.  Uber has decided to terminate all state, county, and municipal economic incentive agreements with Dallas, according to the DMN. The pub reports that the City of Dallas has made a $25,000 payment to Uber for reimbursement of permitting expenses that are expected to be repaid. Uber still plans to hire 500 workers in its Deep Ellum offices.
⟫ LISTEN IN: A new podcast honoring female trailblazers in Texas has just dropped with a little help from the Texas Women's Foundation (TXWF) and Kimberly-Clark. Called GENDER MATTERS, the series will host seven female leaders from Kimberly-Clark who are interviewing the seven winners from the 2021 TXWF Leadership Forum & Awards Celebration, which honors women who have advanced equity, economic security, and leadership to create a pathway of opportunity. (You can meet those women here). Kimberly-Clark is serving as the presenting sponsor of the podcast, which will cover a variety of topics, from the winners' recipe to success to the male allies in their lives. Each episode will be co-moderated by Roslyn Dawson Thompson, the president and CEO of TXWF. Go here to tune in.
⟫ SOMETHING'S IN THE AIR: We wrote earlier this year about NuVinAir, a Plano-based startup that's a leading healthy air partner for top transportation brands. Today it announced it's expanding its franchise program into Colorado, one of the fastest-growing markets thanks to the state's legalization of cannabis and its international airport. NuVinAir's high-tech line of cleaning products and healthy vehicle programs aim to set the hygienic standard in the auto industry, using the startup's patented Cyclone technology. The company's hands-free, 15-minute ReStore treatment can rid a car of its most intense odors, like smoke (Including the kind that makes you feel funny, and not just in Colorado).
⟫ TECTONIC SHIFT: Dallas-based Tectonic Financial, a tech-focused financial holding company, has closed its acquisition of Integra Funding Solutions, a factoring company providing financing to transportation companies nationwide. Terms of the cash and stock transaction were not disclosed. As a part of the deal, Tracy A. Bolt, co-founder and manager of Integra, and Randall W. Woods, co-founder and president of Integra, will become "significant shareholders" of Tectonic. Woods will serve as CEO of the Integra division within T Bank, N.A., Tectonic's banking subsidiary.
⟫ SCREEN MACHINE: vFairs, a leading virtual and hybrid events platform, launched new product upgrades today to make that online conference you're attending feel just a little more real. Its new features include a unique chat interface, automated networking, photobooth capabilities, and a live white board. "The new product releases will help to encourage more networking, more meaningful conversations and exchanges with presenters, and will leave attendees with a stronger connection to the event," said Muhammad Younas, vFairs CEO, in a statement.
---
Wednesday, June 30
THREE THINGS
⓵ ESPORTS: Toronto-based publicly traded esports firm GameSquare Esports has acquired Frisco's Complexity Gaming in a $27 million deal. Per the DMN, the all-stock transaction values Complexity at $33 million. Together, the two organizations aim to build a "global esports powerhouse." The Jones family and Goff family (Dallas Cowboys owner Jerry Jones and Goff Capital president Travis Goff acquired Complexity in 2017) will collectively own 47 percent of the combined company, along with Complexity Founder and CEO Jason Lake. The DMN reports that the combined company aims to see $28 million in revenue next year. With the deal, Lake will continue to lead Complexity, but will also be named the global head of esports for GameSquare. Complexity will remain at The Star in Frisco, and GameSquare will also enter into a marketing partnership with the Dallas Cowboys.
⓶ FASHION FORWARD: Known as the company that completely changed the lives of retail-obsessed fashionistas with the creation of the first-ever influencer-driven consumer shopping app, LIKEtoKNOW.it, it's no surprise rewardStyleis ramping up for more growth. RewardStyle, the industry's dominant monetization platform for influencers and the parent company of the popular LIKEtoKNOW.it shopping app, is rebranding its entire platform under one name: LTK. To ensure consistency, simplicity, and shopping success, the billion-dollar company decided to unify its two brands. As LTK, the one-stop-shop platform will allow brands to leverage retail performance data; encourage influencers across all different areas of interest to create, manage, and grow their own ecommerce storefront, the LTK Shop; and continue to make shopping as swift as possible. Amber Venz Box, co-founder and president, said the move will further expand its clients' opportunities with new technology and features—the "focus now is on innovation and speed."
⓷ ENABLING ENTREPRENEURS: Two leading organizations for startups in the region—The DEC Network and the North Texas Angel Network—have formalized a strategic partnership that will connect vetted entrepreneurs looking for funding with angel investors seeking quality deals. The long-discussed operational collaboration aims to "spur innovation, deal flow, and company launches and exits in North Texas." NTAN is an accredited angel investor membership organization, with its members NTAN members have investing more than $10M into startups, primarily in North Texas, and The DEC is an innovation hub for founders that has helped start, build, and grow businesses since 2013. Together, the duo will work to attract entrepreneurs and angel investors more efficiently and effectively via strategic, revenue, operational, and marketing elements. The DEC's CEO Bill Chinn said the partnership will open doors to angel funding sources for entrepreneurs, introduce startups to a valuable network, and offer leadership and operational support. The organizations will continue to exist as separate entities.
---
Tuesday, June 29
THREE THINGS
⓵ THE DOCTOR WILL SEE YOU NOW: Dallas-based research firm Parks Associates says remote health consultations grew 56 percent between 2020 and 2021, with nearly two-thirds of U.S. households using these solutions. Parks' survey of 5,000 broadband households also showed that 55% of people report owning a web-connected health or fitness device that captures biometric data. Tomorrow Parks will host the virtual session "Personalization in Connected Health: Impact of AI" as part of the eighth annual Connected Health Summit: Consumer Engagement and Innovation, sponsored by Alarm.com and Everise. "Overall familiarity with telehealth has helped drive the connected health device market," said Kristen Hanich, a senior analyst at Parks Associates. "There's a strong correlation between familiarity with telehealth and wanting the benefits that connected health brings in terms of remote diagnostics and remote monitoring."
⓶ ELECTRIFYING DELIVERIES: About a year after buying 10,000 custom electric vehicles as part of a Climate Pledge, e-commerce giant Amazon has begun testing these delivery vans on routes in 16 locations, including North Texas. Built in partnership with Rivian, an EV automaker and auto tech company, the customized electric delivery vehicle can drive up to 150 miles on a single charge. Amazon calls it a first-of-its-kind, all-electric project optimized for safety and driver experience. An Amazon rep told Dallas Innovates that North Texas was chosen for its "great customers, unique urban make-up, and summer heat." Local customers may now be getting their packages delivered with one of the new vehicles. Deliveries will initially be conducted from one of Amazon's delivery stations in Fort Worth.
⓷ FUELING UP: Cummins Inc. will acquire 50 percent of Roanoke-based Momentum Fuel Technologies from Rush Enterprises, it was announced today. Momentum calls itself the industry's first complete compressed natural gas (CNG) fuel LLsystem solution for Class 6-8 vehicles. A division of commercial vehicle solutions provider Rush Technologies, Momentum launched in 2015 as a vertically integrated provider of fuel system solutions. "The immediate environmental benefits of CNG and RNG, combined with upcoming regulatory requirements, will drive growth in natural gas vehicles for the foreseeable future," said W.M. "Rusty" Rush, chairman, CEO and president of Rush Enterprises. He said the partnership will enable Rush to continue to support its customers through a mutual, wide-ranging portfolio of Cummins and RushCare aftermarket solutions—"and keep trucks up and running across the country."
PLUS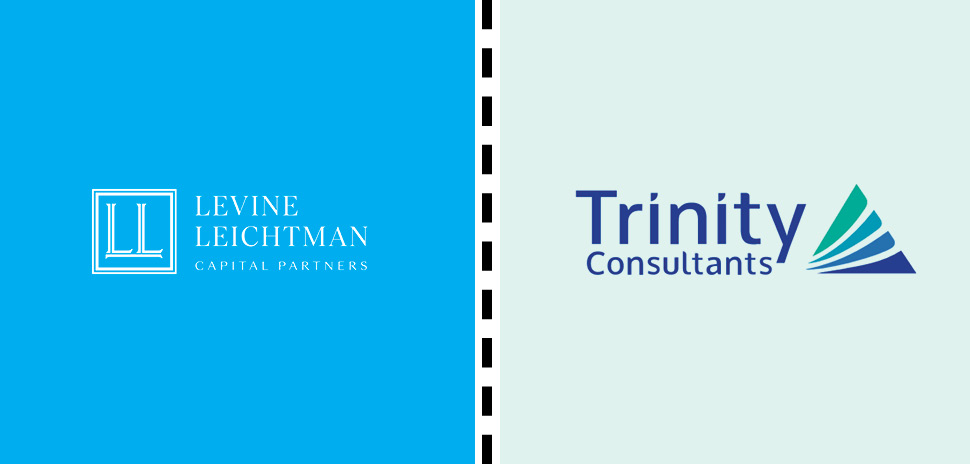 ⟫ HEALTHY EXIT: L.A.-based Levine Leichtman Capital Partners (LLCP) has sold its ownership stake in Dallas-based Trinity Consultants to Oak Hill Capital. Trinity is a leading provider of regulatory-driven consulting services for environmental, health and safety, engineering, and sciences clients. Trinity operates from more than 70 offices across North America, Europe, Asia, and Australia. Over the course of LLCP's investment, Trinity completed 17 acquisitions, advancing its position as a market leader in air quality consulting and other areas, LLCP said in a statement. "LLCP has been a tremendous partner as we strategically scaled our business and established a global platform poised for continued growth," said Jay Hofmann, Trinity's president and CEO, in the statement. "We benefited significantly from their management-centric approach, valuable strategic insights, and support of both organic growth initiatives and accelerated M&A efforts."The sale is LLCP's sixth recent successful exit, following Nothing Bundt Cakes, ZorgDomein, Jonathan Engineered Solutions, Futurewhiz, and Pacific Handy Cutter.
---
Monday, June 28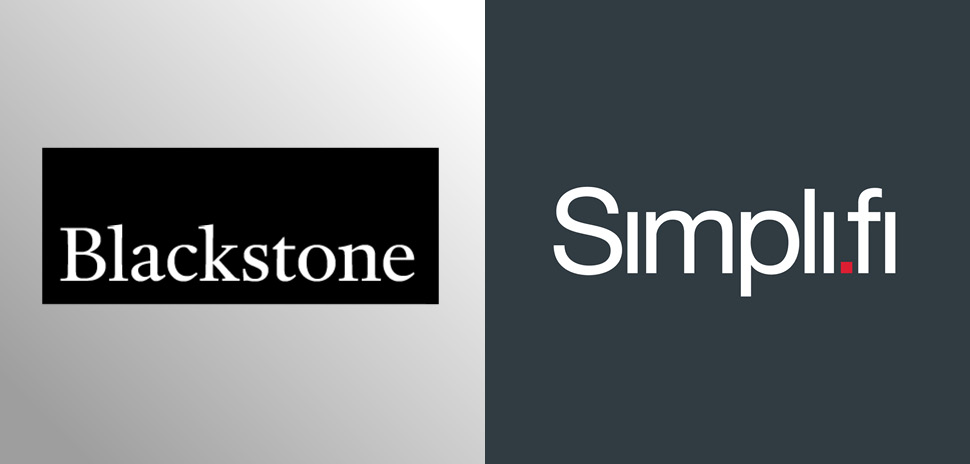 ⓵ SIMPLIFY, SIMPLIFY: Private equity funds managed by New York investment firm Blackstone have made a "significant equity investment" in Fort Worth-based Simpli.fi, a leader in programmatic advertising and agency management software. The investment values Simpli.fi at around $1.5 billion. Blackstone joins existing investor GTCR as majority shareholders in the company. Simpli.fi helps media buying companies perform more efficiently through its suite of mission-critical workflow and ad buying software. The company says its CTV and mobile programmatic ad platform powers over 120,000 campaigns for 30,000 advertisers. in a typical month. Blackstone's investment will enable Simpli.fi to further accelerate innovation and organic growth initiatives as well as to continue its targeted acquisition strategy. "When our team created Simpli.fi's core technology, we understood the influence and impact it would have on our industry," said Simpli.fi Co-Founder Paul Harrison in a statement. "We're ecstatic that Blackstone shares that vision and is a welcomed addition to our great partnership with GTCR."
⓶ BIG MOO-VE: Frisco-headquartered Dairy.com has made a new deal in response to the growing demand and complexity in the agribusiness industry. The provider of technology, services, and intelligence platforms to the dairy industry has acquired ever.ag, bringing together two "proven innovators" in agriculture that, when combined, will offer a portfolio of AgTech software, risk management resources, and market intelligence offerings. The company's vision will be "to enable everyone involved in the agriculture industry"—from farmers to end-users—to offer various options on the agricultural supply chain. Ever.ag is a provider of crop insurance, commodity brokerage, and technology, to the dairy, grain, and livestock sectors. Leadership says combining the businesses was a natural next step to ultimately feed a growing world. Dairy.com will now have more than 200 team members across seven global locations. Of that, 65 are specifically dedicated to supporting the risk management and market intelligence needs of farmers and commercial firms.
⓷ DEEP FILE: Dallas-based Kofile, a software and cloud services company that's transforming how people experience local government, has acquired Data Preservation Solutions Inc. (DPS). DPS is a provider of document restoration, preservation, indexing, and imaging services for local governments across Texas. We wrote earlier this year how Kofile is helping government agencies bring paper-based processes online with its subsidiary GovOS. Kofile will now combine DPS products and services with Kofile Services, its business line dedicated to preservation, imaging, and indexing of records and data for local governments. "The next 20 years will be the most important time in the history of document preservation and access," said Kofile CEO Michael Crosno in a statement. "The accelerated pace of digital transformation, the shifting expectations of employees and constituents alike, and an increasingly complex cyber security landscape have all converged to present challenges, but also opportunities. Our acquisition of DPS enables us to rise to meet these challenges and develop creative solutions that will preserve the legacy of our government partners for hundreds of years to come."
PLUS
⟫  FOLLOW THE MONEY: Irving-based Exeter Finance, an indirect auto finance company, has entered into a definitive agreement to be acquired by an investor group led by PE firm Warburg Pincus. Terms of the transaction were not disclosed, but the funds will be managed by Blackstone, which has owned Exeter Finance since 2011. The tech-enabled indirect auto lender underwrites, purchases, services and securitizes retail installment contracts from more than 11,000 auto dealers and 475,000 customers, and has a current managed loan portfolio is more than $7B. The transaction is expected to close by the end of 2021. Jason Grubb will remain CEO.
---
Friday, June 25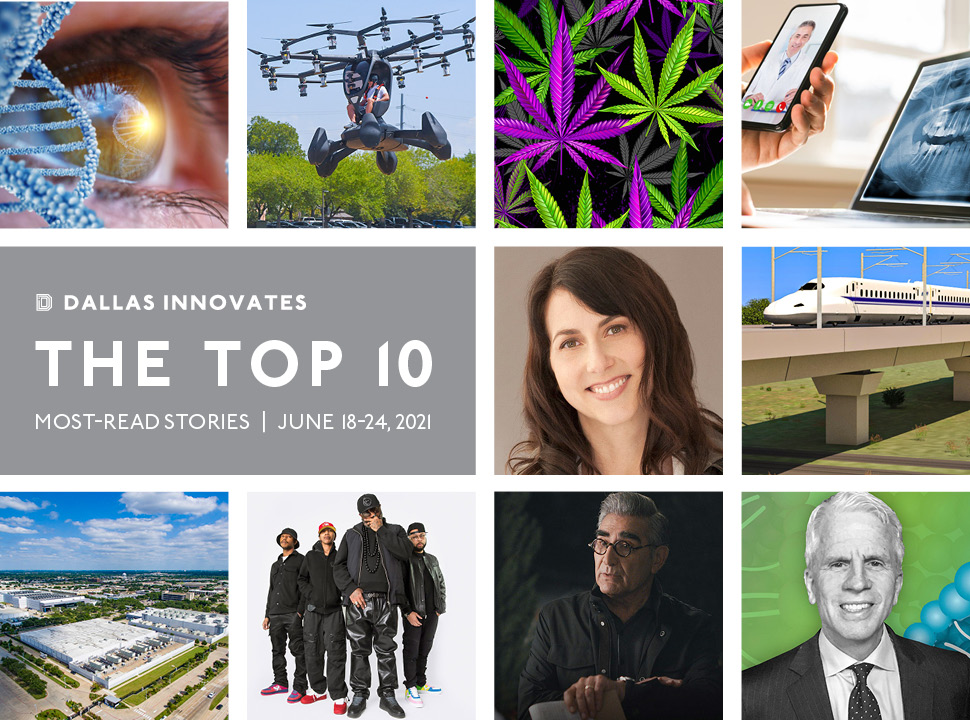 TOP 10
⓵  Bedford Biotech Restores "Meaningful Vision" in Blind Patients With Gene Therapy—and May Soon Go Public
⓶  North Texas' Qarbon Aerospace Will Assemble LIFT's HEXA Flying Cars
⓷  As Texas Builds a 'Hempire' and Cannabis Laws Ease in Baby Steps, Lucky Leaf Expo Returns to Irving July 9-10
⓸  Gov. Abbott Signs Teledentistry Bill, Ending Ban and Allowing Virtual Dentistry in Texas
⓹  Dallas' Big Thought Receives $2.5M in Donations from MacKenzie Scott, Dan Jewett, Rainwater Charitable Foundation
⓺  Texas Central Signs $16B Design-Build Contract for Its Historic High-Speed Train
⓻  How North Texas Can Become a Top‑Ranked National Technology Innovation Hub
⓼  After Battling Nike in the Supreme Court, Dallas-based YUMS Relaunches Its Streetwear Brand
⓽  'Schitt's Creek' Stars Eugene and Sarah Levy Appear in Ad Campaign for Capital One Auto Navigator
⓾  Southlake Biotech OncoNano Medicine Raises $50M in Series B to Accelerate Cancer Tech
THREE THINGS
⓵ RELOCATION, RELOCATION: What drives so many corporations to relocate from California to Texas—more than any other state? According to site selection expert Joe Vranich, president of McKinney-based Spectrum Location Services, there are three driving factors: taxes, a better regulatory environment, and quality of life. Since Jan. 1, 2018, around 101 companies have moved to Texas from the Golden State—and Dallas-Fort Worth and Austin are dominating. Vranich told the DBJ that the number one strength DFW is seeing is the variety of communities. From Fort Worth to Plano to Little Elm to Colleyville, the region has a variety of characteristics that attract different types of niche people. Vranich sees regulations not being eased and taxes going up in California's future. "I personally am in that camp that predicts there will be additional companies leaving California," he says. "How many? Nobody knows. But I think it will happen."
⓶ HEALTHCARE DISPARITIES: A longtime staple in the southeast Dallas community, Jubilee Park and Community Center, has partnered with Parkland Hospital to build a clinic on its campus to provide holistic healthcare to the community. The building will serve community members of all age groups, with general medical and dental care provided by Parkland Hospital and mental health services by the Jewish Family Service, the DMN reports. At the Jubilee clinic, all health and wellness and mental health services will be free. The main goal: to "eliminate obstacles for those seeking healthcare." The clinic also aims to raise life expectancy, decrease the rate of diabetes and childhood obesity, and decrease the number of emergency room visits, according to the DMN. This mission—addressing healthcare needs in medically underserved areas—is one Parkland has focused on since the '80s. Through its Population Health initiative, the hospital has developed Community Orientated Primary Care clinics, Youth and Family Centers, and the HOMES program, along with a planned Red Bird Clinic set to open in September 2021. There's also a quick clinic coming to Bonton potentially late next year. The DMN notes that Parkland often partners with local orgs like Jubilee Park to bring these projects to life. The Jubilee site is expected to open by next June.
⓷ TRANSFORMING TRUCKING: The venture capital arm of BMW, i Ventures, has made an undisclosed investment in Kodiak Robotics, the developer of self-driving technology for long-haul trucking. The deal follows tire giant Bridgestone placing a minority stake in the startup. Currently, Kodiak has announced $40M in Series A funding, according to TechCrunch. It plans to use the new capital to "build out a safety case for its self-driving tech stack so it can more quickly commercialize," the tech pub reports. Kodiak will also hire new talent and expand its trucking fleet—it now has 10 trucks rotating in commercial routes between Texas and California. In 2019, Kodiak announced a second hub in North Texas to work toward making "Texas the home of self-driving trucks." The facility in DFW is Kodiak's main base for freight testing, operations, and delivery. The team has already gotten support from the state, Governor Abbott, the Department of Public Safety, the Texas Department of Transportation, the Texas A&M Transportation Institute, and more to help further the Lone Star State's stance as a leader in logistics and transportation.
PLUS
⟫ AROUND THE BLOCK: Dallas-based Applied Blockchain commenced its Ethereum/Altcoin mining operation yesterday. The company says the $5 million in mining hardware it has acquired has been installed "at a facility in North America." The arrangement comes after Applied Blockchain pivoted from its original deployment planned for China. "Despite the logistical and operational challenges it created, pivoting our installation from Asia to North America mid-course was the right decision given current market conditions," said Applied Blockchain's CEO and Chairman Wes Cummins. "We are now in a solid position to leverage our supply chain and partners to scale hash power rapidly." When the operation is fully ramped, hash power will exceed 200,000 MH/s. The company says its mining assets are powered entirely by low-cost renewable energy and will be managed and optimized by its strategic partners.
---
Thursday, June 24
THREE THINGS
⓵ LOOPY VICTORY: Whether you bike, run, or are walked by your dog, The Loop is where it's at. The ribbon of paved trails circles Dallas' city core, connecting neighborhoods to transportation hubs and economic opportunity. The Loop aims to connect 39 miles of trails with 11 miles of new trails, and yesterday brought big news: The Dallas City Council approved an $11.6 million tax increment financing (TIF) Award for the Hi-Line Connector—a one-mile urban trail that will expand the iconic placemaking of the Katy Trail through Victory Park and the Design District to the Trinity Strand Trail. Called "transformational" by project leaders, the Hi-Line Connector sets the stage for more mixed-use development along the alignment with its alternative way to bypass I-35E and the active DART/TRE rail line. The Circuit Trail Conservancy believes the Hi-Line Connector is critical for this neighborhood to continue its sustainable economic growth. Numerous street blocks will be reconstructed to create biking and walking areas protected from traffic—including the city's first mid-intersection pedestrian crossing. The project will go out to bid for construction in the coming weeks. 
⓶ FIND YOUR SEAT: Dallas edtech platform Banneky has formed a new collaboration with Warner Bros. Pictures and Microsoft—called "Find Your Seat"—to educate and create diversity in STEM careers for the next generation in an entertaining way. On June 26, they'll host a 6-hour livestream event for students called "FIND YOUR SEAT: In Tech, Gaming, and Entertainment" to introduce students to coding tools and STEM concepts. It will be related to the upcoming "Space Jam" film, in theaters and on HBO Max July 16. Find Your Seat brings opportunities to have conversations with STEM professionals— Microsoft developers, game producers, content creators, and well-known gamers like Aerial Powers, FaZe Blaze, FaZe Swagg, and Sceptic—via blended panels, live coding, and fun family themes. Overall, the intent is to get students interested in the digital future.
⓷ INDUSTRIOUS INDUSTRIAL: Xebec, a Dallas-based real estate development and investment management platform focused on industrial and logistics real estate, has announced a commitment from BentallGreenOak (BGO) to invest $475 million of equity in Xebec-sponsored ventures. BGO is a global real estate investment management advisor, and made the commitment on behalf of its clients. "Our new ventures with BGO provide Xebec with deep access to capital for both Xebec's current core portfolio as well as future executions," said Xebec co-founder and CEO Randy Kendrick in a statement, "which will accelerate Xebec's investment strategy and we believe will create significant value." The strategic partnership includes an initial $170 million joint venture with Xebec Logistics Trust (XLT) in a portfolio of stabilized core assets, and an initial commitment of up to $305 million to Xebec's future investment opportunities.
PLUS
⟫ GROWING FLATS: Future apartments are getting bigger. RentCafé says new-build apartments in suburbs like McKinney, Lewisville, and Irving are growing in size. Three words explain why: Work from home. How much bigger are they? About "one small home office bigger," according to RentCafé. READ MORE
---
Wednesday, June 23
THREE THINGS
⓵ NOTHING BUT THE SPOOF: Spam texts. Fraud calls. Robocalls that never stop. They've plagued our smartphones for years and get worse by the day. Now Dallas-based AT&T—which blocks or labels more than a billion robocalls each month—is launching new technology to fight it. STIR/SHAKEN is its newest call authentication technology. Powered with extra data for detection and accuracy, it boosts two company programs—AT&T's Call Protect, which automatically blocks fraud and offers spam alerts for wireless customers, plus an effort by the company's global fraud team to block fraud calls on every type of AT&T phone service. STIR/SHAKEN is a protocol that confirms Caller ID isn't being illegally spoofed with a fake number. It works across IP networks like VoIP landlines and most wireless phones. AT&T says it's using data from STIR/SHAKEN to help it achieve high blocking accuracy. It's all part of the new AT&T Active Armor network protection suite to help safeguard devices and data. 
⓶  MITIGATION MONEY: Dallas-area Lender Compliance Technologies (LCT), has raised $4.15 million in a Series A funding round to further the development of its technology solutions. The funding round was led by Automotive Ventures, Driven Capital Partners, and a syndicate of software entrepreneurs. Specializing in compliance solutions for automotive, RV, marine, and powersports lenders, Colleyville-based LCT was founded in 2020 and is using industry-based, audit-ready solutions to serve the needs of lenders and ultimately create a forward-thinking roadmap. In April, LCT released its first product, Refund Control, which allows lenders to take control of the cancellation and refund process of finance and insurance products. READ MORE
⓷ VERY FULFILLING: Quiet 3PF, a leading outsourced fulfillment partner to premium and lifestyle brands, has opened it first Texas fulfillment center with a state-of-the-art facility at 10750 Denton Dr. in Dallas. The company says it's "creating a logistics model for the future, with human-to-robot relationships." The facility's multi-level, mezzanine-style space "enables humans and autonomous mobile robots" to manage inventory without ladders or lifts. More than 35 percent of its exterior walls allow natural light in, compared to 3 to 5 percent at typical warehouses. The facility is expected to earn LEED Certification by meeting and exceeding natural daylighting, energy performance, and indoor environment requirements. "Quiet continues to expand its leadership role in Dallas with this innovative design, and we believe it's the right model for our digitally-native brand partners who cater to more urban consumers," said Kate Klemmer Terry, Quiet 3PF's chief revenue officer, in a statement. Quiet-Dallas is the first facility developed from the ground up by Greenfield Partners LLC, which acquired Quiet 3PF along with Related Fund Management in 2018. 
PLUS
⟫ Dallas-based C-Hear, which unveiled its innovative software to create unfakable documents, produce unstealable images, and allow a user to imbed audio into an image file without saving it as a video in 2019 at SXSW, has been accepted into the Microsoft for Startups program. The company plans to leverage the opportunity to its fullest, said CEO and Founder Adena Harmon. The startup aims to enable growth at scale for its tech through the accelerator. C-Hear's patented codec can encode visual, audio, and text file types into a single, secure file with levels of encryption and privacy. It has the potential to "revolutionize the future of digital imagery and media" with use-cases across all industries and sectors, the CEO said in a news release.
---
Tuesday, June 22
THREE THINGS
⓵ AMASSING ACQUISITIONS: Last week, we told you about Plano-based Argano acquiring Irvine, California-based digital transformation company Arbela Technologies to empower global organizations to transform their businesses with next-gen digital foundations. Now, the 'digital renaissance' company has snatched up another: SCMO2, an Atlanta-based supply chain management firm that helps companies improve how they plan, sell, and deliver. SCMO2 will architect supply chains solutions for Argano that are resilient, flexible, and integral to digital foundations. The acquisitions come at a time when the newly launched company is aiming to build a "consultancy entirely focused on all of the operations that live up to expectations being set by websites, portals, and digital commerce sites." In May, Plano-based Keste and Arlington-based interRel combined with United Virtualities, which has offices in New York, Guadalajara, and Buenos Aires, to form Argano, which is backed by Dallas-based Trinity Hunt Partners. The group is led by Chip Register (above), the former co-CEO of PublicisSapient. Register wants to be the guiding hand that leads enterprises beyond legacy technology and into game-changing products, services, and experiences.
⓶ TRADING MEMES: Grapevine-based video game retailer Gamestop is back in the news this week after raising more than $1B in its latest stock sale from what the Associated Press calls a new "fervent army of online investors." It's all due to a trending phenomenon that's being referred to as 'meme stocks'—stars in Reddit chatrooms and other social media platform that have seen excessive trading volume from retail investors from going viral. This often allows for smaller investors to take home big gains from nabbing shares of troubled companies, and be pitted against institutional investors who have shorted shares of these companies, the AP explains. For instance: GameStop is now up more than 1,000 percent this year, despite lagging behind tech trends in gaming. Now, the local retailer is taking advantage of being a meme to raise cash it urgently needs, selling 5M shares in the at-the-market offering. Under Ryan Cohen, the co-founder of Chewy and GameStop's new chairman, and a revamped leadership team, GameStop is now making moves into digital sales in a way that its brick and mortar stores used to generate.
⓷ FUTURE OF MEDICINE: The TCU and UNTHSC School of Medicine is one step closer to full accreditation thanks to a provisional accreditation granted today from the Liaison Committee on Medical Education. According to Dr. Stuart D. Flynn, the medical school's founding dean, it's a "tremendous step in solidifying the medical school's role as a critical partner in making Fort Worth and North Texas a place where medical innovation in education and health care occurs." Texas Christian University and the UNT Health Science Center's medical school in Fort Worth, which was formed from a private-public partnership in 2015, hopes to turn traditional medical education on its head. The school flips the classroom: Rather than have lecturers speaking to empty auditoriums, it provides videos and reading to be studied at home, and students come to class for discussions, collaboration, and application of what they have learned. Efficiency, holistic learning, and real-world application are top of mind. In 2019, it welcomed its inaugural class of 60 students after receiving preliminary accreditation. H. Paul Dorman, chairman and CEO of Fort Worth-based DFB Pharmaceuticals, donated the cost of tuition for their first year of classes. The next step is full accreditation, which is expected in late 2023, the Star Telegram reported.
Monday, June 21
THREE THINGS
⓵ HIP DICKIES: Dickies has made tough workwear since 1922 for workers who work hard at work. But it's popped up as a fashion icon for hipsters who want to convey an anti-glam, down-to-earth sensibility. Dickies is now going all in on this intersection with the Fred Segal x Dickies Loves L.A. pop-up shop inside Fred Segal's iconic flagship Sunset Blvd. store in Los Angeles, now through August 15th. The 1,500-square-foot pop-up shop is Dickies' first foray into branded physical store space in California, the company says. "For decades Los Angeles has quietly adopted Dickies as a uniform of cultural pride," said Kathy Hines, VP of global marketing for Dickies. "As Dickies approaches its centennial anniversary next year, we're seeking to celebrate that covetable stamp of approval by partnering with LA's most passionate creative makers and LA's most iconic retailer."
⓶ CUE THE APPLAUSE: Plano-based Clapper, a social media app that's had more than 1M downloads, has raised $3 million in a seed round, reports the DBJ. It's the first funding for the one-year-old company, which plans to use the capital for office space, bandwidth, and hiring. Described by the DBJ as a "sort of alternative to TikTok," Clapper hosts a platform that encourages users—above 17 only—to show their "candid lives." Users can post clips that last minutes and add text, music, and other effects. CEO Edison Chen told the publication that while TikTok has "all fancy and staging videos, dancing, and entertainment from young kids," the social world tends to ignore groups like millennials, farmers, and truck drivers. His vision is to create a space where "everyone can be seen, be heard, and be valued."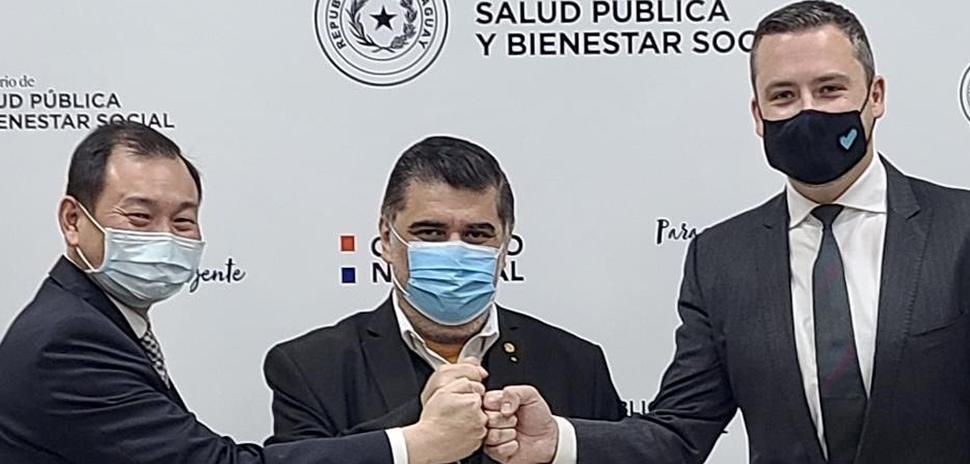 The vaccine purchase order was signed on June 16 in Asunción by Dr. Julio Borba, Paraguay Minister of Health and Social Welfare, and Jon Harrison, Vaxxinity Chief Strategy Officer. Ambassador José Han, Taiwan's Ambassador to Paraguay, was also present (pictured). [Image via Vaxxinity]
⓷ A WHOLE NEW SHOT: Dallas-headquartered biotech firm Vaxxinity has signed a purchase order with the government of Paraguay for one million doses of the firm's UB-612 COVID-19 vaccine. Paraguay has suffered one of the worst COVID outbreaks by capita on earth. Vaxxinity's vaccine is the first Multitope protein/synthetic peptide vaccine to fight the SARS-CoV-2 virus. "Vaxxinity's foundation is a commitment to democratizing healthcare worldwide," said Lou Reese, co-founder and executive chairman of Vaxxinity, in a statement. "Vaxxinity has prioritized its focus on UB-612, while continuing development of the other vaccines in its pipeline, in order to rapidly develop, manufacture, and distribute vaccines to help combat the global COVID-19 pandemic in countries most in need."
---
Thursday, June 17
THREE THINGS
⓵ LET THERE BE LIGHT: Dallas-based Aurora, the visionary public arts/tech organization, is heading west to team up with the Arts Council of Fort Worth on a new installation at Pioneer Tower. The New Stories: New Futures exhibition was curated by Dr. Lauren Cross, who picked a diverse roster of ten North Texas artists for the show. The August installation will feature stories describing the collective experiences of Fort Worth and the region. "Three years ago, the discussion to grow Aurora beyond Dallas began," Aurora Executive Director Joshua King said on LinkedIn. "It's great that we can now say Fort Worth will be a new story in our history." For more on the upcoming show, go here.
⓶ RAMPED UP: Dallas-based SimiDigi, a high-tech workforce training and development company, was picked for the inaugural OnRamp Education & Workforce Innovation Accelerator from gener8tor and nonprofit ECMC Group. The startup, which joins four other U.S. companies in the Minneapolis-based program, is designed to cut costs for industrial organizations and train a mobile workforce with 3-D and VR tech. SimiDigi will get a $100,000 cash investment, plus $1M+ in deals and perks from vendors like AWS, Rackspace, Microsoft, PayPal, Zendesk, and HubSpot, among other support.
⓷ KABOOM STOPPER: The nightmare: Radioactive material is smuggled into a city like Dallas and exploded in a WMD attack that shocks the world. To prevent that, portable radiation detectors can be used, but they're fragile, bulky, and very expensive. Now UT Dallas researchers have developed a more accurate portable technology to detect neutron radiation—with manufacturing costs 100 to 1,000 times less expensive than current detectors. "The goal is to make it nearly impossible to move special nuclear materials without being detected," said Dr. Manuel Quevedo professor and department head of materials science and engineering in UTD's Erik Jonsson School of Engineering and Computer Science, in a statement. "For example, if there's a car loaded with radioactive material, you could detect it and actively track the vehicle motion." The tech is based on a film as thin as 8 micrometers, the size of a strand of spider silk. Based on perovskite materials, the film can be used in smaller, lighter, highly efficient sensor—which could be used more readily in airports or in tunnels leading into a city to detect special nuclear material used to make WMD. The tech can also be used in hospitals, oil and gas drilling, and scrap metal applications. The discovery is the result of several years of research funded by the Air Force Office of Scientific Research, the Department of Homeland Security, the National Science Foundation, and Texas Instruments Inc.  Quevedo has been awarded six patents related to the technology, which you can read about here and here.
MARKET MOVERS
⟫  DIGITAL SHAKERS: Youtech, a $25 million digital marketing agency bootstrapped in 2012 with a "mere $600 investment" by a then-21-year-old Wilbur You, expanded to Dallas-Fort Worth with a new office in Plano. Now settled in, the company sees the move as an exponential growth opportunity. Youtech has ranked on Inc.'s Fastest-Growing Private Companies list for four straight years. The company told Dallas Innovates it helps generate $1 billion in sales for its clients globally, with name brands such as MillerCoors, Chick-fil-a, and 3M among its more than 1,000 clients. Youtech also has offices in Chicago and Scottsdale. Its team consists of more than 70 creatives in advertising, design, development, and more. "We are movers and shakers, constantly improving," the company says in a news release. "Catch us if you can."
⟫  PARTS IS PARTS: Torrance, CA-based CarParts.com is nearly doubling the size of its distribution center in Grand Prairie to 366,000 square feet. The expansion will allow the company to add 125 new full-time positions when it's operational in Q1 2022. CarParts opened the site last year, creating more than 200 jobs to date.
⟫ THUMPIN' HQ: L.A.-based Therabody, which makes medical devices and wellness products like the Theragun, will site its second headquarters in Downtown Dallas' East Quarter. Other tech companies are already in the neighborhood, including Dialexa and Order My Gear. Therabody will take up the top two floors of 2200 Main St., according to D Magazine, bringing a total of more than 50 new jobs to the region.
⟫  CHARGED UP: Massachusetts-based Inovis Energy, an energy efficiency and EV charging company, is expanding into Texas. To help with the move, Inovis has hired Dallas-based Joe VanOflen as business development manager to develop new projects with large commercial and industrial customers, and support the Texas expansion.
⟫  RUNWAY LESSONS: Edtech company ProComputing, which provides IT consulting and classroom technology, has a new lease at Dallas Fort Worth International Airport. Stream Realty's Todd Noonan says the area is in demand with newer buildings and handy access to multiple highways.
Wednesday, June 16
THREE THINGS
⓵ BIG BOOST: One of the richest women in the world has taken note of Dallas-based Big Thought. Today, philanthropists MacKenzie Scott and her husband Dan Jewett, donated $2.74B to 286 high-impact organizations that are focused on the arts and combating racial inequity. Scott's settlement in her 2019 divorce from Amazon CEO Jeff Bezos made her one of the richest women, according to CNN. Right before the divorce was finalized she joined The Giving Pledge, a campaign from Bill Gates, Warren Buffett, and Melinda Gates that "encourages extremely wealthy people to contribute a majority of their wealth to philanthropic causes." Jewett joined shortly after their marriage in March. $1.5M of the recently donated capital went to local nonprofit Big Thought, which is dedicated to educating and motivating the city's youth. The funding will serve as a catalyst in expanding the work Big Thought is doing with its partners to help close the opportunity gap through educational programs, learning communities, and advocacy. Big Thought also received another $1M from the Rainwater Charitable Foundation, a Fort Worth foundation that funds initiatives focused on bettering the lives of children.
⓶ LUXURIOUS GROWTH: Over the past year, Neiman Marcus CEO Geoffroy van Raemdonck said that the Dallas-based chain of luxury department stores has been focused on strengthening the foundation of its business. As the return of luxury accelerates, he wants NMG to be "perfectly positioned" to capture the growing interest of customers. One such way the retail brand plans to do so is through new technology capabilities—and several digital investments. Neiman Marcus recently announced its plans to acquire Stylyze, a Seattle-based machine learning SaaS platform that provides product attribution data and curated content to "power relevant shopping experiences." The women-founded and -led tech company aims to strengthen NMG's ability to craft a "differentiated luxury experience" that can create emotional value and high lifetime value. It's part of the company's over half-billion dollars in planned gross investment over the next three years. So far, NMG has implemented technology and digital solutions from 25+ companies to "enhance and elevate the luxury customer experience."
⓷ 'REDEFINING THE AMERICAN DREAM': To shine a light on the entrepreneurial heroes leading America's small businesses, Forbes created the Next 1000, a first-of-its-kind initiative that the publication says "showcases the ambitious sole proprietors, self-funded shops, and pre-revenue startups in every region of the country." The rolling list is a culmination of nominations, all screened by business leaders and top entrepreneurs, and will reach 1,000 by the end of the year. All have under $10 million in revenue or funding, but as Forbes says, "infinite drive and hustle." Just released is summer's class of 250 standouts, the second installment of the 2021 list—and on it are a number of North Texas names.
Deah Berry Mitchell, Co-Founder of Nostalgia Black (Dallas)
Kewanta Brooks, Founder of Elite Kids TV (Frisco)
Dennis Cail, Co-Founder of Zirtue (Dallas, and pictured above)
Stephone Coward, Co-Founder of BankBlackUSA (Grand Prairie)
Chanel Christoff Davis, Founder of Davis Davis & Harmon (Dallas)
James Griffin, Founder of Invene (Dallas)
Chris Hoffmann, Founder of The Ambitious VET Network (Frisco)
Jene Denise Huginnie, Founder of Impact Focus (Frisco)
Brittani Hunter, Founder of Mogul Millennial (Dallas)
Asha Kangralkar, Co-Founder of AVACRAFT (Plano)
Monique Little, Founder of You Go Natural (Dallas)
Abu Sadeq, Founder of Zartech (Dallas)
Stephanie Weibring, Founder of Joy Creative Shop (Dallas)
Ernanda White, Founder of Black Girls Drone (Lewisville)
Take your shot: Forbes is still searching for new faces to round out the list. The pub needs nominations from every industry across the U.S, specifically in diverse regions and businesses. Submit a nomination here.
---
Tuesday, June 15
THREE THINGS
⓵ NICELY FURNISHED: Dallas-based Nickson, a startup that fully furnishes apartments on demand, just received $12 million in Series A funding from Pendulum Opportunities, a subsidiary of Pendulum Holdings, reports TechCrunch. Other participants included Motley Fool Ventures, Revolution's Rise of the Rest, and Backstage Capital. Robbie Robinson, co-founder and CEO of Pendulum, is a former financial advisor to President Barack Obama. He recently founded Pendulum to invest $250 million in startups founded by people of color. He told TechCrunch his firm was drawn to invest in Nickson because of Johnson's "vision, secular shifts toward renting and subscription consumption, and the company's disruptive business model." Nickson currently operates only in Dallas, but plans to expand to Austin and Houston in the next year. For more on how Nickson works and how it got started, read our profile from 2019. 
⓶ DIGITAL RENAISSANCE: Argano has acquired Irvine, California-based cloud-based digital transformation company Arbela Technologies to empower global organizations to transform their businesses with next-gen digital foundations. The move brings Plano-based Argano's total employee count to 600—and comes at a time when the new company is racing to build a "consultancy entirely focused on all of the operations that live up to expectations being set by websites, portals, and digital commerce sites." In May, Plano-based Keste and Arlington-based interRel combined with United Virtualities, which has offices in New York, Guadalajara, and Buenos Aires, to form Argano, which is backed by Dallas-based Trinity Hunt Partners. The group is led by Chip Register (above), the former co-CEO of PublicisSapient. The foundation for the company rests on the "Digital Renaissance." Register wants to be the guiding hand that leads enterprises beyond legacy technology and into game-changing products, services, and experiences. Arbela Technologies will now operate as Arbela, an Argano company, helping to address the technology deficit many companies face.
⓷ RAISING SPIRITS: Lyda Hill Philanthropies and Lever for Change have selected the Meadows Mental Health Policy Institute and its "Lone Star Depression Challenge" as the recipient of the $10 million Lone Star Prize, a Texas-based competition launched in early 2020 to improve the lives of Texans and their communities. The Lone Star Depression Challenge is an effort to increase mental health awareness and decrease skyrocketing depression rates in Texas. According to the institute, fewer than one in 15 of the 1.5 million Texans suffering from depression each year receive sufficient care to recover. Tragically, nearly 4,000 people in the state die each year from suicide. The COVID-19 pandemic exacerbated this problem, nearly doubling the amount of people seriously considering suicide.  As the prize winner, The Meadows Institute will focus on improving Texans' quality of life by making mental health care more accessible throughout the state.
WHAT ELSE?
⟫  BACK TO LOVE: When the COVID-19 pandemic caused millions of weddings to be canceled and postponed, it also put thousands in the industry out of a job. Dallas-headquartered Match recognizes that—so it teamed up with its board of directors member and Hollywood-favorite actor and entrepreneur Ryan Reynolds for a new campaign that would put wedding performers back to work. With the help of Reynolds' production company Maximum Effort, Match's new ad features a lighthearted, catchy tune that encourages singles to "Get Back to Love" by joining the dating platform. The song features 12 real-life wedding singers, including three from DFW, and was produced by GRAMMYs President and CEO Harvey Mason Jr. "Obviously Satan and 2020 brought people together in a slightly different way," Reynolds says. "Now we're trying to bring people together with an all time great song." Watch the music video here (and try not to get it stuck in your head).
⟫ ORGANIC STATUS: With organic food sales surpassing $56 billion in the last year—up 12.8 percent, according to a trade survey—Argyle-based BPS Agriculture just got a big boost. Its proprietary carrier technology OpusMAX has attained Organic Material Research Institute (OMRI) listing for the U.S. and Canada, with listing in Mexico anticipated soon. The water-based technology, classified by the EPA as an inert ingredient, facilitates the self-assembly of supramolecular structures from active ingredients.The OMRI listing allows OpusMAX to be used in certified organic operations under the USDA National Organic Program and standards in Canada and Mexico. BPS, a diversified agriculture holding company, is currently incubating three start-ups: Verano365, Farm Shield, and PureAcre, with OpusMAX utilized across all three to enhance horticulture and agriculture input performance.  "Growers are responding to increasing consumer demand for organic products," said Verano365 President Herbert Rabalais in a statement. The listing will enable his company "to craft inputs that can advance organic growing practices."  
---
Monday, June 14
THREE THINGS
⓵ GIDDYUP:  Fort Worth's RIDE TV just galloped into new hands. The 24-hour TV network dedicated to equestrian sports, culture, and lifestyle has been acquired by a newly formed investor group, GAC Media, LLC, it was announced today. Additionally, GAC Media acquired the Great American Country Network (GAC) from Discovery, Inc. GAC's format includes lifestyle shows; it's available in around 40 million households. Together, Ride TV and GAC will be the first channels in GAC Media's larger effort to invest in "timeless and entertaining" family-friendly programming. GAC Media was organized by Dallas-based Hicks Equity Partners and Bill Abbot, the former president and CEO of Crown Media Family Networks, the parent company of the Hallmark Channel. "Family-friendly programming that enriches lives and offers safe entertainment options remains as strong as ever," Abbot said in a statement. "GAC and RIDE TV represent cornerstone assets in this respect, and we look forward to growing both channels even as we pursue the larger goal of establishing new, well-resourced, and engaging family-friendly programming." 
⓶ COOL JOINT: Dallas-based Invesco Real Estate and Charlottesville VA-based Jera Asset Management have formed a joint venture—Mercury Trust—to acquire industrial real estate focused on distribution centers, logistics properties, and cold storage warehouses. The goal: purchase up to $3 billion in assets over the next three to five years. Mercury Trust was seeded with nearly $500 million of assets across the U.S. that have been acquired or are under contract. Acting on behalf of an institutional client, Invesco made a "significant equity commitment for investment in future acquisitions," according to a statement. In addition, a $675 million credit facility for current and future acquisitions has been obtained. "Invesco's reputation as one of the top investment managers in the world and a leader in the commercial real estate industry combined with our ability to originate acquisitions of industrial assets and manage portfolios will enable us to substantially grow Mercury Trust," said Carrington Guy, managing partner of Jera, in the statement. Greg Kraus, managing director and head of transactions at Invesco, said his company shares Jera's positive outlook on the industrial space and the opportunities it represents.
⓷ NIFTY FIFTY: Dallas native Arlan Hamilton, founder and managing partner of Backstage Capital—a VC that invests in high-potential founders who are people of color, women, and/or LGBT—was ranked No. 12 on Fast Company's second annual Queer 50. Created in collaboration with Lesbians Who Tech & Allies, the list honors women and nonbinary leaders in tech, finance, venture capital, media, and entertainment who have a "history of impact" and are inspiring "the next generation of innovators who are changing the game." A panel of expert judges, which included notable local AT&T Business CEO Anne Chow, reviewed the top candidates for the list. Fast Company says it's truly a reflection of the past 12 tumultuous months. Hamilton was recently the keynote speaker at TechFW's inaugural Women & Wealth event. You can read more about her journey to invest in underrepresented founders here, and explore the Queer 50 list here.
PLUS
⟫ TEXAS BOUND: Kin Insurance, a Chicago-based insurtech company that sells directly to consumers, raised $69.2M in Series C funding and plans to expand to new markets including Texas. The company wants to make buying home insurance easy. Its tech analyzes over 10,000 property data points to evaluate risk and "price policies fairly," according to FinSMES.
⟫ PATIENT PARTNER: Dallas-based Axxess, a leading tech innovator for healthcare at home, has a new strategic partnership with Forcura, a healthcare tech company that enhances electronic health records (EHR) by enabling safer patient care coordination and transitions. Forcura's platform combines workflow and collaboration tools, third-party engagement capabilities, and analytics to support healthcare providers across multiple care settings and services.
⟫ INCARCERATED CALLS: Yusef Jackson, who is the son of Jesse Jackson, has joined Carrollton's Aventiv Technologies. Jackson is helping the company's subsidiary Securus Technologies, which provides tech services to prisons. Securus, which has new leadership, has been criticized for how it and the industry handles telecommunications and for charging prisoners too much for calls, the DBJ reports. Jackson has chosen to work to "make the company better." He shares his perspective in a Q&A.
---
Friday, June 11

The Most Popular Stories on Dallas Innovates This Week
⓵ 'Schitt's Creek' Stars Eugene and Sarah Levy Appear in Ad Campaign for Capital One Auto Navigator
⓶  Immersive Van Gogh Opens at Lighthouse Dallas, a New Arts Venue in Downtown's East Quarter
⓷  The Unstoppables: EY Names 46 Entrepreneur Of The Year Southwest Finalists for 2021
⓸  Five Dallas Innovators You Need To Know Right Now—and Why
⓹  Drive Shack Is Bringing Its High-Tech Mini Golf Concept to Dallas This Summer
⓺  Solera Acquires DealerSocket and Omnitracs, Fueling Public Offering Rumors
⓻  Fort Worth's Foundry District is Getting a Bite-Size Version of the Iconic Sweet Tooth Hotel
⓼  DI People: Comerica, Toyota, Signify Health, Varsity Brands Make Moves
⓽  EdTech Startup Language Learning Market Expanding Its Corporate HQ in McKinney
⓾  Good Boy! AT&T's FirstNet Sends Labradoodles to the Front Lines for First Responder Support
THREE THINGS
⓵ FLEXIBLE OPS: Fort Worth-headquartered Paramount Group US Inc., Reston VA-based Leidos, and Mississippi-based Vertex Aerospace were selected to enter the final phase of the U.S. Special Operations Command's (SOCOM) Armed Overwatch aircraft prototype program. They were among five teams awarded a total of $19.3 million for prototype demonstrations. The companies will advance the Bronco II (above) to a phase III operational prototype demonstration later this month. The Bronco II is designed to give Special Ops teams "ultimately mission flexibility," and can be rapidly transformed for multiple roles—with precision weapons, high-performance sensors, mission planning systems, and an electronic self-protection suite. "We believe that Bronco II is the definitive next generation aircraft, which has been designed to be future-proofed against evolving operational requirements in the asymmetrical battlespace specifically inhabited by SOCOM," said Ivor Ichikowitz, chairman of the global aerospace and technology company Paramount Group, in a statement.
⓶ IT'S OVER YOUR HEAD: The first Dallas Urban Forest Master Plan has been unanimously adopted by the Dallas City Council, the Texas Trees Foundation (TTF) announced yesterday. The plan "is a major step forward for our city," said Dr. Bobby Lyle, chairman of the board of trustees for the TTF. "It emphasizes the strategic importance of our urban forest and provides guidance for our community as the City of Dallas sets the standards and takes the lead in urban forestry management in North Texas." When properly managed, trees can lead to water-quality improvement, stormwater mitigation, erosion control, heat reduction, air-quality improvement, health and wellness benefits, better wildlife habitats, and jobs, the TTF says. You can see the whole plan with its 14 recommendations and 56 action items right here.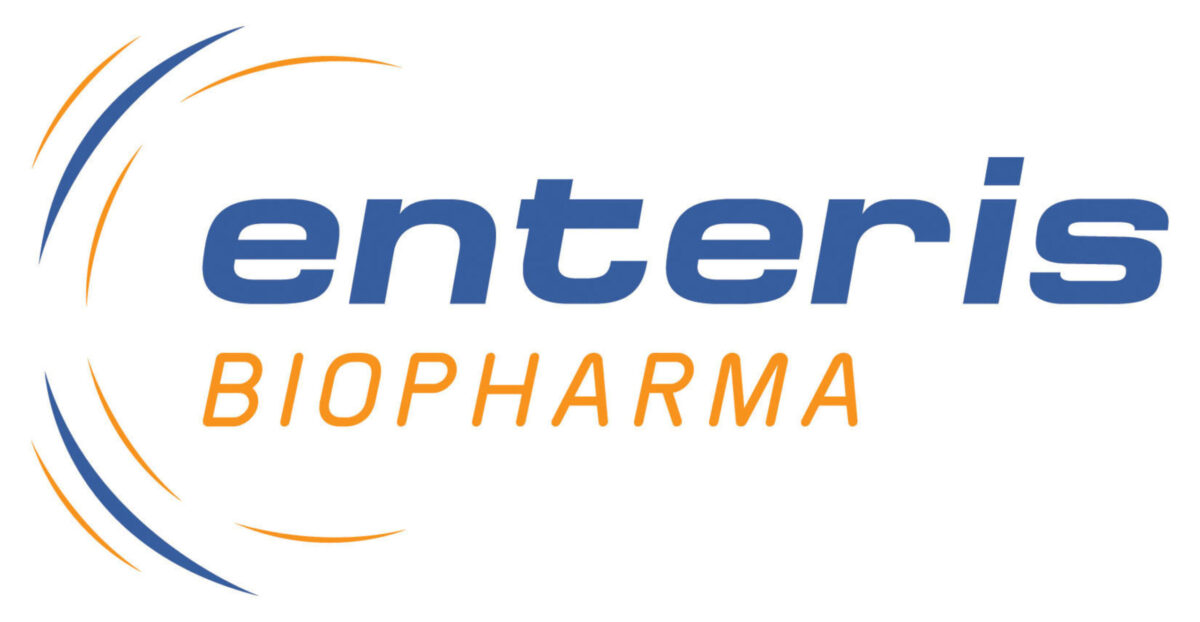 ⓷ ORAL MILESTONE: Dallas-based SWK Holdings, a life sciences-focused specialty finance company, today announced that its subsidiary Enteris BioPharma received a $10 million milestone payment from Cara Therapeutics. The payment was triggered by Cara's completion of an end-of-phase-2 meeting with the FDA for Oral KORSUVA in patients with non-dialysis dependent chronic kidney disease.The milestone was related to the license agreement for the Peptelligence oral formulation technology used in Oral KORSUVA,  a formulation of Cara's KOR agonist, CR845/difelikefalin. 
---
Thursday, June 10
THREE THINGS
⓵ ENTERING EVOTL: Fort Worth-based American Airlines is making its first foray into the electric vertical takeoff and landing (eVOTL) aircraft field via a new investment in Vertical Aerospace. Through UK-based electric aircraft maker Vertical Aerospace, American could order as many as 250 planes—a "zero-carbon aircraft that can carry four passengers and a pilot and fly at speeds of up to 200 miles with a range of 100 miles"—for $1B. American CFO Derek Kerr said it was critical for the airline to join the race to use emerging technologies to reduce carbon emissions and "develop the next generation of electric aircraft." Like a commercial airline jet, the Vertical Aerospace aircraft could carry passengers "quickly around urban city centers and to airports," per the DMN.
⓶ (NOT) ASLEEP AT THE WHEEL: Dallas-based transportation pioneer Omnitracs has released new technology that aims to detect and alert distracted or drowsy drivers. Omnitracs, which was recently acquired by Solera, has developed the next generation of SmartSense, its line of intelligent driver-assist sensors and IoT solutions that are meant to identify the most dangerous driving hazards and intervene with drivers before a catastrophic event occurs. SmartSense for Inattentive Driving+ uses integrated cab-facing cameras and sensors along with AI and computer vision to find potential risk in driver behavior—and proactively notify drivers in fleets both large and small.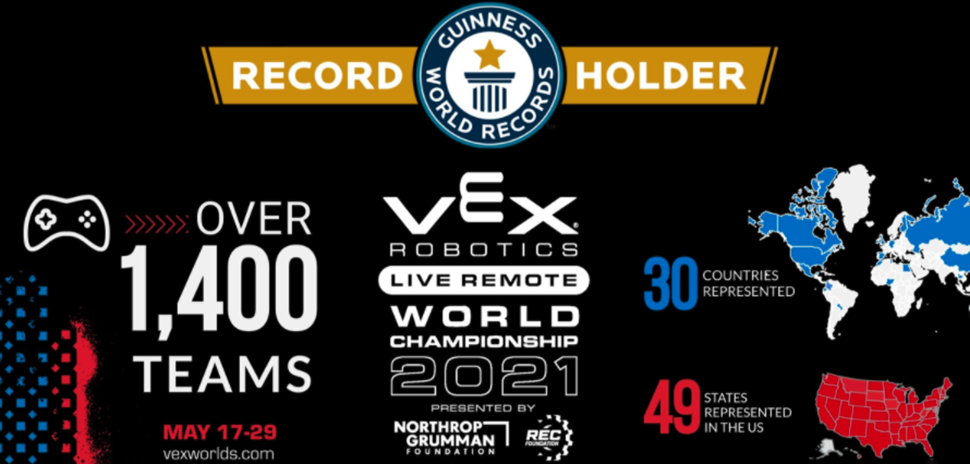 ⓷ TITLE HOLDER: The VEX Robotics World Championship, from the North Texas-based Robotics Education & Competition Foundation and VEX Robotics, is still the Guinness World Record holder for the largest online robot championships. Going remote this year, the first-of-its-kind global student competition showcased student teams from over 30 countries and 49 U.S. states—garnering 12,693 participants—to compete in live-streamed matches. To accommodate its first online-only showing, the organizers created new state-of-the-art online platforms using interactive and real-time video streaming, match controls, and match scoring to unite teams with their competition fields and robots. In 2019, the competition returned to Dallas for the first time in nearly a decade: See what it looked like in-person here.
---
Wednesday, June 9
THREE THINGS
⓵ FREQUENT FLYERS: MBA students can now try their hand at enhancing the customer experience at Dallas Fort Worth International Airport—via entertainment attractions and leisure activities, bag tracking, and the airport's app—through a new partnership with the Pepperdine Graziadio Business School. Because of a recently completed airport consulting project aimed at giving young people real-world tasks, Pepperdine Graziadio MBA students generated recommendations for future consideration at DFW alongside senior-level executives. The program, "Re-Imagine," required students to "recast the mental image and concept of DFW Airport in a post-pandemic world." Assistant VP of Terminal Experience at DFW Airport (and Pepperdine Graziadio alumna) Courtney Moore wanted to get the students' expertise and perspectives to see what the airport could offer to future travelers.
⓶ PACKAGE RIDE: Last month we wrote about Hitch, the Texas-grown startup founded by 22-year-old Kush Singh (above) that offers an affordable alternative to long-haul ride share. Well, people aren't the only thing Hitch drives from city to city—packages hitch along for the ride too. Hitch's courier service means it's not just competing with Uber and Lyft, but UPS and FedEx as well. Hitch says its same-day courier service costs on average 10 times less than the price of UPS, FedEx and other courier services. "Affordable, emergency shipping is a game changer," said Hitch investor Jay Manickam, who also co-founded uShip, Everfest, and several other Texas startups, in a statement. "From vital medications delivered that were accidentally left behind, to perishable care packages couriered between shut-in family and friends," Manickam said Hitch is delivering packages that customers didn't think they could afford to send until they found the company. Hitch says it has grown 50% month over month this year.
⓷ REINVENTING AIR: How do you build better air? Dallas-based Lennox International has an idea. The global leader in heating, AC and refrigeration announced today it's revolutionizing the commercial HVAC industry with its new rooftop unit, the Ultimate Indoor Air Quality (IAQ) system. The new system is part of Lennox' Building Better Air initiative. Lennox says the new unit can remove 99% of the virus that causes COVID-19 from the air, helping businesses improve their buildings' health. The system combines  a factory-installed UVC Germicidal lamp with MERV 16 filters. Lennox says the MERV 16 filter eliminates 95% of particles down to .3 microns, an industry first for light commercial rooftop units. "Our goal with the Ultimate IAQ system is to help businesses provide a safe, comfortable building environment for their customers and employees," said Bobby DiFulgentiz, VP of commercial product management and marketing, backed up "with impactful testing data that confirms what the Ultimate IAQ system can do to improve a building's environment."
WHAT ELSE?
⟫ DREAMING COWBOY DREAMS: Dallas Cowboy Zack Martin is one of the star athletes investing in Eight Sleep, the world's first "sleep fitness company." The Miami-based company announced today it has raised equity from an array of talent also including former Texas Ranger Alex Rodriguez, the Chicago Cubs' Kris Bryant, the Boston Red Sox' JD Martinez, actor and comedian Kevin Hart, and others. 
---
Tuesday, June 8
THREE THINGS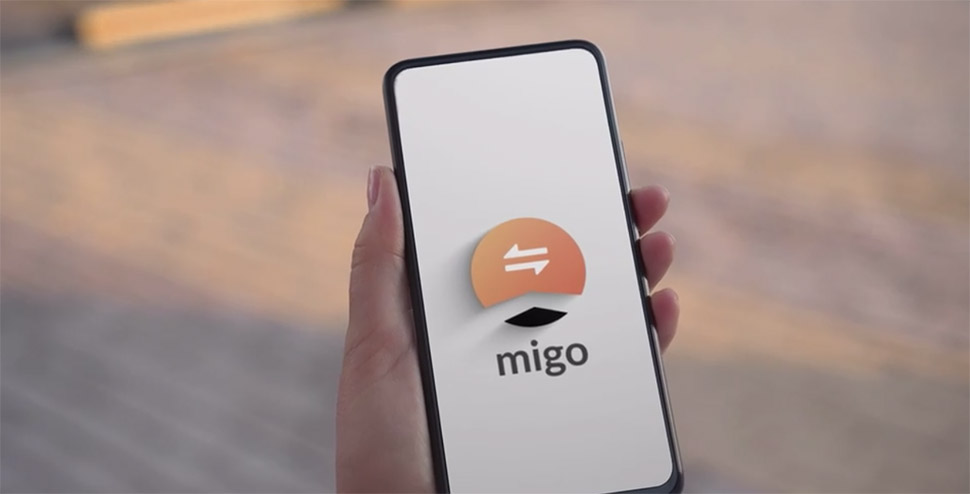 ⓵ REWARDING RENTERS: Richardson-based RealPage has an exclusive partnership with Airbnb to launch Migo, its own apartment home-sharing solution. The tech offers residents and apartment owners an easier solution to sharing their space on the online marketplace for short-term rentals. Owners can differentiate apartment offerings and share the financial benefits of home-sharing with their residents, who can recoup a portion of monthly rent depending on how often they home share on Airbnb. RealPage CEO Steve Winn says the solution fills a longtime gap in the industry for a home-sharing model that allows both owners and residents to participate without impacting existing residents or burdening management with extra work.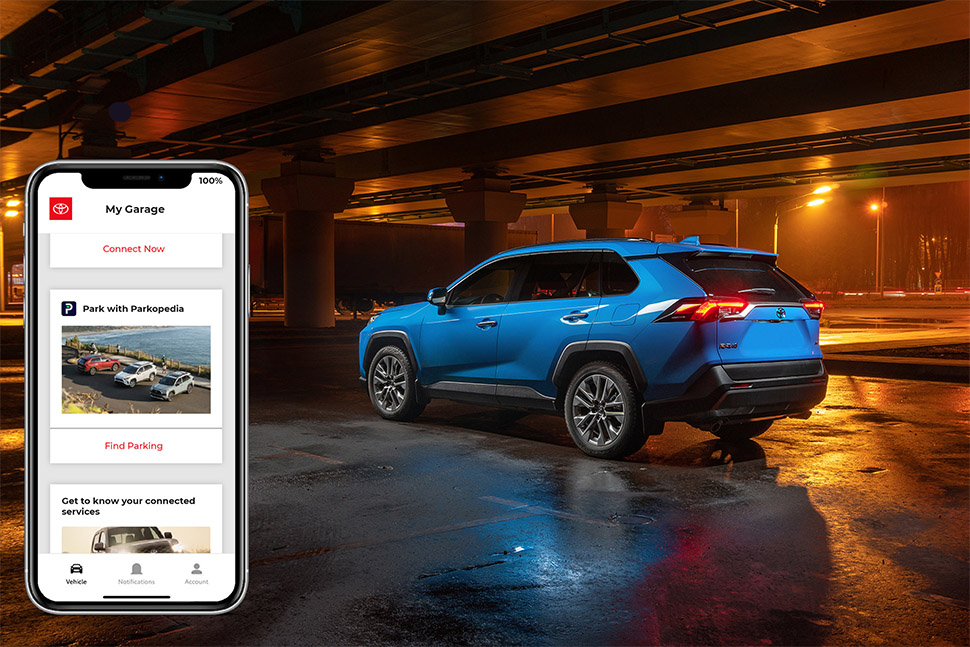 ⓶ PREMIUM PARKING: A suite of off-street parking services—parking information, reservation services, and an integrated payment platform—from Parkopedia is now available to Toyota and Lexus drivers in North America. Through a new partnership with Plano-headquartered Toyota Motor North America, the world's leading parking service provider is covering 60,000 off-street parking locations with more than 6,000 reservable locations across the U.S. The 'Park with Parkopedia' service will integrate into Toyota and Lexus smartphone apps and vehicle infotainment systems to give drivers the "complete parking experience—locating, reserving, and paying for parking."
⓷ HOLE-IN-ONE: Golf venue owner and operator Drive Shack, which quietly relocated its HQ from New York to Dallas this year, is looking for top hospitality talent for its new high-tech mini-golf experience, Puttery. Last month we told you about how Puttery combines auto-scoring tech with the social nature of mini golf in an upscale, lively cocktail environment. This summer, the first venue will open in The Colony and the second in Charlotte. That means Drive Shack is in need of "fun, highly engaged associates" for both locations. But Drive Shack's growth plans go beyond summer—it hopes to have five Puttery locations by the end of this year and 10 by the end of 2022. 
---
Monday, June 7
THREE THINGS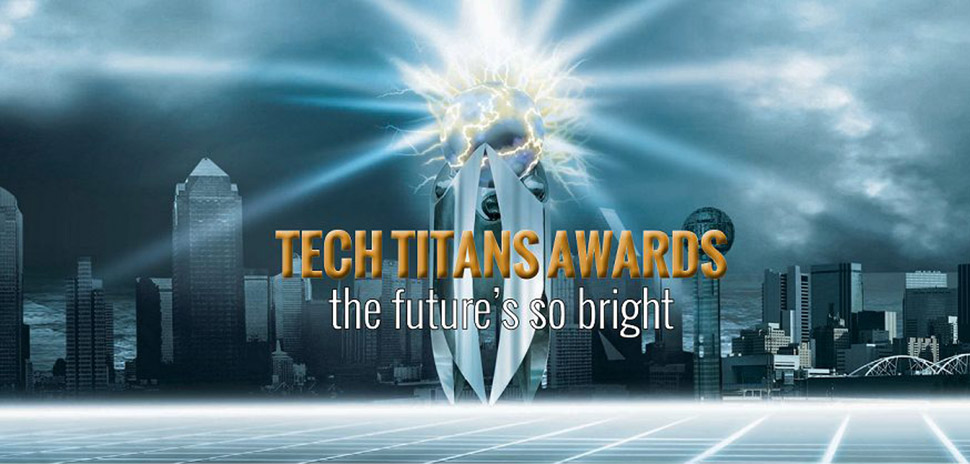 ⓵ BE A WINNER: "The future's so bright" we may need to wear shades for this year's Tech Titans Awards. This prestigious event—an anchor for Tech Titans, the largest tech trade association in Texas with 300-plus member companies—honors outstanding DFW tech companies and individuals who have made local or industry contributions during the past year. Nominations are free and open to all. Applications are due by Aug. 2. Tech Titans will celebrate those who impact tech for the better: Think innovators, adopters, and executives who give their companies a competitive edge.
⓶ LOCAL GROWTH: Pittsburgh-based PNC Financial Services Group Inc. has acquired Houston's BBVA USA Bancshares Inc. in an $11.6 billion all-cash deal. According to the DBJ, that will skyrocket PNC's "already rapidly growing presence in North Texas." Come October, PNC expects to convert the bank's systems and branches, increasing its local footprint by 10 times. That makes it one of the largest banks in the region, the DBJ says. And, it will likely triple PNC's local workforce—the company considers DFW a major market. It hosts 11 "solution centers", the specialty branch that combines tech- and people-based solutions, here. PNC invests $2 billion per year in its tech, reports the DBJ, and "is excited to move BBVA USA onto its platforms."
⓷ HOMEOWNER APP: Three industry professionals founded high-tech home management startup Zyyah when, on vacation in Napa in 2018, they discovered they were talking home headaches instead of Syrah and Zinfandel. Tech exec Bret Hatfield, real estate exec Kris Goggans, and luxury homebuilder Jack Cecil have secured a "multimillion-dollar infusion" for the company, reports D CEO. They're preparing for the full launch of its app, which is in beta.
WHAT ELSE?
⟫ HIRING HIGH: Employer hiring activity for tech jobs is at a peak, new CompTIA analysis finds. Employers' search for new talent reached the highest point since September 2019, and employment in the sector grew in May. Large markets like Dallas, Los Angeles, Atlanta, San Francisco, and others made up about 36 percent of all IT job postings. 
Read more and get our week's Top 10 here.
---
Friday, June 4
THREE THINGS
⓵ GOOD BOY!: Storm season's coming with potential disasters from coast to coast. But this year, first responders won't have to face them alone. AT&T's FirstNet has stationed more than 30 trained Labradoodles nationwide to offer them support on the front lines—easing the depression and anxiety that can come with disaster response. FirstNet is the only nationwide, high-speed broadband communications platform built for America's first responders and the public safety community. The newest member of its Response Operation Group? ROG the Dog. "Nothing is more important than the lives of first responders and the people they serve," said Jason Porter, president, public sector and FirstNet at AT&T, in a statement. "That's why we're bringing ROG the Dog to the front lines for the men and women who run toward emergencies…helping ensure that those who put their lives on the line are at their best day in and day out." Studies have shown that therapy dogs have a positive impact on mental and physical health, AT&T says, lowering stress, boosting morale, improving coping and recovery, and reducing PTSD and emotional distress. READ MORE

⓶ FRIES WITH THAT?: Dallas-based conversational AI service  Novo Labs has been acquired by SYNQ3 Restaurant Solutions, per CIBC Cleary Gull. The investment bank advised SYNQ3, a Colorado-based tech company that serves up restaurant automation, technology, and other off-premise solutions. Novo Labs, which was founded in 2017 by Clinton Coleman and Jeff Loukas, turns voice interactions into digital transactions that can be personalized and optimized. Novo Labs co-founder and CEO Coleman, who presented at Venture Dallas 2020 last summer, said the service is not a simple chatbot: The startup's proprietary natural language processing stack handles the "real-world conditions" of how people talk when they place orders. SYNQ3 started more than a decade ago and became the world's leading call center, processing more than $1 billion in sales for its partner brands. In 2014, the company set its sights on becoming "the world's leading restaurant innovation company." SYNQ3 wants to use tech to bring personalization and depth back to the guest relationship, per the SYNQ3 website. READ MORE
⓷ SOLID BOARD: The NACD North Texas Chapter, the advocate for the profession of directorship, just named a new slate of officers and board members for 2021-2022.
It's an impressive list:
Jim Skinner, who currently serves on the boards of Ares Commercial Real Estate Corp. and CarLotz Inc., will serve as board chair.
Margot Carter, president of Living Mountain Capital, will serve as board vice chair. Carter was named a 2019 Most Influential Corporate Director by Women Inc. Magazine and a Top 50 Innovator and Disruptor in 2020 and 2021 by D Magazine

.

Todd Murray will serve as board secretary. A partner at Foley & Lardner LLP, he serves as a VP of the firm's securities enforcement and litigation practice.
Billie Williamson will continue to serve as treasurer, with more than 12 years of experience serving on boards including the Ernst & Young Americas Board. Currently she's on the boards of Cushman & Wakefield, Pentair plc, Kraton Corp., and Cricut Inc.

New board members include:
Stacey Doré, president and CEO of Sharyland Utilities LLC
Donna E. Epps, who is on the boards of Sala Inc. and Texas Pacific Land Corp
Marie L. Perry, SVP and CFO of Brink's U.S.
Debra von Storch, board member of CSW Industrials and former partner of EY.
---
Thursday, June 3
THREE THINGS
⓵ DON'T MESH WITH TEXAS: Plano-based Siemens announced today it has acquired Nextflow Software, a provider of advanced particle-based computational fluid dynamics (CFD) solutions. Founded in 2015, Nextflow is a startup headquartered in Nantes, France. Terms were not disclosed. Siemens will integrate Nextflow's meshless CFD tech into the Xcelerator software portfolio "for fast and automated analysis of complex applications with transient flows and motion." The goal: enabling sophisticated CFD earlier in the design process, resulting in more competitive products made in less time at a lower cost. "Our customers need to leverage sophisticated simulations earlier and more often in their design process, and this is creating a strong demand for rapid and automated CFD of dynamic gas-liquid flows," said Jean-Claude Ercolanelli, SVP OF Simulation and Test Solutions, Siemens Digital Industries Software, in a release.
⓶ CORRECTIONS CASH: Plano-based Tyler Technologies (above) has signed an $84 million cash agreement to acquire VendEngine, a privately held cloud-based software provider focused on fintech for the corrections market. Operating in more than 230 counties and 32 states, VendEngine aims to take a transparent, positive approach on the corrections market "by better supporting incarcerated individuals and their families." The company says it offers many key services at no cost to them, from free inbound emails and texts to onsite video visitation, medical requests, access to education, certificates and legal research resources, and trust management and grievance management for those incarcerated. VendEngine also delivers solutions to ease reentry into society. "With a shared focus on leveraging technology to improve communities, a market-leading solution set, and a best-in-class team, VendEngine is the ideal partner for Tyler," said Rusty Smith, president of the Courts & Justice Division at Tyler, in a statement. The transaction provides significant opportunities for continued innovation and expansion of offerings in Tyler's corrections suite, the company said.
⓷ TOTALLY TUBULAR: Richardson has a new "Rising Star." Installed at Main Street and North Greenville, the symbolic public art piece designed by RE:site studio is a reenvisioned Texas star. The 28-foot-tall metal sculpture features a woven fabric surface that rises up to reach the sky. Created by pair of artists from Arlington and Houston, the art piece is part of the Main Street Redevelopment project and the Public Safety Campus. It's a beacon for the community, says Armando Arteaga, director of public art at MetaLab Studios.
---
Wednesday, June 2
THREE THINGS
⓵ CALL FOR (SMART) SOLUTIONS: Got an idea that can accelerate innovation? The North Texas Innovation Alliance (NTXIA) and Marketplace.city have announced a call for revenue-generating solutions for state and local governments, to help North Texas be the most connected, smart, and resilient region in the U.S. Any company with a tech-enabled solution that can help the public sector enable or capture revenue is invited to submit its idea through a vendor response form. "A top priority for our membership is to focus on revenue-generating solutions and financial models that aid in economic recovery and propel transformative projects forward," said Jennifer Sanders, NTXIA executive director, in a statement. Needed solutions include asset and data monetization, equitable fee structures, service efficiencies, and solutions that can touch many functions and departments internally and externally. An informational webinar on June 15, and submissions will be accepted through July 16. Read more here.
⓶ PAPER TRAIL: University Park's Sean Jackson says he invented a better way to take notes. Jackson, who "has always loved taking notes using pen and paper," invented the Thinkers Smart Notebook that combines a notebook with an iPhone app, according to People Newspapers. Jackson will celebrate the smart notebook's official launch at Interabang Books on Lovers Lane on June 12 at 11 a.m. Go here for event details.
⓷ CLEARING THE BALANCES: "Graduating students who carry hundreds of thousands of dollars in debt is not a recipe for individual or societal success," said Dr. Beatriz Joseph, vice chancellor of student success at Dallas College in CBSDFW. Joseph says we need to help students, "whether it's through wrap-around services or outright forgiveness of debt owed on their tuition." The college announced today its Fresh Start program canceled outstanding debts for around 14,000 students in the past year. Under the federal Higher Education Emergency Relief Fund, over $5.8 million was paid off, helping students who faced financial hardship in the pandemic.
FOLLOW THE MONEY
⟫ GAP COVERAGE: Fort Worth- and San Francisco-based TPG's impact investing platform, The Rise Fund, announced a $100 million strategic investment in Climavision, an AI-driven weather services platform based in Kentucky. It's a "one-of-a-kind offering" that can reduce coverage gaps and provide advanced weather prediction modeling, per a news release. "The Rise Fund understands the need and urgency to invest in technologies that will empower businesses and governments to navigate increasingly dynamic weather patterns," said Climavision CEO Chris Goode.
⟫ "ACCELERATE CHANGE OR LOSE": Productable, an innovation management platform that honed its innovation process with Mark Cuban Companies and 20+ Fortune 1000 corporations, has a $1.2 million two-phase contract with the U.S. Air Force. A first phase, with AF CyberWorx—the USAF's leading problem-solving unit— will build a customized innovation program with the goal of eventually expanding the program to all 700,000 Air Force personnel, per a release. Over 60 executive-level projects are using Productable's methodology, driving "concepts "from ideation to warfighter capability," said Wm. Brou Gautier, Director of Continuous Improvement & Innovation for the USAF. The Austin-based startup, which has a distributed team in Dallas, was launched in 2019 by Rachel Kuhr Conn. Conn "discovered how to create a personalized workflow" for entrepreneurs while advising startups as Mark Cuban's Head of Innovation.
⟫ HOT MELT: Advanced materials maker Arkema's Bostik subsidiary has an agreement to acquire Fort Worth's Edge Adhesives Texas which Global chemicals and a. The Fort Worth plant, which reports sales of around $12 million, makes adhesives. 
PLUS
⟫ 'CRANES EVERYWHERE': The Southwest is America's new factory hub, the WSJ writes. "The lure is open land, local tax breaks, and a growing supply of tech-savvy workers," according to the publication. Per Eric Stavriotis, the head of location incentives for Dallas-based CBRE, more than year of supply chain disruptions have manufacturers looking to reshore or expand production in the U.S. "If they are going to locate another facility, where does it need to be?" he said in the publication. "The Southwest has won a lot of those analyses."
⟫ TECH TOPS: Dallas-Fort Worth landed in the top 10 for the highest net migration of tech workers between May 2020 and April 2021, according to fresh LinkedIn data. At No. 9, DFW bested metros including Phoenix, Miami, Orlando, Portland, and Atlanta.  Austin was No. 1, while San Francisco was on the opposite end of the list with the largest outflow of tech workers: 80 per 10,000 leaving Bay Area.
---
Tuesday, June 1
THREE THINGS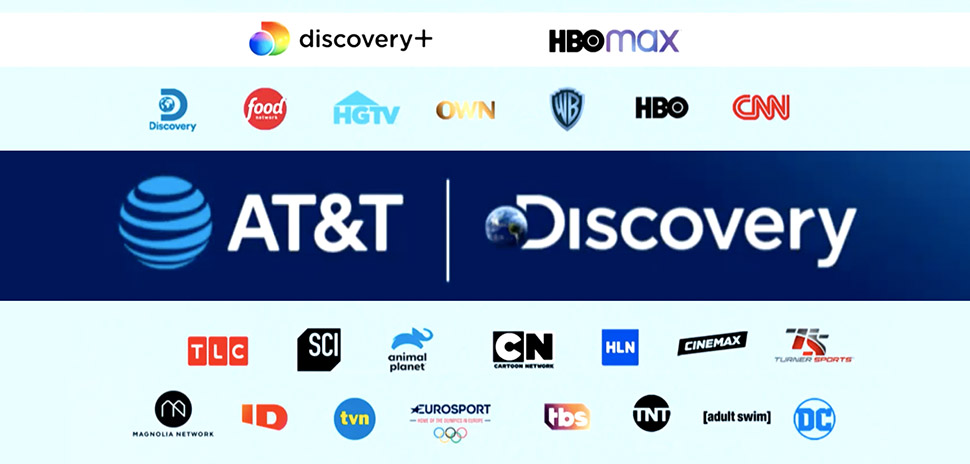 ⓵ NICE NAME, BRO: Last month Dallas-based AT&T announced its $43 billion deal to merge WarnerMedia with Discovery. creating one of the most powerful studios in Hollywood. Now the new company has a name: Warner Bros. Discovery. Discovery CEO David Zaslav, who will lead the company, made the announcement today from the historic Warner Bros. lot in Burbank, CA. In a statement, Zaslav said the new name "represents the combination of Warner Bros.' fabled hundred year legacy of creative, authentic storytelling and taking bold risks to bring the most amazing stories to life, with Discovery's global brand that has always stood brightly for integrity, innovation, and inspiration." The new content company will own one of the world's deepest libraries with nearly 200,000 hours of programming, bringing together more than 100 brands under one global portfolio—including HBO, Discovery, CNN, HGTV, Food Network, TNT, TBS and more.
⓶ I LOVE LUCY: Dallas Venture Capital led a $3M round for Minnesota based AI-startup Lucy, which aims to help companies use all of their data. The funding will help expand the startup's knowledge management solution. DVC was founded by pioneering Dallas VC Dayakar Puskoor, who has invested in 24 companies with five exits to date. The Irving-based venture firm, unveiled last September, also has an office in Hyderabad, India. Lucy, which "has an intuitive format" from within volumes of unstructured data, is "democratizing access to enterprise data," Pushkoor says. Other investments by DVC include Rollick, FelixHealthcare.AI, CoreStack, and AmplifAI.
⓷ ALL LINED UP: Dallas-based Snipitz, whose web and mobile app lets viewers choose their own live broadcast POV, has introduced its leadership team (above). We wrote about the company last week, highlighting their belief that with the Snipitz app mixed with sharable clips and social media, "you have YouTube marrying Facebook on steroids." 
WHAT ELSE?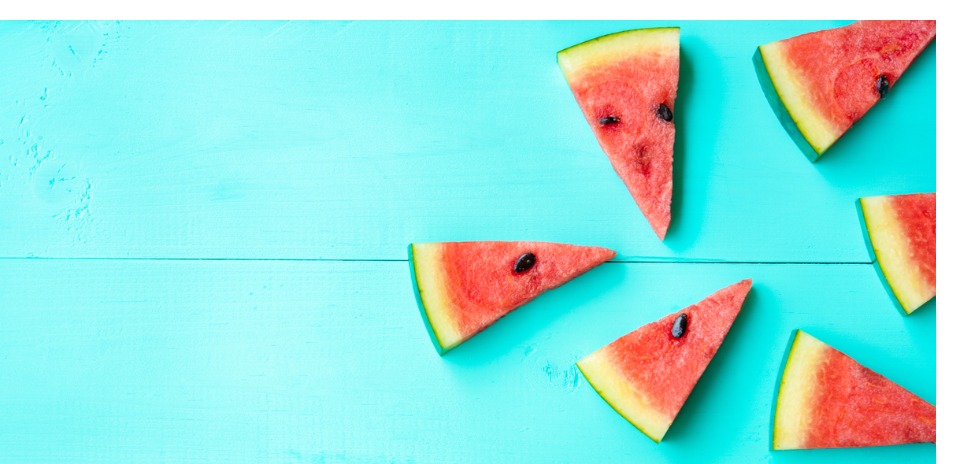 ⟫ FRUITY RIDE: Self-driving trucker TuSimple got a watermelon shipment from Tucson to Dallas 10 hours faster than a human driver in May. The watermelons were a day fresher: "We believe the food industry is one of many that will greatly benefit from the use of TuSimple's autonomous trucking technology," said the startup's CAO Jim Mullen in Singularity Hub. TuSimple's April IPO in April, which raised more than $1 billion, was valued at about $8.5 billion. The startup teamed up with Hillwood last fall to support a continued expansion in Texas.
⟫ FIBER SUPPLEMENT: Australian composite fiber maker Wagners CFT will set up a plant intended as the company's future headquarters of manufacturing in the U.S., per the Fort Worth Business Press. Located in Cresson, a Parker County city that's southwest of Fort Worth, the operation could create 304 new jobs. Texas Governor Greg Abbott said today the state will provide a nearly $1.8 million grant to the company that plans to begin commercial operations in Cresson this fall. 
⟫ FEATHER REPORT: Millennial-friendly furniture rental brand Feather today expanded into Texas, offering its services in Dallas and other cities. That's on the heels of the company's launch of outdoor furniture with a collection in partnership with West Elm and Pottery Barn, according to Retail Dive.
PLUS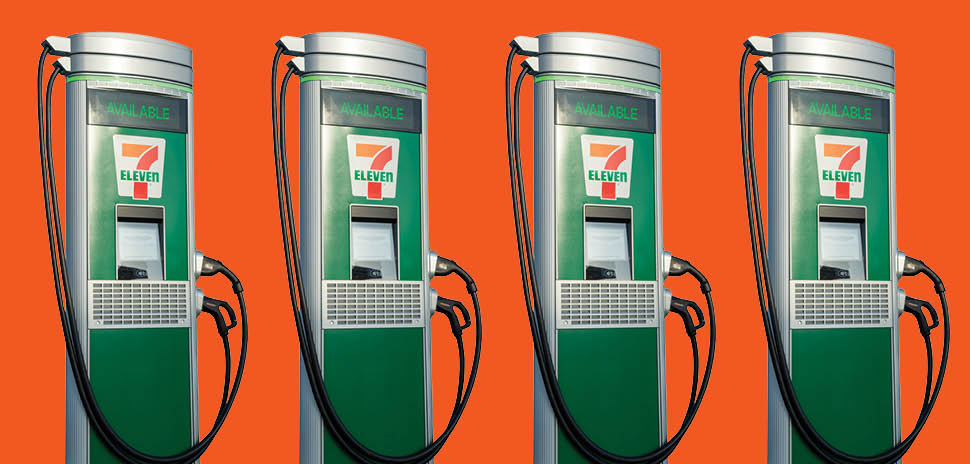 ⟫ CHARGING FORWARD: Most cars that pull into a 7-Eleven need a big gulp of gas—with only 14 of the company's stores nationwide offering charging ports for electric vehicles. Today's electrifying news: Irving-based 7-Eleven, Inc., is undertaking a "massive installation project" to help power up EVs, with a goal of building at least 500 direct current fast charging (DCFC) ports at 250 U.S. and Canada stores by end of 2022. The expansion will give 7-Eleven one of the largest, most compatible fast-charging footprints of any U.S. retailer. "7-Eleven's legacy is bringing convenience to the customer, and that continues to evolve—from ice on a dock in 1927 to electricity for your car today," said President and CEO Joe DePinto in a statement. "7-Eleven's rapid expansion of EV charging ports across the country is good for our customers and our planet and it's the right thing to do." Even more eco-friendly news: 7-Eleven recently "doubled down" on its commitment and pledged to reduce its C02 emissions 50 percent by 2030.
---
Thursday, May 27
THREE THINGS
⓵ EXTRAORDINARY RELEASE: Fort Worth-based filmmaker Chyna Robinson's debut feature, "No Ordinary Love," has been acquired by 1091 Pictures for a June 15th release date, streaming on video on demand and digital platforms. The micro-budget indie is a suspenseful tale of two women struggling with abusive relationships as their marriages take a toxic turn. USA Today recently listed the film as one of this year's "Biggest Summer Movies." The film had racked up accolades on the festival circuit, winning two Best Feature Awards and several Audience Choice Awards. Robinson said in a statement. "It's what filmmaker dreams are made of." Read more about Robinson and her movie here.
⓶ VIRTUALLY REAL: A Calif.-based high-tech design firm with a virtual home shopping and analytics platform plans to put a new office, innovation center, and design studio in Frisco. The North Texas expansion makes Interior Logic Group the first tenant of the Office Three building in the $1.8 billion Frisco Station mixed-use development. The firm says the new office will serve as ILG's tech hub which is transforming the building industry, per the Dallas Morning News. Last September, ILG invested in Dallas-based Roomored, adding the startup's virtual design capabilities to its enterprise tech platform for homebuilders.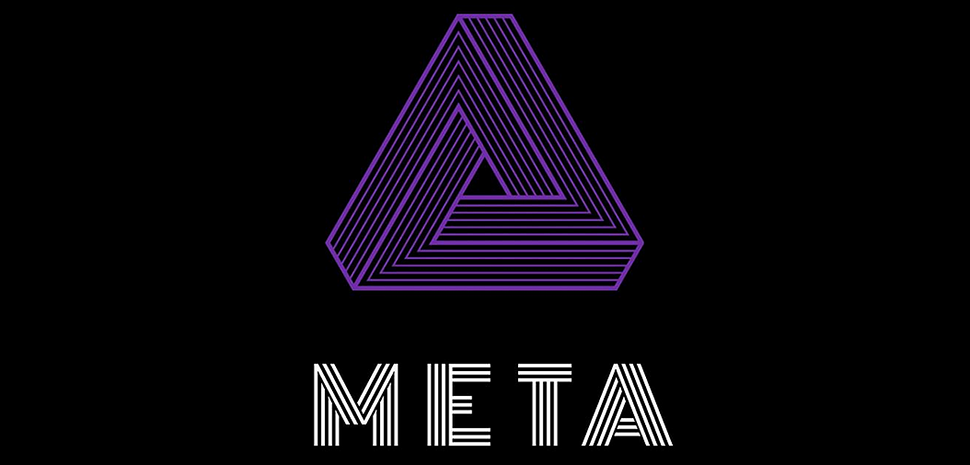 ⓷ GAMERS GET SCHOOLED: Venture studio Dallas Inc. takes ideas to market in 30 days, says founder Charlie Lass. Lass and his team quietly launched 32 brands in Dallas last year. Now the team is about to bring to life Meta Launchpad, a full-time, accredited high school designed by gamers for gamers. Follow along as the team documents the journey on LinkedIn and Instagram.
WHAT ELSE?
⟫ Hillwood says AllianceTexas will build the largest spec industrial center in its history. Companies are "retooling their global logistics networks, including e-commerce operations with next-day and same-day delivery requirements," says SVP Reid Goetz in a news release. Alliance has the infrastructure: it launched the Mobility Innovation Zone, aka The MIZ, in 2019 as a sandbox of development of next-gen tech in the space.
⟫ Texas Capital Bank has three more new leaders at its helm. Joining the team is new CIO Don Goin, head of DEI efforts Joe Valenzuela, and President of Mortgage Finance Madison Simm. President and CEO Rob Holmes, who "took the reins" early this year, told the DBJ he was excited for the senior management team to get finalized. That's on the heels of naming Shannon Jurecka to a created HRO role and Tim Storms as chief risk officer. "Right now we have a plan for a plan, but different people aren't in their seats yet … In the very near future, we can say we've fully embarked on our plan," he said in the publication.
⟫ The DEC@Redbird has $75,000 in grant funding from Target to help foster resilient small business growth in Southern Dallas. A program called Your Startup Cohort, which kicks off in July, will provide entrepreneurial resources and training that's focused on women and diverse founders, according to Senior Director Demetra Brown of The DEC Network in NTX Inno.
---
Wednesday, May 26
THREE THINGS
⓵ INSTANT GRATIFICATION: Dallas-based Apex Fintech Solutions, which calls itself "the fintech for fintechs," is about to change how equity trading works. Today the company announced that it intends to launch a new product that gives investors immediate access to funds when they sell U.S. equity securities. Customarily, investors have to wait out a two-day settlement period before accessing funds. Apex believes the required settlement period "has lagged behind" the evolving instant functionality of financial verticals, from ATM cash withdrawals to debit card purchases to electronic payments services. Earlier this year, Apex announced its plans to go public via a merger with a blank-check firm Northern Star Investment Corp. II. Read more here.
⓶ VROOM BOOM: Want to buy a used car online with concierge delivery? Vroom has it covered. The New York- and Houston-based used-car buying platform has expanded its DFW footprint, the Dallas Morning News reports. Vroom, which has operated here since its inception in 2012, has opened a new last-mile logistics center in Euless. The new facility enables Vroom to send a concierge employee along with purchased vehicles, helping buyers ease into their new rides. "I've been out on our deliveries before. I've seen how excited customers are, but they may have questions about the car," Vroom chief logistics officer Mary Kay Wegner told the DMN. "We'll help them as they're getting oriented around the vehicle." Customers will be served within a 70-mile radius, from Mineral Wells to the west to Quinlan to the east. Vroom's most popular cars purchased in Dallas in the last year? Tesla's Model 3 and Model S and the Ford F-150.  Vroom buys used cars too, and has seen a 254% year-over-year increase in cars bought from Dallas-area consumers, the DMN writes.  
⓷ ICE, ICE, BABY: That new car you just bought from Vroom after you read ⓶ above? Some brainiacs at UTA are trying to keep it intact. A team of researchers at The University of Texas at Arlington designed a geothermal de-icing system to keep bridges safe in winter, UTA announced in a statement. The system kept a test bridge mostly clear of snow and ice during February's sub-freezing storm. Now Xinbao You, UTA associate professor of civil engineering, has received nearly $636,000 from the Texas Department of Transportation (TxDOT) to test the team's design on a full-size bridge. A system of geothermal loops will be installed beneath the bridge's deck. Anand Puppala, a former UTA civil engineering professor who's now at Texas A&M University, is co-principal investigator on the project. He'll lead the geothermal foundation work; the team is working with TxDOT to find a bridge for the test.
---
Tuesday, May 25
THREE THINGS
⓵ RIGHT ANGLE: Dallas-based Snipitz wants to change the way you watch live content—by letting you choose the camera angle. Through its content delivery interface (CDI), the web and mobile app lets viewers select their own POV when watching live events and videos. Combined with shareable "Snipz" video clips and a social media interface to interact with other viewers, "you have YouTube marrying Facebook on steroids," the company says. "The user needs to know that they're in charge of their own content, choices, and experience at all times," Founder and President Denny Darmo, who's backed a development team on the project for nearly two years, said in a statement. "Snipitz will ensure that this capability is possible from first download." The app is currently in beta testing; Darmo's goal is to have Snipitz on a peer-to-peer, distributed blockchain which doesn't yet exist. Earlier this month, Snipitz signed an agreement with Nevada-based Gen2 Technologies allowing them to use Snipitz' UI as a front-end to its Iris Media Network. Snipitz can use Gen2's IP in its radial, and camera technology. Gen2 is using Snipitz' CDI in collaboration with Colosseum Cards for Sports NFTs, Darmo says.
⓶ DATA TRANSFER: The Dallas-headquartered American Heart Association announced a new alliance today between its Precision Medicine Platform and Hitachi Vantara, the digital infrastructure, data management, and digital solutions subsidiary of Hitachi, Ltd. The alliance will make the platform "even more accessible to healthcare organizations for fast, efficient supercomputing data analysis research, even from a laptop computer," the association said. Read more
⓷ RIPE OPPORTUNITY: KidZania is an "indoor city" in Frisco that lets kids role-play more than 100 careers.Today, Irving-headquartered Avocados From Mexico, a U.S.-based, non-profit marketing organization, announced the opening of its Avocados From Mexico Superfood Lab at KidZania. Kids will be able to learn how avocados are grown, how to pick them, and how to prepare guacamole. AFM's president and CEO, Alvaro Luque, called the Superfood Lab "yet another fun, unexpected way to interact with our brand and inspire the younger generation to learn how avocados can be part of a healthy, nutritious lifestyle." It's just one example of the organization's foray into experiential marketing. Last year AFM opened AvoEatery, "the world's first polished-casual avocado restaurant" and "living lab," in Dallas' mixed-use Trinity Grove complex. Kidzania is currently open at reduced capacity on Fridays, Saturdays, and Sundays.
REPORT
⟫ Are you emotionally overwhelmed by the volume of security alerts? A new report from Dallas cybersecurity leader Trend Micro shows you're not alone. Polling decision makers from companies of all sizes and verticals, 70 percent of respondents say "their home lives are being emotionally impacted by their work managing IT threat alerts." More than half feel their team is being overwhelmed by the volume of alerts and admit that they "aren't entirely confident in their ability to prioritize and respond." "We're used to cybersecurity being described in terms of people, process and technology," said author and cyber researcher Victoria Baines. Read the report that looks at the human cost.
PEOPLE
⟫ Edwina Payne has joined Varsity Brands as Chief Information Officer, where she'll tackle the acceleration of the company's technology transformation, including defining strategic investments and pursuing digital opportunities. Most recently Payne led a 60-person global team at McKesson as the SVP for Technology Strategy. Varsity Brands focuses on the student experience in three "unique but interrelated businesses": three unique but interrelated businesses: BSN SPORTS, Varsity Spirit, and Herff Jones.
MONEY
⟫ Fort Worth-based Integrated Rail and Resources Acquisition plans to raise up to $275 million in an initial public offering and list on the NYSE. The blank check company formed by Rio Grande Pacific Corporation and DHIP Group would have a market value of $344 million at the proposed deal size, according to Renaissance Capital, which noted a confidential filing on April 21.
---
Monday, May 24
THREE THINGS
⓵ READY TO ROAR: Mark Cuban just went all in—on dinosaurs. On the season finale of ABC's "Shark Tank" Friday, Cuban invested $500,000 in Dino Don, Inc., the custom robotics company of Jurassic Park dinosaur expert "Dino" Don Lessem. The near-record show investment gives Cuban 25% of Lessem's company, which builds full-sized robotic dinosaurs with three big goals: offering exhibits on a no-fee gate share basis to zoos and museums; selling robotic dinos directly to individuals; and creating a touring T. Rex Safari experience for families. How real are these dinos? They not only move their heads and bodies, they fart and pee too! You can buy one now from $15K for a feathered Velociraptor to $55K for a 40-foot-long T. Rex.
⓶ ESPORTS ED: Esports entrepreneur and educator Danny Martin announced the future home of Esposure in a LinkedIn post. Currently based in DeSoto, Martin is developing an entire building off U.S. 67 for the purposes of esports education. "It's education from a fun lens," he shared, and "community impact is critical." The building will house an arena, production areas, and more. Martin maintains relationships with the NBA, NFL, and the music industry in pursuit of his mission to help 20,000 esports enthusiasts by 2025, he said at Dallas Startup Week last year. The learn-and-earn gamer was featured in Dallas Innovates' Future 50 earlier this year.
⓷ RAISING THE ROOF: As the price of building materials spike, Dallas-based Builders FirstSource is expanding its footprint with a $400 million acquisition of Cornerstone Building Alliance, the largest independent supplier of building materials in Arizona. Dave Flitman, president and CEO of Builders FirstSource, calls it a strategic fit as the company invests organically and through M&A to shift its portfolio to faster-growth and high-value categories.
RETHINK, RELIST, REINVENT
⟫  Rev19, a Southlake fintech founded in 2017, is rebranding to Agile Financial Systems, or AFS. It's "a new day" for tech solutions in the payments industry, and the company's new identity illustrates how far it's come, CEO Corey Young says. "We're proud to be ahead of the curve in a rapidly evolving industry."
⟫  Dallas-based Tuesday Morning is approved to relist on Nasdaq. The off-price retailer, which runs some 490 stores in 40 states, expects to begin trading under its existing symbol "TUEM" as soon as tomorrow. Fred Hand, who was named CEO earlier this month, calls it a "landmark moment in the next part of our journey."
⟫  Dallas-based Which Wich has a fresh take on the saying, "when life gives you lemons." After collaborating for more than a year with PepsiCo Global Foodservice, the innovative sandwich maker has a new offering that evokes a feel-good philosophy after a year full of lemons: Lemonade-flavored Mtn Dew Vibe. After all, more than half of consumers want comfort and happiness in the wake of the pandemic, the company points out. It's on brand for Which Wich chief vibe officer and CEO Jeff Sinelli, who previously told us, "I think you have to be on a constant journey of innovation." 
---
Friday, May 21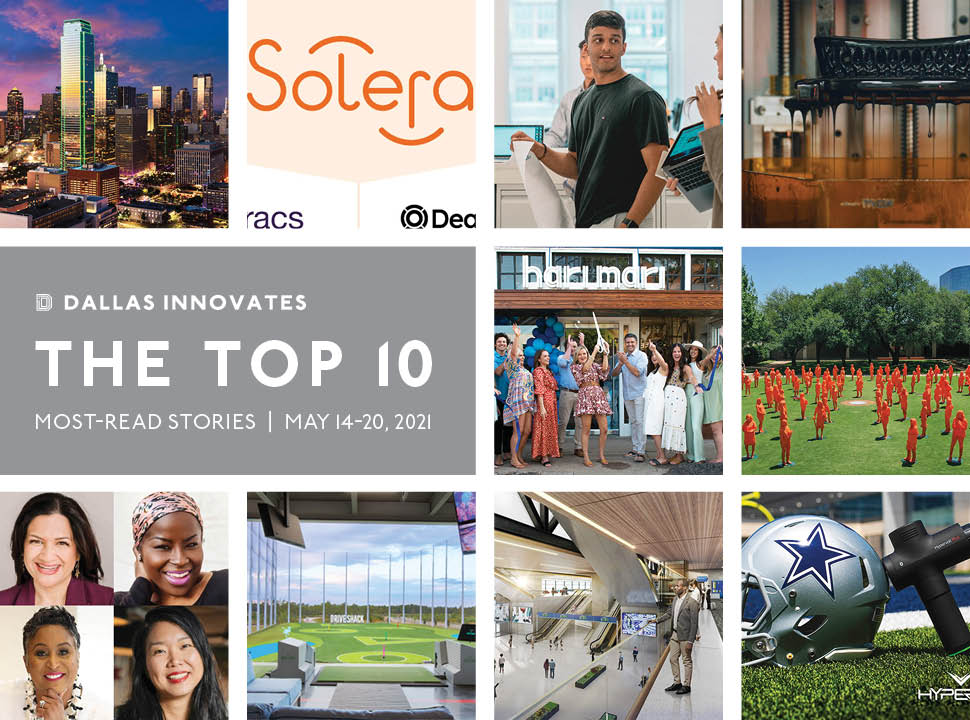 ⓵ 'A City That Innovates': New Report Highlights How Mayor Eric Johnson Plans To Make Dallas an Inclusive Hub for Entrepreneurs
⓶ Solera Acquires DealerSocket and Omnitracs, Fueling Public Offering Rumors
⓷ Meet the Young Dallasite Who Wants to Fulfill the 'Long Forgotten Promise of Intercity Travel'
⓸ UTD 3D Printing Spinoff Acquired by Desktop Metal
⓹ Innovative Spaces: Hari Mari Opens Flagship Store in Dallas' Knox District
⓺ Lyda Hill Philanthropies' IF/THEN Initiative Opens All-Female Exhibit at NorthPark
⓻ Meet the Women Helping Women: Texas Women's Foundation Honors 7 Female Leaders, Raises $475K
⓼ Drive Shack Is Bringing Its High-Tech Mini Golf Concept to Dallas
⓽ Texas Central Signs $1.6B Electric Installation Deal for Bullet Train
⓾ The Dallas Cowboys Are About To Get Thumped — By $700M Recovery Tech Firm Hyperice
THREE THINGS
⓵  LOVE HURTS: "Vaccination badges" are coming soon to a dating profile near you. The U.S. COVID-19 vaccination pace was down by nearly half in the last month—so the vaccine push definitely needed some love. Now Dallas-based Match Group is stepping in to supply it. Today it announced it's teaming up with the White House to promote COVID vaccinations across its U.S. brands, including Tinder, Match, OKCupid, Hinge, Plenty of Fish, BLK, and Chispa.  "Human connection is so vital for healthy lives—it's why I'm so committed to this business," said Match Group CEO Shar Dubey, in a statement. "We're honored to work with the White House on increasing vaccinations across America, which will allow people to once again meet in person and engage in meaningful ways. This will make dating safer for everyone, everywhere." Campaigns will include vaccination badges singles can place on their profiles, free "Super Likes" and other boost features for U.S. users who say they've been vaccinated, and info on finding vaccine sites.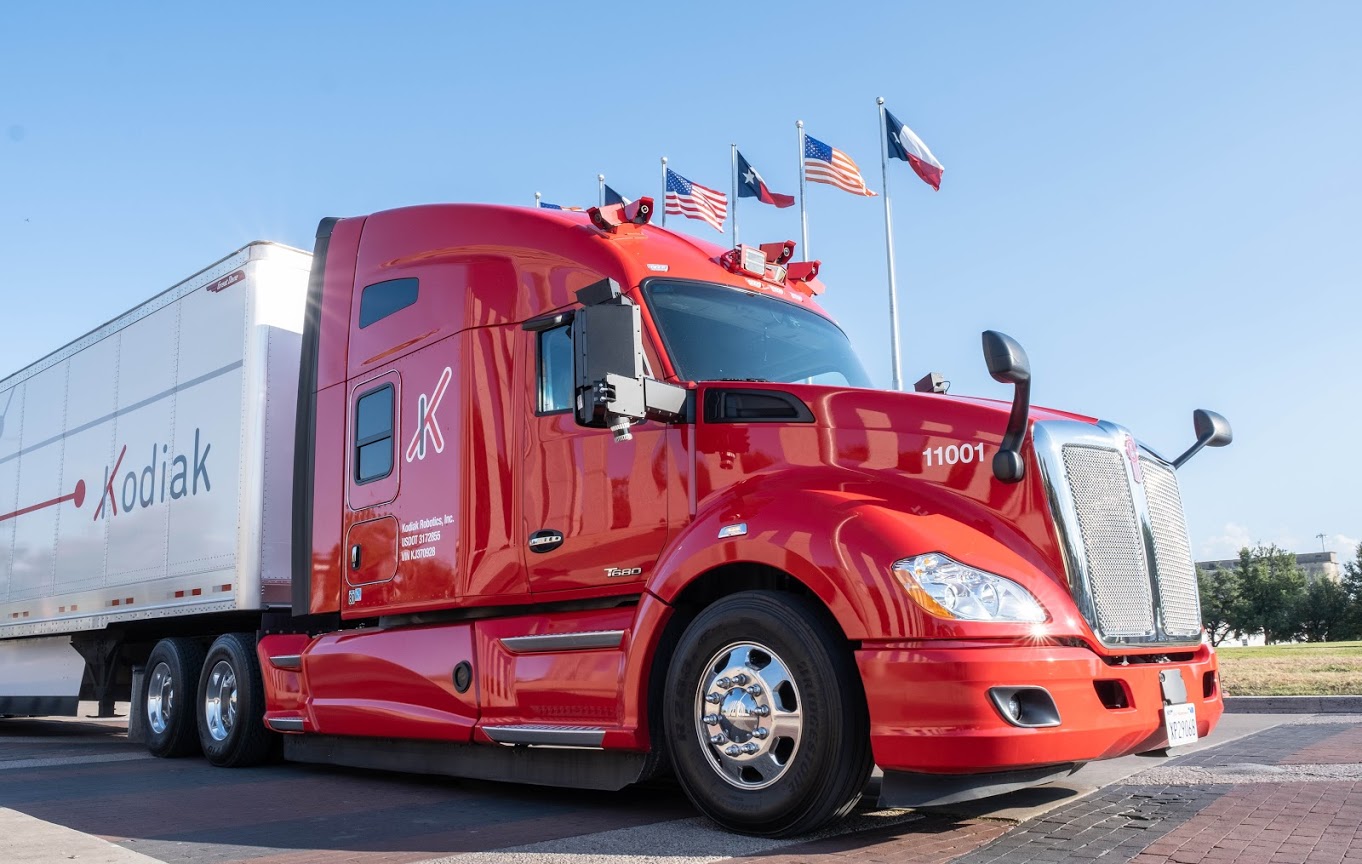 [Photo: Courtesy Kodiak]
⓶ PASSING ON YOUR LEFT: California-based Kodiak Robotics is expanding its autonomous truck operations in Texas, adding a 273-mile run on I-35 between Dallas and San Antonio, according to Transport Topics. The company opened a Dallas hub for transporting its fleet back in 2019. Its Kenworth T680 truck won't be rolling by you on I-35 alone: a safety driver will be in the driver's seat, monitoring the truck's performance when it's in autonomous mode. Kodiak had already been running trucks daily on I-45 between Dallas and Houston, for an undisclosed freight carrier. "We see from a commercial and technology perspective it is time to expand," Daniel Goff, Kodiak's head of policy, told Transport Topics. "We have learned a ton on Interstate 45, but when you add new highways, you learn new things, and we think that's important for building our commercial relationships."
⓷ TOPS IN TECH: Six North Texas CIOs have been named finalists for the 2021 National Corporate CIO of the Year ORBIE Awards. Honoring chief information officers who have demonstrated excellence in technology leadership, the winners will be announced on July 22. The North Texas finalists:
Barry Shurkey, NTT Data (Global)
Sumit Anand, At Home (Enterprise)
Matt Bieri, Tyler (Large Corporate)
Andrew Brock, Associa (Corporate)
Joan Kuehl, Elevate (Corporate)
Matt Chambers, Baylor Scott & White (Healthcare)
---
Thursday, May 20
THREE THINGS
⓵ TEED UP: Dallas-based investor/developer Stillwater Capital has received zoning approval for The Link, a 240-acre master-planned district at PGA Parkway and Legacy Drive in Frisco. The Link will be a $1 billion mixed-used addition to PGA Frisco, and will be the only CRE project with direct views of the PGA Championship golf course slated to open in summer 2022. A pedestrian promenade will "link" the two developments through an expansive green space network. Stillwater is a co-owner in PGA Frisco, a $500M mixed-use projected anchored by the PGA of America headquarters. The "Silicon Valley of Golf" will be an innovation hub for the golf industry, with two 18-hole golf courses, a short course, a retail village, and a 500-room hotel with 127,000 square feet of meeting space. Multiple PGA Championships will be held there in coming years. The initial phase of The Link will break ground in Q4.
⓶ GLOBE TROTTING: Dallas-based software development company Synerzip merged with Pennsylvania-based Prime Technology Group, a global tech services provider, back in December. Today the combined company launched globally as Excellarate. Synerzip, founded by Hemant Elhence (above) in 2004, told Dallas Innovates that its operations in Dallas and all other locations will continue unaffected, with fifteen to 20 employees currently local to Dallas. Elhence will serve as president of Excellarate. Backed by Chicago private equity firm Frontenac, which recapitalized Prime in 2019, Excellarate offers more than 20 years of deep domain expertise in healthcare, insurance, finance, and enterprise technology.  Excellarate has a team of 1,000+ engineers across North America and India, 100+ domain experts, and 250+ customers across all industries.
⓷ ACUTE INTEREST: Dallas-based Sentrics, the fast-growing senior living company, is expanding its market reach into acute care. The company announced a new inaugural Product Advisory Council that includes several high-profile industry leaders. "With healthcare and senior living moving ever closer, it's the right time to form this new council," said Mark Lancaster, general manager of the division, in a statement. "While Sentrics is a well-known name in senior living, we've been growing our presence in acute care," said Sentrics CEO Darin LeGrange (above). The company leverages its data-driven solutions around safety, engagement, care transition and overall health and wellbeing for the sector. 
---
Wednesday, May 19
THREE THINGS
⓵  HANDY DEVICE: It's called the fingertip flick: you go to the restroom, then wet your fingers under the faucet for 2 seconds, flick off the water and leave. City Health Tech is onto you—and has a device that will help you wash your hands for real. The healthcare tech startup, which plans to pilot its IoT handwashing device in Dallas and Chicago, just raised $150,000 in new capital funding, per North Texas Inno.  Called Opal, can provide schools and organizations with disinfection and cleanliness analytics. Co-founders Irewole Akande and Ibraheem Alinur have engineering backgrounds at SMU and Northwestern, and raised the funding from a Northwestern alum. "The status quo is no longer acceptable," Akande said in a statement. "We need to encourage people to change their behavior towards public health if we ever want to safeguard our communities." The small, 3D-printed, wireless & waterproof device adheres to sinks by the faucet. Opal's colorful screen coaches people through an ideal 20-second wash, and even thanks them when they're done. 
⓶ BIG RAISE: Fort Worth- and San Francisco-based private equity firm TPG is targeting $3 billion for its second tech-focused fund, TPG Tech Adjacencies II LP, the WSJ reports. The target was included in a document prepared for a meeting with the Minnesota State Board of Investment's investment advisory council. TPG has more than $91 billion in assets under management; the Minnesota Board oversees $116.8 billion in retirement, trust, and cash assets, says the WSJ. TPG recently streamlined its executive leadership with a transition to a sole-CEO model. That allows the firm to focus on extending its impact investing franchise to launch more new businesses and strategies, it said.
⓷ ANCHOR'S AWAY: For the last seven years, she's been a reporter and anchor at Dallas-Fort Worth's CBS affiliate KTVT. Now Jennifer Lindgren is going where the action is as managing director of communications for the Dallas Regional Chamber (DRC). "Jennifer's extensive experience as a journalist and keen understanding of the media will help us connect the important work of the DRC to an even larger and wider audience in the Dallas region," said Dale Petroskey, President and CEO of the DRC. "We're excited to welcome her to our team." Lindgren will be the chamber's key media contact for all things DRC, including its work with member companies in support of economic development, education and workforce, public policy, and diversity, equity, and Inclusion efforts in the Dallas region.
---
Tuesday, May 18
THREE THINGS
⓵ HIGH-TECH COWTOWN: California tech companies are seeing the light—and moving to Fort Worth. SmartAction, a Los Angeles-based AI software company, is relocating its headquarters to Fort Worth, according to the Fort Worth Chamber. The company provides AI-powered virtual agents for contact centers, with "automated dynamic outbound conversations over phone and text." SmartAction will bring 81 jobs to Fort Worth including sales, marketing, IT, and software engineering positions. It's the first tech company to receive a Chapter 380 Economic Development Program Grant from the Fort Worth city council. SmartAction will initially lease a 7,400 square foot space at 9800 Hillwood Parkway in far north Fort Worth, according to the Star-Telegram, but plans to move to a permanent HQ by end of this year,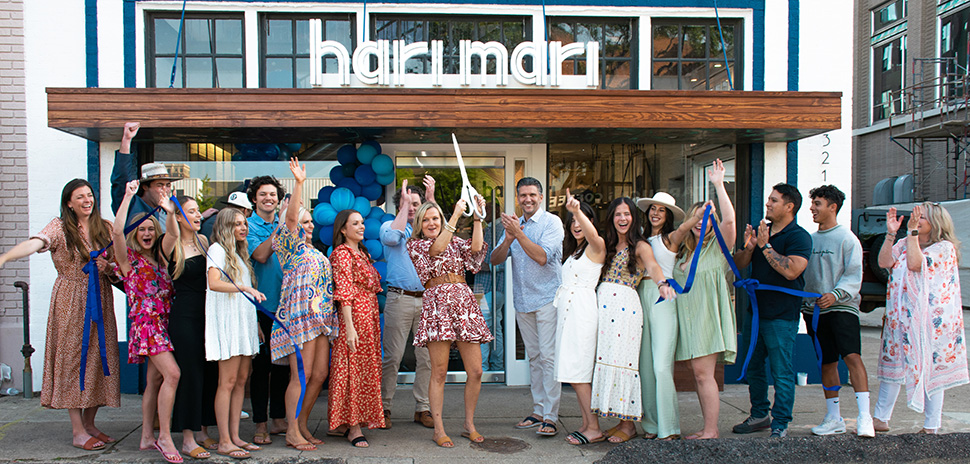 ⓶ THE SHOE FITS: Dallas-based premium footwear brand Hari Mari is debuting a new retail concept with the opening of its first flagship store at 3213 Knox St. in Dallas. Founded in 2012 by Jeremy and Lila Stewart, the company is known for its colorful, comfortable flip flop lines, but has expanded to offer a range of lifestyle and footwear designs. "We've dreamed of opening our own store since the day we started Hari Mari," said Jeremy Stewart in a statement. "From store design and product mix, to the details like music playlists, types of drinks served, and even the scent of the candles burned in the store, it's beyond exciting to fill-in those pieces of Hari Mari's brand puzzle and share them with our customers." See inside the store & learn more about Hari Mari here.
⓷ TOTAL RECALL: Some calls are way too important not to record. Dubber, a Melbourne, Australia-based telecommunications and tech firm with offices in Dallas, is on top of that. Dubber recently leased 3,508 square feet at Harwood No. 4 at 2828 N. Harwood north of downtown Dallas, according to the DMN. Yesterday Dubber launched 12 next-generation Unified Call Recording solutions that create "seamless ability to enrich any conversation with AI and share with business applications." Dubber COO James Slaney says that "more than 80% of crucial conversations with customers and employees take place using voice. Dubber addresses that by unlocking the insights in every conversation." See more about Dubber here. 
---
Monday, May 17
THREE THINGS
⓵  VIRTUAL CARE: Fort Worth's TimelyMD, a leading telehealth provider specializing in higher education, has teamed up with social impact innovator EVERFI to support student mental health. TimelyMD's teletherapy platform integrates directly into EVERFI's technology-based education. TimelyMD raised $60 million in January to grow its platform.
⓶ VACCINE AUTHENTICATION: Venues are beginning to require proof of vaccination. Local tech firm Sandia International has a solution to the vaccine passport dilemma, writes Will Maddox in D CEO. The company, which works to verify physical and digital data, is looking for partners for a trial of the solution. 
⓷ SITE SELECTION: Evolve Biologics, a Canadian maker of plasma protein-based therapies is coming to Texas. The company has picked DPR Construction as the general contractor for what will be Evolve's first manufacturing facility in Texas. Evolve is making strides in the commercialization of its innovative and proprietary technology, PlasmaCap EBA, which it expects to begin in 2024. People with rare diseases rely on therapies made from proteins extracted from blood plasma. Until now, that capture of blood proteins has been expensive and largely unchanged for more than 75 years, the company says. Evolve expects to announce a chosen location by June. Jose Rivera, DPR Construction's Texas life sciences, says it's a significant investment that "will also be a very positive boost to our local economy here in Texas, supporting the state's continued growth."
---
Friday, May 14
THE TOP TEN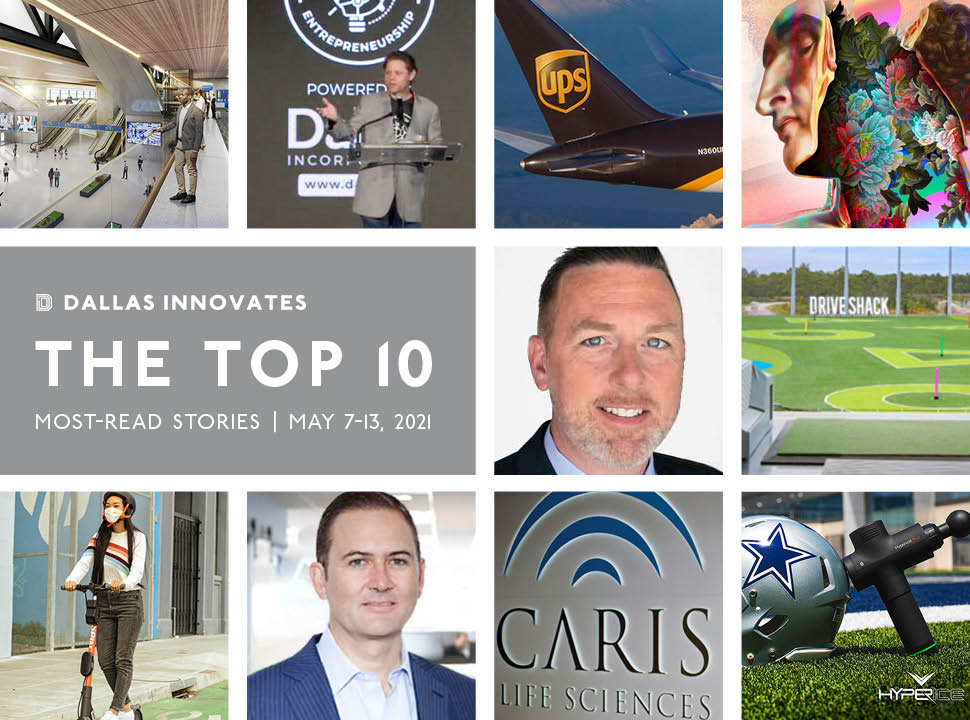 ⓵ Texas Central Signs $1.6B Electric Installation Deal for Bullet Train
⓶  Mayor Eric Johnson at the State of Entrepreneurship: 'I Believe That Dallas Needs To Be a City That Leads'
⓷  UPS Meets Logistical Challenges Amidst Pandemic, Discusses Future of Supply Chain and E-Commerce
⓸  Coming Soon: An NFT Art Gallery is Popping Up IRL in Dallas
⓹  Dallas-Based Startup Raises Millions for the Tech Platform It Calls a 'Carfax for Homes'
⓺  Drive Shack Is Bringing Its High-Tech Mini Golf Concept to Dallas This Summer
⓻  Going for a Spin: Ford's E-Scooter Unit Showcases AI-Powered Tech in Dallas
⓼  Irving's AgileThought to Go Public Following Deal With Mexico-Based SPAC
⓽  Irving's Caris Life Sciences Raises $830M to Grow Its Precision Medicine Platform for Cancer Care
⓾  The Dallas Cowboys Are About To Get Thumped — By $700M Recovery Tech Firm Hyperice
THREE THINGS
⓵ INTENT TO RETIRE: Dallas College Chancellor Joe May, who led a rebrand and organizational restructuring of the Dallas County Community College District last year, plans to retire in 2022. The announcement today allows the school plenty of time to transition. Under Dr. May's leadership, the district's seven separate colleges were consolidated into one accredited institution now known as Dallas College. The former DCCCD colleges (Brookhaven, Cedar Valley, Eastfield, El Centro, Mountain View, North Lake, and Richland) are now conveniently located campuses. Leading that pivotal merging was the "opportunity of a lifetime," May said in the DMN.
⓶ INNOVATING CLOSETS: Dallas-based Hangio was picked for the eight-week M/O Track of CPG-focused accelerator SKU. Hangio CEO Ayodele Aigbe (above right) launched the startup in 2017 with an idea for a flexible, bendable hanger. Clothes come in all shapes, sizes, and styles—and not all of them can hang on a traditional hanger. Hangio is one of 10 startups in the cohort. The M/O (Modus Operandi) initiative is designed to create more equitable opportunities for BIPOC startups.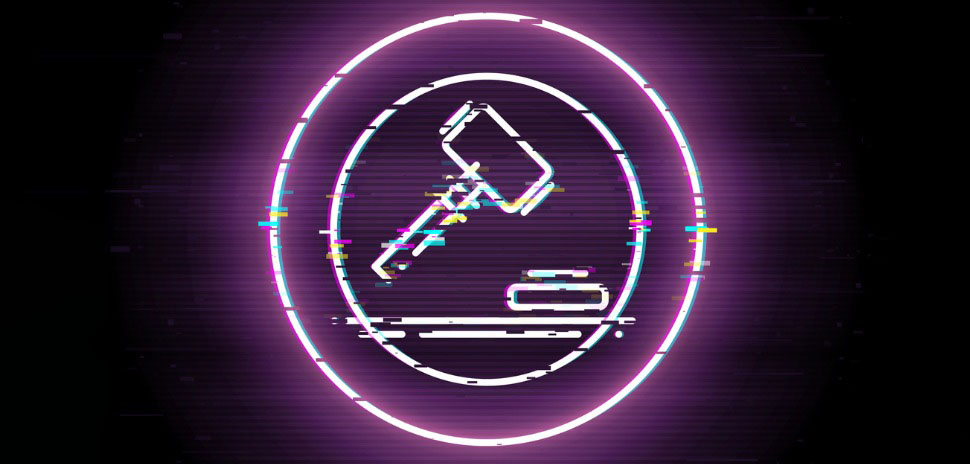 [Illustration: artacet/istockphoto]
⓷ NFT PATENT: The "first patent being auctioned as an NFT" solves for improved blockchain capabilities and a lower carbon footprint, per a news release. Auctioned by Fort Worth firm D. Tiller Law and Connecticut fintech consulting company True Return Systems, U.S. Patent No. 10,025,797 is listed on OpenSea. (In March, peer-to-peer marketplace OpenSea raised $23 million to be the "Amazon of NFT."  Mark Cuban and many others participated in a round led by A16z, the cryptocurrency-focused arm of Silicon Valley venture capital firm Andreesen Horowitz.) 
---
Thursday, May 13
THREE THINGS
⓵ TEE UP: Drive Shack, which plans to bring its high tech mini golf concept called "Puttery" to the region, has quietly relocated its headquarters to Dallas. It's another in a string of publicly traded East Coast companies moving here, reports the DBJ.  The owner/operator of golf-related entertainment venues is valued at more than $200 million and competes with Dallas' Topgolf, which merged with Callaway Golf Co. earlier this year.
⓶ NEED TO KNOW: Dallas-based Trive Capital is adding two new execs to identify and evaluate investment opportunities. The PE firm has hired Eric Hsu and David Li, who will join the team as vice presidents. "We continue to accelerate the pace of investment and operational activity," said Conner Searcy, managing partner of Trive Capital, in an email. Most recently Hsu was a principal at New York's Lee Equity Partners focused on financial services. Li, a VP at Twin Point Capital, focused on tech, media, and telecom. 
⓷ MARKET MOVES: One Medical, a tech-enabled primary care company that went public last year, is expanding to new markets by inking health network partnerships. The San Francisco-based company plans to enter the DFW market via a partnership with not-for-profit Baylor Scott and White Health. One Medical's membership-based model has on-demand 24/7 access to telehealth services, along with convenient in-person care, according to BSW. DFW is One Medical's 19th market. The company says it plans to extend the reach of its model to "markets covering nearly 40 percent of the U.S. commercially-insured population."
PLUS
DISCOVERY: UTSW scientist Chen Liu (above) and his colleagues have identified a source of rapid weight gain from a common antipsychotic drug. The findings suggest a way to counteract the extra pounds, which can add more than 7 percent to a patient's baseline weight and cause some folks to stop taking their medication. Possible new treatment strategies include a recently FDA-approved drug for genetic obesity.
---
Wednesday, May 12
⓵ DIGITAL AUCTION: Dallas choir Verdigris Ensemble has sold its programmable music NFT for $375,000. Last weekend, a 20-minute recording of "Betty's Notebook" was sold on the blockchain as five separate NFTs: a master track and four layers at digital auction this weekend.  In February, Sam Brukhman, the founder and artistic director of the chorale group, said the digital art space in blockchain is exploding right now. At the time, the founder thought its "new music could draw big bucks in the crypto-art world," according to the Texas Standard. The music tells the IRL story of Betty Klenck who claimed to have heard Amelia Earhart's distress signals on her family's radio in 1937. Click the image to give it a listen.
⓶ DEAL-CLOSING GRANTS: The Dallas Regional Chamber and other chambers of commerce across Texas sent a letter Friday about the importance of the Texas Enterprise Fund to Governor Greg Abbott, Lieutenant Governor Dan Patrick, and Texas House Speaker Dade Phelan, as well as budget committee members. Supporting the Texas Enterprise Fund helps Texas retain its competitive advantage in recruiting companies to the state, the DRC notes.
⓷ STEM STAMP: SMU Cox MBA degree programs have a new competitive edge for the future. The school's full-time and working professional MBA programs have a STEM designation. "Data and analytics are dramatically changing our business environment," said Matthew B. Myers, dean of the Cox School, in a statement. Concepts like business modeling, as well as the ability to parse and analyze data for making better and more effective business decisions, are "paramount as today's businesses navigate the Fourth Industrial Revolution," SMU says.
PLUS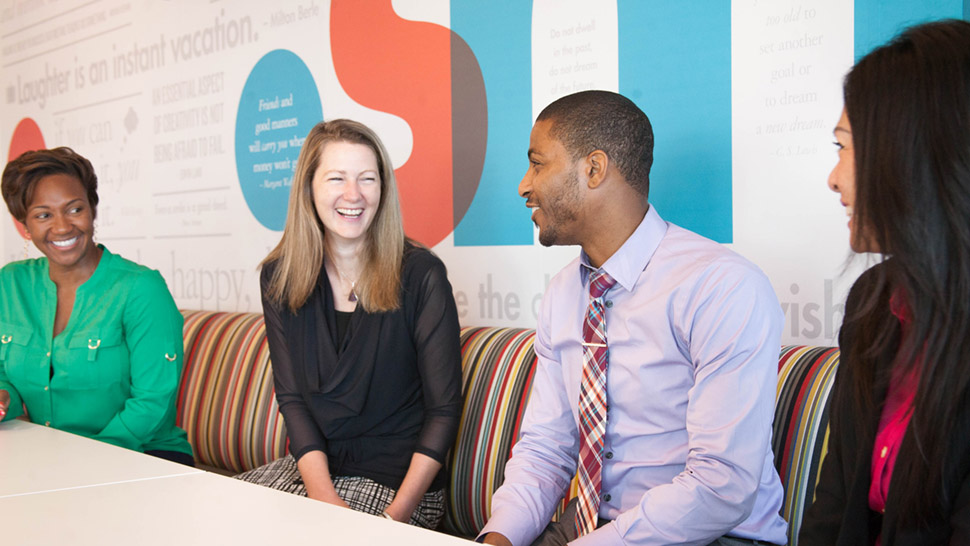 ⟫ POST-COVID TOOLKIT: While the Professional Employer Organization industry had one of its "most difficult years" yet, G&A Partners has seen a quantified increase in customer satisfaction at its Dallas office. The Texas PEO shares three key tips on rehiring and other post-pandemic transitions. The firm also released a COVID-19 toolkit as a resource for employers making critical company decisions right now.
---
Tuesday, May 11
⓵ TOP RANKED: Plano-based Toyota ranked 7th on the 2021 Top 50 Companies for Diversity list—up from 10th last year. The annual DiversityInc ranking recognizes the country's top companies for diversity and inclusion management. The automobile manufacturer, which also ranked as the No. 1 Top Company for Board of Directors, was recognized as a diversity leader in LGBTQ employees, Black executives, the hiring of women of color, and more. "The past year was unlike any other we've faced, yet Toyota's fundamentals remain the same," said Sandra Phillips Rogers, Toyota's chief diversity officer and chief legal officer, in a statement. "These results reflect the strong commitment and collaboration of our employees across the company. We would not be where we are today without their efforts."
⓶ TECH TALENT: Looking for a startup job? A virtual tech talent tour will spotlight Dallas on Clubhouse in June. Launched by Washington, D.C.-based venture firm Revolution and the Rise of the Rest Seed Fund, it's part of a week-long startup and tech "tour" across the country. Attendees can learn about more than 1,000 open job opportunities at 100-plus venture-backed companies and join Steve Case for a virtual career fair discussion on trends, predictions, and startup culture. Get details and register here.
⓷ APPROVAL PLATFORM:  Grapevine-based Car Capital, a fintech founded to provide dealers with capital and advanced tech to "help all consumers buy the cars they need," has named John Binnie and Kirk Shryoc as advisors. Binnie, previously vice chairman of corporate and investment banking at Bank of America, and Shryoc, a managing partner at Hard Right Solutions and co-founder of Mobility Financial Management are both investors in the company. Car Capital recently closed on an $8.8 million Series A funding round led by FM Capital in April. 
PLUS
⟫ BLACK TECH TALENT SYMPOSIUM: Blacks comprise roughly 14 percent of the U.S. population, yet only about 8 percent of all computer or mathematical workers are Black. The disparity is even wider at the executive level, where about 2 percent of IT managers are Black."How can that be, in the age of Black Lives Matter?' points out Dallas-based Peter Beasley, co-founder of Blacks United in Leading Technology International, or BUiLT.
That's why nonprofit BUiLT and several leading organizations have banded together to hold the inaugural North Texas Black Tech Symposium from June 15-17.  As Beasley puts it: "There is no talent pipeline problem," he said. "Black tech talent is widely available, especially in North Texas."
---
Monday, May 10
⓵ BIO BOOST: "The strongest proof point for Dallas's life science market potential is the investment that national companies are making in the area," writes JLL's Ethan Garner in D CEO, noting BioLabs' first incubator location that's not on either coast located at Pegasus Park. He breaks down three key factors boosting the region's rise as a life science hub: momentum, talent, and potential. JLL recently published the Life Sciences Emerging Markets Index, which looks at first-mover opportunities for life sciences companies and investors.
⓶  TECH TICKER: After four months of gains, employers across all sectors of the economy reduced their hiring of IT workers by some 234,000 positions, per CompTIA analysis. But at No. 3 in the nation, Dallas is in positive territory for IT job postings, behind New York and D.C., the new report shows. Texas overall ranks No. 2, adding 1,000 jobs in April. The Lone Star State also had a rise in remote/WFH positions, for a total of 8,600.
⓷  RICH LIST: The DBJ takes a look at Dallas-Fort Worth's 27 billionaires. Alice Walton tops the local list by a wide margin: The art curator and daughter of Walmart founder Sam Walton has an estimated net worth of $61.8 billion. Also noted: Elon Musk, who relocated to the Austin area, is the richest man in Texas—and No. 2 in the world.
WHAT ELSE?
⟫ FUELING FITNESS: Dallas-based Smoothie King is now the "official smoothie of the Dallas Cowboys."  A new seven-year partnership puts the purpose-driven health and fitness brand together with nutrition experts from the team to create a custom blend. "We're huge Cowboys fans here at Smoothie King," says CEO Wan Kim. 
⟫ NEW MARKETS:  Axxess, a Dallas-based tech innovator for healthcare at home, is making its staffing and scheduling solutions available nationwide. The fast-growing company's phased rollout of Axxess CARE "has proven it works as a transformative way to deliver care," says John Olajide (above), CEO of Axxess. "There is simply no other solution like it to help address staffing challenges," he says. Axxess, which was founded in 2007 by Olajide, believes that the future of healthcare delivery is in the home. The company has processed more than $24 billion in claims and served some 2 million patients with its suite of services. 
---
Friday, May 7
THE TOP 10 THIS WEEK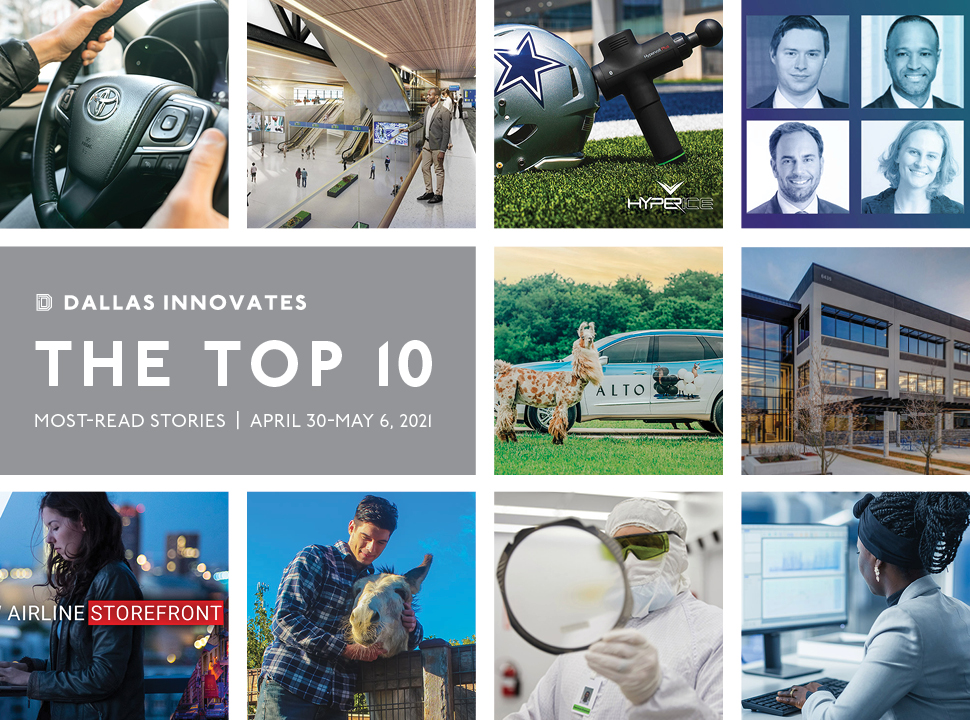 ⓵ Toyota Just Parked Its Insurance Agency in Plano with First TIMS HQ
⓶  Texas Central Signs $1.6B Electric Installation Deal for Bullet Train
⓷  The Dallas Cowboys Are About To Get Thumped — By $700M Recovery Tech Firm Hyperice
⓸  DI People: Keurig Dr Pepper, Berkshire Biomedical, Caris Life Sciences, and More Make Moves
⓹  Arty Automobiles: Alto and Gray Malin's Collaborative Art Car Will Soon Drive Dallas' Streets
⓺  Careington Expands Its Corporate Campus in Frisco to Fuel Growth and Product Innovation
⓻  Sabre Partners With Delta on a New Storefront That Makes Airline Offerings Easier to Understand
⓼  Denton Nonprofit to Open Bob's House of Hope, a Safe House for Young Men Exploited by Sex Trafficking
⓽  Apple Invests $410M in II-VI, Supporting 700+ Jobs in Sherman and Other U.S. Cities
⓾  Dallas' Trinity Hunt Partners Acquires 3 Tech Companies, Launches Plano-based Argano
THREE THINGS
⓵  DELIVERY DETAILS: The Container Store has partnered with Instacart to launch same-day delivery in as fast as an hour from its 93 locations. The partnership kicks off in Texas and will roll out nationwide in the coming weeks. The Coppell-based specialty retailer, which claims the origination of the retail concept for organization products and storage solutions, got its start in 1978.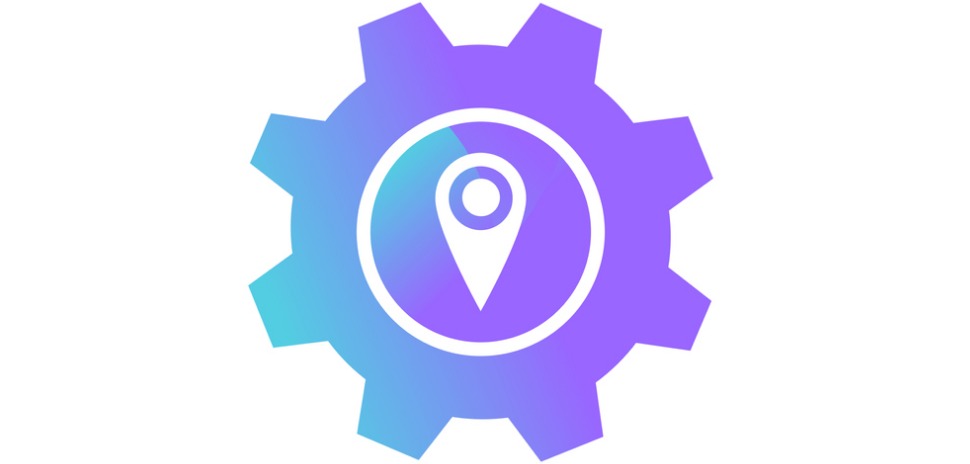 ⓶ BANKING BUSINESS: European fintech Revolut has picked Dallas for a third U.S. office. The company, which has offices in the New York and San Francisco areas, plans to hire 300 folks by year end, the Dallas Business Journal reports. Those hires would make Dallas the company's biggest U.S. metro in terms of employees. Revolut's local employees are working remotely at present, but will pick a location, the publication writes. The company, valued at about $5.5 billion, is ramping up in the U.S. with its "fresh approach" to help retail and business customers with currency exchange, spending management, and more. 
⓷ POWERED UP: The University of North Texas and UT Austin have teamed up to give researchers access to UT's Texas Advanced Computing Center. The TACC has developed some of the world's most powerful computer resources, including the ninth fastest supercomputer in the world known as Frontera. Mark McLellan, vice president of UNT's Division of Research and Innovation says the collaboration will boost computing power and cyberinfrastructure resources for the school's research teams which will have "extraordinary long-term impacts."
WHAT ELSE?
⟫ PRIVATE PLANS: Plano-based At Home agreed to sell to private equity firm Hellman & Friedman in a $2.8 billion deal announced on Thursday. The deal, which "no doubt takes both the retail and home furnishings world by a bit of a surprise," immediately spiked the company's stock price yesterday, according to Forbes. It's the latest twist in an up-and-down history, that's been "very up" recently: The company, which has roots in craft-space store Garden Ridge that went into bankruptcy in 2004, rebranded and went public in 2015. Since then, it's grown "far beyond its Texas HQ" with about 220 stores and annual revenue of about $1.8 billion, the publication says.
⟫ FITNESS FUNDING: Southlake-based startup Predictive Fitness, which uses big data, advanced analytics, and AI to optimize health and fitness for people, has raised more than $1.5 million in equity funding from nine investors on its $2 million offering, per an SEC filing. The startup reported raising $800,000 last year and aims to takes the guesswork out of training and performance by using biometrics, genetics, and activity data.
⟫ FUTURE OF FOOD: The ghost kitchen concept took off in the pandemic, and Garland-based Revolving Kitchen, which operates something like a coworking space for commercial kitchens has grown alongside the trend. The startup expects to hit capacity this summer and looks to open three new locations in Dallas, Plano, and Allen, reports the Dallas Business Journal. In other recent moves, founder Tyler Shin launched a virtual food hall app that allows people to order from multiple restaurants with a single delivery fee. Read more about how the innovator is helping restaurants cook great food in our Q&A.
⟫ FOLLOW THE MONEY: Carrollton-based logistics startup Selery is getting backing to the tune of $2 million to boost its e-commerce efforts, reports the Dallas Business Journal. Provided by Dallas-based Cypress Growth Capital, the deal gives assistance but without taking on dilution, Selery CEO Jason Taylor said in the publication.
---
Thursday, May 6
THREE THINGS
⓵ OVERDRIVE: Innovative on-demand auto mechanic RepairSmith has expanded to Dallas and Houston, with Austin soon to follow. It makes sense to rev up in the Lone State State: Our residents drive nearly 50 percent more miles per year than residents in other urban locations, the company points out. Founded in 2019 in LA, the startup was named to Fast Company's list of 10 "most innovative transportation companies of 2021," alongside Tesla, Waymo, and more. The Daimler AG-backed shop-on-wheels makes house calls in customized Mercedes Sprinters and other vans to service business fleets and individual car owners. It also offers a free repair program called Jump Start for nonprofits.
⓶ HOT LIST: Luxe hotel Thompson Dallas is the city's only hotel to make Conde Nast's new list of 69 best new hotels in the world. The hotel, located in the historic George Dahl– designed 52-story The National on Akard St., was part of one of the largest adaptive reuse projects in the history of Texas. The more than $450 million preservation project included the reuse of salvaged materials and restoration. The hotel, which opened last November, is one of three hotels in Texas listed—and among only 24 in the U.S.
⓷ SMART COOKIES: The Girl Scouts of Northeast Texas have teamed up with Comerica Bank for a "$ensible program." Known for their cookies and STEM programs, the scouts are adding financial education to their patch list—proof of "building money management skills now that can continue to pay off decades in the future," according to My Sweet Charity.
---
Wednesday, May 5
THREE THINGS
⓵ LOVE SHOTS: Had your vaccine? Time to take a shot at romance! The trend has injected passionate sales growth in Match Group's dating apps businesses, reports the DBJ. With COVID vaccines flowing, more people are swiping right—and closing their social distances. The company reported double-digit subscriber growth in the first quarter, with operating income of $189M, up 38 percent. It expects 22-24 percent growth in Q2. "As we head into summer, with a growing number of people getting vaccinated, we cannot help but be excited about the future," said a shareholders letter from CEO Shar Durbey and COO Gary Swidler. Match shares were up as much as 10% in trading today, reports Bloomberg.
⓶ SPORTS SPURT: Sportsdigita has raised $5M to help double its size—and open an office in Dallas. The Edina, MN-based sports marketing tech company is getting the bulk of its funding from Peak6, which also led Sportsdigita's $3M 2017 seeding, reports the Minneapolis/St. Paul Business Journal. CEO Angelina Lawton hopes her company will grow from 52 employees to 100+ by end of year, with the new Dallas office supporting the growth. The company's marquee product: Digideck, a cloud-based presentation tool providing virtual tours of stadiums and other multimedia experiences, for sports teams and corporate clients alike. Lawton earlier estimated sales topping $10M in 2021.
⓷ A PAIN IN THE CAPSULE: An all-female design competition team at TWU faced an out-of-this world challenge: curing headaches in space. The five kinesiology seniors competed in the Texas Space Grant Consortium Design Challenge Showcase April 20-21. The NASA-sponsored TSGC Design Challenge offers undergraduate students an opportunity to propose, design, and build a solution for NASA mission objectives. The TWU team conquered microgravity by designing a two-piece "Mask-Gaiter" to regulate CO2 inhalation and blood temperature in the brain. Twenty teams participated virtually in a final Q&A session with judges; the TWU team placed seventh.
What else?
⟫ SHOE'S ON FIRST: The group behind Dallas management consulting company Collaborative Mind (CMIND) is Kickstarting Nebula Mat: a "highly intuitive smart door mat that automatically releases a medical-grade mist that minimizes germs from the bottom of your shoes," the company said in a statement. One shoe can carry 440,000 particles of nasty bacteria, the company says. To fight them, the mat has replaceable misting pods with an EPA-approved solution, and a microfiber drying area. Science marches on!
⟫ PAY UP: KarbonPay, a cloud-based payroll calculations SaaS tool, has hit a $500K Wefundr crowdfunding milestone, raising its total funding to nearly $700K, reports NTX Inno. The company is looking to top out its crowdfunding raise at $1.07M with a pre-money valuation of $6.2M. KarbonPay was also recently selected to raise funds through a private crowdfunding raise on Fundable, which could net the company and its founder Brad Price $500K more.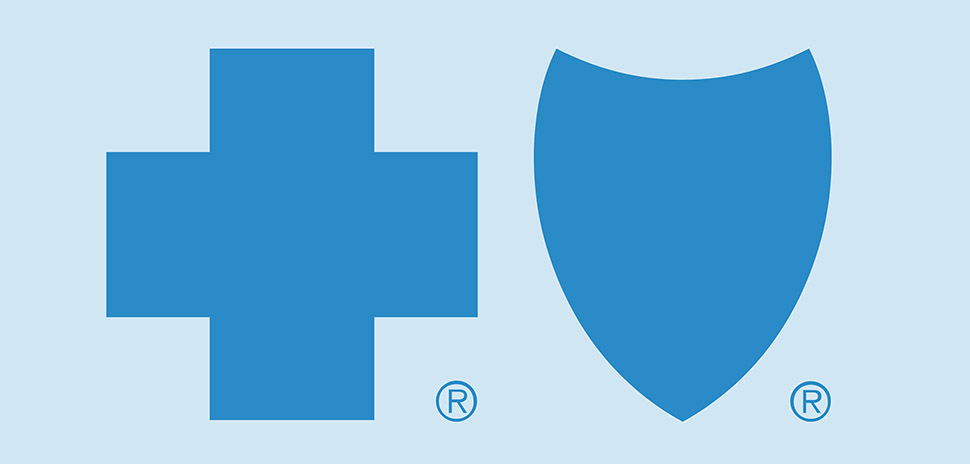 ⟫ VERY BENEFICIAL: Startup Collective Health has reached a $1.5B valuation after raising $280M in new funding, reports the DMN. Its investors include Health Care Service Corporation, a major seller of Blue Cross Blue Shield health plans. Health care "needs to become like anything else that you buy for the enterprise: a primarily data driven-decision," Ali Diab, Collective Health's co-founder and chief executive officer, told the DMN.
Tuesday, May 4
THREE THINGS
⓵ SENIOR SMART LIVING: Fast-growing Plano touchless tech innovator Enseo has expanded into senior living with smart apartment solutions. Called "Fido," Enseo's room control system aims to simplify technology for residents and provide operating savings for communities. Taking into account the unique challenges of seniors, the company also offers fall prevention lighting, sensors to avoid floods, and more.  COVID underscored "the importance of communication, entertainment, and smart living spaces for seniors, said Vanessa Ogle (above), CEO and founder of Enseo Holdings, in a statement. "We've spent 21 years providing these exact services." The system was recently installed in the Calif.-based Atria Newport Beach community. 
⓶ ESPORTS EVENT: Plano-based collegiate sports marketing company Learfield IMG College is adding to its intercollegiate esports league. Level Next, which was originally created in partnership with video game icon Electronic Arts, will add a new game titled "Rocket League" thanks to a new partnership with Psyonix. The Level Next Rocket League Spring Showcase, a free nationwide event is now open for registration to players attending a four-year accredited university.  Beginning on May 10, the showcase includes a $125,000 total cash prize pool. Learfield's "long-term plan was to transform itself from a sponsorship sales organization into a digital, data, and content business," reported Sports Business Journal earlier this year.
⓷ TECH TAKEOFF: Commercial real estate veteran Bob Young says industry tech and research teams rose to the challenge of the pandemic. The technology tools expanded to meet the moment—and they'll be a part of going forward, according to the Weitzman exec. Young shares his take on how COVID has propelled CRE tech in D CEO. 
PLUS
Dallas Cowboys quarterback Dak Prescott has taken a 20 percent stake in sports-themed bar and eatery Walk-On, CNBC reports. The co-ownership deal holds a "genuine connection" for Prescott since it's based in his home state Lousiana. The quarterback recently invested in Plano-based connected workout service OxeFit.
---
Monday, May 3
THREE THINGS
⓵ BIG BUCKS FOR SMALL BIZ: Comerica Bank has committed $5 billion to small business lending over the next three years. It's also expanded its RISE! Initiative to help boost small business growth. "Coming out of this pandemic, now more than ever, small businesses need our support," said Cassandra McKinney, EVP of Comerica's Retail Bank. Last year Comerica made nearly 20,000 loans totaling $3.9B under the Paycheck Protection Program (PPP). So far in 2021, it's funded $1B in the second PPP round. The bank has also invested in local nonprofits and directed $12M to aid small and micro businesses in communities adversely impacted by COVID-19. It continues to support Comerica $ense programs, Small Business Bootcamps, and the National Business League's Black Capital Access Program.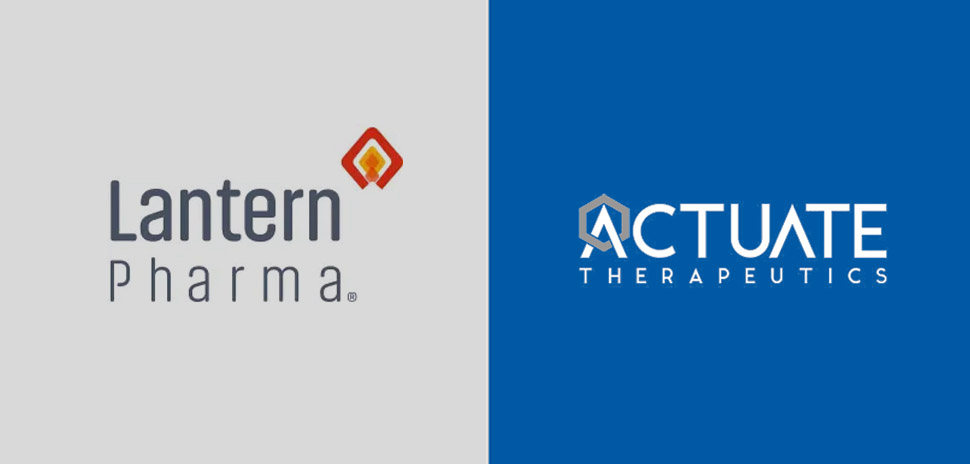 ⓶ MAGIC LANTERN: Dallas-based Lantern Pharma has formed an R&D collaboration with Actuate Therapeutics to focus on leveraging Lantern's RADR machine learning technology, large-scale oncology datasets, and artificial intelligence platform. The goal: Accelerate key aspects of Actuate's 9-ING-41 drug candidate, a best-in-class GSK-3β inhibitor currently in multiple Phase 2 clinical trials, including for pancreatic cancer. Under the deal, Lantern will receive upfront equity in Actuate subject to benchmark conditions. As we noted in November, Lantern had surpassed 1 billion data points on its AI platform. That figure has since rocketed to 4.6 billion, Lantern reports. According to the journal Cancer Medicine, biomarkers used in patient stratification and monitoring in oncology clinical trials improve the likelihood of drug regulatory approvals by a factor of five. 
⓷ CAT IN THE BAG: The electrifying news landed Thursday: Caterpillar is moving its Electric Power Division to Las Colinas. According to the DBJ, Caterpillar will take multiple floors in Williams Square's West Tower, with an early 2022 move-in and potentially "hundreds" of jobs. Caterpillar is merging offices from several states for the Irving move. The division delivers custom power solutions, electric power products, and applications from smart energy storage to microgrids to gas gensets that help convert biogas to clean energy. "The Dallas Regional Chamber is thrilled that Caterpillar, one of the world's great and most admired companies, has decided to establish a regional headquarters presence in Irving," Dale Petroskey, president and CEO of the Dallas Regional Chamber, told the DBJ. "The Dallas region's diverse economy, abundance of outstanding talent, and excellent quality of life will make for an ideal location for Caterpillar and the team moving to the region."
QUICK HITS
⟫ DIGITALLY OPERATIC – Now you can spend a night at the opera anywhere, 24/7. The Dallas Opera just launched its new subscription streaming platform  thedallasopera.TV at $4.99 a month, with originals available to all as rentals.
⟫ RING AROUND THE SCHOLAR – Dallas-based Kimberly-Clark is awarding 2021 Bright Futures Scholarships worth $960K to 48 college-bound students. Past recipients have become successes in medicine, education, and engineering. 
⟫ GREAT OUTDOORS – Irving-based PrimeSource Building Products, Inc., is acquiring Tampa-based Nationwide Industries, a provider of highly engineered outdoor living and security products. PrimeSource is backed by Clearlake Capital Group, L.P.
---
Friday, April 30
TOP 10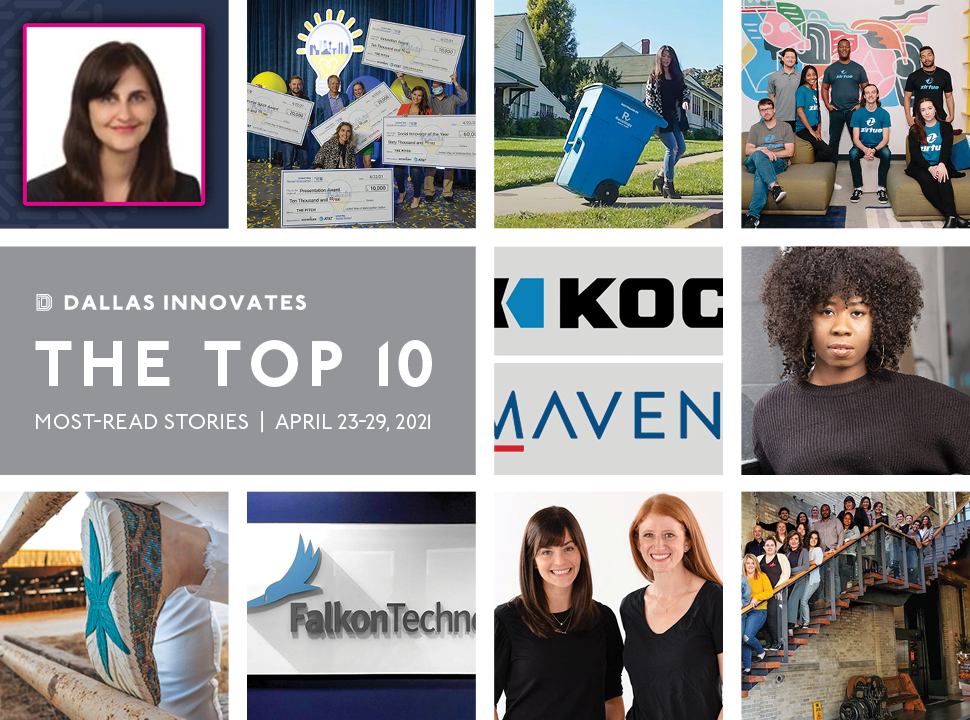 ⓵ New York Fintech Katapult Hires Execs Following an HQ Move to Plano
⓶ The Pitch: Cornbread Hustle Sweeps Five Categories, Including Social Innovator of the Year
⓷ Denton Nonprofit Carton Council Wants to Make Sure Cartons Don't End Up in Landfills
⓸ Dallas Fintech Zirtue Receives Investment From Northwestern Mutual, Bringing Its Total Seed Funding to $4M
⓹ Mavenir Gets a $500M Investment From Koch Strategic Platforms
⓺ Dallas-Based Hair and Beauty Startup You Go Natural Raises $2 Million in Seed Funding Round
⓻ Handcrafted Footwear Company Twisted X Raises Minimum Wage and Invests in Its Talent
⓼ Falkon Technologies to Double Team, Expand Footprint With a Grant from the McKinney Innovation Fund
⓽ Made For Motherhood: Neiman Marcus Veterans Create Luxury Activewear for Moms-To-Be
⓾ Medchart Raises $17M in Seed and Series A Funding to Hire Talent, Expand Product Innovation
THREE THINGS
⟫ MUSCLING IN: The Dallas Cowboys are about to get thumped—by $700 million recovery tech firm Hyperice. A new multi-year partnership will optimize player performance with innovative handheld percussion massage devices and other tech. "At the Dallas Cowboys, we're always in search of cutting-edge technology that helps our athletes recover quickly and efficiently to stay on the field," Cowboys Head Athletic Trainer Jim Maurer said in a statement. Valued at $700 million, Calif.-based Hyperice has attracted $48 million in investments from the NBA, the NFL's investment arm 32 Equity, and athletes including Super Bowl MVP Patrick Mahomes, the Houston Texans' J.J. Watt, the Washington Wizards' Russell Westbrook, golfer Ricky Fowler, tennis star Naomi Osaka, and other sports royalty.
⓶ FORE IN FRISCO: PGA of America's headquarters (rendering above) is relocating from Florida and reached its construction midpoint last month. Meanwhile, the OMNI PGA Frisco Resort has been waiting to tee off through much of the pandemic. Now construction is finally underway, the DMN reported yesterday. As we noted back in April 2019, PGA of America CEO Seth Waugh envisions the resort as part of an innovative "Silicon Valley of Golf" in Frisco. With 500 rooms and 125,000 square feet of conference and meeting space, the resort will be part of the PGA's 600-acre, $500M+ development—which will feature two championship-level golf courses, a golf entertainment district, a technologically advanced retail village, and the PGA's new 106,622-square-foot HQ. The project could generate $2.5 billion in economic impact over the next 20 years, according to a Frisco-commissioned feasibility study.
⓷ TO THE MOON: Dallas-based Jacobs, which is NASA's largest services contractor, has delivered the final piece of Artemis I flight hardware to the Kennedy Space Center this week. It's a critical step in the preparation for the launch of the Space Launch System rocket. An uncrewed Orion spacecraft will rocket around the moon and back to Earth later this year. That test flight paves the way for future Artemis missions with astronauts, according to the company.
WHAT ELSE?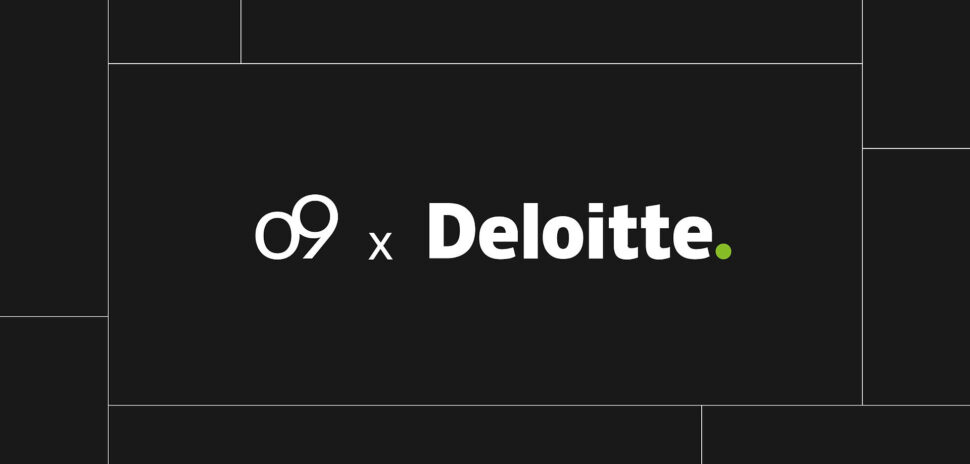 ⟫  DONE DEAL: Dallas-based o9 Solutions, which became one of North Texas' newest unicorns last year, has a "new chapter" in its partnership with Deloitte. A new agreement extends their collaboration to operate services through a Center of Excellence. The team-up aims to accelerate digital transformation and value realization in the CPG, retail, high-tech, and industrial products sectors with improved delivery timelines, cost, and user adoption. "Operating successfully in today's complex supply chain networks requires a new mindset," said Adam Mussomeli, a principal at Deloitte Consulting, in a statement. AI software-maker o9 Solutions, founded by tech entrepreneurs Sanjiv Sidhu and Chakri Gottemukkala in 2009, raised a $100 million investment from KKR's second tech growth fund in 2020. The company brings together tech innovations into one platform.
⟫ PUSH BACK: This week, the experts at the Parkland Center for Clinical Innovation revised their estimate of when Dallas County could hit herd immunity to late June or July. That's partly due to a dropping of demand for vaccinations, per PCCI.  Herd immunity, defined as when 80 percent of folks are vaccinated or have had COVID-19, is at about 64 percent of the threshold, Dr. Steve Miff (above) said on WFAA. D Magazine takes a look at 12 Dallas ZIP codes that have hit 80 percent herd immunity. 
---
Thursday, April 29
THREE THINGS
⓵ TECH TALENT: U.K.-founded cashless payment tech startup Tappit, which is planting its U.S. roots in Plano, has a new CFO. Jonathan Simkins most recently led the spinout of cybersecurity company Appgate from Cyxtera Technologies. One of his first priorities? Hire more people, writes Fortune. "I don't feel right now we have enough employees to handle the interest we're getting and the demand for the product, which means we're leaving out future revenue," he says in the publication. The privately held company provides global payment and data ecosystems for sports, events, venues, and stadiums. The startup, which competes with the likes of Apple Pay and Google Pay, currently has less than 20 U.S. employees with multiple jobs listed on LinkedIn. The new CFO is bullish on the product: "I'll put it this way, I took this job when I saw the data product. It blew me away," he says in Fortune.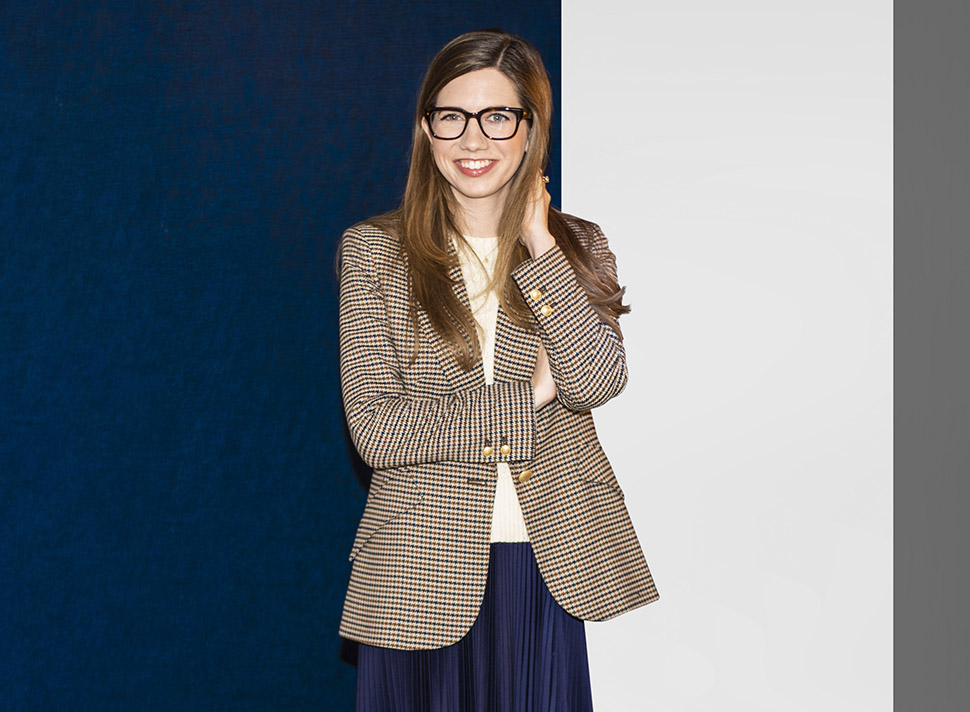 ⓷ (FAIR) TRADE TALK: RevTech Ventures has a brand new show for innovators. Called The Rev Show, this month's episode features Dallas-based Rachel Bentley of The Citizenry (above), one of RevTech's earliest investments, and Kinda Lincoln of Raven + Lily, an emerging Austin-based brand. You'll also learn about a blockchain-as-a-service platform that can help "prove up" claims such as "fair trade," "certified organic," and "certified green" with an audit trail back to the source. Topl, one of RevTech's newest investments, will take a deep dive on how to build profitable brands with fair trade as a core principle. RevTech Managing Director Dave Matthews' One-Man-Band is the musical guest. Register here to catch the show hosted by Craig Shacklett tomorrow (Friday, April 30) at 5:30 p.m.
PLUS
⟫  The DEC Network's flagship State of Entrepreneurship event announced its speaker lineup and a new title sponsor that helps take innovations from idea to market in 30 days. The hybrid event, which celebrates the people behind North Texas' thriving startup ecosystem, will take place in person and virtually on May 5. This year attendees can enter to win $100,00 of startup support.
---
Wednesday, April 28
⓵ NEW HIRE: NTT DATA announced it's bringing health equity thought leader Michael Petersen onto the team as its new Chief Clinical Innovation Officer. He is expected to help the Plano-headquartered company develop the agenda and lead discussions around product and service design, technology access, and more to address inequities and deliver on services to improve health justice, per a statement. By bringing Petersen onto its growing healthcare consulting leadership team, NTT DATA is able to build on its commitment to better health and wellbeing.
⓶ TALENT AND CULTURE: In other hiring news, Nikki Wilson is joining The Richards Group as its first chief talent and culture officer. Her addition is expected to further the Dallas agency's commitment to a broader and more diverse workforce, while focusing on its people. Wilson will also be part of The Richards Group's newly appointed Leadership Council. Prior to her new role, Wilson was the human resources and labor relations director at General Motors, where she worked for 18 years.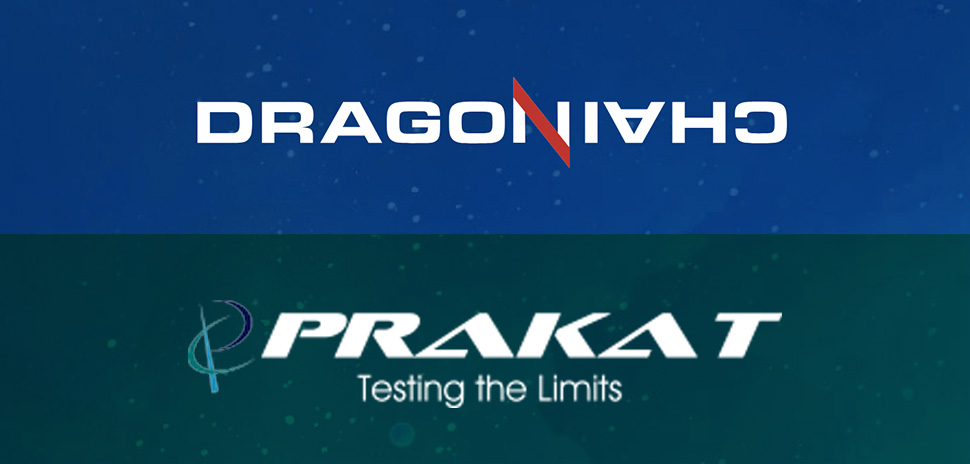 ⓷ BUSINESS WORKFLOW:  Prakat Solutions, a tech company with offices in Dallas, has partnered with Dragonchain to create niche clean energy, fintech, and healthcare blockchain solutions. The partnership creates a unique 'blockchain for business' solution that began as the 'Disney Private Blockchain Platform,' says Prakat CEO Anuradha Biswas. Dragonchain founder Joe Roets created the blockchain technology at The Walt Disney Company in 2014. The patented tech, which can process hundreds of millions of transactions in 24 hours, is multi-currency and quantum-resistant, according to Prakat.
PLUS
⟫  TRANSIT LEADER: Since Dallas Area Rapid Transit's Gary Thomas retired last year, the DART board of directors has announced its next president and CEO as Nadine Lee, who is joining the team from the Los Angeles County Metropolitan Transportation Authority (METRO). Per D Magazine, Lee served as the chief of staff at METRO and was at the helm of its $2.1 billion Better Bus Initiative. Lee brings a plethora of experience to the role as she is also a professional engineer registered in Colorado and Kansas and previously helped develop bus rapid transit projects with the Denver Regional Transportation District. DART also recently announced a new bus network it has in the works.
⟫  SEEDING IMPACT: Dallas' Impact Ventures, a nonprofit on the cusp of launching the Dallas Inclusive Capital Fund, has announced a $200,000 "catalytic investment" from the Phillips Foundation. The new capital fund is the first locally grown and minority-led integrated capital fund for woman- and BIPOC-led businesses in North Texas, per Impact Ventures. "We're honored to invest in Impact Ventures' expansion at such an inflection point," said Elizabeth Carlock Phillips, executive director of the Phillips Foundation. The seed funding follows a recent $450,000 grant received by the nonprofit from the Communities Foundation of Texas.
---
Tuesday, April 27
THREE THINGS
⓵  HEMP JEANS?: Dallas' Panda Biotech has expanded its collaboration with global apparel company Kontoor Brands, which includes Wrangler and Lee in its brand portfolio. Together, the companies aim to bring traceability and scale to U.S. textile-grade cottonized hemp. Kontoor sees sustainable hemp as "the perfect complement fiber to cotton," per Sourcing Journal.  Panda Biotech, a "first mover" in the relatively new industrial hemp fiber industry, was founded by Bob Carter, an entrepreneur who also started Panda Power Funds, a private equity firm in the clean energy space, and Panda Energy International, a power plant construction company.
⓶  SELF-DRIVING SALE: As Lyft ride-hailing demand rebounds, the company is selling self-driving unit Level 5 to a Toyota subsidiary for $550 million, reports Bloomberg. Woven Planet Holdings, an extension of Toyota's research division, aims to advance self-driving car technology. Lyft's deal follows that of Uber, which sold its autonomous group to Aurora Innovation last year.
⓷  FITNESS FLAGSHIP: Dallas fitness franchise Gold's Gym, which was acquired by RSG Group last year, has introduced the "gym of the future" at its Berlin flagship campus where its brand owner is headquartered. Noted as a proof of concept and the inspiration for all future Gold's Gyms, it's also the first commercial gym with a LEED Platinum certification, the company says. Take a drone flythrough tour here.
WHAT ELSE?
⟫ Amazon has launched in-garage grocery delivery in more than 5,000 cities, mere months after the program's pilot in Dallas and four other cities. In other news, a report says Amazon will pass Walmart in retail sales in 2025, suggesting the e-commerce giant has momentum on its side. 
⟫ A North Texas vaccine trial focused on kids is about to be underway. Fort Worth's Benchmark Research is enrolling kids as young as six for trials of the Novavax vaccine, per NBC 5 DFW.
⟫ High-tech wine bar Vinotopia at Legacy Hall in Plano will let folks try before they buy with Wine Station smart dispensers for small sips. The hybrid bar and shop, a new concept from FB Society, opens on April 30. 
---
Monday, April 26
THREE THINGS
⓵ DONE DEAL: Dallas-based DJO Global, a maker of medical tech that aims to get and keep people moving, closed its acquisition of MedShape, a privately held company founded in 2005 that makes innovative orthopedic shape memory devices—its fourth in under six months. The company has "taken another giant step" to being a major player in the ortho device market, writes Fierce Biotech. DJO itself was acquired by publicly traded tech company Colfax Corporation (NYSE: CFX) in more than $3 billion deal in 2019. Colfax had big news in March: The company will split into two public companies next year. That split—with "businesses including DJO forming a new, stand-alone orthopedic device company"—will create a not-yet-named medical device company based in Wilmington, Del., along with a significant presence in Dallas, per Medical Design and Outsourcing.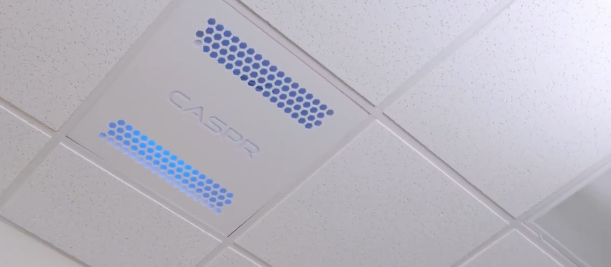 ⓶  RAISING THE ROOF: Addison-based disinfection tech company CASPR Group has a new air-cleaning solution for building managers and owners: Blu Tile. Rather than needing HVAC installation, CASPR says its solution is as easy as replacing a ceiling tile, according to CEO Scott Wheeler.  CASPR's unique patent-pending tech converts oxygen and moisture in the air to low levels of hydrogen peroxide, which are dispersed continuously throughout a building, reducing pathogens in the air and on surfaces safely, the company says.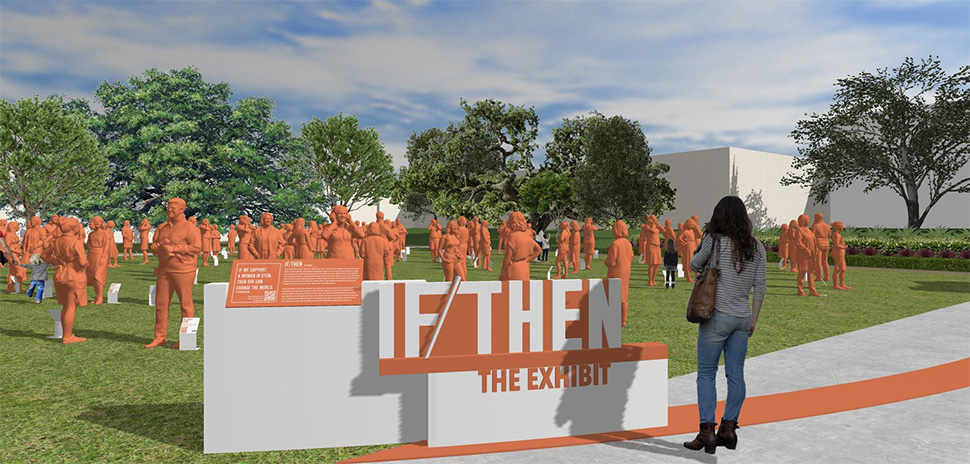 [Image: Courtesy IF/THEN]
⓷  ART OF THE POSSIBLE: NorthPark Center in Dallas will host the most life-sized statues of women in one place. #IfThenSheCan—The Exhibit, a free exhibit on display from May 15 to Oct 2021, features more than 120 female STEM professionals and role models from a variety of industries including entertainment, fashion, sports, business, and academia. Each woman's full-length silhouette was 3D printed in the largest scale project of its type. Nicole Small, CEO of Lyda Hill Philanthropies and founder of the IF/THEN initiative wants to showcase what's possible for girls in STEM. The organization's commitment is unwavering: "IF she can see it, THEN she can be it."
---
Friday, April 23
THE TOP 10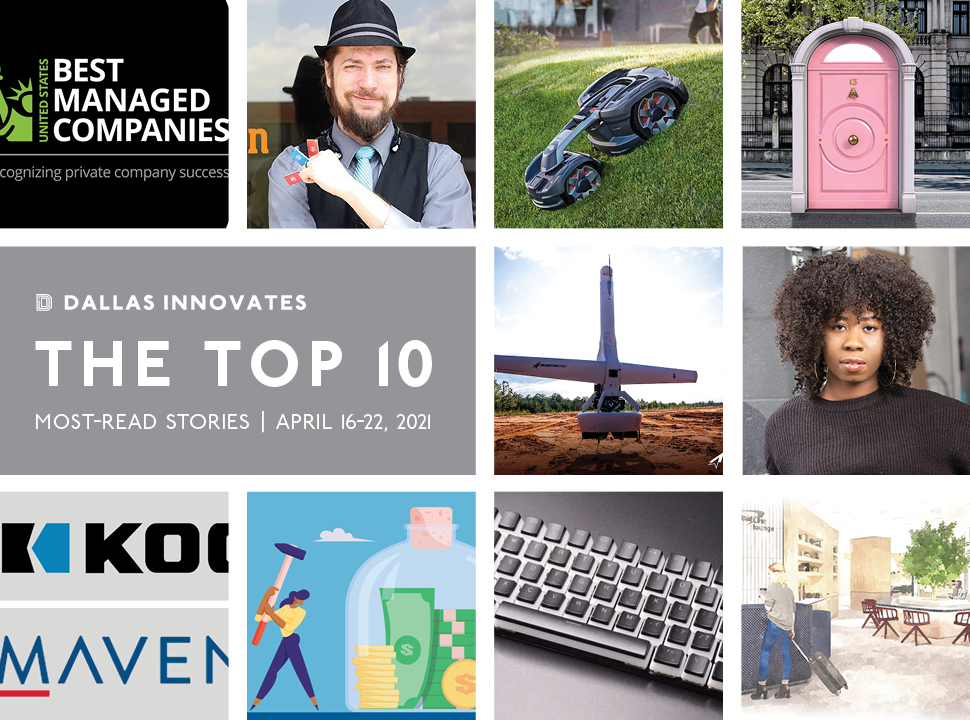 ⓵ Two Dallas Companies Make Deloitte and Wall Street Journal's Second Annual U.S. Best Managed Companies List
⓶  Ask Doctor Bitcoin: This Dallas Entrepreneur and Blockchain Expert Offers Free Advice for Emerging Crypto Market
⓷  Dallas-Area Robot Mowing Tech Firm Buys Mowbot, Deepens Ties to Sweden's Husqvarna
⓸  Virtually Beautiful: Mary Kay Launches Suite 13
⓹  Plano Aviation Manufacturer Unveils Latest Unmanned Aircraft System With More Power and Small Footprint
⓺  Dallas-Based Hair and Beauty Startup You Go Natural Raises $2 Million in Seed Funding Round
⓻  Mavenir Gets a $500M Investment From Koch Strategic Platforms
⓼  Dallas-Fort Worth Joins Bay Area and NYC in Addressing Lack of Venture Capital Funding for Female-Founded Companies
⓽  Plano-Based CharaChorder's New Kickstarter Product Wants to Help You Type Faster Than Any Other Keyboard
⓾  First Look: Capital One Reveals Plans for Its First-Ever Airport Lounge at DFW. Up next, D.C.'s Dulles.
THREE THINGS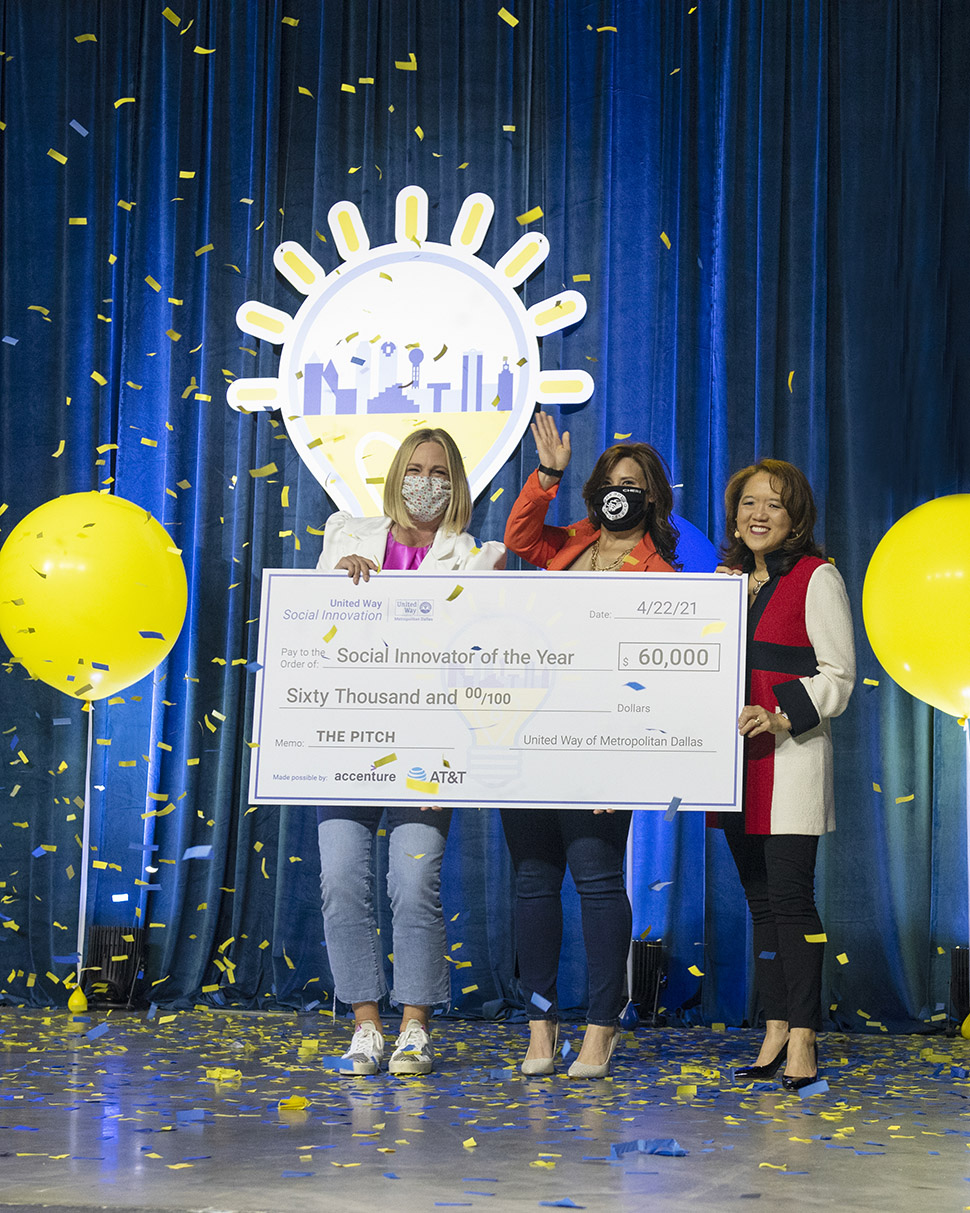 ⓵ THE PITCH: At United Way of Metropolitan Dallas' fifth annual social innovation competition, local staffing agency for second chances Cornbread Hustle won a total of $145,000 in funding. The startup was the winner in five categories, including Social Innovator of the Year. Presented by AT&T, The Pitch is a social innovation competition that culminates United Way's yearlong Social Innovation Accelerator program with Accenture (United Way is currently accepting applications for the next cohort, due April 30). Each competitor pitched their organization's innovative solutions to improve United Way's area of interest—education, income, and health—in North Texas. If you couldn't watch, check out our overview of every pitch. Also announced was United Way's plans to expand its social innovation work in North Texas with a new incubator program exclusively for women and entrepreneurs of color.
Pictured above, Cornbread Hustle founder Cheri Garcia was presented a $60,000 check and named Social Innovator of the Year by United Way's Jennifer Sampson and AT&T's Anne Chow.
⓶ GROUND BREAKER: Electronic parts maker Micropac Industries plans to invest $17 million in a new HQ and manufacturing facility in Garland that will double its space—and potentially, its workforce. The high-tech company expects to break ground in May, according to the Dallas Morning News. Founded in 1963, the company announced an accelerated pace of innovation last year, along with a new logo. The new mark was designed to "accentuate Micropac's drive to the new levels of innovation which accelerates adoption of technology and change in historically cautious markets,"  it said at the time. Micropac's products are used around the world in a variety of industries, including military, aviation, space, medical, and industrial.
⓷ EV EXPANSION: Electric vehicle maker Canoo will open executive offices in Dallas. The LA-based mobility tech company also announced the appointment of Executive Chairman and investor Tony Aquila to an expanded role as CEO. Aquila, one of the company's largest investors, will focus on bringing the company's EVs to the masses and maximizing the value of its intellectual property. Aquila expects to commercialize Canoo's previously announced vehicles, including a fully electric pickup truck, a multi-purpose delivery vehicle, and a lifestyle vehicle. "We don't have to wait for EV technology to become economic for consumers," Aquila said in a statement. "It already is, which is why our business model and our design is made for the delivery and tradespeople who rely on their vehicles for work—the people who build America."
The company recently revealed its purpose-built pickup truck, pictured above with a camper shell. The truck, which has a modular bed has more than 200 miles of range and "instant acceleration, Canoo says.
OPPORTUNITIES FOR INNOVATORS
Browse our curated selection of contests, nominations, pitches, and grants. From entrepreneurs to corporates, creatives to inventors, educators to social innovators, here's a roundup of goodies.
Deadlines coming up include:
Fast Company's Brands That Matter (Today)
Silicon Valley Bank's Southwest Investor Trek (April 26, 5PM CST)
Kubota's Hometown Proud Grant (April 27)
D CEO's Nonprofit and Corporate Citizenship Awards (April 30)
The J.M. Kaplan Fund's 2021 J.M.K. Innovation Prize (April 30)
Inc. 5000 (April 30)
Fast Company's Innovation By Design (April 30)
Fast Company's Next Big Things in Tech (May 14)
The Goldman Sachs

10,000 Small Business Program (May 27)
Go here for details and other upcoming opportunities.
---
Thursday, April 22
THREE THINGS
⓵ TRANSFORMATION TEAM: Mr. Cooper Group is partnering with Google on a new AI initiative that can help mortgage customers adopt digital services such as Google's DocAI. Coppell-based Mr. Cooper, one of the largest home loan servicers in the U.S., and Google Cloud engineers will work side-by-side to digitize the core mortgage process. The plan is to create a more personalized customer experience by using conversational AI to make things easier for customers—and the industry, per a news release. Google Cloud's Rajen Sheth, who handles AI and industry solutions, is ready to tackle transformation with Mr. Cooper: "The heavily manual practices required in the mortgage process creates a massive drain on the bottom line and overall operational efficiency."
⓶ IMPACT INNOVATOR: The first community foundation in Texas—The Dallas Foundation— has a new executive role. Drexell Owusu (above) has been named Chief Impact Officer, starting April 26. Most recently, Owusu led the Dallas Regional Chamber's efforts to equitably grow and develop the existing regional education and workforce pipeline as the Senior Vice President of Education & Workforce. In his new role, he'll lead a team focused on the Foundation's community impact strategy to reduce intergenerational poverty and improve child well-being. Owusu's career spans strategy, investment, and impact: Prior to his stint at the DRC, he founded Brave Capital Partners, an investment company focused on catalyzing minority communities and consultancy The Owl Group. Corporate leadership roles include Civitas, Blockbuster, FedExOffice, and Accenture. At Civitas, Owusu was responsible for managing the GrowSouth Fund, a double-bottom line investment fund focused on Southern Dallas.
⓷ LAST CALL FOR TECH TREK: Are you a tech-focused startup? Silicon Valley Bank and Wilson Sonsini have teamed up on a Southwest Investor Trek to showcase top early-stage companies. Startups can connect with and pitch VC investors. Eligibility for tech-focused companies—direct to consumer, B2B, mobile/web application, development tools, and digital health (not life science)—includes:
    • Plans to raise a seed or Series A round of $1-$10M by the end of 2021
    • Having an MVP or a product with sales to end customers
    • Based in the Southwest
Learn more and apply here. (This just in: The official April 23 deadline has been extended to Monday, April 26, 5 p.m. CST.)
DONE DEALS
Two prominent North Texas M&A deals closed this week.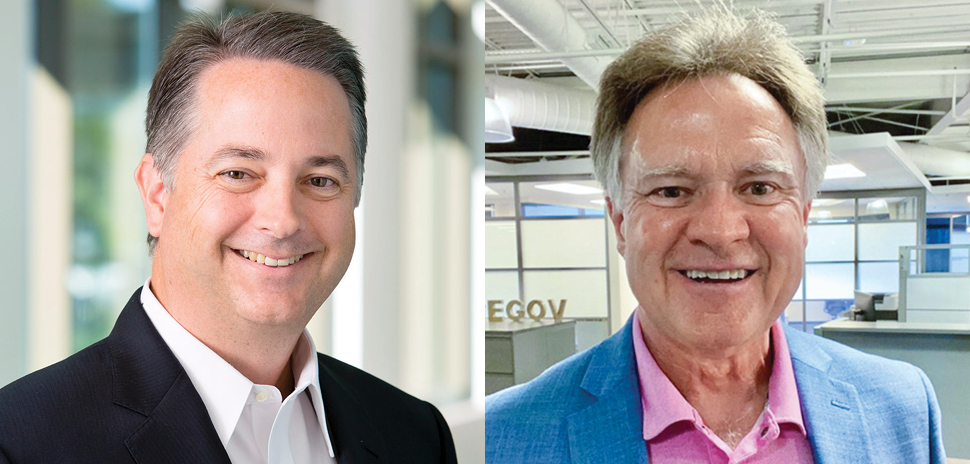 ⟫ Govtech leader Tyler Tech's $2.3 billion acquisition of NIC—its largest yet—was completed on Wednesday. NIC technologies will advance Plano-based Tyler's digital services. If you've renewed or purchased a passport or professional license, you likely used NIC's tech, the company says. Most recently, NIC provided solutions for COVID-19 vaccination administration. Pictured are Tyler's Lynn Moore, left, and NIC's Harry Herington.
⟫ Thomas Bravo also completed its acquisition of Richardson-based RealPage, which will become a privately held company no longer listed on the Nasdaq. The all-cash transaction values the real estate tech firm at about $10.2 billion. "It's a new chapter, says Chairman and CEO Steve Winn, in a statement. Winn, who founded RealPage in 1998, says the company's tech "revolutionized digital transformation in the real estate industry, and we believe the best is yet to come."
---
Wednesday, April 21
THREE THINGS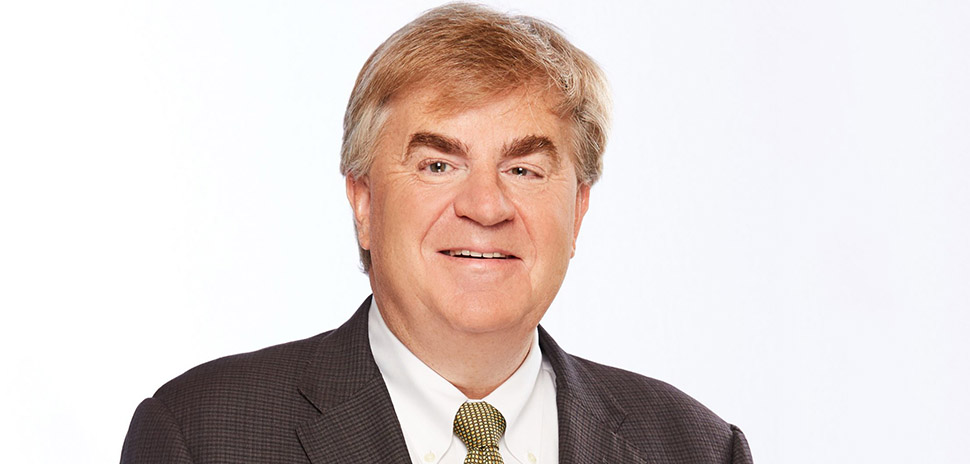 ⓵ LOW-CARBON FUTURE: Plano-based Toyota will explore a strategic alliance with Chevron to lead the development of commercially viable, large-scale businesses in hydrogen. The goal? To advance a "functional, thriving global hydrogen economy"—and carbon neutrality. The companies have three main priorities: public policy, understanding market demand now and in the future, and exploring opportunities for joint research and development. Toyota EVP Bob Carter (above) says the company's experience in developing hydrogen-powered fuel cell electric technology combined with Chevron's deep resources in the energy sector could create new transportation choices.
⓶ BATTLEFIELD EDGE: Fort Worth-based Elbit Systems of America was awarded a $41 million deal for the supply of night vision systems and spare components to the U.S. Marine Corps. The order is part of $249 million five year contract for Squad Binocular Night Vision Goggle systems initiated in 2019. "Marines need to quickly understand their surroundings and act to engage their targets – no matter the light conditions," president and CEO Raanan Horowitz said in a statement. The helmet-mounted high tech goggles with thermal imaging and extra-long run times give Marines an edge, the company says. The company's real-world tech, which may seem like science fiction helps soldiers to be operational anywhere in the world, under any type of conditions.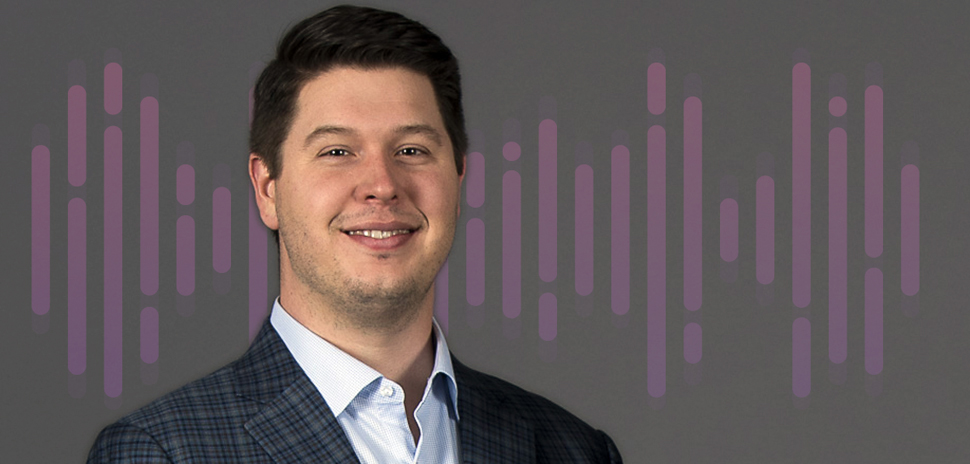 ⓷  PROPTECH PROTECTION: As short-term rental bookings have doubled their pre-pandemic levels, Dallas-based NoiseAware has hit a new milestone: 1 million stays monitored. The smart noise monitoring company protects customers from nuisance issues with its privacy-safe "peace of mind" solution. The startup, which just raised an $8 million Series A, has driven growth from long-standing ties with Airbnb and other property management companies. "The passionate return to safe travel has been a pleasure to witness," said CEO Andrew Schulz (above). And, as he points out, "our services were needed more than ever."
Photo credits (from top): Courtesy of Toyota, Elbit Systems of America, and Noiseaware. Illustration via istockphoto.
---
Tuesday, April 20
THREE THINGS
⓵ TIPPING POINT: Bravo's Million Dollar Listing celebrity Fredrik Eklund is part of a new powerhouse real estate team (above) in North Texas. Douglas Elliman Real Estate, one of the largest residential real estate firms in the country, is expanding in Dallas, writes D CEO. The mega firm, which will hit the market with $1.1 billion in new local projects, says "Texas is the most exciting market in the country right now, with buyers from California, New York, and Florida relocating here." CEO Jacob Sudhoff of Douglas Elliman, Texas, plans to raise the bar: "Our technology advances, combined with our national footprint and international reach, is going to bring unprecedented platform to Dallas like no other firm." In March, the firm's parent company, Vector Group, announced the launch of a proptech investment venture, New Valley Ventures. It acquired a stake in Dallas-based startup Rechat, a real estate agent lead-to-close workflow platform.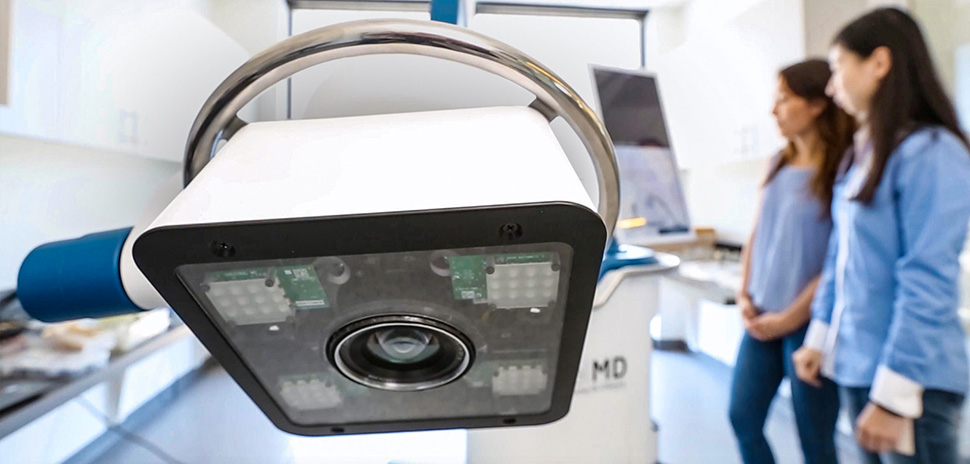 ⓶ BIOTECH FUNDING: Dallas-based Spectral MD, which uses data and AI to advance wound care, has gotten approval of $20.6 million for a clinical study under a contract with the Biomedical Advanced Research and Development Authority, DBJ reports. The contract follows the $27 million the startup received in 2019 for an expanded proof-of-concept clinical trial of its DeepView device, which has the FDA's "Breakthrough" designation. The system looks beneath the skin's surface to assess wound and burn damage. Using deep-learning algorithms and AI, the portable device can aid clinicians in diagnosing and improving patient treatments. 
⓷ ON-DEMAND TALENT: A Fort Worth energy software company has launched an online platform to connect the energy industry to freelancers. Energy Freelance opens a previously unavailable market segment, the company says: "Millions of landmen, geologists, petroleum engineers, and others now have a dedicated place to find work they couldn't easily get in front of previously."  MineralWare, which was founded in 2014, is a privately-held provider of mineral management software used by banks, institutions, investment funds, foundations, family offices and individuals. "Uber has proven that there is a strong market for the on-demand services and be-your-own-boss model," says CEO and Co-Founder Ryan Vinson. "We're taking that same concept and applying it to a vast and growing energy marketplace." This year, the startup also plans to launch an online oil and gas asset marketplace called Energy Domain, per a news release.
Photo credits (from top): Johnny Than, Spectral MD, MineralWare
---
Monday, April 19
THREE THINGS
⓵ HIGH FLYING: Martin UAV's unmanned VTOL aircraft bested L3Harris and its FVR-90 hybrid quadcopter to win the Mi2 Technology Demonstration competition. Last week, a US Navy spokesperson announced it intends to award a prototyping contract to the Plano-based aerospace company in July, per Janes INTEL. Martin UAV will initially provide three complete systems, but a final number will be determined pending contract negotiations. The company recently unveiled the V-BAT 128, a tail-sitting, fixed-wing UAV with a less-than 12×12 footprint. Designed to be accessible and easily implemented, it takes just 30  minutes for two people to assemble, the company said. Martin UAV also recently supported United States Southern Command's counter narcotics operations to disrupt the flow of drugs in a 10-month mission.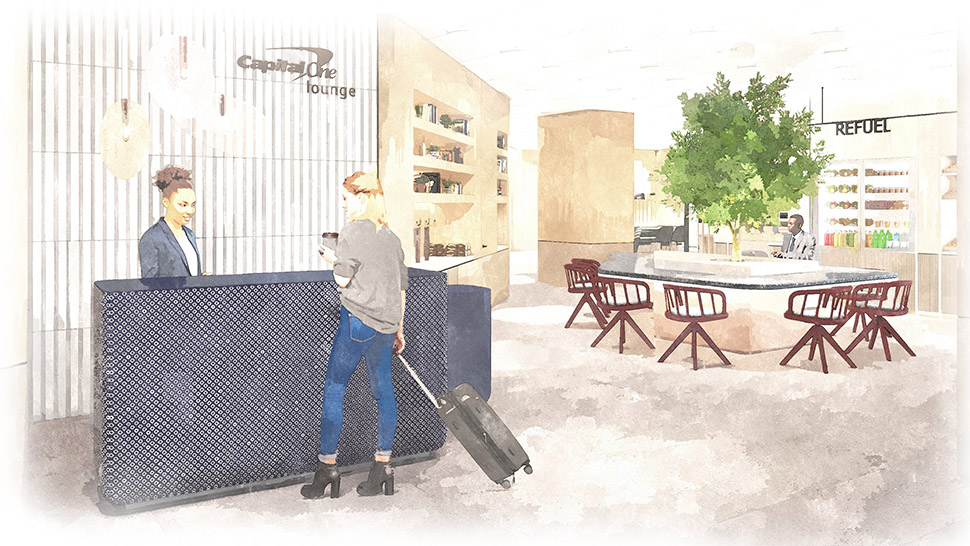 ⓶  TRAVEL REWARDS: Capital One will open its first-ever airport lounge this summer, starting at Dallas Fort Worth International Airport. Packed with a "suite of features," the company wants to provide unique amenities to help customers get the most out of travel. In addition to quiet working spaces and secure lockers, its 10,000 square-foot lounge in Terminal D will offer curated food options from local chefs, cocktails on tap, meditation and yoga studios, nursing rooms, shower suites, and (much) more. An industry-leading grab-and-go food section will offer healthy selections with sustainable packaging "that will make 'sad salads' a thing of the past," says Capital One. A second location at Washington D.C.'s Dulles International Airport is slated for 2022. Check out the amenities and artist's renderings here. 

⓷ EXECUTIVE EXIT: GameStop CEO George Sherman (above) will leave by the end of July as the company accelerates a turnaround, according to Bloomberg. Activist investor—and next chairman—Ryan Cohen is bringing in new executives and prioritizing online commerce over brick-and-mortar retail. The game retailer's shares, which jumped today, have risen more than 700 percent this year as of Friday—though trading is about 70 percent under the "Reddit-infused all-time high in January, CNN notes.
PLUS
⟫  SOHO SQUARE: Builders will break ground soon on a $1 billion West Dallas development that will have thousands of homes and a lagoon. The Megatel project, located near Trinity Groves, will also include retail and entertainment space along with workforce housing and an affordability component. The property, which was once used for a waste disposal operation for portable toilets, will get a clean up of an old industrial site, per the DMN.
⟫  MARKET DEBUT: The DBJ takes a look behind Alkami's recent IPO and why its move to the public market will 'turbocharge' the fintech. The company, helmed by CEO Mike Hansen, raised more than $400 million and garnered a multibillion valuation.
⟫  NFT TRACKER: "Every other week there's news about Mark Cuban and NFTs now," writes Decrypt. The billionaire Dallas Mavericks owner has invested in NFT data aggregator service CryptoSlam through his VC company, Radical Investments. The aggregator started in Texas in 2018.  In related Shark Tank news, Cuban also invested a half million dollars in Truffle Shuffle, founded by two Bay area chefs, on Friday's episode. The startup, which sold truffles direct to restaurants, pivoted to a online cooking classes and meal kits in the pandemic. 
---
Friday, April 16
THREE THINGS
⓵  A CUT ABOVE: Robin Autopilot USA just claimed a bigger stake in the future of lawn care. The Dallas-area robotic mowing tech firm has acquired Mowbot, a competitor with 16 franchises across the U.S. and backing by Swedish powerhouse Husqvarna. As part of the deal, Robin is deepening its partnership with Husqvarna, a global leader in outdoor power products. "We've strategically partnered to attack the Robots as a Service (RaaS) sector," the company said. Together with Mowbot, the Robin Autopilot plans a Dallas expansion.
⓶  FAST WINS: Dallas-based Shokworks has a new skills-based game called High Speed Hands based on the TV pilot Poker Showdown. The game, developed In collaboration with entrepreneur and poker aficionado Rob Huxley, uses the studio's proprietary X/R, writes D CEO. The company, which moved from Miami to Dallas last year, has generated over $100M in direct revenue and cost-savings for its clients that includes Fox Sports, Real Madrid, Dupont Chemicals, FC Barcelona, Telemundo, and the United Kingdom government, the company said at the time. "Dallas has become a spot that tech companies, green energy and financial institutions are pouring into to call home," said Founder and CEO Alejandro Laplana (above).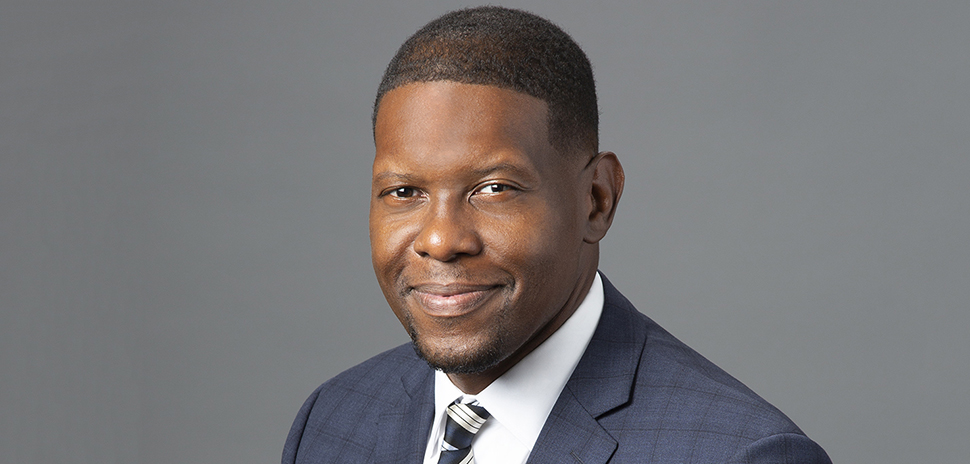 ⓷ ON-THE-GO OPERA: The Dallas Opera has put its show on the road with a special tricked-out truck. Perfect for pop-up performances and private events, the OperaTruck will make its debut in May, per CultureMap Dallas. Dallas innovator Quincy Roberts (above), who is CEO of Roberts Trucking and a trained opera singer, retro-fitted and donated the truck. Roberts, who also is a TDO trustee and chorus member, said the pandemic was a chance to "become even more bold and creative in our approach to our mission."
MORE DEALS
⟫ Dallas-based Applied Blockchain has launched into the Ethereum and Altcoin mining business with a new strategic partnership and an oversubscribed $16.5 million private equity investment. The partnership with blockchain companies SparkPool and General Mining Research (GMR) will allow the new pure play publicly traded Ethereum mining company to scale quickly, the startup said in a news release. The company plans to list on the Nasdaq "soon," per Seeking Alpha.
⟫ Car Capital closed $20 million in debt financing. The recently launched Grapevine-based fintech startup—led by CEO and Co-Founder Justin Tisler and Chairman Brian Reed—closed on a $8.8 million Series A funding round in early April.
⟫ COMSovereign's latest deal eyes signal processing tech, according to Washington Technology. The Dallas holding company on Wednesday announced the acquisition of Innovation Digital for $8 million in cash, debt and stock. Founder Scott Velazquez, who is "credited as a pioneer and expert in signal processing technology that mixes analog and digital techniques," will become chief research officer at COMSovereign.  The holding company's drone aviation arm delivered its first drone-deployed LTE network in December.
⟫ Nashville-based Premier Parking has partnered with AI-powered autonomous commerce platform Metropolis to deploy proprietary tech in Dallas and four other cities in the coming months. It plans expansion to 40 markets this year: Additional markets are based on urban density and demand for innovation in parking. Metropolis raised a $41 million Series A in February.
 THE TOP TEN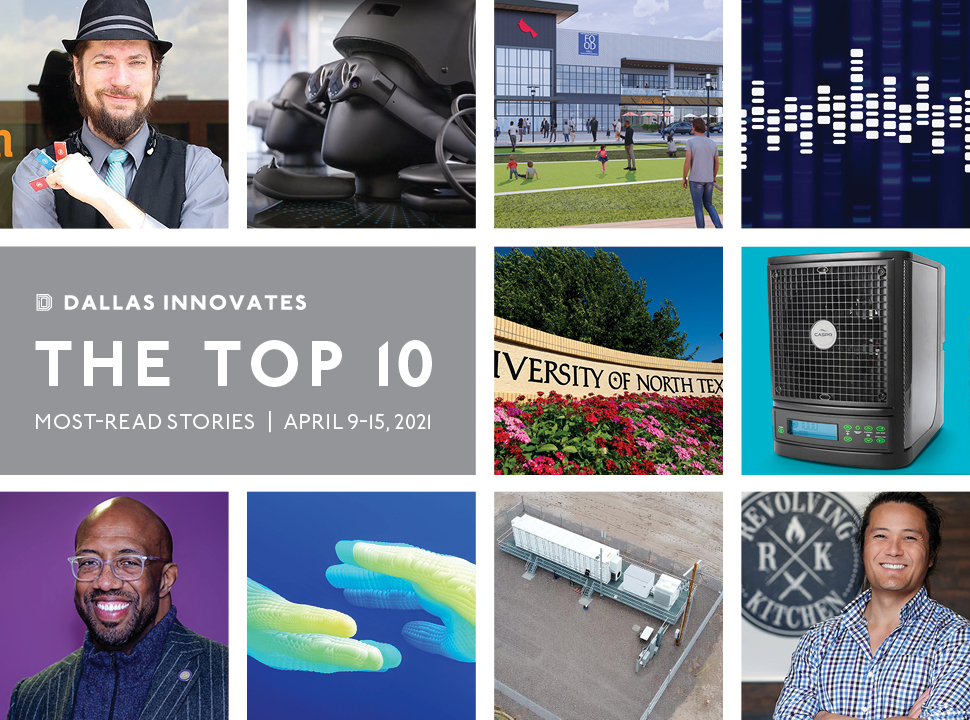 ⓵ Ask Doctor Bitcoin: This Dallas Entrepreneur and Blockchain Expert Offers Free Advice for Emerging Crypto Market
⓶  AT&T Unveils a New Innovation Studio That Will Unlock the Power—and Potential Applications—of 5G
⓷  Southern Dallas' Redbird Mall Revitalization Brings Access, Talent, and Purchasing Power to the Area
⓸  Dallas' Taysha Gene Therapies Gets Worldwide Rights to Gene Therapy That Treats a Rare Neurodegenerative Disease
⓹  UNT Masters Programs Top New Ranking of 2022 Best Graduate Schools
⓺  Fresh Air: CASPR Group's Disinfection Tech Can Kill Up to 99.99% of COVID-Causing Virus in 24 Hours
⓻  PQC President Michael Sorrell to Helm The Dallas Foundation's Board of Governors
⓼  The Digital Divide is Real. AT&T Commits $2 Billion To Bridge the Broadband Connectivity Gap
⓽  Hunt Energy Network's New Venture Will Put 50 Batteries Across Texas, Giving ERCOT a Portfolio of Energy Generation
⓾  Revolving Kitchen's Commercial 'Ghost' Kitchens Help Restaurants Optimize Deliveries While Lowering Costs
---
Thursday, April 15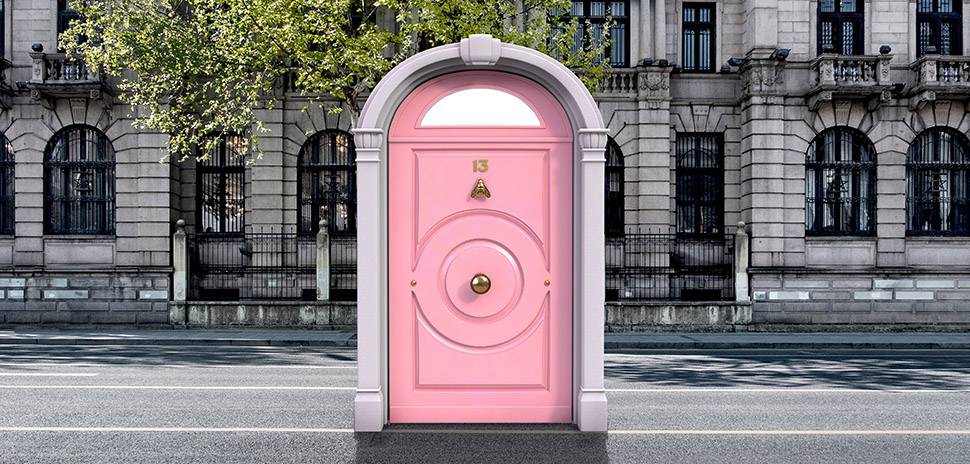 ⓵  BEAUTY EXPERIENCE: Dallas-based beauty innovator Mary Kay has launched its first pop-up digital showroom. The 360-degree, 3D beauty experience will roll out in most markets by the end of 2021. "Today, technology is at the center of everything," said Sheryl Adkins-Green, chief marketing officer for Mary Kay, The company is focused on finding "new ways for people to connect virtually for personalized low-touch experiences based in high-tech innovation."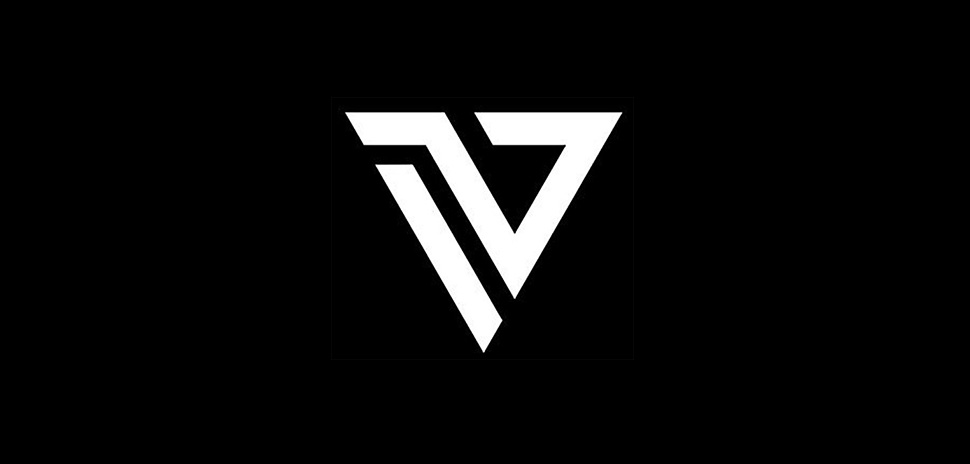 ⓶ GIFTED: The Impact Ventures accelerator has received a $450,000 grant from the Communities Foundation of Texas, Founder Ben Vann announced today. The grant from the W.W. Carth Fund, a multiyear investment over three years, is the accelerator's largest to date. The funds will support programming and the hiring of a full-time staff. Impact Ventures also has a new partnership with business consulting firm Jabian Consulting. The business consulting firm will support Impact Venture's Local Entrepreneur Accelerator Program, or LEAP, with financial awards for participants.  The Atlanta-based firm, which has a local office, recently launched a micro-grant program called Project Amplify in honor of its 15-year anniversary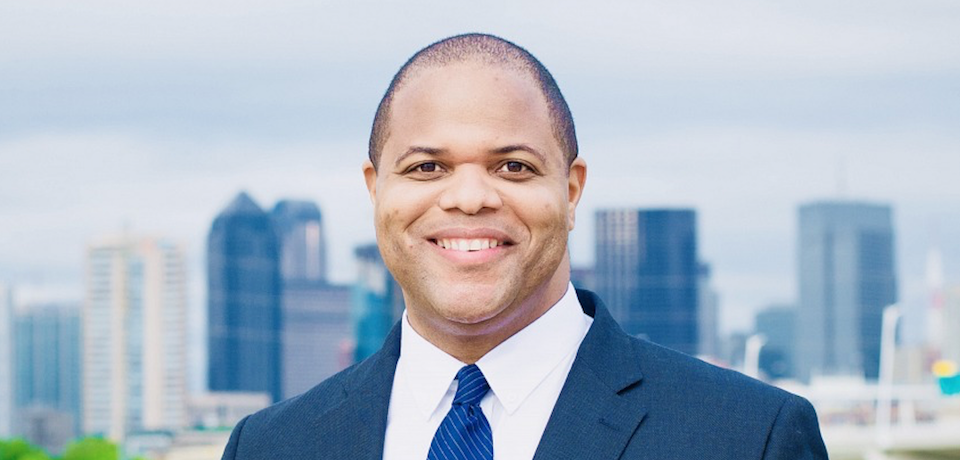 ⓷  WORKFORCE STUDY: Earlier this week, Dallas Mayor Eric Johnson announced the city will look at what jobs it needs post pandemic. The study, thanks to a $100,000 grant, will look at the Covid-19 impact on available jobs, identify growing sectors, and assess skills gaps that should be closed. Funded by nonprofit Bloomberg Philanthropies, the results are expected in September, KERA reports.
Images (from top): Istockphoto, City of Dallas, Mary Kay Inc.
---
Wednesday, April 14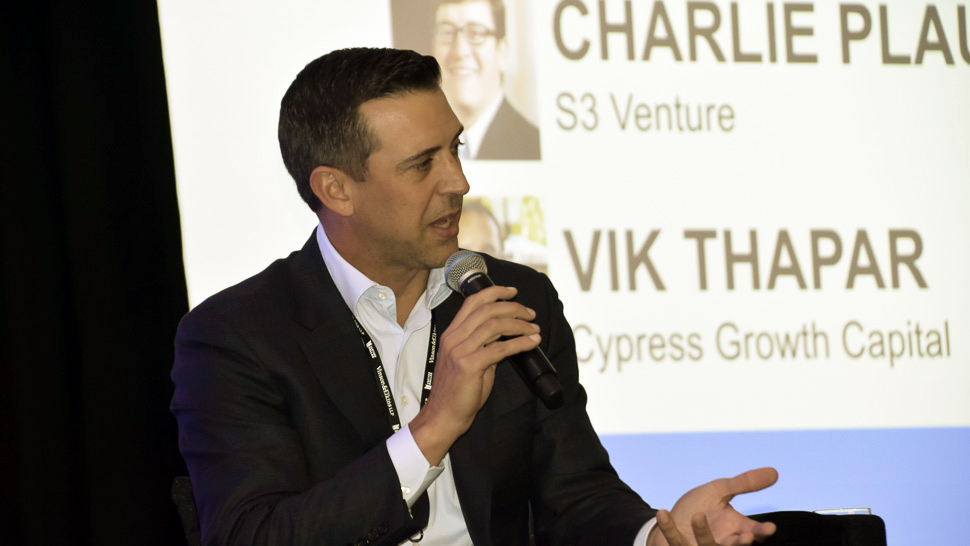 ⓵ IPO: Plano-based Alkami Technology is now Nasdaq listed (ALKT). The fintech's shares posted a strong first-day performance in its U.S. market debut today, Barrons reports. The stock opened at $41.26 and peaked at $49.32, a surge of more than 43 percent from its $30 IPO pricing. The company, founded in 2009, provides a cloud-based digital banking platform and aims to level the playing field between small banks and large financial institutions. "Ultimately, everyone will go to electronic delivery of financial services," predicted Stephen Bohanon, the founder (above) who oversees Alkami's product direction, strategy, and sales efforts, in 2019 at Venture Dallas. The startup at the time was considered to be "under the radar."
⓶ GROWTH TRACK: One of Dallas' fastest-growing small businesses is joining a publicly traded company. Dallas Mechanical Group, founded in 2009, was acquired earlier this month by EMCOR Group. CEO Joe Smith and President John Smith, who are brothers and co-founders, have a goal to triple the company's size in the next 10 years, which would put DMG revenue at $200 to $250 million, the DBJ reports. The acquisition "wasn't part of a big exit strategy so much as, 'How can we continue to have the resources we need to keep the company growing and make it even bigger than it is now?'" Joe Smith said in the publication.
⓷ MEASURING IMPACT: Innovation can absolutely, positively be measured, writes Forbes. Four pros, including DFW Airport's Jodie Brinkerhoff, weigh in on how to show the innovation engine is humming with "Jedi-level" metrics. The VP of innovation creates a comprehensive report covering who the team is working with, what projects are active, and how many ideas are in the pipe, along with budget and impact details. Not every leader will read the report in depth, but "no one can say 'I didn't know you were doing that,'" Brinkerhoff says. For the full report on monitoring and measuring, go here.
---
Tuesday, April 13
THREE THINGS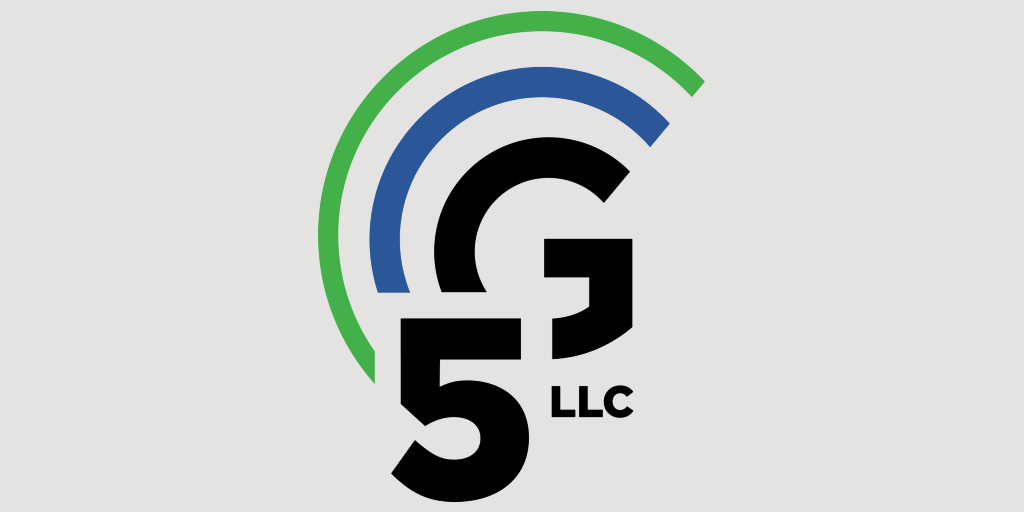 ⓵ HEADING WEST: 5G LLC is relocating its headquarters to Dallas-Fort Worth from Bethesda, Maryland, reports the Dallas Business Journal. "Buildings are the next generation cell towers," says CEO Matt Davis in the publication. "The infrastructure requirements for the rollout of 5G technologies across the United States are massive." The company, which calls itself an "aggregator of real estate for the delivery and implementation of technology solutions" on LinkedIn, thinks rooftops of commercial real estate can help satisfy that demand. Its growing "rooftop portfolio" could be a win-win-win: Landlords make revenue, wireless carriers speed deployment, and tenants get "smart" amenities—at a good rate. 5G LLC's role as an infrastructure provider with an innovative, but simple, solution helps drive 5G deployment, the startup said in a recent news release. 5G LLC was founded in 2020 and has 36 employees, per LinkedIn.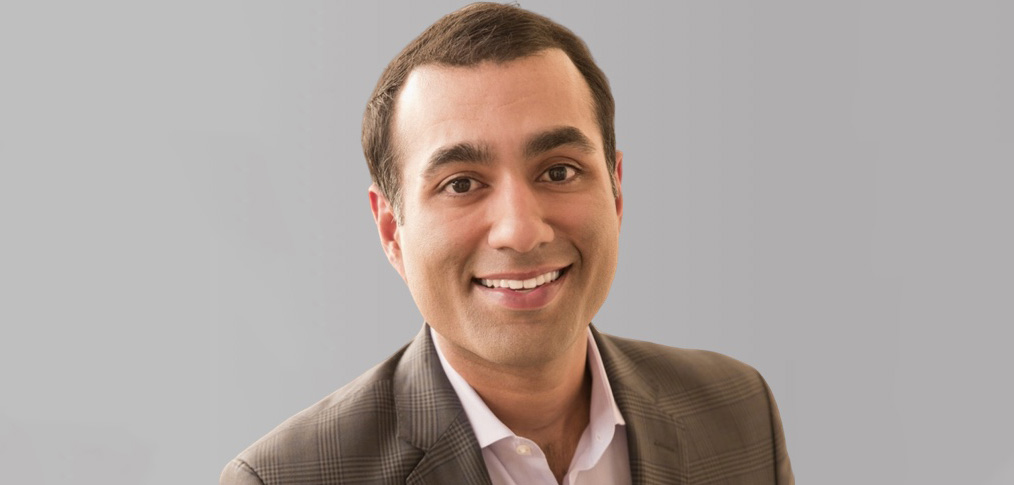 ⓶ TRANSFORMATIONAL UPSIDE: Legacy consumer internet brand Earthlink, bought by Dallas-based private equity firm Trive Capital in a $330 million cash deal in 2018, has completed a recapitalization. The firm's portfolio company "carved out and turned around the business," says Managing Director Sharavan Thandani (above). It's a testament to the leadership team's hard work and the firm's collaborative partnership, he said in an email. Founded in 1994 as a dial-up internet service, Atlanta-based EarthLink looks to connect consumers and businesses to the internet over the long-term. Trive Capital, which manages about $2 billion in aggregate capital commitments, is one of the largest PE firms in Dallas.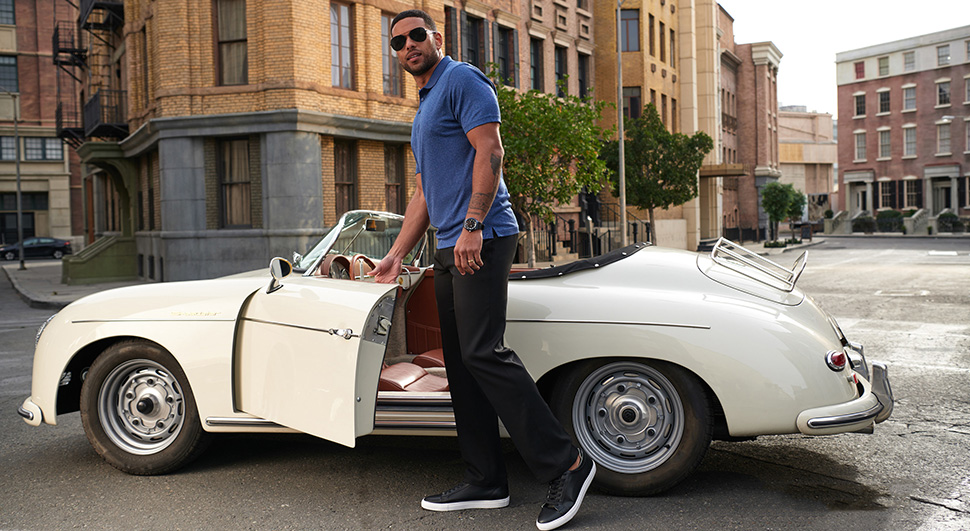 ⓷ READY OR NOT: Dallas' iconic slack maker Haggar Clothing Co. is easing the transition of an "inevitable return to buttons and zippers."  The company, which got its start in a one-room office in 1926, is looking to a flexible future with innovative four-way stretch fabrics, comfort waistbands, wash & wear products, eco-friendly yarns, and more. Haggar was acquired in 2019 by New York-based Randa Accessories, a maker of accessories under 50 brands that include Levi's, Tommy Hilfiger, and Columbia Sportswear. The deal at the time reportedly created a roughly $1 billion company.
READY, SET, START
⟫ PLAYBOOK: Ready to set out on your startup journey? Our friends at TechFW break down the process in The Startup Funding Roadmap. It's a detailed account of the path from idea to acquisition. Pro tip: Kick off with an entrepreneurial mindset. If you're not sure what that entails, Executive Director Hayden Blackburn lists the 13 essential components in this 12-minute primer.
ON PACE
⟫ Johnson & Johnson has put a pause on its vaccine rollout as feds probe rare cases of blood clots. in an email. But that FDA pause "will not significantly impact the PCCI initial estimate for Dallas County's path to herd immunity by June," says Steve Miff, president and CEO of Parkland Center for Clinical Innovation (PCCI). To date, Dallas County has administered 61 percent Pfizer, 35 percent Moderna, and 4 percent J&J, the CEO says. According to MIff, we're progressing at a herd immunity rate of 3 percent —"ahead of initial predictions." PCCI forecasts that we'll continue to make progress at 2 to 2.5 percent, maintaining the pace for mid-June. "The action by the FDA is out of 'abundance of caution' and it's a strong signal of how responsive they are to any potential safety concerns," says Miff in a statement. 
---
Monday, April 12
THREE THINGS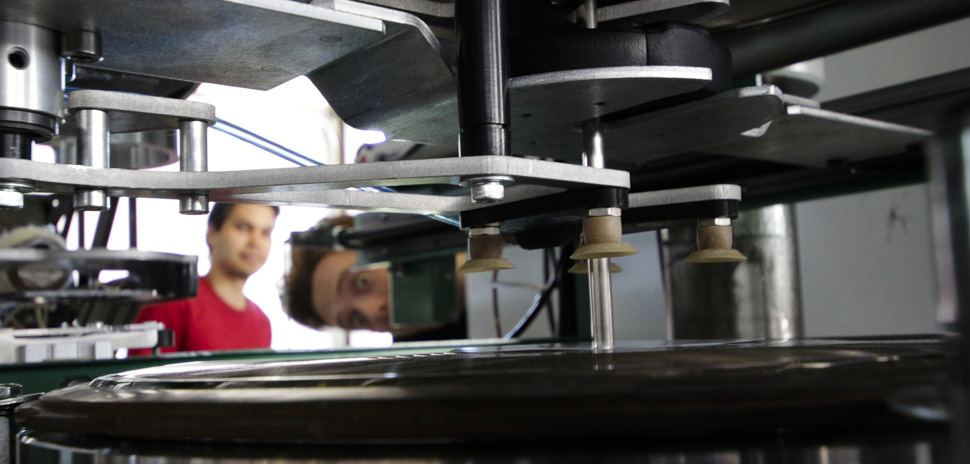 ⓵  BOUNCE BACK: Addison-based Hand Drawn Pressing churns out vinyls on the world's first fully automatic, modernized record press. Last year, its 80,000 square-foot state-of-the-art pressing plant — one of the largest in the country — became busiest than ever in the pandemic. After a plummet of about 90 percent in March 2020, artist managers started looking for new revenue streams when they realized tours "weren't going to happen," according to Dustin Blocker, Hand Drawn's Chief Creative Officer, in Central Track. But by early fall, he said, business was "picking up steam," and things "really got insane" in December and January. "Vinyl seems to keep beating the odds in every way," Blocker said in a Q&A.
⓶ CAFE CONCEPT: Dallas-based La Madeleine has "an innovative new partnership" that brings a mini-cafe prototype to an unexpected place: Walmart. An initial test of ten 1ocations could start with the first in Garland in July, per Culturemap Dallas.
⓷ HOT MARKET: Dallas tech salaries are spiking — and there's no sign of the trend slowing, writes the DBJ. According to Robert Half's Thomas Vick, some positions for key jobs have increased more than 5 percent than last year. In 2020, the average salary in tech was $97,801 in the region, per The Dice 2021 Tech Salary Report. 
PLUS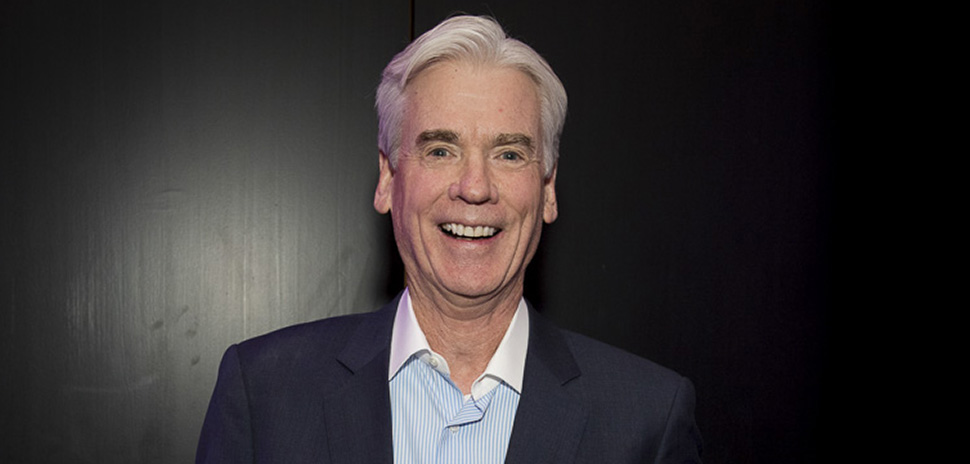 ⟫ TARGET UP: Plano fintech Alkami Technology now plans to sell 6 million shares priced between $26 and $28, for a valuation of about $2.33 billion, it disclosed today. The company's IPO is expected this week: Alkami will list on Nasdaq under the ticker symbol ALKT. Alkami's CEO Mike Hansen (above) was the winner of Innovation in Finance in D CEO and Dallas Innovates' 2020 Innovation Awards.
---
Friday, April 9
THE TOP 10

⓵ Southern Dallas' Redbird Mall Revitalization Brings Access, Talent, and Purchasing Power to the Area
⓶  Hunt Energy Network's New Venture Will Put 50 Batteries Across Texas, Giving ERCOT a Portfolio of Energy Generation
⓷  'Plano-Based Alkami Plans IPO Launch at $2B Valuation
⓸  Dallas-based Overhead Door Corp. Buys Innovative Market Leader of Fire and Security Doors
⓹  Lockheed Martin Names New F-35 and Program Management Leaders
⓺  Dallas' Marcus Graham Project Collaborates With Hennessy on $1M Accelerator for Black Entrepreneurs
⓻  Local Auto Fintech Launches Operations With $8.8M Series A
⓼  UTD Director Aims To Transform How People Learn through Virtual Human Hologram Technology
⓽  Lockton's New 'COVID-19 Vaccine Employer Checklist' Could Help Your Company Decide on Its Vaccination Policy and Execution
⓾  UTD Symposium Marks 'Meteoric Growth' in Bioengineering
THREE THINGS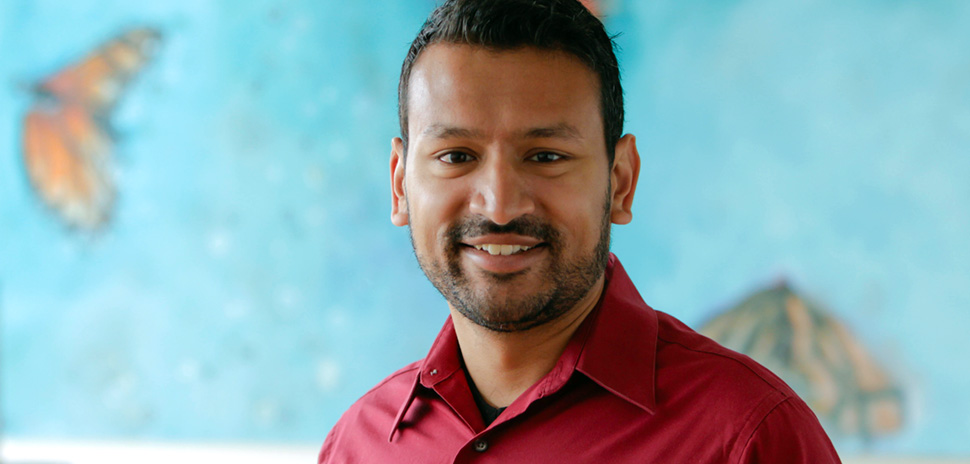 ⓵ CLEAN GREEN: A Richardson clean energy startup has gotten new funding to develop tech that supports decarbonization. Skyven Technologies will split a $3 million award with five companies. The startup, founded in 2013 by Arun Gupta (above), creates clean energy systems in the industrial sector. The award was announced yesterday by New York Governor Andrew Cuomo as part of $6 million in awards for projects that support the state's clean energy goals. The awards, which are non-dilutive matching investments, aim to advance innovation to fight climate change. Each company awarded has gotten twice as much or more in qualifying private capital investments. Founder Gupta, an engineer-turned-entrepreneur and thermal energy expert, built the world's first industrial-grade solar thermal technology which led to the launch of Skyven.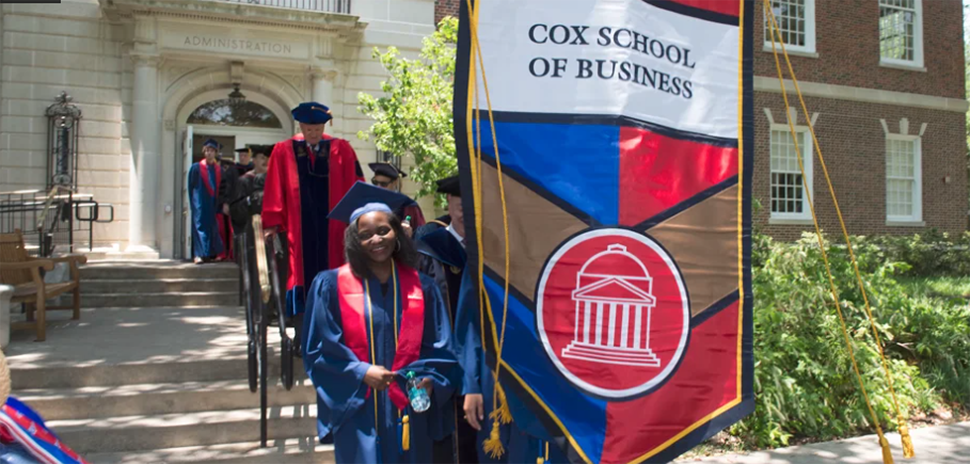 ⓶ EMPOWERING ENTREPRENEURS: SMU's Cox School of Business has received a $15 million gift to create new tech-equipped collaborative spaces. The gift from Sharoll and Bryan Sheffield will give next-generation CEOs experience in the data-driven environment, along with skills that build trust with customers. "Combined, technology and public trust are critical to supporting our future energy landscapes," said Bryan Sheffield, founder and managing partner of Formentera Partners, in a statement.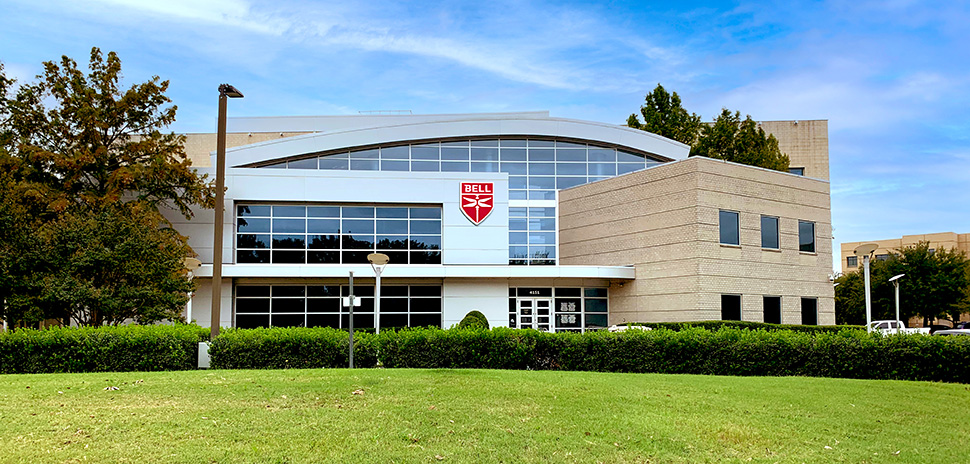 ⓷ TOP RANKED: Comparably has released its annual rankings of the 50 best engineering and product/design teams to work for. Fort Worth-based Bell Flight lifted off at No. 11 on the engineering list, which included the likes of RingCentral, Amazon, Google, Credit Karma, and Chegg in the top five. Bell Flight was also No. 33 on the product/design list. Winners are based on anonymous employee ratings in the U.S. who rated their departments on Comparably.com between March 2020 and March 2021, reports TechRepublic.
PLUS
⟫ The nonprofit Texas Blockchain Council, which promotes the tech's initiatives that growth and benefit Texans, has a new member: Bonifii, a leader in privacy- and security-enhanced digital identity solutions for credit unions. The group released a toolkit last month to promote adoption of the technology across the state.
⟫ Who are Robyn and Mark Jones, the Westlake couple who landed on Forbes' annual billionaires list?  The Joneses founded Westlake-based Goosehead Insurance in 2003 and have an estimated worth of $2.5 billion, per the DMN. (For a look at all the Texans on the list, CultureMap has a rundown.)
⟫ Newly organized blank check company TPG Pace Solutions Corp. announced pricing of a $250 million initial public offering. Per a news release, it's focused on "sponsoring the public listing of a company in any industry that is well positioned to thrive in the public markets."  The TPG Pace Group, a dedicated permanent capital platform, was created in 2015 to sponsor SPACs and other permanent capital solutions for companies. Since then, it's successfully listed five SPACs, completing three transactions and announcing two others. 
⟫ The first-ever NFT digital artwork from a legendary Texas artist is up for auction, per CultureMap Dallas.
EVENT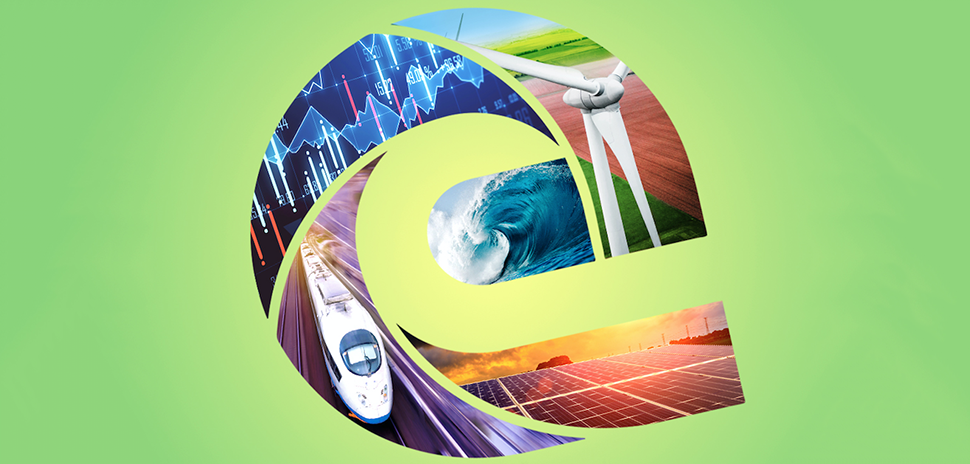 SUSTAINABILITY INVESTING: The EarthX E-Capital Summit, April 28-30, will convene hundreds of investment firms, innovators, startups, established companies, industry leaders, policymakers, incubators, and accelerators. With a new administration comes new opportunities, the group says. EarthX partnered with the Austin Technology Incubator (ATI), one of the country's leading clean technology incubators from UT Austin on the virtual summit, which is free thanks to a generous donor. Want to attend the invitation-only event? Potential participants can fill out the General Invitation Request Form, New Investor Application, or Company Application. 
Images (from top): Skyven file art, SMU video screen shot, Bell Textron, EarthX
---
Thursday, April 8
⓵ FLEX PLAN: WeWork has picked JLL as its exclusive broker in Dallas, the firms announced today. Commercial real estate firm JLL has been hired to lease flex space company WeWork's 517,583 square feet in eight locations. Companies are figuring out how to handle the hybrid workplace model, and WeWork has "ideal accommodations for both single office users needing to work near home and Fortune 500 companies looking for scalable, branded space," says JLL SVP Ashley Curry in a news release. Times were tough on coworking space in the pandemic, but JLL saw demand coming, according to a Globe St. analysis last summer: Flexible space will rise again post COVID-19, the real estate firm said in July.  
Per JLL, locations in DFW include:
Plano: 6900 Dallas Parkway 

Dallas CBD: Santander Tower: 1601 Elm Street  

Uptown: 1920 McKinney Avenue  

Victory Park: Victory Plaza: 3090 Nowitzki Way  

Las Colinas: Williams Square: 5215 North O'Connor Building  

Legacy West: 7600 Windrose Ave  

Legacy North: 7300 Lone Star Drive   

Preston Center: 5960 Berkshire Lane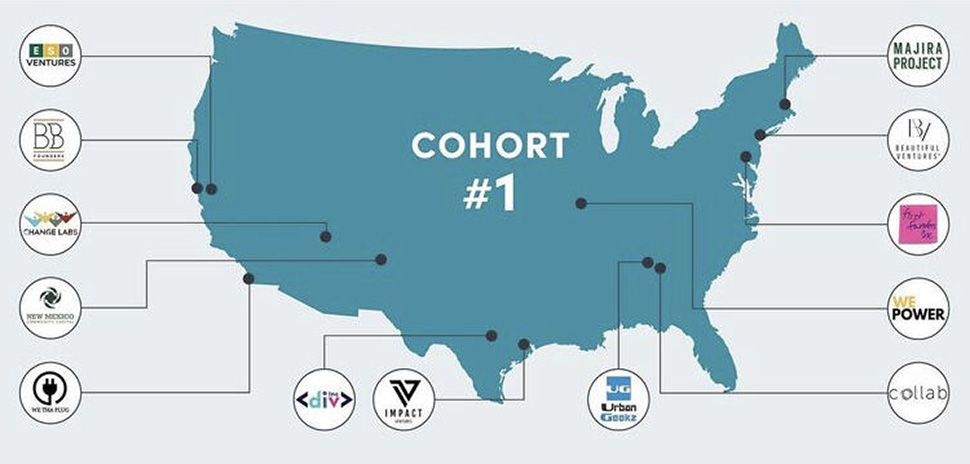 ⓶  CAPACITY BUILDERS: Dallas-based accelerator Impact Ventures has been invited to participate in the first cohort of a new national initiative that "backs the ecosystem leaders that back diverse founders." Aptly named "Resource," the effort is co-led by Village Capital and Black Innovation Alliance. The goal? To ensure incubators and accelerators that focus on supporting people of color "have the financial, social and human capital to keep their doors open and grow," shares  Impact Ventures' CEO and Founder Ben Vann on LinkedIn. Vann, who is also managing partner at Inclusive Capital, aims to build more inclusive communities—one venture at a time .
⓷ ENGINEERING GAMES: Last year, we told you about plans for the annual VEX Robotics World Championship—recognized by the Guinness Book of World Records as the largest robotics competition in the world—going virtual for the first time ever. It was major news, especially considering the competition came back to Dallas in 2019 for the first time in a decade (get a glimpse of the in-person action here). Now, the STEM-based tournament, which involves top global teams using robotics to go head-to-head in creative design thinking and problem solving, is back. Again virtual, the live remote event will have peers build a robot to compete in this season's engineering game challenges at the regional, state, and national levels. It will be hosted by the Greenville-based Robotics Education & Competition Foundation from May 17-29. Teams have until April 18 to qualify.
---
Wednesday, April 7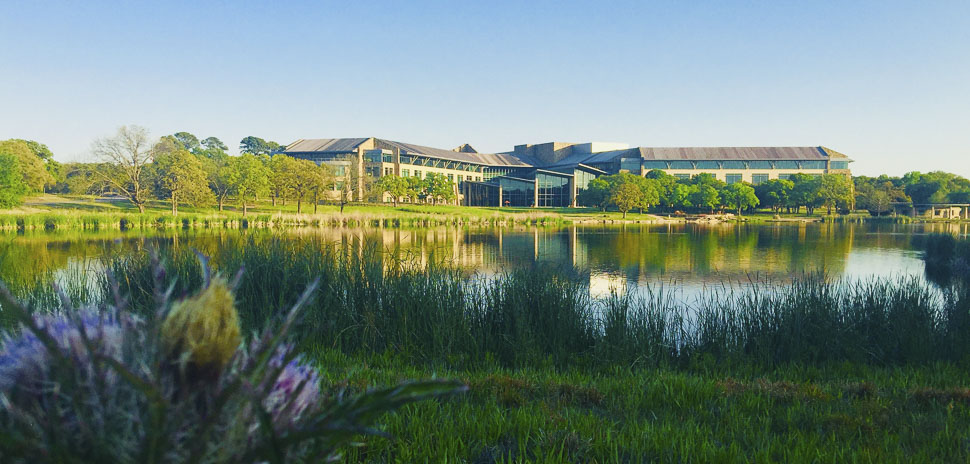 ⓵ MORE TECHNOLOGISTS: Fidelity Investments plans to hire 475 new employees at its Westlake campus (above) by mid-year. That's on the heels of "robust growth in staffing" last year, writes the Dallas Morning News. The company, which hired 7,200 employees in 2020, now plans to hire for another 4,000 positions as it builds out its digital tools for investors and client-facing positions this year. In North Texas, new roles include technologists, such as data scientists and software engineers, as well as client-facing associates, like financial consultants. The hires are part of a nationwide expansion of Fidelity Investment's team and U.S. footprint. In an email to Dallas Innovates, the company notes that "the North Texas financial activities sector is the only job category showing year-over-year gains."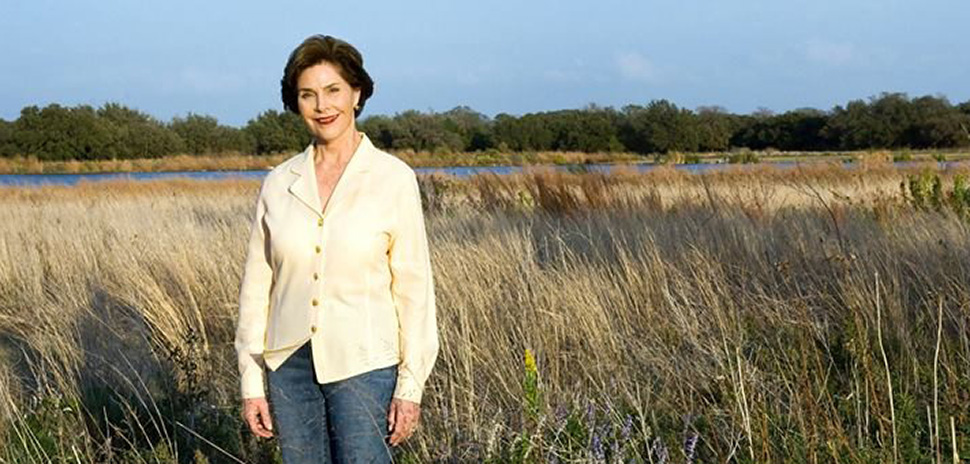 ⓶  CONSERVATION ACCELERATOR: Texan by Nature, the Dallas-based conservation group founded by Laura Bush in 2011, has picked four organizations to partner with this year through its Conservation Wrangler accelerator program. The organizations selected are Texas Water Trade, Texas Longleaf Implementation Team, San Antonio Zoo and Audubon Texas, reports CultureMap. The accelerator aims to spark science-based initiatives that show positive effects for people, prosperity, and natural resources.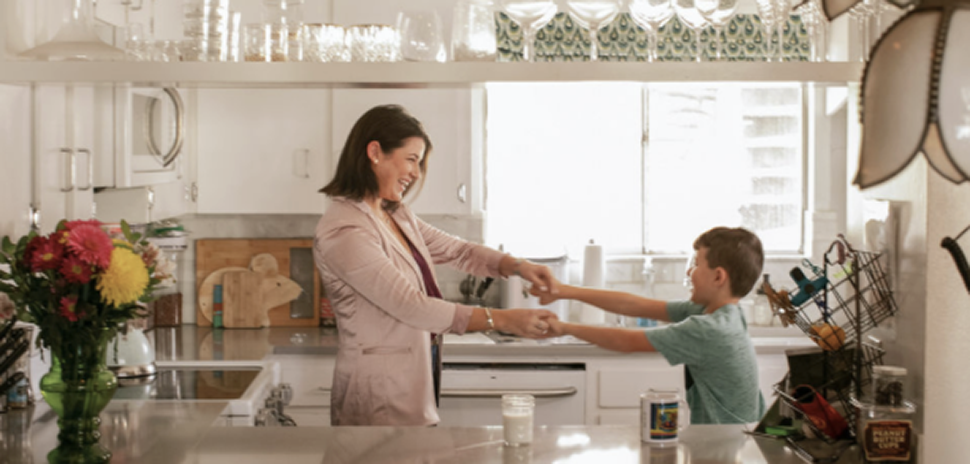 ⓷ MOM'S PTO FUND: Texas-based innovator Kendra Scott wants to give back to moms. Leading up to Mental Health Awareness Month and Mother's Day, the company will give $2,000 each to 50 moms in the U.S. to help cover childcare so they can get some much-deserved time off. Together, WFH and stay-at-home moms about $11 trillion of unpaid labor annually, the company notes. Apply by sharing your real-life mom moments: For details, go here. Deadline is April 22.
Images (from top): Courtesy of Fidelity Investments, Texan by Nature/Grant Miller, Kendra Scott
---
Tuesday, April 6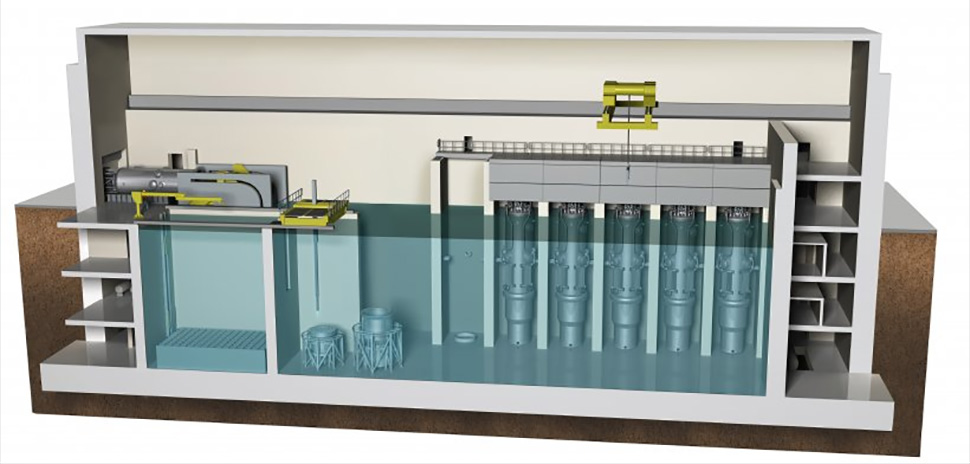 ⓵ CARBON-FREE SMR: Irving-based Fluor announced a $40 million investment in NuScale Power by JGC Holdings Corp. of Japan. Fluor is the majority investor in NuScale, a small modular nuclear reactor technology company (SMR). The two companies are working to bring the world's first carbon-free SMR project to commercialization for Utah Associated Municipal Power Systems. JGC will become a strategic partner for new SMR projects, Fluor says. The ownership stake and partnership "is aligned with Fluor's long-term strategy to bring aboard new strategic investors to NuScale as the U.S. and international demand for new carbon-free base-load energy grows," said Fluor Executive Chairman Alan Boeckmann in a statement.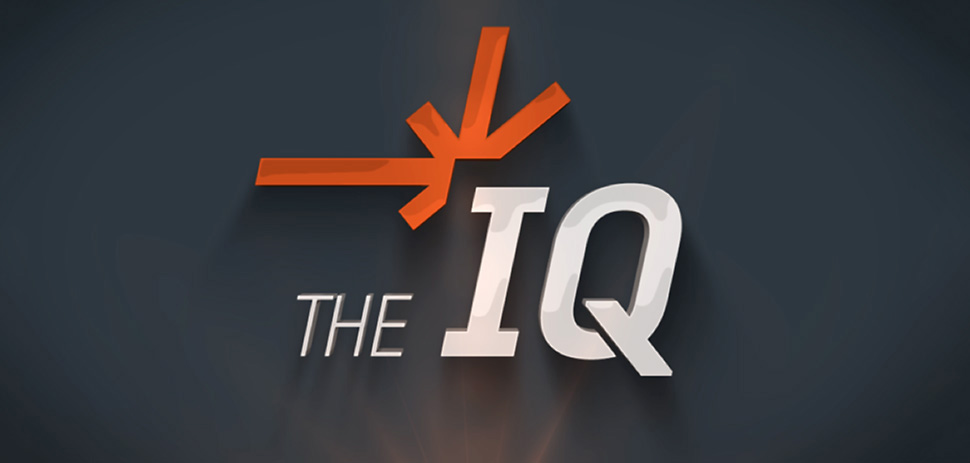 ⓶ INNO ZONE: UT Dallas and the City of Richardson are teaming up to anchor the city's burgeoning Innovation Quarter, or The IQ for short. The 1,200 acre innovation district east of U.S. Highway 75 was announced in 2020, The city will redevelop a building it owns on E. Collins Boulevard for its Office of Strategic Initiatives.  Five UTD research centers, coworking, and lab space will join the city, according to GovTech.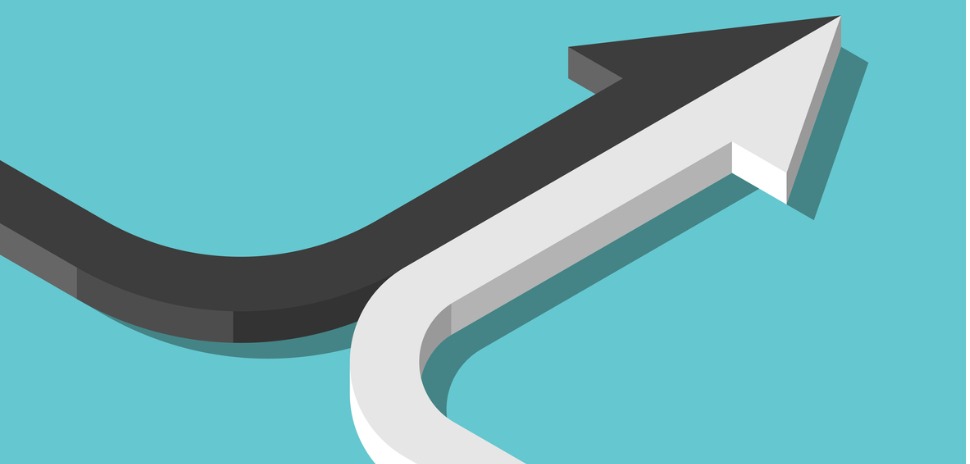 ⓷ DATA DEMAND: Dallas-based data management consulting firm Amplifi has acquired Comma Group, a London-based data consultancy to extend its European Capabilities. Founded in 2008, Amplifi calls it the first step in its "growth-through-acquisition" strategy. Comma will operate under the Amplifi umbrella. "The whole process was done virtually, showing how much two companies can achieve when they think big and align visions," said Scott Spear, Amplifi chairman and CCO, in a statement.
PLUS
⟫  DRIVING DISRUPTED: Plano-based Lexus is using tech to change minds about texting and driving. A new video released on 4/6 shows how 4.6 seconds—the average length of time it takes to send or receive a text message—goes way beyond a momentary distraction. Lexus shows what can happen when drivers no longer see the road. In the video, participants get behind the wheel of a specially modified Lexus NX, thinking they're taking the vehicle for a routine test spin. Lexus uses electrochromic technology to turn the windshield and windows opaque to obscure the driver's view for 4.6 seconds. The video, which captures what happens, aims to change perceptions. Per Lexus, at 55 mph, "taking your eyes off the road for 4.6 seconds is like driving the length of an entire football field with your eyes closed."
Images (from top): Rendering NuScale Power LLC; Richardson Innovation District; Dmitrii Guzhanin/iStock; Lexus video
---
Monday, April 5
THREE THINGS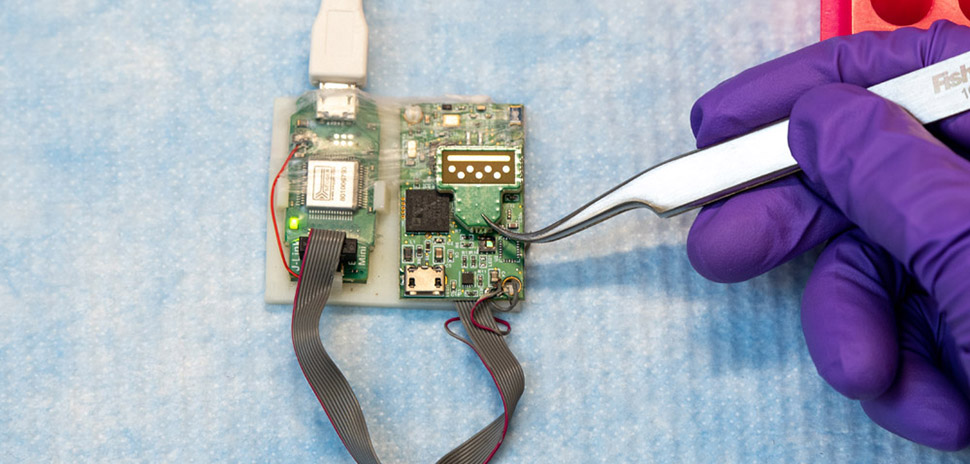 ⓵ BIO CELEBRATION : On April 8 and 9, UT Dallas will mark a decade of what Dr. Shalini Prasad calls "meteoric growth" for its bioengineering program. A free virtual symposium will celebrate impact that's "palpable in North Texas and beyond." From the development of sensor technology to detect sepsis (above) to nerve stimulation to reverse brain disfunction, the program "has delivered novel innovations in med tech and digital health," according to Prasad, a professor who heads the department. The bioengineering program, which has expenditures that topped $17 million in 2019, allows faculty and students to collaborate with researchers at UT Southwestern Medical Center.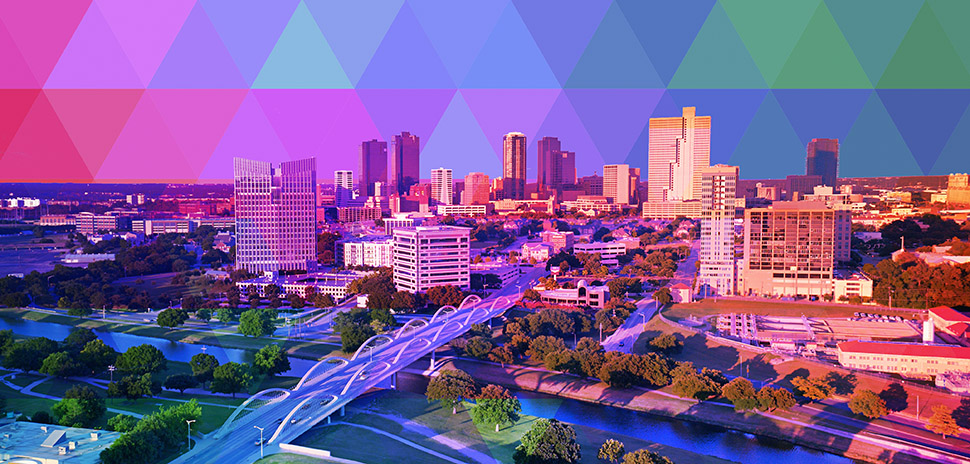 ⓶ TECH LEAP: Dallas-Fort Worth jumped to No. 3 in CompTIA's rankings for technology jobs in March. That rank also puts DFW at No. 1 in Texas. DFW is a top metro for both jobs and for job posting change (+1,872). The only other Texas metro to rank among the Top 10 was Austin (No. 4 for job postings change). CompTIA's Tim Herbert notes that the employer activity for tech positions "confirms the broad-based demand" for talent. "Technology underpins just about every business across every industry sector across every state, and we're seeing that in the hiring data," he says in a statement. Texas, which is No. 2 for tech jobs postings behind California, is rising: The Lone Star State is No. 1 for tech job posting changes. Texas added 4,180 tech jobs while California lost 1,349, according to the report.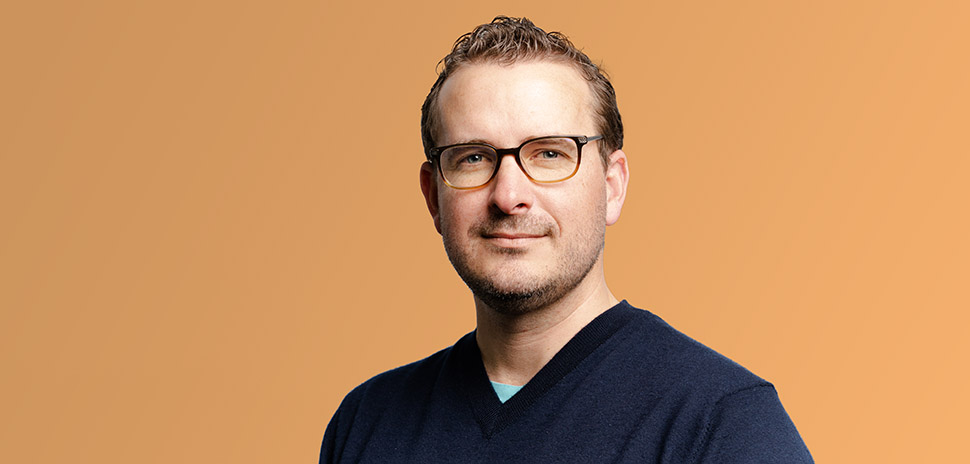 ⓷ NEW HQ: Dallas-based Work Shield has a new headquarters with room to expand at The Crescent in Uptown. The startup, which partners with employers to manage, investigate, and resolve workplace harassament, plans to double its team in 2021. With a "90 percent client expansion" in Q1 and 50 percent expected growth in Q2, the company calls its success a testament to the value of its people and solution. The company, which sees a "nationwide shift in companies' commitment to DEI inititives" and inclusive workplace cultures, raised a $4.11 million Series A last summer. CEO Jared Pope (above) called 'workplace culture a microcosm of what is going on in society at large' at the time.
QUICK HITS
⟫  The Topgolf of soccer: TOCA Social, a new entertainment concept, has picked Dallas for its U.S. headquarters, writes Ryan Salchert in the DBJ. The soccer-focused concept, which features food and beverages as well as events and games, touts proprietary tech including Touch Trainer, AR, and AI-enabled innovations.
⟫  GameStop has finally announced a share sale, per the Fort Worth Business Press. Two months after its dramatic rise in the market, the video game retailer said today "that it will sell up to 3.5 million of its shares with the price still vastly elevated." Two weeks ago in an SEC filing, the company disclosed that it had been considering "such a sale since January."
Image credits (from top): UTD, iStock skyline, Rebeca Posadas-Nava
---
Friday, April 2
TOP 10 MOST-POPULAR STORIES
 
⓵ Chase Opens Its First Texas Community Center Branch in Oak Cliff
⓶ 7-Eleven Opens Its First Corporate-Owned Drive-Thru With a Laredo Taco Company at an Evolution Store in Dallas
⓷ UT Arlington Team Wins $40K Research Grant to Redesign Historic Black Settlements in Dallas-Fort Worth
⓸  Fasten Your Seatbelts: Arlington Launches First On-Demand Public Self-Driving Shuttle Service
⓹ $10M Dallas VC Fund for AI Companies Closes First Round of Funding
⓺  This Goes On Your Permanent Record: GreenLight Credentials Uses Blockchain for Students' 'Life Transcript'
⓻ 'The Gin': One of Dallas' Oldest Buildings Enters a New Chapter With a Next-Gen Angle in Deep Ellum
⓼  Full STEAM Ahead: Texas Middle School Girls Experience Virtual Innovate(her) Conference
⓽  Three Google Career Certificate Programs Are Now Available in Texas to Help Job Seekers
⓾  Nastia Liukin on Why Becoming an Entrepreneur is Just Like Training for the Olympics
---
Thursday, April 1
THREE THINGS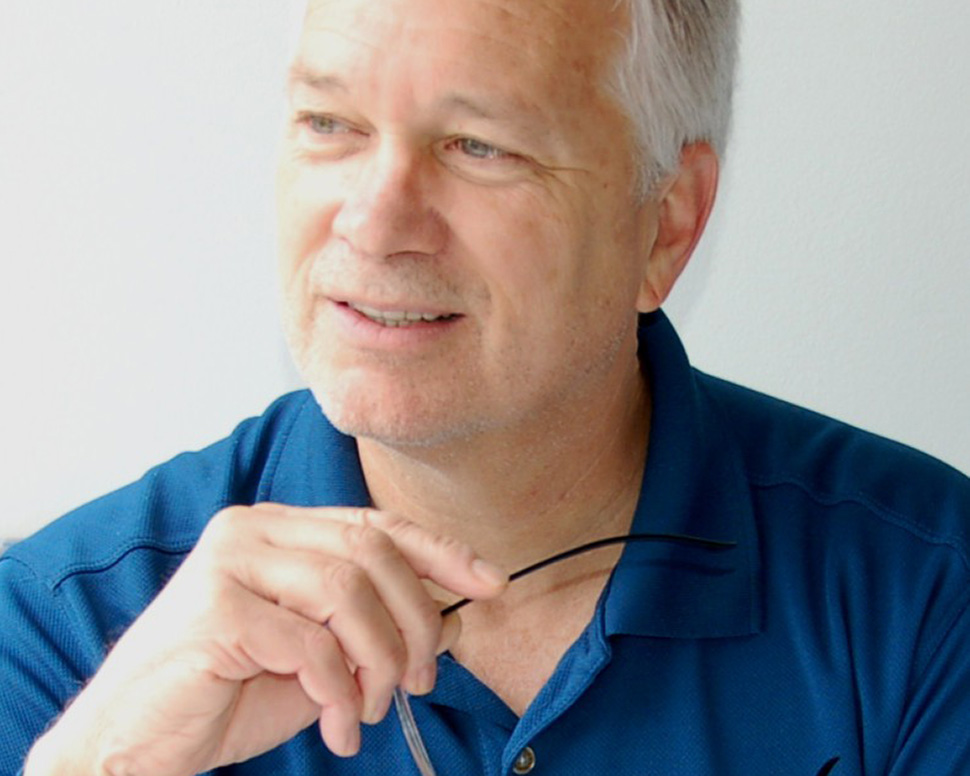 ⓵  RECURO RAISE: The founding CEO of Teladoc is leading the launch of Recuro Health. Michael Gorton (above) is at the helm of the Richardson startup, which just raised $2.9 million in an an oversubscribed round lead by OLSF Ventures. Gorton says it's "working on a much larger Series A," reports the Dallas Business Journal. Gorton's team includes several Teledoc leaders, including its original CTO and marketing team, according to a news release. Together they aim to build a new industry category with Recuro's business model for digital health solutions. Recuro's lead investor sees unprecedented interest: "There are rare moments in a venture capitalist career when you are presented an industry transforming opportunity, at the right moment in time, with a management team that has created the industry category," said Dr. William Paiva, managing partner at OLSF Ventures, in a statement. "This is one of those moments."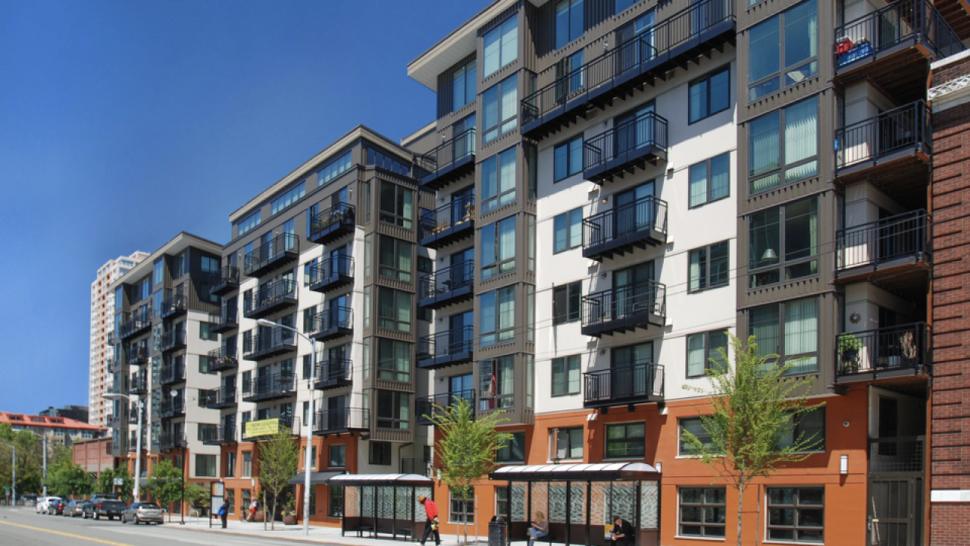 ⓶ PROPTECH EXPANSION: A Kansas City startup that aims to replace traditional property management is expanding to DFW and other "highly active multifamily markets" after a $5 million Series A round. Simplifyy founders Jake Lisby and Paul Worcester say their platform, based on "erasing pain points," is an easy sell to property owners who can see lower operating costs, reports Startland News. Other markets for growth include  Cincinnati, St. Louis, Phoenix and Columbia, S.C. The startup launched in late 2019, after working in closed beta since 2018.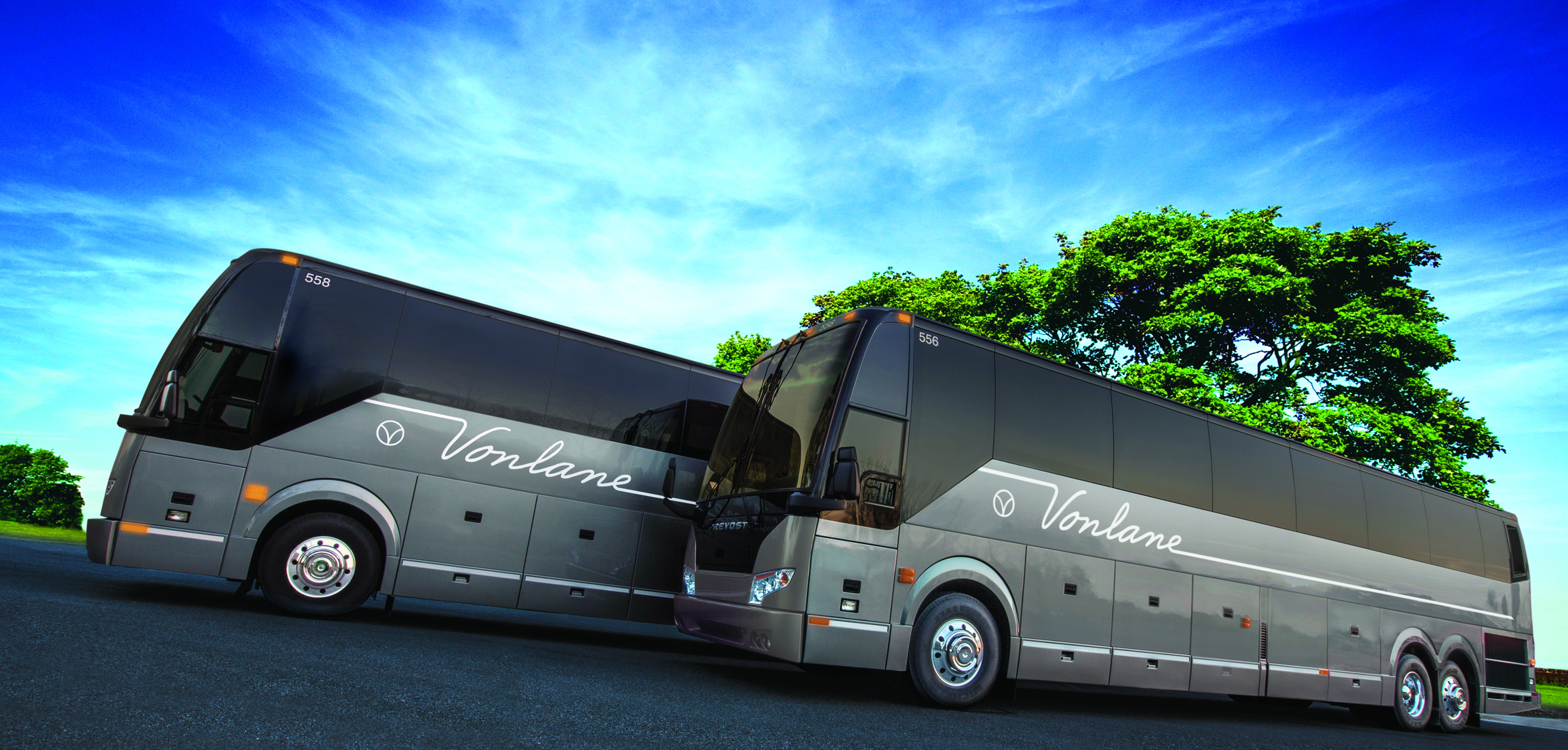 ⓷ TRAVEL SURGE: Dallas-based Vonlane is restarting its luxe bus routes to Texas cities and American Airlines says passengers are returning, with its spring bookings at "90 percent of what they were in 2019" before the pandemic. "Yes," says Southlake businessman Steve Cosgrove on NBCDFW. Cosgrove has seen an increase at his agency, Dynamic Travel: "People are going on vacation. I can't say business travel is back, but vacation travel is going gangbusters."
---
Want more of what's new and next in Dallas-Fort Worth?
Go here for ICYMI 2021: The Q2 Archive
---
Get on the list.
Dallas Innovates, every day.
Sign up to keep your eye on what's new and next in Dallas-Fort Worth, every day.