In an effort to make financial services and education more accessible for the people of Oak Cliff and southern Dallas, Chase has opened its first Community Center branch in Texas.
The Oak Cliff branch was constructed as part of Chase's $30 billion commitment to advance racial equity and create economic opportunities for diverse and underserved communities.
"We're moving beyond community banking to community building," Lawrence Bailey, Chase's Dallas-based Head of Community and Business Development for Chase Consumer Bank, said in a statement. "We want to help people build a strong financial foundation so they can thrive and build wealth."
By combining a modern design with state-of-the-art banking technology, Chase plans to build more customer relationships.
This Chase branch will welcome customers with casual and private meeting spaces filled with comfortable couches and extra space to host community gatherings, according to a statement. To foster inclusivity, the branch is staffed with a number of Spanish speakers.
Speaking on the bank's $30 billion Path Forward commitment, JPMorgan Chase CEO Jamie Dimon said during the opening celebration, "This fabulous Community Center—that's where it takes place. We are totally committed to doing this. And we are learning a lot as we do this. We are getting better and better."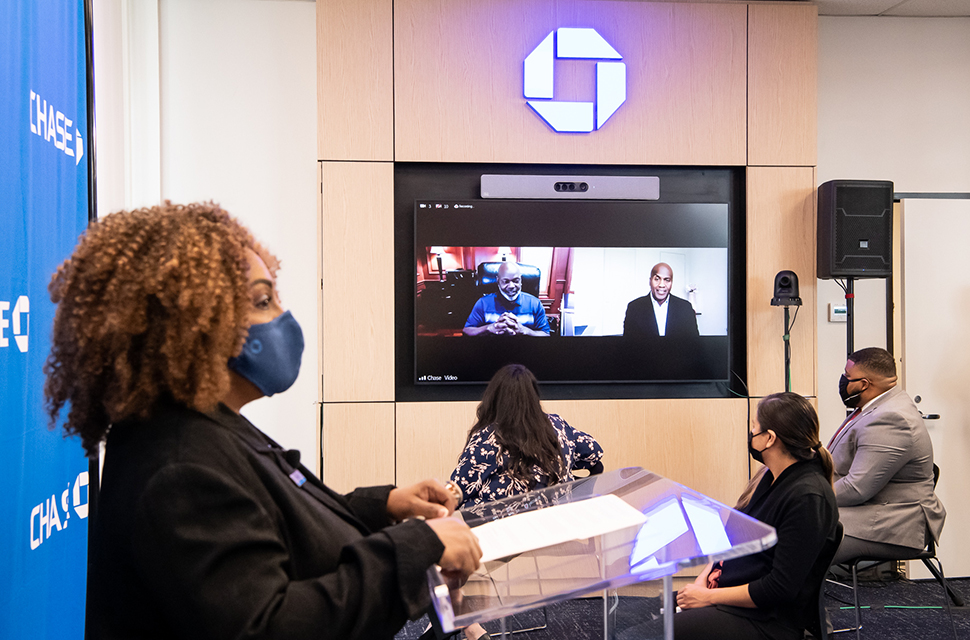 With a "living room" area and tech bar, the new branch wants to make locals feel at home by providing, according to Chase:
Workshops to build financial health—including sessions on saving, budgeting and building credit

Mentoring for entrepreneurs and access to a pop-up space to display and sell their merchandise

Free space and WiFi for community groups and neighbors to use for 

remote learning and work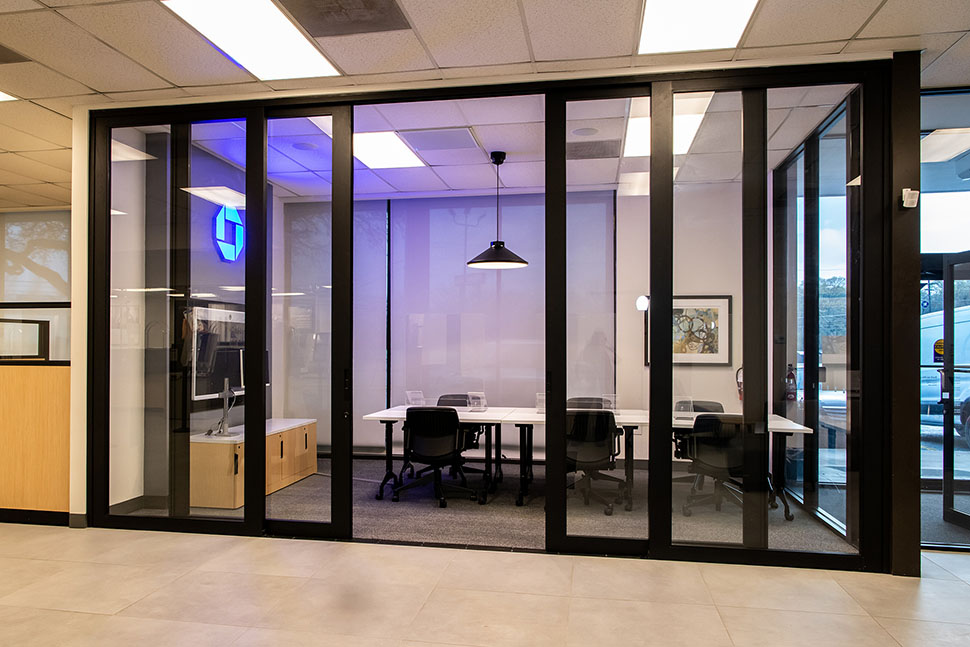 In addition to these features, the Community Center will offer traditional banking services in order to help the unbanked and underbanked open digital accounts.
The branch includes a full-time Community Manager. Through this new role, the manager works hands-on to engage the community and increase their awareness of the branch's available resources, as well as to help connect them with financial health tools, products, and services.
Oak Cliff's Community Manager Terri Thomas, Branch Manager Shelia Draper, and the rest of their team will establish free interactive programs on topics such as budget building, home buying tips, and how to fund a small business.
In fact, the team has already held financial workshops at local churches and schools, provided 500 pairs of winter gloves for people in the community, donated Valentine's Day gift bags for local seniors, and assembled bags for patients at the local Veterans Administration hospital, according to a statement.
"Dallas has a rich history of innovation, reinvention and diversity; and we're excited to continue that history with the Oak Cliff Community Center. I like to say that we're moving beyond community banking to community building, and this new type of branch reflects that effort," Bailey said during the event.
The Oak Cliff branch will provide locals with access to a community home lending expert focused on helping more people in the neighborhood achieve affordable, sustainable homeownership.
Chase Home Lending is currently offering a $5,000 homebuyer grant to help cover closing costs and down payments for struggling homebuyers looking to purchase a home in underserved communities across the nation. Those who complete a certified education course are eligible to save an additional $500 on a Chase DreaMaker mortgage.
"We hope this grant will help remove barriers to homeownership for the hardworking families that are the backbone of communities across Dallas-Fort Worth," Cerita Battles, Head of Community and Affordable Lending at Chase Home Lending, said in a statement. "We're focused on revitalizing and stabilizing communities, and we are committed to helping more Black and Latinx families achieve homeownership."
While Chase's community center initiative is new, the company has had deep roots in Dallas for more than 100 years. The initial Oak Cliff branched opened in 1985, however its long-term customers will discover a redesigned branch that doesn't just look, but also feels different from a typical banking experience, according to Chase.
"Dallas is a city that booms north of I-30. Unfortunately, if you live south of I-30 all too often you only hear rumors of that boom," Dr. Michael Sorrell, president of Paul Quinn College, said during the event. "JPMorgan Chase is actively being a bridge builder. It is a repairer of the breach. That is who the bank is. That is what the bank does."

Get on the list.
Dallas Innovates, every day.
Sign up to keep your eye on what's new and next in Dallas-Fort Worth, every day.