A Dallas company may have just changed the future of shaving by launching a groundbreaking razor that offers the "best shave of your life," perfected through science.
Today, Shavelogic Inc. announced the launch of its S5 shaving system, promising "overdue innovation" in the razor category and "a new peak in industrial design."
Fast Company took the S5 in hand this afternoon, reporting that "the first thing you notice about this razor is the weight. The handle's got heft. Comprised of five pieces of metal, it immediately feels more throwback than throwaway. This is exactly what Shavelogic is aiming for."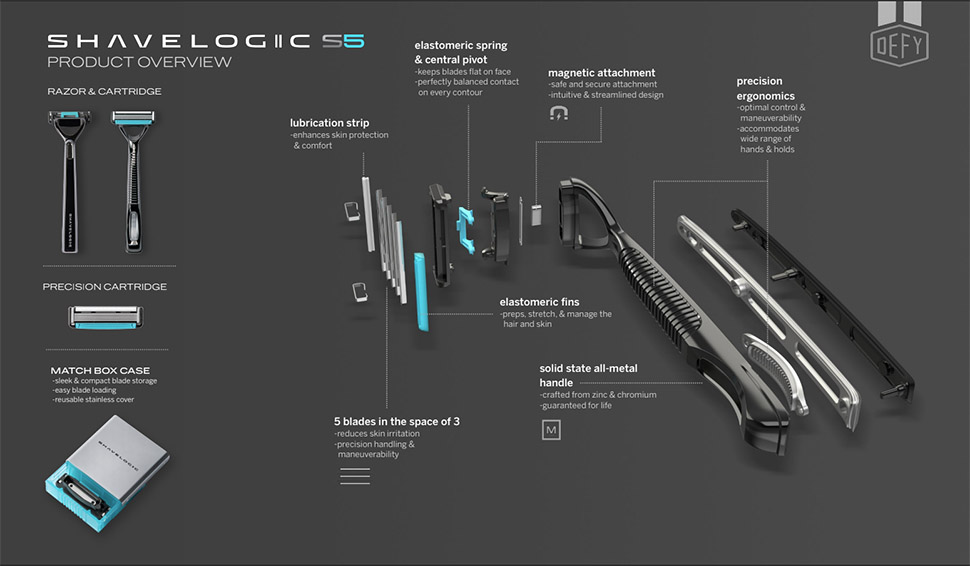 Shavelogic CEO and co-founder Rob Wilson says he started the company because he was fed up with razor nicks always ruining his nice shirts.
Formerly the CEO and co-founder of Dallas-based ROBO Global, the first robotics stock index and ETF, Wilson consulted with investment advisor Duwayne Miller in 2009 about how to shake up shaving, according to a news release. Miller became Shavelogic's co-founder and president, and together they based their brand on two things.
One is the shave, Wilson told Fast Company. "This is the best shave of your life, guaranteed. We know that what hasn't been brought to the space is an improvement in shave quality."
The other is the S5 system itself: "We lean in on the quality and the craftsmanship. That's a bit of a lost art. We guarantee the handle for life. If you don't find this is the best shave of your life, send it back and we'll give you your money back. If you ever have a problem with this handle, we'll send you a new one."
---
READ NEXT: Dallas' Shavelogic Hones Its Edge With $100 Million in New Growth Capital
---
Wilson sees the S5 as "a better razor with a more ergonomic handle, revolutionary magnetic attachments, and above all, blades that don't nick," says the release.
Shavelogic's intro pack with four blades costs $25, a notch above Gillette's highest-price razor, the ProGlide Shield ($22 with four blades). But Wilson believes people will see, and feel, the difference.
The S5 is so revolutionary, he says, the company has filed more than 100 patents for it worldwide. And his company has opened a new razor factory in Illinois to meet expected demand, Fast Company reports.
Shavelogic isn't the first company to try to disrupt shaving. Startups like Dollar Shave Club and Harry's compete on price with direct-to-consumer offerings, putting often quirky marketing at the forefront of their brands and appeal.
But Wilson's focus is on the product. "We had to spend years inventing not just the gear, but also designing machines to assemble it," the company said.
"We are makers, not marketers," Wilson says of Shavelogic.
That's why he hired Chief Technology Officer Bill Tucker, believing his 33 years of experience in the shaving category gave him the expertise to help revolutionize the razor market.
It's also why he hired Craig Provost as director of industrial design and innovation, following Provost's stint inside a Canon-owned AI video software startup, according to the company.
"Over ten years ago, I realized I hated shaving," Wilson said in the release. "I tried everything and no matter the price, even the best products irritated my skin—and me. Grooming tools were just not innovative or cool. I wanted better gear and a better shave that could turn an everyday act into an affordable luxury for the global mass market. So we started a business that invented, designed, and patented the S5, a true leap forward in wet shave technology and craftsmanship."
The company set about assembling "the best industrial design, shavetech, and manufacturing team in the world. We gave them a blank sheet of paper, and raised $40 million," it said in a blog post.
Gillette cuts in
It hasn't always been smooth shaving. In January 2015, Proctor & Gamble's Gillette filed suit against Shavelogic and four of its employees (who had previously worked at Gillette), seeking to prevent disclosures of its confidential information, according to an earlier release. Gillette sought a jury trial and unspecified damages against the Dallas startup.
In 2017, Shavelogic prevailed when a Massachusetts judge dismissed the suit, allowing a Shavelogic countersuit to continue. Meanwhile, Shavelogic had another battle on its hands: "defending its intellectual property at the U.S. Patent and Trademark Office," said Fast Company.
"We had revenues of zero, and we were challenged by a $350 billion market cap company," Wilson told the publication. "What we got out of it was validation of our IP. Being able to withstand the challenge like that brought the company together and really made us so strong."
The Richards Group is on board
Wilson wants Shavelogic to focus on product, not gimmicks. But he knows that his portfolio of patents and inventions have to be powerfully commercialized, Fast Company reports. So he didn't just call up Stan Richards, founder of Dallas-based The Richards Group. He put him on Shavelogic's board.
The company's launch tagline? "Defy Convention." It's what Wilson and his co-founder Miller have been trying to do for 11 years. And it's what they hope millions will soon do when they shave with the S5.

Get on the list.
Dallas Innovates, every day.
Sign up to keep your eye on what's new and next in Dallas-Fort Worth, every day.