Local high-speed rail developer Texas Central has signed a $1.6 billion contract with Kiewit Infrastructure South Co. to install the core electrical systems for the proposed high-speed train that would run between Dallas and Houston.
The deal means that Kiewit would oversee the completion of safety and systems elements, such as traction power and signaling and communications equipment. It's a critical part of development: Trains are able to ensure the tracks and operators communicate with one another and network operations.
But Kiewit is well experienced for the task. The construction and engineering organization is an affiliate of Mass. Electric Construction Co. that serves the transportation, oil and gas, power, building, water, industrial, and mining industries. It's also worked on some of the nation's most high-profile rail transportation systems. In 2020, the company's revenues were $12.5 billion, according to a news release.
"Kiewit and Mass. Electric are national leaders in installing complex and large-scale electric systems and have long track records of delivering high-quality rail systems safely and effectively," Carlos Aguilar, CEO of Texas Central Railroad, said in a statement. "Combining their experience with the safety of an integrated system is essential to the operation of the Texas Central Railroad."
The 240-mile Texas Central Railroad plans to zip passengers between two of Texas' biggest metros—North Texas and Greater Houston—in roughly 90 minutes. There is a planned intermediate stop on the route in Brazos Valley.
The proposed system will replicate the Japanese Tokaido Shinkansen high-speed rail system operated by the Central Japan Railway Company. In its more than 55 years, the system has transported more than 10 billion passengers. Texas Central said it was drawn to its safety—the system has an "impeccable safety record of zero operational passenger fatalities and zero accidents since first deployed."
The core electrical systems that will be installed by Kiewit are a key component of the Shinkansen technology being deployed for the Texas Central Railroad.
"We commend Texas Central on their commitment to delivering the first high-speed rail system in the United States," Mark Williams, Kiewit's project director at Mass. Electric, said in a statement. "Through their leadership and our extensive rail experience and expertise, we are well-equipped for success."
Texas Central gained global buzz in 2019 when it was honored as one of the top infrastructure projects in the world. It was also named one of the best by infrastructure advocacy group CG/LA in its 2019 Strategic 100 Global Infrastructure Report.
But shortly after that announcement, the timetable for the rail line was uncertain. Texas Central laid off more than two dozen employees in March due to the effects of the COVID-19 pandemic. Officials at the time were working to keep the train on track, with plans expected to move forward in 2020 once the federal government approved permits and the global situation stabilized.
According to Aguilar, the Kiewit contract is the next step in implementing what would be the first high-speed rail system in the U.S.
His Texas Central team told Dallas Innovates that momentum toward construction is building every day, and they expect it to start this year. Currently, engineers, architects, and environmental experts are working on the infrastructure, development of safety practices, design of the trains' interior, the rider experience, and more.
They expect it to be up and running by 2026 or 2027. "Neither the project timeline nor outlook are impacted by any current legal action," the team told us in an email.
Right now, the project is predicted to create around 17,000 direct jobs during its six years of construction, more than 20,000 supply chain jobs, and more than 1,400 direct permanent jobs when the train is fully operational. It will use $7.3 billion of materials and, over the next 25 years, have a cumulative economic impact of $36 billion. 
Photo Gallery
Check out some updated renderings of the Texas Central Railroad, courtesy of the Texas Central team.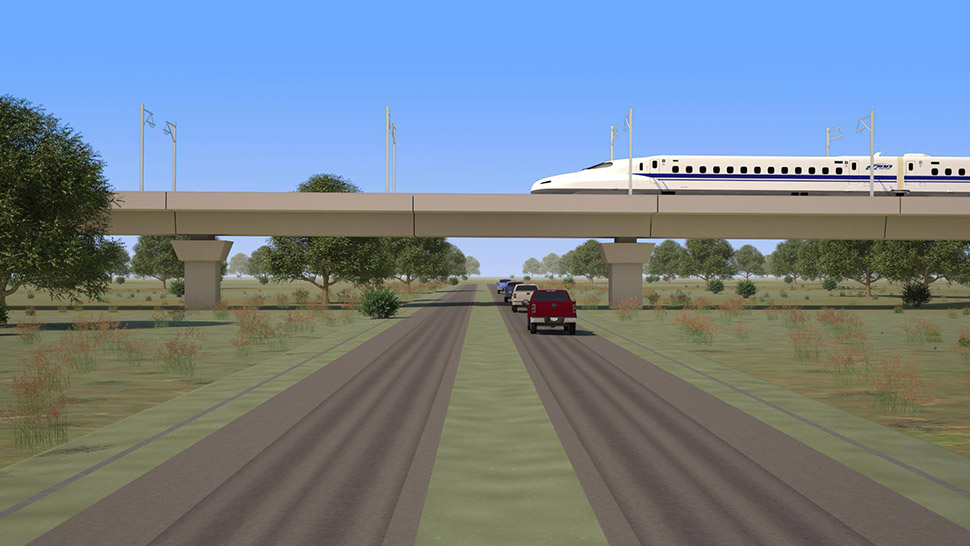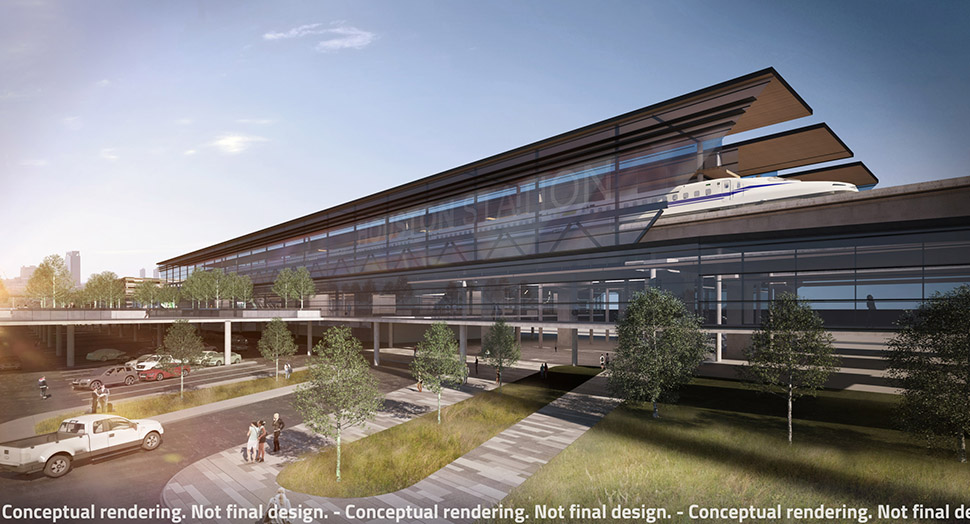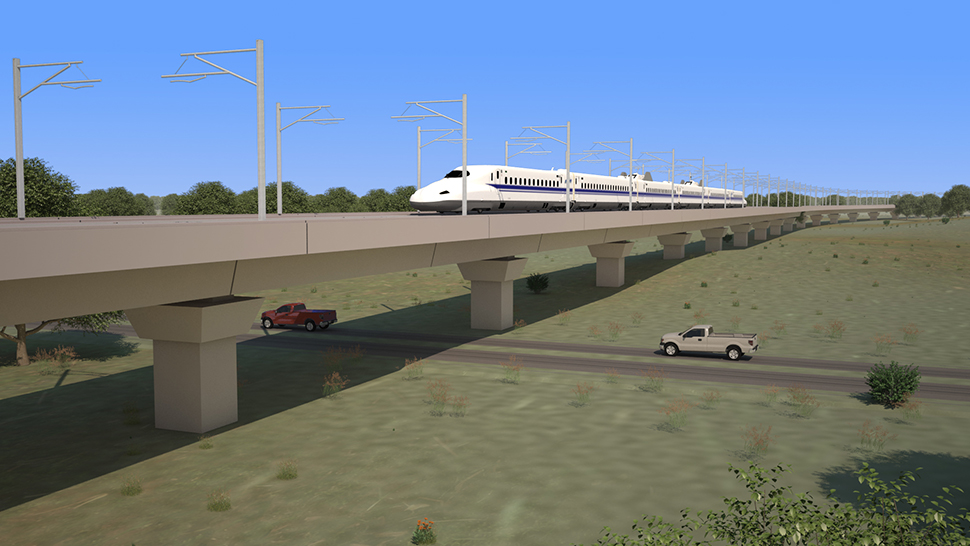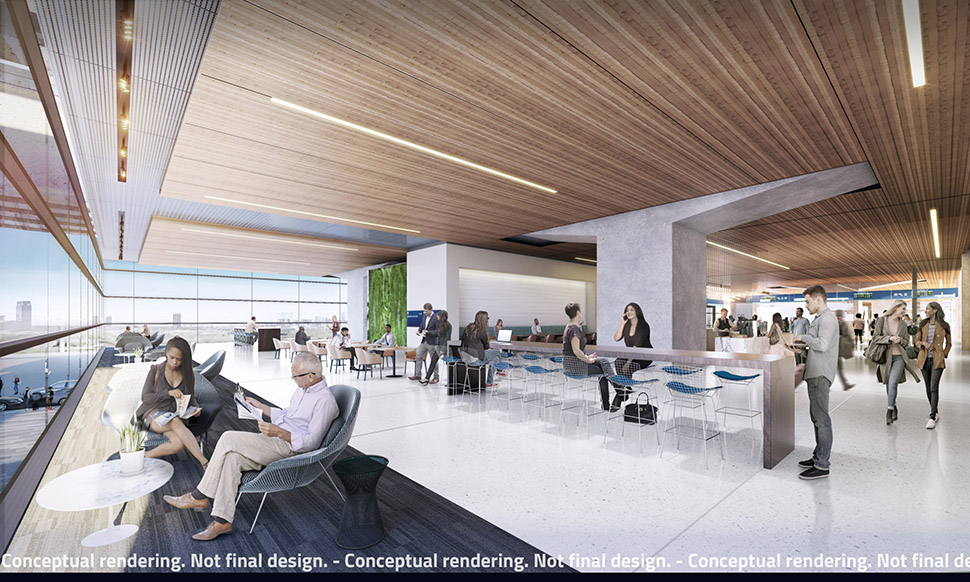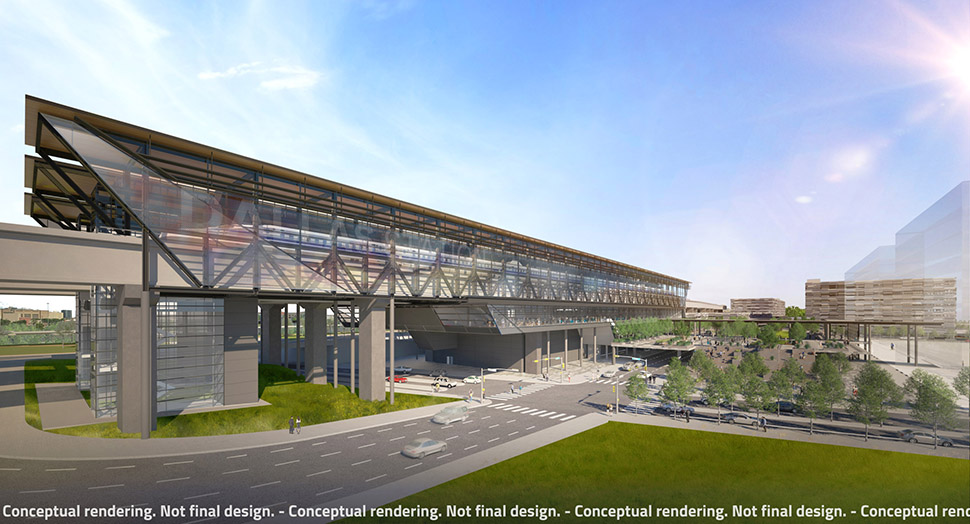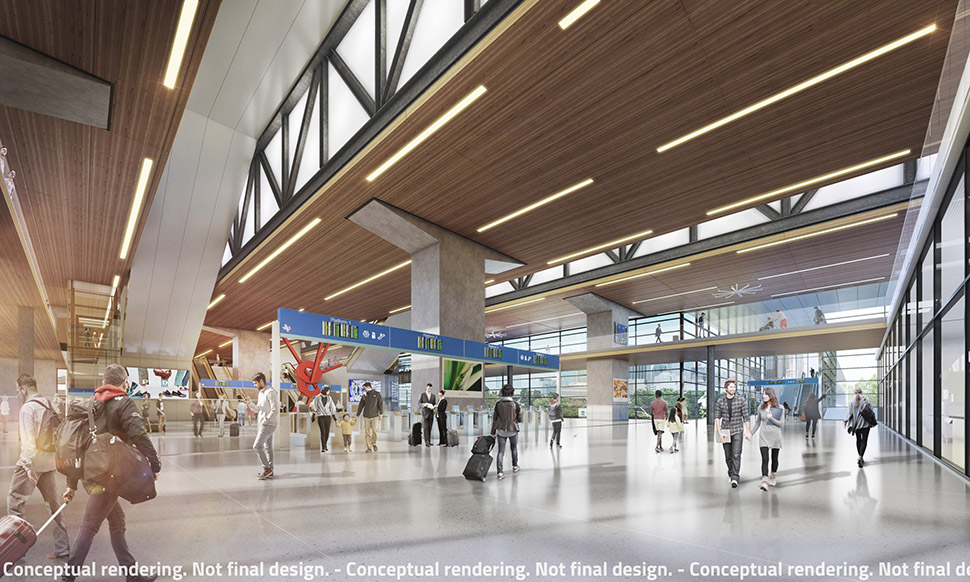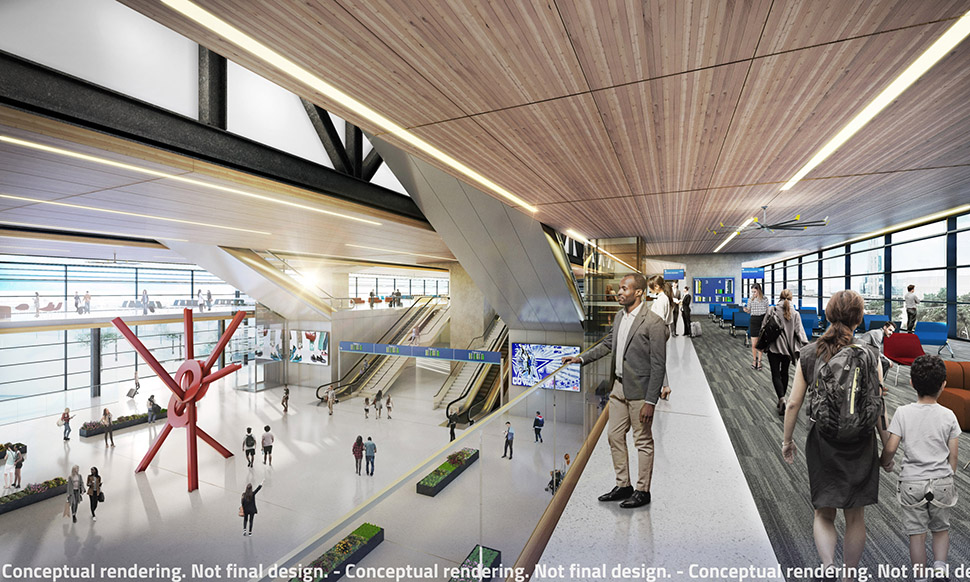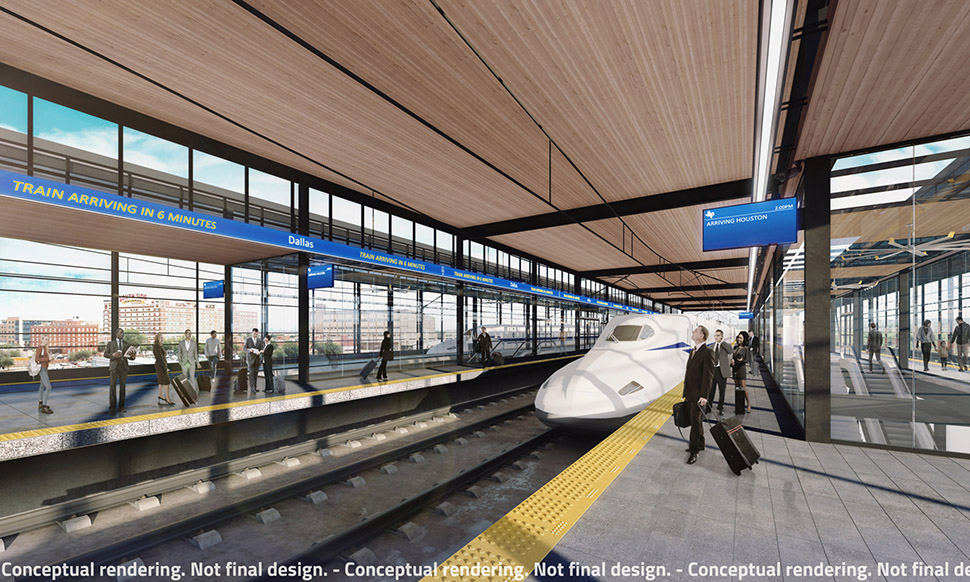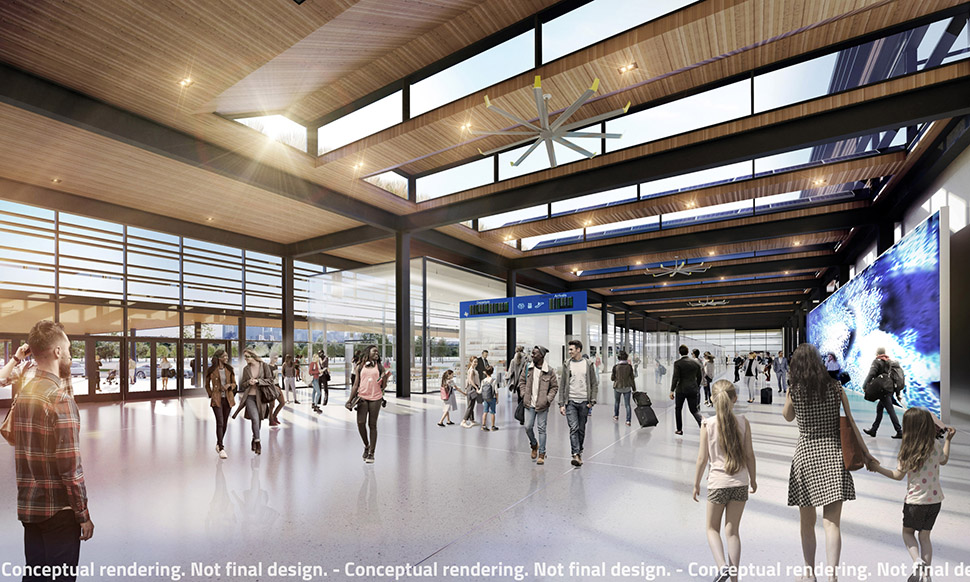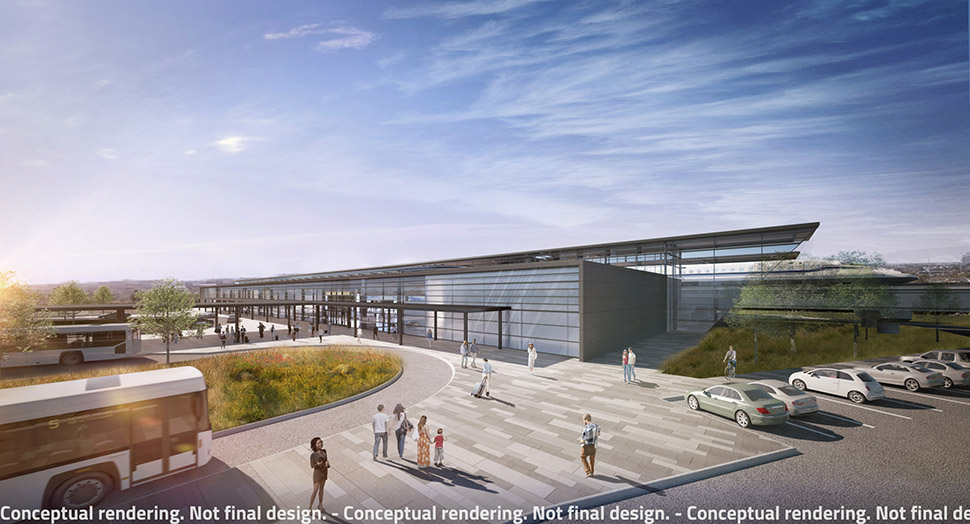 Get on the list.
Dallas Innovates, every day.
Sign up to keep your eye on what's new and next in Dallas-Fort Worth, every day.