Capital One will open its first-ever airport lounge this summer, starting at Dallas Fort Worth International Airport. Whether you're looking for an oasis of calm, a place to reenergize, or a place to work, the Capital One Lounge has travelers covered.
Packed with a "suite of features," the company wants to provide unique amenities to help customers get the most out of travel.
In addition to quiet working spaces and secure lockers, the 10,000 square-foot lounge in Terminal D will offer curated food options from local chefs, cocktails on tap, meditation and yoga studios, nursing rooms, shower suites, and (much) more. An industry-leading grab-and-go food section will offer healthy selections with sustainable packaging "that will make 'sad salads' a thing of the past," says Capital One.
Capital One customers will be eligible for special cardholder entry rates, depending on their card.
A second location at Washington D.C.'s Dulles International Airport is slated for 2022, according to a spokesperson.
Per Capital One, amenities include:
Upgraded essentials
• Ample, quiet working space with individual power outlets at every seat, a flight status display to keep you on schedule
• Complimentary high-speed WiFi
• Secure lockers with plenty of room for carry-on luggage
• Shower suites with luxury bath amenities.
Food and drink
• Dining stations and a restaurant-quality in-lounge dining experience
• Craft cocktails on tap, local beers, and regional wines,
• Elevated "grab & go" food with curated menus by local up-and-coming chefs
• Healthy selections made with regionally sourced ingredients
• Coffee bars
Wellness and reflection
• Yoga and cycling rooms
• Soundproof relaxation room stocked with blankets, eye covers and earplugs
• Soundproof multi-faith room offering a private space for travelers to pray, meditate or reflect
Family friendly space
• Family area that includes lower tables and chairs for kids and a dedicated, power-charged work area for adults
• Private nursing rooms where you can tend to little ones equipped with lounge chairs and footrests, bottle warmers and mini fridges with beverages and extra counter space for diaper changes
• Parent and nursing rooms
Capital One will also explore additional ways to help customers travel smarter and more efficiently. The company is exploring a digital entry pass that will be available later this year.
The health and safety of customers and staff are top priorities as the world reopens, the company says: "Rest assured, the Lounge has a detailed plan for your safe transition back to flying."
Now, get ready for takeoff. "The world is waiting," says Capital One.
FIRST LOOK: Capital One Lounge
Artist's renderings of the Capital One Lounge show a modern, airy airport space designed to fit a variety of traveler needs.
Photos courtesy of Capital One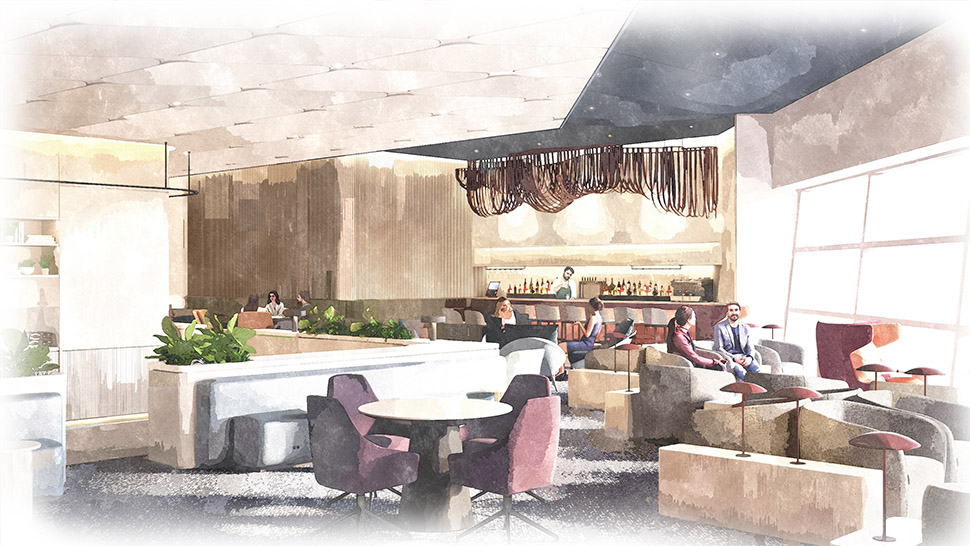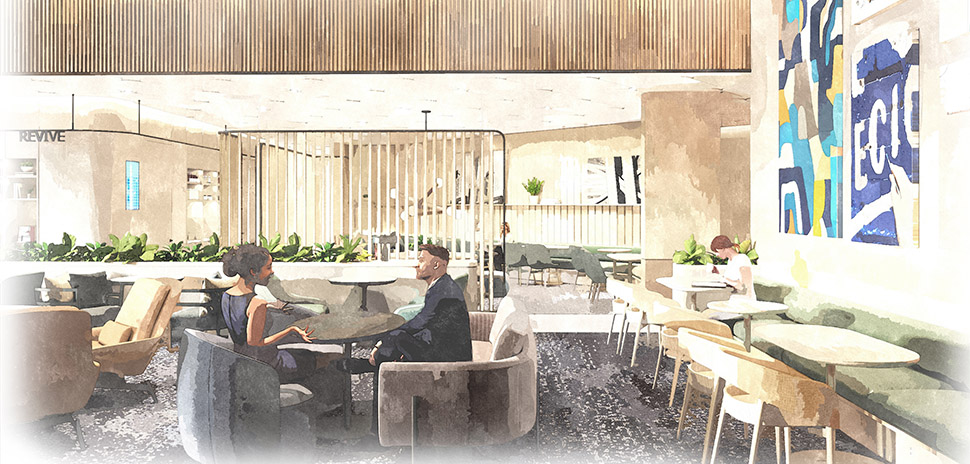 Get on the list.
Dallas Innovates, every day.
Sign up to keep your eye on what's new and next in Dallas-Fort Worth, every day.