News travels fast, and we're here to help you keep up.
Every weekday, Dallas Innovates brings you up to date on what you may have missed in the region's innovation, technology, and impact news. From startup to enterprise, education to invention, and creative to social innovation, here's our daily mix of what's new and next in Dallas-Fort Worth.
Don't miss a thing. Sign up for Dallas Innovates Every Day, to get the best of Dallas-Fort Worth innovation delivered to your inbox.
Have a tip? Let us know.
---
Wednesday, March 3
THREE THINGS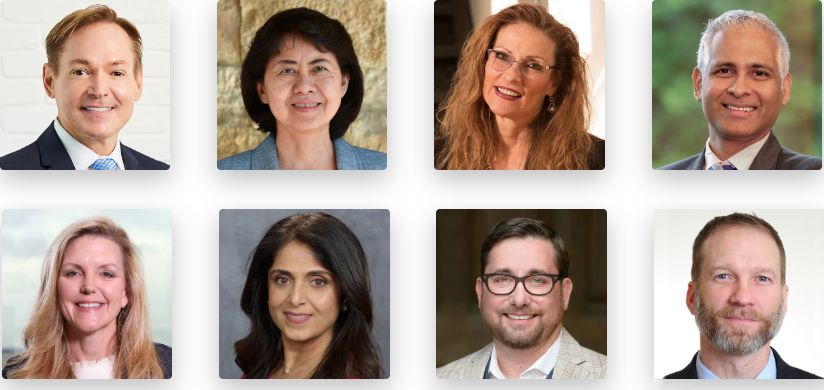 ⓵ TOP TECH EXECS: DallasCIO unveiled the award winners of its annual CIO of the Year Awards last week in a virtual event. CIOs are leading in unprecedented ways in the pandemic and "enabling the largest work-from-home experiment in history," says Lourdes Gipson, executive director of the organization in an announcement. Judged by their peers—CIOs who understand how tough the job is, and why leadership matters—the 2021 ORBIE awards recognized leaders in eight categories:
LEADERSHIP:

Zack Hicks, CEO & President of Toyota Connected North America, and CDO & EVP of Toyota Motor North America

SUPER GLOBAL:

Sue-Jean Lin, SVP & CIO of Alcon

GLOBAL:

Gertrude Van Horn, SVP & CIO of NCH Corporation

LARGE ENTERPRISE:

Nimesh Mehta, CIO of National Life Group

ENTERPRISE:

Michele Rodgers, CIO of Exeter Finance LLC

CORPORATE:

Jyoti Lynch, CIO of European Wax Center

HEALTHCARE:

Shane Henderson, CTO of Signify Health

PUBLIC SECTOR:

Jack Kelanic, CTO of Dallas Independent School District
Go here to see all the finalists.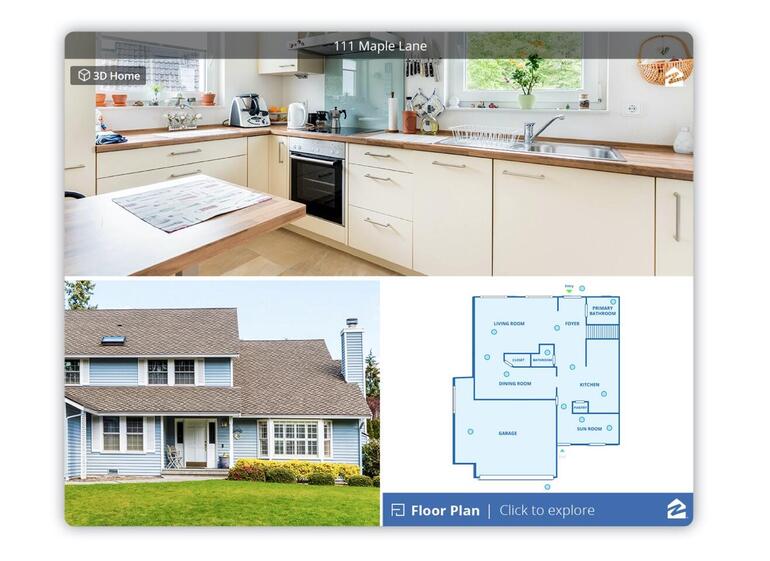 ⓶  VIRTUAL TOUR: Zillow has added AI to its 3D home tours to mimic in-person viewing. The company's computer vision and machine-learning models generate a tour and interactive floor plan, including AI-predicted room dimensions, square footage, and location, according to TechRepublic. The interactive floor plans are available for free in 25 markets, including Dallas.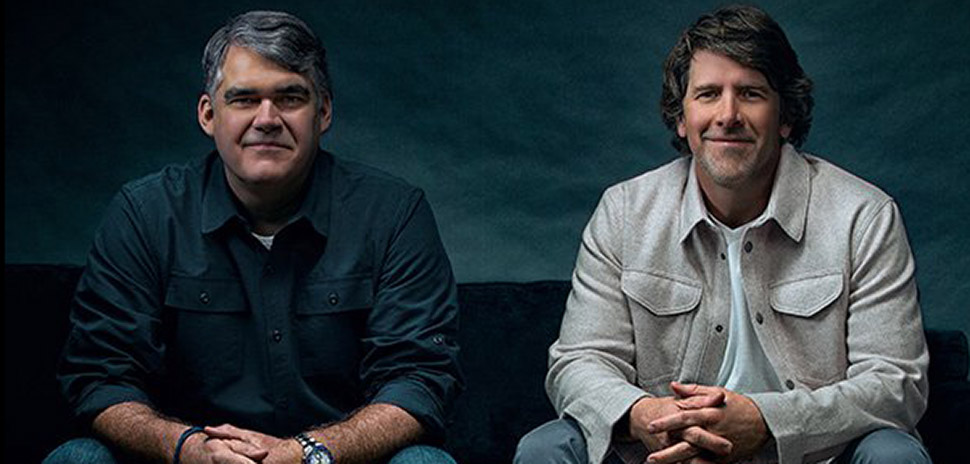 ⓷ AGENCY SPACE: Advertising creatives Rob Baker and Jimmy Bonner are starting a boutique branding shop called Baker & Bonner Creative Emporium. Both are veterans of The Richards Group, leading work for clients such as The Home Depot, Ram Trucks, Spalding, Firestone, and more. The agency launches with five team members, supported by freelance talent, according to Mediapost.
QUICK HITS
⟫ Walmart will spend $350 billion on products made, grown, or assembled in the U.S., per the DMN.
⟫ Irving-based arts and crafts retailer Michaels has a $5B acquisition deal with a New York PE firm, reports the DBJ.
⟫ Exxon Mobil will invest $3 billion in a low-carbon business line, the same publication reports.
Photos (from top): DallasCIO, Zillow, Baker & Bonner Creative Emporium
---
Tuesday, March 2
THREE THINGS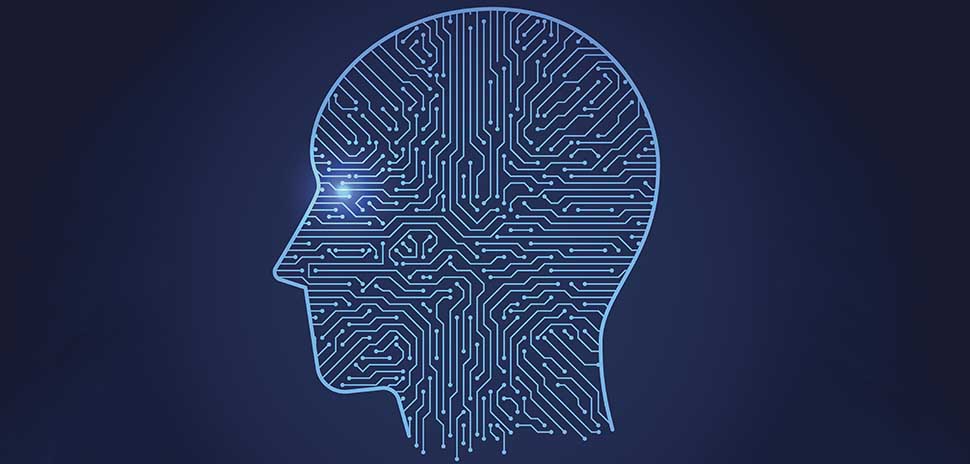 ⓵  AI ACQUISITION: Yum! Brands—parent company of Pizza Hut, KFC, and Taco Bell—will acquire Plano-based Kvantum. The AI startup, founded in 2012 by CEO Shilpi Sharma and CTO Harpeet Singh, develops algorithms and artificial intelligence models for market insights, per a news release. It's a market leader in the space, according to Yum! Brands. The giant wants to keep its brands R.E.D. (relevant, easy to access and distinctive). To advance that, Yum! Brands plans to combine Kvantum's AI/ML "approach to understanding human behavior with the skillsets of anthropologists and sociologists at its consultancy, Collider Lab, the company says. The combined methodologies could yield deeper insights, it says.
⓶ INNOVATION ANCHOR: The SoGood development in the Cedars district of downtown Dallas will include a business incubator in a partnership of Hoque Global and GSV Ventures. GSVLabs will house companies, entrepreneurs, and creatives in the innovation center that will anchor the project. The DEC Chairman Trey Bowles (above) will work on the plans, the DMN reports.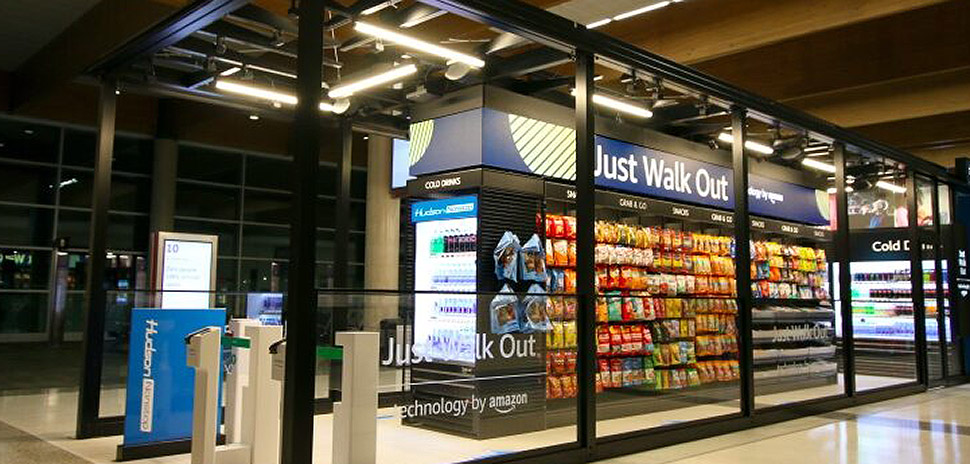 ⓷ CONTACTLESS CONCEPT:  Dallas Love Field is piloting a new high-tech Amazon store. The retail giant landed its "Just Walk Out" technology at the first location called "Hudson Nonstop." The store opened last week, and the joint venture concept will roll out across North America this year.
Images (from top): istockphoto, Dallas Innovates file art, Hudson
---
Monday, March 1
⓵ SENSOR SCIENCE: Woman-owned Max-IR Labs landed $75OK from "America's Seed Fund," a grant fund powered by the National Science Foundation. The lab, founded in Dallas in 2017 by Dr. Katy Roodenkko, will field test and develop a prototype of its real-time sensor for monitoring wastewater. The Small Business Innovation Research (SBIR) and Small Business Technology Transfer (STTR) grants invest up to $2M and take zero equity in innovative technologies, awarding $200M each year to entrepreneurs. Its focus: high-risk, high-impact tech.
⓶ IMMERSIVE EXPERIENCE: After huge success in Europe, Van Gogh: The Immersive Experience is coming to Dallas. The 360-degree digital art experience puts art lovers into the paintings themselves with VR and room-size projections. Don't wait: The show arrives this summer, but it's a hot ticket, selling out in both New York and Atlanta in just hours. Tickets will be released at noon on Wednesday. Go here to sign up.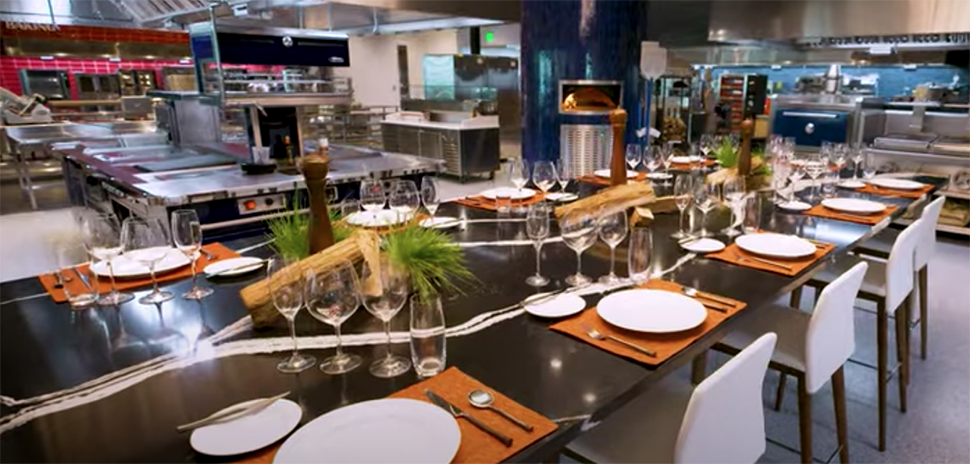 ⓷ TEMPTING TECH: The MIK, a 40,000 square foot culinary innovation center, showcases cooking, beverage, automation, and IoT tech with live demos and training. Recently opened near Dallas Fort Worth International Airport, Middleby Innovation Kitchens also features the latest in beverage technologies for brewing and dispensing coffee, craft beer, frozen drinks, and nitrogenated and carbonated beverages. It also offers a chef and a tableside experience.
Photos courtesy of the companies.
---
Friday, Feb. 26
THREE THINGS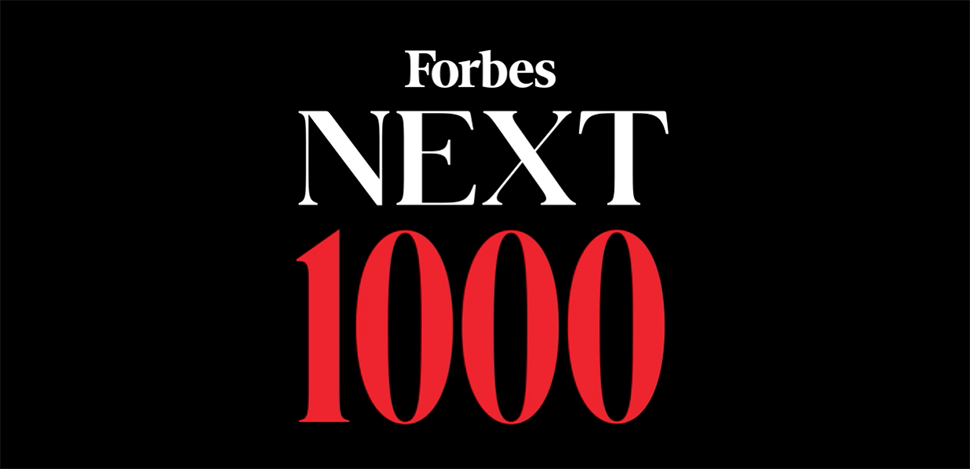 ⓵ NORTH TEXAS NEXTS: The first "class" of the Forbes Next 1000 has arrived. Among the 250 small businesses in this installment, you'll find five from North Texas:
You Go Natural, a Dallas-based ethnic haircare brand that reports 500 percent YOY growth in 2020, founded by Monique Little in 2016.
Zartech, a bootstrapped cybersecurity and advisory services company that counts GameStop and Freeman Company among its clients, founded in Dallas by Abu Sadeq in 2016.
Invene, another bootstrapped Dallas startup, founded by 23-year-old James Griffin to help companies replace outdated processes in healthcare using expertise in hardware, software, and AI.
AVACRAFT, a five-year-old Plano cookware company that booked $2 million in revenue for 2020, co-founded by husband-wife duo Vivek and Asha Kangralkar.
Joy Creative Shop, a Dallas-based e-commerce and wholesale business that originally launched on Etsy as a stationery/paper goods shop, founded by Stephanie Weibring as a senior in college.
The Forbes NEXT list is a year-round initiative. Take your shot: Nominations are still open.
⓶ SECOND-TRY SPAC DEAL: Switchback Energy Acquisition Corp., a Dallas-based special purpose acquisition company will close on a merger with Calif.-based electric charging company ChargePoint Inc. today, reports the Silicon Valley Business Journal. Once complete, the combined company is expected to be valued at about $2.4 billion. Called ChargePoint Holdings Inc., it will begin trading on the New York Stock Exchange on Monday under the symbol CHPT.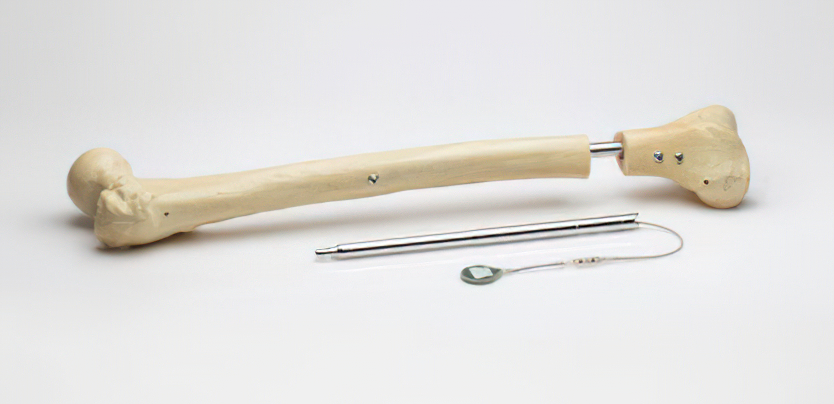 ⓷  HIGH-TECH HEALING: Lewisville-based Orthofix, an innovator known for musculoskeletal healing products such as its 3-D printed bone screw, completed the acquisition of a limb-lengthening system called FITBONE. The deal with Wittenstien SE, the Germany-based company that developed the technology, includes $18 million in cash and a manufacturing contract. The system received FDA clearance "making it the only pediatric lengthening nail in the U.S.," CEO Jon Serbousek announced.
PLUS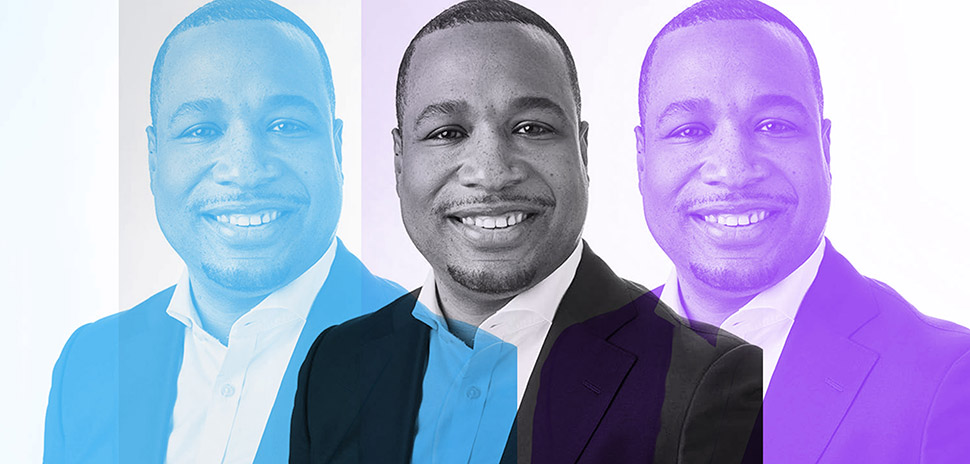 GENE THERAPY PIONEER: In advance of Rare Disease Day on Sunday, we're spotlighting R.A. Session II, the founder of Taysha Gene Therapies, a fast-growing Dallas biotech that wants to eradicate monogenic disorders of the central nervous system. The company, which rocketed from a UTSW spinout to a $157 million initial public offering last year, launched a #RareAlly initiative on Twitter and LinkedIn to recognize people in the rare disease community who inspire and motivate each other. Read more in our Q&A with Sessions. 
The organizers of Rare Disease Day—the European Organization for Rare Diseases (EURORDIS) and the National Organization for Rare Disorders in the U.S. (NORD)—say awareness of rare diseases is important: "One in 20 people will live with a rare disease at some point in their life." To learn more about RDD, an international patient-led movement, go here.
TOP STORIES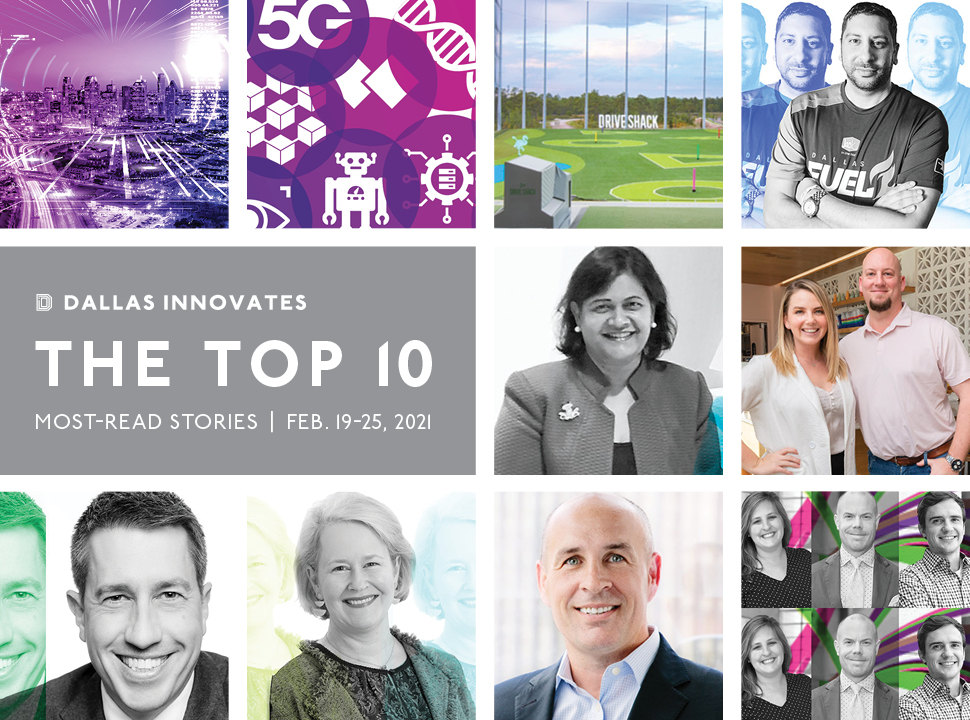 ⓵ SMU Cox Reveals Its 2020 Dallas 100 Rankings. Here Are the Fastest-Growing Entrepreneurial Businesses in Dallas-Fort Worth by Rank
⓶  14 Emerging Tech Trends for 2021—and Dallas-Area Companies That Are Innovating for the Future
⓷  Drive Shack Is Bringing Its High-Tech Mini Golf Concept to Dallas This Summer
⓸  'The Founder of Envy Gaming Says the Popularity of Esports Is 'Enormous and Growing' in a Virtual Pandemic World and Beyond
⓹  Meet AECOM's Dev Rastogi, the Local Innovator Spearheading Infrastructure Projects That Could Redefine Transportation
⓺  This Fort Worth Couple Brews Small Business Collaborations at Trinity Coffee House—Including a Local CBD Company
⓻  Dallas-Based Spark Biomedical Gets FDA Clearance for its Drug‑Free Solution to Opioid Withdrawal
⓼  Through Roles at UTSW and Pegasus Park, Claire Aldridge Leads Efforts to Make DFW a Key Center for Healthcare Innovation
⓽  Dallas' Apex Clearing to Go Public Following Merger With Northern Star Investment Corp.
⓾  'Highly Selective' Illumina Accelerator Picks Dallas-Based Doloromics for its Second Funding Cycle
---
Thursday, Feb. 25
THREE THINGS
⓵ ROBOTIC  INCLUSIVITY: Dallas edtech startup Robokind, which develop robots and curriculum for students with autism, has a new initiative to support its commitment to DEI. Leaders in education "must commit resources to a mission of a more inclusive, diverse, and equitable classroom. And, that's exactly what we are doing," the company says. Its new robots, named Carver (after Black scientist George Washington Carver) and Jemi (after Dr. Mae Jemison, the first woman of color to visit space), are inspired by the values and commitments of the individuals for whom they are named.
⓶ SPORTS MEDTECH: Texas Health Resources opened its new $12 million sports medicine and fitness facility. The Texas Health Allen complex offers access to surgeons, rehab for injuries, and performance training. Its notable technology includes a 3-D motion lab with capture tech that lets specialists assess athletes' movements and also see where injuries might occur.
⓷  AI INSIGHTS: Precision Health Informatics, part of Dallas' Texas Oncology, is collaborating with Chicago-based AI health care startup Tempus on precision-medicine advances. Texas Oncology has played a role in the development of some 100 FDA-approved therapies, or about one-third of all cancer therapies approved to date.
---
Wednesday, Feb. 24
THREE THINGS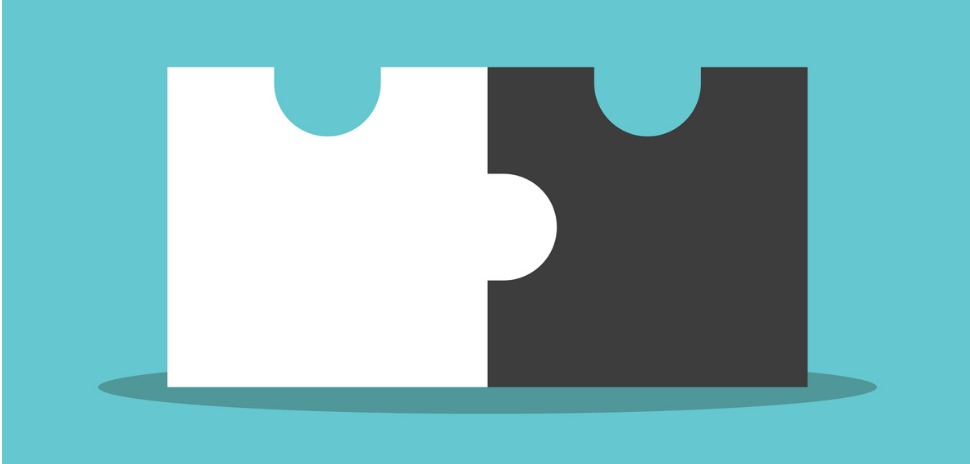 ⓵ SUSTAINABLE SPAC: A Dallas blank-check company is said to be in talks to take DeepGreen Metals public. The SPAC led by CEO Scott Leonard, Sustainable Opportunities Acquisition Corp., raised $300 million in an IPO in May. It was seeking a target focused on clean energy and green business practices, Bloomberg reports. Based in Canada, DeepGreen Metals Inc. plans to manufacture metals used in electric-vehicle batteries. The deal could value the combined entry at around $2.8 billion.
⓶ MEETING DEMAND: Global clothing company Gap Inc. plans to build a $140 million state-of-the-art distribution center in Longview to support its booming e-commerce business. That could create 1,000 jobs within five years. The new facility is expected to be a "technological wonder." Gap opened its newest distribution center in Ohio last fall, which has been called a "gold standard," according to trade publication Retail and Hospitality.  Kevin Kuntz, head of Gap's global logistics fulfillment, said it's "one of the most automated facilities in the world. As we build other facilities, this is the blueprint."
⓷  DISTANCED APPROACH: State Farm adjusters are going virtual as more than 34,000 claims roll in for the Texas winter storm, per WFAA. Texas' largest insurer is using a remote assessment to process a mountain of claims while staying distanced in the pandemic. Customers can use a cell phone to work with an adjuster via video stream, speeding the process. 
QUICK HITS
⟫  Walgreens will launch same-day delivery with partner Instacart. Dallas will be among the five locations for the initial rollout this spring.
⟫  A mobile dentistry startup with "tricked-out vans" that are basically single-chair dental offices on wheels plans to expand in Dallas and four other cities following a $250K investment by Render Capital. The Louisville, KY- based Kare Mobile says the capital will help fuel the development of its schedule optimizer, according to bizjournals.com.
---
Tuesday, Feb, 23
THREE THINGS
⓵ COVID TIPPING POINT: Parkland Center for Clinical Innovation estimates Dallas County will reach a "critical tipping point" of Covid-19 herd immunity in late June. That's based on total case recoveries and vaccinations, according to PCCI. CEO Steve Miff presented the new forecast information today in a press conference with Dallas County and FEMA at Fair Park. PCCI launched a free app (above) for on-demand personal risk assessment based on location in January.
⓶ PLANT-BASED PRODUCTION: The Swedish dairy-alternative drink-making giant, Oatly Inc., is eyeing Fort Worth for a third production facility in the U.S., the DBJ reported last week. The Oprah-backed oat milk company has confidentially filed for a U.S. IPO and could be weighing a $10B valuation, according to Bloomberg. 
⓷ IN OTHER IPO NEWS: Plano-based Alkami, the fast-growing fintech that provides cloud-based digital banking solutions for banks and credit unions, is reportedly planning for an initial public offering led by Goldman Sachs. Anonymous sources told Reuters that the IPO could be valued at $3 billion, but Alkami did not respond to Reuters' request for comment. The move comes on the heels of Alkami closing a $140M funding round in September, putting its total funding upwards of $400 million.
PLUS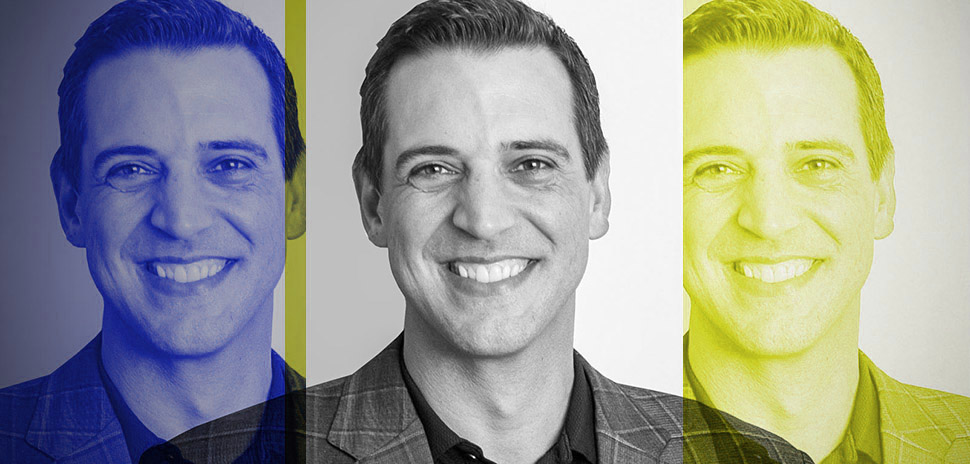 ⟫ Meet the Innovator: 'Ultimately, Everyone Will Go to Electronic Delivery,' Predicted Banking Disruptor Stephen Bohanon
Bohanon founded fast-growing Alkami. The Plano-based fintech, which was said to be "under the radar" in 2019, has seen that status change rapidly.
---
Monday, Feb. 22
THREE THINGS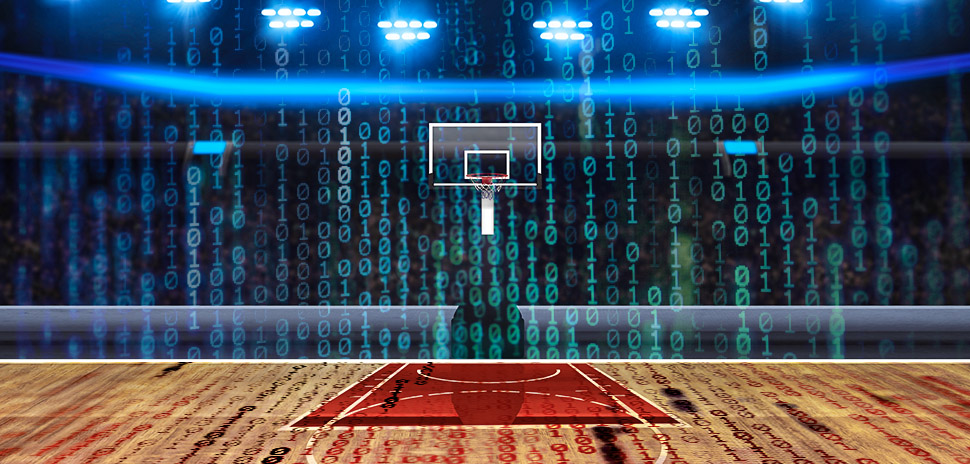 ⓵  SPORTS TECH: Dallas-based nVenue is one of 10 startups picked for the first annual Comcast NBCUniversal SportsTech Accelerator. "It doesn't take a rocket scientist to see that sports fans are tech-savvy and hungry for more 'in-game' connection," Kelly Pracht, CEO of nVenue, told us last summer. The startup wants to revolutionize the world of fan engagement with its predictive analytics using AI/ML software for play-by-play insights. The startup, founded in 2018, was selected from more than 1,000 applicants in 70 countries. 
⓶ WORK ETHIC: A new report says Texas cities make up nearly half of the top 20 hardest-working cities in America. Irving is the top-ranked Texas city at No. 5. Other North Texas cities in the top 20 include Plano (No. 11), Dallas (No. 13), Fort Worth (No. 16), Garland (No. 18), and Arlington (No. 20). Here's the list.
⓷ THE NEW CORNER STORE:  Chicago startup Foxtrot, with its reimagined, on-demand convenience stores in Chicago and Dallas, has raised $42M in a Series B round led by food-tech venture firm Almanac Insights. Known for a 60-minute delivery guarantee of organic wine and locally made ice cream, the startup plans to double its store count. It plans 10 new stores this year, along with a new location in Washington, D.C.
WHAT ELSE?
⟫ McKinney-based Hemisphere Ventures invested in Axiom Space, a private spaceflight company that raised $130M to become the latest space unicorn. The Houston startup, which was founded in 2016, is among the 10 most valuable private U.S. space companies, reports CNBC. The Series B funding round was led by C5 Capital.
---
Friday, Feb. 19
make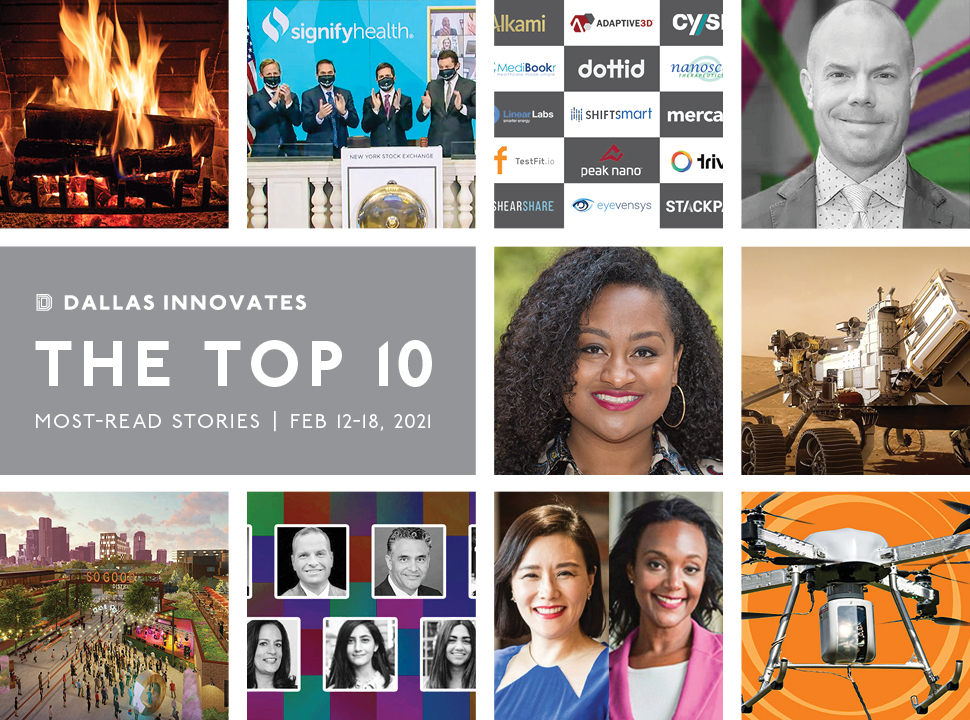 ⓵ This Fort Worth Logistics Startup Is Delivering Free Firewood in DFW Updated
⓶  Signify Health's IPO Makes its Stock Market Debut
⓷  Riding the Funding Wave: 32 North Texas Startups to Watch 
⓸  'Highly Selective' Illumina Accelerator Picks Dallas-Based Doloromics for its Second Funding Cycle
⓹  Founded by PEAK6 and Apex Clearing, This Action-Oriented Fintech Coalition to Fight Systemic Racism Is Led in Dallas
⓺  How Building the World's Longest-Distance Radio Transmitters Put This Dallas RF Tech Company on the Mission to Mars
⓻  Eye on the Future: Planned Developments Keep DFW On the Forefront of Industry and Livability
⓼  DI People: Perot Museum, Women's Foodservice Forum, Nicholas Residential, and More Make Moves
⓽  D CEO's Upcoming Event to Feature Female Tech and Innovation Leaders
⓾  COMSovereign's Drone Aviation Unit Delivers the First Drone-Deployed LTE Network
---
THREE THINGS
⓵ RANKINGS REVEALED: Last night, SMU Cox unveiled its 2020 Dallas 100 rankings in a virtual event. Private equity firm Clavis Capital Partners, which is focused on the hot industrial sector and calls its model unique, took the top spot with more than 1,000 percent growth over the last three years. Scout & Cellar, a direct-to-consumers wine-based beverage producer, ranks at No. 2. The startup launched in 2017 with a pioneering "clean-crafted" wine club. Here's the full list of the Dallas 100's fastest-growing entrepreneurial businesses in DFW by rank.
⓶ STEADY HAND IN TOUGH TIMES: USA Today talks with the Dallas Mavericks' Cynt Marshall—one of Berkeley's first Black cheerleaders and now the first Black woman CEO in the NBA—in the sports series 28 Black stories in 28 days. When Mark Cuban contacted Marshall about joining the Mavs three years ago, "I didn't know who he was," she told the publication. "I had a big job. I'm raising four kids. I just didn't know who he was." Today, Cuban touts Marshall's "vision, leadership, communication, and business skills." For her part, the CEO says: "I want to make sure I do a good job, be a good role model and show that it shouldn't be unusual for a Black woman to be in a job like this."
⓷ FOLLOW THE MONEY: Plano-based Rent-A-Center has raised $376.7 million in equity from 21 investors, per a public filing. This week, the company closed on its acquisition of fast-growing Acima Holdings, another lease-to-own company. Acima, with a 3-year growth rate of nearly 800 percent, landed on Inc.'s list of fastest-expanding private firms, according to Payments.com. Rent-A-Center CEO Mitch Fadel said Acima's tech will help accelerate the company's innovation roadmap. Rent-A-Center also rolled out a new nationwide e-commerce solution in December. 
TRANSFORMATION PROJECT 
⟫  Developer Mike Hoque is "ready to kick off one of the most ambitious redevelopment projects in Dallas," the Dallas Morning News reports. The SoGood mixed-use development, located south of I-30, could transform Dallas' near southside with about nine blocks of apartments, retail, offices, and townhomes. The first phase, a $45 million apartment project, includes repurposing parts of the former Pilgrim's Pride chicken processing plant on Cesar Chavez Boulevard near downtown Dallas.
---
Thursday, Feb. 18
THREE THINGS
⓵ LAB LEADER: Azzur Group is continuing its nationwide expansion with Azzur Labs Dallas. The company says the new analytical lab, which will serve the biopharmaceutical and medical device industries, was established to "specifically meet the needs of the burgeoning life science industry in the Lone Star State." Senior Director Anita Boye will lead the lab.
⓶ CLOSE CALL: Texas was "seconds [or] minutes" away from catastrophic months-long blackouts, officials from the Electric Reliability Council of Texas (ERCOT) said today, according to the Fort Worth Business Press.
⓷ TOUCHDOWN: NASA's Perseverance rover landed on Mars today after traveling more than 300 million miles at around 12,000 mph for seven months. Dallas-based Continental Electronics Corporation tech was along for the ride. Its long-range communication technology helped engineers navigate the trip and drop the robot rover on the red planet under tricky conditions.
---
Wednesday, Feb. 17
THREE THINGS
⓵ BIOTECH FUNDING: A Fort Worth biotech has closed $7.2M in oversubscribed Series A funding. The clinical-stage biotech expanded from Silicon Valley to UNTHSC last summer. CAGE Bio—a resident at Johnson & Johnson Innovation—uses a proprietary platform to develop innovative therapeutic products for dermatology, inflammation, and immunology.
⓶ MAKING A POINT: Little Elm-based Retractable Technologies has a new government contract worth more than $54.2M for its dead-space safety syringes. The company, an "upstart" in 1994, was founded by engineer Thomas J. Shaw to reduce the dangers faced by healthcare workers from accidental needle sticks by rethinking the syringe. In December, the company's valuation was $340 million, with sales jumping 132 percent in the most recent quarter as demand climbs, reported The Motley Fool. The company says its VanishPoint syringes have been called "the gold standard" for retractable needle syringes.
⓷ CUBAN INVESTS: Mark Cuban joined actor Mark Wahlberg, NBA player Kevin Durant, and 15 other investors in a $40M funding round for sports marketplace Goldin Auctions. The New Jersey-based startup auction house for rare sports memorabilia and collectibles, founded in 2012, grossed $800K in its first year and more than $100M in 2020. The Chermin Group led the round.
DALLAS INNOVATORS
Here are 6 to know today—and why.
⟫  People management software startup Leadr has named Co-Founder Matt Tresidder as CEO. The position is a first for the startup that relocated to DFW from Seattle in 2019, reflecting its rapid growth. It's approaching $1M in annual recurring revenue, according to a news release. "The large majority of our customers are in the faith market, but we'll be branching into other verticals of small- to medium-sized businesses in the quarters ahead," Tresidder says in the DBJ.
⟫   Plano-based fitness startup OxeFit, which just raised $12.5M in an oversubscribed Series A funding round that included renowned athletes and sports med investors, is deepening its bench of experts. The startup named Hassan Ahmed to its board of directors, who most recently served as the chairman and CEO of Affirmed Networks, which was acquired by Microsoft last year. Pro rock climber Nick Sagar will join the technical advisory board. The connected fitness startup intends to revolutionize strength training.
⟫ Fort Worth-based ECI Software Solutions is making multiple C-suite moves. Trevor Gruenewald, who has completed more than 26 acquisitions since joining the company in 2009, will assume the duties of current CEO Ron Brooks, who will become Chairman of the Board.  Sarah Hagan, who was CFO, becomes president and chief operating officer.
MARKET WATCH
⟫  Motorola Solutions has plans to expand staffing in DFW with a new AI-focused central manufacturing hub in Richardson, consolidating smaller facilities in the region. It will also be a center for companies from Motorola's Video Security & Analytics portfolio, including brands such as WatchGuard and Vigilant Solutions, per the DMN. 
⟫  Dallas-based private equity firm Tailwater Capital acquired Houston gas-storage provider NorTex Midstream. Per the WSJ, the PE firm "looks to benefit from the role gas-fired electricity generation plays as a supplement to renewable power."
⟫  Fort Worth-based Sanara MedTech, a provider of wound and skincare products, announced the closing of a $31.6M public offering. 
⟫  A Swedish maker of plant-based, alternative dairy products, Oatly Inc., is eyeing Fort Worth for a third production facility in the U.S., the DBJ reports.
---
Tuesday, Feb. 16
TOOLBOX: The Extreme Cold Edition
Overnight, Dallas-Fort Worth recorded a new record low (-2 degrees). So far, more than 1.2 million North Texans have lost power in an unprecedented winter storm. Below is a roundup of resources and how to help.
⟫  How to help and get help as the winter storm causes power outages across Texas, via The Texas Tribune.
⟫  Rotating power outages: Common questions answered, via WFAA.
⟫  North Texas counties, cities, others open warming shelters for residents without power, via The Dallas Morning News.
⟫ Coping With Winter Plumbing Emergencies at Work and Home? Tip No. 1 from the Dallas Builders Association: If experiencing or fearing frozen or broken pipes, turn off the water, stat, via D Magazine.
⟫  How to help homeless Dallasites weather the storm, via D Magazine.
⟫   How to help feed people in need during dallas's winter weather crisis, via Dallas Eater.
⟫  Find Oncor's interactive outage map here.
FORGING THE FUTURE

D CEO's virtual multi-platform event, Women Leading Tech and Innovation, features female leaders from Capital One, Samsung, Imprimis Group, and CASPR Group.  It's been rescheduled to Feb. 24, thanks to rolling power outages and a forecast for additional snow. 
---
Friday, Feb. 12
THREE THINGS
⓵ FOLLOW THE MONEY: Dallas based biotech Dialectic Therapeutics has reported raising $6.35M in equity and options from 27 investors, in an amended filing. About this time last year, the company was one of three North Texas startups to receive a $3 million award from the Cancer Prevention & Research Institute of Texas (CPRIT). Dialectic focuses on creating innovative and targeted new technologies to address late-stage difficult cancer diagnoses, Biotech venture investors  Dr. David Genecov and John D. Harkey Jr. (above, from left) capitalized the startup in 2018
⓶ SPAC IPO? Bloomberg reports Dallas-based clearing house Apex is in merger talks with a special purposed acquisition company, or SPAC, backed by Jonathan Ledecky, a co-owner of the New York Islanders. A merger with Northern Star Investment Corp. II and Apex could be valued as high as $5 billion, the publication reports. PEAK6-owned Apex helps companies like Stash, SoFi, Firstrade, and Ally Invest deliver stock trading. (As a custody and clearing company, Apex ensures that trade orders are executed, minimizing the risk of theft or loss.) Apex also worked with Robinhood from 2013 to 2018, before Robinhood took its clearing in house, the company previously said. In related news, yesterday we told you about Fintech in Action, a new initiative launched by Apex Clearing and its parent. It aims to advance the hiring and promoting of more Black employees in finance and financial technology. 
⓷ CREDENTIALING CONSORTIUM: Texas Woman's University is one of four winners of the national Blockchain Innovation Challenge from the American Council on Education. TWU will use a $150K grant award to create a consortium of institutions in North Texas that will use a shared credentialing platform for secure, streamlined sharing of educational records between students, schools, and employers. TWU will partner with UT Arlington, Texas A&M University-Commerce, North Central Texas College, Carrollton-Farmers Branch ISD, and Dallas startup GreenLight. If selected for a "phase 2" pilot, TWU could get another $300K. 
NEED TO KNOW
Greenlight, a partner in the TWU consortium, develops credentialing technology.  The Dallas startup was picked in September to provide its blockchain platform to the Texas College Bridge, a collaboration of the Texas Education Agency, the Texas Impact Network, The Commit Partnership, and institutions of higher education in Texas. Greenlight was co-founded in 2018 by Manjov Kutty, who was featured in the 2021 Dallas Innovates Future 50.
PLUS
NAME THAT RIDE: Starting in March, five self-driving shuttles will be cruising the city and the local on-demand service needs a name. The service falls under the acronym RAPID (rideshare, automation, and payment integration demonstration). It's a partnership of May Mobility, Via Rideshare, and UT Arlington. Submissions must begin with "M" and be 20 characters or under (including spaces). Deadline is Feb. 17. Go!
CLOSING THE DIGITAL DIVIDE
Texas Governor Greg Abbott
Texas Governor Greg Abbott has named expanding broadband access as an emergency item for the 87th Texas legislative session, per CBSDFW. Connect2Educate, a Texas-based partnership led by Internet service providers, says rural communities in the state don't have reliable access to the Internet. The digital divide has widened in the pandemic, and "it needs to be fixed right away." said Sherman-based JJ McGrath, founder of the partnership, in a statement. "The distribution of devices and wifi hotspots is good, but it's not going to solve this problem for the long term."
---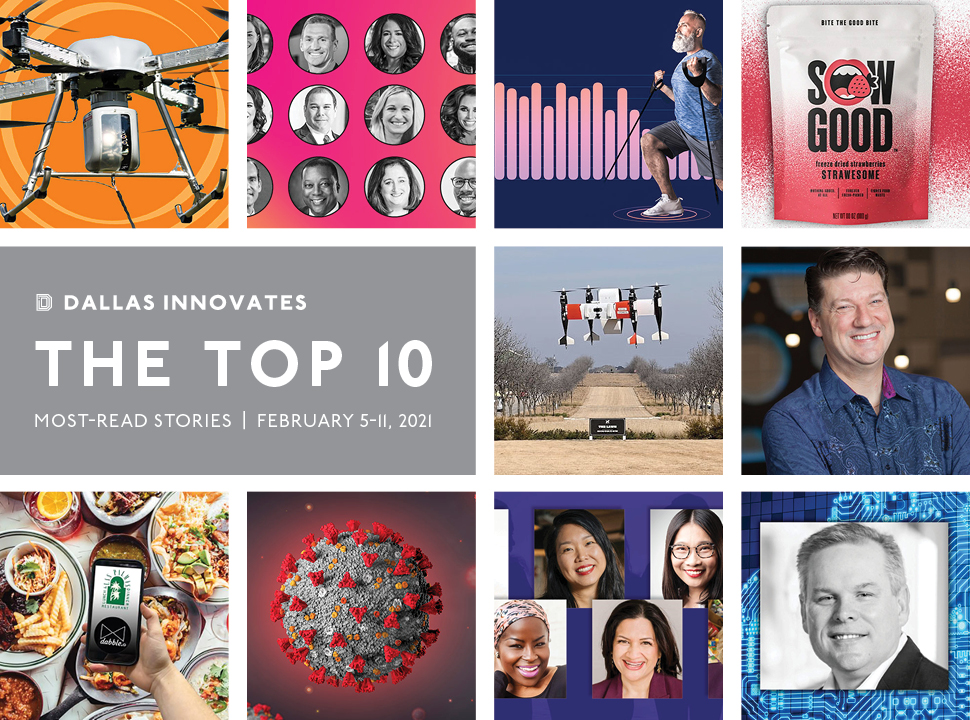 ---
FORCES FOR GOOD
People and organizations of all kinds are stepping up to help and inspire local communities. Here are highlights from around the region: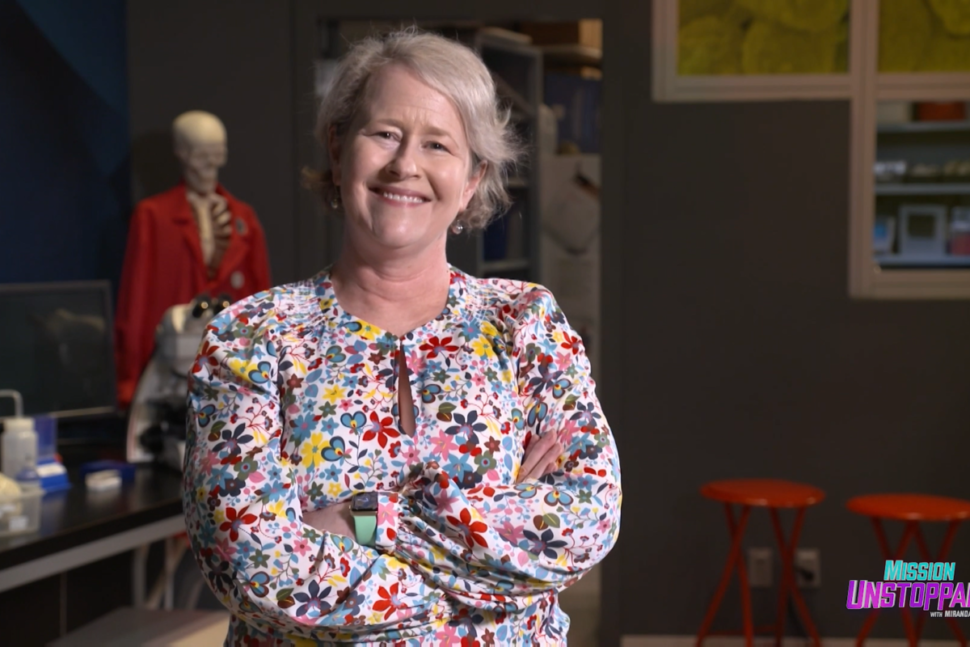 ⟫ UT Southwestern Medical Center's Dr. Claire Aldridge (above) will soon be a guest on "Mission Unstoppable," a CBS show hosted by actress Miranda Cosgrove. The show features women in STEM, such as Aldridge who will discuss the importance of convalescent plasma in treating COVID-19 before the vaccine came along, reports D CEO. Aldridge was infected by coronavirus in March 2019 and donated her plasma to help those impacted by the disease through her antibodies.
⟫ Dallas ISD is partnering with Apple to update the district's tech for its students. The new tools are expected to to enhance curriculum, coaching, and instruction, per Patch. Along with this, 40 to 45 of the district's schools will have their libraries and media centers redesigned, with a potential lab feature being a recording booth and sound equipment for student-produced podcasts.
⟫ Dallas-based nonprofit Catch Up & Read recently announced it received over $1.5 million in donations last year, with over $951,000 coming from the Crystal Charity Ball alone. On top of this, the organization, which helps to ensure Dallas and Richardson elementary school students can read on grade-level by 3rd grade, has brought on Karla Stack as its new executive director. Catch Up & Read is currently working with 11 Dallas ISD and one Richardson ISD schools.
PLUS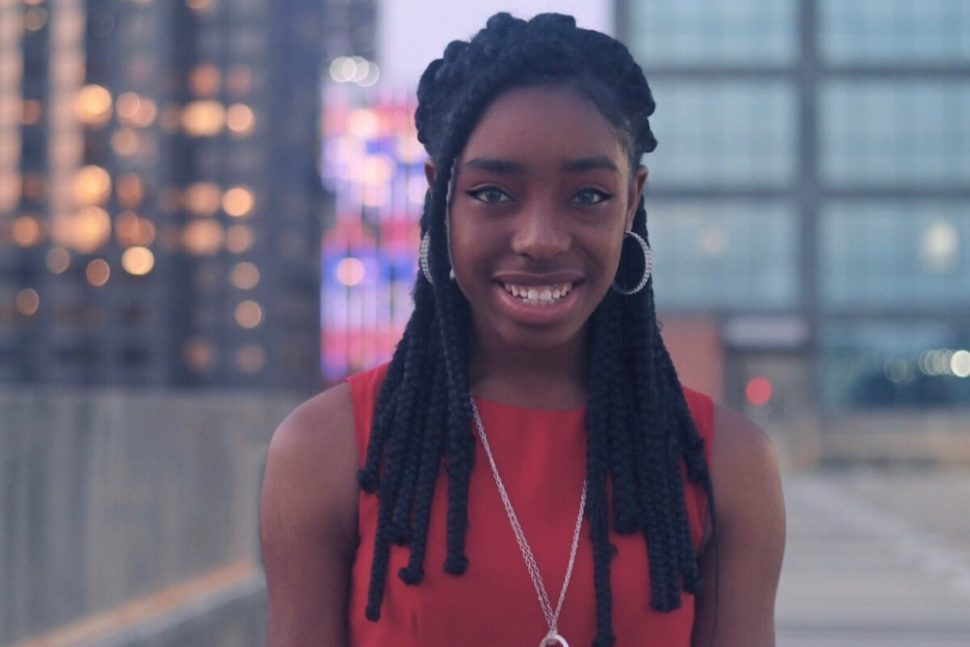 ⟫ Local filmmaker Rebecca Ugo is launching her debut feature No Strings—complete with a red carpet—today at The Colony. At the age of 23, Ugo's micro-budget drama will be having multiple screenings throughout the weekend. At the same time, Ugo is also launching DEEP, a multi-platform brand aimed at empowering and impacting Generation Z through stories with diversity at the forefront, according to D Magazine.
---
Thursday, Feb. 11
THREE THINGS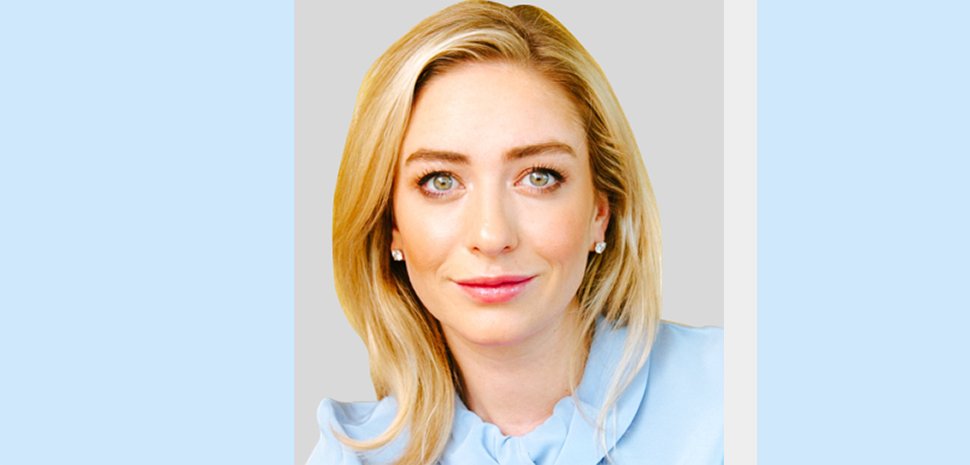 ⓵ A WIN FOR WOMEN: Texas-based Bumble's IPO this week has launched SMU grad Whitney Wolfe Herd into a rarefied club as tech's newest self-made billionaire. The founder of the dating app that lets women initiate the contact "capitalized on an underserved market and built a multibillion-dollar company," writes the Dallas Morning News. Though women make up about half the population around the world, "self-made women—mostly from Asia—account for less than 5 percent of the world's biggest fortunes," the publication reports.
⓶ SOCIAL INNOVATOR: Demetrius Curry is tackling the student loan crisis with a new startup, College Cash, that has a unique model. The Dallas-based startup lets brands "petition users to create photo and video marketing content highlighting their product or service," writes TechCrunch. The content creators are then paid by the brands via credits that go towards paying down their student loans. Curry has raised $105K, so far, and hope to wrap that into a $1M seed round.
⓷ LEASE TO OWN: Another real estate startup is coming to town. Zerodown makes the rent vs. buy dilemma a moot point. The startup lets homebuyers shop for a home and buy it on their own timeline. Zerodown buys the selected move-in ready home for cash and rents it back to the customer with an option to buy.
---
Wednesday, Feb. 10
THREE THINGS
⓵ ELECTRIFYING: Toyota Motor North America says it will debut three new electrified vehicles in the U.S. this year. The company will add two Battery Electric Vehicles (BEVs) and a plug-in hybrid (PHEV). Toyota's research shows the models have similar environmental benefits, but the options offer people at various price points: The PHEV "is much less expensive to buy and own, compared to the BEV," the company says. Toyota wants to put more people in cleaner vehicles and believes "the fastest way to lower greenhouse gases in the transportation sector is to offer drivers lower carbon choices that meet their needs," said Gill Pratt, chief scientist of Toyota Motor Corporation and CEO of Toyota Research Institute. 
⓶ MARKET MOVERS: After raising $310 million in growth capital last October, an IPO could be in the future for Irving-based Caris Life Sciences, per the DBJ. If so, it would join other DFW healthcare startups such as Lantern Pharma and Taysha Gene Therapies that made a public market move last year. "The size of the company's scale, our future pipeline—some of those things— are pretty well suited for the public markets," the biotech's CFO Thomas Parker said in the publication. "We're taking a serious look at that this year." But, he added, "That doesn't mean we have definite plans." 
⓷ TELEPRESENCE ROBOTS: UT Arlington is using robots to help with remote learning. In the nursing program, the robots allow students and professors tomove freely in a clinical space, virtually and safely. The university is tripling its robotic fleet this year, thanks to funding from the Texas Higher Education Coordinating Board's Nursing Innovation Grant Program.
---
Tuesday, Feb. 9
THREE THINGS
⓵ INTERACTIVE INVESTMENT: Match Group will acquire Hyperconnect and its high-growth social discovery products for $1.73 billion in cash and stock, the company announced today. South Korea-based Hyperconnect, a leader in live video and audio engagement technology, has two popular flagship apps with traction across Asia: Azar and Hakuna Live. The company's R&D efforts have led to unique features with high engagement, according to a news release. "Hyperconnect's engineering team is relentlessly imaginative and creative," said Shar Dubey, CEO of Match Group, adding that Match will "look to deploy Hyperconnect's technologies across our existing portfolio and continue to invest in their growth."
⓶ FLEX BEYOND COWORKING: Granite Properties has a new flexible work option at its properties. The commercial real estate firm launched a new platform called "evolve," a collection of office and leasing solutions to help companies adapt to changing business needs. Companies can tailor workspaces in conventional, move-in ready, on-demand, short-term, and co-working space, per a news release. The platform lets companies adjust the size, location, lease terms, amenities according to their business need. As part of evolve, tenants can also take advantage of a hub-and-spoke model through Granite's partnerships with coworking firms Industrious and Common Desk.
⓷ BIGGER D: Dallas has beat out Austin as the favorite Texas city for new residents during the pandemic. A new Redfin report uses data from the real-estate brokerage's 1 million Redfin users and the U.S. Census Bureau across multiple measures to calculate the 10 metro areas pulling in the most newcomers, per CultureMap.
---
Monday, Feb. 8
⓵ INSURTECH: Dallas-based Bestow is taking a "big step forward" by partnering with insurance unicorn Lemonade. Through Lemonade's platform, which was valued at $2 billion in 2020, Bestow could reach a million new customers. Bestow, solely focused on life insurance "for now," is looking to partner with emerging insurtech companies that can complement the fast-growing startup's existing offerings with specialization, the DMN reports.
⓶ FDA DESIGNATION NO. 2: Fort Worth biotech AyuVis was granted a Rare Pediatric Disease Drug Designation for its lead drug candidate, AVE-48. That's on the heels of an Orphan Drug Designation granted by the FDA in January. The drug fights bronchopulmonary dysplasia, a chronic lung disease that develops in premature babies leading to long-term disabilities or death. CEO Suchi Acharya co-founded the startup after about 15 years in leadership roles at Fort Worth's Alcon Labs (then Novartis). Her passion was to "find a solution to the problem of antibiotic resistance to drugs and to target the un-met clinical needs in serious and life-threatening indications," per the Fort Worth Business Press. 
⓷ CROWDFUNDING: Dallas-based startup MyndVR aims to raise up to $1 million with a new equity crowdfunding campaign on Republic Dallas. The provider of virtual reality solutions for older adults in the U.S. is now expanding internationally, it says.
---
Friday, Feb. 5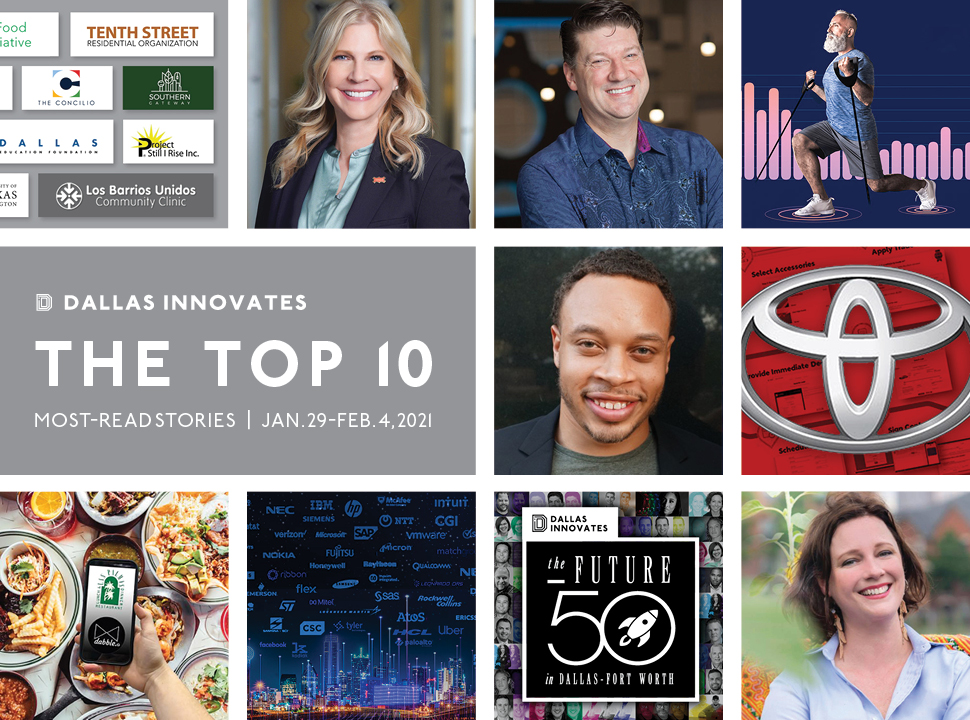 ⓵ DRC Announces Funding to Elevate Southern Dallas County
⓶  Frisco-Based Careington Launches National Teledentistry Program
⓷  Gearbox Acquired by Embracer Group in $1.3B Merger 
⓸  OxeFit Closes $12.5M Series A to Revolutionize Strength Training
⓹  Dallas-Based Automated Stock Trading Marketplace Wins Impact Ventures' Pitch Competition
⓺  Toyota Expands Online Car Buying Experience to Keep Up With Shifting Retail Patterns 
⓻  New Food and Drink Concierge Dabble Dallas Wants to Resuscitate the Restaurant Industry
⓼  Tech Comes of Age in Dallas-Fort Worth
⓽  Meet the Future 50: DFW Innovators and Disruptors You Need to Know
⓾  Dallas Recycling Service Expands to Denton, Makes Food Waste Scraps a Farm and Garden Resource
---
THREE THINGS
⓵ BIOTECH EXPANSION: Plano-based Allied BioScience, which got a public health emergency exemption waiver for use of its SurfaceWise2 antimicrobial product in the pandemic, is doubling the company's footprint with an expansion in the city's One Legacy Circle building on Dallas Parkway. The 12-year-old biotech firm also announced plans to relocate its R&D labs in Plano. Allied expects to hire more than 100 people across departments to handle growth. 
⓶ OPERATION WARP SPEED: A new climatized manufacturing and distribution warehouse is being built in Dallas-Fort Worth for COVID-19 vaccine distribution. Fort Worth-based W.G. Yates & Sons Construction Co. is handling a design/build program "on a fast-track schedule," reports the Dallas Business Journal. Details, including timeline and location, are scarce, given the planned facility's status as a high-security site.
⓷ FUTURE READINESS: Dallas College has been awarded $10 million in funding from the U.S. Department of Labor for a grant project called "Innovative Strategies, One Workforce." The college is one of only five higher-ed institutions in the country picked for a $145 million program of workforce training in key sectors. The college will focus on training in cybersecurity, IT, advanced manufacturing, robotics, and transportation, per NBC DFW.
WHAT ELSE?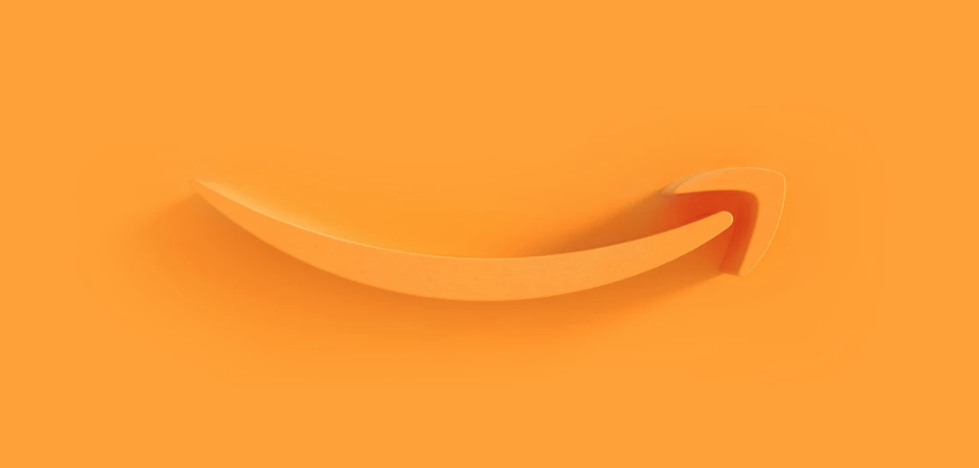 ⟫ "NEW COLLAR" JOBS: Dallas College also announced a partnership with Amazon to train students in emerging technology. Its Eastfield campus in Mesquite is working with the global giant to train students in mechatronics technology. The "smart manufacturing" field combines several types of engineering—mechanical, computer, and electrical—with robotics. The "unique apprenticeship" is aligned with industry needs, says Chancellor Joe May. It's a "high-growth area."
⟫ OPEN MARKET: Office innovator Vari, formerly known as Varidesk, is expanding to the Atlanta market. The company opened showrooms in six markets in 2020 and plans to expand into four additional markets in 2021.
---
FORCES FOR GOOD
People and organizations of all kinds are stepping up to help and inspire local communities. Here are highlights from around Dallas-Fort Worth:
⟫ "MAVS MAJOR": The Dallas Mavericks will fund a new bachelor's program in leadership and sports management at Paul Quinn College. The partnership with its $500,000 grant was spawned from a "meeting of the minds" that involved PCQ President Dr. Michael J. Sorrell, Dallas Mavericks CEO Cynt Marshall, and team owner Mark Cuban, the Dallas Morning News reports.
⟫ The Dallas Foundation has provided fellow Dallas-based organization Child Poverty Action Lab (CPAL) with a $750,000 grant—the largest grant in the organization's history. The grant will support CPAL's mission to reduce childhood poverty in Dallas by 50 percent within a single generation. Specifically, the grant will allow CPAL to launch a dedicated "Birth to 3 Care Team," a program supporting children from birth to three years old, and continue to educate North Texans on poverty-related issues.
⟫ The Dallas-based American Heart Association has awarded $60,000 to community health entrepreneurs at the conclusion of its fourth annual National EmPOWERED to Serve Business Accelerator program. This year's winners received funding for their innovative business solutions to health inequities with both aiming to prevent unnecessary deaths caused by lack of funding, training, or resources in medical emergencies through their products.
---
Thursday, Feb. 4
THREE THINGS
⓵ SPACE PIONEER: Firehawk Aerospace wants to revolutionize rocketry, and it's moving to Dallas to join the space race. The new startup, which develops industrial-scale 3D printers to make rocket fuel, recently got $1.2 million in investment funding from Dallas-based Harlow Capital Management and CEO Colby Harlow, the DMN reports. The rocket engine startup is seeking space for its main research facility in the region.
⓶ STREAMLINING SALE: After acquiring Rosetta Stone last year, Dallas-based Cambium Learning Group is now selling it to IXL Learning. Cambium acquired the tech-based language brand, along with Lexia Learning in October 2020. The company says the divestiture strengthens its focus on K-12 digital education solutions. It will retain Lexia Learning, a leader in the literacy space.
⓷ NEW MEDIA: A new nonprofit, online-only publication is launching in Fort Worth. The publication, Fort Worth Report, will focus in-depth coverage of local government, schools, and civic matters. New publisher/CEO Chris Cobler plans to hire three reporters and a managing editor by the end of March, the Fort Worth Star-Telegram writes.
---
Wednesday, Feb. 3
⓵ STARTUP: LaunchBio and TechFW have announced their first cohort of startups for the ThinkLab Accelerator in Dallas. The program will offer eight Dallas biotech and life science companies free business training with the hope that they will one day locate their companies to Pegasus Park, a mixed-use social purpose project near the Dallas Design District and the Southwestern Medical District.
⓶ RENT TO OWN: Divvy Homes has raised a $110 million Series C funding round, per Crunchbase News. The rent-to-own startup operates in 16 cities, including Dallas. Divvy works with customers to help them find a house, purchases it on their behalf, then the customers rent until they decide to buy the home. According to Crunchbase data, the Series C is the largest venture round raised by a real estate startup in the past month.
⓷ NEW HIRES: Amidst GameStop being in the news recently due to its shares skyrocketing in value last week, the video-game retailer has announced three new hires. Matt Francis, a former Amazon Web Services team member, has joined the team in its newly created position of chief technology officer, reports the Dallas Morning News. Kelli Durkin and Josh Krueger have also been hired on as senior vice president of customer care and vice president of fulfillment, respectively.
APPLY NOW
United Way of Metropolitan Dallas is looking to improve community health through an innovation challenge. Up to $1 million in prizes will be up for grabs based on solutions created to increase access to preventive health care and mental health resources.
---
Tuesday, Feb. 2
THREE THINGS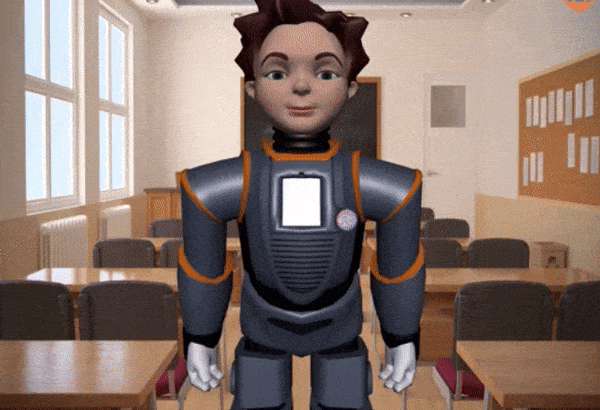 ⓵ MEET MILO: A New RoboKind robot is improving remote learning for students with Autism Spectrum Disorder. The Dallas-based education and robotics company has expanded its social-emotional education program to assist students with autism in learning more efficiently in remote settings.
⓶ MOVING TO MCKINNEY: Security operations platform and SaaS startup Contraforce is the latest company announcing it's relocating thanks to the McKinney Economic Development Corporation's innovation fund. Contraforce has accepted a grant from the fund and in return, the startup is bringing 20 new high-tech jobs and with an average salary of $100,000 to the area. Over 11 tech headquarters, along with startup relocations and expansions, have made their move to McKinney due to the innovation fund. Among the companies that have landed in the DFW city are EnginSoft, Blockit, and CourMed.
⓷ AND THE WINNER IS…: The American Heart Association has awarded $60,000 to community health entrepreneurs. This year's AHA Business Accelerator program winners received funding for their innovative business solutions to health inequities. Both aim to prevent unnecessary deaths caused by lack of funding, training, or resources in medical emergencies with their products.
WHAT ELSE?
⟫ Sam Brukhman, the founder and artistic director of Verdigris Ensemble, says the digital art space in blockchain is exploding right now. The founder of the Dallas choral group thinks its "new music could draw big bucks in the crypto-art world," according to the Texas Standard. A new version of the group's successful recording, "Betty's Notebook," can transform it into a "one-of-a-kind digital sound installation" using blockchain to create and fund the project. The music tells the IRL story of Betty Klenck who claimed to have heard Amelia Earhart's distress signals on her family's radio in 1937.
⟫ Find out what Dallas innovators are reading. Here are the books recommended by Toyota's Zack Hicks, DZS' Charlie Vogt, EarthX Trammell S. Crow, The Container Store's Melissa Reiff, Vari's Jason McCann, CECO's Chasity Wilson Henry, and the Bush Center's Ken Hersh. 
---
Monday, Feb. 1
THREE THINGS
⓵ RANKINGS: Nine North Texas organizations made Fortune's newest list of the world's most admired companies. From North Texas, Southwest Airlines, AT&T, D.R. Horton, Jacobs Engineering Group, Kimberly-Clark, McKesson, and Texas Instruments ranked in the top 300 All-Star companies.
⓶ LGBTQ FRIENDLY: The number of North Texas companies that have become more inclusive to support the LGBTQ community in the workplace has grown tremendously, according to the Human Rights Campaign Foundation. More than 20 local companies earned a perfect score on the foundation's corporate equality index for this year, which analyzes companies based on their policies and outreach for those who identify as LGBTQ. That accounted for 61 percent of all perfect scores in Texas. To put it into perspective, only four local companies got a perfect score in 2014, according to the DBJ.
⓷ BUSINESS LAUNCH: A Dallas government tech leader is helping organizations bring their business processes online through its new company. Kofile, a Dallas-headquartered leader in government technology, has announced the launch of GovOS, which has been created to meet a growing demand for digital access to government services.
---
Friday, Jan. 29

HERE ARE THE MOST POPULAR STORIES ON DALLAS INNOVATES THIS WEEK
⓵ Fort Worth-Based M2G Ventures and Austin-Based Pennybacker Buy Tuesday Morning's Entire Industrial Portfolio
⓶  10 Inspiring Female Founders in Dallas-Fort Worth
⓷  Meet the Future 50: Dallas-Fort Worth Innovators and Disruptors You Need to Know in 2021
⓸  This New Addison-Based PPE Supplier Is Manufacturing and Sourcing From the U.S.
⓹  Veritex Bank, Federal Home Loan Bank of Dallas Award $750K to Create Affordable Housing for the Local LGBTQ Community
⓺  DI People: United Way Dallas, North Dallas Bank & Trust, Texan by Nature, and More Make Moves 
⓻  Impact Ventures is Hosting a Virtual Startup Showcase and $50K Pitch Competition This Weekend
⓼  Fort Worth-Based TimelyMD Raises $60M to Grow Its Telehealth for Higher Education
⓽  Dallas-Based PE Firm Partners With Two Aerospace Companies to Form New Missile and Space Platform
⓾  Tech Comes of Age in Dallas-Fort Worth
---
THREE THINGS
⓵ NEW FUND: Lydia Partners raised more than $26 million of a $30 million proposed fund, per an SEC filing. Led by Managing Director Mohammed "Rab" Shanableh (above), the Frisco-based VC firm makes early-stage investments in consumer tech, biomedical, and healthcare startups. The company's portfolio includes OxeFit, a Plano sports science and AI startup, and Allied BioScience, a Dallas-based biotech. Last summer, Allied BioScience's antimicrobial surface coating became the first approved by the EPA to continuously protect against COVID-19. Shanableh co-founded OxeFit and serves on the board of Allied BioScience.
⓶ MOVIEMAKERS: As the Sundance Film Festival shows at Texas Theatre and Denton kicks off the virtual Black Film Festival, Dallas is "reeling in a new creative accolade"—as a top city for moviemaking, per CultureMap. In MovieMaker magazine's annual list of "best places to live and work as a moviemaker," Dallas ranked No. 12 on the "big cities" list. That's partly thanks to Texas' tax incentives, but also a cost of living that's lower than the national average. Here, filmmakers have the chance "to not only survive financially, but thrive."
⓷ WILD WEEK: Robinhood, which opened a new office in Southlake last year, raised $1 billion in emergency funds from investors this week amid a trading frenzy of stocks including Grapevine-based GameStop and AMC Theaters. The surge of trading on the platform "was driven largely by a group of retail traders on the Reddit forum WallStreetBets," which helped drive up the share prices of several stocks that were short squeeze targets throughout the week, per Business Insider. Last Friday, the Wall Street Journal reported that the trading activity caused an "unprecedented increase in Robinhood's deposit requirements." 
PLUS: Mark Cuban says the Reddit WallStreetBets crowd could have positive, long-lasting trading effects. But "now it's just a flex," he said during an appearance Thursday on CNBC's Squak, per the Dallas Morning News. Earlier this week, the billionaire tweeted, "I got to say I LOVE LOVE what is going on with #wallstreetbets." Cuban's 11-year-old even got into the trading action, he says.
---
FORCES FOR GOOD
People and organizations of all kinds are stepping up to help and inspire local communities. Here are highlights from around Dallas-Fort Worth:
⟫ Although the State Fair of Texas was a reimagined experience for 2020, Big Tex Urban Farms, which is located nearby, has kept on growing its produce and has major goals for 2021. Last year, the greenhouse was able to produce 26,000 pounds of food for nine South Dallas charities, per NBC DFW. Now, it has a goal of donating 1 million servings with help from its largest fundraiser of the state fair itself.
⟫ The Dallas-based Nexus Recovery Center is celebrating its 50th anniversary through its Nexus 50 for 50 Anniversary Campaign. The nonprofit will be raising funds for three different essential pillars of its services of community, dignity, and security. Nexus hopes to raise at least 50 gifts of $50K each. The nonprofit provides specialized substance use disorder treatment services for DFW women.
⟫ The American Heart Association has committed over $230 million to support equitable health. The unprecedented pledge from the Dallas-based organization is intended to improve the health of all communities, no matter their location. It will invest $100 million in scientific research, with a minimum of $100 million in community-led solutions and collaborate with the U.S. Department of Health and Human Services to address a major source of poor cardiovascular health.
---
Thursday, Jan. 28
THREE THINGS

⓵ ROBOTIC RETAIL: Walmart plans to build a "huge e-commerce project" in Lancaster that could create more than 1,300 jobs. It's an $800 million project that will support e-commerce with two facilities on 454 acres, the Dallas Morning News reports. The retail giant also plans to put automated fulfillment centers inside its stores with robots that fetch groceries for pickup.
⓶ RACIAL JUSTICE COMMITMENT: ServiceNow is investing $100 million in Black communities in 10 U.S. metros where it has a presence, including Dallas. The Racial Equity Fund, available on Feb. 1, will increase local banks' lending capacity by buying smaller community loans, reports the Silicon Valley Business Journal. The fund is intended to support homeownership, entrepreneurship, and neighborhood revitalization efforts.
⓷ PUBLIC MEETING: The North Central Texas Council of Governments is hosting virtual meetings to discuss high-speed transportation next week on Wed. (12 p.m.) and Thursday (6 p.m.). The options include traditional high-speed rail, hyperloop technology, magnetic levitation trains.
---
Wednesday, Jan. 27
⓵ IMMERSIVE TECH: A new Dallas-based company has created DomeX, an immersive 65-foot tall half-dome LED construction, per the Dallas Morning News. The experiential tech company is called Cosm and is backed by RealPage founder and CEO Steve Winn. After acquiring major virtual reality and IMAX screen providers last year, Cosm is set to expand beyond science and education to sports and entertainment. Before the company went private, it recorded $27 million in sales in 2019. DomeX is located in Cosm's massive research & development facility in the University of Utah's research park in Salt Lake City. DomeX, an 8K immersive LED dome, is the only one of its kind in the world. Completed in late 2020, it demonstrates what Cosm calls "the power of the possible": Cosm's tech capabilities. By the numbers, the center boasts more than 5,000 square feet of 8K display, 29.5 million pixels, and about 4.5 miles of CAT6 Data cable.
⓶ MAKING UPGRADES: Dallas-based Neiman Marcus is planning to enhance its online shopping business through systems and fulfillment centers, as well as investing in its local Pinnacle Park distribution center, reports the same publication. Along with this, the retailer has brought on two new executives and plans to revamp six stores in the next year and a half, which follows its bankruptcy filing last year.
⓷ HQ MOVE: A Fortune 100 financial corporation has leased office space at Plano's Legacy Central and, according to the Dallas Business Journal, the new tenant is speculated to be Freddie Mac. The McLean, Virginia-headquartered organization previously had its regional HQ in Carrollton, but the property is now said to be up for lease.
PLUS
Autonomous driving tech company Waymo is partnering with Girl Scouts of Northeast Texas to help facilitate the organization's famous cookie program. According to The Trucker, Waymo is currently testing its trucks in Texas, which will also provide Girl Scouts with a practical example of the future of tech. Along with this partnership, GSNETX is also joining Waymo's Let's Talk Autonomous Driving initiative as its first STEM-focused education partner.
Tuesday, Jan. 26
THREE THINGS
⓵ NEW DEAL: Fort Worth-based M2G Ventures and Pennybacker Capital announced their second recent deal in DFW, after their purchase of Tuesday Morning's entire industrial portfolio. The firms have partnered on an urban industrial redevelopment called PROTO Park, so named as a "prototype of innovation" that will be a home for logistics, consumer distribution, and e-commerce tenants.  Expected to complete in fall 2021, the nine-acre site adjacent to Dallas' Design District is a location "where users truly want to be," M2G's Ventures Jessica Miller Essl says.
⓶ EMPLOYEE'S CHOICE: Online job search company Glassdoor recently recognized the global 2021 best places to work in its 13th annual employee choice awards. You'll find Dallas-based Southwest Airlines (No. 21), Ryan LLC (No. 37), and Texas Instruments (No. 38) in the best 100 workplaces with 1,000 or more employees. In the company's ranking of small and medium companies, Pariveda made the Top 5. As opposed to other awards, the rankings are based on the input of employees who voluntarily provide anonymous feedback via a review in the past year.
⓷ SOCIAL PRESENCE, REMOTELY: Preciate has garnered a $4.6M seed round to scale its virtual social and peer recognition tech. The startup's flagship product— Preciate Social—a virtual socializing platform for businesses and teams—officially launched in September with nearly 10,000 users from 1,700 companies including AAA, SSI, and National Science Foundation/Emory.
BRAND STRENGTH
London-based Brand Finance, which has its U.S. base in Dallas, has released the findings of its annual look at the world's 500 most valuable U.S. brands in the consultancy's 2021 report. Apple reclaimed the title of the world's most valuable brand for the first time since 2016, overtaking Amazon and Google. Dallas-based AT&T is No. 9.
---
Monday, Jan. 25
THREE THINGS
⓵ CHANGING TIDE: In Trend Micro's newly released 'Turning the Tide,' the Dallas-based cloud security firm found that 41 percent of IT leaders predict AI will take over their role by 2030. Overall, the report looks at cybersecurity predictions for 2021 and how the pandemic has shaped that. But as ZDNet pointed out, the report also showed that many humans expect tech to eventually replace them. The research—compiled from interviews with 500 IT directors, CIOs, and CTOs—showed that 9 percent of people think AI won't replace their job, and 32 percent predict tech will eventually automate all cybersecurity with little need for human intervention.
⓶ FOLLOW THE MONEY: Dallas-based Post Acute Analytics, which offers healthcare providers and payors solutions that impact the quality of cost and care, has closed on an undisclosed Series B. The funding round was co-led by Concord Health Partners through its AHA Innovation Development Fund and Dorilton Capital. PAA plans to continue developing its proprietary AI platform that improves patient outcomes by enabling real-time decisions and reduced costs.
⓷ MENTORS MATTER: The Dallas Entrepreneur Center's Fast Start Mentoring program is seeing major success from its members only about a year after founding. Erica Molett, the CEO of a workforce, community, and economic development consulting firm, recently launched her new idea thanks to the help of her mentor in the program, Peter Bartnik. After connecting through the program, Molett used Bartnik's help to pivot and launch Kandake Tech, an edtech company that aims to change the world, one kid at a time, no matter where they're from. Up next is the release of Kandake's education and entertainment platform for teens, which you can read about in the DMN.
---
Friday, Jan. 22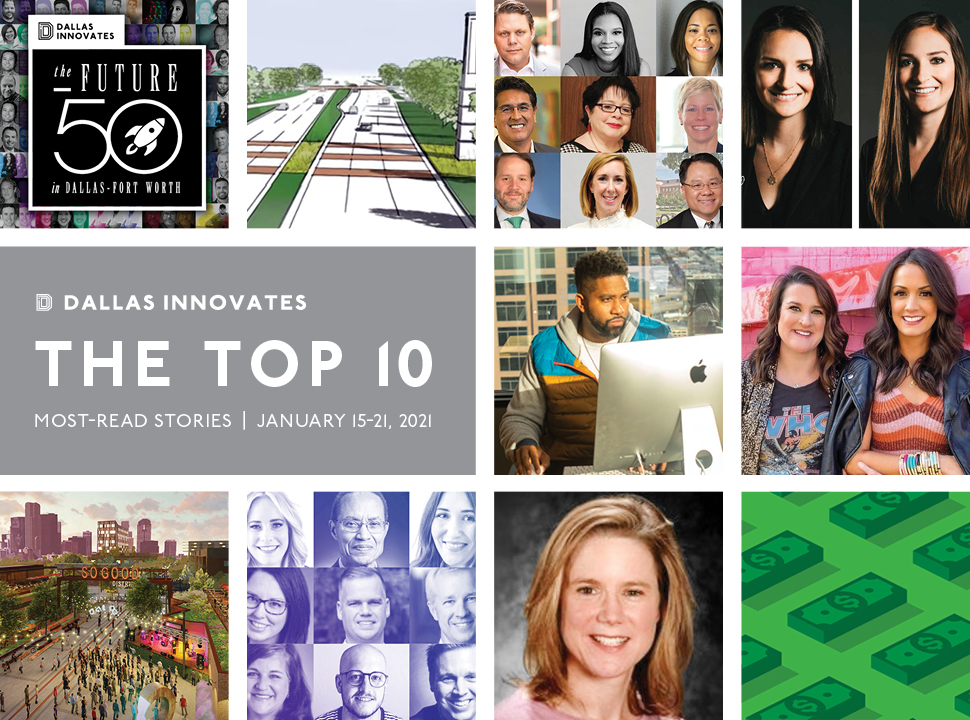 ⓵  Meet the Future 50: Dallas-Fort Worth Innovators and Disruptors You Need to Know in 2021
⓶  Dallas' First Test Bed for Smart‑City Transit Tech Receives Funding Through $4M Federal Grant
⓷  Mayor Eric Johnson Names the 15 Members of His Task Force on Innovation and Entrepreneurship
⓸  M2G Ventures and Austin-Based Pennybacker Buy Tuesday Morning's Entire Industrial Portfolio
⓹  Gig Wage Raises $2.5M Follow-On to Its Recent $7.5M Series A Round
⓺  Dallas Jewelry Brand Grows $100 Investment to $1M+ Revenue—In About a Year 
⓻  Eye on the Future: Planned Developments Keep DFW On the Forefront of Industry and Livability
⓼  DI People: GameStop, Vari, MediaKind and More Make Moves
⓽  Southern Dallas County's IPTMA Appoints an Executive Director
⓾  Pitchbook Forecasts 8 Venture Capital Trends for 2021
---

THREE THINGS
⓵ STREAMING TECH: A new "Beacon" videoconferencing platform allows seamless, instant transfers of live video calls from one device to another. Years in the making, Dallas-based Mass Luminosity has a new patent for its technology that allows media transfers between devices. CEO Angel Munoz says "for the first time, a person participating in a videoconference, will be able to seamlessly transfer it from a desktop computer to a smartphone or tablet PC with the touch of a button."
⓶ FOLLOW THE MONEY: New Age Capital raised $50 million, per an SEC filing. The Dallas-based seed-stage VC firm, which specializes in tech startups, was founded in 2016 by Black and Latino entrepreneurs. Ivan Alo and LaDante McMillon were recognized in 2020 in Forbes 30 under 30 for their work. "We believe in creating and supporting a world where people of all races, ethnicities, cultures, lifestyles, and environments are exposed to new ideas, democratized information, and boundless opportunities through the use of technology," McMillon said in Forbes.
⓷ OENOPHILIA: "Dallas has been a polestar of entrepreneurial spirit in nearly every industry you can name, including winemaking, writes the DMN. The publication highlights three Texas vintners who were born in Dallas or got here as fast as they could: Stressed Vines, Calais, and even Pedernales Cellars all got a start in North Texas.
PLUS
Winners Revealed: D CEO and Dallas Innovates Innovation Awards 2021
Last night, D CEO and Dallas Innovates celebrated the individuals and companies shaping the future of DFW. Together, we recognized our 13 Innovation Awards winners across individual and industry categories at our second annual awards event.
---
FORCES FOR GOOD
People and organizations of all kinds are stepping up to help and inspire local communities. Here are highlights from around Dallas-Fort Worth:
⟫ Dallas-headquartered Smoothie King is partnering with the North Texas Food Bank on a fundraiser at all of its retail locations throughout the metro. Until Jan. 31, guests can donate $1 or $5 to support the food bank, with the hope to raise enough funds to feed the hungry into 2021. Smoothie King CEO Wan Kim (pictured above) is on the food banks board, and kicked off the partnership with a $50K donation. The effort also aims to raise awareness around hunger and food insecurity—one in six local people are food insecure.
⟫ In an effort to assist the Dallas homeless population, local convenience store retail giant 7-Eleven has donated 600 bakery items and more than 800 single-serve snack items to the newly established St. Jude Center. Established by Catholic Charities Dallas, the housing center is dedicated to helping those who have been affected by COVID-19. 7-Eleven also donated $5K to ease the food insecurity that Dallas' homeless community is currently facing.
⟫ Nexstar Media Group and national hunger relief organization Feeding America have announced a multi-year partnership to tackle hunger and food insecurity. Over three years, the Irving-based media group will be donating $2 million in television air-time and financial support. The Nexstar Charitable Foundation will also be donating $50,000 annually through 2023 to support Feeding America.
---
Thursday, Jan. 21
THREE THINGS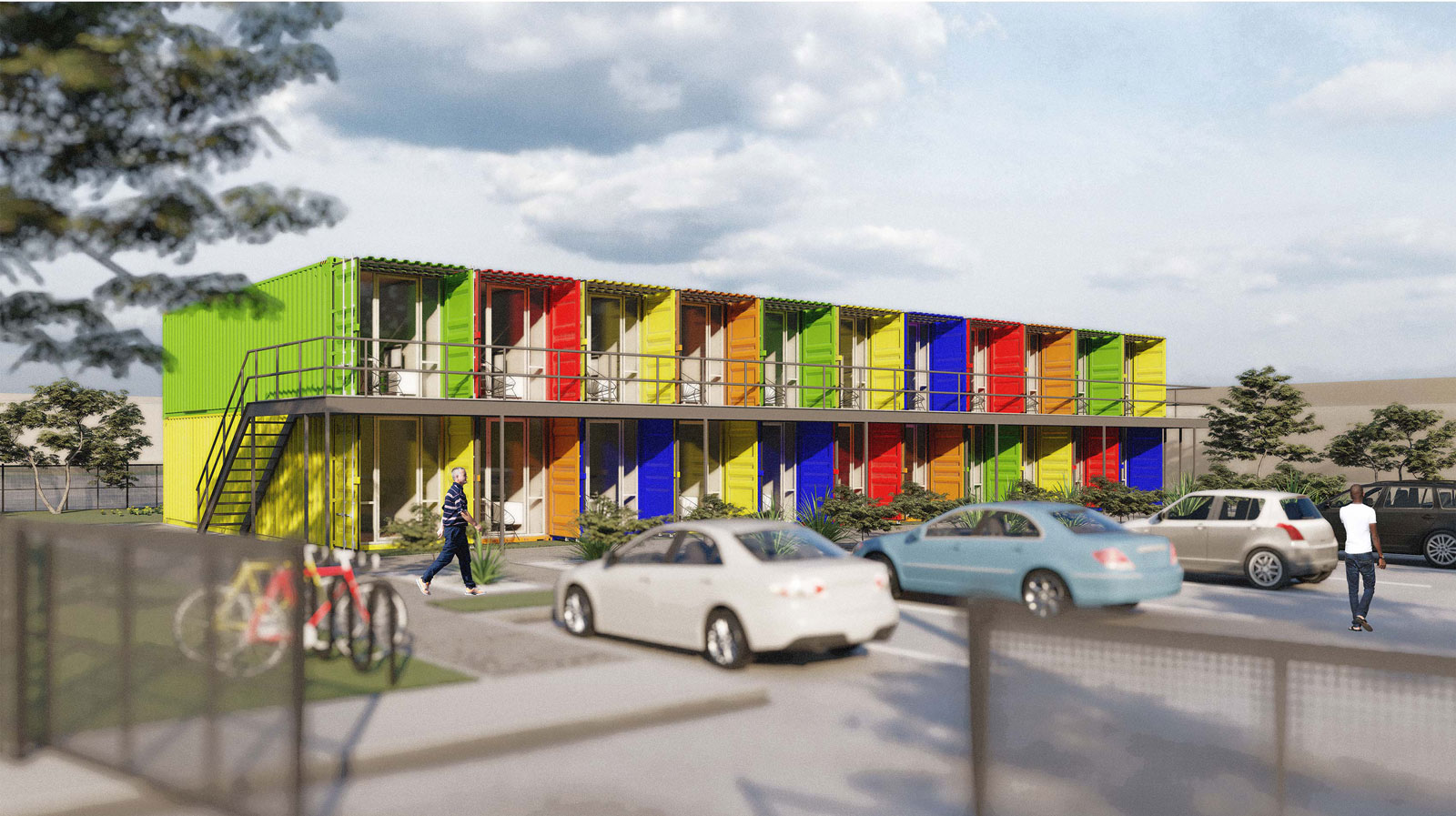 ⓵ OUTSIDE THE BOX: To create affordable housing in Dallas, one architecture firm is using a unique building medium: shipping containers. Merriman Anderson Architects is working with CitySquare Housing to create the Lomax Container Housing Project, per the Dallas Morning News. Each container is expected to be 300-square-feet with 19 one-bedroom units total. There is another container project in the works expected to open in 2022.
⓶ GOING PUBLIC: Dallas-based Signify Health is planning a $100 million initial public offering on the New York Stock Exchange, reports the same publication. Based on documents filed by Signify with the SEC, it plans to list its stock under the ticker SGFY. The home health company generated $550 million in revenue in 12 months, ending on Sept. 30, 2020.
⓷ STUDY SAYS: A recent report from Self Financial found that North Texas comes in at the No. 9 spot with its percentage of minority-owned startups. The 5,190 minority-owned startups in the area employ 25,714 people and bring in almost $3.4 billion annually, per CultureMap Dallas. 
PLUS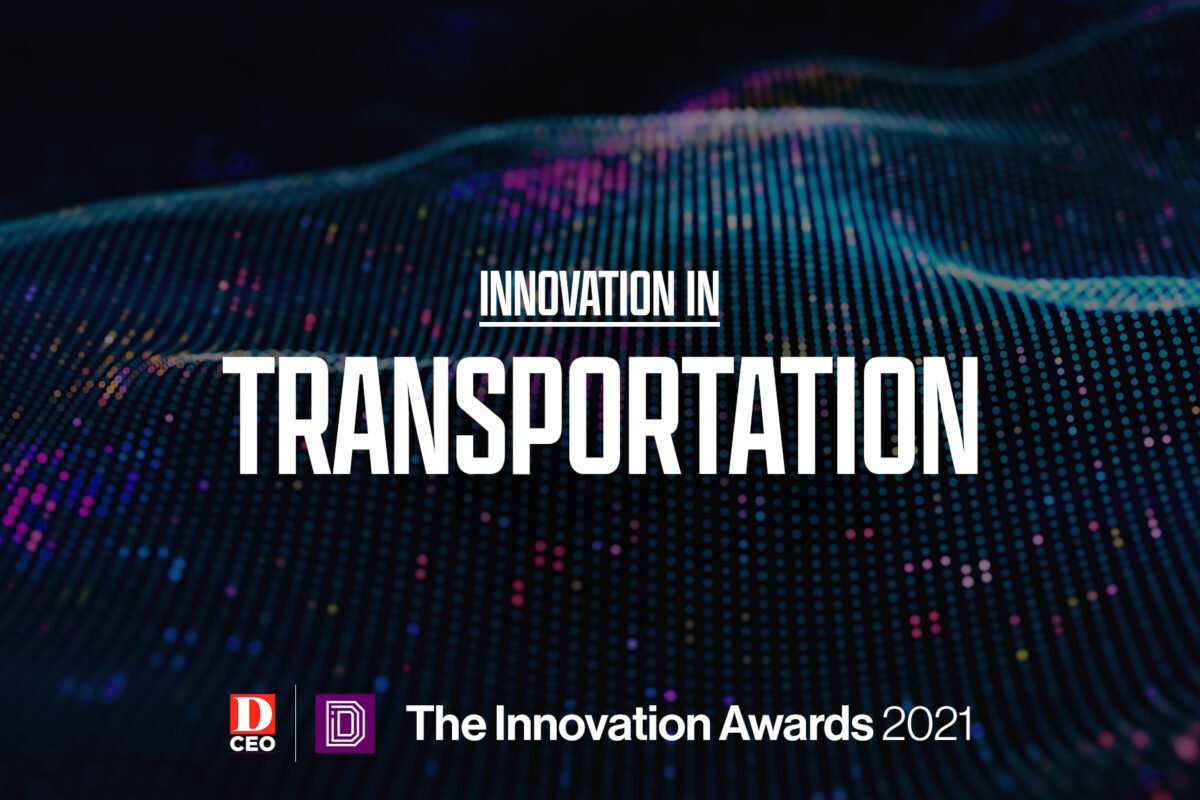 Meet the Finalists: Execs From Alto, Alpine Advanced Materials, and eCarra
The three Innovation in Transportation honorees provide insights on creating a culture of innovation, taking risks, and the clean energy revolution. Winners of The Innovation Awards 2021, presented by D CEO and Dallas Innovates, will be revealed at an exclusive virtual event tonight at 5 p.m. Tickets are $20. To register, click here.
---
Wednesday, Jan. 20
THREE THINGS
⓵ WORKING AT A DISTANCE: Dallas-based coworking company and workday wellness provider Common Desk is teaming up with Plano commercial real estate company Granite Properties to give office tenants more flexibility in response to the work-from-home movement. The two have launched G.O. Pass, a subscription-based service that gives Granite tenants access to private offices and communal workspaces at any of the eight Common Desk locations in North Texas, the DBJ reported. With the Pass, a company's employees (even those who work remotely) are able to explore workspaces that promote collaboration and culture, which Granite is calling a "hub-and-spoke" workplace model. This isn't the first time the two companies have worked together, though: Common Desk moved its headquarters to Granite Properties' Factory Six03 in Dallas' West End in 2019.
⓶ MAKING MOVES: DASAN Zhone Solutions, a global provider of ultra-broadband and 5G platforms that last year moved its headquarters from Oakland to Plano has acquired Canada-based optical networking solution provider Optelian. The move will allow DZS to expand its 5G reach, the DMN reported, by increasing its networking capabilities for top tier service providers and mobile technology product line. The DZS CEO said the acquisition will distinguish the company from "traditional edge access mobile and broadband suppliers"—and accelerate its path with Tier 1 service providers in North America.
⓷ NATIONWIDE MEMORIAL: On Jan. 19, buildings across Dallas-Fort Worth lit up in honor of the American lives that have been lost to COVID-19. Other tributes have been created such as a six-foot garland of roses at Turtle Creek Park and a yellow heart memorial at the Museum of Archives in Irving, which features portraits of those who have lost their lives to the virus.
PLUS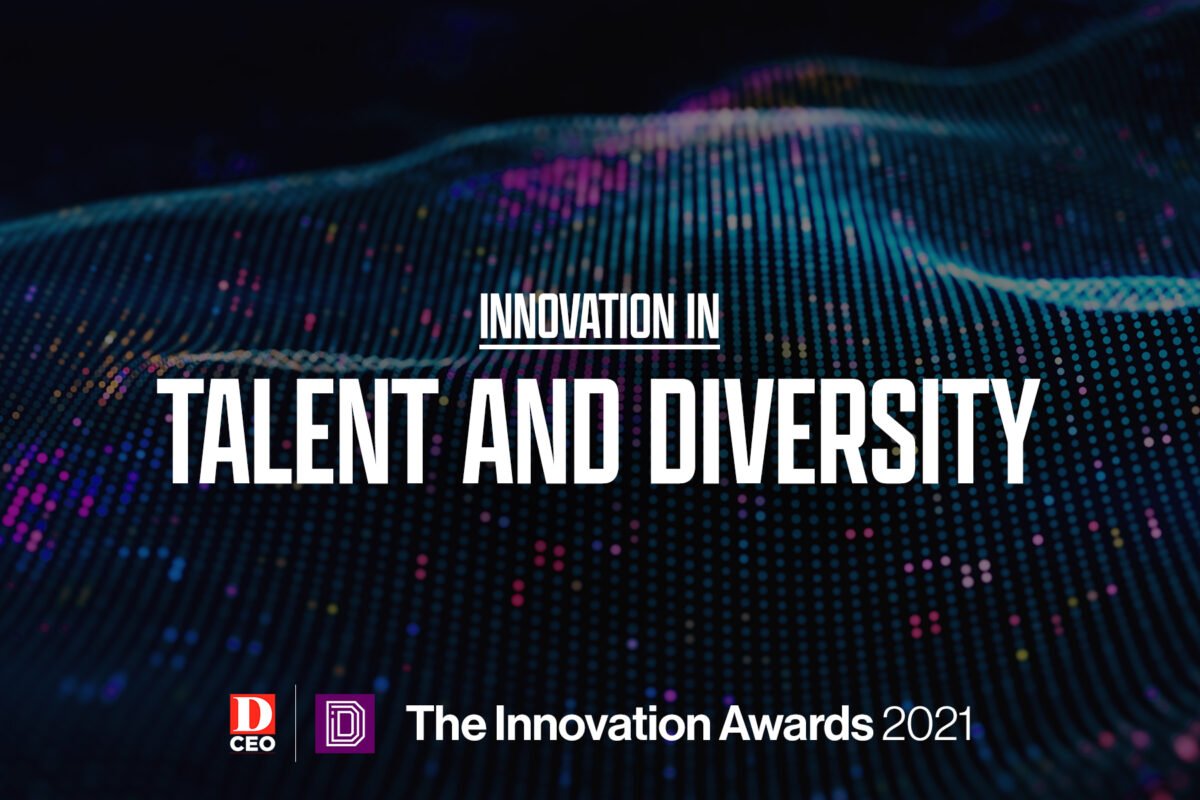 Meet the Finalists: Talent and Diversity Leaders From NPower Texas, Kanarys, and Work Shield
The three Innovation in Talent and Diversity honorees weigh in on creative partnerships, a new tool that tracks toxicity in the workplace, and startup leadership strategies. Winners of The Innovation Awards 2021, presented by D CEO and Dallas Innovates, will be revealed at an exclusive virtual event on Jan. 21. Tickets are $20. To register, click here.
Alex Edwards and Lauren Hawkins contributed to this report.
---
Tuesday, Jan. 19
THREE THINGS
⓵ RECORD-BREAKING: Plano-based Tyler Technologies recently announced a historic deal it has made with the Texas Office of Court Administration, which has been valued at $98 million over five years. The deal marks the firm's largest in its history and extends a 2012 deal the company had with the state to provide its electronic filing solution to all Texas counties. The latest agreement prolongs the use of Tyler Technologies' solution through 2027.
⓶ EXPANSION: London-based apprenticeship startup Multiverse, which just raised $44 million in a Series B round, is planning an expansion in the U.S. that includes a regional hub in Dallas. The startup founded by former UK Prime Minister Tony Blair's son has a strong social mission, reports Crunchbase. "It's clear that talent is equally distributed but opportunity is not, according to Multiverse's U.S. general manager Sophie Ruddock," per the publication. New York will be the U.S. headquarters. Hub cities, along with Dallas, are Chicago and Atlanta.
⓷ COMING TOGETHER: Fort Worth-based Simpli.fi, a pioneer in geolocation-based advertising, has made its first major acquisition of The Advantage Software Company, a provider of enterprise-level software designed for ad agencies and marketing companies. The deal combines the companies' features and services for the advertising industry to offer customers improved workflow across all media types. Per a statement, the combined company will serve more than 1,000 agencies and media buying organizations.
PLUS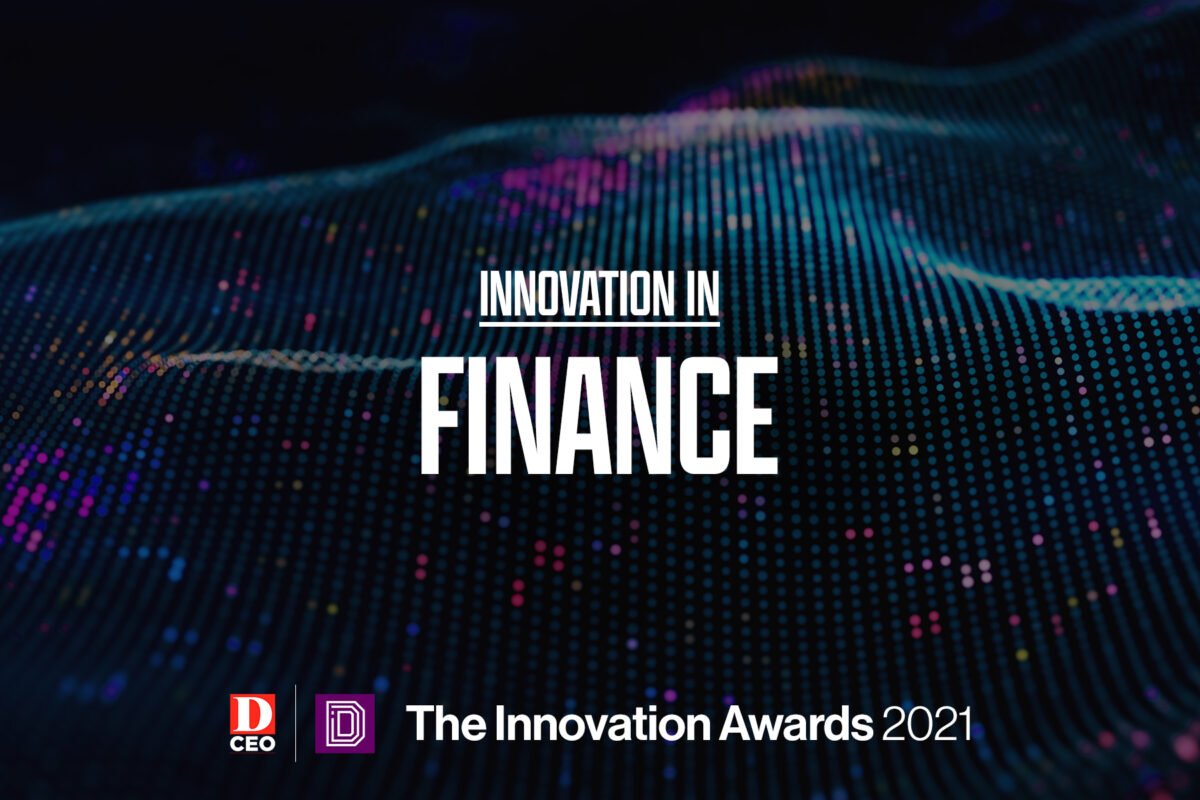 Meet the Finalists: Leaders From Texas Security Bank, MoneyGram, Zirtue, Payrix, and ImpactXPartners
Here are the five Innovation in Finance honorees, who are sharing their insights on the startup culture in Dallas-Fort Worth, taking risks, and how pursuing one's strengths leads to success. Winners of The Innovation Awards 2021, presented by D CEO and Dallas Innovates, will be revealed at an exclusive virtual event on Jan. 21. Tickets are $20. To register, click here.
Lauren Hawkins contributed to this report.
---
Friday, Jan. 15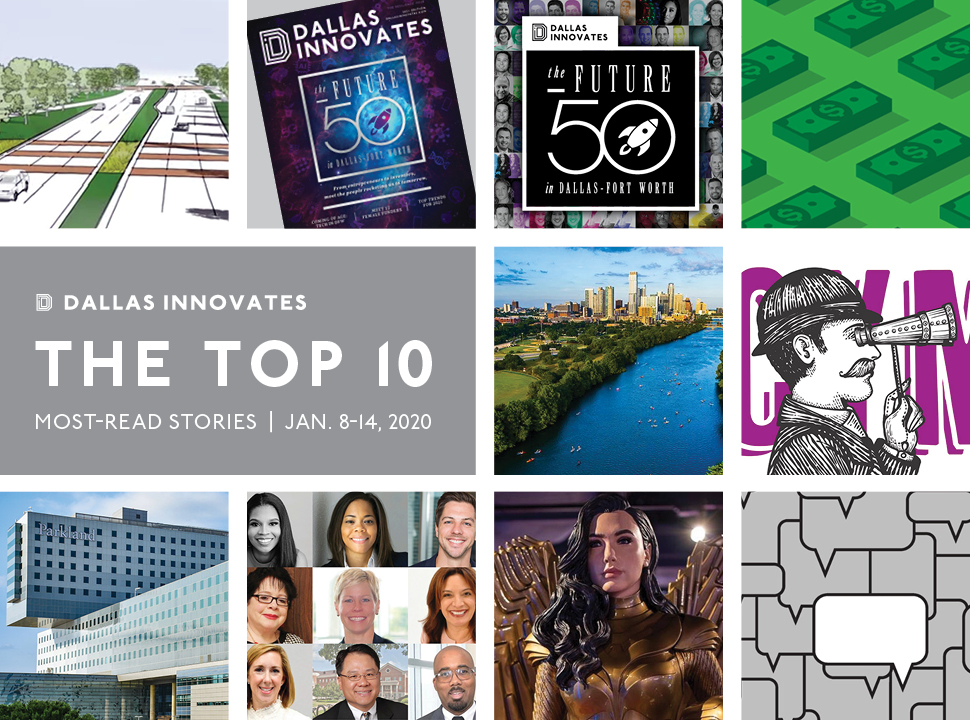 ⓵  Dallas' First Test Bed for Smart‑City Transit Tech Receives Funding Through $4M Federal Grant
⓶  Dallas Innovates 2021: The Resilience Issue 
⓷  Meet the Future 50: Dallas-Fort Worth Innovators and Disruptors You Need to Know in 2021
⓸  Pitchbook Forecasts 8 Venture Capital Trends for 2021
⓹  Lyda Hill Philanthropies Chooses Finalists for $10M Lone Star Prize 
⓺  ICYMI: What's New and Next in Dallas-Fort Worth Innovation 
⓻  Dallas' Parkland Hospital Teams Up With DevSecOps Innovator on Medical Technology Training During COVID-19
⓼  Mayor Eric Johnson Names the 15 Members of His Task Force on Innovation and Entrepreneurship
⓽  Experience 'Wonder Woman 1984' in AR at AT&T Discovery District
⓾  Every Last Word: The Critical Answer to 'Are There Quality Ag Deals Out There' Is a Resounding 'Yes'
---

THREE THINGS
⓵ BIOTECH HUB: UT Southwestern is expanding to the 23-acre Pegasus Park campus near the Dallas Medical District. The 180,000-square-foot lease—one of the largest signed in the region in the last year—is a big win for the redevelopment that was announced last summer. UT Southwestern's Office for Technology Development, which commercializes the medical center's academic research and discoveries, will take six floors in the campus' 18-story tower, per the Dallas Morning News.
⓶ PARK PLACE: A private donation of land to the Trinity Park Conservancy has completed the boundaries of the Harold Simmons Park. The land will be used for the East Overlook, which is expected to break ground as early as mid-2022. The urban park has now acquired more than 4 acres for the project that could cover more than 200 acres of land when completed, according to Ar t& Seek. The conservancy plans to use the open space for performances and festivals.
⓷ HEALTH PASSPORT: American says it's the first U.S. airline to introduce a health passport for international travel to the United States from all destinations. Passengers can use the VeriFLY app, a mobile health passport, to confirm testing and other travel requirements starting on Jan. 23.
PLUS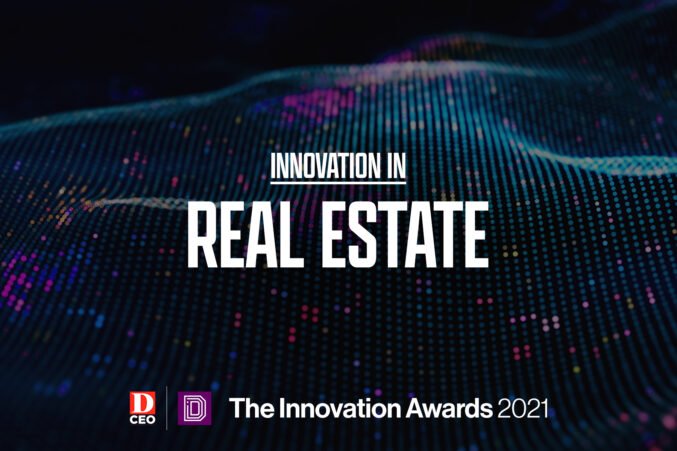 Meet the Finalists: Real Estate Execs From Dottid, HomematchX, RefineRE, and Roomored
These honorees in the Innovation in Real Estate category share their thoughts on DFW's startup community, humanizing commercial real estate, and turning failures into wins. Leading up to the second annual Innovation Awards event next week, we're sharing excerpts from Q&As with the 51 finalists—one category at a time. Winners of The Innovation Awards 2021, presented by D CEO and Dallas Innovates, will be revealed at an exclusive virtual event on Jan. 21. Tickets are $20. To register, click here. 
---
FORCES FOR GOOD
People and organizations of all kinds are stepping up to help and inspire local communities. Here are highlights from around the region: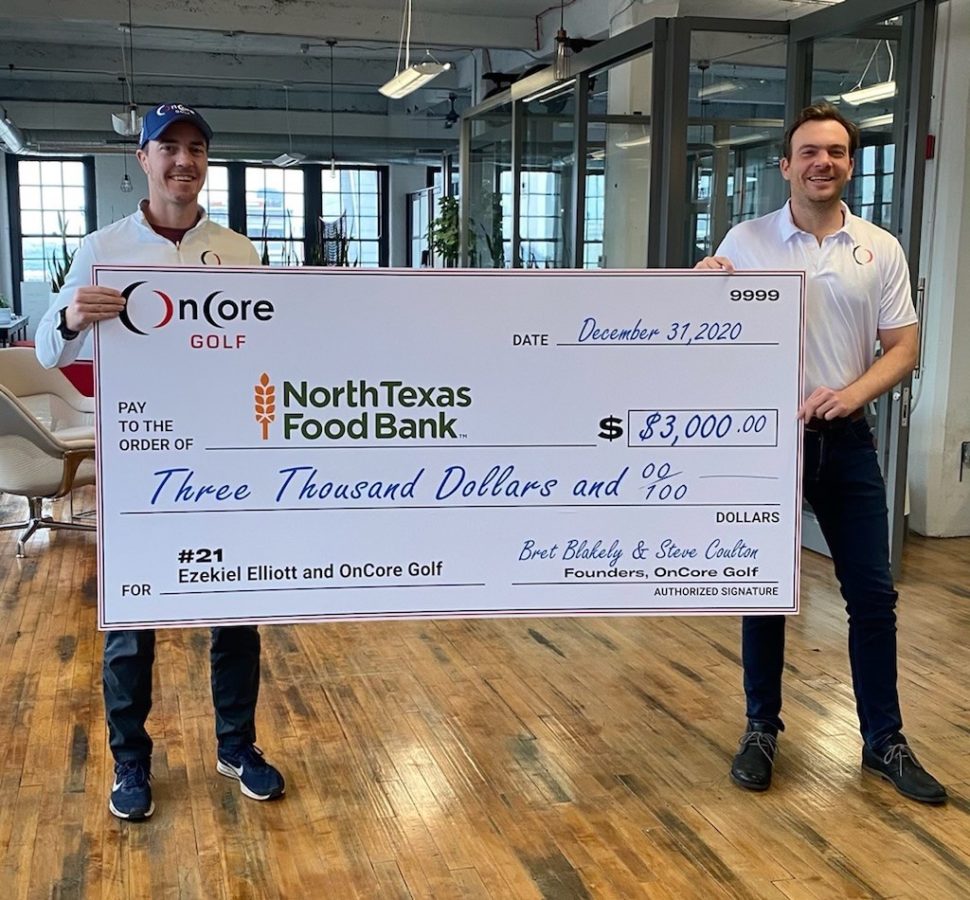 ⟫ Dallas Cowboys running back Ezekiel Elliott is partnering with OnCore Golf through their "Everyone Eats" golf ball collaboration to donate $3,000 to the North Texas Food Bank. Elliott will also be donating an additional $10,000 to the hunger-relief organization, which is a nonprofit close to his heart, according to a statement. The food bank and its partners provided over 95 million meals to a 13-county service area in 2020.
⟫ Frisco local Connor Dawson, who is turning 12 years old today, is raising money in lieu of birthday gifts for the third year in a row for Operation Smile. The volunteer-based nonprofit offers cleft surgery and other cleft-related treatments to patients. In 2019, Dawson raised $520 and, in 2020, he raised $1,700 to fund children with cleft conditions receiving new smiles. So far, Dawson has raised $5,370 this year.
⟫ Dallas-based TeamConnor Childhood Cancer Foundation has donated $1.1 million to 10 research hospitals nationwide. Hospitals receiving the grants include Dallas' UT Southwestern Medical Center, Fort Worth's Cook Children's Hospital, and Houston's Texas Children's Hospital. The grants were given to support pediatric research in 2021 and is the largest research grant amount TeamConnor has awarded to date.
---
Thursday, Jan. 14
THREE THINGS
⓵ "RADICAL" PLANS: A pharmaceutical company—backed by Dallas Mavericks owner and "Shark" Mark Cuban—relocated from Colorado to Deep Ellum last year and now plans to build a factory around 20,000 square feet in the area by 2022, per the Dallas Business Journal. Although the company was originally called Osh's Affordable Pharmaceuticals, it rebranded to Mark Cuban Cost Plus Drug Co. last year.
⓶ EXPANSION: After launching its first Market by Macy's concept store in Southlake last year, Macy's is opening its second rendition in Fort Worth on Jan. 15. Macy's recently announced it is closing 45 stores, but the retailer says it's found "a scalable business model" in Market by Macy's, reports the Dallas Morning News. The 20,000-square-foot boutique store will be located near the Trinity River in the WestBend development.
⓷ ON THE MOVE: Although the ongoing pandemic has resulted in a large amount of people working from home, some decided to change where exactly their home was in 2020. According to a recent LendingTree study, over 85% of people who moved last year decided to stay in the same state, with Texas having the highest percentage of in-state movers. Per Fast Company, the Lone Star State's relatively low home prices and no state income tax played a part in Texans staying in-state and others relocating here.
PLUS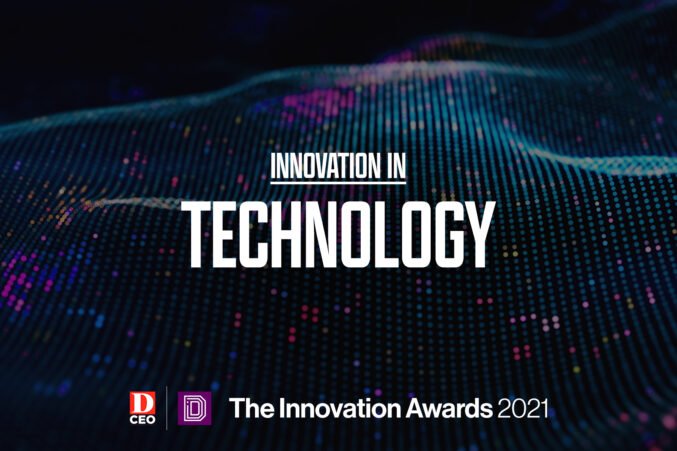 Meet the Finalists: Tech Execs From Match Group, Solaris Technologies, K2View, and CrateBind
Contenders in the Innovation in Technology category share their thoughts on taking risks, grit, and "finding a better way." Here are the four Innovation in Technology honorees. Winners of The Innovation Awards 2021, presented by D CEO and Dallas Innovates, will be revealed at an exclusive virtual event on Jan. 21. Tickets are $20. To register, click here. 
---
Wednesday, Jan. 13
THREE THINGS

 ⓵ CAPITAL: Dallas-Fort Worth had a "huge year with venture investments," attracting $370 million in venture backing in the fourth quarter of 2020 according to CB Insights in conjunction with the Q4 2020 MoneyTree Report. While that's down from the third quarter ($470 million), the period is four times the size year over year, per the Dallas Business Journal. The number of deals at 20 topped both the third quarter (16) and the year-ago period.
⓶ GROWTH: Dallas' o9 Solutions, an AI platform that serves businesses through integrated planning and operations management, is planning its global expansion after closing 2020 with explosive growth. Last year, o9 more than doubled both its annual recurring revenue and workforce—and it joined the list of North Texas startups that have achieved unicorn status. COVID-19 was a major factor that fueled the success, with the pandemic showing the need for "real-time, integrated planning," CEO Chakri Gottemukkala said. As reported by the DMN, o9 is now valued at more than $1B.
⓷ ACQUISITION: Dallas-based Black Box Intelligence, which provides data and analysis for the hospitality industry, has been acquired by Los Angeles-based Diversis Capital Partners, a tech-focused PE firm. Black Box Founders Wallace Blair and Joni Thomas Doolin will stay on as investors, strategic advisors, and board members, according to the DBJ. From here, Black Box (formerly known as TDn2K) plans to use the growth capital and operational expertise to expand into new segments of the broader food-service industry.
PLUS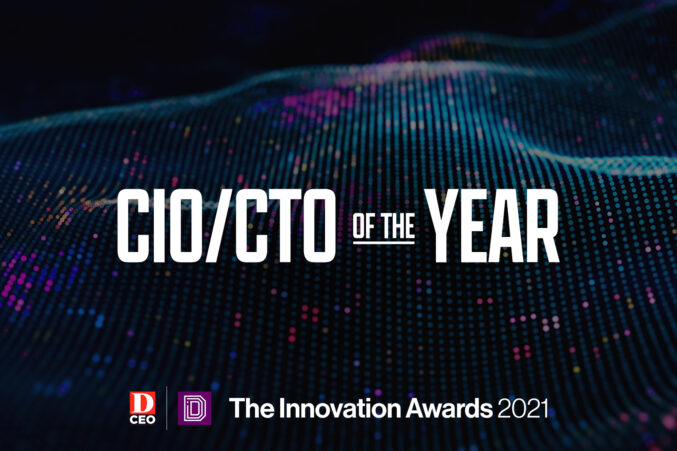 Meet the Finalists: Leaders From Children's Health, Dallas Baptist University, Qentelli, and Istation
Leading up to the second annual Innovation Awards event next week, we're sharing excerpts from Q&As with the 51 finalists—one category at a time. Here are the four honorees for  CIO/CTO of the Year. Winners of The Innovation Awards 2021, presented by D CEO and Dallas Innovates, will be revealed at an exclusive virtual event on Jan. 21. Tickets are $20. To register, click here. 
---
Tuesday, Jan. 12
THREE THINGS

⓵ BLOCKCHAIN BIZ: Austin-based trade association the Texas Blockchain Council is using Dallas-based distributed ledger platform Hedera Hashgraph to provide better records verification for the Texas Secretary of State. Hedera teamed up with Hyland, a content services provider, to create a proof of concept that leverages blockchain technology for the purpose of securing and verifying government-issued records. It's the first proof of concept spearheaded by the newly formed Texas Blockchain Council.
⓶ HOME GROWN: Frisco-based professional soccer club FC Dallas has launched a new program that's dedicated to supporting Black- and minority-owned businesses. Called the Hometown Partner Program, the initiative will give five businesses that fit the criteria a $100K FC Dallas/North Texas SC customized sponsorship package. Local businesses interested in becoming a 2021 Homegrown Partner can apply until Jan. 29.
⓷ VACCINE DISTRIBUTION: Fort Worth healthcare technology company eTrueNorth is playing its part in helping retail pharmacies get COVID-19 vaccines distributed across the country. Using its technology platform, which also enabled COVID-19 testing, eTrueNorth is providing the infrastructure needed for retail pharmacies to overcome vaccine-related obstacles. Its platform allows pharmacies of all sizes to: screen individuals, schedule appointments, complete consents, issue vouchers, send vaccine follow-up appointment reminders, and send info to the CDC Immunization Data Clearinghouse.
PLUS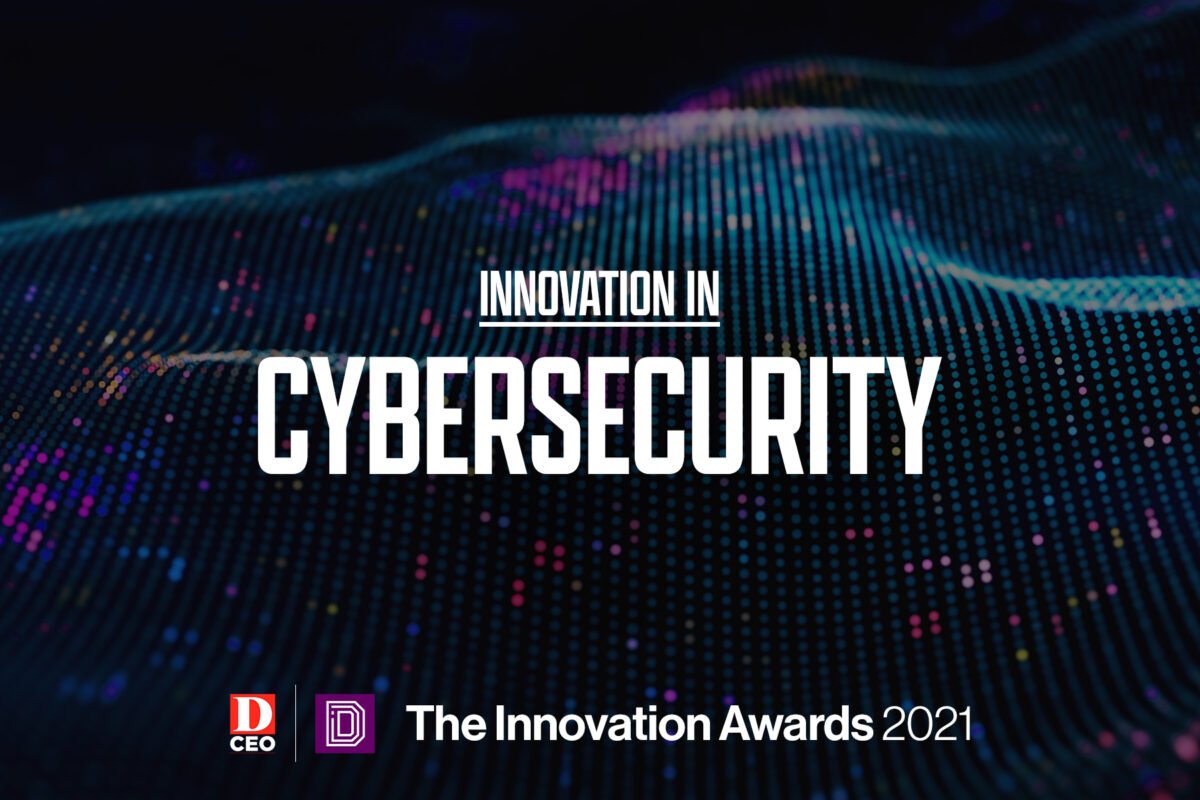 Meet the Finalists: Leaders From Illuma Labs, Critical Start, Hacware, and UTD
Leading up to the second annual Innovation Awards event next week, we're sharing excerpts from Q&As with the 51 finalists—one category at a time. Here are the four honorees for Innovation in Cybersecurity. Winners of The Innovation Awards 2021, presented by D CEO and Dallas Innovates, will be revealed at an exclusive virtual event on Jan. 21. For tickets, click here.
To read more and get our week's Top 10, head here.
---
Monday, Jan. 11
THREE THINGS
⓵ AWARD-WINNING: Self-driving truck company Kodiak Robotics has been recognized as a CES Innovation Award Honoree at the 2021 Consumer Electronics Show. The company is based in Mountain View, California, but has its main base for freight testing, operations, and delivery in DFW. Per the Dallas Morning News, the award comes after Kodiak completed two 400-mile roundtrip commercial shipments in the last month that depended solely on the truck's autonomous driving system.
⓶ PITCH COMPETITION: Cloud security provider Trend Micro announced that the Japanese company with U.S. headquarters in Irving is expanding its annual tech startup pitch competition, the Forward Thinker Award. The competition has typically been held during the Consumer Electronics Show and was open to CES attendees only, but it will be open globally for the first time ever this year. The winner of the Forward Thinker Award will receive $20,000 and the runner-up will win $10,000. Applications for this competition can be found here.
⓷ RANKINGS: The Dallas area came in the third spot for IT job postings for the month of December, according to the CompTIA Tech Jobs Report. The Dallas area had around 9,300 IT job postings for the month. Overall, Texas ranked second only to California for tech job postings in December. "With projections of employer demand for tech talent remaining strong in the year ahead, we hope tech can continue to serve as a catalyst for business and career opportunity," Tim Herbert, executive vice president for research and market intelligence at CompTIA, said in a statement.
PLUS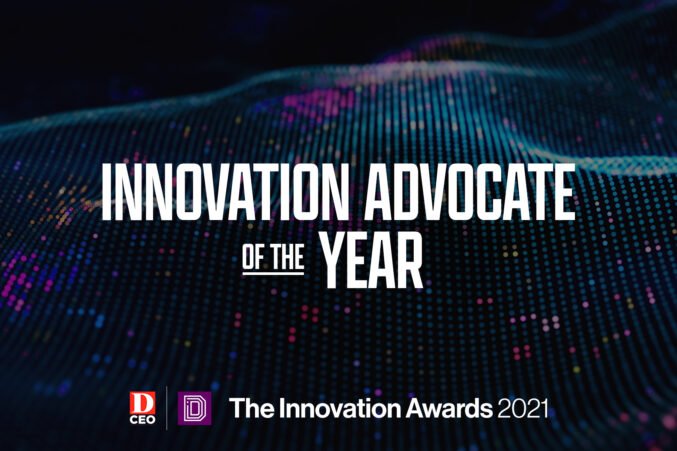 Meet the Finalists: Leaders From Dallas Regional Chamber, McKinney Economic Development Corp., and Health Wildcatters
Leading up to the second annual Innovation Awards event next week, we're sharing excerpts from Q&As with the 51 finalists—one category at a time. Here are the four honorees for the Innovation Advocate of the Year. Winners of The Innovation Awards 2021, presented by D CEO and Dallas Innovates, will be revealed at an exclusive virtual event on Jan. 21. For tickets, click here. 
---
Friday, Jan. 8
THIS WEEK
Here are the Most Popular Stories on Dallas Innovates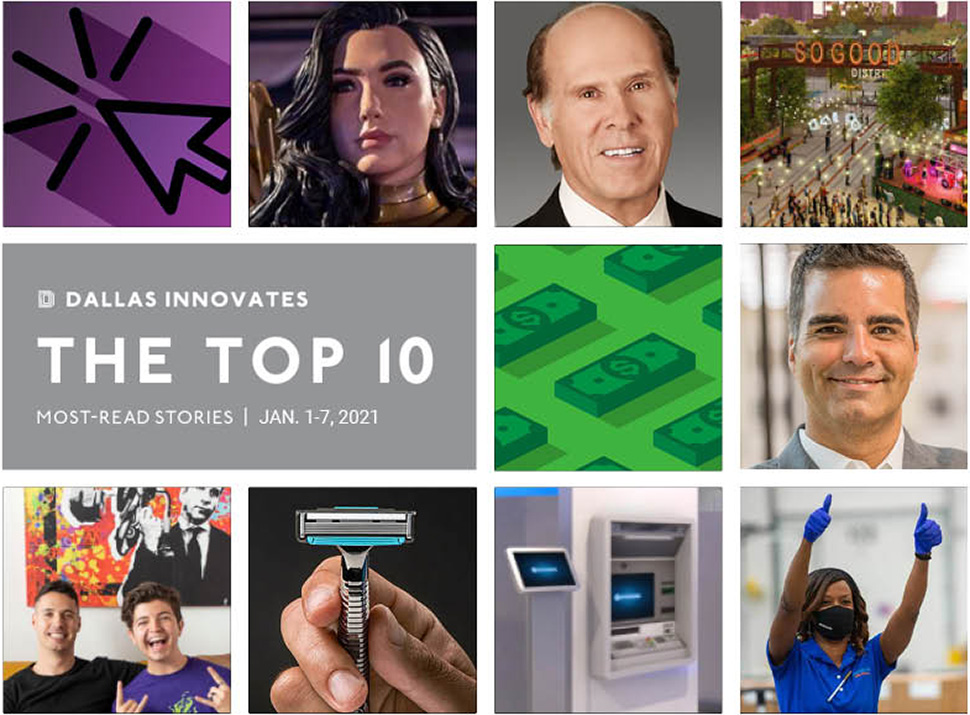 ⓵  A Baker's Dozen: Dallas Innovates' Most Popular Stories of 2020
⓶  Experience 'Wonder Woman 1984' in AR at AT&T Discovery District 
⓷  Future of Office for Financial Services: A Unique Window of Opportunity
⓸  Developments Keep DFW On the Forefront of Industry and Livability
⓹  Pitchbook Forecasts 8 Venture Capital Trends for 2021
⓺  A New Way to Predict Medical Conditions—by a Person's Walk 
⓻  McKesson Begins Distributing Moderna's COVID-19 Vaccine
⓼  Hyosung America Moves Into Irving HQ as Parent Co. Plans Korean IPO
⓽  11 Years in the Making: Dallas-Based Shavelogic Launches S5 Razor
⓾  Meet Night Media: The Dallas Digital Talent Agency Behind Some of the World's Biggest YouTube Stars
THREE THINGS
⓵ HIDDEN TECH JOBS: Technology is everywhere, but to get a true picture of its impact and potential in a region, it takes a look behind the scenes, according to analysts Walter Bialas and Evan Stone. The focus is almost always on counting the number of jobs, "which makes sense on the surface," they write, "but the challenge is identifying exactly what 'tech' really means"—and most definitions are too narrow. A more inclusive definition that includes STEM employment and a close look at what they call "foundation industries" shows important tech growth. Here's their take on tech job growth in DFW and several Texas markets.
⓶ EXPANSION: Dallas-based rideshare and delivery company Alto has completed its first expansion outside of Texas to Los Angeles. The news follows Alto's first move outside of DFW to Houston in September 2020. The employee-based, on-demand rideshare service will now be providing pre-scheduled and on-demand rides in LA, which includes curbside pickup at LAX. In addition to its growth moves, Alto pivoted during the COVID-19 pandemic to deliver essential goods and ready-to-cook items from local businesses.
⓷ SHOUT OUT: Fort Worth entrepreneur Jonathan Morris' Hotel Dryce project has been named to Fodor's Travel list of '14 Hotels We Can't Wait to Visit in 2021,' per the Fort Worth Business Press. The hotel is best known for being a former dry ice factory that was given a makeover by Morris, a local Barber Shop owner and the star of the Magnolia Network's Self Employed. Morris was also one of our Future 50 standout North Texans in this year's Dallas Innovates 2021: The Resilience Issue. You can read the digital edition here.
PLUS
⟫ HITTING A MILESTONE: January marks National Mentoring Month, and Dallas' DEC Network is celebrating fittingly. The DEC recently hit a major milestone for its free and virtual Fast Start Mentoring Program, making 200 matches between mentors and mentees since launching on mentoring platform Qooper. The program spun out from the pandemic to connect entrepreneurs and small business owners to experts that could offer advice, counsel, and guidance to keep places open. Mentors interested in getting involved can apply by downloading the Qooper app and using the invite code 55b5c6.
THE INNOVATION AWARDS 2021


Meet the Finalists: Leaders From Balanced Media, PeopleFun, ABIA, Asset Panda, and Phynd Technologies
Winners of The Innovation Awards, presented by D CEO and Dallas Innovates, will be revealed at an exclusive virtual event on Jan. 21.
---
Thursday, Jan. 7
THREE THINGS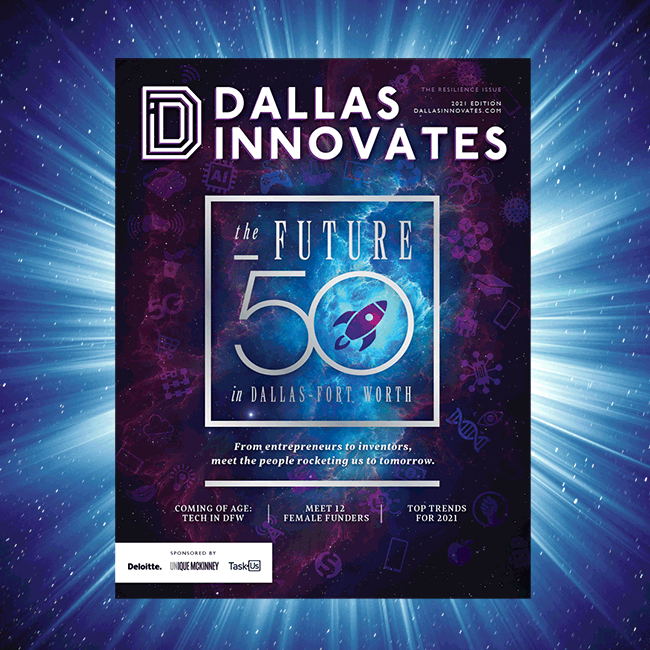 ⓵ THE RESILIENCE ISSUE: Our double issue—Dallas Innovates 2021: The Resilience Issue— features 50 standout North Texans innovating for the future, 12 female funders shaking up startup funding in the region, and much more. Read more in the digital edition.
⓶ ROAD TO RECOVERY: New data compiled by the U.S. Bureau of Labor Statistics shows that North Texas was down 96,100 jobs compared to the same month a year ago, per the DMN. Among the industries hardest hit in the pandemic were leisure and hospitality and food services. But, that number is up slightly from the 89,800 jobs the region reported in October. Plus, North Texas shows a 2.5 percent decline, compared to the country's 6 percent yearly job loss for November.
⓷ VIRUS TESTING: GeneIQ, a Dallas-based molecular diagnostics laboratory, is launching a new drive-thru testing site at its lab on Standridge Drive. There, the company will be offering its newly developed combination PCR test, COVID PLUS, for COVID-19, Flu A, Flu B, and the common cold. The 4-in-1 test is available for symptomatic individuals via a non-invasive nasal swab, and has a turnaround time of 24 hours. You can read about how GeneIQ pivoted during the COVID-19 pandemic here.
PLUS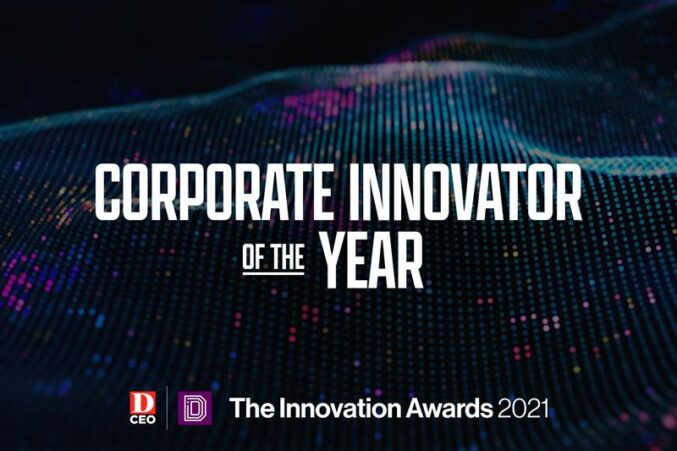 MEET THE FINALISTS: Leaders From Eosera, Dallas Cowboys, Axxess, and Capital One are among the finalists for Corporate Innovator of the Year, a category of The Innovation Awards, presented by D CEO and Dallas Innovates. The four honorees can be found here alongside excerpts from each of their interview Q&As. Winners of the second annual Innovation Awards will be revealed at an exclusive virtual event on Jan. 21.
---
Get on the list.
Dallas Innovates, every day.
Sign up to keep your eye on what's new and next in Dallas-Fort Worth, every day.