The grand opening of the 3D-printed display from Lyda Hill Philanthropies' IF/THEN Initiative has been a long time coming.
Not only does the monumental exhibit shatter the glass ceiling—it represents the most statues of women ever assembled in one location at one time—it's a culmination of years of work from the Dallas-based philanthropic organization.
We first told you about IF/THEN, a first-of-its-kind coalition built on the idea that 'IF we support a woman in STEM, THEN she can change the world,' when it was initially announced with a $25 million commitment in March 2019. On the surface, the intent was to emphasize the essential role that science, technology, engineering, and math play in society, inspiring young girls to pursue the industries' many professions.
But Lyda Hill Philanthropies ultimately wanted to go deeper—to ignite a change in perspective, influence the next generation of pioneers, and create a cultural shift in how the world perceives women in STEM.
IF/THEN is rooted in three fundamentals: elevating women in STEM as role models; accumulating partners in entertainment, fashion, sports, business and academia to illuminate the importance of STEM; and piquing the interest of girls with better portrayals of women in STEM.
A core component of the multi-faceted initiative involved choosing a group women to, in partnership with the American Association for the Advancement of Science, be AAAS IF/THEN Ambassadors. Using a talent agency model, IF/THEN supports the 125 diverse women in STEM-related professions by showcasing them on a national platform.
In return, Ambassadors are tasked with serving as high-profile role models for middle school girls. 
The "STEM rockstars" (10 of them from Dallas-Fort Worth) participated in "boot camps" in October 2019 at the Perot Museum of Nature and Science to undergo training in engagement techniques like communication, media and public relations, social media, and storytelling.
It was there that the Twinstant Mobile Full Body 3D Scanner took a full-length silhouette of Ambassadors to be 3D-printed into a life-size statue. Eventually, they would be displayed together in one commemorative exhibit.
The opening date was originally announced in February 2020: The statues would be displayed in the NorthPark Center Garden from May 10 to Oct. 9. But, like most major events and projects, #IfThenSheCan – The Exhibit was derailed by the COVID-19 pandemic. Lyda Hill Philanthropies temporarily arranged for 10 of the statues to be on display at NorthPark Center from Sept. 10 to Nov. 9.
A small selection also traveled to WCS's Central Park Zoo in New York City and Dallas Love Field Airport. 
And then finally, on May 14, 2021, more than two years after IF/THEN's official launch, the statues were together at once for the first time and unveiled at NorthPark.
"Literally, we're over the moon. We're so excited," Nicole Small, CEO of Lyda Hill Philanthropies and co-founder of the IF/THEN Initiative, told Dallas Innovates at the opening. "From an art perspective, it just is really eye-catching and beautiful to be able to celebrate these women in this way."
Inside
#IfThenSheCan – The Exhibit
On level 1 of NorthPark Center, between Breadwinners Cafe & Grill and Bookmarks, sits 14 of the total 121 statues featured within the #IfThenSheCan – The Exhibit. The rest are located just outside in the CenterPark Garden. In total, more than 40 states are represented.
The lifelike installation features 118 AAAS IF/THEN Ambassadors and statues of Lyda Hill, Sylvia Earle, and Shirley Malcom. Though each women represents a niche career path in STEM, there is a sense of unity to the exhibit—the statues are all orange, which Lyda Hill Philanthropies sees as a "neutral and happy color."
"To be honest, it's been a really hard year," Small says. "To be able to give people hope and something beautiful and inspiring; we all need that right now."
The individual figures were created by Amaze Design, a firm in Boston, and weigh around 20-30 pounds each. Small says it was the team's own 'science experiment,' as no one had ever attempted to 3D scan this number people before.
The exhibit was initially inspired by a study conducted by the Former Treasurer of the United States, Rosie Rios. The results showed that less than half a dozen statues of American women exist in public spaces outdoors.
According to Lyda Hill Philanthropies, #IfThenSheCan – The Exhibit is the largest scale 3D printing project of its kind. And the Ambassadors' own enthusiasm is a testament to just how significant that really is.
Jenn Makins, for instance, calls the display transformational. As the director of STEM Education at Parish Episcopal School, Makins is the architect of a nationally recognized program and coach of the award-winning NASA Human Exploration Rover Challenge team. She knows just how important this is for young people.
"Young girls, young boys, and even college-aged high schooler are wondering, 'Where's my place?' and 'How can I make a difference in the world?'" Makins says. "To have an army of women in almost every career field that exists in some capacity in STEM, that they can see a statue of and get an in depth look of—who we are, what we do, how we do what we do, why we do what we do, and how we got where we are—there's nothing like it in education. It's going to change everything."
And for Julie Mirpuri M.D., an assistant professor at UT Southwestern Medical Center, who grappled to find female mentors at the start of her career, it gives her goosebumps to know an exhibit of this capacity can make a tangible difference in a young girl's life. A board-certified pediatrician, Mirpuri has dedicated her life to saving newborn babies as a doctor and scientist.
"I didn't know even what different fields there were and I didn't even know the extent of what I was capable of. Younger women have come to me and said, 'Hey, can I do this? Who can you connect me to?' And it has still been a struggle," she says. "Now, all in one instant, if a young girl comes to me interested in a STEM career, I can show say, 'Check out ifthencollection.org. Go to this exhibit.' There are so many STEM careers, and you know what, you can do them."
Expanding horizons—and changing lives
And though groundbreaking in its own right, Small says it's already doing exactly what she intended: starting a conversation.
The installation is rooted in the simple truth that seeing is believing. Visitors are able to uncover extraordinary careers—from shark tagging to curing cancer to training Olympic athletes—via individual QR codes that accompany each woman's statue.
That connects to the IF/THEN Collection, a free digital resource with thousands of photos and videos of the Ambassadors. The collection is the largest of its kind and significantly increases imagery stock representing women in STEM worldwide.
When a young girl is introduced to the idea that women can pursue whatever STEM job they want, it gives more encouragement that she can, too. But Small wants readers to know the exhibit is for everyone: "It's an opportunity to expand your horizons."
"The curiosity is there," Small says. "Just seeing these little girls running around is exciting. It could change any one of their lives in a second. Because they may be introduced to somebody that they never knew before. Or they never knew that was a job. So they're getting to essentially meet these women—and they would never have that opportunity."
The iconic Dallas mall was the perfect place to kick off the exhibit's run, according to Small. Not only is it free and accessible, but millions upon millions of locals and tourists visit NorthPark every year. That means it's available to everyone in the community in a beautiful space known to honor artists and forward thinkers.
"This whole IF/THEN initiative has been about the unexpected. It's been about putting STEM in places that are unexpected. The idea was really to show the diverse array of science and how it interacts with everything … art, science, and fashion," Small says. "Northpark has been the most incredible community partner."
The exhibit will be on display at NorthPark through October 2021. Their next location is yet to be revealed.
Photo Gallery
Check out #IfThenSheCan – The Exhibit before seeing it in person at NorthPark. Photos by James Edward.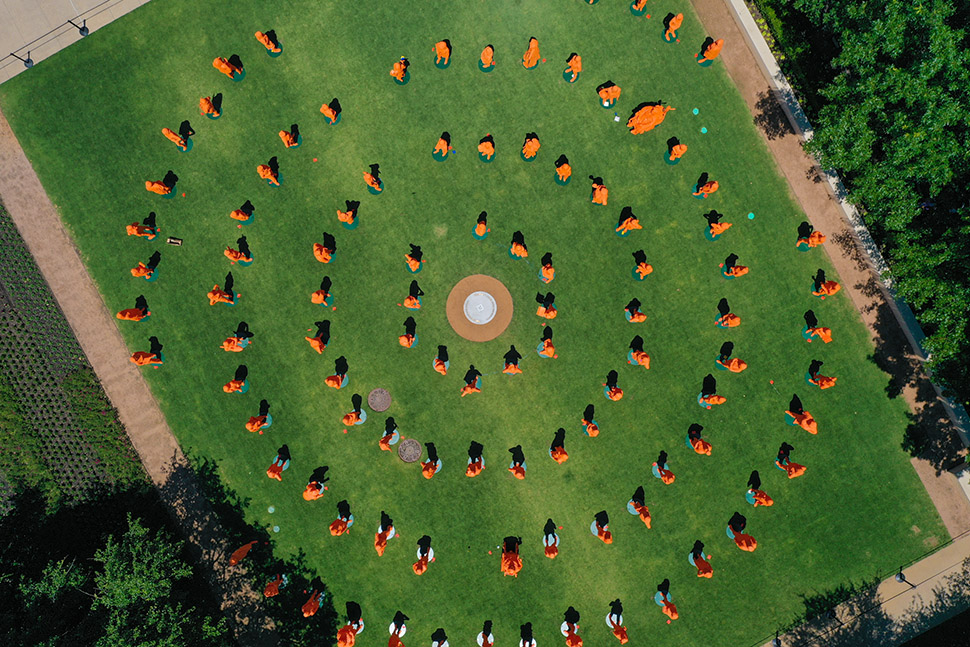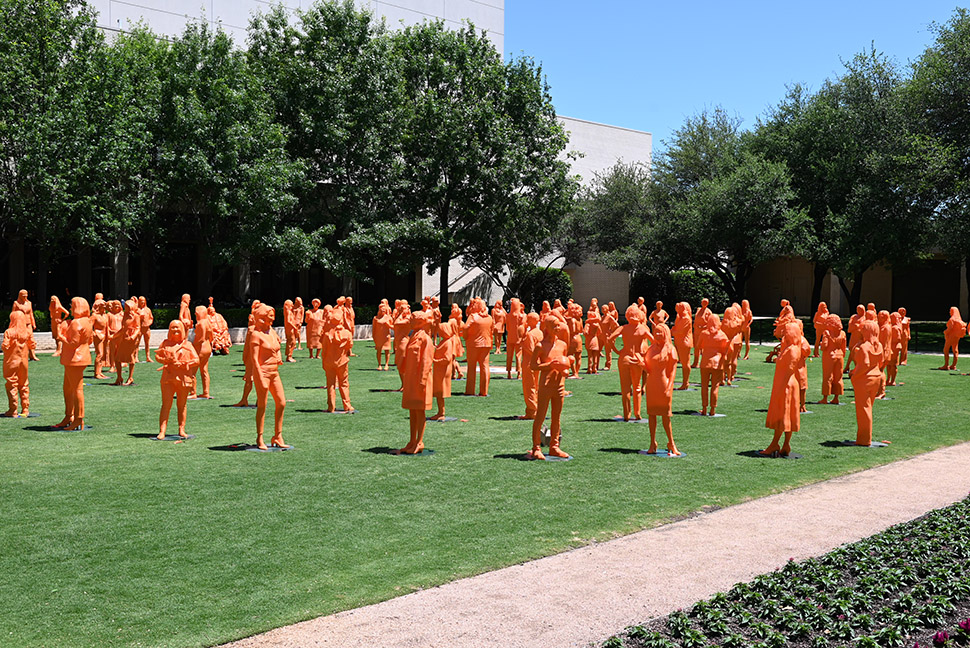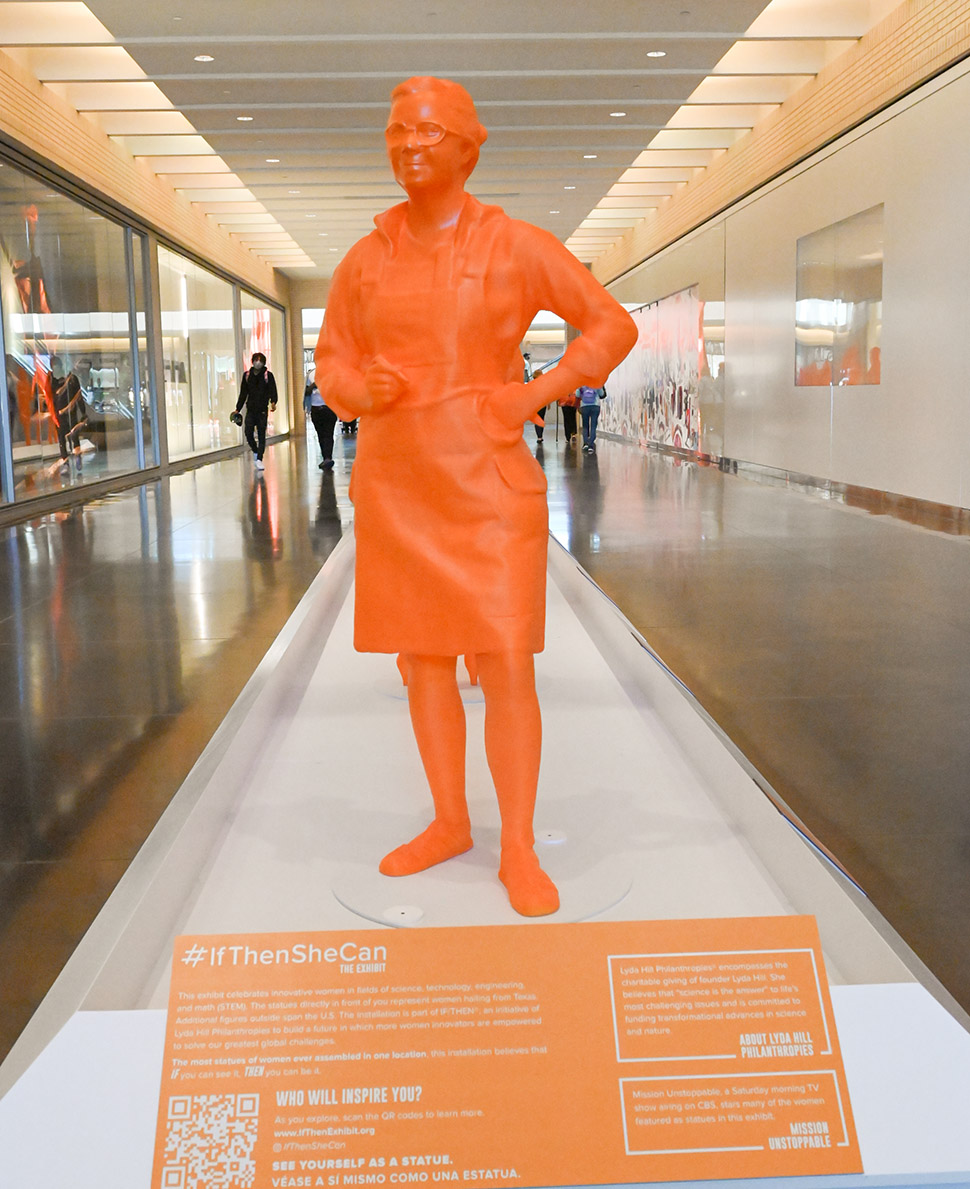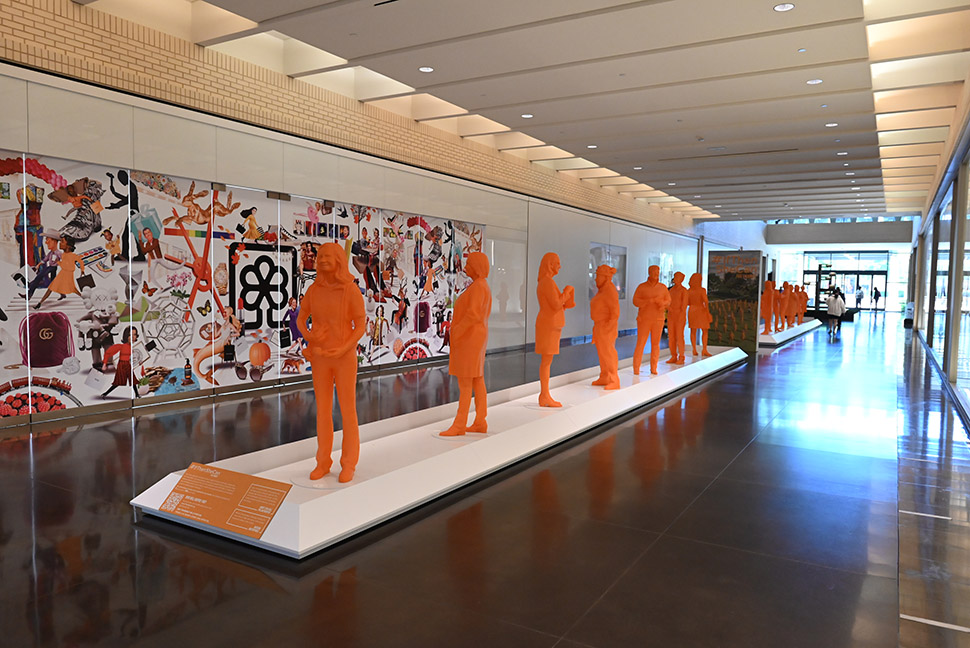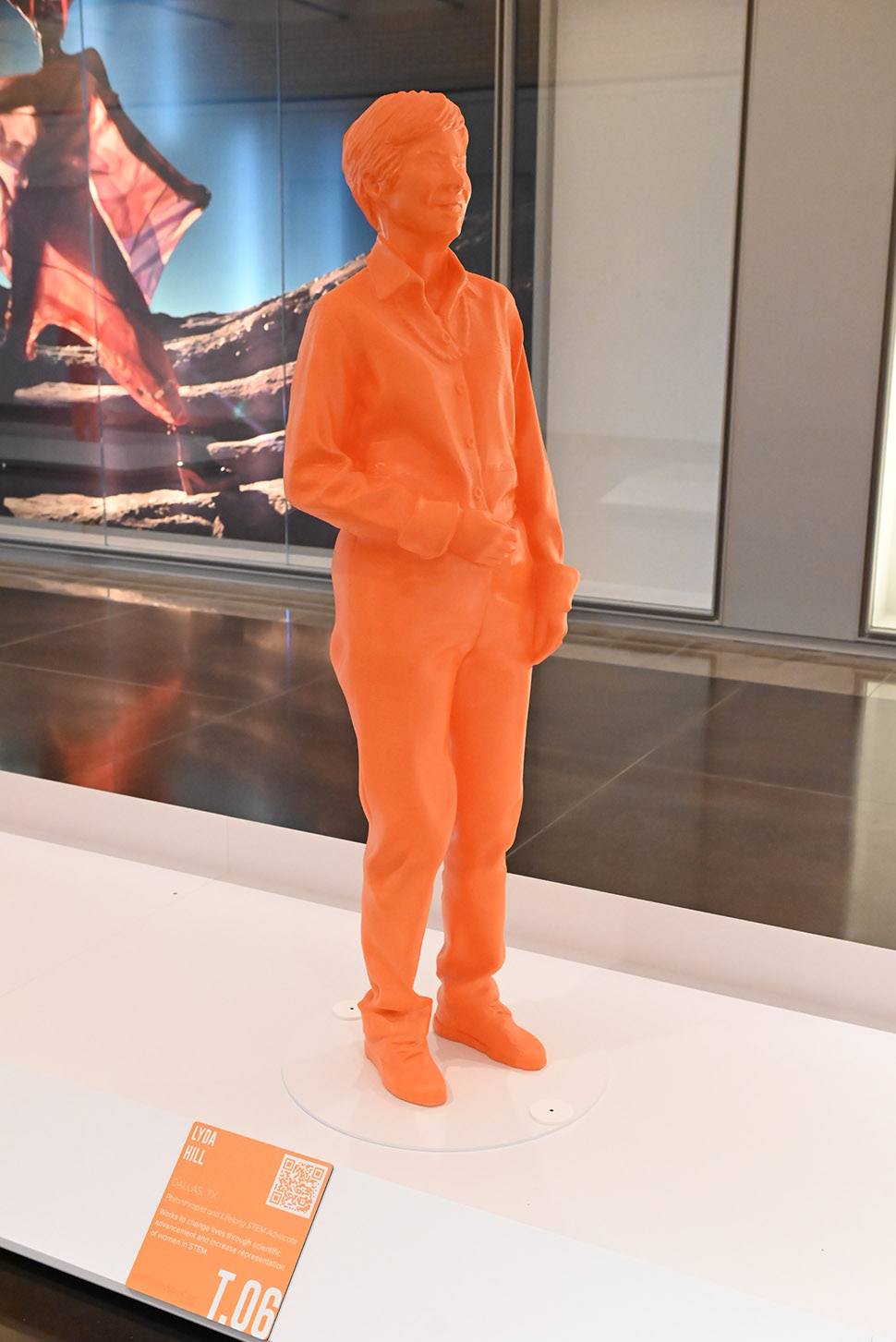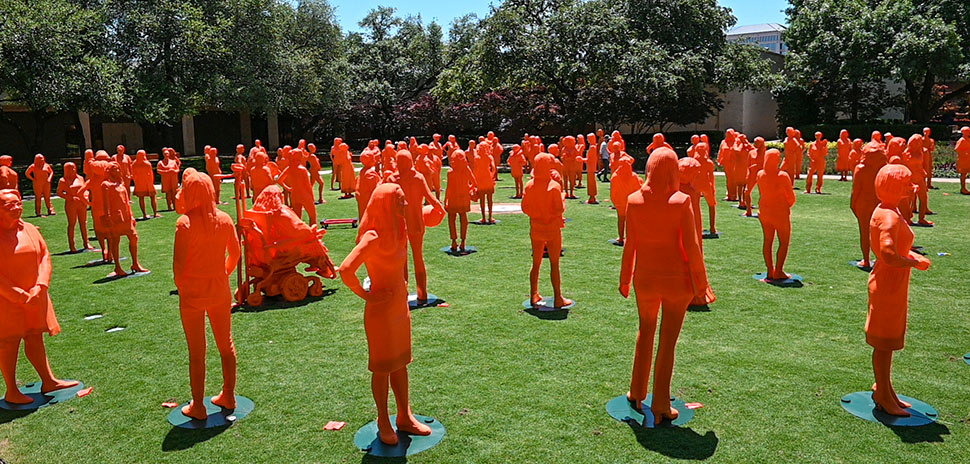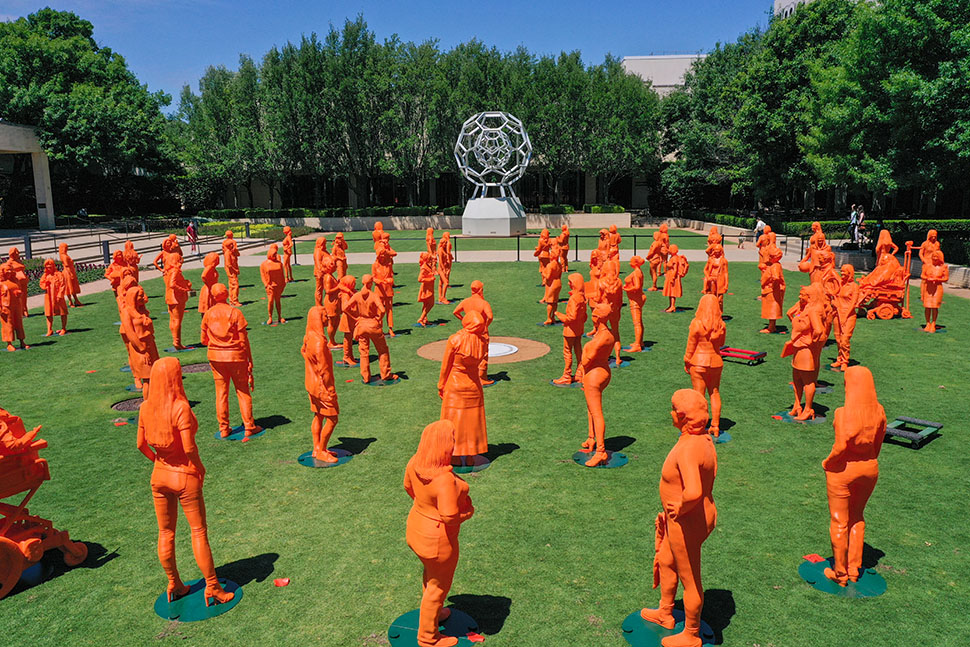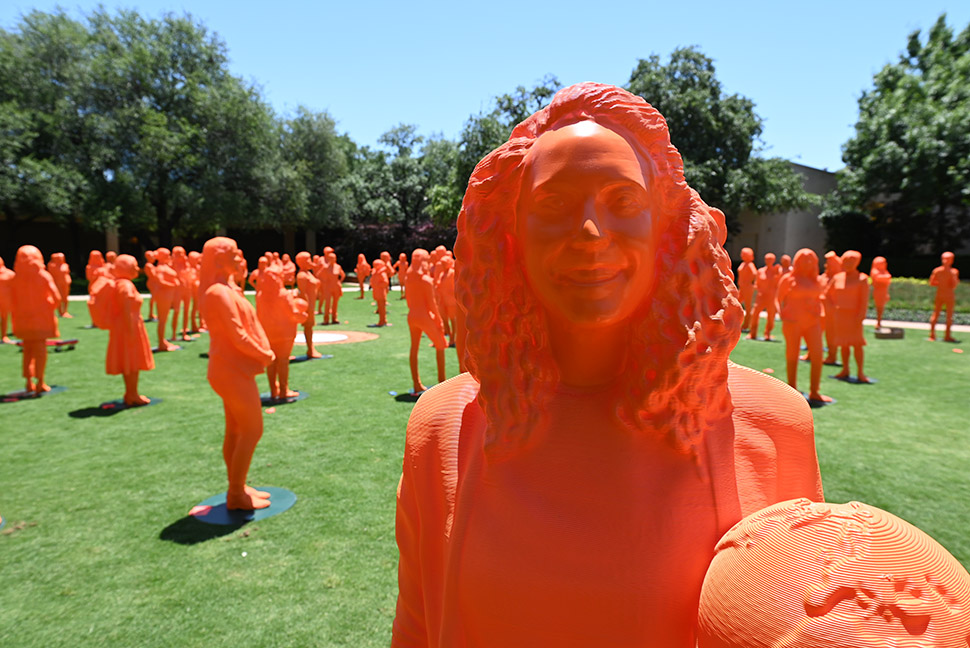 Get on the list.
Dallas Innovates, every day.
Sign up to keep your eye on what's new and next in Dallas-Fort Worth, every day.