What's New and Next in North Texas
Dallas Innovates is the tip of the spear for innovation news in Dallas-Fort Worth. It's a fresh take on North Texas business news.
Dallas Innovates, every day: We cover upstarts, game changers, and business leaders across the region. Dallas Innovates connects with a unique audience through news, features, and commentary online, in print, and in our free daily newsletter. 
MEDIA WITH A MISSION
Our mission is simple: Make Dallas-Fort Worth the region everyone's talking about. The future is here. Innovation is our engine for growth, and we tell the stories that prove it. 
Here's how we turned the Dallas skyline purple to celebrate innovation.
THE TEAM
DALLAS INNOVATES
Published by Dallas Next
Founder and Editor Quincy Preston
Editorial Director David Seeley
Executive Editor Glenn Hunter
Projects Editor Maddie Preston
Contributing Editor Sandra Engelland
Contributing Editor Lance Murray
Contributing Editor John Branch
Editor at Large David Kirkpatrick
Contributing Writer Leslie Barker
Contributing Writer Mike Seeley
—
Creative Director Michael Samples
—
Group Publisher Kyle Moss
Publisher DALLAS® Publications Steve Reeves
Director of Media Operations Kevin Fitch
Dallas Innovates is a collaboration of Dallas Next with the Dallas Regional Chamber
DALLAS REGIONAL CHAMBER
Research and Innovation Senior Vice President Duane Dankesreiter
HOW TO ENGAGE
Dallas Innovates, Every Day
Sign up here to get the daily newsletter.
It's free—and we offer occasional perks to our "Dallas Innovators."
EDITORIAL SUBMISSIONS 
Submit an event or news tip here.
ADVERTISING + SPONSORSHIP 
Reach us by email or request a media kit.
FOLLOW UP 
LinkedIn  Facebook  Twitter   Instagram
DALLAS INNOVATES — THE MAGAZINE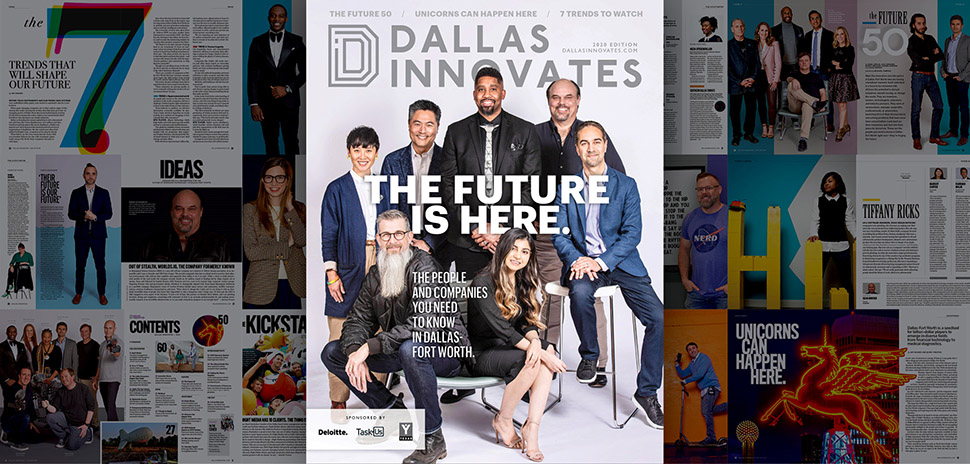 Dallas Innovates' special once-a-year magazine covers game changers, disruptors, creatives, and the new frontiers of technology in Dallas-Fort Worth. The collective strength of the innovation ecosystem and intellectual capital in Dallas-Fort Worth is a force to be reckoned with. To learn more about the upcoming special issue, connect with CEO and Editor Quincy Preston. To advertise, reach out to Group Publisher Kyle Moss.
More special editions:
Dallas Innovates 2021: The Resilience Issue
Dallas Innovates 2020: Let's Raise Our Flag
Dallas Innovates: The [Tech] Talent Issue (Special Issue)
Dallas Innovates 2019: The Magazine (in Augmented Reality)
Dallas Innovates 2018: The Magazine
Sign up to get the next edition here.
---
MEET DALLAS INNOVATES' FOUNDING EDITORIAL ADVISORS
These editorial advisers served from 2015 to 2016 during the initial launch of Dallas Innovates.
To help us tell the story of the innovation scene in North Texas, we invited influential movers and shakers spanning our content pillars — creative, education, enterprise, invention, social, and startup — to be editorial advisers in our launch year. These founding advisers from a vast array of backgrounds added insight from their expertise to our organization. Each person was hand-selected to be a part of Dallas Innovates.
Trey Bowles, Founder, the Dallas Entrepreneur Center
Janis Burklund, Director, Dallas Film Commission
Calvin Carter, CEO, Bottle Rocket
Duane Dankesreiter, Senior Vice President of Research and Innovation, Dallas Regional Chamber
Nan Ellin, Dean, University of Texas at Arlington
Melanie Ferguson, Director of Special Projects, Matthews Southwest
Art George, Retired Senior Vice President, Texas Instruments
Bob Gessel, Head of Network and Technology Strategy, Ericsson
Frank Grassler, Vice President of Technology Development, University of Texas at Southwestern
Deborah Kerr, Executive Vice President and Chief Product and Technology Officer, Sabre
Paul Kimbel, Senior Director, Microsoft Technology Center
Pete Lerma, Principal, Richards/Lerma
Krista Nightengale, Founding Editor and Managing Director, Better Block Foundation
John Olajide, Chair, Dallas Regional Chamber Innovation and Capital Committee
Quincy Preston, Dallas Next
Bart Showalter, Department Chair of Intellectual Property (Firm-wide) Partner, Baker Botts
Nicole Small, CEO, Lyda Hill Foundation
Suzanne Smith, Founder/Managing Director, Social Impact Architects
Miguel Solis, Executive Director, Latino Center for Leadership Development
Clyde Valentin, Director of SMU Meadows Art and Urbanism Initiative, Southern Methodist University
---
ABOUT US
Dallas Next
Publisher of Dallas Innovates and the DALLAS® publications 
Dallas Next LLC publishes Dallas Innovates and the DRC's DALLAS® publications — DALLAS® Newcomer + Relocation, DALLAS® Economic Development, and DALLAS® Commercial Real Estate magazine.Together, the publications cover the business and innovation ecosystem in Dallas-Fort Worth. The publications are used as a primary tool to do business, understand the region, and connect North Texas people and companies—here and beyond. Dallas Next LLC is a media solutions company. Connect with Quincy Preston for more information.
The Dallas Regional Chamber
The Dallas Regional Chamber is the area's leading membership-driven business organization committed to promoting economic prosperity by leading economic development, driving improvements in public education, influencing public policy, and catalyzing and advocating for regional partnerships. The Chamber works to ensure the Dallas region will become the most economically prosperous region—and the most desirable place to live and work—in the United States. The Dallas Regional Chamber serves as a single point of contact in the region for companies, site selection consultants, and corporate real estate executives examining the region. The Chamber is a not-for-profit organization comprised of businesses, which represent all facets of the North Texas business community. Contact the Dallas Regional Chamber at 214-746-6600 or visit dallaschamber.org.