The entrepreneurial life is chock full of challenges, as is filming a show about entrepreneurs during a global pandemic while you're getting a 21-room boutique hotel off the ground.
But for Jonathan Morris, Fort Worth entrepreneur and host of 'Self Employed' on the Magnolia Network, the timing was unexpectedly perfect.
Why? Because the interest in starting businesses has never been stronger.
"This is a better time than ever before — even though there are a lot of things out of our control — for people to really buckle down and give a shot to these ideas that may have been pestering them for a very long time and try their hand at seeing what designing their life looks like, and what it means to take the reins of their own destinies," Morris says. "I love to see it."
Morris, who is in a "crazy good season" in his own entrepreneurial journey, travels the United States to meet some of the country's most inspiring small business owners. On Self-Employed, he shares their stories of resilience, ambition—and the winding roads they've traveled to build their dream jobs.
The first episode premiered in July with Chip and Joanna Gaines'  new Magnolia Network, available on Discovery+. Two new episodes dropped on August 27, with more to follow.  
In "Self Employed," Morris immerses himself and his audience in the lives of entrepreneurs across the country. As owner of the Fort Worth Barbershop and co-owner of Fort Worth's newest boutique hotel, Hotel Dryce, he connects with business owners in a personal way and pinpoints their keys to success. The Wall Street Journal says "Self Employed" is an upbeat look at entrepreneurship that is "refreshingly to the point."
The season has a distinctly North Texas flavor, with features on Val Jean-Bart of Dallas-based Val's Cheesecakes; Odin Click, master craftsman and owner of Odin Leather Goods (workshop in Coppell and store in The Colony); founder Eddie Lott and his mom/director of growth and development Maria Lott of Dallas-based zero waste service Recycle Revolution; and Kari Crowe Seher, founder and owner of Fort Worth's Melt, purveyor of gourmet ice cream and a close friend of Morris and his wife Katherine.
"I think people will feel inspired by the stories we're telling," Morris says. "These things that were at one point just a dream for them and just an idea for them, now they're living it day in and day out, and we get to take people along for the ride."
He and the "Self Employed" team, led by Fort Worth-based Red Productions, were intentional in showcasing entrepreneurs from many different ethnic backgrounds and at various stages in their journeys. Morris hopes that viewers will identify with his subjects, whether they look like them or not.
"What we've done with this show is provide a sense of representation and inclusion," he says. "The thing that is consistent is that they all have this entrepreneurial against-the-grain spirit."
He wants viewers to be inspired to pursue their own dreams, entrepreneurial or otherwise. For those that don't aspire to start their own businesses, Morris wants to encourage them to support small businesses.
"I do think there's a real power in championing the small guys, the local guys, the people who take these ideas and roll the dice on them, and believe they have something special to bring to the market," he says.
Bringing a boutique hotel to Funkytown
Fort Worth's Hotel Dryce [Photo: Visit Fort Worth]
The other key factor in Morris' hectic pandemic schedule is opening a one-of-a-kind boutique hotel in Fort Worth. Hotel Dryce, located in an old dry ice factory (hence the name) near Dickies Arena, officially opened Aug. 25, following a soft opening the previous week.
Morris and co-owner Allen Mederos of Acadia Property Management wanted to bring a hip boutique hotel with a lobby bar offering a prime cocktail hotspot to Fort Worth. In January, Forbes featured Hotel Dryce in its 2021 list of "most highly anticipated hotel openings" in the world.
"At Hotel Dryce we want to tell an authentic version of what Fort Worth is and have it feel fresh," Morris says.
When he travels, which is often, he loves finding small independent "craft" hotels that give visitors a distinctly local vibe. He wanted to bring that same local vibe love to Fort Worth.
Morris and Mederos began planning Hotel Dryce three years ago, and going through planning, design, and construction during COVID-19 has been "a roller coaster," with many obstacles and delays. Now he's eager to welcome guests.
"I'm really, really happy to transition out of construction mode and into inviting people into the space. Having people flow in and out of the space has really been a dream come true," Morris says.
Like others in the hospitality industry, the Hotel Dryce team uses "smart cleaning processes," contactless check in, masks, and lots and lots of hand sanitizer. The design of the property makes social distancing easy with outdoor corridors and an open-air courtyard. The 21 guest rooms range in price from $139 to $300 a night.
What's next for the busy entrepreneur? Getting the hotel going while continuing to oversee the Fort Worth Barbershop, now going into its seventh year. Oh, and there's the coffee shop his wife Katherine Morris opened in April, Cherry Coffee Shop on Magnolia Avenue in a former Craftworks Coffee Co. location.
"Honestly? Just really trying to create spaces for our community where people can gather, and feel connected, and feel seen and included," he says. "And I hope they come forward in a new way, honoring the past, but also relating into the future of what the city is becoming.
"I'm sure at some point I'll have another entrepreneurial itch."
---
Meet the innovator
Jonathan Morris originally was featured in Dallas Innovates' Future 50 in Dallas-Fort Worth in the January 2021 edition of our annual magazine. We talked with Morris about entrepreneurship, his opportunity with Magnolia Network—and how representation matters, in both business and media. Here's a takeaway:
You're an entrepreneur. Tell us a little about your businesses. We just celebrated six years at the Fort Worth Barber Shop, where we have traditional barbering services, as well as offering grooming products. Back in 2018, myself and my business partner, Allen Mederos, purchased an old dry ice warehouse in the Fort Worth Cultural District right across the street from the new Dickies Arena in close proximity to the three major museums here. [We converted] that dry ice warehouse into a hotel project that we are calling Hotel Dryce, [which opened in August.] It is a 21-room hotel, with a small lobby bar and an outdoor courtyard space.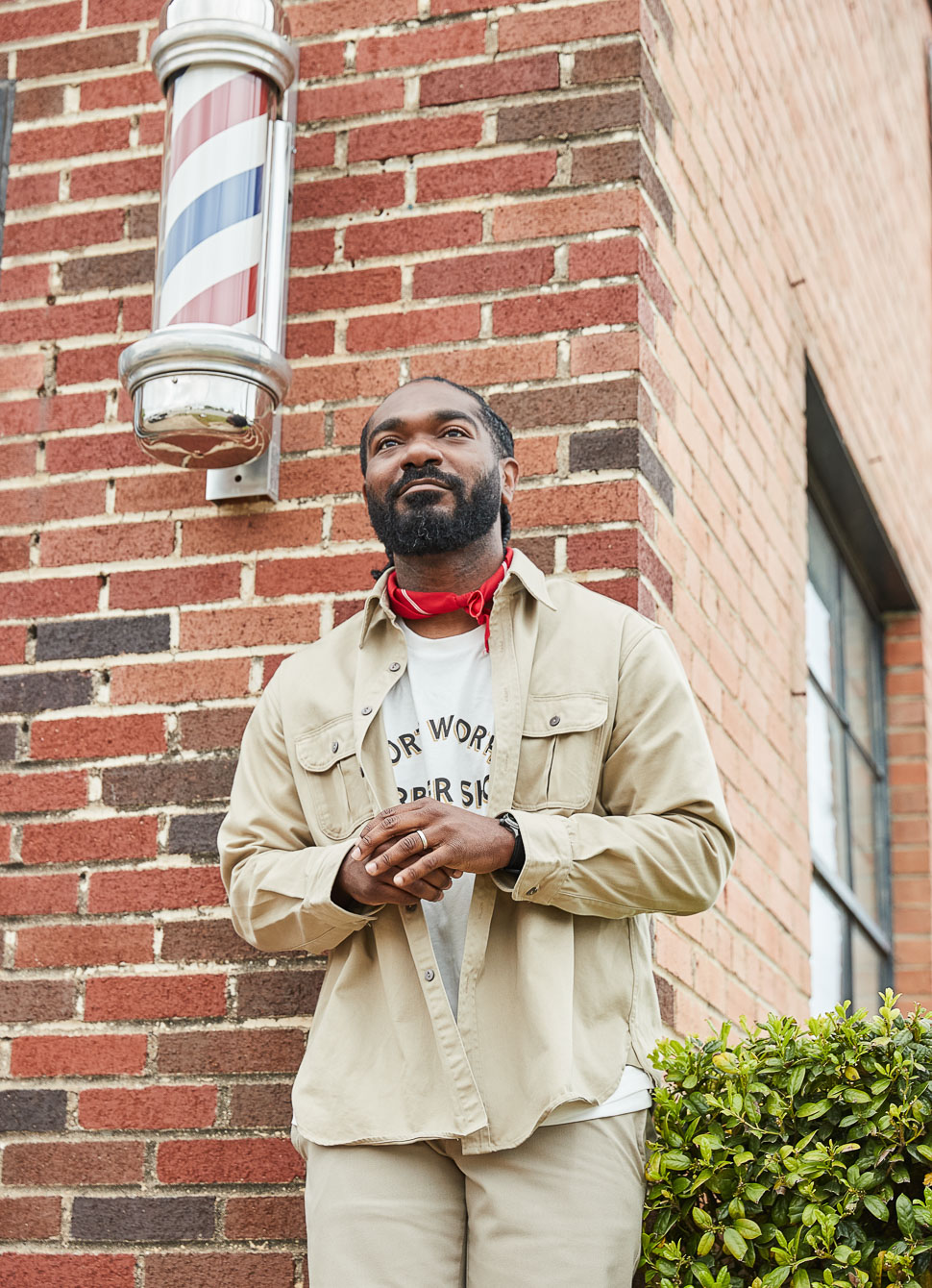 Jonathon Morris [Photo: courtesy of Magnolia Network]
What can you tell us about 'Self Employed' and working with Magnolia Network, how did that come about? My good friend here in Fort Worth, Red Sanders, came to me with an opportunity that they had to produce a show in conjunction with the soon-to-launch Magnolia Network. Through several iterations, the show has become the idea that I as an entrepreneur would travel around the country and meet other entrepreneurs. We'll learn about their stories and learn about where they have been, where they are right now, what the challenges are, and understanding how they've had to adapt and pivot around this. It's an opportunity to shed light on what it looks like for someone to take that idea and cultivate that idea into their dream, their dream work-life of being self-employed.
The new Discovery+ launched Jan. 4, and Magnolia Network previewed the upcoming shows on the streaming platform. The "Self Employed" pilot episode was included in that batch of new programming. [We shot] the rest of the season in 2021.
What are you learning in the process that you can apply to your own entrepreneurial efforts?
The thing that appealed to me about doing this project is the fact that I love connecting with and spending time with entrepreneurs. It feels like we have a special kinship and a special understanding of what it's like being in each other's shoes. I hope as people watch the show, they are inspired by these entrepreneurs and their stories. I myself am particularly inspired by hearing these stories. These entrepreneurs are essentially doing the same thing that I've done, and I'm doing currently, which is taking ideas and building them, and then presenting them to my community as small businesses.
How have you seen COVID-19 impact the show or your entrepreneurial work?
With the Barber Shop, it hit us pretty hard. Our doors were completely closed for a solid two months. I had to go to my team and tell them that we didn't have a job for them at the time. I didn't know if we would be able to open our doors back up. If you want to list critical times in my business career, that's it. When we reopened in May, we completely changed our business model. We've gone from no welcoming walk-ins off the street; we've been strictly appointment only. We have completely new processes that have helped to ensure the safety and the wellbeing of not only our customers that are coming in every day, but our staff as they navigate around the virus. I feel like it definitely changed the vibe and the energy of the shop day today. I don't have friends that drop in for beer and hang out on the couch in the same way that we might have been used to, but we're trying to still give our customers the experience that they come to know—just adjusted for a heightened sense of safety and health.
Can you give me some examples of how COVID impacted you in production of the show?
While shooting the pilot episode, [we were] getting tested every day and social distancing. Everyone [wore] masks throughout shooting. Our ability to travel is impacted to some degree.
How are you addressing social injustice in what you do?
The flag that I want to wave is this kind of representation for people to see. There are really black and brown entrepreneurs who are paving their own way, creating those dreams, and creating the things that they want to create. As far as small business goes within our communities, when we see ourselves reflected—whether that be a small business down the street or whether that be on a TV screen on Magnolia Network—seeing yourself reflected in people that look like you doing the thing that you'd like to do or dream about doing is a really powerful opportunity. And I think that also beyond minority groups seeing ourselves, I think that the majority group, the white population throughout America, seeing people of black and brown skin, creating and paving their own way is something that is also really powerful. And hopefully, [it] opens up more doors for more people that look like me to do the things that they want to do and build the dreams that they aspire to build.
Tell us more about the "why" behind Hotel Dryce.
I'm interested in introducing people to Fort Worth, Texas. We really want to paint a more clear picture of what Fort Worth is becoming, which is a really cool space where the community is thriving, even within pandemic we have so many small businesses, they're still finding a way to pave the way. We have a great art scene, creative scene that's here, and Hotel Dryce is an opportunity for us to showcase that to the world.
A version of this story was originally published in Dallas Innovates 2021: The Resilience Issue.
Quincy Preston contributed to this story.
---
Read it online
Our fourth annual magazine, Dallas Innovates 2021: The Resilience Issue, highlights Dallas-Fort Worth as a hub for innovation. The collective strength of the innovation ecosystem and intellectual capital in Dallas-Fort Worth is a force to be reckoned with.

Get on the list.
Dallas Innovates, every day.
Sign up to keep your eye on what's new and next in Dallas-Fort Worth, every day.