This story was updated on July 30, 2021, with additional photos and details.
If you're in Fort Worth and hear an Amazon van hum by, you're hearing the future. Amazon has begun testing custom electric vans on delivery routes from its Southwest Fort Worth station. Designed and build in partnership with EV startup Rivian, the new vans rolling in Fort Worth are just the tip of the electric iceberg. Amazon plans to test EV deliveries in 15 other regions across the U.S. this year.
Amazon says the electric vans went from sketch to design to on-road testing with customer deliveries in just over a year.
Why the rush? Amazon says climate change doesn't allow it to sit back and be passive. 
"From what we've seen, this is one of the fastest modern commercial electrification programs, and we're incredibly proud of that,"said Ross Rachey, director of Amazon's Global Fleet and Products, in a statement. 
The move comes one year after Amazon announced it was purchasing 100,000 custom electric delivery vehicles as part of its pledge to be net-zero carbon by 2040—and on a path to powering its operations with 100% renewable energy by 2025.
Amazon's first custom EV was revealed in a demo video last October. The all-electric van is a first-of-its-kind delivery vehicle, Amazon says. Able to drive 150 miles on a single charge, it's been optimized for safety and offers the company's drivers an enhanced experience.
"When we set out to create our first customized electric delivery vehicle with Rivian, we knew that it needed to far surpass any other delivery vehicle," Rachey said in the statement. "We wanted drivers to love using it and customers to feel excited when they saw it driving through their neighborhood and pulling up to their home."
"We combined Rivian's technology with our delivery logistics knowledge, and the result is what you see here—the future of last mile delivery," Rachey added.
One reason for the North Texas test: Our heat
Amazon says North Texas was chosen as one of the 16 EV test sites because of the great customer base here, our unique urban makeup, and something surprising—our intense summer heat. Apparently Amazon wants to see how EVs will hold up to a relentless blast of 100-degree days. 
"We've been looking forward to putting these vehicles up against the Dallas and Fort Worth summer heat and iconic Stock Yards," Rachey said. "We can't wait for the warm Texas welcome from our customers."
North Texas is the fifth region to see Amazon's EVs. The Fort Worth test follows initial rollouts of the Rivian EVs in Los Angeles, San Francisco, and other cities.
State-of-the-art sensor detection and more
The new Amazon EVs are packed with features, including:
state-of-the-art sensor detection
digital cameras around the vehicle giving the driver a 360-degree view
hands-free Alexa integration
a "dance floor" inside the cabin for easy driver movement
bright tail lights that surround the rear of the vehicle for added safety
additional driver protections
10,000 Amazon EVs will roll by next year
A lot more whirrrrrrrr sounds are soon to follow: Amazon plans to operate 10,000 of these new vans as early as 2022.
A global effort
Amazon says it currently operates thousands of electric vehicles worldwide. It will be redesigning and retooling its delivery stations to service EV's—from transforming the electrical design to altering the physical layout of each one.
Last year alone, Amazon says it delivered more than 20 million packages in electric delivery vehicles across North America and Europe. So it's already making the world a little greener, cleaner, and  more carbon-free. 
"We hope our custom electric vehicle helps create a sense of urgency in the industry to think big about embracing sustainable technology and solutions," said Rachey, "whether you're a package delivery company, a logistics company, an ice cream manufacturer, or almost anyone else with vehicles on the road."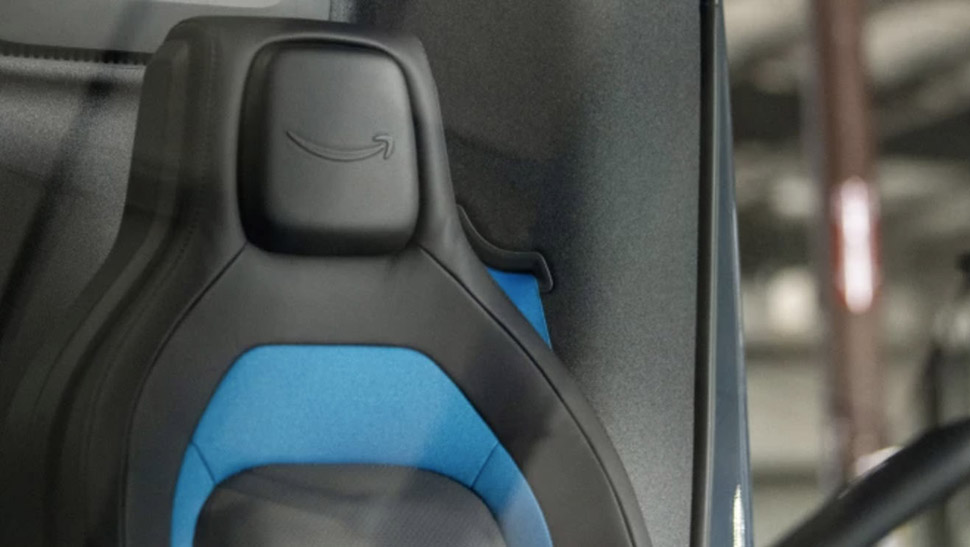 This story was updated on July 30, 2021, with additional photos and details.

Get on the list.
Dallas Innovates, every day.
Sign up to keep your eye on what's new and next in Dallas-Fort Worth, every day.