In this series, Dallas Innovates goes behind the scenes to take a look at businesses in North Texas driving creativity, culture, and collaboration through innovative spaces.
The places highlighted throughout the Dallas-Fort Worth region break down the walls of tradition, incorporating elements of technology, community, architecture, co-working, and connectivity. The collaborative nature of innovation makes design a key component of new development and renovation projects.
And, of course, the views and vibes can inspire "office envy."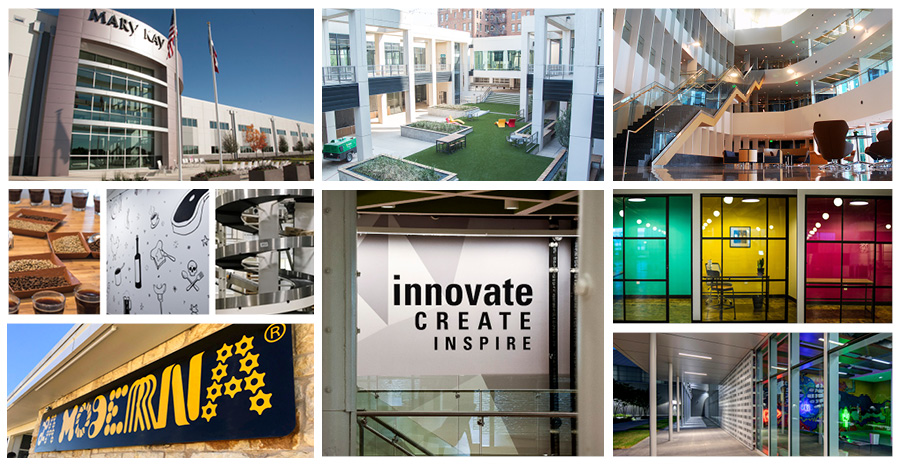 Here you'll find diverse projects, from the Brain Performance Institute's homage to the human brain to La Moderna's high-tech HQ to Dallas' first hostel in Deep Ellum. Whether its transforming abandoned buildings (GoodWork) or breaking new ground (Mary Kay's R3), these developments deserve to be seen for themselves. 

So, Dallas Innovates takes you on a photo tour of each space to get a look from the outside, and in. Bookmark this page as the dashboard for Innovative Spaces and sign up here to stay on top of what's new and next in North Texas. 
Know of an innovative space? Tell us about it. 
Innovative Spaces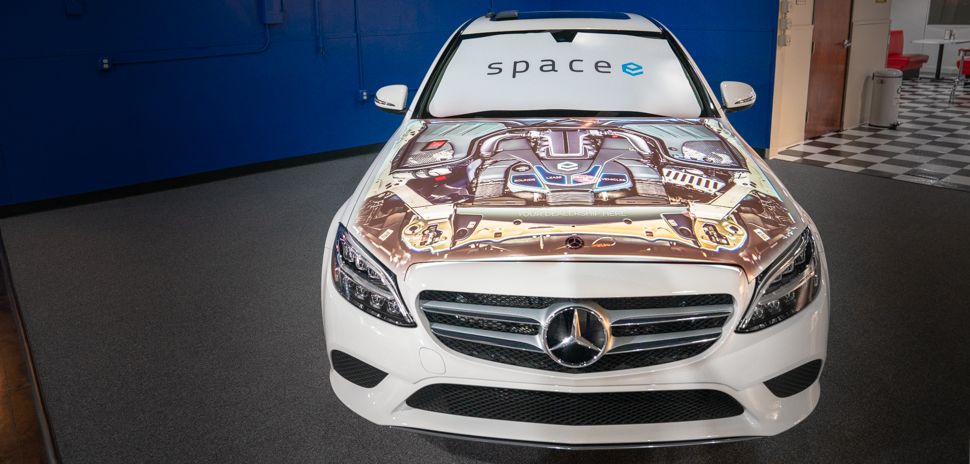 Innovative Spaces: Watch the Retail Industry Come to Life at Spacee's Addison Headquarters
From a post-apocalyptic restaurant to a TARDIS to an actual car, step inside the Spacee offices to see where (and how) the team is making the retail industry interactive, customized, and in-motion.
---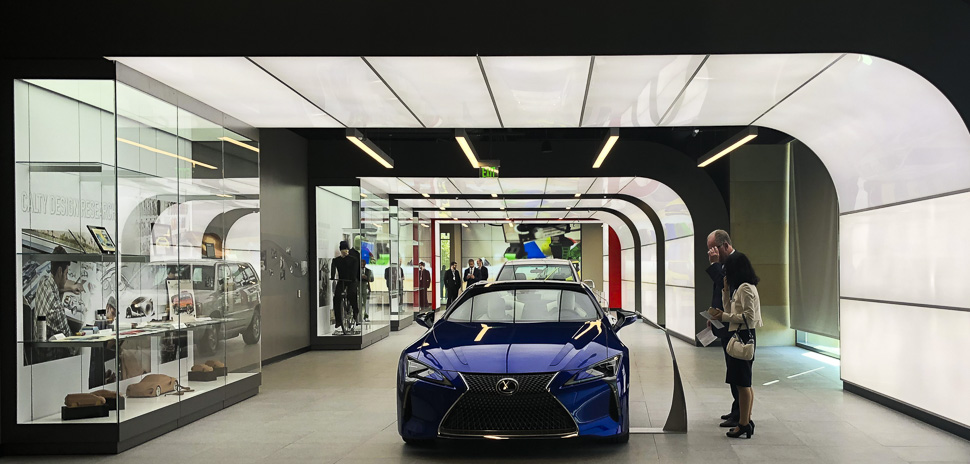 First Look: Take a Photo Tour of the Toyota Experience Center
From interactive kiosks and a motorsports gallery to virtual test drives and robots, get an inside look at the new Experience Center at Toyota's Plano headquarters.
---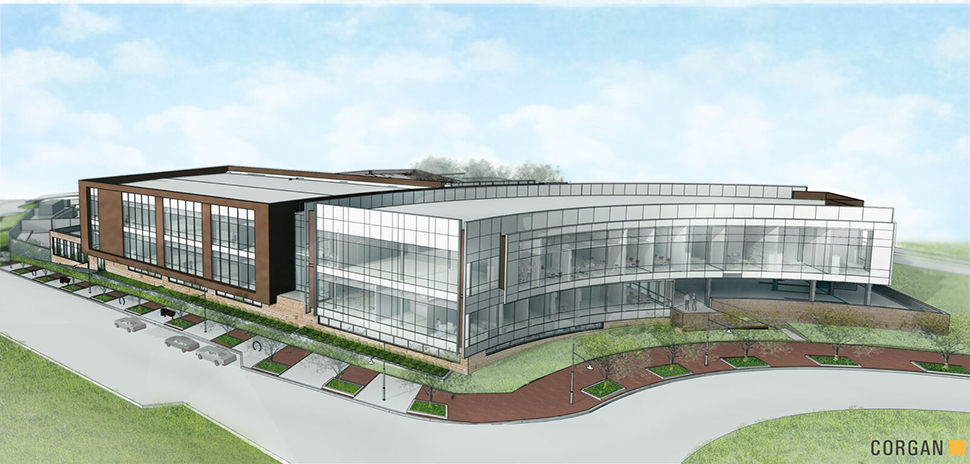 Innovative Spaces: Southwest Transplant Alliance is Building a Destination for Organ Donation
Southwest Transplant Alliance recently broke ground on what will be a home for education, innovation, and advancement in the organ donation and transplantation community. Get a first look at the first-of-its kind facility, set to open in 2020.
---
Innovative Spaces: Tech Meets Workplace Wellness at Mercedes-Benz Financial Services' New Center at AllianceTexas
From facial recognition software to technology-based modern art forms, look inside the newly opened 200,000-square-foot Fort Worth Business Center.
---
Innovative Spaces: A Walk Through Quest's Repurposed Corporate Headquarters
Quest connects national clients with zero-waste disposal solutions, and its headquarters in Plano reflect that. It's all about living the brand—from tables made of tires to a grocery crate conference room, the Quest HQ is filled with artfully sustainable features. Take a look inside.
---
How North Texas Meets the Needs of Advanced Manufacturing Companies
From high-tech fighter jets and the most-advanced helicopters in the world to long-lasting lipsticks and packaged pasta, Dallas-Fort Worth is home to a hotbed of advanced manufacturing facilities.
Here are Five North Texas Companies Putting Advanced Manufacturing to Work
---
Hotels Roll Out Innovative Concepts to Meet 'Greater Expectations' in North Texas
New hotel projects are cropping up across Dallas-Fort Worth, bringing with them innovative concepts that will keep the North Texas hospitality sector moving forward. These innovative spaces originally appeared in the Dallas-Fort Worth Real Estate Review. A full photo tour has been added for Dallas Innovates.
---
Innovative Spaces: Peabody Roanoke to Anchor the South Oak Street Redevelopment
The Peabody's hallmark marching ducks are heading to North Texas in a 300-room hotel development in Roanoke.
---
Innovative Spaces: Valencia's Latest Irving Hotel Goes Retro
The Texican Court in Irving's Las Colinas has the flair of an old Spanish mission combined with the vibes of the 1950s. Take the photo tour of the new upper-scale hotel to get an inside look at the industry convention-busting design, luxury rooms, Tequila Bar, and swimming pool.
---
Innovative Spaces: Canopy Dallas Uptown Features High-Tech Food Service, Memorable Views
Stellar views, a kitchen running on CMI technology and infrared heat, and locality make the lifestyle-forward hotel an 'energizing, comfortable stay.'
---
Innovative Spaces: Mary Kay Opens $100M R&D, Manufacturing Facility in Lewisville
Two years after breaking ground, the Richard R. Rogers Manufacturing/R&D Center — also known as 'R3' — is now open. Take a look inside the new 453,000-square-foot facility, complete with R&D labs and manufacturing tech.
---
Innovative Spaces: A (Photo) Tour of Facebook's Fort Worth Data Center
Facebook's Fort Worth data center features local artwork throughout its administrative areas. The 150 acre complex in Hillwood's AllianceTexas development will eventually include five buildings and has a total value of more than $1 billion. A version of this article appeared in the Dallas-Fort Worth Real Estate Review, Summer 2018.
---
Innovative Spaces: Take a (Photo) Tour of Dallas' First Hostel in Deep Ellum
As hostel veterans Collin Ballard and Kent Roth looked at doing their next city, Dallas was the logical step. And Deep Ellum is "blowing up," they say, making it the perfect home for the boutique hostel concept.
---
Innovative Spaces: The Food Industry in Dallas-Fort Worth
From state-of-the-art manufacturing to kitchen coworking to R&D innovations, Dallas-Fort Worth is home to unique operations in the competitive food and beverage landscape.
---
Innovative Spaces: Pasta Maker Goes High-Tech with Robotics
The state-of-the-art facility in Cleburne is unlike any of the company's six other plants in Mexico, utilizing high-tech software and robotics.
---
Innovative Spaces: GoodWork Opens Doors With Focus on Wellness, Sustainability
The 60,000-square-foot property includes coworking, residential lofts, coffee shop, fitness room, and more. If approved, it could be one of the first coworking spaces with a WELL Building Certification.
---
Innovative Spaces: Blue Cross Blue Shield's C1 Innovation Lab
Here's a look behind the scenes at Blue Cross Blue Shield's C1 Innovation Lab in Dallas' West End.
---
Innovative Spaces: Brain Performance Institute Derives Design Inspiration from Human Brain Itself
The Brain Performance Institute building is meant to pay homage to the human brain, making it a fitting place to maximize the human brain's potential or help military veterans and others with traumatic brain injuries.
---
Innovative Spaces: Take a Look Inside The Centrum's $25M Startup-Friendly Redo
Quadrant Investment Properties' transformation of the 1980s office building is still a work in progress, but startups are already calling it home — and there are plenty of areas adapted to the evolving nature of work.
---
Innovative Spaces: Sabre Puts Focus on User Experience
A behind the scenes look at the Southlake-based company that provides technology to more than a billion people around the world.

Get on the list.
Dallas Innovates, every day.
Sign up to keep your eye on what's new and next in Dallas-Fort Worth, every day.