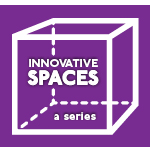 In the lobby of Omni Logistics' new Cypress Waters Dallas headquarters, a "living green wall" in the shape of the company's logo symbolizes its commitment to a sustainable future. In other places, signs point to an embrace of the emerging new normal for the future of the office.
For one thing, it's not just about being at the office anymore. The new HQ has 16 tech-enabled conference rooms featuring "state-of-the-art" Logitech videoconferencing systems. The tech will be used for meetings with Omni's employees, customers, and partners worldwide. (Globally, the privately owned logistics solutions provider has 4,500 employees in 100-plus locations, serving the logistics needs of 7,000 customers. The multi-billion-dollar company recently made the No. 35 spot on Transport Topics' Top 100 Logistics Companies in North America list.)
Designed by HKS
The new HQ's interiors were designed by Dallas-based HKS Architects. K2 Construction served as general contractor. And Omni's moving trucks didn't have far to roll—the new HQ is just across the street from the company's former headquarters. 
Social gathering spaces, "wellness rooms" and more
Employee amenities are another key focus for companies these days—and Omni Logistics is no exception. The new HQ offers its 85 Dallas-area employees "a modern, semi-open seating plan which strikes a balance between collaboration and privacy"; multiple social gathering spaces to foster culture and collaboration; two "wellness rooms" for nursing mothers and employees who just need a private space to chill or meditate; kitchen and break areas with "healthy snacks and refreshments"; outdoor decks for collaboration and socializing; and walkable access to restaurants, bars, and other diversions at The Sound and Cypress Waters.
Oh yes—lots of high-tech business stuff too
Decks and wellness rooms aside, people still have to work. And Omni has fitted out the new HQ for the emerging new normal of office work, too.
In addition to the 16 tech-enhanced conference rooms, the new HQ features a tech-enabled training facility; a "state-of-the-art" in-house video production studio; and a demo room where customers can try out new technologies and client-facing tools, enabling instant feedback to the company's tech development team.
Powered by 100% renewable energy
The company is backing up that living green wall in the lobby: Omni Logistics says its new HQ is "completely wind-powered."
"We believe Omni Logistics is the first leading U.S.-based logistics provider to implement 100% renewable energy in a corporate headquarters," CEO JJ Schickel said in a statement.
"As signatories to The Climate Pledge, Omni Logistics is committed to leading the way to a more sustainable supply chain industry by making sustainable choices within our own business and providing our clients with the visibility and data required to identify opportunities for reducing the carbon footprint of their freight and overall supply chains," Schickel added.
The CEO said the decision to go 100% renewable was "in response to our own values, global demand, industry demand, and employee and prospective employee demand to work for an environmentally conscious company."
Omni recently opened three other facilities
The company recently announced the opening of three other new facilities across the U.S., including a 190,000-square-foot warehouse and cross-dock facility in San Francisco; a "highly secure" 150,000-square foot-warehouse and cross-dock facility in Philadelphia; and a 9,000-square-foot office in Phoenix. 
Omni says its new Dallas HQ has room for further expansion as the company continues its planned growth.
More looks at the new Omni Logistics HQ

Get on the list.
Dallas Innovates, every day.
Sign up to keep your eye on what's new and next in Dallas-Fort Worth, every day.