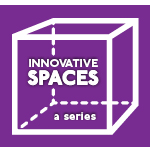 The Brain Performance Institute is designed like a brain, providing spaces devoted to increasing brain performance, enhancing brain resilience, and promoting brain regeneration.
A part of the Center for BrainHealth at the University of Texas at Dallas, the new 62,000-square-foot building housing the institute is at 2200 Mockingbird Lane near Dallas Love Field. It officially opens to the public on Thursday.
INNOVATIVE SPACES 
Dallas Innovates goes behind the scenes to take a look at businesses in North Texas that are driving creativity through innovative spaces in this ongoing series.
The institute features programs and spaces to help everyone from veterans dealing with traumatic brain injuries to middle school students seeking to maximize their brain performance in the Adolescent Reasoning Initiative.
Executive Director Leanne Young said the institute has programs that can aid people at all stages of their lives and those affected by a variety of conditions.
"This isn't just about preventing dementia, although it's important to so many. It's about improving brain performance and health in everyone right now," she said.
Everything about the building is aimed at promoting brain health. Inspiration for its design is drawn from the anatomy of the human brain itself. The elliptical central core of the building pays homage the brain's oval shape, and the exterior's sunshade of metal fins was inspired by the rhythmic pattern of an EEG strip.
The design also was inspired by the brain's frontal lobes, which are responsible for higher-order thinking. Abundant natural lighting promotes the body's creation of serotonin, for example, which is important for brain health.
"The institute will help young people focus in school, retrain the minds of those affected by military experiences or sports injuries, strengthen mental acuity among corporate leadership, and empower each and every one of us to take charge of our own brains so that we can have healthier, stronger, more energetic brains today and in the future," Young said. 
In advance of the public opening, Young gave Dallas Innovates a look inside the new space. .
Photos by Lance Murray.
A GRAND ENTRY
THE BALDRIDGE TRAINING ROOM
THE WARRIOR WING
THE ADOLESCENT REASONING INITIATIVE
VIRTUAL REALITY
LIGHTING UP THE MIND
DESIGNED LIKE A BRAIN

Get on the list.
Sign up to keep your eye on what's new and next in Dallas-Fort Worth, every day. 
And, you'll be the first to get the digital edition of our new Dallas Innovates magazine: 
The annual edition publishes in January