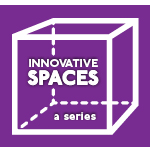 Design. Implement. Track. That's Quest's philosophy when it comes to helping clients achieve sustainability goals. 
Quest connects national clients in industries like retail, automotive, food, and cannabis with zero-waste disposal solutions. The team tracks every phase of the process from pick-up to drop-off, all in a budget-friendly way. Quest aims to be green while saving green, letting their clients recycle more while spending less. 
Quest's headquarters in Plano is a reflection of its mission. It's brought the commitment to sustainability into the office, giving old materials a second life through a little restructuring. 
Looking around—and up
Take a room-by-room tour of Quest's HQ and its artfully sustainable features with Dallas Innovates to see all the ways the company has made its office space a lean, green, recycling machine. 
All photos by Rachel Walters.
Lobby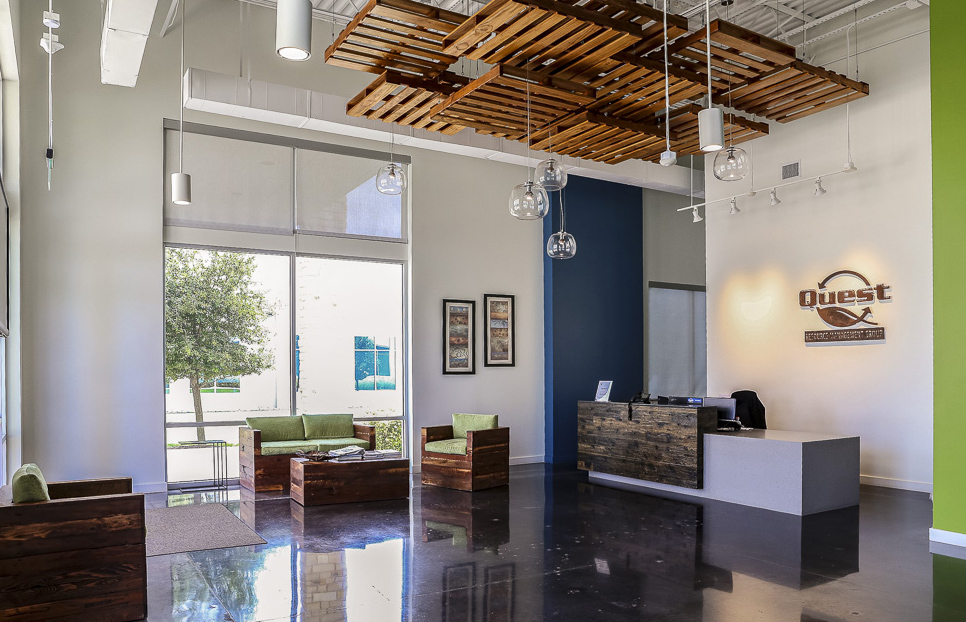 Quest's lobby gives a feeling of being clean, crisp, and colorful. It's filled with natural light and features a bright green statement wall. As phrased by Quest's CEO Ray Hatch, he and his team "live their brand" by making most of the decor out of repurposed materials.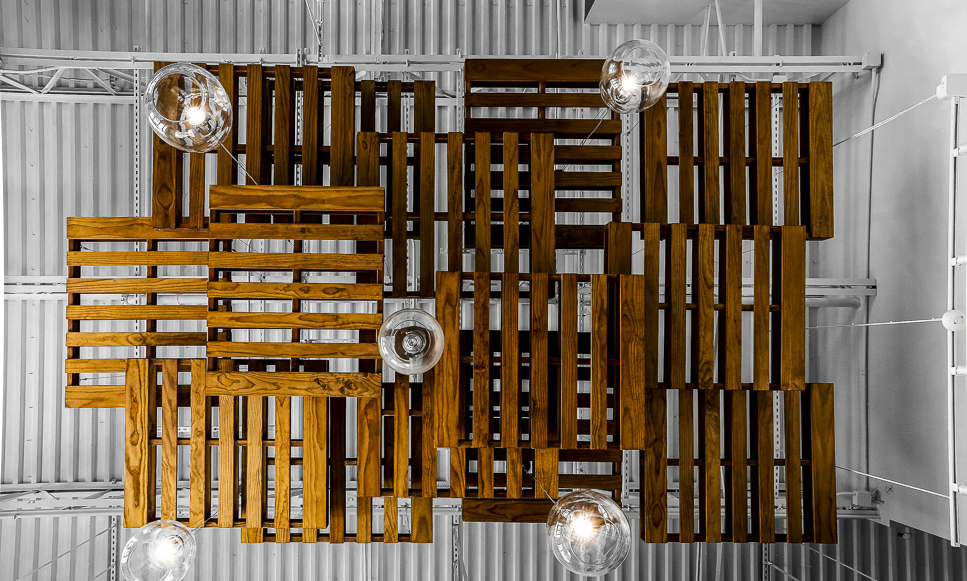 That chandelier up there? It's made out of wood from old crates. Throughout the entire space, guests will see some surprising uses for crates of all kinds.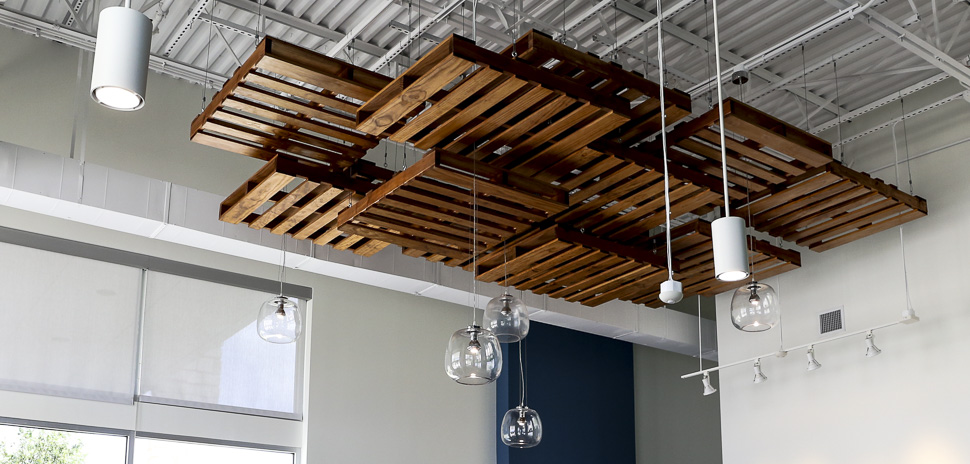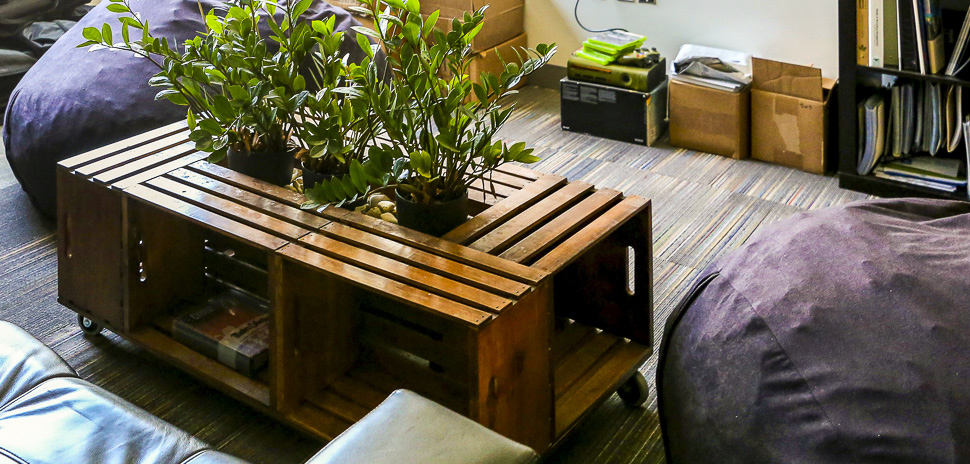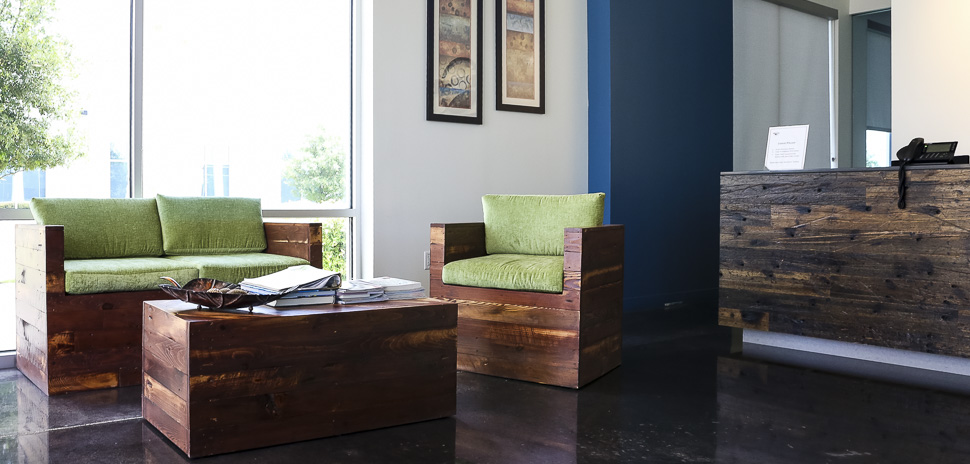 As promised—the tables and chairs are also made from the same wood as the chandelier.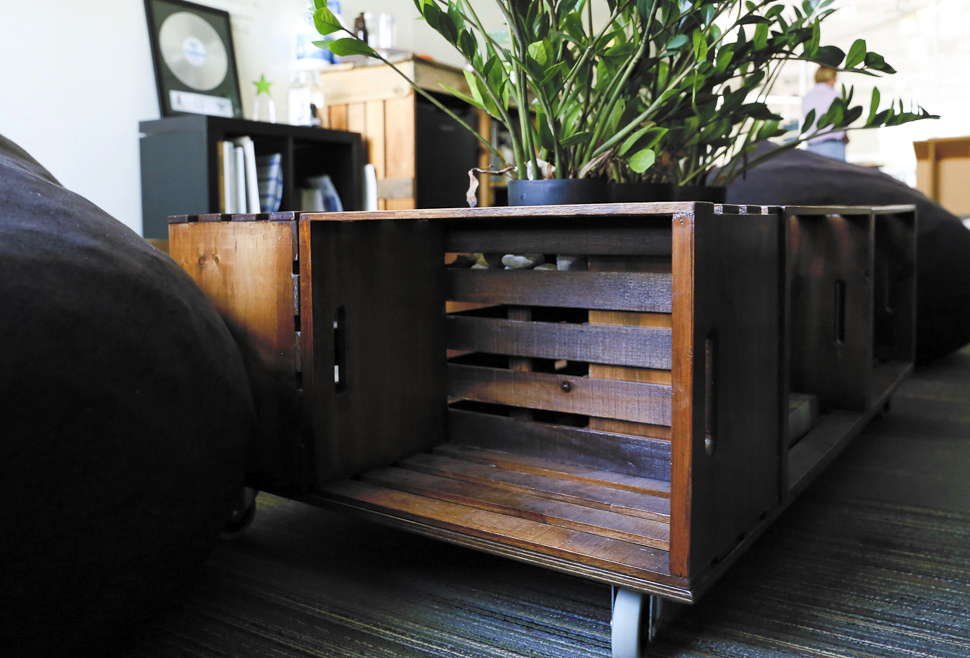 The Garage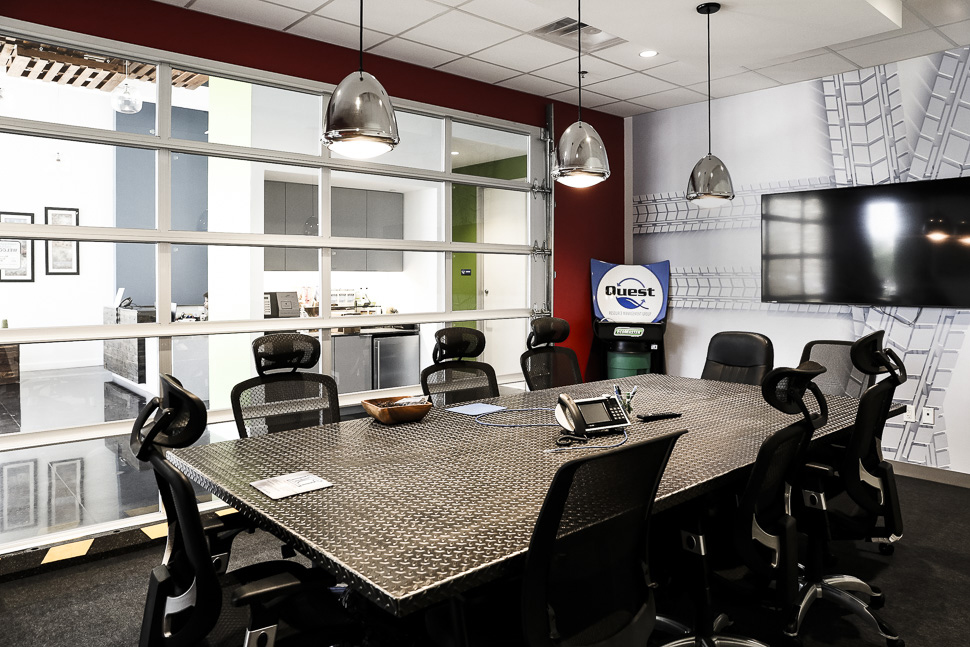 Enter: The Garage. This themed conference room features recycled tires at the table's base, tire track walls, and a garage door wall, which sadly is just for decoration. "I've tried to open it many times," Hatch says.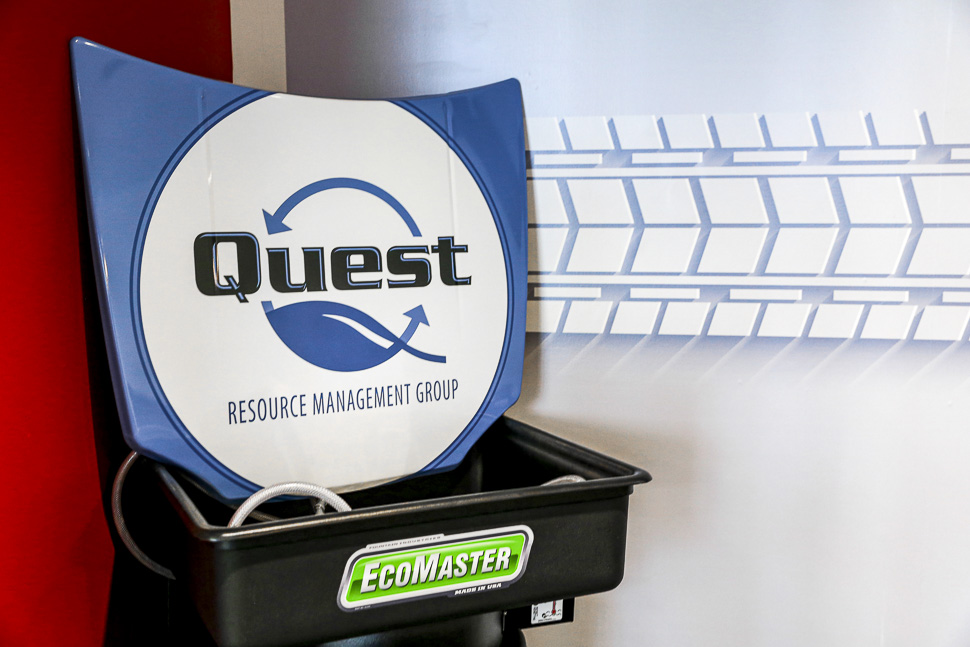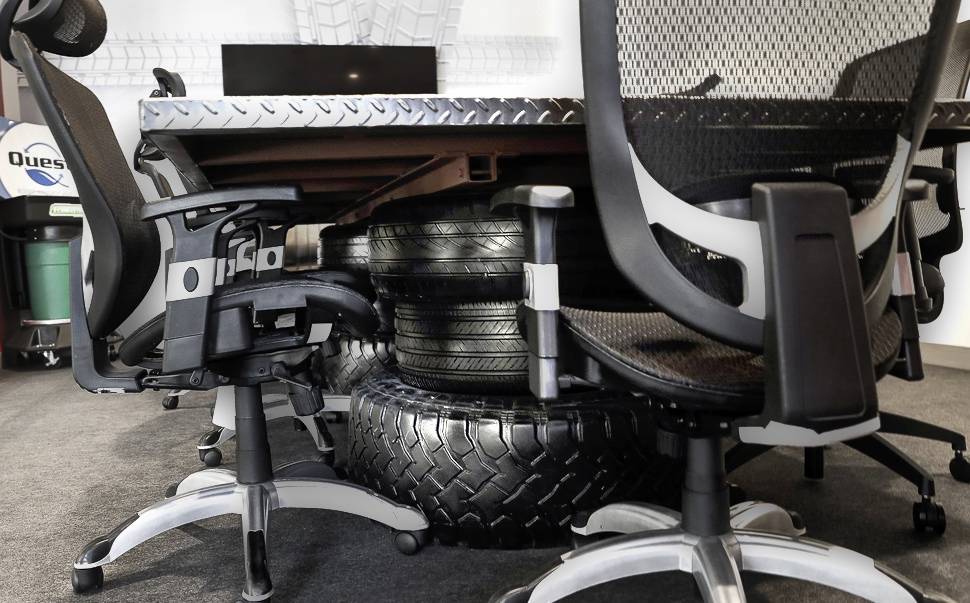 The centerpiece on the conference table is a bowl filled with repurposed tires that have been broken down into mulch. The rubber replica lasts for up to 10 years, and it doesn't attract pesky bugs that can wreak havoc on indoor plants.
Other common ways tires are reused is by making them into speed bumps and using the rubber to resurface parking lots. This is especially popular in high traffic retail parking structures, as rubber is damage resistant.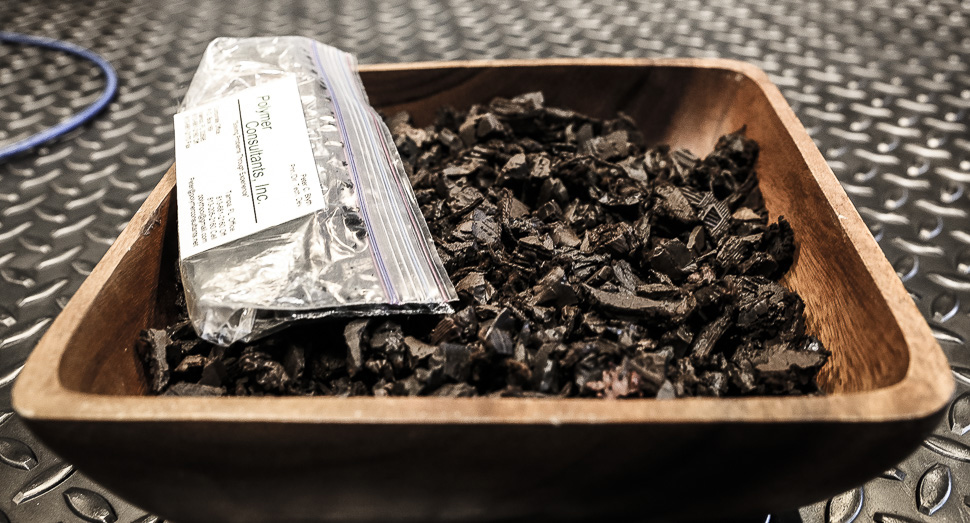 The retail conference room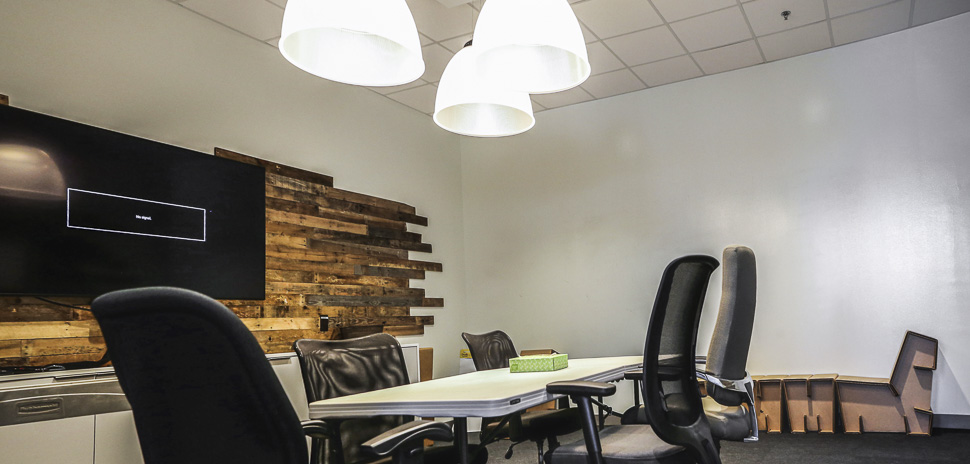 Clean up on aisle, well, everywhere. This room is the "retail room", a visual representation of how packaging from grocery stores and other endeavors can be revamped.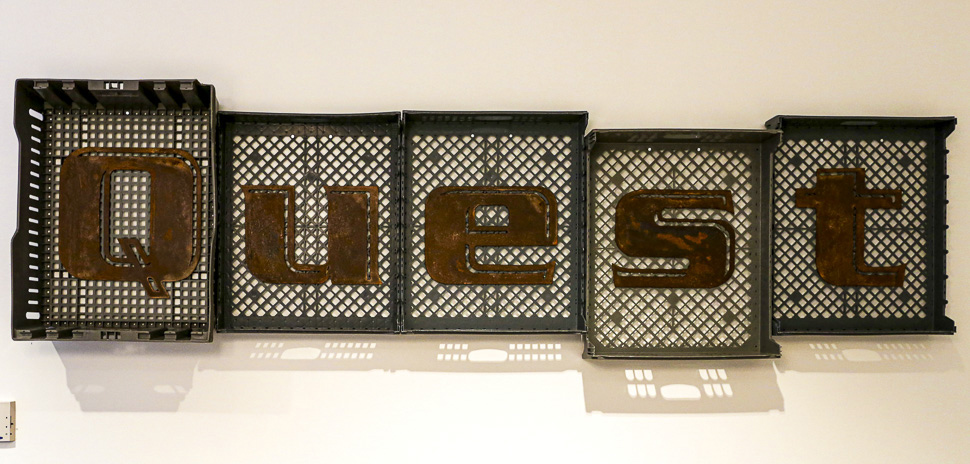 Check out the whiteboard framed by recycled wood and the Quest logo on old grocery crates.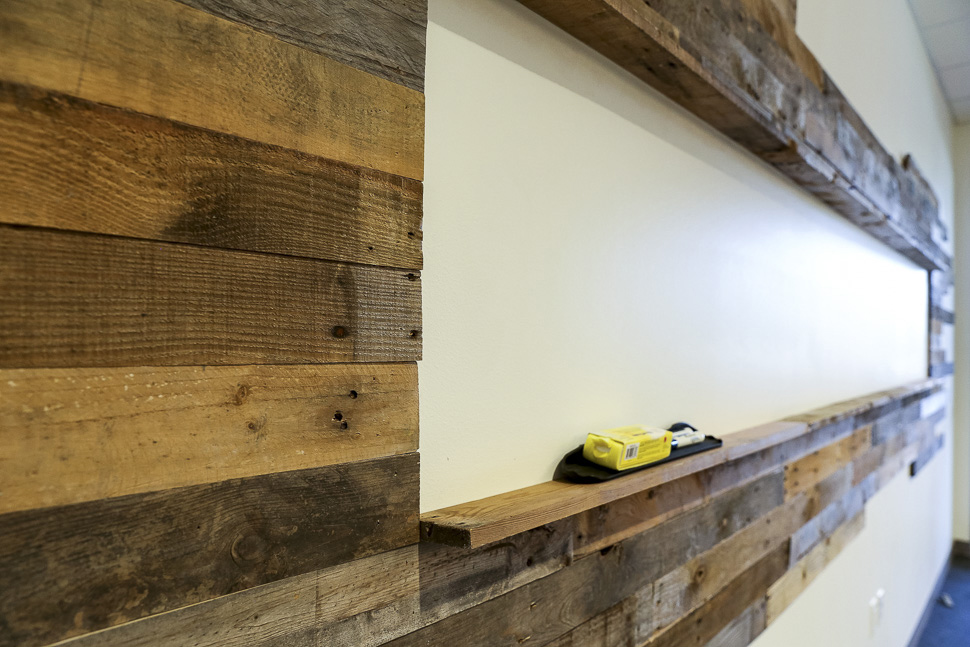 One of the more double-take features here is the cardboard bench. Surprisingly, no, it doesn't collapse once you sit on it (we tested it!).
"It isn't the most comfortable after 20 minutes," Vanessa Lepice, VP of marketing and new business development for Quest, says. "But, it's very durable!"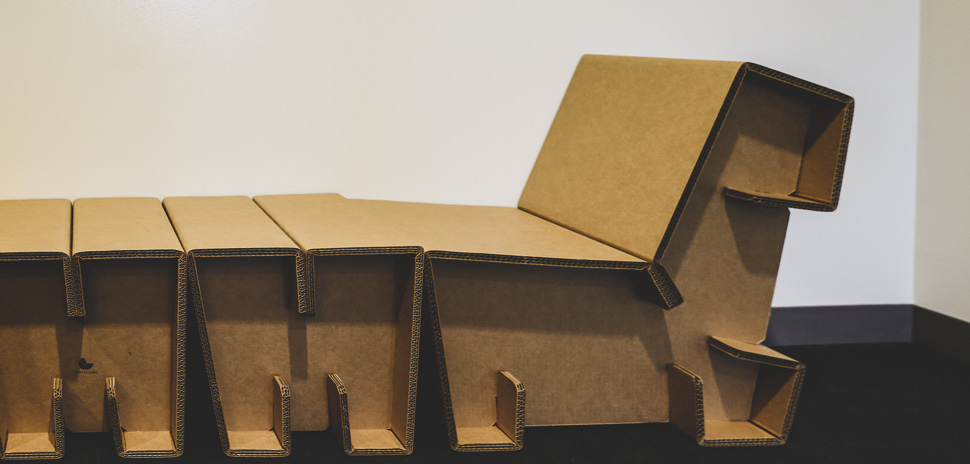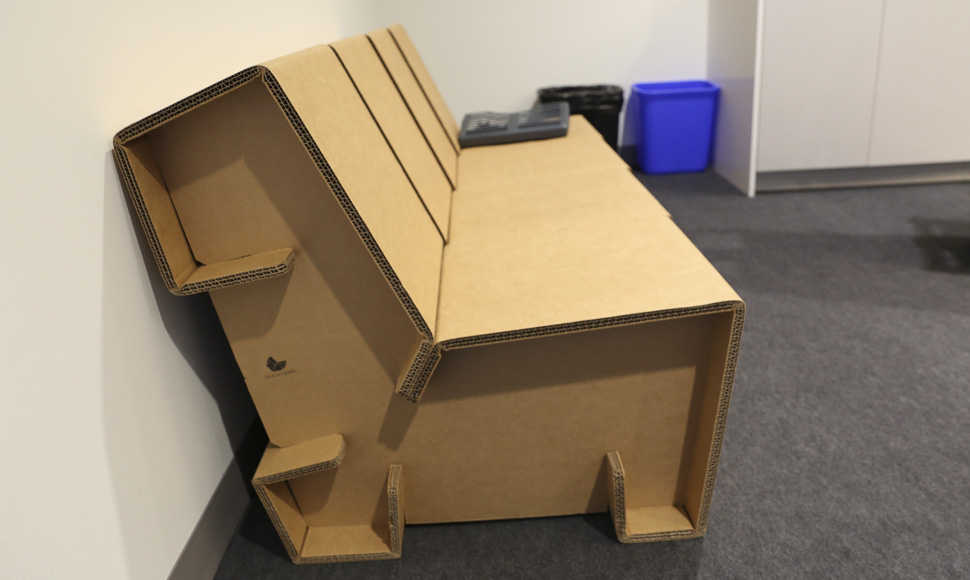 The workspace
Moving into employee office spaces, you get a peak behind the drywall curtain.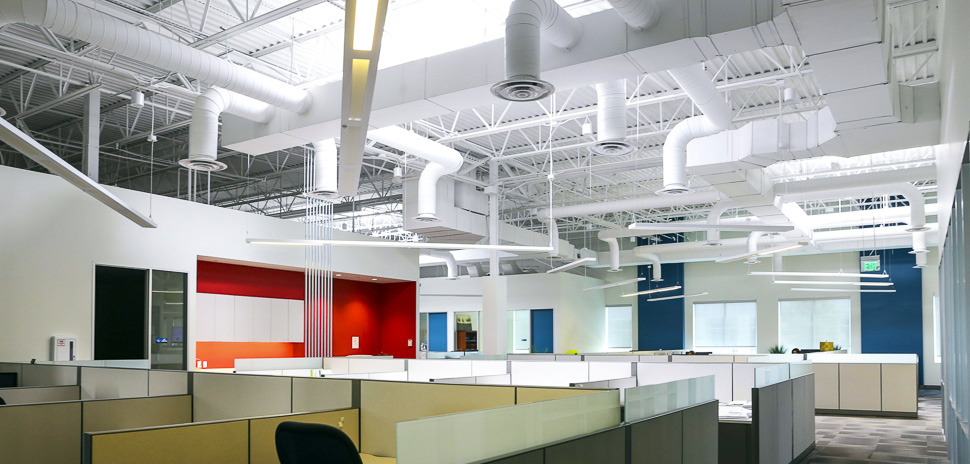 Open work areas feature low cubes with plenty of direct sunlight. To power the space, a ceiling skylight is used in combination with motion-activated Xenon lighting.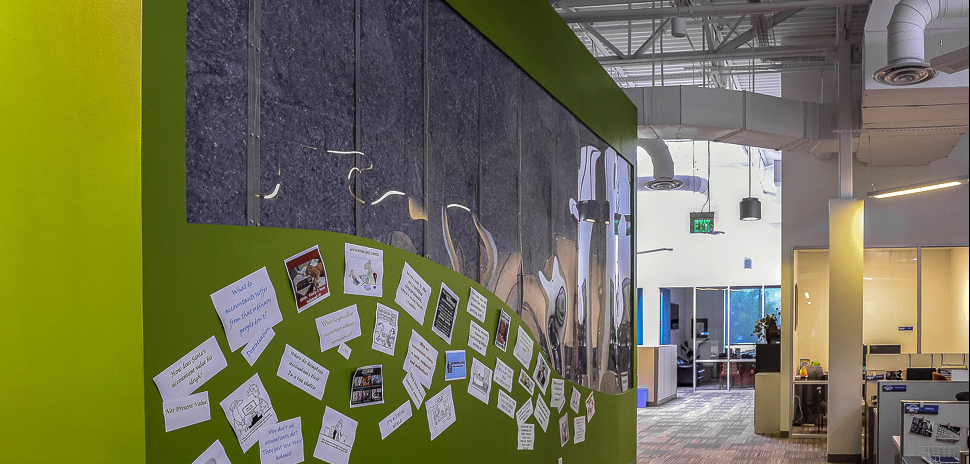 The blue matter above the accounting department's joke corner? Those are recycled jeans—given a new role as insulation. This zero-waste alternative is increasing in popularity, you can even find it at your local home improvement store.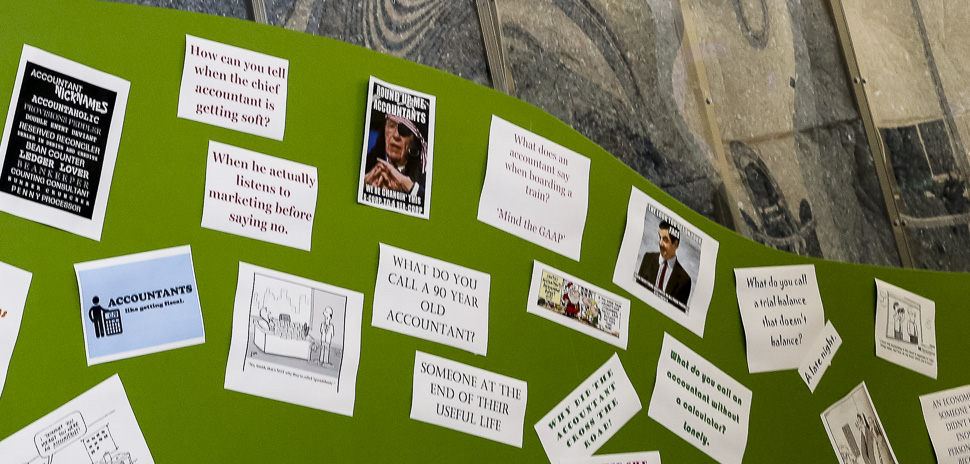 And, covering the floor throughout the space is recycled, used carpet.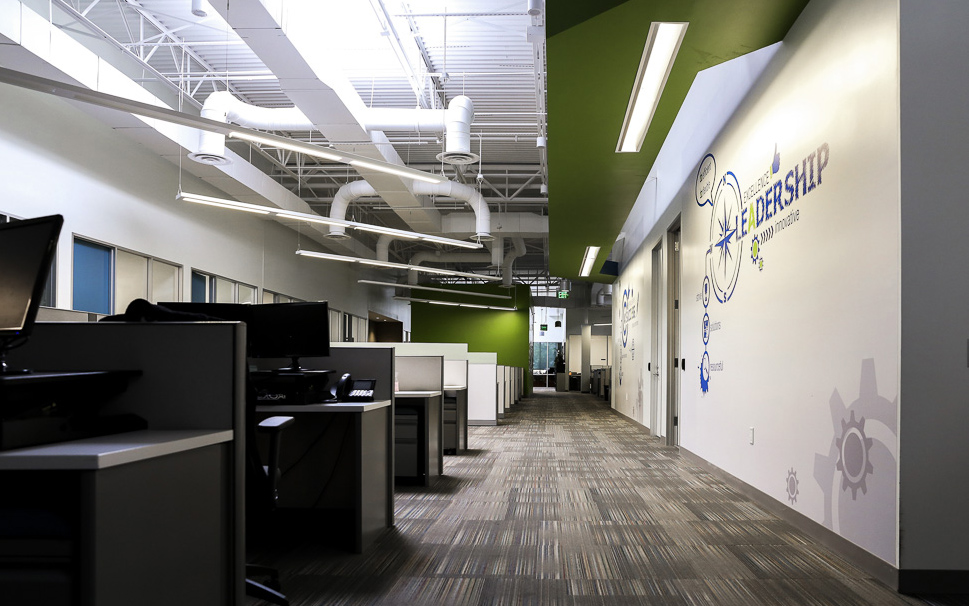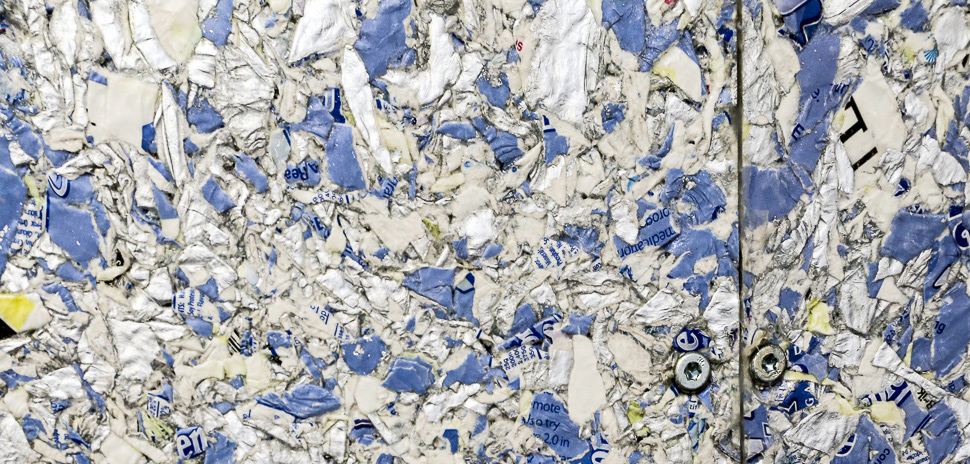 The accent wall (pictured above) is made out of pressed recycled labels. They're all post-consumer, meaning they're those forgotten labels on bottled beverages people tossed in the recycling bin after drinking them—not from bottles that never left the factory.
"The actual clear or colored plastic [from bottled drinks] is recycled and the rest is thrown away," Vanessa Lepice, vice president of marketing and new business management, says. "Or the labels are cleaned, pressed, and turned into a board!"
The gym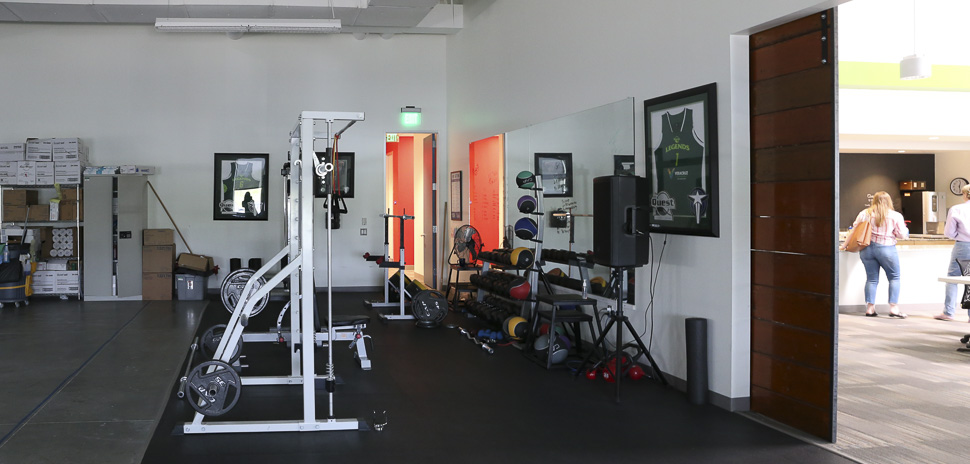 A slight detour from the eco-friendly amenities, Quest has a full gym located in the back of the building. It's part of the goal to make the work environment as positive as possible, prioritizing the health of the planet and the person. It's one of the many things that make Quest's headquarters a LEED-certified building.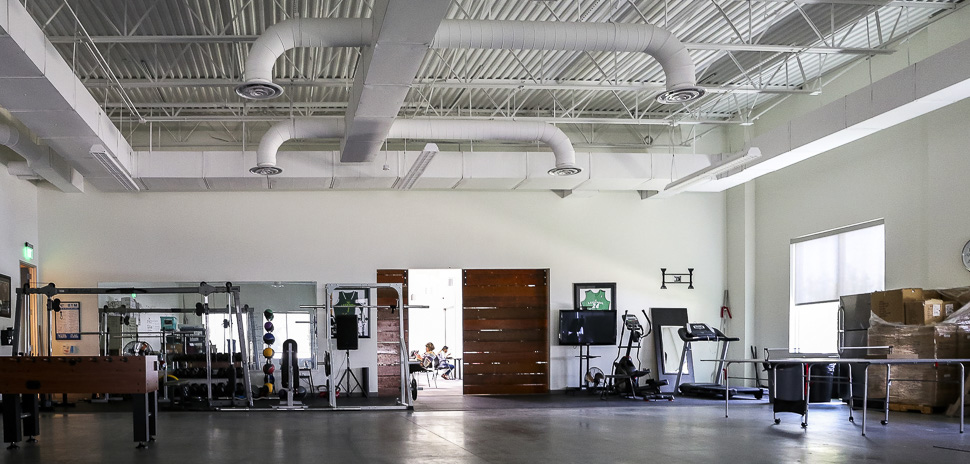 In-theme with the gym is a large sliding door made from recycled bleachers. "Looking at [the doors], I knew exactly what it was," Quest's CEO Ray Hatch says. "I used to play a lot of basketball all across the country, gyms that had those pull out wooden bleachers."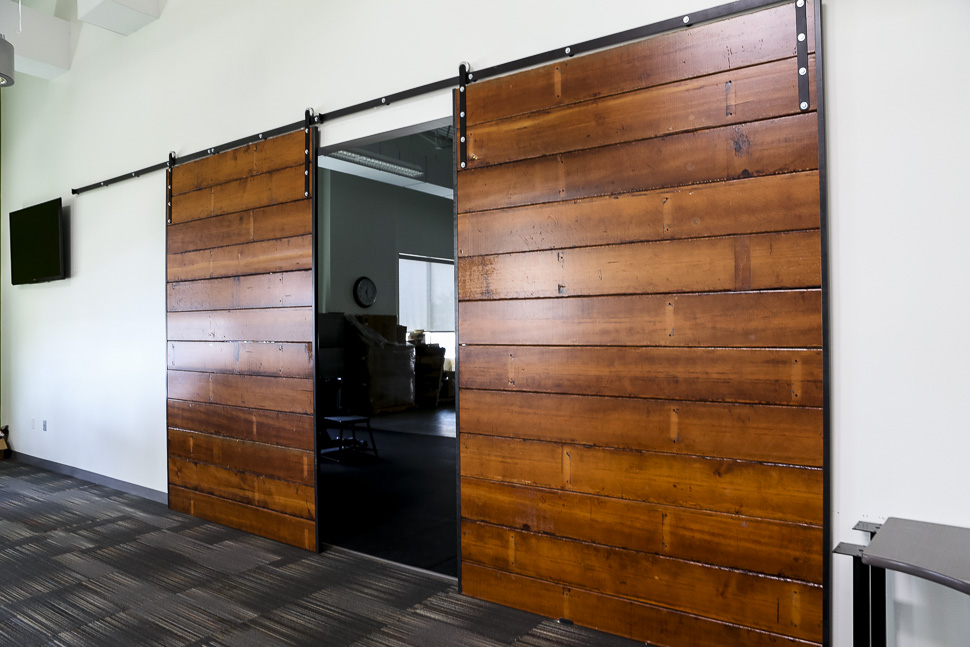 The boardroom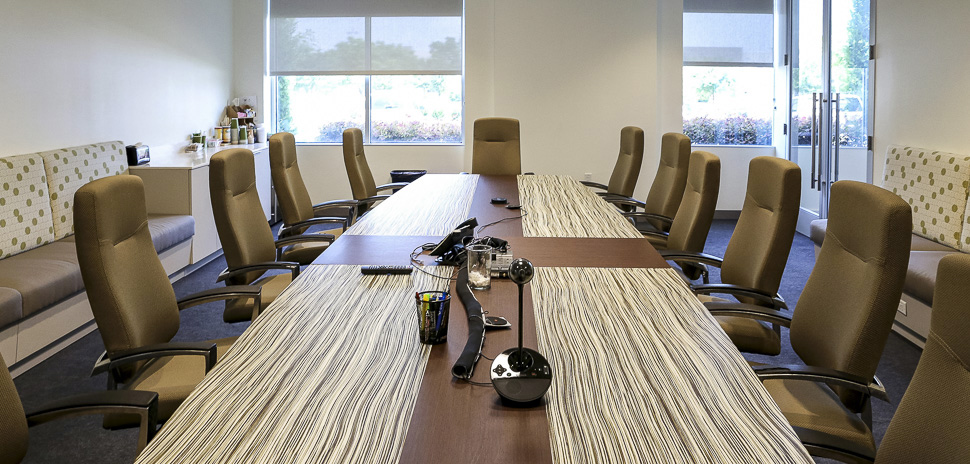 For team meetings or big conference calls, the Quest team said they needed a big room with a table. A really big table. Again recycled wood rose to the challenge, and what was once an old door became their large-space solution. 
Also in this room is carpet made 80 percent from recycled plastic bottles.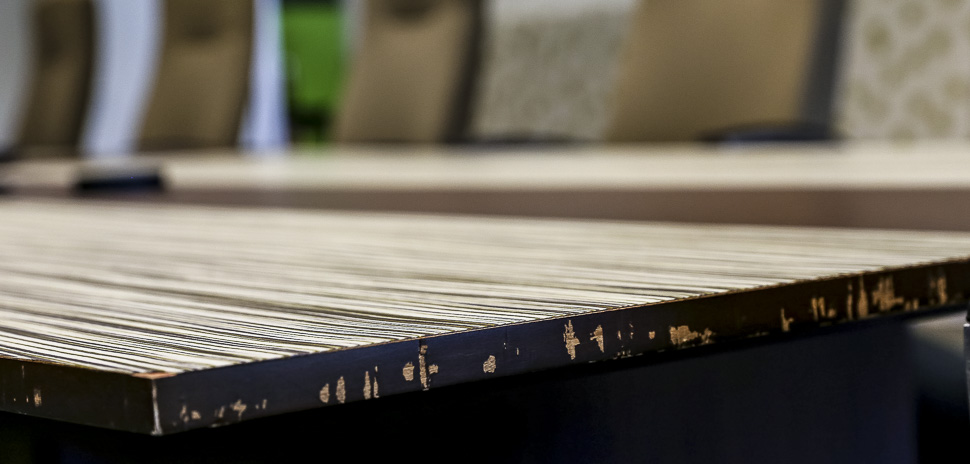 The cafe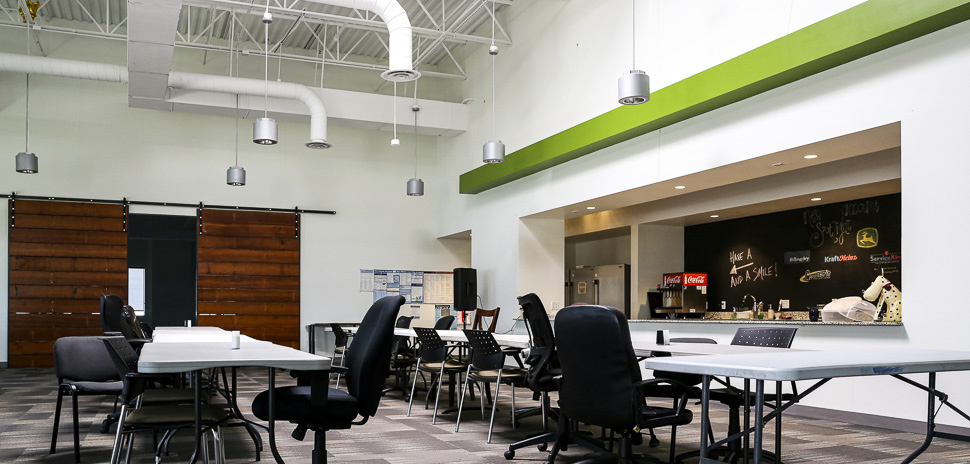 In the food area, glass countertops are a main feature.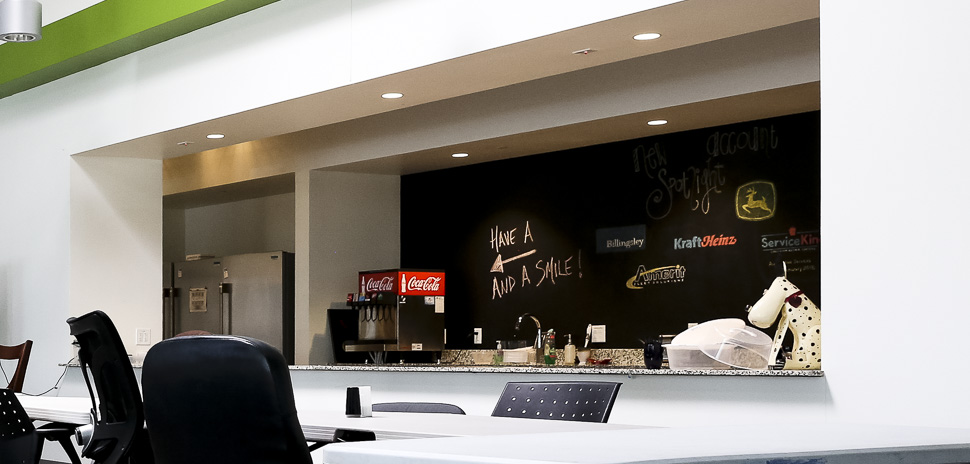 Get on the list.
Dallas Innovates, every day.
Sign up to keep your eye on what's new and next in Dallas-Fort Worth, every day.