One Campus, One Team. That's the motto behind American Airlines' new corporate campus, a project more than five years in the making.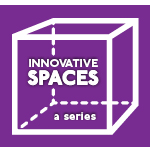 The Fort Worth-based airline is the world's largest by fleet size, according to Forbes. As of March 2019, that fleet included 956 individual aircraft with a capacity of 256,928,663 seats. And behind the fleet is a workforce of some 130,000 employees keeping the gears turning.
The airline unveiled its $350-million, 90-acre campus expansion in September 2019. The sprawling campus—complete with three new buildings and a mobility plan—is a focal point to unify its workers on one site and provide a new training facility for its newest recruits.
Anatomy of a deal
The massive headquarters' expansion builds on American's campus that was built in the 1950s. The developer of the new headquarters, Dallas' Crescent Real Estate, which has offices in Uptown Dallas and Denver, has been the development force behind projects such as The Crescent, McKinney & Olive, and the Ritz-Carlton hotel in Dallas.
The campus addition, says Joseph Pitchford, managing director of development at Crescent Real Estate, will bring together 12,000 workers on its new campus and unite departments across outdoor green space, food options, and mobility initiatives.
KEY PLAYERS

Skyview 7 & 8
Developer: 
Crescent Real Estate Development
Design Architect:
Pelli Clarke Pelli Architects
Executive Architect: 
Kendall Heaton Associates Inc.
Interior Design Architect: Gensler
Landscape Architect: 
Office of James Burnett
General Contractor (Skyview 8):
Austin Commercial
General Contractor (Skyview 7):
Holder Construction

Skyview 6

Developer: 
Crescent Real Estate Development
Design Architect: 
Pelli Clarke Pelli Architects
Executive Architect: HKS
Landscape Architect: 
Office of James Burnett
General Contractor: The Beck Group

---
Two office buildings—Skyview 7 and 8—face each other across a water-filled ravine accessible by a bicycle and cart bridge. To the east of Skyview 7 sits Skyview 6, a 600-room hospitality complex used to house and train pilots, flight attendants, and other airline employees visiting the campus.
Pitchford says campus planning took more than five years and was spurred along by biweekly meetings in what he calls a "war room," a Crescent-owned conference room that was dedicated solely to the campus development.
In the war room, representatives from American Airlines and Crescent met with three other key players, including design architect Pelli Clarke Pelli, the New Haven, Conn.-based firm behind Crescent's McKinney & Olive development.
The project's landscape architect was the Office of James Burnett, or OJB, best known locally for its work on Klyde Warren Park in the Dallas Arts District, and interior design was led by Gensler, an interior design architect who also worked on McKinney & Olive with Crescent.
Every two weeks, the teams met in the war room to discuss the campus plan. In the room, Pitchford says collaborators presented their ideas on 3-foot-by-7-foot banners.
"We wanted to be able to document the project later on the banners, so everything was the exact same size no matter what you did," he says. "It was a great way to literally wrap the room in information. The client can literally walk all the way around the room, see every wall and be able to look at a landscape plan on one side and flip and look at a building planning on the other side."
The project's secret weapon
Pitchford says the war room was the project's "secret weapon" because it united a far-flung team, bringing together collaborators from Dallas to Houston to New Haven.
"[We went through about] 50 different site plans trying to figure out the best way to use this incredible site," he says. The war room team had to "knit together not just the 90 acres, but also the 210 acres that American already controlled. How could this project help them create what they now call, both simplistically and brilliantly, 'One Campus, One Team.'"
Kirk Hotelling, American's managing director, campus properties, says choosing the site was the only logical way to unite American's 130,000 employees and transform the airline's future.
"Already home to American's Flight Academy, largest reservation center, Robert W. Baker Integrated Operations Center (IOC), Training & Conference Center, and C.R. Smith Museum, redevelopment of this scale would have only happened on this site," Hotelling says.
Selecting the site
The first key player to come on board for the American Airlines project was its developer, Crescent Real Estate, a partnership that began in 2014.
Joseph Pitchford, of Crescent, speculates the developer was chosen because of its work on McKinney & Olive, a mixed-use building in Uptown Dallas.
"Right at the time, McKinney and Olive was coming up out of the ground," he says. "It was successful; it was good-looking. It had a high-powered design team."
Those attributes, he says, were "interesting to American Airlines as they were trying to figure out who should be their developer for their new headquarters."
He admits he was never told point-blank that McKinney & Olive is the reason Crescent was chosen, but "they really liked that building an awful lot," he says.
Crescent, he says, went through a formal FRP process in mid-2014 along with some of Dallas-Fort Worth's other prominent firms such as KDC, Trammell Crow Co., and Hillwood.
A singular vision for global connection
For the RFP, he says, considerations included things like the developer's capacity to complete the project, special talents, ability to persevere through the project's "long haul," and ability to unify with American on its singular vision.
"We had to write good proposals and get into the room with our prospective client and say, 'we get it. Here's how we can persuade you that we get it.' And so, we did that," he says. "And we were unbelievably proud to prevail over that really top-notch field of developers."
Crescent also highlighted its experience with hospitality, pointing to 2-million-plus-square-foot campuses it had owned and operated in Houston.
"While we weren't the developers of those, we were the operators," he says. "We understood what it took to tweak the buildings and make it feel like a campus. We talked about our hospitality."
When Crescent came on board, the team joined ranks with CBRE and American Airlines' real estate division and set to work identifying and securing a site for the new campus.
Picking the parcel
Pitchford says American had the choice of two parcels of land: One, the site of the former Texas Stadium in Irving, and two, the chosen location in Fort Worth.
After deliberation, he said, the airline chose the 90-acre-plus parcel in Fort Worth, namely because it afforded American the chance to unify existing operations on an adjacent site with the campus expansion.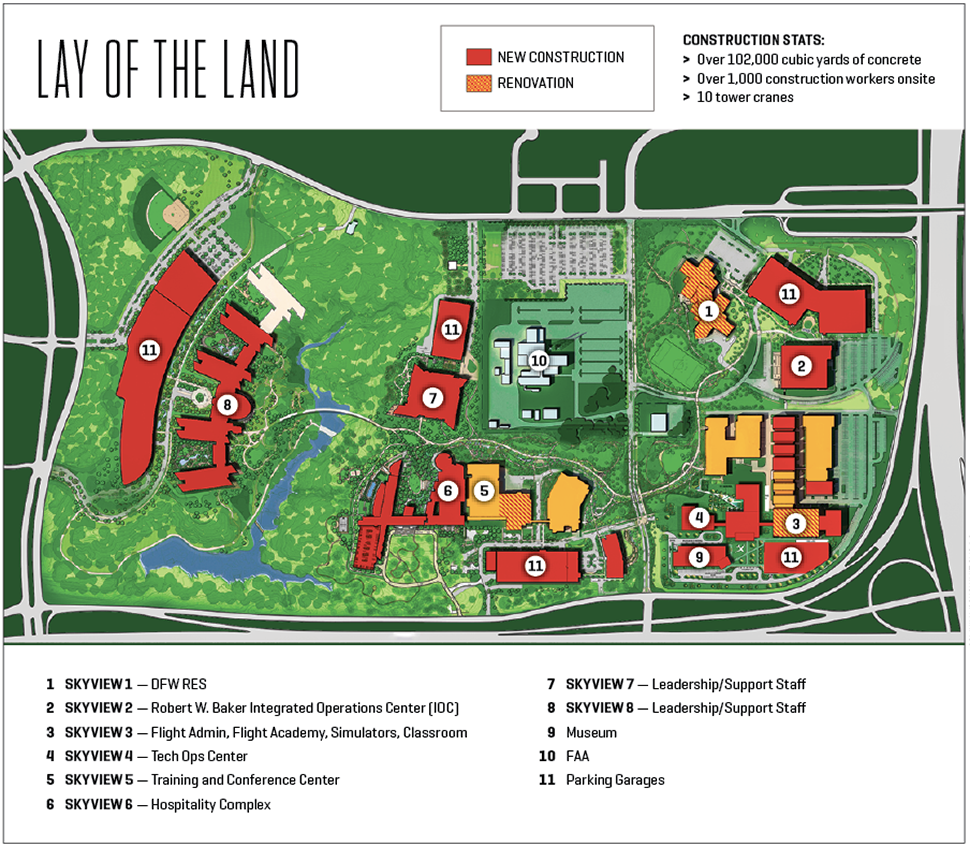 Because the land was owned by Dallas Fort Worth International Airport, Pitchford says, Crescent and American's real estate team went through "a series of very high-level negotiations" with the airport, including explorations of the cost of the land.
When it comes to land owned by the airport authority—of which there are some 18,000 marketable acres—the property can't be sold but can be leased.
Negotiations led to a solution, he says. The airport agreed to a 99-year ground lease, which was made coterminous to the existing American campus in Fort Worth. The deal took place five years ago.
Picking the 'core team'
Crescent also was tasked with putting together what Pitchford calls the project's "core team," which included Pelli Clarke Pelli Architects, Gensler, and the Office of James Burnett. The core team worked on the development of the entire project, and additional organizations were brought on later to handle other individual aspects of the project.
Putting together the core team wasn't exactly cut-and-dried, either, Pitchford says. The exhaustive project included pitching three candidates for each major discipline—design architect, architect of record, and landscape architect.
"We got proposals, we got qualifications, we had interviews," he says. "We did an exhaustive process—it was probably three months—of filling out the team."
90 Additional Acres of Opportunity
On the land that now houses American Airlines' campus expansion once sat the headquarters for Sabre. Joseph Pitchford, of Crescent, says the core team explored updating the buildings and incorporating them into the campus, but they were too skinny, too awkward, and lacked the finishings of an efficient Class A office building.
The former Sabre headquarters aside, the parcel of land remained largely untouched, creating an opportunity to embrace its natural texture and waterways rather than developing over them.
Glenn Jones, principal at Pelli Clarke Pelli Architects, the project's design architect, says the core development team began the process of designing around it.
Jones says the first thing he noticed is a ravine that runs, in effect, east to west through the property. The ravine curves down to the east, and south of it sits an area of rolling topography.
Jones says the shape of the ravine and the hill to its south reminded him of concentric circles in the disturbed surface of otherwise calm water, and it's that shape that drove the layout of the American campus.
"Maybe I don't think like most people, but my mind instantly saw an opportunity to take the offices and arrange them in a ratio," he says.
Today, a parking garage, Skyview 8, and the ravine all mirror each other in shape as they look north toward Skyview 7 and the remainder of the campus.
Skyview 8: Connections and collaboration in the Town Center
In an effort to preserve the site's natural beauty while accommodating the needs of the airline, Jones says the design team chose to place the parking garage into the side of the hill, several stories below the grade at which Skyview 8 sits.
"I took the garage and, like a submarine, just drove it right into the ravine, also in this concentric art form," he says. "If you're on that side, rather than seeing a seven or eight-story garage, it's really only two or three stores tall because the rest was plowed into the landscape."

The Skyview 8 building is composed of four seven-story office buildings connected by two-story wings. At its center sits a three-story "Town Center," which houses dining and meeting spaces and has capacity for 1,000 patrons at a time.
Pitchford says he was originally resistant to the idea of the Town Center, but he realizes now "they were right."
"They wanted the dining right in the middle so that you walk into town square, you look down to the next level, and people are eating," he says. "Even when it's not being used for eating, it's being used for meetings, and it's incredible."
The Town Center also serves as the only entrance to the building, emergency exits notwithstanding. Pitchford says limiting the building to one unified entrance causes people to collaborate and form connections they wouldn't under different circumstances.
Jonathan Pierce, American's director of campus culture and change management, says a key part of the airline's vision for the site was unifying its employees, formerly spread across Dallas-Fort Worth, and creating more collaborative, nimble teams.
"Flexible workspace was a key part of this vision, however, the most essential element was building a campus that welcomed and celebrated our frontline team members," he says. "By bringing our workgroups together on one site, we believe we will build a more connected airline and will thrive forever."
Skyview 7: Conceptual Design in Practice
Across the river from Skyview 8 sits Skyview 7, another new development on American's Fort Worth campus. Interior design for both buildings, along with that of the Skyview 6 hospitality complex, was completed by Gensler.
Paul Manno, principal at Dallas-based Gensler, says both buildings are designed on a flexible seven-foot-six by seven-foot-six modular grid.
"Everything shifts on that module whether it's lighting, walls, workstations, or sprinkler heads. It doesn't matter," he says. "As we begin to change and morph over time, we're not necessarily moving infrastructure. We're moving a wall, or we're moving a workstation, or we're moving a diffuser in the raised floor."
Coming to this grid-based design, however, was no simple task. Manno says the project's core team, in addition to the war room in Dallas, developed a test room in Fort Worth to put conceptual design ideas into practice.
The testbed, he says, was a 4,000-square-foot mock-up space used to test everything from light fixtures to individual workstations to raised-air floor diffusers to carpet.
"The mock-up was a key part," Manno says. "It was not a cheap mock-up because we ripped stuff out and put it back in. We built half a bathroom two, three times before we got everything right."
Manno says work performed in the office mock-up was not only critical to the project but also meticulous.
"So, if we're going to build 105 restrooms, we want to make sure we get them right," he says. "And then the same thing with the furniture… They were changing parts and pieces out for probably six or nine months before we finally decided on the right workstation."
Skyview 6: Charm, Memories Alongside Training and Hospitality
American's campus formerly housed a hospitality complex for employees visiting the site to undergo training and other things.
Preservation Efforts

• Icons from the original Stewardess College, built in 1957, are being preserved to honor the history of the airline.
• Recreating the graduation staircase for the new hotel lobby
• Relocating the original staircase to the CR Smith Museum, adding a walk-thru exhibit
• Reinstalling the original medallion and 1995 time capsule 
• Preserving the Kiwi sculpture 
• Preserving original building documentation 
• Preserving existing

---

     
Built in 1957, some have described the facility as dorm-like. But the days of dorm living are gone for American Airlines thanks to Skyview 6, the campus' new hospitality complex.
The 600-room complex includes a medical clinic, a fitness center, a dining facility, a rooftop pool, and a two-story, 70,000-square-foot fitness center.
But the new complex isn't without the charm and memories of the former hotel. Manno says the complex retains "some of the spirit that was there back when it was the old 1960s dorm room."
The original hotel also housed a bar known as The Tavern. A similar tavern is included in the new site as well, but it will be able to seat up to 275 guests across indoor and outdoor dining spaces.
Other preservation efforts were made in the hospitality complex as well, says Mike Menefee, principal at HKS, the architect of record behind the hospitality complex.
Chief among the preservation efforts was a grand staircase long used to photograph graduating flight attendants. Although the original staircase was not up to code requirements and couldn't be relocated to the new complex, a similar re-creation of it will stand in Skyview 6.
But, the original staircase won't be lost to time. Menefee says the original staircase will be relocated to the CR Smith Museum, an on-campus museum documenting the history of the airline.
Other preservation efforts included salvaging a floor medallion and a mural, both of which will sit prominently in Skyview 6.
Menefee says perhaps one of the most important pieces of creating a collaborative environment is the complex's ballroom, designed to accommodate 1,000 visitors.
The site of future State of the Airline addresses from CEO Doug Parker, the ballroom has gardens on both sides and several exterior windows, Menefee says.
Jonathan Pierce, American's director of campus culture and change management, says design teams put "thoughtful consideration" into building a campus geared toward team member wellness without sacrificing history.
"We are extremely proud of what the college meant to both our team members and aviation history," Pierce says. "Relocating these items to the museum will not only allow all visitors to see the staircase but will also give important context to these items."
Nature and Wellness: "We were struck by the beauty."
The site's landscape was designed by the Office of James Burnett, the landscape architect behind Dallas' Klyde Warren Park.
Cody Klein, a managing principal at OJB, says the firm was first contacted by Crescent Real Estate for the project.
Step Outside

• 21 acres of pavement converted to green space
• 8.3 miles of trails added to campus
• 3,000 new trees planted
• 90 acres of woodlands preserved
• Over 30 mature trees were saved and replanted
• C02 absorbed by trees each year: 166,560 pounds
• Limestone boulders salvaged for landscaping: 1,500 tons

---
"We were contacted by Crescent, with whom we have done projects in the past in Dallas over several years," he says. "We had a great relationship with Crescent."
OJB, along with three or four other landscape architecture firms, presented to American and was selected for the job, he says. The team then went to explore the site.
"And as we arrived on the site we were struck by the beauty," he says. "We were like, 'wow, we have to celebrate this, we have to take advantage of this.'"
During exploration, the OJB team was struck by the landscape and set to work identifying 35 to 40 existing trees and tagging them for preservation. The trees were then uprooted and moved to an on-site nursery, where they were held for three and a half years before being planted.
In addition to preserving the trees, Klein says, the job team focused on preserving the overall ecology of the site, which sits in the Blackland Prairie region of North Texas.
The landscape, he says, varies by proximity to the Skyview buildings with native trees and grasses surrounding the ravine and a more refined landscape surrounding the offices and hospitality complex.
Environmental sustainability was also at the forefront of OJB's plans for the site's landscaping, Klein says, and that included a focus on responsible use of water.
Plants on the campus all have low water requirements, but that's only the tip of the environmental iceberg.
Water features throughout the campus, Klein says, responsibly recycle condensation from the offices' HVAC systems, rather than releasing it into the sewerage system.
American Airlines, Klein says, prioritized mobility, connectivity, and wellness throughout the 300-acre campus, a task OJB highlighted in site-planning phases.
From outdoor work pods and conference sites to a two-mile bridge connecting northern and southern ends of the site, the campus will, for the first time, have internal transportation options.
"We created a mobility plan that included bikes, shuttles, electric shuttles," he says. "Eventually, the hope is that they're going to go autonomous. But really thinking about connecting people to people, people to their workplace, and people to the environment was a really important part of our planning strategies for the campus."
This story was originally published in the Dallas-Fort Worth Real Estate Review.
---
Read the digital edition of Dallas Innovates' sister publication, the Real Estate Review, on Issuu.
Sign up for the digital alert here.

Get on the list.
Dallas Innovates, every day.
Sign up to keep your eye on what's new and next in Dallas-Fort Worth, every day.