Kaizen Development Partners didn't need to look far for inspiration when coming up with a name for The Link, its new 25-story office tower. Situated on a triangular site formed by the intersections of Cedar Springs Road and Akard and Ashland streets, the development connects Uptown, Victory Park, and downtown Dallas.
Delivering in the fall of 2021, it offers 292,041 square feet of Class AA office space, two street-level restaurants, an indoor-outdoor amenity floor, and immediate access to a full-service grocery store, bountiful surrounding retail, and Klyde Warren Park.
---
READ NEXT  Upward & Onward: Development Moves Forward In Dallas-Fort Worth
---
Thirty-Four Commercial Partner Sarah Hinkley Kennington, who brokered the land sale to Kaizen, is leasing the project, along with Blake Shipley of JLL. "We feel confident in our positioning due to timing of our delivery," she said. "We have poured 10 stories and will be one of the few new Uptown developments available in 2021."
The submarket on the north side of Woodall Rodgers has been one of the most vibrant not only in North Texas but across the country, seeing a burst of new development in the last couple of development cycles. Even with all the new projects, occupancy levels have remained strong—and lease rates have broken records.
The Link 
2601 Olive Street, Dallas
Delivering: Fall 2021
"The interest has been tremendous so far," said Derrick Evers, managing partner and CEO at Kaizen. "The current state of affairs is impacting timing for some of the larger users, but we remain encouraged by our momentum. We're fortunate to be one of only a handful of projects being delivered in 2021, and our objective remains unchanged—do deals that make sense for all stakeholders."
In times of uncertainty, it's always best to go back to the basics, Evers adds: "Our investment thesis is rooted in the foundational principals of real estate—quality and location. We're blessed to be in arguably the best market in the country for office development and growth."
Kennington said Kaizen and architect BOKA Powell were forward-thinking when designing The Link in 2018 and adding a wellness component to the base building package. The building will be equipped with an enVerid HLR (HVAC Load Reduction) system, which achieves exceptional indoor air quality and humidity control. "This helps with productivity, reduces allergens, and reduces the spread of viruses," she said. "With a brand new building, we can offer tenants the advantage of building out new space that incorporates new wellness standards as they unfold, along with things like touchless entries, an amenity floor with an outdoor terrace, and reduced elevator loads with destination dispatch." 
GALLERY
Green Grass Studios, which worked with Boka Powell to get the design of the building, teamed directly Kaizen Development and Thirty-Four Commercial to create the visualizations for The Link, according to a spokesperson.
Renderings by Green Grass Studios: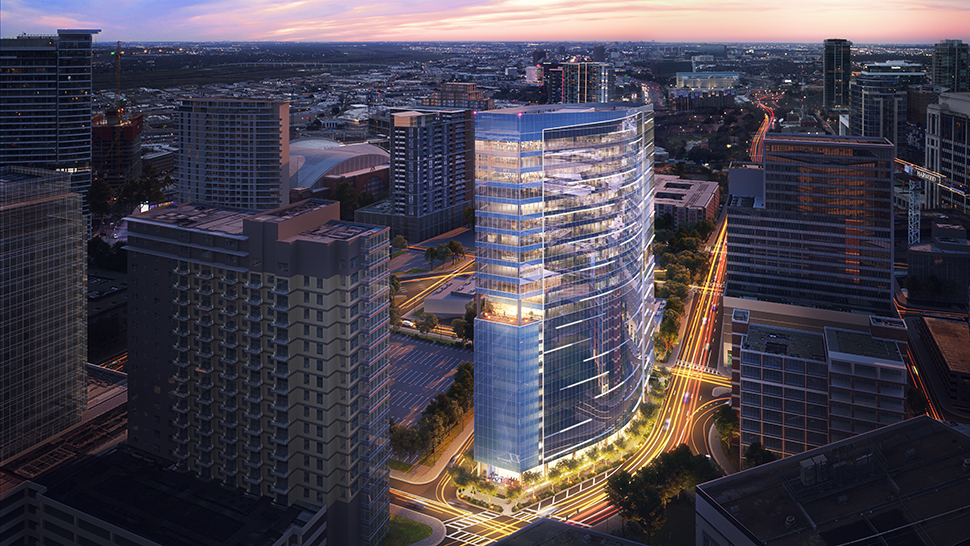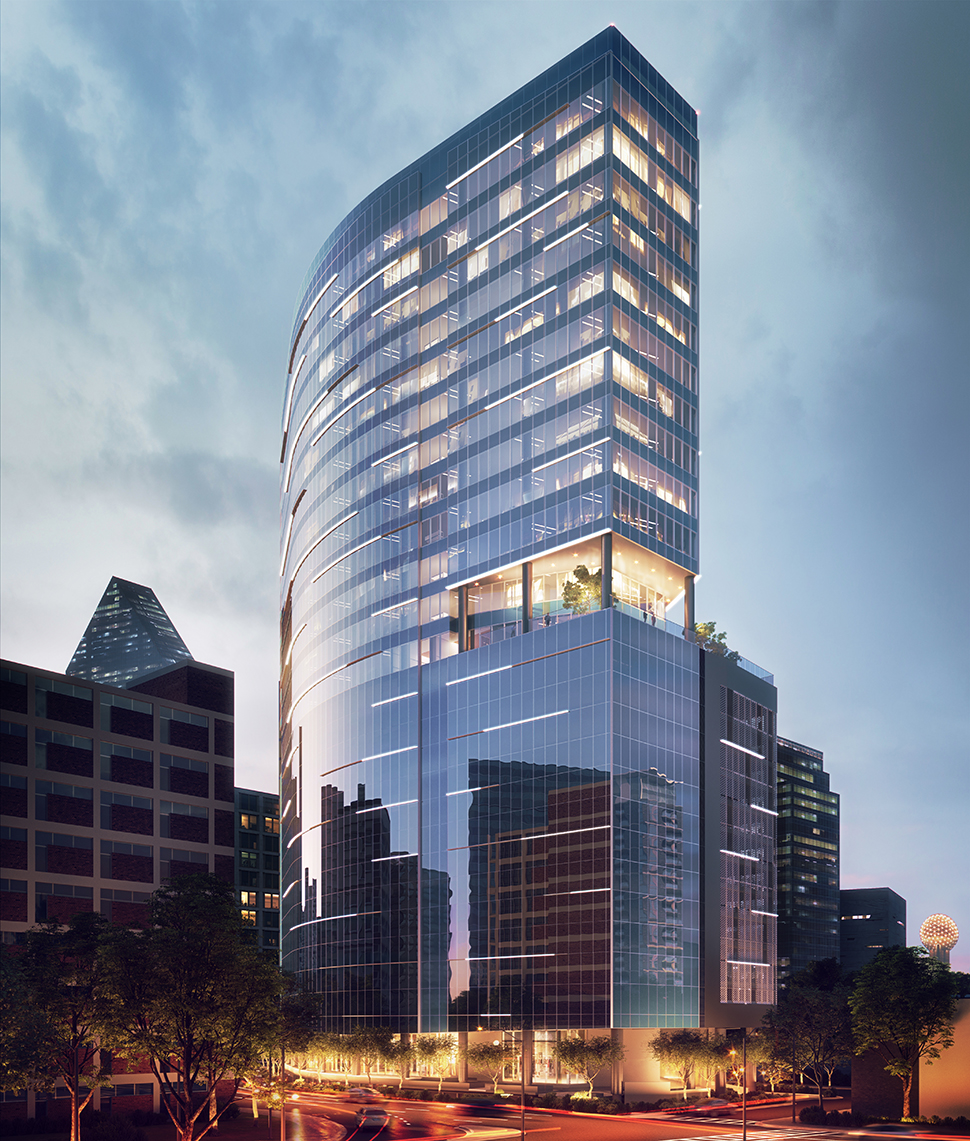 Anatomy of a Deal
Here are four other notable projects underway:
SUBURBAN OFFICE
Phase IV, The Star
Cowboys Way, Frisco
Delivering: Late 2021
Read more.
MIXED USE
Weir's Plaza
Knox and Travis streets, Dallas
Delivering: Fall 2021
Read more.
REDEVELOPMENT
Pegasus Park
3000 Pegasus Park Drive, Dallas
Delivering: Spring 2021
Read more.
E-COMMERCE/INDUSTRIAL
Alliance Center North 7
Litsey Road and Beach Street, Fort Worth
Delivering: Fall 2020
Read more.
Ben Swanger contributed to this story.
A version of this story first published in the Summer 2020 edition of the Dallas-Fort Worth Real Estate Review.
The story was updated on March 25, 2021, at 9:26 a.m. Green Grass Studios created the renderings for The Link.
---
Read the digital edition of Dallas Innovates' sister publication, the Real Estate Review, on Issuu.
Sign up for the digital alert here.

Get on the list.
Dallas Innovates, every day.
Sign up to keep your eye on what's new and next in Dallas-Fort Worth, every day.