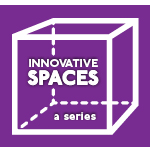 Skip Howard and his team at Spacee are revolutionizing the future of the retail industry. Step inside their Addison headquarters, and you'll get a glimpse at just how much they're doing that.
Spacee uses a new type of frictionless augmented reality to build custom retail experiences that use only light and motion. That means there's no installments, phones, helmets, eyeglasses, or tablets required. By using patented virtual touch technology, Spacee can transform any 2D or 3D surface into an interactive and unbreakable touch screen.
Since founding in 2013, Spacee's made significant headway in deviceless mixed reality. From Dell, to Intel, to NTT Data, the company has partnered with some big names—and have plenty more in the works.
"We're a tech company, so we normally do a proof of concept, then we go to pilot, then we go to scale," Howard told Dallas Innovates. "So when we do a proof of concept, we normally do it because people just don't know how something will look off the top of their head."
---
READ NEXT Meet the Innovators: Skip Howard, Spacee
---
Each Spacee solution is designed to tell powerful communal stories that also deliver deep personal connections. Meandering through the HQ will give you completed, tested, new, and in-the-works inventions, all aimed at putting the "future of retail in motion."
Spacee's innovations are one-of-a-kind—and pretty impressive—but Howard doesn't let that go to his team's heads. Taking a tour in the massive warehouse space means seeing every aspect of what goes on at the company, even if it's what Howard refers to as his "boring office."
Title's aren't important at Spacee. Although Howard's the CEO, there's no room for hierarchy in the giant warehouse space.
"We call it the ivory tower, only as a joke, because we hate egos. Nobody here has one. That's our rule: No a**hole policy," Howard says. "I don't care if you're God's gift to computer vision. If you have an ego, and you think you're going to be better than somebody else, you're not a good fit."
And that mindset pays off.
Howard was nominated as a finalist for EY's 2019 Entrepreneur of the Year. He and his team have a global footprint, and most recently partnered with TCC Global and attended the TCC International Marketing Forum in Amsterdam.
As Spacee continues to make moves, see where the team makes it all happen with Dallas Innovates' visual tour.
Step inside the Spacee headquarters
All photos were taken by Rebeca Posadas-Nava.
"Hi, I'm Skip! You're interacting with a virtual touch mirror powered by Spacee."
Right when you walk into the Addison headquarters, you're greeted by Howard himself (a virtual version, that is). There's no power running to the glass; it's just an obelisk that can become a virtual person.
"We have a method where we're detecting touch on the other side of the glass," Howard explains. "We're not able to see through it, but we're blasting it with IR rays. And then we're looking for ballooning effects and where that is in relationship to it. So we're projecting a touchscreen from the inside of the building, onto the outside."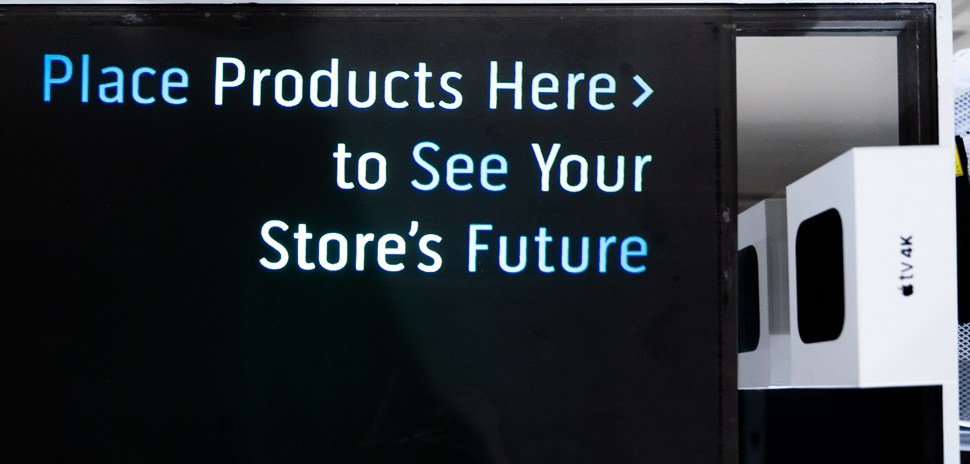 Above is a side view of what Howard refers to as the smart table, which creates a "frictionless shopping experience." 
"This is actually revenue generated for retailers," Howard says. "So they can charge their companies, or their CPGs, to actually have an interactive screen."
When shopping, all a customer has to do is put a product down, and the table will recognize it, and play a corresponding video. In true Spacee fashion, it's an interactive piece of acrylic, not a capacitive touchscreen.
"It works with any products," Howard says. "So it's not looking at barcodes or anything—it's just true image training."
The big key is that there's no RFID tags needed to work. If Spacee deploys the tables in 2,000 locations, they only have to scan the product through image training that one initial time. "We just need the content," Howard says. "And usually they already have it developed."
It works like this: When placing a makeup product on the table, a video will start that demonstrates how you might use it. If you decide you like what you see, you can then immediately check-out.
And, you can even place two products on at once to see how they can be used together. "One, two," Howard demonstrates. "I don't know anything about makeup, but apparently, this is how you use them together. So now, you can add them to your bag."
"This is our intelligent apparel technology," Howard says. "We realized we have a whole framework we built, but we don't have to have projection on anything. We can actually just point a camera at the world and infer intelligence."
When you pick up the Levi's off the table (shown above) the TV generates a "Levi's digital reaction." It could be a corresponding advertisement, an entertaining video, or a voice talking to you.
It allows the retailer to track browsing versus buying, see who's touching what products, and monitor dwell time. Howard says to think of it like "heat maps on steroids." It's not about who walks by, but rather what they do when they walk by.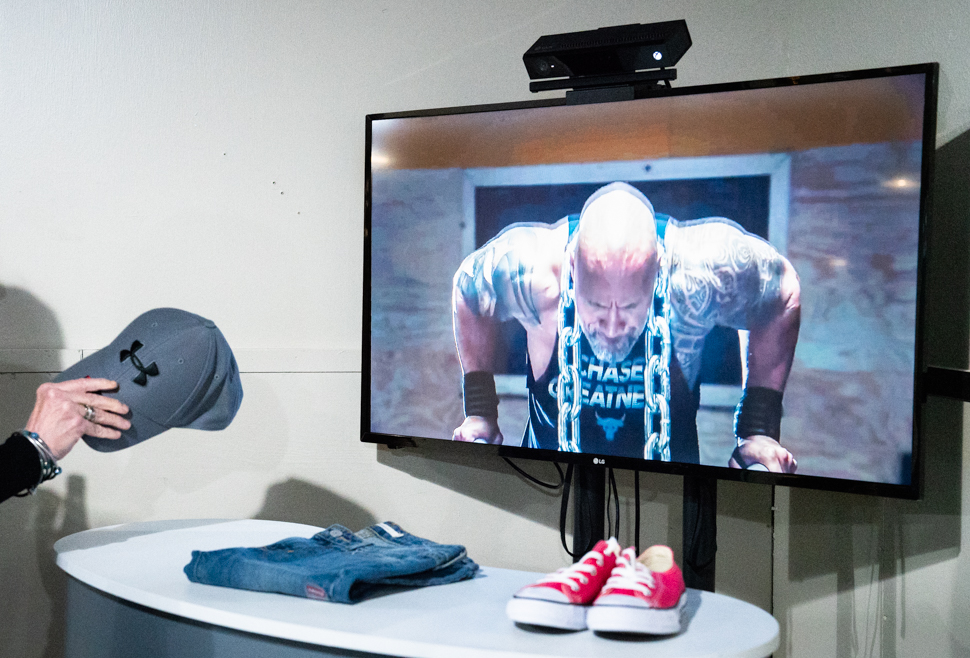 The idea behind this Spacee invention is that it can be used with a sneeze guard. Like at Subway or Chipotle, customers are able to see the menu options behind the piece of acrylic—but, customers can actually interact with the sneeze guard and order their food.
Basically, if you want to place an order without actually engaging with someone, you can.
"We call this the kiosk without a kiosk," Howard says. "So you're projecting a kiosk on the built environment without having to roll a new piece of equipment out."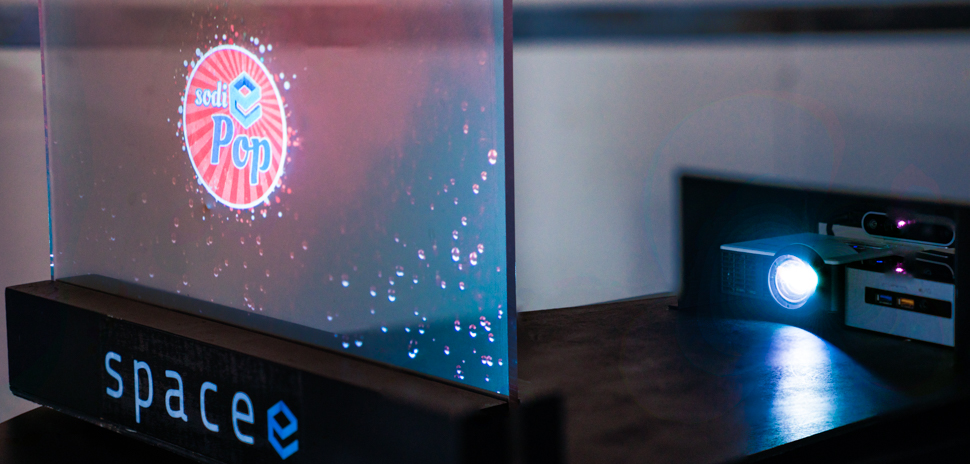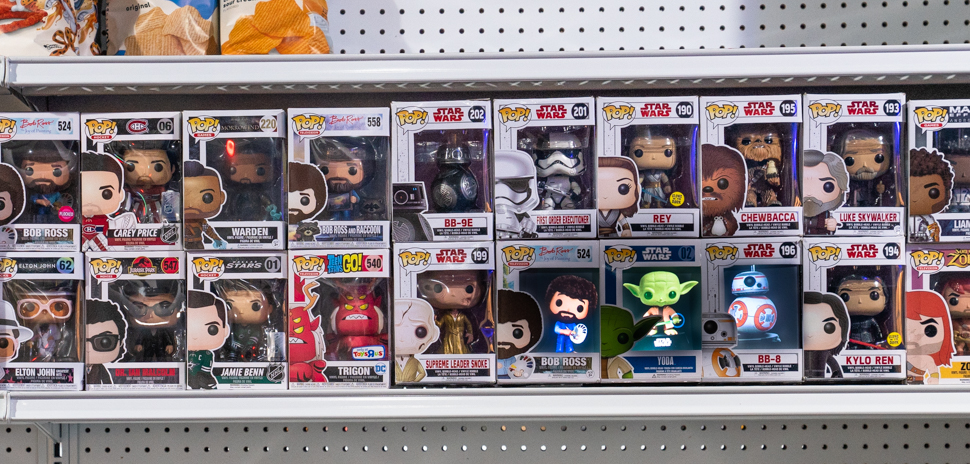 Within the warehouse-like building, the Spacee team has a mock store aisle set up with interactive packaging. All you do is touch the package, and the toy  comes to life.
"This is your marketing at the edge. So we miniaturize everything and put in a box. The idea is, I'm going to play with Bob Ross, and then I'm going to go buy him off the shelf," Howard says of the famous artist's figurine (shown above). "We have different models. This is Bob, he'll paint a picture for you."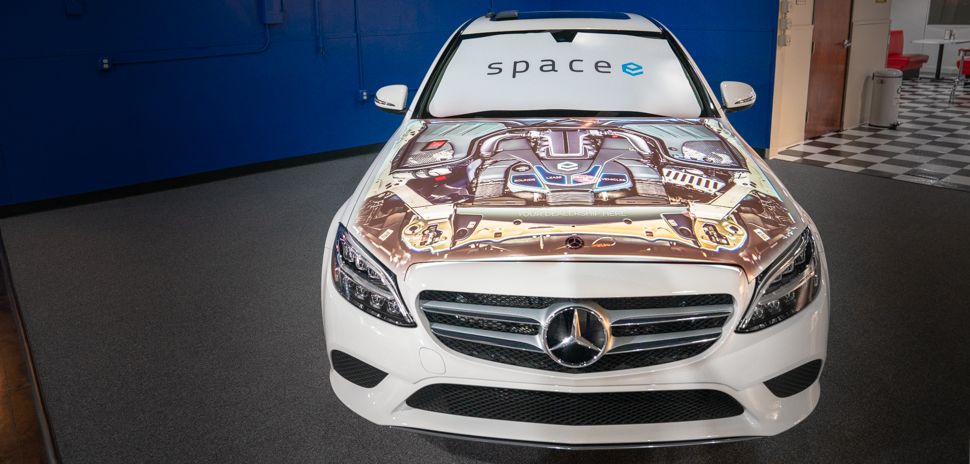 The car—yes, there's a real car in the middle of the Spacee offices—was part of a project with Mercedes Benz Plano. Howard says he's worked with Mercedes Benz USA, too, although they haven't focused a ton on auto.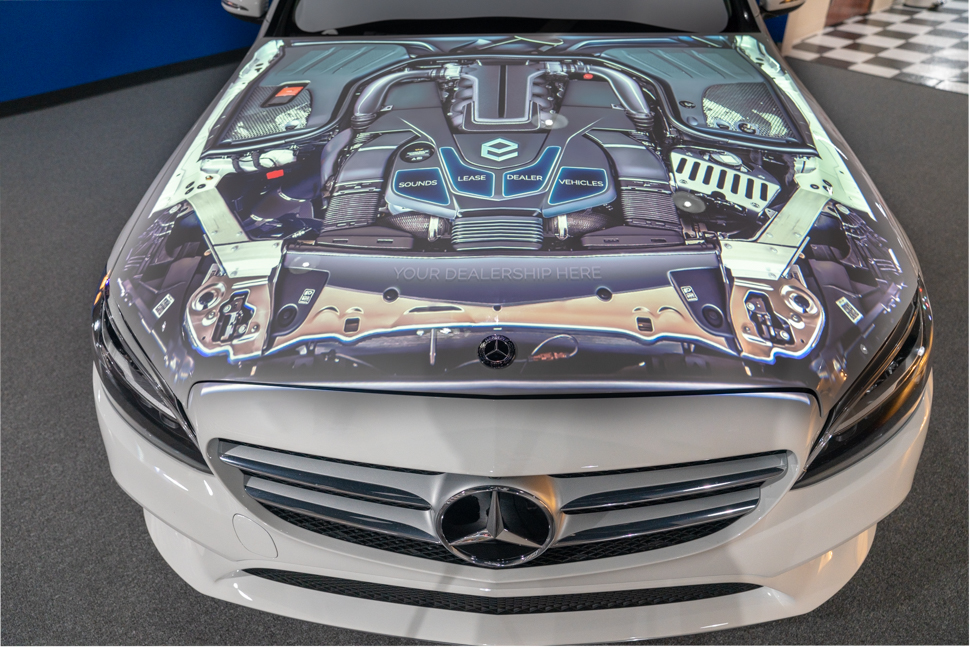 Shown atop the car is a look under the hood, in interactive video form, without lifting the top up.
Howard says the photograph shows Spacee's "hodgepodged version" of a bunch of different vehicles for demonstrative purposes, rather than an actual Mercedes engine.
"A company may have deli meat cases, and they may have too many of those cases," Howard says, describing the above photo. "So instead of turning them off, and putting stickers over them, what if we turned them into an actual order system? So now, from the inside, you don't have to change your store footprint at all."
Howard says the above idea turns a deli case into an ordering system for clients, so a person doesn't have to sit behind the counter taking orders. It's all about fulfillment—a ticket can be printed out, and a store gets to see the depreciation of equipment and optimize its wait line.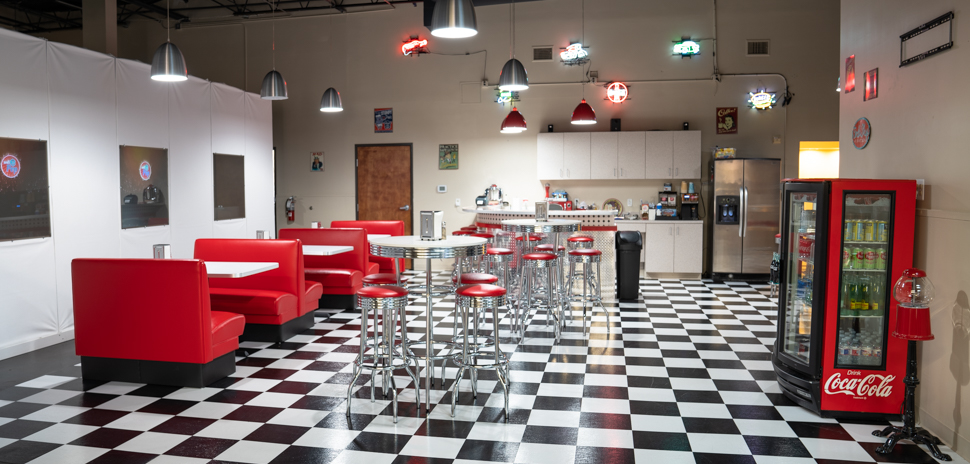 The in-house restaurant is modeled after a post-apocalyptic role-playing video game called Fallout. It was already there, and designed, when Spacee moved into the space, but Howard and his team put their own spin on it.
The older stuff is 1950s-style, future post-apocalyptic underground themed," Howard says. "It's fun, it's cool, and it works, because we need a restaurant demo space. But eventually, we'll have our order tables here, which we are doing for the second largest retailer in the world in Europe. You're going to be able to place food and drink orders on the table, using the light."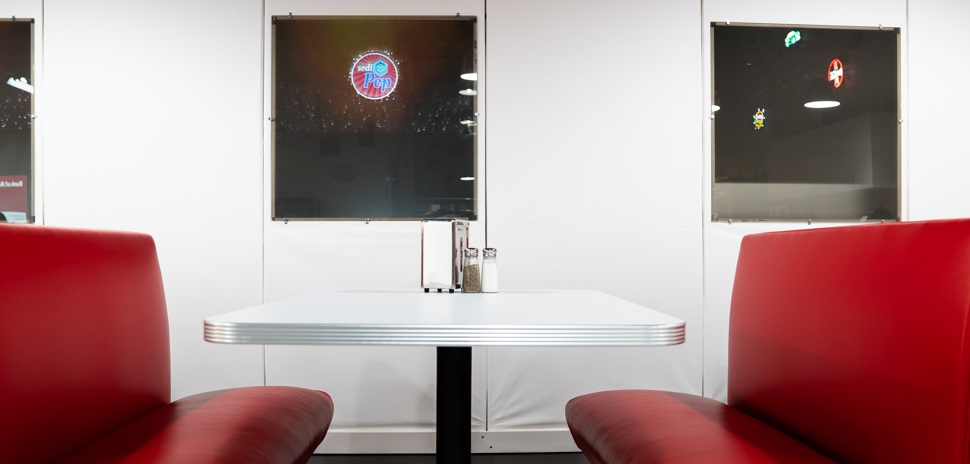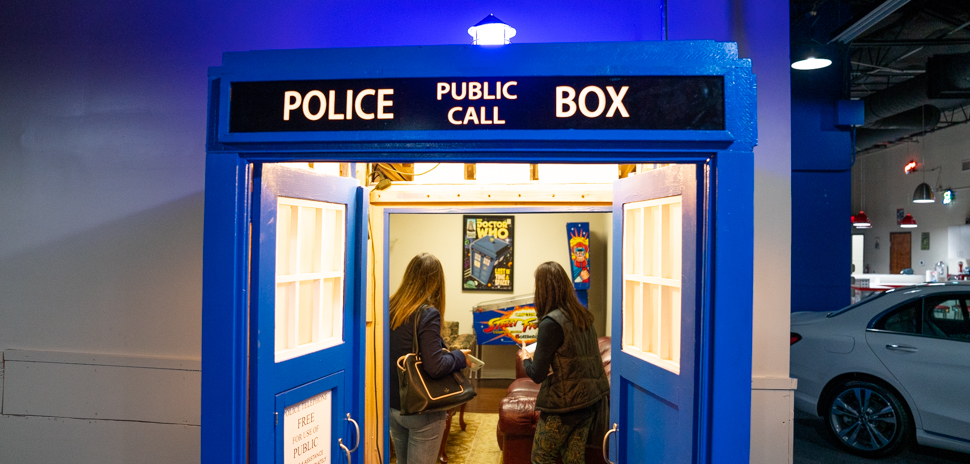 "Technology aside—just suspend it for one second," Howard says, stopping in front of a bright blue phone booth. "Anybody here a Doctor Who fan?"
He's referring, of course, to the TARDIS.
For those unfamiliar with British science fiction series Doctor Who, a TARDIS is a fictional time machine and spacecraft that the Doctor travels around in. It's full name is Time and Relative Dimension in Space, and it looks just like the police box in the Spacee HQ.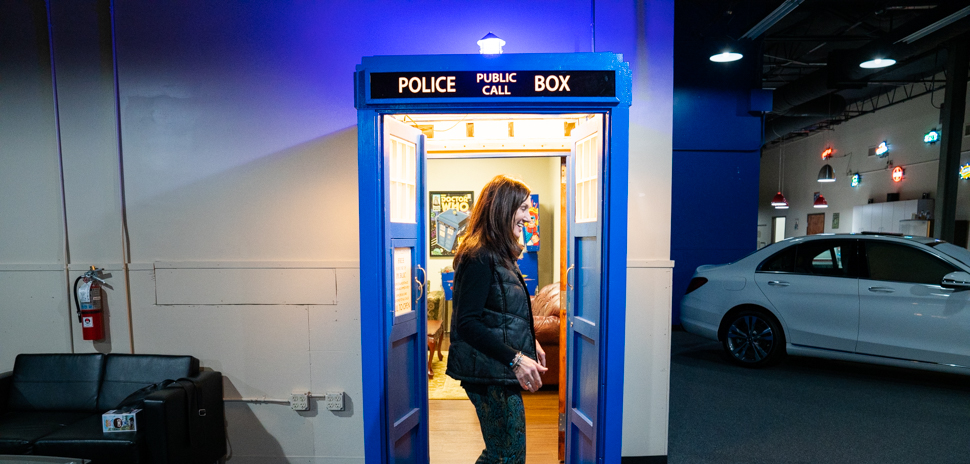 Walking through the TARDIS reveals a hidden room adorned with 90s-era arcade games, posters, and decor.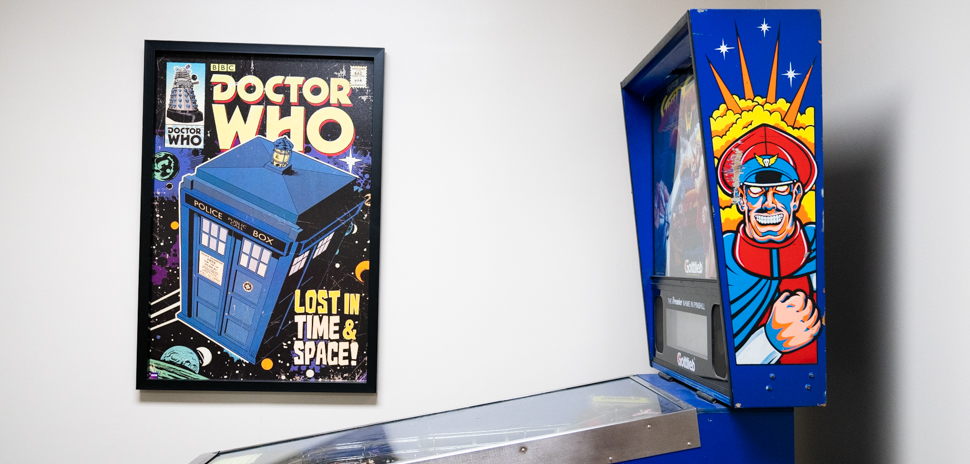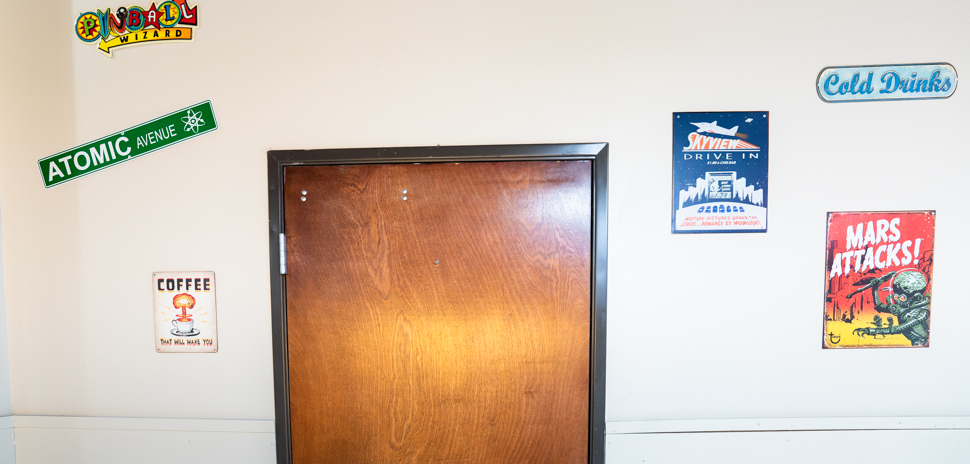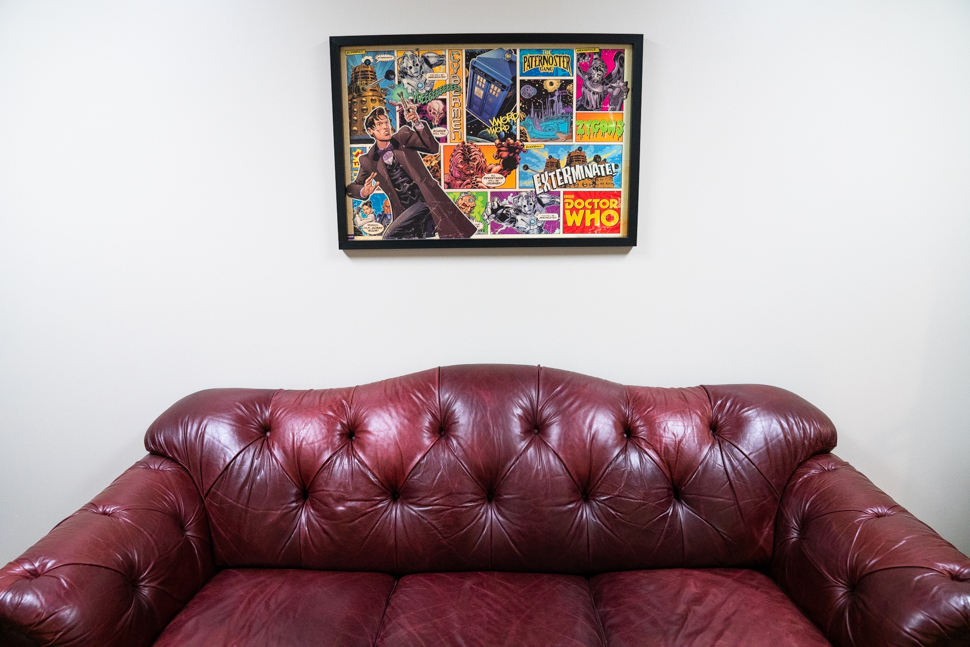 From the outside looking in, Spacee sits among a nondescript row of offices. But once you walk inside, creativity, ingenuity, and a little bit of augmented reality makes it all come alive.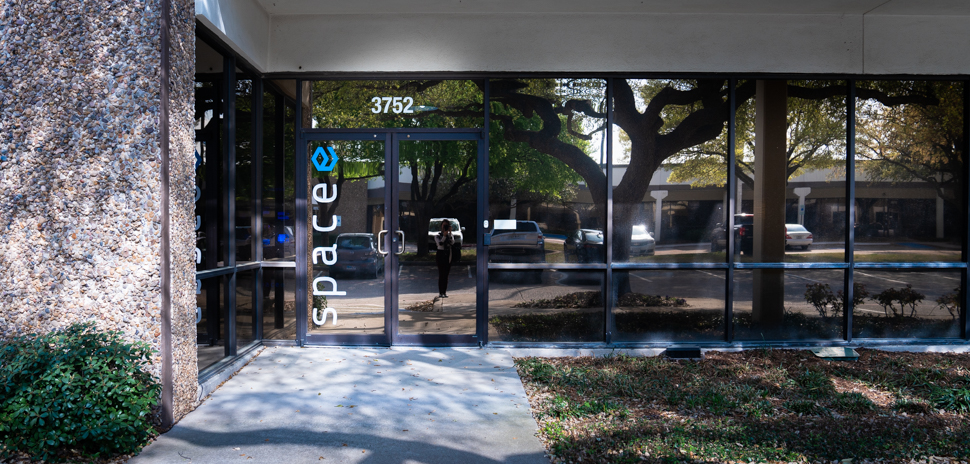 Get on the list.
Dallas Innovates, every day.
Sign up to keep your eye on what's new and next in Dallas-Fort Worth, every day.