For the current edition of ICYMI, click here. Don't miss a thing: Sign up for Dallas Innovates Every Day, the best of Dallas-Fort Worth innovation delivered straight to your inbox. 
---
Tuesday, Dec. 22
THREE THINGS
⓵ EXPANSION: About a year after making its debut in Fort Worth, Air Pros USA is expanding its North Texas footprint with a new office in Plano. The second location comes at a time when the residential and commercial air conditioning services company has seen increased demand as consumers seek better indoor air quality during the COVID-19 pandemic. The team has seen a surge for air purification and filtration products, along with electrostatic systems that can provide clean, efficient energy. In June, Air Pros discussed the effectiveness of UV light on COVID, saying that it could complement an AC system to improve indoor air quality by neutralizing viruses and other microbes.
⓶ FOLLOW THE MONEY: Texas-based biosecurity company ReturnSafe has raised $3.25M in funding to continue its period of rapid growth. The team, which has two founders based in Dallas and two in Austin, recently achieved six-figure monthly recurring revenue, despite launching just six months ago. ReturnSafe bills itself as the world's first infectious disease management platform. The solution is meant to protect tens of thousands of people, while helping businesses, universities, healthcare facilities, and sports and entertainment venues reopen. Born from COVID-19, the company's holistic platform incorporates the best breed of technologies, from thermo temperature readings to Bluetooth contact-tracing. You can learn more about the founders' story here.
⓷ UNDER CONSTRUCTION: Cold Summit Dallas, a $60 million cold storage facility project in Southern Dallas, is underway. Demand is hitting a high point for these industrial facilities already in short supply, per Commercial Property Executive. Food supply chains will continue to face challenges "well into next year, given the sub-zero storage requirements of COVID-19 vaccines." Cold Summit Development expects the new facility—its first in DFW and 12th in the nation—to be completed in late 2021.
COMPANY TRANSITION
Allen-based The Life Coach School has named a new CEO following Founder Brooke Castillo's (above left) long search. Certified Coach and Attorney Erika Royal (right) has been chosen by Castillo to take the helm at the fast-growing life coach training organization.

---
Monday, Dec. 21
THREE THINGS
⓵ EXPANSION: Lockheed Martin has acquired Aerojet Rocketdyne Holdings Inc. in a deal valued at $4.4 billion, reports the Dallas Morning News. The acquisition is expected to expand its space travel and missile defense capabilities as Aerojet is a supplier of propulsion systems for missiles, along with other space and defense applications.
⓶ APPLY NOW: Real estate advisory firm Building Solutions has announced the "Building Solutions for Brighter Futures" program, in which schools can be nominated to receive facility equity assessments from the company. 3,000 hours will be donated to 30 North Texas schools with the goal to close the gap in academic achievement for underserved students.
⓷ ACQUISITION: Technology, analytics, and engagement solutions provider HMS will be acquired by Veritas Capital-backed Gainwell Technologies, which will result in an enterprise value for HMS of approximately $3.4 billion, per a statement. The Irving-based company's solution set is expected to be used by Gainwell and fellow Veritas-backed company Cotiviti, Inc.
---
Friday, Dec. 18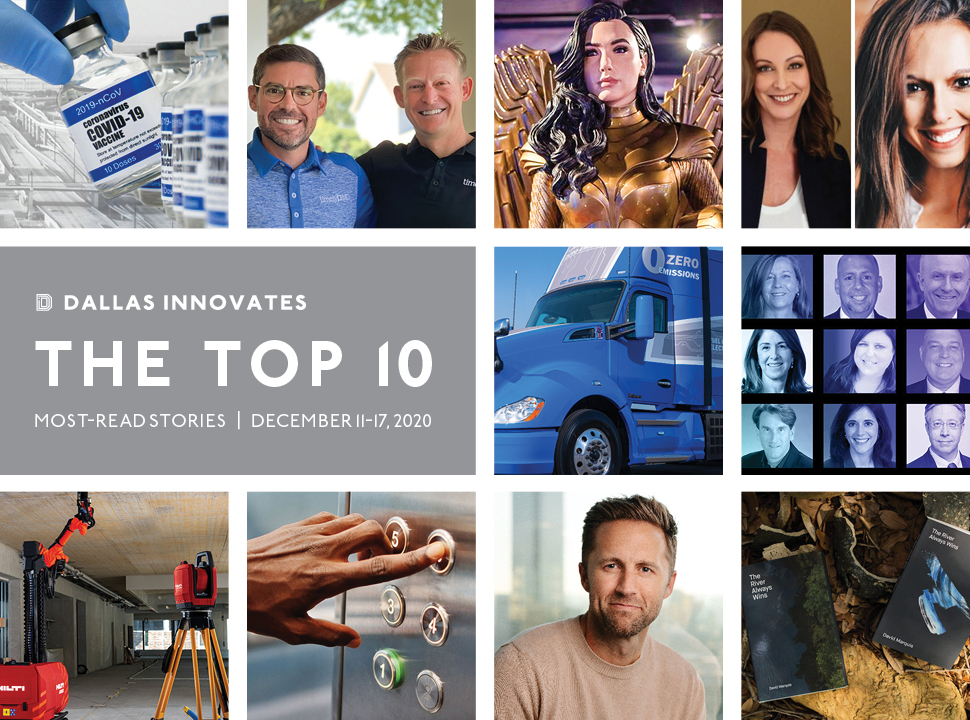 ⓵  Vaccine Distribution: DFW Airport, AA Make DFW an Ideal Gateway
⓶  Fort Worth Telehealth for College Students Grows Nationwide 
⓷  Experience 'Wonder Woman 1984' in AR at AT&T Discovery District
⓸  RevTech Ventures Launches Female-Focused Seed Fund for Retail
⓹  Toyota Advances Fuel Cell Electric Tech on Heavy-Duty Truck Prototype
⓺  DI People: Toyota, The Beck Group, Perot Museum Make Moves
⓻  Meet Jaibot: Hilti's New Robot Handles Strenuous Work on Job Site
⓼  Southwest Elevator Closes 3 Big Deals, Moves on U.S. Expansion
⓽  Dallas-Based Life Insurance Startup Bestow Lands $70 Million Series C
⓾  'The River Always Wins': Dallas Conservationist David Marquis' Essay on Water is a Metaphor for Hope and Progress
THREE THINGS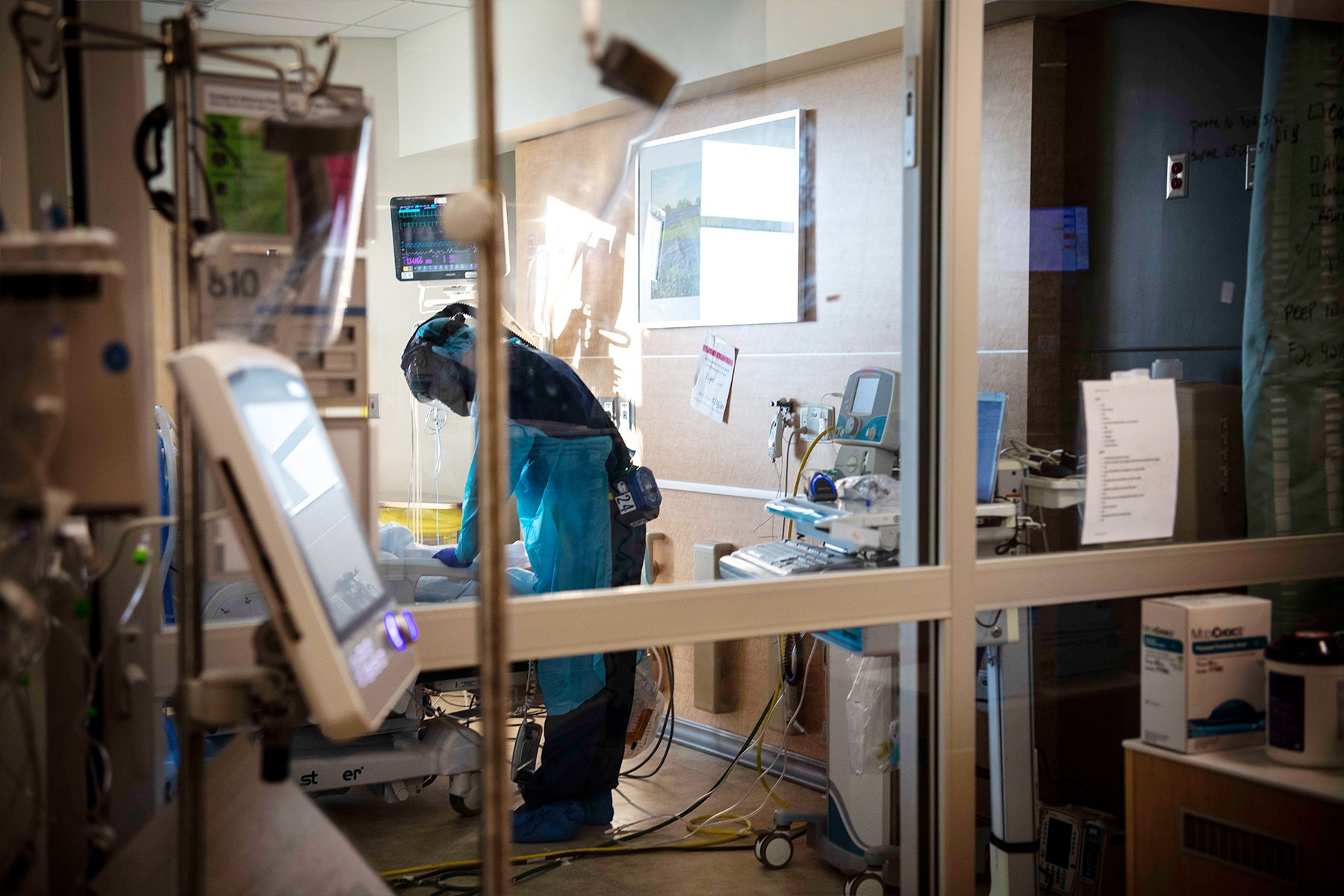 [PHOTO: D MAGAZINE/ELIZABEThLAVIN]
⟫ TECH SAVES LIVES: Per the Texas Center for Nursing Workforce Solutions, the nurse supply won't be able to meet more than 16 percent of demand by 2032. The largest need? Nurses in hospital settings. One Fort Worth-based company wants to fix that: Sadiant, an app and web-based on-demand medical staffing agency that directly connects care professionals to facilities. Sadiant, which launched in East Texas and DFW but expanded to San Antonio, allows hospitals to contract nurses the day they find out about an opening, Will Maddox writes in D CEO. Normally, it would take three or so weeks to find a travel nurse, who would then be booked for a multi-month contract. During the pandemic, that flexibility was essential.
⟫ FUNDING THE FUTURE: The NBA Foundation has committed $2M to driving economic empowerment in Black communities through employment and career advancement. The inaugural grants will go to seven organizations nationwide, and Dallas made the list—locally, to the Marcus Graham Project, a nonprofit that works to identify, expose, mentor, and train ethnically diverse professionals in all aspects of the media industry. The NBA Foundation said that each org aligns with its mission to support high school, college-aged, job-ready, and mid-career Black men and women.
⟫ FOLLOW THE MONEY: Dallas-based financial services company Comerica has given $40 million in debt financing to Austin-based Disco. The legal technology startup develops products and services, like its flagship e-discovery software, for law firms and government agencies across the country. Comerica has given Disco a total of $100 million in financing in the fourth quarter, according to the Austin American Statesman.
FORCES FOR GOOD
People and organizations of all kinds are stepping up to help and inspire local communities. Here are highlights from around the region: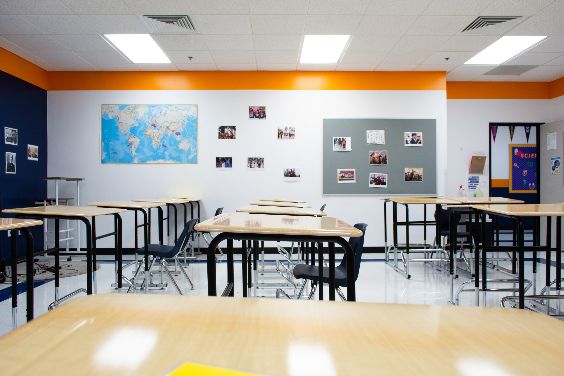 ⟫  Workplace innovator Vari, which is best known for making the sit-stand desk an office staple, donated $240,000 worth of products from its education line to students at KIPP Truth Academy and KIPP Destiny, two tuition-free charter schools in South Dallas with students from economically underserved communities. Classrooms that allow for activity and movement have been shown to improve student cognition, health outcomes, and behavior, researchers say. The standing school desks and active mats allow for the freedom to move around in an inclusive classroom.
⟫  MacKenzie Scott, the author, philanthropist, and former wife of Amazon's Jeff Bezos, made history this week when she announced her plans to donate $4.2 billion to organizations across the country. Locally, the gift will boost the YMCA of Metropolitan Dallas (the YMCA received $10 million, the largest in its history) and various Goodwill Industries, including those in Dallas and Fort Worth. In Texas, Prairie View A&M and Texas A&M International also received donations, per the DMN.
⟫  Plant-based protein provider Pure Farmland has recognized Bonton Farms and its positive impact in the South Dallas community with a donation of $5,000. The endowment is part of its 2020 Pure Growth Project, an initiative that aims to ensure locally grown gardens and farms continue to thrive nationwide. Bonton Farms was chosen based on its commitment to providing residents with nutritious food, education through farming, employment opportunities, affordable housing, and more, per a news release. Bonton Farms will use the money to complete its agricultural plans for the year.
The Dallas Foundation this week chose Impact Ventures as its winner of the $50K Pegasus Prize. Dallas-based Impact Ventures is a nonprofit dedicated to creating more diverse and inclusive ecosystems. With the money, Founder and CEO Ben Vann (above) plans to continue building its capital model, which challenges traditional financial markets. The win is monumental, as it's the first time the grant dollars are going toward dismantling structural barriers that entrepreneurs of color face when trying to access capital.
---
Thursday, Dec. 17
THREE THINGS
⓵ ON THE LOOKOUT: Kodiak Robotics, which opened a new facility in North Texas in 2019 to test and grow its freight operations, was named a CES 2021 Innovation Awards Honoree. The startup was created to revolutionize the trucking industry through self-driving tech and is well on its way to doing so with commercial deliveries already in progress (and a safety driver along for the ride).
⓶ ACQUISITION: Media company Nexstar Media Group Inc. is set to buy BestReviews, a product review site, for $160 million, reports the Dallas Morning News. The deal is said to give Irving-based Nexstar new revenue channels and a desire to draw boosted e-commerce activity brought on by the pandemic.
⓷ $2 BILLION VALUATION: Third-party contractor and supplier management software leader ISN has received a significant minority investment from Blackstone with a valuation of over $2 billion. The investment is expected to support the Dallas-based company's continued growth through product innovation and expansion into new markets, according to a statement.
SURVEY SAYS
Younger generations are shifting to online shopping, according to a new study from Dallas' Kibo. The analysis shows that Gen Z and Millennials have shifted their preference toward online shopping, with more than half planning to shop less in physical stores than before COVID.
---
Wednesday, Dec. 16
THREE THINGS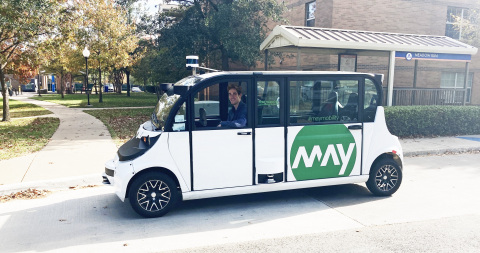 ⓵ AUTONOMOUS VEHICLES: Self-driving transportation company May Mobility is planning on deploying its autonomous vehicle shuttles in Arlington in 2021. According to a statement, the shuttles have provided more than 265,000 safe rides since 2018 and are currently active in Grand Rapids, Michigan.
⓶ NATIONAL RECOGNITION: Northlake-based Farmer Brothers made Newsweek's list of the Most Responsible Companies of 2021. As Newsweek puts it, the 399 companies that made the grade "care about being good citizens and give back to the communities they operate in."
⓷ INTERNATIONAL SCHOLAR: Southern Methodist University student Jared Burleson has been named a Schwarzman Scholar, one of the world's most prestigious and selective international fellowships, per a statement. Out of 3,600 applicants, Burleson and 153 others were chosen to study for a year at Tsinghua University in Beijing, China. He was selected based on his demonstrated leadership, academic excellence, and desire to create global change.
AND THE WINNER IS…
Impact Ventures won the Dallas Foundation's Annual Pegasus Prize. For the first time, the Dallas Foundation is using the $50K prize to go toward dismantling structural barriers that entrepreneurs of color face when trying to access capital.
---
Tuesday, Dec. 15
THREE THINGS
⓵ GOING PUBLIC: Dallas-based Taysha Gene Therapies is set to join the Russell 2000 Index on Dec. 21. The gene therapy company will be part of the index's quarterly initial public offering additions. Earlier this year, Taysha closed an oversubscribed $95M series B funding round. At the time, Taysha said it expects to file four Investigational New Drug applications by the end of 2021.
⓶ LAGOON LIVING: Another man-made lagoon is coming to Dallas-Fort Worth. Texas homebuilder Megatel Homes has secured 204 lots for its first phase of the Venetian Lagoon community in McKinney. The $450M project will feature multifamily and single-family homes alongside a man-made lagoon, to make for what Megatel describes as an "idyllic, beachfront lifestyle" in the North Texas suburbs.
⓷ FOLLOW THE MONEY: Frisco-based Evolve Mortgage Services, a provider of outsourced mortgage solutions, has acquired a platform from Veptas Holdings in an effort to offset the severe shortage of mortgage underwriters created by today's refinance cycle. With the deal, a name change is being made by Veptas Holdings to AiCurio Holdings, per a release. AiCurio uses AI to find loans with credit and collateral for refinances and other credit opportunities.
---
Monday, Dec. 14
THREE THINGS
⓵ COVETED CLUB: Dallas-based dating pioneer Match Group has joined a small group of North Texas companies to be on the Nasdaq-100 Index, a list of the 100 biggest non-financial companies to be on the Nasdaq Stock Market, per the DBJ. Effective Dec. 21, Match Group and five other players (like Peloton and Okta) will be placed on the list, pushing out companies like Expedia and Ulta Beauty. Many of the names being added have seen a surge in demand amidst the pandemic and its related restrictions, Market Insider reports.
⓶ CATCHING UP ON COVID: It's a monumental day in North Texas. Methodist Dallas Medical Center is one of four sites in Texas to receive the first shipment of the COVID-19 vaccine, according to the DMN. Delivered today, immunizations will first go to front-line healthcare workers and staff members who interact with COVID patients. Methodist Health System CEO Jim Scoggin said he expects Methodist to vaccinate 500-600 staff members within 36 hours. Among the first eight people to get their shots were physicians, nurses, and nonclinical staff, the DMN reported.
⓷ FOLLOW THE MONEY: Local VC firm Dallas Venture Capital has invested $3.5M in a Series A round for PLNAR, an Austin-based InsurTech provider that aims to transform home interior insurance claims for carriers with its touchless and virtual inspection software. DVC prides itself on being at the forefront of identifying transformational B2B SaaS companies. With PLNAR's AI/AR-enabled digital desk platform, the startup brings interior property claims to life.
---
Friday, Dec. 11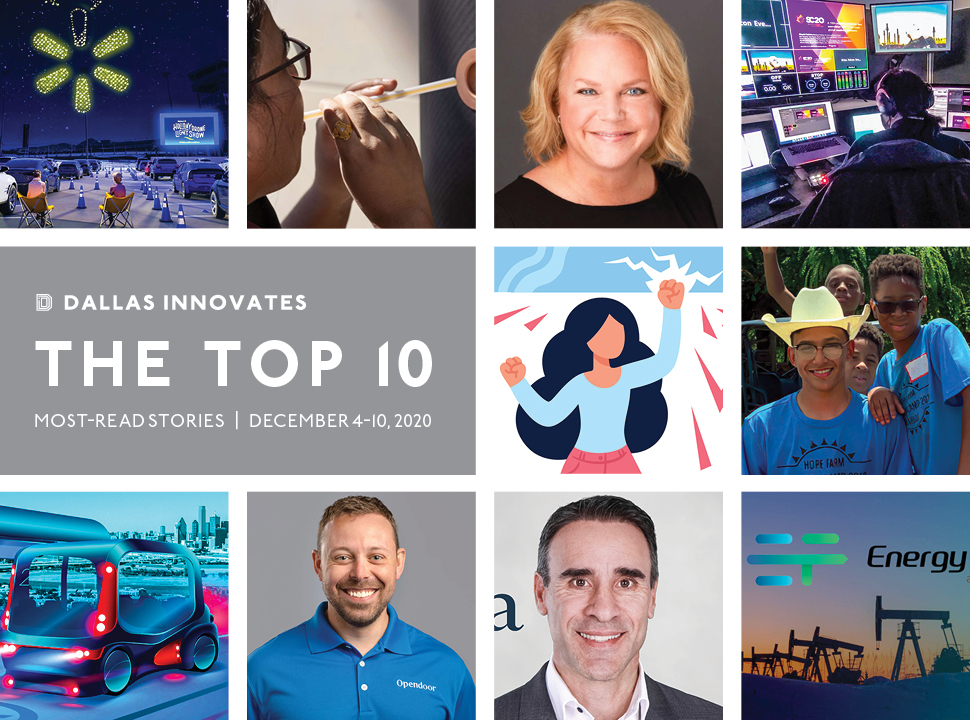 ⓵  Walmart and Intel Are Bringing Their Holiday Drone Light Show to Dallas
⓶  Worlds, Texas A&M Announce Rapid COVID Screening Device
⓷  Verizon Business' Aimee Novak Works To Help Small Businesses Thrive
⓸  Virtual Events Service Finds Success, Hires Furloughed Workers
⓹  DFW in the Top 10 Places for Women Entrepreneurs
⓺  Reliant Donates $50K to Fort Worth Nonprofit's Program for At-Risk Boys
⓻  New Mobility Technologies Center to Fuel Innovation With Collaborations
⓼  Opendoor's Chris Westrom Sees a Strong Market in DFW Into 2021
⓽  McKesson Launches New Oncology Tech and Insights Business
⓾  Fort Worth Tech Firm Is Bringing the Gig Economy to the Energy Industry
THREE THINGS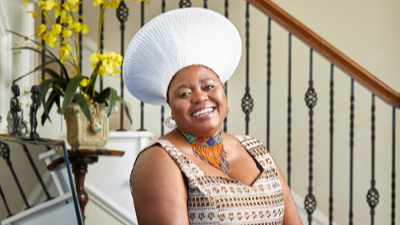 ⟫ STARTUP SUCCESS: The local entrepreneur behind Yangu Beauty, a skin-care line that uses technology to generate products specifically for women of color, has been picked up by Neiman Marcus. Sipho Gumbo's products, which feature herbs from her Zimbabwe roots, launched with the luxury retail giant in November and plans to continue expanding her line, D Magazine reports. The deal comes against all odds—after Neiman Marcus filed for bankruptcy in May, Gumbo thought she lost her chance.
⟫ FOLLOW THE MONEY: Actuate Therapeutics, a Fort Worth- and Dublin-based biopharmaceutical company, has raised around $14M out of $50M fund per an SEC filing reported by the DBJ. Actuate is a private company that focuses on developing compounds to be used in the treatment of cancer and inflammatory diseases leading to fibrosis and neurodegeneration. Last year, we told you about its $21.7M Series B, which the team used to expand its ongoing Phase 1/2 clinical trial.
⟫ TEAMING UP: Grand Prairie-based Neos Therapeutics has merged Aytu BioScience Inc., a Colorado specialty pharmaceutical company, reports the Dallas Morning News. The acquisition was an all-stock deal worth $44.9 million. Neos is well known for developing dissolvable fruit-flavored medications made to treat attention deficit hyperactivity. 
People and organizations of all kinds are stepping up to help and inspire local communities. Here are highlights from around the region:
FORCES FOR GOOD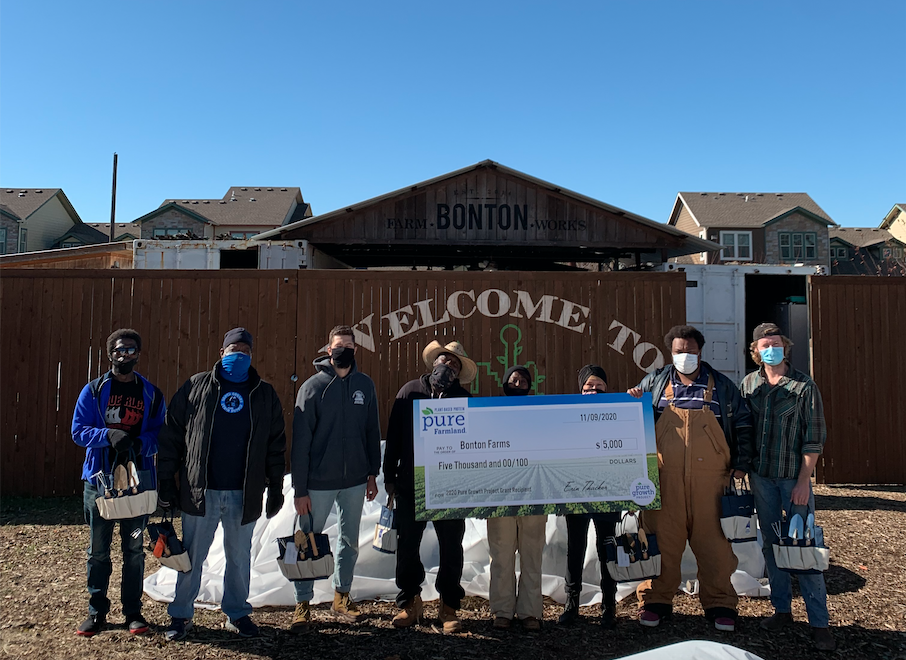 ⟫  South Dallas-based Bonton Farms has been recognized by Pure Farmland as part of its 2020 Pure Growth Project. Bonton Farms is being awarded $5,000 (pictured above) through the initiative, which is meant to ensure that community gardens and farms will continue to thrive, while also helping to increase the amount of locally-grown fruits and vegetables across the U.S. The Dallas organization uses urban agriculture to help 2,500 people a year and the award will be used to complete Bonton Farms' 2020 agricultural plans to enhance production.
⟫  Through Blue Cross and Blue Shield of Texas' Healthy Kids, Healthy Families Grants, $1.8 million has been awarded to 28 community-based organizations across the state. The funding is set to help programs addressing the COVID-19 pandemic, as well as wellness and social determinants of health in Texas. My Possibilities, The Salvation Army of North Texas, and Refugee Services of North Texas are among the DFW organizations that received grants.
⟫ Global security and aerospace company Lockheed Martin has donated $65,000 to the Perot Museum of Nature and Science. The donation will fund space-themed masks and STEM activity kits for children who go to the Perot, as well as for pediatric patients at Children's Health. The offerings will support socially distanced fun during the holidays and continue Lockheed's longstanding partnership with Perot.
---
Thursday, Dec. 10
⓵ GROWTH GRANT: In yesterday's ICYMI, we told you about Sigmetrix becoming the latest tech company to use a grant from the McKinney Innovation Fund to expand its presence. Today brings another: LocuMatch, a healthtech SaaS application that manages temporary healthcare provider services for hospital networks. Founded by Mohammad Badar in 2018, the startup became a Health Wildcatter portfolio company in 2019. Now, it's moving to McKinney and adding 13 new high-tech jobs over the next three years with its grant from the MEDC, per a release. The platform, which can help decrease clinician shortages in rural communities and historically underserved areas, plans to expand into the nursing sector due to demand spawned by COVID-19.
⓶ FOLLOW THE MONEY: Plano-based retail automotive instant trade platform CarOffer has sold a majority stake of its company, 51%, to CarGurus, the most visited car shopping site, for $140M. The acquisition puts an enterprise value of $275M on CarOffer, reports the DMN. CarOffer's platform is a "simplified Amazon-like buying experience" for cars that eliminates trade-in speculation. The company gained fast attention, garnering $60 million in monthly sales and 100 percent dealer rooftop growth in its first six months.
⓷ EXPANSIONS: Fast-growing convenience store chain Yesway is growing its senior leadership team with the addition of two industry veterans: Tate Cutrer, formerly of RaceTrac, as the SVP of Human Resources, and Aaron Everett, of Lucky's Market, as CIO. Yesway will also be opening a new corporate headquarters in the Alliance area of Fort Worth. That follows the news that Yesway was closing its Des Moines offices and acquiring Allsup's, a 304-store, 60-year-old chain based in New Mexico.
---
Wednesday, Dec. 9
THREE THINGS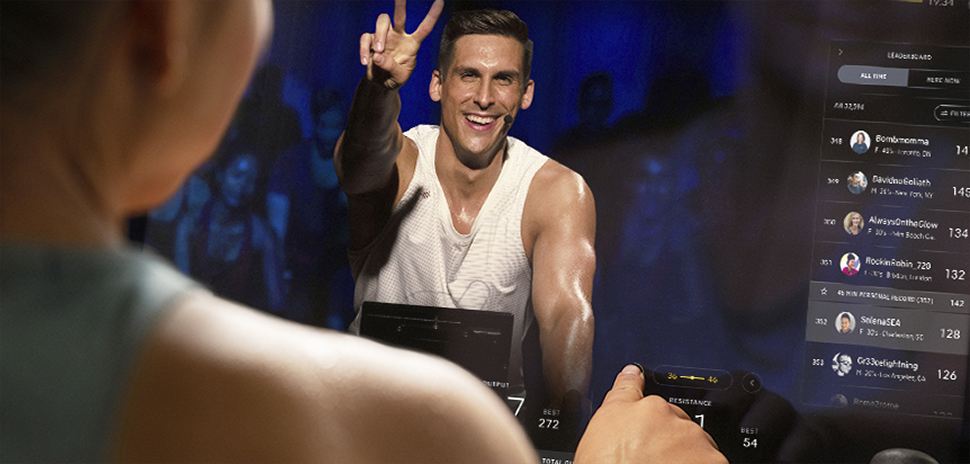 ⓵ PEDALING FORWARD: Peloton, the cult-favorite fitness platform that garnered mass popularity for its on-demand cycling classes, is quadrupling its North Texas presence with ~104,000 square feet to its offices at Legacy Central in Plano.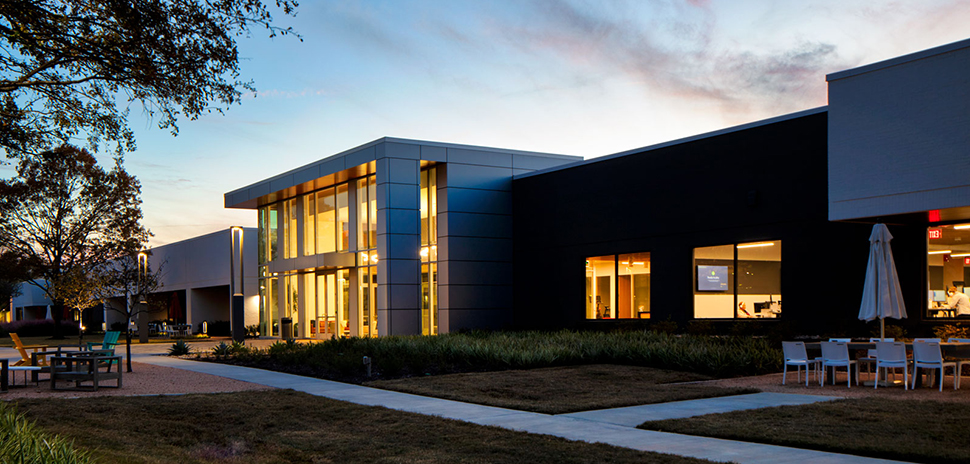 With the expansion, Peloton will hire up to 1,600 new employees in a variety of corporate functions, and add a state-of-the art fitness center, wellness and mother's rooms, and the first ever Peloton corporate training hub to the space. Peloton remains headquartered in NYC but considers Dallas a key regional location.
⓶ WORKOUT LIKE A PRO: Former Dallas Cowboys star DeMarcus Ware today launched his own fitness app that brings professional sports workouts to anyone at home with an iPhone. Called Driven To Win, the app combines Ware's own pro-level training techniques with AR technology to create a personalized program that monitors your movement. There's even a lifelike 3D avatar of Ware and his fitness partner Angela Daniel that can be used to demonstrate exact form and tempo—something you can't get from a video, he says.
⓷ MORE EXPANSIONS: Software development company Sigmetrix is expanding its presence in McKinney, where it has been since 1999, with a grant from the McKinney Innovation Fund. Sigmetrix aims to help customers design better products by using mechanical variation management. With the MEDC grant, the company will relocate its HQ to the Valliance Bank Building and increase its employee count to 36. This is just one of a slew of tech companies that were boosted by the McKinney Economic Development Corporation's Innovation Fund this year. Read about a few here.
COMING SOON
Workspace innovator Vari (formerly VariDesk), which is known for making the sit-stand desk an office staple, is opening its third VariSpace location in Dallas-Fort Worth in the upcoming Westgate Coppell development. Expected to be completed in 2022, VariSpace Coppell will be part of the company's growing space-as-a-service portfolio, a commercial real estate concept that brings amenities and flexible space solutions together in a single multi-tenant campus. According to Co-Founder and CEO Jason McCann, it will also serve as Vari's new headquarters.
EVENT RECAP
Bishop T.D. Jakes shared his insights on embracing gratitude and flexibility amid 2020's challenges during the Leadership Dallas Alumni Association's Annual Leadership Luncheon. "One of the problems that we tend to do when we are faced with challenges and changes is to remain normal. I believe that one of the solutions to stress is to restructure," Bishop Jakes said.
---
Tuesday, Dec. 8
THREE THINGS

⓵ FLEXIBLE SPACE: Coworking company Common Desk has launched a pilot project with Triten Real Estate called the "Hyperflex" suites concept. Through the project, Common Desk fronts the cost of furnishing a vacant property, which the property's owners and leasing brokers can show to prospective clients, while Common Desk does the same. The space can then be leased to a flex client until the owner finds a traditional tenant. Common Desk is already planning for additional Hyperflex suites after the project's initial success.
⓶ REAL ESTATE: Honolulu-based James Campbell Co. has bought an 800,000-square-foot industrial complex in Fort Worth known as Speedway Logistics Crossing. The investment company previously bought the Platinum Park office building in Plano's Legacy business park, reports the Dallas Morning News. A Scannell Properties managing director called the region an attractive place for warehouse and light industrial business. 
⓷ TECHNOLOGY: CompTIA ranked Dallas-Fort Worth No. 3 in IT job postings for the month of November with almost 9,400 postings, reports the Dallas Business Journal. Last month, CompTIA named Dallas the No. 2 city for tech professionals in its annual Tech Town Index.
---
Monday, Dec. 7
THREE THINGS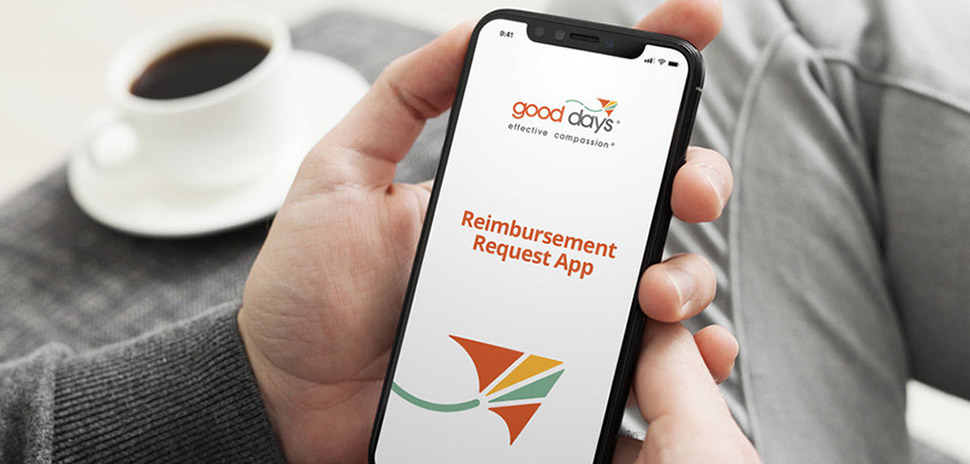 ⓵ DIGITAL SUPPORT: Good Days' new mobile app has been created to make requesting patient assistance reimbursements easy and to offer faster payment of medical and essential non-medical costs by uploading receipts. The nonprofit's app is expected to lower the financial burden for at-risk beneficiaries of Good Days' patient assistance programs.
⓶ TACKLING TESTING: The state of Texas today launched a program that will allow small businesses to administer rapid COVID-19 tests to its front line employees. Called the COVID-19 Rapid Testing Pilot Program, Governor Greg Abbott and the Texas Division of Emergency Management said that this should help mitigate the spread of cases. TDEM will provide local Chambers of Commerce with the supplies, and they will then be allocated to local small businesses that want to participate, CBSDFW reported.
⓷ TUNE IN: Collaboration between companies and governments could lead to effective solutions for slowing COVID-19 cases—but how do we make these conditions possible? This Thursday, Dec. 10, Plano-based Huawei Technologies USA intends to explore that. In partnership with The Economist, Huawei is hosting a webinar to discuss how private and public sector partnerships can spur scientific, social, technological, and economic innovation. The tech company sees it as a key to returning to a post-pandemic normal. Register here.
FOLLOW THE MONEY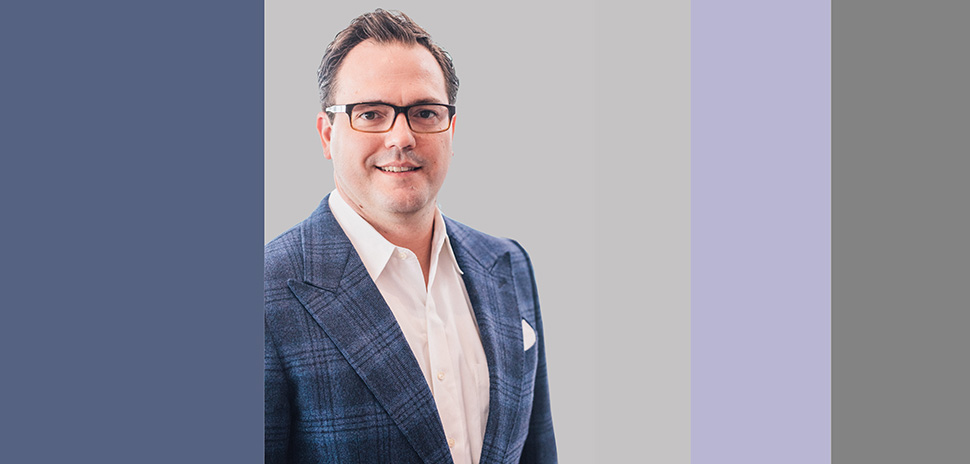 In RefineRE's latest funding round, the tech firm raised $3 million with Mucker Capital leading the investment. CEO Ryan Turner, who was featured as one of Dallas Innovates' 50 North Texas innovators and disruptors you need to know, founded the company in 2017 to best serve tenants' needs. With the latest funding, RefineRE plans to add around 50 people to its close to 20-person team next year. The funding follows over $1 million raised earlier this year.


---
Friday, Dec. 4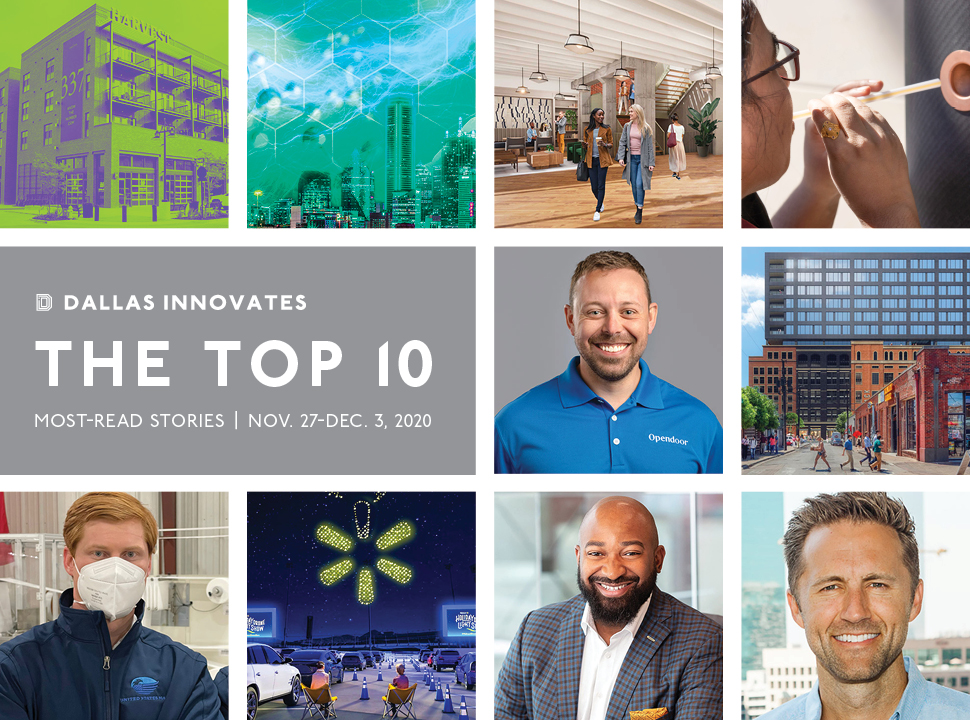 ⓵  Dallas-Fort Worth Leads the Nation in Apartment Demand for Q3 2020
⓶  Bio Boom: DFW Is Emerging as a Hub for Biotech and Life Sciences
⓷  Coworking Adapts to Survive and (Eventually) Thrive
⓸  Worlds Inc., Texas A&M Announce Rapid 1-Breath COVID Detector
⓹  Homes Are Selling Fast in DFW. Here are the Ten Hottest ZIP Codes
⓺  Deep Ellum's 'Touchless Tower' Offers Next-Level Wellness and Safety
⓻  New Addison Startup Is Making PPE for Americans, by Americans
⓼  Walmart and Intel Are Bringing Their Holiday Drone Light Show to Dallas
⓽  A Variety of Voices Makes DFW Better for All, Says HKS' Alex John
⓾  Dallas' Bestow to Acquire Centurion and Further its Vision of Making Life Insurance Accessible for All
PLUS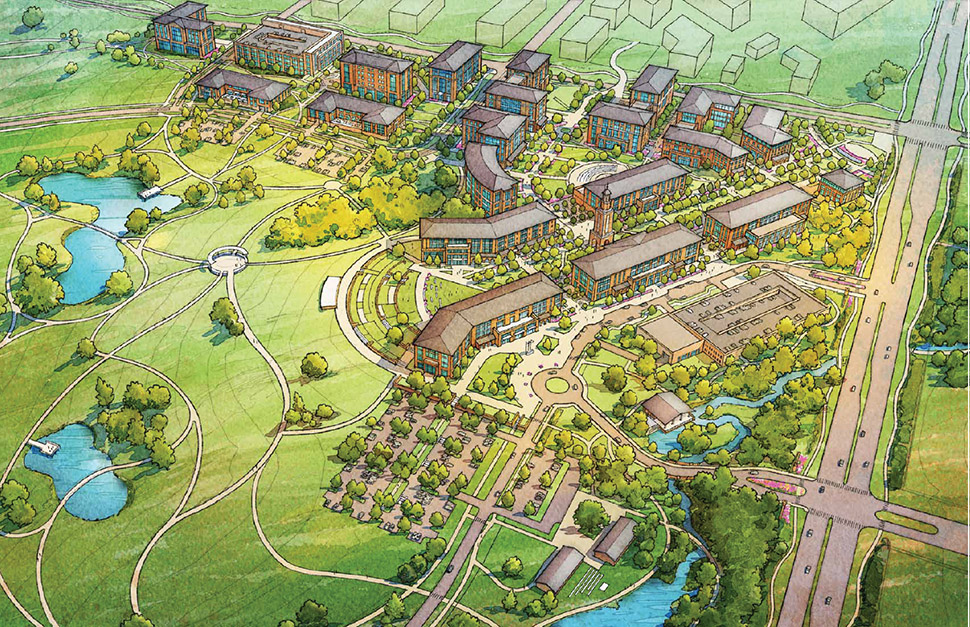 Trending today, you'll find our story on the University of North Texas' $100-million four-year campus project in Frisco. UNT, founded in 1890 to produce educators for what became known as the first industrial revolution, has always had its eye on the future. Now, 130 years later, the Denton-based university is focused on preparing students for the "fourth industrial revolution." 
THREE THINGS
⟫ HOLIDAY CHEER: Klyde Warren Park in downtown Dallas just received a holiday gift that's described as unlike anything anyone has ever seen before. From park board member Nancy Best and her husband, Randy, is a $10M interactive "super fountain" that can shoot jets of water up to 95 feet in the air, according to NBCDFW. At night, the fountain, placed at the Pearl Street park entrance, will display colorful light shows synchronized to music. It's lauded as the world's tallest interactive fountain, and is expected to become a 'blimp shot' for aerial views of Dallas in the future.
⟫ COVID DISCOVERIES: A 14-year-old freshman at Independence High School in Frisco recently won the 3M Young Scientist Challenge and $25K for her COVID-19 discovery. The young scientist, who's on-tune with some of the world's largest pharmaceutical companies, found a compound that can bind to the coronavirus and inhibit its ability to infect people, according to the Star Tribune. What resulted was a potential antiviral for COVID-19 infection.
⟫ AROUND TOWN: Dallas was part of a new survey from researchers at the Massachusetts Institute of Technology that looked at why some Americans maintain private vehicles despite having public transportation options. The team interviewed 1,000 people in Washington, Chicago, Seattle, and Dallas, which is described as "mostly-car-dominated" with a high ridership for the light rail system. They found that "drivers are valuing their access to a private vehicle during the pandemic more than three times as much as they did before COVID-19," but could be persuaded to ditch the car with "simple changes to incentivize other modes," according to Streets Blog.
FORCES FOR GOOD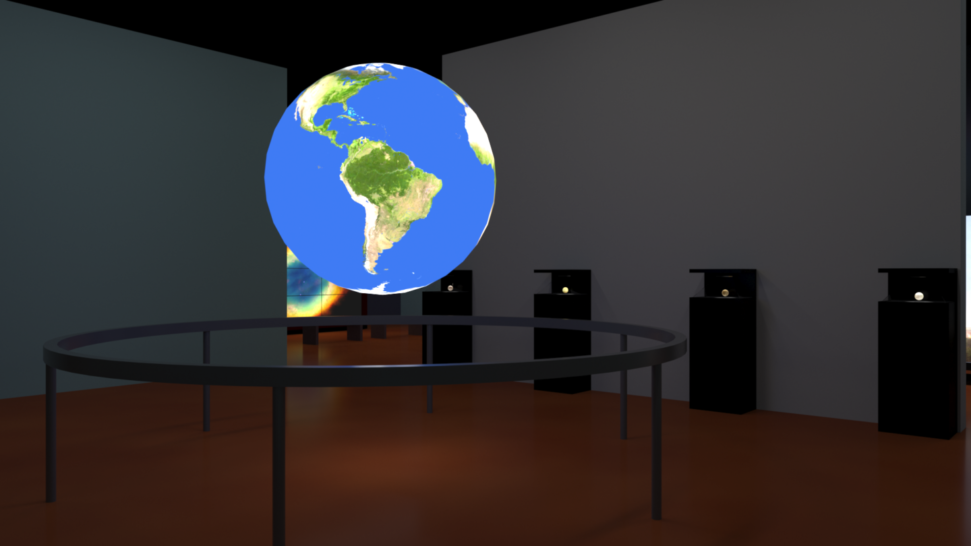 People and organizations of all kinds are stepping up to help and inspire local communities. Here are highlights from around the region:
⟫  The Fort Worth Museum of Science and History is opening a new high-tech exhibit in Spring 2021 thanks to a $225K grant from Facebook. The new 2,500-square-foot studio will explore the linkage of science with current events, including the upcoming Mars rover landing, hurricanes, or COVID-19 cases. Anchoring the exhibit is the Science On a Sphere (shown above), a giant global display system developed by the National Oceanic and Atmospheric Administration.
⟫  Bank of America has named two DFW nonprofits, Pathfinders and Sharing Life, 2020 Neighborhood Builders due to their work on issues fundamental to economic mobility. They will each receive an unrestricted grant of $200,000, a year of leadership training, and the opportunity to access capital to further their mission. Over $260 million has been invested in communities through the Neighborhood Builders program since its 2004 launch.
⟫  Dallas Animal Services has partnered with Home To Home on a free online platform that people can use to proactively rehome their pets if needed. By using the tool, pets can safely go directly from their old home to a new one, which also helps to prevent shelter overcrowding.
⟫ Since launching the Resilience Fund earlier this year, the Texas Women's Foundation has been able to raise and grant $1.4 million. The fund was created to give immediate, mid-, and long-term support to women, girls, and families affected by the economic and health issues related to COVID-19. TWF has been able to offer help with child care, housing, and health insurance, as well as support working mothers, through the fund. Additional funds are currently being raised to meet ongoing needs, with donations being accepted here.
PLUS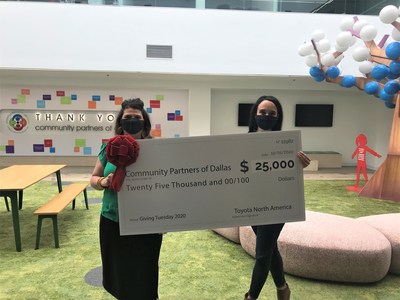 This week marked Giving Tuesday, a global day of generosity and giving, and North Texas companies showed their support. One was Toyota Motor North America, which announced that it was supporting more than 25 nonprofits with basic needs, holiday gifts, school supplies, and more via grants totaling $700K. Toyota also decided to match employees' donations to eligible nonprofits and donated to employee-led drives for food, clothes and holiday gifts.
Have a shout out to a North Texas "Force for Good"? Tell us here.
---
There are plenty of things to do with your socially distanced time next week. Here are a few from our curated selection for innovators:
Walmart Holiday Drone Light Show (Dec. 5, pictured above)
Bike Friendly Oak Cliff's Virtual Tweed Ride (Dec. 6)
ULI DFW Presents North Texas Going Big in Bio (Dec. 7)
2020 Urban Design Awards (Dec. 8)
TiE Global Summit: TiE Dallas Showcase (Dec. 8-9)
USICOC 21st Annual Awards Banquet (Dec. 10)
---
NORTH TEXAS EXECUTIVE MOVES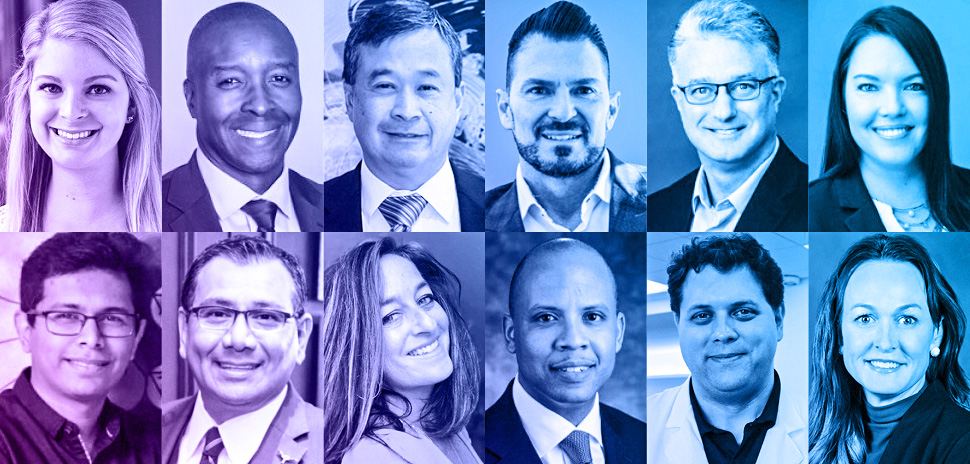 In this week's roundup of hires and promotions in North Texas, you'll also find news from Berkshire Biomedical, Cooksey Communications, CMP, FelixHealthcare.AI, Mass Luminosity, Spectral MD, and more:
McKesson adds newly created role of chief impact officer
Jacobs expands its Critical Mission Solutions team
Scottish Rite for Children gets a new CFO
Incora names CEO as it prepares for Fort Worth HQ move
---
Thursday, Dec. 3
THREE THINGS
⓵ DALLAS WINS: Today during the Rise of the Rest Seed Fund Virtual Tour, three Black-led startups won $2M in investment capital—and two are from Dallas. In addition to Chicago-based Rheaply, which won $1 million, Dallas-based Zirtue, a fintech that digitizes loans between friends and family, and Kanarys, a platform for companies to improve DEI, each won $500K. You can learn more about the competition here.
⓶ KNACKATHON: During SXSW this coming March, a Dallas startup is planning to host a first-of-its-kind youth mentorship conference for students interested in engineering. Knack.io, a tech recruitment platform that connects users with qualified employment opportunities, is launching its very own "Knackathon." The virtual hacking competition will give out up to $50K in prizes, in addition to providing bootcamps, workshops, a hiring expo, and more. Tickets are on sale now.
⓷ PANDEMIC PPP: The Small Business Administration has released new data that shows how the Paycheck Protection Program was dispersed throughout the region. As reported by the DBJ, over $12.8B in PPP loans, averaging $108K a loan, were given out to 118,149 companies in North Texas back in April. Some 30 businesses got the maximum ($10M), but 98 percent were less than $1M. Restaurants received the most loans in the region, with healthcare businesses not far behind.
---
Wednesday, Dec. 2
THREE THINGS
⓵ BREAKING NEWS: Ridesharing giant Uber is reportedly selling Uber Elevate to aerospace company Joby Aviation, according to an exclusive Axios report. Uber Elevate was initially created for the development of self-driving air taxis. Dallas has since been a central location for the business unit: Uber's Dallas hub, which has been looking for a subleaser for five floors due to COVID, was expected to include Uber Elevate. Uber previously announced plans to transport riders through commercial flight operations in DFW, LA, and Australia by 2023. And, Dallas-based Hillwood's Mobility Innovation Zone at its AllianceTexas development has been predicted to be a future place to develop, test, and refine the advanced mobility technologies. Per Axios, the Uber Elevate deal could be announced this month.
⓶ DATA CENTER: As part of an effort by Amazon Web Services to expand its cloud-based data center tools across the U.S., Amazon is adding 12 cities to its list of places with "Local Zones," which are areas that run AWS compute, storage, database, analytics, and machine learning services. Dallas is one of the locations set to receive the data center help next year, according to the DBJ. The eCommerce giant said that businesses will now "no longer need to incur the expense or effort of procuring, operating, and maintaining data centers or co-location facilities in various cities to support ultra-low latency applications."
⓷ MAJOR MOVES: In its largest acquisition ever, Salesforce is purchasing workplace communication software company Slack for $27.7 billion. Per the AP, the deal is expected to give the companies a "better shot" at competing against Microsoft. Though Salesforce is based in San Francisco, the fast-growing enterprise software company has a large presence in Dallas. Salesforce maintains a consistent corporate culture across a massive, distributed workforce, even in the way in which the company designs its offices, including the space in which it consolidated its North Texas operations in Uptown Dallas.
TOP TEN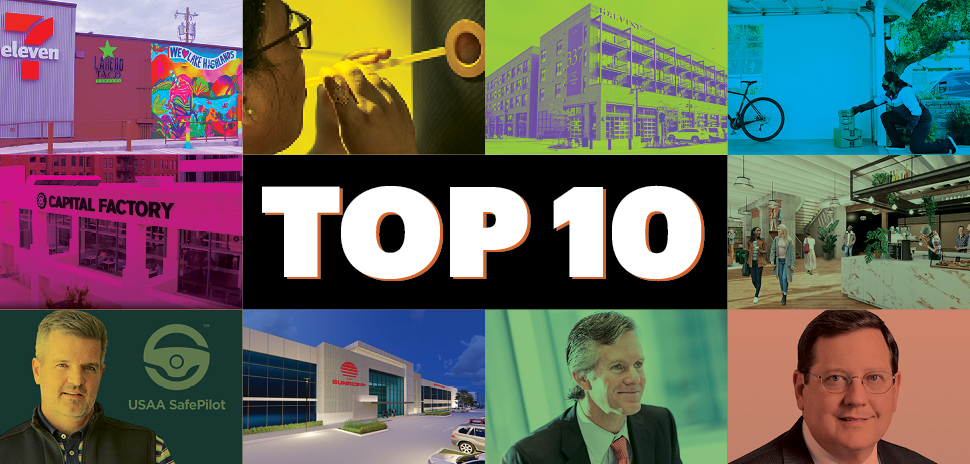 Here are Dallas Innovates' 10 most popular stories in November. Rising to the top of the list is 7-Eleven's fifth Evolution Store in Lake Highlands. The location will serve as an experiential testing ground for patrons to try new shopping technology and products.
---
Tuesday, Dec. 1
THREE THINGS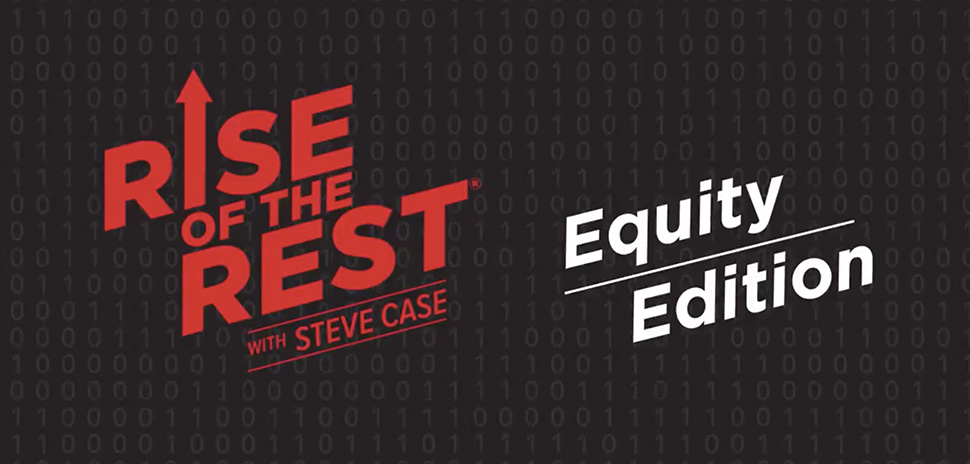 ⓵ COMING SOON: Two Dallas startups, Kanarys and Zirtue, will pitch in a $2 million competition for Black founders called the Rise of the Rest Virtual Tour: Equity Edition. This year's speakers for the Dec. 3 event include AOL co-founder Steve Case and NBA and NHL sports team owner Ted Leonsis.
⓶ GIG ECONOMY: Local startup ShearShare, which is known as the first and largest provider of on-demand salon space rentals, is partnering with Bigfoot Insurance and ibott to give its users access to a portal to buy coverage. Now, stylists are able to purchase professional liability insurance by the day—and every workspace booking on the ShearShare app is automatically covered by $1M in liability protection. Co-founder and COO Courtney Caldwell told us it's a first for gig economy solopreneurs.
⓷ TECH INNOVATION: Dallas-based ParkHub is teaming up with a fellow parking technology innovator, Boston-based Vend, to create a safe, seamless parking experience—one that also follows social distancing. The partnership involves both companies promoting Vend's contactless access control solution, which allows for customers to access gated facilities safely and hands-free, in each of their markets (DFW and Boston). Eventually, the duo will extend the offering to ParkHub's national client base.
LEADERSHIP
Valuing a variety of voices and communities makes Dallas-Fort Worth better for all, says HKS' Alex John. Equity is an investment in equality of the future. When things have been disproportionately distributed, they need to be actively changed," the HKS VP says.
---
Monday, Nov. 30
THREE THINGS
⓵ STARTUP HUB: Mayor Eric Johnson today announced at City Hall a new task force that will help accelerate Dallas as a hub for entrepreneurs, the DMN reported. Led by Trey Bowles, co-founder of The DEC, and Mandy Price, co-founder and CEO of Kanarys, the group will examine how to foster a culture of innovation so small businesses can flourish. A recommended course of action aims to be completed by April 30.
⓶ FOLLOW THE MONEY: Dallas-based engineering firm Jacobs purchased a majority stake in PA Consulting, an innovation consulting firm, per the same publication. With the $995 million equity investment, Jacobs plans to ramp up PA's growth by focusing on "high growth sectors" like health and life sciences, defense and security, and more. The news follows Jacobs last week acquiring The Buffalo Group, which it said would strengthen its portfolio of mission-focused government solutions in the cyber domain and Intelligence Community.
⓷ AUTO ECOMMERCE: Now available in the greater Fort Worth region is Shift, a used car ecommerce platform that aims to make car purchase and ownership simple. Shift's tech-driven seller service allows users to get online quotes for their cars and book appointments to evaluate cars. It's Shift's third acquisition market in Texas, following Austin and San Antonio.
BOOMING
Dallas-Fort Worth led the nation for apartment demand in the third quarter of 2020, according to a report from RealPage. North Texas absorbed 8,957 units, Atlanta followed at 8,425, then Houston at 7,751. Those top three markets accounted for 17 percent of the nation's total demand. The DFW multifamily market also led in the second quarter with modest gains due to government stay-at-home orders.
---
Tuesday, Nov. 24
THREE THINGS
⓵ CORPORATE CITIZENSHIP: Dallas' Communities Foundation of Texas has launched a new initiative that aims to shine a light on socially good companies and encourage others to do the same. 'Be in Good Company' will partner with North Texas companies to offer philanthropic services that can boost community engagement programs, D Magazine reports.
⓶ THE ZOOM ERA: Texas has restricted courts from holding in-person jury trials until at least Feb. 1, and McKinney has found a way to avoid the potential extensive backlog. McKinney is now implementing virtual criminal jury trials in its municipal court that handles Class C misdemeanors, the first city to do so in the state, per the DMN.
⓷ FANTASY FOOTBALL: A new fantasy sports platform called HUNDO Sports Exchange has launched out of Dallas, and according to the company, excitement is buzzing across the U.S. HUNDO combines social with stock market: Players are able to grow their virtual currency in the app by buying and selling shares of any team at any time during live games. Prominent athletes have already taken notice, including venture capitalist and retired NFL player Will Allen.
POWER PAIR

Dallas-based premixed cocktail innovator BuzzBallz is teaming up with another woman-owned food & bev company, Drunken Cake Pops, to spread some holiday cheer. Introducing the BuzzBallz X Drunken Cake Pops Six Pack, the "perfect boozy stocking stuffers" that infuses the best of both collaborators. Each cake pop crafted by Drunken Cake Pops inside the pack is infused with various flavors of BuzzBallz cocktails.
FOLLOW THE MONEY
⟫  Per a filing with the SEC, Colorcast has raised $15K in debt and equity financing. The Dallas tech startup aims to revolutionize live sports: It allows athletes, influencers, and fans to share their 'hot takes' via real-time audio commentary during a game.
⟫  Carrollton-based Insurance Technologies Corporation (ITC), a provider of software solutions to the insurance industry, has been acquired by Zywave, a leader in front office distribution SaaS solutions. Zywave plans to align and integrate ITC's products within its Sales Cloud offering, per a release.
⟫  Dallas' Spring Valley Acquisition Corp, a blank check company sponsored by Pearl Energy Investment, has released the pricing of its IPO at $200M. Spring Valley plans to target companies in the sustainability industry, including those in clean energy and storage, smart grid, environmental services, mobility, wastewater management, tech-enabled services, and more.
To read more and get our week's Top 10, head here.
---
Monday, Nov. 23
THREE THINGS
⓵ SOLAR SOLUTIONS: What could be the largest solar project in the U.S. now has participation from North Texas. Plugging into Invenergy's $1.6B solar project, Samson Solar Energy Center, are Denton Municipal Electric, Garland Power & Light, and AT&T, CultureMap reports. Of the 1,310-megawatt project, Denton will buy ~6% of the power (75 MW), Garland ~2% (25MW), and AT&T ~40% (500 MW), which is the project's biggest customer. The Northeast Texas project, set to produce power in 2023, could eventually supply energy for 300,000 homes.
⓶ AFFORDABLE EDU: Dallas College has signed an agreement with University of Phoenix for a new credit transfer program meant to save students money and prepare them for more rewarding careers. The 3+1 format (three years at Dallas College; one at University of Phoenix) allows Dallas students to transfer credits to University of Phoenix for a bachelor's degree in popular industries such as IT and healthcare. Students are eligible at all seven campuses of Dallas College, which was approved to unify as a single institution this past summer.
⓷ ROOM TO SPARE: Everything's bigger in Texas, even apartments. Plano has more space for renters, according to a new report from ApartmentGuide.com. The city ranked No. 1 for the size of its studio, one-, and two-bedroom apartments among the 100 largest cities in the country. Dallas made the Top Ten at No. 10.
ACQUISITION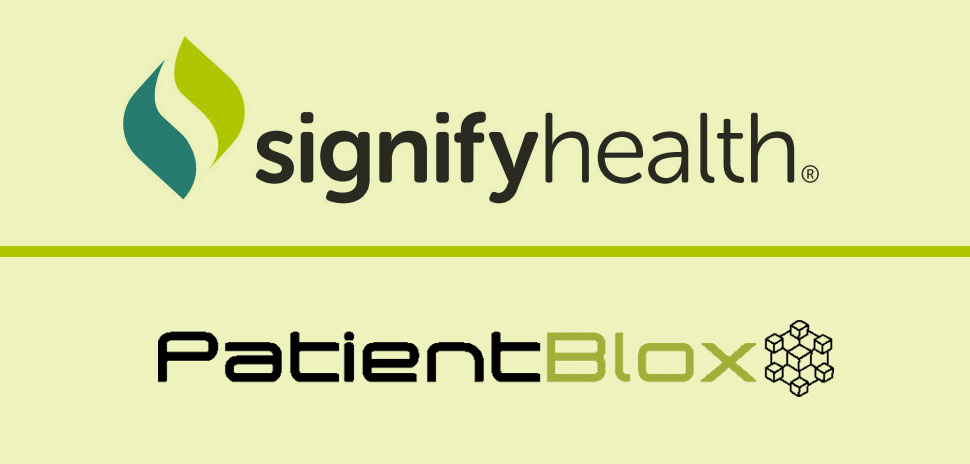 Dallas' Signify Health has acquired tech company PatientBlox to accelerate its value-based care transition. By using PatientBlox's blockchain technology, Signify Health also hopes to build its prospective provider payment capabilities out faster.
---
Friday, Nov. 20
THREE THINGS

⟫ PRESCRIPTION DELIVERY: Telehealth unicorn Ro is expanding its next-day prescription delivery in Texas with a pharmacy in Grand Prairie. The company says its patient count has grown in the state by 125 percent in the last year, according to the Dallas Morning News. Ro founder and CEO Zachariah Reitano says the company wants to "make sure that we can reduce the amount of time between when a patient sees their doctor on the Ro platform and when they receive treatment." 
⟫ BANK BUY: Pittsburgh-based PNC Bank could become the country's largest regional bank after agreeing to purchase BBVA's U.S. banking operations for $11.6 billion. About half of BBVA's U.S. deposits are in Texas, the same publication reports.
⟫ SENIOR CREATIVES: Older users are a minority on TikTok, but teens are following senior stars. One of them is 82-year-old Stephen Austin, who filmed a series called "Cooking with Steve" at his senior living home near Fort Worth, per the Wall Street Journal. "The young people want me to be their grandpa," he says. Austin has millions of views and 1.4 million followers for his daily videos under the username @omsteve (aka "Old Man Steve").
TOP TEN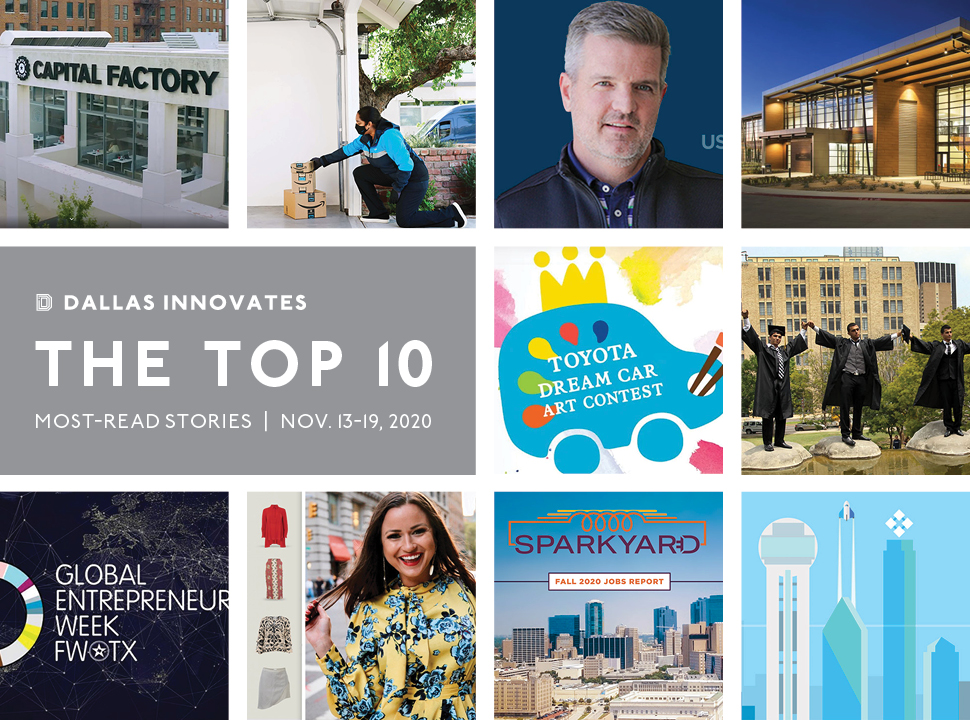 ⓵  Capital Factory Bids Farewell to its Dallas Office. But the Texas Startup Manifesto Goes Beyond Space, says VP Bryan Chambers
⓶  Amazon Launches In-Garage Grocery Delivery in Dallas-Fort Worth
⓷  USAA's SafePilot App 'Learns' to Record Crash Data
⓸  DFW Coffee Startup NuZee Teams With Farmer Brothers on Expansion
⓹  Toyota Dream Car USA Art Contest Lets Kids Explore the Future of Mobility
⓺  Closing the Equity Gap: Capital One Grants $500K to Commit Partnership
⓻  Global Entrepreneurship Week Fort Worth, 4 More Can't-Miss Events
⓼  Perfect Fit: Dallas Fashion Tech Startup Exits to NY P2P Rental Platform
⓽  HSC Report: Startups Are the Key to Fort Worth's Economic Recovery
⓾  Republic Cities Launches Community Investment Platform in Dallas
PLUS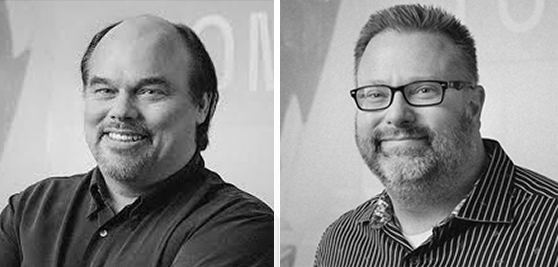 "The 'Land of Y'All' has arrived," said Worlds Inc. CEO Dave Copps (above left), kicking off the DFW leg of Capital Factory's Texas Startups Roadshow yesterday. Copps launched and sold two successful AI companies from Dallas with co-founder Chris Rhode (above right). Copps has seen VC investment activity increase in the region—along with our innovation-minded future workforce, thanks to our universities and colleges. Copps and Rhode started their third venture in 2018. Worlds Inc. emerged from stealth raising a $10 million Series A in February.
Trending today, you'll find our story on their latest breakthrough. The founders unveiled Worlds Protect, a non-invasive, breath test for COVID-19 that has nearly instant results. With FDA emergency-use authorization on the radar and a team that includes Texas A&M, the U.S. Army, and UNT, Copps told us they have a tiger by the tail. Here's how it came to be. 
FORCES FOR GOOD
People and organizations of all kinds are stepping up to help and inspire local communities. Here are highlights from around the region: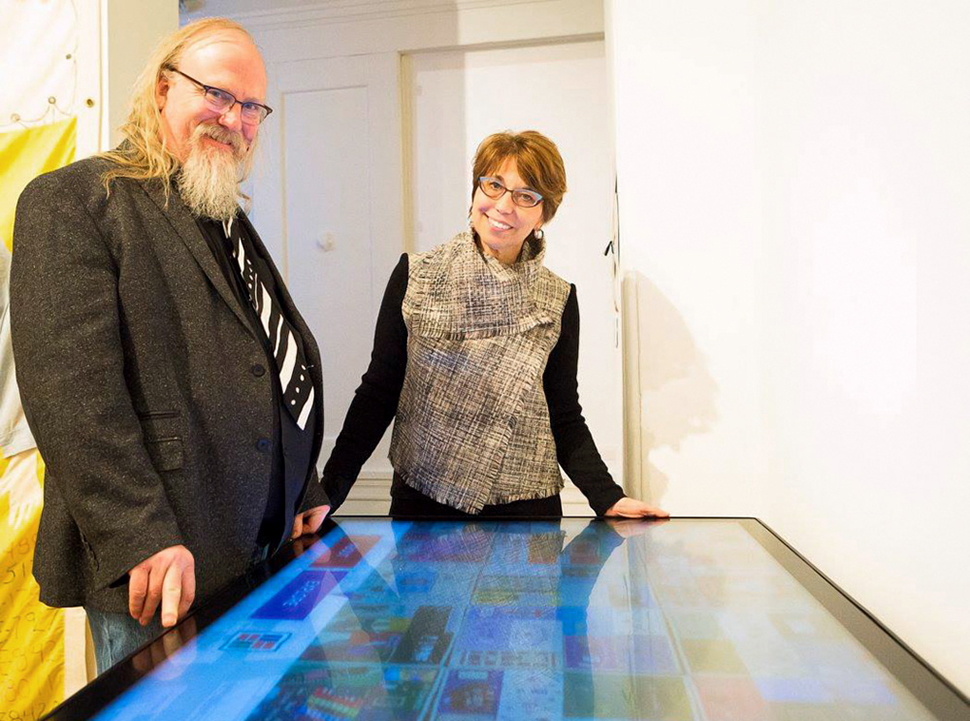 ⟫  Since the AIDS Memorial Quilt began in 1985 to honor people's loved ones who had died from AIDS, the quilt has grown to be 54 tons with over 48,000 panels. The quilt has become too large to display in one location, but UT Dallas' Dr. Anne Balsamo and Dale MacDonald (above),with funding from the National Endowment for the Humanities, came together to create AIDS Quilt Touch—an interactive application that people can use to digitally view the quilt. Check it out here.
⟫   Bank of America is launching a $2.65 million jobs initiative with Dallas College's El Centro Campus, Texas Christian University, University of North Texas, and University of Texas at Arlington among the initiative's recipients. Bank of America's goal is to help students of color complete the education and training necessary to be successful in the current workforce.
⟫  Dallas-based rideshare startup Alto, after making a series of pivots throughout COVID, is launching a way to give back to the North Texas Food Bank this Thanksgiving. Next Friday, Nov. 27, Alto is hosting a Porch Pick-Up Canned Food Drive. Members can put out donations for the NTFB on their front porch, and Alto will handle the rest.
PLUS

Texas Women's Foundation's H100 Latina Giving Circle has given $125,000 in grants to 23 North Texas-based nonprofits that help Hispanic women and girls in low to moderate-income communities. The H100 Latina Giving Circle was established last year by the Hispanic 100 Network to empower, educate, and support Latinas in DFW.
---
Thursday, Nov. 19
THREE THINGS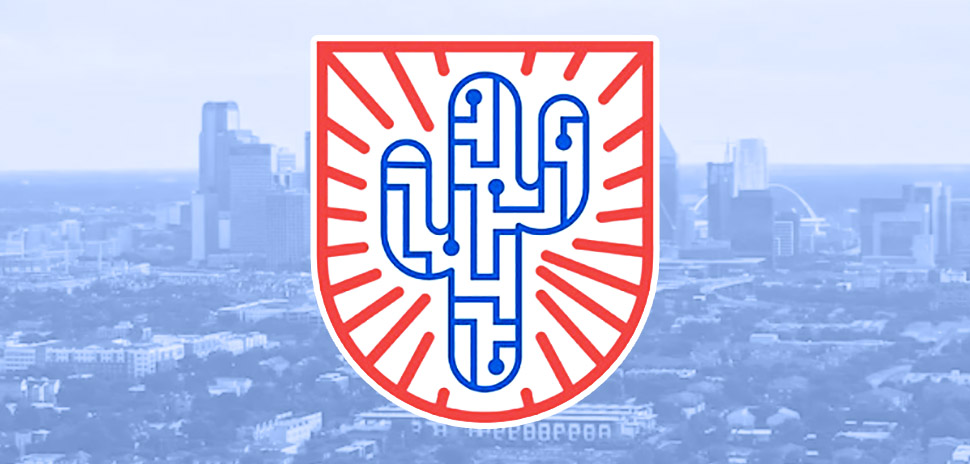 ⓵ FULL STEAM AHEAD: "The Land of Y'All has arrived": Those words by Worlds Inc. CEO Dave Copps kicked off today's iteration of the Texas Startups Roadshow. The last leg of the virtual tour focused on the Dallas region. Here's the rundown.
⓶ FAST 500: Eight North Texas companies have made Deloitte's 2020 Technology Fast 500 list: Richardson-based Fuse Medical, Inc (No. 43), Dallas-based Qentelli (No. 194), Grand Prairie-based Neos Therapeutics (No. 217), Plano-based Alkami (No. 231), Dallas-based o9 Solutions (No. 235), Plano-based Newline Interactive (No. 266), Dallas-based Zix Corp (No. 477), Irving-based Nexstar Media Group (No. 499). The ranking each year honors the most innovative public and private technology companies in the U.S.
⓷ ECI EXIT: Fort Worth-based ECI Software Solutions, a provider of cloud-based business management solutions, has been acquired by Leonard Green & Partners for an undisclosed amount. Apax Partners, which acquired ECI in 2017, will retain a minority stake. Since 2017, ECI has completed 15 acquisitions (read about some here). The firm plans to continue championing SMBs in manufacturing, construction, lumber and building, and more with its Enterprise Resource Planning solutions.
---
Wednesday, Nov. 18
THREE THINGS
⓵ TALENT PROVIDER: Executive search firm ZRG Partners, which uses data and analysis in its proprietary "Z Score" process, has expanded into Texas with three new hires. Managing directors Tyler Gordon and Kevin Anderson in Dallas, along with Lisa Hooker in Austin, will join the company's tech practice. The geographic expansion and new hires ensure "we can serve the country's next great tech hubs," Larry Hartmann, CEO of ZRG said.
⓶ DEFENSE DEVELOPMENT: Ed Dolanski, the former president of defense services at Boeing Government Services, will join Catalyze Dallas' Board of Advisors. Dolanski retired from Boeing's $10 billion business this year and brings some 30 years of experience to the role. Catalyze Dallas, a venture development firm that works with companies like Boeing, helps commercialize purpose-built products developed by defense companies.
⓷ SECOND LIFE: Braniff Airways is being reborn as a themed hotel in an age when defunct airlines are hip again. Centurion American, developer of Dallas' Statler Hotel, bought the site of Braniff's former flight attendant dormitory and plans to put the Texas airline's bygone brand name on a new boutique hotel, the Dallas Morning News reports. The airline, which grew to an international force in its heyday, went out of business in 1982.
---
Tuesday, Nov. 17
THREE THINGS
⓵ SENTRY SYSTEM: Hala Systems, a social enterprise developing advanced technologies to protect civilians from misinformation, is using North Texas-based Hedera Hashgraph's distributed ledger to deliver an early warning of conflict or natural disasters to some 2.1 million Syrians. That's led to a 30 percent reduction in casualties in Syria so far, Hedera says.
⓶ RECYCLING RECHARGE: Junk mail and used delivery boxes are a hot commodity as paper companies figure out how to turn trash to toilet paper and more. The pandemic and the work from home shift has companies searching for more scrap paper to meet demands. Dallas-based Texas Recycling Inc., which collects paper to sell to paper mills, has seen a 40 percent drop in its office paper shredding business this year, the WSJ reports. "The demand for corrugated is going to pick up," co-owner Joel Litman said in the publication. "More mills are coming online."
⓷ TALENT TECH: OutMatch, a digital hiring tech provider, announced the acquisition of Checkster, which provides pre-hire and post-hire talent insights solutions. OutMatch CEO Greg Moran says bringing the reference checking solution to the company's platform "addresses a critical inefficiency in the hiring process by automating the time-intensive process of collecting candidate references."
DISCOVERY
If you're overweight, being young isn't the protection from COVID-19 some think it is. People under age 50 with excess fat are at greater risk for severe COVID-19, UTSW researchers have found. They're "more likely to be hospitalized, need a ventilator, and die from COVID-19 if they're severely obese," the new study says.
---
Monday, Nov. 16
THREE THINGS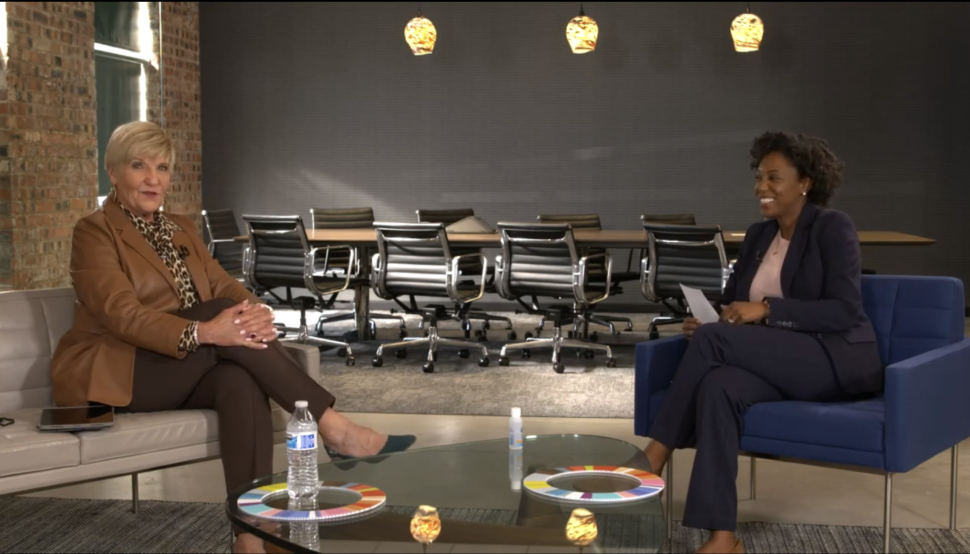 ⓵ CORE EXPANSION: Fort Worth Mayor Betsy Price (above left) hints at plans for higher education expansion in downtown Fort Worth. In a town hall forum for the kickoff of Global Entrepreneurship Week Fort Worth, Price revealed the project is part of a Tier One university. The mayor, speaking with The DEC's Demetra Brown, declined to share further details, saying "let's wait for the surprise." 
⓶ MEET THE MAKERS: On Thursday, KERA will present 10 short films that weigh in on the times in Frame of Mind, a series featuring independent films in the Lone Star state. Producer Bart Weiss will interview filmmakers whose work is inspired by the pandemic. Here's the line up for the series.
⓷ TEXAS BOUND: DASAN Zhone Solutions (DZS), which provides telecom industry tech products, will put its new engineering center in Plano. The company is moving its headquarters from California. Back in March, the company noted the significance of the move in the company's history, according to the DMN. Dallas "has a strong pool of world-class engineering talent who are leading innovation in advanced communications technologies—especially in many of the most exciting fields of next-generation wireless and network abstraction and virtualization," says DZS CEO Yung Kim. 
DEALS WITH PURPOSE
Eliza Solender helps nonprofits and schools find new life in old spaces. The Kessler School recently bought the former historic Calvary Baptist Church of Oak Cliff. The deal, a "satisfying win-win," typifies the special brand of creativity Solender brings to the table for nonprofit clients.
To read more (and get our week's Top 10), head here.
---
Friday, Nov. 13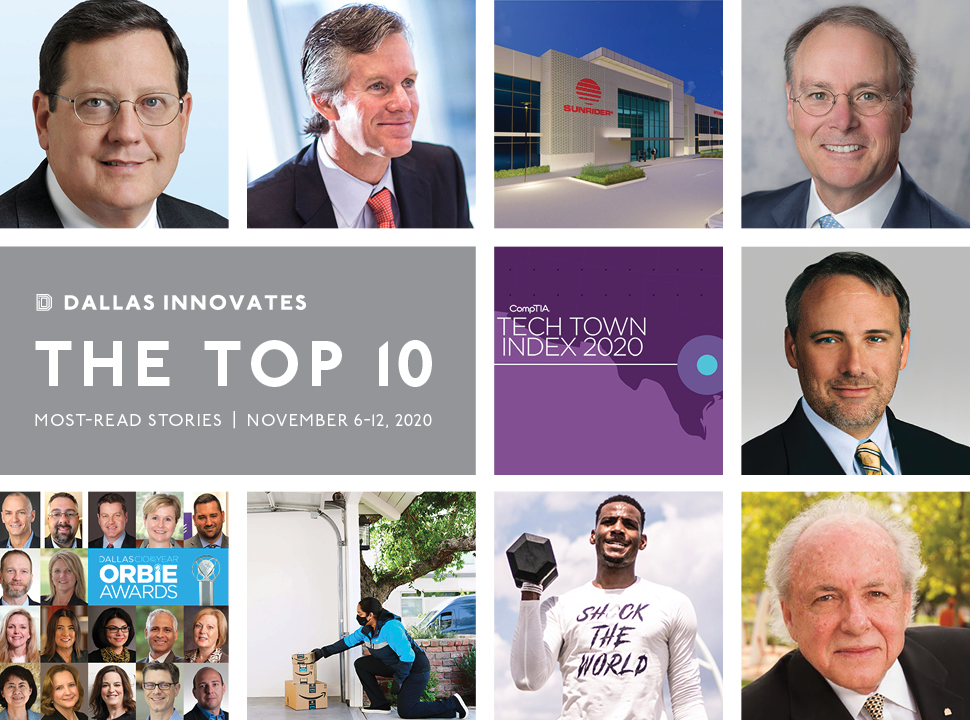 ⓵  DFW Has Always Been a Major Trucking Hub. Now It's Taking Logistics to Undreamed-Of Levels
⓶  Yes, the Office Market Has a Future. It'll Just Look a Lot Different
⓷  Chicago's Conlon & Co. Acquires Big Stake in Midlothian Business Park
⓸  Autonomous Activity Is Coming. DFW Is Well Suited to Benefit From It
⓹  Report: Dallas Rises to the No. 2 City for Tech Professionals
⓺  Qorvo Wins $75M Navy Contract for Next-Gen RF Semiconductor Facility
⓻  DallasCIO Names 37 Finalists for 2021 CIO of the Year 'ORBIE' Awards
⓼  Amazon Launches In-Garage Grocery Delivery in Dallas
⓽  Former SMU Basketball Player Launches Purpose-Driven Apparel Line
⓾  This Land Is Your Land, for the Right Price
—
THREE THINGS
⟫ COVID-19: Distribution of a COVID-19 vaccine could put a pinch on cold storage providers at a time the sector has already seen increased demand from grocers and e-commerce companies. Now, the cold storage industry could play a major role in the vaccine distribution to 300 million Americans, reports the DMN. Several of the region's facilities have been snapped up by investors, thanks to the short supply. Several more are being built. As one expert put it, "the industry is very good at adjusting to events." 
⟫ VIRTUAL SUCCESS: A Plano-based professional development publication with a 123-year history is getting bought and its employees will go back to work in the cloud, the DMN reports. Success magazine, in operation since 1897, is being acquired by real estate and tech company eXp World. The employees will join eXp's "unique, virtual business operations" where they will be represented by avatars.
⟫ AMAZON WATCH: The Richardson City Council has greenlit a $45 million Amazon fulfillment center. In other news, the e-commerce giant plans $15 million in improvements to its Dallas tech hub at Galleria towers, per documents filed with the state. 
PLUS
A TIMELINE FOR ACTION: The City of Dallas has a "Roadmap" that points the way to economic and social progress. And it could create a more powerful brand for the city, says Eric A. Johnson, who is chief of economic development and neighborhood services in Dallas. Johnson began working on the "Community Transformation Action Roadmap" shortly after he started that position in March and briefed the council members on its three-year timeline last month. But don't call the Roadmap a plan: Evolution is key to the holistic economic development strategy, he says.
—
FORCES FOR GOOD
People and organizations of all kinds are stepping up to help and inspire local communities. Here are highlights from around the region:
⟫   Jane and Pat Bolin have gifted $7.5M to the SMU Cox School of Business to foster collaboration and strengthen students' advanced data analysis skills. The gift will be combined with $7.5M from Gina and Tucker Bridwell to create Bolin-Bridwell Hall, a "learning environment that mirrors the evolving workplace and uses the latest technology to build students' data fluency." SMU said that the classrooms inside will support innovative teaching practices that build the skills needed at top companies and startups.
⟫   Texas Women's Foundation's Village Giving Circle has given $250,000 in grants to 15 nonprofits that support the Black community in North Texas. The Village Giving Circle was organized in 2017 to honor, sustain, and expand the legacy of Black women's philanthropy. It provides financial support to elevate awareness of issues, initiative, and efforts to support the local Black community.
⟫  Through a $10 million commitment and a partnership with nonprofit Connected Nation, AT&T is working to support the nation's most vulnerable students through internet connectivity and Wi-Fi hotspots. The media giant is also expanding its tech-enabled tools and learning resources for students, teachers, schools, and parents across company resources.
⟫  National real estate advisor Building Solutions has announced a social equity campaign to raise awareness of inequities in schools and offer solutions to build fair learning environments for DFW students. The campaign, "Building Solutions for Brighter Futures," includes an initial commitment of 3,000 hours to 30 area schools to examine deficiencies in facilities and operating practices, creating an Advocacy Committee, building a mentorship program, and hosting a discussion series.
PLUS

Capital One made one of its largest grant commitments to Dallas-Fort Worth yet this week by way of $500,000 to The Commit Partnership, a Dallas-based nonprofit that works to ensure all local students have access to an equitable education. Commit will use the grant for its Dallas Thrives program, a collaborative effort of local educators, business leaders, and elected officials who are working to double living wage attainment in a single generation to bolster and recover the region's economy.
---
Thursday, Nov. 12
THREE THINGS

⓵ PHARMA PLATFORM: Uber has officially launched prescription delivery in Dallas, Houston, and Austin. The company sees the program as value added for its Uber Eats platform, the DMN reports. It's planning for a national expansion.
⓶ TRAIN TRACKS:  Texas Central, which is developing the Dallas-Houston high speed rail project, has the support of possibly one of the highest backers—President-Elect Joe Biden, according to its CEO Carlos Aguilar, reports the DBJ. Aguilar commented on the project in a North Dallas Chamber of Commerce committee meeting earlier this week. Aguilar also noted the timing of "about seven years," depending on the financial close.
⓷ CONTACTLESS ORDERING: Texas-based e-commerce platform Grab, which has taken its airport online orders "from zero to five million in five years," hit its five millionth order this summer at TGI Friday's in Dallas Fort Worth International airport. The customer was using American Airlines' app. American Airlines was the startup's first airline partner and DFW was the first to launch Grab's Marketplace, the company said. It expects the next five million won't take that long, expecting to hit 10 million by 2022.
RECOMMENDED EVENT
⟫ DEC@REDBIRD: The Southern Dallas extension of the Dallas Entrepreneur Center is turning two. It's celebrating the anniversary with a virtual party tomorrow that includes a happy hour, giveaways, and networking. Terrance Maiden, who is at the forefront of the Red Bird Mall redevelopment, will keynote. (Friday, Nov. 13)
To read more and get our week's Top 10, head here.
---
Wednesday, Nov. 11
THREE THINGS
⓵ PIZZA ROLLOUT: Plano-based Pizza Hut has partnered with faux "meat" maker Beyond Meat to become the first national pizza company to bring a plant-based pizza to the masses. "I think it's the perfect marriage. Who doesn't love pizza, first off," said Beyond Meat's Stuart Kronauge in Business Insider. With pizza sales booming in the pandemic and the growth of plant-based foods, it's a "hand-in-hand opportunity" to team up, the CMO said.
⓶ DIGITAL CLOSING: Endpoint, a California digital title and escrow company, is eyeing a Dallas expansion after a $40 million capital infusion. "We're going into northern California next, and we're planning to go to Dallas," said Blaine Light, the company's head of expansion, in the Phoenix Business Journal. Launched by First American Financial Corp. in 2019, Endpoint is using its Phoenix office as a hub for growth.
⓷ LIVING WAGE INEQUITY: The Dallas Regional Chamber and The Commit Partnership are teaming up on a new initiative called Dallas Thrives, reports the DBJ. The mission? To double the number of North Texans earning a living wage by 2040.
ONE-CALL CONCIERGE SERVICE
A new Dallas-based startup called Manorly wants to provide peace of mind for those managing their home. The customizable subscription service offers "a white-glove approach" for home repairs, remodeling services, and proactive maintenance. The local startup aims to be a one-call concierge service by using licensed and insured subcontractors to complete tasks around each homeowner's schedule.
To read more and get our week's Top 10, head here.
---
Tuesday, Nov. 10
THREE THINGS
⓵ VET SUPPORT: American Veterans Group has granted $25,000 to nonprofit NPower for tech training and job placement services for under-employed, at-risk U.S. military veterans. AVG, a public-benefit veteran-owned investment banking company, made the grant in appreciation of AT&T's $200,000 gift to NPower Texas earlier this year. The grant, which will directly benefit the lives of 19 military veterans and their families in the region, recognizes the telecom giant's leadership in supporting veterans, the organization said. 
⓶ INNOVATION SPACE: CBRE's tech division has leased a big block of space at Galatyn Commons in Richardson's Telecom Corridor. Starting next year, the world's largest commercial real estate and investment firm will house hundreds of its technology employees in the space that was previously occupied by Service King. CBRE announced its headquarters relocation from LA to Dallas last month, with the corporate HQ now located in Uptown Dallas.
⓷ POP CULTURE: A first-of-its-kind homage to the "The Big Bang Theory" has transformed the AT&T Experience Store in downtown Dallas' Discovery District. An interactive re-creation of the comic book store in the long-running sitcom is officially open, according to Central Track. The new set replaces the re-creation of the "Friends" Central Perk hangout in the space. AT&T's Discovery District is phasing in features open to the public in the block between Commerce and Jackson streets near Akard through 2021. Before COVID changed the plan, the $100 million entertainment complex was slated for a grand opening in May. With features like a massive 6K media wall and a 30-foot interactive art installation triggered by physical movements, the telecom giant places an emphasis on tech in the district's offerings.
---
Monday, Nov. 9
THREE THINGS

⓵ DEFENSE DOLLARS: Fort Worth-based Elbit Systems was picked by the U.S. Air Force to compete for task orders or individual contracts that could amount to as much as $950 million to support the Joint All Domain Command and Control (JADC2) system. Selected by Air Force Life Cycle Management, Elbit—along with Hewlitt Packard, Infinity Labs, Altamira Technologies, Microsoft, and more—has earned an opportunity to secure work on the JADC2 for the future. Simply put, "we've been qualified to handle this type of work by the USAF," a company spokeperson told us.
⓶ SURVIVING & THRIVING—TOGETHER: A sold-out Northeast Leadership Forum last week in North Richland Hills hosted Hillwood CEO Ross Perot Jr. and JPS CEO Robert Early. Perot, with a goal to be the center of gravity for transportation for the next generation, noted that companies like Amazon are closer to getting approval for widespread drone technology than most people think. TCU's Entrepreneur in Residence Michael Sherrod said the future belongs to those who are resilient, can adapt to change, master change management, perfect critical thinking, and specialize in problem solving, according to the Fort Worth Business Press.
⓷ AGTECH FINALIST: Southlake-based BPS Agriculture is one of 15 international finalist food and ag startups in the virtual FoodBytes! Pitch 2020 on Dec. 2. Winnowed down from 340 applicants, BPS Agriculture was among 45 firms presenting ideas for soil and water sustainability and farm efficiency. Chief Financial Officer Erik Cooper presented a pitch on the company's OpusMAX technology, a water-based chemical formulation designed to increase yields and reduce overall chemical usage.
SEEDED
McKinney-based beauty tech startup ShearShare has closed a $2.3 million seed round. The announcement comes during a time of rapid financial growth for the company, as ShearShare reaches $3.4 million in overall funding.
---
Friday, Nov. 6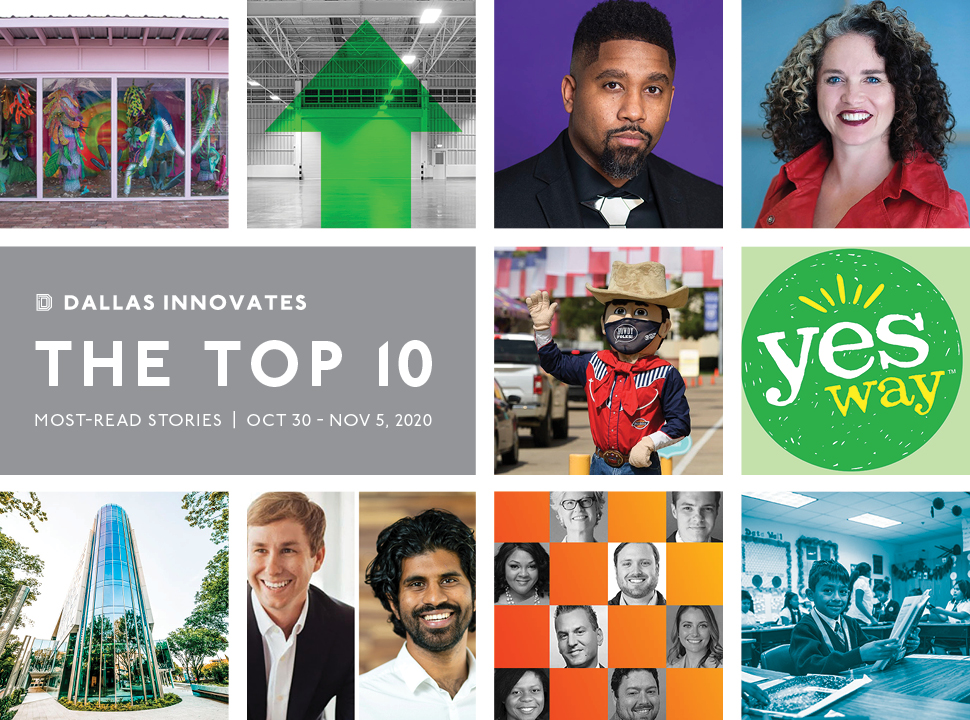 ⓵  Dallas Artists Create 'Alive' Art Installation in Fort Worth to Provide Viewers With a Safe Cultural Experience
⓶  Dallas Region Sets Record Growth, Rises to No. 1 Industrial Market
⓷  Dallas Fintech Gig Wage Raises $7.5M Series A Led by Green Dot
⓸  Two North Texans Made Inc.'s List of the Top Women Entrepreneurs
⓹  How They Did It: Redesigning the State Fair of Texas
⓺  Yesway Raises $235M for an Extensive 'Raze and Rebuild'
⓻  Innovative Spaces: Crescent's Eco-Friendly Uptown Transformation
⓼  Texas BioSecurity Startup Aims to Protect Businesses From COVID-19
⓽  DI People: Kimberly-Clark, Comerica, Alkami, and More
⓾  Dallas Orgs Get $7M of JPMorgan Chase's $10M Investment in Texas
PLUS
This week, Big D stands for Defense. Trending today are stories on two local tech companies with new U.S. Navy contracts: Qorvo's Infrastructure and Defense Products will create a next-gen RF semiconductor facility in Richardson and One Network will streamline the Navy's operational supply chain into a single global platform. Both companies have plans to hire.
You'll also find a company that aims to help businesses answer the question of "How good are we?" with a new AI-powered workforce tool called OpsIndex. 
—
FORCES FOR GOOD
People and organizations of all kinds are stepping up to help and inspire local communities. Here are highlights from around the region:
⟫   Mary Kay Foundation is providing $1.1 million in grants to 100 domestic violence shelters across the country, including North Texas-based Genesis Women's Shelter Outreach, Denton County Friends of the Family, The Family Place, and Hope's Door New Beginning Center. Dallas-based Mary Kay wants to support the one in four women who experience domestic violence in her lifetime, according to My Sweet Charity.
⟫   Youth World, an organization that works to relieve economic burdens for children in South Dallas, has a new learning center courtesy of the Dallas Mavericks. The Mavs Reading and Learning Center is meant to expand learning opportunities for local youth, and has been outfitted with a state-of-the-art STEAM area equipped with coding robots, Lego build projects, art tutorial apps, and books. It's the the 20th space dedicated by the Mavs Foundation.
⟫  The Health Hacking Crisis Network recently announced that Rhea Rai, a Lebanon Trail High School student, is the winner of its Children's COVID Story Book Challenge. She wrote "The Four Musketeers, An Old Man and His Garden: A COVID-19 Storybook" to offer information on the ongoing pandemic that children can understand and teach them good habits to stop the spread of the virus. She won $1,000 and the possibility for her story to get published through the challenge.
PLUS


A newly launched Dallas-based fashion line called Oluna is donating a year's supply of menstruation products to local homeless shelters for every pair of pants sold on its eCommerce site. So far, feminine products have been distributed to nine local homeless shelters in Dallas.
Have a shout out to a North Texas "Force for Good"? Tell us here. 
—
THREE THINGS
⟫ FUNIMATION IN MOTION: The Flower Mound-based anime company Funimation, a subsidiary of Sony Television, is the latest to head to Cypress Waters' mixed-use development in Coppell, per DMN. Founded in 1994, the company acquired by Sony in 2017 is planning a 38,000-square-foot office near Belt Line Road north of LBJ Freeway. Funimation will move from its current offices at 1200 Lakeside Parkway in Flower Mound. 
⟫ FROM FCC TO AT&T: William Kennard, former FCC Chairman, is the next Chairman of AT&T. Kennard, already a member of the Dallas company's board of directors, will take the post in January following Randall Stephenson, who will step away as executive chair. In addition to Kennard's four-year stint leading the Federal Communications Commission, he also was general counsel at the agency and later served as the U.S. Ambassador to the European Union during the Obama Administration, reports the DBJ.
⟫ SOLAR SURGE: Transfer Energy LP is heavily invested in renewable sources, reports the DMN. The Dallas-based pipeline operator just announced an agreement to buy solar energy for 15 years from a plant in Pecos County. They're in step with a big trend in Texas. Solar, wind, and storage batteries last month made up almost 95 percent of the new capacity proposed for Texas' ERCOT grid. Texas energy is going green—something that won't change no matter who's in the White House, writes the publication.
PLUS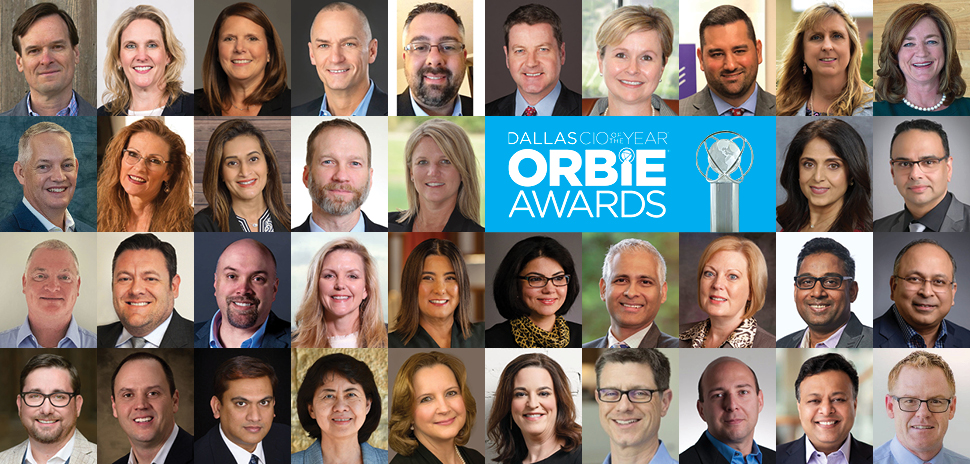 DallasCIO named 37 finalists for the 2021 CIO of the Year "ORBIE" Awards. The peer-reviewed awards honor chief information officers for excellence in technology leadership in seven categories: corporate, public sector, healthcare, enterprise, large enterprise, global, and super global. Winners will be named in a virtual event on Feb. 26.
---
Thursday, Nov. 5
THREE THINGS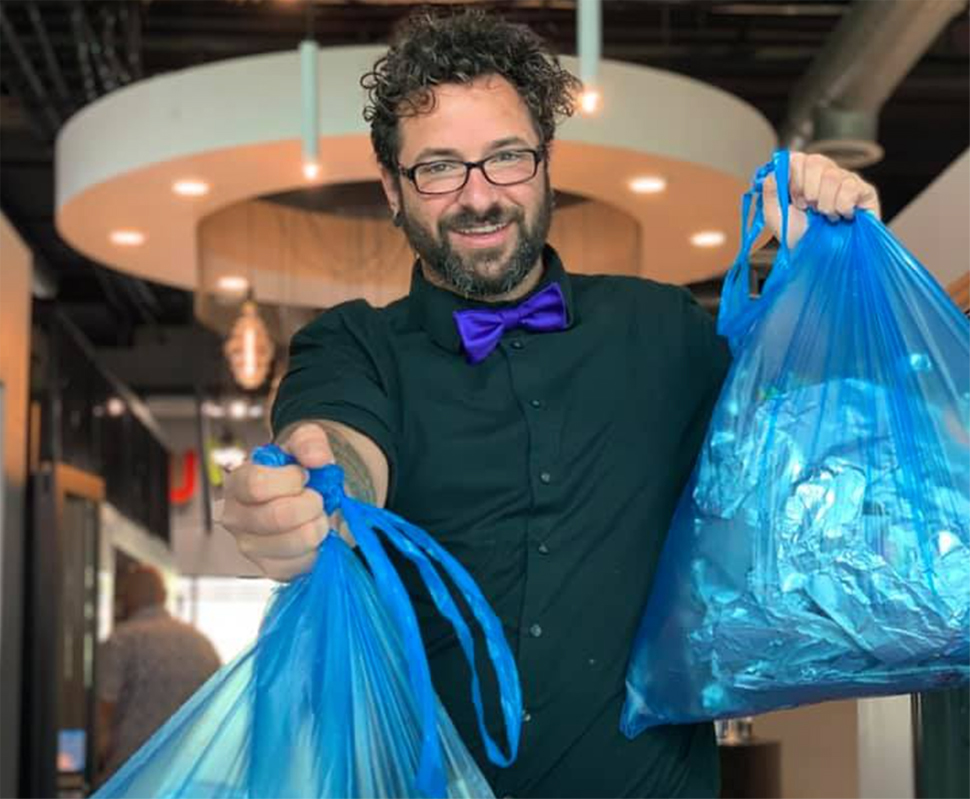 ⓵ REDUCE REUSE RECYCLE REWARD: City of Fort Worth officials honored standout businesses and organizations in their annual Environmental Excellence Awards in a first-ever virtual ceremony on Nov. 4. Top honors for innovation and excellence went to Novak Hair Studios, above, for sending 100 percent of its hair waste to a company that recycles it into mats to soak up oil after environmental disasters; the University of North Texas Health Science Center for its community garden that uses food waste to compost vegetables, some of which are donated to local food banks; and the Naval Air Station Joint Reserve Base as Industry of the Year for having a long record of clean water compliance, pollution prevention, and recycling, reported the Star-Telegram.
⓶ RETAIL REORG: Nearing the end of bankruptcy reorganization, retailer Tuesday Morning is selling its headquarters and warehouse buildings to generate cash, according to the DMN. They plan to lease back the buildings from buyer Rialto Capital. The company also plans to issue rights to purchase its shares, as the stock is trending up because home furnishings are selling strong during the pandemic.
⓷ OLD BUILDINGS, NEW LIFE: Dallas ranked No. 11 among U.S. cities with the best adaptive reuse efforts in a study from RentCafé. Candys Dirt reported on the study, which found that Dallas had repurposed 27 buildings into 4,797 new residential units. The Windy City topped the list with 91 buildings creating 14,167 apartments. The most popular old buildings to turn into apartments? Factories, hotels, and office buildings.
---
Wednesday, Nov. 4
THREE THINGS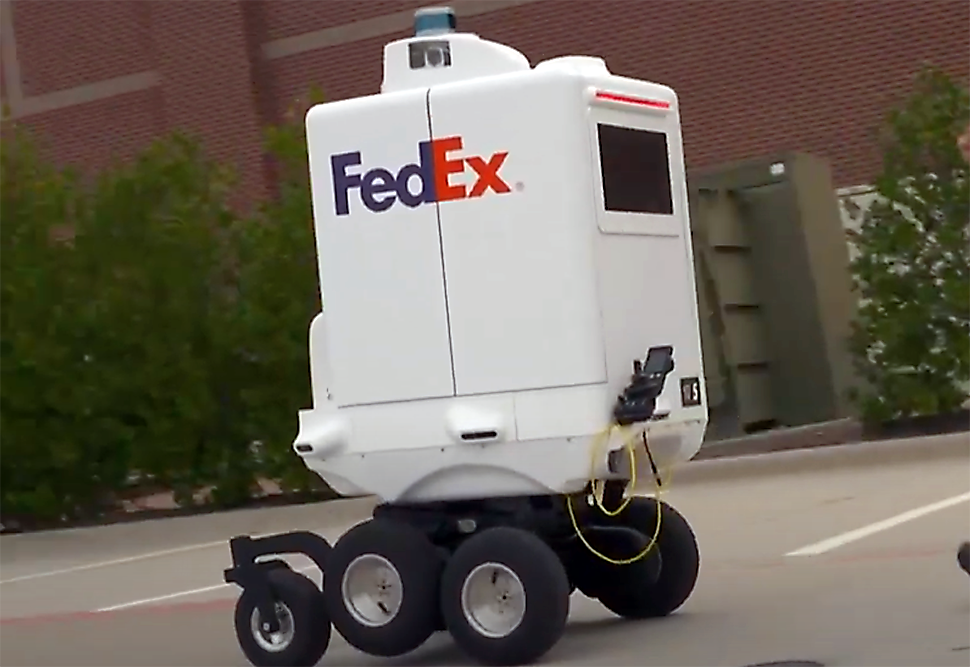 ⓵ ROBOT ROUTING: It's not surprising that FedEx is taking on new employees to help with the upcoming holiday rush, but some of them are going to be robotic, according to a report from Fast Company. From the 450-pound six-wheeled delivery robots called "Roxo" being tested in Frisco to the robotic arms sorting packages at the Memphis hub, FedEx is employing more automated options to help handle high demand stoked by the pandemic. The publication breaks down other high-tech features the company plans to deploy soon include automatic package barcode scanners inside delivery vans to maximize routes and tiny Bluetooth transmitters attached to packages for improved tracking.
⓶ SMALL IS MIGHTY: Applications have opened for Goldman Sachs 10,000 Small Businesses, a free program to give participants skills in negotiation, marketing, planning, financial education, and hiring, retaining, and leading employees. The deadline is Jan. 7, 2021.
⓷ WE RANK: Two new reports give Dallas-Fort Worth high marks in economic resiliency amid the pandemic. Dallas CultureMap cites a report from CBRE ranking DFW as the fifth-best market in North America poised for tech job growth, with Silicon Valley coming in first. The report also placed the region at No. 7 for tech job growth in 2018 and 2019. Vancouver, British Columbia came in first. A report from PwC and the nonprofit Urban Land Institute lists DFW among six "boomtowns" that are "attracting far more than their share of smart young workers" and ranks the Dallas region as fourth among the top ten real estate markets from 2021. Raleigh-Durham, Austin, and Nashville were the top three, in order.
NEW RULES
Raising money through regulation crowdfunding just became a much easier way for entrepreneurs to get capital, thanks to a new provision from the U.S. Securities and Exchange Commission. The limit for regulation crowdfunding jumped from $1.07 million to $5 million, which means companies can raise more securities without having to register the transaction with the SEC.
---
Monday, Nov. 2
THREE THINGS

⓵ FINTECH ACQUIRED: Allen-based Giact announced the company will be acquired by Refinitiv to add to the global fintech firm's fraud prevention capability. Founded in 2004 by CEO Melissa Townsley-Solis (above) and CTO Merlin Bise, Giact Systems helps businesses detect and prevent fraud. The acquisition will help organizations cope with the rapid growth of digitalization—and attempted computer crimes—prompted by the pandemic. Last month, Giact's Townsley-Solis and Bise were named finalists in EY's 2020 Entrepreneur of the Year Program.
⓶ BET ON ENTREPRENEURS: The best way to help the U.S. economy move forward is to find new ways to support entrepreneurs, especially women and people of color, according to a DMN op-ed from Craig Hall. The chairman and founder of HALL Group advocates for tax incentives for investors in local startups, and nonprofit, and private sector partnerships to raise funds—plus a reduction of red tape facing new businesses. His most ambitious idea? Launching an "Entrepreneurship Corps" (think economic Peace Corps) to encourage recent college graduates to work with entrepreneurs in underserved communities.
⓷ BRAND PROTECTION: Addison-based Authentix is finding more opportunities to help authenticate items with its recent acquisition of the Traceless Authentication Group. Authentix already has tools that let companies confirm pharmaceuticals, spirits, currency, agricultural chemicals, and oil and gas products. The acquisition of New York-based Traceless adds apparel and more, as well as access to markets in Asia. Authentix uses unique chemical markers in products to verify their origins and make counterfeit items harder to pass off, CEO Kevin McKenna told the DBJ.
---
Friday, Oct. 30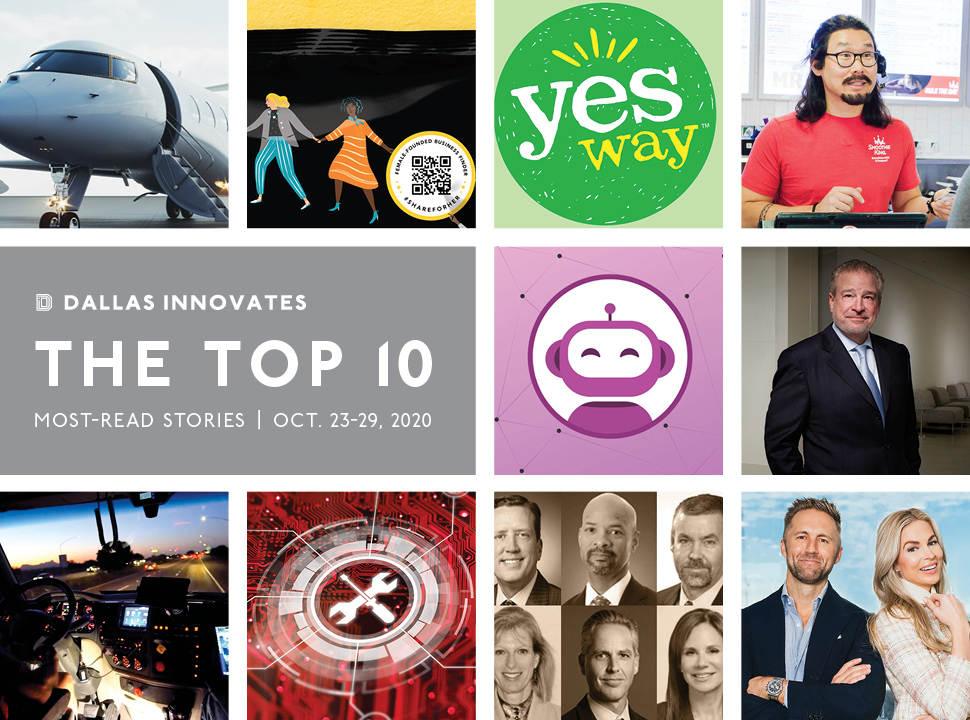 ⓵  Meet the New Keller-Based Travel Tech Startup That's Reimagining the Air Charter Industry
⓶  Plano-Based Founder of Purpose Tea Part of 'Female Founder Finder' Packaging Initiative by Frito-Lay Brand
⓷  Fort Worth Convenience Store Operator Yesway Raises $235M For Extensive 'Raze and Rebuild'
⓸  Smoothie King CEO Wan Kim Stars on 'Undercover Boss' 
⓹  AI Startup for the Title Industry Expands Its HQ in McKinney
⓺  Caris Life Sciences Raises $310M to Continue Rapidly Growing in the Precision Medicine Market
⓻  Self-Driving Startup TuSimple Teams With Hillwood On Tech Truck Hub at AllianceTexas
⓼  Match Group, Corgan, BGSF, and Omnitracs Name 16 Tech Tools That Help Build a Sense of Community
⓽  DI People: The DEC Network, The Concilio, DHA Housing Solutions, and More Make Moves
⓾  Power Couple: How Jamie and Melbourne O'Banion Run Two of Dallas' Fastest-Growing Brands
PLUS
Trending today, you can read about Adaptive3D, a UTD spinout with a fresh Series B investment. Founder Walter Voit, an inventor and professor who helms the university's Advanced Polymer Research Lab, is scaling up on innovative 3D-printing photopolymers for 21st-century manufacturing.
You'll also find two local female founders who were featured in Inc.'s list of the Top 100 Women Entrepreneurs of 2020.
—
THREE THINGS
⟫ DISCOVERY: New research from UTD links cardiovascular health to multitasking ability. Dr. Chandramallika Basak, senior author of the brain-imaging study, said "the findings help define the characteristics of 'superagers' and shed light on the clearest path to late-life cognitive health." Results indicate that people over age 60 with high fitness levels and optimal blood pressure "can keep up mentally with people half their age."
⟫ COMMERCIAL CUTS: Raytheon is cutting 20,000 jobs, but the employee base in North Texas is "unlikely to see drastic changes," reports the DBJ. The job cuts are not on the defense side of the business, according to sources.
⟫ SEE THE LIGHT: AV integration group ProSource will launch a Lighting Technology and Learning Center at the Dallas Market Center by January 2021. The center aims to help retail and design-build customers see lighting applications and innovations, like smart home systems, in an immersive setting. Lighting is a $44 billion market category, per Light Can Help You, the design firm behind the center.
PLUS
It's official. Commercial real estate giant CBRE is moving its HQ to Dallas. "It just makes sense," Bob Sulentic, president and CEO of CBRE said in the Dallas Business Journal. The move is more of a formality since Dallas is already the firm's largest U.S. workforce and has many top execs, the publication reports. "We know we're going to grow a ton here and we've already been growing here," Sulentic said. According to the DBJ, should CBRE need more space, sources speculate the firm's headquarters might eventually anchor the 2401 McKinney office tower project in Uptown, shown above.
—
FORCES FOR GOOD
People and organizations of all kinds are stepping up to help and inspire local communities. Here are highlights from around the region: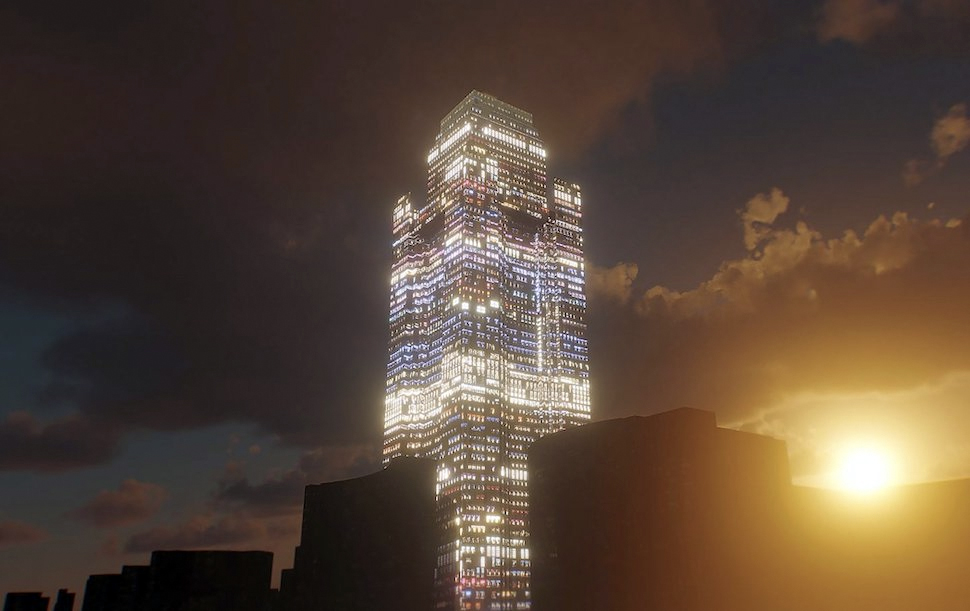 ⟫   Fort Worth's historic Pioneer Tower is set to light up next year with photos and memories from the city's residents (rendering above). Two international artists will curate the images so that they wrap around the building and become a piece of art. To incorporate public art without comprising the building's history, projection mapping will be used to digitally place the artwork on the building.
⟫ The Dallas Cowboys and electricity company Reliant are collaborating on three assistance programs to help families, teachers, and students impacted by COVID-19. College scholarships, teacher appreciation grants, and financial support and social services will be given to those in need.
⟫  Forty Dallas ISD teachers were given grants up to $2,500 through the Grants for Innovative Teaching (GFIT) program. The Junior League of Dallas gave over $85,000 total toward the educators' projects. All of the grant recipients can be found here.
PLUS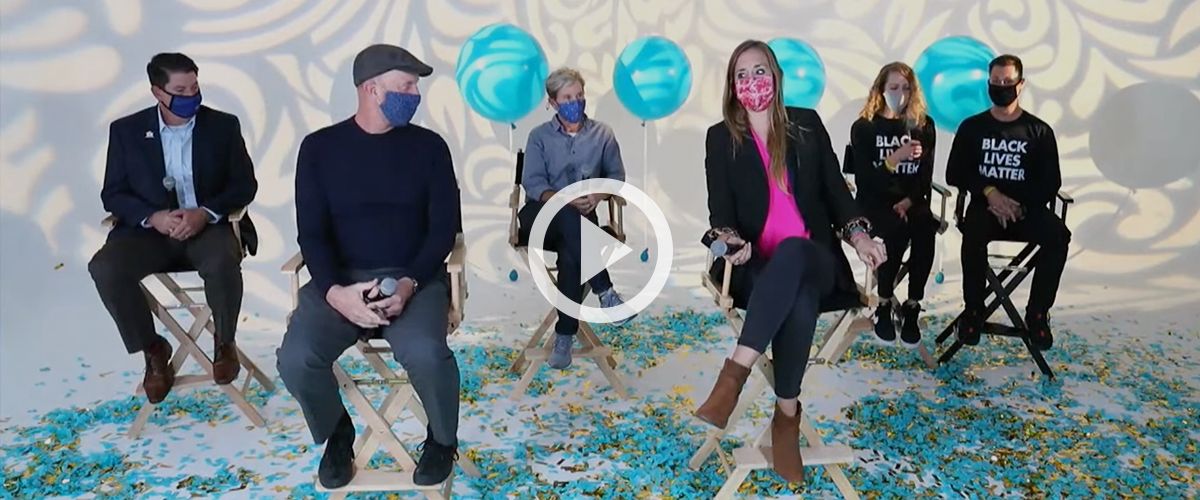 Five local social innovators competed for a total of $235,000 in United Way's The Pitch this week. Here are the winners, and a few surprise announcements. You can also watch the pitches in UWMD's video recap.
Have a shout out to a North Texas "Force for Good"? Tell us here. 
---
Thursday, Oct. 29
THREE THINGS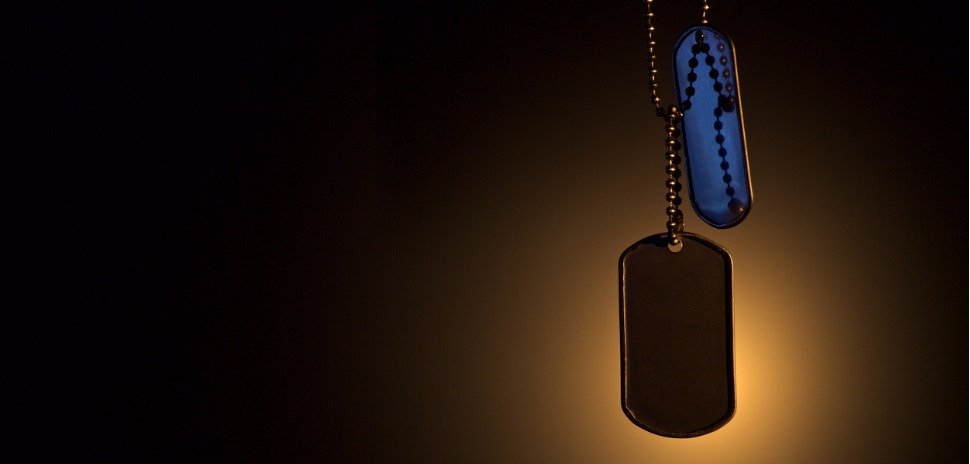 ⓵ STARTUP CITY: Dallas is a top ten U.S. city for veteran entrepreneurs, according to a ranking by the PenFed Foundation. This year's study, conducted with Edelman Intelligence, took into account the impact of COVID-19, evaluating unique factors such as PPP loans distributed, jobs created, number of COVID cases, homelessness, and more. At No. 7, Dallas-Fort Worth-Arlington ranked ahead of Texas metros Houston (11) and Austin (13).  New York topped the list at No. 1.
⓶ ENGINEERING EXPANSION: Another high-tech leader is expanding in Allen. Micron Technology and its growing design engineering operations will move into a 20 percent larger space at One Bethany West by the end of next year. Allen ranks 28 percent higher in tech job concentration than the national average, the EDC said in August.
⓷ IT'S BACK: Pier 1 is returning, at least virtually. As of today, the nearly 60-year-old retail brand is officially Internet first, as Retail Ecommerce Ventures, or REV, relaunches Pier1.com. Previously based in Fort Worth, the 30-person Pier 1 team is now located in Dallas, the Fort Worth Business Press reports. REV purchased rights to the Pier 1 name, IP, and more in June, after the home furnishing retailer closed its physical locations as part of its bankruptcy.
---
Wednesday, Oct. 28
THREE THINGS
⓵ COMING TO TOWN: Multiple sources say Los Angeles-based CBRE may be moving its headquarters to Dallas, reports the DBJ. CBRE is the world's largest commercial real estate services and investment firm. The company already has multiple offices and top executives based in DFW.
⓶ SEAL OF APPROVAL: The Dallas City Council approved an updated master plan that "attempts to infuse new life into the South Dallas neighborhood while helping to heal old wounds in the Black community" at Fair Park, reports the DMN. The new plan features more green space and a 14-acre park.
⓷ BACK AT THE OFFICE: While many companies plan to keep employees working from home through January, Dallas-Fort Worth workers have been returning at the highest rate in the U.S, per CultureMap Dallas. Kastle Systems has been examining keycard, fob, and app data across 138 cities to create its back-to-the-office barometer.
---
Tuesday, Oct. 27
THREE THINGS
⓵ MERGER: Golf club maker Callaway and Dallas-based Topgolf have a $2 billion deal. Callaway Golf Co, which has been an investor in Topgolf since 2006 and currently owns a 14 percent stake, said today it would buy the rest of Topgolf Entertainment Group.
⓶ BIO BOOM: Dallas-Fort Worth is No. 6 in a new ranking of emerging life sciences markets in the U.S., according to real estate firm CBRE. DFW is also listed as one of the fastest-growing markets for life sciences employment at ninth overall in the U.S. from 2018 to 2019. CBRE SVP Nelson Udstuen says UT Southwestern gives the region "enormous credibility" and the sector continues to grow in the region. Udstuen points to recently announced projects, such as the 23-acre Pegasus Park and its tenant BioLabs, adding "we expect more significant project announcements in the coming 12-18 months." 
⓷ SPECIAL HANDLING: Pharmaceutical logistics is a specialized discipline, and Dallas Fort Worth International Airport is committed to excellence to strengthen the air supply chain. The airport has joined Pharma.Aero, an organization that boosts industry collaboration at a time when the world relies on air freight for the safe handling of pharma and life science products.
FOLLOW THE MONEY


⟫  RE-COMMERCE: Good Buy Gear, a used baby product startup that expanded to Dallas in January, landed a $6 million Series A round earlier this month. Revenue has quadrupled, according to co-founder Kristin Langenfeld. The funding, which brings its total to more than $8 million, will be used for new partnerships and expansion into more markets nationwide. The venture-backed company, which has a 10,000-square-foot warehouse in Dallas, says strollers are bread-and-butter for the secondhand brand.
⟫  STARTUP GRANTS: Denton approved its "first-ever" entrepreneurship economic development grants. Two early-stage, Denton-founded startups were awarded the funding focused on growing tech and knowledge-based jobs: IoT platform TeamOfDefenders, launched out of Stoke Denton, got $106,500 and VR training company From the Future got $243,500, according to Voice of Denton. 
⟫  CANDY LAND: TPG Growth has taken a majority stake in SmartSweets. The better-for-you Canadian candy brand was launched in 2016 with a mission to help people kick sugar, not candy. Investment firm TPG is based in Fort Worth and San Francisco. 
PLUS

DALLAS INFLUENCE: Did the '80s TV show "Dallas" help end the Cold War? In a podcast today, Eurythmics co-founder Dave Stewart said former Soviet leader Mikhail Gorbachev told him the "illicit broadcast" of the show in Russia opened people's eyes to Western life and "'brought down' the communist superpower," per the Daily Mail.
Screenshot: Youtube 
---
Monday, Oct. 26
THREE THINGS

⓵ HOLDING STEADY: The Dallas Fed released its latest Texas Manufacturing Survey today. For the fifth month in a row, Texas factory activity expanded after a record contraction in the COVID-19 pandemic. The October report showed a rise in key measures, including the production index (up 3 points to 25.5) and new orders (up 5 points to 19.9). While some measures showed mixed movements, overall expectations of future activity remain positive.
⓶ VOLUNTEERS NEEDED: Doctors at UT Southwestern and Texas Health are looking for volunteers for a COVID-19 study to figure out "where the disease is spreading, and who it's hurting the most." As the virus surges again in North Texas, researchers are testing people for past and current coronavirus infections, according to KERA.
⓷ ACQUISITION: Plano-based Syncapay bought the North American unit of German fintech Wirecard AG, which collapsed in June after a nearly $2.25 billion hole was found in its books. The payments company, rebranded as North Lane Technologies, will combine with Syncapay subsidiary DaVinci Payment, per U.S. News & World Report. Syncapay, a holding company with the backing of Bain Capital Ventures, Silversmith Capital Partners, MissionOG, and Nyca Partners, launched in 2018. The organization said at the time it "planned to focus on acquiring disruptive financial technology innovators" to share centralized, non-core services and capture greater market share, according to a news release.
---
Friday, Oct. 23
⓵  Smoothie King CEO Wan Kim to Star on 'Undercover Boss' This Friday
⓶  CBRE's Jeff Ellerman: The Future Is Bright for Dallas-Fort Worth Corporate Relocations and Consolidations
⓷  Bank of America Is Making a $920K Investment in North Texas Nonprofits
⓸  TWU Biology Team Granted a Patent for Anti-Cancer Compounds
⓹  Fidelity Is Hiring 550 Client-Facing Positions in North Texas to 'Fuel the Innovation Talent Pipeline'
⓺  My Possibilities MPact Company Soap Hope Moves to Plano
⓻  Healthcare Company MediBookr Closes Bridge Round, Raises Total Funding to $3.3M
⓼  Exonerated Texas Athlete Greg Kelley Is the New Face of Hari Mari's Fall Boot Collection
⓽  Dallas Orgs Get $7M of JPMorgan Chase's $10M Investment in Texas to Sustain Equal Access to Opportunity
⓾  7 DFW-Based Companies Land on the 2020 Texan by Nature List for Conservation and Sustainability Efforts
—
FORCES FOR GOOD 
People and organizations of all kinds are stepping up to help and inspire local communities. Here are highlights from around the region:
⟫   The Perot Museum of Nature and Science was awarded around $497K from the U.S. Institute of Museum and Library Services' IMLS CARES Act Grants program, which supports museums and libraries responding to COVID-19. Less than 4 percent of applicants nationally got funding. The Perot will use the grant to deliver STEM education to underdeveloped communities, adapt its mobile makerspace program (known as the TECH Truck, pictured above), and launch a pilot program to measure learning.
⟫  The Mary Kay Foundation awarded $1M in grants to ten researchers who are on the front line fighting cancers that mainly affect women. The grants are part of The Mary Kay Foundation's annual cancer research grant cycle, which has totaled some $24M since its inception. Dallas' UT Southwestern Medical Center was the only local cancer research institution that received funding.
⟫  Texas Women's Foundation's Orchid Giving Circle recently celebrated its sixth year by distributing $202K in grants to 13 nonprofits that serve the region's Asian community. Orchid Giving Circle is a group of Asian women who aim to generate community grants that support social change and services benefiting their community in North Texas. The group has provided grants related to education, housing, healthcare, social services, and more.
⟫  The City of Dallas' Office of Welcoming Communities and Immigrant Affairs has teamed up with the Open Society Foundations and Communities Foundation of Texas to establish the Emma Lazarus Resilience Fund. The public-private effort intends to distribute $500K to nonprofits that provide financial assistance to immigrants and refugees and their families who are ineligible for federal COVID-19 relief programs. The orgs have already chosen 16 nonprofits to receive funding.
PLUS

As part of a four-year, $1 billion initiative to advance economic, social, and racial equity, Bank of America committed $920K to North Texas organizations that help youth in low-to-moderate-income communities. The money was split into grants: $515K went to 24 North Texas profits; $305K to the Boys & Girls Clubs in Tarrant, Collin, and Dallas counties; and $100K to Big Thought's Dallas City of Learning program.
—
NEED TO KNOW
Our partners at the Dallas Regional Chamber are keeping track of the news and stories that affect the business community across the Dallas region. Here's what we're reading:
⟫ LOOKING AHEAD: Baylor Scott & White Health CEO Jim Hinton says that the collaboration of DFW health systems helped keep the area's hospitals from getting overwhelmed during the ongoing pandemic. "In the face of a pandemic, the instinct to compete may not be the healthiest—and the instinct to collaborate is very powerful," Hinton told the DMN.
⟫ RETURNING TO NORMAL: Despite the economic challenges that COVID-19 has brought to U.S. companies, Texas Instruments projected revenue for the current quarter has surpassed analysts' estimates, reports the same publication. That suggests chip demand could be on the rebound for cars and electronics.
⟫ "SPIRITED DEBATE": Democratic incumbent Colin Allred and GOP challenger Genevieve Collins, who are competing for Congressional District 32 came together for a debate this week. Among the topics addressed were health care, policing issues, and campaign ethics, per the same publication. Watch a recap of the debate here.
PLUS
Dallas-based Articulate Labs took home $25,000 for the Innospark Artificial Intelligence Prize from the 2020 MassChallenge Texas in Houston competition. The startup is a medical technology company making wearables that mimic and complement biological systems. You can read more about them here.
---
Thursday, Oct. 22
THREE THINGS

⓵ CANCER DETECTOR: Southlake biotech OncoNano, a spinout of UTSW, has raised nearly $21.5 mllion of a $60 million offering, according to an SEC filing. That's on the heels of a $9.97 million grant from the Cancer Prevention and Research Institute of Texas (CPRIT) in August. The startup's innovative lead product, OHM-100, "lights up" a tumor to distinguish it from normal tissue. The CPRIT grant was the third for its tumor biomarkers.
⓶ LEVEL UP: Verizon is investing more than $44 million in workforce development and teaming up with nonprofit Generation on a free tech-focused career-training program to reskill workers. The initiative aims to prep 500,000 people for jobs of the future by 2030. Online classes are open to residents of Dallas and will begin in November. The program is part of Citizen Verizon, Verizon's "responsible business plan for economic, environmental, and social advancement."
⓷ MAKERS, HACKERS, TINKERERS: TheLab.ms says its move to the Richardson IQ innovation hub is official. On Dec. 1, the organization will have 3,000 square feet of "brand-spankin' new makery goodness." You can get the lowdown and find how to help with the massive move in this living document.
ENTREPRENEUR
Through NeAndre Broussard's company Black Menswear, he hopes to change how Black men are viewed after seeing inaccurate portrayals of them in the media. "You look at the stereotype of the Black male—the laziness, the unemployed, the absent father—all these things that society has plagued the Black male with," he told D CEO. "This was an opportunity to say 'How do we help just change that conversation for the positive?'"
GOOD WORK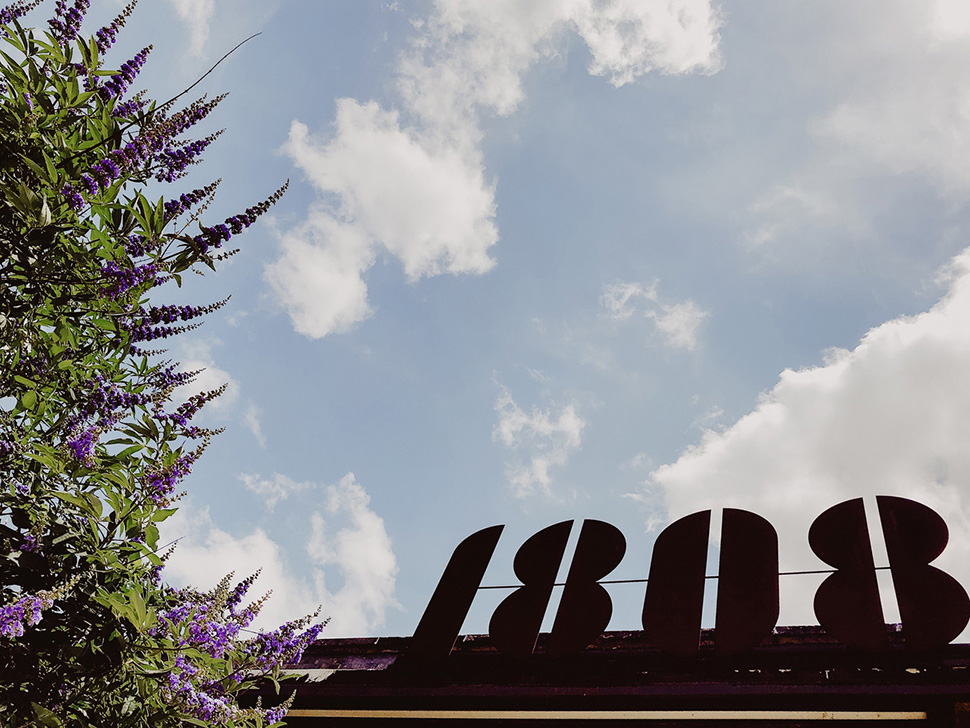 Good Coworking, which says it's the first solar-powered coworking space focused on inclusive sustainability, has officially received Gold Level certification from the City of Dallas' Green Business Certification program. The certification means that the Dallas-based coworking space is among businesses that prevent waste, incorporate recycling, and promote reuse, reduce, and composting in their business operations. The city scored Good Coworking high for its green purchasing, green cleaning, and company green policies, like its composting program. Co-Founder Amy King hopes this will encourage other local entrepreneurs to embrace sustainability practices and seek the certification.
---
Wednesday, Oct. 21
THREE THINGS

⓵ DEI PLATFORM: Dallas-based Kanarys has teamed up with leading national advocacy organizations to boost diversity, equity, and inclusion in workplaces. The Black-founded tech startup-with-a-mission has partnered with the National Urban League, Prospanica, Ascend, Black IDEA Coalition, INROADS, and National Society of Black Engineers (NSBE). The organizations have endorsed Kanarys' platform that empowers underrepresented employees.
⓶ SHELF-STABLE: Dallas-based nondairy milk-maker Mooala has added to its plant-based portfolio. The startup, founded in 2016, is expanding beyond the refrigerator with the launch of non-perishable organic beverages. The company closed an $8.3 million Series A last fall.
⓷ HALF EARTH DAY: Dallas-based EarthX is celebrating the halfway mark to the 51st Earth Day tomorrow. You can join the virtual celebration on EarthxTV at 5 p.m. on Oct. 22. NBC 5 Today co-anchor Deborah Ferguson will host guests E.O. Wilson (Shortage of Water and the Decline of Biodiversity), Rachelle Carson Begley (Becoming an Environmentalist), and Harvey Locke (Nature Needs Half). The celebration caps off with a look at "Superman's Not Coming," a new book by activist Erin Brockovich.
FOLLOW THE MONEY


⟫ Irving-based Nexstar Media Group is investing in esports streaming network VENN. The company co-led a $26 million Series A round for the "network hoping to be gaming's answer to MTV," TechCrunch reports. The video game network's $17 million seed last year was an "all-star" round, co-led by BITKRAFT, which says it's the first esports investment fund in the world, and gaming luminaries Marc Merrill (co-founder of Riot Games), Mike Morhaime (co-founder of Blizzard Entertainment), and Kevin Lin (co-founder of Twitch), and YuChiang Cheng, co-founder of World Golf Tour and President of Topgolf Media.
⟫ Dallas-based Cypress Growth Capital has announced a $3.25 million investment in LegalSifter. The Pittsburgh-headquartered company's SaaS solutions help organizations and law firms review, negotiate, and organize contracts using AI.
---
Tuesday, Oct. 20
THREE THINGS
⓵ TEXAS BOUND?: Cashierless checkout startup AiFi raised $15 million and plans to expand to Texas. The Santa Clara startup wants to eliminate the traditional checkout stand and help retail stores of all sizes become fully autonomous. Its OASIS tech could power 330 new stores across the U.S. and Europe by the end of the year, the startup said in July. AiFi might be best known for its NanoStore (pictured above): The fully-autonomous, retail-ready, container-sized store solution can deploy in just days. "We envision a future where instead of asking people to go to the shopping center to shop, we push these tiny automated stores as close as possible to where people live," Co-founder and CEO Steve Gu said earlier this year. The latest funding from Qualcomm and other backers double AiFi's total raised to $30M, according to VentureBeat. AiFi has partnerships with half of the top U.S. grocery chains and three of the top five European chains, per the company's website.
⓶ STATE OF WELL BEING: Teach for America is piloting a new social-emotional program in Dallas-Fort Worth to help teachers feel less burnout. A partnership with Yale program RULER will give educators a playbook for five skills of emotional intelligence, per WFAA. "The same way that airlines tell us to put on our own air mask ourselves first before helping others, that applies at work and with educators themselves," Rea Foster, executive director at the Dallas-Fort Worth Teach for America chapter, said in a virtual conference today. The nonprofit, which has 504 educators in area districts, places teachers in disenfranchised communities for two years.
⓷ SCIENCE IN THE CITY: A new series of meet-and-greets between scientists and the public will give folks a look behind the scenes of "advances percolating across Dallas-Fort Worth." The Dallas Morning News and its partners SMU, UTSW, talkSTEM, the Perot Museum, and UTD's Center for BrainHealth will host free online events this fall. The first one, on Nov. 14, will focus on black holes. SMU's Jodi Cooley and Stephen Sekula, married physicists who study exotic phenomena, will share research in "From a Trampoline to the Unseen: What a Rubber Sheet Can Teach Us About the Dark Universe."
KONDO EXCLUSIVE

Coppell-based retailer Container Store is launching an exclusive co-branded collection of organizing tools by tidying expert Marie Kondo. The new Container Store x KonMari line, debuting Jan. 2021, will have more than 100 sustainably sourced products designed to inspire a tidy and joyful home.
---
Monday, Oct. 19
THREE THINGS

⓵ MONEY MOVER: Encore Bank, a private boutique bank with a commercial focus, has launched two new lines of business, Small Business by Encore and Speciality Finance by Encore. The move adds SBA lending and equipment finance to its offerings. "Encore has an enormous opportunity to reach a new set of clients in the SBA lending space," Julie Fuller Jones said in the Fort Worth Business Press. Jones will lead the small business product line. Encore Bank President Phillip Jett announced the expansion of Encore Bank into Dallas-Fort Worth last month.
⓶ SEEDED: A Wichita Falls school with plans to open campuses in Dallas-Fort Worth and Austin by late 2021 has closed a $1.4 million seed round. Dexter, which offers online and in-person education from around the world, wants to make the world more intelligent by building the school of the future"—one that is "radically accessible financially and geographically." Likening the school to the "Model T of private education," CEO Michael Olaya writes, "the transition from horse-drawn carriages to automobiles transformed our nation. Our goal is for Dexter to do the same for education; not just by building the technical system underlying it, but by redefining what it means to be an educated citizen in the modern age." The seed round was led by LAUNCH, NewFund BluePoint VC, and angels.
⓷ ACQUIRED: Kainos Capital is adding national weight-loss brand Nutrisystem to its portfolio of food industry companies. The Dallas PE firm acquired the firm in a $575 million deal. According to Kainos' Andrew Rosen, the deal for the direct-to-consumer weight management company is timely in the COVID-19 pandemic, "when it's more challenging for many people to access affordable, healthy meals."
SELF-MADE WOMEN
Four Dallas-Fort Worth women made the list of America's Richest Self-Made Women. Forbes released its ranking of the country's most successful women entrepreneurs and executives last week. 
⟫ Robyn Jones (No. 16) has an estimated net worth of $1.1 billion, per Forbes. The founder of Westlake-based Goosehead Insurance Agency and its more than 1,100 franchised offices is new to the list this year.
⟫  April Anthony (No. 29) has a net worth of $700 million, the publication estimates. Also new to the list this year, she's CEO of the home health and hospice division of Dallas-based Encompass Health Corp. 
⟫  Kathleen Hildreth (No. 59) has an estimated net worth of $370 million. Hildreth is the co-founder of Denton-based aviation logistics company M1 Support Services. 
⟫  Suzy Batiz (No. 84), pictured above, has an estimated net worth of $215 million. The entrepreneur is the founder of the Addison-based Poo-Pourri. 
Eight Texans made the list in all. The North Texans join SHI International Corp.'s Thai Lee (No. 8), Bumble's Whitney Wolfe Herd (No. 39), AMD's Lisa Su (No. 44), and Entrepreneur Kendra Scott (No. 47). Topping the list is co-founder and chairwoman of Wisconsin-based ABC Supply Co., Diane Hendricks, with an estimated net worth of $8 billion.
---
Friday, Oct. 16

THE WEEK
Here are the Most Popular Stories on Dallas Innovates   
⓵  The First Black Woman to Head Community Relations at Dallas Police Department is Joining Dallas Habitat for Humanity
⓶  Exonerated Texas Athlete Greg Kelley Is the New Face of Hari Mari's Fall Boot Collection
⓷  'We Believe Cities Like Frisco Will Benefit by the Return of Growth To the Suburbs,' Says Economic Developer Jason Ford
⓸  Former Pro Athlete Turned Fitness Entrepreneur Opens First Black Female-Owned Gym in Richardson
⓹  Beth Bowman on Corporate Expansion and Retention in Irving: 'We're Seeing More Companies Investing in Their Existing Footprint'
⓺  Fast-Growing Telehealth Startup Expands HQ With McKinney EDC Innovation Fund Grant
⓻  'There Will be New Opportunities,' Says Lancaster Economic Development Director
⓼  CBRE's Jeff Ellerman: The Future Is Bright for Dallas-Fort Worth Corporate Relocations and Consolidations
⓽  Dallas-Based Arcosa Makes $87M Acquisition That Could Reduce Transportation Costs, Carbon Footprint
⓾  Photo Gallery: Winners of AIA Dallas' 2020 Built Design Awards
PLUS  
Trending today, you'll find a TWU biology team with a new patent for anti-cancer compounds that could save lives and a Dallas-based clearing company that says, "If it plugs in, younger investors love it." Even in the face of pandemic-related volatility, Apex Clearing has seen the number of millennial investor accounts across its client platforms double since the beginning of the year. 
NEED TO KNOW
Our partners at the Dallas Regional Chamber are keeping track of the news and stories that affect the business community across the Dallas region. Here's what we're reading:
⟫ COUNTDOWN TO ELECTION DAY: Read four key takeaways from the DRC's recent virtual discussion with Politico campaign pro reporters about how pivotal Texas races will play a role in the national electoral landscape.
⟫ WFH, CONTINUED: Remote work is expected to remain a fixture in the U.S. even after the coronavirus crisis fades. The DMN has the rundown of a September report on how 800 executives envision the post-pandemic workforce.
⟫ TOP RANKED: Frisco ranks No. 6 among the nation's fastest-growing cities, per Wallet Hub. The city tied for first on key measures—highest job and population growth. Other North Texas cities among the fastest-growing were McKinney (No. 11) and Richardson (No. 30). The researchers ranked cities by 17 metrics, including economic growth.
FORCES FOR GOOD
People and organizations of all kinds are stepping up to help and inspire local communities. Here are highlights from around the region:
⟫   As part of Facebook's nationwide Voting is Voice public art initiative, murals have been installed across Fort Worth from diverse artists. The goal behind the initiative is to encourage people to vote in the upcoming election, with each mural including QR codes that bring viewers to Instagram and the Facebook Voter Information Center.
⟫  Credit Union of Texas (CUTX) and McKinney nonprofit Streetside Showers have teamed up to offer mobile hot showers and personal hygiene care to the homeless population. Bringing showers to the homeless is Streetside Showers' mission, which will have expanded reach, mobility, and capability thanks to CUTX's donation of a three-stall shower trailer and Dodge Ram 2500 truck. Learn more about the local nonprofit in our profile here.
⟫  Popular fast-casual chain Chipotle has extended its debt-free degree program to include Dallas' Paul Quinn College, the first HBCU in the program. Chipotle will cover 100 percent of tuition costs up-front of more than 75 business and technology degrees for employees who have worked 120 days, per CultureMap. Already, 8,000+ employees have benefited from the program.
⟫  As part of a new $30 billion initiative, JPMorgan Chase this week committed $10 million to creating and sustaining opportunity in underserved communities. The firm allocated $7 million of the funds to a collaboration with Dallas-based nonprofit The Commit Partnership for career pathway development and living wage obtainment to prepare students for the future of work.
PLUS

The Commit Partnership has released its latest Dallas County Scorecard, which tracks progress being made in public education. The annual study evaluates the overall health of Dallas' cradle-to-career pipeline through 11 educational indicators. This year, the nonprofit added a look at living wage attainment. Go here for more insights on progress and community action.
OPPORTUNITIES FOR INNOVATORS
Browse our curated selection of contests, nominations, pitches, and grants. From entrepreneurs to corporates, creatives to inventors, educators to social innovators, here's a roundup of goodies for you. Deadlines coming up include:
Impact Ventures' Fall 2020 Program (Oct. 17, pictured above)
The Greater Dallas Planning Council's Urban Design Awards (Oct. 23)
Zpryme's Start@ETS (Oct. 23)
Perot Museum of Nature and Science's Staircase Project (Oct. 30)
The Greater Dallas Planning Council's Urban Design Awards (Oct. 30)
8th Innovation Leaders Summit (Nov. 4)
Tory Burch Foundation's Fellows Program (Nov. 12)
Plano's Sustainable Community Grants (Nov. 16)
---
Thursday, Oct. 15
⓵ BIG DEALS: While the latest report is mixed, venture investment dollars have "surpassed all of last year" in DFW. So far this year, the number of deals are down (155 compared to about 165), but the total dollars are up ($1.075 billion for nine months in 2020, compared to under $850 million in total for 2019), reports the DBJ. DFW has boosted large funding deals this year, including Alkami which recently raised $140 million.
⓶ SOLAR POWERED: Home Depot will use the electricity generated from a massive solar project in North Texas that's being built by Enel, a multinational energy company. It's a step toward the retail giant's sustainability goals, the company says. The renewable procurement deal is its largest-ever, per the Atlanta Business Chronicle.
⓷ TRAFFIC TIMING: New state-of-the-art technology is helping Fort Worth improve traffic flow. Staff members can make real-time adjustments to signalized intersections and corridors with a centralized traffic software system. A new center includes video monitoring with more than 120 traffic cameras, communication with 904 traffic signals, and travel time sensors. 
AWARDS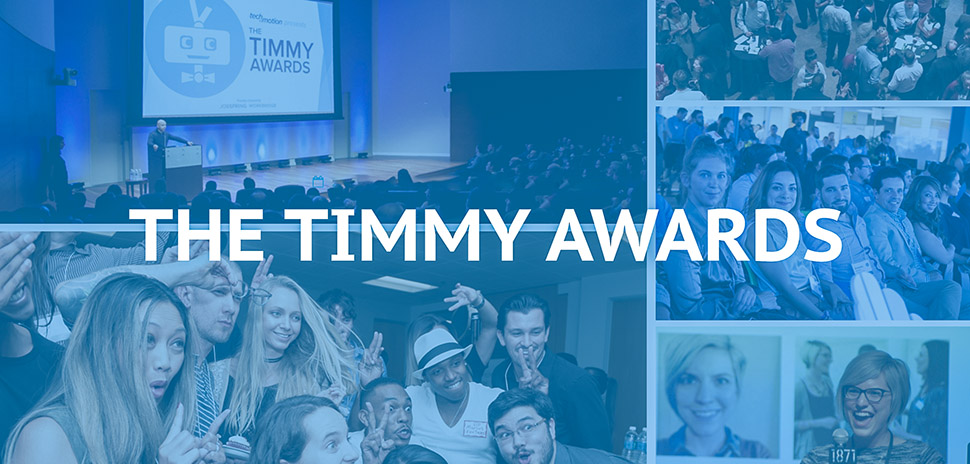 The tech-centric Timmy Awards has announced the winners of its first annual Dallas event, which can all be found here. On Oct. 29, the Dallas winners will compete on the national stage for the chance to win a National Timmy Award.
---
Wednesday, Oct. 14
THREE THINGS

⓵ THE JACOBS LAWN: The Dallas tech and engineering giant is giving $8 million to Klyde Warren Park. Jacobs will have naming rights for a key part of KWP's second phase, a 1.65-acre expansion being built over Woodall Rodgers Freeway. A 36,000-square-foot "multiuse green space will host markets, festivals and other recreational community events. In the winter, it will be converted into an ice rink being designed in conjunction with the Dallas Stars," the DMN reports.
⓶ E-COMMERCE EXPANSION: A California-based online retailer is putting a big shipping hub in Mesquite. 18-year-old Best Choice Products sells everything from pet supplies to furniture, per the same publication. 
⓷ GAME ON: GameStop is attracting more attention on Wall Street after a New York investor took a 5-percent-plus stake in the Grapevine video game retailer. It's more big backing, after RC Ventures, Chewy co-founder Ryan Cohen, boosted a stake in the company last month, noted the DBJ. Last week, Gamestop unveiled a multiyear agreement with Microsoft.
---
Tuesday, Oct. 13
THREE THINGS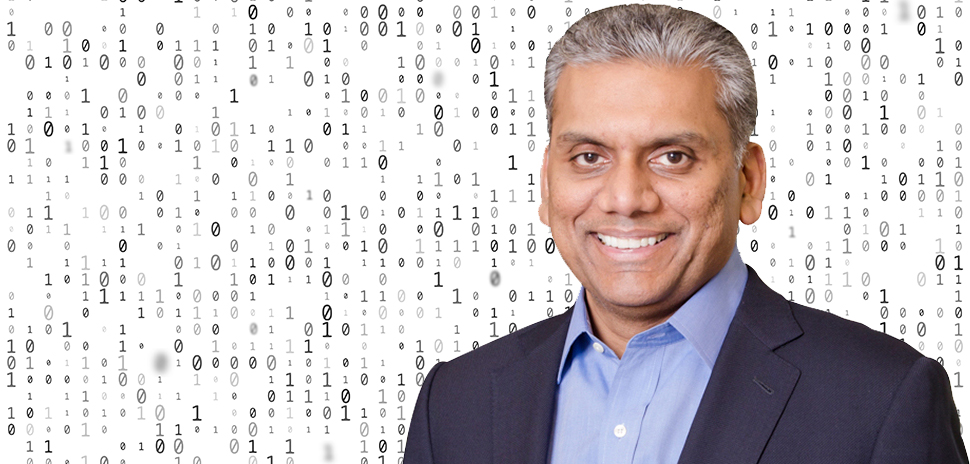 ⓵ 'BORDERLESS ENTREPRENEURSHIP': Dallas-based VC firm Perot Jain has joined forces with FalconX, a Silicon Valley-based B2B startup accelerator. The strategic partnership will help startup founders through mentorship, funding, and access to corporate customers and partners in Silicon Valley, Texas, and beyond. Perot Jain co-founder and managing partner Anurag Jain will join the FalconX Board as part of the deal. FalconX told us that Dallas startups interested in learning more should reach out here.
⓶ VETERAN INCUBATOR: In partnership with WeWork, the Bunker Labs' Veterans in Residence incubator program is focused on helping veterans transition from military to civilian life with business tools and resources. A free, six-month program kicks off in January. But hurry, applications close on Oct. 15. Bunker Labs is a nonprofit with locations in 21 cities, including Dallas.
⓷ JUST YOUR STYLE: The concept for new Richardson-based startup Layerist is similar to apparel service Stitch Fix but for jewelry lovers. Launched last week by Hannah Brown and Kelsey Fraley, the company sends curated boxes to customers based on styles they like and how much they're willing to spend. 
FINALISTS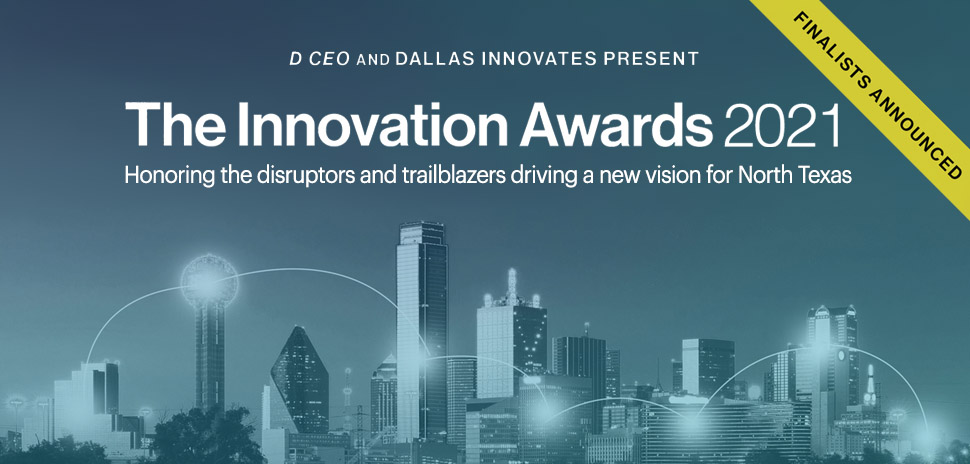 Meet the finalists for The Innovation Awards 2021, presented by Dallas Innovates and D CEO. Now in its second year, the program honors disruptors and trailblazers driving a new vision for North Texas. Here are this year's finalists.
DI PEOPLE
Here are a few to know—and why.
⟫  Meet the 'American Pickers' of Aerospace Technology: Joe and Tricia D'Cruz work with "defense contractors and industrial companies to bring proprietary technology to market," per D CEO. Their company, Catalyze Dallas, which has an advisory board that helps identify needs in the marketplace, commercializes intellectual property.
⟫  Chris MacFarland, CEO of Plano-based software-defined networking company Masergy, will join the board of directors for Linear Labs. The Fort Worth-based startup just raised $6M for expansion.
⟫  Gore Range Capital, a healthcare venture capital firm with a new headquarters in Southlake and an office in New York, has expanded its Industry Advisory Board for the launch of Gore Range Capital Fund II, a new fund focused entirely on skin health. Joining the advisory board are industry experts Dr. April W. Armstrong, Dr. Neal Bhatia, Dr. Joel L. Cohen, Dr. Seemal R. Desai, Dr. Aaron S. Farberg, Dr. Gary Goldenberg, and Robert Moccia. The seven new members will work with the fund to "source, diligence, and support early-stage companies with innovative treatments and technologies for skin health." Managing Partner Ethan Rigel and Partner Humberto Antunes recently have recruited skin pros to the region. 
---
Monday, Oct. 12
THREE THINGS
⓵ INDUSTRIAL BOOM: DFW has set a new record in leasing so far this year, bolstered by surging consumer product demands during the pandemic. Distribution and warehouse tenants have "gobbled up 21 million square feet of industrial space in North Texas through September," the DMN reports.
⓶ REGIONAL HQ: International logistics firm DSV has big plans for Lancaster. The Danish company plans to build a 1 million-square-foot warehouse and a three-story office building, along with three satellite offices in the city. The operation could employ 450 people in its first five years, with "250 employees expected to make an average of $76,000 per year," the DBJ reports.
⓷ ORGANIC EXPANSION: One of the largest organic and specialty food distributors in the nation is planning a giant new warehouse in Southern Dallas. Illinois-based KeHe Distributors will include 120 docks, cold storage, dry storage, and an office in a 994,000-square-foot facility that's expected to be complete in October 2021, according to the same publication.
TESTING GROUND
Walmart is piloting a tech service kiosk that will compete with Apple's genius bar and Best Buy's Geek Squad. Launching first in four Dallas-area stores, the company has partnered with NY-based True Network Solutions to staff and run the program. Prices for basic services will be up to 50 percent lower than the nearest competitor, the DMN reports.
To read more (and get our week's Top 10), head here.
---
Friday, Oct. 9

THE WEEK
Here are the Most Popular Stories on Dallas Innovates   
⓵  Phase IV, The Star: Jerry Jones Moves Forward With a $65M Spec Building in Frisco
⓶  Dallas-Based Shavelogic Is a Cut Above, 11 Years in the Making
⓷  Gates Foundation Scientist Joins Dallas Philanthropist To Talk COVID-19 Vaccine—and Biotech in DFW
⓸  Alkami Technology Closes a $140M Funding Round
⓹  Power Couple: How Jamie and Melbourne O'Banion Run Two of Dallas' Fastest-Growing Brands
⓺  Poo~Pourri Combats 'Great Toilet Paper Shortage of 2020' With New Bidet 
⓻  Capital One's $200M Impact Initiative Partners With Two Local Orgs
⓼  Meet the 19-Year-Old Dallas Native Who Went Viral on TikTok With Advanced Science Videos
⓽  Alliance Center North 7: Spec Industrial, E-Commerce Space Touts Worker Amenities—and Green Space
⓾  Eye on the Future: Planned Developments Keep DFW On the Forefront of Industry and Livability
PLUS  
Trending today, you'll find a UTSW scientist who Zoomed with Nobel Prize winner Dr. Jennifer Doudna to talk CRISPR technology and a Frisco marketing firm that helps businesses make high-quality commercials via its flat-fee virtual production shoots that use an iPhone.
NEED TO KNOW
Our partners at the Dallas Regional Chamber are keeping track of the news and stories that affect the business community across the Dallas region. Here's what we're reading:
⟫ PROPTECH: Oakland-based Roofstock, which has an office in downtown Dallas, has teamed up with Lennar, one of the nation's largest homebuilders. Roofstock will work with Lennar to sell newly built homes to real estate investors for rental in popular markets, initially in Dallas and Atlanta.
⟫ RECONSIDERATION: Gov. Greg Abbott's office will 're-evaluate' its Texas bullet train project stance "after being provided 'incomplete information,'"  reports the DMN.
⟫ REPORT CARD: Texas earns an 'F' in how it teaches students about climate change, groups say. States were evaluated on "what they teach students about climate change and if lessons include what can be done to mitigate it," per the same publication.
PLUS
Two Dallas-based architecture firms—D2 Architecture and global firm HKS—have merged. The move will expand HKS' senior living practice. It's a market "poised for tremendous innovation and growth," writes Bianca Montes in D CEO. D2 Founder David Dillard, above, will lead HKS' senior living efforts.
FORCES FOR GOOD
⟫  Texas Women's Foundation announced that its 35th Annual Luncheon raised more than $926,000. Themed "Texas for All," the 35th Annual Luncheon was presented by Toyota and powered by the Dallas Mavericks. It featured a conversation between America Ferrera, the actress and New York Times best-selling author, and Laysha Ward, chief external engagement officer for Target. Pictured above is luncheon co-chairs Bonnie Clinton, VP and chief procurement officer of Toyota, and Cynt Marshall, president and CEO of the Dallas Mavericks.
⟫   Aurelia and Brad Heppner and family have committed $11.5 million to SMU's Cox School of Business to foster "the leadership skills of tomorrow's executives" and "invest in groundbreaking research." Of the money, $10M will go to establishing a hub for collaboration in the Cox community and $1.5M to supporting Cox faculty research.
⟫  Dallas nonprofit OurCalling has a new 16,000-square-foot, $1.7 million-plus center for vulnerable homeless women. It's funded in part by financial gifts and professional services from real estate- and construction-related companies, led by developer/project manager KDC and general contractor Balfour Beatty.
⟫  Pasos for Oak Cliff, an organization started by two local educators to donate new sneakers to low income students in their community, received a donation of 500 shoes from international footwear chain Payless. It all happened this morning when the co-founders were guests on "The Drew Barrymore Show." 
OPPORTUNITIES FOR INNOVATORS
Browse our curated selection of contests, nominations, pitches, and grants. From entrepreneurs to corporates, creatives to inventors, educators to social innovators, here's a roundup of goodies for you. Deadlines coming up include:
---
Thursday, Oct. 8
THREE THINGS
⓵ DALLAS DELIVERS: Delivery startup goPuff just raised $380M at a $3.9B valuation. Last year, Dallas was the third of four markets the Philly-based company entered in Texas. This year, the billion-dollar app made news by delivering groceries to doctors and nurses on the front lines of the pandemic. In related news, Lalamove, an on-demand delivery and logistics startup, announced its expansion to Dallas-Fort Worth earlier this week. The Hong Kong unicorn has plans to onboard 1,000+ delivery partners by the end of the year to make delivery more accessible to small and medium businesses.
⓶ GOING PUBLIC: Another large local tech player is joining the IPO party. McAfee, one of the largest employers in the region, has filed for an initial public offering. The San Jose-based digital security firm has a large office in Plano.
⓷ RENTAL RISE: Dallas-based Invitation Homes has formed a new venture to buy up to $1 billion in rental homes. "We believe both the fundamentals in our sector and the need for high-quality rental housing in the U.S. are as strong as they have been in our company's history," Invitation Homes CEO Dallas Tanner said in a statement. The company currently owns 80,000 homes.
DALLAS DISCOVERY
No bones about it: Lewisville-based Orthofix has high-tech help on the way for low back pain related to the sacroiliac joint. The company has gotten FDA clearance for its 3D-printed bone screw featuring nanotechnology. It's the first of its kind specifically designed for the SI joint. Other recent company news includes a $10 million partnership with a Swiss medtech firm and a new division president.
DI PEOPLE
Here are three to watch.
⟫  Dallas Area Habitat for Humanity has brought Joli Robinson onto its team as VP of Government Affairs and Public Policy. Robinson, who was previously the director of Community Affairs and Youth Outreach at the Dallas Police Department, will serve as a liaison and spokesperson for the community.
⟫  Sandi Karrmann, who has previously held leadership roles at PepsiCo, YUM!, Pizza Hut, and Tenet Health, has been appointed senior vice president and chief human resources officer for Kimberly-Clark. Karmann will be responsible for recruiting, development and performance management, labor relations, and more for the global company.
⟫  Supply chain company Frog Mask, founded by TCU student Kinh Pham, gave 10,000 face masks to the Tarrant Area Food Bank, reports Fort Worth Business Press. Since Frog Mask was created in July 2020, the company has sold more than 100,000 masks and donated around 27,000 more.
---
Wednesday, Oct. 7
THREE THINGS
⓵ COMING TO TOWN?: Gov. Greg Abbott confirmed on Twitter that he has been in talks with Nasdaq about potentially relocating its electronic trading systems to Dallas-Fort Worth. "They want to flee high taxes," he wrote in a tweet of the exchange's New Jersey location. "I let them know that we just passed a constitutional amendment banning an income tax in Texas." The DMN reported that Nasdaq is planning to visit Texas and meet with the governor.
⓶ MOVING IN: Microsoft could be set to lease 80,000+ square feet at Vari's newly opened space-as-a-service offering, VariSpace Southlake. Though Vari hinted that a major Fortune 50 company would move in on Jan. 1, sources close to the deal say that it's Microsoft, per the DBJ. This follows last year's news that Microsoft planned to hire more than 500 people and make a $30 million investment into a strategic hub in Irving.
⓷ GOING PUBLIC: Richardson-based Mavenir, a cloud-native provider of software for mobile communication networks, has filed its IPO for $100M, according to the Securities and Exchange Commission. Mavenir's tech enables wireless service providers to easily, efficiently, and cost-effectively operate networks. Its customer base currently includes 250+ service providers.
NEW MARKETS

⟫  Dallas-based Cherry, an on-demand nail service app, has expanded to Houston. Founded in 2017 by tech entrepreneur/influencer Amber Venz Box, the idea is that the convenience of the service is the "Cherry on top" for women who want to have it all, per innovationMAP. Box, the founder of LIKEtoKNOW.it and rewardStyle, said that a career, a family, and a mani are "nearly impossible with a salon model."
⟫  Greenlight, the "largest distributed ledger storing verified academic records," will soon connect San Antonio's Southwest ISD students with educators and businesses. Students can get access to the Credentials Locker, which is a state-of-the-art digital pathway for students to securely share their lifelong records and achievements. Dallas-based Greenlight—a self-funded startup founded in 2018—calls its platform an "economic mobility platform." 
⟫  Carrollton standing-desk innovator Vari has confirmed the company is eyeing a sales office and furniture showroom in North Carolina, according to the Triangle Business Journal. The state is known for its robust furniture industry.
VIRTUAL PRODUCTION
Frisco-based Sophos Marketing wants to make awareness affordable. The company's Virtual Commercial Production Shoots let businesses reach customers on streaming services at a fraction of traditional costs. By using an iPhone in the process, the agency can remotely produce high-definition, highly-targeted commercials for its clients. Learn more about it here.
---
Tuesday, Oct. 6
THREE THINGS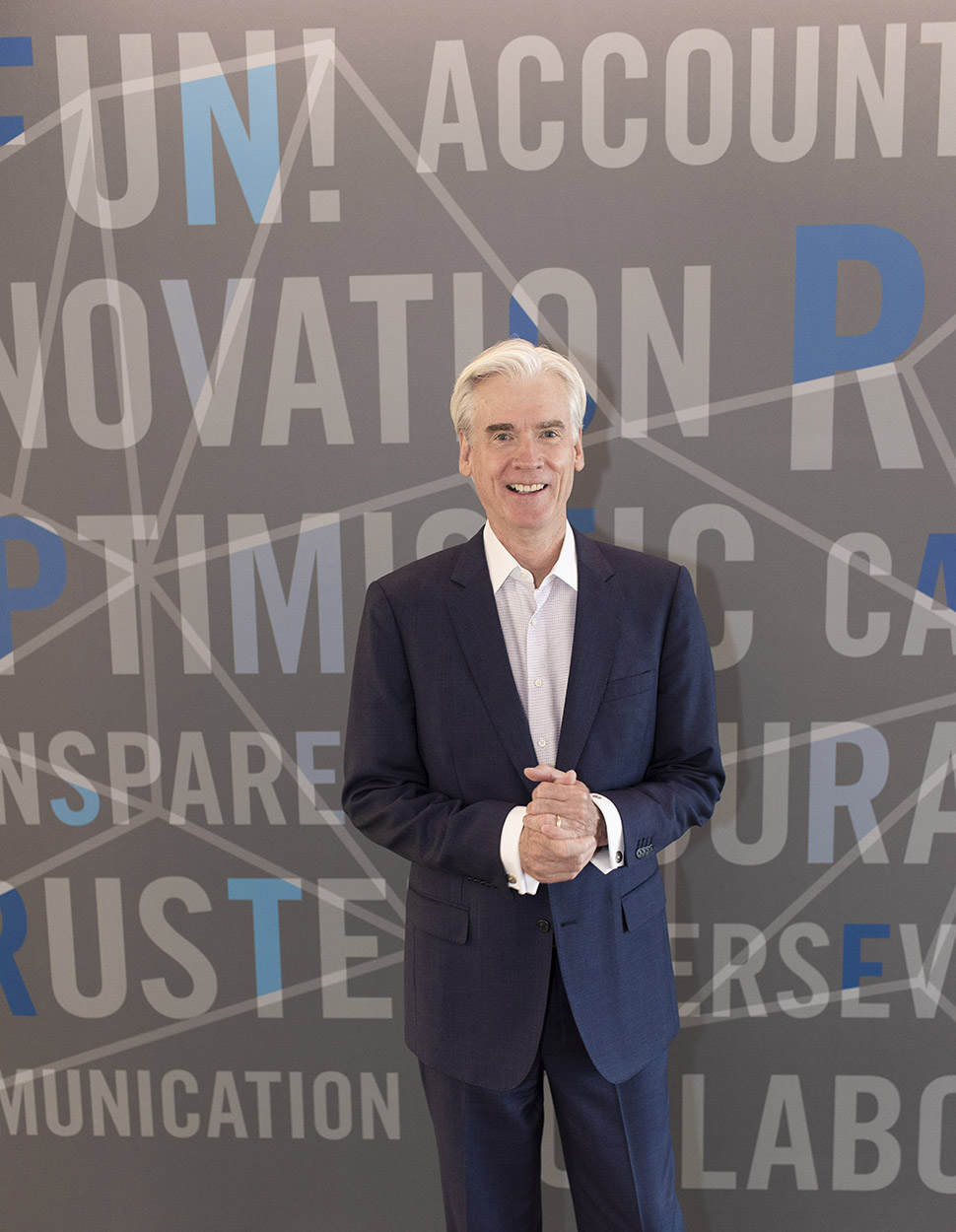 ⓵ "BOLD RISK-TAKERS": Fast-growing Plano fintech Alkami is acquiring a privately owned fraud prevention provider. Tennessee-based ACH Alert will extend Alkami's platform with "secure money movement tech," according to the DMN. The deal, on the heels of $140 million in new backing led by D1 Capital Partners last week, gives the company "market-leading fraud prevention capabilities," Alkami CEO Mike Hansen said in a statement.
⓶ BIG DEAL: Charles Schwab has completed its acquisition of TD Ameritrade. The all-stock deal, valued at $22 billion, is "$4 billion less than the original valuation," according to industry pub 401k Specialist. Integration of the companies is already underway. Schwab also announced the designation of its $100 million Westlake campus as the firm's corporate HQ is expected to be completed in January 2021.
⓷ IN BRIEF: Curious about the state of the commercial real estate market in DFW? Site Selection Group Partner Lee Wagner sums it up in 8 words. 
MEET THE FINALISTS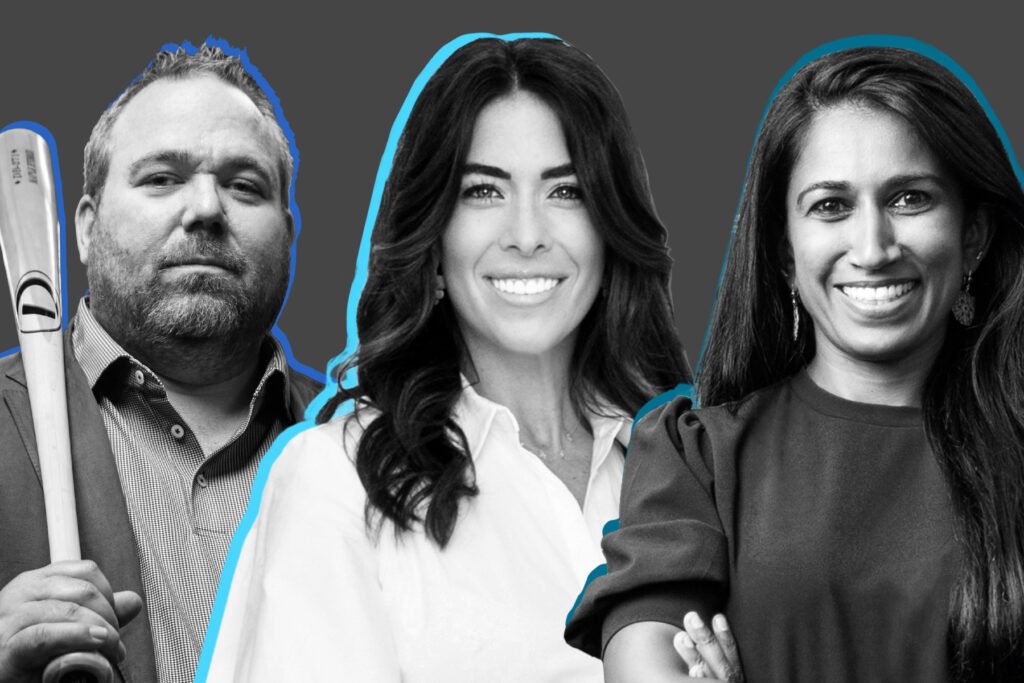 Meet the "bold risk-takers." D CEO has the finalists in EY's 2020 Entrepreneur of the Year program. The winners will be revealed on Oct. 7 at a virtual event. 
See who could take home an award at Tech Titans' 20th Annual Awards Gala. The Roaring Twenties-themed virtual event will be a live, cinematic experience complete with a "Speakeasy Party To Go" feature for at-home watch parties.
---
Monday, Oct. 5
THREE THINGS
⓵ TRUCK TRANSFORMERS: Toyota plans to roll out a fuel cell electric big rig in North America early next year. It's a joint development with Toyota truck and bus subsidiary Hino USA, per the DMN. Tak Yokoo, an engineer at Toyota Research and Development, said it's a "win-win for both customers and the community. It will be quiet, smooth, and powerful while emitting nothing but water."
⓶ SHUTTERING: Her.HQ, "the pretty coworking concept in Oak Cliff," announced the space's permanent closure later this month on Instagram, per PaperCity. Launched in 2018, it was one of the first female-focused coworking spaces in Dallas.
⓷ GEARING UP: Video-game firm Gearbox is hiring again, per the DBJ. The pandemic has boosted business: "It turned out that our sales spiked, and the demand on our business increased dramatically," Founder Randy Pitchford said.
---
Friday, Oct. 2
THE WEEK
Here are the Most Popular Stories on Dallas Innovates   
⓵  How Verizon Retrained Nearly 20,000 Workers to Avoid Layoffs
⓶  Alkami Technology Closes a $140M Funding Round
⓷  Nastia Liukin: Becoming an Entrepreneur Is Like Training for the Olympics
⓸  Dallas Startup Launches Beta of Its Robotic Takeout Stations
⓹  The Coupon Industry Is Big. And The Coupon Bureau Is Changing the Game Using Dallas-based Hedera's Tech
⓺  DI People: Comerica, Shermco, Encore Bank, Mary Kay, and More Moves
⓻  Dallas-Based Sentrics Uses Tech to Revolutionize Senior Living—And Has Made Five Acquisitions to Do So
⓼  Silicon Valley's Founder Institute Brings Its Startup Accelerator to Dallas
⓽  DRC Appoints Its First-Ever SVP for Community Engagement
⓾  It's National Drive Electric Week. Here's What's Happening in Dallas
NEED TO KNOW
Our partners at the Dallas Regional Chamber are keeping track of the news and stories that affect the business community across the Dallas region. Here's what we're reading:
⟫ TEXAS TESTING: Lone Star state leaders hope rapid testing will restore normalcy in the pandemic. The governor has said Texas will get millions of new tests that deliver results in 15 minutes or less. But, per the Texas Tribune, health experts have cautioned that the tests have limitations.
⟫ FAST FORWARD: Irving-based Vistra is accelerating its pivot to invest in clean energy and combat climate change. The company, which announced the planned retirement of [its] entire Midwest coal fleet, will break ground on about 1,000 megawatts of renewables and storage.
⟫ RANKED: Smart tech like latch sensors, stall lights, touch-free dispensers, and toilet paper trackers have put DFW Airport's bathrooms—some 137 of them—in the finals of America's Best Restrooms contest. DFW, the world's fourth-largest airport, is up against the Portland Japanese Garden ("zen-like abodes") and others, per the DMN.

⟫ WOMEN TALK SCIENCE: Last week, Gates Foundation scientist Dr. Lynda Stuart (virtually) sat down with Dallas philanthropist/entrepreneur Lyda Hill and LH Capital CEO Nicole Small for a timely conversation on the global race for a COVID-19 vaccine, the future of Pegasus Park, and DFW's role in biotech. Here's a takeaway. 
FORCES FOR GOOD
⟫   Miles of Freedom, a local nonprofit that equips, empowers, and employs individuals returning home from prison, is teaming up with Reliant to support Dallas individuals and families impacted by incarceration. Reliant will power Miles of Freedom's reentry assistance program with a donation of $30K over the next three years.
⟫  TXU Energy is donating $100K to Texas food banks that are working through soaring demand during the COVID-19 pandemic. Locally, $25K will go to the North Texas Food Bank and $25K to the Tarrant Area Food Bank. It's part of a $225K commitment to food banks nationwide from TXU Energy's parent company, Vistra.
⟫  Until Oct. 10, Reunion Tower and the Hunt Building will be dimming their lights to 25%. The move is part of the Lights Out Texas initiative led by former First Lady Laura Bush, which aims to protect birds as they migrate across the United States.
⟫  The "Census Sky" mural (above) by artists Shaylene Reynolds and Brad Namdar, located in West Village in Uptown Dallas, is part of an initiative to increase our U.S. census.
OPPORTUNITIES FOR INNOVATORS
Browse our curated selection of contests, nominations, pitches, and grants. From entrepreneurs to corporates, creatives to inventors, educators to social innovators, here's a roundup of goodies for you. Deadlines coming up include:
---
Thursday, Oct. 1
THREE THINGS
⓵ WHAT DO THEY REALLY THINK?: Ray Blanchette, CEO of Dallas-based TGI Fridays, went on "Undercover Boss" for a "first-hand look at how his employees are earning their red-and-white stripes." According to CBS DFW, it took two hours to transform the CEO to a burger chef. How did it go? "You can learn things that they wouldn't tell a CEO," he told CBS DFW. The episode airs this Friday.
⓶ GOING PUBLIC: Dallas-based Thryv Holdings "made its move to the Nasdaq Stock exchange–and in an unusual way," reports the DBJ. The company started trading under the symbol "THRY" through a direct listing, rather than an IPO. The company's valuation reached above $350 million, according to the publication.
⓷ 'MISSION READINESS': Dallas-based One Network Enterprises, an intelligent business platform for autonomous supply chain management, was awarded a $61.9M contract from the U.S. Air Force. The contract will allow One Network to support the Air Force's logistics initiatives, and provides for commercial off-the-shelf software licenses and related technical support services.
VIRAL VIDEO
Meet the 19-year-old Dallas native who went viral on TikTok with advanced science videos. Known to 500K fans by @MagsForScience, Maggie Burrussis working to pioneer the idea that STEM is for everybody, no matter your education, identity, or background.
TOP 10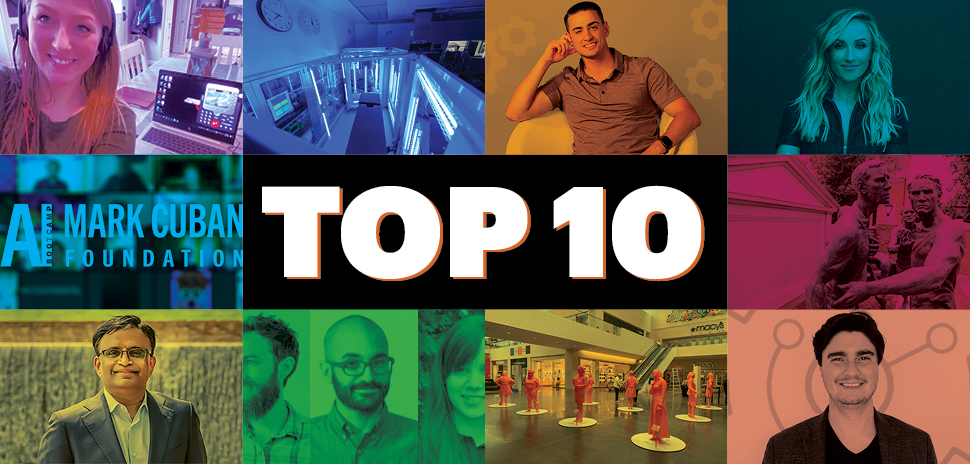 Here are Dallas Innovates' 10 most popular stories in September. Rising to the top of the list: How the private charitable foundation of Dallas MavericksOwner and "Shark" Mark Cuban partnered up with tech companies to bring an "AI Bootcamp" to underserved DFW students. Here's our roundup. 
REGISTER NOW
⟫  An SMU venture capital event aims to connect innovators with VC leaders. Entrepreneurs, angel investors, venture capitalists, and others can register now for VC University LIVE where they can unlock their venture finance skills and build their networks in Dallas and beyond.
⟫  It's time to register for Global Entrepreneurship Week Fort Worth. The "All Virtual, All Week Pop In & Out As You Please" event runs Nov. 16-20. Themes for 2020 are Entrepreneurship 101, Main Street North Texas, Emerging Tech/Innovation, Inclusion, and Funding. Earlier this summer, GEW FW and Dallas Startup Week partnered on this year's events to share ideas, staff, and resources.  "It takes a proverbial village," said Meghan Wright, a Texas Wesleyan University professor and co-lead organizer of GEW FW,
---
Wednesday, Sept. 30
THREE THINGS
⓵ SHELF SPACE: Irving-based Massive Brands' relaxation "drank"—Screw's Southern Soda—is one of nine local brands picked (out of 4,800) for Walmart's annual open call for new products. On Thursday, they will join 36 Texas companies among the 850 small businesses who will get 30-minutes to make a one-on-one live digital pitch, per the DMN.
⓶ UNMANNED FLIGHT: Bell Textron showed off its Autonomous Pod Transport 70, or "Apt 70," as part of a NASA trial. Flying at a 500-foot altitude on a 10-mile path along the Trinity River, the flight on Monday was the first time the eVTOL flew in a controlled airspace without a pilot. It was a success, according to Michael Thacker, Bell's EVP for Innovation and Commercial Business, who said the demonstration shows "great potential for the Apt 70 to complete complex missions for businesses and healthcare providers," according to AIN Online.
⓷ SHARES SOLD: Taysha Gene Therapies, which emerged from stealth just five months ago, is raising $181 million with its IPO—up from about $157 million last week. Underwriters fully exercised the option to purchase additional shares of stock.
A NEW VENTURE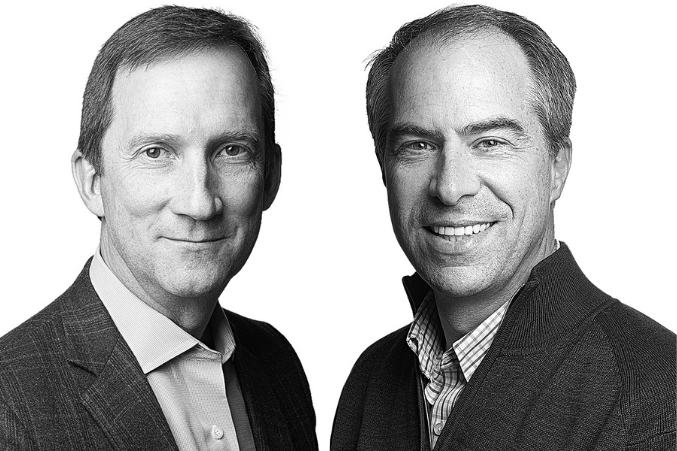 The Richards Group veterans Pete Lempert and Dave Kroencke are leading the launch of a new consulting agency from the Dallas-based advertising firm. Richards Venture will help companies solve issues such as "understanding the consumer's relationship with the brand" and "how the brand can grow (or not) into new consumer segments," per D CEO.
DALLAS INNOVATORS
Here are a few to watch.
As Founder Suzy Batiz steps down, Jeff Berry becomes the new CEO of Poo~Pourri. The brains behind Poo~Pourri, Batiz, will move into the role of chairwoman and chief visionary officer. She remains the 'creative force' behind the business.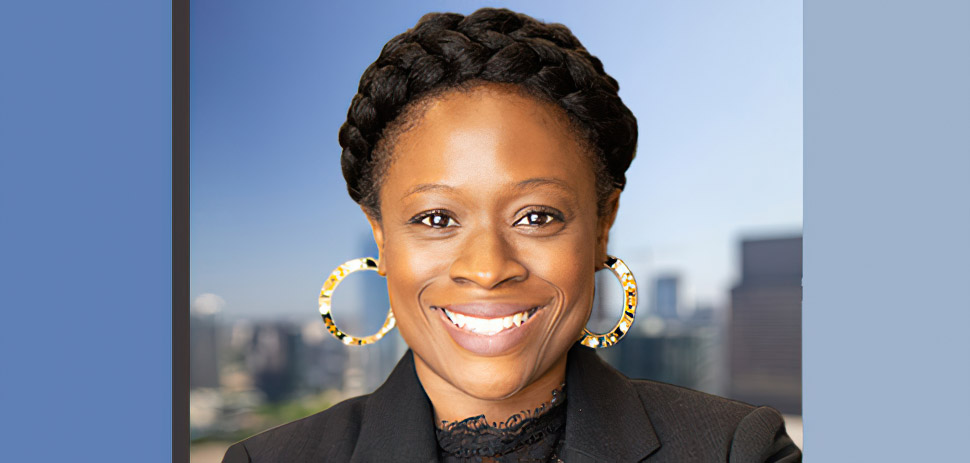 The Dallas Regional Chamber appointed its first-ever Senior Vice President for Community Engagement. In her new role, Latosha Herron-Bruff will build on the chamber's years-long efforts to grow and promote underserved areas as attractive places to live, work, and do business.
The CEO of Plano-based Pizza Hut, Artie Starrs, has joined the board of directors of First Book, a Washington, D.C.-based national nonprofit social enterprise that's focused on equal access to quality. Pizza Hut has worked with First Book for the past four years on the company's initiative dedicated to tackling illiteracy, The Literacy Project.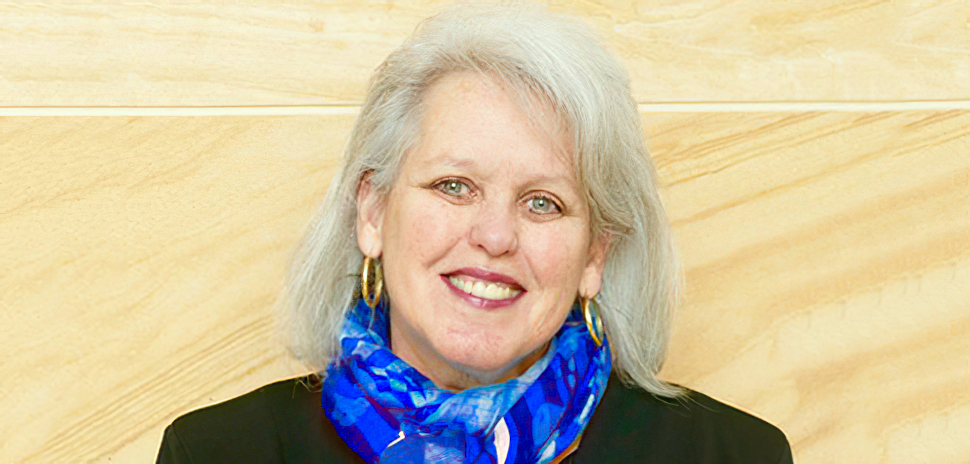 Veteran fundraiser Laure O'Neal will join the Dallas-based National Math and Science Initiative as its first chief development officer. She will lead a restructured fundraising team that aims to diversify the organization's funding sources. O'Neal is ready for the challenge, and says "No one was prepared for everything that the pandemic has thrown at us, but NMSI was already on a smart path to reaching more students and teachers and NMSI staff showed incredible flexibility and innovation in not missing a beat in service of our mission."
---
Tuesday, Sept. 29
THREE THINGS

⓵ EPIC SUBLET: About a year after announcing it was opening a second hub at The Epic in Deep Ellum, Uber is looking for tenant to fill the space. Citing COVID, the ridesharing giant wants to sublease five floors of its office space at The Epic, per the DMN. Uber "remains committed" to its long-term plans, but doesn't foresee all floors being used. At the time of announcement, Uber planned to bring at least 3,000 new jobs and more than $75 million in capital investment. Hiring froze because of the pandemic earlier this year, but has since resumed.
⓶ CREATIVE SPACE: The City of Dallas Office of Arts and Culture has launched an online rental database called Spacefinder Dallas to support artists, community groups, and cultural organizations looking for rental venues. The platform hopes to help tackle "the inaccessibility of creative spaces across the city needed to make and present art," reports Patch.
⓷ SUN SOURCE: Nonprofit Solar United Neighbors, aka SUN, wants to help people and business harness solar energy. A new co-op for Dallas and DeSoto has vendor-neutral resources and a group rate for systems.
PIECES OF US 
A DFW startup with a mission launched a Kickstarter for puzzles highlighting the work of Black artists. Although the puzzle company is already halfway to its goal, the project will only be funded if it reaches $4,200 by Oct. 5.
---
Monday, Sept. 28
THREE THINGS
⓵ CREATIVE CONNECTIONS:  A "renegade" design showroom—Pholio Co—is challenging the status quo in Dallas. The "small and feisty" showroom connects designers to innovative design brands in Texas and beyond. "In the U.S., showrooms tend to be pristine and so precious about everything," said owner Jessica Craig Pinzon in PaperCity. "Designers would tell me it was intimidating."
⓶ REDFIN RAMP-UP: The Seattle-based company is set to expand its space in Frisco early next year. The office, which currently has 150 people and openings for 20 more, is a center of the fast-growing company's mortgage business, engineering, and support, according to the DBJ.
⓷ COWORKING CROSS: Dallas-based WorkSuites is launching WorkTanks, a new concept with a focus on hybrid work models (designed for flexibility between office and remote) and part-time use of private offices. The first location, a ground-level space, will be near Mockingbird Station.
FOLLOW THE MONEY (TO TEXAS)
⟫  FRESH FACILITY: The "world's largest lettuce greenhouse" could be coming to Texas. Greenhouse lettuce producer Revol plans to build a new facility "somewhere in the Austin-Dallas-Fort Worth megaregion," according to Twin Cities Business. The Minnesota-based company just landed $68 million in funding, which will go toward the project's first 20-acre phase. The facility could span up to 80 acres at full build out, according to the publication. The ultimate goal? Revol wants its lettuce to reach to a third of the U.S. population within 24 hours of harvest.
⟫ SENIOR STARTUP: Briocare, a smart voice tech platform that helps seniors age in place, has received a $100,000 investment from Render Capital. The Frisco-based startup was one of eight winners in Render's inaugural competition. You can watch the finalists' pitch videos here. Briocare also is in MassChallenge's current Texas cohort.
⟫  COMPETITIVE ADVANTAGE: Richardson-based Mavenir has acquired ip.access, a U.K.-based small cell provider, to add 2G/3G support for open RAN, according to Fierce Wireless. It will operate as a unit within Mavenir's Emerging Business group. Mavenir's Aniruddho Basu told the publication "it's safe to say that support for legacy G's is needed in most geographies and brownfield/incumbent service providers."
STUDENT STARTS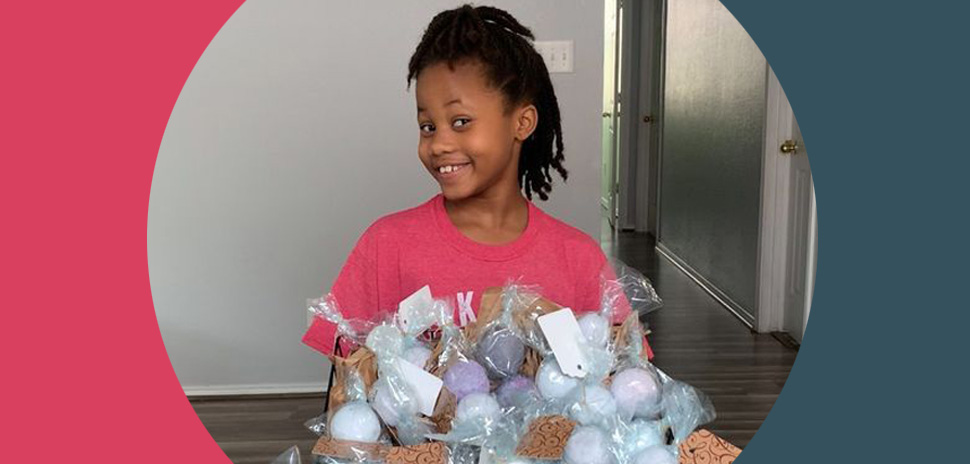 Mary Kay is helping North Texas students kickstart businesses from dog treats to bath bombs. The Dallas-based beauty company, founded by original glass ceiling-breaker Mary Kay Ash more than 56 years ago, sponsored 25 girls from underserved areas around Dallas to participate in the Boss Club Foundation's 2020 Summer Entrepreneurship Program.
---
Friday, Sept. 25
THIS WEEK
Here are the most popular stories on Dallas Innovates:
⓵  McKinney Innovation Fund Draws New Jobs, 11 Tech HQs in Eight Months
⓶  What Banking Can Teach Education: The Ideas Could Revolutionize It
⓷  Nastia Liukin: Becoming an Entrepreneur is Like Training for the Olympics
⓸  Believe Dallas: AT&T Gifts $500K to Agencies
⓹  'Brands with Heart': 7-Eleven is Looking for CPG Cos. to Stock its Shelves
⓺  DI People: Jacobs, BNSF, Kimberly-Clark, Transwestern, and More Moves
⓻   Ariat is Bringing a Giant Distribution Center and Diverse Jobs to FW
⓼  'Smart Computing' Startup Joins Prestigious 5G Open Innovation Lab
⓽  STA's Recovery Center Gets $1.3M in its First 'Backyard Support'
⓾  Fort Worth Biotech Eyevance Exits to Japanese Firm for $225M
PLUS
Coca-Cola was invented in 1886, and a new type of marketing was also born: the coupon. Now, technology from a Dallas startup is being used to take the more-than-century-old coupon into the future. Trending today is our story on how The Coupon Bureau and Dallas' Hedera Hashgraph are changing the game in a massive industry.
NEED TO KNOW
Our partners at the Dallas Regional Chamber are keeping track of the news and stories that affect the business community across the Dallas region. Here's what we're reading:
⟫  GONE TO TEXAS: There's been a 'tremendous increase' in corporate relocations and expansions to Texas since the pandemic hit, reports the Dallas Business Journal.
⟫  RETAILER RALLY: Neiman Marcus has officially exited bankruptcy, and J.C Penney isn't 'hopelessly insolvent,' an adviser says, per the Dallas Morning News.
⟫  RANKED: Dallas Love Field is the best large airport in North America, and DFW International Airport is sixth-best in the "Mega" group in J.D. Powers' latest rankings.
PLUS


SharedAirDFW—a high-tech collaboration of UT Dallas, Paul Quinn College, Downwinders at Risk, Plano, Dallas County, and Dallas College—has launched its real-time air quality monitoring network, per D Magazine. It's the first of its kind in Texas, and one of the largest in the country. "We see SharedAirDFW's debut as the public health equivalent of turning on electric streetlights for the first time at the turn of the 20th Century," said Downwinders Director Jim Schermbeck. "We're building a utility—the full impact of which won't be realized for years." 
FORCES FOR GOOD
People and organizations of all kinds are stepping up to help and inspire local communities. Here are highlights from around the region:
⟫ TangoTab, which aims to shine a light on hunger in communities, has now fed more than four million people since founding in Dallas eight years ago. TangoTab's founder has a mission to combat hunger—he provides a meal to a local food charity every time a hungry restaurant patron is paired with an empty table. In the app, consumers can check in at more than 100,000 restaurants.
⟫ The Dallas County Elections Department is getting a $15 million grant from nonpartisan nonprofit Center for Tech and Civic Life to help with staffing and resources for the election, per CultureMap. The nonprofit aims to connect elections officials with tech to better communicate with voters and increase civic engagement. Dallas County Judge Clay Jenkins said the grant aims to ensure we have a safe and secure election this November.
⟫ Homeless service nonprofit Austin Street Center announced a new $15M capital campaign called "Help Them Home." Chaired by Comerica's Executive VP/Chief Human Resources Officer Megan Burkhart, the "plans call for breaking ground this year," per My Sweet Charity. It's expected that "760 individuals will be housed annually, further resulting in more than $30 million in taxpayer savings," Burkhart said. "This is a win-win for everyone."
---
Thursday, Sept. 24
THREE THINGS
⓵ SWIMMING WITH SHARKS: TOMS founder Blake Mycoskie (a Dallas native) and Texas jewelry maven Kendra Scott are the latest entrepreneurs to join Mark Cuban and company as guest judges on ABC's "Shark Tank."
⓶ COLD STORAGE IS HOT: A big refrigerated warehouse is in the works for Southern Dallas, per the Dallas Morning News. The sector, declared as essential infrastructure, is on the fastest growing in the distribution market. 
⓷ DATA TOOL: Here's how Parkland leveraged machine learning and geospatial analytics to reduce COVID-19 exposure in Dallas. It plans to make the tool available to people and organizations in the community that can use it to make decisions in the reopening.
COMPUTING POWER

Facebook is expanding once again in Fort Worth's AllianceTexas corridor, reports the Fort Worth Star-Telegram. The first buildings in the social media giant's massive $1 billion data center development opened in 2017. Take a photo tour of the 150-acre high tech campus in our "Innovative Spaces" gallery.
FOLLOW THE MONEY

⟫  This is how he rolls: Mark Cuban has invested in an eco-friendly toilet paper startup. Seattle-based Cloud Paper makes tree-free TP from bamboo to help end deforestation from traditional paper products. Cuban joined celebrity investors like Gwyneth Paltrow, Ashton Kutcher, and Robert Downey Jr.'s FootPrint Coalition. A $3 million seed round was led by VC firm Greycroft. The Dallas billionaire's investment was not disclosed.
⟫  Precision Business Solutions, a North Texas data analytics company founded in 2001, has new backing from an Alabama PE firm, reports the Dallas Business Journal. Terms weren't disclosed.
⟫  Dallas-based RS2 Ventures has filed documents with the SEC for another $7 million for its MD Series A. That fund launched in May 2019 and raised more than $11 million per the filing. 
---
Wednesday, Sept. 23
THREE THINGS
⓵ FINTECH EXPANSION: California-based SoFi is investing in a site in Frisco and could grow to more than 100 people, reports the DBJ.
⓶ INFRA INNOVATION: Plano Mayor Harry LaRosiliere says transportation and infrastructure work are vital to reviving the economy, per the DMN.
⓷ UPSKILLING: Paul Quinn College will join the Guild Education network, which partners with Fortune 500 companies to provide education benefits to their workforces. PQC is the first HBCU to join, making its courses and degree programs available to Guild partner companies such as Walmart, Chipotle, Lowe's, and Discover Financial Services.
LISTEN UP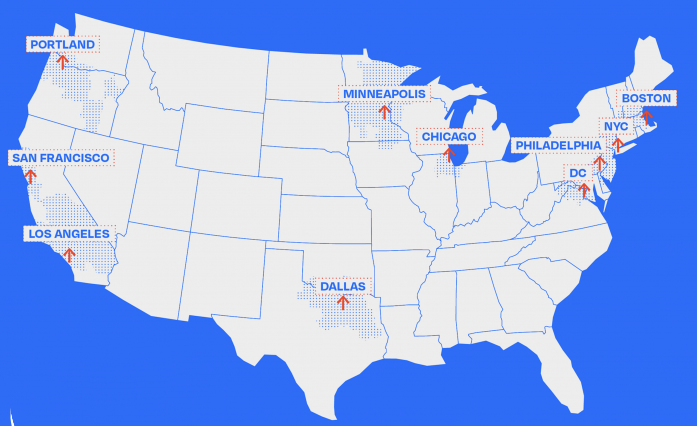 Thanks to NPR's new use of geo-targeting technology for its Consider This podcast, listeners in Dallas and nine other regions can hear localized news after national stories.
---
Tuesday, Sept. 22
THREE THINGS
⓵ "Two-horse race": Workforce favors Austin, Dallas if TikTok moves its US headquarters to Texas, eco devo experts say, according to the DBJ.
⓶ Want to know how the economy is doing? Rent-A-Center does well when consumers struggle, writes the same publication.
⓷ The entrepreneur who built Chewy.com (and sold it for $3B) thinks he's got a plan to make GameStop competitive with Amazon, per the DMN.
TRAIN'S ON TRACK
The U.S. Department of Transportation's Federal Railroad Administration has completed the last step in its environmental review process of Texas Central Railroad's $20 billion railway system. Now, Texas Central has the green light with construction set to begin as soon as possible.
SAVE THE DATE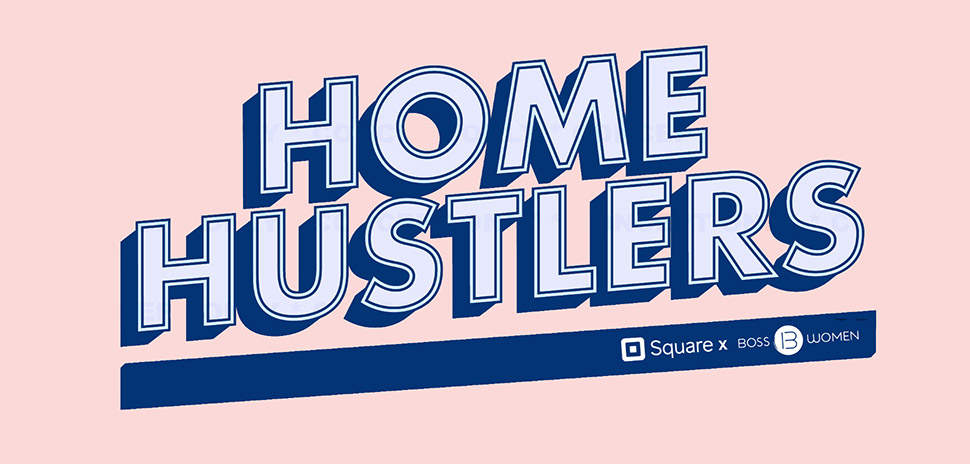 Many new entrepreneurs launch businesses alongside corporate careers, and the 'side hustle' represents the future of business, says Boss Media Women. In partnership with mobile payment platform Square, the group is supporting that with a new virtual program to connect Black women business owners, entrepreneurs, and, of course, side hustlers. Kicking off in October, a four-week program of panels and classes will cap with a pitch competition.

Bio North Texas will go virtual with its annual iC3 Life Sciences Summit this November. It's more important than ever to share ideas, best practices, and foster decisions "informed by good science" as COVID-19 spotlights the industry, the organizers say. Networking is still a cornerstone of the 2020 event: Attendees can participate virtually in conversations around the state of life sciences in Texas and the growth of biotech through a new conference platform. 
DEADLINE EXTENDED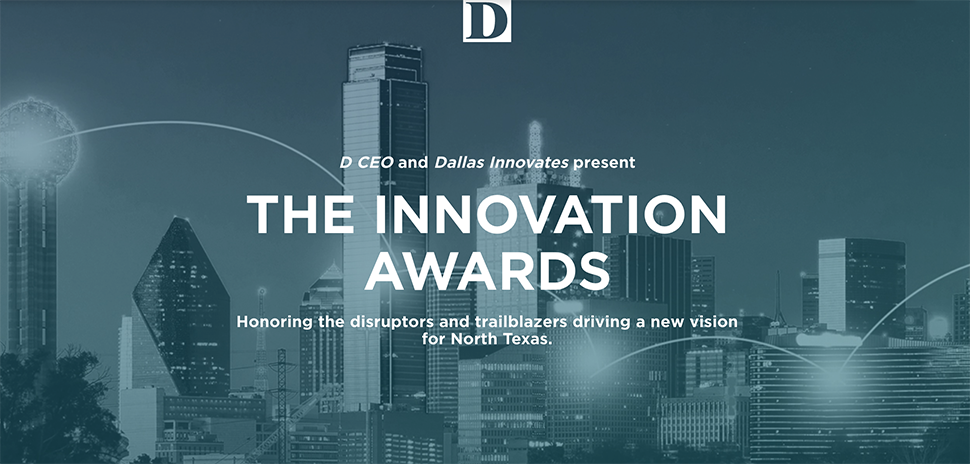 Attention, innovators: The deadline has been extended to Friday, Sept. 25 for our second annual Innovation Awards. We again teamed up with our colleagues at D CEO Magazine on the program, which honors businesses and leaders driving innovation in North Texas. Categories are broken down into individual and company awards—nominate here.
PLUS
You've been alerted: Many workers may be doing a poor job of guarding the company secrets as they work from home, reports WFAA.
---
Monday, Sept. 21
GAME ON

Microsoft has a new $7.5 billion video game deal, and it includes Dallas-based developers. The company dropped "a gaming bombshell" today when it announced the acquisition of ZeniMax Media, the Dallas Morning News reports. A proposed cash deal includes the owners of "Doom," "Quake," and the QuakeCon event, according to the publication. In a tweet today, Dallas video game legend John Carmack, who is co-creator of Doom and Quake, said, "Great! I think Microsoft has been a good parent company for gaming IPs, and they don't have a grudge against me, so maybe I will be able to re-engage with some of my old titles."
BIOTECH BOOST

Dallas' Pegasus Park has its first major tenant, and it's a "big win." Massachusetts-based BioLabs will open next year, according to the DMN. Lyda Hill Philanthropies, in partnership with J. Small Investments, announced the 23-acre redevelopment it calls "a game-changer for science and tech in Dallas" in July.
CLIMATE WEEK KICKOFF

EarthXR—the interactive arm of EarthxFilm—launched the first virtual nature reserve today. The technology of "Wild at Home," a partnership with Jane Goodall-endorsed Wild Immersion, lets people experience the wilds of Africa, the Amazon, and Asia from home. 
---
Friday, Sept. 18
Here are the Most Popular Stories on Dallas Innovates  
1  COVID Killer: DFW Startup Brings Medical Grade UVC Tech to More
2  9/11 Heroes: Old Parkland Monument Honors United Airlines Flight 93
3  Naya Relaunch: Dayakar Pushkoor Unveils Dallas Venture Partners
4  McKinney Innovation Fund Draws New Jobs, 11 Tech HQs in Eight Months
5  AT&T UX Team Creates Tool for Techs Who (Literally) Build the Internet
6  #IfThenSheCan: All-Female 3D-Printed Statues on Display at NorthPark
7   Dallas College Restructure Focuses on Collaborative Partnerships
8  Health Wildcatters Adds Nine New Startups to Its Portfolio
9  rewardStyle Adds Video Shopping to Billion-Dollar LIKEtoKNOW.it App
10  DI People: Sabre, OYO, Catapult Health, StackPath, and 16 More Moves
PLUS   
Trending today is a story on McKinney, a city forging a future in tech. In the last eight months, its incentive-based innovation fund has drawn 11 new tech headquarters and expansions. You'll also find out why it's time to entrust students and workers with their information in a Voices piece on "What Banking Can Teach Education."
Need to Know
Our partners at the Dallas Regional Chamber are keeping track of the news and stories that affect the business community across the Dallas region. Here's what we're reading:
Terrance Maiden hopes developers and investors across the country will view the RedBird Mall redevelopment as a model, writes Bisnow. The mixed-use project in Southern Dallas, now about 40 percent complete, will have office, healthcare, retail, entertainment, green space, and affordable housing. But, says co-developer Maiden, the vision includes fighting misconceptions about the community: "Our strategy is to be very persistent with sharing this story of what we are doing."
A California aerospace leader plans to relocate its headquarters into the former FAA building in Fort Worth. Wesco recently merged with Pattonair and will do business as Incora. The combined company, which includes supply chain and distribution operations could create 300 jobs, per The Fort Worth Star-Telegram.
"Texas strode into 2020—a new year and a new decade—brimming with optimism," write Michael Cox and Richard Alm in D CEO. And "a middling economy seems almost un-Texan." How can our economy flourish post-COVID? It all comes down to preserving the Texas Model, say the SMU experts.
PLUS
26 Texans, including 14 from the Dallas region, made the list of Forbes' annual ranking of the 400 richest Americans, per The Dallas Morning News.
Forces for Good 
People and organizations of all kinds are stepping up to help and inspire local communities. Here are highlights from around the region:
AT&T today announced the donation of $500,000 to local agencies that help Black and underserved communities in the region. The contribution is part of the global company's on-going "Believe Dallas" initiative, AT&T said. The Real Estate Council ($100,000), For Oak Cliff ($50,000), and Dallas Violence Interrupter Partners ($50,000) were presented checks at a press conference. The balance will be distributed to six other agencies.
Reliant will power YMCA of Metropolitan Dallas Equity Centers to help solve challenges of inequity, intolerance, and exclusion, as well as fund continued COVID-19 crisis-care programs via a $100,000 grant. The Racial Equity and Innovation Centers will launch in 2021 in nine Dallas Y locations.
A $25 million gift for TCU and UNTHSC School of Medicine will provide "transformational funds" to support students, faculty, and programming, per the Fort Worth Business Press.
RECORD-BREAKING GIVING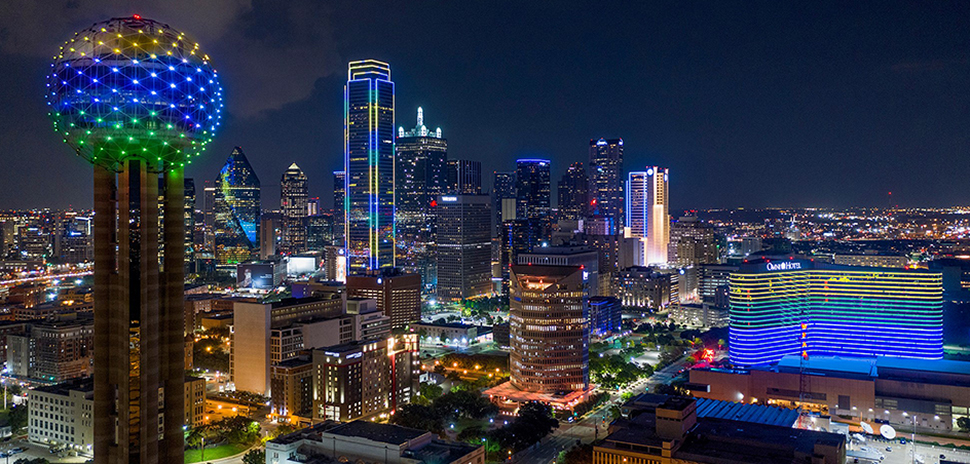 North Dallas Giving Day has topped itself. Again. This year, 106,000 people gave a record-breaking $58.8 million and 685,000 volunteer hours to more than 3,200 nonprofits, organizers said. The 12th annual giving event powered by Communities Foundation of Texas saw gifts from all 50 states and 26 countries.   [Image: Joseph Haubert]
Browse our curated selection of contests, nominations, pitches, and grants. From entrepreneurs to corporates, creatives to inventors, educators to social innovators, here's a roundup of goodies for you. Items with deadlines coming up include:
Dallas Innovates' and D CEO's Innovation Awards (Today!)
7-Eleven's Brands with Heart (Oct. 1)
North Central Texas' Torch Awards for Ethics Competition (Oct. 2)
EarthX's Planet911 Youth Film Challenge (Oct. 15)
Atlanta Venture Conference (Oct. 20)
NTT DATA's Open Innovation Contest (Deadline TBD)
Go here for details. 
---
Thursday, Sept. 17
THREE THINGS
◉ BIOTECH EXIT: Fort Worth startup Eyevance Pharmaceuticals, which develops and commercializes ophthalmic products, has been purchased by Santen, a Japanese leader in ophthalmology, in a $225M exit.
◉ DEBT RAISE: Plano-based Aligned, a leading data center infrastructure firm focused on adaptable and future-proof technology, has closed on a new $1 billion credit facility that "marks the first U.S. data center sustainability-linked financing." It's one of the largest private debt raises in data center history, the company says. According to Aligned, infrastructure can change the world, and it's smart business, too. The mission-oriented company announced its increased commitment to environmental stewardship and sustainability earlier this year by matching 100 percent of the IT loads across its data center portfolio with certified renewable energy.
◉ DIGITAL DEMAND: Work-from-home demands are spurring growth for Dallas area data centers as company digital transformation plans compress from years to months amid COVID-19.
DALLAS INNOVATORS
People to Know Today—and Why
Catherine "Kit" Ulrich was appointed the new general manager of LIKEtoKNOW.it (LTK), rewardStyle's fast-growing shopping app. Ulrich is joining the team at a time of exponential growth—in the first half of 2020, consumers purchased more than $500 million in products through LTK. She is known as the youngest-ever CPO of a publicly-traded company.
Abid Neemuchwala, who led $8-billion global IT firm Wipro as CEO  and Managing Director, has joined just-launched VC firm Dallas Venture Partners. The "statesman of the IT services industry" and a thought leader in digital transformation steps in as a Venture Partner.
Nathan Hudson may have the key to happiness. But if you think spending time with your kids and spouse is the key, the SMU psychology professor's research might surprise you. Spoiler: You may actually be happier getting together with your friends, he said. But, he says, that may have more to do with activities connected to family (like chores, caretaking, and commuting). In the end, Hudson and his study co-authors point to an optimistic view of kin and kith. Still, he advises creating positive experiences beyond housework for the happiness quotient.
FOLLOW THE MONEY
◉  Rockwall-based BioClonetics, a biotech startup working on the first cure for HIV using monoclonal antibodies, is merging with a Plano company to accelerate and expand drug development and testing. Drug development company Enzolytics has executed a non-binding letter of intent to merge with the startup co-founded by brothers Charles Cotropia and Joseph Cotropia in 2009. Harry Zhabilov, CEO of Enzolytics, said combining the "two companies' proprietary technologies and products is a once in a lifetime opportunity that should benefit both of our organizations letting us achieve more together than we could apart."
◉ Dallas-based RevTech Ventures, a retail-focused VC fund, has two new investments: Canadian startup Groundlevel Insights, a movement science company that uses mobile location intel, and Washington, D.C.-based Recurate, which enables a used-product peer-to-peer collection on Shopify.
◉  State Farm, which has a major hub in Richardson, made its "first-ever insurance acquisition": a $400 million purchase of Gainsco. The insurance giant is "getting into the business of offering bare-bones auto policies to high-risk drivers," per Crain's.
◉ Texas Instruments says it will return more cash to shareholders with a 13 percent dividend increase, contingent on a declaration by the board in October.
◉ Dallas-based Braniff Airways, the former international airline, has a new permanent endowment at UTD. The endowment will be used for the care and archiving of its extensive public relations archives that have been housed in the History of Aviation Collection at the Richardson campus since 1981.
---
Wednesday, Sept. 16
GROWTH CURVE


Bedford-based Urban Air is fueling its expansion with $700K in incentives for '3-pack' franchise deals. The indoor entertainment park pioneer, which has grown from a single trampoline park to a worldwide chain in about a decade, opened more than 50 locations last year. Despite COVID-19, Urban Air's rapid growth continues—with some flexibility and innovation along the way.
ROBOTICS GRANT

Robotics Education and Competition Foundation received $750K from the Texas Workforce Commission. The grant will be used to give thousands of Texas students access to robotics and STEM learning resources.
BENCHMARKS
Sales Benchmark Index notes that CEOs can outpace their competition by becoming 'accelerators.' The Dallas-based management consultancy revealed that 11 percent of surveyed CEOs consider themselves "accelerators," who have been able to "remain pragmatic, agile, and vigilant throughout the process." 
WORKING TOGETHER
Dallas-based Next Level Insurance Agency is partnering with ThinkHR to launch a COVID-19 crisis response center for businesses. The benefits agency announced a partnership with the people risk management solution to provide Dallas businesses with resources and communication support for pandemic-related concerns at no cost to clients.
To read more (and get our week's Top 10), head here.
---
Tuesday, Sept. 15
NO. 1 IN TEXAS
Texas Woman's University has been acknowledged as the most ethnically diverse university in Texas, according to U.S. News & World Report's 2021 "Best Colleges" rankings. Out of 1,500 evaluated, TWU was ranked No. 5 for most ethnically diverse universities nationally. Overall, 57 percent of the student body at TWU are people of color.
APPLY TO ACCELERATE
Dallas-based Impact Ventures, a startup accelerator aimed at more diverse and inclusive ecosystems, opened applications for its Fall 2020 program. It's looking for tech/tech-enabled startups, consumer products, and existing growth-oriented small businesses impacted by COVID-19, founder Ben Vann says. Thus far, the accelerator has "supported 24 founders and 15 companies to go on to raise $485,000 and create 46 new jobs—despite the challenges presented by COVID-19," he says. Meet a few of the startups in our recent series.
REVVING UP 

RevTech Ventures is hiring a Director of Community to help "reinvent modern retail." The new DoC will spearhead community building and be an integral part of the leadership team. RevTech, a Dallas-based early-stage venture capital fund, invests in next-gen entrepreneurs sparking a digital renaissance in a $5T retail industry.
LISTEN UP
A new advice-cast is launching today called Mentor Moments. The podcast gives listeners a chance to gain insight from top local executives, like TopGolf CEO Dolf Berle, Cawley Partners CEO Bill Cawley, Vouch CEO Christiana Yebra, and more. It was started by Young Leaders for Change, a DFW-based 501(C)3 nonprofit dedicated to empowering young adults in personal development, professional development, and service-learning. Young Leaders for Change Executive Director Alex Quian is the host.
To read more (and get our week's Top 10), head here.
---
Monday, Sept. 14
GRANTED
In the largest research award ever received by The University of North Texas Health Science Center, Dr. Sid O'Bryant and Dr. Leigh Johnson got a $45 million federal grant to expand the study of Alzheimer's disease among Mexican Americans. HSC President Dr. Michael Williams, who calls HSC a recognized leader in the field, describes it as "transformative." Dr. Bryant also is one of the inventors of the IP being commercialized out of UNTHSC by Cx Precision Medicine, notes TechFW.
CAST YOUR (EDGE TECH) VOTE  
Dallas-based Taubyte, which says it has defined a new category it calls "NoOps" smart computing, is one of two finalists in the CW Technology & Innovation Awards 2020. The company, which is competing against UK-based Znystra, enables scaling software to the global infrastructure catalyzed by 5G and IoT technologies. Watch Taubyte co-founder Samy Fodil's virtual pitch, and go here to place your vote. (Scroll to No. 5: Application of Edge Technology.) Voting ends at 11:59 on Tuesday, Sept. 15.
MEET THE 36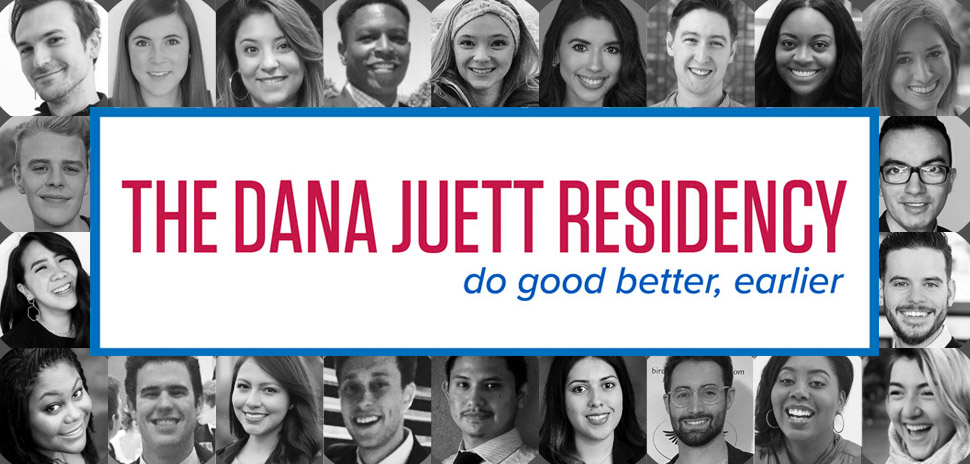 Social Venture Partners Dallas has chosen the members of the fifth class of the Dana Juett Residency. The aspiring philanthropists will delve into topics—charity versus justice, philanthropy and equity, collective impact innovations in philanthropy, and more—directed toward helping them become leaders.
PITCH WINNER
Female entrepreneurs were given the opportunity to pitch their business ideas and compete for $100,000 and a chance to represent Dallas on an international level in the 2020 Pitch Competition for TiE Women last week. Winner Tina Mani, CEO and co-founder of YFret, will get the chance to compete in the Global Pitch finals held in Dubai later this year.
To read more (and get our week's Top 10), head here.
---
Friday, Sept. 11
Here are the Most Popular Stories on Dallas Innovates  
1  Global Tech Company Shokworks Inc to Move HQ from Miami to Dallas
2  Allen Tech Hub Among City's 2 Million Square Feet of New Development
3  Mark Cuban Foundation Offers Free AI Bootcamps Through Partnerships
4  COVID-19 Was the Start of Something New for Common Desk 
5  Women of Innovation Summit Helps Female Entrepreneurs Level Up
6  Innovation Summit Fosters Collaboration for Startups and Corporate Allies
7   How DFW Dispatchers Tapped Waze Data to Speed 9-1-1 Response Times
8  Venture Dallas' Event Sponsors Prepare for 34-Day Virtual Pitch Event
9  2020 SOE: 'This Year Has Been Tough, But Dallas Is Tougher'
10  SKU DFW Names Cohort for its Consumer Product Accelerator
PLUS   
Trending today, you'll find our story on Olympian Nastia Liukin, who retired from gymnastics at the ripe age of 22 and recently moved back to Dallas. What most people don't know is that she's also a tech entrepreneur who helped start a platform to empower future female athletes. 
Need to Know
Our partners at the Dallas Regional Chamber are keeping track of the news and stories that affect the business community across the Dallas region. Here's what we're reading:
Forces for Good 
People and organizations of all kinds are stepping up to help and inspire local communities. Here are highlights from around the region:
FREEDOM DAY RALLY
Today, Communities Foundation of Texas united volunteers in virtual, remote, and physically distanced projects to honor 9/11 victims, first responders, military, and veterans who serve the North Texas community. The 19th Annual Freedom Day, which centered on a theme of "equity and justice for all," activated volunteers to help nonprofit partners to meet growing needs. Since 2002, more than 14,000 volunteers have completed 50,000-plus hours of service on 9/11 "to turn a day of tragedy into a day of doing good." 
Per CFT for Business, nonprofit partners include: All Stars Project, At Ease Texas, Birthday Party Project, Catholic Charities, Cohen Military Family Clinic, Dallas Truth, Racial Healing, and Transformation, DKMS, Farmers Assisting Returning Military (F.A.R.M.), HungerBusters, Lone Star Justice Alliance, Military Veteran Peer Network, Mosaic Family Services, North Texas Food Bank, Patriot PAWS Service Dogs, Project Unity, Senior Source, SMU, Special Olympics Texas, #StopOne, Texas Health Resources, Texas Ramp Project, Unbound Fort Worth, and United to Learn.
Sponsors of this year's event include: Ray Hunt, The Shields Group, Bioworld Merchandising, The Fallen Family Fund at CFT, RHSB, SFMG Wealth Advisors, Texadia Systems, Swan Smith Family Fund at CFT, Platinum IDS and DHD Films.
OLD PARKLAND HONORS 9/11 HEROES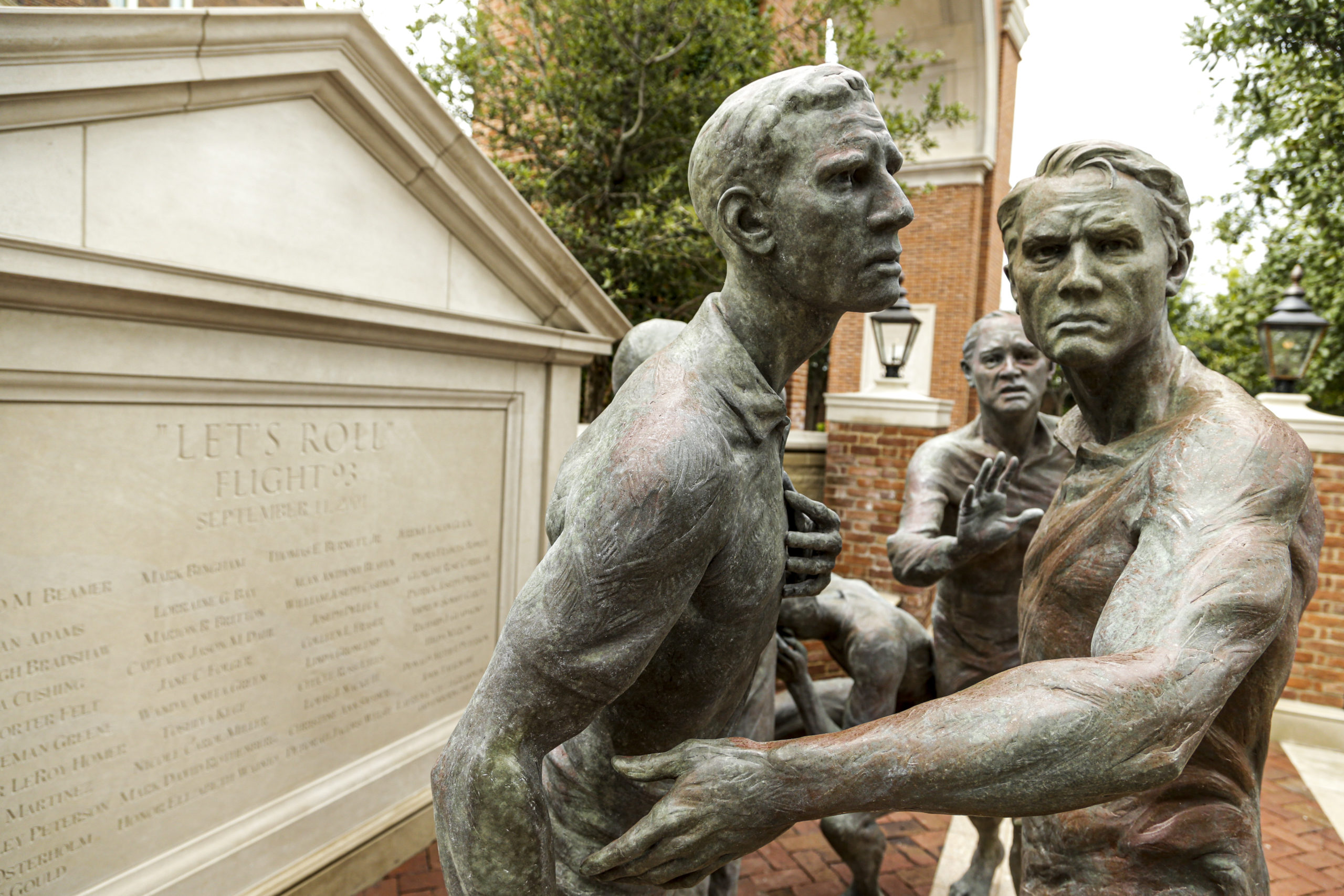 As many remember lost loved ones and heroic acts by first responders and citizens on 9/11, Old Parkland in Dallas' Uptown has erected a newly commissioned bronze statue in honor of the heroes on United Airlines Flight 93. The "Non Sibi" monument "will forever be a reminder" of the crew and passengers of United Airlines Flight 93 that fought back against the terrorists who hijacked their plane. It's installed at the campus' new Freedom Place building, along with a statue of Harriet Tubman, who saved many lives of enslaved people via the Underground Railroad. Take a first look at the statues in our gallery.
PPE FOR NONPROFITS
United Way of Metropolitan Dallas, Communities Foundation of Texas, and Trusted World have teamed up to get masks, nitrile gloves, and hand sanitizer to nonprofits working in the community to address urgent basic needs that have been magnified by the COVID-19 pandemic.
Trusted World, a United Way Social Innovation Accelerator Fellow, is a global organization that connects supply with need. Nonprofits can request donated PPE through a simple online application and schedule to pick up the supplies at Trusted World's location in Garland. The partners say priority will be given to nonprofits that are providing social services, which includes child care, financial and food assistance, physical and mental health, and long-term living care within the North Texas community, as well as leaders of Color.
RECOVERY FUND
The United Way of Tarrant County has created a "Rebuild Tarrant County Fund" to provide long-term COVID-19 recovery assistance to the community. The fund replaces the COVID-19 Emergency Relief Fund, per NBCDFW. The move represents the organization's shift from emergency response to ongoing recovery efforts.
Browse our curated selection of contests, nominations, pitches, and grants. From entrepreneurs to corporates, creatives to inventors, educators to social innovators, here's a roundup of goodies for you. Items with deadlines coming up include:
Venture Dallas (Open now)
NTT DATA's Open Innovation Contest (Deadline TBD)
Dallas Innovates' and D CEO's Innovation Awards (Sept. 18)
7-Eleven's Brands with Heart (Oct. 1)
North Central Texas' Torch Awards for Ethics Competition (Oct. 2)
EarthX's Planet911 Youth Film Challenge (Oct. 15)
Go here for details. 
---
Thursday, Sept. 10
FALL COHORT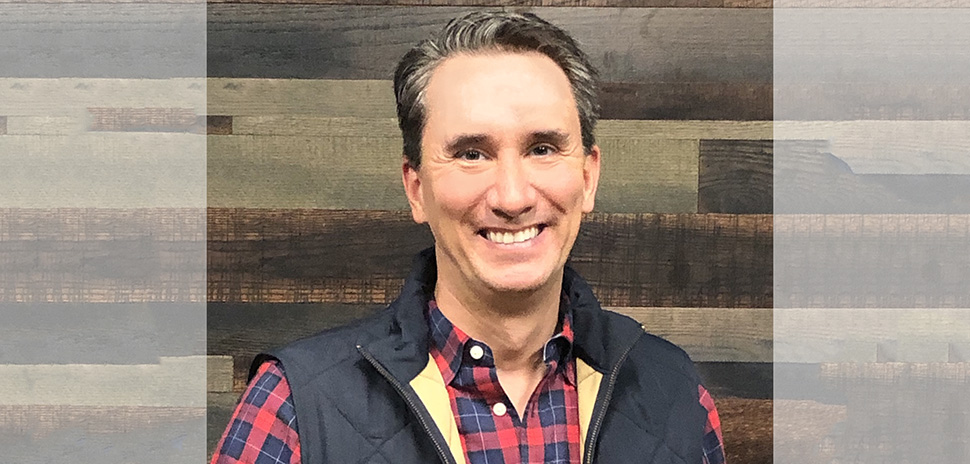 Health Wildcatters has added nine new startups to its portfolio. The fall cohort brings the number of startups under Health Wildcatters' umbrella to 77, according to CEO Hubert Zajicek. Meet them here.
FISH FLOW
While road construction can be aggravating to people, it may put Texas' state fish—the Guadalupe Bass—at risk. Structures like pylons and culverts change the flow of water in the aquatic ecosystem, according to University of North Texas biologists. Through funding from Texas Parks and Wildlife, the UNT scientists are studying the impact of construction on four fish species with what they describe as a "fish treadmill."
---
Wednesday, Sept. 9
FOLLOW THE MONEY
Three deals to watch
J.C. Penney will sell its retail business to Simon Property Group and Brookfield Property Partners in a deal that values the company at $1.75 billion. The mall operators will pay around $300 million in cash and assume $500 million in debt, according to the New York Times. 
Fort Worth-based ECI Software Solutions, a cloud technologies firm, has agreed to acquire Shoptech Industrial Software Corp. Shoptech, which will become part of ECI's manufacturing division, helps job shops and made-to-order manufacturers manage the complexities of their operation.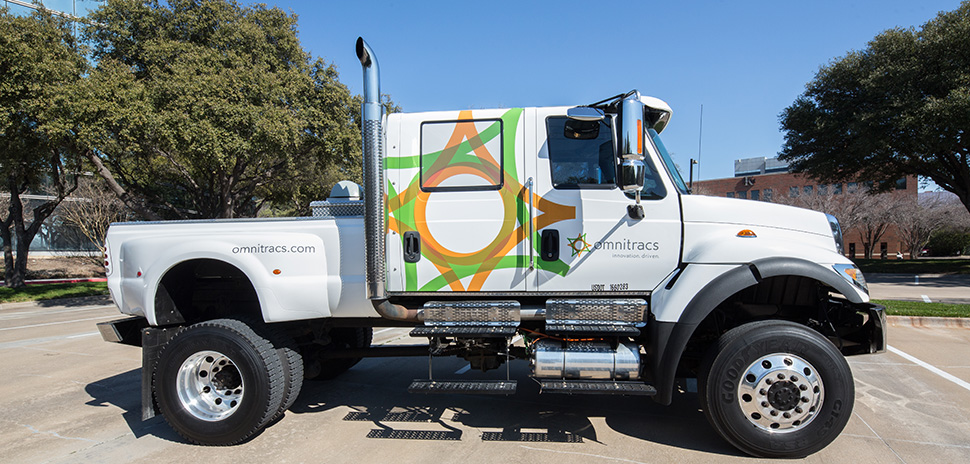 Dallas-based trucking tech supplier Omnitracs will acquire SmartDrive Systems, one of the transportation industry's largest onboard video firms. The combining of Omnitracs and San Diego-based SmartDrive is a major development in the wave of consolidation in the sector, notes industry vertical Transport Topics. Omnitracs, since its spinoff from wireless tech giant Qualcomm in 2013, has completed several other tech acquisitions, including Blue Dot, Roadnet, and XRS.
RETAIL
Irving-based arts and crafts retailer Michaels has unveiled two "test and learn" concept stores in McKinney and Plano. The retailer has re-imagined the store design and format: The stores include a newly launched "maker space" and updated checkout system that leverages advanced technology.
---
Tuesday, Sept. 8
ESPORTS EDUCATION
SMU has a new Esports Business Management Certificate to teach the business management side of the growing esports industry. It's an industry that's "developed into a multi-faceted multi-billion-dollar global movement, requiring a new cadre of business people and strategies," said Simon Mak, executive director of SMU Cox's Caruth Institute for Entrepreneurship, on NTX e-News. "It's only appropriate that we launch this program in Dallas, the birthplace of esports." The fully online program draws from SMU's Cox and Simmons Schools.
SHARED SPACE
Coworking firm VentureX has filed plans for a 24,000-square-foot office in the historic Braniff Centre near Love Field. The new office is slated to open in 2021, according to a state filing. The region is "one of the country's fastest-growing coworking markets, with more than 3 million square feet of space leased" to shared office firms, according to the Dallas Morning News. 
RANKINGS

• At No. 3, "the Dallas area kept its grip on a higher ranking for tech-job postings" among U.S. metros in August, writes Brian Womack in the Dallas Business Journal. North Texas rose from No. 4 in July, behind only New York and Washington, D.C., according to a CompTIA report.
• The Dallas area also leads the U.S. in getting back to the office, with more than a third of workplaces "back in business" since the beginning of the pandemic, per a new report by Kastle Systems. "At 36 percent, it leads the list of cities and is more than three times as open as New York, the lowest city on the barometer," Kastle's Danielle Leopold said in the Dallas Morning News. That's compared to an average workplace occupancy of around 23 percent in the 10 largest U.S. metros. 
• We work hard, too. The Lone Star State was just named one of the hardest-working states in the country, according to a new Wallet Hub study. Texas ranks No. 4. 
---
Thursday, Sept. 3
REWIND
Dallas Startup Week 2020, DFW's biggest entrepreneur event this year, has just wrapped. But there's a long weekend coming up, and you can head to DSW's YouTube channel for sessions you might have missed or those you want to revisit. Pro tip: Subscribe to the channel to be notified when content becomes available. Organizers will continue to add sessions through next week.
---
Wednesday, Sept. 2
DI PEOPLE 
Here are moves to watch.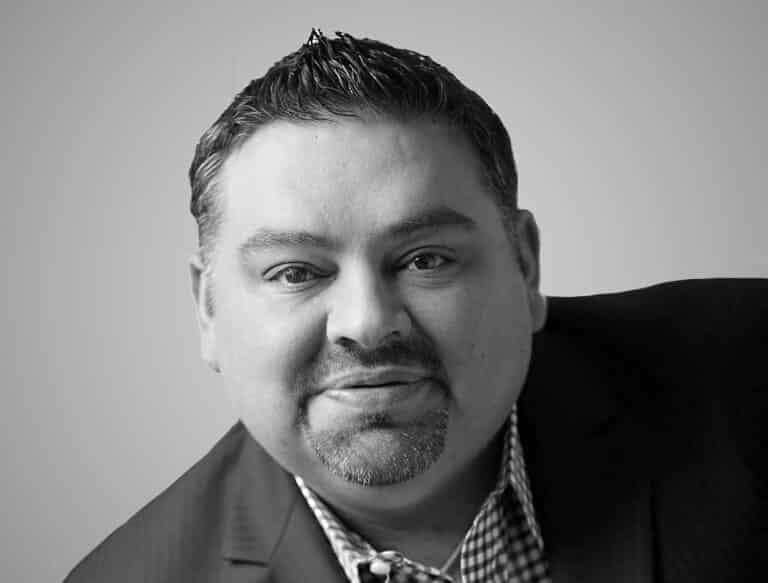 1. Former Masergy CEO Chris MacFarland has returned to his long-time post after stepping back in 2018, reports the Dallas Business Journal.
2. Dallas-based Alerian, an independent index provider that focuses on building innovative, index-based investment strategies, appointed Robert Hughes as the firm's new Head of Sales.
3. Dallas-based marketing agency Tandem Theory has reunited several members of a leadership team that "previously built what was lauded as the fastest growing agency in the U.S.," the company said in a statement. Tandem named Tom Millweard as agency president and Tom Cole as executive chairman. The leaders will join Dave Kirwan, co-chairman, and John South, newly appointed chief growth officer.
4. Sabre has named Scott Wilson as president of Sabre Hospitality Solutions, effective Sept. 8. Wilson joins Sabre from Great Wolf Resorts where he was Chief Commercial Officer. 
PRIMARY PARTNERS
Walmart has teamed up with Oak Street Health—a startup that went public last month—to open three healthcare clinics in Dallas-Fort Worth. The clinics will bring primary care and urgent care services to the retail giant's Supercenters this year. They replace the former retail health spaces Walmart operated in Arlington, Benbrook, and Carrollton, reports Medcity News. 
PLANNING TOOL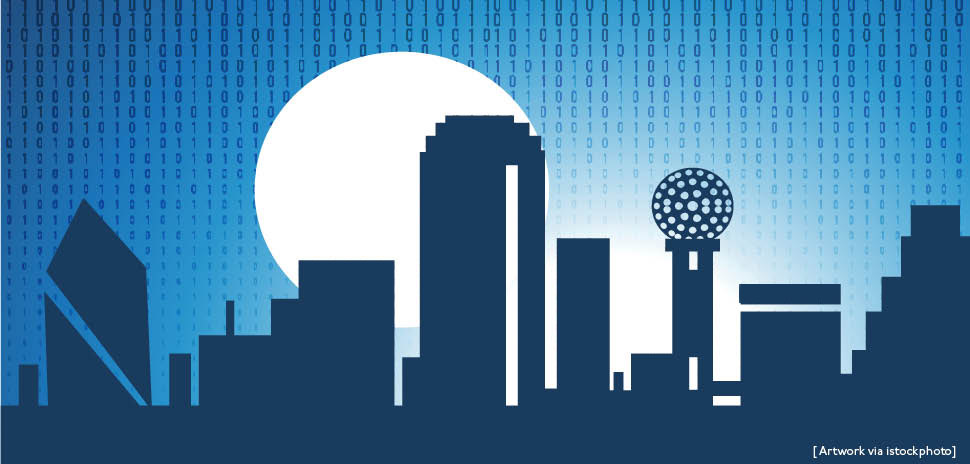 The Dallas Office of Economic Development has launched an interactive location-planning tool to help businesses start, grow, and relocate in Dallas. ZoomProspector—designed to be easy to use—lets businesses view available commercial sites and buildings, as well as demographic, workforce, talent, and business data, according to OED Director Courtney Pogue. The city is "laser-focused on helping small businesses get through this challenging time and will continue to find ways to support them," he said.
---
Tuesday, Sept. 1
FOLLOW THE MONEY
Here are five DFW deals to watch. 
1. Fort Worth-based Parker Products has added New York-based cookie manufacturer Creative Food Ingredients (CFI) to its portfolio. Parker Products, which provides specialty ingredients to the baking, dairy, beverage, confectionery, RTE and snack, and foodservice industries, was acquired by The Riverside Company in 2017 to speed growth and "set the stage for expansion opportunities" such as this one, per Fort Worth Business Press.
2. RealPage has acquired smart home systems-maker Stratis IoT, a startup with a focus on access and energy management tools that provides IoT services to the real estate industry, reports TechCrunch. RealPage CEO Steve Winn said the "smart building technology also provides a launching pad for expanded international operations, thanks to Stratis' existing international presence." The real estate market isn't always the first to adopt modern tech, TechCrunch wrote, but that's "quickly changing now."
3. Dallas-based Cambium Learning Group will acquire language-learning company Rosetta Stone for $792 million. The deal is expected to close in Q4, according to Virginia Business. 
4. Dallas-based Builders FirstSource has united with rival BMC Stock Holdings in an all-stock merger that joins two of the largest suppliers of residential building materials. The deal is expected to produce value for shareholders with growth opportunities and the acceleration of technological innovation, according to Chad Crow, the current Builders FirstSource CEO. Crow plans to retire and will be succeeded by BMC CEO Dave Flitman after a transition period.
5. Trive Capital, a Dallas-based private equity firm, announced the formation of NuBridge Commercial Lending LLC. The PE firm partnered with an "experienced management team" on a new Calif.-based real estate platform that will make bridge loans for commercial and multifamily properties in the U.S. 
To read more (and get our week's Top 10), head here.
---
Monday, Aug. 31
FORCES FOR GOOD 
D CEO revealed the winners of its Third Annual Nonprofit and Corporate Citizenship Awards last week, where Mark Cuban was honored with a special Community Hero Award. "I realized I had the opportunity and obligation to speak out and share my experience. So, I did," Cuban said in D CEO. 
Other honorees included nonprofit organizations such as Get Shift Done, United Way of Metropolitan Dallas, and EarthX; companies and business leaders such as the Dallas Mavericks, Celenese Corp., Kimberly-Clark, and Craig Hall; and the collaboration of the year: Capital One, Major League Hacking, NAF Academies, Dallas ISD, Plano ISD, Uplift Education. Go online for more.
GOOD ADVICE 
Consumers "don't want brands to bore them," according to findings from a study conducted by Dallas-based market research firm Dynata for creative automation platform Celtra. According to MarTech Today, "the results show the challenge of catering to consumer expectations: surprise us, but be consistent; about relevance, we're not sure."
WHAT ELSE?

• A Toyota-backed startup has tested a flying car with a human on board in Japan. Here's a video of the SkyDrive manned flight that's had more than a million views, so far. 
• Amazon is one step closer to drone delivery in the U.S. with FAA approval. It's the third drone delivery company to get the certification: UPS and Alphabet subsidiary Wing both got approvals in 2019, according to CNN.
To read more (and get our week's Top 10), head here.
---
Friday, Aug. 28
Here are the Most Popular Stories on Dallas Innovates  
1  Mark Cuban Foundation Offers Free AI Bootcamps Through Partnerships
2  Allied BioScience's Antiviral Surface Coating Is First to Be OK'd by EPA
3  Dallas-based CerSci Acquired by ACADIA Pharmaceutical in $52.5M Deal
4  DI People: TI, Comerica, Omnitracs, Toyota, Hunt Energy Make Moves  
5  Awards Luncheon Honors Eight Diverse Local Female STEAM Leaders
6  Amid COVID, Here's Why Revolving Kitchen's Commercial Rentals Thrive
7  Allen Tech Hub Among City's 2 Million Square Feet of New Development 
8  Holly Reed Exits Texas Central, Joins Ryan
9  Mike Rosa: Recent Success Should Carry Dallas-Fort Worth Forward
10  Balfour Beatty's Eric Krueger on Construction Projects in a Pandemic
PLUS   
Trending today are all things Dallas Startup Week. With The DEC's anchor event kicking off this Sunday—for the first time ever, virtually—readers are starting to prepare. If you're unsure of where to begin, check out our roundup of this year's top 10 highlights. This year is expected to be as big as ever—DSW even formed a new partnership with Global Entrepreneurship Week to get things done. You don't want to miss out.
Need to Know
Our partners at the Dallas Regional Chamber are keeping track of the news and stories that affect the business community across the Dallas region. Here's what we're reading:
For $2 million, Dallas has hired a firm to plan the transformation of Hensley Field, a former Navel Air Station, into a lakefront development. The city's leaders see a future in the 738-acre former dumping ground west of Mountain Creek Lake as prime real estate, but it will need a clean up first, reports the Dallas Morning News. "The site is a hidden gem—a waterfront blank slate with immense potential," Dallas Mayor Eric Johnson said in a statement. 
UT Southwestern and Children's Health will build their first joint project in Southern Dallas' RedBird Mall. The 150,000-square-foot outpatient clinic will devote about half its space to pediatrics and help meet healthcare needs in the community, the same publication reports. It's planned for completion in late 2021.
Forces for Good 
People and organizations of all kinds are stepping up to help and inspire local communities. Here are highlights from around the region:
People and organizations of all kinds are stepping up to help and inspire local communities. Here are highlights from around the region:
The
Texas Parks and Wildlife Commission
has 
awarded $4.5 million in park grants
ranging from $141,266 to $750,000 to eight North Texas cities, including
Celina
,
Cedar Hill
,
Comanche
,
Duncanville
,
Fort Worth
,
Haltom City
,
Mabank
, and
The Colony
. NBCDFW has the details.
Browse our curated selection of contests, nominations, pitches, and grants. From entrepreneurs to corporates, creatives to inventors, educators to social innovators, here's a roundup of goodies for you. Items with deadlines coming up include:
Venture Dallas (Open now)
Startup@BerkeleyLaw, NVCA, and Venture Forward's VC University LIVE (Today!)
UT Dallas Accelerators (August 30)
City of Dallas' COVID-19 Data Challenge (August 31)
The Health Hacking Crisis Network's Children's COVID Story Book Challenge & Teen's COVID Science Book Challenge (September 1)
Dallas Innovates' and D CEO's Innovation Awards (September 18)
North Central Texas' Torch Awards for Ethics Competition (October 2)
Go here for details. 
---
Thursday, Aug. 27
FOLLOW THE MONEY
Plano-based NTT DATA Services has acquired Acorio, the "world's largest pure-play ServiceNow consultancy," according to a news release. The global IT giant said it will expand the company's capacity for driving transformative business outcomes for its clients.
ACE OF SPACE
Dallas-based Astrapi Corporation was picked for an accelerator focused on Cyber for Space Applications. The Catalyst Accelerator is powered by the Air Force Research Lab Space Vehicles Directorate. The U.S. Space Force, with the directorate, is looking for "bold and disruptive approaches to security for space cyber-physical systems and operations." Eight firms from around the U.S. will join the cohort. Astrapi's technology was developed by CEO and Founder Dr. Jerrold Prothero, above.
TOPPING THE CHART
For the first time, Dallas was the No. 1 commercial real estate investment market at the "halfway mark of the year," according to a report by Real Capital Analytics. $9.3B in deals closed in the region, per the Dallas Business Journal. The Dallas metro area topped Manhattan, LA, Boston, and Chicago in the top five, and bested Houston (No. 7) and Austin (No. 25). 
To read more (and get our week's Top 10), head here.
---
Wednesday, Aug. 26
FOLLOW THE MONEY
Richardson-based tech firm Nimbix has raised $2 million of a $2.5 million offering, per a Form D filing. "We pioneered the field known as 'cloud supercomputing,' or high-performance computing in the cloud," CEO Steve Hebert previously told Dallas Innovates. Hebert, who co-founded the company started in his garage in 2010, was among our 26 Innovators of the Future featured in 2019.
Cybersecurity company Intrusion, also based in Richardson, has applied for a Nasdaq uplisting using the ticker symbol INTZ, per a news release. The company wants to move beyond the OTC market and has "indicated it wants to raise $20 million, including a secondary offering," writes Brian Womack in the Dallas Business Journal. It plans to use the funds for growth initiatives, including the commercialization of the company's plug-and-play AI-enabled threat-detection-and-neutralization solution called Intrusion Shield.
Dallas-based ComSovereign's $14M "fastback acquisition" is part of its 'Made in the USA' plan in the wireless infrastructure world, per Fierce Wireless. The company will acquire the equity interests of Skyline Technology Partners. The deal includes intellectual property, which is especially important, Chairman and CEO Dan Hodges says. ComSovereign's U.S. patent portfolio currently includes 65 granted and active patents, with 12 pending.
THE FUTURE IS HERE

Dallas made the list of the top 20 global cities of the future in a new report that looks at "non-capital cities capturing investors' attention" worldwide. Dallas ranks No. 19 overall in the Tier 2 Cities of the 2020/2021 evaluation by the FDI Intelligence division of the Financial Times. The city ranks No. 8 for human capital and lifestyle categories. Other Texas cities, Houston (No. 3) and Austin (No. 11), also rank in the Top 20. San Francisco was No. 1, Culturemap reports.
---
Tuesday, Aug. 25
READY FOR A RAISE

After pushing back plans due to COVID-19, S5 Stratos is looking to raise $8-12M in a new round by the end of 2020. The provider of technology for the retail and consumer packaged goods industry hopes to get "more traction amid the pressures of the pandemic," the DBJ reports, as it helps clients get a deep and nuanced view of their data. CEO Chetan Anand Gabri called COVID a "wake-up call" for most retailers to embrace S5's digital transformation and advanced tech that could help them do their job more effectively.
EXPANSION
Waymo has decided to expand its robot truck program to Dallas, which will be used as a hub for road-testing its fleet of 18-wheelers, reports Forbes. The Silicon Valley-based self-driving vehicle company plans to hire licensed local truckers to help with highway evaluations as safety drivers.
TEAM EFFORT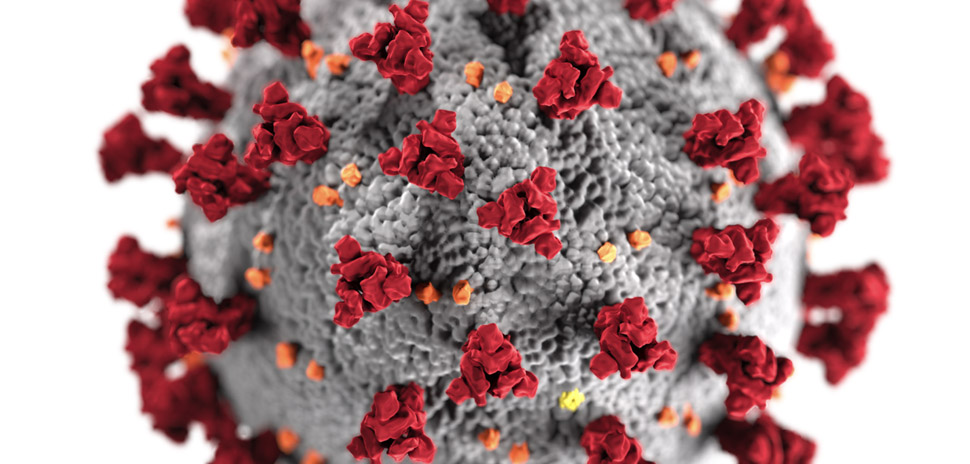 Researchers at UT Southwestern are working with Texas Health Resources on a North Texas COVID-19 prevalence study that could determine why some groups are impacted more than others by the virus, Fox 4 reports. Organizers are looking for 30,000 random households to reply to mailed invitations to participate (half in Tarrant County and the other half in Dallas County), and plans to include essential workers in restaurants and retail who have not yet gotten sick. Researchers also hope to see what kind of protection people have after recovering from COVID-19.
APPLY NOW
The Better Business Bureau wants to reward businesses that have adapted in the pandemic, according to WFAA. Applications have opened for the organization's annual Torch Awards for Ethics Competition.
---
Monday, Aug. 24
OFFICE CONVERSION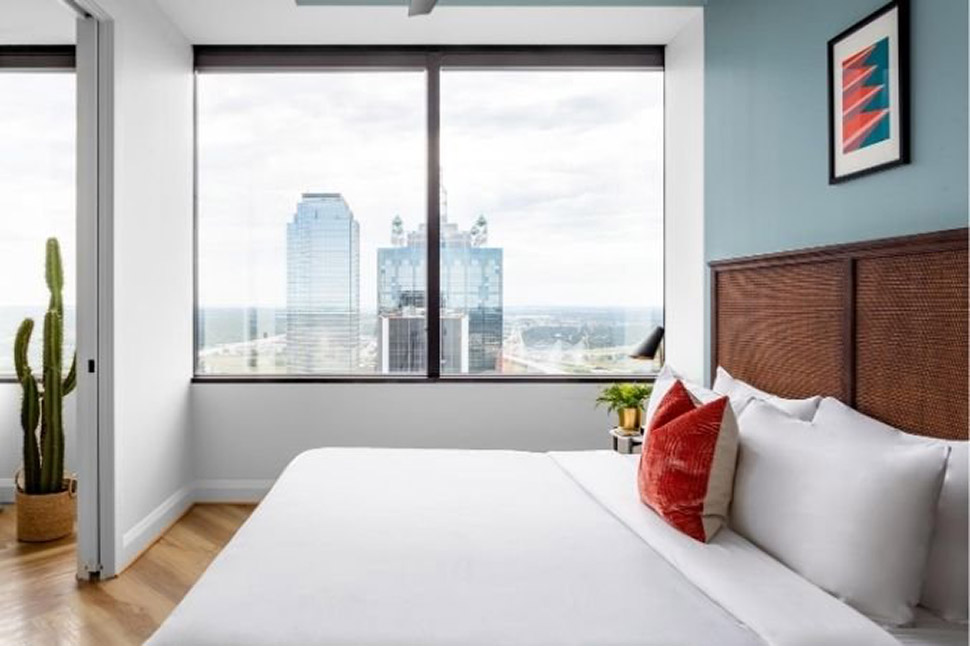 The use of space doesn't need to be static, says Mintwood Real Estate's Katy Slade in D CEO. The newest hotel in downtown Dallas is a "pioneering" adaptive reuse of a highrise: Woods Capital leased the 49th and 50th floors of the rebranded Santander Tower (formerly known as Thanksgiving Tower) to The Guild, an Austin-based AirBNB-like hotel brand that raised $25M in funding earlier this year. That reimagining of the building's office space leverages the renovated Tower Club on Level 48 and puts the parking garage to work during off-peak hours. The Guild Downtown is its third in Dallas. D CEO has a behind-the-scenes look.
FOLLOW THE MONEY
Nine awards totaling nearly $25 million were awarded to North Texas researchers by the Cancer Prevention and Research Institute of Texas, reports Will Maddox in the same publication. Multiple UT Southwestern Medical Center researchers and those recruited to the region from other universities landed CPRIT grants, in addition to Onconano, a Southlake startup that received nearly $10 million. Maddox has a breakdown.
BEST PLACES TO WORK
The Dallas Business Journal has announced 15 of its honorees in the extra-large category, which includes companies with 1,000-plus employees from across the region in a range of industries. You'll find companies such as DPR Construction, Accenture, Thomson Reuters, Balfour Beatty US, and more. 
FRIDGE-FRESH PET FOOD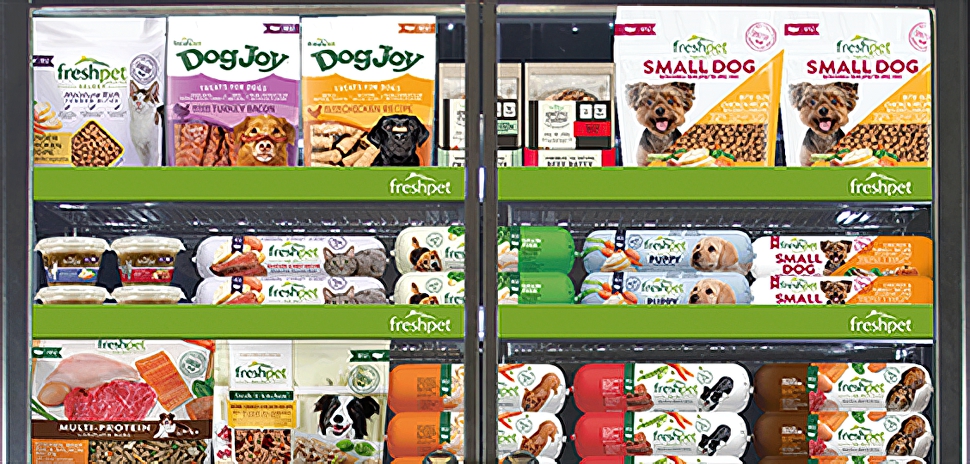 Natural pet food pioneer Freshpet is set to break ground on a new facility it calls "Kitchen 3.0" in Ennis next week, Seeking Alpha said. The facility, which will be built in two phases, will take Freshpet's "total capacity to about $1.3 billion" once it's fully operational, according to the online financial site. The publicly traded company, which makes fridge-fresh food for pets, will invest over $264 million to build its new facility and will create 427 new jobs, it said earlier this year.
To read more (and get our week's Top 10), head here.
---
Friday, Aug. 21

Here are the Most Popular Stories on Dallas Innovates  
1  Amazon Expands Dallas Tech Hub by Adding 100K of Space and 600 Jobs
2  Toyota Makes Four Executive Moves on its Automotive Operations Team
3  Denton Gets a New Startup Incubator Exclusively for Female Entrepreneurs
4  DRC Names 44 to its Leadership Dallas Class of 2021  
5  On Trend: Oak Cliff's Momentous School Launches Bitmoji Classrooms
6  Survey: Opendoor Reveals What Home Buyers Want Now
7  Dr. Joe May: How Dallas College Can Help Rebuild the Local Econom
8  West End Square: Innovative Water Feature Will Change With the Weather
9  158 Dallas-Fort Worth Companies Make This Year's Inc. 5000
10  Trading App Robinhood Invests in Southlake Expansion, Plans Hires
PLUS  
Trending today, you'll find our story on why global commercial real estate firm Mohr Partners is taking a "contrarian workplace strategy" in its own HQ. The Dallas-based company is planning for private offices in a post-COVID world. Plus, you'll read about a Southlake biotech startup that just got a third CPRIT grant. OncoNano's tumor-marker tech "lights up" cancer.
Need to Know
Our partners at the Dallas Regional Chamber are keeping track of the news and stories that affect the business community across the Dallas region. Here's what we're reading:
John Olajide, CEO of Axxess, and Fred Perpall, CEO of The Beck Group—chairs of two of Dallas' most influential business groups, the Dallas Regional Chamber and the Dallas Citizens Council—are helping their organizations do everything possible to fight the "dual pandemics of coronavirus and racial injustice." The Dallas Morning News has a story on how the two Black leaders are using their influence to save jobs and small businesses.
After George Floyd's death, protests sparked a national discussion about diversity, equity, and inclusion. Local business leaders Chris Nielsen from Toyota Motor North America, Hattie Hill with T.D. Jakes Foundation, Cynt Marshall from the Dallas Mavericks, Wendy Lopez with AECOM, and Fred Perpall of the Dallas Citizens Council, discuss whether it will bring lasting change in the same publication.

WHAT ELSE?
Dallas has a new 'roadmap' for a more holistic economic development strategy. Eric A. Johnson, the city's new economic development leader who started in March, has laid out a path and a three-year timeline in a document called the Community Transformation Action Roadmap, reports the Dallas Business Journal.
Forces for Good 
People and organizations of all kinds are stepping up to help and inspire local communities. Here are highlights from around the region:
On Sunday, the Texas Conference for Women and the Texas Restaurant Association launched a new initiative to award over $150,000 in grants to women-owned restaurants in the Lone Star state. The program, which will provide $2,500 each to more than 60 women-owned restaurants, has temporarily halted acceptance of applications with the response. 
A Southern Dallas revitalization nonprofit that aims to stimulate change has received a $15,000 grant from Hancock Whitney and the Federal Home Loan Bank of Dallas. Led by James McGee, Southern Dallas Progress helps residents and businesses work together to solve problems and improve life in the community.

The Trade Group, best known for its design and fabrication work for trade shows and commercial interiors, has tapped its expertise to help organizations modify workspaces to enhance safety during COVID-19. It recently donated the design, manufacturing, and installation of safety and awareness graphics, sanitizer kiosks, and PPE face shields to the North Texas Food Bank in Plano.
PARK PLACES


The Texas Parks and Wildlife Commission has awarded $4.5 million in park grants ranging from $141,266 to $750,000 to eight North Texas cities, including Celina, Cedar Hill, Comanche, Duncanville, Fort Worth, Haltom City, Mabank, and The Colony. NBCDFW has the details.
Browse our curated selection of contests, nominations, pitches, and grants. From entrepreneurs to corporates, creatives to inventors, educators to social innovators, here's a roundup of goodies for you. Items with deadlines coming up include:
Venture Dallas (Open now)
Tech Titans 5G Grand Challenge (August 24)
Startup@BerkeleyLaw, NVCA, and Venture Forward's VC University LIVE (August 28)
UT Dallas Accelerators (August 30)
City of Dallas' COVID-19 Data Challenge (August 31)
The Health Hacking Crisis Network's Children's COVID Story Book Challenge & Teen's COVID Science Book Challenge (September 1)
Dallas Innovates' and D CEO's Innovation Awards (September 18)
Go here for details. 
---
Thursday, Aug. 20
FOLLOW THE MONEY


Fort Worth biotech Cx Precision Medicine has raised about $600,000 in equity funding, according to a new SEC filing. The University of North Texas Health Science Center internal startup is developing what would be the first-ever blood test to screen for Alzheimer's disease or early cognitive loss, according to UNTHSC President Michael Williams, we reported earlier this year. HSC has exclusively licensed tech to the startup.
TRINITY TRANSFORMATION
After a public search in July, the Trinity Park Conservancy has announced the selection of the architects charged to "bring new life" to the erstwhile Jesse R. Dawson State Jail on West Commerce in Dallas. Nationally-known firm WEISS/MANFREDI Architecture/Landscape/Urbanism was named design architect, and Dallas-based Malone Maxwell Dennehy Architects will serve as the local architect. Working with the Conservancy, the project team will integrate the building and surrounding neighborhoods into Harold Simmons Park, a planned 200-plus acre park along the Trinity River. The group says the park between the levees, designed by Michael Van Valkenburgh Associates, will connect downtown Dallas to West and South Dallas. 
THE RIGHT STUFF
"Could Fort Worth host the U.S. Space Command headquarters?" asks the Fort Worth Business Press. U.S. Sen. Ted Cruz thinks Texas has the right stuff: The chairman of the Subcommittee on Aviation and Space wants Fort Worth, Houston, and San Antonio to be considered for a new HQ that's expected to be selected next year. In a letter to the Air Force on Tuesday, Cruz touted Fort Worth universities and "advanced industries, including the one-of-a-kind Lockheed Martin facility, where the world's most advanced fighter jet, the F-35, is built and tested."
TESTING GROUND
Uber Health is expanding to launch a prescription delivery pilot program beginning in Dallas and Seattle, it announced today. The company will partner with on-demand digital prescription platform NimbleRx. Uber said it "plans to grow in the coming months" to get more medication deliveries "to those who need it," writes Mobi Health News.
---
Wednesday, Aug. 19
DEFENSE DOLLARS
The U.S. Department of Defense has awarded SMU $18 million—the largest given to the university for research—to continue its seismic-acoustic monitoring program. SMU seismologist Brian Stump and his team will study the "shudders that travel through and around the Earth" to better understand if they're "caused by man-made events like a nuclear explosion test or natural events like earthquakes or volcanic eruptions," according to Park Cities People.
HEALTHCARE GRANT
Southlake-based OncoNano Medicine—a biotech spinout from the University of Texas Southwestern Medical Center—is getting a nearly $10 million grant from a Texas cancer research agency. The funds from the Cancer Prevention and Research Institute of Texas will support the development of the startup's imaging agent that's in Phase 2 clinical trials, according to the Dallas Morning News. 
EDUCATION 

The Women Who STEAM Awards Luncheon will honor eight diverse local female STEAM leaders. The event benefits The Dallas Chapter of The Links, Incorporated's STEAM Academy for middle and high school girls of color as well as its scholarship program.
BOSS WOMEN
More than 15,000 women of color gathered (virtually) for the Black Girl Magic Digital Summit last weekend, according to the organizers of the two-day summit hosted by Boss Women Media. It came during a time when we all needed it the most, says founder & CEO Marty McDonald. The event, which brought women together to "empower, uplift, and inspire each other," culminated with a virtual pitch competition sponsored by Capital One. Elite Kids came in first, winning a $25,000 grand prize for the best pitch. ShearShare also left with $15,000 and Snag My Wedding left with $10,000. Watch the pitches online.
To read more (and get our week's Top 10), head here.
---
Tuesday, Aug. 18
OPERATION WARP SPEED
Irving-based McKesson was picked as a federal COVID-19 distributor for a potential vaccine per D CEO. The pharma giant will support Operation Warp Speed, a government program that aims to deliver 300 million doses of a safe, effective vaccine, by January 2021. McKesson, which has an ongoing partnership with the Centers for Disease Control, is the largest distributor of the flu vaccine in the U.S., writes Will Maddox.
FOLLOW THE MONEY

Dallas-founded Fetch has raised $18 million in Series B funding for expansion. The last-mile delivery company, which claims the "first and only off-site package solution for apartment communities," will invest in its warehouse strategy and bolster technology. Launched in 2016, Texas-based Fetch operates in multiple metros. This year, so far, it's doubled the number of communities served. "The increased number of deliveries that apartment communities have been forced to deal with in recent months is something that is here to stay," says investor Scott Carman of Pando Ventures.
Dallas-based private equity firm Align Capital Partners has secured undisclosed financing led by Capital Southwest, reports PE Hub. "The credit facility was used to fund a portion of Align's acquisition of Electronic Transaction Consultants Corporation," according to the publication. 
Dallas-based Remotely Piloted Solutions has been acquired by service provider MAG Aerospace. RPS has grown from a team of 10 to more than 300 professionals since its founding in 2013 says founder Blake Stovall. Now the specialty aviation firm performs C5ISR (Command, Control, Computers, Communications, Cyber, Intelligence, Surveillance, and Reconnaissance) missions both manned and unmanned around the globe. "Together, MAG and RPS offer capabilities no other organization can," Stovall said.
FEMALE FOCUS
Denton is getting a new startup incubator exclusively for female entrepreneurs. Launched by TWU's Center for Women Entrepreneurs and coworking center Stoke, the AccelerateHER incubator program reflects Denton's culture with a focus on creative, education, and lifestyle early-stage startups. Applications are open.
To read more (and get our week's Top 10), head here.
---
Monday, Aug. 17
MONEY MONDAY
Plano fintech Alkami has raised another $50M, reports the Dallas Business Journal. The fast-growing provider of cloud-based banking solutions closed on a $55 million Series E round in June. 
Dallas-based services provider Preferred Technology Solutions has been acquired by Houston-based Meriplex, a solutions provider specializing in intelligent networks, cybersecurity, and managed services. Neil Medwed, the former CEO of PTS, which was founded in 1994, will join the Meriplex team as Director of Strategic Partnerships. Meriplex acquired another Dallas company, telecom provider Vergent, earlier this year. 
EXPANSIONS
Irving-based Tortilla-maker Mission Foods will lease a manufacturing plant in a suburb of Indianapolis that could make another 94,000 tons of chips, flat breads, and other baked products every year, according to CBSDFW. Mission expects the plant to begin ramping operations in early 2021.
Fort Worth-based Sanara MedTech is expanding to provide telehealth services for diagnosis and treatments to wound and skincare patients. Forming a subsidiary called United Wound and Skin Solutions, the company will develop electronic imagery and data sharing technology for virtual consultation and remote diagnosis to care providers of patients in long-term care and home health settings, according to a news release. Sanara became a minority shareholder in Palo Alto-based Direct Dermatology in July and acquired certain exclusive rights to the use of its virtual consult tech.
MODULAR MOMENTUM
Dallas-based modular construction firm TatumTek plans to build a large assembly plant in North Texas, according to the Dallas Business Journal. The first phase of the manufacturing and distribution facility will add capacity to build 4,000 homes a year. The company, which makes modular units for residential and commercial projects, intends to expand at the new site and add more locations, the DBJ reports. "The long-term goal is 10,000 to 20,000 homes from the DFW plant per year," CEO and founder Edwin Tatum said. 
---
Friday, Aug. 14

Here are the Most Popular Stories on Dallas Innovates  
1  Trading App Robinhood Invests in Southlake Expansion, Plans Hires
2  McKinney Startup Expands Delivery for Healthcare Supplies Through Grant
3  Align Capital Acquires Richardson Toll Tech Company to Speed Scale
4  Venture Dallas 2020 Goes Virtual. But it's 'not your typical conference'  
5  158 Dallas-Fort Worth Companies Make This Year's Inc. 5000
6  Google Picks DFW-Based Companies for Inaugural Startup Accelerator
7  Future of Cannabis: 'Texas Would be a Great Place to Get Started Very Soon,' Kanna CEO Says
8  Momentous School Launches Bitmoji Classrooms for Virtual Learning
9  How to Weigh the Options for In-Person and Virtual Learning  
10  This Dallas-Based Female Entrepreneur Launched a Clothing Line in the Middle of a Pandemic
PLUS  
Trending today, you'll find stories on three Dallas-area startups in the MassChallenge Texas summer cohort. In the final installments of the series, you'll learn about patented technologies including a anesthesia solution that could save hospitals lost revenue and a bioresorbable stent that could help sick babies with heart defects. Plus, you'll read about a duo with a mission to create a (decentralized) financial infrastructure for the future.
News You Need to Know
Our partners at the Dallas Regional Chamber are keeping track of the news and stories that affect the business community across the Dallas region. Here's what we're reading:
Forces for Good 
People and organizations of all kinds are stepping up to help and inspire local communities. Here are highlights from around the region:
The Dallas City Council has earmarked up to $500,000 to help ex-offenders get back on their feet. The funds, which come from a Texas Department of Criminal Justice Grant, will be used to address the root causes of crime, reports the Dallas Morning News. Council member Omar Narvaez called it a first step to "reimagine" public safety: "This is just a start," he said.
Barclays US Consumer Bank announced a $250,000 donation—its largest ever—to the Wings Foundation, a volunteer-led nonprofit organization that provides financial assistance to American Airlines flight attendants.  
In July, Dallas Animal Services joined 13 other shelters across the country for a pilot program that recognizes pets and people as family-units and works to keep them together. The idea for a Human Animal Support Services coalition came in the early stages of the pandemic, as animal welfare leaders considered long-term impacts of COVID-19 on shelters and communities. HASS will test new technologies and resources.
In Fort Worth, the Texas Coalition for Animal Protection was awarded a $40,000 grant from the Petco Foundation.

Hillwood Communities partnered with Highland Homes and national non-profit Building Homes for Heroes on a mortgage-free home for U.S. Army Specialist Jason Wheeler and his family. The customized home, built to allow Wheeler to live more independently, is in Little Elm's Union Park, a master-planned "Live Smart" community.

The Deep Ellum 100, now designated a 501(c)3, has launched "round two" of fundraising for its grant to support the cultural district's artists, musicians, service workers, and businesses. Donors can get a "Unity" tee (photo above).
ZEKE BALLS  FOR CHARITY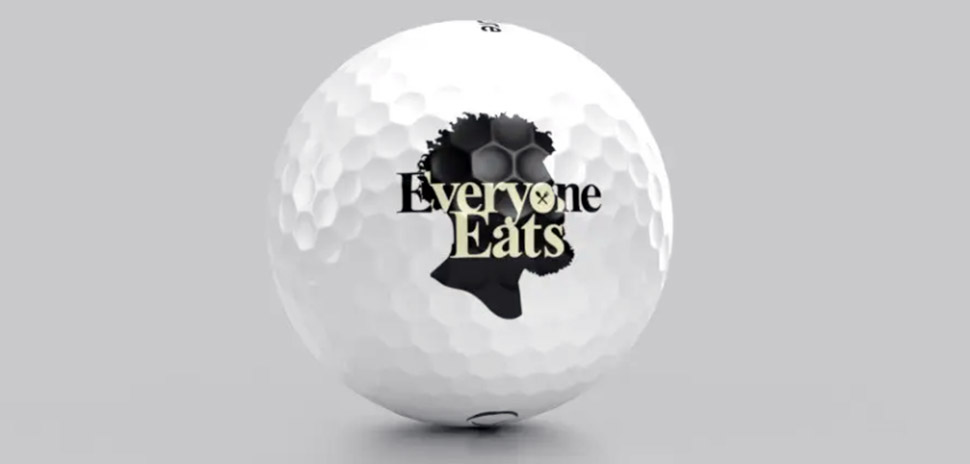 Dallas Cowboy Ezekiel Elliot has teamed up with golf tech innovator OnCore Golf on limited edition "Everyone Eats" golf balls. A portion of the proceeds will benefit the North Texas Food Bank. Elliot is now an investor in the New York-based company "with a big heart." 
Browse our curated selection of contests, nominations, pitches, and grants. From entrepreneurs to corporates, creatives to inventors, educators to social innovators, here's a roundup of goodies for you. Items with deadlines coming up include:
Venture Dallas (Open now)
IDSA Foundation's IDea Incubator (August 16)
Tech Titans Awards (August 24)
UT Dallas Accelerators (August 30)
The Health Hacking Crisis Network's Children's COVID Story Book Challenge & Teen's COVID Science Book Challenge (September 1)
Dallas Innovates' and D CEO's Innovation Awards (September 18)
Go here for details. 
---
Thursday, Aug. 13
MODULAR MAKERS
S2A Modular, a maker of modern residential and commercial modular buildings, is making offers on land opportunities to build a state-of-the-art MegaFactory in Dallas and seven other markets. The company wants to drive a "true paradigm shift" in how structures are built with its MegaFactory model. It's no longer necessary to site build a home, says the California company, which calls itself "the creator of the first electrically self-sustaining, custom and smart-connected luxury residences and commercial buildings." 
BIOTECH EXPANSION
California-based Steri-Tek, which offers E-beam and X-ray sterilization for the medtech, biotech and food/drug industries, is planning an expansion to North Texas, reports the Dallas Business Journal. The company bought 6 acres in Lewisville last fall and plans to build a 103,000-square-foot facility that will serve as a second office for the biotech firm.
BIG DEALS
A Home Depot distribution center has sold for an "eye popping price," reports the Dallas Morning News. The 2.3 million-square-foot hub in southern Dallas County sold for nearly $247 million to a partnership that includes Korean investors.
---
Wednesday, Aug. 12
SCIENCE-BACKED SMALL TALK
Don't underestimate the power of chitchat, according to a new study co-authored by TCU's Patrick E. Downes. "As we broke down daily interaction, we realized our most meaningful interactions are not when we're talking about actual work. It's when we're greeting administrative staff, or the friendly gabbing before a meeting," said Jessica R. Methot of Rutgers University and University of Exeter in Fast Company. Methot, along with Downes and two other U.S. university researchers, co-wrote "Office Chit-Chat as a Social Ritual: The Uplifting Yet Distracting Effects of Daily Small Talk at Work."
TRANSIT TAKES
In a panel on transit innovation this month, DART's Gary Thomas said the organization is "now looking to be able to pivot so that it is providing customers with the trips they want to take, rather than having riders go where the transit system wants to take them," reports industry vertical Transportation Today. The pandemic has underlined how important transit is: "We're about 50 percent down," Thomas noted, "but the 50 percent that are riding are those who absolutely look to transit to get to where they are going."
The agency has had experience with a prior outbreak: "Ebola wasn't quite as contagious, but it was more deadly." Thomas said. "And it hit just as we were going into a bus procurement state. We actually purchased all of our buses with UV Light Filtrations systems or Ionization filtration systems."
The agency learned that "what cleaning meant to different people was very different, so we had to come up with a standard across our system and communicate that to our people," he said in the webinar.
GAME DAY
Prolific innovator Topgolf is letting the birds fly. Extended reality gaming will meet golf this fall when a new partnership with Rovio Entertainment brings the popular Angry Birds game to select Topgolf venues. Golfers can hit a ball and "watch it interact with a dynamic virtual world," according to YuChian Cheng, president at Topgolf Media, who called it "an amazing team effort."
The experience uses the company's proprietary Toptracer tech. Topgolf engineer Paul Medcalf is particularly proud of the efforts for this project, he says. "Working with Rovio's Angry Birds property has been a joy. [Combining] that with TopTracer's tracking technology makes this one of the more unique experiences to which I've had the opportunity to contribute, he tweeted.
Images: istockphoto, DART, Angry Birds YouTube
---
Tuesday, Aug. 11
MOBILITY MARKET
Vinli has hired a new EVP of partnerships to "drive the future of its connected vehicle ecosystem." George Ayres will join the transportation tech innovator with "rare experience and unique skillsets" in the automotive industry. He's "the perfect candidate to expand the Vinli ecosystem," Mark Haidar, founder and CEO of Vinli, said in an announcement.
E-COMMERCE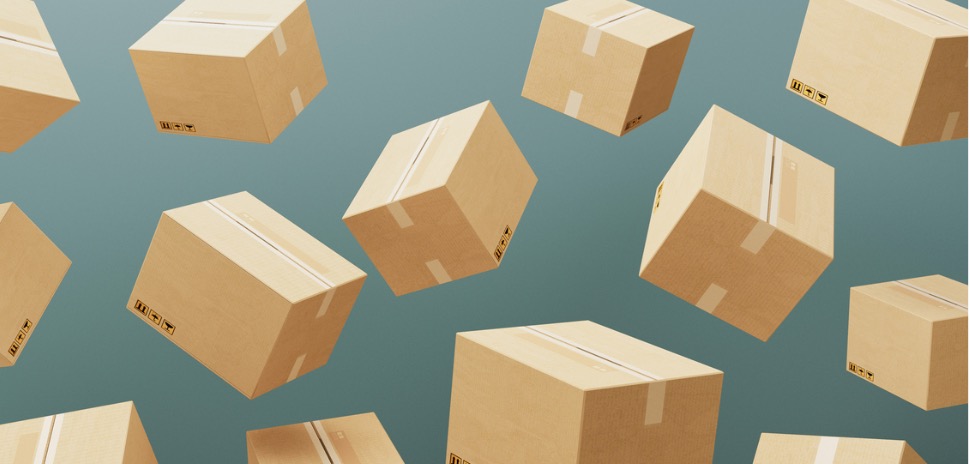 A new warehouse project in Irving will provide space for small businesses by year end, according to the DMN. The building will support "smaller, quick ship, and last-mile users," said David Vicars of PS Business Parks. The 83,000 square-foot industrial project north of DFW Airport will include eight 1,000 square-foot office suites with a 9,000 square-foot warehouse.
On the other end of the spectrum in the hot industrial market, Uline, a Wisconsin-based distributor of shipping, industrial and packaging materials, has just leased a "huge shipping hub" at DFW Airport, per the same publication. At 1.2 million square feet of warehouse space in Passport Park, it's one of the biggest deals in North Texas so far this year. CBRE's Jerome Nichols said "the development of modern space that meets the changing needs of new economy users is proving out."
KID COWORKING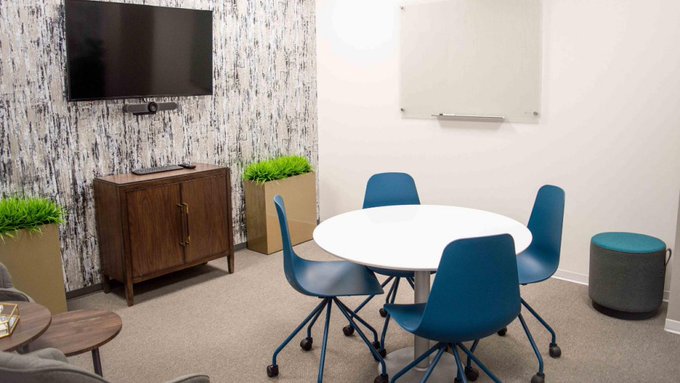 For parents who need a break—or just want a change of venue for their kiddos—WorkSuites has introduced the Zoom Room. The virtual learning room is essentially a (free) private office just for kids over the age of seven. Call your nearest center for details.
TRAIN TRACKS
The proposed Texas high-speed railroad between Dallas and Houston "has successfully convinced the federal Surface Transportation Board (STB) that it has jurisdiction over the proposed Texas rail line," per law firm Holland & Knight's transportation blog. While the federal jurisdiction "will greatly aid the rail line by generally preempting state and local regulation," the order also means there are federal requirements that will have to be addressed.
Images: Vinli, AlessandroPhoto/istockphoto, Worksuites
---
Monday, Aug. 10
ESPORTS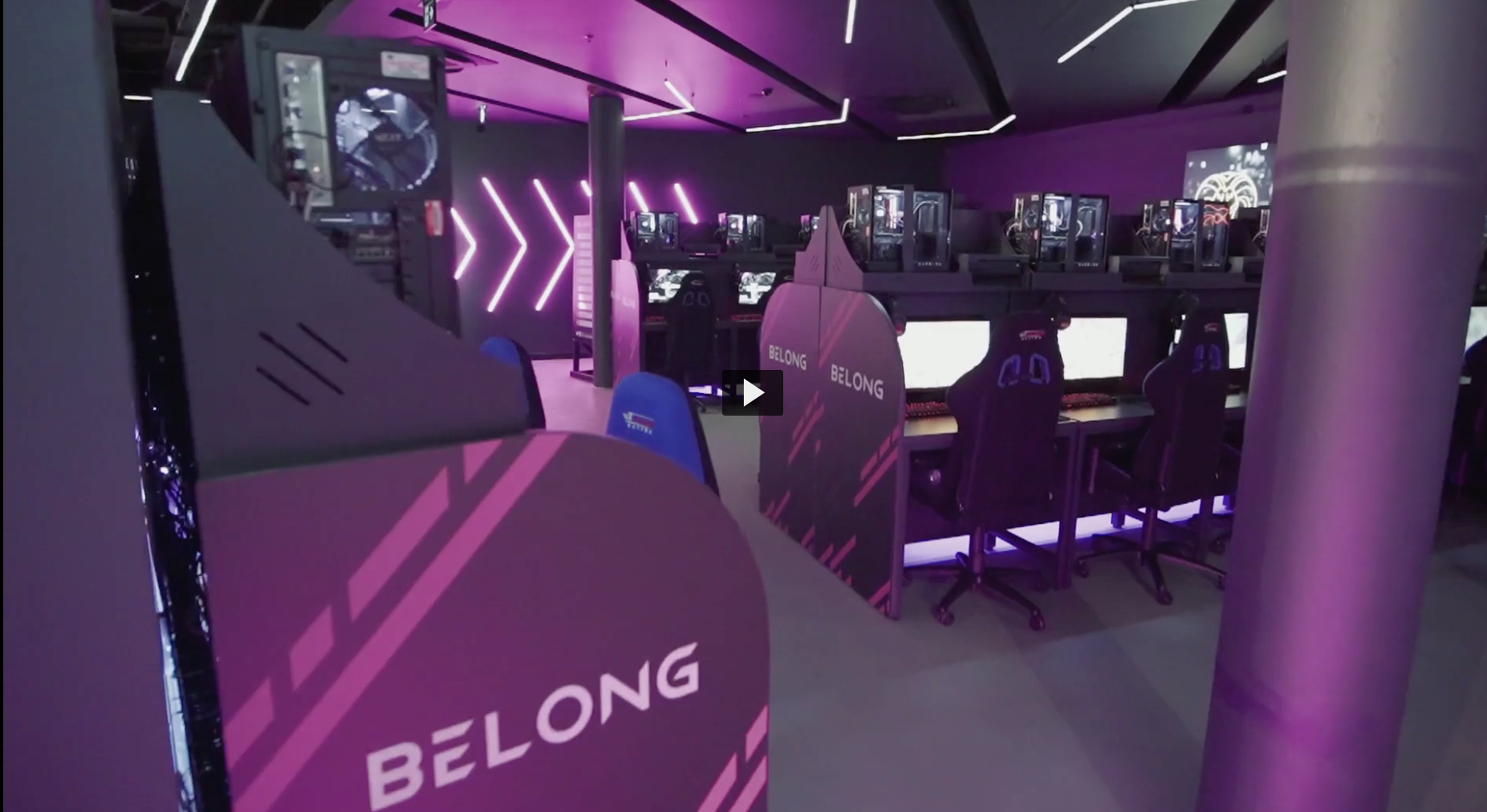 Vindex will invest $300 million in esports gaming arenas, and Dallas is a part of the plan. The esports investment holding company, which launched last year, acquired the Belong Gaming Arenas brand from U.K. retailer Game. A large rollout will include Dallas, according to Venturebeat. The company has new partnerships with team owners Dallas-based Envy Gaming and New York's Andbox "to open multiple locations in their territories," the publication reports. Click the image to watch the video.
AVIATION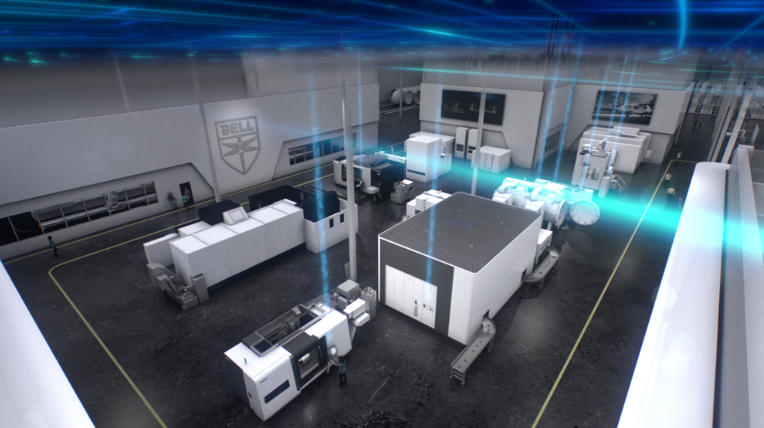 Today, Bell unveiled a new 140,000-square-foot Manufacturing Technology Center in Fort Worth. Called the MTC, it's an "innovative proving ground" where Bell can test and refine its technologies, it said in a post. In particular, the company will demonstrate its "manufacturing readiness and ability to successfully build and support Future Vertical Lift (FVL) aircraft." Bell's facilities have been a hub for tech in aviation since it established a footprint in North Texas in 1951, the company notes.
WHAT ELSE?

• Dallas Mayor Eric Johnson was appointed to the National Commission on Covid 19 and Criminal Justice. He's the only U.S. mayor named to the group led by former U.S. Attorney Generals Loretta Lynch and Alberto Gonzal.
• A 16-year-old Plano student is working on promising COVID-19 diagnosis software. According to the DMN, Moksh Nirvaan and his team members think their program could speed up the testing process for COVID-19 around the world.
To read more (and get our week's Top 10), head here.
---
Friday, Aug. 7
Here are the Most Popular Stories on Dallas Innovates  
1  Venture Dallas 2020 Goes Virtual. But it's 'not your typical conference'  
2  Kandi Brings 'Most Affordable' EVs in the U.S. to Dallas-Fort Worth
3  Richardson Fintech Props Up Scores With Credit-Building Loan Solution 
4  Passion+Tech: Why Tyler Technologies' CSO Transitioned to a Nonprofit
5  AT&T Commits $10M in Support of Black and Underserved Communities
6  Digital Real Estate Startup Charges 'Nada' to Sell Your Home Online
7  DFW 'Clean-Crafted' Wine Pioneer Launches New MIXABLE Brand
8  Stay A-OK Helps Laid Off Workers Connect with Unemployment Agencies
9  Downtown Dallas Tower Gets $450M Redo, New Name, and First Tenant  
10  Dallas Gene Therapy Startup Closes $95M Series B to Boost Studies
News You Need to Know
Our partners at the Dallas Regional Chamber are keeping track of the news and stories that affect the business community across the Dallas region. Here's what we're reading:
Forces for Good 
People and organizations of all kinds are stepping up to help and inspire local communities. Here are highlights from around the region:
The Mayor's Disaster Relief Fund, sponsored by The Dallas Foundation, is helping the helpers with $275,000 in grants to 11 nonprofits responding to COVID-19. Dallas Mayor Eric Johnson identified six priority areas that focused the selection of organizations. $25,000 in grants will go to Bachman Lake Together, Crossroads Community Services and Sharing Life Community Outreach, Dallas Children's Advocacy Center, Educational First Steps, Family Gateway, For Oak Cliff, Interfaith Family Services, Mosaic Family Services, Paul Quinn College, and Vickery Meadow Youth Development Foundation.
A $50,000 gift from Dallas-based Mbroh Engineering will create the first endowed scholarship for the Diversity Scholars Program at the University of Texas at Dallas. President Anthony Mbroh is paying it forward: In college, he lost his mother to cancer, and it was through the support of many that he completed his college education and found success in engineering. He hopes other successful people may "provide the same helping hand that was afforded to them." 

A North Texas teen pregnancy organization was awarded $1 million in federal grants to help improve Texas' sex education standards and launch new programs. Ntarupt plans to help UPLIFT and Dallas CAN Academy implement "more all-inclusive sexual education and new virtual sex-ed programs for thousands of their students," it said in an email.
COUNT US IN
Latino nonprofit The Concilio has doubled down on efforts to help people in undercounted communities fill out the 2020 U.S. Census. The clock is ticking: The Census Bureau recently announced field data collection will end a month early on Sept. 30. Boosting response is important, says CEO Florencia Velesco Fortner: "State numbers are tied to funding and representation for many of the programs, schools, and services that benefit them." Watch the group's block-walk in Dallas' Bachman Lake neighborhood where reporting is under 30 percent.
Browse our curated selection of contests, nominations, pitches, and grants. From entrepreneurs to corporates, creatives to inventors, educators to social innovators, here's a roundup of goodies for you. Items with deadlines coming up include:
SKU DFW Accelerator (Today!)
NTCRA's gR3een Awards (August 9)
Lone Star Film Festival (August 10)
Walmart's Open Call (August 10)
Dallas Startup Week's Women Marketplace, Startup Alley, and Volunteers (August 10), pictured above
Tech Titans Awards (August 24)
UT Dallas Accelerators (August 30)
The Health Hacking Crisis Network's Children's COVID Story Book Challenge & Teen's COVID Science Book Challenge (September 1)
Go here for details. 
---
Thursday, Aug. 6
PRIORITY PARKING
Dallas parking tech innovator ParkHub has teamed up with contactless payment firm Honk to create a "safety-first" parking solution for universities, stadiums, and state parks. It will first launch at University of Arizona—the alma mater of ParkHub's CEO and founder, George Baker Sr.
SEARCH FOR SIGNS

A science team at Dallas-based Jacobs worked with NASA to build a calibration device for the Martian rover that launched July 30. The Mars Perseverance Rover will seek signs of past life on the red planet over seven months. On the rover, SHERLOC (Scanning Habitable Environments with Ramen & Luminescence for Organics and Chemicals), which is used to detect chemicals possibly linked to ancient life, is kept in tune by the Jacobs tech.
PLANNING AHEAD

A Dallas marketing strategist launched a business-focused planner designed for "every aspect of online presence." Tisha Holman, Founder and CEO of Mind Your Business LLC, is releasing her Digital Day Planner for business owners wanting to strategize their social media and monetize their brands.
---
Wednesday, Aug. 5
FOLLOW THE MONEY

Dallas-based health insurance innovator Take Command Health has announced details of a $2 million bridge funding round, the company wrote in an email. Last month we told you about Take Command's expansion and funding led by Texas VC firm LiveOak Venture Partners. Take Command said that it's adding ten new employees—in strategy, development, compliance, and sales—to its team.
LIGHT IT UP

Tonight, The NATIONAL, formerly known as the First National Bank Tower will "don its banker's pinstripes" as it lights up for the first time in a decade. The revamped 52-story tower, once the tallest west of the Mississippi, was the largest-ever adaptive, historical use development in Texas. The $450 million project, anchored by Texas flagship Thompson Hotel, houses luxury apartments (with the highest residential views in Dallas) and includes three signature restaurants, retail, and office. All are on track for a 2020 opening, thanks to new technologies that helped meet the deadline for completion.
EDUCATION
Mbroh Engineering presented a $50,000 gift for UT Dallas' Diversity Scholars Program. The engineering design, consulting, and professional services firm's gift will create the first endowed scholarship for the Diversity Scholars Program at the University of Texas at Dallas.
---
Tuesday, Aug. 4
CHOCOLATE MAKES EVERYTHING BETTER
The Dallas Chocolate Festival is going virtual this year. And thanks to its partner Alto, you can have chocolate delivered right to your door. DallasChocolate.org will showcase virtual classes, host chocolate exhibitors, and hand-deliver boxes of artisanal chocolate samples for two days in September. Get a visual taste of what to expect in our gallery.
BUSINESS BYTES
Two of DFW's largest software firms, RealPage and Tyler Technologies, have added staff during COVID-19. Tyler has increased its employee count from 5,449 in March to 5,449 in June, while RealPage has grown to 7,443 employees—an increase of about two percent, per the Dallas Business Journal.
A new distribution center near DFW Airport will bring 300 jobs. Allen-based PFSWeb Inc. has decided to expand its operations after the pandemic has caused in an increase in its e-commerce traffic, according to the Dallas Morning News.
---
Monday, Aug. 3
DALLAS INNOVATORS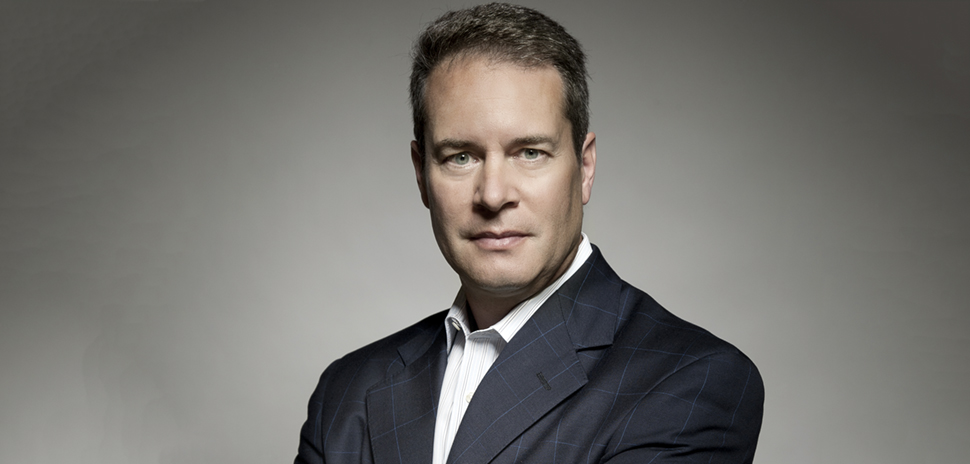 WHAT ELSE?
Charlie Vogt is heading "back to the future." After some nine years focused on the next generation of video distribution and cable access network technologies, Vogt has "returned to his roots" in telecom as the new president and CEO of Dasan Zhone Solutions—known as DZS—according to industry vertical Light Reading. Vogt was most recently the CEO of cable-focused ATX Networks, where he'll remain on the board. DZS was created in 2016 via a merger of Dasan and Zhone. Vogt's new gig will integrate DZS' businesses and build on its strengths. The company has a new HQ in Plano—2.5 miles from Vogt's house, he says.
TRENDING UP
Dallas-based Dalfen Industrial has a new partnership with Goldman Sachs' merchant banking division on a 46 property "last-mile" portfolio. The 6.3 million square foot portfolio spans huge MSAs, including Dallas, and is home to major tenants like Amazon, Frito Lay, Sherwin Williams, and more. Sean Dalfen, president and chief investment officer of the company, which is one the largest buyers of industrial real estate in the US, says these so-called "last mile" properties are more important than ever with the exponential growth of e-commerce. "Warehouses are a 'beneficiary of the COVID crisis,'" Dalfen told Bloomberg news. "We're seen as the safe haven."
PARTNER PROGRAMS
North Texas homebuilder D.R. Horton is teaming with Zillow to help boost new home sales, reports the Dallas Morning News. Zillow's Offers program could help new buyers sell their existing homes. The country's largest homebuilder reports new sales order up by 38 percent in the last quarter. "The relocation of people down to a more affordable tax-friendly environment continues," Auld said in the DMN. "I think COVID maybe is even accelerating that."
For more of what's new and next, head to the ICYMI archive.
---
Get on the list.
Dallas Innovates, every day.
Sign up to keep your eye on what's new and next in Dallas-Fort Worth, every day.