News travels fast. We're here to help you keep up.
Each weekday, Dallas Innovates brings you up to date on what you may have missed in the region's innovation, technology, and impact news. From startup to enterprise, education to invention, and creative to social innovation, here's our daily mix of what's new and next in Dallas-Fort Worth.
Don't miss a thing. Sign up for Dallas Innovates Every Day to get the best of Dallas-Fort Worth innovation delivered to your inbox.
Have a tip? Let us know.
---
Friday, May 13
The Most Popular Stories on Dallas Innovates This Week
⓵ Meet The Best Workplaces in North Texas, According to Inc.
⓶ Center of Gravity: Capital Factory Kicks Off New Dallas Digs With Startup Crawl and Health Supernova Event
⓷ Dallas Has Opened Its Newest—and Largest—Downtown Park
⓸ The Crescent Announces Eight Leases, from UBS to JPMorgan Chase to an Investment Firm behind 'Ghostbusters: Afterlife'
⓹ UTD Team's Wearable Sweat Sensor Can Detect Key Biomarkers of Infection
⓺ SMU Lands One of its Largest Gifts Ever to Fund Entrepreneurship⓻ Frisco-Based esrp Merges with Cresa, the World's Largest Occupier-Focused CRE Firm
⓼ Dallas High School Team Wins 2022 International NASA Rover Challenge
⓽ Payroll Giant Opens Grapevine Office, Making North Texas Home to its Second Largest Operation
⓾ Blackstone LaunchPad Blasts Off at UT Arlington
MORE THINGS TO KNOW
Meow Wolf Is Coming to Grapevine
⟫ Meow Wolf began as a collective of Santa Fe artists, writers, performers, and architects. Today, at permanent installations in Santa Fe, Las Vegas, and Denver, Meow Wolf creates immersive and interactive art experiences "that transport audiences of all ages into fantastic realms of story and exploration." In 2023, Meow Wolf plans to do just that in a new location at Grapevine Mills mall, followed in 2024 by another permanent installation in Houston's Fifth Ward. You can read all about it in our story here.
—
DFW Is No. 1 in Multifamily Investment
⟫ A new report from Dallas-based CRE services and investment firm CBRE shows that Dallas-Fort Worth was No. 1 in the U.S. in multifamily investments over the last four quarters. Nationwide, Q1 2022 saw the strongest multifamily absorption since 2000. Among other findings, Texas is leading the nation in multifamily completions, as rent growth continues to gain momentum. "The rise in demand has been fueled by household formation, job and wage growth, and sharply rising home prices," the report said. You can read more in our story here.
—
Crypto Data Center in Denton
⟫ Core Scientific has broken ground on the next phase of its cryptocurrency data center on a 31-acre lot in Denton, reports the Denton Record-Chronicle. The 140,400-square-foot project is slated to include three data halls and one tech building. The news comes amid what Forbes calls a "$1 trillion crypto meltdown," with currencies like Bitcoin, Ethereum, and many others seeing serious drops in value, especially in the last month.
—
Ruiz Foods' Co-HQ Coming to Frisco
⟫ California-based Ruiz Food Products rolls out frozen Mexican food to grocery stores across the U.S. and Mexico—and soon it'll be rolling into Frisco to move into a new co-headquarters in Hall Park, reports the Dallas Morning News. The company has been around for more than 50 years. It produces everything from heat-and-ready taquitos to bake-and-nosh tamales under the El Monterey and Tornados brands. The company's president and CEO, Dan Antonelli, has already moved to Frisco, and the company aims to have 125 employees by 2026, the DMN says.
—
Halo 2+ Collar Released
⟫ Plano-based Halo, which was co-founded by IoT specialists Ken and Michael Ehrman along with celebrity dog behaviorist Cesar Millan, has released a new version of its GPS-powered dog collar, the Halo 2+. It features enhanced GPS with 50% more coverage and 21 hours of battery life, enabling dogs to "live safely off leash" within wireless smart fences. You can see Charli and Dixie D'Amelio above with two pooches wearing the new device.
---
Thursday, May 12
A New HQ in Plano
Louisiana-based consumer loan provider Republic Finance is planting its new headquarters in Plano, according to the Dallas Business Journal. As it looks to grow its operations into four new states this year, the new HQ will house more than 250 workers in areas like financial and project management across 58,000 square feet and four floors of space, once the building above is completed in 2023. Republic's former HQ will act as a support center to the Plano office. The company, founded in 1952, told the DBJ it chose the region due to its talent pool.  
—
Nano-Level 3D Printing
Technology developed by a local company is being used to develop more durable 3D-printed materials. Desktop Metal, which acquired the technology when it acquired UT Dallas spinoff Adaptive3D last year, is launching a new line of photopolymers that separate and cure together at the nano level while being printed, in order to create a more durable and long-lasting material. According to InvestorPlace, Desktop paid $24.1 million in cash and stocks to acquire Adaptive3D.  
—
DFW is No. 2 in Magnetic Attraction
Dallas-Fort Worth ranks near the top of places people are moving to, according to moving container company PODS. Citing the same reasons many business leaders do for relocation—relatively low cost of living, room to grow, and no state income tax—the company released a report placing DFW No. 2 among metros its customers are moving to. Taking the top spot was Sarasota, Florida. Based on moves between last January and March of this year, Houston (No. 12), San Antonio (No. 13), and Austin (No. 16) also made the list.  
—
Dallas Vet Network Expands
Dallas-based CityVet is growing with six new partner/owner practices through its "unique business model" that helps vets scale and succeed. The clinic network plans to open another 10 to 15 offices in the next year, focusing on core Texas markets and Denver in the "immediate future." The network launched an academy last year to train newly graduated DVMs to become leaders in their field.
—
The Woz Headlines Stream Realty Event
Apple co-founder Steve Wozniak is in downtown Dallas today to be the keynote speaker at Stream Realty Partners'Central State of the Market event at The Statler. The private event brings over 400 Stream clients—investors, CRE execs, and industrial and office tenants—together for panel discussions and networking. Wozniak, the co-founder of Efforce andWoz U, is slated to explore how technology is impacting commercial real estate today. But he'll also talk about meeting Steve Jobs and explode some myths about their relationship, Stream said in a statement.
—
Presidential Scholars in the Arts
Three Dallas-area high school students are among only 20 in the nation to be named 2022 U.S. Presidential Scholars in the Arts. The local honorees (left to right above) are voice student Isabella Gueck from the Grand Prairie Fine Arts Academy; design arts student Tomek Marczewski from St. Mark's School of Texas in Dallas; and visual arts student Ella Reaugh from Lovejoy High School in Lucas. All were YoungArts award winners. YoungArts artistic director Laren Snelling said the honorees demonstrated "both a dedication to academic achievement and a commitment to creativity in mediums spanning the visual, literary, and performing arts."
---
Wednesday, May 11
$220M NASA Testing Contract
⟫ Dallas-based engineering giant Jacobs has been awarded a $220 million Aerospace Testing and Facilities Operations and Maintenance (ATOM-5) contract at NASA Ames Research Center in Moffett Field, California. Jacobs will continue aerospace testing, facility operations and maintenance, IT system administration, and support services for the center over the next year, followed by four one-year options. Jacobs has worked on projects with NASA for more than 60 years.
—
Puttshack Is Rolling Into Addison 
⟫ Dallas' status as a "golf Mecca" continues to grow. Puttshack, an upscale, tech-infused mini golf experience with "global food and drink," will enter the local market in summer 2023 with a two-story, 28,000-square-foot venue in Addison's Village on the Parkway. Puttshack has four locations in the U.K. and opened its first U.S. locations last year in Atlanta and Chicago (above). Co-founded in 2018 by Steve and Dave Jolliffe, the twin brothers who founded Topgolf, Puttshack will be joining the Dallas-area minigolf wars—taking on Puttery, Drive Shack's minigolf entertainment concept at Grandscape in The Colony. 
—
Regional Economic Development
⟫ The Fort Worth Chamber of Commerce and 18 other entities have announced a Regional Economic Development Partnership with a goal of bringing unity, economic growth, and prosperity to the Fort Worth region. "Our whole goal is just to get everyone around the table so we're having a comprehensive discussion around economic development," Chris Strayer, the chamber's EVP of economic development, told Fort Worth Report.  The collaboration with municipalities and counties across western North Texas aims to strengthen community relationships, track business trends, and share resources.  
—
Charged Up in Fort Worth
⟫ Amazon has been testing electric vehicle delivery in Fort Worth with Rivian vans since last summer. Now it's investing around $1 million to construct charging stations at its distribution center at 10001 South Freeway in Fort Worth, according to the Dallas Morning News. The company has ordered 100,000 EVs from Rivian and has planned for 10,000 of them to hit roads this year. Rivian has struggled to keep up with production projections, however, as it deals with supply chain issues and a steep drop in its stock price.
—
Teaming Up for a Bigger HQ
⟫ The Dallas Wings and Panther City Lacrosse Club have signed a 10-year lease extension for their shared corporate HQ at 500 E. Border Street near UTA in Arlington, reports D Magazine. The teams plan to grow their HQ as well, expanding it from 7,000 to 16,000 square feet. Plans include a new digital media studio, an upsized lobby and lounge, and additional private offices. 
---
Tuesday, May 10
Expanding for Growth
⟫ Lone Star Analysis is expanding its office space in Addison to accommodate additional employees and business growth. The provider of predictive and prescriptive analytics and guided AI solutions held a ribbon-cutting ceremony for the expansion featuring Addison Mayor Joe Chow and Congresswoman Beth Van Duyne (at center above with the Lone Star team). The company— which recently announced expansions in the U.K. and Norway—is increasing its Addison footprint by 10,000 square feet to over 41,000 square feet and expects to have its new space fully occupied by June.
—
Capturing Carbon
⟫ Dallas-based Navigator CO2 Ventures is partnering with Iowa-based Big River Resources and Big River United Energy on a long-term carbon capture project. Navigator will capture, transport and utilize or permanently store CO2 from three Big River ethanol biorefineries in Iowa and Illinois over a 20-year period. The project involves an annual volume of 1,000,000 metric tons of CO2—the equivalent to offsetting the carbon emissions of 215,469 vehicles driven annually. Operations are slated to launch at the beginning of 2025. "The Big River platform and its members are making the pragmatic decision to reduce the carbon intensity of its products while increasing economic flexibility for a dynamic marketplace," Navigator CEO Matt Vining (above) said in a statement.
—
Molecular Science Expansion
⟫ Molecular science company Caris Life Sciences, which recently expanded by leasing 37,000 square feet of space at VariSpace Las Colinas (above), is in the process of building out a new 117,000 square-foot lab in Irving. The company will be testing blood samples for cancer out of a new $45 million liquid biopsy lab in Phoenix, bringing the company's total lab footprint in the state to about 160,000 square feet. The move, which Caris says will add hundreds of new jobs to its 1,500-person workforce, will allow the company to boost its molecular and tumor profiling capabilities. Last year, Caris raised an $830 million equity funding round led by Sixth Street at a post-money valuation of $7.83 billion.
KUDOS GO TO…
World Economic Forum Tech Pioneers
⟫ Two Dallas companies have been honored as 2022 Technology Pioneers by the World Economic Forum. One is Colossal Biosciences, a biosciences and genetic engineering company led by co-founder and CEO Ben Lamm (above left) that's working to bring back the woolly mammoth. The other is Recuro Health, an integrated digital health solutions company led by founder and CEO Michael Gorton (above right), which delivers a personalized and proactive approach to virtual care. They represent two of only 33 U.S. companies named to the global list of 100 for 2022.
—
2022 Best Managed Companies
⟫ The U.S. Best Managed Companies program, sponsored by Deloitte Private and The Wall Street Journal, has revealed its 2022 list, and two North Texas companies made it. Dallas-based Associa, America's largest homeowners association management company, returns to the list as a three-year honoree. Just to the north in Addison, Mary Kay Inc. made the list as the only other Texas company out of 51 honorees for 2022. To be considered for the "mark of excellence," private companies must have annual revenues of at least $250 million and are evaluated on strengths across four core criteria.
—
Founders of Color Showcase Finalists
⟫ Last month we told you that Nana Mireku, founder and CEO of Fort Worth-based AllergenIQ, was competing to be a finalist for the 2022 Founders of Color Showcase. Today the organization named her one of five finalists (above) for the national FOC Showcase to be held May 16 from 3 to 5 p.m. CST at Harrah's Resort in Atlantic City, New Jersey. You can register to attend the free event or view the livestream by going here.  Last year's event spurred nearly $1 million in investments to BIPOC-led startups, the organizers said.
---
Monday, May 9
Toyota Moves Near Top of DEI List 
⟫ Plano-based Toyota Motor North America has been named the No. 4 company in the U.S. for diversity and inclusion by DiversityInc. The DiversityInc 2022 Top 50 Companies for Diversity list moves Toyota up three spots from its No. 7 ranking last year. Three of Toyota's U.S. plants are run by women or people of color, the Dallas Morning News writes, and its nearly 4,000-employee Plano HQ closely resembles DFW's demographics. Other companies on the list with expansive North Texas operations include Accenture (No. 1), Teachers Insurance and Annuity Association (No. 8), and Capital One Financial (No. 22)—as well as KPMG, Boeing, Cigna, Wells Fargo, General Motors, Raytheon, PepsiCo, Walmart, Target, Walgreens, and CVS. See the full list here.
—
Nokia Opens New Dallas Security Lab 
⟫ Nokia is looking to boost its cybersecurity capabilities. The Finnish telecom giant announced opening its Advanced Security Testing and Research Lab at its Dallas offices, which also serves as the home of the company's Energy Innovation Center, Cloud Collaboration Hub, and Nokia Services Lab. The new lab will provide a place for Nokia and its clients to test the security of 5G networks, along with their related software, hardware, and apps. Nokia said the lab will "serve as a central repository for cybersecurity knowledge."
—
PQC Grads Get $250K Surprise
⟫ In a move aimed at tackling intergenerational poverty, Alfred Street Baptist Church announced forming an investment fund, seeded by a $250,000 gift, for Paul Quinn College's graduating class of 2022. Managed by JP Morgan Chase, the fund will look to grow over the next decade, after which it will provide a direct monetary gift to individuals in the class to help them further their careers and education. Paul Quinn said the 2022 class—it's 145th—was its largest since 2008.
—
JP Morgan Chase Invests $2M to Prep Students
⟫ Over the past two years, JPMorgan Chase has invested $2 million in the Tarrant To & Through Partnership—marking the company's largest investment in an educational initiative, the Dallas Business Journal reports. Launched in 2020, the T3 Partnership focuses on prepping students with the workforce skills and credentials they need to succeed. JPMorgan's funding of the initiative will help the nonprofit launch a new engagement model with Fort Worth ISD that will help educate parents and families on certification and credentialing opportunities within the school district to help set them up for success before graduation.
—
Irving Firm Taps Former eBay, Google Exec as CFO
⟫ New Western Acquisitions, an Irving-based real estate investing firm focused on sourcing distressed residential investment properties, has tapped Dipak Joshi as its new chief financial officer. Joshi, a former director of acquisitions at eBay and corporate financial controller at Google, has worked as CFO for at least five other firms, most recently with California's SightCall.
---
Friday, May 6
The Most Popular Stories on Dallas Innovates This Week
⓵ SMU Lands One of its Largest Gifts Ever to Fund Entrepreneurship
⓶ 'Thinking Big to Succeed': EY Names 46 Entrepreneur Of The Year Finalists for 2022
⓷ 'The Future of Dining': Chili's Expands Robot Servers to 61 Total Restaurants
⓸ Dallas Is About to Open Its Newest—and Largest—Downtown Park
⓹ Bitcoin Mining Company Investing $333M for New Facility South of Dallas
⓺ Ericsson Launches Global Utilities Innovation Center in Plano
⓻ Frisco-Based esrp Merges with Cresa, the World's Largest Occupier-Focused CRE Firm
⓼ Follow the Money: Trive Capital Raises Nearly $2B, Securonix Adds Investors to its $1B+ Funding Round, Cardinal Midstream Partners Launches with $300M Investment, and More
⓽ With a New CEO at the Helm, Bottle Rocket Creates Three Leadership Roles
⓾ See How Three of the Top Four NFL Draft Picks (and Many More) Trained at Exos Institute in Frisco
MORE THINGS TO KNOW
⓵ $2B Aviatrix Moves HQ to North Texas
Aviatrix, a cloud networking and security unicorn whose former home was in Silicon Valley's Santa Clara, has relocated its HQ to Dallas and is looking to lease office space.
The company is temporarily operating out of a Dallas co-working space with 50 employees here now, reports Dallas Business Journal, but aims to lease its own office of around 25,000 square feet, giving it room for up to 250 people. Aviatrix began the move in the last half of 2021.
Aviatrix raised $200 million in a Series E according to a September statement, the DBJ says, valuing the company at $2 billion. Its clients include Dell, Toyota Financial Services, and Raytheon Technologies.
Why did CEO Steve Mullaney (above) choose North Texas?
"It's a good talent base," he told the DBJ. "It's centrally located. There are a lot of good things about Dallas. A lot of the people that we're going to have to hire are going to be the 20- and 30-year-old people. And they don't really want to live in Silicon Valley anymore. It's too expensive."
⓶ SMU Breaks Ground
SMU broke ground today on a $140 million renovation and expansion project of the Cox School of Business, aiming to drive Dallas innovation by "training students for a collaborative and technologically integrated world."
The two-year project is rendered above, and will expand the school's footprint by more than 30%. Four new buildings will connect the existing facilities into cohesive space that supports collaboration within the Cox School and across the campus, as well as with the Dallas business community.
"Since 75% of our Cox School graduates stay in Texas, this ambitious project is a commitment to SMU's role as a talent magnet for the state and the North Texas region," said SMU President R. Gerald Turner in a statement.
Dallas-based Rogers-O'Brien Construction will partner with GFF architecture firm on the project. 
The renovated and expanded facilities will be called the David B. Miller Business Quadrangle, honoring Miller (seen above just left of center with blue tie) for his decades-long financial support and leadership of the Cox School. You can take a virtual tour of it by going here. 
⓷ Meta Makes Good in Fort Worth
Meta's Fort Worth Data Center has announced its 2022 Community Action Grants recipients, donating funds to 13 nonprofits and schools.
Through its Data Center Community Action Grants program, Meta is providing the funding "to support the long-term vitality of Fort Worth." The program funds projects that help put the power of technology to use for community benefit; that connect people online or off; and improve STEM education.
The grants include $31,000 for The Atatiana Project to deliver its STEAM summer school program and enable learning outside the classroom ;$30,000 for the Fort Worth Zoological Association to provide tech and showcase women in STEM careers; $30,000 for the Junior Ag Robotics Challenge at the Southwestern Exposition and Livestock Show; $26,750 for CommUnity Frontline to expand its Community Hub outdoor library, rental tech, and support for seniors; and more.
To see the full list of Meta Fort Worth grant recipients, go here
PLUS
Get a look at the social media giant's data center in our previous "Innovative Spaces" photo tour. The center was built to run on renewable energy and innovative ideas.
QUICK HITS
Free Yoga With Dak Prescott
⟫ You may not get to play football on the field at The Star Monday evening, but you can have a good stretch. The Dallas Cowboys and health services company Optum are holding a free "Stretching for Mental Health" yoga event in observance of May's Mental Health Awareness Month. Cowboys QB Dak Prescott will kick off the event by sharing his personal mental health journey and his outlook on overcoming adversity. The free event begins at 6 p.m. Monday at The Star in Frisco. Registration is free, first-come-first-serve, and available here.
—
Capping Off Small Business Week 
⟫ Dallas County is No. 1 in Texas and No. 4 in the U.S. for small business owners. That's according to a new ranking by SmartAsset.  Four other Texas counties also made the top 10 nationally. Check out the interactive map here.
—
Daytime Emmys 2022: Dallas Symphony Gets a Nod 
⟫ The Dallas Symphony Orchestra was nominated for an Emmy award for outstanding arts and popular culture program, reports the DMN.  The broadcast of a performance Mahler's First Symphony was a result of a "historic collaboration between the DSO and the Metropolitan Opera Orchestra" using robotic cameras at the Meyerson. The online concert had tens of thousands of views around the globe in the pandemic.
—
Dallas Company Snags $130M Solar Project
⟫ Dallas-based Primoris Services, which trades on the Nasdaq under the ticker PRIM, has won a solar project with an estimated value of $130 million. The contract is for the engineering, procurement, and construction of a "utility-scale solar facility in the South," the company says. Construction will begin in Q4 with project completion slated for Q3 2023. "In addition to the photovoltaic work that our Energy/Renewables Segment will execute, our Utilities Segment will perform the high-voltage work," Primoris President and CEO Tom McCormick said in a statement.
—
$272K for Community Health Workers
⟫ Dr. Teresa Wagner, an assistant professor at UNT HSC's Department of Lifestyle Health, has been awarded a $272,000 grant from the Texas Higher Education Coordinating Board, Fort Worth Inc. reports. The funding will help provide free certification courses for community health workers in both English and Spanish. "Community health workers are the grassroots helpers invested and connected in their community," Wagner told FWI. "They really are a conduit for health literacy, sharing health information in a way that's culturally appropriate, understandable, and usable for people who have no other way of either accessing or understanding the information in a way that's actionable."
---
Thursday, May 5
THREE THINGS
⓵ 'Sandbox' of Innovation
Looking to build upon the region's deep ties to the telecom industry, a publicly traded company is opening a "sandbox" for 5G experimentation in Dallas.
Amdocs, a Missouri-based software and services provider to communications and media companies, is opening its 5G Experience Lab in the city, which will allow businesses to test out solutions in areas like private wireless networks, cloud services, and security.
Trading on the Nasdaq Global Select Market under the ticker DOX, Amdocs has nearly 30,000 employees and reported about $4.3 billion in revenue last year. According to Anthony Goonetilleke, Amdoc's president of technology and head of strategy, the new 5G lab will help "unlock a limitless number of amazing experiences and re-imagine the future."
⓶ Fintech Financing
Eyeing a public launch later this year, a Dallas-based startup is bringing on new funding.
Backflip, a company providing technology tools and financing to help residential real estate investors acquire, renovate, and list single-family properties, landed $8 million in seed equity and $27 million in debt funding, the Dallas Business Journal reports. The equity round, which will help Backflip build out its team ahead of launching its platform in Texas and Colorado (where it also has operations), was co-led by Vertical Venture Partners and Austin's LiveOak Venture Partners.
The company launched its beta platform last year, with its app analyzing more than $2 billion in investment properties, the DBJ writes. As part of the funding, LiveOak Founding Partner Krishna Srinivasan and Vertical Managing Director Brad Corona are joining Backflip's board.
⓷ Going Public
North Texas is set to get a new public company.
ProFrac Holdings, a provider of services to the hydraulic fracturing industry, has launched its initial public offering with the aim of raising $334.6 million. The company began selling its shares this week on the Nasdaq Global Select Market under the ticker PFHC. With the money, the company plans to pay off a number of outstanding loans.
ProFrac, headquartered in Willow Park, Tx.—about 25 minutes west of Fort Worth—has operations in Texas, Oklahoma, and Pennsylvania. Its majority stakeholders are billionaire brothers Dan and Farris Wilks, who sold their previous venture Frac Tech to a group of businesses led by Temasek in 2011 for $3.5 billion. Late last year, ProFrac acquired public government contractor FTS International in a $407.5 million deal.  
QUICK HITS
Linesight sets its sights on Dallas
⟫ Linesight, a global construction consultancy valued at more than $57 billion, is opening an office in Dallas, to accelerate its practices in the data center, life sciences, and commercial real estate spaces. The office in Uptown, which adds to four others on the East and West Coasts, will house the company's Scheduling Center of Excellence. Linesight VP of Americas Central Region Gavin Flynn said the company chose Dallas due to its "location, talent pool, and infrastructure." Linesight currently lists 16 open positions on its website in the DFW area, in positions like talent acquisition, project management, and cost management. Linesight, which was acquired by Integrated Project Services and a subsidiary of Alleghany Capital Corporation last October, has more than 900 employees across 25 global offices.  
Fast-Growing Female Businesses
⟫ Two local companies have landed on the Women Presidents Organization's annual list of the 50 fastest growing female-led or -owned businesses in North America. Coming in at No. 11 is BuzzBallz/Southern Champion, a Carrollton-based pre-made cocktail company led by Merrilee Kick (above). Taking the No. 39 spot is Fort Worth-based Fast-Trak Construction, a general contracting firm led by Anna Cicur. Overall, Texas companies made up more than 10% of the total list, which required businesses to have an annual revenue of at least $500,000 for the past five years. In total, the 50 companies on the list collectively employ more than 30,000 people and generated a combined $6.8 billion in revenue.
Life-Changing Disabilities Research
⟫ UT Arlington has landed a $400,000 grant from the National Science Foundation. Ishfaq Ahmad (above), professor of computer science and engineering, says the grant will help UTA's Research Experiences for Undergraduates remain open. The multidisciplinary site within the university's Department of Computer Science and Engineering focuses on researching and prototyping hardware and tech that can help people with disabilities better find access to employment, navigate public spaces, communicate, and live independently. The recent funding builds upon around $1.5 million in U.S. Department of Education and matching UTA funds that have gone into the project since 2018.
---
Wednesday, May 4
THREE THINGS
⓵ Talent Attraction 'Snap Poll' Results
 A recent snap poll showed more than half of all DFW companies surveyed are utilizing a hybrid work arrangement. The results of the DRC survey were shared at a recent "Talent Talk" about recruiting and retaining talent amid the "Great Resignation."
An expert panel—including ANM Healthcare's Marisa Bingham, Talent Suite's Melanie Shaffer, and Bank of America's Sophia Smith—agreed that "companies need to dig deep to find and keep talent in a shifting labor market." Writer Dave Moore shares five top takeaways:
Money isn't everything. Flexibility Is.
Leadership is (almost) everything.
Incentives don't hurt, either.           
Get social for diversity.
DFW employers are offering flex office hours

Read more and find survey results here.
—
⓶ Reinventing Landlord Insurance
Digital insurance provider Honeycomb, which serves multifamily owners and landlords, has gotten approval to write policies in Texas. The news follows a recent $15.5 million Series A that will help it scale in the U.S.
Texas hit the radar for the fast-growth insurer with its occupancy rate for multi-family properties among the nation's highest—90.9% in Dallas-Fort Worth, 91.6% in Austin, 92.2% in San Antonio, and 91.4% in Houston.
Honeycomb's proprietary proptech includes satellite imagery, computer vision, AI, and machine learning that can eliminate the need for on-site assessments—and improve the speed of quotes, according to Itai Ben-Zaken (above), Honeycomb cofounder and CEO.
Founded in 2019, Honeycomb started writing policies in the U.S. last summer and now insures over $1 billion in real estate assets. Currently operating in seven states including Texas, it plans to cover 60% of the country this year.
The company says its tech provides real-time bindable quotes and "more robust underwriting at a lower cost than previously possible."
—
⓷ Fracture Fixers
Orthofix has received FDA pre-market approval for its bone-healing therapy device, which provides a nonsurgical treatment for fresh fractures and "nonunions" of breaks that haven't healed.
The Lewisville-based company's AccelStim device stimulates the bone's natural healing process to promote fracture healing through ultrasound. Commercial availability of the device is expected in Q2.
Orthofix President of Global Spine Kevin Kenny says the company is "now the first and only" one to offer both types of bone growth stimulation devices, and "one of only two companies in the U.S. with a fresh fracture indication." Expanding that access can "grow the existing $100M market for fresh fracture LIPUS solutions," he said in a statement.
QUICK HITS
DFW Ranks on ParkScore Study
⟫ In a new Trust for Public Land ParkScore study of the 100 most-populous cities in the U.S., Plano ranked the highest in Texas at No. 15. The city of Dallas ranked No. 53, on the heels of its opening of the new Carpenter Park in downtown Dallas. Read more about the power of parks—and see the rankings for other North Texas cities here.
—Bob.AI Streamlines Rental assistance at DHA
⟫ "Vacancies are money," says DHA chief Troy Broussard. The public housing authority decided to "think different" in coming up with solutions to a time-consuming process. DHA Housing Solutions for North Texas has simplified the delivery of rental assistance using artificial intelligence. Bob.AI lets clients and landlords complete submissions and inspections online to speed things along. Broussard says the proptech could help other agencies around the U.S. Read more here.
—
Signing Up GM
⟫ Dallas-based Avanci has signed a patent license agreement with General Motors, increasing the total number of auto brands licensed through the Avanci marketplace to 37. Through the marketplace, GM's connected vehicles can now receive licenses to the 2G, 3G, and 4G essential patents of the 48 participating patent owners today, as well as patent owners that join Avanci in the future. Avanci enables auto makers to license IP from many different patent holders in a single transaction "at low, fixed rates," paid once for the lifetime of the vehicle. The company says more than 55 million connected vehicles worldwide are licensed through Avanci.
---
Tuesday, May 3
THREE THINGS
⓵  Targeting Alzheimer's disease
A publicly traded Dallas company using synthetic peptides to activate the body's immune response aims to use its platform to fight Alzheimer's disease.
Vaxxinity announced that its immunotherapeutic vaccine treating the disease has received a fast track-designation from the U.S. Food and Drug Administration, which means it will be working closely with the governing organization to bring the therapy to market. The vaccine is expected to begin Phase 2b trials later this year. That makes the Alzheimer's vaccine the second furthest along in the Vaxxinity's pipeline, behind only its COVID-19 vaccine. The company is also in trials for vaccines targeting Parkinson's disease, migraines, and high cholesterol.
Vaxxinity, whose co-founder and CEO is Mei Mei Hu (above), hit the public markets in November with an $80 million IPO that saw it list on the Nasdaq under the ticker VAXX with a market cap of around $2 billion. That was only about eight months after the company was formed to combine two spin-offs of United Biomedical—United Neuroscience and C19 Corp.
—
⓶ Welcoming new tenants
VariSpace Los Colinas, the second "space-as-a-service" location of Coppell-based workspace furniture company Vari, has signed three new leases representing nearly 130,000 square-feet of office space.
Taking up the most space at 75,000 square-feet is an unnamed "education organization." It's followed by local cancer-focused molecular science company Caris Life Sciences, which leased 37,000 square-feet of space, adding to its four other offices in the U.S., Japan, and Switzerland. In addition, Canadian technology company CAE scooped up 16,000 square-feet of space. VariSpace also has a location in Southlake and a third location in Coppell in the works.
—
⓷ Last Call, Physical Health Innovators
The newly created physical health-focused Techstars program in Fort Worth says it's seeing applications coming in from companies working in areas spanning human performance to sports medicine ahead of its upcoming application deadline. And it's looking for more.
The Techstars program, one of 11 around the globe, has an application deadline of May 11 for its 13-week program this fall, where 10 companies will be eligible to receive up to $120,000 in seed funding capital from the University of North Texas Health Science Center at Fort Worth and Goff Capital. They'll also receive mentorship and programming
QUICK HITS
Island's C-Suite Moves
After reaching unicorn status just weeks after launching in February, a Dallas tech startup is adding to its C-suite.
Island, which says it's creating the "desktop of the future" with an enterprise-focused browser that helps company's protect their SaaS tools and internal web applications, has tapped Jennifer Park, a former human resources leader at American Express, Google, and D2iQ, as its new chief people officer.
The announcement comes after Island named B2B tech leader Ellen Roeckl as its new chief marketing officer at the beginning of last month and as it's been growing at a remarkable clip. The company emerged from stealth in early February with nearly $100 million in funding and more than 100 employees. Already with research and development operations in Tel Aviv, Island announced in March that it closed on a $115 million Series B round at a $1.3 billion valuation, in addition to expanding operations to Europe with an office in Reading, England.
—
Welcoming new tenants
⟫ VariSpace Los Colinas, the second "space-as-a-service" location of Coppell-based workspace furniture company Vari, has signed three new leases representing nearly 130,000 square-feet of office space. Taking up the most space at 75,000 square-feet is an unnamed "education organization." It's followed by local cancer-focused molecular science company Caris Life Sciences, which leased 37,000 square-feet of space, adding to its four other offices in the U.S., Japan, and Switzerland. In addition, Canadian technology company CAE scooped up 16,000 square-feet of space. VariSpace also has a location in Southlake and a third location in Coppell in the works.
—
50,000+ Drone Deliveries
⟫ Drone deliveries used to be jaw-droopingly amazing. In Q1 2022, they became just a little more routine due to sheer volume. Wing, a drone delivery service from Google's parent company Alphabet, says it made over 50,000 drone deliveries in the first quarter alone, including recent service in the Dallas suburbs of Frisco and Little Elm. Wing also made deliveries in Virginia, in two locations in Australia, and in a city near Helsink, Finland.
—
Virtual Dog Park
⟫ Plano-based Halo has launched what it calls "the first-ever virtual dog park." The startup sells the Halo Collar, which stores up to 20 GPS wireless smart fences, with dog-training tech built in. Now founding partners Michael Ehrman, Cesar Milllan, and Ken Ehrman (above) are leveraging Zoom Meetings to offer its Halo Pack members an interactive pet training and customer experience in the virtual world, with a goal of giving dogs a "safe life off leash."
---
Monday, May 2
THREE THINGS
⓵ Celebrating the Pioneering Spirit
President Joe Biden has proclaimed it Small Business Week in America (May 1 -7). More than 32 million small businesses employ almost half of America's workforce.
Today in Texas, Governor Greg Abbott has invited "all Texans to celebrate the important role small businesses play in job creation in communities throughout the state" as he issued a proclamation.
The Governor's Office of Small Business Assistance in the Governor's Office of Economic Development and Tourism, which is the focal point in the state for start-ups and small businesses of all sizes, offers a variety of services for Texas entrepreneurs looking to start, strengthen, and grow their business in the state, including:
⓶ Order Fulfillment Expansion
On the heels of a $40 million growth equity investment, a Toronto-based company is eyeing Dallas for its latest expansion.
Shipfusion, a company providing e-commerce fulfillment and order management solutions, is planning to open a new warehouse in the region, along with other facilities in New Jersey and Atlanta. The company operates its own facilities, offering fulfillment infrastructure to e-commerce brands. The facility will add to Shipfusion's other operations in Canada, Chicago, Las Vegas, and Los Angeles. The company didn't say when the new Dallas facility will come online.
Shipfusion was launched 2014 and was largely bootstrapped until April, when it landed a large investment from the growth equity arm of Kayne Anderson Capital Advisors.
⓷ Online Auto Auctions
In other expansion news, a Mississippi startup is expanding to North Texas to help residents sell their used vehicles.
As its first stop on its expansion throughout Texas, Carmigo is bringing its service to DFW. The company's platform allows people to solicit bids on their cars from dealerships in Carmigo's network just by taking photos on their phone.
Carmigo, which has a team of around 30, launched at the beginning of 2021. Since then, the company has helped sell more than 1,500 vehicles and generated more than $1 million in sales. Its expansion to Dallas adds to its service area, which includes Tennessee, Arkansas, Mississippi, and Alabama. According to Crunchbase, the company has about $3 million in total funding.
QUICK HITS
Dishing Up DISH Solutions
⟫ Richardson-based Ceragon Networks has struck an agreement with DISH Wireless to provide ultra-high capacity IP-50C microwave and IP-50E millimeter wave transport solutions. DISH will leverage Ceragon's transport, maintenance, and support solutions to ensure the smooth roll-out of its 5G network—which DISH says is the country's "first cloud-native 5G smart network"—in select locations across the U.S.
Build-to-Rent in McKinney
⟫ parcHaus at Skyline, a brand-new, 136-unit, luxury single-family rental community in McKinney, has been sold by Dallas-based Provident Realty Advisors to Pennsylvania-based Morgan Properties—one of the top three multifamily owners in the U.S. Morgan plans to rebrand the community as Elevate at Skyline. The deal is Morgan's first build-to-rent acquisition and its third rental community in Texas. Terms were not disclosed.
Top Half of the Top 1%
⟫ Dallas-based Uplift Education, the largest group of free public charter schools in North Texas, has been recognized by the Jay Mathews Challenge Index as having some of the top high schools in the nation. Nine Uplift schools were ranked by Mathews among the top half of 1% of high schools in the nation in terms of success and demographics. The Challenge Index rates schools by the ratio of the number of AP, IB, and Cambridge exams taken by all students to the number of seniors graduating. Except for Uplift North Hills in Irving, all of Uplift schools have large majorities of low-income students.
---
Friday, April 29
The Most Popular Stories on Dallas Innovates This Week
⓵ Construction Begins in Fort Worth on America's First Rare Earth Magnet Manufacturing Facility
⓶ Meet Invited. The Largest Owner of Golf and Country Clubs in the U.S.—Dallas-Based ClubCorp—Unveils a Major Rebranding
⓷ 'The Future of Dining': Chili's Expands Robot Servers to 61 Total Restaurants
⓸ Fort Worth Founder Aims to Help People Tackle Debt Through Content Creation
⓹ Fort Worth Becomes First U.S. City to Mine Bitcoin, Right From City Hall
⓺ SMU Lands One of its Largest Gifts Ever to Fund Entrepreneurship
⓻ PNC Bank Launches Newest Tech Hub in North Texas
⓼ Consumer Product-Focused Investor Eyes Opportunities in Dallas
⓽ UTD Team Develops Rapid Virus Test That's '150 Times More Accurate'—and They've Launched a Company to Commercialize It
⓾ Creation RE and J.P. Morgan Form Joint Venture to Invest $1B, Announce Fort Worth Industrial Project
THREE THINGS
⓵ Texas Eyes New Federal Biomedical Agency
The Advanced Research Projects Agency for Health (ARPA-H) was established last month by the Biden administration with $1 billion in funding to advance biomedical and health research. Now it needs a home—and a Texas coalition is working hard to bring it to the Lone Star State.
The Coalition for Health Advancement and Research in Texas—an alliance of hospital systems, research institutions, and chambers of commerce—is pushing Texas as the ideal site for the federal biotech agency, reports the Dallas Morning News. 
"We are ready, willing and able to work together to meet the science and bioscience needs of our nation and the world," the coalition's spokesperson, Thomas Graham, told the DMN.
Dallas is particularly putting itself forward, as the home of the research centers of UT Southwestern, the 23-acre  Pegasus Park biotech campus, and more.
"We cannot get left behind as other nations invest in this kind of vital research," Dallas Rep. Colin Allred said in a statement. "We've seen this model can succeed with the Defense Department's similar agency, so let's put North Texas' best and brightest minds in biotech research to work solving our health care problems."
⓶ 'Life-Saving' Electricity Map
An Electricity Supply Chain Map of critical infrastructure—the first of its kind in Texas—has been adopted for use in disaster and emergency preparedness and response.
The Texas Electricity Supply Chain Security and Mapping Committee adopted the map, which includes more than 650,000 facilities including natural gas-powered electricity generation plants, electrical substations, natural gas processing plants, underground gas storage facilities, oil and gas well leases, saltwater disposal wells, and more than 21,000 miles of gas transmission pipelines and around 60,000 miles of power transmission lines.
"This map will save lives in Texas," said Thomas Gleeson, executive director of the Public Utility Commission of Texas and chairman of the committee. "Our agencies have collected an enormous amount of critical information in one place, available to state emergency officials with a click of a mouse. That means better coordinated preparedness before a disaster and faster response times in an emergency, to protect the Texas grid."    
⓷ Rent-to-Own Acquisition
Grapevine-based ONM Living has sold the Cottages of Bell Station, a Fort Worth development of 140 rent-to-own cottage-style units, to Dallas-based MBP Capital. 
Cottages of Bell Station covers 10 acres at 10150 E. Hurst Blvd, ranging from large studios to 3-bedroom floor plans. ONM led the entire project from land acquisition, planning, zoning, and design to construction, leasing, and stabilization to prepare for the sale. ONM says it will now reinvest for further expansion in the DFW and Houston markets. 
"As the popularity of 'missing middle housing' continues to grow, the sale of Cottages at Bell Station serves as proof that both renters and investors are receptive to high-quality horizontal multifamily offerings," said Zac Thompson, president of ONM Living, in a statement. "The DFW housing market continues to move at a rapid pace and our goal is to ensure that consumers at all stages of life have a diverse array of options when choosing their next home." 
QUICK HITS
Big Fun in Little Elm
⟫ A 35,000-square-foot social entertainment venue is coming to Little Elm in June. Tinman Social will offer indoor/outdoor dining and full-service bars with a park view, along with 14 bowling lanes, six axe-throwing lanes, a 48-game arcade, corn hole, bocce ball, fowling (football bowling), and more. "Every game, activity, and detail of the layout is designed for people to gather and have fun together," founder and CEO Kenneth Wynn said in a statement. 
Toyota Backs Bees
⟫ Plano-based Toyota Motor North America has a 26,000-acre "land footprint" in North America. To give back to nature and the environment, it's donating $400,000 to the National Environmental Education Foundation and the Pollinator Partnership to enhance 26,000 acres of pollinator habitat across North America over the next five years. Seventeen Toyota sites have also planted pollinator gardens to nurture monarch butterflies and other pollinator species along the monarch migration path.
Homes Are More Connected Than Ever
⟫ If you find yourself surrounded by more and more high-tech devices, you aren't alone. Dallas-based research firm Parks Associates says U.S. Internet households now have an average of 16 connected devices—three more than they had just one year ago. "In today's hybrid work environments, secure, reliable, and private connectivity is essential for all of us," noted David Henry, president and GM of connected home products at Netgear. Parks Associates will host the 26th annual CONNECTIONS Conference May 17-19 at the Omni Frisco Hotel. 
DFW Home Showings Stay Hot
⟫ Home-buying demand in Dallas-Fort Worth remains red hot. It's still among the top U.S. metros in the number of showings per home, according to  Showing Time, a home tour tech and data firm, writes the Dallas Business Journal. DFW's ratio of showings to listings was 16.1 in March, way above the U.S average of 9.3 showings per home. The biggest lookie-Lou's in the country? Denver (22.4 showings per listing), Burlington, VT (21.9), and Seattle (18.3).
---
Thursday, April 28
THREE THINGS
⓵ HBCU Connection
Another tech company is moving from California to North Texas.
HBCU HUB, a startup focused on connecting students to recruiters at historically Black colleges and universities, is moving its headquarters to McKinney with the aid of grant funding from the McKinney Economic Development Corporation's Innovation Fund.
Formed in 2016 and led by Jonathan Swindell, a former IBM application development specialist, HBCU HUB has developed an app that automates the digital and physical communications between potential future students and academic recruiters at HBCUs. According to Swindell, part of the draw to the region is California's lack of HBCUs, with the closest here being Paul Quinn College in Dallas.
Read more about it in our story here.
⓶ TV Segment Turns Into Plano Store
Carrollton-based MorningSave, which helped pioneer internet "daily deals" and has segments featured on several daytime TV shows, is going brick-and-mortar in Plano.
MorningSave was founded in 2015 by the creators of Woot.com, a daily deal website that was acquired by Amazon.com in 2010.
You may have seen their segments on shows like "Inside Edition," "Extra," "The Kelly Clarkson Show," "Rachel Ray," and "The Talk." This weekend, you can check out the grand opening of MorningSave's real-life 21,000-square-foot store in Plano's Preston Shepard Place shopping center, reports the Dallas Morning News.
⓷ Old Techniques for New Tech
UTA assistant professor Cesar Torres has received a three-year, $402,000 grant from the National Science Foundation to explore how to bring classic makerspace techniques to new technologies.
Torres—who works out of UTA's Computer Science and Engineering Department and his creative tech research makerspace The Hybrid Atelier—is exploring how materials like clay and silicone can be used in 3D printing, leveraging workflows from soap and candle makers.
He's also exploring how age-old processes used by glass and ceramics artists can inform today's digital fabrication technologies. Torres and Justin Ginsberg from UTA's Art and Art History Department will lead research that places sensors on bodies, clothing, and tools to document complex motions used in UTA's hot glass workshop. The data will be used to design AI-based learning tech for novice glass makers.
"Most people approach manufacturing from an engineering perspective, but there are ways to integrate technology into ancient processes and make manufacturing better," Torres said in a statement. "We're bringing people who are traditionally left out of these conversations in to participate in this interdisciplinary approach to innovation."
QUICK HITS
Fort Worth Zoo Trumpets Big Award
⟫ The Fort Worth Zoo's newest habitat, Elephant Springs, has won a prestigious international honor: the 2022 Thea Award for Outstanding Achievement from the Themed Entertainment Association. Elephant Springs is one of only 13 international honorees this year. Among the Outstanding Achievement award recipients, it's the only zoo, the only Texas institution, and one of only six facilities in the U.S. to be recognized.
Best Small Cities to Start a Business
⟫  WalletHub has ranked the best and worst small cities to start a business in—and many Texas suburbs made the top 400 in the list of more than 1,300 towns, reports InnovationMap. Cities making the list near Dallas-Fort Worth include Farmers Branch (No.102), Greenville (No. 275), Waxahachie (No. 306), Hurst (No. 312), and Sherman (No. 368).
Now Hiring 60,000 People
⟫ Irving-based 7-Eleven, Speedway, and Stripes are hosting a National Hiring Day event on May 3 with a goal of hiring 60,000 employees across more than 13,000 stores in the U.S. and Canada. Career opportunities will include both entry-level and management positions inside stores as well as support roles, IT positions, and maintenance technicians to help fuel the companies' technological initiatives.
It's a Deal: 1 GW of Solar Cells
⟫ CubicPV, a solar manufacturing and materials company with ties to Dallas, is looking to boost India's solar manufacturing ecosystem by supplying one of the country's largest solar module makers. The company, which was formed last year through the merger of Dallas' Hunt Perovskite Technologies and Massachusetts-based 1366 Technologies, has inked a multi-year agreement to provide Waaree Energies with 1 gigawatt of silicon cells annually to the Indian-based subsidiary of Waaree Group, in a move that CubicPV says will provide Waaree. CubicPV is backed by Hunt Energy Enterprises, First Solar, and Breakthrough Energy Ventures, among others.
---
Wednesday, April 27
THREE THINGS
⓵ TIAA Is Moving to Frisco
Frisco's The Star, the mixed-use development owned by Jerry Jones, is getting new tenant that's bringing thousands of new jobs to the area.
Teachers Insurance and Annuity Association (TIAA), a pension fund and financial advising giant, announced plans to occupy a soon-to-be-built 15-story building at the development—and it's planning on investing $58 million on the offices. Along with the investment, the New York-based firm said it plans to create 2,000 new jobs when the offices are fully staffed by 2029.
Aiding TIAA's move is a $18 million grant from the Texas Enterprise Fund, which is aimed at attracting investment and employment opportunities to the Lone Star state. According to The Dallas Morning News, the move marks one of the biggest office deals in the region since the beginning of the pandemic.
⓶ Mobile Game Giant Names Female CEO
Female CEOs—especially at a game development studio—are rare.
Dallas-based PeopleFun, one of the world's top developers of mobile games including Wordscapes and Word Stacks, has named Carol Miu (above) as CEO. Miu succeeds co-founder and CEO Tony Goodman, a gaming icon behind Age of Empires who anticipated the rise of mobile free-to-play games and grew the company since 2011. Today, the mobile games giant has more than 30 million monthly active game users in 248 geographies.
Miu, who was the first employee on its product team, plans to "develop more hit games through excellence at data-driven product innovation." Miu's first gig in free-to-play mobile gaming was at Boss Fight Entertainment working on roleplaying game Dungeon Boss, and later at Scopely on The Walking Dead: Road to Survival. Prior to that, she was a university marketing lecturer and an economic expert in antitrust, intellectual property, and consumer law.
Miu has been with PeopleFun since 2018, the same year it was acquired by AppLovin.
⓷ First-Ever DIFF Spring Preview Weekend
The Dallas International Film Festival won't happen until this fall. But you can get an advance look at several of the featured movies like Happening (above) this weekend, April 29 to May 1, at Alamo Drafthouse Cedars just south of downtown Dallas.
"We're excited to give movie lovers a reason to get out to the theater, especially with how we've all changed our viewing habits over the last three years," said Scott Eustace, chairman of the Dallas Film board of directors, in a statement. "This is a precursor to our full celebration of film this fall when we'll get to share art North Texans might not otherwise be exposed to, and to do so with illuminating context and participation from the filmmakers themselves. It's the popcorn, it's the people, and it's the perfect complement—great programming."
For a peek at DIFF films you can see this weekend, read our story here.
QUICK HITS
WiFi from SpaceX's Starlink
⟫ Dallas-based hop-on jet service JSX has become the first air carrier to offer high-speed internet service from SpaceX's Starlink satellite system. The company has placed an order to begin outfitting 100 aircraft operating across the U.S. with the technology. JSX says the first Starlink-equipped JSX plane will take off later this year. The service will be offered free to all JSX customers at no charge, requiring no logging in or other steps that stand between you and your Instagram account.
UT Dallas Team Aims for NASA Mission
⟫ Another local university has been tapped to help out with NASA's Geospace Dynamics Constellation mission, which aims to better understand the boundary between Earth's atmosphere and space. A thermal plasma sensor created by a UT Dallas research team led by physics professor Philip Anderson is being considered for delivery on the mission's spacecraft, which is set to launch early next year. The mission, which is being led in part by UT Arlington physics professor Yue Deng, will seek new insights into how the ionosphere and thermosphere respond to energy from the sun and how that energy is internally redistributed.
TPG raises $7.3B for climate-focused investing
⟫ Fort Worth- and San Francisco-based investment giant TPG is closing out its climate investing platform's fund at its hard cap of $7.3 billion. The global alternative asset manager launched TPG Rise Climate, which is led by TPG Founding Partner Jim Coulter and former U.S. Treasury Secretary Hank Paulson, last year with an initial close of $5.4 billion. TPG Rise Climate is part of the $14 billion impact investing arm of the firm TPG Rise. TPG Rise Climate focuses on areas like clean energy, decarbonized transport, and agricultural solutions. Its recent investments include leading a $375 million Series B funding round for Vermont electric aviation systems company BETA Technologies and funding a sustainable faming solutions initiative called Monarch Bioenergy.
Dallas' Unleased Brands has made its fifth acquisition in about twice as many months.
⟫ The parent company of franchises focused on creating entertainment and engagement experiences for kids, including Urban Air Adventure Park and Snapology, is getting into the esports game by scooping up North Carolina-based youth esports franchise XP League for an undisclosed amount.
With Unleashed as its parent company, XP will continue to offer coach and player training, along with hosted tournaments in titles like Fortnite, Rocket League, and VALORANT. It's founder Jay Melamed will join Unleashed's leadership under founder and CEO Michael Browning, a board member of the International Franchise Association who formed Unleashed last year.
---
Tuesday, April 26
THREE THINGS
⓵ $1B Amazon Venture Fund
Amazon has announced a new $1 billion venture fund to spur supply chain, fulfillment, and logistics innovation.
The first round of investments in the  Amazon Industrial Innovation Fund focused on robotics and on wearable tech that enhances safety in fulfillment buildings, and were made in five companies from Oregon to South Carolina to Israel. None were in Texas, but Amazon is offering an open invitation to startups from North Texas and across the state—and all points beyond.
"We know there are companies out there that share our curiosity and excitement to invent. Whether our investment helps them grow or leads them to work with Amazon, or both, we're excited to help advance these technologies as online shopping becomes even more important to people who are looking for more convenience and time savings," said Alex Ceballos Encarnacion, Amazon's VP of worldwide corporate development, in a statement. 
More info—including how to reach the investment team—is available here.
⓶ Informed Acquired for $170M Cash
Irving-based Informed Diagnostics, a leading national independent pathology laboratory, has been acquired by California-based Fulgent Genetics for around $170 million in cash.
Founded in 1996 as Pathology Partners, Inform Diagnostics has grown into one of the largest national pathology labs in the U.S., providing diagnostic services to around 1,300 clients who represent over 2,700 physicians.
Inform CEO Darryl Goss (above) said he looks forward to bringing his company's assets onto the Fulgent platform.
"We believe that with Inform Diagnostics' capabilities across hematopathology, neuropathology, and anatomic pathology, coupled with our nationwide footprint of physician and managed care relationships, we'll create a truly differentiated and comprehensive genomic testing suite for physicians and patients," Goss said in a statement.
⓷ Name This Trail!
The 60-mile Fort Worth to Dallas Regional Trail is over 80% complete—and you could help name it.
North Texans are invited to go here to offer feedback on the project and choose between two trail name and logo options. You can also offer input on points of interest along the trail. The North Central Texas Council of Governments developed the name and logo options with the help of public input late last year.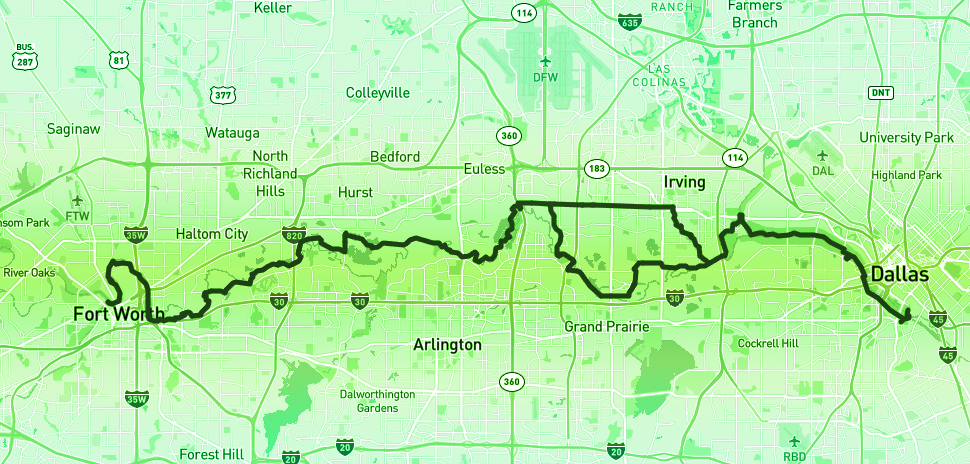 Over 50 miles of the trail are now open, spanning Fort Worth, Arlington, Grand Prairie, Irving and Dallas—including sections like the Trinity Skyline Trail, River Legacy Trail, The Trinity Trails, Campion Trail, and more. Slated for completion in early 2024, the entire trail will showcase the region's topographical diversity and growing interconnectedness for bikers, joggers, hikers, and tourists alike. 
QUICK HITS
PM Lounge Comes Back to Life
⟫ In The Great Gatsby, Jay Gatsby famously says, "Can't repeat the past? Why, of course you can!" Now three Dallas entrepreneurs are trying to bring their own legendary party back to life. Until it closed in 2012, PM: A Nightlife Lounge was a chic underground bar in The Joule hotel—the place to see and be seen downtown. Chris and Mark Beardon, founders of SBBC Hospitium and Twinning Concepts and Twinning managing partner Jonathan "Vegas" DuBois are giving PM a second act. PM Lounge will open in June at 2918 North Henderson Avenue—former home of The Dram—as "a spot for nightlife fashionistas, rich in atmosphere and service," reports CultureMap Dallas.
World Robotics Champions
⟫ A robotics team from Irving's Cistercian Preparatory School has won the 2022 FIRST Robotics Competition world championship in Houston as part of a four-team alliance. The international tournament featured 456 teams from 12 countries and 43 U.S. states, with more than 37,000 people in attendance April 20-23. Of the six division-winning alliances, Cistercian's Fusion Corps was the only Texas team represented. 
SMU Center gets $630K Walton Family Grant
⟫The Center on Research and Evaluation (CORE) at SMU's Simmons School of Education and Human Development has been awarded a three-year, $630,000 grant from the Walton Family Foundation to support the launch of CORE's new Advancing Evaluation in Philanthropy Fellowship program. 
Arcosa Sells Storage Tank Biz for $275M
⟫ Dallas-based Arcosa, Inc., a provider of infrastructure-related products and solutions, has sold its storage tank business to Black Diamond Capital Management for $275 million in cash. Founded in 1933 and marketed under the Arcosa Tank and TATSA brands, Arcosa's storage tanks operation is a leading manufacturer of steel pressure tanks for propane, ammonia, and other gases serving the residential, commercial, energy, and agricultural markets in the U.S. and Mexico.
---
Monday, April 25
THREE THINGS
⓵ PNC Tech Hub in Farmers Branch
PNC Bank has officially opened its North Texas Technology and Innovation Hub, which PNC calls "the first hub of this type to be established in Texas."
The majority of the hub's 200 employees will focus on developing—and elevating—PNC's innovation and technology endeavors. Located in Farmers Branch, the modern space is designed to encourage a culture of collaboration with multipurpose rooms and an open layout.
"PNC's new North Texas Technology and Innovation Hub is another example of how we're leading the financial industry in the innovation space, especially in a region that is one of the fastest-growing tech hubs in the country," said Brendan McGuire, PNC regional president for North Texas, in a statement. 
You can look inside the new tech hub here.
⓶ Fort Worth Votes on Crypto
The City of Fort Worth is slated to vote on a resolution tomorrow that will mint the city as "crypto-friendly, welcoming to the industry and to those responsible businesses contributing to the development of this evolving technology," according to multiple published reports.
According to Bitcoin Magazine and MSN, three bitcoin mining machines would be given to the city free of charge by the Texas Blockchain Council for a six-month pilot program, presumably pending the resolution's passage by the city council. 
So is Panther City about to dig into bitcoin mining? Dallas Innovates will keep on top of this story and let you know what happens at Fort Worth City Hall tomorrow. 
⓷ Founders of Color Finalist
AllergenIQ, a Southlake-based telemedicine allergy clinic, has been named one of 16 finalists for the 2022 Founders of Color Showcase in Atlantic City.
The startup, led by Founder and CEO Dr. Nana Mireku (above), offers a full suite of allergy testing and telehealth services that families can use from the comfort of their own homes. AllergenIQ joined the Health Wildcatters accelerator program last year, and took part in LaunchBio's Think Lab accelerator at Pegasus Park, presented in partnership with TechFW.
AllergenIQ will now advance to the next round of the FOC Showcase. Up to seven semifinalists will compete at the showcase on May 16 in Atlantic City and via a livestream from 4 to 6 p.m. EST. The event is produced by Next Wave Impact, a global impact investor syndicate with more than 200 investors. Last year's event spurred nearly $1 million in investments to competing startups.
QUICK HITS
Flea Style Expansion
⟫ Flea Style, a lifestyle retailer that highlights local small businesses, is opening its fourth location at Galleria Dallas, reports Preston Hollow Lifestyle. Founder and CEO Brittany Cobb (above) told PHL that a mall setting is unusual for her brand, but "what I liked about the Galleria is that they're bringing local boutiques into the mall and they're looking for experiential retail." Like its other locations, the Galleria location will offer a "hat bar" where hats can be customized for shoppers on the spot. It'll also offer a Flea Style first: customized vintage boots.
Sourcing Solar Modules
⟫ Dallas-based Leeward Renewable Energy has entered a multi-year procurement agreement with Arizona-based First Solar, Inc. to acquire 1 gigawatt of advanced, ultra-low carbon thin-film photovoltaic (PV) solar modules. Leeward will deploy the modules across its 20GW solar development and construction pipeline in the U.S. over 2023 and 2024, the company says, adding that the modules have a carbon footprint 2.5 times lower and a water footprint three times lower "than the average crystalline silicon solar panel made with cells produced in China."
New $45M Liquid Biopsy Lab
⟫ Irving-based Caris Life Sciences announced the opening today of its new $45 million liquid biopsy lab in Phoenix, Arizona. The investment will enable the company to continue to develop and launch its blood-based diagnostic assay, Caris Assure, to deliver tumor profiling and cancer diagnostics.. "This new lab is just one example of how we're continuing to innovate as we develop the most powerful blood-based assay ever," said David Spetzler, Caris' president and chief scientific officer, in a statement.
---
Friday, April 22
The Most Popular Stories on Dallas Innovates This Week
⓵ Impact Ventures Raising $20M Dallas Inclusive Capital Fund to Make the Region a Hub for Diverse Entrepreneurs
⓶ Dallas Real Estate Brokerage Plans to Add 1,000 Agents—and It's Paying to Get Them Licensed
⓷ The 'Largest Multifamily Solar Installation in the U.S.' is Going Up Now in North Texas
⓸ Frisco Startup Lands First U.S. Authorization for COVID-19 Breathalyzer Test
⓹ How Composting Saves Landfill Space and Reduces Costs at DFW Airport
⓺ 'Crushing It': 17-Year-Old Dallas Twins Launch UPwords Apparel and Accessories Brand to 'Bring Joy'
⓻ Dallas-Based Recreational Realty Secures $300M Credit Facility to Grow Its U.S. Footprint for Storing 'Grownup's Toys'
⓼ Dallas Construction Giant Is Bringing AI to the Jobsite to See What the Crane Hook Sees
⓽ SMU Collaborates on High-Res Cameras That See Around (and Through) Hidden Objects
⓾ AMLI and Stream Realty Will Develop 18-Acre, $472M Transit-Oriented Showplace at Addison Circle
THREE THINGS
⓵ Partnering for Ocean Health
Today is Earth Day, and a Dallas-based corporation is marking the day through its partnership with The Nature Conservancy to pursue healthier oceans.
The Nature Conservancy has embarked on a journey to protect our oceans, with support from Dallas-based Mary Kay Inc., "which holds water at the heart of its sustainability strategy," the company said.  
"This Earth Day, our oceans need us all," said Jeffrey Parrish, TNC's global managing director for nature protection, in a statement.. "With support from our corporate partners, TNC is working every day across the globe to conserve the reefs, coasts and fisheries that make life on this planet, and our own lives, thrive. Together, we are making every day Earth Day."
⓶ Clean Energy Team-Up
Dallas-based Stream Realty Partners is teaming up with Boulder-based Catalyze to deploy solar, battery storage, and EV charging solutions across Stream's development pipeline of over 40 million square feet
The move is equivalent to over 450 megawatts of on-site solar and battery storage projects. Stream and Catalyze are initially considering 42 properties across the U.S. in markets including Texas, California, North Carolina, South Carolina, and Tennessee. They aim to deploy fleet EV chargers at many of the properties over the next few years.
"Our partnership with Catalyze makes it effective and profitable to streamline deployment of clean energy solutions across our growing pipeline of industrial facilities, while supporting the power grid throughout our industrial portfolio," said Adam Jackson, Stream's chief investment officer and chairman of its ESG committee.
⓷ $641M to Reduce Texas Pollution and Traffic 
Congressman Colin Allred has announced that Texas will receive more than $641 million in funding through the Bipartisan Infrastructure Law to give Texans more transportation options and reduce traffic and carbon pollution across the state.
Ahead of Earth Day, the Biden administration announced investments totaling more than $6.4 billion across the U.S., to be administered under the Federal Highway Administration's Carbon Reduction Program.  As North Texans deal with high gas prices and rising inflation, the new funding will allow Texas to deliver more transportation alternatives and reduce commute times, the congressman said.
Read more in our story here.
QUICK HITS
Buy a Scooter, Plant Two Trees
⟫ Dallas-based e-mobility company GOTRAX is marking Earth Day by partnering with Trees.org to plant two trees for every electric scooter and e-bike purchased between today and the end of the month. It's also offering 10% off any e-bike and select scooter models in the same time period, with the discount code TREES10. The Trees for the Future nonprofit aims to plant 100 million trees with farmers across the globe—and 1 billion trees by 2030.
Environmental Investing
⟫ Marking Earth Day, Dallas-Fort Worth-based investment firm Satori Capital today launched Satori Environmental, a long/short equity strategy primarily focused on securities impacted by the global energy shift from fossil fuels to renewable sources."We believe capital markets are truly awakening to the tremendous long-term fundamentals for sustainable energy," Satori managing partner James Haddaway said in a statement. Chief Investment Officer Paul Strigler, an 18-year veteran of renewables-dedicated investing, will lead the new strategy.
Digital Communications Infrastructure
⟫ Ubiquity, a Kansas-based digital communications owner, developer, and operator, announced plans today to invest further in open-access infrastructure in Texas by expanding to Weatherford and Mineral Wells in North Texas, as well as three new locations in the greater Austin area. The investments build on its recently announced plans to break ground on multiple city-wide fiber optic networks in markets north of Austin.
---
Thursday, April 21
THREE THINGS
⓵ Jaunt Signs $100M Air Taxi Center Deal 
Dallas-based Jaunt Air Mobility has signed a $100 million-plus deal with L&T Technology Services to open an Engineering and R&D Center in Québec.
The center will provide engineering services for the Jaunt Journey eVTOL (electric Vertical Takeoff and Landing) air taxi. 
The Journey air taxi takes off like a helicopter and transitions to flying like a fixed-wing plane using patented Slowed-Rotor Compound technology, flying more than 68 miles in the air in 25 minutes or less, Jaunt says. The single-pilot aircraft will carry four passengers and offer urban air mobility, cargo delivery, military missions, and medical transport.
NYSE-listed L&T, which is headquartered in India with offices in Montreal, will offer global engineering services to support and build the Jaunt Journey in the multi-year deal, including its power distribution system, air data management, cockpit display system, flight control system, battery management, electrification, power electronics, structural design, stress analysis, testing, certification, and manufacturing engineering.
⓶ Fort Worth 'Main Street' Program
A Main Street America pilot program is coming to Fort Worth, the first of its kind in Texas. 
To be part of the program, neighborhood managing organizations can apply to become the recipients of up to $320,000 worth of services, support, and grants.
"This is a unique opportunity for the city to align with signature neighborhood commercial corridors and their community organizations," Robert Sturns, director of economic development for the city of Fort Worth, wrote on LinkedIn. He added that the program's goal is "to drive change and bring the expertise, experience, and investment needed to help spark change for the preservation and future of our neighborhood districts that serve our residents and many of our visitors as well."
More details and info on how organizations can apply through June 6 are available here.
⓷ Dallas Is Turning Green for Earth Day
Friday is Earth Day, and while countless North Texas businesses are recognizing it in their own ways, downtown Dallas will light up in green in honor of Earthx2022.
Ten iconic downtown Dallas buildings will switch their lights to green Friday evening to help raise awareness of the Earthx2022 conference—which is being hosted through April 24 at the Kay Bailey Hutchison Convention Center by Dallas-based international environmental nonprofit EarthX.
The Omni Hotel will also be displaying the EarthX logo for drivers traveling to downtown along I-30. EarthX says the green lights serve as a reminder to everyone to do their part to preserve and protect our planet, not just on Earth Day, but all year round. If you have any green holiday lights sitting around, EarthX is encouraging all buildings throughout DFW to switch their lights to green if they can Friday evening. Otherwise, the organization says, consider turning lights off for a few hours instead, "to show support for a greener world."
For more info about Earthx2022 including registration details, go here.
QUICK HITS
Springtime Art
⟫ Dallas native Claire Fagin—an "artist to the stars" including Olivia Rodrigo, Kate Hudson, and Tame Impala—has created a large-scale floral installation at The Shops at Park Lane in Dallas. The work uses 500 preserved florals and took over 150 hours to create. It's available for viewing through May 15 from 10 a.m. to 8 p.m., complete with a selfie stand for Insta addicts. (Or you could simply gaze at it and welcome spring.)
Electrifying Prize
⟫ Dallas-based electronic waste recycling company Re-Teck is celebrating Earth Day tomorrow at Flower Mound Elementary School, where they'll launch their Recycle Avengers gaming app. The Recycle Avengers electric car will be on site and game character Kit will distribute T-shirts and sign posters at the event as kids learn to recycle their electronics. The best part? In 2023, Re-Teck will give away a battery electric Nissan Leaf to one player using the app.
Tops in Ranch Sales
⟫ Briggs Freeman Sotheby's International Realty announced that its Ranch and Land division was No. 1 in ranch sales in North Texas in 2021, with 32% of the market, the latter according to land.com. In all of Texas, the group was No. 3 for the year with a total sales volume of $371 million. "That volume is on par with ranch brokerages twice the size," CEO Robbie Briggs said in a statement.
---
Wednesday, April 20
THREE THINGS
⓵ Southern Gateway Park Nears Goal
Southern Gateway Park—a five-acre "bridge park" to be built across I-35 by the Dallas Zoo—has reached 75% of its fundraising goal, the Southern Gateway Public Green Foundation announced.
Slated to open in 2024, the "park with a purpose" aims to close the opportunity gap created by the highway's 1950s construction through the middle of Oak Cliff. The foundation says it's raised more than $62 million of the estimated $82 million needed to bring Phase One of the park to life, including grants from the Rees-Jones Foundation, the Communities Foundation of Texas (W. W. Caruth, Jr. Fund), the Eugene McDermott Foundation, and the Rainwater Charitable Foundation.
The announcement was made at an event hosted by Dallas Mayor Eric Johnson and attended by former mayors and Southern Gateway Alliance Co-Chairs Ron Kirk and Mike Rawlings, among other civic and community leaders. You can read and see more about the park in our story here.
⓶ DIRTT Opens Co-HQ in Plano
Calgary, Canada-based DIRTT Environmental Solutions, a Nasdaq-listed provider of industrialized interior construction, is opening a "co-headquarters" in Plano's Legacy West district.
The company, which was founded in 2003 and now has over 900 employees, will share executive leadership, sales operations, and other corporate functions between its Calgary and Dallas-area locations.
"As the Dallas-Fort Worth region continues to experience a surge in high-profile corporate relocations and unprecedented overall economic growth, we see this as a strategic opportunity to join the vibrant North Texas business community," said Jennifer Warawa (above), DIRTT's Dallas-based chief commercial officer, in a statement.
The Legacy West co-HQ will also serve as a hands-on, "living lab" design center, DIRTT says—where architects, designers, contractors, and business leaders can experience the company's products, tech, and services. The company says it works with construction and design leaders to build adaptable workplace, educational, and healthcare spaces.
⓷ Expanding Access to Clinical Trials
Dallas-based Reveles Clinical Services, a decentralized clinical trial management company, has launched tech that digitizes the clinical trial process—working to expand access and eliminate research barriers.
50% of FDA trials are conducted in 1% to 2% of America's zip codes, Reveles says, and 70% of all patients live more than two hours away from research sites. With communities of color representing less than 5% of clinical trial participants, despite making up 42% of the total U.S. population, the company says it's difficult to obtain research samples "representative of all racial and ethnic minorities."
Reveles says it's "the only fully integrated, decentralized clinical management company to leverage a robust, blockchain-based software platform and a curated and trained network of local healthcare providers."
Read more about it in our story here.
QUICK HITS
Digital Fight Club Back IRL
⟫ Digital Fight Club is infamous in the Dallas tech scene for its raucous crowd, no-holds-barred commentary, and big-name guests. The annual event pits experts against each other in their respective industries to "battle it out" on hot topics. Now, after two years of virtual events, Digital Fight Club is back in real life—and will hold its 2022 Dallas event at Lower Greenville's Granada Theater (above) on August 11 during Dallas Startup Week. The DFC team has secured Accenture as an anchor sponsor, but says it's now looking for five "fight card" sponsors. 
Lexus Unveils First All-Electric 
⟫ Lexus—whose U.S. headquarters are based in Plano—unveiled details today of the luxury brand's first global battery electric vehicle (BEV), the all-new 2023 RZ 450e. The first thing most gearheads will notice? Lexus's famous "spindle" grille has been transformed into a "spindle body" on the nose of the RZ. The second thing? The RZ's estimated range on 18-inch tires is 225 miles. That may seem a tad low compared to BEVs like the 2022 Lucid Air Dream Edition R all-wheel drive (520 miles) and the Tesla Model S Dual-Motor AWD (405 miles). But like we said, this is Lexus' first BEV—and certainly not its last.
Kubota Connects with Kids
⟫ Grapevine-based Kubota Tractor Corporation is partnering with Crayola to highlight the role machines play in building and shaping communities. The brands will transform Crayola Experience family attractions into "Kubota Machine Adventures" in a five-market national takeover tour beginning in May. The immersive, interactive event will roll into Plano September 27-October 31. The partnership also includes a Kubota Coloring & Activity Book, classroom activities, educational content, and at-home crafts.
---
Tuesday, April 19
THREE THINGS
⓵ Interior Design Trend Report
Dallas-based Daltile has released its first-ever Trend Report, tracking key 2022 interior design trends.
The company explores seven 2022 trends—Restorative Nature, Self-Expressionism, Origins Exploration, Female Celebration, Noble Simplicity, Nostalgia Escape, and Tech Retreat—and how each is expressed in Daltile's product lines.
Read more about this year's trends here.
⓶ Eosera Graduates from TechFW
Fort Worth-based Eosera, a biotech startup specializing in innovative ear care products, has graduated from the TechFW accelerator and business incubator—and now its co-founder and CEO Elyse Dickerson (above, with co-founder and CSO Joe Griffin) is joining the nonprofit's board.
"We have the honor and pleasure of working with founders from idea-to-scale and Eosera is a prime example of that value proposition, having been with TechFW from its beginning to where it is today—close to moving into a 40,000-square-foot facility," said Hayden Blackburn, executive director of TechFW, in a statement.
⓷ Advancing Autonomous Mobility
Hillwood is partnering with Ericsson Routes to ensure wireless 4G/5G connectivity for drones and autonomous vehicles in The MIZ at AllianceTexas.
Planning and operations in the Mobility Innovation Zone require a consistent and reliable connection throughout the whole journey of each tested vehicle—whether it's a self-driving truck or a delivery drone dropping test packages. Ericsson Routes, an incubation unit within Ericsson, offers Waze-like connectivity predictions for planned routes and journeys.
QUICK HITS
Fair Park Is Getting a Park
⟫ Designs have been revealed for a "much anticipated" year-round park coming to Fair Park. The 14-acre park includes open green spaces that are "complemented by playgrounds, a lookout tower, vendor space, and a stage," per KERA. Brian Luallen, CEO of Fair Park First, says the designs by California-based Studio-MLA are a "prairie wonderland" that authentically interweaves "the unique personality of sunny South Dallas."
Grandscape-Bound
⟫ Marvel Avengers Station: Evolution will have its world premiere this summer when it opens at Grandscape in The Colony. Its predecessor, Marvel Avengers S.T.A.T.I.O.N., has attracted millions of fans worldwide by enabling them to experience the Marvel Cinematic Universe through an immersive exhibition. The new experience opening this summer is the first to reflect key moments from all four phases of the MCU, including "WandaVision," "The Falcon and The Winter Soldier," "Black Widow," and more.
Toyota Invests in U.S. Manufacturing
⟫ Plano-based Toyota Motor North America says it will invest $383 million in four of its U.S. Toyota and Lexus manufacturing plants to advance the company's commitment to vehicle electrification. The new investment will support the production of four-cylinder engines—including options for hybrid electric vehicles—at the company's Alabama, Kentucky, Missouri, and Tennessee plants. Last year, Toyota announced $5.1 billion in new investments into its U.S. manufacturing operations to support electrification efforts.
---
Monday, April 18
THREE THINGS
⓵ First Celeb + New Co-Founder
Meet Akina—the Dallas-based social platform for Black mothers, aunties, bonus moms, and caregivers—has its first celebrity ambassador and a new co-founder.
In November,  we wrote about the launch of Meet Akina—named for a Swahili word meaning "strong family bond"—and its founder Leigh Higginbotham Butler. Today the startup announced Butler has a co-founder, Stephanie Roberts, and its first celeb ambassador in actress/singer Deborah Joy Winans, from OWN TV's "Greenleaf."
The startup also announced new features to its existing chat spaces, meetinSg rooms, live streams, and events. It's now added a desktop version, an online marketplace, digital classes, on-demand yoga and fitness instruction, mental health resources, a membership program, and the new Akina Circles.
⓶ Get Your VR Game On
A virtual reality arcade concept is opening its first Texas location with a new space in Plano.
Through a franchise deal, husband-and-wife team Beth and Shawn Reynolds are set to open the doors to Ctrl V this summer, Community Impact reports The Canada-based company offers space for customers to rent out virtual reality gear and play a number of interactive games from zombie apocalypses to surgery simulations, in a space with padded walls for player protection.
According to Crtl V's website, the Plano location will be the first in Texas and only the third in the U.S. Other U.S. locations are in Florida and Delaware. The Plano location is slated to open in July.
⓷ Dallas ISD 'Future Engineers'
Four Dallas ISD students each got surprise $40,000 Amazon Future Engineers scholarships at an event Thursday at Dallas' DeGolyer Elementary School.
Invited to the school as computer science high school ambassadors, the students—Brenda Campuzano, from Irma Rangel Young Women's Leadership School; Axel Livias, from Skyline High School; and Angie Landin and Ephraim Sun, from Townview's School for the Talented and Gifted and School of Science and Engineering—will receive the $40K over four years to pursue a computer science degree at a college of their choice. They'll also get a paid internship offer at Amazon after their first year of college.
The scholarships were four of the 250 that Amazon awarded to students across the U.S. in 2022 for a total of $10 million. The event also celebrated Dallas ISD's two-year partnership with Amazon and BootUp, enabling teachers at 74 Dallas ISD elementary schools to receive the resources and training to implement computer science instruction for nearly 30,000 students.
QUICK HITS
Smart Planning
⟫ Dallas-based unicorn o9 Solutions, the enterprise AI software planning provider, and Deloitte announced a launch today. They're rolling out Smart Planning, a subscription offering that combines Deloitte's supply chain planning and data science capabilities with o9's planning platform. "Smart Planning ensures enterprises remain rightsized resource-wise by providing them with demand, inventory, supply, and integrated business planning services on a single, scalable platform that's designed to automatically adapt to evolving supply chain conditions," o9 president and COO Igor Rikalo (above), said in a statement.
Sustainable Chip Delivery
⟫ Just in time for Earth Day this Friday, Plano-based Frito-Lay introduced its first pilot 100% electric Ford eTransit delivery truck (above) in Carrollton today. The company is investing in a fleet of 40 of the vehicles by this summer to advance its goal to achieve net-zero emissions by 2040. With the trucks operating in Carrollton, Frito-Lay says it expects a reduction of around 390 metric tons of greenhouse gas emissions annually.
Drone airport on the radar?
⟫ Walmart-backed DroneUp could have Dallas in its sights for a new hub, reports DBJ. Walmart, which invested in the company in early 2021, launched hubs in Northwest Arkansas in November (above). DroneUp told Dallas Innovates the company has considered the Dallas area, but did not comment on timelines for additional hub launches. DroneUp hubs—or drone airports—"will act as central operations for both delivery and drone flight services in communities across the U.S. in the coming months," the company said. In addition to consumer delivery, the hubs "will also facilitate drone inspection services with their partners in insurance, property management, commercial real estate, construction, utilities, technology, and for public sector organizations."
Cranking out coffee
⟫ Through an agreement with Montana-based Wild Society Coffee, publicly traded Plano coffee company NuZee is making its first entrance into co-packing for the single-serve instant coffee space. The company said the agreement is non-exclusive. However, should Wild Society purchase $2 million of product over the next year, the co-packing and manufacturing agreement will become exclusive. NuZee uplisted from the OTC markets to the Nasdaq in 2020. At the time, the company had a fully diluted market value of $133 million.
---
Thursday, April 14
THREE THINGS
⓵ Keeping the look fresh
Sally Beauty Holdings wants to help get beauty entrepreneurs' products in the hands of consumers nationwide.
The Denton-based specialty retailer, along with its distribution subsidiary Cosmo Prof, is opening up applications for its third Cultivate Accelerator Program, which seeks to find, launch, and support small business beauty brands working on things like hair care, hair color, hair tools, and nails. Two winners will be selected to receive $15,000 in funding each, along with mentorship on things like marketing, e-commerce, and store operations, in addition to a distribution deal.
Previously, the program was only available to female founders, but this year Sally said it is opening it up to all beauty innovators, in an effort to increase diversity . Applications are due April 22, with finalists being announced in May. Previous iterations of the Cultivate Accelerator saw Sally help propel Curlanista, PuffCuff, Peculiar Roots, Patti Yankee, UniQurl, and True + Pure Texture.
⓶ Data-driven home runs
If you've caught a baseball game via Apple TV+'s MLB broadcast package, you likely also saw a bit of tech from a Dallas-based startup.
Sports prediction platform nVenue has landed a deal to provide its tech for real-time game data, offering users graphs and stats for sports betting, with AppleTV+ for the 2022 MLB season. It's starting by providing the odds of a batter reaching a base, and plans to include other information such as how likely a batter is to get a hit, a strikeout, or a home run. Co-founder and CEO Kelly Pracht said nVenue's platform can deliver about 15,000 betting opportunities in any given baseball game.
The company made its first live debut during an NBC Sports broadcast of a game between the Chicago White Sox and the Oakland A's, following its acceptance into the Comcast NBCUniversal SportsTech Accelerator. Early last month, raised a $3.5 million funding round, co-led by KB Partners and Corazon Capital.
⓷ Hitting the links
Dallas' ClubCorp is bringing a tech-driven golf entertainment concept to one of the country clubs in its portfolio—a first for the company and a move that could signal more to come.
The owner and operator of more than private golf and country clubs across the country is bringing Dallas-based BigShots Golf, of which ClubCorp is a majority owner, to its Firestone Country Club in Ohio, the site of numerous PGA Championships and World Golf Championships. The BigShots' concept is similar to that of Topgolf, with visitors hitting golf balls from a two-story set of tee boxes facing a driving range with different targets. It also offers virtual golfing experience for golfers to play rounds at courses around the world.
The Firestone location will feature 22,500 square feet of golfing, entertainment venue, and dining space. Construction on the facility kicks off this month with a planned opening date this fall. BigShots currently has locations in five open locations in the U.S. and U.K., including one in Fort Worth, and has an additional two under construction
QUICK HITS
Funding female veterans
⟫ Texas Woman's University is looking to bolster economic activity in the region by empowering female veteran entrepreneurs. Entering its second year, the Denton-based university's Veteran Woman Entrepreneur Grant program is looking to fund ten existing or soon-to-be-formed veteran-led businesses with $5,000 grants that can be used for things like purchasing inventory and equipment, making property improvements, marketing, and other business-related activities. In addition to grant funding, awardees will meet with advisors and mentors at the university's Center for Women Entrepreneurs to receive training and assistance on things like business plan development, accounting, and legal issues.

Architect firms join forces
⟫ Addison's VAI Architects Incorporated is merging with Michigan-based Harley Ellis Devereaux (HED), the architecture and engineering firm behind places like Ford Motor Company's Robotics Building at the University of Michigan, in a move that will combine VIA's staff with HED's Dallas office—one of eight it has across the country. And it says it's planning to hire more to further build out the combined team. The two firms have a shared commitment "to create positive impact for clients and the greater community" said HED CEO Peter Devereaux, who expects the move to create new opportunities across a number of market sectors. VAI focuses on areas including civic, transportation, and education sectors.
SkyLink servicer
⟫ Dallas Fort Worth International Airport has inked a more than €200 million ($216 million) 10-year contract with French mobility company Alstom for it to provide operation and maintenance services for its SkyLink automated people mover system. Alstom has been working with the airport since 2000, helping it open SkyLink in 2005. The airport was recently named the second busiest in the world by the Airports Council International, with the SkyLink system carrying more than 20 million passengers per year.  
---
Wednesday, April 13
THREE THINGS
⓵ 'Doing Good While Doing Well in Business'
HundredX, an Addison-based data analytics firm focused on market share strategy, announced landing a Series D round that brings its total funding to more than $80 million. Its big-name investors include billionaire Charles Schwab and FC Dallas and Kansas City Chiefs CEO Clark Hunt.
HundredX works to help nonprofits fill their coffers by rewarding their community members for giving feedback on thousands of consumer brands in its database. It takes that data to the brands to help drive strategy insights and new customer acquisition. Founder and CEO Rob Pace, a former senior partner at Goldman Sachs and former national char at the Salvation Army, calls the feedback "ethically sourced" since user-only demographic data is collected.
Launched in 2012 as Goodsnitch, HundredX relocated to North Texas in 2017. According to the Dallas Business Journal, the company has around 50 employees. HundredX also counts John Hayes, former CMO at American Express as a previous backer.
Read more about HundredX in our story here.
⓶ Meet the New Real Estate Investors
Dallas' Trive Capital is looking to get in on the hot real estate market with a new strategy.
The private equity firm, which typically focuses on debt and equity investments in mid-market companies across multiple industries, is launching Trive Capital Real Estate and has tapped Troy Daniel, a former managing director at Thackery Partners, to lead the team.
Trive Managing Partner Conner Searcy (above) said the new value-add real estate strategy will incorporate the investment strategy it brings to other investments, including off-the-run sourcing and a hands-on operational approach. Ahead of a formal raise, Trive said it's looking for acquisition and development opportunities in the multifamily and industrial sectors, though it says it will also look into pursuing other assets.
⓷ Interactive Learning for Businesses
Bluewater Learning is adding a new vertical to its business.
The Plano-based company is a nearly 20-year-old consulting and services partner for the upskilling and talent management industry. Today it announced the launch of Bluewater Interactive, which focuses on creating custom content, integrations, and data visualizations for businesses to train and develop their workforces.
Leading the new business is Curt Swayne (above), the former president of Lewisville's MLink Technologies, which also focuses on creating interactive learning solutions. Formed in 2003, Bluewater offers services to businesses in a number of industries, including aviation, life sciences, and manufacturing.
QUICK HITS
Magical Acquisition
⟫ Gearbox CEO and avid magician Randy Pitchford is the new owner of Hollywood's exclusive Magic Castle, a private club that's home to the Academy of Magical Arts and other entertainment. The Dallas video icon is a longtime member and wants to preserve the 1908-vintage building the club is housed in. "The Magic Castle is like bedrock—the center point of magic," Pitchford said in a statement.
Prepare for Landing—a Lot
⟫ Dallas Fort Worth International Airport was the second-busiest airport on earth in 2021 with over 62 million passengers served, according to a report from Airports Council International. Only Atlanta's Hartsfield-Jackson International Airport was busier, serving over 75 million passengers. DFW Airport saw a +58.7% jump in service compared to pandemic-slowed 2020—and its 2021 passenger service was only 16.8% less than pre-pandemic 2019. The other busiest 2021 airports from No. 3 to No. 10 were in Denver; Chicago; L.A.; Charlotte, N.C.; Orlando, Fla.; Guangzhou, China; Chengdu, China; and Las Vegas.
EdTech CEO of the Year
⟫ Dallas-based Cambium Learning Group CEO John Campbell has been named CEO of the Year by EdTech Digest's 2022 EdTech Awards. The 12th-annual U.S. awards program is the world's largest recognition program for education technology, recognizing top names in edtech and outstanding contributions in transforming education through technology. The award honored Campbell out of 25 finalists "for leading Cambium's six business units through the pandemic, helping them find effective ways to pivot, and continuing to help teachers and students so they felt seen, valued, and supported," Cambium said in a statement. The company has 2,300 employees, and Campbell's honor comes with great timing—he's retiring next month.
One-Million-SF Deal
⟫ Packaging giant Pratt Industries plans to bring a regional manufacturing and innovation center to North Texas—its fifth box facility in Texas. The privately held Georgia-based company has agreed to take 1 million square feet in Cedar Hill and could employ 150 people, reports the DBJ. Pratt engineers and designers can test and customize all levels of corrugated packaging, supporting a rise in e-commerce and shipping needs.
---
Tuesday, April 12
THREE THINGS
⓵ Laid-Back Seniors
Latitude Margaritaville—55-plus senior communities built around the beachy, laid-back Jimmy Buffett lifestyle—is expanding to Dallas and two other Texas markets.
The senior living lifestyle brand is inspired by the lyrics and flip-fop vibe of singer-songwriter and bestselling author Buffett—offering homes where Parrothead fans can "grow older, but not up" as they search for that lost shaker of salt.
Three communities are already operating in Florida's Daytona Beach and suburban Panama City and South Carolina's Hilton Head, developed by Minto and global lifestyle brand Margaritaville. Residents get a resort-style pool, live entertainment, "signature Margaritaville food and beverage concepts," arts and learning programs, and more.
"Latitude Margaritaville has redefined how pre-and-active retirement living is viewed forever with a combination of world-class amenities and island-inspired villa, single-family, and cottage homes," said Scott Rogers, Minto's VP of acquisition and development for Texas. (Austin and Houston are two other planned expansion cities.)
⓶ Electrifying Launch
Plano-based Toyota Motor North America officially launched its all-new bZ4X battery-electric SUV today.
With an EPA-estimated range rating of up to 252 miles per charge for XLE FWD, the electric SUV aims to "further Toyota's commitment to a carbon neutral future," the company says. It arrives in dealerships this spring with a starting MSRP of $42,000.
Toyota says its electrified vehicles accounted for 25% of its total U.S. sales volume last year, including hydrogen fuel cell electrics, hybrids, and plug-in hybrids. Now its first U.S. battery electric vehicle gets added to the mix.
According to the EPA, 2023 bZ4X XLE FWD buyers can expect average estimated fuel cost savings of up to $5,000 over five years, compared to the average new vehicle. 
⓷ 'Airbnb of Vehicle Storage'
STOW IT—a Colorado startup that connects people who have extra space with those who need to store their cars, boats, RVs, and other vehicles—is continuing its Texas expansion.
The startup began serving Dallas-Fort Worth in February, offering parking rentals from people's barns, garages, and open land as well as being a go-between for parking options at DFW Airport and other businesses.
STOW IT has also expanded to Houston, San Antonio, and most recently, Austin. 
---
Monday, April 11
THREE THINGS
⓵ 'Beyond Zero' Networking Event
Conscious Capitalism Dallas is screening the documentary "Beyond Zero" Tuesday April 12 at a networking event in SMU's Crum Auditorium.
The feature-length doc tells the story of visionary founder Ray Anderson and his company Interface, which embarked on a "high-stakes journey to become a 100-percent sustainable enterprise."
Conscious Capitalism Dallas aims to bring business, education, and community leaders together at the event to network and learn about "sustainability, stakeholder capitalism, ESG, and the related challenges organizations face going forward."
The screening, Q&A session, and networking event will be held from 5:30 p.m. to 9 p.m. Tickets for non-members are $75, with registration available here.
⓶ Is Dallas Introvert Heaven?
According to a new study, Dallas is a global leader of "introvert" cities, ranking No. 14 on earth.
The 2022 Best Cities for Introverts list was released by gaming website MrQ, which measured 50 global cities for solo leisure activities, average 1-bedroom apartment rent, number of walking trails and parks, average Wi-Fi speed, number of remote jobs, museums, libraries, theaters, percentage of gamers, and other factors. 
Tokyo topped the list despite having 37 million people. New York (No. 9), Chicago (No. 10), Houston (No 12), and Las Vegas (No. 13) were the only U.S. cities more introvert-friendly than Dallas.
The worst place for introverts? Zurich, Switzerland—too expensive, not enough things you can do by yourself.
⓷ Autonomous Checkout at AAC
Two food and beverage shops at American Airlines Center are opening with no clerks or humans in sight—just a ceiling covered by AI-powered cameras and a downloadable app.
Autonomous checkout is already available at a Market To-Go shop on the terrace level, with a second opening on the main concourse later this month. They're being opened by Levy and its innovation studio, DBK Studio, powered by tech from Standard AI and SpotOn.
Customers download an app to purchase things in the shop without waiting in a line or pulling out money. Each shopper is assigned a different-colored identifier (in the case above, purple) and tracked as they shop. Products have their own image capture zones, so when a customer picks up, say, a candy bar, the AI system knows what it is, how much to charge, and how many were taken. When the customer walks out, they're automatically charged for their purchases. Here's a good video demo.
QUICK HITS
Cattle Ranch Goes Vegan
⟫ Dallas-based All Y'alls Foods is donating a portion of every sale of its plant-based foods to Rowdy Girl Sanctuary—a former cattle ranch in Wadeler, Texas, that's gone vegan by caring for around 120 animals that will live out their natural lives without being slaughtered. Rowdy Girl is also helping other ranchers transition to plant-based products through its rancher advocacy program, All Y'Alls founder Brett Cristoffel said in a statement. 
5,000th Mining Wheel 
⟫ Wabtec has delivered its 5,000th electric mining drive system wheel built at its plant in Fort Worth. The giant wheels power 400-ton mining trucks, delivering more tractive effort than two train locomotives combined, Wabtec says. The tech also delivers 5% fuel savings over mechanical drive-powered mining trucks, helping mines meet emission reduction goals. Wabtec has produced the drive system wheels since 2012.
Housing Options Wanted
⟫ 80% of homeowners and renters across Dallas-Fort Worth support the construction of duplexes, triplexes, or accessory dwelling units in residential neighborhoods, according to a Zillow survey. Nationwide, 77% support the options. Allowing "modest densification" on a fraction of U.S. single-family lots could add 3.3 million homes to the nation's housing stock, Zillow says—boosting "critically needed" supply for years to come.
---
Friday, April 8
The Most Popular Stories on Dallas Innovates This Week
⓵ Game On: North Texas is a 'High-Tech Entertainment Concept' Paradise
⓶ In DFW, Population and Job Growth are Fueling the Nation's Hottest Multifamily Market
⓷ Plano's Food Hall Co. Appoints New CEO and COO as it Pursues U.S. Expansion
⓸ Comparably's List of Best DFW Workplaces Tees Off with Topgolf, Alkami, Ericsson, and More
⓹ Eatertainment Innovators: Dave & Buster's to Buy Main Event in $835M Deal
⓺ Hillwood EVP: Dallas-Fort Worth Is Now a 'Gateway Market'
⓻ Big D Can Be Davos for the Brain Economy
⓼ From Dumpling Makers to VR Job‑Trainers, Impact Ventures Welcomes its Newest Startups
⓽ Global Semiconductor Maker Sets Up its First North American R&D Operation in Richardson
⓾Flytrex and Brinker Are About to Drop Wings by Drone Into DFW Back Yards
MORE THINGS TO KNOW
⓵ Mask-Checking Robots
Seven-foot-tall robots at Love Field Airport will tell you a thing or two if you're not wearing a COVID-protective face covering—or you're waiting in your car too long at the pickup area.
The SCOT robots (short for Security Control Observation Towers) are standing watch near security checkpoints and the baggage claim area. Face masks continue to be required at U.S. airports, so a key SCOT mission is spotting passengers who aren't wearing one. Offenders hear a verbal alert from SCOT which gets louder if they ignore it, and can even lead to a call to airport security or the police, according to Fortune.
Love Field is one of only two airports in the U.S. testing the robots made by Michigan-based Robotic Assistance Devices, Fortune says, noting that Six Flags Over Texas has been testing its own robotic security guard, ROAMEO (Rugged Observation Assistance Mobile Electronic Officer). It's also made by RAD.
⓶ '8 Pentagons worth of warehouses'
Dallas Innovates has been packed for months with reports of new warehouses being built in Dallas-Fort Worth. And the boom continues.
How big is it? According to WFAA, over 54 million square feet of warehouse and manufacturing space is being built in North Texas, more than anywhere else in the U.S. by far. 
That's equivalent to eight Pentagons, WFAA says.
What's behind all this? The pandemic fueled an e-commerce explosion, creating huge demand for places to store all the stuff people "click" on every day. Plus, a seemingly endless supply chain crunch is causing companies to stockpile goods in a new kind of hoarding. A push for more manufacturing in the U.S. creates even more demand—and all these ingredients are coming to a head right here in DFW. 
⓷ EarthX Film Festival
EarthX Film Festival unveiled its 2022 lineup today with over 75 feature films and shorts screening from May 12-15 in the Dallas Arts District.
This year's theme is "A Celebration of the Outdoors," featuring an opening night world premiere of "Deep in the Heart," directed by Ben Masters (above) and narrated by Matthew McConaughey. 
In December, we wrote about the festival's new director, Hayley Nenadal, and the move to the Arts District downtown. 
This year's festival is sponsored by Curiosity with screenings in five theater venues, all celebrating "nature and outdoor adventure stories exploring the environment, conservation, climate change, and science while honoring the heroes working to protect our planet."
For more info and tickets, you can go here.
QUICK HITS
Saturday: 100 dog adoptions in 1 day
⟫ That's the goal of The Barking Project, an adoption event being held from 10 a.m. to 3 p.m. Saturday, April 9, at Griggs Park in Dallas. Dogs will be available from a long list of agencies including Dallas Animal Services, SPCA, Saving Hope, Rockwall Pets, The Love Pit, Weimaraner Rescue of Texas, White Rock Dog Rescue, and Cane Rosso Rescue. "The rescue groups are kind of maxed out as far as resources and capacity go," organizer Allison Frizzo told NBC DFW. "So, we put our heads together about two months ago and decided that we wanted to do something on a large scale."
American Airlines…bus?
⟫ Yep. Fort Worth-based American Airlines is getting into the bus business to replace short flight hops between cities, in a partnership with Fort Collins, Colorado-based Landline. The service takes off—uh, rolls—June 3 for customers traveling to or from Allentown/Bethlehem, Pennsylvania, and Atlantic City, New Jersey, via American's Philadelphia International Airport hub. "Customers can start and end their journey at their local airport, relax on a comfortable Landline vehicle, and leave the driving to someone else while they work or start their vacation early," said Brian Znotins, American's VP of Network Planning, in a statement.
Young filmmakers hit the red carpet
⟫ Students at Duncanville High School spent the last two months producing a 20-minute documentary about gentrification's impact on youth in metro Dallas.  They worked on the project with California-based Young Moviemakers of America and the Black Leadership AIDS Crisis Coalition through a partnership with the YMCA of Metropolitan Dallas. After months of virtual and in-person filmmaking training, they'll get a red-carpet premiere for their doc Saturday April 9 at Youth World, 1121 W. Whitehead Rd. in Dallas. Free food, drinks, and entertainment start at 1:30 p.m. followed by a 3 p.m. screening and Q&A. For more info go here.
---
Thursday, April 7
THREE THINGS
⓵ Big BrainHealth Donation
The UT Dallas Center for BrainHealth has received a record-breaking donation from Sammons Enterprises.
The dollar amount of the gift, which was described as a "transformational investment in the future of brain health," was not disclosed.
The Center for Brainhealth says the donation will "turbocharge" its pioneering work to protect, strengthen, and restore brain health. Center chief Sandra Chapman says the gift will help researchers develop strategies and technologies "to make sure our best brain years are ahead of us."
You can read more about it in our story here.
⓶ Autonomously Atlanta-bound
Autonomous trucks are pulling out of Dallas-Fort Worth so often now, it might one day become news when a human driver steers one out. Only yesterday, Aurora Innovation announced it was opening new terminals in Fort Worth and El Paso to haul freight autonomously for Werner Enterprises.
Today, Mountain View, California-based Kodiak Robotics is dropping news. It's partnering with U.S. Xpress, one of America's largest carrier fleets, to launch autonomous freight service between Dallas-Fort Worth and Atlanta using Kodiak's self-driving trucks.
The partners completed a first-of-its-kind pilot in late March, hauling four round-trip freight runs between Dallas and Atlanta 24 hours a day for 131 total hours—covering 6,350 miles over nearly five-and-a-half full days.
You can read more about it in our story here.
⓷ Autonomous Parking, Too
"Auto-valet" services are coming to DFW International Airport.
Autonomous parking tech company STEER Tech is planning to use the airport as a testbed for an automated parking ecosystem as part of the North Central Texas Council of Governments' program to use driverless tech to accommodate the region's growing population.
"The [autonomous vehicle] tests fit into the airport team's focus on efficient mobility throughout the airport," said Paul Puopolo, executive VP of innovation at DFW International Airport, in a statement.
Maryland-based STEER Tech said its autonomous ecosystem will be comprised of three subsystems: automated valet parking, digital curb management, and parking lot management for autonomous vehicles.
You can read more about it in our story here.
QUICK HITS
VINO Pops Its First Cork
⟫ The Dallas restaurant set has been buzzing about the recently opened Italian restaurant CARBONE in the Design District. An outpost of the Michelin star-rated eatery in New York's Greenwich Village, today it gets a new next-door neighbor with the opening of VINO—which serves both as CARBONE's wine cellar and its swankily designed extension. VINO enables diners to experience CARBONE's most famous dishes as walk-in guests, along with its first-ever signature pizzas, and is the brand's first experience to offer "a true, world-class bar suited for dining." 
Pharmaceutical funding
⟫ Pharmaceutical giant AmerisourceBergen, which has a large presence in North Texas, is launching a $150 million corporate venture capital fund. Called AB Health Ventures, the fund will focus on investing in early- and mid-stage startups working in areas like clinical development, pharmaceutical commercialization, and animal health. AmerisourceBergen opened a 300,000 square-foot campus in Carrollton in 2019, the second largest operation for the company at the time.
Energy and Renewables
⟫ Dallas-based Primoris Services has announced two projects with a combined value of more than $155 million. The awards were secured by the company's Energy/Renewables segment, including a $48 million heavy civil contract awarded by the Texas Department of Transportation and a $110 million water and mechanical project in the state of Florida. Both projects begin in Q2, with the Texas one due for completion in 4Q 2024.
---
Wednesday, April 6
THREE THINGS
⓵ Aurora Hires former Ryder CTO, Opens FW-El Paso Terminals
Aurora Innovation announced a key hire today: Kendra Phillips, the former CTO and VP of new products for Ryder System Inc., will now lead Aurora's trucking and logistics partner programs.
The move comes as Aurora opens new autonomous vehicle terminals in Fort Worth and El Paso as it partners with Omaha-based Werner Enterprises to haul autonomously driven loads between the cities.
The collaboration will "strategically broaden Aurora's customer ecosystem to include multiple carrier types," Aurora announced today.
The Pittsburgh- and Mountain View, California-based company is also opening a new terminal in Houston. Aurora is now hauling goods autonomously for FedEx, Werner, and Uber Freight "day and night" across multiple high-volume freight corridors in Texas.
You can read more in our story here.

Illustration: Michael Samples
⓶ Texas Triangle 'megaregion'
A new book says that to improve infrastructure and prepare for climate change, the U.S. needs to plan things from 13 jurisdictional "megaregions"—and one is the Texas Triangle.
Megaregions and America's Future, by planning scholars Robert D. Yaro, Ming Zhang, and Frederick R. Steiner, says that although the 13 megaregions only make up 30% of the country's land, they account for the majority of the U.S. population, writes Fast Company.
From high-speed rail to hurricane response to restoring wetlands, megaregions would be ideal for planning the right solutions, the authors say.
"When the Army Corps gets around to doing things, they do it one place at a time, one estuary at a time," Fast Company quotes Yaro, who was head of the Regional Plan Association focused on New York-New Jersey-Connecticut for 25 years. "We need a broader, coordinated strategy."
⓷ CEO launches record label
By day Vanessa Ogle is CEO of Plano hospitality tech company Enseo. By night, she fronts a rock group called GEM, featuring her husband and other Enseo execs. Now she's mixing music and business by launching her own record label.
The Dallas-based record label and artist incubator is called HigherHill Studios, the Dallas Morning News reports, aiming to boost the careers of underrepresented songwriters, producers, engineers, and recording artists.
"I asked, 'Where are the incubators for women, brown or other nonbinary artists? Where are the incubators for them to learn how to do this?'" Ogle told the DMN.
Since Enseo's 120-plus patents enable guests to stream music and entertainment in 2,000-plus hotels, Ogle had a lot of data to tap on what music was streamed most. Now she wants people to hear from someone new. "I think it's really important to have a different voice be heard," she told the paper.
QUICK HITS
Billionaires near you
⟫ Forbes is out with a new list of the world's richest people. While the top spot went to Austinite Elon Musk (net worth: $219 billion), Dallas-Fort Worth churned out 15 of the 2,578 on the list, Culturemap Dallas reports. In North Texas, Walmart heiress Alice Walton took the highest rank, coming in at No. 18 with a net worth of $65.3 billion. She was followed by Dallas Cowboys owner Jerry Jones (tied for No. 185), with a net worth of $10.6 billion. Serial entrepreneur Mark Cuban tied for the No. 601 spot with a net worth of $4.7 billion. The only other Texan to come close to Walton's ranking was Michael Dell, who took the No. 24 spot with a net worth of $45.1 billion.
Networking for the DoD
⟫ Oceus Networks, a Virginia-based telecoms company, has landed an $84 million contract to design a mobile cellular network for the Department of Defense—and much of that work will likely be happening in North Texas, as the company's R&D labs are in Plano and its integrations and operations center is in The Colony. The contract will see Oceus engineer, install, and operate a communication system that can support the DoD's wireless apps and any future updates.
A heroic effort for Ukraine
⟫ A Dallasite is sending a superhero to help Ukraine. Hector Rodriguez, the creator of the comic book series El Peso Hero, sends his superhero character, Ignacio Rivera, to the European country in the comic's newest edition. Rodriguez, who also works locally as a teacher, created the comic in 2011 as part of a way to bring Hispanic representation to the comic book industry, NPR reports. Typically, El Peso Hero spends his time helping immigrants, while fighting bad guys like corrupt officials and human traffickers.
---
Tuesday, April 5
THREE THINGS
⓵ Conserving Texas
Texan by Nature, a conservation-focused nonprofit, has named its annual Conservation Wranglers. The four selected organizations in this year's group will be highlighted at Texan by Nature's Conservation Summit in Dallas this November.
The organization's Conservation Wranglers program is an accelerator aimed at "catalyzing" conservation projects in the state. Over the course of about a year, selected projects will receive support in areas like marketing, strategic planning, and program management. 
2022 Conservation Wranglers include: the honeybee conservation nonprofit Hives for Heroes (above); the Bringing Baffin Back initiative by Texas A&M University-Corpus Christi's Harte Research Institute; Texas A&M Forest Service's Texas Partnership for Forests and Water; and the Texas Water Foundation's Texas Runs on Water campaign.
⓶ Fujitsu get new leader in Richardson
The global head of Fujitsu's network business is coming from Japan to Richardson to take over as president and CEO of its North Texas-based network communications operations.
Shingo Mizuno took on the role at the beginning of the month, replacing Doug More, who has been tapped as the CEO of Fujitsu North America. Mizuno has been with the Japan-based company for more than three decades.
As the Dallas Morning News notes, Fujitsu placed its first telecom R&D facility outside of Japan in Richardson in 1990. Its Richardson operations now focus on 5G and broadband network solutions. The region plays host to around 1,500 of the company's employees.
⓷ New 1 million-SF center
Ariat International, the maker equestrian and outdoor apparel, has opened a 1 million-square-foot distribution center in Fort Worth.
The company was lured to the AllianceTexas area in part by a $2 million incentive package from the city of Fort Worth in 2020, with the company planning 450 full-time jobs at the time. The company said proximity to BNSF Railway's intermodal operations were also a draw.
Once fully up and running, the distribution center is expected to house around 2 million shoes and boots and 6 million items of other Ariat apparel.  
QUICK HITS
Cracker Jack, meet Cracker Jill
⟫ Plano-based Frito-Lay is taking Cracker Jack—a 125-year-old snack beloved in baseball stadiums everywhere—out to a whole new ball game. Today it introduced Cracker Jill "to celebrate the women who break down barriers in sports." Five different special-edition bags will be available at the start of MLB season this weekend at ballparks across the U.S. As part of the launch, Cracker Jack is donating $200,000 to the Women's Sports Foundation, and will send a Cracker Jill bag to fans who donate $5 or more themselves, while supplies last.
Rents on the rise
⟫ It might not be a surprise to some, but rents of single-family homes have really gone up in DFW. According to a study by rental platform Dwellsy, the Dallas region ranked No. 6 among U.S. metros with more than 1 million residents in asking rent increases from March 2021 to March 2022, with an average one-year increase in DFW of 63%. Dwellsy said the median asking rent in Dallas is now $2,050. Overall, the company said the DFW area ranks No. 28 for most expensive single-family rentals and No. 52 for apartment rentals. Nationally, it said rents have increased by 19.4% over the past year.
Keepin' it fresh
⟫ Kroger is looking to help Dallas restaurateurs keep their flavors fresh. The grocery company's local division is rolling out a service called Restaurant Supply in the region. The service allows restaurants to purchase items by the case or unit at wholesale prices. It also comes with free next-day deliveries on orders over $250. Businesses need to submit an EIN and state tax ID to start their orders.
---
Monday, April 4
THREE THINGS
⓵ Ice cream, pet meds & first aid Wing deliveries
Wing will begin public drone deliveries from Frisco Station on Thursday—"the first in a major U.S. metro area," the company says.
Frisco and Little Elm residents will be able to order drone deliveries of Blue Bell Creameries ice cream, easyvet prescription pet medications, and Texas Health Resources first aid kits.
"We'll start small with thousands of eligible people in Frisco and Little Elm in the coming months, before expanding based on demand," Wing says on its DFW website, which offers a newsletter subscription enabling residents to be notified when their neighborhood is eligible.
Last October, Wing began doing demos of its Frisco Station service and announced the testing of drone deliveries from Walgreens stores in Frisco and Little Elm. 
⓶ Best Workplaces in DFW
Comparably has released its list of the 15 Best Places to Work in the Dallas-Fort Worth Metropolitan Area—and Topgolf tees it off at #1.
Following Topgolf in the top 5 are fintech Alkami Technology, Ericsson, Invitation Homes, and U.S. Dermatology Partners. 
Comparably is a workplace culture and corporate brand reputation platform with over 15 million anonymous employee ratings on 70,000 companies.
You can see the full list of 15 and learn more in our story here.
⓷ A Record-Setting WrestleMania
⟫ WrestleMania 38 "shattered" all-time revenue and attendance records at AT&T Stadium over the weekend.
The annual pop culture event attracted "156,352 fans from all 50 states and 53 countries," according to the WWE.
"We're thrilled that WrestleMania's return to Dallas again generated record results, proving that everything is indeed bigger in Texas," WWE EVP of Special Events John Saboor said in a statement. Saboor thanked the Jerry Jones family and the entire Dallas Cowboys organization, the Dallas Sports Commission, the city of Arlington, the city of Dallas, and public and private sector partners for "making WrestleMania 38 the most stupendous two-night WrestleMania in history."
---
Friday, April 1
The Most Popular Stories on Dallas Innovates This Week
⓵ How the Dallas International District Is Taking Shape, from a 'People Mover' to a 20-Acre Park to Smart Cities Tech and More
⓶ Flytrex and Brinker Are About to Drop Wings by Drone Into DFW Back Yards
⓷ Plano's Food Hall Co. Appoints New CEO and COO as it Pursues U.S. Expansion
⓸ DI People: Frisco's EDC, Vistra, Lennox International and More Make Moves
⓹ From Automated Airport Parking to On-Demand Rides, North Texas Boosts Autonomous Vehicle Capabilities
⓺ Frisco EDC's First Director of Innovation Will Focus on Startups, Tech, and Venture Capital
⓻ Dallas Cybersecurity Company Acquired by Former U.S. Secretary of Treasury-Owned Firm in a $525M Deal
⓼ DRC Launches Investment Recruitment Tool for Southern Dallas County
⓽ EdTech Steps Up: AT&T Launches The Achievery; Istation Intros Educator Hub; and Toyota Offers STEM Tours of Its Plants
⓾ See Inside: BioLabs Coworking Lab Opens at Pegasus Park for North Texas Life Science Startups
MORE THINGS TO KNOW
⓵ Regional Simulation Center
Simulation is a key part of health care education—but the UNT Health Science Center at Fort Worth will take it to a whole new AI-powered, virtual-reality level with its Regional Simulation Center. 
Slated to open in June, the $6.75 million center will feature "immersive simulation spaces" powered by 360-degree virtual-reality projections; 14 realistic-looking examination rooms; VR headset learning experiences; an adaptable procedural skills suite; a daily-living activities suite designed to look like a home's interior; and assorted team and learning rooms, according to Fort Worth Inc. 
The immersive simulation space can plunge students and veteran health care workers into realistic environments, like a ruggedly wooded roadside where a patient must be treated in the wild (above). HSC says "learners will acquire new skills and maintain competence in high-risk, low-frequency situations while promoting communication and efficiency."
⓶ 
Growing Greens
New York-based Gotham Greens is planting roots in North Texas.
The New York-based indoor farming startup announced plans to open a greenhouse facility in Seagoville. The move is part of a nationwide expansion, with the company also setting up greenhouses near Atlanta and Denver, as it expands its existing facilities in Chicago and Rhode Island.
Locally, Gotham's 220,000 square-foot facility, which is set to open later this year, will employ around 55 people. 
Overall, Gotham Greens says it's adding more than 600,000 square feet of space across the country. The startup, which hydroponically produces salad-related products, said it chose the new locations based on climate change's impact in the areas.
⓷ 
Paul Quinn Makes 150th Moves
Paul Quinn College is turning 150 years old, and it's celebrating with some big announcements.
The Dallas institution is forming an exploratory committee to look into the possibility of opening a new campus in Oakland, Calif.—a move it says would create the first historically Black college and university on the West Coast.
That comes as Paul Quinn announced a new five-year fundraising campaign to build its endowment. It also plans to expand its partnership with Lancaster ISD, enabling every Pell Grant-eligible graduating senior in the district with a GPA of at least 3.0 to receive automatic admission to the college.
To top it all off, it's hosting a parade. The Parade of Champions will take place Saturday at 10:00 a.m. at Paul Quinn College, celebrating six Southern Dallas schools that brought home titles to the city of Dallas in the same calendar year: South Oak Cliff, Duncanville, DeSoto, and Madison High Schools, as well as Oak Cliff Faith Family Academy and Paul Quinn's own men's basketball team.
QUICK HITS
Million-Dollar Scooter
⟫ Dallas-based GOTRAX, a leader manufacturer of e-rideables, announced today it's launching the GMAX Pro XL Ultimate Deluxe V7 Edition (above). Targeting the "billionaire class," the solid gold, $1 million V7 has a diamond-encrusted console, a telescoping caviar tray, and a rear-mounted jet engine. We were ordering one for our Dallas Innovates office when we realized today is April Fool's Day. Oh well. Back in the real world, GOTRAX says it's actually launching a far more attainable new GTX series this July, with longer ranges, dual suspension, and max speeds of 31 MPH. 
Manufacturing in McKinney
⟫ Raytheon Intelligence & Space is looking to build on its presence in McKinney. After opening a $100 million intelligent manufacturing center (above) in the city last September, the aerospace and defense company has filed plans with the state to build a $216 million, 478,000-plus-square-foot high-rise and manufacturing facility, the Dallas Morning News reports. When Raytheon opened its McKinney site last fall, the company said it had plans for a new plant and lab by 2025. At the time, it said the new construction will create about 700 new jobs.
Cleaning Up With New Stores
⟫ Dallas-based Buff City Soap has a vision of becoming a $1 billion "Starbucks of soap" by growing its list of corporate-owned and franchise locations, as we wrote last summer. Since 2020, it's grown from two stores in Dallas-Fort Worth to 13, with two new locations being added in April in Dallas and Plano, according to the Dallas Morning News. The plant-based, handmade-daily soap company now has 195 stores in 29 states—a nice, clean jump from 35 in 11 states in 2020.

Get on the list.
Dallas Innovates, every day.
Sign up to keep your eye on what's new and next in Dallas-Fort Worth, every day.