A version of this story first published in Dallas Innovates—The Tech Talent Issue.
---
Salesforce borrows the Hawaiian concept of "Ohana" as one of its organizing philosophies. The idea is that the company's employees, partners, customers, and members of the communities where it has offices are bound together in a sort of interdependent ecosystem.
"If you ever come to a Salesforce lunch or you come into a Salesforce workspace or you come to a Salesforce volunteering event, you'll feel this for yourself," says Stephanie Kinser, a Dallas-based enterprise solutions executive with the company. "It's this connectedness to our mission and to the ecosystem."
---
READ NEXT
A Case of the Mondays? Not If These Six Firms Have Anything To Do With It
Company culture is more than a motivational banner. Here are six tech companies with offices in Dallas-Fort Worth—Dialexa, Koddi, Salesforce, Deloitte University, Atos, and Alkami—that "walk the walk" as well as "talk the talk."
---
It's one of the elements that allows the company— the fastest growing of the top 10 enterprise software companies— to maintain a consistent corporate culture across a massive, distributed workforce. It extends even into the way in which the company designs its offices, including the space in which it is now consolidating its North Texas operations in Uptown Dallas.
"So if any Salesforce employee around the world walks in then, there are certain things that they see that they're going to know, and they'll feel comfortable as well," Kinser says.
When Salesforce, which moved into its offices at The Union in December, employees gained access to a meditation room as part of a company initiative to promote well-being and "mindfulness," as well as innovative ideas.
Salesforce occupies 100,000 square feet in The Union, a 22-story office tower in Uptown Dallas. The company took multiple floors in the new office tower to consolidate its space in Dallas-Fort Worth.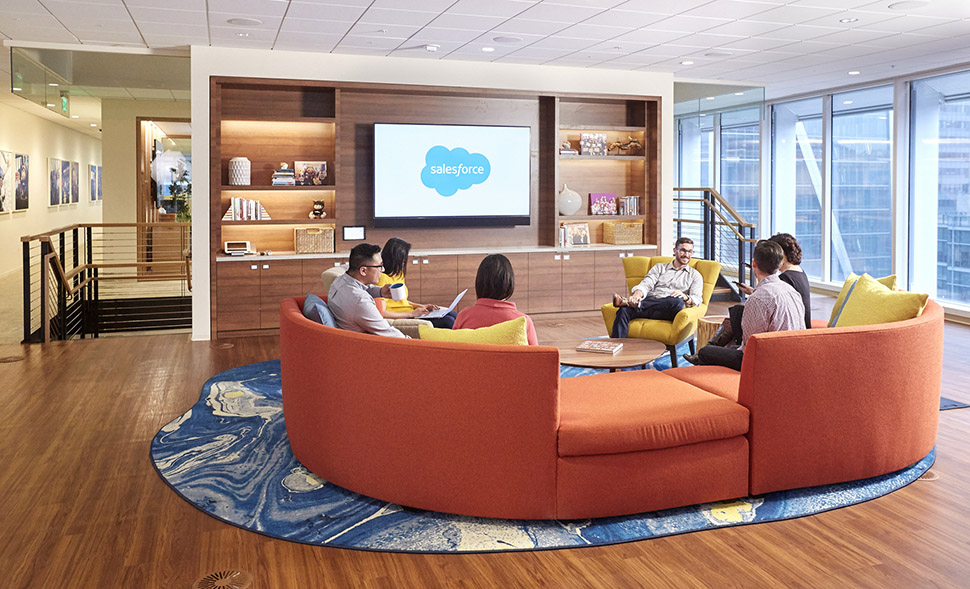 Salesforce's philosophy of "Ohana" extends to collaborative workspaces that offer bright colors and sustainable materials.

Get on the list.
Dallas Innovates, every day.
Sign up to keep your eye on what's new and next in Dallas-Fort Worth, every day.