Lockheed Martin and Boeing are some of the big guns that anchor Dallas-Fort Worth's aerospace and aviation industry, a major engine for the region's economy. But these corporate giants aren't the only ones with the right stuff.
A number of aerospace startups in North Texas are also flying high.
"The things that make DFW stand out for aerospace startups, in particular, are our direct connection to all the major companies we have here, but also the abundant space available for budding rocket companies," said Marshall Culpepper, founder of Denton-based KUBOS.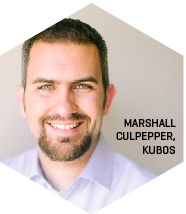 Kubos makes an open-source software platform for small commercial satellites called CubSats, which are used for space research. The three-year-old space startup — which raised $1.65 million in seed money in 2017 — was recognized as one of the "30 Game-Changing Startups 2018" by CB Insights, a firm that provides data and analysis on startups.
Before starting Kubos, CEO Marshall Culpepper developed a fascination with the stars and found his way to another space startup. There, Culpepper developed software that ran on three CubSats launched from the International Space Station.
"That kind of experience really changes a person," said Culpepper, a software engineer.
Meanwhile, inside a hangar at a small airport in Caddo Mills, about 40 miles east of Dallas, EXOS AEROSPACE is making rockets. Not any rockets, but reusable ones for suborbital commercial flights for research as well as educational and medical experiments.
The startup says its space flights would be faster, affordable, and reliable because its rockets are reusable. Exos hopes to launch its new rocket soon from Spaceport America in New Mexico.
---
EYE ON THE SKY


in Dallas-Fort Worth
Astrapi: Pioneer in spiral-based signal modulation
Astrapi took the grand prize at the inaugural Satellite 2017 Startup Space pitch competition in March. Dr. Jerrold Prothero, the company's CEO and founder, used Euler's formula, the foundational mathematics for telecommunications, to open a path to dramatically higher spectral efficiency across a wide range of radio communications.
Founded in 2009, the company has more than 40 patents issued, pending, or filed provisionally, and has raised $2.3 million from angel investors. Its business model is to license its technology to others.
Corgan

 

envisions airports as 'microcosms of cities'

With a set of tech tools the firm developed, including wayfinder research glasses, the Dallas design firm aims to create the airport of the future.
And, it wants to narrow in on helping aging passengers navigate airport buildings. The GERT suit (short for gerontology) simulates the experience of an older individual by wearing the suit.
This story first appeared in Dallas Innovates 2018, an annual magazine that showcases Dallas-Fort Worth as a hub of innovation. Read more about the region's game changers, disruptors, creatives, and our new frontiers in the digital edition.

Get on the list.
Sign up to keep your eye on what's new and next in Dallas-Fort Worth, every day.