Tuesday, December 21
Anurag Jain
Co-Founder and Managing Partner
Perot Jain
…on looking ahead to 2022, via D CEO.
Named as one of D CEO's Dallas 500 Most Influential Business Leaders for 2022, Jain partnered with Ross Perot, Jr., to invest in high-growth tech companies. He's also chairman and CEO of Access Healthcare, growing it in the last 10 years to a company with 18,000 employees.
He tells D CEO he's optimistic about what tech will bring to the world's future:
"I am excited for technology to enable people around the world, regardless of where they live or what limited resources they have, to have minimal barriers to reach their greatest potential and solve the world's problems."
---
Monday, December 20
"My number-one takeaway from attending COP26 is we don't have time to waste. We have to act to save our home."
Trammell S. Crow
Founder
EarthX
…on attending the recent U.N. Climate Change Conference in Glasgow.
Crow flew to Glasgow, Scotland, to attend the U.N. Climate Change Conference and returned to Dallas with more urgency than ever to pursue the mission of EarthX.
EarthX is an international nonprofit dedicated to educating and inspiring people and organizations to take action toward a more sustainable future worldwide.
One way it's doing that is through its annual EarthxFilm Festival. Dallas Innovates wrote last week about the festival's new director, Hayley Nenadal, and its move to the downtown Dallas Arts District for its 2022 festival, scheduled for May 12-15.
---
Friday, December 17
Patrick Cleary
SVP of Cement Sales
Holcim
…on his company's use of a new type of cement that produces 10% less CO2, via WFAA.
Holcim is the largest cement producer in the U.S., with 14 plants nationwide. But its location in Midlothian is "the first plant in the country" to transition to a new type of cement—one that produces 10% less C02.
You may walk or drive on it soon. The new cement has already been used at the PGA headquarters in Frisco, the new Prosper High School, and some paving projects on I-35.
The new cement, called OneCem, includes "up to 15% per ton of finely ground high quality limestone," Cleary told WFAA.
"We don't hide from it. Cement manufacturing is a large contributor to CO2," Cleary added. "But we also have a huge opportunity to be a huge part of the solution."
Cleary says Holcim is the first U.S. cement producer to announce a net zero pledge—"net zero by 2050." He told WFAA that his company's already at work on a newer mixture that could produce 30% less CO2.
---
Thursday, December 16
Tré Black
President & CEO
On-Target Supplies & Logistics
…sharing his best advice, via D CEO.
Black took over for his father, Albert Black, at the helm of the Dallas-based regional logistics management firm in 2018. Though Albert never anticipated On-Target Supplies & Logistics would be a family business when he founded it in 1982, Tré's "innate leadership skills" led his father and the board to elect Tré president and CEO.
Tré is now tasked with pushing OTSL onward into the next 40 years, Ben Swanger writes in D CEO. So far, he's led the firm to a record employment count.
Tré was one of seven executives on the cover of the 2022 Dallas 500, which each year highlights the achievements of the top business, civic, and nonprofit leaders in the region, along with those who are new and emerging.
More fun tidbits from the OTSL CEO: His dream car is an electric modified version of the 1968 Cadillac Deville Convertible (with an outstanding sound system). His walk-up song is 'Sensei on the Block' by Mos Def. And he'd love to have dinner with John Stankey, CEO of AT&T, and Ross Perot Jr., chairman of Perot Companies and Hillwood.
On the horizon, Black sees OTSL as having another profitable year and a record employment count, despite the pandemic.
"There is an industry employment tightening with significant wage inflation, but On-Target continues to invest in greater technology and workforce development," he told D CEO. "We are ebullient about our future!"
---
Wednesday, December 14
Doug Parker
CEO
American Airlines
…telling a U.S. Senate committee that face masks aren't really needed in passenger airliners, via the Dallas Morning News.
Parker and Southwest Airlines CEO Gary Kelly spoke before a U.S. Senate committee today about how the airlines have used $54 billion in federal grants to help them get through the pandemic since March 2020.
Both CEOs said they believe face masks aren't really needed on airliners to protect passengers from COVID-19.
"I think the case is very strong that masks don't add much if anything in the air cabin," Kelly said. "The environment is very safe, very high quality compared to any other indoor setting."
"I concur," Parker added. "The aircraft is the safest place you can be. That's true of all of our aircraft."
---
Tuesday, December 14
Juliana Oliveira
Co-Founder
Athlete-Centric Design
…on offering interior design services to professional athletes in North Texas and beyond.
Oliveira and her sister Sara de Oliveira co-founded Athlete-Centric Design to transform pro athletes' lifestyles—not just with luxury design, but by improving their performance on the field through health and wellness elements. Now they hope to score by having their approach adopted as a best practice in the sports industry nationwide.
"Born in Brazil, most of my childhood was spent by the ocean and becoming one with the outdoors," Oliveira told Dallas Innovates. "As time passed by, my passion for science started intersecting within design as I began my career. I prioritize not only how a space looks but how it makes you feel and the positive impact it can have on your health—emotionally, mentally, and physically."
For more on Athlete-Centric Design, read our story here.
---
Monday, December 13
"Imagine being in a cell the size of a parking spot for 9 to 10 years. Then you get released and you're expected to get a job."
Jason Wang
Founder and CEO
FreeWorld
…on helping the formerly incarcerated launch careers as highly paid commercial truck drivers, through his nonprofit FreeWorld.
When Jason Wang was a 15-year-old gang member in Dallas, he was convicted of aggravated robbery and sentenced to more than three years in a maximum-security juvenile prison.
When he got out, he turned his life around—earning an MBA and MS International Business degree at UT Dallas. But like many with prison records, he found it hard to find a job.
That life path eventually led Wang to found FreeWorld, a nonprofit that offers "legit second chances" to former convicts. FreeWorld helps applicants train for commercial drivers licenses, then assists with job placement to land them career-making jobs as truck drivers who can earn $50,000 to $80,000 a year or more—with a commitment to "paying it forward" by helping to fund the next student's journey.
"After I got released from prison, I had a debt that I could never repay," he says. "Because as a teenager, I was a gang member and I would hurt people. And those lives are affected forever. So now that I'm in a better place in my life, it's my duty and my responsibility to give back and help others."
---
Friday, December 10
Dean Weaver
Owner
Autonomous Society Brewpub
…on the planned opening of his new brewpub in The Cedars, via CultureMap Dallas.
When Dean Weaver was a young soldier in the U.S. Army, he spent two years in Germany and got a taste for beer. Not your watery, tasteless American canned beer—true Bavarian brews and pints of Euro delights.
"I was exposed to great European beers," he tells CultureMap. "When I got out, an uncle gave me a subscription to Beer Across America, a service that delivers different craft beers every month. But after a few months, I got a letter saying it was illegal. So I went and got a kit and began to make my own."
He's spent the last three decades working in the film industry, but he kept indulging his passion for home brewing, became a certified beer judge (nice job if you can get it!), and opened a small brewery in 2018 called Deanitude, crafting European-inspired beers.
Now, when some might be dreaming about retirement, he's living his dream and opening his own pub, Autonomous Society Brewpub. It's slated to open in February 2022 at 1928 S. Akard St. in The Cedars neighborhood south of Downtown Dallas. He'll serve his own beers, local craft brewer selections, and bar bites—with two dozen taps and fermentation tanks to prove he means business.
"I've been a fan of the Cedars for a long time," he tells CultureMap. Now, like his neighbors Lee Harvey's and Baby Back Shak, he just might be starting a Cedars institution.
---
Thursday, December 9
Jacques Vroom III
CMO
Worlds
…on the strength of family offices in Dallas and Texas, via LinkedIn.
Vroom is the new CMO of Dallas-based Worlds Inc., a startup that combines deep learning, IoT, and spatial modeling to let clients capture real-world environments in 2D, with cameras and other sensors, and then re-express them live inside of 4D digital twins.
Previously, he was VP of corporate strategy for Texas-based Capital Factory.
In his LinkedIn post, he comments on a Financial Times article, Family offices become serious rivals to VC firms for funding start-ups.
Vroom says that rivalry could become increasingly stronger in Dallas and across Texas—and he welcomes the increase in funding options.
"Options often are coupled with patience. In this case, patience is fueled by competition. Family offices are especially strong in Dallas and Texas. They could be behind greatness in years to come."
---
Wednesday, December 8
Dean Barber
Founder, Principal, and Publisher
Barber Business Advisors
…on how President Biden's infrastructure bill could speed the push for adoption of EVs, via LinkedIn.
Barber gave a presentation last week at the Mid-America Economic Development Council's Competitiveness Conference in Chicago. Titled "The Big Shift: In With the New, Out with the Old," it focused on the transition from gas-guzzlers to EVs.
He's now converted his presentation into a special free edition of his Dallas-based firm's weekly BBA Economic Digest.
Barber notes that about 1 million workers are directly employed by the U.S. auto industry.
"The Motor & Equipment Manufacturers Association estimates that the U.S. auto parts industry could lose as much as 30 percent of its workforce or nearly 300,000 jobs when the transition is complete. The United Auto Workers estimates the shift to electric could result in the loss of 35,000 union jobs."
The disruption will extend beyond the auto industry, he says: "The transition will be felt in repair shops, gas stations, oil fields, and farms. If you include the making, selling and servicing of vehicles, total employment [is] an estimated 4.7 million people in the U.S., according to the Bureau of Labor Statistics."
"Invariably, some people will lose not from some fault of their own, but because they are in the wrong place in history," Barber writes. "And that is the way it's always been with advancements in technology—constant creative disruption."
By the end of 2020, there were 10 million electric cars on the road globally, according to the International Energy Agency, Barber notes. "That number could rise to almost 145 million by 2030 if governments follow through on plans to boost adoption"—creating many winners in the future.
---
Tuesday, December 7
Alli Koch
Owner and Creative Designer
Alli K Design
…on finding your entrepreneurial way, via Local Profile.
Dallas artist Alli Koch—also known as Alli K—has put her artistic streak to many entrepreneurial ends since that graduation day at UNT. In the photo above, she's seen in 2019 with the Alto ride-sharing "art car" she designed, (We wrote about other Alto art cars here.)
Besides her work for Alto, she's published two books, "How to Draw Modern Florals" and "Florals by Hand." She's painted murals all around Dallas-Fort Worth and across the country. She speaks about business and entrepreneurship on panels and on her podcast, "Breakfast with Sis." In 2019 she founded the High Low app, which lets you capture meaningful moments of your day, both high and low.
Now, just in time for Christmas, she's released an adult coloring book, "Heyday." The retro flower design coloring book features 40 illustrations and bonus velvet coloring pages.
But when Koch graduated from UNT seven years ago with a business marketing degree, she wasn't sure how to make it in the creative marketplace.
"Everyone I was going to school with was applying for all the same jobs," she tells Local Profile. "At the time, it was one of those 'I didn't have enough experience, but they weren't going to give me experience' type of loopholes."
In between job interviews, she began creating art and crafting fixtures. Then she began selling her pieces and getting commissions for new ones. She launched Alli K Design in 2014 and never looked back—unless she's looking over her shoulder in one of her many posts on Instagram.
"I really pride myself in writing my books to where people read them and read the instructions," she tells Local Profile. "It feels like I'm sitting in the room with them. I can't physically be there, but I want you to feel that I'm there and I want you to feel that I'm cheering you on."
---
Monday, December 6
Nia-Tayler Clark
Founder and CEO
BlackLIT
…on the impact of BlackLIT's monthly book subscription box, via Fort Worth Inc.
Clark won the pitch competition at Fort Worth's Global Entrepreneurship Week last month. Her concept: BlackLIT, a monthly book subscription box featuring the work of Black authors and Black entrepreneurs.
The 10th-grade English teacher at Irving High School told Fort Worth Inc. that she got the idea for BlackLIT in her classroom. A student said he didn't read books because he couldn't relate to the characters in them, and other students agreed.
So Clark started up BlackLIT to ignite a love of reading that can change lives, as well as offering T-shirts by Black creatives and products from Black-owned businesses.
"Reading impacts our communication," Clark told FW Inc. "It directly reflects how we communicate verbally and through the written word. Reading also exposes us to worlds that are familiar to ours but also to those that are completely different."
O, The Oprah Magazine selected BlackLIT for its list of "25 of the Best Book Subscription Boxes."
Clark won a tech package from Dell Computers for her first place at GEW Fort Worth . She previously placed second with a pitch at the Dallas Entrepreneur Center. She's now waiting for the results of her pitch at Impact Ventures Accelerator, and has applied to pitch at Black Girl Ventures.
Another goal close to her heart: owning her own brick-and-mortar bookstore someday.
---
Friday, December 3
"You're going to war in a startup with a big idea."
Joel Radtke
Co-Founder, President, and COO
CollateralEdge
…on the importance of planning and having the right answers before you ask investors for money, via the podcast "Killer Innovations with Phil McKinney."
"Everybody has ideas. You wake up and have an idea in the shower," Radtke says in a podcast conversation with McKinney and Bryan Chambers, president and co-founder of Capital Factory.
"They're always dumb ideas in the first conception," Radtke adds. "[Co-founder Joe Baird] and I came up with the idea for CollateralEdge eight years ago. Frankly, on the napkin there were big blocks of the elements that made sense. But if we would have immediately taken that piece of paper and went to Bryan and said 'We need money for this—it's gonna change the world,' in the first 15 questions we would've had not great answers for 12 of them yet."
Radtke and Baird's idea was to re-envision debt capital delivery by partnering with banks with an innovative fintech platform, CollateralEdge, which Dallas Innovates profiled in September as it emerged from stealth. The flexible, automated risk management solution strengthens the credit profile on individual corporate loans—creating risk-mitigated lending opportunities for the banks while helping small and mid-market businesses reduce friction and borrowing costs.
In the podcast, Radtke explains why he and Baird spent a long time building on their idea before seeking investors—and why it's a mistake when other startups rush things.
"That's why that first phone call doesn't lead to investment most of the time, because they've gone too fast from the 'aha moment' to 'I need money and I'm gonna make a company,'" Radtke says.
"That's failing to plan. You're going to war in a startup with a big idea. The mountain's there—it's not getting smaller. It's not moving."
To move the mountain and launch your business requires "a bit of a chain reaction," Radtke explains, including "the energy that you put into the system to get people as excited about it as you are—potential customers, partners, and investors. At some point that starts working in your favor."
---
Thursday, December 2
"I believe there are millions of people out there who are just missing accessible technology to be the next scientist, engineer, designer, or whatever they want to be."
David Hojah
Founder
Parrots
…on how he's using his talent, passion, and skills to create something for those people.
Hojah is the entrepreneur behind a new health tech company aiming to use artificial intelligence to transform the way people with neurological challenges—ALS, Multiple Sclerosis, spinal cord injuries, and more—interact with the world.
Parrot's device helps users navigate through a space, speak freely, connect to telehealth services, and perform other tasks. It also learns what patients need so it can address their specific issues quicker than other technology.
Parrot attaches to any wheelchair or bedside—like the bird on a pirate's shoulder the company is named for, Will Maddox writes in D CEO.
Hojah, an entrepreneur of Dallas-based healthcare startup accelerator Health Wildcatters, leveraged more than a decade of experience as an entrepreneur to launch Parrot. He previously "developed wheelchairs that convert into a walker, a medical drone for emergencies, and an autonomous personal transporter for manual wheelchair users to convert into an electric wheelchair."

Parrot recently won awards at South by Southwest and was featured on the "Today Show."
"The business has a social impact and is something with a great purpose," Hojah told D CEO. "We're doing something great, and I'm passionate about helping many more."
---
Wednesday, December 1
April Allen
President
Southern Gateway Public Green Foundation
…on the Southern Gateway I-35 deck park near the Dallas Zoo.
A new deck park over I-35 near the Dallas Zoo will have major wow factor—and a driving mission.
Pillars are now being poured and support beams are climbing skyward for Southern Gateway Park—a $172 million, five-acre deck park that will connect with a planned seven-acre Dallas Zoo park to form a 12-acre signature attraction for the city of Dallas.
Allen calls it a "park with a purpose" with a goal to "weave the community back together, and build a bridge to a more prosperous future for that community."
To see renderings of the park by Dallas architectural firm HKS, read our story here.
---
Tuesday, November 30
"After 20 years in sunny California, we've relocated our headquarters to the city of cowboys and culture."
Ernie Tarut
Co-Founder
Old Gringo Boots
…on moving his company's HQ to Fort Worth, via KXAS TV.
Old Gringo Boots is giving California the boot, and will now hang its hat in Cowtown.
Tarut co-founded Old Gringo in 2000 with Yan Ferry, growing it into what they call the largest handmade boot company on earth. Their boldly embroidered boots are handmade at the company's factory in Leon, Mexico, using a "meticulous 275-step process," according to KXAS TV/NBCDFW 5.
Now Old Gringo will be kickin' it at 2322 N. Main Street in the Fort Worth Stockyards district.
Their new HQ is under construction, featuring a retail space on the ground floor, offices on the second, and the first-ever Old Gringo Grill on the third level—offering a wood-fired grill, a large covered balcony, and views of the Stockyards and downtown Fort Worth.
"As one of the fastest-growing cities, Fort Worth aligns with our entrepreneurial spirit and connects us with our love for the modern West," Tarut told Cowgirl Magazine. "Relocating to Texas will benefit our accessibility, giving us a central point for distribution from coast to coast."
---
Tuesday, November 23
"We are just getting started."
Gust Kepler
CEO
Blackboxstocks
…on his company's momentum two weeks after closing its IPO.
Dallas-based Blackboxstocks Inc., a fintech and social media hybrid platform offering real-time proprietary analytics for stock and options traders of all levels, recently closed a $12M IPO.
The fintech closed its underwritten public offering of 2.4 million shares of common stock priced at $5 a share. It began trading on the Nasdaq on Nov. 10 under "BLBX."
Yesterday, the company announced it had reached a 6,000-paid-subscriber milestone and projected record Q4 and 2021 revenue.
"With our unique platform, we believe that Blackbox is well positioned to cater to the explosive democratized trading movement," Kepler said in a statement.
---
Monday, November 22
"Making the Dallas 500 is no easy feat in a market as large and vibrant as North Texas."
Christine Perez
Editor
D CEO
…on the publication's list of the most powerful and influential local business leaders.
At an exclusive event last week at Fair Park's Hall of State, the 2022 edition of the Dalls 500 made its debut. D CEO each year highlights the achievements of the top business, civic, and nonprofit executives in the region, along with those who are new and emerging.
Now in its seventh year, Perez notes that paring the list down to 500 names is the hard part—especially as Dallas-Fort Worth continues to boom. Those featured in the 2022 edition are the "best of the best," as each plays an integral role in driving the local economy.
"This year, we worked hard to look beyond the obvious and discover under-the-radar innovators and people of influence," Perez said. "This past year has been brutal in many ways. But reading through the Dallas 500 will inspire you and reassure you that our future is in very good hands."
The new edition of the Dallas 500 features 303 returning leaders and 197 fresh faces. Collectively, they comprise more than 420 dynamic North Texas companies and organizations.
Go here to learn more about the book, which Perez says will "make you feel proud and grateful to live in such a vibrant region." Inside its pages readers will discover insights from the C-Suite, including strategies and forecasts for the future—along with walk-up songs, dream cars, and how to make Dallas better.
---
Friday, November 19
"If your odds of landing funding are 1 percent, then you should be ready to shoot at least 100 shots."
Cameron Johnson
Founder and CEO
Nickson
… on why you should obsess over your three-minute funding pitch, via the November 2021 issue of Inc. Magazine.
Johnson launched Nickson—"the Uber of furniture"—in 2017 to make it easier for people to furnish their apartments when they move or relocate. "You leased the perfect apartment," his startup's website says. "Now lease the perfect furniture."
Nickson's platform allows users to upload their apartment floorplan, select a furniture package, and leave the rest to Johnson's team.
Dallas-based Nickson raised $12 million in 2021 to grow the business—and Johnson shared his advice on raising funds with Inc.
"First impressions are everything, so obsess over your pitch deck and product presentation," he told Inc. "Don't forget, your three-minute pitch and 10-page deck are potentially worth hundreds of thousands, if not millions, of dollars. While the process can be taxing, it can also be rewarding. If your odds of landing funding are 1 percent, then you should be ready to shoot at least 100 shots."
---
Thursday, November 18
"I have always believed that Muhammad belonged to the world."
Lonnie Ali
Trustee, Muhammad Ali Enterprise Family Trust
… on a new long-term partnership with JCPenney featuring Muhammad Ali that will kick off with a "Be The Greatest' campaign.
North Texas-based JCPenney will feature the G.O.A.T—aka Muhammad Ali—in its goodwill mission and community initiatives, the retailer announced today. The global icon, one of the most influential athletes and humanitarians in the 20th century, was named Goodwill Ambassador.
Through a long-term charitable partnership with Muhammad Ali Enterprise Family Trust (MAFT), JC Penney will weave Ali's six core principles into its purpose platforms.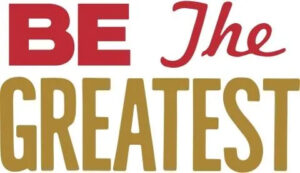 Step Up, which helps young women facing system barriers in pursuing their dreams of success, is the inaugural charitable partner. The nonprofit's mission fundamentally aligns with Ali's Six Core Principles— Confidence, Conviction, Dedication, Giving, Spirituality, and Respect—and the retailer's values, JCPenney said.
Those principles are "more relevant than ever in 2021," MAFT trustee Lonnie Ali said in a statement.
JCPenney Chief Human Resources Officer Andre Joyner says the retailer is "incredibly honored to partner with one of the most influential humanitarians of all time to inspire greatness in others."
The 'Be The Greatest' campaign kicks off on Nov. 30 in honor of Giving Tuesday.
---
Wednesday, November 17
"Influence isn't just broadcasting; it's also consumption."
Mark Cuban
Entrepreneur, Investor, ABC "Shark Tank" star, and Dallas Mavericks owner
… on the topic of influence in last weekend's Wall Street Journal magazine.
Mark Cuban says you can become a stronger influencer by learning from your audience. But, he says in the WSJ, there are three very different types of influence: company influence, industry influence, and social influence. His approach on social media? He asks: 'Tell me where I'm wrong" or "Thoughts?" when he tweets.
"I try to be a consumer of information from the things that I put out there."
---
Tuesday, November 16
Jason W. Taylor
President and Founder
CodeLaunch
…on CodeLaunch DFW 2021, happening Wednesday, November 17, in Frisco.
CodeLaunch DFW 2021 is about to rock Frisco's Comerica Center—literally. On Wednesday, November 17, from 5:30 p.m. to 8:30 p.m., the combination "tech tradeshow, startup conference, and raucous networking event" should be a magnet for investors, VCs, and entrepreneurs across North Texas and beyond.
Taylor (at far left in photo above) says the event will be "a big production" featuring "lots of exhibitors, probably 40 to 50 startups in the room."
As we wrote last Friday, five tech startup finalists will be competing at the event, going on stage with their products in hand to try to wow the crowd and come out the big winner.
Three of the five finalists are from the Dallas area, including Phix Health, a Dallas-based medical technology startup; McKinney's Autix Automotive, an online destination for specialty vehicle owners and enthusiasts; and Chat Plays, "the next step in chat gaming" for live streaming platforms created by a Student Founder Finalist in Rockwall.
Since 2013, CodeLaunch has supported the startup ecosystem by awarding over $900,000 in services to its startup finalists and event winners. It calls its events a happening "where investors, developers, and startup founders collide."
Click here for tickets and more info.
---
Monday, November 15
"It is empowering to be able to go directly to the public to ask for support for your research."
Dr. Nikki Delk
Associate Professor of Biological Sciences and Fellow, Cecil H. and Ida Green Professor in Systems Biology Science
UT Dallas
…via UT Dallas Magazine.
Dr. Delk is researching the impact of inflammation on how cancer grows and spreads. She's currently receiving funding from the American Cancer Society, and has been funded in the past by the National Cancer Institute.
But she's turned to something else, too: crowdfunding.
"The payline for cancer-related grants from the government and foundations hovers around 10%, which is really low and makes securing funding extremely competitive," Delk told UT Dallas Magazine. "That is what inspired me to look for alternative means to raise funds for my lab."
Nature magazine recently wrote about how crowdfunding research "flips science's traditional reward model." And Delk has been innovative in seeking new ways to do it.
She's raised over $10,000 this year from Comets Giving Day along with an Arts for Science art auction to help fund her lab and outreach for STEM.
"The art auction event was very successful," she told UT Dallas Magazine. "In addition to art items for bid, there were also dance and musical performances at the event," she said. "Everyone I received feedback from said they had a wonderful time and are looking forward to next year's event."
---
Friday, November 12
"Brilliant! 🔥 "
Coldplay
English Pop Band
…commenting on a cover version of the band's "Fix You" by Dallas singer and Southwestern Baptist Theological Seminary student Lachuné Boyd, via TikTok.
During the early months of the pandemic, Dallas real estate agent Mikey Abrams created a Facebook group, Quarantined Cabaret, where he and his theater friends posted videos of themselves singing songs, dressing in costumes, and generally having fun in a dark time
Quarantined Cabaret attracted 20,000 followers in less than a week, according to the Dallas Morning News and KERA, a number that's grown to 45,000 today.
Ever since, people have posted videos of themselves playing music or performing songs, turning Quarantined Cabaret into a virtual vaudeville of musical escape—and in some cases, pop star dreams.
One of those dreamers was Dallas' Lachuné Boyd, who's on track to earn her master's in music next spring from Southwestern Baptist Theological Seminary. She posted her selfie-shot cover version of Coldplay's 2005 song "Fix You" on Quarantined Cabaret and shared it on social media.
Coldplay saw her version on TikTok and sent the response above.
"The fact that they just commented," Boyd told DMN/KERA, "was more than enough to make me just really crazy happy because—it's Coldplay."
Since then, DMN/KERA write, Boyd's TikTok videos have been viewed tens of thousands of times, with one "Fix You" duet snagging over 1 million views. She now has 55,000+ TikTok followers, songs on Spotify, and has recorded tracks for a NYC dance studio. She's also an artist in residence with the Birchman Baptist Church, with a church choir album due out soon. Some dreams really do come true.
---
Thursday, November 11
Elaine Agather
Chairman of the Dallas Region
JPMorgan Chase
…on JPMorgan Chase's donation of $1 million to the National Medal of Honor Museum Foundation.
To honor Veteran's Day, today's Last Word comes from Elaine Agather. The National Medal of Honor Museum Foundation today announced a $1 million donation from her company, JPMorgan Chase.
"It will have so much to teach us," Agather said of the museum in a statement.
The foundation is still raising funds for the museum's construction, which is slated to begin in early 2022. The museum plans to open in 2024 in Arlington, Texas, adjacent to major attractions including AT&T Stadium, Six Flags Over Texas, Globe Life Field, and Esports Stadium Arlington.
The donation isn't all that JPMorgan Chase is doing for veterans.
Today the company announced it's continuing its 10-year history of support for military and veteran housing with a contribution of $400,000 and the donation of 14 homes for Operation Homefront's Permanent Homes for Veterans program.
As a founding partner of JPMorgan Chase's 1,000 "Homes for Veterans" initiative, Operation Homefront has awarded more than 515 Chase homes to veteran families across America.
---
Wednesday, November 10
"Significantly, this legislation includes provisions to speed project delivery and makes billions of dollars available for innovation and the sustainable solutions required to achieve our communities' social and environmental goals."
Troy Rudd
CEO
AECOM
…on the $550 bipartisan infrastructure bill that Congress passed Friday.
Texas could see a lot of that green: According to Environment Texas—a grassroots nonprofit organization—the historic legislation will improve Texas' transportation and power infrastructure and lead to cleaner water for decades to come.
AECOM CEO Rudd says the bill will help support critically needed innovation and sustainable solutions projects.
---
Tuesday, November 9
Matt Hawkins
Managing Partner
Entourage Effect Capital
…on why now is a great time to invest in marijuana, via D Magazine.
Since 2014, Hawkins' Dallas-based private equity firm has made over 70 investments in the legalized cannabis industry, mostly in the U.S. but also in Europe and Israel.
Now, with two-thirds of Americans favoring legalization—and recreational use already legal in 18 states and Washington, D.C.—Hawkins believes federal legalization is inevitable.
"It's a matter of when," he tells D, offering an estimate of three to seven years.
"What's great about what we're doing now is making later-stage investments in companies because the industry has matured enough to have later-stage opportunities. So we're able to build scale with those investments in advance of legalization, which we feel is a huge moment in time."
Why is this opportunity so great for private investors?
"Typically, institutional capital always gets access to the deals before private capital does," Hawkins explains to D, "and now it's the other way around because institutions can't do it because of federal illegality. It's an interesting moment in time when you think about it from a capital market standpoint."
One interesting investment opportunity: beverages. "THC-infused drinks are a category that's just getting hotter and hotter, so that's going to be something to keep an eye on," Hawkins says.
---
Monday, November 8
"When you experience the problems you are trying to solve, it becomes personal."
Mohammed Njie
Social Enterprise 2020 Cohort Entrepreneur
The Hunt Institute
Southern Methodist University
…on why he focuses on impact work as a social entrepreneur, via The Hunt Institute Digest.
Njie is a senior at SMU working toward a B.S. in electrical engineering. He's been recognized as a Grand Challenges Scholar, a winner of SMU's Big Ideas, and is also part of the SMU Incubator.
He spoke with SMU's Hunt Institute Digest about his motivation for work in the Institute.
"I think it is important to realize that here at the Institute we are involved in a lot of projects where we can impact the lives of a lot of different people," Njie said. "For their sake, it is very important that we push through…they are waiting for us."
Born and raised in The Gambia in West Africa, Njie constructed his first electric car after graduating from high school there. His life goal is helping to close the gap between developed and developing countries.
Njie is currently conducting research on efficient renewable energy systems that can be used to alleviate energy poverty in developing countries.
His first two Hunt Institute projects, Innovation in Tintinto and Illuminating Tintinto, focused on installing solar panels to completely illuminate a rural Gambian primary and secondary school, using local labor and supplies. Now he's partnering on the Hunt Institute project STEM Up Phase II to design and implement a computer cart functioning as a starter kit for a computer lab.
"As a young boy, I made it my life's mission to help solve some of the problems I experienced growing up," Njie said. "So many people are in poverty because they do not have an opportunity. I want to change that."
---
Friday, November 5
"Everything starts as a thought. Pay attention to what you think about yourself and the situations you face. It can determine your results."
Froswa' Booker-Drew
VP of Community Affairs and Strategic Alliances
State Fair of Texas
…on the power of rising through resilience, via Authority Magazine.
Booker-Drew is responsible for philanthropic giving, community initiatives, partnerships, and some of the educational programming at the State Fair of Texas. She's also the co-founder of the HERitage Giving Fund and Power in Action, two organizations focused on giving in the Black community of North Texas. She's also an author, speaker, and host of the podcast The Tapestry.
She spoke with Authority Magazine about how to rise through resilience, and offered five things you can do to achieve it:
1 :: "Create the space to reflect from the lessons. Processing is important. Otherwise, it isn't resilience anymore. It's doing the same thing over and over without learning."
2 :: "You need a support system that reminds you of who you are. Having folks remind you of what's in you is necessary."
3 :: "Bet on you. Challenges will come. Trauma isn't always avoidable but what you can do is make sure that you always believe in yourself and your abilities."
4 :: "Recognize the traumas that you endure. I think as a society, we are so determined to move through situations and just as muscles need time for recovery to be stronger, you must know when to pause or even stop to heal before moving forward."
5 :: "Watch your thinking. One of my favorite quotes is 'Watch your thoughts, for they become words. Watch your words, for they become actions. Watch your actions, for they become habits.'"
---
Thursday, November 4
"Be strategic and tenacious about building out your network."
Clarisa Lindenmeyer
Chief of Staff to the CEO
Gig Wage
…on what she wishes she knew earlier on in her career.
"I would have taken building my Rolodex, the currency of building a network, much more seriously and strategically, earlier on," she told the Preston Hollow Advocate. "Now, I built a great one."
Lindenmeyer has more than 15 years of experience in B2B2C marketing and PR. Prior to Gig Wage, the Mexican American wife and mother of three, formed her own consulting practice, Proximity to Power, which specialized in high level strategy for the c-suite.
In July, she joined the Dallas-based fintech to build the Office of the CEO while simultaneously expanding and enhancing the brand's image.
She says she joined Gig Wage to "walk alongside a visionary founder and executive and be an extension of that brain and office." She also had intimate knowledge of the gig economy, having embodied that spirit herself.
On how she got to where she is today, Lindenmeyer told the Advocate she designed her own life—she leaned into asking and demanding what she was worth, advocating for herself and "willing to beat her own chest."
"It goes without saying: do excellent work," she says. "The work always has to be there."
---
Wednesday, November 3
Pamela Nelson
Artist
…quoting Virginia Woolf as she creates her Rivers of Time installation for its exhibit at the Crow Museum for Asian Art, via Dallas Doing Good.
For the last five years in December, the Faith & Grief Memorial Arch has appeared in Dallas' Klyde Warren Park, providing a place to remember departed loved ones. Handwritten ribbons attest to memories, love, grief, and devotion.
Now Dallas artist Pamela Nelson has repurposed those five years of ribbons into a fine art installation—Rivers of Time—showing now through November 28 at the Crow Museum for Asian Art in downtown Dallas.
At the Crow, a 21-foot waterfall of woven Faith & Grief ribbons flows down in front of a window, then the flowing ribbons continue their journey across an undercurrent of white satin.
"And that's how grief feels to me," Nelson told Dallas Doing Good. "It always keeps changing and always keeps moving, but goes in one direction—toward healing. I hope this helps people, and people who have written their names down might want to come, and may actually see their own ribbon."
This year's Faith & Grief Memorial Arch will appear once again in Klyde Warren Park November 27-December 19, with an opening ceremony Sunday, November 28, at 2 p.m.
---
Tuesday, November 2
"When I was younger I was all about the WOW—the things that knocked people's socks off."
Scott Levy
Founder and CEO
ResultMaps
…on focusing on the small things and celebrating the importance of little wins, via LinkedIn.
Today, Levy still aims for the "wow" through his Dallas-based company ResultMaps, a result navigation platform that gives companies visibility into how they're executing on their strategies every day.
ResultMaps applies lessons from performing arts, team sports, and neuroscience to create planning and tracking software that increases productivity and effectiveness.
But in a recent LinkedIn post, Levy celebrates the power of "tiny wins."
"It's equally rewarding to obsess over solving customer problems—even day-to-day little thing that aren't visual wow, but that combine for a big wow effect," he writes. "The things that make a decision easier, or remove friction from an already busy day."
Levy believes teams should take the time to listen to even the small requests—something as simple as whether a list scrolls by itself or with the rest of the page.
"It's too easy to let things slip because they aren't technically challenging or 'cool,' he writes. "That doesn't mean the effort won't impact someone else."
"So cheers to the little wins."
---
Monday, November 1
Leah Frazier
President
Think Three Media
…on formalizing the ownership of your IP, via LinkedIn.
As president of Think Three Media—a Dallas-based content marketing, social media, and PR agency—Frazier constantly stresses to clients, students, and colleagues that owning your digital real estate, your IP, and your name "is way more valuable than trying to flex and stunt for the gram."
Her advice?
"Stay focused. Get your ish together. Get your trademarks done. File your business properly. STOP using GMAIL for official business correspondence. Clean up your financials. Formalize the ownership of your IP. And oh yeah, mind the business that pays you."
---
Friday, October 29
Charlie Lass
Founder and CEO
Dallas Inc.
…on getting "back to basics" in building a business, via LinkedIn.
In a shoutout to entrepreneur Hrishikesh Pardeshi on LinkedIn, Lass points to the first four things you need to do to guarantee success in a new startup:
1 :: Hustle to make your first $dollar
2 :: Find ways to consistently & reliably make money
3 :: Build processes around it
4 :: Start scaling
P.S.: Don't worry about No. 4 until you've done No. 1-3.
---
Thursday, October 28
"Endurance + Reflection = Anticipation"
Bodie Nowak
EVP
Parkwood International
…on overcoming the challenges of the construction industry in 2020-2021 by looking ahead and "making it great," via LinkedIn.
Nowak leads the construction and development recruiting practices for Frisco-based Parkwood International, a leading executive and management recruiting firm.
In a LinkedIn post, he looks back at the first 10 months of 2021 and says "it's been a hell of a year." He said the same thing at this time in 2020, but meant something different then. In 2020, the pandemic led to "one of worst fiscal years." Back then, "The industry outlook was foggy and motivation, for many of our clients and candidates was, to say the least, shaky."
"Our solution was to look ahead," Nowak says in his motivational post.
"I have always felt that the last 2 months of the year are designed for reflection, both personally and professionally," he writes. "In time we will break bread with family over Thanksgiving and then appreciate the holiday celebrations that seem to offer us all an extra shot of humanity."
"Embrace this time to explore what is to come. Make it great rest of the year!"
---
Wednesday, October 27
James B. Milliken
Chancellor
UT System
…on the passing of Peter O'Donnell Jr., via People Newspapers.
Philanthropist Peter O'Donnell Jr., who died earlier this month in Dallas, made decades of strategic gifts alongside his wife, Edith, to organizations including UT Southwestern and the University of Texas at Dallas.
He donated $36 million to create the Peter O'Donnell Jr. Brain Institute at UT Southwestern, enabling new studies of the brain that could potentially lead to life-changing medical advances.
According to Chancellor Milliken, O'Donnell's gifts have led to "moon-shot advancements in math, science, computing, and the arts. These investments helped UT Dallas become a top-tier research institution and catalyzed the public-private partnerships that have made UT Austin and the city of Austin a world-leading center for technology."
For more on O'Donnell's life and works, read the People Newspapers story here.
---
Tuesday, October 26
Donna Collins-Yamini
Founder/Chef/Owner
Jelly Queens
…on helping to bring the World Food Championships to Dallas Nov. 5-7, via Focus Daily News.
Collins-Yamini, whose Dallas-based artisan food company Jelly Queens makes jams, jellies, and sauces with uniquely complex flavor profiles, sells her product line in 50 specialty shops nationwide—as well as online at thejellyqueens.com.
She's also a perennial award winner. According to Focus Daily News, her jelly company has won 28 national and global awards over the past 10 years.
This year she'll be going after prizes up close when the World Food Championships come to Fair Park November 5-9.
Ever since 2017, Collins-Yamini has been trying to bring the WFC to Dallas.
"On my way home from the 2017 Orange Beach World Food Championships I called everyone I know and told them I did not know how, but we needed to get the event to Dallas," she told Focus Daily News. "My dear friend Lucian LaBarba helped me to get the ball rolling and things have been cookin' ever since."
"In appreciation, WFC gave me my own challenge—which is called The World Biscuits and Jampionship," she told the pub.
For more info on the upcoming World Food Championships, visit here.
---
Monday, October 25
"I don't know what the next few weeks will hold, but the first few days have held up to our philosophy of building for love, not fear."
Krista Nightengale
Executive Director
Better Block Foundation
…on putting a new project at Forest-Audelia in Dallas, via LinkedIn.
Nightengale and her team at the nonprofit, which educates and empowers communities to reactivate built environments and grow healthy and vibrant neighborhoods, recently redesigned a newly purchased piece of Dallas Parks property to improve safety and function.
But when they first stepped onsite at 9759 Forest Lane, Nightengale says they were immediately told to lock things up, have security 24/7, and wear bullet-proof vests.
Still, they pursued their task: Create a demonstration, pop-up park with sport courts, flex lawn space, shade, seating, a community garden, a play area, and daily activities to test a concept that could become a long-term vision for the space.
And it paid off. Nightengale says no materials were touched when left alone, the basketball court was full of teens, and several families were already enjoying the space as it was still being set up.
Now open until Nov. 14, The Park at Forest-Audelia has signature Better Block benches, outdoor bean bags, movable long tables, café sets, a flexible stage, string lights, pedestrian crosswalks, and landscaping.
It's the fruition of a Project Safe Neighborhoods effort that aims to promote safety and vibrancy. Better Block designed the park with the Dallas Parks Department and local leaders to be a community oasis, a tool, and a way to show that "community engagement and activation is the heart of any grassroots project in a neighborhood."
---
Friday, October 22
"I told them who I was and what I wanted to do. I got hung up on a lot, got cussed out a couple of times."
Chris Calandro
Owner/CEO
Big Game USA
…on how he started Frisco-based Big Game USA, which now produces 600 footballs a day, via D CEO.
As we face a Dallas Cowboys bye week—and turn to college games to satisfy our gridiron lust this weekend—it's a perfect time to hear from Chris Calandro.
The owner and CEO of Frisco-based Big Game USA is proud to manufacture footballs for top college teams including the University of Texas, LSU, the University of Alabama, and the University of Michigan. His company now produces 600 footballs a day.
But he told D CEO getting things started wasn't easy. He began by painting commemorative footballs, and hearing a lot of no's. But after sending samples to the Dallas Cowboys and UT, he started getting his balls down the field, and into programs.
His big score happened when he stopped painting balls—and started making them.
"What makes us competitive is I do not give a rip about how much it costs to improve a football," Calandro told D CEO. "If it makes the game better, I am going to do it. I don't answer to shareholders or anyone about profits. This business is about winning."
---
Thursday, October 21
"Our office is trying to provide the accelerants to increase these interactions and increase the number of people asking, 'What if?'"
Dr. Joseph Pancrazio
Vice President for Research
UT Dallas Office of Research and Innovation
…on why his office changed its name to embrace creative and innovative research and embrace entrepreneurship.
Dr. Pancrazio and his team support and oversee UT Dallas' research efforts and the transfer of discoveries to the marketplace. To capture how their office reflects the university's embrace of entrepreneurship, they've dropped its new name: The Office of Research and Innovation.
"The term 'innovation' reflects how our office fosters entrepreneurship and supports the university's mission of commercializing intellectual capital generated by our community," Pancrazio said in a UT Dallas news center article. "But innovation also describes how we think creatively as we develop new internal programs that provide vehicles for students, staff, and faculty to run with their ideas."
UT Dallas' undergraduate and graduate programs in entrepreneurship rank among the nation's best—18th and 10th overall, according to The Princeton Review.
"Everybody at UT Dallas has ideas," Pancrazio added. "What we like to see is people from different academic units get together on an idea that neither of them had in the beginning such that their synergistic interactions result in something entirely new."
---
Wednesday, October 20
"in a lot of cities, the younger folks have to wrestle the torch out of the hands of the older generation. Here, I think we're getting a running start, and that makes me really excited to see."
Carlo Capua
Deputy Chief of Staff for Mayor and Council
The City of Fort Worth
…on the new generation of Fort Worth leaders, via Fort Worth Report.
Capua, who calls himself a "serial social entrepreneur, keynote speaker, trilingual Ironman," is a board member of the Rotary Club of Fort Worth, the former owner of Z's Cafe & Catering, the former president of The Meeting Squad, and a board member of Sister Cities International.
He told Fort Worth Report that the new generation of Fort Worth leaders "stand on the shoulders of giants" who came before them.
"You don't have to be old, or retired, or independently wealthy, or a white male to take a leadership position in this community," he added.
As he takes his new role this month with Fort Worth's mayor and city council, he thinks decisions to come soon will be vital.
"I think having this next generation or two stepping into leadership roles is really critical because the decisions that we make will be theirs to live with," he said. "They absolutely should be part of the development of solutions or strategies in order to make sure that Fort Worth really achieves its potential," he told FWR.
---
Tuesday, October 19
"Never too early to think about going public!"
Hubert Zajicek, MD, MBA
Co-Founder and Partner
Health Wildcatters
…on Health Wildcatters' upcoming Pulse Breakfast on November 2.
The Health Wildcatters' Pulse Breakfast on November 2 will focus on "Accessing Alternative Sources of Capital: Local CEO Case Study."

Bob Rauker, CEO of Plano-based medical device company Belluscura—one of two Dallas-area life science companies to go public in London this summer—will talk about why accessing capital this way can be beneficial a fireside chat with Rachel Carroll, President & Managing Partner of Edison Group.
They'll be joined by Chris Mayo, NYC-based head of primary markets-Americas at the London Stock Exchange Group. Chris will explain how the lower cost of listing and a high-quality investor base for smaller companies convinced four U.S.-based life science companies to IPO in London in the last couple of months. He'll also explain how an IPO in London has been a stepping stone to NASDAQ for emerging growth companies in the U.S.
---
Monday, October 18

"It's virtually impossible for you to get other people to the top floor if you're not there yourself."
John Ficken
Founder and President
The Quotidian Group
…on becoming a great leader first, before focusing on employees.
"If you think about your job description as an executive director or leader, [the goal is] to get as many people as you can in your ecosystem to the top floor. That's where the magic happens," Ficken said. "But it has to start with you."
When thinking about "Maslow's house", Ficken believes if a base need is not met, there is no way a higher-order need is going to be met.
"It goes way beyond this idea of 'take care of yourself,'" he says. "Pay exquisite attention to what floor you're on, at any point in time, and be honest with yourself."
The silver lining of COVID, Ficken believes, is that it was an equalizer. Though everyone has their own individual stressors, the pandemic brought millions to a video conferencing screen. That's why bases his philosophy of leadership development on the very idea he named his company after: quotidian.
He believes the starting point of all development is the acknowledgment that we're a work in progress.
"It's crazy what you can accomplish if you pick the right things to focus on, and work on them every day," he said. "It's extremely difficult to excel at anything if you don't continuously work on the things that are going to help you progress."
Ficken joined Arjun Dugal, CTO of Financial Services at Capital One, for this conversation at Capital One's recent Reimagine Communities Summit. You can read more insights from the day here.
---
Friday, October 15
"A lot of times I feel in a weird way that I'm from the future."
Ben Lamm
Co-Founder and CEO
Colossal
…on his company's developing a Dallas lab to create an artificial womb for a woolly mammoth hybrid, via D Magazine.
Dallas Innovates wrote last month about Lamm's new biosciences company Colossal, which aims to bring back the woolly mammoth by using genetic engineering to create an elephant-mammoth hybrid.
Lamm (pictured at left with Colossal co-founder Dr. George Church) spoke with D about how the project is going, including building out a lab in Dallas to help create an artificial womb for the woolly mammoth hybrid.
"A lot of times I feel in a weird way that I'm from the future, and there's this need to do everything I can to try to advance ideas that I have," he told D. "So I can get us to this world we were promised."
He does indeed have a lot of ideas: the conversation ranged from carbon sequestration to the Apollo space program to, yes, woolly mammoths:
"The goal isn't just to bring back mammoths and build functional elephants that are cold tolerant in the Arctic. That's not the goal. The goal is that plus successful rewilding."
---
Thursday, October 14
Claudia Mirza
CEO
Akorbi Group
…on moving to the U.S. before knowing English, via NBCUniversal.
Telemundo Enterprises interviewed Mirza recently on her experience founding Akorbi, graduating from Harvard, and visiting the White House all after moving to the U.S. at 21 years old without speaking any English.
Mirza co-founded Akorbi as a home-based translation business in 2002, but it's today a provider of translation, interpretation, staffing, call centers, learning services, and localization as one of the fastest-growing woman-owned business in the world.
The rise of user-generated content and telemedicine shifted the direction of the company, causing Akorbi to make drastic changes in its workforce, such as hiring specialized talent who understand not only linguistics but also technology.
This year, Akorbi made the prominent Inc. 5000, an annual ranking that highlights the fastest-growing privately held companies in America.
---
Wednesday, October 13

"Companies need to adapt or risk becoming irrelevant."
Pedro Lerma
CEO
The Lerma Agency
…on why leaders have to start taking a multicultural approach to their corporate cultures, via D CEO.
When it comes to helming a business in the 21st century, to Pedro Lerma, it's imperative that execuives embrace diversity internally and with their products and services.
Lerma writes in D CEO that we all must "value our team's diverse perspectives and experiences", especially in the face of both society and the population adapting. He notes that in 24 years, for the first time in history, U.S. multiracial population will outnumber the non-Hispanic, White population.
That's why we must start "recognizing and championing each individual's distinct identity."
To Lerma, diverse leadership pays dividends—it doesn't just check a box. He notes three other reasons why an inclusive culture is a must in today's changing climate:
1. "It's the right thing to do." With this, Lerma sees young people as leading the way.
2. "Omniculturalism is expected." Differences can unite us, Lerma says, as factors like age and ethnicity shouldn't cause someone to be overlooked for an innovation role.
3. "Diversity drives growth." DEI offers opportunities, as inclusive cultures will attract talent, boost employee loyalty, reduce turnover, and more, according to Larma.
You can read more of his insights here.
---
Tuesday, October 12
"It will grant
Texas

artists the freedom to create something together."

Sasha Bass
CEO
Sundance Square
…on a new initiative launched today that will conceive a three-block mural covering downtown Fort Worth.

Bass and Sundance Square today unveiled a partnership with Fort Worth gallery Artspace 111 that will result in the Temporal Integral Mural Exhibition (T.I.M.E.).

The initiative allows 12 chosen artists from throughout Texas to design murals that, over time, will connect into a single giant piece of art across three blocks in Sundance Square. The project will be constantly evolving—each selected artist will receive $2,000 and have one month to complete their mural however they see fit on the wall.

To Bass: "It will be beautiful; it will be relevant."

"This project is a continuation of our commitment to make downtown a welcoming and vibrant place for families, for artists, for musicians, for ideas and for beauty," she said. "In Sundance Square there is something for everyone."

For the Artists Challenge, Sundance Square and Artspace 111 put out a call-to-action for all statewide artists and artist teams wishing to paricipate. Applications are open on a rolling basis, but those that apply by this Friday, Oct. 15 will be considered for the first six murals.
---
Friday, October 7
"Hiring adults with disabilities is not just the 'right thing to do,' it's great for your business too."
Michael Thomas
Executive Director
My Possibilities
…on how he convinces companies to hire adults with disabilities, via Voyage Dallas.
My Possibilities is a Plano-based nonprofit organization for adults with disabilities like Down syndrome, Autism, Asperger's, Prader-Willi, head injuries, and more.
Last year, Dallas Innovates wrote about My Possibilities' Campus for Higher Learning, the first-ever college-style campus designed specifically for adults with disabilities.
In the Voyage Dallas article, Thomas—a graduate of SMU and Booker T. Washington High School—talks about the often untapped source of potential that adults with disabilities can offer.
"We actively educate and train our HIPsters [Hugely Important People] to prepare for work in many different work environments but we just don't have enough companies willing to step outside of their comfort zone and let us prove to them that we have their next amazing employee ready to go," he told the publication.
But he says that ongoing obstacle "is improving."
"I get such joy from being near people who care passionately about helping others, each in their unique way," Thomas tells Voyage Dallas. "That drive and determination to make the world a better place inspires me and lifts me up."
---
Thursday, October 7
James Griffin
CEO
Invene
…on how AI could deliver diagnostics in the hospital of tomorrow, via D CEO.
In "The Hospital of Tomorrow is Coming to North Texas," D CEO says AI diagnostics, hospital flexibility, wearables, and shorter hospital stays are coming soon to a hospital near you.
Griffin told the mag that with robotic surgery and 3-D modeling, surgeries will be more successful and infections will become more rare—thanks to the ability to target problems precisely and, in some cases, avoid invasive surgery altogether.
Last year Dallas Innovates wrote about how Invene, a healthcare software development startup that had been based in UTD's Venture Development Center, relocated its HQ to McKinney after receiving a grant from the McKinney Economic Development Corporation's Innovation Fund.
---
Wednesday, October 6
Selena Loh LaCroix
Vice Chair of Technology Practice
Korn Ferry
…on how the semiconductor sector is growing in the Dallas region, via Dallas Business Journal.
When people think of semiconductors, they tend to think "Silicon Valley." But the Dallas area and Austin have actually grown strongly as a semiconductor hub.
"I think it would be seen as a fairly good-sized player," LaCroix told the DBJ. "Texas would be a big presence outside of Silicon Valley."
Texas is No. 2 in the country for jobs in the semiconductor sector, according to the Semiconductor Industry Association. In July, global semiconductor sales reached $45.4 billion, a 29 percent year-over-year increase, according to the group, as cited by the DBJ.
"You actually have a good agglomeration of companies here" in DFW, Lacroix told the pub.
---
Tuesday, October 5
"Everything we've built has been something a patient wanted or a physical therapist wanted. That's been our research."
Veena Somaready
Neuro Rehab VR
… on product development outside of academic environment
and into a rehab facility at the TechFW founder's lunch on Friday.
---
Monday, October 4
"I've always believed that the arts can serve as a conduit to STEM careers."
T.D. Jakes
Chairman
T.D. Jakes Foundation
…on a new STEAM education program launched by Dallas Summer Musicals and Dallas ISD today.
A new eight-week program launched today that will allow 3,400 Dallas ISD theatre students and teachers to participate in district-wide STEAM-based curriculum themed around the iconic Broadway musical HAMILTON.
The initiative began with a partnership between DISD and Dallas Summer Musicals, which aimed to provide students access to "the spirit of Broadway."
To broaden that, Frito-Lay, the T.D. Jakes Foundation, and iD Tech joined forces with DISD and Dallas Summer Musicals to design a one-of-a-kind, customized experience that culimates in students and teachers attending a full performance of HAMILTON at the Music Hall at Fair Park.
Frito-Lay granted $200,000 to DISD for the project and the T.D. Jakes Foundation will furnish access to the STEAM curriculum as an extension of the its virtual STEAM Academy. The Moody Foundation and The Meadows Foundation also made significant contributions as underwriters.
"We couldn't be more pleased to support this program," Jakes, who founded his eponymous foundation last year, said. "We are grateful that, with the help of our national STEAM partner iDTech and funding through Frito-Lay, we are able to expose children from underrepresented communities to the majesty of performing arts while also providing them with the tools and skills to succeed in an increasingly digital world."
---
Friday, October 1
"People know us in the tech space as the 'Hair-BNB' of beauty apps."
Courtney Caldwell
Co-Founder and COO
ShearShare
…on helping stylists, barbers, nail techs and aestheticians find space to work when they need it, via NBC 5 DFW.
Caldwell has become the 33rd Black woman in the U.S. to raise $1 million in venture funding, and ShearShare was one of 12 startups selected for the Google Black Founders accelerator.
"We are helping stylists and barbers, nail tech and aestheticians get back to work safely," she told the local news station. "This also means because we are helping them find space when and where they need it and the price they want to pay; we are also helping these small brick and mortars to stay open as well. Forty percent of space goes unused every day in our industry. We figured out we could fill that gap by providing this tech solution."
McKinney-based ShearShare's investors including Mark Cuban, Jaylon Smith of the Dallas Cowboys, and others have raised more than $3.4 million in funding to date, the news team reports. See our profile here.
---
Thursday, September 30
"Over the last 12 months alone, our Care Coaches have saved our members an average of 100 hours per loved one."
Michael Walsh
Founder and CEO
Cariloop
…on giving people more time with their care-needing loved ones—and themselves—by coordinating care options, via Forbes.
Walsh says upwards of 50 million Americans provide 20 or more hours a week of unpaid care to the loved ones in their lives. This can be a strain on families, individuals, and on companies too, who lose productivity when employees need to care for someone at home.
His company, Cariloop, pairs caregivers with a dedicated, experienced care coach who will support them with the research, care coordination, and guidance it takes to properly care for loved ones with a wide range of needs.
"Over the last 12 months alone, our care coaches have saved our members an average of 100 hours per loved one that they would have otherwise spent researching, coordinating care options, navigating insurance issues, etc.," Walsh told Forbes.
---
Wednesday, September 29
Sanjiv Yajnik
President, Financial Services
Capital One
…on lessons he learned from working at Mother Teresa's orphanage in Kolkata, India, via D CEO.
Yajnik grew up in Kolkata, India, where he spent more than a decade working at Mother Teresa's orphanage, Shishu Bhavan, from the first grade through high school.
He told D CEO that lessons he learned from Mother Teresa gave him lasting perspective:
"One of the many life lessons I took away from her was the importance of purpose—working toward something much bigger than yourself."
"Her purpose in life was to take care of those who were the least capable of taking care of themselves," he added. "This has been a huge motivator for me personally as a leader, and also in transforming businesses. It has allowed me to keep a long-term perspective and make business decisions that better the lives of our associates, customers, and the community."
One way Yajnik is doing this is through Capital One's Reimagine Communities Summit—a free, half-day virtual event to be held October 6. The summit will bring together leaders to help organizations navigate challenges and seize opportunities for positive change. Read more about it here.
---
Tuesday, September 28
"That isn't me at all. It's my employees."
Tom Landis
Founder and CEO
Howdy Homemade Ice Cream
…on the chain's high ranking for customer service on Google and Yelp, via D CEO.
Tom Landis launched the popular ice cream chain with an aim to spark social change. Staffed by employees with special needs, the ice creamery has sold more than 12 million servings and has a reputation for great customer service and friendliness.
The restaurateur wants to have "at least one Howdy Homemade in every state" in the next five years, according to D CEO.
---
Monday, September 27
C.K. Sample III
Chief Customer Officer
Hypergiant
…on the challenge of managing teams remotely, via Thrive Global.
Sample manages all the Hypergiant teams who deliver custom AI solutions to customers, as well as supporting the customers too.
He told Thrive Global about five main challenges to managing a remote team:
1 :: Tone is important. Sample says we aren't wired to understand text messages, gifs, and Slack conversations. He says people should "assume good intent" when in doubt about someone's messages, and to talk by phone or video chat at times to get more closely aligned.
2 :: Butts in seats don't tell the whole story. Don't worry about micromanaging where and when your team members are working every second. Instead, help them prioritize their responsibilities and develop cooperation that builds trust, empowers employees, and yields more productivity.
3 :: Even though they're remote, they still need IT and infrastructural support. Don't assume they can handle everything on their own.
4 :: Burnout can happen at home, too. Talk to employees about creating structures, habits, and appropriate boundaries.
5 :: Micromanagement is poor management. That goes for both in-person and remote work. Problems aren't usually a team problem. If someone is managing inappropriately, that needs to be discovered before they can poison a team.
---
Friday, September 24
VR Small
Founder and CEO
Veteran Women's Enterprise Center
…on the needs of veteran entrepreneurs, via NTXInno.
Small founded the Veteran Women's Enterprise Center (VWEC) four years ago to help female veterans navigate the entrepreneurial world.
The center, at 4900 S. Lancaster Road in Southern Dallas, is a pilot initiative for a national model. It's served nearly 500 female and male veterans each year. When it switched to digital programming in 2020 at due to the pandemic, its services only increased, with 750+ veterans served from multiple states.
Now Small wants to set up more VWECs nationwide, she told NTXInno: "We want to make sure that those women have the same opportunities to grow their businesses, to collaborate, and to be a part of the entrepreneur ecosystem."
"We're hoping that the centers will become a go-to place for the veteran community, not just for veteran women, but for our larger veteran community—a hub where we can bring all of our programming together," Small added.
Technology is a big part of the equation at the VWEC, but Small says balance is key.
"While we want to push women more into tech and STEM, we also need to make sure that we balance our support for those community businesses that are really stabilizing, keeping our communities afloat, and making them vibrant," she told the publication.
---
Thursday, September 23
"Determining which neoantigens bind to T cell receptors and which don't has seemed like an impossible feat. But with machine learning, we're making progress."
Dr. Tao Wang, Ph.D.
Assistant Professor of Population and Data Sciences
The Harold C. Simmons Comprehensive Cancer Center and the Center for Genetics of Host Defense at UT Southwestern
…on developing artificial intelligence method to predict anti-cancer immunity.
UT Southwestern Medical Center and MD Anderson Cancer Center researchers and data scientists have a new artificial AI technique that can identify cell surface peptides produced by cancer cells called neoantigens that are recognized by the immune system.
The technique, which was detailed online in Nature Machine Intelligence, might lead to new ways to predict cancer prognosis and potential responsiveness to immunotherapies, according to UT Southwestern.
---
Wednesday, September 22
Peer Chacko
Director of Planning and Urban Design
City of Dallas
…on Hensley Field—formerly Naval Air Station Dallas—on the far western edge of southern Dallas, via D Magazine.
Hensley Field was built beside Mountain Creek Lake in 1929 as a training base for a training field for reserve U.S. Army Air Corps pilots. From 1943 to 1998 it served as Dallas Naval Air Station, buzzed by everything from WWII-era planes to F-4 Phantoms and F-14 Tomcats.
In 1998 it was closed as part of a defense department base realignment, and later partially reopened as an armed forces reserve complex. The Navy transferred ownership of the base to the city of Dallas to be redeveloped as a mixed-use development—but then toxic deposits of jet fuel, lead paint, and DDT were found around the site.
The Navy has finished cleaning up most of the contaminants. For the last several years, Hensley Field has been used as a storage facility for things like Confederate statues that have been removed from their pedestals.
But Peer Chacko has bigger ideas.
Chacko told D he sees it as a place "where you can create a new job center, new mixed-income housing opportunities that are accessible to jobs. It's very central to the region, so it has a lot of potential to become an economic engine for southern Dallas."
"I don't think its potential can be overstated. For southern Dallas, which has been under-invested in for decades, this represents a huge opportunity if the city plays its cards right," Chacko added.
D says the city is talking to universities and healthcare companies to see if they're interested in the site. Alternatives include finding developers who could reimagine the 738 acres of Hensley Field—possibly boosted by the economic development corporation the Dallas City Council recently approved.
---
Tuesday, September 21
"This is many years in the making. We bought this land in 2018 and it's finally happening."
Celeste Haiduk-Cox
CEO
Habitat for Humanity of Collin County
…on McKinney's low-income Cotton Groves community, via WFAA.
Earlier this month, Haiduk-Cox spoke with WFAA about a novel concept for providing low-income housing: a planned community of 35 shipping container homes for low-income residents in McKinney's Cotton Groves subdivision.
Dallas Innovates first wrote about the project way back in 2017, so it has indeed been a long time in coming.
The containers are wrapped in spray foam insulation to make them energy-efficient and hole temperature well, Haiduk-Cox told WFAA.
"They're built to withstand the high seas, so they're built to be waterproof and withstand tornadoes and resistant to weathering," Haiduk-Cox added about the homes, which are welded to their foundations. "We're providing a community to families to grow and work together and be sustainable."
In August, Habitat for Humanity held a kickoff party to introduce the first six families who had applied and been approved for a container home.
"I never thought I'd be standing here, but I stepped out on faith," LaTonia Dashield, a McKinney mother of two who's been waiting two years for her home, told WFAA.
In December, Habitat for Humanity held an open house for the community's first model home. You can see photos and video here, including an awesome time-lapse of the home's construction.
---
Monday, September 20

Ashley Buchanan
CEO
The Michaels Companies
…on his goal to make Michaels a leader in the specialty retailer space, via D CEO.

"There's no reason we shouldn't be," he says. He plans to "fix the foundation of the brick-and-mortar business" and "catch up from an e-commerce perspective" to then get ahead of the arts and crafts retailer's closest competitors.
Buchanan is up for the task. His resume includes stints at Walmart and Sam's Club, and he was Walmart's executive vice president and chief merchant of U.S. eCommerce before taking the helm of Michaels last year.
When he did so, he brought with him a strong vision: "move Michaels away from its reputation as a discount retailer."
His approach places a strong emphasis on Michaels' digital presence, like its omnichannel strategy. D CEO notes that he also narrowed inventory, re-marketed to focus on inspiration for the company's wide-ranging customers of creatives, and moved into a new HQ. It remains in Irving, though.
The transition comes at a time when Michaels is going through one of its own. Michaels split off from PE firms Bain Capital and Blackstone in 2014 with an IPO. But this year, through a $3.3 billion merger with Apollo Global Management, the company is going private again.
"It's probably easier to do it privately than publicly," Buchanan says of his digital and physical transformation efforts. "I think we can go faster privately."
---
Friday, September 17
"Skill games are the fastest-growing gaming sector in the world."
Alejandro Laplana
Founder and CEO
Shokworks
…on why Shokworks signed with Spain's eGoGames to disseminate its skill-based mobile poker game, High-Speed Hands.
Dallas-based tech company Shokworks announced yesterday that it has partnered with Spain's eGoGames—the leading esports platform for mobile games in Europe—for the dissemination of High-Speed Hands.
High-Speed Hands is a skill-based mobile poker game created by Shokworks this year. The goal of the game is to detect the best poker hand on the table in the least time possible.
"High Speed Hands is not only a fun and exciting skill game, but it's also a great training tool to learn the game of poker," Laplana said in a statement. "We're excited to showcase our game with eGoGames powering the new age of functionality and features for skill gaming worldwide."
Like all the games on the eGoGames mobile esports platform, High Speed Hands will be a competitive mobile arena for users worldwide. The Spanish start-up's patented software is designed to guarantee a fair matchup between players of the same skill level.
eGoGames' software allows users to play multiplayer games against other people around the world, through head-to-head duels, bracketed tournaments, or live-streamed events. Sounds like aces to us.
---
Thursday, September 16

"Even before the pandemic, the prevalence of mental illness in our country has been steadily increasing."
Dr. Jeff Gardere
'America's Pyschologist'
…on how mental illness now affects one in four adults.
Dr. Gardere recently joined MyTelemedicine to lend his expertise in psychological wellness and crisis management intervention to its behavioral health services.
The addition comes at a time when the McKinney-based company is bullish on expansion—today, it announced it was expanding its services to offer members nationwide virtual primary care and integrated behavioral health services.
The COVID-19 pandemic catapulted MyTelemedicine, which connects users to licensed practitioners, into growth mode. The virtual health technology platform powers its flagship brand Access a Doctor, as well as Zeally Health and the just-launched GoLexi pet telehealth service.
Its original model was centered around diagnosing and treating common acute illnesses as they arise, but with the new launch, MyTelemedicine's virtual primary care services can let users choose a provider to be their primary care physician. That allows them to monitor ongoing health concerns, order labs, offer medication management, or address preventative health care strategies.
Dr. Gardere sees one-on-one mental health counseling as hugely beneficial, especially for anyone dealing with a short-term crisis. That led to the generation of MyTelemedicine expanding its behavioral health services, so members and dependents can access on-demand consultation with a licensed counselor for crisis management or set up a telehealth session with a licensed psychiatrist or psychologist.
This gives users "the tools to process their emotions or navigate change in a positive way," according to Dr. Gardere.
---
Wednesday, Sept. 15
David Dillard
Director of Senior Living
HKS
…on where the senior living space is headed, via Dallas Business Journal.
Dillard told the DBJ that lines are being blurred in senior living for a lot of reasons: "One is the home healthcare industry is letting you stay where you are longer, whether in a house or a wing of a campus. We like that sort of deliberate hodgepodge, in the best sense of the word, of people. Different levels of care, intergenerational activities."
Dillard says the "blur" ranges from 30-somethings who want to live in places like the Ventana at I-75 and Northwest Highway in Dallas—because it doesn't look like senior living—to active adults over 55.
"Active adult, which is 55 and up, legally, is swelling. People are very interested in that. Then you have to anticipate, well, now what do you do in an active adult when these people get older, they age in place, suddenly they're 75, now they're independent living," he told the DBJ.
"That's part of the blur, from independent living, to the younger. Taking care of those markets is one of our biggest challenges right now."
HKS's big idea: "Design the infrastructure for 85-90 year old, and then disguise it as very attractive for a 65-year-old. That way they get to stay in the same building all the way through. That's the big idea," Dillard said.
---
Tuesday, Sept. 14
"We are unlikely to truly achieve uniform herd immunity to Covid-19 in the near future."
— The authors of "Rethinking Herd Immunity: Managing the Covid-19 Pandemic in a Dynamic Biological and Behavioral Environment
…via New England Journal of Medicine's Catalyst. The article was authored by experts at Dallas-based Parkland Center for Clinical Innovation, the Institute for Healthcare Improvement, and the Cincinnati Children's Hospital Medical Center: Pierre Barker, MD, MB, ChB; David Hartley, PhD, MPH; Andrew F. Beck, MD, MPH; George "Holt" Oliver, MD, PhD; Bhargavi Sampath, MPH; Thomas Roderick, PhD; and Steve Miff, PhD.

In early July, Dallas-based Parkland Center for Clinical Innovation (PCCI) said Dallas County had reached the 80 percent COVID-19 herd immunity threshold, but cautioned that the Delta variant could raise the target as high as 88 percent.
Now it's shared the details of its forecasts in a peer-reviewed article in the New England Journal of Medicine's Catalyst. The article shows how a herd immunity framework was developed using data from Dallas County Health and HumanServices and other sources.
In the article, the authors write that uniform herd immunity to COVID-19 is unlikely in the near future "In the face of very high thresholds for herd immunity, diminishing protection from vaccines and infections, and ongoing resistance to vaccination."
With that in mind, the authors stress the need for "very high levels of COVID-19 vaccinations in every community"—along with continued public health protective measures, especially in enclosed spaces, for the foreseeable future.
"Dallas is very unique for having a public health effort and collaboration that offers and leverages customized data and robust scientific approaches," said PPCI's CEO Steve Miff, one of the article's authors, in a statement.
Miff says the article "gives validation to our collective efforts that can be used not just in Dallas, but across the country."
---
Monday, Sept. 13
Byron Sanders
President and CEO
Big Thought
…on closing the student opportunity gap between access and achievement through after-school and summer programs, via Arts.gov.
The National Endowment of the Arts recently put its "Back to School Spotlight" on Sanders and his education nonprofit Big Thought.
Around 150,000 metro Dallas students each year take part in an arts activity delivered or facilitated by Big Thought—which offers after-school and summer programs by partnering with school districts, the Dallas County Juvenile Department (DCJD), and other city agencies and nonprofits.
The Arts.gov spotlight celebrates Big Thought programs like Thriving Minds—which reinforces academic content and instills social and emotional learning skills—and Creative Solutions, a partnership with SMU and the DCJD.
Creative Solutions is a 7-week program for young offenders on probation, who become working artists in the performing arts, visual arts, or digital arts. They're paid a stipend during the program and are tasked with delivering a creative project when it ends. Students learn skills like set design, carpentry, digital photography, and editing, while developing their emotional intelligence as well.
"In teaching social and emotional well-being, we're laying the foundation for people who can step into a workplace and understand how humans work, and then work together in teams," which can lead to a more productive economy overall, Sanders told Arts.gov.
---
Friday, Sept. 10
Lindsay Caudill
Social Media Manager
Team Envy
…on empowering women in the world of gaming and esports, via Business Insider.
Caudill was named as one of 23 Top Women in Gaming, Esports, and Streaming by Business Insider. At Dallas-based Team Envy—one of the world's largest and most-winning esports groups—she helps create content for the Dallas Fuel team in the Overwatch League and the Dallas Empire team in the Call of Duty league, along with Team Envy's global NBA franchise.
She also creates buzz for Dallas Fuel on its Twitter and social media accounts.
On the philanthropic side, she's helped Team Envy support LGBTQ+ nonprofits and helped organize its Women's Equality Day charity stream, raising money for organizations like Women in Games International (WIGI), which support women in gaming and entertainment.
"I think it's so important that we encourage women to get involved with the esports and gaming industry," Caudill told Business Insider.
She's certainly gotten involved herself. Last year Caudill won The*gameHERs Award for Best Esports Social Media of the Year.
---
Thursday, Sept. 9
"For us to be able to continue to grow and take advantage of a great market—you need people."
Teresa Mackintosh
CEO
Trintech
…on making new hires to drive a new way of managing the workplace.
At the helm of Trintech, which sells financial software, Mackintosh is making major changes in the face of COVID—ones that might look different from most being seen in the office market today.
Per the DBJ, the CEO is moving her employees in North Texas to a 70,000-square-foot location in Plano, set to open in November, which will have amenities geared toward connection.
Her approach is hybrid: She thinks "it's incredibly difficult to drive culture and be able to have a very engaged workforce without basing that on some aspect of an in-person relationship."
"As we looked at various actions we realized that we had the opportunity to have a fantastic space that really felt like our brand in our culture and was large enough that people could all be in the office at the same time," she told the DBJ. "If we can make our employees happy and be a best places to work, and still get the in-person touch that we strongly desire, then I think we have the best of both worlds."
At the same time, Mackintosh is ramping up hiring, as there's been a large demand for Trintech's software during the pandemic. She looks to grow her employee base to 600 this year.
That's a main driver for needing employees in person. Mackintosh told the DBJ she sees having employees in the office three days a week.
---
Wednesday, Sept. 8

"The Dallas region is loaded with tech talent."
Duane Dankesreiter
SVP of Innovation and Research
Dallas Regional Chamber
…on how Say Yes to Dallas' HackDFW event is being configured so employers can locate the talent they need to up their game in the marketplace.
"This event is designed to show that talent off," Dankesreiter said. "It's really the new career fair. Participants will be taking part in an intense, three-day marathon of problem-solving and teamwork involving talent from across the region and the nation."
Presented by Amazon and backed by the DRC, HackDFW is a fast-paced innovatino marathon. Companies and aspring technologists will come together to take part in watching some of the brightest tech talent participate in two days of learning, making, and doing.
Attendees will consist of college students and recent graduates from some of the best computer science and
engineering programs in the country. Challenges will be put forward by event sponsors for participants to solve over the weekend. In addition to Amazon, Goldman Sachs and McKesson have also signed on alongside other major employers.
Employers looking to getting involved can go here and people looking to sign-up to participate can go here. HackDFW will be held in Dallas Oct. 1-3.
---
Tuesday, Sept. 7
"Lazy people know how to get things done quickly."
Bryan Cowan
CEO
Acuity Surgical
… from a list of odd productivity tips from CEOs of America's fastest-growing companies, via Inc.
Even though Texas is the No. 5 hardest working state in Texas (see above in ICYMI), we still know the power of laziness.
Cowan's Irving-based Acuity Surgical serves the elective spinal surgery segment—which came to a total halt when the pandemic hit. The self-described "lazy person" told Inc. that he and his partner "only had so much head space to worry," so they took the lazy route and changed nothing: no layoffs, no furloughs, no pay decreases.
That allowed employees to stop worrying about job security and focus on making Acuity stronger as a team. The laziness paid off, Cowan told Inc.: His firm is launching eight new products this year.
Other odd productivity tips shared with Inc.:
Get things done in your sleep. (Wake up early in the morning and see if your brain has processed solutions overnight. From Cameron Clark of Sunderstorm.)
Imagine the worst. (Even the worst thing you can think of probably has a solution. That can ease your mind and help you go for it. From Mark Litton of Howard Medical Company.)
Do pull-ups. (The company has a pull-up bar in its Miami office. When things aren't flowing, the staff does pull-ups. The energizing experience gets them through crises and builds team morale. From Juan Palacio of Bloomsybox.com.)
---
Thursday, Sept. 2
"It's social impact investing—profit, but also purpose for the community."
Tamela Thornton
CEO
E Smith Communities
… commenting on her focus on community redevelopment via D CEO.
The E Smith Communities CEO was just named the new executive director of the Dallas-Fort Worth District Council of the Urban Land Institute (ULI DFW). Thornton, a well-known North Texas leader in commercial real estate, succeeds retiring executive director, Pam Stein.
Thornton, who focused on urban redevelopment while studying at the University of Pennsylvania, helms E Smith Communities' social impact growth initiatives, including the 4315 Innovation Center in Southern Dallas.
There, "we're creating an education and wellness ecosystem," she previously told Dallas Innovates.
E Smith is partnering with tenants of the project to build and incubate talent, reinvest for future growth, and inspire users to thrive in a "healthy, creative, and conscious space," she said. "We are partners in the evolution of a community."
Her role at ULI DFW gives the real estate exec an "opportunity to deepen the impact" of the organization as it engages with new constituents in the Dallas-Fort Worth. she said in D CEO.
"I am excited to lead us in this next chapter."
---
Wednesday, Sept. 1
"Our area is really on the stage as an important actor in this episodic race."
Luca Maddalena
Aerodynamics Research Center Director
UT Arlington
…on the future of space exploration in North Texas, via American Inno.
Texas has longtime held its status as a hub for space technology, but the industry has changed in the past few years. Today, entrepreneurs and innovators across the state are playing a crucial role in building software, rockets, satellites, and everything in between. SpaceX and Blue Origin have launched shuttles from sites in Texas, making headlines.
Reports from Houston Inno, NTX Inno, and Austin Inno have been interviewing these aerospace innovators to dive into what the space race looks like in each city.
In North Texas, the report notes Richardson-based Firehawk Aerospace, which collaborates with NASA and makes customizable rocket engines. Earlier this year, it relocated from Florida. The team expects "the International Space Station to replace a commercial space station by 2030."
It also points to EXOS Aerospace, a reusable space vehicle maker that's focusing on orbital air launches. The reporters write that EXOS is planning to relocate its HQ from Greenville to McKinney and hire hundreds to support the move.
And, Astrapi Corporation is using its technology for spiral-based modulation with varying amplitude. The company aims to provide better data transmission, networks, and signals in deep space.
You can read more about what's going on in the North Texas space scene here, along with Houston and Austin.
---
Tuesday, August 31
"I cannot think of another time in human history where the energy business was being disrupted so significantly. Disruption breeds value creation."
Ashley Zumwalt-Forbes
Co-Founder and President
Black Mountain Metals
…on the opportunities disruption brings to energy, via Dallas Business Journal.
Focused on electrification, Fort Worth-based Black Mountain owns and operates battery metals mines in Western Australia. But that's just one business. Black Mountain Exploration owns 17.7 million acres and 11.5 trillion cubic feet of gas in the same region, the DBJ reports, and Black Mountain Carbon Lock sells carbon credits.
But back to the mines: Zumwalt-Forbes says that you can't drive that slick new EV without someone doing a little digging first.
"Something that people don't appreciate is that with an electric vehicle, or with renewables, or electrification, the fuel is no longer hydrocarbons, but it doesn't mean it's just grown. You actually have to mine it," Zumwalt-Forbes told the DBJ. "There's a saying in the mining business that if you can't grow it, you've got to mine it."
She believes energy transition is creating a wealth opportunity like nothing seen in a hundred years.
"It's very rare that you see the entire basis of industrialization go into upheaval. I think that's what we're seeing now with de-carbonization and the transition to electrification, renewables, also natural gas," she told the DBJ. "But I think it's incredibly important to look towards the future, say what does the future of energy look like, and how can I best position myself and my company to make money out of that and move the ball down the field?"
---
Monday, August 30
"We're hungry to add a World Championship to our trophy case in Texas with the new season of HCS and launch of Halo Infinite."
Mike Rufail
Chief Gaming Officer and Owner
Envy Gaming
…on Envy's involvement in the Halo Championship Series and working with Microsoft, 343 Industries, and the Halo team to design "a team program that builds a sustainable future for the title."
Envy Gaming has landed a coveted spot in a new league from Microsoft. Today, the Dallas-based esports group announced it was picked by Microsoft to relaunch the Halo Championship Series.
The esports and entertainment company helmed by Mike Rufail was revealed as one of nine organizations initially named to the new team partnership program for North America and Europe. The esports group was "one of the top professional Halo teams in esports competition from 2015-2018," Envy said in a news release.
Upcoming title Halo Infinite, the sixth installment in the "iconic shooter game franchise," has sold more than 81 million copies worldwide and is celebrating 20 years of gameplay this year, according to the team. The new video game launches on December 8, and HCS match dates will be announced later.
---
Friday, August 27
Chris MacFarland
CEO
Masergy
…on how his company—which was acquired by Comcast Business two days ago—flourished in its "best year in history."
This week, Comcast Business acquired Masergy—a Plano-based networking services provider—to accelerate Comcast Business' effort to serve more large and mid-size companies
In a company blog post last March about Masergy's "best year ever," MacFarland talked about how challenging times can help define a company.
"The pandemic may be an ongoing crisis, but I borrow from the wisdom of Andy Grove when I say that today's challenging times destroy bad companies, help good companies survive, and empower great companies to improve," MacFarland wrote in March.
"At a time when companies are embracing innovation in order to thrive and their IT teams are the catalysts putting the wheels of change in motion, Masergy stands a proven partner in helping an explosive number of them Transform with CertaintySM," MacFarland wrote in March. "And we've got the numbers to prove it."
MacFarland said he tells his children "It's not nice to brag," but that he was sharing the news of Masergy's best year "as a way to thank each and every one of our employees, customers, and partners."
He must be doing even more thanking—and why not, a little more bragging—after this week's big news.
---
Thursday, August 26
Martín Martinez
Executive Director
Founder Institute Texas
…on why the Founder Institute of Texas should be the first place they go, via NTX Inno.
After launching Founder Institute Texas in 2017, this year Martinez became the statewide executive director of the entrepreneurial training and support organization.
With chapters in Dallas, Houston, and Austin among 225 global branches, the institute's goal is to help entrepreneurs turn their business ideas into startup companies. The institute says its global alumni have raised more than $1 billion in funding.
The Texas chapters have graduated nearly 100 founders. Martinez told NTX Inno he expects the top state grads to begin raising Series A funding rounds in the next 18 months.
"The whole purpose of the program is to help first-time entrepreneurs or even second-time entrepreneurs figure out what not to do and execute quickly," Martinez added. "Anybody can be an entrepreneur. Basically, as an entrepreneur, you're creating a job and an opportunity for yourself… but to be a founder is to not just create a job for yourself, it's to create jobs."
---
Wednesday, August 25
Mark Cuban
Owner
Dallas Mavericks
…on the potential of artificial intelligence, via Twitter.
"There are are 2 kinds of companies in the world," Cuban also said in his tweet. "Those who originate their own AI successfully, and everyone else."
"The top companies are AI [dominant] and running away from their Non-AI competitors," he added.
Like many Twitter threads, the best part is the comments beneath his tweet. When Cuban speaks, people listen. And a lot of them want to get in on the conversation.
---
Tuesday, August 24
Joseph Vranich
President
Spectrum Location Solutions
…on why California businesses like moving to Texas, via the Dallas Morning News
Vranich co-authored a study that shows California companies are moving their headquarters to Texas at more than four times the rate of our state's nearest competitor.
From Jan. 1, 20218, to June 30, 2021, a total of 114 California corporations relocated to Texas, the study shows. The state claiming the second-most California HQ moves in that period was—somewhat surprisingly, at least to us—Tennessee, which nabbed 89 relos.
Forty-one of the 114 HQ moves to Texas set up shop in North Texas, DMN reports. Austin snagged 57, Houston got only nine, and San Antonio claimed six.
Vranich himself moved his company out of Texas three years ago, resettling it in McKinney.
"Regulations per se are not bad," Vranich told the DMN. "But having some stability in knowing what they are, how much they might change, that stability is evident in Texas."
Just last week we reported one of the biggest such moves in recent years: AECOM shifting its HQ to Dallas.
---
Monday, August 23
"We have always encouraged employees to feel empowered to make decisions without being afraid to take risks."
Roger Raley
President
Alpine Advanced Materials
…on challenging established industries to change decades-old methods.
That mindset is key as Raley continues to lead a team of engineers developing HX5: a lighter, faster-to-produce alternative to aluminum for aviation, defense, space, and more. It could be key to making space flight more possible and more affordable—and alleviating issues of carbon emissions in aerospace and defense.
With the exclusive global license to HX5, which was designed by Lockheed Martin Skunk Works, Alpine works with its clients to design and manufacture stronger and lighter components. The material represents more than a decade of testing and validation and an R&D investment of more than $50M.
But Alpine has already made a name for itself by commercializing high-performance materials originally developed and qualified by defense contractors to withstand conditions in extreme environments.
It's part of holding company Catalyze, which works with defense companies to unleash the full value and potential of their investments. To Catalyze Co-Founder Tricia D'Cruz, Alpine has made incredible headway—she told the DBJ the pandemic accelerated plans to expand to other markets.
That momentum was supported by a $5 million investment that Alpine announced today. The funding is part of an effort to raise $8M, per the DBJ, to boost efforts in commercial aerospace.
In response to the devastating impact of COVID-19 on travel, the company looks to partner with commercial airlines to help lower their costs for future air travel.
---
Friday, August 20
"Homebuilding is just about dead last in adoption of digital."
Dave Flitman
CEO
Builders FirstSource
…on changing the game around digital for the industry, via the DMN.
"There's not a whole lot that's changed in homebuilding in 150 years. Lumber is still the core of the home," Flitman says. Given Builders FirstSource's size and scale, he thinks the company can be on the forefront of that.
Dallas-based Builders FirstSource is now the nation's largest supplier to the homebuilding industry because of its demand and strategic acquisitions. Flitman told the DMN he's "bullish on the building materials business"—and says the company is positioned to "capture a disproportionate amount of the industry growth for a long time to come."
The DMN reports that Builders FirstSource closed a ~$2.5 billion deal this year for a merger with a competitor, BMC Stock Holdings. As part of the deal, CEO Chad Crow retired and Flitman, BMC's then-chief executive, took over and moved to North Texas. The merger led to the company's status as an industry leader, with combined sales of $11.7 billion last year.
The company also recently acquired WTS Paradigm, an expert in millwork, which Flitman thinks can take Builders FirstSource to the next level—especially in terms of digital. He sees an opportunity to take a blueprint, do a structural design, and then do an estimate for customers. But he says it's not as simple as pushing a button and making that happen.
"We think we can make it a lot easier to do business with us. It's a big play, but it's an investment in the future," he told the DMN. "I don't know whether it's one year, five years, 10 years, but digital is coming into this industry in a big way. We've got a five-year time horizon in our thinking around what we can do with Paradigm."
Given the strength of Builders FirstSource's footprint and the relationships the company has with customers, Flitman thinks he and his team are positioned better than anybody to help drive the digital outcome. "I think that may be one of the bigger changes you see in this industry in the next [decade]," he said.
Go here to read more of the DMN's conversation with Flitman, which touches on the building material industry, supply chain constraints, labor shortages, and business consolidation.
Thursday, August 19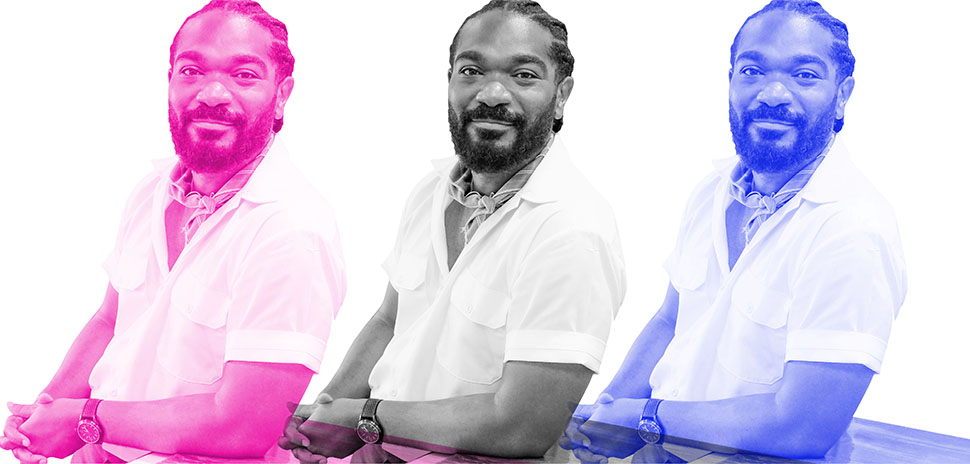 Jonathan Morris
Entrepreneur and Host
Magnolia Network
…on his latest 'passion project,' Hotel Dryce, via Art & Seek.
Hotel Dryce is the culmination of Morris' work to transform a former dry-ice factory into Fort Worth's newest boutique hotel.
Set to open this Friday, the 21-room hotel is located across from Dickies Arena in the Cultural District. Inside is a chic lobby bar and café, courtyard with a dry ice pit, and work from local BIPOC artists.
Morris and his business partner Allen Mederos told Art & Seek that they "kept things local" for the project. Bennett Benner Partners, a Fort Worth architecture firm, provided the design and local art gallery Art Tooth acted as a partner for the exhibited displays.
"What we wanted to evoke was a very authentic version of what Fort Worth is," Morris said during a hotel preview. "Something that locals would recognize and was not necessarily a caricature of the city."
Morris hopes Hotel Dryce will be a local gathering place to express who Fort Worth is: "Funkytown, Cowtown and Panther City." That mindset earned him a spot on Forbes' list of the year's most highly anticipated hotel openings in the world.
In addition to co-developing Hotel Dryce, Morris owns Fort Worth Barber Shop and hosts "Self Employed" on Chip and Joanna Gaines' Magnolia Network, in which he visits entrepreneurs across the country.
He was also one of our Future 50 in Dallas-Fort Worth in Dallas Innovates 2021 magazine: The Resilience Issue.
---
Wednesday, August 18
"Electrifying roadways and automated/connected vehicles will soon transform our day-to-day lives."
Dev Rastogi
Vice President
AECOM
…on some of the exciting new technologies on the horizon that AECOM is pursuing.
With AECOM moving its HQ to Dallas, we looked back at one of Dallas Innovates' 2021 Future 50 innovators, Dev Rastogi. She's leading two major infrastructure game changers—Hyperloop Texas and Automated Bus Consortium—that could redefine transportation.
Rastogi also oversees the company's Dallas Cities program, which addresses issues such as climate adaptation and sustainable economic development.
"I'm excited about the prospect of infrastructure stimulus funding to help with economic recovery and expedite big-idea projects," she told us last winter. "It will be great to see our transit agencies and airports 'get back to normal' and continue their hard work of creating our better normal."
Rastogi's "last word" about electrifying roadways and automated vehicles shows that AECOM is doing more than focusing on Hyperloops and High Speed Rail. The now-Dallas-based global giant is out to transform life as we know it in a whole myriad of ways.
You can read more insights from Rastogi here.
---
Tuesday, August 17
"I don't manage people, I manage the problem. I manage the process, I never manage people."
Shar Dubey
CEO
Match Group
…on her management style at the company with the largest global portfolio of online dating services.
Dallas Innovates recently profiled Dubey and her lifelong journey to the top post of Match Group. We were particularly struck by her words above about managing problems, not people.
"Society constantly thinks that the CEO has to have all the answers and that we have to be able to tell people what to do," Dubey says. "I totally disagree with that premise."
To Dubey, good leadership is about the power of influence. You should know how to mobilize a group of people to come together around one idea, vision, or mission—and execute to completion.
You can read our story here.
---
Monday, August 16

"I believe gardening grows gratitude—gratitude for wellness, gratitude for the planet, gratitude for the community, and gratitude for all the farmers who make food available to us every day of the year."
Donna Letier
Co-Founder and CEO
Gardenuity
…on the mission behind her do-it-yourself gardening kit startup, via NTX Inno.
Gardenuity is a Dallas-based e-commerce startup launched in 2016, which sells do-it-yourself gardening kits with a patent-pending algorithm matched to zip code and season.
The result, Letier says, is a 90% success rate.
"We have a love for technology, we have a love for wellness," Letier told NTX Inno. "I come from retail… so we really looked around and felt like there was an opportunity in this category to bring it to meet today's consumers where they are."
Last year, Dallas Innovates wrote about how Gardenuity and Alto worked together to deliver gardens to North Texas homes during the lockdowns.
NTX Inno says Gardenuity is in the midst of a $4 million fundraising effort, "its first besides an early friends and family round."
The company has been cultivating its B2B business, with an 85% rebooking rate from corporate sponsors like Toyota, Uber, Cigna, and Salesforce, NTX Inno says.
That leaves room for even more gratitude. Happy planting!
---
Friday, August 13
"We believe in people and the dignity of work."
Mike Kinder
CEO and Co-Founder
Veryable
…on how his company's platform helps workers optimize their economic needs against personal priorities like family, school, and more.
We wrote Tuesday about Veryable's $31.9 million Series A fundraising round and its goal to revitalize the $2 trillion U.S. manufacturing industry.
Veryable's core industrial tech serves as a marketplace for on-demand labor, empowering manufacturing, distribution, and logistics companies to quickly hire gig workers as needed. These businesses can flex their capacity up and down according to demand.
That gives workers more options for when and how they work, allowing tens of thousands of independent workers to use their skills flexibly and with upward mobility.
"The Veryable platform allows people to construct work schedules where they can optimize their economic needs against other big priorities such as family, school, community, freedom, and independence," Kinder said in a statement.
"We're providing a technology that allows companies to capitalize on the main way to win. At the same time, we're giving a lot of people the ability to rise up, build skills, demonstrate progression, and make good money," Kinder previously told Dallas Innovates. "Manufacturing is still very much about people at its core."
---
Thursday, August 12
"This would be a big win for the region and Texas. And it's the tip of the electric iceberg coming to Texas and Fort Worth."
Brad Hunstable
CEO and Co-Founder
Linear Labs
…commenting on the Bloomberg report that Amazon-backed Rivian, the Irvine-based electric vehicle startup, could potentially invest around $5 billion to build a factory near Fort Worth, via LinkedIn.
"I've said it for a few years now—Fort Worth is becoming the home of Electrification and Energy 2.0," Hunstable shared on LinkedIn.
He has indeed. We first heard the CEO tackle the topic in a lightning talk at the Venture Dallas conference in 2019: "We have an opportunity to be the electrification capital of the world," he said at the time.
Hunstable's own Fort Worth-headquartered company, smart electric motor maker Linear Labs, is expanding its manufacturing capabilities and employee base. The fast-growing startup raised a $6 million round of funding last fall on the heels of an announced public/private partnership with the city of Fort Worth, which was approved in June 2020.
That agreement included an economic incentive package worth up to $68.9 million to create a smart electric motor manufacturing facility with advanced automation and a research and development facility in Fort Worth.
---
Wednesday, August 11
"Entrepreneurs are by definition dreamers bringing forth new ideas and new ways of doing things."
Bill Capuzzi
CEO
Apex Fintech Solutions
…on being an Entrepreneur Of The Year 2021 Southwest Award Winner.
At Apex, Capuzzi says, he and his team believe the "world of investing needs to change and evolve with the times." To do so, they seek to empower like-minded companies to help bring their biggest ideas to life—"and spark this evolution in traditional finance."
Apex calls itself "the fintech for fintechs." The Dallas-based company, which made news earlier this year when it announced plans to go public via a merger with blank-check firm Northern Star Investment Corp. II, offers a suite of solutions to create an environment where companies can use financial technology to "change the world."
In May, Apex announced it was launching a new product to give investors immediate access to funds when they sell U.S. equity securities. Customarily, investors have to wait out a two-day settlement period before accessing funds. Apex believes the required settlement period "has lagged behind" evolutions in finance, so it's stepping in to change that.
Capuzzi says he and his team work tirelessly to spark change and revolutionize the financial industry. It's those efforts that led the CEO to be named an Entrepreneur Of The Year 2021 Southwest Award winner by EY—the program is one of the preeminent awards for the founders and leaders of high-growth companies.
EY recognizes them as building and growing successful, dynamic companies that can help "catapult us from now to next—and beyond." You can meet the other 2021 Southwest Award winners here.
Capuzzi and the rest of the winners are now eligible for the Entrepreneur Of The Year 2021 National Awards, which will be announced in November.
Tuesday, August 10
"Any question that someone has, you should already have an answer."
Panna Sharma
Lantern Pharma
CEO, President and Director
…on one of his four secrets to turning a startup into an IPO.
Last week we wrote about advice Sharma shared at Dallas Startup Week on how to turn a startup into an IPO.
After playing a part in four IPOs and being involved in five public companies as CEO, CSO, or board member, he had four key secrets to share:
1 :: The power of purpose. "One of the most important things when you decide to take a company public is not your VCs," Sharma said at Startup Week. "It's not your board… It's your purpose. Why are you taking the company public?"
2 :: Build a support system. "Understand who's really supporting you and who will be able to spend time understanding and nurturing your vision as a public company."
3 :: Prepare, prepare, prepare. And prepare some more. "Every time you [IPO], it's a little different. You have to be audited, you have to have impeccable data room, you have to have all your files in order, you have to have all your patents ready to be reviewed, you have to have all employee matters organized. Then you have to properly spend time and money with the right legal and banking team to prepare. And you have to do all this with as minimal cost as possible."
4 :: Plan your milestones. Milestones look different for everyone. They can be about your portfolio, platform, investors, and many other things—they can even change. Failing to plan how, what, why, and when your company is reaching these major milestones is just planning for your IPO to fail, Sharma says. The key lies in communicating your expectations both externally and internally.
---
Monday, August 9
"Impossible today is just a future low bar."
Dave Copps
Worlds
CEO and Co-Founder
…on how to always come at business with the idea of "it's possible."
Copps and his partner Chris Rohde founded Worlds, a Dallas-based spatial artificial intelligence company that's reinventing how organizations see and understand their worlds through live, AI-powered models.
Last week he took the stage at Dallas Startup Week to discuss the importance of company culture. He shared seven mindsets for creating abundance in startups:
1 :: Live life as a creation. "Live in a way that's not empowered by the past or empowered by circumstances," Copps said.
2 :: Perfection is the enemy. Pursuing perfection is like teaching a bear karate: It's hard to do and if you succeed, it kills you.
3 :: You're always winning the game you're playing. The things that are happening in your life and business are because of a game you're playing. Change the game and you can create a different result.
4 :: Stand for the greatness of others. "Expect greatness in people and watch what manifests in them, and stand for their greatness."
5 :: Your situation is not your fate. "Whatever situation you're in, know it is temporary."
6 :: It's not about you. See yourself through the lens of others.
7 :: Come from "it's possible." Copps believes this mindset is key. "Something is only impossible until it isn't," he said. READ MORE
---
Friday, August 6
"Across the nation, Americans innovate every day."
Eddie Bernice Johnson
U.S. Congresswoman and Chairwoman of the House Committee on Science, Space, and Technology
…on how science should harness the ingenuity of underserved communities, via the Dallas Morning News.
As U.S. jobs continue to bounce back strong, it must be noted that not all communities share the same opportunities. Congresswoman Johnson's recent column in the DMN bears another look for her belief that STEM education and other resources can empower underserved communities—and help create a whole new generation of leaders.
"…Innovation and ingenuity do not occur only in our national labs, universities, or scientific agencies," she wrote in her column. "A major source of our society's capacity for creativity and ingenuity, in fact, lies among underserved communities and communities of color."
"Their enterprising spirit and thirst for knowledge to build a better future for all are strong, and expanding opportunities in STEM, or science, technology, engineering and math, will help them to fully harness that ability and drive."
One school that will carry that mission forward now bears Congressman Johnson's name.
"Last year, I was honored that the new Wilmer Elementary School was dedicated in my name as Eddie Bernice Johnson Elementary School. And last month, I was proud to learn that Eddie Bernice Johnson Elementary School has officially received approval to become an innovation choice school for STEM education."
"We need to remove barriers so there are fewer firsts and more celebration of the norm, of girls and boys from all walks of life succeeding in academia," she wrote. READ MORE
---
Thursday, August 5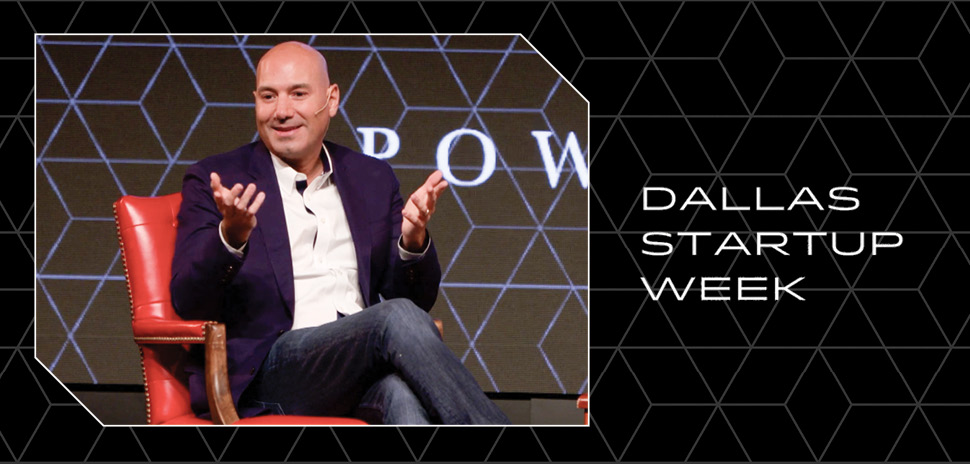 "There's so many great things that Dallas has to offer. It's just conncting the dots."
Abe Minkara
Founding Partner
Legacy Knight
…on how startups in Dallas should stay in Dallas—especially if they're ready to start finding funding.
As the founding partner of Dallas-based multifamily office Legacy Knight, Minkara helps manage the portfolios of high net worth families, and provides advisory services as well.
Minkara had experience in the entrepreneurial space, especially having worked with Dallas' most famous face on the startup scene: Mark Cuban. Today, he's actively engaged as an advisor and board member with a number of companies, lending his expertise on strategy, operations, and capital allocation to assist in accelerating growth.
He also did so at Dallas Startup Week—which came to a close today—as this year's keynote speaker.
Minkara, who has been a local for around two decades, thinks the key to Dallas is the community and the ecosystem.
Dallas has one of the largest numbers of Fortune 500 companies with headquarters in its area. Use them, Minkara says: Some have venture groups, some are potential customers, and some have mentors and advisors ready and able to lend a hand.
As an entrepreneur, the more you understand what your community has to offer, the more you can be strategic about your approach. Yes, your core focus should be on building your product or service, growing your business, and finding clients. But it's also about immersing yourself in the startup world, he says.
"Every strategic need—from your client to investor—is here," Minkara said. "They're all here. There are no gaps."
---
Wednesday, August 4
"The size and dynamism of the Texas economy make it an ideal place to host innovative companies working on blockchain and other emerging technology solutions."
Lee Bratcher
Texas Blockchain Council
…on TBC's aim to ensure that our state regulatory environment supports that.
Bratcher, who teaches political science and directs the master's program in international studies at Dallas Baptist University, helped launch the Texas Blockchain Council (TBC) in early 2020. After less than 18 months, it's helped moved Texas forward in big ways.
The council wants to make Texas "the jurisdiction of choice for blockchain innovation." Two big steps to make that a reality happened in the recent Texas Legislative session with the passage of HB 1576 and HB 4474.
Bratcher and the council worked closely with Representative Tan Parker and Senator Angela Paxton to help guide both bills to Governor Abbott's desk.
"We exist to amalgamate the influence of our members, to advocate for blockchain-centric public policy initiatives, to educate members of government about the benefits of blockchain technology, and to provide subject matter expertise on topics related to blockchain and distributed ledger technology," Bratcher said.
Today, it was announced that the Texas Blockchain Council will be setting up shop in The IQ, which is known as Richardson's 1,200-acre Innovation Quarter that houses innovative tech startups.
Texas Blockchain Council has established its headquarters in The Drawing Board building at 1900 Jay Ell Drive, which will be completed in early 2022, per the DMN.
Bratcher said the Drawing Board was a "natural fit" for TBC's first office.
The city of Richardson announced last month that it was planning to grow The IQ to new heights, making major moves in the district "where big ideas and groundbreaking technology will be taking place."
---
Tuesday, August 3
"I don't see a 'day of reckoning.'"
Kyle Bass
Founder and Principal
Hayman Capital Management LP
… on the impact of GDP and debt on the tech, startup, and business world, via a Startup Grind discussion at Dallas Startup Week.
"When the central bankers move down the path that they're on, there is no day where they wake up and say 'Gosh damn, I took the wrong turn back there now … I'm going to go back and I'm going to tell everyone you need to really tighten up your spending and we're going to have a kind of Darwinian flush, and we're going to start over again.'" says Bass, founder of Dallas-based hedge fund Hayman Capital Management.
"That's never going to happen."
Bass, who spoke with Startup Grind's Lee Blaylock today at Dallas Startup Week, says the central bankers won't ever let things "get completely out of hand, let's just say."
But he notes challenges: Bass thinks the purchasing power of our savings is going to be diminished over time. "The fight that we all have, from this day forward, is fighting real rates of return being negative, right, if your cash is earning zero. And there's 12% inflation you're losing 12 percent a year, so you need to be thinking about it," he says.
Figuring out how to fight that fight is important.
Still, Bass was in good company in the room full of entrepreneurs. He sees plenty of reasons for hope: "You just think about the top companies in the world and where they started."
The U.S. has the human capital that knows how to innovate and grow companies, Bass says. "Dallas is finding more and more of those people all the time."
---
Monday, August 2
"Everybody wants to be an AI."
David Evans
Managing Partner
Sentiero Ventures
…on how investors are thinking about AI, via a panel discussion at Dallas Startup Week.
Evans, who helms Sentiero Ventures, told entrepreneurs touting AI to "keep it out of the pitch deck," presumably only half-joking. Seriously, he advises: Don't call yourself "AI for X" if you're not an AI company or an AI product.
While Sentiero invests exclusively in AI, he's looking for tech that makes "your solution faster, more efficient, more differentiated, or in some cases, makes it even possible."
Evans explains that "if you really want to gain traction and you're pitching an AI-based company with AI in the mix, let it happen naturally as part of your product." Demonstrate how your product differentiates, "but don't try to club people over the head because everybody is now an AI company … and then say 'oh hey, we're throwing in blockchain.'"
Those are just buzzwords.
Sentiero, which Evans says does AI "all day, every day," announced its first investment from its $10M AI-focused fund in June.
---
Friday, July 30
"We've been looking forward to putting these vehicles up against the Dallas and Fort Worth summer heat."
Ross Rachey
Director of Global Fleet and Products
Amazon
…on the test of Amazon's custom electric Rivian vans, now making deliveries in Fort Worth.
Last week we wrote that Amazon has begun testing custom electric vans on delivery routes from its Southwest Fort Worth station.
Amazon says the vans—designed and build in partnership with EV startup Rivian—went from sketch to design to on-road testing with customer deliveries in just over a year.
"From what we've seen, this is one of the fastest modern commercial electrification programs, and we're incredibly proud of that," Rachey said in a statement.
Why the rush? Amazon says climate change doesn't allow it to sit back and be passive. Amazon made a commitment to be net zero carbon by 2040, and believes electrifying its fleet will help get them there.
The company says it will build on the momentum of its current tests as it heads into full scale production.
---
Thursday, July 29
"Most people settle when turning on the remote. Video should inspire, not kill time."
Bart Weiss
DIrector
Dallas VideoFest
…on the legacy he leaves behind after 35 years of helming the VideoFest.
From his days as a "VJ" at On the Air bar on Lower Greenville in the early 1980s, Bart Weiss has been Dallas' greatest champion of video arts, films, and experiences. In 1986 he gave video's early promise a boost by launching Dallas VideoFest—an annual showcase of offbeat works of visual art and film.
Now, after 35 years of VideoFests—which tracked the staggering arc of the medium from low-res shoulder cams to movie studios you can slip in your pocket—Weiss has announced that VideoFest will soon be no more. His last, four-day festival will begin its run on Sept. 20th.
Last week we reached out to Weiss to see how his announcement landed; how video has changed since the days of Devo and the Pet Shop Boys; the moments he'll never forget; and the legacy he leaves behind. Read the story here.
---
Wednesday, July 28
"It's a time of peril and possibility."
Jim Coulter
Managing Partner
TPG Rise Climate
…on the challenges and opportunities of global climate solutions.
Carbon, prepare to be crushed. Yesterday Fort Worth- and San Francisco-based TPG Rise Climate announced it had raised $5.4 billion in subscriptions to its inaugural fund. The goal: invest in entrepreneurs and businesses building climate solutions around the world.
TPG Rise Climate ultimately plans to raise $7 billion in total capital commitments by end of this year from some of the world's largest institutional investors and more than 20 leading companies.
"Climate change is a societal risk but also a generational investment opportunity," Coulter said in a statement. "Leveraging our deep experience in impact investing, we believe TPG Rise Climate can play a positive role in catalyzing capital to combat climate change. The partnership of leading investment institutions and major corporations funding TPG Rise Climate signals a growing business community commitment to engaging in this existential issue."
The five key sectors TPG Rise Climate will focus on include clean energy, enabling solutions, decarbonized transport, greening industrials, and agriculture and natural solutions. READ MORE
---
Tuesday, July 27
"If innovation is the lifeblood of Frito-Lay brands, insights are the oxygen."
Rachel Ferdinando
SVP and CMO
Frito-Lay North America
… on making innovation your secret weapon.
You can't get those insights by sitting back and waiting for obvious trends to announce themselves. Instead, you need to get ahead of the curve. Identify something you can leverage in a way that will make a real splash—and cause some buzz of your own.
Rachel Ferdinando and her teams at DFW-based Frito-Lay North America do this by going deep. To truly understand their consumers, they get immersed and obsessed with what they're doing. One example: people were pulling randomly shaped Cheetos from their bags that looked like Abe Lincoln, the Eiffel Tower, or the Loch Ness monster. They'd send photos to Frito-Lay, post them online, and even try to sell their prized Cheeto.
Since fans were already doing this naturally, Ferdinando and her team leveraged it into a platform to showcase and engage with it.
The result: The Cheetos Museum, which opened for the summer of 2017 in the Ripley's Believe It or Not! in New York's Times Square.
The museum stunt was a crazy success. How crazy? Someone ended up paying $99,900 on eBay for a Cheeto that looked like Harambe the gorilla.
Go here for more timeless advice on how to "Innovate or Die" from the CMO and Margaret Jonson, chief creative officer of Goodby Silverstein & Partners.
---
Monday, July 26
"Laundry is dumb. Nobody should have to do it."
James Chandler
Founder and CEO
Laundry On Demand
…on why he launched his laundry outsourcing startup.
Chandler says people hire someone else to mow their lawn, change their oil, and mop their floor. Why not get someone to do your laundry, too?
When he owned a laundromat with his wife Laura, he got tired of quarters getting lost in dryers and his low-profit, high-effort management experience. So he pivoted and started a pickup and delivery laundry service. It worked so well he sold the laundromat last year and used the profits to help launch Laundry on Demand.
The app-powered startup is a peer-to-peer business, a kind of Uber of laundry. Wash-and-fold experts—Chandler calls them "laundry pros"—are vetted, trained, then connected with nearby customers. The pros pick up laundry in their own vehicles, do the laundry themselves, then deliver it the same day, clean, fresh, and drawer-ready.
Currently operating in Dallas-Fort Worth, plans are on pace to expand in the next quarter to Houston, San Antonio, and Austin.
Want a piece of the action? You can buy a small-business bond from Laundry On Demand on the SMBX platform.
---
Friday, July 23
"If you have other people around you co-creating, you'll want to co-create too."
Romelia Flores
Distinguished Engineer and Master Inventor
IBM
…via Forbes
IBM's Romelia Flores has an astounding 76 patents to her name with 15 others pending. So when she talks about creating things, people listen.
She told Forbes Magazine that being a mentor to people of all ages and backgrounds keeps her inspired—and hard at work on new things.
""What I find is that it keeps me moving forward in the right direction because I'm learning from all of them," she told the magazine. "What better way to strengthen your network than to be mentoring a lot of different people, leveraging their skills and expertise."
"They give me different perspectives on things, and I think it's brilliant to learn from each other," she added. "Having a network to collaborate with is really, really important. It's your creative ecosystem for co-creation."
She offered Forbes five tips for getting people to work together:
Get everyone on the same page: "it's all about being collaborative, having co-creators working with you side-by-side, sharing in ideas."
Don't be afraid to compete: "At IBM, I worked with a certain colleague and it was generally viewed that we were competitors," Romelia told the magazine. "He'd come up with an idea, and I then had to one-up his idea, and then he would one-up my idea… Don't be afraid of that."
Leverage new tech: "Imagine the world in a new way and be confident about new technologies that are coming our way so we can embrace them in the right way."
Refine, refine, refine: "Once we get some of those crazy, absurd ideas, we trim them down a little and we say, 'How would we make this feasible?'"
Get the right people involved: "Working with IBM teams, I'll say to them, 'Why don't we get the clients together and talk to some of their executive stakeholders to see how interested they are at running the session?' … "They need to be the ones driving and convincing their teams they need to utilize these design thinking approaches."
---
Thursday, July 22
Mike Ablon
Principal
PegasusAblon
… on the Southern Gateway Park via the Dallas Morning News.
Southern Gateway Park, a future deck park spanning I-35E in Southern Dallas, aims to turn "five acres of asphalt into a community green space" that can reconnect historic Oak Cliff.
An op-ed in the DMN notes, "this is not another Klyde Warren, which is why it will work."
While everybody wants a KWP, "stamping out exact copies won't work." Instead, Southern Gateway is taking a "ground up approach" in design and more.
Southern Gateway Public Green Foundation President April Allen called the project "infrastructure of opportunity," says the publication. Allen said the foundation has formed an advisory council with neighborhood stakeholders and committed to using neighborhood contractors for part of the construction.
Along with the foundation, public/private partners in the project are the City of Dallas, North Central Texas Council of Governments (NCTCOG), and the Texas Department of Transportation.
The Texas Department of Transportation could complete construction on the underlying deck in summer 2022. The foundation hopes to "start construction on the park amenities shortly after and aims to open to the public in late 2023."
Developer Mike Ablon is a Southern Gateway Public Green Foundation board member.
---
Wednesday, July 21
"Artists using technology is the way of the future."
Martha Peters
Director
Fort Worth Public Art
…on a temporary new media exhibition coming to Will Rogers Memorial Center, via the DMN.
"For our program to really reflect what's happening in the art world, we need to move with the times."
That mindset was the driving factor behind New Stories: New Futures, an exhibition born from a partnership between the Arts Council of Fort Worth and AURORA, the local public arts organization known for hosting downtown's biennial light and sound art festival.
Presented on Aug. 20 and Aug. 21 and curated by Dr. Lauren Cross, the "uniquely Fort Worth art exhibition" will feature historical and modern perspectives and stories of the region at the Will Rogers Memorial Center. Visitors will be able to tour local artists' pieces, which all have a wide range of new media approaches, highlighting their North Texas narratives. That coordinates with a massive outdoor video installation that's hard to miss from passersby.
On all four sides of Pioneer Tower, a video installation will be projected that's visible across Fort Worth's Cultural District and beyond. The DMN describes it as a "psychedelic light show" that challenges viewers to think differently about art and the future.
New Stories: New Futures is the first of four major public artworks commissioned by Fort Worth Public Art, the DMN reports, set around major places people gather in the area: the cultural district, downtown, the Stockyards, and the Trinity River. Fort Worth Public Art is a city initiative managed by the Arts Council of Fort Worth.
It's a temporary exhibition, but is now part of Fort Worth Public Art's collection. And, the Fort Worth City Council gave $930,000 in funding for the installation. The new media show could return.
"The whole idea is not only having a work of art of high caliber like that, but also having artwork that the public really associates with Fort Worth," Peters told the paper.
The two-day event is free, but be sure to reserve your time slot here.
Tuesday, July 20
"The theme of 2021 is #rebuilding."
Joe Beard
Co-Founder and CEO
CollateralEdge
…via LinkedIn
Beard says last year was especially hard on minority-owned businesses. He notes that, according to the Federal Reserve, 41 percent of Black-owned businesses, 32 percent of Latinx businesses, and 26 percent of Asian businesses shut down in the U.S. between February and April 2020.
Why were Black-owned business impacted at such a higher rate? Because they were undercapitalized to begin with, Beard says.
He quotes a recent Fed study as showing that many Black owners have "weaker bank relationships" that make it more difficult to obtain loans.
Beard says he's doing his part with CollateralEdge to help minority-owned businesses strengthen their banking relationships—and secure the funding they need.
---
Monday, July 19
"If you're going to grab a seat at the table—be prepared to speak."
Stephanie Chung
Chief Growth Officer
Wheels Up
…via Adweek's annual Women Trailblazers Summit
The former president of JetSuite, Chung became the inaugural chief growth officer of private jet company Wheels Up last August.
Wheels Up went public just last week after completing a $650 million SPAC merger. The first private aviation company to go public, it's listed on the NYSE under the ideal ticker symbol: UP.
Based in Dallas herself, Chung is helping New York-based Wheels Up grow its business. The company targets first-class and business-class passengers, offering them memberships to do part of their flying on private jets. Founder and CEO Kenny Dichter told CNBC that Wheels Up is "more like Uber and Airbnb than an airline."
Chung was a featured speaker at Adweek's annual Women Trailblazers Summit the very day Wheels Up went public. First she had a little errand to attend to: being part of the team that helped Dichter ring the bell to open the New York Stock Exchange.
Chung told AfroTech that her very first job was parking planes and loading luggage at Boston's Logan Airport. By age 25 she was doing field sales for US Airways, with a $25 million quota specializing in corporate sales.
She worked her way up the aviation ladder to become president of JetSuite before joining Wheels Up.
"Wheels Up is a fantastic brand," she told AfroTech. "It is, in my opinion, the most progressive, forward-thinking brand in private aviation," Chung said. "Wheels Up offers a total aviation solution that includes membership options, corporate solutions, or, perhaps as you go up the scale, if you want to buy a whole aircraft from us, you can do that if you want us to manage the aircraft."
---
Friday, July 16
"Decarbonizing the residential sector is critical to the future of our environment."
Brendan Wallace
Co-Founder and Managing Partner
Fifth Wall
Dallas-based Invitation Homes announced today that it has invested in Fifth Wall's Climate Technology Fund, which invests in climate-friendly technologies that address decarbonization across the global real estate ecosystem—everything from materials to construction to operations and revitalization.
"It's inspiring to see a leader in the residential space, like Invitation Homes, commit to the science and R&D required to make real estate more sustainable," Fifth Wall's Wallace said in a statement.
Invitation Homes is a leader in single-family home leasing. In addition to the investment, the terms of which were not disclosed, Invitation Homes says its sustainability efforts include the use of Smart Home technology, which helps save residents up to 15% on energy bills; water-saving landscaping; low-flow plumbing; electronic work orders to reduce paper waste; route optimization; and an air filter home delivery program.
---
Thursday, July 15
"Hiring is happening across the board, and competition for talent is intensifying. Simultaneously, job seekers are becoming more discerning when evaluating opportunities."
Paul McDonald
Senior Executive Director
Robert Half
"With these two forces at play, employers need to exceed candidates' expectations or risk losing them to better offers," "McDonald said in a news release this week.
New Robert Half research shows more than half of U.S. companies plan to add new positions in the second half of 2021.
Dallas—along with San Diego, Atlanta, and Los Angeles—tops the list of U.S. cities where employers expect to expand their teams, according to the study.
"Professionals with in-demand skills often have their pick of jobs," McDonald noted.
---
Wednesday, July 14
"Signings are the moment of truth in real estate, so there's nothing more important to agents than getting this process right."
Dan Fortin
Project Manager
Lone Wolf Technologies
…on the Dallas- and Cambridge, Ontario-based company's release of Authentisign.
You can't buy real estate without signing on the dotted line. The advent of eSignatures made that process easier for millions, and Lone Wolf has been a big driver of it. With more than 750,000 licensed users and 28 million signatures processed in 2020, Lone Wolf says its Authentisign solution is the most used and trusted in real estate.
Today the company announced it has "completely rebuilt and redesigned" Authentisign using cloud-based technology. The goal: giving real estate agents a faster and simpler signing experience.
The company worked on the redesign over the past two years, working with thousands of agents and administrative users for input and validation.
"Built into Transactions, the all-new Authentisign gives agents and their clients a simple and professional signing experience without unnecessary steps or explanations," Fortin added in a statement. "This is a massive upgrade for digital signatures, and for real estate agents in particular; and it's one that can't be found anywhere else."
---
Tuesday, July 13
"What if and why not?"
Ian Kinne
Director of Logistics Innovation
Hillwood
…on two big questions his company asks about innovation.
Last week we wrote about how AllianceTexas' Mobility Innovation Zone—"the MIZ"—is partnering with the Texas A&M Transportation Institute on a think tank for surface and air mobility technologies.
The next day two of our editors took a helicopter tour of AllianceTexas to see the MIZ for themselves, then got a briefing from Kinne on what's new and next there.
Our biggest takeaway: there's a lot more to come in the 27,000-acre innovation zone in North Fort Worth. Current projects include Bell's Autonomous Pod Transport operations, offering the first point-to-point unmanned aircraft system package delivery demo in North Texas. And autonomous trucking startup TuSimple is running operations from the MIZ throughout the "Texas Triangle" freight corridor. Other big projects lurk in NDA secrecy, including one we flew over in the unmanned aerial system proving ground.
Kinne filled a screen with a tantalizing array of other mobility projects and possibilities drawn up by his team and the MIZ's innovation partners.
What if, we wondered ourselves. And why not?
---
Monday, July 12
Dan Odom
Audit and Assurance Partner
Deloitte
via D CEO
Health tech investment nearly doubled last year, and a robust ecosystem "can offer an accelerated timeline that means startups need to move up an infrastructure curve at a faster rate," Odom writes in C DEO.
A recent Deloitte survey shows that health tech investment "will likely continue unabated in 2021, and many see the post-pandemic era as the start of a multiyear opportunity rather than a bubble," according to the Deloitte partner.
As one co-founder of a health-focused venture fund noted, Odom writes, "the health-tech funding infrastructure has been laid," and now that field stands at the "beginning of a trillion-dollar opportunity.
The North Texas marketplace stands to benefit.
---
Friday, July 9
"We aim to democratize AI solutions for retailer and CPG companies."
Sivakumar Lakshmanan
Co-CEO
Antuit.ai
…on the company's new innovation that aims to solv high-impact problems teams are constantly faced with.
To Lakshmanan, retail and consumer product companies are constantly faced with the 'build versus buy decision' when it comes to artificial intelligence.
He lays it out like this: "The build is a long process with high risk, accentuated by data science and technology talent shortage. On the other hand, out-of-the-box software is often looked at as inflexible and a black box."
Lakshmanan told Dallas Innovates in an email that Antuit.ai's newly launched AI Modeling Studio can address both these challenges with what he calls a "middle ground option"—ready to use software with a transparent AI layer that businesses can flex and improve.
The studio works by providing production-ready building blocks that are can be easily put together to achieve a business goal. Antuit.ai plans to focus on achieving high forecast accuracy that could improve inventory performance across an enire chain of stores.
"A retail company is leveraging our studio to modify and build new transformers to both test out new algorithms to improve forecast accuracy as well as quickly deploy the new algorithms into production, at scale," he says. And, since the platform is highly customizable, components can be seamlessly integrated. "If business dynamics change over time and if the solution needs tuning, the businesses don't need to rely on external company they can do it themselves."
You can read more about the launch here.
---
Thursday, July 8
"The demand, the imbalance exists, and it will continue to exist for a while. All COVID did was just put it on steroids."
Sheldon Arora
CEO
StaffDNA
…on the pandemic catalyzing the need for more employees at hospitals and healthcare facilities, via the DBJ.
StaffDNA launched its platform at the height of COVID, but since, it's taken off. The DBJ reports that the technology—an app that lets healthcare professionals search for exclusive jobs across the country and get all the details upfront without having to register—already has more than 15,000 downloads.
Arora, who also founded LiquidAgents, a healthcare staffing firm, launched StaffDNA to "create a new model" for nurses and allied workers looking for work. The Plano company is looking to do around 15 times its revenue of $2 million from last year, per the DBJ.
And, raise a $30 million Series A round. Arora told the publication the capital would assist with marketing, grow StaffDNA's downloads, and boost technology and hiring.
It wouldn't be the latest news this year for the young company. Last month, StaffDNA expanded its offering to include hundreds of permanent jobs across the country. Before that, the platform primarily focused on temporary assignments for nursing and allied professionals.
---
Wednesday, July 7
Rob Pace
Founder and CEO
HundredX Inc.
…on finding a way to pay millions to nonprofits by getting their supporters to do smartphone surveys about consumer brands, via the Dallas Morning News.
"I feel like the kid with the answer key," Pace told the DMN in a July 4th story about Addison-based HundredX. The former senior partner at Goldman Sachs and past national chairman of The Salvation Army is creating "data for good" in an innovative way.
"Instead of holding bake sales, washing cars or selling concessions at sporting events, a qualified nonprofit can typically earn two bucks for every smartphone survey that its supporters complete," he told the paper.
That can turn into big money. HundredX is paying $500,000 a month to nonprofits, and Pace hopes he can grow that pace to half a million per day.
Companies as diverse as San Francisco's First Republic Bank and the San Diego Padres pay subscription fees ranging from $100,000 to $1 million per year to HundredX, which has raised "multiple tens of millions of dollars in capital" in two investment rounds in the last two years, according to the article.
How it works: HundredX pays nonprofits to get their supporters to answer smartphone surveys about consumer brands and companies. HundredX then offers that "ethically sourced" data—protected by anonymous safeguards and privacy assurances—to brands that want insights into consumer thinking.
"The crowd is genius and often collectively much smarter than the experts," Pace told the DMN. "The beautiful thing about our data is that it's unfiltered, benchmarked to other companies, and it comes from normal people."
Tuesday, July 6
"Our vision is a world where no one's story goes untold…we hope to honor our U.S. veterans and the contribution and sacrifice they've made to our country."
Clint Lee
Co-Founder and CEO
OneDay
…on honoring WWII veterans as a new national partner of Dream Flights
Dallas-based video tech company OneDay announced a patriotic new partnership on the Fourth of July with Dream Flights—a nonprofit dedicated to honoring American's veterans and seniors living in retirement and long-term care communities.
Dream Flights' pilots are active-duty or retired military veterans who volunteer their time to fly WWII veterans in the country's largest fleet of restored Stearman bi-planes.
OneDay's partnership will allow Dream Flights to record the Dream Flyers' stories on video for the first time—and preserve them for posterity .
"We're incredibly honored to partner with Dream Flights to capture and digitally preserve the important stories and memories of these WWII heroes," Lee said in a statement.
---
Thursday, July 1
"This is the kind of thing that every city dreams about."
Jeff Williams
Former Mayor of Arlington
..on Bell Textron's deal with the Arlington Economic Development Corporation to build a 50,000 square-foot lab in Arlington, from the Fort Worth Star-Telegram.
Before leaving office due to term limits (new mayor Jim Ross was sworn in Tuesday), Arlington's former mayor celebrated the first agreement made by the Arlington Economic Development Corporation.
According to the Star-Telegram, city officials say the deal could create up to 230 full-time jobs with a median pay of $74,500, with Bell Textron expected to invest $22 million in the lab itself. You can read more in our story today.
---
Tuesday, June 29
"It's hard to walk a path nobody else has ever walked."
Rosebell Murigu
Principal and Founder
Capstone Medical Billing Holdings
…on being one of the very few women—and African Americans—to be doing what she is with her business, via D CEO.
"Is it difficult for me as a woman? Absolutely. Is it difficult for me as a woman of color? Absolutely."
Last year, Murigu created Capstone Medical Billing Holdings, an investment company that focuses on acquiring medical billings businesses. To date, it has already completed more than 450 transactions.
But though she's now settled down in Dallas, Murigu has a unique upbringing from most of her peers: She grew up in Kenya.
From a young age, Murigu told D CEO she knew the only way to make it in Kenya was to be educated. She would study with her feet inside a bucket of cold water so she didn't fall asleep—but today, she realizes that's what has made her disciplined and hardworking. she's thrived by using her nurtured instincts.
Though she doesn't know anyone else from Kenya who's trying to do what she's done, she feels a sense of obligation to encourage Kenyans, immigrants, and people of color to go into business.
"It's just a human thing to want to see someone who looks like you doing something that you're attempting to do," she told D CEO. "But I also know why most people probably haven't done it: It's quite difficult."
Now, her goal is to be the first self-made Kenyan American billionaire. It's a high goal, and she recognizes that, but Murigu mainly wants to achieve that dream to open up a door for those behind her, who might think they can't make it.
Monday, June 28
"A flying car might seem straight out of a Hollywood movie. But by partnering today with stakeholders across industries and agencies, we can set up the United States for this aerospace phenomenon."
Barbara Barrett
Former Secretary of the U.S. Air Force
…on the promise of EVTOLs like LIFT Aircraft's HEXA.
Texas-based LIFT Aircraft's HEXA is an EVTOL—electric vertical take-off and landing vehicle—designed as a recreational aircraft anyone can fly for $249 after a one-hour lesson. It's also won U.S. Air Force R&D contracts for air ambulance and autonomous cargo retrieval uses. Last August, then-Secretary of the Air Force Barbara Barrett took one up on her own in a manned test flight.
Last week we wrote about Dallas-area Qarbon Aerospace and its selection by LIFT to perform the complete system integration and assembly for HEXA. The story emphasized Barrett's enthusiasm both for the HEXA and its future Air Force missions.
LIFT plans to open locations nationwide in scenic, uncongested areas of San Francisco Bay, Miami, New York City, and yes, Dallas-Fort Worth. Customers will get safety training, flight controls instruction in a VR simulator, preflight checks with LIFT's ground crew, and a flight briefing from a "remote safety pilot." Then they'll fly HEXA solo in LIFT's geofenced, controlled flight areas for up to 15 minutes. Early bird flight reservations are available at LIFT's website for $199.
---
Friday, June 25
"The staffing model has been stagnant for more than 75 years and is inherently inefficient in today's world."
Sheldon Arora
Founder and CEO
StaffDNA
…on why he created his company that's built on a new staffing model: "We built one that is going to revolutionize the industry as we know it," Arora says.
StaffDNA Founder and CEO Sheldon Arora wants to help people find and manage jobs independently without recruiters or barriers.
The fast-growing startup launched its first-of-its-kind digital marketplace for the healthcare industry last year. Now the firm is releasing a permanent placement offering for nursing and allied workers.
It's the first digital marketplace that completely integrates with Applicant Tracking System (ATS) software, so professionals can directly connect with employers and receive real-time updates and feedback, according to the company.
The platform puts healthcare professionals in control, and does the same for facilities looking for staff, Arora says. "Hiring managers can find the candidates they want without going through agencies."
StaffDNA received an honorable mention in the 2021 Fast Company World Changing Idea Awards, and the industry keeps evolving, it says the company will continue to enhance its platform and marketplace model.
The StaffDNA app is available to download in the Apple and Google App Stores.
---
Thursday, June 24
"When times are hard for other businesses, we're presented with real opportunities."
Joe D'Cruz
Co-Founder and Co-Managing Director
Catalyze Dallas
…on having a model that 'struck a chord' in a year that brought many businesses to their knees.
In the last six months, D'Cruz has had more conversations about potential spinouts than ever before. Why? He thinks "heightened pressure on the bottom line makes the prospect of spinning out technology more appealing."
It's a family affair for the work the entrepreneur does at Catalyze. D'Cruz and his wife, Tricia D'Cruz, together serve as the founders and managing directors of the business, which works with defense companies to "unleash the full value and potential of their investments in innovation."
The Catalyze team uses a turnkey model—one that was developed through decades of experience and with a dozen clients—to help their partners see how their applications could be commercialized and widely applied. The end goal is a scalable business that delivers promising innovations, launches intellectual property, and achieves profit with low financial and reputational risk.
Two success launch stories you might be familiar with: Alpine Advanced Materials, which offers high-performance lightweight custom-engineered parts to the aerospace, defense, commercial, and recreation industries, and Metro Aerospace, a provider of certified 3D-printed components to the aerospace industry.
"Joe and I believe deeply that the power of entrepreneurship changes the world for the better—driving new ideas, technology, jobs and inspiration for future generations," Tricia D'Cruz says. "Catalyze Dallas is the epitome of that belief, acting as a literal catalyst to commercialize underutilized technology, continuing to create new companies and careers while fulfilling the promise of good engineering."
The husband and wife duo were recently named finalists for EY's Entrepreneur of the Year 2021 Southwest Award, along with business leaders from 38 companies picked by a panel of judges.
---
Wednesday, June 23
"
I'm a big fan of remote work, but there is no question in my mind that physical location and density is a powerful force. "Density" is the magic behind @CapitalFactory
."
Joshua Baer
Founder and CEO
Capital Factory
…via Twitter
In-person collaboration has another big fan. Baer's tweet today adds to growing momentum toward getting teams back together after a year-plus of pandemic disruption.
It seems to be paying off for Capital Factory. Just yesterday, we wrote how the company has entered into a collaboration with Dallas' C1 Innovation Lab, in partnership with Blue Cross and Blue Shield of Texas (BCBSTX), to bring the best next-gen services to BCBSTX members, customers, and its community.
The recently announced collaboration makes BCBSTX the first healthcare plan member to join the Capital Factory Innovation Council, a group that "connects the world's leading organizations with the most innovative startups and technology in Texas."
Austin-based Capital Factory is the state's most active early-stage investor and is known for being "the center of gravity for entrepreneurs in Texas." From its additional hubs in Dallas, Houston, and San Antonio, the startup accelerator hosts meetups, classes, and coworking for thousands of entrepreneurs, programmers, and designers. It also introduces founders to potential investors, employees, mentors, and customers.
---
Thursday, June 17
"If you can imagine it, and you can think it, you can make it happen."
Denny Darmo
Founder and President
Snipitz
…via Spectrum News
The Snipitz app gives content creators like Dallas-based Jeff Crilley, CEO of Real News Public Relations, the ability to give viewers a toggling multi-camera view of live podcasts.
"I think people like choices. To have endless choices in the palm of your hand, it's nirvana," Crilley said in the publication. "I imagine Mark Cuban is going to write this guy a big check."
Read more about Snipitz in our recent profile.
---
Wednesday, June 16
Dannetta English Bland
Chief Diversity Officer
University of North Texas
…on embedding diversity, equity and inclusion into UNT's system-wide goals, via the Dallas Business Journal.
"I feel like I'm a witness to it," she says.
On July 19, Bland will assume her position as UNT's first-ever chief diversity officer. She will work to recruit diverse faculty and staff, while ensuring student success.
UNT's system has two minority-serving institutions. Bland told the DBJ it also has a commitment to DEI—in Fall 2020, around 15 percent of students at UNT's flagship campus was Black, a 6.7 percent increase over the prior year. According to the DBJ, Asian or Pacific Islander students accounted for 8.4 percent, while one-fourth of the students were Hispanic.
It's a major step toward social equity at the Denton university. Bland hopes to embed DEI into UNT's broader strategic plans and goals, and she told the DBJ she hopes to assist in the recruitment and retention of diverse staff and professors.
Bland most recently was a senior manager at Deloitte for around 17 years. There, she advised Fortune 500 companies on their DEI strategies.
"Dannetta English Bland is an accomplished trailblazer in DEI strategy, and we are excited to have her join our leadership team to help build upon the UNT System's core belief that higher education should be accessible to everyone," UNT Chancellor Lesa Roe said in a statement. "Dannetta will help our system and member institutions find authentic ways to come together and affirm the value of our diverse students, faculty and staff."
---
Tuesday, June 15
"Our enjoyment of music, and the cultural rituals surrounding that enjoyment, is a complex and deeply social thing that engages more than just our ears."
Paul Burns
Inventor
Mixxim
…on bringing back the cassette with a new-age digital twist.
Dallas-based Mixxim has declared that the cassette is back—again.
Starting today, its high-resolution audio player is available on Kickstarter to give digital music lovers a "nostalgia meets modern tech" experience.
The high-resolution digital audio player, the fourth generation of Mixxim's MIXXTAPE, comes with an immersive, sound-rich experience that the startup says streaming services can't compete with. To Burns, the cassette is an iconic medium steeped in musical history. His aim is to offer something that people can feel, handle, and use together, while still holding on to that retro vibe.
So far his idea has been a crowd favorite.
The hi-fi digital music player MIXXTAPE first appeared in 2013, and was updated in 2017. At that time, it raised 1,215 percent in funding on Kickstarter in its first 30 days.
In 2019, Dallas Innovates told you about MIXXTAPE's third generation. It was one of only ten finalists at the 2019 CES Last Gadget Standing Competition.
The retro product design incorporated modern-day features like Bluetooth, OLED displays, touch navigation, and a rechargeable battery, and kept the old-school cassette tape look. Equipped with a "digital brain and an analog heart," MIXXTAPE allows easy navigation through music by using an OLED display and touch panel. You can listen to your favorite tunes through a headphone jack, by Bluetooth, or even a tape deck.
MIXXTAPE Gen 4 is a full, immersive, rich sound experience that avoids the audio compression of streaming music from your phone. It also comes with an engravable metal casing.
"It was imperative that MIXXTAPE not just be a digital music player that looked like a cassette. It had to actually play as a cassette," Burns says. "MIXXTAPE is all about the experience. In many ways, streaming can do the job more efficiently, but people recognize and relate to the feeling a cassette creates. It's more meaningful, it's more personal, it's the full experience that often gets missed with streaming."
---
Monday, June 14
Ray Ghanbari
CTO
Omnitracs
…on the dangers of distracted driving in trucking fleets.
Distracted driving is a rapidly growing epidemic with 3,142 fatalities in distraction-affected crashes in 2019, according to Omnitracs. That's a 9.9 percent increase from 2018.
Omnitracs is battling the epidemic with a line of intelligent driver-assist sensors and IoT solutions that identify the most dangerous driving hazards—and intervene with drivers before a catastrophic event occurs.
"SmartSense for Inattentive Driving+ addresses this problem head on using advanced technologies and analytics to keep our drivers safe and help all of us get home safely," Ghanbari said in a statement.
SmartSense for Inattentive Driving+ intends to proactively notify drivers when they are distracted or drowsy, providing immediate in-cab feedback for fleets both large and small.
The solution features two cameras built into a single unit, making for complete visibility of an entire cab that includes details of the driver's face, eyes, and hands to identify drowsiness, sleep, phone use, cigarette use, seat belt use, and other safety-critical behaviors.
You can read more about it here.
---
Friday, June 11
Governor Greg Abbott
…on signing a law for Texas to create a master plan for expanding the blockchain industry, via Twitter.
The Texas Department of Banking sent out an industry notice yesterday to "let state-chartered banks know that they have the authority to provide custody, or safekeeping, services for virtual currencies," per the DMN.
This means that if a customer holds some form of virtual currency in Texas, they can turn that responsibility to a third-party bank. The DMN explains that the bank can then store a copy of the key that accesses the digital currency (like for important documents) or the customer can fully transfer the currency to the bank.
It's not a new law, but the recent update means that the state has declared that existing law allows this. And, it could attract high-profile industry companies to Texas.
The news comes at a time when Gov. Abbott is expected to hold a signing ceremony for the "Virtual Currency Bill," which provides basic legal rules for cryptocurrencies. This would recognize the legal status of virtual currencies, the DMN notes. Texas would be the second state after Wyoming to do so.
---
Thursday, June 10
Anousheh Ansari
CEO
XPrize
…on her journey to becoming a self-made multimillionaire tech entrepreneur, via CNBC Make It's Behind the Desk series.
Ansari is today the CEO of XPrize, a nonprofit that hosts public competitions to encourage tech development that solves humanity's greatest challenges. But her journey to get there might sound surprising.
After a short stint at a D.C. tech company, Ansari and her husband founded Telecom Technologies Inc. in 1993 and sold it for an estimated $600 million in 2000.
Ansari, who is also co-founder and chairwoman of Richardson-based Prodea Systems, used some of the money to fund the first XPrize, putting up $10 million to "anyone who could create a spaceship that could safely haul a pilot and two passengers to the edge of space—then repeat the feat within two weeks."
The move made sense. It allowed Ansari to "find the most brilliant creative minds around the globe" as she was looking for a way to be a commercial passenger to space.
In 2006, she then lived her dream of becoming an astronaut by becoming the first woman and first Iranian to "pay her own way"—$20 million for a seat on Russia's Soyuz spacecraft—to travel to the International Space Station.
She attributes the feat to "a path of entrepreneurship": Her husband and family knew she didn't like to live a life of regret. "I don't think anyone took me seriously. They thought it's just childhood talk," Ansari told CNBC Make It. "They underestimated my persistence."
Her journey came full circle when she was appointed CEO of XPrize in 2018. Ansari's extensive experience has allowed her to not only shatter stereotypes, but make XPRIZE what it is today.
Recently, the organization partnered with tech mogul and Tesla CEO Elon Musk to launch the $100 Million XPRIZE Carbon Removal competition: a four-year global contest focused on solutions that can pull carbon dioxide directly from the atmosphere or oceans. It's the largest incentive prize in the organization's history.
You can read more about that here.
---
Wednesday, June 9
"It's becoming more and more clear that phase separation is an important organizing principle in cells."
Joshua Mendell, M.D., Ph.D.
Professor of Molecular Biology and Howard Hughes Medical Institute Investigator
UT Southwestern
UT Southwestern scientists may have found an unrecognized way for RNAs to regulate cellular processes like premature aging and neurodegenerative diseases. That could lead to new treatments and ways to counter symptoms.
The research may also shed light on how cells regulate other key functions, per a news release.
Dr. Joshua Mendell, a professor of molecular biology and a Howard Hughes Medical Institute investigator at UTSW, led the study published online today in Nature.
Mendell worked with Mahmoud Elguindy (above left), who is a student in UTSW's Medical Scientist Training Program, to uncover the role of RNA-driven "phase separation" as an organizing principle in cells.
The work, says Mendell, builds upon other UTSW scientist's findings, "uncovering how phase separation enables some RNAs to regulate the activity of proteins that they interact with."
---
Tuesday, June 8
"This is like the Apple Store for food."
… A Feed Me Pronto customer on the convenience store's glossy displays of healthy, organic, alternative offerings, via Paper City
Morgan Pieper got the idea for a better kind of convenience store in 2011, on business trips as an associate for Ernst & Young. "I became obsessed with convenience stores in other parts of the world," she told Paper City, "Their offerings were so clean, and their mentality was so different. I really wanted to bring that to the U.S."
That journey led Pieper to leave EY to open her dream concept: Feed Me Pronto, a store in Victory Park that reinvented convenience stores through a glossy, healthy lens.
"I decided to start my family at the same time I decided to start my business," Pieper recalls. "I couldn't wait for my family, but I also didn't want to wait on Feed Me Pronto. I actually did my capital raise pregnant, which was unique."
Instead of sad hot dogs circling on rollers and grimy, sticky floors, Feed Me Pronto looks "as if Wes Anderson painted a glossy, organic sheen over a 7-Eleven," as Paper City puts it. Instead of a Slurpee machine, Feed Me Pronto has taps of kombucha, acai, and organic cold brew. Even its wines are organic, including the store's private label, Drink Me Pronto.
The store offers healthy alternatives to things like Oreos and Cheez-Its. Its rosemary chicken salad and soups are all organic, and if you're looking for condoms or toothpaste, they're all natural too.
Feed Me Pronto is a rare industry example of a "c-store" where everything stocked is single-serving—while having a healthy, boutique quality that sets it apart.
The store survived the pandemic as an essential business for Victory Park. Now Pieper's looking to grow her business and bring healthy convenience food to all. Her next stop: a second location on Bell Avenue near Lower Greenville, in the works now.
---
Monday, June 7
"We didn't just jump in and check a box."
Bob Sulentic
CEO
CBRE
…on the company's long process to be meaningful in the community and industry to show a greater depth in inclusion, via D CEO.
As the leader of Dallas-headquartered CBRE, the world's largest real estate firm, Sulentic has helmed the company's strides toward fostering an equitable space for employees, clients, and shareholders.
The commercial real estate industry has lagged when it comes to DEI, but it's in the process of catching up, Maria Lawson writes in D CEO. Sulentic himself encourages diverse people to get in positions for promotion. Currently, CBRE's board has seven members of diverse backgrounds, and the executive committee has six diverse members out of 14. It's a big change from 2017, when the leadership team was entirely made up of white men.
"It's just foolish to not attack the entire population of potential people, leaders, and others if you're not inclusive in terms of who you bring into the company," Sulentic said in a conversation with D CEO editor Christine Perez.
"We have people from around the world, people from different ethnic backgrounds, people who came from outside of the real estate industry. And I think the prospects for our company have changed dramatically" because of the diverse perspectives.
Sulentic and Perez also discussed the state of the CRE industry and its post-COVID recovery. To that, Sulentic says "as the back half of 2021 plays out, we're going to define what the future looks like."
You can read more of his insights here.
---
Friday, June 4
"From the early stages of The Foundry, we realized that the district became a sort of beacon for innovative businesses and patrons seeking something new."
Jessica Miller Essl
Co-President
M2G Ventures
The Foundry District is a place where innovators are pushing boundaries and leaving a mark on Fort Worth, says Miller Essl and her M2G Ventures co-president, Susan Gruppi. The pair, who are sisters and twins, run the real estate and investment company behind projects in the district.
The Foundry District and its anchoring Inspiration Alley, known as Texas' largest outdoor art gallery, is getting an expansion. Part of the cultural revitalization of Funkytown's West Side, M2G Ventures' hallmark development project is a six-acre art and innovation experience.
The intent is to show Cowtown—and the rest of the country—that the Foundry is a place where the city's reputation can be shaped.
"The moment for growth and reestablishing connections is upon us," Miller Essl says.
---
Thursday, June 3
Chip Register
CEO
Argano
… via Dallas Business Journal
Plano-based Argano, a tech company formed last month when two North Texas tech firms —Keste and interRel — combined with global United Virtualities, could reach 800 to 1,000 workers by year's end, reports the DBJ.
Argano, backed by Dallas PE firm Trinity Hunt Partners, has strength in sectors such as financial services, retail, logistics, healthcare, manufacturing, and high tech.
---
Wednesday, June 2
"A lot of people feel alone when they're fired. The reality is, if you're in business, you're likely to lose your job at some point. It's all about how you respond to that failure."
Elyse Dickerson
Co-Founder and CEO
Eosera
…on hanging in there and finding your true mission, via Lioness Magazine.
If a company has ever thrown you out on your ear, Elyse Dickerson wants you to know you aren't alone. And that sometimes it can be the best thing to happen to you.
"I was fired in 2015," she tells Lioness. "Within two months, I decided to start my own company."
The biotech startup she founded with CSO Joe Griffin? Eosera, an ear care company with a wide range of products for ear itchiness, earwax buildup, and more. The company also offers products for children and pets, a product that cleans earbuds, and a nasal flushing system for sinus relief. Its products are available at Eosera's online store and at pharmacies like CVS.
"What drew me to ear care was the lack of innovation in the category. Some conditions weren't being treated at home because there were no products over-the-counter available," Dickerson tells Lioness. "Eosera's mission is putting people first. I came out of big corporations that were all about money, money, money. Instead, we talk about healing humans."
Eosera takes a fun, creative, and yes, human approach to ear care. One of its fastest-selling products? The Wax Blaster MD, a spray nozzle that "blasts" away impaction.
---
Tuesday, June 1
"It takes a village
, as they say, to raise up a project."
Gary Kent Ramsey
Vice President of Innovations
Terralogic Inc.
… at the IoT Texas Meet Up
In the IoT world, "it's very difficult for any one company to do a full 'A to Z' solution rollout," Ramsey says.
That's where the IoT Texas Meet Up comes in, the VP of Innovations at Terralogic says. The meet up group, helmed by Ed Hightower, works to build out the IoT ecosystem and provide a deep dive into information in the growing sector.
The group represents IoT folks from end device/sensor makers and edge computing experts to connectivity gurus (both wireless and wired) and backend specialists. You'll find people with expertise in computers, cloud, analytic tools, artificial intelligence, as well as system designers/architects and system integrators.
The group, which hosts presenters focused on various IoT applications, invites Internet of Things (IoT) technologists, business execs, entrepreneurs, and company end-users to join. Check out the schedule here.
Thursday, May 27
"Your success is rooted in the purpose and nothing else."
Austin Hickle
Truman Scholarship winner
SMU Student Body President
…on the first of five things he wishes someone had told him when he first started.
Last year, the purpose-driven Hickle created a coalition of student body representatives from 22 Texas universities and colleges to help stop the spread of COVID-19. Within three months, HIckle organized the College Health Alliance of Texas, which conducted student opinion research, helped to create a student mental health hotline, and relayed student pandemic concerns to members of Congress. His work earned Hickle a Congressional Tribute from the U.S. House of Representatives for his work on COVID-19 safety.
Now the SMU student, who sees the road to change through public policy, has received a prestigious, $30,000 Truman Scholarship that can help fuel his journey, SMU announced today.
In an Authority Magazine article about Hickle, he was asked to name five things he wishes someone had told him when he first started his work on the College Health Alliance. His first is our Last Word today. His other four:
⟫ It's helpful to have everything mapped out from the beginning to serve as a guide throughout the process.
⟫ Creating an initiative like this takes time and won't happen as quickly as you hope.
⟫ Not all things will go exactly how you planned, leave room for "error."
⟫ Be accepting and receptive of feedback from the beginning of the process, especially with a sensitive subject like COVID-19.
---
Tuesday, May 25
"While the adoption of technology has transformed many financial services, the life insurance industry lags far behind in its ability to appeal to a digital consumer."
Melbourne O'Banion
Co-Founder and CEO
Bestow
…on how Bestow is a "new breed of life insurer built for future generations."

Dallas-based Bestow aims to reimagine life insurance and expand the market. Built from the ground up as a tech platform, it lets its customers buy a policy on a mobile device in as little as 5 minutes and instantly secure coverage without a phone screening, doctor's visit, or blood test.
Bestow hasn't let COVID stop its mission—or momentum. Though it was only launched four years ago, the startup has already raised $145 million and plans to make its coverage accessible to millions.
Last year, Bestow acquired Centurion Life Insurance Company, which has licensing in 47 states and the District of Columbia. It then completed a $50 million Series B and announced the launch of the Bestow Foundation to give financial support to those in need during a crisis or disaster.
In 2021 Bestow continued making major moves. It took a "big step forward" by partnering with insurance unicorn Lemonade to potentially reach a million new customers. And, among the 500 companies listed on Forbes' America's Best Startup Employers 2021 list, Bestow landed the No. 2 spot.
This week comes yet another milestone: Bestow was named a 2021 CNBC Disruptor 50. The annual list of 50 forward-thinking and ambitious startups are all said to be "on the path to becoming the next generation of public companies." Previous winners include Airbnb, Peloton, Stripe, and Transferwise.
---
Monday, May 24
Andrew Bennett
Principal
BOKA Powell
"And frankly, the built environment will be better for it."
So says Bennett in D CEO, who believes the dialogue can last up to days on the very nature of what it means to have a 'place' to 'work.' As COVID-19 vaccines continue to roll out, one question looms for business leaders: What is the 'definition of workplace' in 2021?
Back in 2016, his team at the Dallas-based architecture and design firm coined the phrase "People Are Doing Everything Everywhere." The premise was, according to Bennett, that technology and the power of phones allowed us to do our jobs efficiently and effectively wherever we are. That's more apparent now than ever, he says.
But, as people grow fatigued by back-to-back virtual meetings, Bennett sees two opposing views on where the evolution of the workplace could take us.
For starters, "human contact and face-to-face meetings drive progress," he says. One trend we'll see emerge is highly-amenitized environments to maintain a compelling "experiential workplace."
Bennett's counterargument to the full return to the office is the notion that millions of people thrived in a work-from-home environment. For this model to work in its extreme, Bennett says the two most important factors are communication and trust.
Ultimately though, Bennett sees a hybrid model as highly likely.
"While guiding and mentoring our staff to make smart decisions about how they get their work done is key," he says, "equally key is allowing people the latitude to define the best way for them personally to get their work done and provide an environment that supports these complexities."
---
Friday, May 21
It may be a long time before Texas makes cannabis as legal as Lone Star beer. But Hawkins thinks federal legality could happen in as soon as two years—and his Dallas-based cannabis investment firm Entourage Effect Capital is poised to prosper from it.
"Texas has been one of the laggards in terms of medicinal and adult use of cannabis, but one of the most prolific investors is in its backyard," Hawkins told the DMN.
Hawkins founded Entourage Effect in 2014, two years after Colorado and Washington became the first states to legalize recreational cannabis. In seven years, Entourage has put over $200 million into more than 65 companies, mostly on the west coast and Colorado.
With all but eight states either legalizing marijuana or allowing some use of it, Hawkins says interest in his firm has skyrocketed in the last two years. It's now raising its third Flagship Fund with a $150M target, focusing on later-stage companies. To build scale, Entourage invests in single-state operators so they can buy up competitors, making them more attractive when big, multistage companies enter their states, the DMN writes.
Last year Hawkins told Dallas Innovates that Texas itself could one day be a "very large business opportunity" for cannabis investors. But, "until the state increases its medicinal program, there will be very little (if any) investment dollars flowing into the state of Texas."
For now, we'll just have to crack open a Lone Star and wait.
---
Thursday, May 20
"You don't have to be rich to be an investor, and you certainly don't have to be rich to be an an impact investor."
Arlan Hamilton
Founder and Managing Partner
Backstage Capital
via TechFW's Women & Wealth event today.
People don't realize that you don't have to be an accredited investor to invest in startups, Hamilton says. It's something the VC teaches in her investor academy.
You don't need permission to start a portfolio of investments because of the Jobs Act and Reg CF.
"There are so many incredible companies to choose from … hundreds and hundreds at any given time are raising funds," the VC says, noting some investments could be $100. "Build a portfolio of 10 or more companies that way over the next couple of years, and enjoy the fun."
"You don't have to wait to be invited to someone's big fancy party to party, right?" Hamilton says. "You're already invited because you live in this world—you're a citizen of the world."
Resources exist to help, such as Republic.co, Wefunder, SeedInvest, IFundWomen, and FundBlackFounders.
Hamilton taught herself investing and built Backstage Capital from the ground up while homeless. The VC fund intends to minimize disparities in tech by investing in high-potential founders who are people of color, women, and/or LGBT.
The VC wrote the book on "how to turn being underestimated into your greatest advantage." Called It's About Damn Time, the book is an empowerment guide.
---
Wednesday, May 19
Ben Lamm
Founding CEO
Hypergiant Industries
…on how those teams need to change to meet new market demands, strengths, and opportunities.
Three years ago, serial entrepreneur Lamm co-launched Hypergiant from stealth. Today, it's known as a leader in the enterprise AI space, with customers that include Sumitomo Corporation, Boeing, Schlumberger, Booz Allen Hamilton, and the United States Department of Defense.
And because of that fast growth, Lamm knew it was time for him to make a change.
"As the founding CEO of Hypergiant, my job was to set a giant vision for the company, help it to raise money, grow our customer base, and support our shareholders and, importantly, our team," he says. But, running a business once it's established isn't where his passion lies.
That's where Mike Betzer comes in. Known as a talented software exec, Betzer is taking over the reigns as the new Hypergiant CEO. There's very few people who can do the job, according to Lamm—but Betzer is "amazing at building, leading, and continuing to scale enterprise software companies."
That gives Lamm more time to focus pursue what he calls the most pressing issues of our lifetime: "AI for good, climate change, and the continued positive impact of technology both on the planet and on the human condition."
Because to him, this is where the world needs his time and attention.
---
Tuesday, May 18
"Then is not now and now is not then. Let it roar!"
Ray Perryman, President and CEO, Perryman Group, on whether a new roaring '20s will lead to a new Great Depression.
…via Fort Worth Business Press
"During the 1930s, we had neither the knowledge nor infrastructure for an effective monetary response," Perryman writes, saying that we now have "sufficient tools and (have) deployed them well enough over almost a century of subsequent crises to avoid another Great Depression. If necessary, we will do so again."
In October, Perryman told Dallas Innovates the Dallas-Fort Worth economy had "fared better than many areas" despite COVID, and said our diverse economy will "likely see continued strong performance in the years to come."
---
Monday, May 17
Benjamin J. Vann
Founder and CEO
Impact Ventures
As the leader of a startup accelerator with a mission to empower talented, but under-resourced women and entrepreneurs of color, Vann is well aware of the issues currently facing entrepreneurs.
So far, Vann and his team at Impact Ventures have been able to provide some 135 entrepreneurs access to capital to raise over $478,000 and create 46 new jobs, per the Dallas Business Podcast.
On top of this, Impact Ventures recently received a multi-year grant worth $450,000 from Communities Foundation of Texas.
---
Friday, May 14
Peter Beasley
Co-Founder
Blacks United in Leading Technology International
Although Black people comprise roughly 13 percent of the U.S. population, only about 8 percent of all computer or mathematical workers are Black. The disparity is even wider at the executive level, where about 2 percent of IT managers are Black.
To address the disparities, the North Texas Black Tech Symposium will examine the success and possibilities of Black tech talent in the region.
BUiLT, a nonprofit group whose creed states that increasing the representation and participation of Black people in tech helps lift oppressed people everywhere, will be hosting the inaugural symposium from June 15-17.
---
Thursday, May 13
"
Caring can be really exhausting

."

Dr. Brandi Pritchett-Johnson
Psychologist and Owner
Diane Morgan Group
…via Dallas-based American Heart Association's Mental Resilience Roundtable for Women of Color.

Pritchett-Johnson, a panelist on AHA's Mental Resilience Roundtable, spoke on the experience of being black in a time when the news is constantly featuring stories about death in your community—on top of a pandemic and an economic recession that disproportionately impacts your racial group.

"Resilience is almost a double-edged sword," she said. When emotional exhaustion is so common within a group, it's easier to gloss over serious mental health issues as a normalized way of life, before it evolves into something else like hypertension.

There's a strong mental health stigma in many minority communities which often interferes with people's ability to ask for help. That reality was the catalyst for the AHA's roundtable that focused on structural racism and mental health challenges facing women of color.

The event emphasized the importance of vulnerability and asking for help. Here's a takeaway from panel experts who are "emPOWERED to serve" in the AHA series.
---
Wednesday, May 12
Ethan Rigel
Managing Partner
Gore Range Capital
…on managing risk in early-stage investing.
Rigel helms venture firm Gore Range Capital, which recently moved its headquarters from New York to Southlake. The VC firm, founded in 2015 to invest in early-stage skin health businesses, has a simple approach to investment: "we invest in what we know."
To manage risk on those early-stage investments that may not see quick returns, the firm likes to avoid binary outcomes and tries to avoid single molecule [single indication] companies and single-application devices, Rigel says.
The managing director shares more on the firm's strategy, along with tips for emerging entrepreneurs looking for investment in our Q&A. Rigel talks terms, ownership structures, partnerships, and more.
---
Tuesday, May 11
Jim Scoggin
CEO
Methodist Health System
…on how the pandemic changed the way the health system is run, via D CEO.
While the pandemic has affected every industry, it would be difficult to say that any have been impacted more than the healthcare sector.
Methodist Health System has been on the front lines of the crisis since the beginning and was "the first system in North Texas to receive and administer the vaccine," Scoggin told D CEO.
Some of Methodist Health System's employees have also played an important role while working from home.
"From a telemedicine perspective, if you look at the level of activity before the pandemic of what we did, as compared to how it was transformed in the course of just a few weeks and some cases a few days, it is exponentially greater than it was going into the pandemic," Scoggin said.
---
Monday, May 10
"Dallas should be an inclusive hub for entrepreneurs, not just tolerant of entrepreneurs. We need to be a hub; an attractive force."
Dallas Mayor Eric Johnson
…said at The DEC Network's State of Entrepreneurship 2021.
During the annual event last week, Mayor Johnson's message was a rallying cry for the future of innovation in Dallas: "We haven't even scratched the surface of what we're capable of."
Going forward, when people talk about innovation, Mayor Johnson wants Dallas to be in the conversation right along with Silicon Valley, New York, and Austin. He wants it to be different, however: "We're not going to just mimic what other people do. I want us to be better."
You can check out our full rundown of the State of Entrepreneurship speakers here for a glimpse of what else was said if you weren't able to tune in virtually or attend in person.
---
Friday, May 7
Bob Williams
CEO and Founder of Ranch Hands Rescue
…on young men exploited by sex trafficking
Williams, CEO and founder of Ranch Hands Rescue, says sex trafficking is a raging underground epidemic in America, and that young, victimized men often go overlooked because no one talks about it.
He wants to do something about it: Williams' Denton-based nonprofit Ranch Hands Rescue will open Bob's House of Hope, a safe house for young men exploited by sex trafficking to help them rebuild their lives, will officially open on June 1.
An all-around care program will provide trauma therapy through Ranch Hands Rescue's Equine and Animal Assisted Counseling program to help rebuild these young men's lives for up to three years.
---
Thursday, May 6
"Obviously, we're going to see this significant reestablishment of how we used to do things pre-COVID, but some things are never going back—and that's where the magic is."
Bill Chinn
CEO
The DEC Network
…on the workplace returning to normal, via D CEO.
The pandemic has disrupted the way that people do business, and some of the changes that companies have made may be permanent. But change isn't necessarily a bad thing, according to Chinn.
"It's where the businesses figure out what's going to change permanently, and that's where the opportunity is huge in realizing what part of our lives are never going back to the way they used to be, and that's where there's a lot of wealth created and a lot of innovation created," Chinn told D CEO.
The DEC Network CEO notes that startups, in particular, need to consider, "'What is our business plan going to look like post-COVID?'"
Plus, Chinn (above) kicked off the 2021 State of Entrepreneurship event last night. Read the event recap here.
---
Wednesday, May 5
"Austin gets a lot of attention … but the jobs growth in the Dallas-Fort Worth area is about 11%, a percentage point higher than Texas overall (since 2018)."
Chris Hopfensperger
Executive Director
Software.org: The BSA Foundation
… via The Fort Worth Star-Telegram
Texas cities work hard to attract software jobs—and it's working. But the state's growth isn't keeping up with other leading U.S. tech locales, says a new report.
As Hopfensperger notes above, Austin gets a lot of the Texas tech glory. But nearly 40 percent of Texas software design, data processing, and publishing jobs are right here in Dallas-Fort Worth.
Tuesday's Software.org report says 244,830 Texans now have software-related jobs. 109,000 of those are in the Dallas-Fort Worth area, a boost from 98,000 in 2018.
Greg Head, founder of Gregslist.com, told the Star-Telegram the region needs to do more to boost smaller start-up companies.
"In the Silicon Valley and Austin, the common culture is never to work for the big companies. Always work for the crazy, small companies," Head said in the Star-Telegram. "We need Dallas and Fort Worth to be more crazy with our entrepreneural, technological companies."
---
Marty Martinez
CEO
Social Revolt Agency
… on never giving up, via LinkedIn.
Marketing innovator Martinez recently commented on a recent article featuring Dallas entrepreneur Craig J. Lewis.
Despite facing setbacks—such as being told no by every single investor when attempting to raise a round of money at a previous company—entrepreneur Lewis has managed to garner $13 million for Gig Wage.
So, is Silicon Valley friendly to Black entrepreneurs? Lewis, the founder of fintech Gig Wage, says yes. But, he told the publication Business of Business, "the real million-dollar question is 'Will Silicon Valley invest in you and let you dream big if you are a Black entrepreneur?'
The answer to that question would be no."
As Lewis puts it, "If you endure, the trend you first noticed hits an inflection point, after which the future presents itself. What you built created the future."
For Martinez's part, it "makes me so happy to see the continued progress at Gig Wage with Craig J. Lewis at the helm."
---
Monday, May 3
Michael Horne
CEO
Parkland Foundation
…via D CEO.
Although organizations have increased their efforts when it comes to diversity and inclusion, Horne notes that, "We can say we've made progress, but it's important to acknowledge that more work has to be done."
For Horne, a major part of moving forward is doing so together.
"The goal is for us to be in a society in which individuals, regardless of background and ZIP code, have an opportunity to realize their full promise and potential," he told D CEO.
---
Friday, April 30
"Be a source of joy. One of the best ways to make the transition smoother is by finding ways to make it better for others."
Teresa Henderson
President, West/South Region
BCW Global
…quoting an inspiring Harvard Business Review article on how to prepare for a return to the office.
It's "week two of inching back into the office part time, and I like it," tweets Henderson.
For more tips on the transition back to the office from HBR, go here.
---
Thursday, April 29
Roberto Inetti
Founder
ROBOAMP
…on advice from early investors, via Twitter.
Inetti took to Twitter this week to share his early entrepreneurial experience of being "hammered by investors about pricing" for charging too little for ROBOAMP, which uses just one line of code to make any website load in a second or less on mobile.
"Today I sent a proposal for 1500X what we used to charge. So yeah, they were right," Inetti wrote. He went on to note in a reply, "Customer discovery also involves pricing discovery."
In March, Inetti was chosen as one of three Dallas-area founders to participate in the highly selective Google for Startups Founders Academy.
---
Wednesday, April 28
"Genius is evenly distributed across zip codes, however access and opportunities are not."
Benjamin J. Vann
Founder and CEO
Impact Ventures
"In Dallas County alone, there is an estimated $42.7 million unmet financing need from small businesses owned by women or people of color. Empowering underrepresented entrepreneurial talent with the capital and resources they need to thrive is an important step in building more vibrant and equitable communities," says Vann.
Vann helms Impact Ventures, a nonprofit on the cusp of launching the Dallas Inclusive Capital Fund. The fund will be the first locally grown and minority-led integrated capital fund for woman- and BIPOC-led businesses in North Texas.
Impact Ventures recently announced a $200,000 "catalytic investment" from the Phillips Foundation. The foundation's Executive Director, Elizabeth Carlock Phillips, calls Impact Ventures' expansion an "inflection point": "We believe in Benjamin Vann's vision and hope our catalytic capital can help move the needle on race and gender equity in North Texas. We fully support this fund's mission to build a more prosperous and equitable financial system in Dallas and beyond."
The seed funding follows a recent $450,000 grant received by the nonprofit from the Communities Foundation of Texas.
---
Tuesday, April 27
Dr. Shalini Prasad
Head of Bioengineering and the Cecil H. and Ida Green Professor
University of Texas at Dallas
…on the UT Dallas Department of Bioengineering.
This month, the UT Dallas Department of Bioengineering celebrated its 10th anniversary through a virtual symposium.
Since its beginning a decade ago, the department's graduate program has made its way to the third rank among biomedical engineering programs at Texas public universities. It's educated future bioengineers—a field that's growing faster than average—and performed groundbreaking research that aims to improve human health.
Ranging from the development of sensor technology to detect sepsis to nerve stimulation to reverse brain disfunction, the program "has delivered novel innovations in med tech and digital health," Prasad says.
---
Monday, April 26
Michael Maponga
Founder
AfroLandTV
…via the Dallas Morning News.
"As a Black founder, it's much harder for us to raise capital than our counterparts," Maponga told the Dallas Morning News.
Maponga faced difficulties getting his streaming platform AfroLandTV off of the ground, but after five years, he received $160,000 in seed funding from Techstars, a competitive accelerator program, reports the DMN.
AfroLandTV officially launched last year, being dubbed 'The Netflix for the Global Pan African Diaspora,' and recently announced a partnership with Comcast. In June 2021, AfroLandTV will be available to 50 million households. Those who are interested can go ahead and begin watching here.
Maponga launched the platform last year.
---
Friday, April 23
"Place matters, in many ways, more than ever."
Steve Guengerich
Associate Vice President, Innovation and Commercialization
UT Dallas
The University of Texas at Dallas and the City of Richardson are coming together through UT Dallas' newly-announced presence at the Richardson Innovation Quarter, also known as The IQ. The hub is a center of innovation and entrepreneurship, which aims to attract top talent to the city.
Five of UT Dallas' new research centers along with an extension of the Venture Development Center will be placed at the 1,200-acre hub.
The research centers will be home to a range of disciplines from engineering to brain sciences, while the Venture Development Center will play host to programs such as startup boot camps and marketing assistance for startups.
---
Thursday, April 22
"If you weren't a technology company, you have to become a technology company."
Dev Gupta
CEO and Founder
Not Dev
"It's kind of an arms race," says Gupta. The design firm founder has been in the business of digital marketing and product design for years, operating as a one-man business until about a month before the pandemic made its way through the United States in early 2020. His company Not Dev works with clients on their digital products and platforms to "solve problems through design."
According to Gupta, Dallas provides large growth opportunities for the startup because of the city's high concentration of large corporates that were not working digitally before, but are now interested in digital transformation.
---
Wednesday, April 21

"We're just getting started on our journey to change the way Americans mow grass …"
Logan Fahey
CEO
Robin Autopilot
… via LinkedIn
The Dallas-area robot mowing tech firm announced its acquisition of North Carolina-based Mowbot, Inc., a competitor with 16 franchises across the company, and its enhanced partnership with Husqvarna Group last week.
The growing company, which has 50 total employees and expects to expand to 100 by 2023, is looking for expanded headquarters in North Dallas.
---
Tuesday, April 20

"It's amazing how much easier work is when you let great people do the things they are great at."
Thomas Walker
CFO
Dallas Cowboys
…via D CEO.
As the CFO of the Dallas Cowboys, Thomas Walker oversees the Jones family's diverse interests, according to D CEO, including oil and gas, logistics, and technology.
Walker is also one of D CEO's Dallas 500 honorees this year. In a Q&A, Walker discusses everything from his first job (mowing lawns) to his greatest inspiration (his mother). Walker also shared the best advice he's received.
"A partner that I worked for at KPMG many years ago told me, 'If it isn't illegal or immoral, and I'm paying you, then it's your job.' Simple words, but they've guided me for almost 25 years now."
You can read D CEO's full Q&A with Walker here.
Image via D CEO
---
Friday, April 16
"Creativity happens within constraints. This is the world we have to play with, so let's do more than make it work, let's make it dope."
J. Damany Daniel
Founder
The Event Nerd
J. Damany Daniel and his team plan to marry storytelling and technology to host accessible, unforgettable virtual events for both large and small companies through The Event Nerd.
Their new studio is set to open in Deep Ellum to continue producing experiences for clients across the globe next month. Recently, they worked with Denton-based Sally Beauty and Cosmo Prof Beauty.
Daniel is also a founding member of Dallas' Mayor's Star Council, a board member of the Deep Ellum Foundation, and City of Dallas Cultural Affairs Commissioner for District 6.
---
Thursday, April 15
Trammell S. Crow
Dallas Businessman and Philanthropist
…on Dr. Michael Sorrell, via D CEO.
Trammell S. Crow (pictured above, right) and Dr. Michael Sorrell (left), who is best known as the longest-serving president in Paul Quinn College's history, instantly hit it off when they first met, according to D CEO.
Later on, the pair worked together, along with PepsiCo's Food For Good initiative, to convert a football field into a two-acre organic garden after Paul Quinn's football program was disbanded.
Sorrell calls Crow "the patron saint of Paul Quinn," per D CEO, and Crow's name will be placed on a LEED-certified living and learning center at the college.
Under Sorrell's leadership, Paul Quinn College has become recognized as one of the most innovative colleges in the country, renowned for its efforts to remake higher education to serve the needs of under-resourced students.
Sorrell was recently appointed the newest chair of The Dallas Foundation's Board of Governors, which bills itself as the first community foundation in Texas.
Crow is the founder of Dallas-based EarthX. The nonprofit's Earth Day 2021 events kick off on April 16 with 10 days of films, shows, and conversations.
Image: Michael Samples
---
Wednesday, April 14

"I think it's important in challenging times like what we've been through to assess where we've been, why we're here, and where we're going."
Doug Jones
Managing Principal
Cushman & Wakefield
…on his goals in his new position, via D CEO.
Doug Jones first joined Cushman & Wakefield in 2015 and has closed more than 150 transactions in the past three years. In his new role at the helm of the company's Dallas-Fort Worth office, one of his immediate goals is to go on a listening tour.
"The key thing in listening to all the different opinions is you start to get a perspective on the overall picture, and you hopefully, with collaboration with others, can start to connect dots on what would be innovative … I think we, as a firm in Dallas and across the country and the world, we want to be that company that innovates—it's at the core of who we are," Jones told D CEO.
You can read the complete story on Jones and his new role at Cushman & Wakefield's DFW office here.
Image via D CEO
---
Tuesday, April 13
… on Mariano Martinez's frozen margarita machine, via Texas Monthly
Martinez, who made history with the icy green cocktail fifty years ago, would "smile and nod" when customers told him he should patent the invention that changed happy hour forever. But, he had his doubts, according to Texas Monthly: "It would have been about as ridiculous as putting two carburetors in a '57 Chevy, painting on some flames, and trying to patent it."
Even so, Martinez "kick-started a movement" that took "tequila from hooch to haute." Now 76, he invented something in 1971 that changed the restaurant industry and the way people imbibe cocktails, "from piña coladas to frozen daiquiris," writes the publication.
The machine, inspired by 7-Eleven slurpees, now resides in the Smithsonian.
D Magazine previously named the restauranteur one of the 100 greatest Dallasites of all time. Martinez ranked at No. 10.
Image via D CEO
---
Monday, April 12

"A quote that inspires me is, 'adversity causes some men to break, others to break records.'"
Taylor Reimer
Student and professional midget car racer
… on breaking female stereotypes.
"Girlpower is horsepower," according to Carrollton-based cocktail brand Buzzballz. The woman-owned company with a fun brand message has partnered with midget car driver Taylor Reimer.
Buzzballz founder Merrilee Kick bonded with Reimer by their presence in male-dominated spaces. They agreed it was the "perfect partnership," according to Buzzballz in a news release. Both have "firsthand experience with the intimidation and pressure" that comes with proving they deserve to be in the "boys club."
Kick, an ex-Plano high school teacher who founded Buzzballz in 2009 as a result of her master's thesis, started by mixing cocktails in her garage. Kick also blazed an engineering trail developing the brand's ball shape for its cute pop-top cans.
In under ten years, Buzzballz has become the first woman-owned joint brewery, winery, and distillery in the U.S. Now Kick is boosting the brand's distribution and growing worldwide.
Reimer is a University of Oklahoma student by day and drives a 900-pound race car with a four-cylinder engine and 300-400 horsepower by night.
Image: Courtesy of Trace Thomas
---
Friday, April 9

"

It's so important to feel validated in the work you do and recognize that you deserve your successes and your own seat at the table.

"
Lauren Hasson
Author and Founder
DevelopHer
…on how to ditch imposter syndrome, via LinkedIn.
"Do you ever find yourself at work feeling like you don't belong? Like no matter how much you achieve, you still feel like a fraud?"
You are not alone, says Hasson.
The founder of career development platform DevelopHer, poses these questions because many may be having these feelings as of late. And they could point to evidence of imposter syndrome.
The pandemic's massive workplace disruption—layoffs, furloughs, and the shift to remote—have many employees second-guessing their skills, according to the Wall Street Journal. These feelings can signal imposter syndrome, in which "self-doubts engender fears of being exposed as a fraud despite one's accomplishments," the publication says.
Luckily, Hasson offers some solutions in a new blog.
1. Identify Imposter Syndrome: By understanding and accepting how you're feeling, Hasson says, it's easier to reframe your thoughts.
2. Apply the Expansive Power Pose: Making broad gestures—standing tall with your hands on your hips—can reconfigure the mind to be more assertive and less prone to stress.
3. Surround Yourself with Peers Who Support You: Recognizing that so many are going through the same experience will help us conquer the feeling of inadequacy. "We get ahead by building each other up," she says.
4. Take it Step by Step: Seeing your progress in front of you can help remove some of the pressure.
5. Be Courageous: "Courage isn't the absence of fear but rather the act of moving forward and taking action despite the fear," according to Hasson.
Imposter syndrome tends to affect many women in tech, as fear that they don't deserve a seat at the table often creeps in. She was inspired to write the blog post because she heard many of her 'DevelopHers' were struggling.
But that's a driving reason why she founded her company: to empower tech women to own their careers and earn what they're worth.
Hasson wrote the playbook for empowerment, literally. Her book, published earlier this year, The DevelopHer Playbook: 5 Simple Steps to Get Ahead, Stand Out, Build Your Value, and Advocate for Yourself as a Woman in Tech, is available on Amazon.
Image: Courtesy of Lauren Hasson
---
Thursday, April 8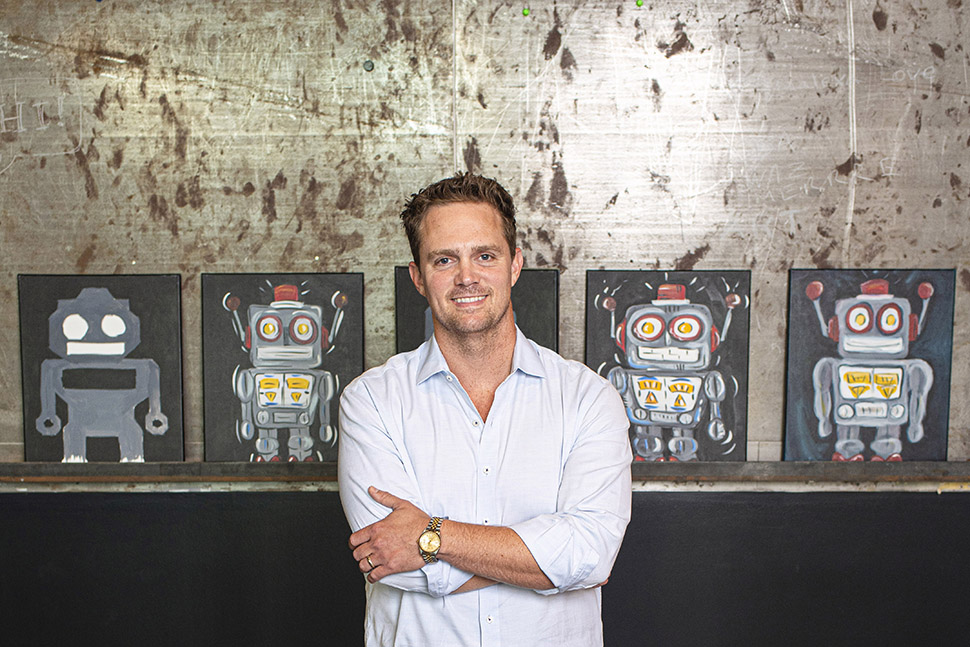 Scott Harper
CEO and Co-Founder
Dialexa
via LinkedIn
Harper co-founded tech consulting firm Dialexa on the belief that every industry should be won with technology. The company, which counts big brands such as Toyota, Topgolf, Audi, Geneteech, and Boston Consulting Group among its clients, builds solutions to complex challenges. Its technologists and designers can turn concepts into cutting-edge products.
Harper encourages Dialexa employees to be all-around creative problem solvers. The company's internal "innovation and development engine" called Dialexa Labs even has a goal of spinning off new companies.
The forward-looking innovator is connected to a number of area startups born out of the incubator: Harper is founder and former Chairman of Vinli, a founder and board member of Rosy Wellness, and was a founder and board member of Robin Technologies.
Harper, who is half of one of the region's most iconic entrepreneurial power couples, is married to Rosy founder Dr. Lyndsey Harper. The entrepreneur was named as one of D CEO's most influential business leaders in the 2021 edition of the Dallas 500. (The deadline to suggest executives for the 2022 edition of the annual power list is June 30.)
---
Wednesday, April 8

"This is the wave of the future—and the future is coming a little faster than we thought."
Pat Wood
CEO
Hunt Energy Network
In 2019, Wood was asked to lead an "in-house motley crew" of young innovators (a time he calls one of the most enjoyable couple years of his life). That led to the fruition of HEN Infrastructure, a newly launched venture that was created and incubated within the energy technology venture business unit at Hunt Energy Enterprises.
HEN Infrastructure, led by Wood, will put 50 batteries across Texas, supplying ERCOT with some 500MWs of distributed energy across Texas.
While the deal's been in the works for years, the team decided to go "big league" during the pandemic. Winter storm Uri in February ended up being something of a proof of concept: It showed everyone involved the dire need to address resilience and liability, says Wood. Though he does wish they'd had four days worth of battery storage when the blizzards began.
Wood, who hopes the batteries will be the first step on a greater journey, says HEN is not wedded to any single technology.
"The nice thing about our business is that we're interfacing with the market all over the world all the time. We're trying to learn if there's a better, cheaper, faster way to do storage than what we're doing," says Wood. "And I assume that will come around … I think that'll be a strength for us over time."
---
Tuesday, April 7
Luke Hejl
CEO and Founder
TimelyMD
…on values that are central to the startup's success, via TechFW.
Hejl (pictured above, middle) spoke to a virtual audience on "the uphill climb of a serial entrepreneur" at the TechFW TechNext education series earlier today.
Since co-founding TimelyMD in 2017, Hejl's telehealth company has gone on to succeed, recently landing a $60 million investment from JMI Equity in January 2021. The Fort Worth company says it's the only full-service student-first telehealth provider.
TechFW is a Dallas Innovates Partner Organization.
---
Monday, April 6
Isaiah Stanback
Former Dallas Cowboy and Entrepreneur
…via YouTube.
The entrepreneur, a former Dallas Cowboys player who now owns a personal training and performance facility in Lewisville, will kick off The DEC Network's new speaker series that launches with a virtual talk on how businesses are coming out of the pandemic—and what's next.
Stanback will talk about the hardships posed by the pandemic and how his own business is doing, as well as tell the story of his entrepreneurial journey. The free event starts at 11 a.m. on Tuesday, April 13. Register here.
The DEC Network is a Dallas Innovates Partner Organization.
---
Thursday, April 1

"This is not a thing we want to be permanent. We do think it's an exceptional model going forward when needed."
Patrick Brandt
Co-Founder of Get Shift Done
…on the nonprofit, via the Dallas Morning News.
At the beginning of the pandemic, a new nonprofit was born thanks to business leaders Anurag Jain, chairman of Access Healthcare and managing partner of Perot Jain, and Patrick Brandt, president of Shiftsmart. The company, Get Shift Done, connects displaced hospitality workers with nonprofits to serve and provide hunger relief.
Since its launch, the project has expanded to cities across the country and was named one of the world's most innovative companies by Fast Company.
The co-founders recently celebrated the first anniversary of Get Shift Done in which North Texas Food Bank President and CEO Trisha Cunningham surprised them with a proclamation from Governor Greg Abbott recognizing the program as "the best company, most innovative not-for-profit organization."
Photo of Patrick Brandt and Anurag Jain by James Edwards.
---
Wednesday, March 31

"We are at the 1997 phase of the Web, where there are massive amounts of opportunity for entrepreneurs (and a) massive opportunity for investors to build really successful businesses."
David Evans
Managing Partner
Sentiero Ventures
…via the Dallas Business Journal.
Plano-based venture capital firm Sentiero Ventures plans to invest heavily in Texas companies, with a focus on artificial intelligence, reports the DBJ.
Why concentrate on AI? David Evans told the DBJ, "There's a ton of opportunity now. And there's a next stage of opportunity that we're going to be able to tap into as this flywheel gets going."
After recently closing a $10 million funding round, the firm is planning to make 10 investments of up to $500,000 into companies at the outset.
Evans is no stranger to startups. According to Sentiero's website, he started his first company at 19, previously founded and led EasySeat.com, and designed and built a national digital signage network that was later sold to CBS.
Courtesy photo
---
Tuesday, March 30

"Dallas is a city that booms north of I-30. Unfortunately, if you live south of I-30 all too often you only hear rumors of that boom."
Dr. Michael Sorrell
President
Paul Quinn College
In an effort to make financial services and education more accessible for the people of Oak Cliff and Southern Dallas, Chase recently opened its first Community Center branch in Texas. The branch is part of Chase's $30 billion commitment to advance racial equity and provide economic opportunities to underserved communities.
"JPMorgan Chase is actively being a bridge builder. It is a repairer of the breach. That is who the bank is. That is what the bank does," Sorrell said.
The new branch offers workshops to build financial health, mentoring for entrepreneurs, and free space and WiFi for community groups and neighbors. It also has a full-time Community Manager, who works hands-on to engage the community and increase their awareness of the branch's available resources.
Image: Courtesy of JPMorgan Chase
---
Monday, March 29
Kinjal Basu
Computer Science Doctoral Student
UT Dallas
…on humans having commonsense reasoning.
Over time, humans naturally learn how to fill in gaps in a conversation, make inferences, understand exceptions to rules, and recognize a speaker's mood. But for robots, these skills are much more complicated.
Amazon is challenging teams to teach AI how to do all of this and more through its fourth annual Alexa Prize Socialbot Grand Challenge with $500,000 on the line.
As Kinjal Basu, the leader of the competing UT Dallas team, puts it, "The question is: How can you make an AI friend who can have a discussion with you?"
Anyone in the U.S. can currently test out one of the competitors' socialbots (although they won't know which one they're trying out) by telling the AI, "Alexa, let's chat."
---
Friday, March 26

Alay Shah
Student/Inventor
Plano West Senior High School
…on inventing an eye-tracking test to detect brain disorders, via Forbes. The 17-year-old senior won a $70,000 award and took seventh place in the oldest U.S. science and math competition for high school students, Regeneron Science Talent Search.
"A lot of times, you're met with failure, but that one success can completely change everything," says the STEM superstar who started the project in the ninth grade.
It all started with football, according to Forbes. Shah saw a player take a hit and observed the concussion check. It got him thinking about better ways to check subtle eye movement in the "chaos of a busy stadium." And, he wondered, what if a portable eye-tracking solution could diagnose other brain conditions?
He set out to build a "portable, inexpensive eye tracking device" to detect neurological abnormalities. Shah, a fan of project-based learning, simply "jumped in." He set about learning the principles of AI and computer science online.
Today Shah's tool tracks pupil movement and gaze with an infrared camera, and uses software he wrote, while learning coding along the way. "The data is then analyzed using deep learning algorithms to identify abnormal eye reflexes," according to a talent search news release.
Once the young scientist had a working device, he teamed with Lone Star Neurology for a clinical trial. In a test with 200 people, Shah developed a dataset. In patients with Parkinson's, dementia, multiple sclerosis, and ADHD, he says he found "unique eye patterns associated with each condition."
Persistence counts: Shah faced criticism for what eye tracking can and can't do, according to Forbes.
What's Shah's advice for other young scientists? "Don't give up, even if experts don't think it will work," writes Forbes.
Image: Regeneron
---
Thursday, March 25

Lindsay Wilson
President
Corgan
…on women in the workplace in D CEO
"I might not be a fan of #girlboss, but #teamworkmakesthedreamwork is what I am all about," writes Wilson in an op-ed in D CEO. (The #girlboss concept is thin, the senior leader at Dallas-based architecture firm Corgan notes: "It's just boss. No one ever says "boyboss.")
For her part, she'd rather focus on confidence and a connection to a career path—and "getting women back in the workforce in creative and innovative ways." There's a staggering talent loss from the women who have left the workplace and want back in. "Overcoming the resume 'gap' is a real issue," she points out.
Wilson advocates finding "innovative solutions, in all their forms, to the hosts of issues facing women in the workplace today versus continuing to highlight what isn't working — that makes sense to me."
The topic of women in leadership is "admittedly uncomfortable," Wilson writes: It's complicated. But while the subject is tough to distill, there are common threads. Read her exploration in D CEO.
---
Wednesday, March 24

Simon Mak
Executive Director
SMU Caruth Institute for Entrepreneurship
While some Texans may want Dallas to become the next Silicon Valley, Simon Mak thinks the comparison is unnecessary.
"When everyone says they want to be the next Silicon Valley, what they really mean is they want to be known as a tech hub that creates companies that generate thousands of jobs and billions in economic impact," Mak told SMU.
As part of Dallas Mayor Eric Johnson's Task Force on Innovation and Entrepreneurship, Mak believes it's the first area where SMU is distinctly positioned to help the city.
"[The Caruth Institute is] very integrated into helping the Dallas community historically," Mak said. "The task force is an additional effort on top of that. It really focuses on public-private partnership, which, as an entrepreneurship center, we haven't had much experience with, so that would be very interesting for us to learn from them."
---
Tuesday, March 23
"Whitney Wolfe Herd may be the youngest commencement speaker we have ever had."
R. Gerald Turner
President
SMU
…in a statement announcing the Bumble founder/CEO as the featured speaker for the university's May 15 commencement address. Wolfe Herd, who became the youngest woman to take a company public in February with the initial offering of her dating app shares on Nasdaq, is an SMU alumna.
It's only been ten years since Bumble founder Whitney Wolfe Herd walked across the stage in a cap and gown at SMU.
"Our graduates will feel a kinship," President R. Gerald Turner said in a news release. "She began experimenting with entrepreneurism while at SMU, and went on to transform a big idea into something that helps people connect in new ways."
The 31-year-old entrepreneur founded two companies while she was pursuing her degree in international studies at SMU: one marketing fair trade clothing and another raising funds for wildlife affected by the BP oil spill in the Gulf of Mexico. Graduating in 2011, she volunteered overseas and then worked for a customer rewards app company briefly before co-founding Tinder in 2012.
Her signature company, Bumble, was born to reinvent the internet for women, according to SMU. "On the Bumble app, women must send the first message to men they are interested in within the first 24 hours of matching." In 2018, she told SMU Magazine, "When you think about it, women are making the first move, which is empowering. We tolerate zero abusive behavior, so that kindness piece is there, too."
The outdoor commencement ceremony, which will be live-streamed, is scheduled for May 15, 8 a.m., in Ford Stadium.
---
Monday, March 22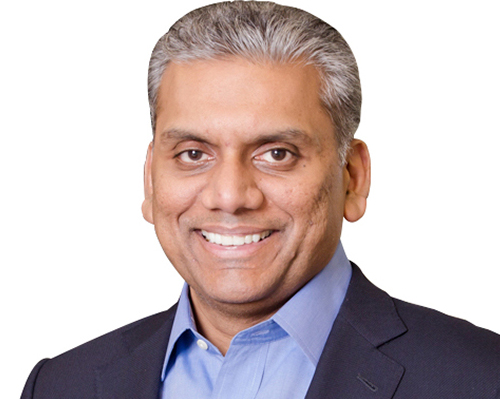 "The beauty of this initiative is the alliance of communities and the unity of working toward the common good."
Anurag Jain
Co-Founder
Get Shift Done
…on the one-year anniversary of the nonprofit Get Shift Done, an initiative that was created in four days in response to COVID-19. The program, which was launched in March 2020 to pay a living wage to newly unemployed hospitality workers to fill the gap of volunteer shifts in hunger relief organizations, has expanded across the country.
"Two groups of people needed one another: the displaced workers and those who manage the food banks and pantries," says Jain, who is also Chairman of AccessHealthcare
"'How will I feed people?' was my immediate concern," says the tech investor and entrepreneur. Jain was serving as Board Chairman of the North Texas Food Bank at the time.
The ramp-up period was rapid, beginning with a phone call with Patrick Brandt, president and co-founder of Shiftsmart. Together with co-founder Brandt, the duo devised the plan using Shiftsmart's technology.
"From Anurag's phone call on Sunday afternoon to the first shift on Thursday, we were in a full sprint for four days," says Brandt, who calls that week "unforgettable."
Within days, other cities were contacting the new nonprofit requesting assistance. Since then, it's been a year of milestones and firsts with 28,000 workers in 12 regions and 110 non-profit agencies on the roster. That adds up to almost one million shifts, 60 million meals served, and nearly $15 million in wages for the workers.
Get Shift Done recently ranked No. 1 in the Not-for-Profit category in Fast Company's prestigious annual list of the World's Most Innovative Companies for 2021. It was also named No. 28 in the publication's World's Top 50 Most Innovative Companies list.
---
Friday, March 19
"There's no reason for Dallas to be here. There's no oceans or rivers or mountains or beaches—we built this amazing city in the middle of nowhere, and we did it for entrepreneurs."
Shane Long
President and COO
7T
After Shane Long was equipped with a "good paycheck," he became an entrepreneur with two Finns who worked for Nokia, founding semiconductor company Bitboys Inc.
After successfully selling that company for $44 million and going on to be a pioneer in the smartphone industry, he realized that his passion lies with helping fellow entrepreneurs. Now as a leader at the Dallas-based software development firm, he says, "It's the most fun thing we do at 7T."
7T has built more than 100 mobile applications and software platforms for a big-name client list that includes SiriusXM, PepsiCo, and Bell Helicopter. You can read more about Long, 7T, and the company's recent rebranding here.
---
Thursday, March 18
"If you have products that work, people want to buy them."
Elyse Dickerson
CEO and Co-Founder
Eosera
… via the Dallas Business Journal
Dickerson, who founded the biotech company in 2017 with partner Joe Griffin, says once people started using its specialized ear care products, more people bought them. "Then, more retailers want them on their shelves," she said in the DBJ.
One thing leads to another, but it all starts with finding an unmet need and filling it, according to the entrepreneur. Traction took awhile, she says, but the company, which practices conscious capitalism, has seen two-year revenue growth of 433 percent. and just ranked No. 25 on the Texas list of the Inc. 5000 Regionals.
Now the company is launching a new brand for nose care called Nose Well. The line, which includes a gravity-fed neti pot, could be available by May, the DBJ reports.
---
Wednesday, March 17

Mark Cuban
Billionaire entrepreneur and owner of the Dallas Mavericks
via the Austin American-Statesman
The Lone Star State is a hotbed for entrepreneurs, according to Cuban and fellow "Texas tycoon" Kendra Scott in a SXSW panel discussion yesterday.
"There's so much less friction doing business here than Silicon Valley or other tech destinations," Cuban said. Scott, who calls it a "breeding ground," says entrepreneurs love to help each other here.
Both had tips for entrepreneurs:
Cuban: "[Try to] come up with solutions that solve problems and make life easier for people."
Scott: "Focus on building something great and be scrappy."
Read the recap in Austin360.
---
Tuesday, March 16

"Get up every day with a sense of purpose and end every day with a sense of accomplishment."
Thomas Long
Co-CEO
Energy Transfer
…on his best advice, via D CEO.
During his years at oil and gas company Energy Transfer, Thomas Long has gone from joining the company after it acquired his former employer Regency Energy Partners to overseeing its own merger of Energy Transfer Equity and Energy Transfer Partner as CFO.
Now, he serves at the helm of the company alongside Marshall McCrea.
Although he's been through many tough challenges, he told D CEO that 2020 taught him to "how to survive in a foxhole."
---
Monday, March 15

"Don't do STEM for STEM, do it because it will help others."
Lisa Wong
Director of Technology
Trinity Christian Academy
…via NBC DFW.
Lisa Wong decided to leave her corporate engineering job to foster young girls' interest in STEM, according to NBC DFW. Now, her students at Trinity Christian Academy use their own STEM skills to help others by creating technology for students with special needs.
Wong originally realized the challenges women in STEM face while in college and participating in The Society of Women Engineers, per a spokesperson. She has mentored women who are beginning their careers in engineering or are majoring in a STEM curriculum in college for over 20 years.
"Females bring such a different perspective to the table, which is so invaluable when it comes to collaboration and innovation," Wong told NBC DFW.
Image: File photo
---
Friday, March 12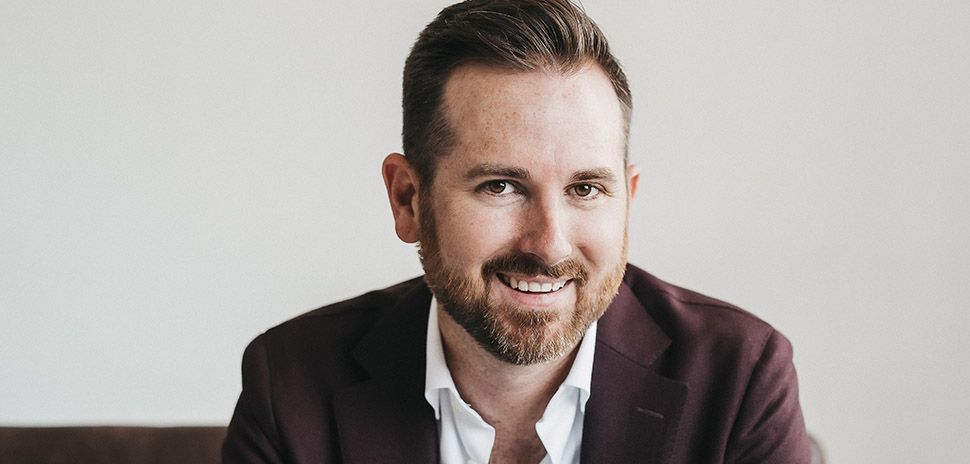 "Drop the tool and put your client's needs first."
Cameron Gawley
Co-Founder and CEO
Buzzshift
…via LinkedIn.
One size doesn't fit all. "If you're a tool-based agency, you can't be a strategic-based agency," says Gawley on LinkedIn. It can also limit an agency to "just selling the same commoditized services."
The Buzzshift agency co-founder thinks standard go-to tools are great, but being "tool agnostic" is key to adaptability. Forcing a fit could set a client up for failure, he says.
"Strategic based agencies are the future of growing brands, " Gawley says.
Gawley offers more advice to small business owners and entrepreneurs in a one-on-one conversation with Bill Chinn, CEO of The DEC Network, here.
Image: File photo
---
Thursday, March 11

"Let's talk to each other rather than past each other."
Hattie Peterson
Board Member
Dallas Dinner Table
…via LinkedIn
The Dallas Dinner Table hosts an annual event in which people gather for various small dinners across DFW and offer their perspectives about the impact of race on the lives of local residents. Overall, the organization's mission is to end racism in America one dinner at a time.
In Hattie Peterson's statement announcing she is joining the organization's board, she mentions that Dallas Dinner Table is hoping to go national by bringing its program into businesses and schools across the U.S.
Those interested in getting involved in Dallas Dinner Table can learn more about it here.
Image: LinkedIn/HattiePeterson
---
Wednesday, March 10
"The golden age of A.I. in medicine is beginning…"
Panna Sharma
President and CEO
Lantern Pharma
…on Lantern Pharma's role in transforming oncology through tech
With Lantern Pharma's fiscal year coming to an end, the clinical stage oncology biotech firm took a look back on its successes in 2020.
Among its accomplishments have been amassing over 1.2 billion datapoints on its proprietary artificial intelligence platform RADR, expanding its data sciences and research teams, and completing a $26.3 million initial public offering.
Sharma anticipates 2021 to be a transformational year for Lantern Pharma, according to a statement. The year is already starting off well for the Dallas-headquartered company with it completing a $69 million follow-on public offering in January.
---
Tuesday, March 9
International Women's Day
… via LinkedIn
To celebrate International Women's Day on March 8, Beth Garvey, the CEO and president of BGSF, took to LinkedIn to share words from the IWD website as well as her own and show her support by participating in the #ChooseToChallenge by raising her hand to show she's in.
She writes, "We can choose to give voices to those who don't have the same rights. We can choose to build up, promote and mentor the next generation."
---
Monday, March 8
"Dallas is a hotbed of innovation, and we are fortunate that there are so many amazing women leading companies that are willing to share their time and their experiences with us."
Bill Chinn
CEO
The DEC Network
To celebrate Women's History Month, Erica Molett, the owner of Expansion Solutions Consulting, Kandake Tech, and Beyond the Ball, will be The DEC Network's featured guest of its "Her History: A Fireside Chat" event that will take place virtually on March 15.
Bill Chinn notes in a statement that she "has been recognized across the country for her innovative approach to public private partnerships and her ability to initiate innovative solutions to community challenges."
Along with tuning into the event next Monday, feel free to check out our recent article on four Dallas-area female founders as part of your International Women's Day and Women's History Month celebrations.
---
Friday, March 5
"The biggest risk for Texas is complacency and killing the golden goose. And taking for granted how competitive we are. Short of that, you are a dynamo of economic activity."
Peter Linneman
Principal
Linneman Associates
…on the affordability of Texas, via D CEO.
What's the biggest issue for the retail industry right now? According to Peter Linneman, a former professor of real estate at the Wharton School of Business at the University of Pennsylvania, it's not COVID or the online market: "The biggest problem is the state and local taxes."
Thankfully, the Lone Star state is known for its affordability in various important areas. Texas also leads the nation in population growth and DFW specifically reported the hottest home construction market in more than a decade, reports D CEO.
"Overall, the best thing is that we are affordable compared to the rest of the country—housing, office buildings, taxes, through and through, and that is the greatest asset you have," Linneman said during a recent event.
As D CEO's Bianca Montes puts it, "Even in a pandemic, Texas is a good place to be."
---
Thursday, March 4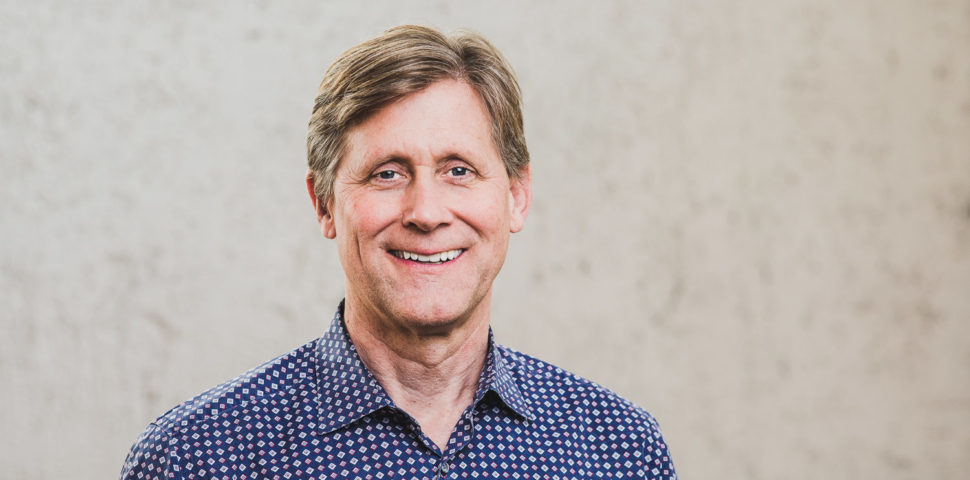 "An emerging sentiment took hold that you don't need to be in the Bay Area to build the next unicorn or decacorn."
Mark Sherman
General Partner
Telstra Ventures
…on how COVID has affected VCs, via the Dallas Business Journal.
According to a recent report from Telstra Ventures, Dallas-Fort Worth had the highest growth rate in the country when it came to VC investments in 2020. The ongoing pandemic may have possibly played a role in the area's 66 percent expansion rate.
"During the past 12 months, COVID required the VC community to think, act, and work differently," Telstra Ventures' Mark Sherman said in a statement.
So what type of companies have been garnering VCs' interests lately? Health tech, security tech, education tech, and fintech are among the top gainers during the pandemic.
Photo: Drew Bird Photography
---
Wednesday, March 3

"…if you have different thoughts and different backgrounds, you have a better exchange of ideas and thoughts and discussions; you're going to have a better result and a better work product."
Chris Luna
Vice President of Legal Affairs
T-Mobile
…on the benefits of diverse companies, via the Dallas Business Journal.
Chris Luna has worked with various organizations throughout his career including The Dallas Foundation and the Dallas City Council, but now as part of the T-Mobile team, he is focused on creating a diverse and inclusive workplace, according to the DBJ.
"I think that's going to be the biggest problem when we go back to the office; we're not all going to be together, and so how do you promote and encourage inclusion and diversity when people are sitting in their home office? I think that's going to be the big challenge," Luna told the DBJ.
Among the initiatives he's worked on during his time at the telecom giant include forming an annual diversity survey for the company's partner law firms and working with the legal department to create justice volunteer opportunities.
On companies moving from California to the Lone Star state, he says, "It'll be interesting to see how some other North Texas companies will want to keep up with them and want to do greater programming and greater initiatives."
---
Tuesday, March 2

Eva Csaky
Executive Director
SMU's Hunt Institute for Engineering & Humanity
…via the Houston Chronicle.
Energy efficiency is the forgotten fuel to prepare Texas for climate extremes, Csaky says in an op-ed published last week.
"When done right, the rewards of energy-efficiency measures are significant, including reduced household utility bills, improved health and comfort, reduced energy poverty, more competitive small businesses, up to 30 decent jobs created for every million dollars invested, reduced greenhouse gas emissions and improved resilience in the face of climate events and price shocks," she writes. "Texas has many of the puzzle pieces to lead the way so long as stakeholders can join forces towards a common goal that just took a very clear shape thanks to the storm of 2021."
Csaky says the Hunt Institute for Engineering & Humanity works to leverage technologies and convene stakeholders to foster systemic sustainable solutions that can improve both resilience and livelihoods.
"In our work we've found that there is great potential for economically viable energy-efficiency improvements in Texas," continues Csaky, who is also a co-founder of the Inclusive Economy Consortium, Texas.
Csaky, who led a "first-of-its-kind energy efficiency and renewable energy program at the International Finance Corporation, the private sector arm of the World Bank," says energy efficiency can be a driver of resilience and economic progress, but it takes smart policies—which includes both sticks and carrots. Those policies "need to go beyond building codes to empower stakeholders through information, training and education as well as incentivizing energy-efficiency improvements," she writes.
---
Monday, March 1
"Many companies fail because they don't recognize the external landscape and impending changes, or they don't realize the impact these will have on them."
Sanjiv Yajnik
President
Capital One Financial Services
Yajnik, who was named Corporate Innovator of the Year in the D CEO and Dallas Innovates 2021 Innovation Awards, has helped vault Capital One's financial services division from 51 team members in 2008 to nearly 5,000 in about a dozen years. He also drove the development of the company's innovation center in Plano.
In order to make sure the fintech institution doesn't become obsolete, Yajnik focuses on the S-curve, which he says is what a successful business trajectory generally looks like.
"Companies must make the jump to a new S-curve, reimaging their business into something completely new and innovative in order to survive," he says.
For more of Yajnik's thoughts on the S-curve, putting people first, reimaging car buying, and what's next, go here.
[Art: Michael Samples; Headshot: Capital One]
---
"Many companies fail because they don't recognize the external landscape and impending changes, or they don't realize the impact these will have on them."
Sanjiv Yajnik
President
Capital One Financial Services
Yajnik, who was named Corporate Innovator of the Year in the D CEO and Dallas Innovates 2021 Innovation Awards, has helped vault Capital One's financial services division from 51 team members in 2008 to nearly 5,000 in about a dozen years. He also drove the development of the company's innovation center in Plano.
In order to make sure the fintech institution doesn't become obsolete, Yajnik focuses on the S-curve, which he says is what a successful business trajectory generally looks like.
"Companies must make the jump to a new S-curve, reimaging their business into something completely new and innovative in order to survive," he says.
For more of Yajnik's thoughts on the S-curve, putting people first, reimaging car buying, and what's next, go here.
---
Friday, Feb. 26
"We believe the U.S. is entering into a bit of a Renaissance in manufacturing, and a lot of the manufacturing that over the last 30 or 40 years has been placed globally … the rationale behind that has really changed over the last 10 years."
Todd Dauphinais
Managing Partner
Clavis Capital Partners
…via the Dallas Business Journal.
As an investment firm that focuses on manufacturers of industrial products, Clavis Capital Partners chooses around only two out of 700 to 1,000 potential deals a year, according to the DBJ.
"The complexity of those supply chains, being closer to your end customer, rapid prototyping and speed to market and all of these things really play into having a U.S.-based manufacturing presence. That is something that we believe strongly in," Dauphinais told the DBJ.
Recently, the Dallas-based firm was named the fastest-growing privately held company in SMU Cox's annual Dallas 100 ranking. It exceeded 1,000 percent growth over the last 3 years, which was well beyond the collective average growth of this year's 100 companies.
Clavid's five-person team is part of every deal, with Dauphinais describing its growth as "steady by design."
—Lauren Hawkins
---
Thursday, Feb. 25
"It was a bit daunting to sacrifice everything I previously had going to take the leap of faith with ARKH. But looking back now I can safely say it has been the best decision of my life so far."
Landon Nickerson
CEO
ARKH
…on joining the ARKH team, via Dallas Business Journal.
At the age of 15, Landon Nickerson began his career on YouTube with a focus on video games. He garnered around 4.1 million subscribers at the height of his channels, reports the DBJ.
Now, he leads ARKH, a Dallas-based company that received $3.7 million in funding and has a $40 million valuation.
So how did Nickerson make the career change? According to the DBJ, "a key moment came in the middle of 2019 when he was 'hit with an insight' that led him to understand the potential for 'Spatial Augmentation Layer.'"
The insight aligns with ARKH's products such as the ARKH Ring, which aims to replace virtual reality controllers through the ARKH Spatial Data / IOT Ecosystem running on connected hub devices.
---
Wednesday, Feb. 24
"We take our role as community leaders seriously, so when winter storms affected millions … our top priority became helping Texas get back on its feet after this ordeal."
Sean Suggs
Vice President of Social Innovation
Toyota Motor North America
…on Toyota pledging $1M to relief programs, via the Dallas Morning News.
With every part of Texas being affected by damaging winter storms last week, organizations of all kinds stepped up to help out. Among those providing the largest donations are Toyota Motor North America, Vistra, Bank of America, and Target.
It's a personal issue for companies like Toyota and Vistra that call Dallas-Fort Worth home. The two orgs have donated a total of $6 million combined to support Texas communities.
The Dallas Morning News has created a complete roundup of companies doing good in major ways here.
---
Tuesday, Feb. 23
Dennis Cail
CEO and Co-founder
Zirtue
With a mission to drive financial inclusion, one relationship at a time, Cail is doubling down on Zirtue's focus on purpose, partnerships, and profit. "In that order," he says.
For Cail, the big challenges of 2020—COVID-19 and racial injustice—were the collision of "two perfect storms," prompting his team to look for ways to be "part of the solution."
Zirtue created a COVID-19 Relief Program during the pandemic, waiving its monthly subscription fee so users got no-cost access to borrowed funds from friends and family.
Now, Cail says his team has laid the groundwork for 2021 to be a pivotal year: "We spent 2020 preparing for it by setting the foundation required to build something meaningful and impactful," he says.
---
Monday, Feb. 22

"Retailers and restaurateurs are extremely entrepreneurial, and reinvention is the cornerstone of the industry."
Steve Lieberman
CEO
The Retail Connection
…on change being a constant in retail, via D CEO.
As the CEO of retail real estate services provider The Retail Connection, it may not come as a surprise that Steve Lieberman believes retail stores will remain central to the shopping experience even with the growth of digital shopping.
But as Lieberman writes, "Whether retail is red hot or in a blue state, retailers bring us together, meet the challenges of change, and unite parties for the optimal shopping experiences."
The ongoing pandemic has accelerated some retail trends such as online shopping. Even so, 80 percent of all retail sales are still in stores, according to Lieberman.
---
Friday, Feb. 19
Alex Treece
Co-founder
Zabo
…in an opinion piece on Coindesk.com.
"Why? Because it's unequivocally in U.S. strategic interests to do so," writes Treece on blockchain media platform Coindesk.
"The question is not if this will happen, but when," he continues in the opinion piece. "Whether it happens within 12 months, two years, five years, or 10 years will have major implications for U.S. positioning for decades. Failure to embrace bitcoin sooner rather than later will damage U.S. strategic interests and benefit rivals adopting it first."
Treece, whose Dallas-based startup Zabo raised $2.5 million to bring crypto to mainstream financial services last year, thinks "we can already see the logic for this transition to occur by looking at how countries are managing their reserve assets today."
PLUS: Have a case of cryptoconfusion? Zabo has a game — Papercrypto — that lets people construct a virtual portfolio to help new and existing users get engaged and educated.
---
Thursday, Feb. 18
Elaine Agather
Region Chair
JPMorgan Chase
via the Dallas Business Journal
We learned to pivot quickly and embrace te technology last year, Agather said in the DBJ. "Our advisors now have a lot of experience meeting with their clients on Zoom and addressing their needs."
Agather and other DFW banking leaders said the flexibility learned from the pandemic have helped weather the recent storms.
---
Wednesday, Feb. 17
Craig J. Lewis
Founder and CEO
Gig Wage
via LinkedIn
After raising a $7.5 million Series A round in October, Gig Wage, the Dallas-based fintech that aims to simplify payroll for the gig economy, announced an additional $2.5 million raise in January to continue boosting its fintech platform that's built for the "future of work."
The latest round brings the Dallas-based fintech's total Series A funding to approximately $10 million, the startup told us at the time. Founder and CEO Craig Lewis plans to quadruple his team by the end of 2021.
The gig economy pays around 65 to 75 million people as independent contractors, amounting to an estimated $2 trillion in transactions. But, Lewis says, the payroll structure is designed for traditional work situations—which leaves1099 workers to lose 2-20 percent of their income.
That's why Gig Wage's solution benefits both sides of a transaction: It lets employers instantly pay 1099 workers with control, flexibility, and scale–and at the same time, gives independent contractors an efficient way to receive payments.
---
Tuesday, Feb. 16

"This macro trend in how people work puts cowork operators in the sweet spot of the overall workplace industry."
Mike Daugherty
Founder and CEO
FUSE Workspace
… on the "dramatic acceleration" of a distributed workforce for enterprise users in the pandemic.
"When we first got into the business, we did not realize we would be working with larger enterprise users to the extent that we see now," says Daugherty.
The founder was inspired to launch the coworking brand after briefly running his hospitality company from home. In a move that diversified his business, DPG Partners—which develops, owns, and operates hotels in Texas—he launched FUSE, according to Coworking Insights.
Today, "the market has matured, which we believe benefits us all long term," he says. Just two years ago, "we spent a lot more time explaining flex workspace and coworking we do today."
Daugherty originally founded FUSE Workspace in 2018 to create an efficient space for doing business while benefiting the local community in Prosper. The brand motto—"Do More"—is its mission.
FUSE aims to help people do more in their vocation, their community, and the world, according to the publication. "We partnered with a local group called Grace Bridge," to make that a reality, he says.
FUSE has three flex office locations in Texas that also include Austin and Houston.
---
Friday, Feb. 12
"
Innovation is at the heart of civilization, and it means everything to me.

"

Bhavani Thuraisingham
Founding Executive Director
Cyber Security Research and Education Institute
University of Texas at Dallas
…via D CEO.

When it comes to innovation, Thuraisingham is most excited about the integration of quantum computing, cybersecurity, and AI and data science. To her, "that is the future."

And she's rightfully qualified to speak on the subject. Thuraisingham is lauded as one of the leading experts in data security and data mining. She has a 40-year career in tech, spending more than two decades in the commercial industry before joining UT Dallas. That includes stints at some big names: Honeywell, Control Data Corporation, MITRE Corporation, and the National Science Foundation.

After that, she held roles in federally funded research and development and the government before joining academia full time in 2004. Today, at UTD, she also is a professor of Computer Science and Louis A. Beecherl Jr. distinguished professor.

But her true mission? Advocating for and educating women in cybersecurity and data science.

Last month, Thuraisingham was a finalist for the Innovation in Cybersecurity award from D CEO and Dallas Innovates' The Innovation Awards 2021 for her dedication to building a culture of innovation in North Texas.
---
Thursday, Feb. 11
Lizzie Means Duplantis
Co-Founder
Miron Crosby
…on creating a boot brand, via D CEO.
While Duplantis (left) and her sister Sarah Means were in New York, they were surprised "by the positive feedback they received when they wore their traditional cowboy boots out on the town," per D CEO.
You can read more about how growing up in West Texas and being inspired by the city motivated the sisters to create their own boot brand called Miron Crosby, along with three other Dallas entrepreneurs' stories, here.
---
Wednesday, Feb. 10
"Music plays a powerful role in two people's love story."
Hesam Hosseini
CEO
Match
…on the company's just-released playlist of 50 Texas love songs on Spotify.
With live music on hold, Dallas-based online dating company Match has released a playlist just in time for Valentine's Day that includes songs by Texas artists Leon Bridges, Barbara Lynn, Gary Clark Jr., Lizzo, Demi Lovato, Blaze Foley, Black Pumas, The Chicks, and more.
Why? For the love of music, Match says. And Texas has been the Match home for more than 20 years, CEO Hosseini says. "We know the role that Texas music venues and artists plays for our members."
Along with the Spotify-exclusive playlist, Match announced a $25,000 donation to the National Independent Venue Association, or NIVA, which curated the playlist that ranges from country, hip-hop, blues to punk rock. The dating company will "match" additional donations to NIVA's emergency relief fund, hoping to hit a total goal of $75,000.
The donation to NIVA, the organization behind the Save Our Stages Act, "will help save our Texas stages so that music can continue to be the soundtrack for the many more love stories ahead," Hosseini says in a news release.
---
Tuesday, Feb. 9
"Traditionally, the concept of customer lifetime value hasn't existed in healthcare."
Sunny Nadolsky
Founder and CEO
Medibooker
…"We aim to change that," the CEO says.
Nadolsky sees a healthcare experience of the future that rivals the efforts taken in the retail sector. Healthcare plans and healthcare services have long overlooked improving the end user's experience, losing opportunities to earn customer loyalty, she says.
Her Dallas-based digital platform MediBookr, which streamlines communication between patients and healthcare providers, is raising the bar for user experience and customer satisfaction, says the founder who started the company in 2015.
By focusing on that UX, the ultimate end result can be lower operating costs and increased revenue. "There's a value to improving the end user's (patient, member, employee) experience," according to the founder.
---
Monday, Feb. 8
"In healthcare, there is no goal too bold to be excited about."
Hubert Zajicek
CEO and Co-founder
Health Wildcatters
Early in the pandemic, Hubert Zajicek moved fast to build an innovation response team to support medical professionals called the Health Hacking Crisis Network (HHCN).
That helped fill a vital need in the pandemic: PPE.
The network's innovators created cloth masks, face shields, and even snorkel masks to be converted into personal protective equipment. Some 30,000 cloth masks have been delivered so far.
Zajicek was recently honored as the Innovation Advocate of the Year in the D CEO and Dallas Innovates 2021 Innovation Awards. He's also credited with raising life science research awareness and impacting innovation in the sector, garnering an award from BioNorth Texas last fall.
Read about his take on innovation and what's next, including a partnership with United Way's Healthcare Innovation Challenge that has a $1 million prize, here.
---
Friday, Feb. 5

"Innovation means creating unique systems in order to open up new possibilities in an industry—changing it for the better."
Mandy Price
CEO and Co-founder
Kanarys
…via D CEO.
Kanarys, a Dallas-based technology startup that aims to foster collaboration between companies and employees on diversity, equity, and inclusion (DEI), has been an innovative company from the start as the first Black- and female-founded DEI-focused tech company, receiving fast notoriety in its first few years by growing 2,000 percent in users since its initial launch.
Price and fellow co-founder Star Carter are among a select group of 25 Black female founders who have raised at least $4.6 million in venture capital, after raising a $3 million seed funding round.
Last month, the startup won the Innovation in Talent and Diversity award from D CEO and Dallas Innovates' The Innovation Awards 2021 due to it cultivating talent in North Texas.
Price was also featured in Dallas Innovates' Future 50. Read more about her goal to change the "face of DEI, so that we can all work where we belong" here.
---
Thursday, Feb. 4
"Honestly, Texas! First, you become No. 1 in wind energy. This year, you will have the largest solar installation. … What's going on down there?"
Jim Smelley
Cyber Group
via Linked In
"Now," Smelley writes, offshore rigs are being converted into rocket platforms in the state.
What's going on? That would be "innovation, transition, progress …," replies MCC Partner Pam Watkins.
"We just want all pro-business people to chase their dreams with us in Texas," comments Cyber Group President Saurajit Kanungo. "Are you ready?"
Kanungo recently announced the launch of Dallas-based Cyber Group's new innovation lab, along with the hire of the company's first CINO, Rob Palacios.
---
Wednesday, Feb. 3
"We're built on resilience. From the beginning, we knew [building eCarra] would be the most important project of our lives."
Rock Robinson
CEO
eCarra
…on looking forward to challenges.
eCarra is a Dallas startup offering luxury "rides that matter" in their fleet of Teslas—with a tree planted for each ride given. To date, eCarra has planted more than 6,500 trees, preventing 40,000 lbs. of CO2 emissions.
While the pandemic has been tough on the rideshare sector, eCarra landed its biggest corporate client to date last year: Amazon Web Services Premium.
The startup has also faced its own tremendous setbacks and hardships. But according to him, they look forward to challenges because they're the reasons for innovation.
"What's next for eCarra is scale," he says. "We have been working silently in the background to make our company better."
In the near future, he hopes that eCarra will help electrify other fleets across the country, making a more sustainable ridesharing concept available in many more markets.
---
Tuesday, Feb. 2
"We even offered land for like $0 rent, you know, for people to come build … and that wasn't happening."
Chris Dowdy
Vice President of Academic Affairs
Paul Quinn College
… on efforts to find a grocery store to open a location in Southern Dallas ten years ago, via KERA
When efforts to attract a grocery store to Southern Dallas fell short, Dallas' Paul Quinn College came up with a new plan: It transformed its football field into the "We Over Me Farm." Located in a federally-recognized food desert, the college's garden has grown more than 30,000 pounds of healthy, affordable food for the community since 2010.
In the pandemic, the farm at the historically Black college has had to shift gears again, KERA writes. They're focusing on expanded partnerships with food pantries and increased donations to the North Texas Food Bank, among other things.
"It's such a clear indication of what's possible when we think about our resources without unnecessary constraints," Dowdy said in the publication. "It's never just a field, it's never just a building, it's never just a school. Especially in this neighborhood, there's always a way I thinking of it from a new or different perspective, one that's more appreciative of what can be grown and what can come out of these spaces."
---
Monday, Feb. 1

"I had already invested so much in this. I had to figure out how to keep things going."
Martha Palacios
Fitness entrepreneur
…on pivoting to a virtual launch for her Dallas-based business, via the Washington Post.
"Welcome to a pandemic-fueled rise in female entrepreneurship," writes Ilene Zimmerman in the Washington Post. While the pandemic has been an economic disaster for women, some took advantage of it—out of necessity, timing, or both.
Palacios, a 36-year-old Zumba fitness instructor, had planned to open a new fitness studio called Social Joy in late 2020. Early in the pandemic, she "began to panic as gyms canceled in-person classes because of COVID-19," according to the publication.
The entrepreneur decided to launch Social Joy immediately as a "very different" business than she had first imagined: A virtual fitness membership.
In March—with about $15,000 invested in equipment, software, and more—she advertised her first class on Instagram, according to the Washington Post. There were over 100 people in her first live stream. "Once class was over, I cried," she said.
Now, business is growing month to month and Palacios says she plans to continue the virtual component as another revenue stream—even after she can open a brick-and-mortar studio, per the publication.
Dancing is "exercise in disguise" and helps humans connect virtually or in real life, she says on her website. The entrepreneur, who calls herself a "Joy-Driven Fitness Professional," says "today's joy is essential to getting us moving."
---
Friday, Jan. 29
"When you step out into this world, even if you're not ready for it, it's going to be ready for you."
Tyrone "Tye" Caldwell
Co-Founder and CEO
Shearshare
…via Inc.
To build a business, you first have to build a relationship, says Caldwell. It's why the founder goes to the bank and drops off his rent check in person (and maybe you should too), according to Inc.
"There's something about looking someone in the eyes and realizing the authenticity of who they are … whatever you're trying to do, it's going to be through relationships," he says. That in-person outlook has served the entrepreneur well as he builds and expands two businesses: Plano-based Salon 74 by Tye and salon tech platform ShearShare.
---
Thursday, Jan. 28
Tommy Falgout
Vice President
TheLab
… on the nonprofit makerspace's culture of collaboration, via Plano magazine
TheLab.ms, dubbed "everyone's makerspace," has moved to Richardson's Innovation Quarter. It's now open to members and offers access to 3D printers, laser cutters, pottery, and other specialized tech equipment. Calling it "a gym for tinkerers and makers," organizers say the volunteer-run space is hosting a "not-so-grand opening" for folks to check it out on Feb. 2, per Plano magazine.
---
Wednesday, Jan. 27
"Underestimate me, that will be fun."
Allison Silveus
Co-Founder and CEO
Unbent
… on words of wisdom, via 10 Inspiring Female Founders in Dallas-Fort Worth
Those are words to live by for Silveus, whose mother gave her a shirt emblazoned with the quote. As she puts it, "I really do enjoy proving people's assumptions about me to be wrong."
The multi-talented entrepreneur—a designer, educator, geneticist, and researcher—co-founded Unbent, an augmented screening tool startup. Born out of a collaboration with the TechFW startup accelerator and incubator, the company assesses cognitive brain processing using virtual gaming tools.
As a founder, Silveus says "everyone is going to encounter some kind of obstacle no matter what you look like, what background you come from, or how many people you know. Knowing that, own up to the fact there will be great days, hard days, and average days when starting up a company."
While there will be a lot of those average days, she advises maintaining persistence. And, she says, "when life gives you lots of lemons, keep moving forward while being humble. Also, use those lemons to make some really sweet lemonade!"
---
Tuesday, Jan. 26
"Never in our careers have we been able to unravel the workforce from the workplace. It's not the physical office that we miss; it's the people."
Ran Holman
Executive Vice President
Market Leader
Newmark
…on the desire to return to work, via D CEO.
With the ongoing pandemic causing many people to work from home for months on end, it may come as a surprise that corporate relocation activity has already begun to pick up, according to D CEO's Christine Perez.
On top of that, Holman believes that the office market's restabilization will have momentum by the middle of 2021, with the desire to return to the workplace possibly having more to it than people just wanting to get out of the house.
As Holman told D CEO, "Most of us are in offices because we need to collaborate and be a part of something. The longer people stay remote, the more risk there is of losing cultural adhesion. There may be some changes in the way we use space, but the office market isn't going away. "
---
Monday, Jan. 25
"They're actually, paradoxically, a good sign."
Dr. Anthony Fauci
…on vaccine side effects via The Dallas Morning News
Some side effects can indicate the vaccine is working because it means the body is developing a response to the virus, according to Fauci, who spoke on a virtual panel with Bishop T.D. Jakes about COVID-19 vaccines today.
"People hear RNA and they think, 'Is this going to do anything to my genes?' " Fauci said. "Not a chance."
A panel of health officials joined Jakes to help "quell distrust about COVID-19 vaccines, especially within the Black community. Conversations With America: Understanding the COVID-19 Vaccine broadcast live on YouTube.
---
Friday, Jan. 22
"We tried to build a company based on humility. I am the guy in the t-shirt. I am the young guy in the room."
Kyle Waldrep
Founder and CEO
Dottid
…on Dottid winning the Innovation in Real Estate award, via the Innovation Awards 2021.
Last night, D CEO and Dallas Innovates announced the 13 winners of the 2021 Innovation Awards. Among the winners were Kanarys for Innovation in Talent and Diversity, Match Group for Innovation in Technology, and Sanjiv Yajnik for Corporate Innovator of the Year.
Although only 13 (virtually) walked away with an award, all 51 finalists are shaping the future of DFW. Go here for a full list of the winners of the Innovation Awards.
---
Thursday, Jan. 21

"Dallas is a can-do city, and that will show up as the economy takes off this summer."
Bill Cawley
Chairman and CEO
Cawley Partners
…on his optimism for 2021, via D CEO.
With COVID-19 vaccines currently being rolled out, real estate investor and developer Bill Cawley is optimistic about the real estate industry in Dallas-Fort Worth.
"It's my belief that the DFW market will be in recovery by mid-summer and very active by later this year," Cawley told D CEO. "Corporations are going to move to Dallas in greater numbers than we have ever seen."
Among Cawley's predictions for the future of the Dallas real estate market are that large relocations will be active by summer, the market will exceed 2019 activity levels, and the city will be fully recovered by the first quarter of 2022.
---
Wednesday, Jan. 20
Prem Luthra
CEO
Elm Street Technology
…on his 2021 outlook, via the Dallas Business Journal.
Although the year has only just begun, Frisco-based Elm Street Technology has already made two acquisitions. And more could be on the way.
"We'll be very acquisitive this year," Luthra told the DBJ.
Elm Street's real estate platform provides services such as customer relationship management and marketing. The company was created in 2016 and has garnered almost 150 employees. Elm Street has endured through the challenges brought on by the ongoing pandemic and Luthra remains optimistic for 2021.
"People are buying a lot more properties," Luthra said. "I'm feeling really good. … I'm bullish."
---
Tuesday, Jan. 19
"As the growth and health of our startup ecosystem continues to flourish, we are finally at (an) inflection point for companies."
Trey Bowles
Co-Founder
The DEC Network
…via the Dallas Business Journal.
Despite 2020 being a difficult year economically for many businesses, the Dallas area experienced its best year in venture-related investing in almost two decades, per the PwC/CB Insights Q4 2020 MoneyTree Report. The area reached over $1.1 billion in 2020, while it was only at $579 million a year ago.
"The consistency of our economy and the richness of talent has created a hub for entrepreneurship and innovation that will only continue to grow and materialize," Bowles told the DBJ.
Financial technology, healthcare, and cybersecurity were among the industries that experienced growth in 2020.
---
Friday, Jan. 15
"By working together, we as a business community have the opportunity to serve as a catalyst for change."
Sanjiv Yajnik
President, Financial Services
Capital One
…on Capital One's community programs.
As a champion of innovation, social justice, and socioeconomic mobility, Yajnik is a standout in the region for his work to create a more vibrant and equitable Dallas.
Capital One announced a $200M Impact Initiative last year to support growth in underserved communities and close gaps in equity and opportunity. Locally, it came to life through a series of grants and partnerships.
Recently, Yajnik was named to Dallas Mayor Eric Johnson's Task Force on Innovation and Entrepreneurship. The group is expected to work to attract, retain, and support startups in the area.
Yajnik is one of our Future 50 Dallas-Fort Worth innovators and disruptors you need to know in 2021. You can find the full list of standouts here.
---
Thursday, Jan. 14

"Giant steps often begin by first taking small steps, so we encourage everyone to … find inspiration for the future through learning about the past."
Linda Silver
Eugene McDermott CEO
Perot Museum
…on the Staircase Project featuring Black STEM leaders.
After announcing the Staircase Project last fall, the Perot Museum and the African American Museum Dallas have named local architect and artist Daniel M. Gunn the winner of the competition. The project was created to celebrate African American STEM leaders through art.
"When I'm not busy designing buildings by day, I'm honing my skills with the paintbrush on canvas by night," Gunn said in a statement.
Among the leaders depicted in his design are Dr. Charles Drew, the father of the blood bank; Shirley Ann Jackson, the first African American woman to earn an MIT doctorate; and Dr. Mae Jemison, the first African American woman who went to space. You can see Gunn's creation in person at the Perot Museum and learn more about the featured STEM leaders here.
---
Wednesday, Jan. 13
"I would rather be trying to find solutions for small businesses than sitting on the sidelines trying to figure out when the right time to jump in is."
Eric Donnelly
CEO
Capital Plus Financial Partners
…on helping small businesses receive PPP loans, via the Dallas Business Journal.
When the Paycheck Protection Program first began last year, certified community development financial institution Capital Plus Financial Partners wasn't ready to handle PPP lending and instead directed applicants to The First State Bank, reports the DBJ.
With the PPP reopen as of Jan. 11, this time, Capital Plus is ready to handle the program through a partnership with BlueAcorn. The online platform is able to provide businesses with quick applications that Capital Plus will then process and underwrite.
"It's certainly scary to jump out into an area that we don't have a lot of experience, but I sort of feel like everybody is in an unknown," Donnelly told the DBJ.
---
Tuesday, Jan. 12

"The critical answer to 'are there quality ag deals out there' is a resounding yes."
Austin Maness
Chief Operating Officer
Harvest Returns
The COO of Fort Worth-based fintech marketplace Harvest Returns says it has shown the agricultural community that there are like-minded investors around the world who will embrace online equity crowdfunding as an avenue to much-needed capital.
The Fort Worth-headquartered startup has hit a new milestone—$10 million in global private placement agricultural offerings, it announced today in a release.
Since the company's launch in 2016, Harvest Returns has funded more than 20 farms and ranches through its agriculture investment platform, according to the company. Amidst the backdrop of COVID-19, its investors had "an opportunity to build a more resilient food system."
Achieving that objective during the pandemic has answered "numerous questions for us at Harvest Returns," said Maness. "The obvious takeaway is that investors seeking quality, private equity offerings in the agriculture space do exist and are ready to passively participate."
Harvest Returns, which has a community of some 6,000 investors and 900 farmers, ranchers, and agribusinesses, has distributed more than $1.8M in returns to platform investors, the company reports. The company was started by two military veterans, Chris Rawley and Austin Maness, as one of the nation's first crowdfunding websites for agricultural investments.
---
Monday, Jan. 11
Ryan Cohen
Gamestop activist investor
Cohen, an entrepreneur who co-founded e-commerce company Chewy in 2011 at the age of 25, sees a transformational gameplan for GameStop. The investor, along with Chewy cohorts Alan Attal and Jim Grube, is taking a board seat at GameStop.
The appointment of the three directors—all with significant e-commerce and tech experience—"confirms the board's commitment to supporting the company's pursuit of growth and market leadership," the company said in a news release.
GameStop shares jumped some 17 percent today and "rocketed up 210 percent last year on hopes that it would benefit from the release of new video-game consoles," reports the DMN.
According to the publication, Cohen's RC Ventures, which has a 13 percent stake in the company as its second-largest shareholder, "has been pressing the Grapevine-based chain to undertake a strategic review to cut more costs."
Image: Gamestop
---
Friday, Jan. 8
"If you look at the DFW area right now, the tech industry is just exploding—a tremendous amount of talent, a tremendous amount of businesses."
James Henderson
CEO
mindzie
…via the Dallas Business Journal.
After incorporating early last year, SaaS startup mindzie recently raised $2.3 million in funding. Henderson, who was previously president and COO at Avigilon, told the DBJ that mindzie has exceeded expectations.
"We launched mindzie with one goal in mind, process optimization simplified," Henderson said in a statement. "Take the very manual concept of business process improvement and substitute it with a data-driven technology solution that provides actionable insights to save businesses time and money."
Henderson told the DBJ that the efficiency gains by using mindzie's services are around 20-30 percent for companies.
---
Thursday, Jan. 7
Bobby B. Lyle
Founder, Chairman, and CEO
Lyco Holdings
…on his best advice, via D CEO.
Before Lyle became one of the most influential leaders in North Texas, he originally started his career at General Dynamics in Fort Worth as a structural test engineer. While there, he recognized something he desired moving forward.
"I learned that I did not want to work for a large company where I did not have the opportunity for significant ownership," Lyle told D CEO.
He went on to help launch a number of private companies and joint ventures and found Lyco Energy Corp. Lyle also developed a major presence at his alma mater Southern Methodist University, where he is the name behind its engineering program and a member of the school's board of trustees.
Want more? Go here for Every Last Word 2020: The Archive.

Get on the list.
Dallas Innovates, every day.
Sign up to keep your eye on what's new and next in Dallas-Fort Worth, every day.