When Capital One launched its Impact Initiative, the financial services giant made a commitment to support growth in underserved communities and advance socioeconomic mobility by closing gaps in equity and opportunity. 
These goals are what made this year's Reimagine Communities Summit—Capital One's sixth iteration of the event—so vital. Capital One virtually hosted more than 535 nonprofit, business, civic, and corporate executives for a free half-day of exploring how to empower our communities post-pandemic. 
A key question: "Where do we go from here?"
Capital One, which has a large presence in Plano, emphasizes that building strong, healthy communities as places to work and live can benefit us all.
The Reimagine Communities Summit aims to equip a cross-section of experts from both the public and private sectors with actionable ideas and insights. Through keynotes, educational workshops, and panel discussions, the summit engaged attendees in dialogue that identified ways to close equity gaps and assist people in gaining better access to socioeconomic opportunity.
"This year, in particular, there are so many things that changed. The Reimagine Communities Summit is that much more critical for us," Sanjiv Yajnik, President, Financial Services at Capital One, said in his opening remarks.
"I'm really hopeful that through this summit we can talk about strategies to leverage both technology and physical spaces, bringing them together in an innovative way so that we can do even better in the future than we've done in the past."
Keynote speaker Valerie Jarrett, a former senior advisor to President Barack Obama, drew on her time in the White House to speak about transformational change to kick off the summit. Marty McDonald, the founder and CEO of Boss Women Media, served as emcee.
The closing panel delves into insights from Capital One's Marketplace Study. The ongoing study of more than 6,000 Americans highlights "how consumers are thinking, feeling and believe they are behaving in reaction to the financial impact of COVID-19. " The study serves as the first release from Capital One's newly launched Insights Center.
TRANSFORMING TAKEAWAYS
Here are key points, advice, and topics discussed throughout the day.
A Time for Transformational Change: Advancing Diversity, Equity, and Inclusion Inside and Outside Your Organization
On this panel, Wajahat Ali, a Daily Beast columnist, author, and TED speaker; Evan Frazier, president and CEO of The Advanced Leadership Institute; and Chastity Lord, president and CEO of the Jeremiah Program, joined Marissa Horne, VP of Tech & Data at Financial Services at Capital One, to discuss how to identify structural inequities to advance more inclusive policies and practices that could affect internal and external organizational change.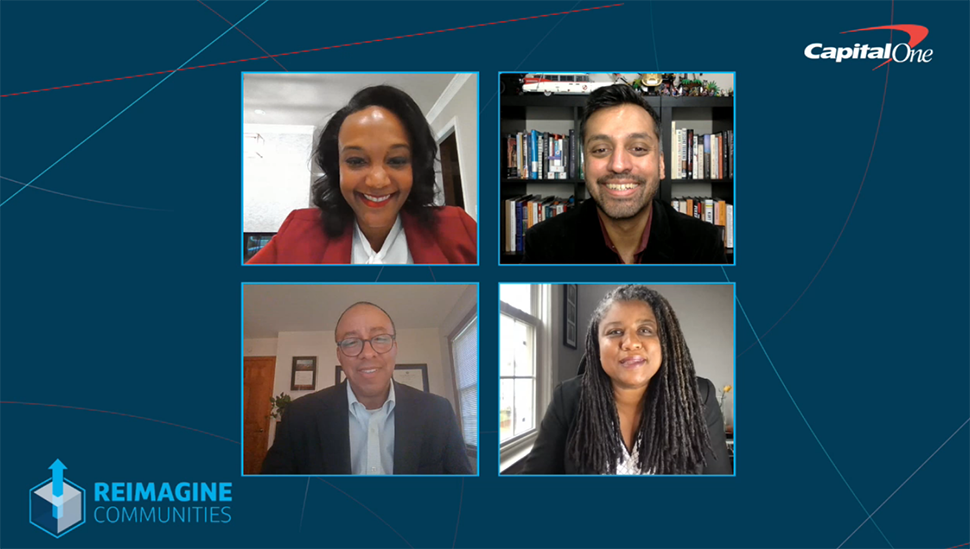 Horne opened up the conversation by noting that the topics of DEI and belonging have moved to the forefront of our society. "Leaders from every sector have been challenged to not only address the systemic issues of racism and prejudice in their organizations, but leaders and organizations are now expected to actively support and advance minority and disadvantaged populations in their communities," she said.
Lord believes that first and foremost, organizations need to think about how much is going to be allocated to DEI in terms of finances, real estate, agendas, and time. "It's important for us to understand that if we're going to shift how we think about diversity and equity in our country and in our organizations, we have to get clear on what the vision is," she said. "It's going to look different based on who the organization is and what you do."
Ali agreed that DEI can "no longer be a checklist that HR does once a year." He said organizations have to create a safe, productive space where employees can have these uncomfortable yet important conversations, rather than leave them to the "token person of color." That's something he's personally experienced—and "it is exhausting."
If you establish all that with leadership, culture, values, and clearly articulated goals, you can really transform your workplace, Ali added.
"We can't control everything," he said, "but we can control our intentions and our actions."
Diversity, equity, and inclusion are "not a one-time act," Frazier noted. It's a collective strategy; it's accountability.
Frazier believes that creating a sustainable culture where people feel included and valued starts from the top, with company leadership. Then it has to be embraced by the entire organization.
"There's a lot of talk out there in organizations, but what specifically are you doing? What's the outcome? Are you measuring the outcome?" Frazier said. "You have to have a strategy, with actions. Then measuring that is really a critical factor for creating a long-term sustainable culture."
Post-Pandemic Economic Recovery: Where Do We Go from Here
Jorge Calderón, Dallas Market President, Capital One, moderated the discussion with Vu Le, founder and writer for Nonprofit AF, on how nonprofit leaders should be thinking about economic recovery and financial sustainability in today's rapidly changing world. The two explored why traditional fundraising and donor and board engagement are no longer effective post-pandemic.
Le talked candidly about nonprofit fundraising, management, and governance.
"We're at an existential crisis, and we don't want it to go to waste," Le said.
"There are a lot of power dynamics in our sector," he added. "We're responding to needs in our communities, and as long as those needs are there, it's the responsibility of government and funders to sustain the people doing this work until we're ready to address these inequities."
Le thinks understanding overhead is what allows nonprofits to do their work. "We are firefighters putting out the fires of injustice, but we need to stop the fires in the first place instead of reacting to each symptom of society," he said.
Racial equity in funding is also key. To Le, "equity is about the budget. You need to fund the minority-led organizations so you can truly live up to your values."
The Future of Work: Advancing Workforce Equity in Your Community
Kerone Vatel, SVP of Community Impact & Investment at Capital One, moderated a conversation with Plinio Ayala, president and CEO of Per Scholas; Amanda Cage, president and CEO of the National Fund for Workforce Solutions; and Chris Valka, chief operations officer of SER Jobs.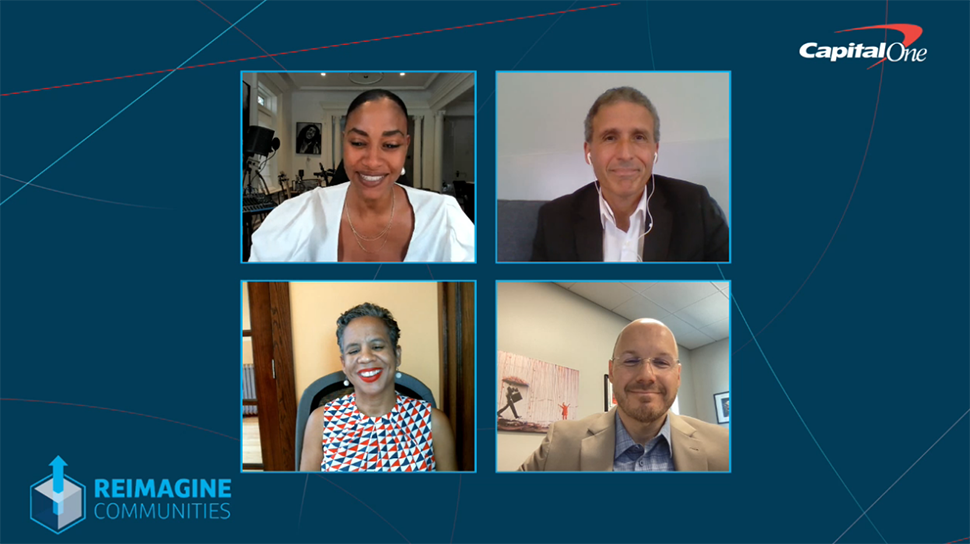 Job losses, changing business models, and accelerated automation have all drastically reshaped the economy and its workforce throughout COVID. The workshop brought together experts from the nation's largest workforce development organizations to find strategies to adapt to the "future of work."
To Valka, "COVID is the great accelerator." Workforce development is a changing landscape—to stay relevant you have to be able to upskill quickly.
"There's this belief that education is the great equalizer, but that's just not true," Cage said. "We have to think of education much more broadly with work-ready, industry-specific credentials. That's what can move the needle."
Why Resilience is (Almost) Everything: Icebergs, the Basement, and the Letter A
The featured speaker for this session—geared toward finding time-tested tools to help attendees feel fulfilled, efficient, and productive as a person and as a leader—was John Ficken, founder and president of The Quotidian Group. Arjun Dugal, CTO of Financial Services at Capital One, moderated.
Ficken bases his philosophy of leadership development on the very idea he named his company after: quotidian.
"It's crazy what you can accomplish if you pick the right things to focus on, and work on them every day," he said. "It's extremely difficult to excel at anything if you don't continuously work on the things that are going to help you progress."
He believes the starting point of all development for individuals, teams, and organizations is "the acknowledgment that we're a work in progress."
"How can you possibly develop if you're not comfortable saying you're a work in progress and you need help?" Ficken asked.
The silver lining of COVID, Ficken believes, is that it was an equalizer. Though everyone has their own individual stressors, the pandemic brought countless millions to a Zoom or other video conferencing screen. And, he said, "nobody had that figured out."
A central concept of his discussion was "Maslow's house." (Ficken doesn't like to use the phrase "Maslow's hierarchy of needs," which the concept is often referred to).
The central beauty and genius of Maslow's idea, Ficken said, is that "if a base need is not met, there is no way a higher-order need is going to be met." The most important floor is the basement—if there are no food, shelter, or physiological needs being met, we retreat to the basement."
"It goes way beyond this idea of 'take care of yourself,'" he added. "Pay exquisite attention to what floor you're on, at any point in time, and be honest with yourself."
In corporate culture, Ficken thinks it's okay to be in "fight mode." What he worries about is when people get into "flight mode," and in the era of 2021, that means being overcome by feelings of exhaustion, stress, powerlessness, and inadequacy.
"If you think about your job description as an executive director or leader, [the goal is] to get as many people as you can in your ecosystem to the top floor. That's where the magic happens," Ficken said. "But it has to start with you. It's virtually impossible for you to get other people to the top floor if you're not there yourself."
What Does the Data Say? How Nonprofits are Pivoting to Become Future Ready
The last panel of the day focused on how nonprofits have continued to leverage data and analytics to make more strategic choices during COVID, ultimately, to drive community impact and recovery. The featured speakers were: Shena Ashley, VP of Nonprofits and Philanthropy at The Urban Institute; Emary Aronson, chief knowledge officer and Senior Advisor to the CEO at the Robin Hood Foundation; Melissa Bearden, senior director of Consumer Intelligence at Capital One; Andy Navarrete, Head of External Affairs at Capital One; and Alan Cohen, president and CEO of Child Poverty Action Lab.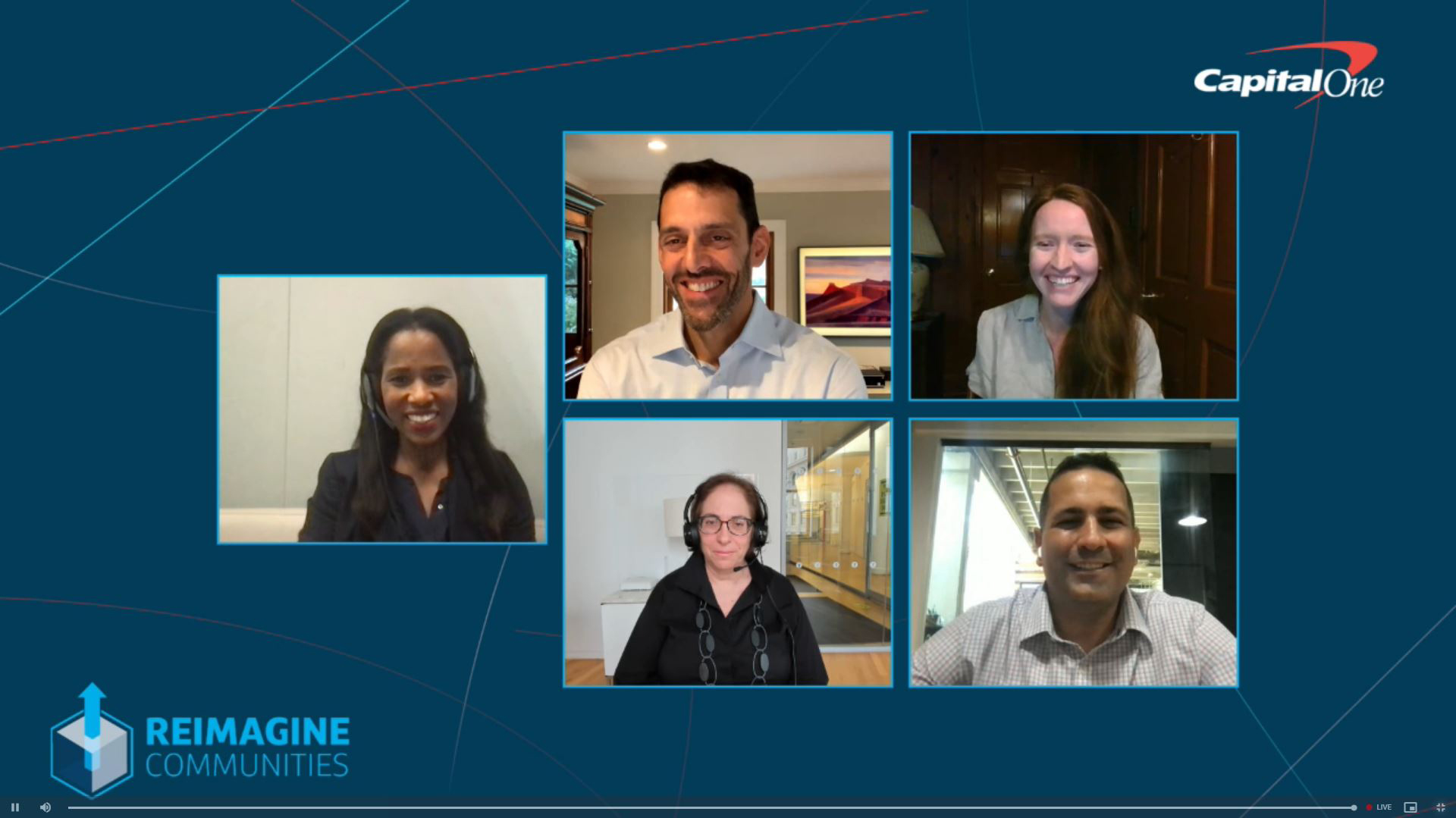 One of Robin Hood's core values is that it's data-driven. Aronson says the company uses data to understand how the world works in three ways: data as the report you're going to discuss later, data from experience, and data from an endpoint.
Robin Hood is using data to assist in COVID-19 recovery. According to Aronson, structural racism and poverty are tied together, which affects the way capital is allocated. That's why the company created a separate fund to support leaders of color.
"We know that we do not want to rebuild broken systems, we want to take this opportunity that's likely a once in a lifetime chance to build new, equitable systems. And we have a closing window on that, because the American rescue plan dollars will only last for a few years," Aronson said. "If we don't institutionalize change, then we will go back to old systems. Work needs to be done now and with urgency."
Cohen echoes the sentiment, but is optimistic about the innovation and progress born from the pandemic.
He points out a number of things that we should have been advancing for decades, but didn't see their spike until COVID: telehealth, internet access, broadband, etc.
---
READ NEXT CPAL's Alan Cohen Wants to Cut Dallas Childhood Poverty in Half Within a Single Generation
---
Child Poverty Action Lab has a mission of reducing child poverty by 50 percent within a generation. Because of the child tax credit, Cohen says the goal has already been met.
"So today I get to announce that we have a new mission as an organization to reduce child poverty by another 50 percent in a generation," he said. "These are things that are happening because of the response and progress and innovation of the moment. So I think we should be hopeful. But we also shouldn't be taking any victory laps. We're just at a new starting line."
The panel also delved into additional insights from Capital One Marketplace Index: The Road to Recovery, which calls attention to the unequal economic impact of the pandemic and continued challenges for key underrepresented groups.
Download the study to dig in: Capital One Study Underscores Unequal Impact of Pandemic
According to Navarrete, Capital One realized it needed a more formal mechanism to share data learnings and analytics with the outside world.
Bearden's team had already established a daily report of "all things COVID"—the spread, public responses, economic impact, the toll on different population segments—that the company would use to inform its daily navigation of the unprecedented circumstances.
"We absolutely believed that there was an external use for this as well," Navarrete said. "Organizations and institutions that are so data reliant may not have the capabilities, the technology, or the resources to develop this kind of information. … We felt like this was a logical next step."
Capital One recently launched the Insights Center, which combines Capital One research and partnerships to produce insights that advance equity and inclusion. The intent was to harness insights to advance the work of community partners, policymakers, and other critical to the dialogue.
Unfortunately, Bearden says, one of the consistent themes observed throughout the past 18 plus months was that disadvantaged groups have, in many cases, been disproportionately impacted. As community leaders dig into Capital One's findings, she hopes they can help get programs, funding, energy, and more targeted at the people, places, and communities that truly need it most. 
How to listen to the sessions
All sessions are available online. Go here to listen. 
Dallas Innovates was a media sponsor of the Capital One Reimagine Communities Summit. 

Get on the list.
Dallas Innovates, every day.
Sign up to keep your eye on what's new and next in Dallas-Fort Worth, every day.