More than 300 entrepreneurs and investors gathered at the first-ever Venture Dallas this week.
Launched by nine local dealmakers, the two-day conference boosted relationships between local founders and out-of-town investors, put North Texas even more on the map as an investment catalyst, and gave a platform to the world's top tech executives.
If you couldn't make it—or just want to reflect—here's a session-by-session breakdown of Day 2. You can also check out Day 1 here and go behind-the-scenes here.

Opener: How Venture Dallas came to be
Why nine champions of North Texas startups created an event to connect investors and entrepreneurs.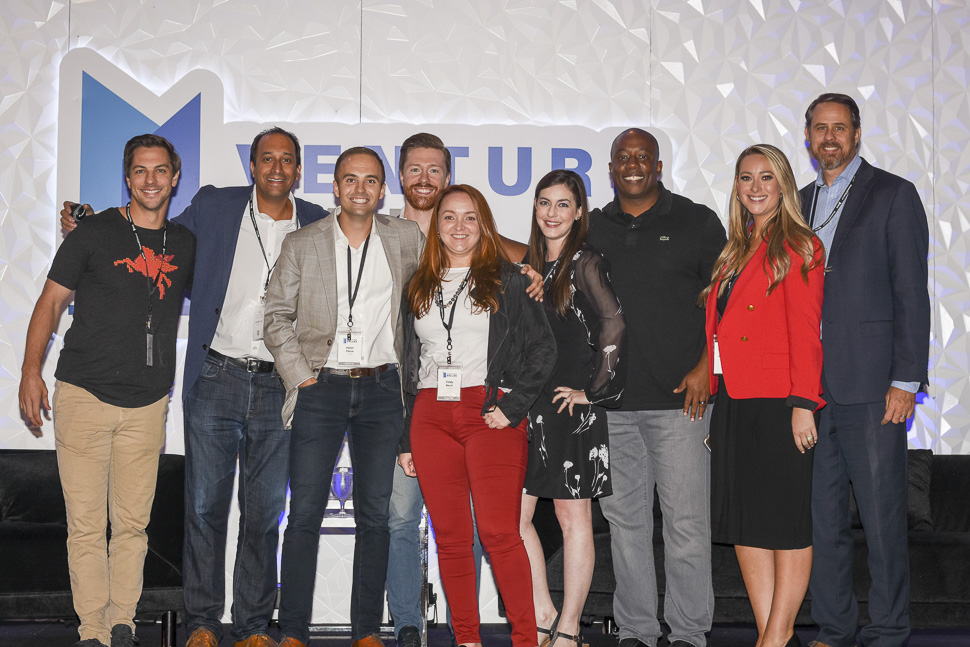 Aaron Pierce of JF2 Capital shared the story of how Venture Capital Dallas came to be. The question was asked: "Why does Dallas not have a premier early-stage technology conference that happens in Dallas?" It was a great question, and the nine members of the host committee decided to do something about it. 
Takeaway: "About a year ago, we were at an investor roundtable that Silicon Valley Bank put on. The question was asked, I think by Vik Thapar of Cypress Growth Capital: Why does Dallas not have a premiere early-stage technology conference that happens here? And we were like, Well, that's a great question." —Aaron Pierce, managing director, JF2 Capital

Reaction: "We had 130 registered investors for the event from 15 different states and some 37 cities. We were delighted to attract so many of them to Dallas for a first-time conference." —Vik Thapar, partner, Cypress Growth Capital
Fireside chat with Emmitt Smith

How one man rose from hardscrabble beginnings to build a career in sports and real estate.
Pro Football Hall of Fame Running Back (and three-time Super Bowl Champion) Emmitt Smith of E Smith Legacy Holdings sat down with MVPindex CEO Stan Woodward to talk about the transition to a new role of businessman and entrepreneur. Smith now runs several businesses spanning real estate, construction, and technology.
Takeaway: "Roger Staubach and Magic Johnson are two of the people I rely on the most (for advice) because they come from the field which I come from. … They know how to manage a whole entire organization or department, because that is the way they were groomed. … So I can go ask the dumb questions to one of them and not feel uncomfortable." —Emmitt Smith
---
READ NEXT Emmitt Smith on Why Retirement is Overrated, Off-Seasons are Key, and DFW is the 'Center of the Universe'
---
Reaction: "Emmitt's humbleness was refreshing. He points out that being open to learning and listening has served him well in his career, despite being a superstar on the football field."—Joe Beard, partner, Perot Jain
Lightning talk: Why electrification will be the next big thing

How a Fort Worth startup's inventions may produce more powerful electric motors that use less energy.
"We have an opportunity to be the electrification capital of the world," Brad Hunstable, CEO and founder of Fort Worth's Linear Labs, said. "We're entering a new era. It's something different. It's something different in this town, in my opinion." Hunstable said the high-efficiency electric motors his company is designing could help make the area the hub of powering stuff with electricity. "You can't keep burning dead dinosaurs forever."
Takeaway: "I've seen stats that say 60 percent of all electricity passes through some sort of electric motor. And electric motor designs really haven't changed since the days of Thomas Edison." —Brad Hunstable, CEO, Linear Labs
Reaction: "There are a few themes that are very investable opportunities in [air travel]. It was discussed earlier: Energy storage systems, battery technology, and advances in battery tech will help to facilitate the real operations of these air vehicles. There are innovations around electric motors, controllers, and actuators that will be core components of the work that is to be done." —Wyatt Smith, head of business development, Uber Elevate
Panel: Investing in Dallas

National venture capitalists described investments they have made in North Texas, and offered entrepreneurs dos and don'ts on raising institutional money.
Moderator
Jackie Kimzey, University of Texas at Dallas
Panelists
Kelly Ford Buckley, Edison Partners
Seth Harward, Frontier Capital
David Hall, Rise of the Rest Seed Fund
Takeaway: "How many engineers does it take to deliver a good product? As many as it takes. But there has got to be a leader." —David Hall
Reaction: "This event needs to continue happening, and on a larger scale, in order to support the demand shown this year." —Natalie Pazera, director of innovation, Dallas Regional Chamber
Panel: The future of Mobility
The team behind implementing Uber Elevate in Dallas-Fort Worth discusses what lies ahead in transportation and innovation. New tech will allow people to coordinate different forms of transportation, such as cars and air taxis, so people can go anywhere with the push of a button.
Moderator
Anurag Jain, managing partner, Perot Jain, and chairman, Access Healthcare Services
Panelists
Scott Drennan, vice president, innovation team, Bell
Wyatt Smith, head of business development, Uber Elevate
Mike Berry, president, Hillwood
Takeaway: "It's really going to be more than just the vehicle these days for us. We're thinking about how to provide a service. So instead of producing the vehicle, getting it out to the customer and helping operate it, maybe we are more directly involved in some other verticals as well. That's a really interesting part of the demand cycle." —Scott Drennan
Reaction: "The mobility panel was power-packed. We literally had the experts in mobility services, hardware, and infrastructure on that stage." —Joe Beard, partner, Perot Jain
Panel: Growth story of Dallas-based Alkami

Challenges an entrepreneur overcame in building a 400-plus employee company whose technology helps large banks and credit unions serve customers digitally.
Moderator
Vik Thapar, Cypress Growth Capital
Panelists
Stephen Bohanon, co-founder, chief strategy & sales officer, Alkami Technology
Charlie Plauche, S3 Ventures
Takeaway: "About three or four years ago, we were growing so fast and we just felt like, 'We needed people, our investors want returns, we've got clients pushing us to go faster, so let's just bring in people that have experience and skills in this business.' We didn't scrutinize or filter for culture. And it led to a pretty bad period within our company." —Stephen Bohanon
Reaction: "The honesty and openness that Stephen Bohanon displayed was great." —Joe Beard, partner, Perot Jain
Lighting talk: Payments are so hot right now

Opportunity waits for companies that can streamline the slow, costly methods through which businesses make and take payments.
First and foremost, everybody wants payments to be exactly right, Modo CEO Bruce Parker says. "They don't want you messing around with their data. They don't want you messing around with their money. There are a lot of rules, security issues, compliance issues," he says. "They are all kinds of different things that you have to understand. Sometimes you have to have special licenses to even participate in the payments industry." Parkers company, Modo, aims to reduce friction in payments.
Takeaway: Payments are a "mess" because they, for years, have run on two computing systems called a "tandem" and a "mainframe." "There's a lot of legacy infrastructure. And it's been really, really difficult to make changes or to innovate around them." —Bruce Parker
Lightning talk: Esports is everywhere

Why competitive video gaming is capturing young people's minds—and represents one of the best ways for companies to reach the next generation.
Randy Chappel, managing director of Hersh Family Investments and head of Hersh Interactive Group, has three teenage boys, and they have totally different interests. "I got an athlete, a rock climber, and a builder, but the gaming thing runs through every single one of them," he says. And they don't watch TV: "I knew something was happening out there." Today there's 450 million esports fans and enthusiasts around the world. And it's growing about 15 percent a year. But where does Dallas fit it? "We think we have the best esports market in all of esports," Chappel says.
Takeaway: "Overwatch, which not a free game, has sold more than 300,000 copies in D-FW alone. That's more than double the number of high school football players in the entire state of Texas … eSports events are selling out big arenas such as the Barclays Center in New York and Wembley Stadium in New York." —Randy Chappel
Keynote panel: Looking ahead

America must consider the implications that technology advances can bring.
Molly Cain of GovCity Group talks with scientist, comedian, and author Bill Nye (and the CEO of the Planetary Society) and Hypergiant Industries Founder Ben Lamm about opportunities in space—and about becoming a geek.
Moderator
Molly Cain, GovCity Group
Panel
Bill Nye, scientist, comedian, and author
Ben Lamm, CEO, Hypergiant Industries
Takeaway: "If you've been to Australia, they have tremendous trouble invasive species. If you go to work for life on Mars and you bring along too many microbes from earth, you won't be able to tell one from the other. So let's all be thoughtful." —Bill Nye
Reaction: "Entrepreneurs are now building businesses around bringing experience and wisdom to their startups. That gives them the unique ability to make a gallon of olive oil out of a single olive, the rest of which is highly capital-efficient businesses that reach profitability and achieve outsized returns for their stakeholders." —Samantha Colletti, senior vice president, Silicon Valley Bank.
Closer: What's next for Venture Dallas

How support of this week's conference shows the commitment companies large and small have to local startups.
Takeaway: "As a first-time conference, we really didn't have data points to show anyone when we went out to raise sponsorship dollars. Some 21 sponsors stepped up. We chose our sponsors intentionally to feature the institutions that consistently play a key role in the entrepreneurial technology and innovation community here in Dallas." —Samantha Colletti, senior vice president, Silicon Valley Bank

Reaction: "For our business specifically, (the event's most important outcome) was building relationships with organizations that have connections to help us grow, such as sourcing tech or advisors if needed." —Tommy Shuey, co-founder and head of strategy and analytics, Overlay Analytics.
Takeaways were edited for brevity and clarity. Jeff Bounds, Quincy Preston, and Maddie Preston contributed to this report.
Dallas Innovates is a media sponsor of Venture Dallas 2019.
---
More on Venture Dallas 2019
Hear from the nine members of Venture Dallas' host committee on why the investment-focused event matters in North Texas and beyond.
Next Tuesday and Wednesday, startups and investors will gather in Dallas to embark on a first-of-its-kind journey in our city: to connect with innovators, business luminaries, and investors from around the nation and showcase the things that make Dallas' entrepreneurial landscape fertile.
Some 80 entrepreneurs and investors gathered at Capital Factory for custom-tailored meetings during Day 1 of Venture Dallas. Here's how it went.
Entrepreneurs and investors at the Venture Dallas conference this week painted pictures of four fields with which this region may be synonymous one day. Video games are involved.
Venture Dallas' presentations showed where opportunities are, who is going after them, and how the area can work together to give moonshots better chances of landing. The curated crowd included investors from some 15 states.

Get on the list.
Dallas Innovates, every day.
Sign up to keep your eye on what's new and next in Dallas-Fort Worth, every day.