Goldman Sachs 10,000 Small Businesses is a business education program for small businesses that links learning to action. 10,000 Small Businesses is an investment funded by Goldman Sachs and the Goldman Sachs Foundation to help entrepreneurs create jobs and economic opportunity by providing greater access to education, capital and business support services. Through the program, small business owners will gain practical skills that can immediately be put into action. Participants will find out how to:
Create and execute a customized growth plan
Identify and evaluate opportunities
Understand financial statements
Hire, retain and lead employees
Negotiate successfully
You Built Your Business. We'll Help You Grow It.
10,000 Small Businesses graduates are increasing their revenue​s and creating new jobs.
We look for applicants who are passionate about growing their business, creating jobs in their communities and who generally meet these criteria:
Owner or co-owner of a business
Business in operation for at least two years
Business revenues of at least $150,000 in the most recent fiscal year
Business with a minimum of four employees (including the owner)
Our Alumni
Hear what our 10,000 Small Businesses alumni have to say about how the program has helped them increase revenue and create jobs. Listen now!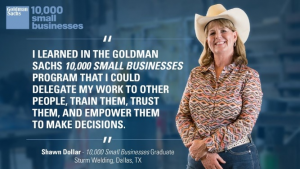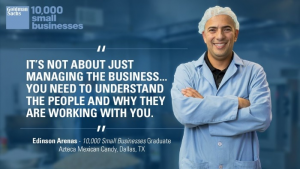 Is Your Business Ready For The Next Level?
Learn more and apply for our program today at www.dcccd.edu/10ksb or www.10ksbapply.com.