We love folks who have a way with words. 
Here's a roundup of quotes from North Texas innovators that inspire, inform, motivate, or simply make us laugh.
Dallas Innovates publishes "The Last Word" each day in the Dallas Innovates Every Day e-newsletter.  Make sure you don't miss a thing by signing up here. 
If you have a few wise words of your own, let us know.
---
Friday, Feb. 7
Donna Letier
CEO
Gardenuity
…on being an early bird, via D Magazine.
 
Letier founded Gardenuity, which sells grow-it-yourself gardening kits, with her business partner and close friend Julie Eggers. Last September, Gardenuity was featured at a RevTech event and was partnering with Neighborhood Goods at the time.
One lesson Letier has learned through her online gardening business is that listening to customers' feedback is an important part of the process. Especially when one customer wrapped up Gardenuity plants to give to his wife as a Christmas present—then told the company that all of the plants were dead when the package was opened two weeks later.
"So now on the outside of the box, we have a sticker that says 'Live Plants, Open Immediately,'" Letier told D Magazine. "That's a result of that happening. So he made us better."
---
Thursday, Feb. 6
Claudine Zachara
Co-founder, President, and COO
ThinkWhy
…on advice for someone breaking into startups.
 
"No matter how elegant a plan is constructed with data and strategic vision, be prepared to pivot and be adaptable," Zachara told Dallas Innovates.
Read more of Zachara's advice here, plus what she thinks about the massive opportunity in the labor market, what's next after launching ThinkWhy, and how she personally got involved.
---
Wednesday, Feb. 5
"We all had to learn what we were doing, since it wasn't something anyone had ever dealt with. It took about a year to get the green light."
Terry Lantrip
Lake Dallas Real Estate Developer
…on the Lake Dallas Tiny Home Village, via D Magazine.
 
The "country's first tiny house community to be built in city limits" opened in October. It's a project that's landed developer Terry Lantrip in the spotlight of a national movement, writes Rebecca Lee Moody in D Magazine.
Lantrip's vision to create a village exclusively for movable tiny houses in an urban area was "a three-year ride" from concept to completion. The developer, who saw his first tiny house in 2014 at the State Fair of Texas, first proposed his idea in 2016 to the city council. 
What's it like to live in 300 to 400 square feet? "One person's closet truly is another's castle," writes Moody. Here's the story of a few folks making it work.
---
Tuesday, Feb. 4
"When tech recognizes that minorities have a unique perspective on culture, and then when you bring those resources to that culture, you're building up an ecosystem that's totally going to change the world."
Tiffany Ricks
Founder and CEO
HacWare
…via LinkedIn.
Ricks' company HacWare specializes in AI and cybersecurity product development and acts as a company's "security sidekick." Recently, HacWare released an autonomous product that can detect who's in danger of a cybersecurity attack, which prevents data breaches, increases awareness, and identifies any training gaps.
Next, the company plans to launch a 100 percent diversity-driven learning management system focused on cybersecurity awareness and is expanding to NYC. Despite her company's success, she still doesn't take advice for granted. 
 
"Any insight that I can get, I'm going to take," Ricks told Transparent Collective.
---
Monday, Feb. 3
"There are always setbacks. Learn from every experience. Every time you are doing something that's out of your comfort zone, you are leveling up."
Veena Somareddy
Co-founder
Neuro Rehab VR
…on advice she'd give female entrepreneurs, via Forbes.
 
"It's such a good time to be a female entrepreneur and a technologist," Somareddy told Forbes. "There are so many opportunities out there because of the rapid growth of innovation."
In 2017, Somareddy launched Neuro Rehab VR to create engaging, motivating, and customized VR/AR exercises to help people strengthen and form new neural pathways in the brain. After winning UTD's Big Idea Competition, she gained access to mentors and expanded her reach from being a technologist with no business experience.
 
"But, I learned how to pitch, how to have a business sense around technology, and how to grow a business. Most importantly, I learned how the healthcare industry works," Somareddy said. "Having this background knowledge of the healthcare industry has been crucial for our company's success."
---
Friday, Jan. 31
"The way that people, products and services move is changing so rapidly. It is also great that Dallas is becoming a critical geography as it relates to mobility innovation."
Joe Beard
Partner
Perot Jain
…on what exciting opportunities lie ahead, via the DBJ.
 
Through the early stage venture capital firm Perot Jain, Beard is working to help tech companies transform and grow. Beard shared his thoughts on what needs to happen in order for more minorities to be in leadership roles in the investment banking industry.
"LPs (capital providers to funds) will need to force the change," Beard said. "They must continue to invest in diverse teams that invest in diverse founders."
---
Thursday, Jan. 30
Marie Quintana
Executive Vice President of Communication
Chief Marketing Officer
Tenet Healthcare
…on the best career advice she's received, via the DBJ.
Quintana joined Tenet in 2018 as the company's first enterprise-wide CMO. Before joining the company, she spent more than a dozen years at both PepsiCo and IBM, and also ran her own business called the Quintana Group.
Multiple people have joined Tenet in the past few years including Brian James, who's joining the team as it's first meteorologist after leaving NBC5, and Paola Arbour, Tenet's executive vice president and the CIO. Arbour was recently one of our finalists for the inaugural Innovation Awards.
Tenet is a multinational diversified healthcare services company. Last week, the Dallas-based company was named on Fortune's list of Most Admired Companies based on a survey of industry leaders and financial community members.
---
Wednesday, Jan. 29
"I try to hire the very best people and give them the resources they need to be successful. I do hold them accountable, but I give them a lot of runway to do things the way they think they need to be done."
Clark Hunt
Chairman and CEO
Hunt Sports Group LLC, the Kansas City Chiefs, FC Dallas
via The Dallas Morning News
As Hunt's Kansas City Chiefs prepare for the Super Bowl this Sunday, the Dallas-based billionaire spoke with the DMN and reflected on his family's legacy both in Dallas and nationwide. Hunt's father, Lamar Hunt, who coined the term "super bowl," was a founder of the American Football League and Major League Soccer, as well as the Dallas Texans who went on to become the Chiefs.
"I knew that my dad had big shoes that I would never be able to fill," Hunt told the DMN. "But he taught me to be my own man. That's really how I've tried to run both the Chiefs and FC Dallas—to be my own independent thinker."
When Hunt isn't leading his sports organizations, he's also involved with Dallas boards of trustees for SMU, SMU's Cox School of Business, and St. Mark's.
---
Tuesday, Jan. 28
Craig Hall
Chairman and Founder
HALL Group
…on why he became an entrepreneur, via D CEO.
As part of D CEO's new Suite Talk interview series, Hall sat down with Jason McCann, CEO and co-founder of VARIDESK, to discuss creating and launching ideas, the state of entrepreneurism, and their outlook for the future. Plus, why Dallas-Fort Worth is a great place to grow a business.
---
Monday, Jan. 27
"It became apparent after building and testing prototypes that this device might have even more value as part of a solution for those who have difficulty with hand controllers to play video games."
Rick Tett
Founder and Inventor
HoboLoco
…on his patented virtual reality locomotion device.
Tett's device is a foot-operated game controller that makes it possible for someone without hands to play video games by using their feet like a keyboard, mouse, or gamepad. His idea formed the basis of his company, HoboLoco, which is a mashup of "hoverboard" and "locomotion."
This past weekend, HoboLoco took first place at the Perot Museum of Nature and Science's ENGine-uity pitch competition. Participants had five minutes to pitch their product idea in The Hoglund Foundation Theater to a panel of local judges.
---
Friday, Jan. 24

Ben Lamm
CEO
Hypergiant Industries
…on his company's new Eos Bioreactor, via Forbes.
"We decided to open-source the algae bioreactor technology as a means of accelerating its innovation and scale," Lamm told Forbes. "We want to encourage as many use cases as possible, from the hobbyist 3-D printing their own parts in their garage all the way through to commercial construction, where we can put reactors on the tops of big skyscrapers."
Hypergiant's Eos Bioreactor—recently recognized in the aforementioned 2020 BIG Innovation Awards (see our ICYMI roundup)—is a green energy solution that uses artificial intelligence to optimize algae growth and 'sequester' carbon from the atmosphere. It's built to connect with HVAC systems often found in large buildings, which Forbes notes can also be some of the biggest contributors to global warming from CO2 emissions.
We told you about the Eos Bioreactor last year when Lamm said it was going to be one of the company's initial efforts focused on fixing the planet's environmental problems. Forbes takes a deep dive into the product, examining algae's entire life cycle and the impact of carbon sequestration, noting that "Hypergiant is leveraging a multi-pronged approach to algae innovation in a brilliant way."
---
Thursday, Jan. 23
Dan Curtis
President
BNSF Logistics
…on creating a positive work environment, via D CEO.
 
Curtis leads the transportation intermediary with a focus on corporate culture, according to D CEO. The Flower Mound-headquartered company is known to take on challenging transportation jobs—from rare vehicles to wind turbines to equipment weighing up to 400 metric tons. 
"We've had to build roads that weren't there for certain moves or find ways around bridges that wouldn't work," Curtis told D CEO. "The size and scope of some of the moves we've had is impressive."
---
Wednesday, Jan. 22
"I'd rather just be focused on putting in the actual work rather than the results."
Samsonyte
Dallas hip-hop artist
…on his early success, via Dallas Observer.
Samsonyte has amassed over 1.9 million streams on Spotify for his song "Lucy." He's also built a collective of creatives called Elevated with his friends from high school and, within the past year and a half, become a music producer.
For 2020, Samsonyte expects to release a solo project as well as a collaboration with Leroyce. The Dallas rapper also plans to head to Los Angeles for a year or two to network and build his resources, but says he'll be coming back to Dallas.
"I've learned that success is really waiting for you outside of your comfort zone," Samsonyte told the Dallas Observer. "Nothing good comes from your comfort zone, you have to get out of there. That is going to catapult you to the next level."
---
Tuesday, Jan. 21

"We show up every day with the purpose of empowering underdogs, outsiders and the 'least of these' to rise up, conquer challenges, and fulfill their dreams."
Theresa Motter
CEO of Van's Kitchen
…on the egg roll manufacturer's new social impact initiative.
Van's Kitchen is currently going through rebranding with a redesigned website, updated messaging, and a new philanthropic initiative called Van's Cares. Through the initiative, Van's told Dallas Innovates via email that it is setting up an internal fund, which will match its employees' donations and can be accessed by any Van's employee who needs it—all they have to do is send in a request. 
The Dallas-based egg roll manufacturing company is building upon its three major initiatives from last year. In April, we told you about Van's plans to improve technology, create a new business philosophy, and continue to develop its leadership team.
---
Friday, Jan. 17
John Carmack
Dallas video game legend
…via Dallas Innovates 2020: The Magazine.
 
Carmack, a former Oculus chief technologist and co-creator of game classics Doom and Quake, announced last fall he would move away from his duties at the company to focus on artificial general intelligence, a specific type of AI designed to be humanlike.
He plans to "still have a voice in the development work," but Oculus will consume only a "modest slice" of his time. During his six years at the firm, his influence on the Oculus platform was far-reaching, having worked on Gear VR and Oculus Go, among others. For now, he plans to pursue his inquiries from home and draft his son into the work."
Last year, a TV pilot based on the creation of the video game "Doom" was announced. The show is expected to follow the dynamic between two of id Software's four founders—Carmack and John Romero.
---
Thursday, Jan. 16
David Fox
Partner
Goldman Sachs
…on lessons he learned as an Olympic athlete, via D CEO.
Long before Fox moved to Dallas to lead 59 advisers in Houston and Dallas for Goldman Sachs, he was part of the 4×100-meter freestyle relay team at the 1996 Summer Olympics and went on to win a gold medal. Now, as the region head of the Southwest for private wealth management, he still uses the lessons he learned as an athlete to teach a session every year.
"I trained twice a day, hours a day, for a full year for my big meet each year, and it didn't always go well," Fox told D CEO. "I had a choice: double down, be self-critical, and figure out how to be more motivated, or get in my head and feel sorry for myself and let it discourage me."
---
Wednesday, Jan. 15
Botond Laszlo
Founder and Owner
Marvelous Home Makeovers
…on what he learned by launching a business, via the DBJ.
 
At 20-years-old with only $48, Laszlo decided to move from Romania to the U.S. He eventually made his way to Dallas where he opened his boutique remodeling company Marvelous Home Makeovers. Laszlo shared what his path to success has been like with the Dallas Business Journal.
 
"Being thrown into a big pool with a lot of people forced me to get out of my comfort zone," Laszlo said. "It was like, if you want to survive, you better figure it out. I still haven't figured it out, by the way. But it's a work in progress."
---
Tuesday, Jan. 14

"We are creating the future of healthcare. This is purpose-driven work. People are here because they believe in it."
John Olajide
Founder and CEO
Axxess
…on his company's focus on culture, via D CEO. Nigeria-born Olajide, who went to UT Dallas, decided to seek a business in the healthcare industry that is "underserved from a tech perspective." So he founded Axxess, a home health company that offers state-of-the-art software solutions to improve the care of patients across the U.S.
Now, Axxess is in all 50 states and several international sites, with more than 7,000 organizations using the company's software, according to D CEO.
That combined with Axxess' corporate citizenshipstrategy—Olajide's philanthropic mindset is the true lifeblood of the organization—means the Dallas-based company is impacting people across the country.
Olajide is the incoming chair of the Dallas Regional Chamber. He's its youngest chair in the organization's 111-year history.
Photo courtesy of the Dallas Regional Chamber.
---
Monday, Jan. 13

"Cats have hist
orically been very underserved."
Sonya Petcavich
Founder and CEO
Meowtel
Dallas Innovates 2020: The Magazine
It used to be that hiring a cat-sitter was for the birds. Enter Meowtel, a Dallas-based feline-friendly firm founded in 2017 by Sonya Petcavich.
The entrepreneur, who earned her MBA from Oxford University, connects on-the-go cat parents with dedicated, fully vetted, and insured sitters. Meowtel is focusing in 10 major U.S. cities and facilitates fostering and adoptions by working with local shelters. Growth is solid, Petcavich says.
[Photo: Sviatlana Barchan/iStock]
---
Friday, Jan. 10
Jennifer Sampson
CEO
United Way of Metropolitan Dallas
…via @reporterbianca on Twitter.
 
D CEO's Bianca Montes tweeted, "Thanks Mary Anne Sammons Cree (and family) for making such visions a reality."
Cree recently gave $10 million to United Way of Metropolitan Dallas' endowment campaign for her 90th birthday, then United Way decided to give a gift of its own to her by renaming its Lamar Street headquarters "The Mary Anne Sammons Cree Building."
---
Thursday, Jan. 9
Rick Carlisle 
Head Coach
Dallas Mavericks
…on Cynt Marshall, CEO of the Dallas Mavericks, who had 1,600 people doing The Cupid Shuffle at #DRCAM2020."
Music playing, people dancing, crazy stuff going on—she is the greatest. She's been a revelation for our organization." Carlisle said. Cynt Marshall has "reinvented a culture of everything. Diversity, inclusion, fun, a**-kicking, taking names. All that stuff."
Keynote Speaker Marshall had people dancing at the Dallas Regional Chamber's annual membership meeting today. The audience of 1,600 was its largest yet.
Click the tweet below to watch Marshall in action.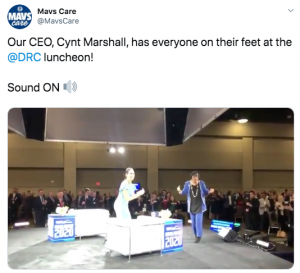 ---
Wednesday, Jan. 8
Bill Chinn
CEO of The DECDallas-Fort Worth has got it all, Chinn told Dallas Innovates. The region will "continue to be a market leader with all the Fortune 500 companies here—and coming here. Entrepreneurs need that kind of market to sell into."
Five months in as the new CEO of The Dallas Entrepreneur Center, Chinn has been working on getting the strategy right, which he says is "capacity building," so 2020 can get off to a fast start. The most fundamental change he's making is looking and acting more like a nonprofit, while enhancing the entrepreneurial community along the way.
"We're here to work with everyone. We're here to boost the DFW entrepreneurial community," he says. "Our philanthropic side is really No. 1: It's job creation in underdeveloped areas, and we're going to continue on that path. The DEC is a network, and our locations include Red Bird, Addison, and UNT's southern campus. And we're hoping for a seventh one next year in southeast Fort Worth."
---
Tuesday, Jan. 7
"Dallas-Fort Worth in the next decade is arguably the best spot in the world. I'm very bullish on this area."
Dan Noble
President and CEO of HKS
…on HKS' North Texas location, via the DBJ.Noble also said the architecture firm's largest investment in 2020 will be in technology.
"We will be looking at how we utilize technology intelligently to stave off the new competitors from outside our traditional space," he told the DBJ. "Some of these people who are competing against us, if they're not thinking about the total 360-degree idea, I think we've got a leg up on them."
---
Monday, Jan. 6
Merrilee Kick
Founder
BuzzBallz
…in Dallas Innovates 2020: The Magazine.BuzzBallz is starting the year off on a good note after hitting a milestone of selling over 1 million cases in 2019—the most in BuzzBallz history. The ready-to-drink cocktail company plans to increase its production capabilities through expanded space and new equipment and also recently signed a national contract with a large distributor.
"I believe customer awareness and demand are at the core of our expansion, as well as chain retail exposure," Kick, who is the only female owner of a combined distillery and winery in the U.S., said in a statement. 
---
Thursday, Dec. 19
"When I started this job, people laughed at me. I mean, for the first two or three years, literally, people laughed and didn't think we could get this done."
Michael Sorrell
President
Paul Quinn College
…on when he became president of PQC, via The Texas Tribune.
Since Sorrell came on board in 2007, Paul Quinn has cut tuition by 40 percent, grown the school's enrollment, and become the nation's first urban work college.
"In the history of mankind, how many revolutions do you know that are started from above," Sorrell told the Tribune.
Last month, Paul Quinn announced a partnership with JPMorgan Chase, which allows 22 of its students from its second campus in Plano to work for the bank.
---
Wednesday, Dec. 18
"The one thing you can't do for people is motivate them. True motivation has to be self-driven, and those are folks who are successful."
Laura Rea Dickey
CEO
Dickey's Barbecue
…on what Dickey looks for when hiring, via D CEO.
 
It doesn't matter to Dickey if she's the only woman in the room—what's important to her are the results. "I look more at outcomes," she says. "If you have a truly genderless approach, it's performance that matters."
For 2020, the barbecue company is planning a tech revamp starting with a website overhaul, which will include an improved online ordering process.
---
Tuesday, Dec. 17
"To be able to have Dallas as a real focal point for what's going on in the arts industry for equity for women, it seems very natural."
Ian Derrer
Dallas Opera CEO
…on the Linda and Mitch Hart Institute for Women Conductors, via The DMN.
"There's a great legacy already established in the city here of women leaders," Derrer said. "I mean when you start thinking about Caroline Rose Hunt and Mary Kay Ash and Elsa Von Seggern. These women were great, great business minds and leaders."
Dallas is becoming more and more reputable for providing gender equality in classical music, according to The DMN. In November, the Dallas Opera hosted the fifth annual Linda and Mitch Hart Institute for Women Conductors, a two-week residency program that's the first of its kind in the world. And, the Dallas Symphony Orchestra this year held its first ever Women in Classical Music Symposium.
---
Monday, Dec. 16
VR Small
Founder and Executive Director
Veteran Women's Enterprise Center
…on having a supportive ecosystem, via Axios.
 
During a series of one-on-one conversations on "The state of the American city: Dallas," Axios' co-founder Mike Allen sat down with Small to discuss how to empower women veterans and help them with their entrepreneurial journeys. 
Small said the narrative surrounding military veterans needs to change, noting that many women veterans don't even self identify as such.
"And if they didn't deploy and they didn't serve on the front line, which is what we see in the movies and TV…then they feel like they're not a veteran," Small told Allen.
---
Friday, Dec. 13
Jeff Smith
CEO
Special Reserve Games
…on why he sells limited edition physical game copies, via gamesindustry.biz.
 
While the video game industry is largely digital, Smith's Dallas-based company chooses to focus on the offline value of games. Special Reserve Games produces and manufactures extremely limited edition collectible physical copies of indie games.
"That's really all I'm trying to do, is bring back what I enjoyed as a kid with video games and the tangible, tactile connection I used to have and all of us used to have with some of our games that has just been lost a little in this age of digital downloadable everything," Smith told gamesindustry.biz.
According to gamesindustry.biz, the company's physical games run up to $1,000 on eBay.
---
Thursday, Dec. 12
Michael Morris
Transportation Director
North Central Texas Council of Governments
…on North Texas reaching a transportation "tipping point," via Governing.
 
Morris noted that as the region nears a population of 8 million people, DFW is reaching a "tipping point" at which constructing highways will have to take a back seat to higher-tech transportation alternatives, reports Governing, a state and local government vertical.
---
Wednesday, Dec. 11
"Entrepreneurs create a better world. They disrupt markets, drive innovation, and create jobs. They are 

unstoppable

."
Debra von Storch
Partner, Americas Entrepreneur Of The Year Leader, and Southwest Region Growth Markets Leader at Ernst & Young
…via LinkedIn.
Nominations for next year's Entrepreneur Of The Year US Award are now open. In a post, Debra von Storch says EY honors these ambitious leaders through the awards each year.
The Entrepreneur Of The Year award is widely considered one of the most prestigious business award programs in the U.S. Earlier this year in Dallas, EY honored local entrepreneurs during the awards ceremony for the Southwest division. Clark Hunt of Hunt Sports Group, Jamie O'Banion of BeautyBio, and Ben Lamm of Hypergiant Industries were just some of the North Texas-based winners.
---
Tuesday, Dec. 10

"Proven research shows that the companies that are the most diverse have the best quality, the best retention, the best innovation, best shareholder value."
Steve Demetriou
CEO of Jacobs
…on making diversity and inclusion a top priority, via D CEO.
Demetriou says it's not only the right thing to do—"it's good business."
"What I've learned over time is that you can work on strategy, you can put accountability in, you can set plans and make acquisitions, but if you don't have a great leadership culture, it's going to fail because dysfunction sets in," he told D CEO.
Demetriou also shared the thought process behind Jacobs' recent decision to rebrand. The Dallas-headquartered company changed its name from Jacobs Engineering Group to Jacobs Solutions Inc. to represent a shift from engineering and construction to technology-forward solutions. The transition also resulted in a NYSE stock ticker edit from "JEC" to "J," effective as of today.
The new Jacobs logo is also now a letter "J" divided into two parts. He said the bottom part represents the company's "shift to where the market's going" and the upper part shows how Jacobs wants to "challenge today and reinvent tomorrow." The overall purpose is to create a more connected, sustainable world.
---
Monday, Dec. 9
"Everyone kind of follows a trend. I want to be off-trend."
Ali Abderrahman
Director of Coffee and General Manager
La Reunion
…on not being a traditional coffee shop, restaurant, or bar, via The Dallas Observer.
La Reunion opened Oct. 25 in a new area of Bishop Arts, bringing a new kind of culture with it. The trio behind La Reunion is a collaboration between "individuals who have devoted their careers to coffee, cooking and cocktails, respectively"—and that shows with a visit.
---
Friday, Dec. 6

Brad Hunstable
CEO and Founder
Linear Labs
…celebrating closing a new deal, via LinkedIn.
Another micro-mobility deal is locked and loaded, he writes.
Fort Worth-based Linear Labs is known for its products and IP portfolio of patents, specifically the revolutionary HET motor. The company aims to welcome a "new era of smarter energy utilization" with its groundbreaking electric motor and generator products. Hunstable has previously said the expanding micromobility space, which includes short distance transportation like shared scooters and bikes, is going to benefit from the HET motor's developments in ways that aren't feasible yet.
In March, the company closed a $4.5 million seed round in support of the HET motor.
---
Thursday, Dec. 5
"The philosophy is easy and it's borrowed: it's take care of your employees. They will take care of your customers, and customers take care of your shareholders."
Jake Schneider
President and COO
Buxton
…on his philosophies as a leader, via the DBJ.
Schneider is the newly appointed chief operating officer of Fort Worth-based Buxton, a provider of analytics that help companies figure out where they should be reaching customers. The firm has clients in retail, healthcare, and government, and its list includes FedEx, California Pizza Co., and Marriott International.
Schneider said the beauty of Buxton is that it uses scientific customer data to really help businesses. A lot of the time, businesses don't realize this approach is even available.
"Buxton is a really rare company that has been a pioneer in creating this industry in this sector of customer analytics, and they continue to see significant growth and success," Schneider told the DBJ. "I would say the challenge for us, like many businesses, can be talent availability when we need it. We have to get creative on how we do that and how we start to step in the direction of finding people in better ways, faster ways, different ways."
---
Wednesday, Dec. 4
Joe Beard
Partner at Perot Jain
…on how success means balancing business with personal growth, via LinkedIn.
"Rest leads to #resilience, which is key to the long game in #entrepreneurship," Beard continued in response to an Entrepreneur article titled 'How Recovery Can Make Entrepreneurs More Resilient – and More Successful.' The article noted that downtime is the key to keeping a person's mental and physical health in the best possible shape.
---
Tuesday, Dec. 3
"You have to focus on the engine first, and then you get to the racing stripes."
Chris Kelly
CEO
Ebby Halliday Companies
…on how he accelerated Ebby Halliday's growth by approaching it how someone might build a race car, via D CEO.
When Kelly took the helm of Ebby Halliday Companies last year, he wanted to honor and build upon what the late founder Ebby Halliday had created.
"Everything she did was to advance and change the industry. If we took the attitude that we shouldn't change, that we should just kind of rest on who we are right now, that would be a disservice to her legacy. Because she didn't get into real estate to keep things the same. She shook it up. She changed it," Kelly told D CEO.
 
Since then, Kelly has been working to accelerate the growth of Texas' largest residential real estate firm and make tech improvements, including new market analytics and a new website that's set to debut early next year.
---
Monday, Dec. 2
"If you're in a board meeting and you're trying to either come up with a new product or service or troubleshoot something that has been happening in your company—that's really not getting you to the next level."
Amanda Austin
Owner and Founder
Dallas Comedy House
…on DCH's company improv training workshops, via The DMN.
North Texas companies like Southwest Airlines, Topgolf, and Frito Lay have used Dallas Comedy House's workshops to improve collaboration and corporate culture. In recent months, DCH has settled into a new home in Deep Ellum and worked on rebranding and relaunching its corporate division, DCH Pro.
DCH Pro workshops cover a variety of topics and are customizable for groups, giving executives and other team members the opportunity to expand their improv skills for professional purposes.
"The tenets of improvisation help bring out the leader in all of us," Austin told Dallas Innovates. "When we listen from a place of being present and open to new ideas, we can create new products and services, we can develop solutions to problems that are holding us back, and we can create trust with each other."
---
Tuesday, Nov. 26
William Reeb
Chair
American Institute of Certified Public Accountants
…on how you can't get complacent in the accounting profession, via UT Dallas.
Even as technology makes accounting more efficient, CPAs will have to work much harder in the future, according to Reeb, who recently spoke at UTD's Naveen Jindal School of Management. He pointed out that it's important to adapt, because "the world is changing, technology is changing, and you now have to compete at a higher level."
"The low-end work will go away. We'll have to move up the value chain into high-end complexity work, like giving advice—even when you're coming right out of school," he said. "That's not a bad thing. It's a great thing, because it means more opportunities to deliver new services and connect with clients in new ways."
---
Monday, Nov. 25
"The company had to first find the right partner and then perfect the business model to be successful in the most competitive, most sophisticated and most concentrated market in the world."
John Alper
VP of Industry Partnerships
KidZania USA
…on why it took KidZania 20 years to land in the U.S.
"The license for KidZania in the U.S. was signed in December 2015," Alper told Dallas Innovates. "After a couple of years finding the best location for the first U.S. park, we selected Stonebriar Centre."
KidZania, the 75,000-square-foot "indoor city" that lets kids role play various careers in a variety of industries, opened in Frisco on Saturday, the company's first U.S. location. Mexico-based KidZania Global has 27 locations in 21 countries—following the Frisco opening (where its U.S. corporate office will also be), it expects about 10 parks to open in the next 10 years in North America.
KidZania locations are tailored to the city they're in. For Dallas, KidZania has a lineup of nationally recognized industry partners, including MOOYAH, SMU, Texas Health Resources, WFAA, and more.
"Having real-world brands representing their products, trades and services in KidZania makes our concept more realistic," Alper said. "KidZania is an expert in operating theme parks, but we don't necessarily know how a brain surgery should be performed, so having Texas Health Resource's input makes the experience real and credible."
---
Friday, Nov. 22
"Give them the 'why.' Once you get folks invested in the strategy for an action, people put their all into the effort."
Lee Bird
CEO
At Home Group
…on how he motivates others, via D CEO.
Originally from Cape Cod, Bird took the helm of At Home, formerly known as Garden Ridge, in 2012. It's been a busy year for Bird, as At Home crossed the $1.2 billion sales mark and opened its 200th store. Bird's a veteran executive—before joining At Home, he was president of Nike Affiliates for Nike Inc., COO of Gap, and CFO of Old Navy. 
What's the advice he'd give to himself at age 18? "Never give up on your dreams."
---
Thursday, Nov. 21
"The great thing about Dallas is there's not just one hub for innovation. There are lots."
Trey Bowles
Co-founder
Dallas Innovation Alliance
…on why the West End was chosen for the Innovation District, via the DBJ.
"We believed we needed to mark a spot and call it the Innovation District so that we can point people to a place when they ask about innovation in this area," Bowles told the DBJ. 
The district serves as a living lab to showcase what an area would be like once smart elements are incorporated into it. The Dallas Innovation Alliance is a public-private partnership dedicated to the design and execution of the smart cities plan in Dallas.
---
Wednesday, Nov. 20
"Inefficient companies are dying, and the ones that are able to provide digital efficiencies are the ones you are seeing survive."
Abe Minkara
Managing Director
Mark Cuban Companies
…on brick-and-mortar companies experiencing market corrections, via D CEO.
If you've ever wondered what happens after Mark Cuban makes a deal on "Shark Tank," look no further than Abe Minkara. Minkara and his team look into all of the metrics, sales, and debt figures after companies shake hands with Cuban.
"We treat Shark Tank companies like we would treat any new investment," Minkara told Brandon Call of D CEO. "It is the same due diligence criteria whether you're on the TV show or not."
---
Tuesday, Nov. 19
"It was amazing walking in, and you have to kind of center yourself like, OK, this is a gig, you have to be professional, and on the other end, you don't want to close yourself off to feeling how incredible this is."
Cal Quinn
Photographer and Videographer
…on shooting at Paisley Park, via the Dallas Observer.
Dallas natives Cal Quinn and Aly Fae became the first videographers to film inside Paisley Park, Prince's famous studio complex, this week, along with singer Beck. Quinn and Fae told the Dallas Observer they were given access to areas normally off limits. Beck was the first major artist to record at Paisley Park since Prince died, and Quinn and Fae were commissioned to capture the occasion.
"It was pretty insane with all the stars aligning," Fae told the Observer. "Paisley Park has literally never ever let a camera crew come in and shoot there. It was incredible."
---
Monday, Nov. 18
David Herr
Chief Technology Officer
Dallas Mavericks
…on sports crypto payments, via Yahoo Finance.
Herr said he and his team did some research, heard some discussions, and one comment was that most still find it complicated. "Until it's more widely accepted, it's a cottage industry or a neat way to pay. I don't have a crystal ball, we're just building a platform to be flexible and responsive."
The Mavs were the second NBA team to start accepting Bitcoin as payment for tickets and merch, but Herr says the uptake has been slow. He does, however, expect more fans to get interested in the future.
---
Friday, Nov. 15
"The reality is that data is the currency of today. The currency of tomorrow is actually creativity."
Chieng Moua
VP of Innovation
Blue Prism
…at the Bots and Beers panel on Tuesday.
At Bots and Beers: Preparing for the next generation of civilization, innovation executives, digital leaders, government agencies, and tech lovers and critics alike gathered to talk about how emerging technology could transform our world.
As the world of technology grows and expands in areas like artificial intelligence, it can impact cities, healthcare, transportation, economy, careers and personal lives, the panel noted. The panelists discussed where technology is already at work impacting world issues, and where it could be implemented locally.
The audience came with many questions—some even with their own personal statements—on emerging tech. The panel shared what to expect and how to prepare for the next generation of civilization, because "change isn't as far off as many think."
"If I take all of my knowledge and experience and drop it into the machine, there are three things I think could happen: One, we change the world. Two, the effect on the next generation. And three sounds very ominous, but the survival of humans at the emotional level," Moua says.
---
Thursday, Nov. 14
Elaine Welteroth
NYT Bestselling Author
…giving the keynote today at Texas Women's Foundation's 34th Annual Luncheon, via Carine Feyten on Twitter.
Texas Women's Foundation yearly luncheon, presented by The Dallas Mavericks, is its biggest fundraiser. The intent is to "help all Texas women and girls become full participants in society" by amplifying female voices and investing in real change.
Feyten, who is the Texas Woman's University Chancellor and President, joined around 1,700 other attendees to support. She tweeted that Welteroth also recommended to: "Use your 'difference' as your super power;" allow yourself to be your highest, most powerful, biggest version of yourself; and "expand" when the world tells you to shrink.
---
Wednesday, Nov. 13
"I founded my company in the middle of the downturn, and the lessons we learned taught us not only how to survive but how to succeed."
Herb Weitzman
Executive Chairman and Founder
Weitzman
…on starting Weitzman, via D CEO.
In 1990, Weitzman decided to found his own full-service commercial real estate brokerage firm after 30 years in the industry. Now, it's the largest retail real estate brokerage force in Texas and one of the largest regional commercial real estate firms in the United States, according to weitzmangroup.com.
---
Tuesday, Nov. 12
Amy Carenza
PNC Bank
Managing Director of Corporate Banking
…on creating a new era of corporate engagement with the arts, via D CEO.
Some unlikely talents are going to be taking the spotlight at the inaugural Dallas Symphony Orchestra C-Suite Christmas concert "to bridge the gap between the business and artistic communities," writes Bianca Montes. Executives from AT&T Latin America, NorthPark Center, Pinnacle Group, Neiman Marcus Group, Capital One, and more are participating in the Dec. 11 event.
---
Friday, Nov. 8
"Texas is a key market for us because it embraces technology and innovation, and includes large urban areas and universities with accessibility and traffic problems where micro mobility can help." 
Joshua Viner
CEO and co-founder
Wheels
…on why the Wheels bike-share program came to Dallas via the DBJ.
In September, the Wheels electric bike-share program entered the Dallas market "with a focus on safety, accessibility and sustainability," writes the DBJ. The California-based company sets its bikes apart with a design that enables on-site part replacement, which eliminates the need for pickup and redeployment.
---
Thursday, Nov. 7
Jed Dolson
President of the Texas region
Green Brick Partners Inc
….on using the automobile industry to simplify the home-buying process, via the DBJ.
Dolson told the DBJ's Bill Hethcock he's looking for "something new and sleek that people haven't really seen in the marketplace." For example, with Green Brick's preplanned packages he says the company is able to offer customers a better value—similar to visiting a car dealership and making a purchase the same day.
Plano-based Green Brick Partners is a homebuilding and land development company that operates in Texas, Georgia, Florida, and Colorado.
---
Wednesday, Nov. 6
"If we can get kids interested in creating content instead of just consuming it, we'll inspire them to explore STEAM subjects that prepare them for the future."
Sanjiv Yajnik
President
Capital One Financial Services
…on expanding students' education in AI, via Twitter.
In partnership with Capital One, Dallas Innovates recently hosted a three-part roundtable discussion on the state of STEM, STEAM, and STREAM education in Dallas-Fort Worth—and what it means to our future workforce. It was only the beginning of pushing the boulder up the hill to impact North Texas, and beyond.
Dive into the discussion starting here.
---
Tuesday, Nov. 5
"As a female business owner who has experienced the challenges and journey first-hand, I recognize the importance of empowering women to take leadership roles and pursue their entrepreneurial efforts."
Stacy Madison
Founder
Stacy's Pita Chips
…on the hard work and perseverance it took her to grow Stacy's Pita Chips into the established brand it is known as today.
"I'm so proud to see the continued commitment that Stacy's Pita Chips has to carve a path towards equality for female entrepreneurs so that they too can achieve their dreams," Madison said, referring to the new program Stacy's launched earlier this year.
Stacy's Snacks, one of the brands that makes up Plano-headquartered Frito-Lay North America, teamed up with Alice to launch its first-ever grant competition: Stacy's Rise.
The five female founders—all in the food & bev industry—chosen as finalists for Stacy's Rise convened this summer in Dallas for the program. Each spent three months learning from PepsiCo and Frito-Lay executives and was given $20K in business funding.
The inaugural program concluded this week with Los Angeles-based Hakuna Brands Founder Hannah Hong announced as the $100K grand prize winner of the program.
---
Monday, Nov. 4
"Dallas-Fort Worth will benefit from steady in-migration from the rest of the nation because we have a diverse economy here and a business-friendly environment."
Mike Ablon
Principal and Founder
PegasusAblon
…discussing a potential national recession, via D CEO Magazine.
"Since the Great Recession, Dallas-Fort Worth has gained more new residents than any metro area in the country, solidifying us as the nation's fourth-largest," he says. "We have also created more than 100,000 jobs annually for the past four years."
In D CEO, Charles R. Myers, the CEO and president of MYCON, asked his peers about local business growth and opportunities coming in 2020.
---
Friday, Nov. 1
Ryan Hoopes
Director of Tenant Advisory Group
Cushman & Wakefield
…on Envy Gaming's new Dallas headquarters, via D Magazine.
Envy Gaming Inc., one of the largest esports organizations in the world, is expanding its Dallas footprint by building its esports training center and headquarters in Victory Park. "By strategically locating their new headquarters in Victory Park in the heart of Dallas, Envy Gaming is cementing their stamp as Texas' most attractive and valuable esports organization," Hoopes told D Magazine. Envy's new headquarters are expected to be located in a building adjacent to the American Airlines Center with a sublease of 20,872-square-feet.
---
Thursday, Oct. 31
"Texas businesses continue to grow year after year, and we need to make sure veterans are able to get a piece of the pie."
Todd Connor
CEO
Bunker Labs
…on how Dallas-Fort Worth is a veteran hub, and it's important to "go where the people are."
Bunker Labs, a national nonprofit that assists veteran entrepreneurs, will hold a ribbon cutting ceremony and reception on Nov. 20 at the JP Morgan Chase Plano to celebrate the official opening of the Dallas-Fort Worth chapter. The Dallas-Fort Worth chapter is the 31st chapter in the U.S. and the third in Texas, with other chapters in Austin and San Antonio. The nonprofit is expecting to have a chapter in all states by 2021.
You can read more about it here.
---
Wednesday, Oct. 30
"In this digital world, content is king, and agents must give their viewers plenty of videos, photos and 3D tours to keep the interest of their potential buyers."
Thomas Crosson
CEO and Founder
Full Package Media
…on technological advances in real estate, via the DMN.
Crosson started Full Package Media, a Dallas-based company that produces imaging services for luxurious real estate listings, as a side hustle, but it soon turned into his main source of income. He said he put his paramedic career on hold, officially launching the company in 2016.
"One of the biggest things to remember when deciding what media you need to market your listing is that we live in a content-driven world that is flourishing online," he told the DMN. "Potential buyers are searching all over the internet to find their perfect home. By providing them with the tools they need to see a home, they can quickly make decisions as to whether this is the property for them."
---
Tuesday, Oct. 29
"It comes from all directions if people are in a position to participate. Lockheed is in a unique position, our teams are not assembly line workers. They are highly skilled technicians, used to collaborating with manufacturing engineers."
Shelly Peterson
Emerging Technologies Lead
Principal Investigator for Augmented Reality
Lockheed Martin
…on how innovation comes from collaboration, via Forbes.
After Peterson shared her thoughts at last month's Enterprise Wearable Technology Summit in Dallas, Forbes caught up with her to learn more about Lockheed Martin's secrets to success. Among them: is "Pick Projects With Measurable Metrics," "Start Small," and "Keep It Simple."
Today, Lockheed landed a $34 billion deal with the Pentagon for its F-35 jets, which are produced in Fort Worth. Lockheed has long awaited this contract, which is the biggest yet for the company, per the DMN.
---
Monday, Oct. 28
"Without financial success, investors would cease to risk capital and innovation would grind to a halt."
Kenneth Hersh
President and Chief Executive Officer
George W. Bush Presidential Center
…on how capitalism and social good can co-exist, via The Catalyst.
"A debate has intensified this fall over whether businesses should produce results beyond the bottom line," Kenneth Hersh writes in an essay in The Catalyst. "The Business Roundtable, which is a respected collection of major American businesses, recently modernized its Statement on the Purpose of a Corporation to say: 'If companies fail to recognize that the success of our system is dependent on inclusive long-term growth, many will raise legitimate questions about the role of large employers in our society.'"
He discusses how leaders can square their long-term profit goals while at the same time achieving qualitative goals.
 
"Managing for an optimal bottom line is hard enough. Adding non-monetary considerations into the equation may seem impossible," he acknowledges in the essay. Still, the pronouncements of the Business Roundtable "can be aligned with building a durable bottom line."
 
Business models are adapting, and we have nothing to fear, he notes. There's more to business than a quick buck, and we can serve the bottom line by broadening our view of how success is measured.
---
Friday, Oct. 25
"The world is replete with the gravestones of great products that couldn't figure out a way to turn themselves into a good business."
Paul Nichols
Executive Director
UT Dallas Institute for Innovation and Entrepreneurship
…on teaching students the entrepreneurial process, rather than just focusing on a "cool idea," via the DBJ.
"UTD is unique in a number of ways, but it is definitely unique in that we were founded by entrepreneurs. Most universities aren't. It's absolutely in our DNA and we've got to honor and respect that," Paul Nichols said in the DBJ. Nichols recently replaced Steve Guengerich, who led the Institute for Innovation and Entrepreneurship for the past few years.
Nichols said he's been on "both sides of the table"—investor and startup founder—so with his new role, he's essentially closing "the big three" of VC, startup, and university. He plans to leverage two of the institute's main features, the Blackstone LaunchPad and the Venture Development Center, to help emerging student entrepreneurs.
---
Thursday, Oct. 24
Mark Cuban
Dallas Mavericks Owner
Billionaire Dallas investor "Shark"
…shared on his Instagram today.
In recent Mark Cuban news, WFAA/Chanel 8 reported he plans to donate $100,000 to the Dallas Education Foundation to meet the most-urgent needs of schools impacted by the tornadoes that ripped through North Dallas on Sunday. Nearly four full days after the tornadoes touched down, there's still plenty of help needed. Go here to find out how.
---
Wednesday, Oct. 23
"I didn't want to be the captain. I wanted to be the science officer, the one who discovers all the mysteries of all the universe."
Anousheh Ansari
CEO
XPRIZE Foundation
…on growing up as a "Trekkie" and her "long winding road to space."
Dallas' Anousheh Ansari was the first female private space explorer with an 11-day space expedition to ISS. Today, Ansari leads the XPRIZE Foundation. The tech entrepreneur spoke on commercial space flight and solving the world's "grand challenges" at an EarthX's Half Earth Day celebration at the Frontiers of Flight Museum yesterday.
 
Ansari and her family of entrepreneurs wanted to open up space for everyone, and that led to the XPRIZE competition. Its model, based on a "prize idea," turned out to be a successful one. Today, XPRIZE Foundation leads incentive competitions that can help solve humanity's greatest challenges in health and environment. It's also sponsor of the Ansari XPRIZE, a $10 million competition won by SpaceShipOne that inspired commercial spaceflight.
 
"Unlike other philanthropy, we were able to leverage the prize money and bring additional money to actually solve problems," she says. And, it's brought a lot of awareness and policy change. Without those policy changes "the industry you see today with SpaceX and Blue Origin—none of those companies would exist because there's no way anyone could launch anything other than government-based space agencies and their subcontractors."
---
Tuesday, Oct. 22
"You don't have to be on the West Coast or the East Coast to be 'green' or 'environmentally friendly'—you can be right here in the center of the country."
Tony Keane
CEO of EarthX
Happy Half Earth Day! Celebrate at the Frontiers of Flight Museum tonight from 5:30-7:30 p.m. with EarthX, the Dallas-based convener of the world's largest environmental expo, conference, and film festival.
This year marks EarthX's second annual Half Earth Day celebration, with this one marking the halfway point to the 50th anniversary of the first Earth Day. It's also a six-month countdown to Earthx2020.
"The first Earth Day in 1970 launched an environmental movement that has continued growing for nearly half a century," Keane said. "One of our goals is to extend our traditionally once-annual observance into year-round mindfulness and action towards a more sustainable future, which we hope will keep Earth Day thriving for another 50 years to come."
---
Monday, Oct. 21
"Amazon has 12 million square feet in Dallas, and they're paying their employees a lot of money."
Ward Richmond
Executive Vice President
Colliers International
…on how warehouses keep up with e-commerce growth, via Freightwaves.
Proximity to labor has become just as critical as proximity to consumers for warehouses, Freightwaves notes. And, operators like Amazon are emphasizing workplace culture.
"You're going to pay to be close to good labor. Three years ago it wasn't on my radar; in 2015 and 2016 we started hearing about labor, and now we talk about it on every deal," Colliers' Ward Richmond says. He shared his insights during a warehousing third-party logistics provider (3PL) panel last week in Chicago.
In DFW alone, there were 36 million square feet of big box space under construction in Q3. The overall industrial market is strong, Richmond said.
But, he notes that companies are being conservative with their CapEx. And they are open to innovation: "Robotics have become increasingly important sources of flex labor during demand surges," according to Freightwaves. And "new kinds of equipment can help them avoid or delay the acquisition of another large building."
---
Friday, Oct. 18
Vasu Raja
Senior Vice President of Network Strategy
American Airlines Group
…on how AI will affect network planning in the future (and whether or not humans will be involved), via the DBJ.
Machines don't tend to make mistakes, Raja says. "They're really good at recognizing patterns that aren't evident to the naked eye, but they can't necessarily, on their own, provide the kind of innovation that the human can." 
---
Thursday, Oct. 17
Brad Hunstable
CEO and Founder
Linear Labs
We have the pieces to be known as the electrification capital of the world here in North Texas if we stake it, name it, and claim it as a region, Hunstable said at Venture Dallas in September.
The high-efficiency electric motors Hunstable's company, Linear Labs, is designing could help make the region the hub of powering things with electricity.
 
Having sold in 2016 his San Francisco-based video streaming technology to IBM for $130 million-plus, the West Point-trained engineer funded research by his dad, Fred, that produced an electric turbine—machinery that turns energy from spinning devices into power for doing work—that the younger Hunstable says gives electric vehicles 10 percent more range than regular magnet motors.
 
Beyond his own business, Hunstable cited the presence of large local presences of big players in mobility such as Toyota, which since 1997 has sold a hybrid gasoline-electric car called the Prius. He added that he's working a deal with Lockheed Martin for "33,000 meter motors that's hopefully going to be bundled as we move forward."
---
Wednesday, Oct. 16
"Life is too short to work with the wrong people. Pick the right ones, and take your time finding them. Breakthroughs are the result of solving the right problems the right way with the right people."
Skip Howard
CEO and Founder
Spacee
Skip Howard is all about technology that has the potential to change the world for the better. He's doing that as the CEO and founder of Spacee, a post-mobile augmented reality startup that's revolutionizing the retail industry.
Spacee partners with retailers to create interactive experiences that improves a visitor's experience. It's partnered with Men's Warehouse, Walmart, Mercedes-Benz, and most recently, Vitamin Shoppe.
Last week, Spacee announced its Vitamin Shoppe partnership, and enable digital transformation for the stores. Now, every product is smart through Spacee technology. Howard says he and the team plan to deploy the solution to various Vitamin Shoppe locations this year.
---
Tuesday, Oct. 15
Cheri Garcia
Cornbread Hustle
Playful 
…on the inspiration for creating a new software program to help previously incarcerated people and those recovering from addiction.
"I had done a lot of prison work on teaching business plans and entrepreneurship, and as these guys were getting out of prison, that's the first thing they needed," Garcia says. "A job."
 
Garcia's company, Cornbread Hustle, works to give previously incarcerated people and those recovering from addiction another chance through its Dallas staffing agency, and now, a software program called Cornbread Hustle Powered By Freedom 365 Virtual Recovery System. It's free for people in her program to use. 
 
"HR departments are working with us to implement this to provide an anonymous tool for their employees if they need it," Garcia says. In addition, a felony district court in Dallas County plans to use the program in a pilot. 
---
Friday, Oct. 11
Mark Stanley
President and Chief Business Officer
Playful 
…on the rise of the "spectator era" in gaming.
McKinney-based Playful Studios, which raised its latest $23M funding round by non-traditional means in September, is working on a variety of new projects that are designed from the ground up to maximize the experience for gamers, viewers, and creators (streamers).
 
The spectator trend "has been growing steadily in the past few years, but has been massively accelerated with the advent of live streaming platforms like Twitch and YouTube Live, and popular games like League of Legends and Fortnite," Stanley says.
---
Thursday, Oct. 10
David Matthews
Managing Director
RevTech Ventures
…on the Dallas-based VC's accelerator program.
But, it's the Dallas-based VC fund's mentors who are the ones to help those entrepreneurs "see beyond the first hill, to the next hill, and the next," Matthews said at RevTech's Tech Trends in Retail event held recently at the Neighborhood Goods flagship store in Plano.
 
RevTech Ventures is known for boosting startups that sit on the intersection of retail and technology. That support may include investments, year-round mentorship and support, and a program for accelerator graduates—as well as keeping entrepreneurs staying up-to-date on the latest emerging concepts.
 
(And if you're unfamiliar with Neighborhood Goods' concept, think coworking, but for retail.)
---
Wednesday, Oct. 9
Elizabeth Dyer
…on making the transition from working as an attorney to becoming an author.
Self-published author and Dallas resident Elizabeth Dyer recently won a Romance Writers of America's RITA Award—"the highest award of distinction in romance fiction."
 
Dyer says becoming an author is a form of entrepreneurship. While it can be a lot of fun, it can also be very overwhelming and extremely time-consuming, she says. "When people say they write full time, they don't mean, typically, that they're writing eight hours a day, because there's all this other business stuff that goes into it."
---
Tuesday, Oct. 8
Sharon Reynolds
Chief Information Security Officer
Omnitracs LLC
…on cybersecurity and trucking, via the Wall Street Journal.
Data and automation are creating opportunities for hackers in the transportation sector, the WSJ reports.
A "growing reliance on technology means that bad actors could divert valuable cargo from its destination, paralyze logistical networks, or enable trade secrets to be compromised," according to the publication. "Hackers are already making attempts to break in."
Reynolds, CISO at Omnitracs, a Dallas-based fleet-management technology provider, is also the president of the North Texas chapter of InfraGard, a security partnership between businesses and the Federal Bureau of Investigation.
---
Monday, Oct. 7
"We like the nimbleness. We only met with Diane von Furstenberg in May."
David Liu
Co-owner of DC International
…on the growth strategy behind Dallas-based, family-run e-commerce company, Leatherology, via the Dallas Morning News. 
Sister-and-brother duo Rae and David Liu came home to Texas to lead Leatherology, a brand known for its personalizable leather goods and unique painted-on designs. 
 
The siblings have upped the game with a new collaboration: "The younger generation has evolved the brand enough that it has grabbed the attention of fashion designer Diane von Furstenberg, who asked them to put a couple of her signature prints—a leopard and geometric patterns—onto leather," writes Maria Halkias in the DMN. 
 
It was "Instagram, of all places," that opened up a conversation that led to the new capsule collection, according to WWD. A photo ended up in the feed of Sandra Campos, CEO of Diane von Furstenberg that led to the DVF x Leatherology collection.
 
The brand's craftsmanship is all in the family: A factory in China that makes the goods is owned by the Liu family, and the Carrollton HQ handles the personalization. DC International is the parent company of Leatherology.
 
For now, the pair looks to keep their options open: "The siblings don't want Leatherology to become a wholesale business with merchandise sold by other retailers or to open their own branded stores," reports the DMN. 
 
Leatherology also offers custom options for corporate giving. The company offerings have been described as affordable luxury, but you will rarely see its logo on the front of its products. "Our brand isn't the focus of the story—you are," according to its website. "We want each customer to make our items their own through monograms, company logos, slogans or even the occasional hashtag."
---
Friday, Oct. 4
"Everything in Texas is big—so is our data center. It's a pretty big place."
Sundar Pichai
CEO of Google
…during a roundtable Thursday in Dallas, via the DBJ.
Pichai and First Daughter Ivanka Trump visited El Centro College, where they announced the expansion of a training program that provides high-tech job training to community college students. Pichai also signed a White House pledge that aims to provide 250,000 training and education opportunities throughout the next five years. More than 350 companies have signed, including DFW-headquartered AT&T, American Airlines, and Toyota.
In June, Google announced its already-under-construction $600 million data center in Midlothian, where key online tools and resources will be developed, including search results, YouTube videos, Gmail, and various apps. Google also gave Midlothian Independent School District a $100,000 grant for the development of STEM programs in schools. Read more about that here.
---
Thursday, Oct. 3
"The lack of innovation and risk taking is catching up with all these retailers that watched the last 20 years happen to them. It's death in the middle."
Steve Dennis
Retail Strategic Advisor, Keynote Speaker, Writer
…on how businesses must innovate to stay ahead.
While many think this is the era of a retail apocalypse, Dallas-based Dennis disagrees—brick-and-mortar stores aren't going away, and instead are focusing on delivering something "unique, memorable, and intensely customer relevant." Dennis is well known for this assertion that "physical retail isn't dead, but boring retail is."
Matt Alexander, the founder and CEO of Plano's Neighborhood Goods (known for its next-gen approach to the department store), even brought this up during a recent RevTech Ventures event. To Alexander, a retailer's purpose has to extend beyond just selling product—which is quite different from the traditional model.
"I think the reason we have the opportunity to even exist as a company is largely a result of a lack of self-awareness in the retail industry in general," Alexander said. "Steve Dennis, who's involved with RevTech, has said for a long time that 'physical retail isn't dead, boring retail is.' And that's become a very significant statement throughout the industry."
---
Wednesday, Oct. 2
"Leaders will try and fail, try and fail, but the important thing is to remain optimistic and great things will happen."
Former President George W. Bush
…on leadership as a catalyst to solve the world's largest challenges.
"Failure is just part of being a business leader," President Bush said at an event in Dallas hosted by Entrepreneurs' Organization (EO), a global, peer-to-peer network of some 14,000 business owners.
Bush, who served as the 43rd president of the United States from 2001 to 2009, met with leaders "to discuss how leadership, innovation, and entrepreneurism can transform industries and communities around the world."
---
Tuesday, Oct. 1
Rachel Sipperley
Founder
Rent My Wardrobe
via Linkedin
---
Monday, Sept. 30
Monte Anderson
Developer and Owner
Options Real Estate of Texas at Dallas
Anderson is a helper at heart, and often invests his time and money in entrepreneurs he believes in, many of whom rent space from him at Tyler Station—the mixed-use "collaborative village" that's home to artisans, craftspeople, creatives, and entrepreneurs—and other developments.
 
"I'm always trying to get the artists and the craftsmen to own real estate so they can build wealth and get a piece of the action," Anderson says.
 
What makes him different from other investors, he says, is he has no interest in long-term, high-interest loans, nor in having equity in a company or entrepreneur.
---
Friday, Sept. 27
"The first-ever North Texas Film Festival has a broad range of films that will speak to a variety of people and special interests—from films on sports to military service and veterans to the environment to horror stories, family features, and more."
Jonathan Brownlee
CEO and President of Dallas Film
Executive Director of DIFF and NTXFF
… on the new film festival that made its debut in Plano on Thursday. 
The North Texas Film Festival (NTXFF) will be in full swing this weekend. The inaugural event opened with a screening of "The Laundromat" last night and will close on Sunday with "Two Popes." The festival is incorporating programming from North Texas VetFest, EarthXFilm, and Vans.
 
Proceeds from this year's inaugural NTXFF will benefit VIFM. In honor of VIFM, the NTXFF will showcase "A New Leash on Life: A K9's for Warriors Story" and a shorts block with films created by veterans or pertaining to military service.
 
EarthXFilm will have its own shorts block too, focused on climate and the environment on Saturday at 12 p.m. And, in honor of "The Tony Alva Story" screening, NTXFF is collaborating with Vans to bring a skateboarding exhibition to the Cinemark West Plano at 2:15 p.m.
 
Plus, the Texas Archive of the Moving Image will host a pop-up event: North Texas people and businesses can drop off their old films and videotapes for free digitization on Sunday from 12 – 7 p.m. at Cinemark West Plano and XD. To qualify for the free service, participants must donate a digital copy of their materials to Texas Archive of the Moving Image's (TAMI) archive.
The North Texas Film Festival is produced by Dallas Film and powered by Capital One.
---
Thursday, Sept. 26
Kaitlyn Burnell
Doctoral student
University of Texas at Dallas
School of Behavioral and Brain Sciences
— on the effects of social media and "FOMO" in a new study
"Studies suggest young people are mostly passively browsing," Burnell said, emphasizing the difference between "active social media use—uploading content and initiating direct interactions with other people—and passive use, described as browsing feeds without any kind of social exchange."
 
Burnell's social media research is part of the Blackberry Project, which is a multiyear study funded by the National Institutes of Health.
"This study of the possible effects of young people lurking online is the first investigation to show that the fear of missing out may follow from comparing your inner experiences to someone else's 'greatest hits' posted online—and that this fear predicts feeling depressed and bad about yourself," Burnell said in a UTD post.
---
Wednesday, Sept. 25
Jared Sine
Chief Legal Officer and Secretary
Match Group
… via D CEO
"Observing small but important events that have nothing to do with your business can provide a perspective into the bigger picture," Sine says.
Meet the 31 honorees in D CEO's 10th annual Corporate Counsel Awards program. Sine won Outstanding General Counsel in the Large Legal Department category.
---
Tuesday, Sept. 24
"I'll tell you what, my failures can be attributed to one thing: Piss‑poor preplanning. You've got to preplan this stuff."
Phil Romano
Entrepreneur, Restaurant Mogul, Author
… Real talk from Romano during a '40-minute master class' in support of the Greater Dallas Food & Beverage CPG Community group.
Best known for creating popular restaurant staples like Fuddruckers, Cozymel's, Macaroni Grill, Eatzi's, and Nick & Sam's, Romano regaled the group with stories from his long career. His most recent creations are Trinity Groves, the West Dallas food incubator, and the Network Bar, which has been likened to a "LinkedIn country club."
---
Monday, Sept. 23
David Toth
Partner
Wilson Perumal & Company
… on the company's recognition as a great place to work in ALM's Consulting Magazine.
Dallas-based Wilson Perumal & Company (WP&C) was named the No. 1 small strategy consulting firm on ALM's Consulting Magazine's annual "Best Firms to Work For" list. The firm ranked No. 2 among small firms across all service lines.
It's the third year for WP&C to earn a spot on the list.
"Doing interesting work, the right way, means WP&C consultants get ample opportunity to team, learn, and grow," Partner David Toth said in the magazine. But recruiting carefully for the right fit is a big part of it, he said. And, "the company has a strict "no jerks" policy."
The boutique management consulting firm was founded in 2009. "The team rallies together behind a common goal: helping global companies solve some of their most difficult issues," according to the company. WP&C wants to provide a fresh perspective to help companies that "struggle with the complexity of today's world."
What next? Wilson Perumal's priorities in the coming year include deepening its relationships at its flagship clients in commercial, private equity and defense sectors — and "continuing to recruit top talent to build out the team."
---
Friday, Sept. 20
"We have to make downtown Dallas more walkable, more livable, and more navigable—and that's the commitment I'll make to you today."
Eric Johnson
Dallas Mayor
…during Downtown Dallas Inc.'s Fall Forum and State of Downtown.
The mayor talked about how downtown Dallas is becoming a more vibrant place, and how it's become home to roughly 12,000 residents.
Johnson also named the new AT&T Discovery District under construction as one of the area's major investments. "I truly think this will become a destination for all citizens in Dallas," Johnson said, via WBAP.com.
---
Thursday, Sept. 19
"Innovation comes from taking risks, and all the good characteristics of amazing IT teams can lead back to being purpose-driven."
Leah Miller
Chief Information Officer
Medical City Healthcare
…on the role of innovation in healthcare, via Becker's Healthcare.
"It is a purpose higher than any one of us or a job or function," Dallas-based Miller says. "I can take risks differently; I can do the right thing for our patients differently; I can empower differently. It's all about being purpose-driven. It's never about just one person, but the focus is on the patient in the bed."
---
Wednesday, Sept. 18
"We believe if we focus on continuing to meet people's needs, the money will come behind that. It's just a fundamental way of living."
Elyse Dickerson
CEO of Eosera
…on her company's business philosophy, via D CEO.
Fort Worth-based Eosera all started when Dickerson realized it had been decades since there had been significant progress in the world of earwax removal, and decided to find a way to help. She and Joe Griffin left big pharma behind, found a lab at the UNT Health Center, and launched a company.
Today, Eoseara makes a half-dozen products sold on shelves across the country by Amazon, Target, CVS, and more.
"We knew it would be much easier to find a hole in the market and try to fill it rather than build a product and go find a place for it," she told D CEO. "We heard loud and clear that there was an opportunity, as no one was focused on ear care."
---
Tuesday, Sept. 17
"I didn't have a silver spoon growing up. When I landed at the airport in the USA, I couldn't afford a coffee.
Despite tough life circumstances, I have always been a dreamer and wanted to make something of my life by hook or crook."
Anurag Jain
Chairman
Access Healthcare Services
…on his early career journey, via Jayneil Dalal on LinkedIn.
"I always feel inspired by the success stories of fellow immigrants," Dalal, who's the lead UX designer at AT&T, wrote on LinkedIn during last week's Venture Dallas. Jain, who's also a managing partner at Perot Jain, moderated a panel on the Future of Mobility at the event.
Go here to read about more big-name speakers talking tech, funding, and growth in Dallas-Fort Worth.
---
Monday, Sept. 16

Claudia Romo Edelman
Founder
We Are All Human Foundation
via The Dallas Morning News.
The We Are All Human Foundation—a nonprofit that promotes equity, diversity, and inclusion—launched a first-of-its-kind national pledge called the "Hispanic Promise," which more than 45 corporations signed earlier this year. It's a call to action for companies to hire, promote, retain, and celebrate Hispanics in the workplace.
Last month, we told you about how the Hispanic Promise was to be featured at the first Dallas gathering of the Hispanic Leadership Summit.
At the event, about 15 Dallas- and North Texas-based companies signed the Promise, including AT&T, Ericsson and YUM! Brands. That makes business sense and creates opportunity, Pinnacle's Nina Vaca told The DMN, given the region's large Latino population. "We can't have the Latino community left behind here in Dallas."
 
Dallas is about 42 percent Latino, according to The DMN.
---
Friday, Sept. 13
"You can't start the next chapter of your life if you keep re-living the last."
Sunny Lowe
CEO of Blue Jean Networks, LLC
…via TECH Fort Worth.
Sunny Lowe, a local serial entrepreneur, kicked off TechFW's Fall TechNest series.
---
Thursday, Sept. 12
"Ask yourself: 'How many times have I been on camera so far today? Ten times? One hundred times? Am I on camera right now?'"
David Matthews
Managing Director of RevTech
…on new retail concepts and the technologies that power them, via LinkedIn.
"In retail settings, the relevant question is increasingly this one: 'Fine, I'm on camera, but what benefit is it bringing to me?'" Matthews asks.
 
RevTech will explore these themes during its upcoming annual event, Tech Trends in Retail, at Neighborhood Goods in Plano on September 19.
---
Wednesday, Sept. 11
Marshall Haas
Co-owner
Need/Want
…commenting on a job description, via Twitter (@marshal).
"Agreed! My friend once pointed out how negatively I spoke about sales. She looked at me and said: 'Tina, selling is a transfer of enthusiasm. Nothing else.' That was a game changer for me," Tina Roth Eisenberg (@swissmiss) also tweeted.
 
Entrepreneur Haas recently moved back to Dallas-Fort Worth after spending 8 years away. "Home prices in Texas are amazing. $350k gets you a custom home—5 bedrooms, 3 car garage, 15 mins to downtown Fort Worth," he tweeted.
---
Tuesday, Sept. 10
Elda M. Rojas
Chief Academic Officer
Cityscape Schools
…on the role of education in the advancement of the Hispanic community, via @MartyTakesDAL on Twitter.
We Are All Human Foundation hosted the first Dallas Hispanic Leadership Summit yesterday, coinciding with the beginning of Hispanic Heritage Month. The goal was to spark conversation and drive actionable solutions for the Latino community.
Leaders from major Dallas-Fort Worth-based businesses were in attendance, including AT&T, Texas Instruments, Southwest Airlines, and Pinnacle Group.
---
Monday, Sept. 9
"Anyone that is drawn to this program is naturally in one way or another a sponge. Whether it is receiving or giving, oftentimes it's a combination of both."
Cynthia St. John
Chiefologist at Chiefology
…on mentoring in the M-Crew program, via TechFW.
Watch this clip as Cynthia St. John shares her perspective on being a mentor in the M-Crew program.
Quincy Preston, Alex Edwards, and Lance Murray contributed to this report.
Icon image: m_pavlova/istockphoto

Get on the list.
Dallas Innovates, every day.
Sign up to keep your eye on what's new and next in Dallas-Fort Worth, every day.