Presented by The Dallas Regional Chamber
---
As consumers and business professionals have found computers and smartphones to be essential for the way they live, work, and play, the scuffle among companies to land on home screens has intensified.
Since July 10, 2008, when the first of what has snowballed to 50 billion app downloads from the App Store, there's been a mad dash for companies to harness this new power both to build and maintain relevance in the marketplace, as well as to streamline company operations.
For more charts and interactive story map, go here. 
Because Dallas-Fort Worth is among the top five largest U.S. metro areas for corporate headquarters relocations, the demand for app and software developing expertise, and for individuals who set up and oversee computer networks, is intense.
North Texas companies are plumbing the terabytes of customer data they've been accumulating for years to create value by transforming the data into market intelligence. They also are becoming increasingly aware of how that data can improve their operations and profit margins, and make themselves indispensable parts of customers' lives.
The 21st century maxim that "all companies are technology companies" is true. It's especially relevant in DFW, where the growth rate among app and software developers, and network support workers — the "digital workforce"— has outpaced the rest of the area's healthy workforce growth.
In turn, software and app development companies are moving to DFW to be closer to current and prospective clients, looking to help them leverage their data and software needs and potential.
THE DALLAS AREA'S CAMOUFLAGED SOFTWARE ECONOMY
DFW's tech and innovation economy continues to make headlines with announcements that include the launch of the Blue Cross Blue Shield C1 Innovation Lab, the opening of Toyota's data-driven North American headquarters, the deployment of autonomous public transit in Arlington, and the selection of the region as one of two test beds for Uber Elevate.
HIGH TECH COMPANIES IN DFW
For decades, tech has been in Dallas' DNA: The microchip was invented here. The term "Telecom Corridor" was coined here. Companies that the public might think of as being Silicon Valley-centric — Yahoo, Trend Micro, Cisco and Nvidia — are building software in DFW, as are more-traditional companies not typically regarded as tech-based.
DFW is home to some of the world's biggest names in IT services and hardware component development,  including major IT services companies such as Dell, NEC, TEKSystems, SAP, Google, and Intuit. Major electronic companies include Micron, Fujitsu, Qualcomm, Emerson, Ericsson, and Raytheon. These companies and their software developers are part of the evolution of the U.S. economy, which is moving away from producing coal and steel, and toward the use of algorithms, application of programming languages, and leveraging of Big Data to create efficiencies in order to gain market advantages.
In fact, the number of app and software developers, network administrators, and network support specialists in North Texas continues to eclipse the likes of San Jose, Austin, Denver, and Atlanta.
RISE OF THE DIGITAL WORKFORCE
North Texas' annual job growth rate of 3.9 percent is the envy of most regions. The healthy mix of large corporations and smaller businesses in North Texas (Moody's Diversity Index ranks Dallas-Fort Worth as the fourth most-diverse economy in the United States), and a growing number of corporate relocations have created even stronger demands for individuals skilled in developing software and designing computer networks across all major industries.
DFW's diverse economy gives digital workers many options for employment.
Economists predict that the number of digital technology workers — who include computer and information systems/network managers, web developers, and app developers — will continue to grow at an annual average rate of 7 percent, over the next three years. That growth rate has landed the Dallas region among the Top 10 metro areas employing the most individuals in computer occupations.
SPEAKING IN CODE
Most of the 50,000 software and app developers who call DFW home don't work for tech startups. Banks, logistics companies, medical device designers, insurance companies, and dozens of other non-IT industry companies in North Texas rely on coders, programmers, and project managers to automate processes, to customize off-
the-shelf software, and to bolster companies' profit margins.
For instance, Southwest Airlines employs 200 software developers with support from an additional number of contractors that varies from 500 to 1,000, depending on need. Capital One has 650 software developers on staff, while State Farm and Omnitracs employ 200 and 105 software developers, respectively. One of the newest innovators in DFW, Toyota Connected, plans to employ 100 software developers as it ramps up operations.
RECIPE FOR A RECRUITER'S DREAM
Recruiters who work in North Texas indicate that Dallas is a remarkably easy sell when it comes to attracting talent to fill software development jobs. Career Builder survey results indicate that software developers choose the DFW region for its competitive pay, affordable living conditions, and better overall quality of life. Dallas-Fort Worth ranks third, behind the Miami and Houston metro areas in terms of hiring difficulty.
Although most metro regions experience greater difficulty in hiring software developers compared to other occupations, Dallas has less difficulty than most competitors.
Additionally, a survey of corporate recruiters for the software development community determined that developers, project managers, and systems engineers who relocated to DFW found the move surprisingly easy, for myriad reasons. Among them:
a lower cost of living;
comparable pay;
a wide selection of high-quality schools;
good choice of attractive homes in strong neighborhoods;
urban living, night life, and lofts, for less;
a burgeoning foodie scene (e.g. Deep Ellum, Trinity Groves, and Bishop Arts District);
airports that provide easy access to just about anywhere; and
the Central Time Zone making it easier to do business with East and West coasts, as well as Canada, Mexico, and Central and South America.
Although DFW's cost of living index is slightly above the national average, living expenses and commute time, are significantly lower than other major U.S. digital worker hubs.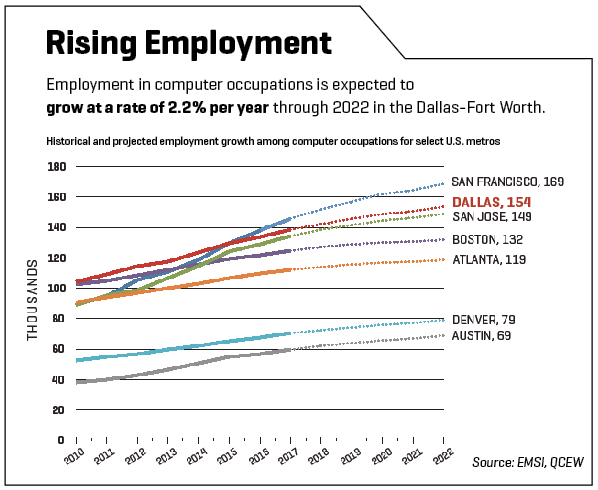 GOT TALENT? CHECK THE PIPELINE
Dallas area recruiters say there's a decent supply of local talent to fill the needs of companies looking for help writing code for apps and software to meet most company objectives.
Much of the demand is met by students who complete higher education degrees in North Texas. In 2015 alone, nearly 4,200 individuals received certificates or degrees for skills relevant to computer occupations from educational institutions in DFW.
Areas of study span a broad range, from computational science (a field that uses advanced computing capabilities to understand and solve complex problems) to computer and information sciences (CIS), the most-prevalent degree. More than half of students who completed a post-secondary CIS education did so at a post-graduate level.
Companies that require niche developer skills sometimes still need to recruit from beyond DFW, recruiters say. One resource that smaller companies are relying upon is hiring employees with certificates and two-year degrees; many executives say such employees can be cost-effective, and often quickly climb company ranks. Data show that more than 4,000 students received computer-related certificates or two-year degrees in North Texas from 2014 through 2016.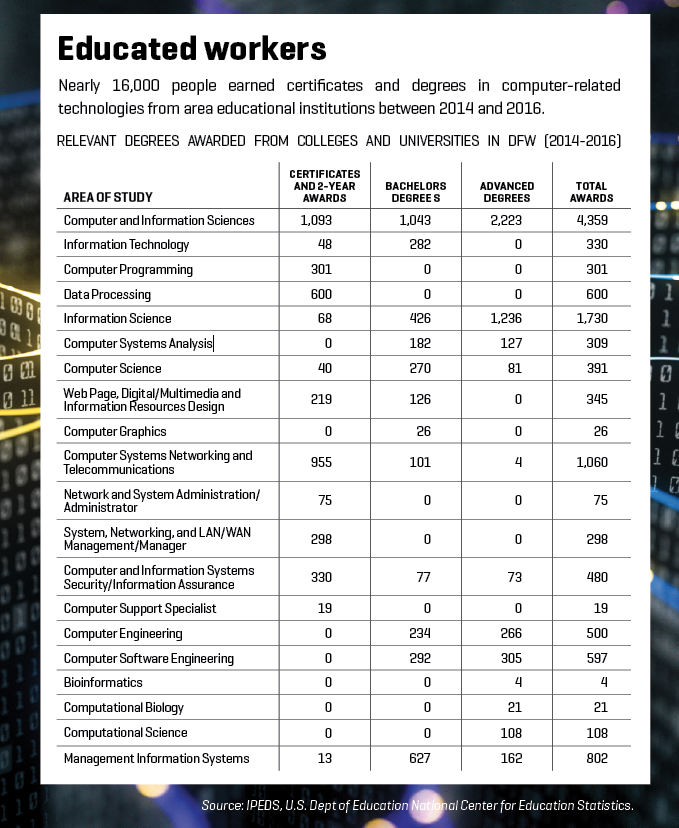 THE DEVELOPER COMMUNITY COALESCES
Several coding, data science and programming schools, and boot camps offer ongoing enrollment in North Texas and online, for neophytes and professionals who want to hone or expand their skills in software design and development.
Graduates from these schools range from age 18 to 65 and older, and have worked for Dallas-area firms including Vinli — which develops software to connect onboard car computers with smartphones and to create wireless clouds — and Omnitracs, a developer of fleet-management software.
These schools fit well with the self-starter culture prevalent in Dallas, whose 3 percent unemployment rate speaks to workers' adaptability in the workplace, and companies' strong demand for workers.
Representatives from larger companies in DFW surveyed for this study said they still expect job candidates to hold four-year degrees; smaller firms indicated they would hire individuals who hold relevant developer certifications in areas such as Amazon Web Services (AWS), Salesforce, or even strong object-oriented programming skills.
A Dallas Regional Chamber analysis shows that the Dallas region also is home to hundreds of special-interest meetup groups. Nearly 100 of them focus on technology and software development, and meet in informal gatherings weekly to reconnect with peers, and to catch up on breakthroughs and developments in their areas of interest.
The developer community started forming meetups in 2008; since then, they've held more than 2,400 meetups, ranging in size from a handful of people to more than 2,000. Meetups can range in topics as specific as .NET user groups, to the impact technology is making on our lives every day (including the use of artificial intelligence on the workforce).
It's not uncommon at meetups for colleagues to brainstorm ideas to resolve project roadblocks, seek help with, or to promote innovative ventures/startups they're involved in.
For example, four software/developer-oriented meetup groups — DFW Analytics: Big Data & Beyond Meetup, Dallas Web & Mobile Development Meetup, Dallas Software Developers, and Women Who Code — have a total of 6,200 members, and have held 250 meetups to date.
Further strengthening the Dallas region's developer community's bonds, the massively popular DFWStartupCommunity on Slack Team hosts the #dev-help channel to promote collaborative solutions both to pressing technical problems as well as for creating new opportunities.
DIGITAL WORKERS LIVE, WORK & PLAY WHEREVER THEY LIKE
Software workers in DfW live near their jobs. DRC research shows that those engaged in computer occupations and, more specifically, software developers, are most concentrated where tech-heavy employers are located, in the north central region of DFW.
Southwestern Collin County is especially populated by information technology workers due to the presence of HP, NTT Data, Capital One, State Farm, RealPage, Fujitsu, United Health Group, JP Morgan Chase, Toyota, and supporting companies. A concentration of information tech workers in northern Dallas County can be attributed to Dell, Deloitte, IBM, Raytheon, AT&T, Accenture, and Texas Instruments.
These areas offer some of the Dallas region's most attractive neighborhoods, high-ranking public schools, relatively new housing stock, multi-use trails and parks, and access to acclaimed dining and retail establishments
The Dallas region's cost of living is slightly above average (index score 101), yet it's still much lower than other major cities (Boston: 146; San Francisco: 184), according to the Cost of Living Index.
Because pay in North Texas is comparable with jobs on the East Coast and Silicon Valley, individuals who code, manage, and build software infrastructure for Samsung, UnitedHealth Group, Southwest Airlines and other increasingly tech-reliant companies can afford homes in established, comfortable neighborhoods. They commute to work in minutes, not hours.
Research for this story was conducted in collaboration with Dallas Regional Chamber Research Analyst Josiah Ball and DRC Managing Director of Research and Innovation Eric Griffin.
IN THEIR WORDS
10 leaders share their views on Dallas-Fort Worth
"Being headquartered in Dallas will benefit our long-term growth prospects and human resources needs, and our ability to operate more efficiently, better serve customers, and expand the business in the future."
Randall Stephenson, CEO, AT&T
"The relocation of our corporate headquarters to the Dallas-Fort Worth area gives us a broader recruitment pool and better labor arbitrage, cost efficiencies, and improved mobility and access to our markets."
Tony Aquila, CEO, Solera
"The Dallas-Fort Worth area is a booming metropolis of tech companies and talent, and we're proud to be cultivating and contributing exciting tech developments and innovation that have global reach."
Brian Peccarelli, President of Tax & Accounting, Thomson Reuters
"Dallas has got an amazing labor force. You think Austin is the high-tech center of the state. I don't believe that. I think Dallas/the Metroplex has an almost infinite supply of technology-enabled workers. So, that, coupled with the work environment, and no state (income) tax, I can't imagine anyone not headquartering here, to be honest with you."
Stephen T. Winn, CEO, RealPage
"We have a great talent market in Dallas and there's a lot of opportunity to expand based on our brand and the good presence we have in the community."
Jill Lacy Green, Recruiting Manager, State Farm
"People in this area have an entrepreneurial, can-do, get-it-done, never-say-no type of energy. And you can find talent here that is like-minded in business — people who are committed to the companies they work for."
Calvin Carter, CEO, Bottle Rocket
"As a major transportation hub with a technology-savvy workforce, we believe Dallas offers great advantages that align with our long-term business vision."
John Graham, CEO, Omnitracs
"You have a wide variety of interests in this world and that's what makes Dallas really so attractive to our employees today and to our future ones that want to come here."
Rich Templeton, President / Chairman / CEO,  Texas Instruments
"We all joke about L.A. traffic, but it's not a joke if you're sitting in it. It was a 10-mile drive on surface streets. Housing costs ranged from $600 to $1,000 per square foot."
Jayadev Gopinath, General Manager, Advanced Technologies, Data and Analytics, Toyota Motor North America
"We chose Dallas because the city is a thriving, innovative hub for health care entrepreneurs who share our goal of finding solutions that make our health care system more efficient, affordable, and effective. This project [C1 Innovation Lab] emphasizes our commitment to Dallas…"
Kevin Cassidy, President, Health Care Service Corp.
EXPANDED CONTENT
Go here for more charts and interactive story map.
This story first appeared in Dallas Innovates 2018, an annual magazine that showcases Dallas-Fort Worth as a hub of innovation. Read more about the region's game changers, disruptors, creatives, and our new frontiers in the digital edition.
READ NEXT
RealPage could have moved anywhere to continue its upward trajectory. It chose Dallas-Fort Worth.
The Toyota Motor Corp. is bringing the future of mobility to the world, and two key initiatives toward that end are occurring in Dallas-Fort Worth.
North Texas is a platform for all that's new and next. Plug in — and come along for the ride. NŌD Coworking Founder Chirag Gupta offers some tips for getting involved. 
Augmented reality, virtual reality, and artificial intelligence are the future of retail — and many other industries. Lurking in the background is blockchain, which has the power to disrupt everything in our daily lives.

Get on the list.
Sign up to keep your eye on what's new and next in Dallas-Fort Worth, every day.