Editor's note: Dallas Innovates is the media sponsor for Digital Fight Club on Aug. 24. According to Digital Dallas' Michael Pratt, Digital Fight Club will bring together 10 of the sharpest minds in Dallas in five "fights" to spar on the hotbed of undecided topics in digital technology. Judging the rounds will be a panel of subject matter experts hailing from some of Texas' top brands, he says.  
IoT is a thing?
Much like big data, the internet of things (IoT) is quickly becoming a technological force to be reckoned with. For those of you thinking "Hmmm… technological force to be reckoned with … sounds important, but what the heck is this so-called 'internet of things'?" let me break it down: The internet of things is the concept of connecting devices that can access the internet (think cell phones, your home security system, that connected cold brew coffee maker you bought last Christmas, etc.) and thereby gather and exchange data with each other and with people.
The crazy thing about it, though, is that the internet of things goes way beyond the consumer products we use at home. From applications in aerospace and defense to energy and health care, the Internet of Things is helping revolutionize how companies do business and compete on a global scale.
But why now?
Let's start with some context: Over the past 20-some-odd years, mobile devices have exploded, computing technology has become significantly faster and the costs of hardware have decreased. When paired with advances in other areas such as cloud computing and data analytics, these trends have created an environment where companies who adopt IoT-powered operations processes can realize incredible economies of scale.  
As a result of this widespread adoption, there will be an estimated 6.4 billion internet-enabled "things" this year. By 2020, that number is expected to be nearly 21 billion. However, with all of these "things" talking to each other and making decisions in cyber space (essentially generating an unprecedented amount of personal and private data), many in the IoT community are beginning to worry about the security implications of having everything connected. 
Digital Fight Club will welcome two luminaries in the tech community as they debate the future of IoT. Do the benefits outweigh the risks? Will the challenges facing the industry be its downfall, or will they be a speed bump on the road to innovation in the space? 
In the first corner, Nathan Huntoon
Huntoon loves engineering, science and solving problems. As a Principle Engineer in Pepsico's automation group, Nathan is a guy who believes that engineering is an inherently creative exercise, and finds creating new solutions using an understanding of science and firm engineering principles immensely satisfying.
And, in this corner, Scott Harper
Harper is the founder and CEO of Dialexa, an internationally-acclaimed technology and product development company, headquartered in Dallas. The company helps organizations, government agencies and businesses conceptualize, design, engineer, and launch innovative and high-quality products and solutions. Scott and Mark Haidar formed Dialexa in 2010 upon recognizing a huge market demand for innovative and scalable technology solutions.
The Fight…
Nathan: The benefits for consumers from IOT devices are outweighed by the poor security and privacy frameworks used to secure the unprecedented amount of private data generated.  As consumer awareness to the dangers grows, the IOT industry must re-evaluate its priorities to secure its future.
Scott: Security and data privacy surrounding IoT is merely a speed bump on the road to innovation in the space. The challenges in this space are not dissimilar to those we face every day with the current internet and technology. People who think this could be the downfall of the space are the same people who are sitting at home with their tin foil-covered windows and their pet rock talking about how they believe Throw Back Thursday was devised by the NSA in order to get people to upload and catalogue pictures of themselves that didn't yet exist on the internet due to their age. 
For ticket information, go here.
---
READ NEXT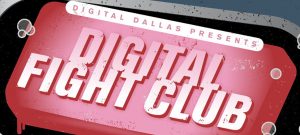 Digital Dallas: Bell Ready to Ring for Digital Fight Club
Digital Fight Club will be at the Granada Theater.
The Refs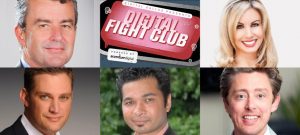 Digital Fight Club: Who's Calling the Shots?
Meet the Refs.
The Fight Card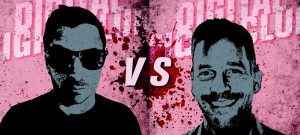 Fight 1:
Virtual Reality: Nick DiCarlo (Samsung) vs Dale Carman (Groove Jones)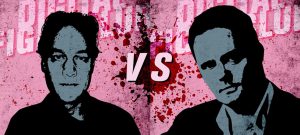 Fight 2:
IoT: Scott Harper (Dialexa) vs Nathan Huntoon (Pepsi/Frito-Lay)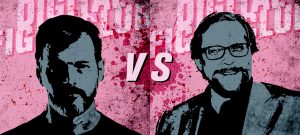 Fight 3:
Digital Content: Mike Orren (Speakeasy) vs Michael Sitarzewski (Launch DFW)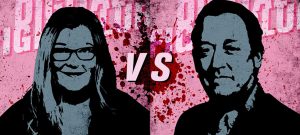 Fight 4:
Big Data: Good or Evil?: John Keehler (SMU) vs Dina Light-McNeely (The Marketing Arm)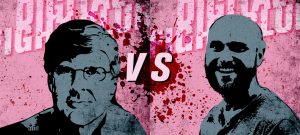 Fight 5: 
Augmented Reality & Artificial Intelligence: Joel Fontenot (Trailblazer Capital) vs Brad Rossacci (900 lbs) 
---
For a daily dose of what's new and next in Dallas-Fort Worth innovation, subscribe to our Dallas Innovates e-newsletter.