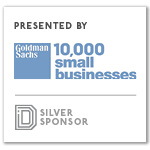 Imagine doubling or tripling the size of your business in a year. Picture the moment you rise above your competition by landing that big contract promising a 40 percent increase to your gross revenue. Take a minute, live in the moment, and revel in the exhilaration of it all.
Pop! That's the sound of your balloon suddenly bursting and the joyous high quickly deflating — replaced with the bumps and bruises of growing pains from your fall back to earth.
---
For small businesses, the overwhelming realization of delivering on those "big" opportunities can become a mountain of weight on your shoulders, a ball of nerves in the tummy, and a huge amount of guilt knowing there will be a loss of time from your loved ones.
Without adequate preparation, many small business owners discover that growth is not always easy. That's why I have reached out to five of our successful Goldman Sachs 10,000 Small Businesses alumni to share key advice on how to prepare and equip your business for rapid growth. Here are the takeaways:
FOCUS ON THE IMPORTANT — AND LEARN TO DELEGATE
Letting go of certain aspects of the business is extremely challenging, mainly because you have so much riding on the success of the business. There's a lot at stake. But, let's face it. You aren't a superhero, and you don't know everything. I can't tell you how many times I've heard from a business owner: "You don't know, what you don't know." But, this is not a bad thing. This is actually a very good space for you to be in. Learn to focus on the important things, and hire others to focus on the things that aren't in your top five priorities.
"Choose five things you should spend your time on, and only do those things. For a business owner, business development should be one of those five things."
Sherrill Lester
QMF Steel
Goldman Sachs 10,000 Small Businesses: Cohort 2. 
FIND A MENTOR AND CAPITALIZE ON EXPERIENCE
Finding an experienced mentor to help guide you on your growth journey is key. Make sure they "get" what you do and have a good understanding of small business. Don't be afraid to look outside of your industry. Make sure they don't always agree with you and that the relationship is reciprocal. Experience from 10,000 Small Businesses has taught me that some of the best peer-to-peer learning happens between small business owners not in the same industry, age group, gender, or even revenue space. Those differences can actually elevate your mentoring experience and challenge your thinking.
"Finding a mentor [who] has experienced growth and successfully capitalized on the growth is key. People who have experienced growth can help you see and handle problems years beyond your present circumstances. They can help you create a strong blueprint that will create room for your expansion. Limited vision can destroy you in business. A good mentor can save you thousands of dollars in taxes [and] lawsuits — not to mention unnecessary purchases." 
Brent Reaves
Smokey John's Bar-B-Que Inc.
Goldman Sachs 10,000 Small Businesses: Cohort 6
HIRE BASED ON SKILL AND FIT — NOT DESPERATION
Making the right hire for small business owners is vital to business growth, but finding a skilled workforce is extremely challenging these days. Many candidates lack the [right] skill set, and salary requirements for skilled workers are rising. Despite these challenges, I urge you not to settle. Don't hire someone just because you're desperate for a body. Instead, focus on not only what the job requires and the skills necessary, but also evaluate what personality characteristics the position requires. Know what works well within your company culture. There are many variables to finding the right mix.
For one alumnus who owns a language training company, finding the right hire can be exceptionally difficult. Resumes of candidates who speak several different languages come across her desk daily, but just because they can speak multiple languages doesn't automatically translate into the ability to teach them. Those are two very different things and doesn't necessarily make a good hire. That's why when hiring I suggest making a list of "must" skill requirements — no more than three. The remaining skills or personality characteristics are considered wants or preferences. Be prepared to know which of those variable skill sets you can live without.              
" During [an] interview, I'm seeing how personable [a candidate is]. Are they easy to talk to? Do they enjoy talking? Is it easy for them to have a conversation? Did they command the conversation in a professional way?  [Our] job is all about talking, so we need someone who is social and easy to talk to. They'll be spending anywhere from two to 10 hours a week with one client, so when the teacher is talking, I think about three things: Is what they're saying relevant? Is it interesting? Did they bring some fun/character to the interview? This is also what is important about a lesson — that it be relevant, interesting, and fun."
Micah Bellieu 
Fluency Corp
Goldman Sachs 10,000 Small Businesses: Cohort 2.
GET YOUR PROCESSES IN ORDER
It's not glamorous, it's not pretty, but it's what makes the machine run so smoothly. Even if you have a small staff you have to document your business processes. What if a game-changing opportunity suddenly landed in your lap and you had to hire new staff members in a pinch, but you didn't have documented processes? Would you suddenly be surrounded by chaos? The answer is yes, and nothing sinks a growth opportunity faster. When this happens it can certainly impact your recovery time and service delivery.
That's why it's critical to document, document, document!
" In the beginning, we were blowin' and goin' — and only two of us doing all the jobs. Then, we started to bring on team members to help. Someone told us: 'Build your business processes as if you were a large corporation, because someday, you just might be.' We couldn't afford expensive systems, so most of our processes were manual. We made sure to document them, and we made it part of our culture to always be improving and streamlining as we moved forward. As a new team member comes on, it's their job to review the processes to ensure they're documented and updated. This keeps our documentation fresh and involves the new person in this important task from the very beginning."
Heidi Rasmussen
Freshbenies
Goldman Sachs 10,000 Small Businesses: Cohort 5.
THINK BEFORE YOU JUMP
This is BIG! Not every opportunity should be taken. Don't be blinded by the big dollars on the contract. Dig into the deliverables to truly understand what it will take. Be realistic to the time commitment, and the requirements of the job. Think through each piece to know that it can actually be done, and what the cost might be. Nothing is more disheartening after the job is done than to realize that an ever-so-promising opportunity actually gave you no real profit, hurt your business reputation, and took a toll on your personal life. 
" Fast growth is not always the best decision. It's worked for me because of my level of sacrifice and dedication. I'm not bragging, but one must have great people around them to succeed in fast-growth mode, especially over an extended period. So, if you don't have the capital to get [people] onboard early, then everything falls back on you. You should not take this decision lightly — or underestimate the gravity of this decision. If it's the path you choose to go down, warn your family and friends. Believe me, many will be severely disheartened when your time is being spent elsewhere. #TheStruggleIsReal "
Dustin Gadberry
Gadberry Construction Company
Goldman Sachs 10,000 Small Businesses: Cohort 1
There are many different businesses in the Dallas-Fort Worth area and regardless of industry and size, there are fundamentals that challenge us all. Some more than others. Make sure as a leader you are prepared and equipped for growth.
" Being in fast growth is like running an obstacle course: Sometimes you jump, sometimes you belly crawl, and sometimes you get the team together to scale a wall. There is not a constant right answer, but you must be a strong leader that can evolve with diverse challenges and adapt to the personalities of your ever-changing team,"  Gadberry said.