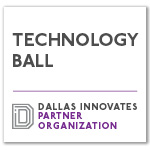 Many of Dallas-Fort Worth's leading CIOs, CTOs, and VPs of IT recently gathered for a Technology Ball kickoff breakfast hosted by Digital Conduit. The Technology Ball will officially begin their 2017 Season with networking-for-good on June 20, but the Kickoff Breakfast provided an early opportunity for networking in support of a STEM education cause.
Notable IT executives were in attendance, including representation from companies such as AT&T, Commercial Metals Company, CROSSMARK, Essilor, Flowserve, Lehigh Hanson, Mary Kay, Omni Hotels & Resorts, On the Border, Overhead Door Corporation, Sabre, and others. The Park City Club overlooking the Dallas skyline served as the backdrop for the event. 
HIGH TECH IN TEXAS 
Breakfast event sponsor Qentelli shared their support for the STEM cause before guest speaker Holly Reed took the microphone. Reed, Texas Central's Managing Director of External Affairs, gave a presentation on the Texas Bullet Train project. The Texas Bullet Train will be the first high-speed train in the country, connecting Houston to North Texas in less than 90 minutes. It will drive economic growth as it is being built, and when operational, it will create a new high-tech industry in Texas, according to Reed.
STEM CRISIS IMPACT
Technology Ball supports STEM (Science, Technology, Engineering, and Math) Education initiatives by donating net proceeds to its nonprofit beneficiary, MentorNet.
MentorNet encourages students in higher education, by delivering a nationwide social network for one-to-one mentoring with STEM professionals. Each year, millions of STEM jobs go vacant because of a lack of skilled workers. It is predicted that by 2018, approximately 2.4 million STEM jobs will remain unfulfilled. Of the college students who select a STEM degree, only 38% of them persist in their degree, and after graduation, only 62% of them pursue a STEM career. This results in an issue that must be addressed to continue technological advances and sustained economic growth.
MentorNet's mission aligns with Technology Ball's philanthropic focus on advancing STEM education and addressing the STEM workforce shortage, and the organization is proud to have facilitated the mentorship of more than two thousand STEM students since its partnership with MentorNet began in 2014.
ONGOING NETWORKING FOR GOOD
The Technology Ball 2017 series of events will continue with the first of three receptions on June 20, and will culminate with a black-tie gala in the fall, highlighting the bright minds impacted through MentorNet's STEM Education initiatives. Throughout the season, the Technology Ball will gather IT executives and others under the umbrella of raising awareness and dollars in support of this urgent cause.
Many opportunities exist in the technology community to network in a business setting: Technology Ball aims to provide a one-of-a-kind opportunity to engage with this community in a social setting – while "giving back" through a common, philanthropic cause.
GALLERY