LEGO is taking over North Texas, one primary-colored brick at a time. On September 24th, the Perot Museum of Nature and Science will unveil its newest exhibition, Towers of Tomorrow with LEGO Bricks. But that's just one example of how LEGO is stacking up in Dallas-Fort Worth.
The Perot exhibit will feature 20 iconic skyscrapers from across the globe, constructed from more than half a million LEGO bricks. The product of over 2,000 hours of painstaking clicking and clacking, the buildings range from the Empire Site Building to Dubai's Burj Khalifa to the Tokyo Skytree.
The architectural LEGO masterpieces were constructed by Ryan McNaught, one of only 21 LEGO certified professionals on earth.
Cultivating interest in STEM
"In our commitment to inspire minds through nature and science, the Perot Museum strives to bring in engaging exhibitions that spark those 'ah-ha' moments," said Dr. Linda Silver, Eugene McDermott CEO of the Perot Museum, in a statement. "Towers of Tomorrow with LEGO Bricks is a hands-on experience for all ages and a fun way to cultivate that crucial interest in STEM."
The Perot says people of all ages can get creative during the exhibit's run. "Construction areas" will be set aside equipped with more than 200,000 LEGO bricks. Visitors will have the opportunity to help create their own Tower of Tomorrow by building upon a growing LEGO installation made from thousands of the colored plastic bricks.
Towers of Tomorrow with LEGO Bricks is a traveling exhibition from Sydney Living Museums and is being toured internationally by the company Flying Fish.
Other towers in the exhibit include Barangaroo Hotel Crown Resort in Sydney; Bank of America Plaza in Atlanta; 111 West 57th Street, Central Park Tower Building, Chrysler Building in New York City; CN Tower in Toronto; Eureka Tower in Melbourne; Infinity Tower in Brisbane; International Commerce Tower in Hong Kong; Marina Bay Sands in Singapore; N Seoul Tower in Seoul, Korea; Petronas Towers in Malaysia; Q1 in Queensland; Shanghai Tower in Shanghai; Taipei 101 in Taiwan; Willis (Sears) Tower in Chicago; and Wilshire Grand Centre in Los Angeles.
Presented locally by Highland Capital Philanthropies, the exhibit will run from Friday, Sept. 24 through April 24, 2022, at the Perot Museum, located at 2201 N. Field Street in Dallas.
For a a photo gallery of the Towers of Tomorrow exhibit, see the end of this article.
Arlington gets in on the act
Not to be outdone, Arlington is showing its own LEGO love too—for a hilariously bureaucratic reason.
The city wanted to explain its 2022 budget to the city's 400,000 residents. But nobody would read reams of paper clogged with numbers.
So instead, as Governing.com reported, the city let LEGOs tell the tale:
It turns out Jay Warren, Arlington's director of communication and legislative affairs, is a lifelong LEGO fan. He spent the last 10 years building his own LEGO Arlington as a personal hobby.
"Some of the LEGOs that were used date back to my childhood in the '80s," Warren told Governing. "Fortunately, my mother didn't get rid of those things, and when I was able to get them and start building again, I did."
Now he's put his LEGOs to civic use by creating the video "Build, Unite, Create: Using LEGO Bricks to Explain Arlington's FY2022 Budget." Tapping his 20 years of experience in TV news, Warren shot the video himself using stop-motion techniques and his own voiceover narration.
The LEGO-based budget video has officially gone viral, snagging 836,459 views as of this writing.
12-year-old Cedar Hill NASA intern is obsessed with LEGOs
The Perot Museum is using the Towers of Tomorrow LEGOs exhibit to spark interest in STEM learning. If you think that's a stretch, just see what LEGO obsession did for one Cedar Hill girl.
12-year-old Alena Analeigh is a child prodigy who's already graduated from high school. This summer she's doing an internship at NASA, before enrolling in Arizona State University with a double major in astronomical and planetary science and chemistry.
Last month Alena was a featured speaker at the ASU-Global Silicon Valley Summit in San Diego, where she was interviewed onstage by the Head of LEGO Ventures for LEGO Group, Cecilia Qvist. Alena spoke about her life's journey from 4-year-old LEGO whiz kid to becoming the youngest person ever to intern at NASA.
Alena is also a budding entrepreneur with her own e-commerce site, thebrownstemgirl.com, which sells clothing, backpacks, and fanny packs and offers STEM resources for girls. She updates her Facebook page with reports from her NASA internship.
Even more impressive: Alena has launched the Brown STEM Girl Scholarship program for girls of color. The program's goal is to help high-potential minority students excel in their course work, graduate college, and make a difference in the world through STEM. Applications for the scholarship program are open now through October 1st and can be made here. 
Alena appeared on "Good Morning America" last spring and talked about her LEGO obsession.
""Ever since I was 4, I loved playing around with different types of LEGOs," she told GMA.
Alena's mother, Daphne McQuarter, told GMA that LEGOs were how she first knew Alena was gifted.
"She would organize the LEGOs by color, by size," McQuarter said. "She was always strategic with her LEGOs, and if you messed up her LEGOs, it was a whole problem. If you took one of her Legos out of the little set, she knew that one of her LEGOs were missing."
DeSoto Mayor Rachel Proctor gave Alena a commendation for being ""the youngest African American as well as the youngest person in history to be granted an internship for NASA:
If an obsession with LEGOs can help drive that level of genius, what can't it do?
In fact, as a Forbes Magazine contributor wrote last. year, LEGO is probably the biggest education company on earth.
Local FOX LEGO Master
Dallas native and Microsoft software engineer Amie Danielle Dansby calls herself the "LEGO Cyborg Unicorn Hacker at Microsoft." 
The tech trailblazer began her career as the first female intern at Marvel Studios' video game department, where she worked on Captain America and X-Men Destiny before transitioning to development work on the Xbox and Playstation.
Dansby joined LEGO royalty by appearing as a contestant on FOX TV's "LEGO Masters."
The LEGO star—who believes "tech is sexy"—launched and fully funds a scholarship for girls in STEM through the National Videogame Museum in Frisco, TX. She's also active in the maker, LEGO, hacker, and cosplay communities.
"I'm always learning and improving myself and skill-set and I see that passion isn't a plan, it's a feeling. And feelings change. You create your life by living it, and my life is more than a game," Dansby says on her LInkedIn page.
Dansby has an amazing website—along with an interactive LEGO wall just inside the front door of her home. 
There may be other North Texas LEGO stories to tell, but we're too busy building a LEGO recreation of our tornado-destroyed Thomas Jefferson High School to explore further. In the meantime, enjoy this gallery of images from the upcoming Perot Museum exhibit:
Towers of Tomorrow Built with LEGO Bricks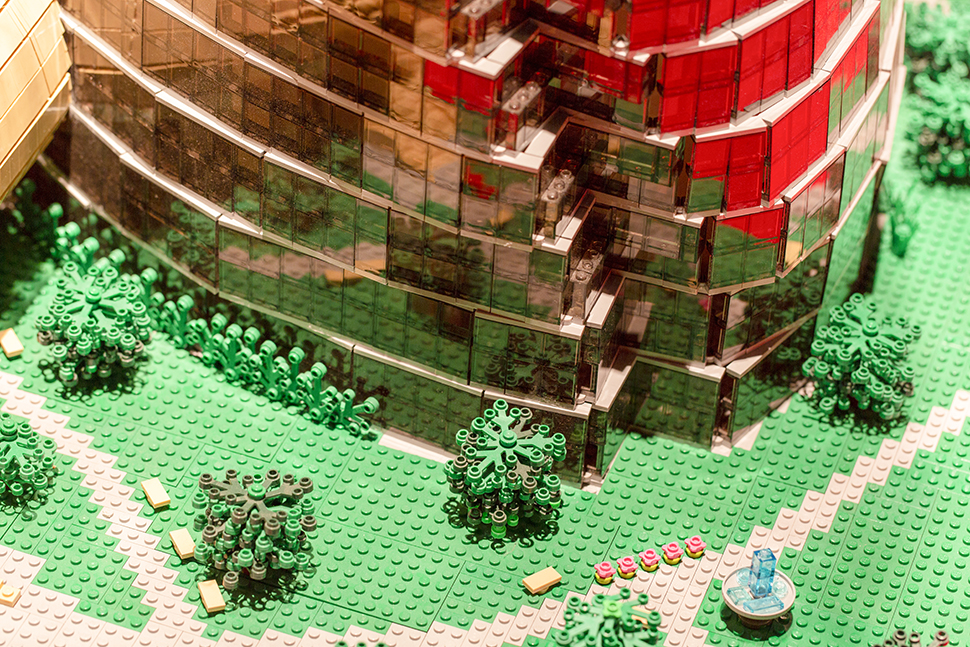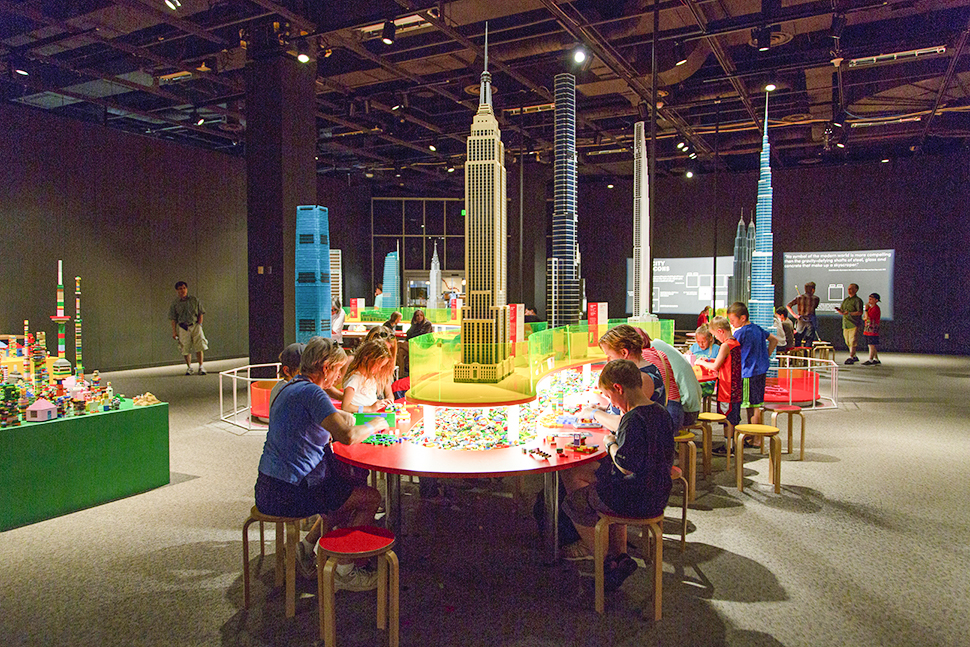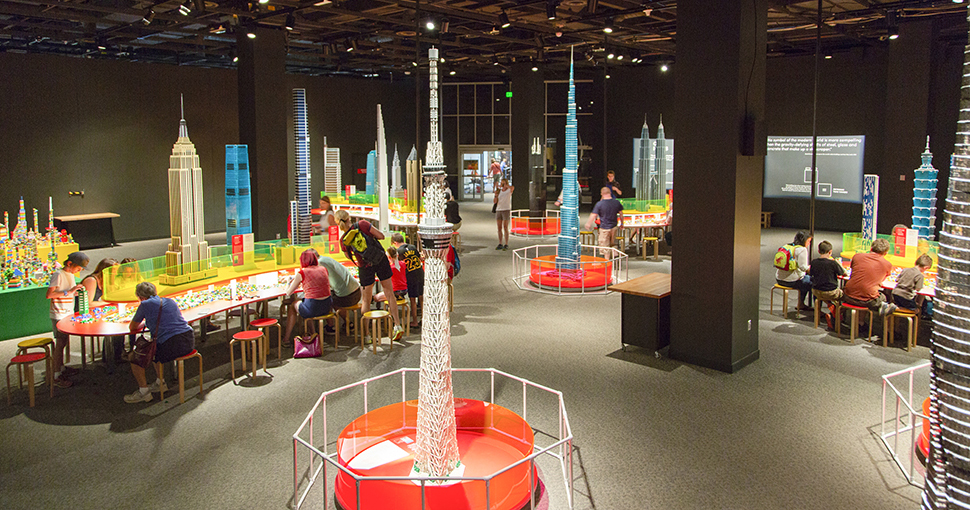 Get on the list.
Dallas Innovates, every day.
Sign up to keep your eye on what's new and next in Dallas-Fort Worth, every day.