From startups changing the way we travel and how brands can tell stories to inventions bringing new solutions to the health care and wireless industries, these North Texas innovators are making a name for themselves. 
---
GEORGE BRODY
Best known for his leadership at GlobeRanger, Brody has been a leading innovator in the wireless space for decades. These days, he's an investor and adviser for Ilumi Solutions Inc., an Internet of Things initiatives company, and founder of the Advanced Wireless Research Consortium of North Texas, which encourages collaboration in the wireless sector.
---
ANDRES FABRIS
The founder and CEO of Traxo set out to make it easier for people to share travel itineraries and plans with their friends. Traxo has financial backing from TripAdvisor and has developed partnerships with Lufthansa and other corporations.
---
STEVE DEITZ
The founder of Dallas-based 900lbs of Creative specializes in creating virtual reality and augmented reality content for major brands such as NTT Data and the Dallas Innovation Alliance. Deitz is passionate about telling immersive stories using the latest cutting-edge technology.
---
PAT ANTAKI
Antaki is the president of Evergaze LLC, an optical technology startup that is developing seeBOOST, a wearable device that helps people who are losing their vision due to macular degeneration.
---
JOHN CARMACK
The chief technical officer for Oculus, maker of virtual reality headsets, made a name for himself in the 1990s when he developed popular video games such as Quake and Doom. Today, he's pushing the boundary of VR technology.
---
LIANA DUNLAP
Dunlap's resume included leadership positions at Disney and IBM before she became CEO of CoreSpace, a Dallas-based data center with locations across the country that offer cloud-based infrastructure and hosting for businesses.
---
AL GUILLEM
The president of ZS Pharma has led the development of several prescription and over-the-counter medications, including Mucinex. The billion-dollar company went public with a $100 million offering. ZS Pharma is focusing on drugs to treat renal, heart, liver, and other diseases.
---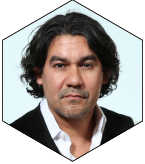 PETE LERMA
Now the principal at Richards/Lerma, Pete Lerma is one of the most innovative digital marketers today. His newest venture focuses entirely on marketing to Hispanics with brands such as The Home Depot and Ram Trucks.
---
CLYDE VALENTIN
Valentin is the founder and director of Ignite Arts Dallas at the Meadows School at Southern Methodist University. The initiative unites arts and community engagement by encouraging art that explores racial and cultural themes in Dallas and the nation. The New York City native previously worked as the executive director of the Hip-Hop Theater Festival, now known as the Hi-ARTS.
---
STEVE GUENGERICH
He's been an entrepreneur, investor, and mentor in Austin, but these days he's the executive director of the Institute for Innovation and Entrepreneurship at the University of Texas at Dallas. The goal of the IIE is to encourage the next generation of startups at UTD.
---
HAL BRIERLEY
The CEO of The Brierley Group knows how to generate loyalty for businesses. In his decades of experience, he's built reward programs for airlines, hotels, retailers, and others. Beyond just loyalty, his work helps brands grab consumer attention.
A version of this story first appeared in Dallas Innovates 2018, an annual magazine that showcases Dallas-Fort Worth as a hub of innovation. Read more about the region's game changers, disruptors, creatives, and our new frontiers in the digital edition.
READ NEXT
From artificial intelligence to blockchain, North Texas companies are involved in the newest and most innovative trends in the world.
More than a dozen companies operate innovation labs, test centers, or teams in North Texas — add these to your watch list.

Get on the list.
Sign up to keep your eye on what's new and next in Dallas-Fort Worth, every day.