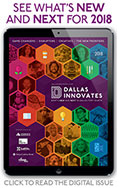 More than a dozen companies operate innovation labs, test centers, or teams in North Texas — add these to your watch list.
Farmer Brothers
A coffee lab does exactly what it sounds like: Development, taste testing, quality control, and training. The lab came along with the 105-year-old coffee supplier's headquarters move last year from California to Northlake. The lab is composed of five rooms, including a cupping room and a sealed flavor room.
---
NTT DATA Services
The global IT services company opened its first Collaboration Center in November at its new Plano headquarters. Employees work with clients to solve business challenges in an immersive, technology-focused environment. The company plans to add a "residency program" for experts and recent college graduates.
---
Sabre
Opened in 1996, Sabre Labs in Southlake explores ways to apply emerging technology to travel. Ideas might move to Sabre Studios, which debuted in 2006, which tests prototypes with customers. An AI-powered chatbot is being piloted and research on augmented reality and blockchain applications is ongoing.
---
Uber-Bell Helicopter-Hillwood Properties
Three companies envision futuristic, on-demand transportation that will relieve traffic congestion and reduce pollution. Fort Worth-based Bell and San Francisco-based Uber are developing electric vertical takeoff and landing (VTOL) aircraft. They plan to test at a vertiport being built by Fort Worth-based Hillwood Properties at its massive Frisco Station mixed-used development.
---
Texas Instruments
The chipmaker's Kilby Labs Dallas, which opened in 2009, attracts a lot of attention. Named for TI engineer Jack Kilby, who invented the integrated circuit, it was the first of three Kilby Labs worldwide designed to incubate and rapidly develop disruptive technology. Employees vie to work at the prestigious Dallas lab.
---
Toyota
Under a new approach to innovation, Toyota Motor North America last year launched the Connected Technologies group at its Plano campus to develop hardware for drivers' in-car experience. Within walking distance is Toyota Connected, a separate company started in 2016 to focus on software-related services for the car of the future.
This story first appeared in Dallas Innovates 2018, an annual magazine that showcases Dallas-Fort Worth as a hub of innovation. Read more about the region's game changers, disruptors, creatives, and our new frontiers in the digital edition.
READ NEXT
From Dallas to Plano, large corporations are using technology to change how they serve customers and outplay competition. From Blue Cross Blue Shield's C1 Innovation Lab to AT&T's Living Lab, here are a few Dallas-Fort Worth companies in the innovation trenches. 
From liquid paper to the frozen margarita machine, delve into a list of inventors and inventions that have North Texas origins.

Get on the list.
Sign up to keep your eye on what's new and next in Dallas-Fort Worth, every day.