North Texas is no stranger to the food and beverage business sector. It long has been a valued location for everything from corporate headquarters, production and distribution facilities, and retail establishments.
The impact of the more than 15,000 food and beverage businesses in North Texas is substantial, accounting for nearly 370,000 local jobs. This impact isn't escaping notice. Last year, Site Selection magazine named Dallas-Fort Worth-Arlington the No. 1 "most competitive" North American city in food & beverage.
"DFW is a great place for food and beverage companies, both headquarter and manufacturing operations."
Duane Dankesreiter
"DFW is a great place for food and beverage companies, both headquarter and manufacturing operations," says Duane Dankesreiter, senior vice president, research and innovation for the Dallas Regional Chamber. "Those companies come here because of our central location, cost of doing business, and access to great talent."
A wide range of food manufacturers are represented in the region including: Coca-Cola, Oak Farms Dairy, MillerCoors, Bimbo Bakeries, Kraft Heinz, and more. 
Along with corporate facilities and restaurants, a number of industry players have introduced test kitchens to the area such as Jamba Juice, Pei Wei, Which Wich, and Farmer Brothers joining more established food innovation centers from Pizza Hut and Frito-Lay. Part of this growth in test kitchens could be attributed to the region's population, Dankesreiter says.
"Food and beverage companies are choosing DFW because of the growth of our region, giving them access to a large pool of customers and ability to test new products on a diverse population," he says. "We expect even more companies in the food and beverage industry to choose DFW in the future."
One example proving Dankesreiter's point is the recent launch of Pilotworks' culinary incubator in Dallas. The new site joins those in five other U.S. cities, and Pilotworks Dallas General Manager William Judge cites the recent population growth in the DFW area, along with a "lively and emerging" food scene, as the reasons why the Brooklyn, New York-based company chose Dallas for an outpost.
INNOVATION IN ACTION
Last spring, Plano's Middleby Bakery Group opened its Bakery Innovation Center, a $2.3 million project that includes baking automation machinery as well as a test kitchen for commercial bakers from around the world looking for a place to test products at scale rather than in small batches. 
One goal of the test kitchen was to serve the industry by giving bakers access to the most up-to-date equipment, Middleby Bakery Group President Mark Salman told The Dallas Morning News, with an additional goal of eventually turning those bakers into buyers for the automated equipment.
In April, Lineage Logistics, a company specializing in temperature-controlled supply chain and logistics, began an expansion of its Sunnyvale warehousing and distribution facility. The construction is expected to last into 2019. When it opens, it will be Lineage's first fully automated facility in North America.
Once open, it will be one of the world's most-automated food logistics facilities.
"At Lineage, we are committed to disrupting the temperature-controlled supply chain through the use of new technology, applied sciences, and innovative thinking," President and CEO Greg Lehmkuhl says in a statement. 
"At Lineage, we are committed to disrupting the temperature-controlled supply chain through the use of new technology, applied sciences, and innovative thinking."
Greg Lehmkuhl
He points to Lineage's partners at the City of Sunnyvale, including the mayor's office and the departments of Engineering and Economic Development as instrumental in bringing the new nine-level, 100-foot ceiling facility to Sunnyvale along with around 30 new operations jobs.
Middleby Bakery Group and Lineage Logistics are recent examples, but the area has notched a number of notable food and beverage projects over the last several years. Fiesta Restaurant Group relocated its headquarters to Addison from Miami at the end of 2014, the same year in which Zoës Kitchen moved its headquarters from Birmingham, Alabama to Plano. Farmer Brothers coffee relocated its headquarters from California to Northlake.
In new construction or expansion, Golden State Foods is planning a $70 million hub in the area, Pegasus Foods is planning a $20 million expansion in Rockwall adding 200 new jobs, Kraft Foods spent $84 million on a Garland expansion, and Carolina Beverage Group turned to Fort Worth for its western expansion in 2014.
Jamba Juice chose Frisco for its headquarters relocation from California in 2016. Cushman & Wakefield Executive Director Robbie Baty says a big draw was the number of national restaurant brands based here — along with the typical macro-economic factors. Jamba Juice felt that joining the region would help it recruit from the pool of executive talent with restaurant business experience.
DFW: A CENTER OF INVENTION
In a way, the area's food and beverage success is a self-perpetuating ecosystem. 
Baty's background as a real estate office broker specializing in corporate headquarters included handling the deal for Dallas' Brinker International, as well as the Jamba Juice relocation. He made the analogy of Brinker creating "offshoots" of national restaurant brands eyeing DFW for their headquarters — such as Jamba Juice — to how TI helped spur the Telecom Corridor.
The restaurant business itself is one of the most competitive sectors in the nation, CBRE Senior Vice President Greg Pierce says. The result is that brands must continually reinvent themselves to stay relevant and draw customers. He says that DFW has organically grown a number of notable brands and remains a center of invention for new restaurant concepts.
The strength of the restaurant business is also an offshoot of the truism that real estate development follows population, density, and solid income levels, Pierce says.
"When you look at the many food and beverage businesses that have opened in Uptown, downtown, West Plano, and Frisco, it is pretty easy to understand because of all the residential single family, multifamily, and office building development and growth that has occurred in the last eight or so years," he says.
The list of companies with either headquarters or significant operations in the region is impressive.
Many top food manufacturers also call DFW home, including:
MAJOR PLAYERS
The following is just a sample:
Borden Dairy Co.
Brinker International Inc.
Dean Foods
Frito-Lay
Groupe Le Duff
7-Eleven
Unilever
Women's Foodservice Forum
Yum! Brands [Pizza Hut and WingStreet]
FOOD HALLS
The Trinity Groves project in West Dallas may have begun as a restaurant concept incubator where chefs and restaurateurs presented unique concepts to a team of experienced restaurateurs, but now, it is one of the hottest eating destinations in Dallas, according to the Dallas Regional Chamber, Along the way, it has helped revitalize a neighborhood that includes the development of residential apartments, office spaces, and additional retail, the chamber said.
Further east, the Dallas Farmer's Market has been attracting farmers and growers for decades, but now it is the center point of a vibrant downtown shopping, entertainment, and residential district, the chamber said. The Farmer's Market includes a 26,000-square-foot food hall with restaurants, local specialty, and artisanal food vendors.
To find the newest food hall in the region, you'll need to head north. The chamber said that Plano's Legacy Hall is intended to evolve as fast as the city's food scene. An experimental kitchen for well-known chefs to test their next big food ideas, Legacy Hall, also is an incubator where young culinary entrepreneurs can explore new business opportunities, according to the chamber.
RESOURCES
FOOD & HOSPITALITY EDUCATION
Dallas County Community College's Food and Hospitality Services Institute and the University of North Texas' School of Merchandising
and Hospitality Management provide training for all manner of food industry careers.
DCCCD offers classroom instruction, hands-on participation and work-study classes for culinary arts, bakery/pastry arts, and food and hospitality service. UNT offers Bachelor's and Master's level programming for those interested in food service management,
including access to a state-of-the-art student-operated campus restaurant. All degree programs are approved by respected accrediting agencies.
CAPITAL & DEVELOPMENT
REVTECH (Retail Technology Ventures) is a Dallas-based venture seed capital fund that identifies and develops promising startups in the restaurant, retail and hospitality industries. Since 2012, REVTECH has used the Dallas Region as a backdrop for accelerating the development of 26 early-stage companies, 17 of which are still operational; aggregate annual revenue from those companies are nearly $20M. REVTECH
draws upon the expertise of more than 100 industry veterans, providing strategic connections, resources, and guidance to participating companies.
Resources courtesy of the Dallas Regional Chamber.
A version of this article appeared in the Dallas-Fort Worth Real Estate Review, Spring 2018.
---
READ NEXT
INNOVATIVE SPACES: THE FOOD INDUSTRY IN DFW 
Take a look behind the scenes at these industry players with unique operations in the food and beverage landscape. From state-of-the-art manufacturing to kitchen coworking to R&D innovations, Dallas-Fort Worth is home to unique operations in the competitive food and beverage landscape. 
It's the first La Moderna factory outside Mexico for Interamerican Foods Corp., and the company came to North Texas for a reason.
Kitchen coworking: Pilotworks is designed for makers and food entrepreneurs in various industries — baking, consumer packaged goods, catering, and cooking classes — to have their own space.
The daily grind at Farmer Brothers new facility in Northlake goes beyond satisfaction in a job well done — you can actually taste it one sip at a time.
Want more? Here's our roundup.

Get on the list.
Dallas Innovates, every day. 
Sign up here to get what's new and next in Dallas-Fort Worth.
One click, and you're done.   
View previous emails.

The Dallas-Fort Worth Real Estate Review is published quarterly. Sign up for the digital alert here.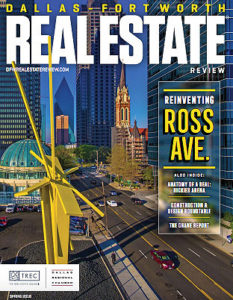 ---
MORE
Dallas Startup Moo-ves into the $894M Dairy-free Milk Market
Which Wich CEO Jeff Sinelli: 'You Have to be on a Constant Journey of Innovation'