A speculative real estate bubble is fun until it pops, just as it did nearly 20 years ago along the Telecom Corridor in Richardson.
Motorists in the early 2000s got a first-hand glimpse of the impact of telecom's implosion in Richardson by traveling the 5.5-mile stretch of U.S. Highway 75 that runs through the city.
Traveling that stretch now is like watching a comeback by the home team, a rousing revival built on redevelopment, marketing, perseverance, and a revised real estate tool box.
Around the turn of the century, US 75/North Central Expressway through Richardson reflected a city coping with the realities of a technology industry in contraction.
To the east of Central, just north of Campbell Road, was the 800,000-square-foot, mostly-empty headquarters campus for Nortel Networks' U.S. unit. The Canadian business was among the biggest casualties of the telecommunications mania of the late '90s, with Wall Street having reportedly valued the equipment maker at $283 billion in July 2000.
Heading south on Central, drivers saw empty storefronts at Richardson Heights Shopping Center, a 200,000-plus square foot property at Belt Line Road that dates to the 1950s.
"The tech and telecom bust hit Richardson around 2000 to 2001 and continued to have a dramatic effect on the Telecom Corridor area through the end of 2004."
John Jacobs
Richardson's office vacancy rate, which was 9.5 percent in the first quarter of 2001, climbed to 25.9 percent by the fourth quarter of 2003. Telecom Corridor, the T-shaped business area in Richardson that U.S. 75 roughly bisects, lost as many as 30,000 jobs tied to the industry.
"The tech and telecom bust hit Richardson around 2000 to 2001 and continued to have a dramatic effect on the Telecom Corridor area through the end of 2004," said John Jacobs, executive vice president at the Richardson Economic Development Partnership, or REDC.
Although the dot-com crash may be better known, the telecommunications implosion that largely took down Richardson real estate was 10 times larger, according to The Economist. 
The bubble's severity may have stemmed from what the magazine in July 2002 calculated was the telecom industry's nearly $1 trillion debt load.
But in a from-the-back-of-the-pack charge that would make a stock car racer proud, Richardson real estate along Central — like the rest of the city — today has surpassed the championship form it exhibited in the late 1990s.
On 186 weed-covered acres near the George Bush Turnpike and Central, Dallas developer KDC this decade built CityLine, a $1.5 billion project now home to both large employers, such as State Farm, and numerous restaurants.
Further south, the former Nortel campus is now Galatyn Commons, following multimillion dollar improvements from Spear Street Capital and prior owner Champion Partners.
And, thanks partly to a tax increment-finance (or TIF) district the city established in 2006, Richardson Heights became home seven years later to North Texas' first location of Alamo Drafthouse Cinema.
"They've finished the first midterm exam and received an 'A.'"
Joseph Cahoon
To diversify Central's real estate beyond telecom, Richardson adopted techniques such as development tied to light rail stations, TIF districts, and an alternative to traditional zoning.
"They've finished the first midterm exam and received an 'A,'" said Joseph Cahoon, director of the Folsom Institute for Real Estate at the Cox School of Business at Southern Methodist University, using a classroom analogy. "We don't know their final grade yet. It looks positive right now, but we don't know where the rest of the course is going to go."
TELECOM CORRIDOR HAS A RICH HISTORY
Though it can be difficult to envision today, much of the Richardson area that North Central real estate encompasses today was farmland in the 1950s. A large amount of that farmland produced cotton, whose economic importance was a major reason why Dallas appeared on the prairie to begin with.
Richardson's embrace of the electronics industry began in 1951, when Iowa's Collins Radio opened an office. In 1957, the business started the process of moving its defense electronics business to Richardson by kicking off construction of what would become a multi-building campus near Central and Arapaho Road.
In 1956, Texas Instruments had chosen a site east of Central, just north of Interstate 635, for a campus of its own, according to Tech Titans, a trade group for North Texas' tech sector that shares space and staff with parts of the REDP.
"With the breakup of the Bell (phone) companies, choosing a central location for manufacture and distribution made good business sense."
Doug Moore
Although Collins Radio (acquired by Rockwell in 1971) and TI both attracted engineers en masse, it took the telecom deregulation that began in the 1980s to truly spur the creation of what remains one of world's largest conglomerations of businesses in that field.
MCI, at the time an emerging Mississippi-based telecom company, set up a local shop close to what was then Rockwell, whose technology was key for MCI's microwave-based network. Equipment vendors such as Nortel, Fujitsu, and Ericsson later established Richardson operations in part for proximity to MCI.
The Richardson Rockwell unit became part of France's Alcatel as part of a 1991 transaction.
"With the breakup of the Bell (phone) companies, choosing a central location for manufacture and distribution made good business sense," said Doug Moore, executive vice president and chief operating officer at Fujitsu Networking Communications.
An arm of the Japanese tech conglomerate, Fujitsu Network still runs a Richardson manufacturing plant whose equipment touches much of the world's internet, phone, and cable TV traffic. All told, the 845,000-square-foot Fujitsu campus employs 1,386 people across eight of the mothership's business affiliates, and sits on land the business originally bought from billionaire H. Ross Perot.
"Fujitsu, along with a large number of technology players from around the world, began setting stakes in what would become known as Richardson's Telecom Corridor," Moore says.
DIVERSIFYING BEFORE THE BUST
Richardson's city limits comprise the Telecom Corridor, along with Texas Instruments, and Richland College nearby in Dallas.
Although the Richardson Chamber of Commerce trademarked the Telecom Corridor name in 1992, the area became a household name in the late '90s, when bubble-infused investment had made the North Central corridor a boomtown.
Behind the scenes, though, Richardson officials had started working on diversifying nearly a decade before the crash.
It began with planning for the arrival of the Red Line, the piece of Dallas Area Rapid Transit' light rail network that now extends to Parker Road in Plano.
In summer 2001, Richardson officials spent a week with Urban Land Institute (ULI) experts discussing transit-related development near forthcoming Red Line stops at what today are the Spring Valley, Arapaho, Galatyn Park and the CityLine/Bush Turnpike stations.
DART also plans to add a station at the University of Texas at Dallas in Richardson for its forthcoming Cotton Belt line, which will connect southwest Fort Worth with northeast Dallas suburbs such as Wylie.
Experts from ULI, a Washington, D.C.-based nonprofit that fosters better uses for land and real estate, advised using commercial development as the major function of sites near the Red Line stations, Richardson City Manager Dan Johnson says.
"They also recommended the city be flexible in its policies to allow for a mix of land uses," Johnson says. "Larger parcels could incorporate retail and residential uses, as well as office development. The panel recommended that these options be left open to allow prospective developers to respond to market demands."
"They also recommended the city be flexible in its policies to allow for a mix of land uses."
Dan Johnson
The 2006 creation of Richardson's first TIF, running along the city's Spring Valley area and up through its Central corridor to Campbell Road, created new development and redevelopment alike. 
To increase the TIF zone's allure for outside capital, the city made a number of infrastructure improvements from Spring Valley north. Those included building a Spring Valley underpass at Central to speed traffic flow, improving drainage along a creek that goes under the highway, and putting up a Galatyn overpass that spans Central.
From a separate bucket of money, they used the TIF to finance city work such as hike-and-bike trail enhancements and the purchase and clearing of property for other significant new developments in the corridor.
All the improvements, combined with the TIF's financial flexibility, helped bring redevelopment (and the Alamo Drafthouse outlet) to Richardson Heights. The district also spurred the overhaul of what is now Richardson Restaurant Park north of Spring Valley.
The TIF was key in data center giant Digital Realty's 2009 joint venture to redevelop the 69-acre Collins Technology Park — the spot where Collins Radio set up its pioneering campus in the '50s. The firm later acquired full ownership of what is now called Digital Dallas.
"In seven years, Digital Realty has completed eight buildings totaling approximately 1.1 million square feet in size," says Bryan Marsh, Digital Realty's vice president, global asset management. 
"The first seven buildings are 100 percent leased," while the eighth was 12 percent leased as it was completed at the end of 2016.
The park now is one of the company's flagship developments, Marsh says.
"It's amazing how people affiliated with Collins Radio have shared stories about the history of the property," he says. "This, along with Texas Instruments, was the birthplace of the Telecom Corridor. It's rewarding to see it reborn as part of the internet and digital revolution."
REGULATORY CHANGES IMPROVE DEVElOPMENT
The CityLine project came about in large measure because Richardson began tweaking its system for regulating land development.
That started with a zone encompassing two large parcels of then-vacant land next to Dart's Bush Turnpike Station.
The parcels, which totaled nearly 140 acres, had a hodge-podge of zoning, from office and research to religious, hospital, even light manufacturing, according to public records.
Building upon the ULI experts' previous recommendations, the City Council in February 2011 adopted "form-based codes" to instead regulate the zone's development. It changed and added form-based code four times after that.
Conventional zoning is roughly akin to drawing a line around a stretch of dirt and saying, "Here's what you can use this land for." 
Form-based codes regulate the physical form of whatever is done with a parcel, from how building facades look to the types of streets it has.
"A big part of our success was attributable to the city's help in fast-tracking the process."
Walt Mountford
"A big part of our success was attributable to the city's help in fast-tracking the process," said Walt Mountford, executive vice president at KDC.
Richardson's flexibility allowed KDC to give CityLine features that professionals increasingly demand from their work environments, including outdoor amenities and eateries in walking distance, he says. "The whole of the project is doing quite well."
Although conventional zoning remains the rule for most Richardson development, the city now uses form-based codes in certain spots. "Each code is crafted uniquely for the area it regulates," says Michael Spicer, the city's director of development services.
The CityLine-related shift from old school zoning fostered mixed-use developments that use ideas for public transit and urban villages previously not found in Richardson, according to Bill Sproull, president and CEO of the REDP.
For instance, CityLine helped pave the way for Richardson's embrace of multifamily residential developments near light rail stations. 
"This appeals to many professionals working in Telecom Corridor's innovative companies," Sproull says. "In tandem with mature neighborhoods across the city, we now offer greater diversity of housing stock to attract professionals at all stages of their lives."
Form-based codes turned out to be the missing piece that helped Richardson's Central puzzle come together— albeit with an assist from Texas Instruments.
MORE ENGINEERS, MORE JOBS
Thanks to seeds that Collins Radio and TI planted with their 1950s campuses, Richardson has for decades had a large base of engineers and other tech-trained workers.
To help land a 1.1-million-square-foot chip factory that TI needed to build, then-Gov. Rick Perry in 2003 committed $300 million from the state Enterprise Fund to the Erik Jonsson School of Engineering and Computer Science at the University of Texas at Dallas.
Jonsson and fellow TI co-founders Eugene McDermott and Cecil Green created the university.
"UT Dallas supports companies like TI both from a research perspective and as a pipeline for talent," TI Director of Government Relations Gray Mayes says. "The investment in the school of engineering was arguably a transitional step in that institution's journey to Tier One status and becoming a nationally-recognized research university."
"UT Dallas supports companies like TI both from a research perspective and as a pipeline for talent."
Gray Mayes
TI's million-square-foot factory today sits just off Central in Dallas, between Renner Road and the Bush Turnpike.
The Jonsson School upgrade also helped Richardson add Central  corridor employers in non-telecom technologies such as property management software (RealPage) and tech-reliant businesses such as Fossil (wristwatches and other high-end accessories).
"Richardson offers easy commuter access and provides all necessary quality-of-life components, including recreational and art-related amenities and a responsive city government," says Tim Terrell, an executive vice president and partner at Stream Realty who represented RealPage.
Among recent additions on Central are operations of Germany's Kathrein, one of 14 businesses from outside U.S. borders that have set up Richardson shops since the city brought in tech veteran Mike Skelton to lead its international charge in 2011.
To further diversify its employer base, the REDP targeted financial services and insurance, both stable industries that rely heavily on technology workers.
A mortgage lender, Countrywide Financial (now part of Bank of America) in 2004 took three buildings in the former Nortel complex, and was followed later in the Central corridor by large operations from United Healthcare, State Farm and GEICO.
"We've been pleasantly surprised at how the immediate area has grown since we moved in."
Jason Kaye
State Farm, in fact, has become the city's largest employer with 8,000 workers.
Richardson officials were especially jazzed to retain the corporate headquarters of the parent company to Blue Cross Blue Shield of Texas, Health Care Service Corp.
Previously situated in a campus near Spring Valley that Fossil later took over, Blue Cross Blue Shield of Texas now employs some 3,100 people at a $265 million headquarters on East Lookout Drive.
"We've been pleasantly surprised at how the immediate area has grown since we moved in," says Jason Kaye, vice president, corporate real estate.
Telecom Corridor. City of Richardson. By either name, they are one and the same.
Richardson is the second-largest employment center in the Dallas-Fort Worth metropolitan area, and includes a diverse range of businesses. The city's four largest employers represent three separate industries — financial services|insurance, telecommunications, and public education.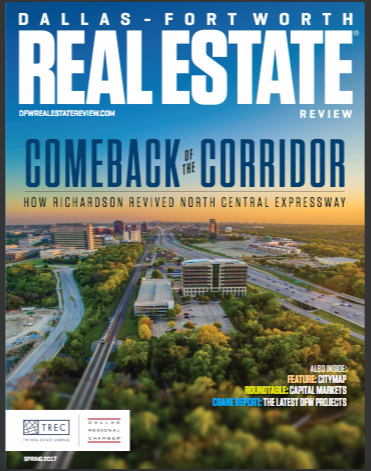 Other major employers represent Richardson's deep technology roots and global focus — the very things that made it known as the Telecom Corridor around the world.
This article previously appeared in the Dallas-Fort Worth Real Estate Review. Sign up to receive the digital edition here.
---
Dallas Innovates, every day