The rapid rise of new technology makes life easier, putting everything from pizza to Uber just a simple swipe or voice command away. But, there's a dark side to this tech utopia with concerns about disruption, security, obsolescence, and privacy that must be reckoned with.
The two sides duked it out at the third annual Digital Fight Club Wednesday at the Granada Theater on Greenville Avenue in Dallas. Tech experts argued their positions, took questions from judges, and threw some verbal jabs at their opponents during the Digital Dallas event. The verbal sparring was set up a like a street fight with trash cans and debris on the stage to mimic an alley.
The judges gave their vote on who they think won the fight and that was combined with a live vote from the packed crowd. Outside, Common Desk showed off its Airstream trailer, a mobile coworking hotspot. Inside, coworking powerhouse WeWork gave out swag bags with goodies.
Here are some highlights from the Digital Fight Club:
RETAIL: PHYSICAL VS DIGITAL
The night kicked off with the most obvious fight of brick and mortar vs e-commerce.
Elie Finegold, an entrepreneur in residence at MetaProp, argued for physical retail experiences, pointing at his boots. He remembers where he bought them because it's also when he proposed to his wife.
"Buying is a solitary transaction, but shopping is social." 
Elie Finegold
"There's a connection of memory and experience to things," he said. "You remember who you were with. Buying is a solitary transaction, but shopping is social."
Daniel Black, CEO of Glass Media, fought back saying retail is overbuilt in the United States and 20 to 25 percent of the traditional malls will close because of pressure from e-commerce. He said people should expect to see more bankruptcies.
"It's definitely in big trouble," Black said.
He said CFOs of traditional retail companies have to start investing more in technology and analytics so the online presence collaborates with the physical stores.
Result: Finegold won with 65 percent of the vote
---
VOICE: MARKETING & CONTROL
The rise of voice-activated devices such as Google Home and Alexa has definitely made life easier, but it raises serious privacy concerns, too.
Chris Ferrel, director of strategy for The Richards Group, said the convenience of voice-activated assistants could make screens obsolete for many web browsing tasks.
"Voice is the easiest interface we have because there's no learning curve," Ferrel said. "Voice has power beyond any screen that we've experienced before."
But Michelle Hagan, CEO of Tandem Theory, punched right back, saying she had lost her voice the day before.
"Try ordering something with Alexa when you have laryngitis," she said as the crowd cheered.
Then, she warned that advertisers get in the way of true organic searches by giving results that are paid ads.
"Advertisers are excited about voice," Hagan said. "If you really think about it, if you're voice searching, do you really want an advertiser getting in the way of what you're trying to accomplish? Paid advertising in the role of voice-activated search is evil. You have to create objectivity."
Ferrel acknowledged that voice-activated searches don't always work well with accents and other dialects. It needs to be sensitive to that and not "racist," Ferrel said.
Result: Michelle Hagan cleaned house with 79 percent of the vote.
---
DESIGN: SPEED, TECH & PROCESS
Design and user experience is also evolving rapidly — too fast for James Helms, vice president of design for Intuit.
"Speed is so sexy, but it's a trap," Helms said.
Forcing designers to work faster at the expense of quality will burn out even the best employees and could lead to bigger problems. Companies should look for innovating, new ways to use products and pay attention to customer data, he said. 
But Jeriad Zoghby, who was put in Digital Fight Club as a last-minute sub, said designers are at the forefront of disruption. Zoghby leads Accenture Interactive's southwest agency and is the global lead for personalization.
"I actually think the customer comes first," he said. "Let's design around the needs of the customer."
Result: Jeriad Zoghby won a close decision with 57 percent of the vote.
---
BLOCKCHAIN: SECURITY & TRUST VS PROMISE
It's hard to talk about blockchain and Bitcoin in short sound bites so the judges stirred the pot by asking the fighters to invent a use case on the spot.
Mark Hopkins, CEO of Roger Wilco and crypto evangelist, came up with Denticoin, a public blockchain for dentists that would provide an alternative to dental insurance. He argued that all reliable blockchains will use the Bitcoin architecture and the millions of dollars are being exchanged through that platform daily with zero breaches or hacks.
Jamie Chambron, vice president of customer engagement for NTT Data, said she'd invent something called Babycoin where newborns are given an identity in the blockchain when they are born that stays with them throughout their life.
Result: Jamie Chambron got a nearly unanimous decision with 90 percent of the vote.
---
SMART CAMERAS/SMART IMAGES
The final fight pitted man against machine with Skip Howard, CEO of Spacee, arguing in favor of advancing computer vision.
"If we just give up our privacy, we can have facial recognition everywhere," Howard said. "It gives us everything from self-driving cars and flying cars."
"When systems make decisions for us, we are devolving. We are not evolving anymore." 

Thierry Hubert
He argued that people are already giving up privacy by using their mobile devices.
Thierry Hubert, CEO of Darwin Ecosystem, wants to tap the brakes on that, saying a social contract is needed to prevent abuse and unwanted gathering of information.
"We are losing our souls. We are talking to a machine and our rights and privacy are being challenged," Hubert said. "When systems make decisions for us, we are devolving. We are not evolving anymore. The only change we can accept is the change we don't notice."
Result: Thierry Hubert received 81 percent of the vote.
GALLERY: HIGHLIGHTS FROM THE FIGHTS
Photos by Quincy Preston.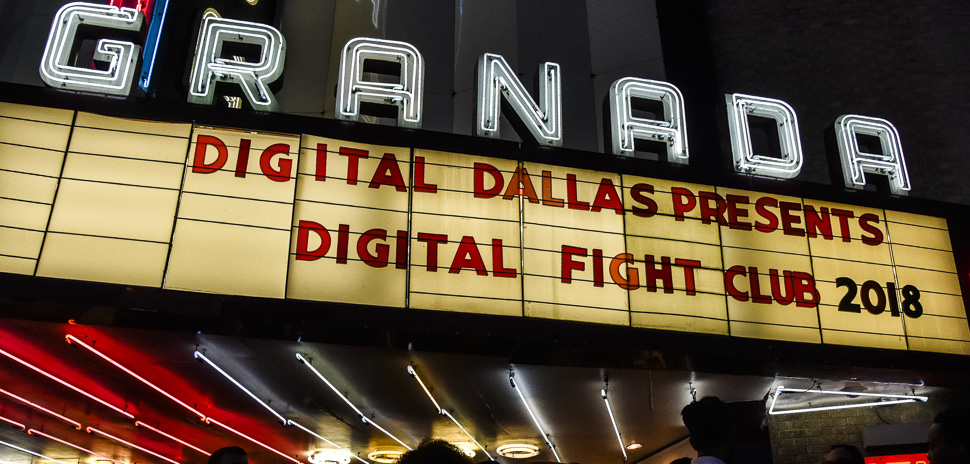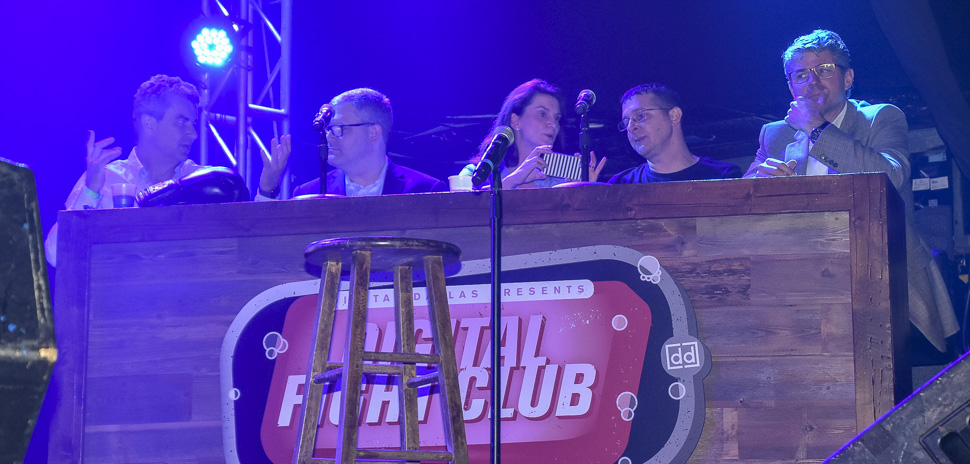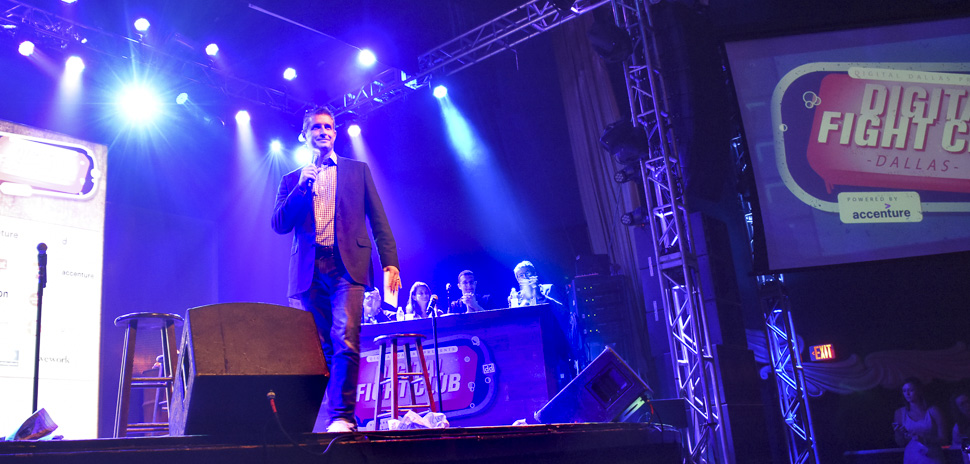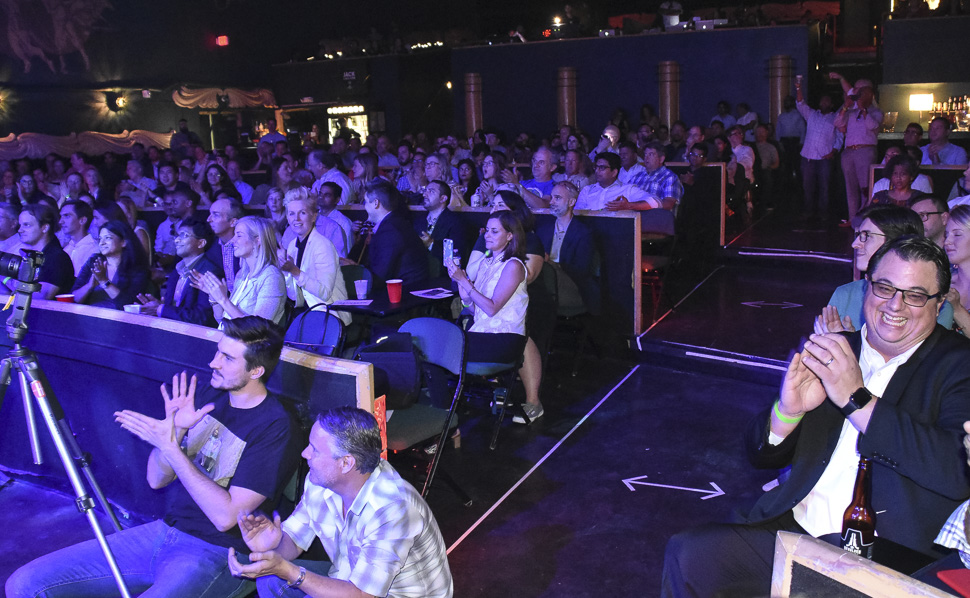 Fight No. 1
Elie Finegold of MetaProp vs Daniel Black of Glass Media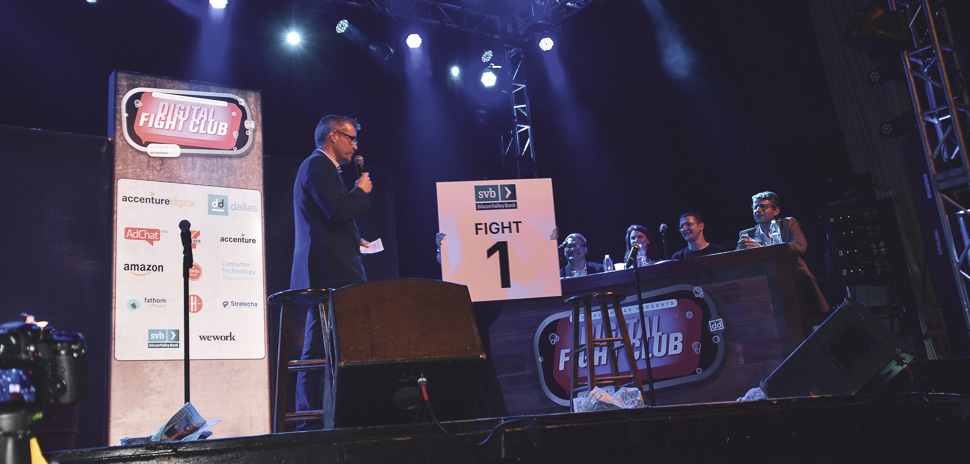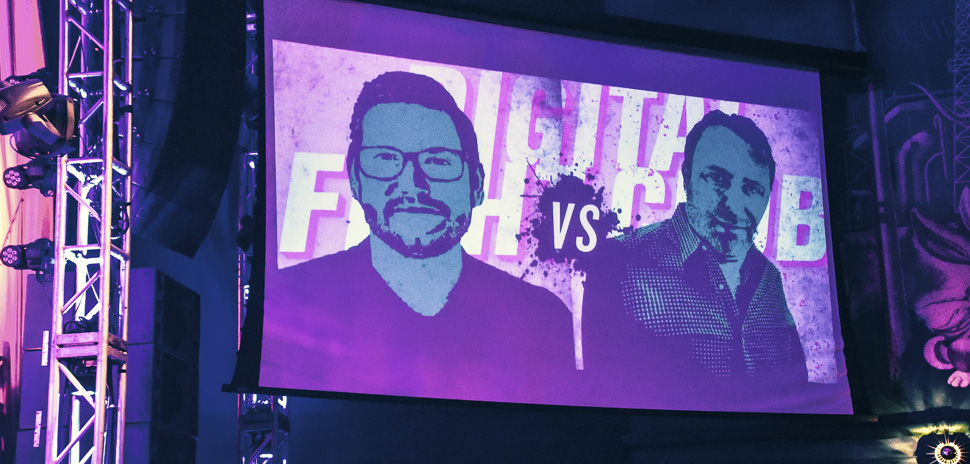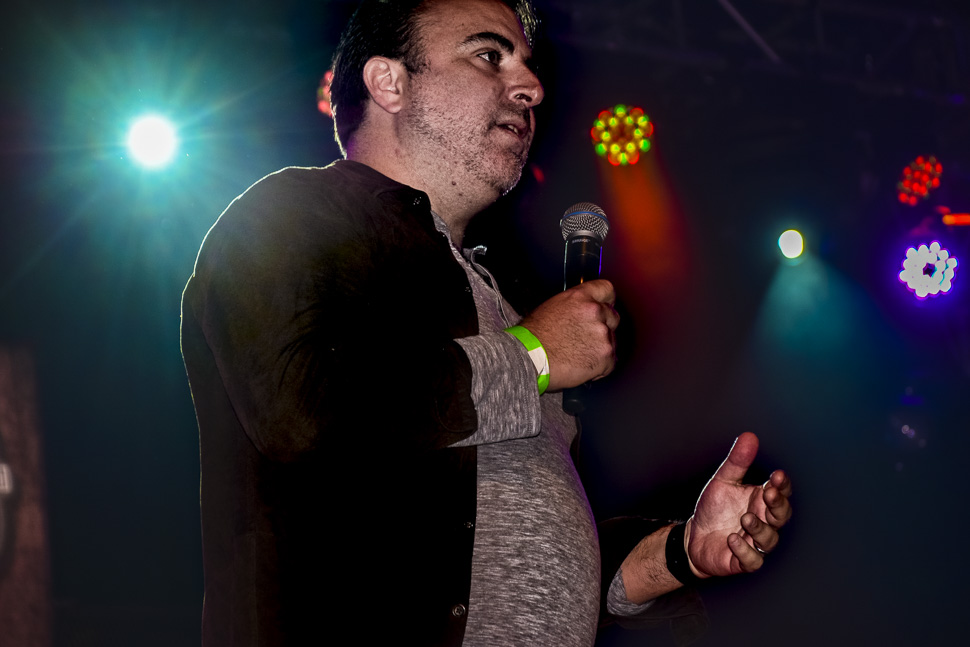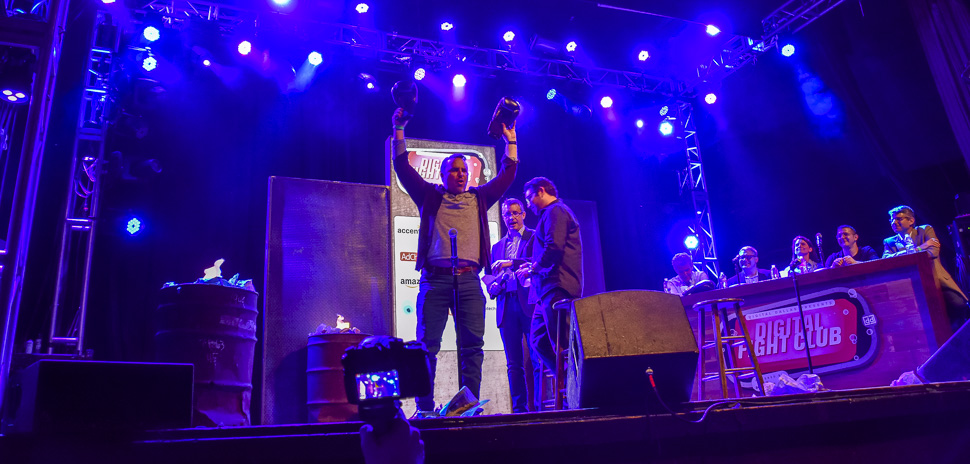 Fight No. 2
Chris Ferrel of The Richards Group vs Michelle Hagan, CEO of Tandem Theory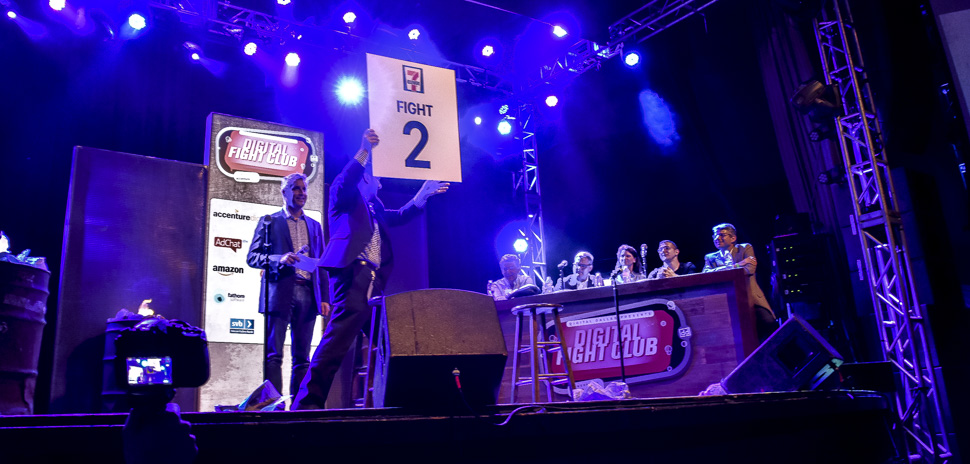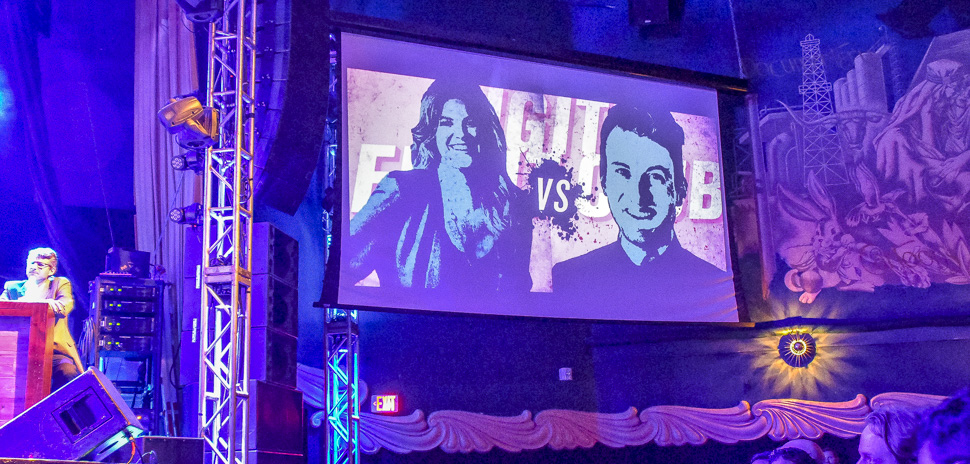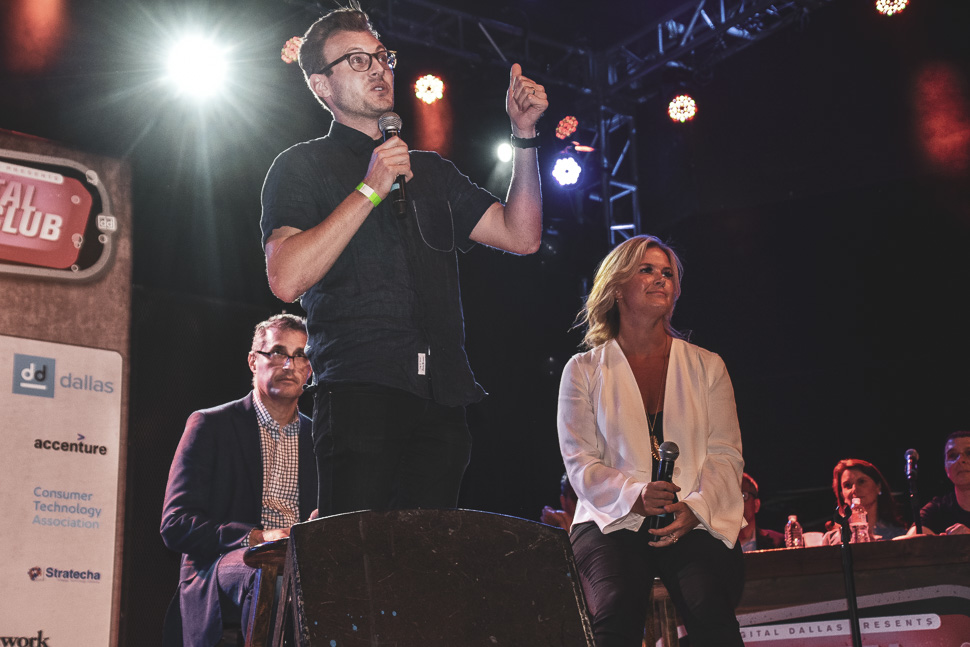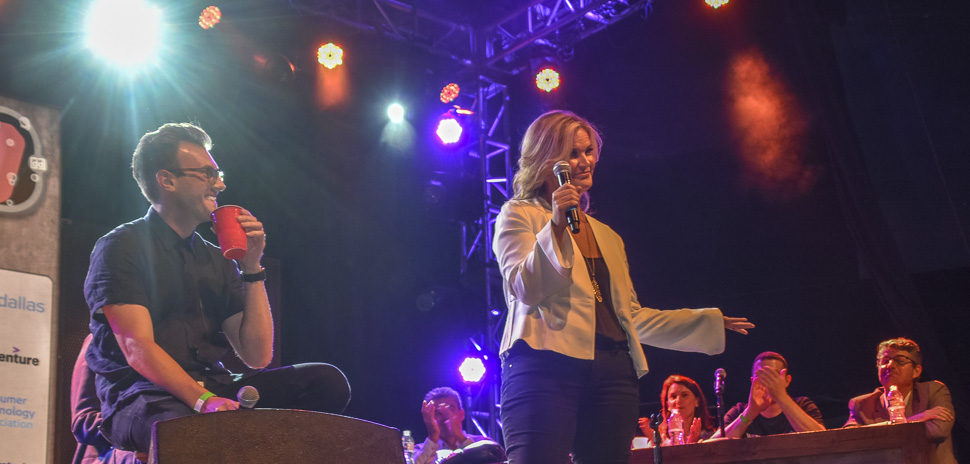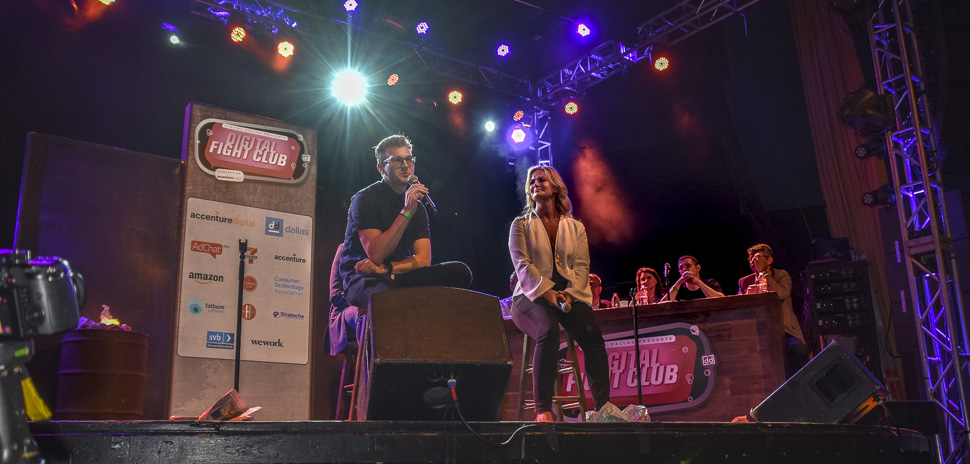 Fight No. 3
James Helms of Intuit vs Jeriad Zoghby of Accenture Interactive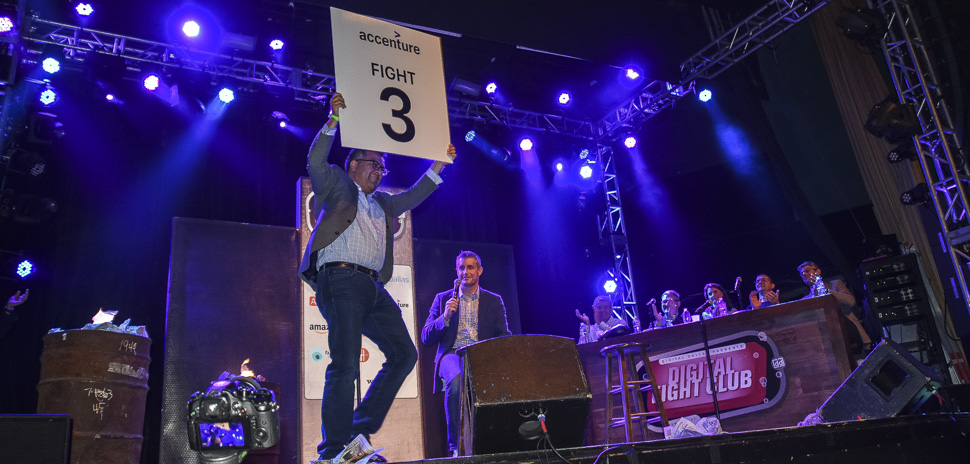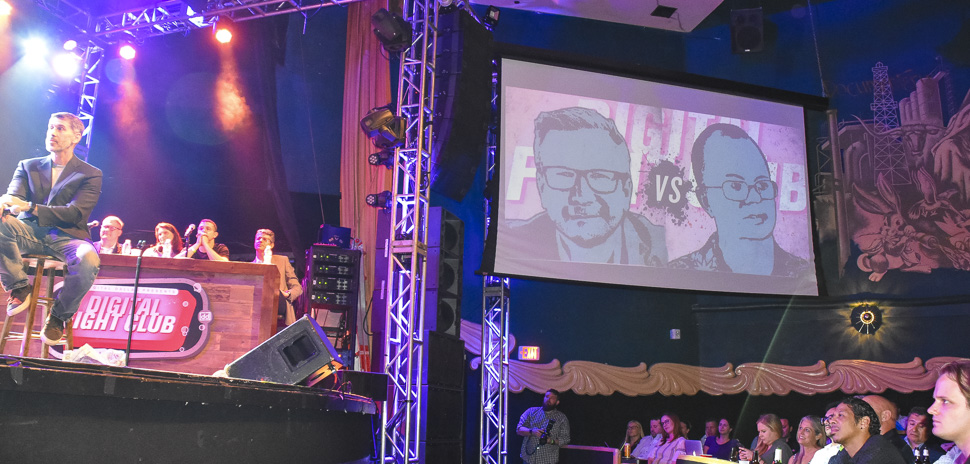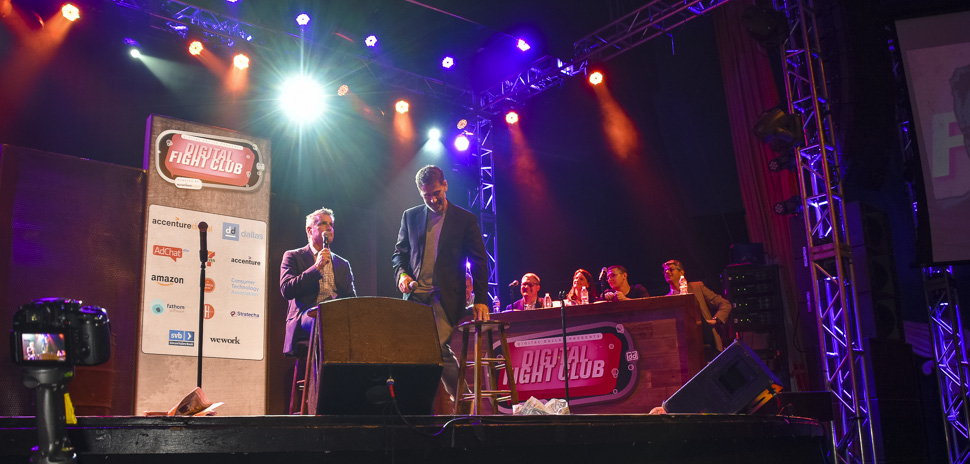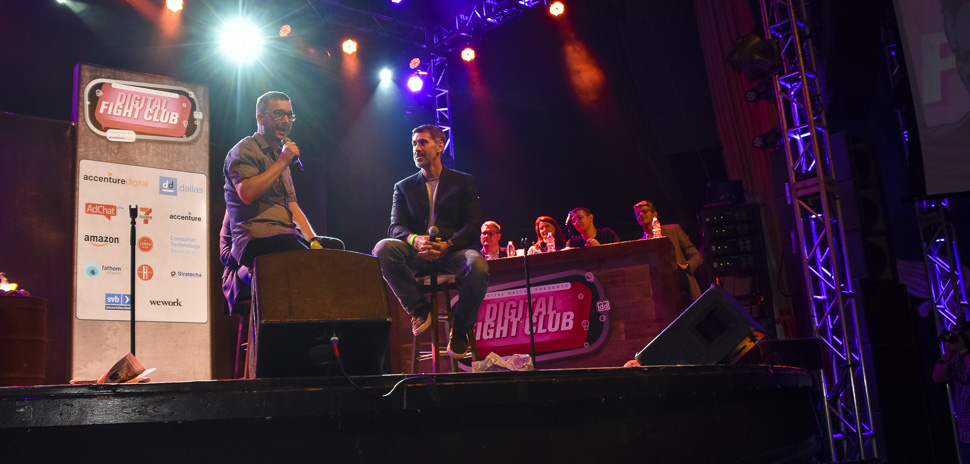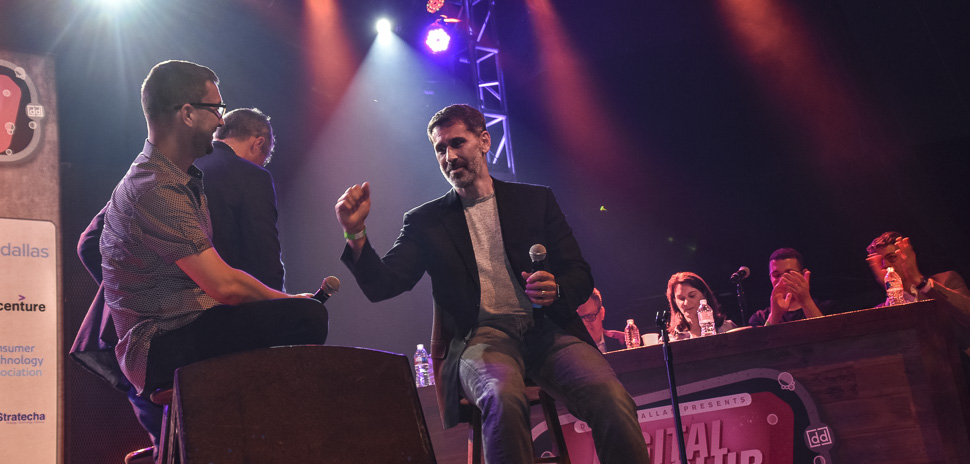 Fight No. 4
Mark Hopkins of Roger Wilco vs Jamie Chambron of NTT Data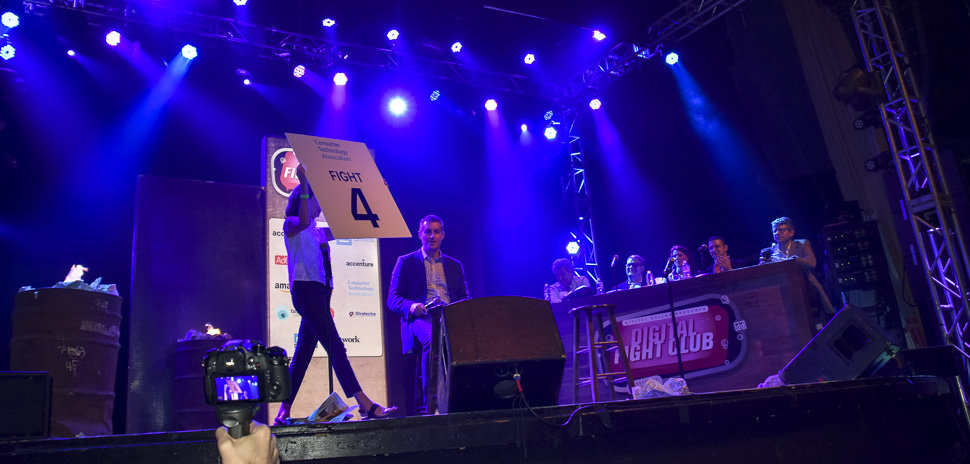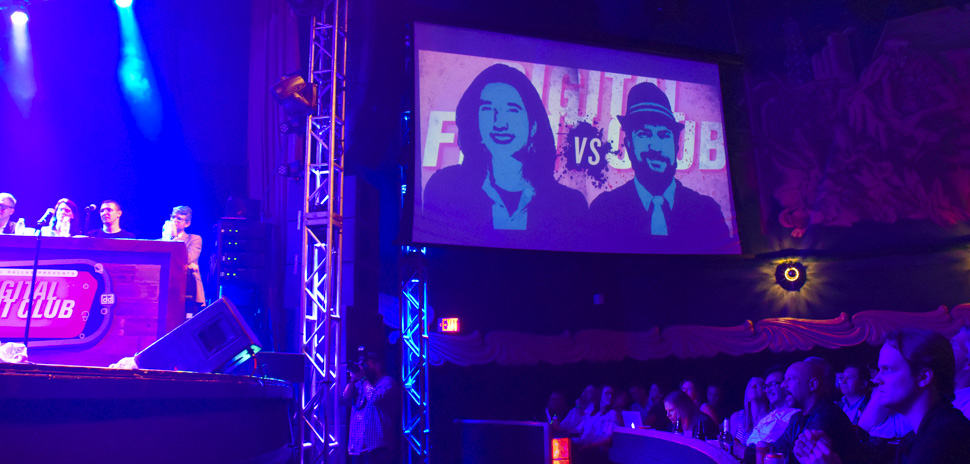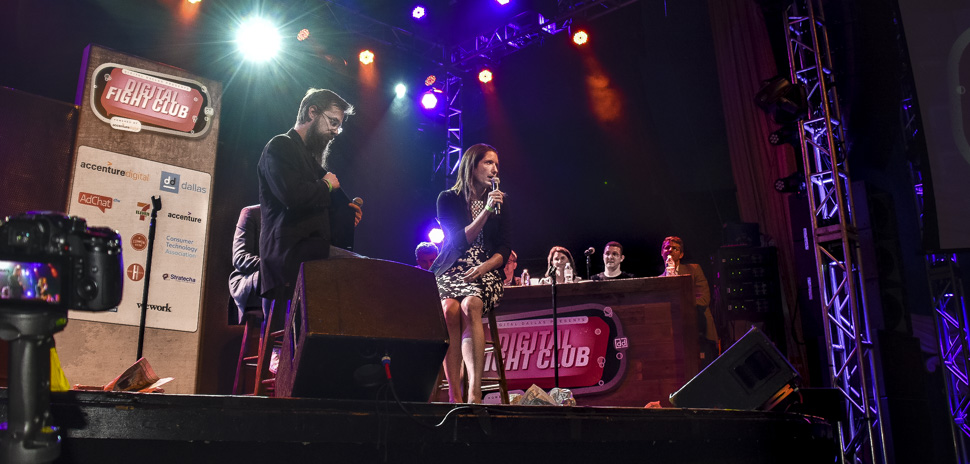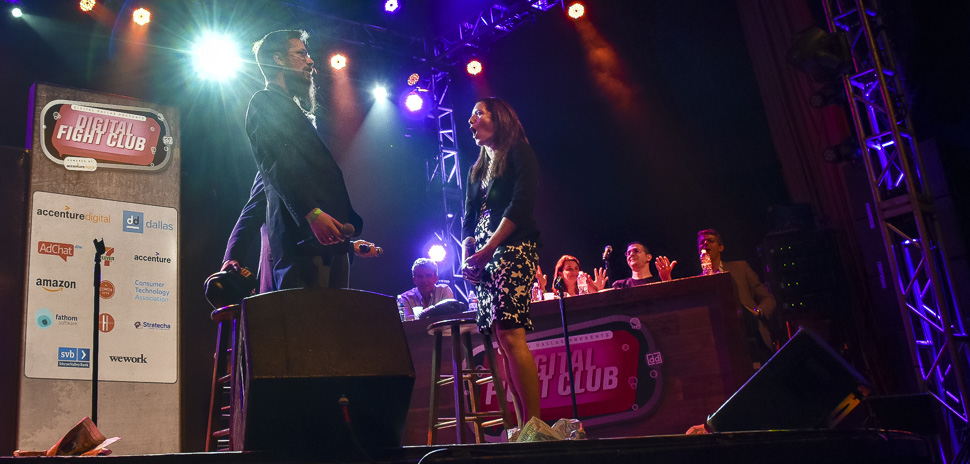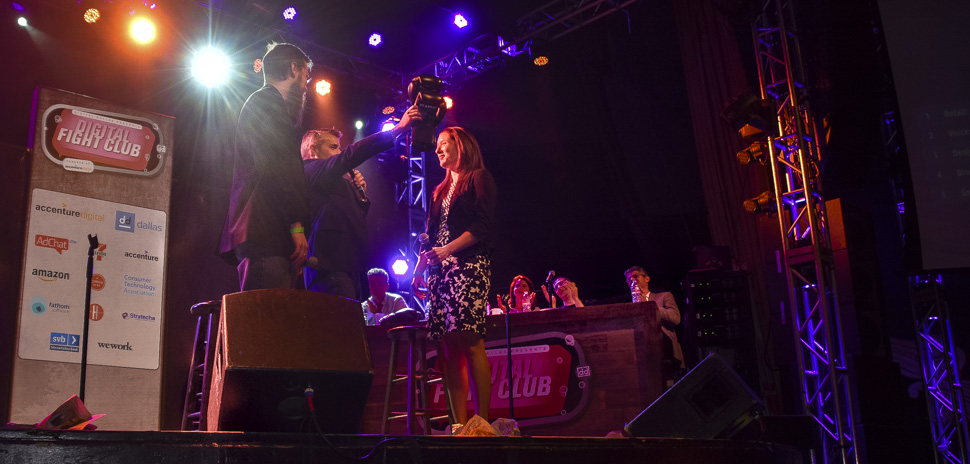 Fight No. 5
Skip Howard of Spacee vs Thierry Hubert, CEO of Darwin Ecosystem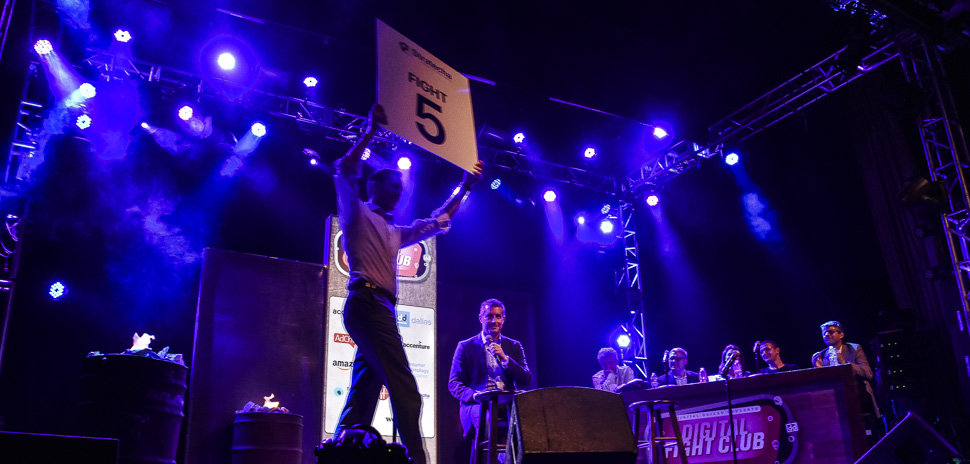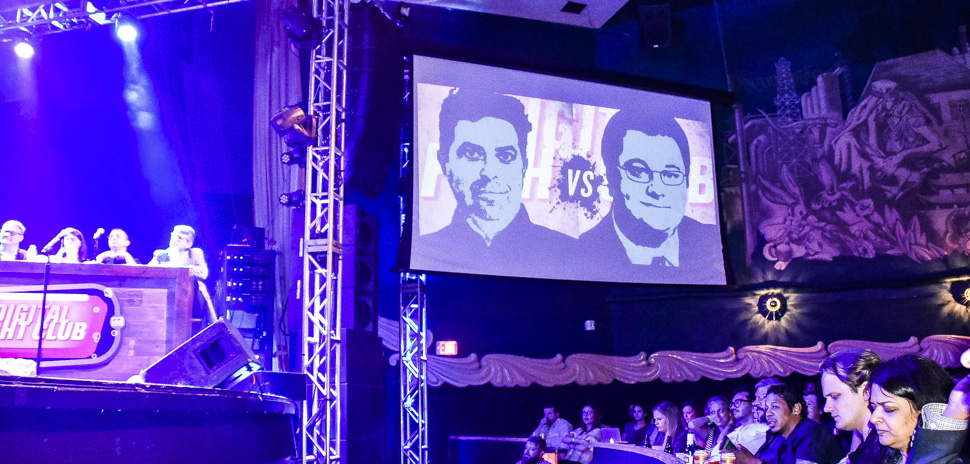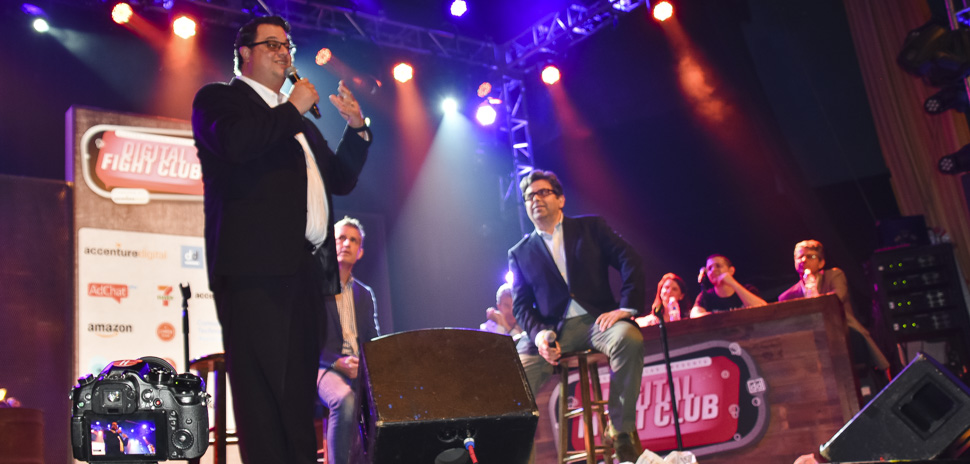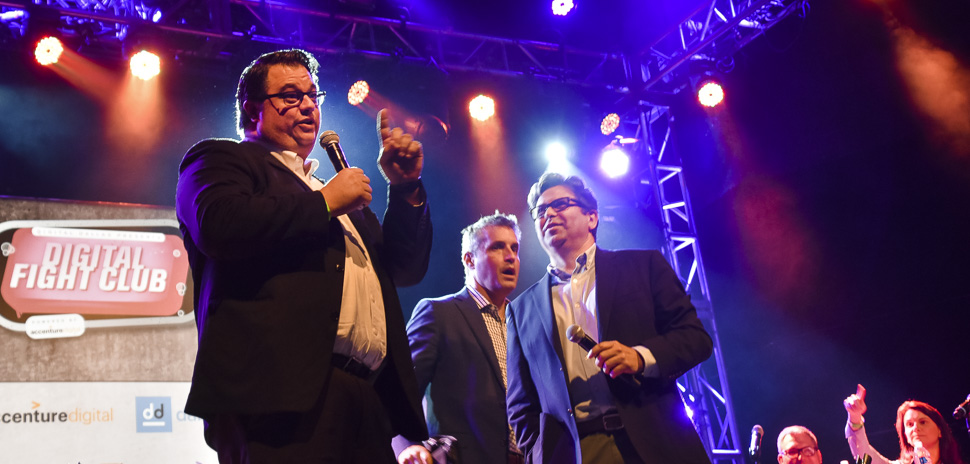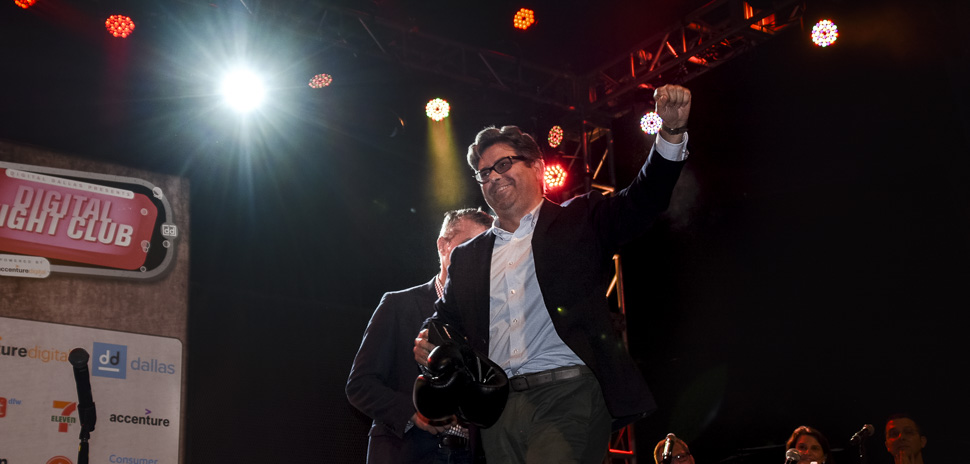 But wait, there's more:
For our blow-by-blow visual account of the evening — from the VIP party to the aftermath— go here.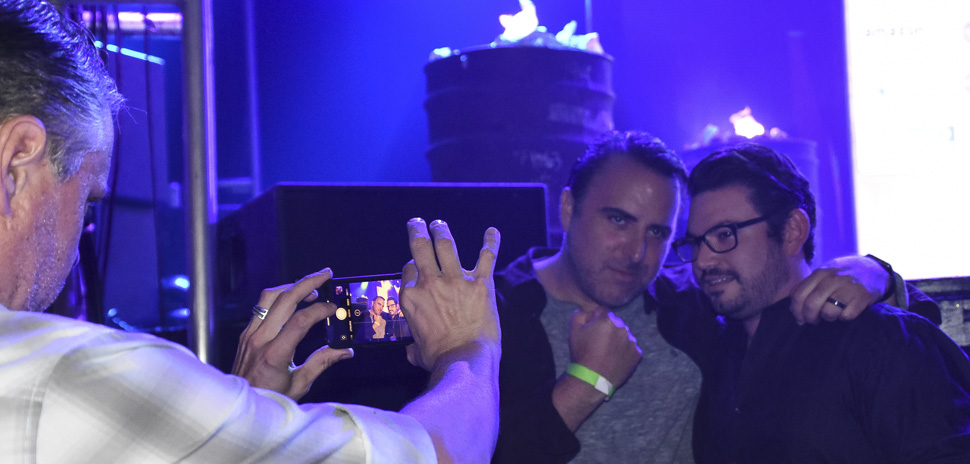 Get on the list.
Dallas Innovates, every day. 
Sign up to keep your eye on what's new and next in Dallas-Fort Worth, every day.