DFW Innovation Economy is a serial look at chapters from the 2018 Innovation Assessment produced by the Dallas Regional Chamber (DRC) and Accenture. Each chapter of the Assessment comprises key metrics that can be tracked over time to evaluate the strength of Dallas-Fort Worth's innovation economy in relation to competitor metropolitan areas. Measures related to patent production, venture capital flows, educational attainment, business climate and various metropolitan rankings help to paint a picture of innovation-driven economic growth potential of DFW. Tracking these measures will also help to assess the impact of recommendations issued from the DFW Regional Innovation Study recently released by the DRC and its partners.
We begin the series with a look at what respected independent sources have to say about the elements that drive an innovation economy and which regions—in their estimations—are doing things right.

Cities around the world are competing to stand out and prosper in an increasingly innovation-driven economy. By developing and/or implementing advances in high-tech fields that include artificial intelligence, augmented and virtual reality, blockchain, robotics and big data analytics, among others, a regional economy has a chance to succeed.
A thriving innovation economy is the outcome of many interrelated forces.
But, a thriving innovation economy is the outcome of many interrelated forces. Regional attractiveness to employers and workers; the ability to attract capital; local generation of forward-thinking ideas and startups to implement them; educational attainment and the drive to achieve among residents; technology development and deployment—these are all important components that various indexes evaluate to determine how well metropolitan areas are performing.
SCORECARD: BENCHMARKING DFW AGAINST PEERS
As part of the DFW Innovation Assessment, the Dallas Regional Chamber created a scorecard comprising metropolitan rankings from some of the most prominent indexes available. So how did Dallas-Fort Worth perform?
When judging innovation-readiness from an overall perspective, Dallas outperformed New York, Chicago and Los Angeles, with a rank of 17th in the Innovation 2.0 Index and 3rd in Milken's Best Performing Cities.
In the global indexes of Dell – Future Ready Cities, 2thinknow – Innovation Cities Index, and ATKearney – Global Cities Outlook, DFW performs well against the top cities in the world. It ranks ahead of global powerhouses Munich, Beijing and Hong Kong in Dell, achieves a ranking of 26th in ATKearney and a rank of 16th in 2thinknow.
When it comes to entrepreneurial spirit, DFW performs well against other U.S. cities in the Kauffman Indexes, ranking 11th for startup activity and 10th for entrepreneurship growth. The U.S. Chamber of Commerce – Innovation that Matters examines the health of startup communities in U.S. cities. Dallas ranks 7th, just ahead of Seattle and New York, and moves up 12 spots from 2016.
CBRE and Cushman & Wakefield evaluate tech cities in terms of talent, support and nurturing. They ranked Dallas 10th and 21st, respectively.
By benchmarking DFW against peers, the scorecard serves as a barometer to gauge the region's ability to generate and adapt to continuous innovation. It also forms a baseline against which we can evaluate the success of recommendations from the DFW Regional Innovation Study.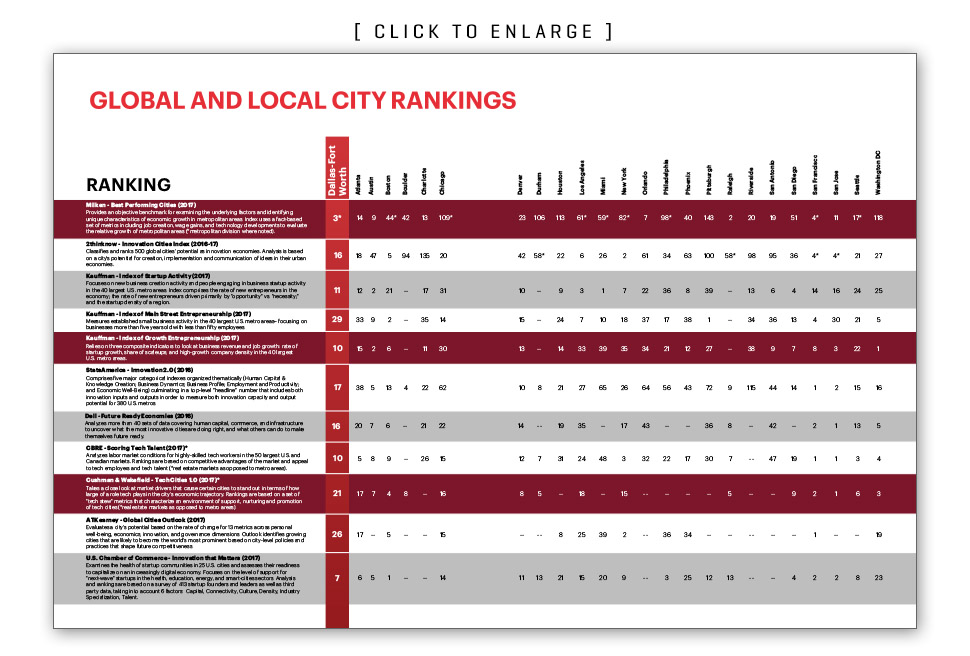 Updated August 2, 2018: The 2thinknow ranking was incorrectly listed in the story as 11th. The correct ranking is 16th.
READ NEXT
Innovation Study: DFW Should Embrace its Sprawl & Work Together to Propel its Growth, Identity as 'Hub for Innovation'
After a monthslong research study, the Dallas Regional Chamber, Southern Methodist University, United Way of Metropolitan Dallas, and Accenture have released a "guidebook" to help North Texas' innovation economy thrive into the future.