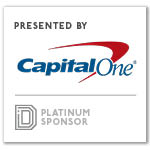 The automotive and mobility industry is ripe for disruption, and graduates of Capital One's unique accelerator in the space—like Josh Minsky of Suretys Inc.—can't wait to make it happen.
Together with Edward Bolles, Minsky founded Connecticut-based Suretys to provide a pioneering, mortgage-like-insurance product for more affordable auto loans. The startup's coverage eliminates reliance on traditional credit scores and the need for co-signers in the buying process.
Doing away with co-signers, Minsky said, "helps lenders offer a much lower interest rate, giving the buyer a greater likelihood of succeeding because their payments are lower."
Suretys' Minsky was one of 13 early-stage founders taking part in the 2023 Capital One Accelerator Program, a partnership with The DEC Network and The University of Texas at Dallas that's now in its second year. The Accelerator is a foundational component of Capital One's Impact Initiative, a multimillion-dollar commitment to supporting growth in underserved communities and closing gaps in equity and opportunity.
Focus on capital, connections, business plans, and pitches
The "incredible talent" and "incredible energy" of the founders are testaments to the Accelerator program, said Kamlesh Talreja, divisional CIO and senior vice president, financial services, for Capital One.
The program provides entrepreneurs working on a viable MVP (Minimum Viable Product) with a 12-week "boot camp" program featuring tools for developing their business plans, becoming capital-ready, building connections, and fine-tuning their business pitches. Startups in the accelerators pitched their businesses for a chance to advance to the stage at Dallas Startup Week, the largest entrepreneurship event in Dallas-Fort Worth.
The 2023 Accelerator culminated with the founders from six finalist startups pitching their businesses to a group of investors and industry experts at Dallas Startup Week 2023 in September.
Besides Minsky and Bolles, the founders touting their companies at Startup Week were Lisa Bailey of FeaturesFirst Auto, Sean Franklin of CommandFi, Shane Reinert of Highroad, Yaman Awad of AVAI Corp., and Olakunie Okunrinboye of Tahcar.
The entrepreneurs were competing for prizes totaling more than $50,000 awarded by a panel of four judges. The prizes included a $2,000 stipend for each startup in the cohort.
One of few accelerators in the space
The pitch judges were Talreja of Capital One; Kris Gaerlan, president of auto dealer Dallas Lease Returns; and Brenda Stoner, an industrial engineer, investor, and serial entrepreneur who's currently working on her eighth venture.
"The program is one of few accelerators in the mobility and automotive space," Talreja said, adding, "We recognize that this industry is ready and ripe for disruption."
Last year, the inaugural program consisted of eight startups. "This year, we expanded the cohort," he said. "We invested about 275 volunteer hours in the program through mentoring, content delivery, and coaching."  After the pitches, the founders will engage with Capital One associates through its pro bono growth-consulting program, Talreja added. The goal: jump-starting the next generation of entrepreneurs and getting them capital-ready.
"We're also excited about the connections you've made in the program to keep your businesses going forward," Taljreja told the founders before revealing the competition winners. "We know that when businesses start and thrive, they create jobs, strengthen the economy, and attract talented investors, which leads to stronger communities, better schools, and more impact from nonprofits."

2023 Capital One's Accelerator Program winners
Talreja, who announced the Accelerator awards following the six pitches, said it was hard to choose from the many outstanding presentations that day. But while it was a difficult task, he noted, the judges were able to make their decisions after careful deliberation.
Insurance product is a 'true win-win-win'
The first-place winners in the pitch competition, Bolles and Minsky, said Suretys is participating in a "$280 billion market opportunity" and aims to help auto buyers avoid predatory lending. 
Their "PMI-like insurance product" is ideal for those lacking an established credit record, Minsky added, including the likes of single moms and some members of the military.
"Let's help people get independence in life," he said.
Bolles and Minsky said participating in Capital One's Accelerator Program has helped them learn humility and determination. "We're always pushing to grow ourselves and our businesses, and being honest to pivot without ego when change is required."
With the competition's $15,000 top prize now in hand, the Suretys founders say they've been approached by several lending institutions and in recent weeks have partnered with large credit unions—including the biggest one in the state of Michigan.
"Our sales pipeline continues to grow rapidly, as lending institutions look for innovative products that are a true win-win-win for our lenders, auto dealers, and auto buyers," they added.
Driver-assisted tech training reduces traffic accidents
Bailey of FeaturesFirst Auto, winner of the competition's $10,000 second-place prize, started her ed-tech and skills development company because traditional driver's training has been "left behind" as automation and new safety features have come to dominate the vehicle market.
California-based FeaturesFirst offers customized programs teaching teens and existing drivers how to properly use driver-assisted technology, thereby reducing the number of collisions on public roads.
The founder said that as a result of the Capital One Accelerator Program, the company will be propelled "forward into our mission of educating millions of drivers every year."
The accelerator program already has enabled Bailey to widen the startup's "net of influence within the automotive industry," she said.
FeaturesFirst has "strategic partnerships with automakers, original equipment manufacturers, and other stakeholders who have a vested interest in making sure drivers are aware of and know how to use driver assistance technology," she added.
"Our company has developed a very good foundation that I believe will be a catalyst for our growth over the next few years," she said. 
The program offers a wealth of connections and knowledge, Bailey said. "I look forward to watching every seed planted grow exponentially, making an impact for years to come." 
Next, the startup is headed to Tel Aviv as part of the Israel Innovation Academy, where it will further explore the automotive landscape and consumer technology education needs.
'Most engaged' founders
The accelerator's overall Program Engagement award went to Fernando Herrera, the founder of Nevada-based Tire Base LLC, a point-of-sale software system. Herrera has a tire-oriented YouTube channel boasting more than 11,000 subscribers.
Shane Reinert of Highroad was named the program's second-most Engaged founder. Highroad is a Colorado-based online platform that precisely matches up private sellers of vehicles with a national network of qualified retail buyers.   
Capital One is a Dallas Innovates Platinum partner. "Capital One's Accelerator Program Shifts Auto Industry Founder-Winners into High Gear" was written and edited by Dallas Innovates' brand studio. 

Get on the list.
Dallas Innovates, every day.
Sign up to keep your eye on what's new and next in Dallas-Fort Worth, every day.