"The restaurant business is a show unlike any other."
Mark Brezinski
Author
"ForkFight!: Whisks, Risks, and Conflicts Behind the Restaurant Curtain"
.…on how his memoir "ForkFight!" details his 45-year history in the restaurant business.


In his 45 years in the restaurant industry, Brezinski has helped create brands like Pei Wei Asian Diner, Velvet Taco, Tin Star, Banh Shop. and, most recently, Bizzy Burger Merchants.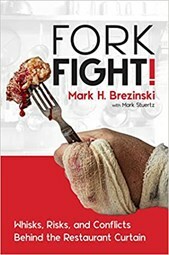 Called "the father of Dallas' fast-casual food scene" by D Magazine, he's out with a new book that spills the beans—and the tacos, egg rolls, and more—about everything he's seen along the way.
"In 'ForkFight!,' I open up about my successes and failures in the restaurant world, by chronicling the stories collected through traveling the globe to create great restaurants and working alongside some of the most dynamic personalities," Brezinski said in a statement. "This is certainly a no-holds-barred look inside this consistently challenging industry that keeps me coming back for more."
In his career, Brezinski has been named one of Nation's Restaurant News Most Influential Restaurant CEOs and was named one of North Texas' Top 500 CEOs by D CEO Magazine, while the restaurants he helped create have won numerous awards of their own.
Behind-the-Scenes with Restaurant Industry Icons
His 225-page hardcover book, published by Post Hill Press, looks back on his journeys, discoveries, inspirations, and experiences with industry icons like the late Norman Brinker, Paul Fleming, Phil Romano, and chefs Michael Mina and Mark Miller.
Lane Cardwell, former CEO of Boston Market, former president of P.F. Chang's China Bistro, and former CEO of Eatzi's Market & Bakery, is effusive in his praise for Brezinski's new book.
"As unknown as Anthony Bourdain before publishing 'Kitchen Confidential,' Mark Brezinski's 'ForkFight!' takes you behind the scenes of visioning, creating, financing, and opening the restaurants you eat in today," Cardwell said in a statement. "It's a world most didn't know existed. It's a messy world. And in many cases, it's one that not many can go through financially and psychologically intact."
According to Christophe Poirier, chief brand officer at Pizza Hut Global, Brezinski stands out by his ability to pioneer new paths rather than simply revamp existing ideas. "Many creative guys are working on renovation, they take something that exists, polish it, and make it look new," he said. "Not Mark. He has the capability to create a new blue ocean."
Bob Sambol, founder/owner of Bob's Steak & Chop House, doesn't mince words when it comes to praise for Brezinski's industry contributions. "The future of the restaurant business depends on the Mark Brezinskis of the world to tell us where we need to go," he said.
A Culinary Journey
Brezinski is a Dallas resident who's tried out menus in his many travels from Tokyo to Tuscany, from San Francisco to Shanghai, and from Mumbai to Maui.
"I hope that this book takes readers to all of these places and more while telling behind-the-scenes stories—sometimes funny, often heartbreaking, and never without lessons learned," Brezinski added. "I believe that the journey is a remarkable tag-along to the highs and lows of being an entrepreneur and the self-discovery that comes with each stop."
A book signing for "ForkFight!" will be held on Saturday, April 22, from 1 p.m. to 3 p.m. at the Bizzy Burger Merchants location at 13251 Montfort Drive in Dallas.
For more of who said what about all things North Texas, check out Every Last Word.

Get on the list.
Dallas Innovates, every day.
Sign up to keep your eye on what's new and next in Dallas-Fort Worth, every day.