Amidst the splendor of mile-high Rocky Mountain National Park, two eighth graders from Dallas' Alcuin School had their heads firmly planted on computer hardware.
"All they talked about were components for computers," said Tim Wilson, a design teacher at Alcuin School, who supervised the boys on their trip. "The entire time. For four days."
The Hive, and other such places, are a budding mad scientist's dream.
The students were fixed on the thought of developing a computer that would help speed up video editing. Yet such dreams often require an earthly means of support (in this case, roughly $2,800).
To make that happen, those two boys — Cyrus Rose and William Warren — would spend seven months stretching their persuasive, intellectual, and creative powers. And they would do most of their heavy lifting back in Dallas, on the Alcuin campus, in a setting that many Silicon Valley startups would be glad to call home: a converted library called The Hive.
The Hive, and other such places, are a budding mad scientist's dream. There's plenty of cardboard, adhesives, (relatively) wide-open spaces, computers, white boards, a substantial TV monitor, and a green screen to allow for outrageous video productions. Not to mention the pièce de résistance: a 3-D printer.
CULTIVATING MAKERSPACES IN SCHOOLS
Call them what you will — innovation labs, makerspaces, learning commons — schools in the Dallas area and across the United States are directing square footage, money, and staffing to help students develop skills in collaboration, conceptual/software development, and tinkering. The hopes are that students will graduate well-rounded, employable individuals.
In the case of aforementioned Cyrus and William, the boys had access to potential cash to realize their video editing dreams. In 2015, Alcuin received $1 million from the J.C. Saada Family Foundation, which bestowed the money to encourage social entrepreneurship among its students.
In 2015, Alcuin received $1 million from the J.C. Saada Family Foundation … to encourage social entrepreneurship among its students.
However, their access wasn't instant. The foundation will fund such projects, on condition that applicants submit a business plan and pitch it to a panel of business people, assembled by Cambridge Holdings Chairman Jean-Claude Saada.
Cyrus and William delivered their pitch to a group, which included two high-profile business professionals: Ben Treynor Sloss, founder of Google Site Reliability Engineering, and Shark Tank star and entrepreneur, Robert Herjavec.
This level of scrutiny demanded that they interview Alcuin faculty to identify the school's needs and expectations for a video editing system, so that they design the computer to meet those specifications, and create a budget for the project.
Cyrus and William did the bulk of their work — from their research to their Google Slides presentation — at The Hive, and weathered a Shark Tank-style interrogation from Sloss and Herjavec, receiving their blessing for up to $3,200 ($400 more than the actual amount spent). They even built the video editing computer in The Hive.
SPACE DESIGNED FOR OPEN-ENDED PURPOSES
The space was designed for open-ended purposes, for good reason. It was funded in part by Bottle Rocket founder and CEO Calvin Carter, who was raised by entrepreneurial parents who gave him and his sister the chance to figure things out on their own, and, most importantly, to create.
Carter said what's key about The Hive is that it didn't come with instructions, and that participation would be optional. The intention was to allow students to experience the heady feeling of making something with their own minds and hands.
"With the right environment, and the right resources, someone can do the best work of their lives."
Calvin Carter
"With the right environment, and the right resources, someone can do the best work of their lives," Carter said.
"If you do that [at] a super young age, you make a massive impression. My hope is that you become so connected to that at an early age that it survives the 'meat grinder' of adolescence and young adulthood (when it's all about appearances and all this other stuff) and you just get on the right path."
Tucson-based education consultant Bob Pearlman said makerspaces/innovation labs are only a few years old on the educational landscape, so few studies have been done to show their academic effectiveness.
Locally, Southern Methodist University professor Rob Rouse is researching whether innovation labs/makerspaces influence how students learn. The University of Texas at Arlington also received a grant recently from the Institute of Museum and Library Sciences to develop a way to test the effectiveness of innovation labs on undergrad learning.
Completed studies have shown that students retain much more of what they learn when they take part in project-based learning, in which innovation labs are engaged, Pearlman said.
MOVING AWAY FROM MEMORIZATION TOWARD PROJECT-BASED LEARNING
Education industry observers say innovation labs and makerspaces are part of an educational movement away from memorization, toward solving palpable problems with hard data. The movement — called design thinking — is fueled by the Stanford School of Design to promote the practice of attacking complex problems methodically, based on human needs. These labs can vary widely in participating schools, from an area set aside in a library, to a dedicated room.
Though there appears to be no comprehensive list, education consultant Pearlman has identified innovation labs/makerspaces in 20 schools across the country, from Greenwich, Connecticut, to Los Angeles.
Alcuin School has bought into the concept heavily, and has included a second, dedicated makerspace in its plans for adding an upper school and auditorium to its campus.
"We're working with Perkins + Will on designing a space that will allow a more collaborative experience, trying to incorporate design thinking into the entire building," said Walter Sorensen, head of Alcuin School. Sorensen added that innovation labs like The Hive fit well within the school's Montessori and International Baccalaureate philosophies.
Meanwhile, Alcuin eighth grader and Hive fan Ian Espino-Barros just wrapped up his project on the benefit and need for recess, and he's ready for his next collaboration.
"I'd probably want to do something that would help the school," Ian said. "Maybe making small wind turbines and putting them around the school. Things you can build, instead of asking people for. Because if you build it, you will more likely benefit a lot more from it."
PHOTO GALLERY
Photos of The Hive courtesy of Alcuin School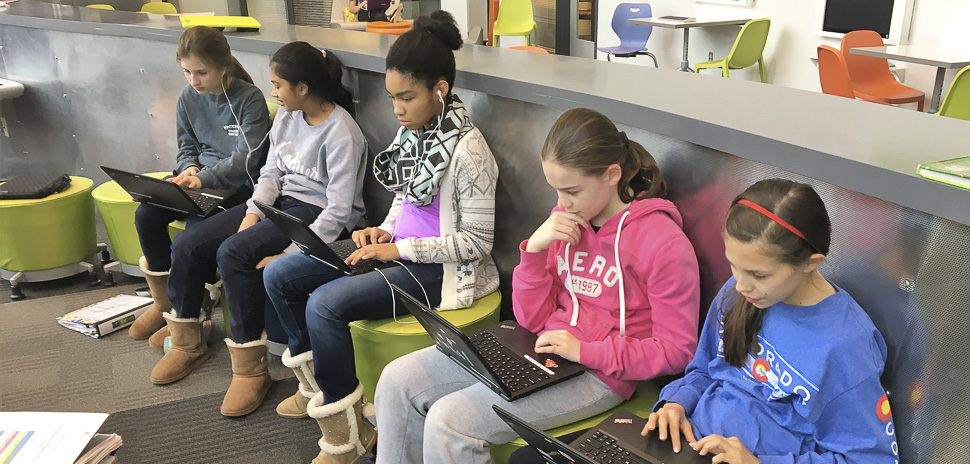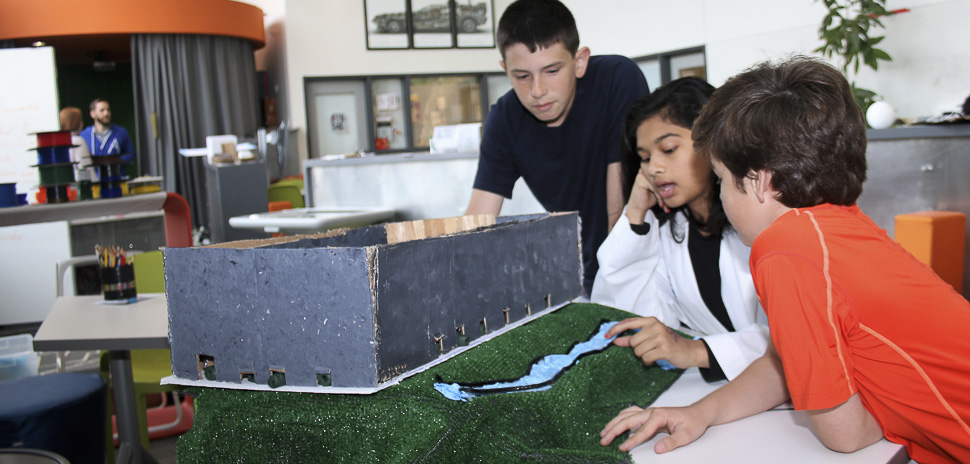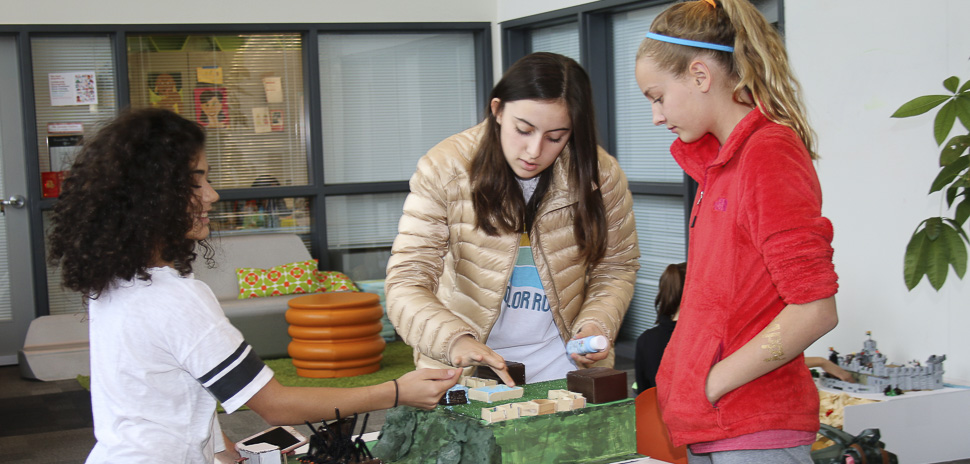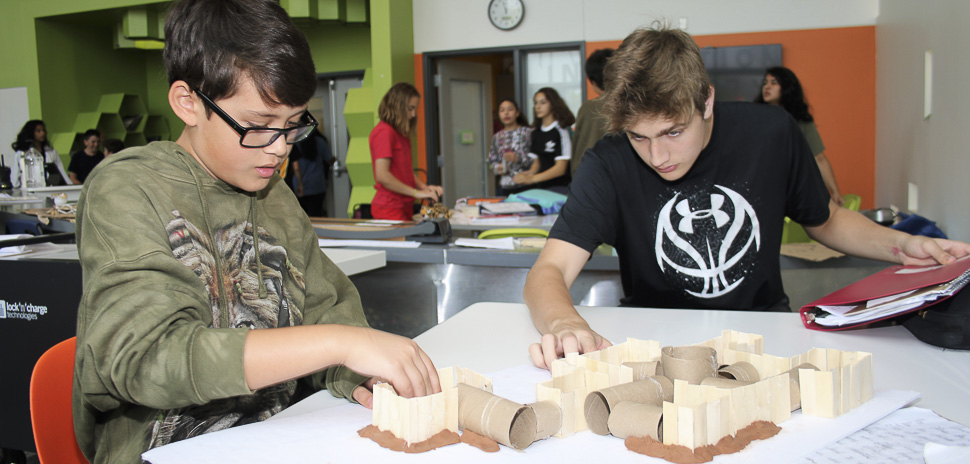 ---
Dallas Innovates, every day