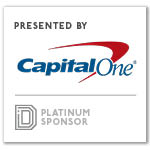 A vibrant community requires an ecosystem of people, businesses and nonprofit partners coming together especially during times of crisis. Right now, nonprofits are on the frontlines tackling the rapidly changing needs of the most vulnerable populations impacted by COVID-19. In this four-part series, Capital One is shining the spotlight on nonprofits supporting food and hunger relief, workforce development, digital access and small businesses. Through our $50 million commitment to address the rapidly changing needs of our communities during this pandemic, Capital One remains committed to make a positive impact for change.
Food insecurity, the limited and uncertain access to food, has been a longstanding struggle for our broader community. According to the U.S. Department of Agriculture, even before the coronavirus, about 11% of U.S. households, and a slightly higher percentage in North Texas, dealt with chronic or occasional food insecurity. COVID-19 has only exacerbated this issue. With rising instability, local organizations and food pantries have been grappling with how to keep up with increased demands. In June alone, the North Texas Food Bank distributed 75% more food by weight and went from serving 200 families at its mobile distribution sites to more than 2,000.
Capital One spoke with the below DFW nonprofit leaders on the impact of COVID-19 and how they are continuing to tackle food insecurity for those who need it most. 
MEET THE EXPERTS
DAPHNE BARLOW
President and CEO, Boys & Girls Clubs of Greater Tarrant County (BGCGTC)
Boys & Girls Clubs of Greater Tarrant County operates 24 branch sites located in historically low-income, high-unemployment and high-crime neighborhoods throughout Tarrant County. Each branch offers daily educational, recreational, social and cultural enrichment programs and activities for members, ages 6-18.
PATRICK BRANDT
Co-founder, Get Shift Done
Get Shift Done, an organization launched at the beginning of the COVID-19 crisis, uses a technology platform to connect the affected hospitality workforce with local nonprofits to serve and provide hunger relief to communities. Get Shift Done has already served over 10,000,000 meals in 10 U.S. markets.
HALEY COATES-HUSEMAN
Interim Chief Advancement Officer, Jubilee Park
Jubilee Park and Community Center exists to serve its neighbors in the 62-block Jubilee Park community and other surrounding areas in Southeast Dallas/Fair Park. Of the population served by Jubilee, 72% of adults lack a high school diploma and nearly 50% of families live below the poverty level.
TRISHA CUNNINGHAM
President and CEO, North Texas Food Bank
The North Texas Food Bank, which was founded almost 40 years ago, donated 400,000 pounds of food in its first year. Now it moves more than a million pounds of food each week, always focused on closing the hunger gap with access to nutritious food.
DR. TERRY FLOWERS
Headmaster, St. Philip's School and Community Center
For seven decades, St. Philip's School and Community Center has been a South Dallas institution and community anchor that has been transforming lives through programs addressing education, hunger, athletics, senior services and youth development.
What is the biggest misconception surrounding our food crisis?
BGCGTC: Food insecurity was an existing community need prior to the COVID-19 crisis. The biggest misconception is that the only people in need are homeless and living below the poverty line. That is simply not the case. In Tarrant County, the unemployment rate is currently 13.5%. Due to the onslaught of challenges created by COVID-19, people who have never needed us before are showing up daily to feed their kids and have a meal for dinner.
ST. PHILIP'S: Many constituents outside of our area don't realize that South Dallas, the community St. Philip's calls home, is a food desert. With only one grocery store, a high concentration of the area is vulnerable to hunger. South Dallas boasts a poverty rate higher than 40% and a 20% unemployment rate, further contributing to poor health outcomes for many residents, such as obesity, diabetes and other diet-related health problems.
JUBILEE: The biggest misconception about our food crisis is that it is due mostly to lack of resources, while in reality, access also plays a major role. Due to the pandemic, our aging population is terrified of exposure to COVID-19. One of our elderly residents didn't know how she was going to eat, too afraid to go to the grocery store for fear of contracting the virus. Even taking a 20-minute bus ride to the nearest grocery store becomes a potentially dangerous task for our residents who are comprised primarily of hourly service-industry workers.
How have you pivoted your operations, ensuring the most vulnerable populations have access to your resources?
GET SHIFT DONE: The Get Shift Done initiative launched at the beginning of COVID-19 to connect the affected hospitality workforce with local nonprofits to serve and provide hunger relief to communities. To date 11,000 hospitality workers who lost their paychecks are registered with the program and have worked over 165,000 shifts with 70+ charitable organizations to provide, package, distribute, deliver and/or serve more than 18 million meals. The model provides direct income to the hourly workers and increases the amount of food that can be delivered to those in need.
NORTH TEXAS FOOD BANK: At the onset of COVID-19, our biggest challenge was the loss of a steady volunteer base, but thanks to our collaboration with Get Shift Done and the work of the Texas National Guard, we essentially doubled our workforce overnight. The community's need will only continue to grow. At the inception of NTFB, we rescued food from hotels and restaurants, and today, our focus is on ensuring we can provide our neighbors in need with nutritious food. To that end, we partner with local grocery stores to obtain their surplus foods and also work to purchase food items as well. We receive food and support from the government and also assist people with their SNAP applications. We knew right away that we would need to keep our volunteers and neighbors safe, so we worked quickly to implement boxed food distributions. By pivoting in this way we held several successful drive-thru distributions which have allowed for proper social distancing protocols.
JUBILEE PARK: Adapt and pivot has been our unofficial slogan these last few months. Before the current emergency, Jubilee community members were already living paycheck-to-paycheck, with an average annual income of just $14,800 a year. Meal distribution and financial assistance have arguably made the largest and most immediate impact on our community, restoring hope and choice to our neighbors. We knew the need was great, and that our small staff would be unable to fulfill it alone without help from outside organizations. Our partnership with ALTO has enabled us to access food donations and assistance from all over the DFW metroplex. This truly increased our team's capacity and is a shining example of innovative solutions in a crisis situation.
BGCGTC: Relying solely on location-based curbside food service assumes that everyone who is hungry can make it to a food line or pantry. That is not the case. Boys and Girls Club of Tarrant County (BGCGTC) reviewed data from local school distributions showing there are at least 10 concentrated communities and/or apartment complexes where children aren't accessing online learning or food. From there, we mobilized our fleet buses for mobile food distribution. We send busses full of pre-packaged food and groceries into targeted neighborhoods ensuring access to nutrition support.
ST. PHILIP'S: Our Community Pantry, recently renamed to Aunt Bette's Community Pantry in honor of Bette Perot, has remained open during the pandemic. It currently serves over 650 households, 1,500 individuals and distributes 700,000 pounds of food annually. Our new low-touch assembly and distribution model where we provide pre-packaged boxes of staple foods for curbside distribution enables us to reduce the number of individuals needed to serve our clients on a daily basis. We are utilizing a consistent daily workforce in lieu of our traditional volunteer model.
What are the biggest barriers for communities facing food insecurity on a regular basis, and how is your organization meeting these challenges head on?
GET SHIFT DONE: Food insecurity is a massive national problem, affecting more than 49 million Americans, and approximately 38 million people have applied for unemployment during the COVID-19 crisis. As a result, food banks across the country are seeing many families who are visiting for the first time. The Community Food Bank in Fort Worth recently told us our Get Shift Done folks are the core of their volunteer help. They can't imagine serving as many people as they do on a daily basis without them. 
ST. PHILIP'S: Lack of transportation is a barrier for many of the elders in our community. St. Philip's provides local senior citizens transportation to visit the grocery store and complete necessary errands. St. Philip's serves senior citizens from Park Manor, Aya Village, Edgewood Manor and the Forest Heights Neighborhood Development Corporation's Elder Friendly Units.
NORTH TEXAS FOOD BANK: One way the Food Bank aims to eliminate barriers to food access is by bringing the food to areas of need. We look at unemployment data, as well as data on where other food pantries are located to find underserved pockets that could use our services. We bring the food to them via our Mobile Pantry program. We know there are several underlying issues that can impact food insecurity, and we work to invest in our partners who are trying to aid families to combat those root causes.
What are your organization's most critical needs right now and how can individuals and the business community help?
ST. PHILIP'S: We need what so many other nonprofits need right now—donations for our food pantry. If you're interested, please volunteer at our food pantry or aquaponics garden. Our aquaponics garden produces vegetables that are used to supplement food in the food pantry. Volunteers are needed to assist with gardening chores, which include feeding the fish and harvesting the plants. 
JUBILEE: Jubilee is continuing to fulfill basic needs through food distribution and our increased bill assistance program. We set up meal delivery and organized drive-thru food pickup for seniors in Southeast Dallas so that our elderly do not have to choose between going hungry and risking their health. Although the crisis is not behind us yet, our residents now know there is an entire network of people who care and they can lean on their Jubilee Family for support. Individuals and businesses in the Dallas community can help ensure Jubilee is able to provide short-term relief and long-term restorative programming by donations.
NORTH TEXAS FOOD BANK: From the historic Jeff Bezos grant to Feeding America and its member food banks to donations from individuals, the community support during this time has been overwhelming. We have received funds that allow us to offset our increased costs to purchase food. The TV news team at WFAA spearheaded an Amazon-based Wishlist, which has brought in more than $100,000 in food to date. People who can't donate funds or food via our Wishlist are encouraged to advocate for our mission with their elected officials.
BGCGTC: Our critical need is unrestricted financial support to fund key operations that are being implemented as COVID-19 relief efforts. With fundraising events being canceled and cash reserves depleting, BGCGTC's efforts to raise critical funds in other ways are limited, and we must be agile and adaptable, so we can continue to offer the most relevant solutions. At this time, the meals provided are from Food for Good and City Square, Inc., but BGCGTC also coordinates with other partners, such as the Arlington and Fort Worth Police Department, BlueZones, food banks and local restaurants donating meals and produce. Additionally, a strong relationship with the local school districts and campus principals throughout the city has allowed us to expand our reach and communication.
GET SHIFT DONE: When we are contacted by a new city, there is always an abundance of people wanting to help launch the program. We have seen restaurants and restaurant groups immediately connect their furloughed workers with our software so that they can continue to provide for themselves as well as nonprofits signing on because they are eager to increase their reach when providing food to their communities in need. The dire need is there, and businesses and communities must continue to step up the best way they can.
Answers have been edited for brevity and clarity.

Get on the list.
Dallas Innovates, every day. 
Sign up to keep your eye on what's new and next in Dallas-Fort Worth, every day.