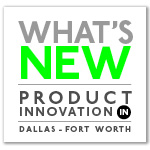 Fräsch's funky furniture designs and a special attention to absorbing noise pollution completely transform the look and feel of office spaces. 
Fräsch means "fresh, cool, and modern" in Swedish and it lives up to its name with innovative designs that make an office space look fun. Every piece is multifunctional with eco-friendly fabric that absorbs noise and furniture that can be adjusted depending on the situation.
"I feel like if Fräsch was displayed, we still would stand out," Younger said. "We are not a copy of anyone. We definitely have our own take on things, our own flair."
---
Made in Dallas: Dallas Innovates spotlights interesting new products from Dallas-Fort Worth innovators, large and small. Know of something notable that's made (or conceived) in Dallas-Fort Worth? Let us know.
---
Husband-and-wife team Gary Nightingale and Slavi Younger didn't want to just sell a commodity. They realized that they were a dynamic business duo, and with Nightingale's background in sourcing products and Younger's background in marketing, soon found themselves creating Fräsch.
Steve Kinder, who co-created coworking company GoodWork, joined Fräsch last year as a co-owner, bringing with him a background in furniture manufacturing. Although most of Fräsch's operations are based in Grand Prairie, it has a showroom in Dallas that shares a space with  GoodWork. This has created an unlikely collaboration in which the coworking company is able to try out Fräsch's newest products, while providing Fräsch with feedback.
One of Fräsch's endeavors is its partnership with the University of Texas at Arlington, where it recently signed on as a consortium member. Fräsch's owners are lending their furniture expertise to UTA's architecture department by helping the university revamp its furniture class and revamping the classrooms themselves.
This relationship is more than just business — Younger actually attended the university, making this a full-circle experience for her. 
Although the roughly 5-year-old Fräsch has worked with major companies including AT&T Inc. and Dell, it really wants to be the company that small businesses come to.
"I personally love the smaller companies," Younger said. "Because you get to work with the people that oftentimes started the business, are really involved in the business. You know, there's just so much passion usually and it's very personal and those are usually really the most satisfying experiences."
Along with the UTA partnership, Fräsch constantly is branching into new projects, looking into lighting and ceiling acoustic solutions, along with possibly taking its furniture worldwide. Whether it be through design innovation or unique partnerships, Fräsch is always looking at what's next. 
"Being the size we are, and also I think partly the personalities that we are, we love new ideas," Younger said. "We're not scared to try things." 
You can shop Fräsch furniture here.
Dallas Innovates took a tour of Fräsch's Dallas showroom, capturing all the details of our latest innovative space. 
TAKE THE (PHOTO) TOUR
Photos: Dana McCurdy

Get on the list.
Dallas Innovates, every day.
Sign up to keep your eye on what's new and next in Dallas-Fort Worth, every day.