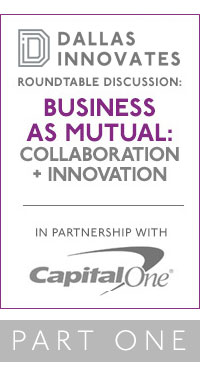 Collaboration and partnerships are the lifeblood of business and innovation, and the Dallas-Fort Worth region has diversity that drives collaboration from a thriving entrepreneurial ecosystem to a strong enterprise base to wide-ranging educational opportunities.     
"Business as usual" represents the status quo, but a recent "Business as Mutual" panel addressed what happens when collaboration meets innovation. Leaders across corporations and academia as well as the entrepreneurial and social sectors shared their thoughts on collaboration and partnerships in the area, where things might be heading, and maybe most importantly, how both are accomplished.
This wide-ranging discussion covered how to foster collaboration, the role of technology, and many examples of DFW coming together to improve business, create social change, and simply make a positive impact on the region.
Below, you'll find the first of our two-part series, which includes insight on bringing stakeholders to the table to work together, the value of diversity and culture, and how talent and opportunity can factor into the equation.  
THE PANEL:

Sean Caho, director of strategy and innovation for Social Venture Partners of Dallas, a network of philanthropists dedicated to growing Dallas capacity for social impact. Caho has a current focus on new programming and developing impact investment activities for SVP Dallas.

Bryan Chambers, director of the University of Texas at Dallas' Blackstone LaunchPad, a cross-campus entrepreneurship program partnering UTD and Blackstone. The university has a new initiative on the impact of artificial intelligence and blockchain, which Chambers is leading. 

Cameron Cushman, director of innovation ecosystems for University of North Texas Health Science Center in Fort Worth. Cushman's background includes co-founding 1 Million Cups and 10 years of experience in entrepreneurial ecosystem building.

Wendy Lopez, Dallas/Fort Worth metro manager for AECOM, one of the largest infrastructure companies globally.

David Matthews, managing director of RevTech, a Dallas seed-stage accelerator program and fund focused on the intersection of technology and retail.

Karen Stroup, senior vice president, Dealer Services, Capital One Auto Finance
THE MODERATOR:
Leigh McMullen, managing vice president in the Office of the CIO Research at Gartner, served as the panel moderator, and Duane Dankesreiter, senior vice president of research and innovation, for the Dallas Regional Chamber, joined with questions for the panel.
---
This is a really fun topic for us to talk about: "Business as Mutual" garners perspective around ecosystems as dominating the narrative, right? And the idea that regionally we are addressing this topic as well is absolutely fantastic. Let's begin by having our awesome panelists to go around and introduce themselves. And David, maybe we can start with you. Introduce yourself name, title, and 30 to 60 seconds of what you, and we'll get this conversation started.
MATTHEWS: Sure. I'm David Matthews. I'm the managing director of RevTech. RevTech is a seed stage accelerator program and fund based in Dallas. It's focused on the intersection of technology and retail. It's a space we see as a very dynamic, changing space — it's a great place to play to be basically an arms dealer for retailers that are working to transform their business models.
LOPEZ: I'm Wendy Lopez with AECOM. I'm in the transportation business line dealing with the Gulf/Southwest, and for those people who don't know AECOM, it's probably the world's largest infrastructure company. I was just saying to someone that now that I'm focusing on the transportation business, that I've seen tremendous change in our industry because of technology. Hopefully, we'll talk about some of that innovation going on in the technology realm and how it's changing mobility for people in North Texas.
CUSHMAN: I'm Cameron Cushman, director of innovation ecosystems with the University of North Texas Health Science Center. I've been in that role since November, but I'm very involved in building the [entrepreneurial] ecosystem on the west side of DFW. I've run the last two startup weekends. I also was the co-founder of 1 Million Cups and still run the Fort Worth chapter every week. I've got about 10 years of experience in entrepreneurial ecosystem building in various capacities, and I'm proud to be able to do that job in my hometown of Fort Worth. I planned Fort Worth's first-ever startup crawl, which happened at the end of May.  
CHAMBERS: My name is Bryan Chambers. Most of you know me as the director of the Blackstone LaunchPad. Blackstone LaunchPad is a cross-campus entrepreneurship program in partnership with Blackstone and the University of Texas at Dallas that helps students, staff, faculty, alumni, and the community explore entrepreneurship as a viable career path. In connection with this role I wear a few more hats. I lead experiential learning for the Institute for Innovation and Entrepreneurship. We're a top-ranked, 20-graduate entrepreneurial program in the nation. I'm the director of our venture capital fund, our UT Dallas Seed Fund at the university. I teach venture capital at the university, and am also the director of a new initiative that we have, called Emerging Technologies Initiative. That's a brand new initiative coming together, which is exclusively focused on the impact of artificial intelligence and blockchain.
CAHO: I'm Sean Caho. I work with Social Venture Partners of Dallas. I'm the director of strategy and innovation. SVP Dallas is a network of philanthropists dedicated to growing Dallas capacity for social impact. We do that in a couple of different ways. One is, by partnering with other organizations — both for-profit and nonprofit — to develop their ability and capacity for impact. The second is, by working directly with philanthropists, business leaders, civic leaders to develop their philanthropic capacities. As director of strategy and innovation, I work on a number of different things and wear a few hats as well, but I'm particularly focused on new programming that we're working on and developing our impact investing activities.
STROUP: I'm Karen Stroup. I'm a senior vice president at Capital One. I was leading The Garage (Capital One's innovation center in Plano) for the first year and a half. We really focus on the digital transformation across Capital One and within DFW as we build the skills and capabilities to help people both internal and external evolve with the changing times. A few months ago, I moved into our major business line to actually do the transformation from within. Now, I'm working at the intersection of lenders, consumers, and dealers to reimagine the car-buying experience using data, consumer behavior, etc. to do that.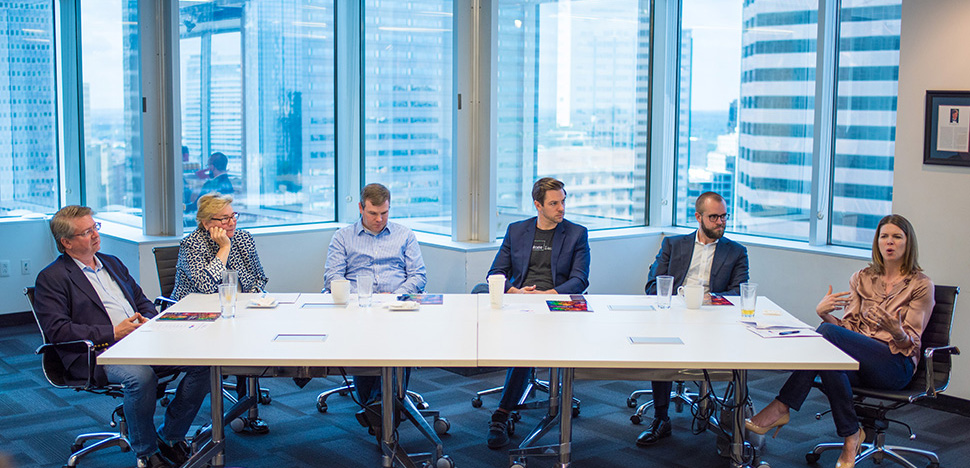 GETTING PEOPLE TO THE TABLE
Let's start with understanding how we get people to the table with collaboration. Are there tactics or techniques or strategies that you use to kickstart public/private sector partnerships or other collaborations in a "business as mutual" environment? 
LOPEZ: Sometimes, the collaboration is born out of doom with the public/private partnerships you mentioned — especially in infrastructure. For AECOM, [it's about] delivering a project on a schedule that couldn't be otherwise accomplished. One project you might be familiar with is the LBJ Express project. By putting private money into that project it was delivered by TxDOT (Texas Department of Transportation) a decade sooner then it could have been if they had to wait on the funding from the legislature each year. When you can bring money to the party and use alternative delivery methods, these types of infrastructure projects can move forward much quicker than with traditional funding.
Can you amplify that? At the risk of editorializing a little bit, I've lived everywhere. And one of the reasons why I love DFW is we do roads better than anywhere else in the world. I mean, really, really, really well.
LOPEZ: We really do!  
For example, compare what we did with Dallas Fort Worth International Airport and
getting the 121 bypass off 114

 near the airport versus the Big Dig in Boston. So public/private partnerships can help us pull forward.

LOPEZ: Yes, and I do think Texas has led the county, quite honestly. Early on, the president and the administration said that the one thing everybody can agree on is infrastructure. But I think the one thing we haven't gotten around to is how to fund it. The need is there, but where's the money going to come from? The president specifically mentioned public/private partnerships. In the private sector, there's a lot of money sitting on the sideline that would like to get into the infrastructure business. But it has to be a project that has a revenue stream — you want to get your money out at the end, right? I think we'll see more and more of those opportunities across the country.
"It starts with a passion."

Karen Stroup
STROUP: As we think about our partnership with the community, we take a very similar approach to how we think about innovation and collaboration internally. It starts with a passion. What do we have a passion for, in service to our company and to our customers? When we look at the community, it's a vibrant ecosystem. And the better the DFW community is, the more talent we have to engage with, the more impact we make, and the better our brand is. It's very much a [virtuous] cycle. When people have a shared passion we can come together and really unleash innovation.
How do you make this passion known?  It's little bit like dating, right? We've got to find the right partners. We've got to find the right kinds of alliances. How would I know if I was interested in your market's kind of passions?
STROUP: We put our message out there and are very open to people who reach out to us. One thing that I love about Capital One, is the commitment to the community. We have a pretty extensive team to really put Capital One's name and brand out there. We've released a clear theme as a focus: We focus on helping Americans succeed in an ever-changing digital economy.  These efforts funnel through our Community Affairs team. In fact, Monica (Shortino), our director of social innovation, gets to know our leaders across all levels within our division.  When I first started, Monica was one of the first people in my office to be like, "All right, so what are you passionate about?" I loved that, because there's almost an expectation that part of my job is to be involved in the community and to make a difference beyond what I do in the office. So it's very much a matching of mutual interests and passions. We dedicate resources to expose that, both internally and externally.
Cameron, you play an interesting role in a private equity and public education cross-over environment. How do you get different participants to the table?
CUSHMAN: Yes, and I come at it from a really early-stage and entrepreneurial perspective. If you don't know the startups in your area, then you don't know how to help them. And the inverse of that, you don't know how they can help you. Maybe there's a superstar entrepreneur who has a little piece of technology and I, as a university representative, may have something that's sitting on the shelf that can be licensed — the missing piece. 1 Million Cups was built on the thesis that if you have a million cups of coffee with your local entrepreneurs it would fundamentally change the way that your city thought about entrepreneurship and startups. Bringing in these people to tell us what they're working on creates a bigger platform for people to potentially collaborate — to hear what's going on, to find out how they can help, to make a connection for somebody. It happens in a very different way rather than sitting in a corporate boardroom — it's people connecting over a cup of coffee. It's had transformative results around the country. We've seen a lot of examples in Fort Worth and in Dallas. And Addison just launched one in May. It's a great way for emerging early-stage startups to plug into the market.
CHAMBERS: It starts with culture, first and foremost — the culture of your organization. I speak to this idea of culture and pursuing things differently at the Institute of Innovation and Entrepreneurship [at UTD]. Diversity can mean a lot of things — different things to different people. In one context I use, it can mean hiring people from industries, not necessarily people from academics. By hiring people with a background of building or investing in startups, you're going to see very different results than people coming from a [more traditional] background of higher education. Diversity and doing things differently will create different results. That will bring diverse partnerships and new types of collaboration to the table.
Diversity in all its forms plays a large role in a lot of the things that we've been thinking about in business, including cognitive diversity. Let's talk about the diversity of Dallas-Fort Worth. Does the region provide any advantages with regard to the economic and social diversity we have here?
MATTHEWS: It's huge for me. It's not social diversity, per se, but it cuts across the spectrum. We find ourselves very diverse with who participates in our accelerator — both gender and ethnicity. As for collaboration, I do it out of necessity. Picture a private equity (PE) fund that manages a billion dollars. It typically has a robust set of resources. I manage a pool of about a million dollars of resources, and have a similar workload. We have a similar number of deals, but as you can imagine, the fee stream is quite a bit smaller for a million-dollar seed fund than for a billion-dollar PE fund.
"I just consider I'm building an affinity group around people that are interested in retail."

David Matthews
So I've found collaboration is the magic ingredient. I just consider I'm building an affinity group around people that are interested in retail. The magic bullet is "recovering" retail executives — people who have a wealth of retail industry management experience and are at a point in their career where they are ready to give back. That cuts across the region, because we have dozens and dozens of restaurant and retail companies in Dallas Fort Worth. And we have a huge talent pool of people — many at retirement or in transition in their career — who are fascinated with where the retail industry is going. My job is to harness that interest and build up our resources a bit.
TRUST, CURIOSITY, AND DIVERSITY
Sean, when you think about collaboration opportunities, are there some that make more sense for SVP Dallas than others?
CAHO: One point that underpins what we've been talking about seems simple: It's trust. Trust underpins sharing a passion and sharing a culture — whatever your culture is rooted in. It underpins having coffee with other people. I don't think collaboration happens between organizations or other abstractions. Collaboration happens between people, and that means trust is absolutely imperative on the front side. At SVP, we work with for-profit businesses of all sizes and from many different angles. We work with nonprofit organizations, again, all sizes and angles. We work to develop public/private partnerships in some cases. For us, it's about finding organizations that we can partner with effectively and trust the people we actually serve.  
Do you have techniques or strategies for identifying non-obvious partnerships? Business opportunity often comes from the intersection of money and the non-obvious, right?  How do you identify those?
MATTHEWS: Back to harnessing the retail industry: I first thought I had to get current retail executives as mentors. I found that's very difficult. While they may like the idea, they simply don't have time. It was an epiphany to go after people who have transitioned out of retail, but have the same set of experience.
LOPEZ: I think the key to being collaborative is to be curious. You have to be curious about what's going on around you. It leads you to interaction and asking the right questions. Getting back to diversity, and thinking about how we make sure we get the best minds: I want diverse thinking, and that comes from your experiences and your background. When I go back to my niche in transportation, I think about all the things that we're doing that are diverse modes. We're into the Hyperloop. We're into the high-speed rail between Dallas and Houston. We're into automated and connected vehicles, the roadways we've already talked about, as well as transit and commuter rail and freight rail imports — it's just everything. And you can't be good at all of it. So, you need to be curious: Ask the right questions, and that will lead to some less obvious partnerships.
Curiosity and diversity: Ultimately cognitive diversity has the things that we're all looking for. There is an unbreakable business case around that. And racial, ethnic, social diversities are shortcuts to cognitive diversity.
CHAMBERS: One thing, and there's no way around it: You've got to show up. I don't think this can be replaced. It takes an incredible amount of effort to get involved in your community. Often it requires a give-first mentality. In this room, RevTech and Dave Matthews — they show up at UTD with a give-first mentality. They sit down, they mentor, they donate, and they provide a lot of these efforts. Capital One does the same thing and so does Social Venture Partners. That can't be replaced. It requires a lot of networking, meeting people, getting involved in the community, and showing up — no matter where the events are going on.
As Dallas-Fort Worth attracts more business leaders, how would new arrivals to the region get involved? What would your suggestion be for dipping your toe in?
CHAMBERS: That's a great question. People email me that question all the time — What do I do about it? Whether it's a student, a staff member, a faculty member, or a member from the community — or they don't even have to be from our community, quite frankly, we give first. I'm happy to set a meeting up.  
MATTHEWS: Most of us at the table run an events business on the side. And you don't do it by e-mail or text. You do it by getting people in a room together, usually involving coffee in the morning or beer in the evening. It's about putting people together. As I look around the room, I think we're all in the events business, by necessity.
"You've got to have a give-first mentality. It produces great results."

Bryan Chambers 
CHAMBERS: I'll point to an example. A partner from Warburg Pincus, one of the oldest private equity funds in the county, wanted to spend more time getting to know people in Dallas so they can start putting capital here — meaningful capital. Without missing a beat, many people, including Duane Dankesreiter from the Dallas Regional Chamber and Trey Bowles from The Dallas Entrepreneur Center — started making connections for them: "You need to meet this person … You need to meet that person." Our local people not only made those connections but facilitated the meetings. I think Warburg Pincus was really taken by that. They thought it was incredibly easy coming here. They were very well received: That's the spirit and the culture of Dallas. There are people who are committed to doing that. It takes a lot of effort, but it produces great results, and it builds our ecosystem. So you've got to have a give-first mentality. It produces great results.
STROUP: We look for an intersection of passion, capability, and connection. At Capital One, we do lean experimentation, and we have specific partnerships. We use that to make connections. With the digital transformation we're leading, we have capability and digital. And we have financial resources. With WE Dallas — we took our capabilities and said, "Hey, let's experiment and partner with a startup to take them through the business process."  That can that lead to something else. On the connection front, the Dallas Regional Chamber identified a need to help connect people in Dallas with information. We had digital skills, and they had a need. So we created an online tool to help connect entrepreneurs and people coming into the industry with mentors, accelerators, and other resources. So now there is an additional tool to help connect people — that came out of conversations we had throughout our partnership with the DRC and our capability. When there is connection, capability, and the passion to make a difference, there's a powerful intersection.
CULTURE MATTERS
That's a cool segue. Let's talk about some of the attributes of Dallas-Fort Worth. Are there things that are unique from a collaboration or innovation perspective?
LOPEZ: People that visit Dallas who haven't been here in a while are just blown away. I can't tell you how many friends have visited in the last couple of years who have said Dallas has really changed a lot. It seems to be a city on the move, a city with a very vibrant downtown. Just a few years back, after 5 o'clock the sidewalks rolled up, nobody was there. Now, we've got nightlife and restaurant and retail activity. We're attracting young talent or the young people who grew up here and went away to college. We're saying, "Hey, come back home. This is a good place to work and live and play and raise a family — or whatever it is you want to do. You can have it all." And we're getting some traction there.
Are there examples of collaboration that you think are unique to the region?
LOPEZ: I'll go back to the high-speed rail project between Dallas and Houston. It's privately funded — that's Texas Central Railway Partners (TCP). AECOM is doing the Environmental Impact Statement for that project. It's unique for us. We're working for TCP, but we're doing the study for the Federal Railroad Administration. It was a first-time thing for them, for us to come in. Usually, it's a publicly funded thing, with certain rules that you have to follow. It's private money. We're are seeing a lot of that. People in Dallas are very generous. You think about the [Dallas] Arts District and the philanthropic money that created the world-class stage that we now have. We are seeing that over and over: It's something very special happening in this city.
MATTHEWS: And we see a great collaboration between D Magazine and the Dallas Chamber right here. (Editor's note: Dallas Innovates is a collaboration of D Magazine Partners and the Dallas Regional Chamber)
STROUP: Digital talent — and millennials in particular — need and desire a vibrant community that engages them. So it's not just about going to work. It's not just about families. It's about the arts and inspiration and others like them who can engage them on an intellectual level. I love all the investment that's happening in downtown [Dallas] and Uptown — and in the arts.  Speaking of a new collaboration, the President of our Financial Services division (Sanjiv Yajnik) is passionate about the arts, and is the chairman of the Dallas Symphony Orchestra. In partnership with them, Capital One presented an event called Array, which brought exciting and unique musical and visual art collaboration to Deep Ellum. It was a very interesting approach that I've not seen before. It brought the spirit of things together to engage the community. And I think that's super cool. That's important to attracting talent [to the South] and changing the brand the region had 20 years ago.
CAHO: One interesting aspect of the city is our history and the way Dallas has developed — in particular, our geography. The city is broken up in such distinct ways. That provides a lot of areas that might be overlooked. There's a lot of opportunity in those areas for investment and development. Grow South is an interesting collaboration that's developed the Impact Dallas Capital organization. It's a collaborative movement — public/private across the board moving to develop more of the southern sector in Dallas and do that in a very intentional way.
Can you give me 30 seconds on that project?
CAHO: The Grow South initiative on the whole really started with a call from the mayor. A huge portion of Dallas, south of the Trinity, has really suffered for lack of development, lack of investment, lack of opportunity in many ways. And so Grow South came together as kind of a movement of Dallas itself that's developed numerous other collaborations between investors, entrepreneurs, real estate, health care — every sector, really —  to move very intentionally into the southern sector and to develop that area, but also do it carefully. Respect what's there now. 
MATTHEWS: I have a tie-in to that. I developed a Lego exhibit with Dallas landmarks built out of Lego bricks as a fundraiser for early childhood education in the southern sector. We partnered with Galleria Dallas for five years, running a holiday-themed exhibit. It ran its course at the Galleria, and we mothballed it for a while. Now I'm exploring doing it in a shopping mall being redeveloped in the southern sector, which is really exciting.
 Redeveloping a shopping mall.  I mean, that's not a response but —
MATTHEWS:  It's a scary proposition.
LOOKING AT AREA PROJECTS
Well, it's something we need to think about. Are there any interesting projects that you've seen going on with your background in retail?
MATTHEWS: When I bring entrepreneurs from the west and east coast here, a trip to Trinity Groves and Legacy Hall are really fun. I think the way retail is being redesigned is interesting — the Legacy West development in Plano is probably a great example. I'd call it leading-edge retail. The space is geared around entertainment and dining and experience — with some retail mixed in. That's the way it's going. Redeveloping an older property that's run its course is interesting. You have to relook at the property and ask, "What's the best use?" Maybe it's not a bunch of retail stores, but a mix of uses: office, residential, dining, entertainment.
LOPEZ: Another great collaboration that's about the kickoff is the Harold Simmons Park. It's going to be a new park between the two bridges, the Margaret Hunt Hill Bridge and the Margaret McDermott Bridge. It leads into the tie-in to Grow South and the retail down in the southern sector. Things are happening.
CUSHMAN: I think we've got a real sleeping giant in Fort Worth. It's the 15th largest city in the country now, which no one realizes. By the next census it will be the 14th largest city. I've even heard estimates as high as the 12th largest city: It's just poised to really blow up. It's been growing like crazy — like the whole area — and it has a lot of really great assets that most cities would kill for: Think about a medical school with 2,300 students in it … think about TCU and UTA, a huge campus. I had no idea there were so many students there.
"I think we've got a real sleeping giant in Fort Worth."

Cameron Cushman
And we have a lot of capital. A lot of people made a lot of money in oil and gas and real estate. Then there are the companies: Lockheed Martin. Bell Helicopter. It's a place that's really poised for something big. The problem is, Fort Worth has had a hard time getting out of its own way. It's very siloed, very fragmented. We don't like to play with Dallas, but we should. I think that something big is going to happen and there's a movement afoot. Just a quick anecdote: I was in Kansas City for five years before I moved back home (to Fort Worth) four years ago. I was having a conversation about entrepreneurship — about 1 Million Cups and startup plans. People just looked at me like I was crazy. Something has changed in Fort Worth in the last four years. These conversations are happening on a regular basis now. They are happening at high levels in the cities. They are happening in academia. They are happening in places that it was just not happening even two or three years ago. Now, some efforts are trying to form around all the great work that you guys are doing — and doing a lot more of that over in Fort Worth.
LOPEZ: Something I heard recently — HQ2 for Amazon comes up in many of the chamber events that I attend. The point was made that Dallas looks pretty good in the running, but regardless of the outcome, even if Amazon chooses to go somewhere else Dallas has still won. Putting together the bid has really inventoried our assets. We're telling our own story now, and we've got six other companies that are now circling and looking very hard at Dallas as a place to relocate.
TALENT AND OPPORTUNITIES FOSTER COLLABORATION
Let's talk about our assets and our story. What are the unique opportunities do you think Dallas-Fort Worth provides?
LOPEZ: As a recovering entrepreneur, I think it's a great place to build a business. I had a great run. I had my company for some 20 years — built it right here in Dallas. I had about 250 people in engineering disciplines, and I mean, it's full of opportunities. People will talk to you. Like I said, if you're curious — you ask the right questions and you want to know, if you need some help growing your business we have lots of folks around this table and in the region who can help startups and accelerate growth for them. And then you have places that help you once you've stabilized your company and it's matured. They can help you grow to the next level. So there are lots of resources available. From a business perspective, we have a great climate here.
"These startups and corporations will change the world, and they don't have to leave Dallas-Fort Worth to do that."

Bryan Chambers
CHAMBERS: Inherently what's special about Dallas, is that it's large, it's distributed. We have a lot of universities. Dozens of universities, quite frankly. That's really important for budding talent. We have a high concentration of very large companies and corporate headquarters or secondary headquarters located here. The pace of innovation will require new partnerships to be formed between large companies and fast-speed innovative startups. It's important for us to foster a regional culture of helping produce these young and innovative companies. These startups and corporations will change the world, and they don't have to leave Dallas-Fort Worth to do that. There's a wealth of assets and resources here inside of our ecosystem. We're going to see more of these kinds of partnerships occur.
MATTHEWS: I do a one-week program twice a year at RevTech: There are entrepreneurs here from places like New York and San Francisco and even Melbourne, Australia. What gets them here is their desire to meet and connect with places like Neiman Marcus and J.C. Penney's and Michael's and Pier One Imports in Fort Worth. That's what brings them in. They're surprised at how friendly and receptive and helpful people are here — it just ain't that way in New York and Silicon Valley. It's a fight. Here, it's just stunning to these entrepreneurs how embracing and helpful people are.
That's a thing about Texans, right? As someone who's lived everywhere — forgive me for editorializing — I've found that Texans are super accessible. When I moved to New York I never met any of my neighbors. When I moved here, I met all my neighbors the first day because they all came over to my house. They wanted to check me out, and they brought pies and food. It's awesome.
MATTHEWS: Yes, and then you show the family what kind of house they could have in Dallas Fort Worth, versus what they have in San Francisco and New York.
Well, that's the joke, right? A professional can move to San Francisco, double their salary and still sleep in somebody's spare room in a bunkbed.
CUSHMAN: One of the myths around entrepreneurship is that it's about a 22-year-old building a company in a dorm room like Mark Zuckerberg. That's a myth. If you look at the data — depending on which study you look at — the average age for a successful entrepreneur is 39 to 41. So these entrepreneurs are people who have come up in an industry. They've come up in a big corporation, and they've learned the industry, they've seen the market needs, they've seen a niche that they could fill. And they are usually sitting on capital because they've been paid by a big company for so long. They've established a family. They're in a very different position, and that allows them to go out and start their own company, have a lot more success and a great path forward that a lot of 22-year-olds don't have. Why? Because they have that experience. They have those contacts.  They have that knowledge. So I think having all these big corporations in Dallas-Fort Worth provides an amazing training ground for this group of entrepreneurs that are mid-career and looking for change. Big companies have a hard time innovating sometimes. So how do we work with big companies and still maintain those relationships and those connections to solve the problem — to innovate to solve the problem for those companies without necessarily having to do the intra-preneurship thing, which has a mixed track record. It's worked at some companies and hasn't at others. 
STROUP: Digital has moved from something that technology companies did to something that nearly all companies in the region are doing: Using technology to change the way they work internally or how they interact with customers. Technology is not just something for tech companies. With that, there's a huge number of jobs being opened up, and it creates a vibrant ecosystem between our awesome entrepreneurial community and our corporations. I moved back to Dallas five years ago, and it is fundamentally different than when I left a decade before that. In the last five years, the number of digital opportunities — people and companies thinking about technology — has grown exponentially. It has become the way we work. I think the ability to rotate between entrepreneurship and corporate life, depending upon your needs and life situation, is really powerful in Dallas-Fort Worth.
"Digital has moved from something that technology companies did to something that nearly all companies in the region are doing."

Karen Stoup
CAHO: There's increasing opportunity for a similar collaboration between working in the social impact space and working with the for-profit space. The corporate headquarters that are here in the region are enormous assets for creating social impact. The exact skills and talents that for-profit employees have — corporate employees — are the exact skills and talents that many, many, many, nonprofits are absolutely desperate for. This is something Social Venture Partners is working on with a program to facilitate corporate employees volunteering on philanthropy projects. And it isn't your average volunteer day: You actually bring the financial skills, the marketing skills — wherever your expertise is — to a social impact organization. It turns out this boosts employee engagement at the corporation enormously.
STROUP: We did something like that last year. It was called Barn Raise, which was a maker conference. We had four or five startups in the community come in, and we had an interdisciplinary team design product management impact work with a few folks from the startups from local community nonprofits. They did a two- or three-day working session where they were doing lean startup prototyping. It had awesome results, and it was skill building for the nonprofits. Our associates loved it: It was a huge moral boost in that they felt like they had an impact on ongoing relationships with those nonprofits. That cross-pollination was very cool.
CUSHMAN: Another observation, and this is a tricky position in this room: Silicon Valley has been very innovative and has been successful in doing startup companies for a whole lot of reasons, but one of them is that California historically does not enforce noncompete agreements. You literally can have guys go from Google to Apple to Microsoft and just kind of do this rotation. What it also allows them to do is a startup — and then go right back and work for the competitor. Because we have so many big companies here I think the opportunity for that exists to a certain degree. I'm not saying you shouldn't enforce a noncompete. I'm not giving a legal opinion by any means. But it potentially changes the culture if companies can take a risk, let somebody try to spin out a technology. and come back into the company if it doesn't work. How do we create that environment to where it's a safe space? It's a space to try something, to take a risk, and if it fails — then we, as the community …we, as the corporate world, have to bring those people back in and say, "Hey, thanks for trying that. It's really awesome, but it didn't work, and now we're going to support you. We're going to take you back in, or whatever that looks like." I think you can do that in a lot of different ways — not just in one corporation and back to that same corporation, but also just do that as an entrepreneurial community as a whole.
I'll give you an example. Like Rabobank in the Netherlands (a financial services provider that operates on cooperative principles), they actually go off and intentionally partner with VC Funds and other startups to basically take their executives and insert them into a startup so that (one) their executives get some startup experience and (two) startups have some real — forgive the turn of phrase — grownup oversight. Are you seeing some things like that in DFW?
CUSHMAN: In my mind, and in what I've seen in Fort Worth, it's a little more "pie in the sky."  I would love the see that, but we just don't think that way. Maybe Dallas is different and I just don't know it. It's an aspirational vision.
LOPEZ: There's a group here called Texas Women's Venture Fund, and we do that. We invest in mainly women-led companies, and we'll provide a CFO, we'll provide a CEO — provide whatever kind of executive-in-training and research help that the entrepreneur might need.
MATTHEWS: I'm an investor in that fund.
CHAMBERS: I do see this happen, and occasionally I help place individuals in startups. So, I think it happens. It's not necessarily inherent in existing venture funds. I think the established funds are a little bit more traditional as they search for startups and founders that really think different and have that existing infrastructure. And then, of course, everybody helps to grow and manage the portfolio company.
MATTHEWS: This concept is my recipe at RevTech. Like with Order My Gear five years ago, we had a young entrepreneur in the building part of his career. He knew he had a big opportunity but he didn't want to grow at a 10 percent a year rate. He wanted to grow at 100 percent a year rate. We matched him up with a mentor who had built an online e-commerce model for a different industry. He came in with capital and experience and expertise — they truly lifted that company to a 100 percent plus rate, and it's a growth engine now. It's closed on $35 million of growth funding earlier this year to really amp it up.
Our model is to get the entrepreneur that's in the building part of their career matched with somebody who's in the give-back leveraging-experience part of their career.
The Dallas Innovates Business as Mutual roundtable was made possible by the support of Capital One. The roundtable discussion was edited for brevity and clarity.
---
READ NEXT
PART TWO
Business as Mutual: Leaders Talk Collaborations in Social Innovation, Blockchain & AI
In Part Two of the Business as Mutual conversation panelists:
take a look beyond business into the social sector
give more tips on making connections
look toward the future including the growing momentum around emerging technologies such as blockchain and artificial intelligence