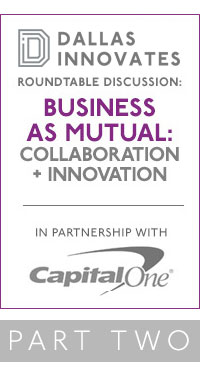 Collaboration and partnerships are the lifeblood of business and innovation, and the Dallas-Fort Worth region has diversity that drives collaboration from a thriving entrepreneurial ecosystem to a strong enterprise base to wide-ranging educational opportunities.     
"Business as usual" represents the status quo, but a recent "Business as Mutual" panel addressed what happens when collaboration meets innovation. Leaders across corporations and academia as well as the entrepreneurial and social sectors shared their thoughts on collaboration and partnerships in the area, where things might be heading, and maybe most importantly, how both are accomplished.
This wide-ranging discussion covered how to foster collaboration, the role of technology, and many examples of DFW coming together to improve business, create social change, and simply make a positive impact on the region.
The first installment of our two-part series included insight on bringing stakeholders to the table to work together, the value of diversity and culture, and how talent and opportunity can factor into the equation.  
Below, you'll find Part Two of our Business as Mutual conversation, in which leaders take a look beyond business into the social sector, give more tips on making connections in North Texas, and offer some forward-thinking thoughts on the future — including the growing momentum around emerging technologies such as blockchain and artificial intelligence.
THE PANEL:

Sean Caho, director of strategy and innovation for Social Venture Partners of Dallas, a network of philanthropists dedicated to growing Dallas capacity for social impact. Caho has a current focus on new programming and developing impact investment activities for SVP Dallas.

Bryan Chambers, director of the University of Texas at Dallas' Blackstone LaunchPad, a cross-campus entrepreneurship program partnering UTD and Blackstone. The university has a new initiative on the impact of artificial intelligence and blockchain, which Chambers is leading. 

Cameron Cushman, director of innovation ecosystems for University of North Texas Health Science Center in Fort Worth. Cushman's background includes co-founding 1 Million Cups and 10 years of experience in entrepreneurial ecosystem building.

Wendy Lopez, Dallas/Fort Worth metro manager for AECOM, one of the largest infrastructure companies globally.

David Matthews, managing director of RevTech, a Dallas seed-stage accelerator program and fund focused on the intersection of technology and retail.

Karen Stroup, senior vice president, Dealer Services, Capital One Auto Finance
THE MODERATOR:
Leigh McMullen, managing vice president in the Office of the CIO Research at Gartner, served as the panel moderator.
BEYOND JUST BUSINESS
Social Venture Partners has a model of bringing people from industry in to help do social good. Sean, can you talk more about that? 
CAHO: There are really two things to be said here. One is about a corporate program that Social Venture Partners Dallas has been working on. We piloted it with JPMorgan Chase. It's gone incredibly well. Essentially, we form a team of employees from the corporation and pair them with a Social Venture partner who's been around a few years — someone who knows both sides and mentors the team as they take on a very defined structured problem for a local nonprofit organization. These are usually strategic consulting projects, which again, are invaluable because they are something those organizations wouldn't have access to otherwise. It just wouldn't happen. The budgets aren't large enough to support something like that.
The second thing is that the for-profit, for-good space in Dallas is exploding. So much is moving forward there. But it's absolutely key that traditionally nonprofit funders continue to move into the for-profit, for-good space. This is something that the for-profit funding side certainly has expertise in, in both scale and development. The social impact space has enormous expertise, and I think it's critical that both those elements come together.
Do you see more for-benefit corporations being created in Dallas-Fort Worth?
CAHO: Sure. And there are two sides to it. One is more the socially responsible business, which is good. Even more exciting is the number of businesses and funders that are increasingly focused on creating measured, intentional social impact directly through the operations of their business. There are a wealth of organizations and entrepreneurs working on this that have yet to really rise to the front in the region. So, it's an incredibly exciting thing to see.
Karen, you talked about technology and collaboration. How is Capital One using technology to increase its ability to collaborate with its partners?
STROUP: We really embrace the intersection of human understanding: What is the problem we want to solve? Who is the customer? In business, what is the impact and technology, and how can we solve that problem? We really want to work at the intersection of those three areas. So, we look at the underlying data. We are an analytically-driven organization, and when we partner with folks, we ask, what is the data that we have? How do we prove that we're making an impact?
"It's less about how we use the technology to collaborate and more how we build our technology capability."
Karen Stroup
We do this internally as well as externally, but I think we're getting very intentional about who and how we want to partner — and how we build those skills. It's less about how we use the technology to collaborate and more how we build our technology capability. We have a number of different initiatives where we are working on how do we build coding skills in young folks. We actually set the Guinness Book of World Records for the largest number of people learning to code in one day with the Dallas ISD.
Just rewind 20 seconds, and tell us that story.
STROUP: We have a number of initiatives around coders. We have a partnership with Girls Inc. and others. We're trying to help people who may see technology and coding as a really scary foreign thing. We wanted to break down those barriers. As we looked at the way the world is going, we wanted to help build the future [with students who may not be exposed to these kinds of opportunities.] There are a number of initiatives we do at the Plano ISD, etc., to do that.
We wanted to do something that had a big impact and raise the visibility of it. So, we had an explicit goal. We wanted to do it in a really meaningful way, so we set out to break the record for the number of people learning to code at a particular time. We brought in engineers and project managers from our organization, and had this collaborative effort with 560 DISD students from various NAF academies and 164 volunteers. So for one day, we had a cool-not-nerdy interactive session where students learn to code and they realized that it's not a scary intimidating thing — it's actually something that's approachable and attainable. It's the foundation of the video games they play. [They learned it's] actually an awesome thing to do. 
How many learners did you have doing that?
STROUP: There were 724 total, including the mentors. It was 560 students.
Are there any "dos or don'ts" that you guys have when you're thinking about your collaboration partners list? Again, this is sort of like dating. What are the rules to this particular metaphor?
MATTHEWS: I have just one in my organization. It's a small team. It's a large set of mentors, and we have about five or so new investments each year. We really look to invest in entrepreneurs that are coachable — not the "I know everything and don't need any help,  just write me a check,  thank you," type. We look for entrepreneurs that are coachable. On the other side of that, we look for mentors who use more of the gestalt method. They share experiences and not advice.
I like that. Can you amplify that a little bit more? Experience not advice?
MATTHEWS: An entrepreneur that is moderately coachable is going to resonate a lot more with experience shared that can help them navigate the traps in their journey onto a better course more than the "you need to do this, got to go do that, don't forget to do this," kind of advice.
LOPEZ: I agree with that.
CHAMBERS: There's an old proverb from Steve Case I've heard: If you want to go fast, go alone. If you want to go far, go with a partner. I think that's true. So I think, do plan for success, do plan for the long term, do plan for the great outcomes, and don't forget to take diversity and inclusion into the culture that you build as a partner. That's really important.
STROUP: Breakthrough innovation comes from being aligned on a common goal, but then completely re-imagining the way you do things. And you may have to throw the rules out the window in order to get to that breakthrough innovation. So, if we have a shared outcome — we align on the common goal. If we try to do it following "the rules" we are probably not going to make really disruptive change. So, it's up to us to define what we want to achieve and really challenge the traditional constraints in the system. I look at it like "throw the rules out the window." And I don't really see competition between corporations in Dallas-Fort Worth, when it comes to making an impact on the city, or the nonprofit sector, or in education. All ships rise: We want Dallas to be a vibrant community. To do that, we have to continue to build [our region's brand] and [share] the awesome work that's happened over the last decade. When we focus on a common mission, we all win.
If we throw the rules out the window, how do we evaluate our partnerships? Not all partnerships work out.
STROUP: When I say, "throw the rules out the window," we consider the rules of engagement.  There's plenty of great digital talent to go around, and as Dallas becomes more and more of a magnet for talent, people will rotate between companies, and that's okay. At the same time, you need to have metrics for a successful partnership. Some people work well together, some teams work better together, some people collaborate — and sometimes you have to shift things.  Having metrics for what success looks like is key: We can ask, "Are we actually making progress against that?" It's important to step back and evaluate.
Do you have examples of metrics or ways that you evaluate potential partners?
STROUP: From my perspective, I look at how many people we are impacting. Is it a sustainable impact? Are we really making a meaningful difference for DFW, not just depending upon the partnership. Is there equal engagement from both sides? Like, whether we meet once a month — or every quarter. I think that there are some telling signs along the way.
"Don't under estimate the power of the community."
Cameron Cushman
CUSHMAN: Don't underestimate the power of the community. The community is so important for starting your own company, becoming an entrepreneur. Becoming an entrepreneur is probably the hardest thing you'll ever do — and one of the loneliest things you will ever do. There are a lot of people out there who want to help you along your entrepreneurial journey. Embrace that. We need those people who are vital to innovation and job creation and wealth creation — all the things entrepreneurship brings us. So, we need to be cheerleaders for them, and we need to try to help them out along the way. Otherwise, they just get lonely, and they get frustrated, and they give up. We don't need that. We need them to succeed in their own way.
INFLUENCERS AND NETWORKING
What guidance would you offer entrepreneurs in DFW for maintaining their enthusiasm or getting more connected?
CUSHMAN: There's value in getting out in the community. Sometimes people just want to code at night in their home office. They don't ever tell people what they're working on.  They're so afraid somebody is going to steal their ideas … things like that. We have patents, and we have all kinds of things in place for that path. But if nobody knows what you're working on, they don't know how to help you. So, you have to engage at some point. That's one of the reasons [we put together the Fort Worth Startup Crawl]. We saw that in Kansas City — [their startup crawl] had the ability to bring people out of woodwork that I never knew existed. People you would never see at one of the standard entrepreneurship events would show up for a pub crawl that was all about startups. [So we brought it to Fort Worth.]  We ask, how do you do more events like that to bring these people who are on the fringes — the ones who just don't connect. How do we bring them into the community, too?  Because the bigger the group, the better … the stronger we're going to be.
You said "startup crawl" in your introduction. I wrote that down on a Post-It note. So, can go into that a little bit more?
CUSHMAN: Dallas has done a bunch of these before, but Fort Worth hasn't: It's a pub crawl for startups. Hayden Blackburn from Tech Fort Worth and I had [talked about] putting something like this together. It's a pretty easy event to put on. You find several different places that have space and the startups that are interested. Each one of them throws their own party. All we, as the organizing team, [had to do] is figure out a shuttle bus system to get people from one location to the next and raise a little bit of money for marketing. We had four coworking spaces involved — the big one, the medium-sized one, and the tiny upstart. They all [played] together nicely, but at the same time they are all competing with each other. But in this community construct where doing this event is good for everybody, they worked together in pretty amazing ways. People who probably shouldn't be talking to each other [were] collaborating and forming a partnership — coming together in a very unique kind of way. It's interesting. 
MATTHEWS: You're fostering coop-etition.
LOPEZ: Recently, I discovered The Network Bar, and I thought it was a very interesting concept.  It's in Trinity Groves, and Phil Romano, is the head of it. You have to have a membership to get in, and use an app to see who is there if you're looking for somebody.
MATTHEWS: It's like the home for the connectors. We're building our collaborative affinity groups around our different topics — philanthropy and education and innovation and the enterprise environment. I'm convinced the connectors who build the bridges between them hang out there at The Network Bar.
LOPEZ: They do.
MATTHEWS:  I love connectors because there are a thousand interesting things going on. You need those people who build bridges between the different things.
How do you identify those people? And how do you cultivate those relationships?
MATTHEWS: We have a mentor whose prime role — and he just loves doing it — is recruiting other mentors. He just loves it, and he has us "Linked In" at something like 10,000 people, mostly retailers. It's just what he does. He wakes up in the morning to make connections.
LOOKING TOWARD THE FUTURE
The Dallas Regional Chamber's Duane Dankesreiter joins the conversation. Dankesreiter is Senior Vice President, Research and Innovation.
DANKESREITER: All of you panelists know people outside of our market — the projects going on, initiatives, collaboration. What's that one thing — that really amazing collaboration or initiative around the country that we should have here — the thing we should aspire to do something similar? There are obviously gaps, there are things that we should be doing. Others around the world have figured how to bring people together. What should we be doing now? [The chamber] is looking for ways to facilitate those things. If we can't find models that work then we want to recreate the wheel.
CHAMBERS: I'll speak to the narrow field of startup innovation and venture capital that I play in. One of the things that's unique about the Dallas-Fort Worth area is having wealthy individuals who are willing to invest and give back. People like Steve Case show up, and the one message that he shouted at every single stop was: Get off the sidelines and start putting your capital to work where the innovation is happening, and you will bear the fruits of the innovation. While this is a great idea — and I believe in it wholeheartedly — one of the things we can do is invite people like Steve Case's fund to come in and participate.
"If more people are showing up to invest and lead the way in Dallas, we're all going to benefit."
Bryan Chambers
We can help organize the innovation — make it easy and accessible for them to show up and lead the way. If more people are showing up to invest and lead the way in Dallas, we're all going to benefit. We've got funds that are doing that — RevTech is doing it, Interlock is doing it. If more will show up, the ones that aren't from Dallas, we'll show some of the family offices how they lead the way … how to de-risk a deal and invest time, energy, and effort in the legal costs and the structuring. It will have a tremendous impact for our ecosystem.
What can people do?
CHAMBERS: Whether it's extending the invitation to those funds or helping organize the right types of qualified startups. Startups seeking A rounds or B rounds in the near future. We can help them get the right exposure and facilitate some of the conversations. That's difficult to do, no matter where you are — whether you're raising an A round, a B round, a C round. It requires dozens — if not hundreds — of conversations with a lot of different people. That's something we can do to help fill one of the gaps. Those of us who are active in the investment community know we have a gap in the A- and B-round area. We see a lot of deals, but if we could close that gap a little, I think we will see tremendous growth in the startup community.
MATTHEWS: I've got one example. I go to different accelerators all over the county that have a theme or subtheme around retail and technology. If I can't meet an entrepreneur first, then I want to meet him second through one of these programs. In Cincinnati, they have a program called The Brandery. They've put together all the ingredients in that community around this.  Folks in real estate came up with developing the area that this happens. It's a public/private partnership. The Brandery is a not-for-profit organization, funded largely by Proctor & Gamble and Kroger, companies like that. I was blown away because they put together every facet of the puzzle of what help — and they make it work. They've been doing it for 10 years or more. So it's sustainable.
DANKESREITER: I'll ask one more question: This comes up a lot in the diversity of our region, the size of our region — our challenge to collaboration. We don't have a spot, right? A central location that tends to be that home for collisions. It's tough in Dallas-Fort Worth because we all have our stake; we all have our thing that we're doing. How do we do that better?
CHAMBERS: A good example of this was our last Startup Week — a more inclusive Startup Week with sites all around DFW— all the way from UNT in South Dallas to some marquee events that happened on UT Dallas' campus. It's just as much an opportunity for us as it is a challenge. If everybody brings a commitment to collaborate and a commitment to show up and drive from Plano to the events that are happening in Dallas — or for those people in Dallas to drive to Plano and to drive to Fort Worth — then we're going to win. That's what it takes. It takes the commitment to collaborate.
CAHO: I think we are doing some incredible innovative things. Especially on the nonprofit side. There's a group that's come together in town called After8toEducate.That, as far as I know, is the only collective impact organization of its kind. In essence, it's a partnership between SVP, CitySquare, DISD, and the Promise House, who have come together under the After8 umbrella to redevelop an old elementary school by Fair Park and turn it into a shelter that serves unsheltered and homeless youth in our city. It is a huge issue. There are an extraordinary number of school-aged kids who have nowhere to go and likely have no guardian as well. And it's been a growing problem. After8toEducate has brought these groups together, including DISD itself, to a provide this facility and redevelop it into a center that can work the solve the issue.
CHAMBERS: Silicon Valley in San Francisco is fragmented. We just don't say that. When you show up, you drive to San Jose, you drive the Sand Hill Road, you go to San Francisco. That is what Dallas has — Dallas-Fort Worth. It's our opportunity and we need to continue to foster what's happening up north in Plano and Frisco and The Colony. We need to foster what's happening in Arlington all the way to Fort Worth. I think our hubs will continue the grow, and it will be a place where people plan road shows, whether they are enterprises that come to Dallas, or venture funds that come to Dallas.
MATTHEWS: Wendy, this where we need you. We need a way to shuttle between all these amazing things happening within five minutes or less.
LOPEZ: That's the uniqueness about DFW. It's city of Dallas and every city around us is growing and is substantial. They all have their own stuff, and they are proud of it. And it's getting harder and harder to get around. And so you say, "Do I have time to drive to Fort Worth?" It's 35 miles and it shouldn't be that way. So, we're getting some things in place — Uber Elevate is talking about just flying around. Just think about this little parking garage for these little vehicles. I think of it as a beehive, just parking. And Frisco just rolled out Frisco AI, which is their autonomous vehicle. It's a shuttle system now. Like I said, things are happening.
MATTHEWS: Is this significant that Uber would pick DFW as one of the launch places for this?
LOPEZ: Well, one would think so.
DANKESREITER: The key to that one is that they had a development partner in Hillwood. So tying back to collaboration — having a partner that is willing to work through it, plus the continuity with Bell.
CUSHMAN: I'd answer a little differently. I think we need to bring back Global Entrepreneurship Week. We had it a couple of years ago, and it died. 1 Million Cups Fort Worth and Dallas actually launched during that four and a half years ago. I just got back from the Global Entrepreneurship Congress a few weeks ago, and it was like 170 countries. What struck me was, we don't just need to recreate Dallas Startup Week: We need to recreate Dallas Startup Week with a global focus. I need to look up the stats to get specific stats, but it's something like, a company that starts with a global mindset grows exponentially faster than a company that's just trying to tackle their own local market. So, how do we encourage our startups to make connections overseas, inform countries early on in their development — and in their growth, so that when it comes time to have that product ready to go to ship they have those connections. I've started conversations on the Fort Worth side about bringing this back, and possibly partnering up with sister cities. Fort Worth has seven or eight sister cities around the world. That's super easy.  
MATTHEWS: I love how Trey Bowles was [fostering community and creative collisions] with The DEC — with not trying to be one central place, but to be nodes around the community. I think we've just got embrace that we're geographically spread.
Can you tell us more about The DEC [The Dallas Entrepreneur Center]?
MATTHEWS: The Dallas Entrepreneur Center was [co-founded] by Trey Bowles and built in the past five years. It's first home after SoftLayer was in the West End, [and later] opened up the TreeHouse in Addison partnering with the Addison Chamber of Commerce. And Bowles has done one in the southern sector, at Red Bird. In fact, that's how I got the Lego connection. Now, the DEC [has moved] in with the new Capital Factory.
THE IMPACT OF BLOCKCHAIN, AI & OTHER TECHNOLOGY
On to our final topic, technology and collaboration. We've got a lot of changes in technology that are increasing an organization's ability to collaborate. One of the ones the we're following very closely is blockchain. When we start thinking about blockchain — are you thinking about it beyond cryptocurrency? Cryptocurrency is by far the least interesting application of blockchain technology — and I don't just say that because we have a bank in the room. The idea of smart contracts and the ability to more fluidly exchange value between organizations — or even monitor their collaboration — can increase engagement between participants in ecosystems.    
CHAMBERS: At the university (UTD), I'm championing an initiative called the Emerging Technologies Initiative. It's focused exclusively on the impact of distributed ledger technologies and artificial intelligence. In April, we brought in four world-renowned leaders in the areas of artificial intelligence and distributed ledger technologies: Don Tapscott, Dr. David Hanson, CEO of Hanson Robotics who is championing his race for artificial superintelligence; Dave Copps, the former CEO and founder of Brainspace; and Dr. Leemon Baird, founder and inventor of Hashgraf, a new consensus software that will essentially compete with blockchain. 
Three (of the leaders) had roots in DFW and built up companies here. One of them came from Hong Kong, one of them came from Toronto, and two were located here. We are seeing the new Android and the new iOS and the new Windows that are being created — and we have one of those in their market that has made a decision to be headquartered here recently. The event was wonderful. David (Matthews) showed up, he participated. Goldman Sachs underwrote the event and has made a multi-year commitment — so did the university. So with part of this comes a global center of excellence. People don't necessarily understand the role that Dallas has already had in this global movement. The third node on Bitcoin's network was here in Dallas and this person was forced to come out and make an announcement that he was not, in fact, Satoshi Nakamoto.
So, these things are happening. People (here) are very, very early. There is a community of people. Some of them are involved in the North Texas Blockchain Alliance. Some of them are building things and are very, very involved in establishing the technology and the infrastructure. I think cryptocurrency is a huge part of it. It's an application that's being realized now —it's a part but a big part of it, and I think people get to step in to it understand what's happening.
Dallas has a big opportunity to build an identity in AI and in blockchain distributed ledger technologies. It would be remiss if we didn't embrace that with all the financial — I'll call it the traditional legacy infrastructure — that exists here between payments, banking, and finance. Hopefully the organizations come out to play and collaborate for a mutually beneficial sake. And UT Dallas, with its very strong computer science presence, has made a commitment. A directive from the president of the Office of Research that I'm working on in artificial intelligence and distributed ledger technologies [is] to change some of its research strategy and methodology to help the region, to help our students, and to help the corporations that are going to participate. So the answer is yes: It's a big, big opportunity for our region.
STROUP: From a corporate perspective, I'll speak to the blockchain and AI. On the blockchain front, we're in an exploratory phase. We have a dedicated team experimenting with what we could use the technology for. It is interesting and can have many potential opportunities in financial services from transactions to simplifying the back office. 
But I think artificial intelligence is more advanced. We're using AI in a number of ways — again, from the back end to the front end. Capital One was the first company to give its customers the ability to interact with their financial information in real time through Alexa, launched at SXSW in March 2016. The following year at SX, we introduced Eno, the first natural language SMS chatbot from a US bank.
"AI is 'theme No. 1' in the retail world right now."
David Matthews
With Eno — which is "one" spelled backwards —Capital One credit card and bank customers can get quick access to their account balances, recent transactions, and even make a Capital One credit card payment simply by texting in natural language (which includes emojis!). The reaction to Eno has been very exciting. One of the top three intents customers express to Eno is "thank you." That comes in many forms, from "thanks" or "tx" to — in more extreme examples — heart emojis, confetti, and even marriage proposals. We've seen that our customers enjoy engaging with Eno as they would with a human. Most times, we see that when someone reaches out to Eno, it's done in the form of a conversation, not a "one and done" transaction. Both Eno and our Alexa skill embody Capital One's commitment to innovations that make interacting with your accounts truly effortless, wherever you are.
As I said, we're applying AI and machine learning to almost every facet of our business — we see a huge opportunity here to unlock a host of new opportunities to customize the user experience and to make more informed decisions around engaging with our customers.
MATTHEWS: AI is "theme No. 1" in the retail world right now. Retailers and consumer goods companies are attracted to the idea to discover what the consumer wants and how to better serve them with the tools. There is also caution, because the restaurant and retail and hotel world employs millions of people. But what I'm seeing in the use cases is that AI is replacing more mundane functions and enabling additional customer service. You see that in Panera Bread, where you can now key in your order and get it right — then the service part of their business is deployed to making sure you have a good experience, not on inputting your order.
Gartner's perspective on AI is that it's largely "near term" and well into the future. We need to be focused on augmentation rather than automation. That is, by far, the preferred use case … when you analyze things like IBM Watson winning Jeopardy, that's 10s of millions of dollars to pull out a stunt where you could replicate that stunt with AI in your house like a lot of smart people. Play Trivial Pursuit against any 13 year old with a smart phone and see who wins. That's a good example.
CHAMBERS: These are complementary technologies that will make each other better and more valuable. So that's where we're ultimately focused: AI and distributed ledger technologies — or the combination of the two. I spent an afternoon with the chairman of the Distributed Ledger Foundation, currently out of Washington. We are lobbying that they move to Dallas and work with our new center to establish things like standards for smart contracts and pulling all the people together that need to weigh in. There's a large political effort that's happening here.
So again, Dallas has a big opportunity to step up and participate to define rules and standards. Law changes. What is jurisdiction when you don't have centralized servers, you don't have centralized organizations participating, and transactions are happening?  I mean, what is happening? Smart contracts are very unique.  Lawyers don't know how to manage them at this point. When AI starts making decisions for itself, who is responsible? Lots of industries — every industry — every single one that's represented here is going to be impacted and eventually redefined, whether it's infrastructure and how transportation occurs, whether it's health care. One obvious use case is electronic medical records on the blockchain. It's a big opportunity. What's unique about Dallas is all of these things are very established and well represented here. That's why I think this is such an exciting time for Dallas to step up and be a global leader.
CUSHMAN: I think [blockchain] holds tremendous promise. So, how do we become a hub for this? We've a lot of great health care partners — industries, workers, people — and innovators in this area. Fort Worth developed a strategic plan that health care should be a focus — is this where we as a region should place a bet? Not just in blockchain, but specifically to an industry [like health care].
IT'S A WRAP
Let's go around the table and let everybody share final thoughts on our topic today: collaboration and connecting businesses. 
MATTHEWS: I've been in venture capital in North Texas for 18 years now, and I've seen the old guard die off. We likened it to clearing the forest, clearing the field, and planting new seeds. That's been happening over the past 10 years. It's really exciting — all the new initiatives — collaboratives, accelerators, and public/private partnerships. A robust crop has been planted, and we're starting to the see the seeds come into fruition. Several of our funds and incubators and accelerators are demonstrating exits of things that have successfully grown and flourished. We are at the beginning of a demonstrative rebirth and seeing more early-stage tech innovation. 
"As much as you want to connect, it's possible."
Wendy Lopez
LOPEZ: I've been in Dallas for over 30 years and lived through different business cycles. I've been very engaged in "all things Dallas" for many years. After I sold my company, I had a different job — I was traveling a lot. When I came back, I had a new assignment [with AECOM] as DFW Metro Executive. I got (re)engaged with the Dallas Regional Chamber, first thing, and Duane (Dankesreiter) introduced me to Dallas Innovates. It's like the connections immediately picked up and started — the collaboration, the innovation, who I needed to talk to, who is doing what. It was easy to obtain the information. It's easy to plug in. As much as you want to connect, it's possible. And there's a real change afoot. It feels really good right now.
CUSHMAN: I'll answer from the Fort Worth perspective. I think what Fort Worth needs is just — more. We need more incubators, more accelerators, more entrepreneurs, more capital. We just need a lot more of everything. … The big companies are there. The medium-sized companies are there. The capital is there. We've just got to unlock it and make those partnerships happen a little bit more. And I think a lot of it, too, is just getting to Dallas and connecting on this side. And it's not just Dallas. It's Frisco and Denton, it's other places like that as well.  The more collaborative we can be with those environments and those partners, the better off we'll be.
CHAMBERS: To tie into something Karen started this conversation with — it's a true passion of mine to transform the technologies and understand their impacts and apply them to industry. It's fun to be at a very technology-focused university at this time. So, I'll reiterate that Dallas has a tremendous opportunity to capitalize on this particular point in time and our existing assets and infrastructure. We can truly make a very big difference.
"We have a huge opportunity to address some of the largest social challenges in our city."
Sean Caho
CAHO: Dallas is in in the midst of an incredibly exciting time. We have a huge opportunity to address some of the largest social challenges in our city. Doing that represents a long-term opportunity for real sustained growth and change. Doing that also requires that all of us contribute. Every expertise is needed to work on these challenges. Every sector is needed to work on these challenges. So, finding a way to plug in is good for all of us.
STROUP: As I reflect on the conversation, it's always good to pull out of your day to day — just take a step back and reflect. I'm proud and inspired. I'm proud to call Texas and Dallas my home. I'm a native Texan. I look at what the city has to offer — the vibrancy — and I'm proud to be part of the city. I'm proud to work for a company that supports mutual collaboration and is for-profit, but also invests in the community. I'm proud and inspired that everyone is committed to making DFW a vibrant community and all the people here thrive. So, I'm leaving super excited.
MCMULLEN: Well, I'll tell you, I'm not from here, but I got here as fast as I could.    
The Dallas Innovates Business as Mutual roundtable was made possible by the support of Capital One. The roundtable discussion was edited for brevity and clarity.
---
READ NEXT