Integrated Circuit
In 1958, Jack Kilby, an engineer for Texas Instruments Inc. in Dallas, built the world's first integrated circuit, which is in all consumer electronics today. Kilby and other engineers also invented the first handheld, digital calculator in 1967.
EDS (Electronic Data Services]
H. Ross Perot founded Electronic Data Services in 1962, creating the first company in the world to perform outsourced information technology services. He financed the startup via a $1,000 loan from his wife, Margot.
Frozen Margarita Machine
In 1971, Dallas restaurateur Mariano Martinez retrofitted a soft-serve ice cream machine to serve margarita slush at his Mariano's Mexican Cuisine. The first machine is at the Smithsonian.
Voice Mail
In 1979, Gordon Matthews' VMX company developed technology that let workers record, send, store, and forward voice messages from any phone in an office.
Concert Light Shows
Dallas-based Vari-Lite Inc. invented the first automated color stage lighting system used by nearly every band since it debuted in 1981. Genesis was the first customer.
Drive-up Technologies
Kirby's Pig Stand in Dallas was the first drive-in restaurant in 1921. Hillcrest State Bank in University Park opened in 1938 with the first drive-up window. Docutel in Dallas invented a machine that dispensed cash in 1968.
3D Laser
A Honeywell group in Richardson developed the first commercial vertical cavity laser in 1996. It drives the face recognition technology in the iPhone 8 and X.
Laser Tag
Inspired by Star Wars, George Carter opened the first commercialized version of laser tag called Photon in Dallas in 1984.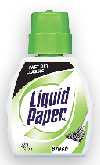 Liquid Paper
In the early 1950s, Dallas secretary Bette Nesmith Graham created a water-based correction fluid called Mistake Out to fix her typing mistakes. She later changed the name to Liquid Paper and sold the company to Gillette Co.
Commercialized Nanotechnology
Zyvex Corp. in Richardson became the world's first commercial molecular nanotechnology manufacturer in 1997, which led to using enhanced polymer materials in sporting goods, automotive, and other products.

Convenience Store
In 1927, Southland Ice Co. in Dallas began selling milk, bread, and eggs, the precursor to 7-Eleven and the 24/7 convenience store.
READ NEXT
From Dallas to Plano, large corporations are using technology to change how they serve customers and outplay competition.
More than a dozen companies operate innovation labs, test centers, or teams in North Texas — add these to your watch list.

Get on the list.
Sign up to keep your eye on what's new and next in Dallas-Fort Worth, every day.