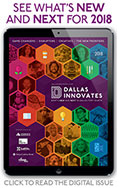 It seems straight out of a sci-fi flick: Engineers and designers researching and testing inventions in sleek, high-tech labs.
It's real. More corporations in North Texas, the nation's fourth-largest metro area, are designating special dens, and devoting teams to accelerate the incubation and commercialization of ideas — from sensors and cloud platforms to juice and coffee. The West End, once a collection of vacant warehouses that's now a burgeoning innovation hub and home to the city's smart technology Living Lab project, is a shining example of what's possible.
What exactly innovation means and how you get there is a hot topic of conversation. One thing is certain: Whether companies focus internally or externally on customers, they're letting people loose to think big, designing collaborative spaces and fostering a startup culture. These are a few Dallas-Fort Worth companies in the innovation trenches.
BLUE CROSS AND BLUE SHIELD OF TEXAS
Rising health care costs aren't biased; they affect everyone.
Blue Cross and Blue Shield of Texas decided to tackle that monumental issue by launching its first innovation lab in August. The goal is to hatch ideas faster to increase efficiencies and improve patient care while lowering health care costs.
"Health care inflation is roughly 6 percent a year," said Kevin Cassidy, president of Health Care Service Corp., which operates Blue Cross and Blue Shield in Texas. "Businesses need us to figure out ways to impact health care or medical inflation."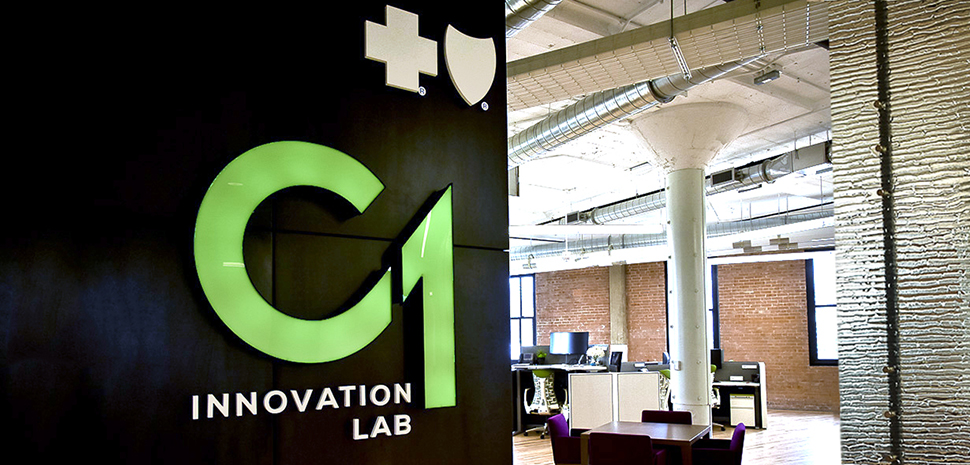 At the company's $2.5 million C1 Innovation Lab, employees might collaborate with customers, medical professionals, academics, and other businesses on how technology can decrease variations in the quality and cost of health care, such as MRIs and hip replacement surgery, or help consumers make better decisions. C1 stands for "customers first."
The lab occupies two floors of a renovated 115-year-old cracker factory in downtown Dallas' West End, a hive of business activity jump-started in large part by the Living Lab project. That entrepreneurial energy attracted Blue Cross like a magnet, drawing it away from other possible lab sites like Austin, Chicago, and Silicon Valley, Cassidy said. Texas is the company's most important market.
Blue Cross studied other companies' labs, adopting the best practices and adding some new features. The insurer created a cybersecurity hub to monitor and analyze online activity and it moved a core part of operations — two call centers with about 80 clinician and customer-service advocates — and sat them together. Two of the first ideas being studied in the lab are aimed at involving consumers more in health care decisions and improve patient treatment compliance, such as better blood glucose monitoring for diabetes.
CAPITAL ONE FINANCIAL SERVICES
Comfy couches, movable walls, and foosball are only half of the story at The Garage. A culture that breeds creativity and collaboration is the other part.
"Few spaces are as ripe for technology-led disruption as how people relate to their money."

Karen Stroup
Design and culture together drive innovation at the think tank started by Capital One Financial Services on its Plano campus in 2014 to transform banking. Since then, The Garage has quadrupled its space to 36,000 square feet. A staff of about 200 people are encouraged to experiment, fail fast, and keep moving forward as they tackle technological adaptations for Capital One's auto finance customers.
"Few spaces are as ripe for technology-led disruption as how people relate to their money," said Karen Stroup, head of The Garage and senior vice president of Capital One Financial Services. "If we don't do it, we think someone else will."
Already, The Garage — named in honor of many businesses that began in someone's garage — has unveiled Auto Navigator, an online tool which helps customers see if they pre-qualify for an auto loan before visiting a showroom.
"More so than the model you choose for innovation, it's the culture," Stroup said. North Texas contributes, she said, with a large talent pool and "a culture open to thinking in a different way."
The Garage staff now is using an immersive coaching model to learn how to work like a Silicon Valley team — how to build an experiment and what makes a good experiment. Stroup sees The Garage as a catalyst for innovation across the 5,900-person company.
"The Garage isn't just a place, but also a mindset," she said. "We don't want associates to think that innovation work only happens in The Garage."
AT&T INC.
As a colossal corporation, AT&T Inc. knows it must constantly find ways to be nimble in a competitive market. Its Smart Cities initiative is helping Dallas and several other cities nationwide become more connected and sustainable. For the last year, AT&T Smart Cities has worked with the Dallas Innovation Alliance, a public-private partnership, and the city of Dallas to create a Living Lab to implement and test the Internet of Things technology across downtown's 67-acre West End.
As the Living Lab's second phase rolls out now, AT&T will implement public Wi-Fi, smart water and irrigation systems, and a digital operations center to help city officials monitor conditions from power outages to traffic issues to gunfire. AT&T connectivity and data analytics link the entire lab.
"It's an evolution, not a revolution." 

Mike Zeto
Just up the road in Plano, innovation also takes place at two AT&T Foundries. Dallas-based AT&T operates six such innovation centers worldwide, representing a $100 million investment. The Plano centers — AT&T Foundry for software solutions opened in 2011 and AT&T Foundry for IoT opened in 2013 — are in the same building, and Foundry staff often work together to help customers solve problems. This physical link enables them to act quickly on ideas, slashing product development time from years to months.
More than 200 projects have moved through the Plano foundries, resulting in dozens of new products.
Last year, the IoT foundry connected up to 1 million Red Bull beverage coolers worldwide, monitoring conditions to identify problems as or before they arise, and tracking shoppers to help manage supply and demand. It's all part of AT&T's transformation from a telecommunications provider to a technology and a software company, said Mike Zeto, general manager of AT&T Smart Cities. "It's an evolution, not a revolution," he said.
In addition, AT&T plans to spend $100 million renovating its downtown Dallas headquarters, adding 500 more workers to the 5,800 already there. The changes will create a pedestrian-friendly "Discovery District" with shops and other amenities, according to the Dallas Regional Chamber.
NEIMAN MARCUS GROUP
Stodgy and retail are two words often heard together. But the Neiman Marcus Group has been challenging that image for five years through its innovation lab (iLab). Free, in-store phone-charging lockers, a Shazam-like shopping app, and a new online chat all emerged from the lab.
"With the headwinds retailers are facing, we need more cross-pollination of ideas," said Scott Emmons, head of iLab. The 110-year-old, Dallas-based luxury retailer last year considered an initial public offering and selling itself amid declining sales.
Emmons is essentially a one-man show, pulling in staff and outside partners as needed. He aims to fast track technology to streamline operations and anticipate what shoppers want to boost traffic and sales.
"With the headwinds retailers are facing, we need more cross-pollination of ideas."

Scott Emmons
The lab works on up to 15 ideas — from Emmons, employees, management, and even outsiders —and eight to 12 are piloted at a few stores each year. Some hits, such as the Memory Mirror that enables video sharing, focus on customers. Others, like radio-frequency identification tagging of display items, solve a problem for salespeople and boost sales.
"If you only focus on the return on investment and lifting sales, you sometimes miss other areas the technology might bring to the table," Emmons said.
It wasn't as easy to tie the Memory Mirror to sales; it was more about bringing customers into the store, he said. The iLab also has had its share of failures, such as the "fling wall" that let shoe shoppers browse iPad images and fling ones they liked onto a digital wall. But it didn't go to waste — it's now used for marketing.
SOFTTEK
Innovation and flexibility often go hand in hand.
Just ask Softtek. The Mexico-based IT services provider initially planned to open its first innovation lab in San Jose, California, but that changed when the company decided to relocate its U.S. and Canada headquarters from Atlanta to Addison last year.
"The cost benefit of locating the lab in Addison was way, way better," said Alejandro Camino, global chief marketing officer. "Everyone wants to go to California, but it's getting very, very expensive. [Addison] is very well located with available talent, universities, and a large business ecosystem."
Employees companywide can rotate through the lab, which is in a separate area of its headquarters, to identify and tackle problems customers want to solve. Roughly 150 employees work in the lab, but that will increase to about 200 by mid-year.
It also fosters an entrepreneurial spirit through a program called Innoventures, which selects five ideas (out of 50 to 100) to nurture to market, Camino said. In early 2018, the lab plans to start Skala to form "tribes" around research areas, such as artificial intelligence and robotics, and build prototypes to test with customers.
"[Addison] is very well located with available talent, universities, and a large business ecosystem." 
Alejandro Camino
The lab already has made an impact. It helped a large U.S. grocery store chain figure out how to minimize checkout lines. Lab denizens brainstormed and examined case studies inside the grocery industry and other industries, such as fast-food restaurants and amusement parks, Camino noted, to come up with five ideas. Three of those are being tested at various locations in a pilot program.
"It's a completely different feeling when we are able to take our customers outside their environment and bring them to a space where we can collaboratively think about how to solve a problem," Camino said. "So far, the reaction has been very positive."
This story first appeared in Dallas Innovates 2018, an annual magazine that showcases Dallas-Fort Worth as a hub of innovation. Read more about the region's game changers, disruptors, creatives, and our new frontiers in the digital edition.
READ NEXT
From liquid paper to the frozen margarita machine, delve into a list of inventors and inventions that have North Texas origins.
More than a dozen companies operate innovation labs, test centers, or teams in North Texas — add these to your watch list.

Get on the list.
Sign up to keep your eye on what's new and next in Dallas-Fort Worth, every day.