A groundbreaking ceremony was held in downtown Fort Worth today to mark the beginning of construction for Texas A&M Fort Worth.
Construction is initially starting with the campus' $150 million Law & Education building, seen above. It will be the eight-story home for the Texas A&M School of Law, along with other academic offerings from Texas A&M University, Texas A&M Health, and Tarleton State University.
The city of Fort Worth and Tarrant County are collaborating with the Texas A&M System on the building of two other buildings for the urban research campus, to be located on four downtown Fort Worth blocks owned by the A&M System.
In the second structure, the Research & Innovation Building at left rear above, several Texas A&M System agencies will work alongside private-sector tenants. A third structure, the Gateway Building at front left above, will house offices, more classroom and meeting spaces, and a conference center.
The Law & Education Building is slated to be completed by 2025, and the first three campus buildings are scheduled to be completed by 2027.
"The A&M System is making a Texas-sized commitment to Fort Worth," Chancellor John Sharp said when the campus was first announced two years ago. "Welcome to Aggieland North."
'A magnet for economic growth'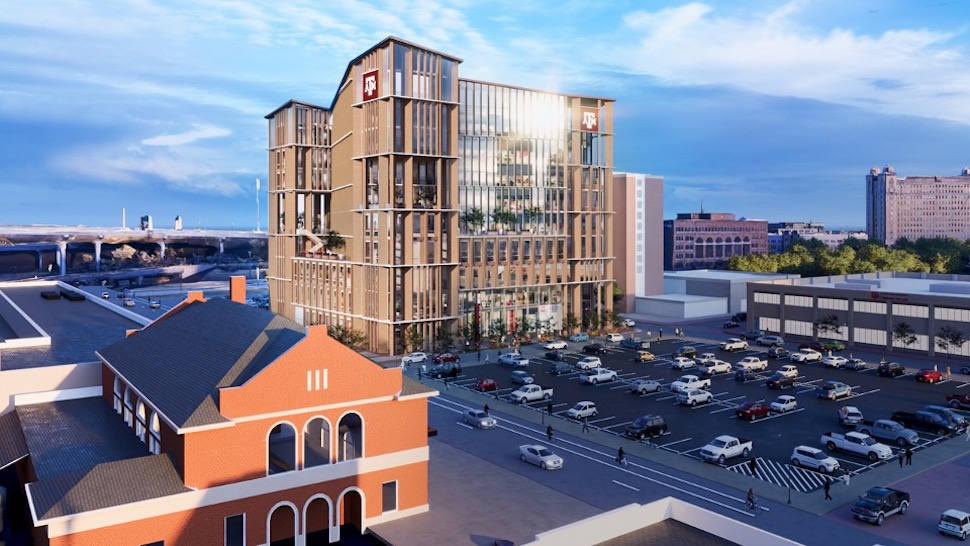 In January, the campus was given its official name—Texas A&M Fort Worth—and Sharp spoke to the economic impact the campus could have for the region.
"A Top 10 public research institution ensures Fort Worth's future is rooted in the next economy driven by an educated workforce, whether it be lawyers, engineers, health care professionals or technology workers whose jobs don't even exist today," Chancellor John Sharp said in January. "Thanks to our partners, the city of Fort Worth and Tarrant County, the Texas A&M System is investing in a unique public-private sector endeavor that will be a magnet for economic growth for the North Texas region."
Lockheed Martin signs on to be part of campus programs
At Wednesday's groundbreaking, it was announced that Lockheed Martin—a Fortune 500 company with a large aerospace presence in Fort Worth—is the first company to sign a memorandum of understanding related to the urban research campus. The organizations will discuss jointly developing education courses, workforce training, and research programs. This could include the possibility of Lockheed researchers working alongside the staff and students at Texas A&M-Fort Worth, the Texas A&M System added.
"It's not often you break ground on one building while announcing potential tenants for a second building still on the drawing boards," Chancellor John Sharp said in a statement. "It just demonstrates the commitment of the A&M System and our community partners to get this game-changer up and running quickly."
Bridget Lauderdale, a Lockheed Martin vice president and a Texas A&M graduate who leads the company's F-35 fighter jet program in Fort Worth, was at today's groundbreaking.
"Lockheed Martin is proud to continue collaborating with Texas A&M University through this memorandum of understanding, establishing an additional talent pipeline of quality engineers in Fort Worth," Lauderdale said in a statement. "Together, we will continue our joint, cutting-edge research to deliver innovative solutions for 21st Century security challenges, providing transformational capabilities in support of national security."
Other Fort Worth companies could sign on soon
John Goff, a Fort Worth developer who chairs the Fort Worth-Tarrant County Innovation Partnership, reportedly said that several other companies are discussing roles at the campus. Goff said CEOs of Fort Worth's Elbit America and Alcon have assured him they will be involved with Texas A&M-Fort Worth.
Mayor Parker: "exactly what Fort Worth needs in this moment in our history"
Fort Worth Mayor Mattie Parker spoke at the groundbreaking about what she saw as an historic event.
"The Texas A&M System is building exactly what Fort Worth needs in this moment in our history," Mayor Parker said. "This groundbreaking today represents countless future careers in law, medical technology, nursing and engineering, all of which are vital to meeting the need for a highly-skilled workforce in Fort Worth and North Texas for decades to come."
Tarrant County Judge Tim O'Hare saw things the same way.
""The Texas A&M System's project will be incredibly vital to the long-term success of Tarrant County. It will bring in multiple high-quality business relocations to partner with the university and will enhance an already first-class downtown," O'Hare said.
Edmond, Canada-based Stantec is serving as the architect of record for the Law & Education Building and will provide lab planning services on the project in partnership with the design architect, Pelli Clarke & Partners.
Construction management teams for the buildout are Turner Construction Co., CARCON Industries, Source Building Group Inc., and Dikita Enterprises.

Get on the list.
Dallas Innovates, every day.
Sign up to keep your eye on what's new and next in Dallas-Fort Worth, every day.