In just 11 months, Brittany Merrill Underwood has launched Akola jewelry in all Neiman Marcus stores, gave hundreds of disadvantaged women a livable wage, and raised her nonprofit company so it can compete with high-end brands.
Now, the Dallas-based full-impact brand is poised to help more women with its $75,000 prize earned Thursday at the "OneUp the Pitch" competition at The Bomb Factory.
The event, hosted by the United Way of Metropolitan Dallas, was part of Dallas Startup Week.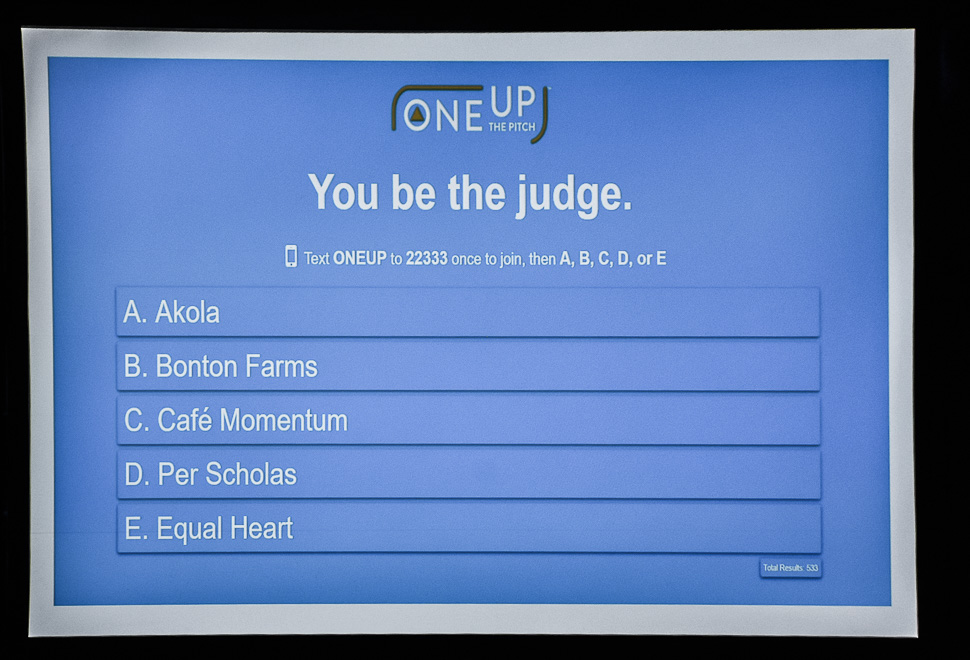 Five social entrepreneurs competed for the chance to take home the judge's award of $75,000 and the audience award of $25,000.
The judges consisted of Dallas Mavericks player Harrison Barnes, former Dallas Police Chief David Brown, Amber Venz Box, president and co-founder of rewardStyle, Todd Wagner, entrepreneur and founder of the Charity Network, a fundraising platform for nonprofits, and Lyda Hill, a Dallas philanthropist.
The audience award went to Bonton Farms, an urban farm that grows fresh fruit and vegetables in a low-income area of South Dallas. The audience submitted their votes via text.
"OneUp the Pitch" contestants were top alumni or current fellows from the United Way's GroundFloor accelerator program for early-stage social ventures. They were all coached by the Young Presidents' Organization, a global chief executive leadership organization with headquarters in Irving.
United Way's GroundFloor accelerator program has invested $1.3 million in social innovation enterprises over the past four years, according to D CEO's Danielle Abril. Those companies have leveraged that funding to raise $11 million.
"We want to scale and grow impactful social enterprises that can make our city a better place to live, work, and raise our families," Jennifer Sampson, CEO of the United Way of Metropolitan Dallas, said in Abril's report. "I have no doubt that tonight, we will change the lives of these social entrepreneurs. They're changing the lives of the people they serve."
Other competitors were Equal Heart, a mobile food pantry; Per Scholas, which offers free technology education as well as job training and placement; and Cafe Momentum, which helps children in the juvenile justice system learn cooking skills.
AKOLA HELPS WOMEN 'REBUILD THEIR LIVES'
In her pitch, Underwood said that if she won she would use the proceeds to grow the business, hire 100 more women, and increase the brand's marketing reach.
Akola relies on donations or takes on debt to grow its business as it competes with well-established jewelry brands. Since 2007, the nonprofit jewelry line has trained and employed marginalized Ugandan women and invested 100 percent of its profits back into its mission.
More recently, Underwood began employing Dallas women. 
"Give them the resources they need to rebuild their lives." 
Brittany Merrill Underwood
Many of the women come from difficult backgrounds whether it's drug addiction, human trafficking, or abuse. Akola pays the Dallas women $15 an hour.
"Choose Akola. Give them a life of freedom so they can put food on the table for their children," Underwood said. "Give them the resources they need to rebuild their lives. We rely on charity."
Neiman Marcus plans to double its business with Akola this year.
BONTON FARMS BRINGS 'OASIS' OF HEALTHY FOOD
Bonton Farms opened three years ago with the dream of providing an oasis of healthy food in an otherwise barren food desert.
Executive director Daron Babcock said it's already one of the largest urban farms, but he's got even bigger dreams ahead.
This year, he plans to open the Market at Bonton Farms that will sell fresh fruit and vegetables and have a cafe that serves breakfast and lunch at discounted prices. It will also offer health and wellness programs to combat diabetes and other common problems.
"We want to create a pathway for ownership." 
Daron Babcock
"We are on the verge of something big," Babcock told the crowd and the judges.
In his pitch, he said he would use the prize money for fixtures and equipment for the market. He's already got the permits to build it.
His long-term goal is to replicate the farm in other urban areas of Dallas and make them self-sustaining.
"We want to create a pathway for ownership," Babcock said.
The market will offset its costs by selling produce to restaurants, that way customers who come in can buy meals at subsidized prices.
GALLERY
---
Delivering what's new and next in Dallas-Fort Worth innovation, every day. Get the Dallas Innovates e-newsletter.