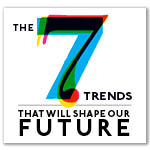 Before Texas Instruments and Electronic Data Systems were multibillion-dollar giants, each started as somebody's idea for a new business.
When game-changing companies are in their earliest stages of life, Anurag Jain makes investments in them that help them grow fast. As managing partner of Dallas' Perot Jain, he has backed dozens of swing-for-the-fences startups that seek to exploit seven societal trends where he believes tiny disruptors can change industries.
Before co-founding the venture capital firm in 2013, Jain started and sold firms like Vision Healthsource ($10 million) and later turned around large players like Access Healthcare, a Dallas company he now chairs that provides financial and tech services to organizations in healthcare. He also raised more than $150 million for Brigade Corp., a customer service shop he started.
What follows are the seven trends that the former Dell vice president believes are ripe with investment opportunity, along with North Texas companies that play in each space.
Jain, whose firm has invested in at least half a dozen early-stage firms in the region, says two important trends in Dallas-Fort Worth are in mobility and next-generation technology, such as artificial intelligence and robotics.
The co-founder of Jain's firm, Ross Perot Jr., believes DFW can grow another Texas Instruments or even another EDS—the Plano firm the developer's late father, H. Ross Perot, used to create the outsourcing industry by running other people's computers for them.
"We think it is our duty and part of giving back to our community to focus on seed- stage venture investing to help these men and women in North Texas build great businesses," Perot says. "The ideas are here. It's up to us to find that talent and back that talent—and not just with money, but also with the experienced guidance and connections to help them be successful."
Though we're profiling Access in this article, Perot Jain has no financial ties to many of the other businesses featured.
"There are a number of companies in Dallas-Fort Worth that have visionary management teams, the right backers from around the world, and the right toolboxes," Jain said.
One caveat: the pace of change forces Jain to regularly look for ways to improve his theories.
"These industries are moving rapidly, so we're constantly refining the trends to fit our investment thesis," he says.
Trend 1: Hyperconnected world
As people gain access to the internet from anywhere in the world, companies will face a challenge of delivering the right information to them in the right format on time, Jain says.
"From balloons to satellites, we will have information constantly available," he says. "Can I make decisions hyperfast on events in India, how markets are changing, or how I should deal with consumers?"
DFW Player: Alkami Technology, which helps banks and credit unions provide mobile services to consumers and small businesses.
"Our platform simplifies money movement and financial wellness, and provides deep user insights with our proprietary data engine," says Stephen Bohanon, who launched the Plano-based business in 2009 and is now chief strategy and sales officer.
With 146 clients representing 8 million digital banking users, Alkami plans to boost its 500-plus-person staff by 10 percent to 20 percent over the next 12 months, Bohanon says.
The business has raised a total of more than $225 million. Alkami brought in $52.3 million in revenue in 2018, a three-year growth rate of 958 percent, according to Inc.
"We are expecting our next milestone of 10 million contracted users and $100 million in revenue to be achieved in 2020," Bohanon says.
Trend 2: Human longevity
The hospitality, travel, and entertainment industries will have to customize their offerings as people live longer, thanks to life sciences ridding the planet of various diseases, Jain says. Companies like Netflix will create movies and other shows based on viewership patterns, with artificial intelligence getting better over time at determining what people want to watch.
AI also will enable the hospitality and travel industries to tailor vacations and other trips to people's needs, from the hotels they stay at to the places they visit, all without much cost.
Medicine and healthcare will also become customized. That is partly from science being able to spot disease-causing changes in genes based on the order of four chemical building blocks that make up DNA.
It also stems from better understanding of the genetic material of microbes, the bacteria, viruses, and other tiny things living inside us that, in total, may account for up to 5 pounds of an adult human's weight, according to Baylor College of Medicine.
"The third industrial revolution saw mass production of similar products delivered inexpensively, from cars to travel to medicine," Jain says. "The fourth will make exactly what you need and provide it even cheaper."
DFW Player: Dallas' Access Healthcare, which handles various financial and tech jobs that organizations in the field must do to keep the lights on.
Founded in 2011, Access manages how medical companies bring in revenue from patients, whether by copays, insurance, or anything else.
It supports more than 300,000 physicians and processes more than 300 million transactions that represent more than $70 billion in claims each year, according to its website. It also streamlines other technology, financial, and accounting tasks.
Perot Jain is an investor in Access, which in 2017 brought in $79.3 million in revenue, representing three-year growth of 318 percent, according to Inc.
As of December 2018, Access had more than 11,000 employees across 19 delivery centers in the United States, India, and the Philippines.
Trend 3: Mobility
"The way we move people, things, and data is rapidly changing," Jain says. "People today expect items to come when they need them, wherever they need them."
That applies to data, which we need in particular amounts at given points in our day, whether it is news stories we follow or profit numbers on our businesses.
"Information will show up in different formats, curated, convenient, and consumable," Jain says.
The transportation and logistics market has been one of the largest growth areas for the North Texas economy this decade.
Employment in that industry cluster ballooned 62 percent between 2010 and 2017 in a six-county area that includes Dallas, Collin, and Denton, according to the Federal Reserve Bank of Dallas.
It had the fastest job growth in that region of all professions that the Fed tracks. It also saw the biggest jump in its share of employment in that area over that time frame, hitting 4.1 percent, according to the Fed.
DFW Player: Dallas' Alto, which aims to be the Starbucks of ridesharing by giving safe lifts to consumers such as women, professionals, and families. It does background checks and trains its drivers, who are employees, and uses five-star crash-rated SUVs.
Having launched its initial service in Dallas in November 2018, the business has raised more than $20 million in debt and equity.
"In just 11 months, we've grown to nearly 100 drivers and nearly 60 vehicles, as we expand our service area across the (North Texas) metro area," CEO Will Coleman says. "We want to prove that we're building a sustainable, profitable ridesharing experience that customers love. If we do that, we believe we'll have the ability to raise more capital and take Alto to several more cities starting in early to mid-2020."
TREND 4: AI and robotics
North Texas will play key roles in improving AI and robots, something that will lead to changes in how we work and play.
Compared with the United States at large, two industries—information technology and telecommunications on the one hand, computer manufacturing on the other—account for disproportionately large shares of the workforce in a six-county area that includes Dallas, Collin and Denton, according to the Fed.
The same is true in that region for fields that rely on technology, such as banking and financial services, defense and security, and transportation and logistics, Fed data show.
Across occupations, better AI and robotics will mean people no longer will spend 40 to 60 hours weekly at their jobs, according to Jain. "Most of us work less than our grandparents did," he says. A generation or two ago, people generally spent nine hours at work and a combined 90 minutes-plus commuting there and back. Today many people work from home or go to their employer's site only for meetings, Jain noted.
With the prospect of self-driving cars and air taxis, commutes will be shorter and faster, and inexpensive video and audio communications will enable people to work en route and meet regardless of their geographic locations.
"Today, the gig economy represents about 20 percent of the workforce. In the next five to seven years, it will be 60 percent," Jain says. "I think tools will improve to make it easier for people to enter and exit the workforce on demand."
At home, robots will be able to handle chores such as cooking, cleaning, and gardening, making it easier for elderly people to live independently, he says.
"For all the noise around AI, it still behaves like machines and requires the input of lots of data," Jain says. "The next generation of it will be lighter, less data consumed, and more humanlike."
Large companies, such as Dallas' AT&T, are investing in quantum computing, whose promise of crunching huge numbers could, say, simulate how in-development medications may perform in the human body. The machines' horsepower could also break modern security codes, which use large math equations that today's fastest computers would take a long time to solve.
"We're still grappling with what that means," Jain says. "It's definitely something everybody needs to think about."
Doug Matzke, an area speaker who has a Ph.D. in quantum computing from UT Dallas, notes that if the technology materializes, it would have limitations that prevent it from replacing classical computing.
Quantum electronics would not have any memory, meaning it would be able to perform only one job at a time.
"It's up for grabs" how long it might take for people to possibly harness quantum's potential, Matzke says. "There's a lot of work to do from a design perspective."
DFW PLAYER: DocSynk, whose AI system compiles lists of patients who are at risk for chronic illnesses, such as early-onset diabetes or coronary artery disease, along with their probability of being diagnosed within certain time frames.
Its technology creates plans for patients to prevent or delay the symptoms, along with managing business functions of healthcare organizations and enabling customers to handle jobs like rescheduling appointments.
"We have three paying customers and a strong pipeline of household healthcare names that we're signing up between now and the first quarter of 2020," says Vaidyanatha Siva, who founded the business in 2015 and is its CEO.
With 10 employees, DocSynk expects to hire 15 more people in the next 12 months, he says. "We have raised $1.5 million in total funding to date, led by Dallas-based Naya Ventures."
Siva plans to build $4 million in recurring software-as-a-service revenue and position the business for a series A funding round.
"Our aim is to achieve this by the fourth quarter of 2020, based on signed contracts and current qualified sales pipeline," he says.
TREND 5: Materials science
Foldable electronics, batteries that last many times longer than they do now—our assumptions will go out the window about physical devices we use daily, thanks to the generation of materials ahead.
"You may be able to build things anywhere, take computer screens anywhere," Jain says. "It changes our quality of life. When we take away physical limitations, the possible applications are profound."
DFW PLAYER: Plano-based Ares Materials, which has created a type of plastic to protect lenses on foldable electronics.
Called Pylux, Ares' plastic looks like glass and provides the same protection from heat and chemicals but "does not break the bank," the company's website states.
Another product, Easybond, is material used in manufacturing plastic-based flexible displays. "We make money from direct sales of our materials through our industry-manufacturing partners, along with royalties paid from licenses around the world for our technology,"  CEO David Arreaga says. "Ares has raised $5 million from private equity and more than $1 million in funding from the National Science Foundation."
Arreaga co-founded Ares in 2014 with Chief Operations Officer Adrian Avendano after the pair received Ph.D.s from UT Dallas.
For now, they are developing shock-absorbing, optically clear adhesives, along with materials for use in areas such as 5G antennas and a new generation of camera sensors.
"We believe Ares can achieve all this by revolutionizing the way materials science is done," Avendano says. "We are working on the next generation of materials discovery using machine learning and robotics."
The pair expect to have a first prototype of an "automated materials discovery system" working on new materials in the first half of 2020, according to Avendano.
TREND 6: Commercial space
From tourists visiting outer space to mining asteroids and launching small, efficient satellites, the solar system will become available to more people—all within our lifetimes.
"One study says asteroids near Earth alone had $1 trillion of metals," Jain says. "They could have diamonds or materials that we don't even know about."
The first generation of space tourism will come about in the next five to seven years as governments and companies build technologies so people can live outside Earth's atmosphere or even visit for a weekend.
These technologies must work with other applications so it's faster and cheaper to get to space in the appropriate safety garb, he says.
Water may be available in deep space, with asteroids possibly serving as remote gas stations while people hop from place to place, according to Jain.
"As it becomes easier and more affordable to send satellites into deep space, that will have profound applications in the future," he says.
DFW PLAYER: Denton's Kubos, which has created an open-source operating system for running the basic functions of satellites weighing up to 500 kilograms, or a little more than half a ton.
The business makes money from long-term support contracts, custom development, and subscription-based "mission control" software for running spaceborne craft from the ground.
It provides the latter product through the cloud, meaning customers use it via Kubos' off-site electronics rather than installing it on their own computers.
"Some 22 active missions are being developed with our platforms," says Tyler Browder, who helped start the business in 2014 and now handles business development. Another co-founder, Marshall Culpepper, is CEO.
With fewer than 10 employees, Kubos has landed customers such as the national air forces of Thailand and the Netherlands, nonprofits, and a high school in the United States. Scientific organizations have used its technology when gathering atmospheric data.
"We have raised $4 million, all from angels and venture capitalists," Browder says. "Our next major milestone is to grow our user base."
TREND 7: Talent
"We have spent a lot of time in education telling people what to think. Going forward, we will teach them how to think. As technology is able to do more, humans will be able to tackle larger, more context-driven jobs," Jain says.
Educators must find new ways to teach youngsters who are more comfortable with one-on-one content through a screen of some kind, he says.
That will foster opportunities to create new measuring sticks to track the effectiveness of training and the value of the human work it enables. "We have to continue investing in the right talent to train people to do more sophisticated engineering," Jain says.
DFW PLAYER: Linux Academy of Keller, which offers learn-by-doing technology training in cloud computing. Its program personalizes education based on individuals' current and changing skill sets.
The company has trained a combined 250,000-plus people for clients such as San Antonio-based Rackspace, Asurion, and Second Watch.
Led by Anthony James, who founded Linux in 2012, the more-than-200-employee business brought in $21.3 million in revenue in 2018, up 842 percent over three years, according to Inc. It was acquired in December by the cloud computing training firm A Cloud Guru.
 Quincy Preston contributed to this article. A version of this story was originally published in Dallas Innovates 2020: The Magazine.
---
Read it online
Dallas Innovates 2020: The Magazine highlights Dallas-Fort Worth as a hub for innovation. Our third annual print publication declares "The Future is Here." It's a moment for innovation in Dallas-Fort Worth, one that we've been working toward for a long time.
https://issuu.com/drcpublications/docs/di2020

Get on the list.
Dallas Innovates, every day.
Sign up to keep your eye on what's new and next in Dallas-Fort Worth, every day.