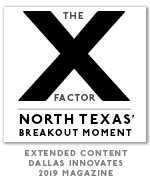 Cody Marx Bailey is president of the North Texas Blockchain Alliance; founder of XRAM Companies, Rawhide, Multinode and Ocean Currency Network; and advisor to FourPark Minted. He is a leading blockchain innovator and one of North Texas' deep thinkers on all things technology and looking toward the future.
Bailey spoke at the World Economic Forum in 2018, and he attended the Antigua Forum in Antigua, Guatemala, this month by invitation. He and his teams are noted for winning hackathons and competitions, such as the WyoHackathon 2018 blockchain competition which directly led to founding Rawhide, and he serves as an advisor for five startups, all revolving around technological innovation and disruption.
So, it was only fitting that Bailey be a source for our feature story on Dallas-Fort Worth's breakout moment in the newly released Dallas Innovates 2019—The Magazine
What makes this moment in time special in terms of North Texas as an emerging tech hub?
In North Texas, revolution and disruption are in our heritage. Our forefathers built the underlying infrastructure for world-changing industries such as the telecom industry, banking, insurance, and semiconductors. And now our generation has the chance to continue that tradition.
---
Be a Dallas Innovator: Sign up for our e-newsletter to get what's new and next every day.
---
The implementation of blockchain technology will fundamentally change everything we currently know about computing. The computer as we know it has massively evolved over the last 70 years and is about to undergo another major transformation. Current research and development have paved the way for a new hyper-distributed and hyper-secure global computer. Although this technology still in its infancy, we have the opportunity to develop it and revolutionize the industry, just like the generations before us. That's why now is the time for North Texas… these technologies are only pioneered once.
What are some of the factors that are creating this moment?

A lot of these new technologies bubble up from the dorm rooms, coworking spaces, and laboratories. North Texas is extremely rich in all three of those areas. We also have somewhat of a can-do attitude and we aren't afraid to embrace the rocky terrain of new industries. Our community is extremely tight-knit and adaptive, which sets a collaborative and supportive tone that runs throughout all the different verticals.
We also have a lot of support from the established institutions—like Thomson-Reuters and IBM—that are interested in the space. They have stepped up to validate and support the different activities going on. Without their support and introductions, things would be a lot less advanced.
---
READ NEXT: The X Factor: Four Ingredients are Turning North Texas into a Rising Tech Power
---
North Texas is also blessed with great universities: SMU, TCU, UNT, UTD, UTA, Baylor, DBU, and many others that produce innovative thought leadership and talent. Many of these universities offer courses in blockchain, artificial intelligence, machine learning, digital transformation, and supporting technologies. They also offer continuing education programs in public/private partnerships to help with skill transfer and continuing education.
Even our legal community here is rolling their sleeves up and getting into the mix. At many of the meetups or presentations, you'll find a bunch of overdressed guys from law firms wanting to get closer to the nuts and bolts.
Tech hardware, software, and user experience are coming together in five leading-edge technologies: AI, quantum computing, Internet of Things, augmented/virtual reality, and blockchain. How do these fit into the idea of North Texas as a global tech hub?
I think those different technologies find a lot of harmony in North Texas because of the business-friendly climate that Texas provides. North Texas has a staggering number of Fortune 500 companies both operating and based in the region. This gives the innovators unique access to use cases and subject matter experts that help develop the correct solutions for industry applications.
In turn, what you have is a lot of pragmatic and applicable solutions. This sets a good tone for the innovators to provide real-world value, or value that businesses can implement and adopt.
How do each of these technologies fit into society and business in general?
Blockchain
Blockchain aims to solve, arguably, the largest problem that has faced humanity: Trust. We've done an incredible job over the last 10,000 years of designing human-centric systems to manage rules and intent. That has always involved putting people in charge of systems and, as we know, that has led to corruption, fraud, and dishonesty.
One of blockchain's biggest promises is around the ethos of "code is law." Intent can now be enforced without the need for a middleman. If an agreement or transaction can be modeled with logic, then it can be executed via the blockchain.
Blockchain shouldn't be looked at as a technical solution, just like the Internet shouldn't be. The Internet solved the communications problem. Blockchain solves the trust problem.
Blockchain is solving societal problems such as food safety by integrating and securing global supply chains, protecting personal information such as medical records, and facilitating global and economic stability by providing alternative currencies in corrupt governments.
Artificial Intelligence
It's probably best to take a step back and describe two different types of artificial intelligence. They are vastly different and require completely different research and development approaches.
What we're seeing right now is narrow, or weak, AI. This is the sort of stuff that Apple rolls out on their new Siri platform or what Google does when you take a photo of someone. In extremely simple terms, it's pattern matching. These technologies are starting to yield some outcomes that are changing the way we interact with computers and systems.
We're still far from what is known as wide, or strong, AI. Wide AI is what science fiction is all about, a sentient being that is self-realizing. However, one should keep in mind that the blockchain, when mature, will serve as the platform in which wide AI will live. It will require a distributed operating system. Blockchain, being a global computer, is sort of the obvious revelation.
Internet of Things
North Texas has a rich background in high-tech manufacturing and product development. A large percentage of telecom equipment was researched and developed here. Before that was the work of Gordon Kidd Teal, Willis Adcock, and most notably Jack Kilby at Texas Instruments.
Add in the fact that the largest cellular/telecom company in United States is based in Dallas (AT&T), and you'll see why so much innovation is happening. Access to industry and customers is the key for any startup or growing business: North Texas has an abundance of both.
The wrapper around all of these technologies can be better described as something along the lines of The Singularity. IoT serves as the eyes and ears, artificial intelligence is the brain, blockchain would be the corpus.
Quantum computing will fit in somewhere, but this far out it's very hard to see exactly where. QC can be thought of as next-next-generation tech.
Virtual/Augmented Reality
The AR/VR industry has an already robust gaming presence here in DFW. It started with iD Software in the early 90s—the most "leet" computer gaming company of all time. Then, more recently, we had the explosion of gaming companies in the Plano/Frisco area. Now, the rapid expansion of gaming in the metroplex includes esports. Arlington is partnering with esports venues and has opened the 100,000-square-foot, 1,000-seat Esports Stadium Arlington in the city's existing Arlington Convention Center. The new venue is the largest esports stadium in the U.S.
---
READ NEXT Sneak a Peek at Esports Stadium Arlington to Open in November
---
Many of the fastest advancements are proving to come from VR and AR and will only enhance gaming and eSports. Dallas is quickly becoming a hotbed for esports companies and development. The Future of Blockchain conference in Frisco earlier this year included an all-day esports Tournament hosted by Microsoft.
Where do you see each of those technologies heading in terms of business and social impact in the next two, five, or five-plus years?
Blockchain
In the short term, blockchain will continue to show its promises, but large-scale usage and adoption are probably just past the two-year mark. Comparatively, we're still in 1991 or 1992 in Internet age. Mom's still picking up the phone disconnecting our modems, and it's taking 2-3 minutes for a JPG to load. The good thing, though, is that we have orders of magnitude more programmers working on these problems this time around compared to the early 90s.
Beyond the two-year mark, we'll start to see the true arrival of blockchain in everyday lives. For the most part, the users of blockchain won't even realize they are using it. It will come in the form of a new PayPal with reduced fees and no security breaches. It will be cheaper products on Amazon due to efficiency gains in their supply chain and safer high-quality food to grocers like Walmart.
Banking and finance will see disruption the soonest. They are both heavily reliant on secure and trusted ledgers, which is exactly what blockchains are, by design. Projects like tZERO, Securitize, and FourPark Minted (Dallas) are offering solutions that address the inefficiencies of the old ways of transferring ownership and value.
Artificial Intelligence
Any time a computer can not only replace but improve upon a human-run process, you'll see major changes. Just as some bookkeepers were replaced by digital systems, accountants are now finding their rolls becoming narrowed. Humans' jobs are becoming a lot more about strategy and leadership in the all-important soft values curation like culture, rather than managerial process tracking and bean counting.
Internet of Things
A combination of 5G, System on a Chip (SOC), and the software glue that allows us to manage those fleets of devices promise to give us more granular control with scale. The cost for these devices is rapidly declining, which is exposing more areas to implementation. The lowest hanging fruit is probably taken, so we're onto the next higher branches, so to speak.
Are any of those technologies better poised to make an impact over the near-term? How about which will have the greatest impact over time?
This is a good question, as many of what we call the 'Fourth Industrial Revolution' technologies are becoming so dependent on each other to create the optimum value that it is becoming harder and harder to isolate one technology as a better or best.
For example, I think that artificial intelligence and blockchain will have a more profound impact on society moving forward. IoT brings access to more and more data that can be used in an AI environment, so it's a symbiotic relationship. AR/VR are impressive evolutionary technologies that allow us to push current technology quite a bit further, but a fully data-enhanced AI and blockchain ecosystem from a platform standpoint is paradigm shifting.
---
READ NEXT Business Leaders Talk Future of Cryptocurrency, Blockchain at NTBA Community Showcase
---
The ability to manifest intelligence, at scale, will bring some really amazing opportunities. The human race may be able to simply flip a switch one day and we'll recognize a being that is far superior to human intelligence. Being able to consume all the data and research we've been able to cobble together and make sense of it in an instant will unleash innovation unlike what we can currently imagine.
Author James Barrat describes how an artificial narrow AI could become an artificial super-intelligence through recursive self-improvement. I don't think that this will be an intended consequence, but more of an accidental "what have we done" moment when the pieces fall into place.
The platform from which this ability will transpire might be found in the distributed nature of blockchain. Bitcoin blockchain is already the single largest monolithic energy system in the world. With consensus algorithms such as Proof of Work and Proof of Stake, we're just a few years away from a Proof of Intelligence ability.
One of the really interesting parts is that blockchains like Ethereum are already using the exact same cards for mining that are used to doing artificial intelligence and machine learning. The hardware and algorithms used are very similar, we just need to find a way to cryptographically prove a unit of "intelligence." That's such an abstract and meta-thought right now that it's hard to even ascertain when or how it might happen.
What do you consider the biggest 'wild card' when thinking about these leading technologies?
Like Bitcoin and Ethereum, these technologies are going to come from really unsuspecting places. Prior to today, technology might come from a lab at IBM, or a university in Massachusetts or California, but now there are so many more programmers and problem solvers than we did 1990. It took us 25 years to get where we are now with the internet. The rate of innovation and change is only accelerating. This time around, market acceptance and deployment is going to happen in a fraction of the time it took for the internet.
Any current advancements are going to come with greater change and at a faster velocity than their predecessors. There's a compounding of advancement going on. It took the Industrial Age nearly four generations to fully implement some innovations. Aerospace took one generation to become a new social standard. Now we're seeing multiple, concurrent leaps in the span of decades. This will continue to accelerate as it has since the dawn of the universe.
What players in North Texas are driving these techs? Enterprise companies? Startups? Individuals? Educational programs? Investors and VC groups? 
Dallas investors tend to prefer putting their money into more traditional Texas investment staples—mainly oil and gas ventures and land—so there has been some hesitance for investors to reach outside of their comfort zone. This is something that we are hoping will clear up as we obtain more regulatory certainty regarding aspects of the blockchain and cryptocurrency space. Regulatory clarity on the federal level is coming right now more than ever, so it's only a matter of time before investors in Dallas-Fort Worth begin to increase the levels of support that they are willing to provide to an ecosystem that is doing fairly well without a huge influx of locally based institutional investors. (Bitcoin going from $7 in 2012 to $20,000 in 2017 can have a profound effect on geeks.)
Universities are partnering with business leaders, such as UTD's Center for Finance, Strategy & Innovation (CFSI). Over the last several years CFSI, led by Dr. David Springate and Elizabeth Frank-Jones, have held blockchain events on campus with partners such as Toyota Labs, IBM, and others to drive awareness and connect the university and corporate leaders that drive innovation. SMU has also integrated blockchain-related programming across a number of the University's disciplines. Simon Mak, the professor of practice in entrepreneurship and the associate director of the Caruth Institute for Entrepreneurship, has been involved in establishing several programming events involving blockchain on campus. The Cox School of Business has not been the sole school on SMU's campus to hold blockchain programming. The Tsai Center for Science, Law, and Innovation, which is an academic center of SMU Dedman School of Law, has also partnered with the Caruth Institute to hold panels on blockchain topics of interest.
Of course, no other organization drives more education programs on Blockchain than the North Texas Blockchain Alliance. With over 100 events a year, the NTBA welcomes students, professors, and business leaders together to learn and grow. We are building an incubator to support new companies looking to get started or to accelerate growth, and we are leading new standards including the ERC-721 standard that defines the creation digital deeds of an assets' provenance, effectively coding a digital twin of a real-world asset. FourPark Minted and Rawhide are two drivers of this technology standard.
---
READ NEXT Rawhide Blockchain Tech Wins Hackathon, Launches Livestock Management Startup
---
Startups themselves, and the thriving and cooperative community interested in the blockchain space, exemplified by the North Texas Blockchain Alliance and its members, seem to be the main drivers of much of the innovation driving the blockchain sector of these technologies.
Is there anything on the overall topic of North Texas as a tech superpower, or on any of the leading-edge technologies, that Dallas Innovates readers should know?
The takeaway for your readers is that our part of the country has all the elements that support a tech innovation ecosystem. For the all the reasons above, the market and our governmental regulations here support technology development that will make the world a better place. Quietly but with a purpose, the North Texas Blockchain Alliance is leading their part of this transformation further into the information and knowledge era. The second and third order effects of this leadership will be answers to many of the problems that preceding industrial ages created.
This Q+A was edited for brevity and clarity.
A version of this article was first published in Dallas Innovates 2019—The Magazine.
---
Dallas Innovates 2019—The Magazine
Dallas Innovates 2019—The Magazine explores the region as a rising tech hub that will shape the future of innovation. The theme of our second annual print publication, "A Breakout Moment," explores why now is the time for the region to grab its place in the tech universe.

Get on the list.
Dallas Innovates, every day.
Sign up to keep your eye on what's new and next in Dallas-Fort Worth, every day.